Welcome to our travel guide to ROME and the VATICAN CITY! Hopefully this will answer your questions about the best area to stay, THINGS TO DO, and tours. We also added a SAMPLE ROME ITINERARY with a detailed breakdown of expenses and more practical travel tips! Happy planning!
When we were planning our European backpacking trip, we knew from the get-go that our starting point would be Paris. The French capital was a dream for both of us, and the fares going there were the lowest we found at the time. Most importantly, Yosh had been there before, which meant it would be familiar to at least one of us, making it a great place to start.
But as we continued plotting our route, it became increasingly difficult to pick our last stop. One thing we were looking for was that this city should be spectacular enough to match Paris. We wanted to end our European adventure on a high note, with a bang, so to speak. It wasn't long until we set our eyes to the city that gave birth, for better or for worse, one of the most powerful empires the world has ever seen. When Rome was brought up, it became clear as day that this was the proverbial bang that we were looking for.
WHAT'S COVERED IN THIS GUIDE?
UNDERSTANDING ROME AND VATICAN CITY
The founding of Rome, the Eternal City, is immortalized in myths. The legend begins with Rhea Silvia, a Vestal virgin, who gave birth to twins, Romulus and Remus. She claimed that the father was Mars, the god of war. The king at the time was Amulius, her uncle and usurper of her father. When he found out about the twins, he ordered them killed. But the servant who was tasked to do the job did not have the heart for it, so the twins were set adrift on the river Tiber. They were then found by a she-wolf who suckled and nurtured them. It's a long epic story from there, but to cut it short, the brothers eventually overthrew Amulius and restored their grandfather as king.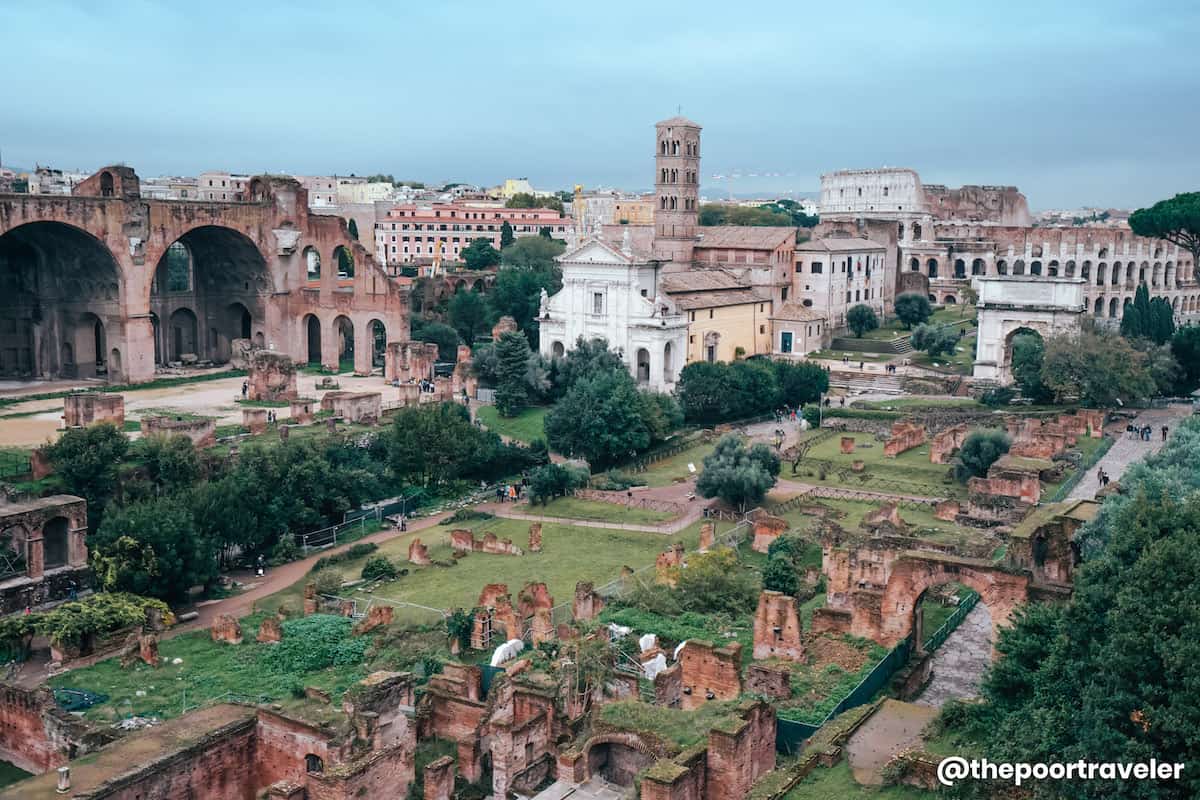 After a series of arguments — Spoiler alert, jk, lol — Romulus ended up killing Remus. He went on to found the city and named it after him — ROME. This new city would turn out to be one of the greatest civilizations in history, conquering much of the "known world." Its influence is still clearly evident to this day. The proof is in the calendar, among countless others.
For over two centuries, early Christians were persecuted in Rome. But during the reign of Emperor Constantine the Great, Christianity would begin to emerge as the dominant religion and would amass unprecedented power. For many periods in history, the Pope was the most influential person in Rome, at times having temporal jurisdiction, centered in the Vatican. The Catholic Church would prove to be an enduring institution. In 1929, Vatican City became an independent state.
Today, Rome is the capital of the Lazo region and of Italy as a whole. It is home to over 4.3 million residents. Tourism plays a vital role in its economy. Drawing in almost 10 million tourists a year, it is the 13th most visited city in the world and the third in Europe. Many tourists who come to Rome set foot in the Vatican too, and those who intend to visit Vatican would have no other way of access but through Rome.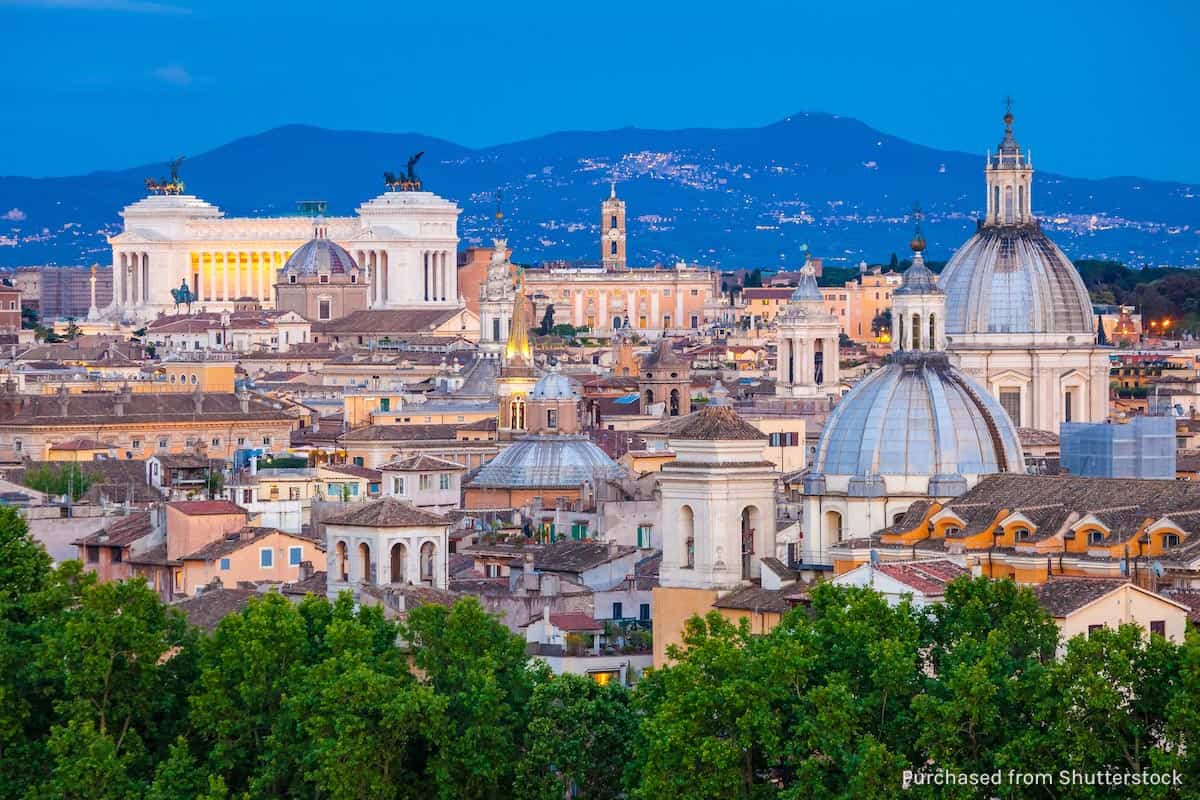 Here are other things you need to know:
Location: Rome is in Italy's Lazio region. Coordinates: 41°53′N 12°30′E.
Time Zone: UTC+1 (Central European Time). Rome is 7 hours behind the Philippines, Singapore or Malaysia; and 8 hours behind Japan. However, daylight saving time is in effect from the last Sunday of March until the last Sunday of October, which puts it at UTC+2, only 6 hours behind PH, SG, and MY.
Language: Italian. Most signs have English translations.
Currency: Euro (EUR, €). €1 is roughly USD 1.11, SGD 1.53, PHP 57.46 (as of August 2019)
Modes of Payment: Many establishments accept credit cards, but most still prefer cash.
---
WHERE TO STAY IN ROME
Rome is divided into several districts, but for tourists, it would be beneficial to be familiar with these four key areas: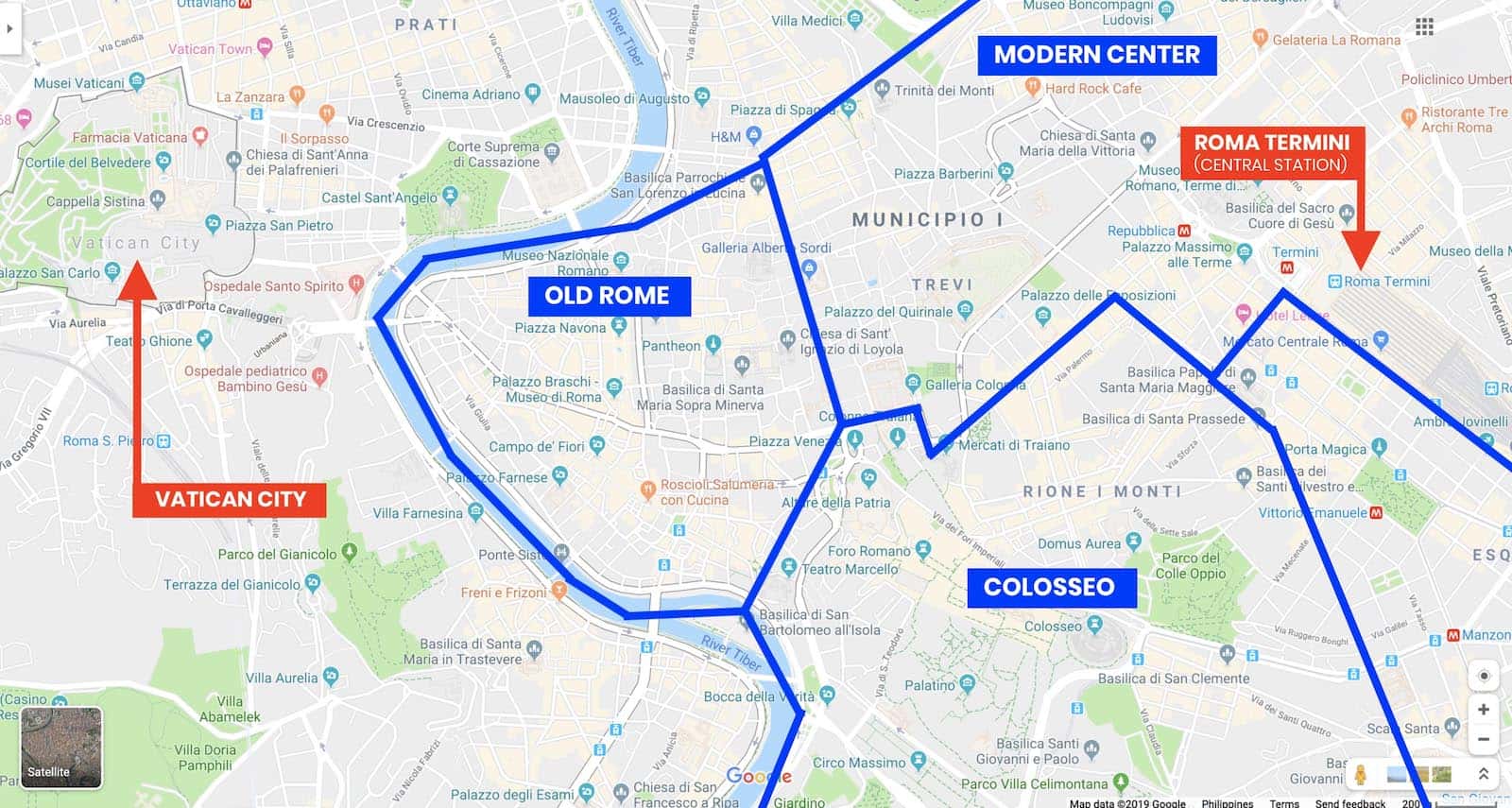 Modern Center. The most prominent landmark here is the Roma Termini, the city's central station. If you're planning to travel to other Italian cities, this is a good base because there's a big chance you'll be using the train. This area also has a high concentration of hotels on both ends of the price spectrum. Attractions here include the Trevi Fountain and the Quirinal Hill.
Old Rome. This is the center of the city during the medieval and Renaissance periods. This is where most tourist spots are located including the Pantheon, Piazza Campo de' Fiori, and Piazza Navona. The area also has a rich selection of accommodations, but they are more expensive.
Colosseo. This used to be the center of ancient Rome. Its map is dotted and shaded by historic sites including the Colosseum, the Palatine Hill and the Capitoline Hill.
Vatican City. This is not a district but a completely independent state. But because the Vatican is only accessible via Rome, it is often included in Roman itineraries. If you're most interested in the Vatican, you may opt to stay in the surrounding districts of Prati or Borgo.
IMPORTANT! Rome collects city tax from tourists, ranging from €3 for 1-star hotels to €7 for 5-star hotels per person per night. For AirBnB, it's €3.5 per person per night. It's often NOT included in the hotel booking and has to be settled upon arrival.
---
What is the Best Area to Stay in Rome?
Because Rome is a generally expensive city, many guidebooks suggest staying outside the city center. The outskirts offer lower prices and a quieter time away from hordes of tourists.
In my opinion, however, I still think that the city center — Old Rome, Modern Center, Colosseo — is still the most ideal place to stay. Yes, it is pricier, but I am the type of traveler who looks at time and energy as currency just as much as money. Staying in the city center means you don't need to spend much time or money to get to the key tourist attractions.
In particular, I stayed in the area southwest of Roma Termini within the Modern Center. The Roma Termini is the city's central railway station, which means it would be easy to travel to other parts of Italy from here. It also has a connected metro station, which you can take to other key spots. Or if you're the type who enjoys walking, you can also reach the Old Rome on foot. It was a long walk, but definitely doable.
---
Top Budget Hotels and Guesthouses in Rome
Here are the top properties as scored by Agoda users.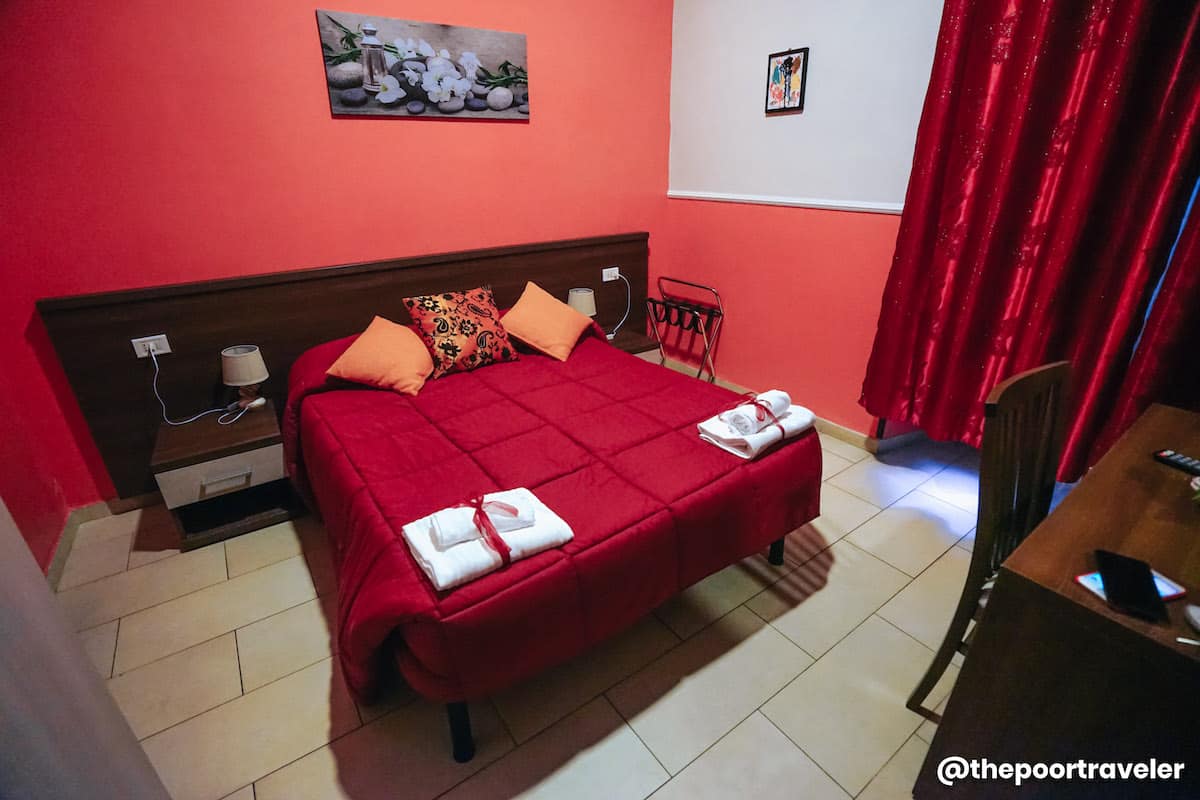 ---
Top Rome Hostels
Here are some of the top-ranking hostels in Rome, as scored by Agoda customers.
---
---
HOW TO GET TO ROME
Rome has two commercial airports:
Leonardo da Vinci–Fiumicino Airport or simply Fiumicino (FCO). This is Rome's main airport and one of the largest airports in Europe. It connects Rome to dozens of major cities around the world. Located southwest of the city center, around 40 minutes from Roma Termini.
Ciampino–G. B. Pastine International Airport or simply Ciampino (CIA). Located southeast of the city center, around 30-40 minutes away. It serves mostly low-cost carriers like Ryanair and Wizz Air.
If you're coming from other parts of Italy or Europe, you can also reach the city by train. The city's central station is Roma Termini, which is not too far away from the key attractions.
---
MANILA TO ROME
There are no direct non-stop flights from Manila to Rome. Most airlines make a connection in another Asian city. Here's a quick search on Skyscanner.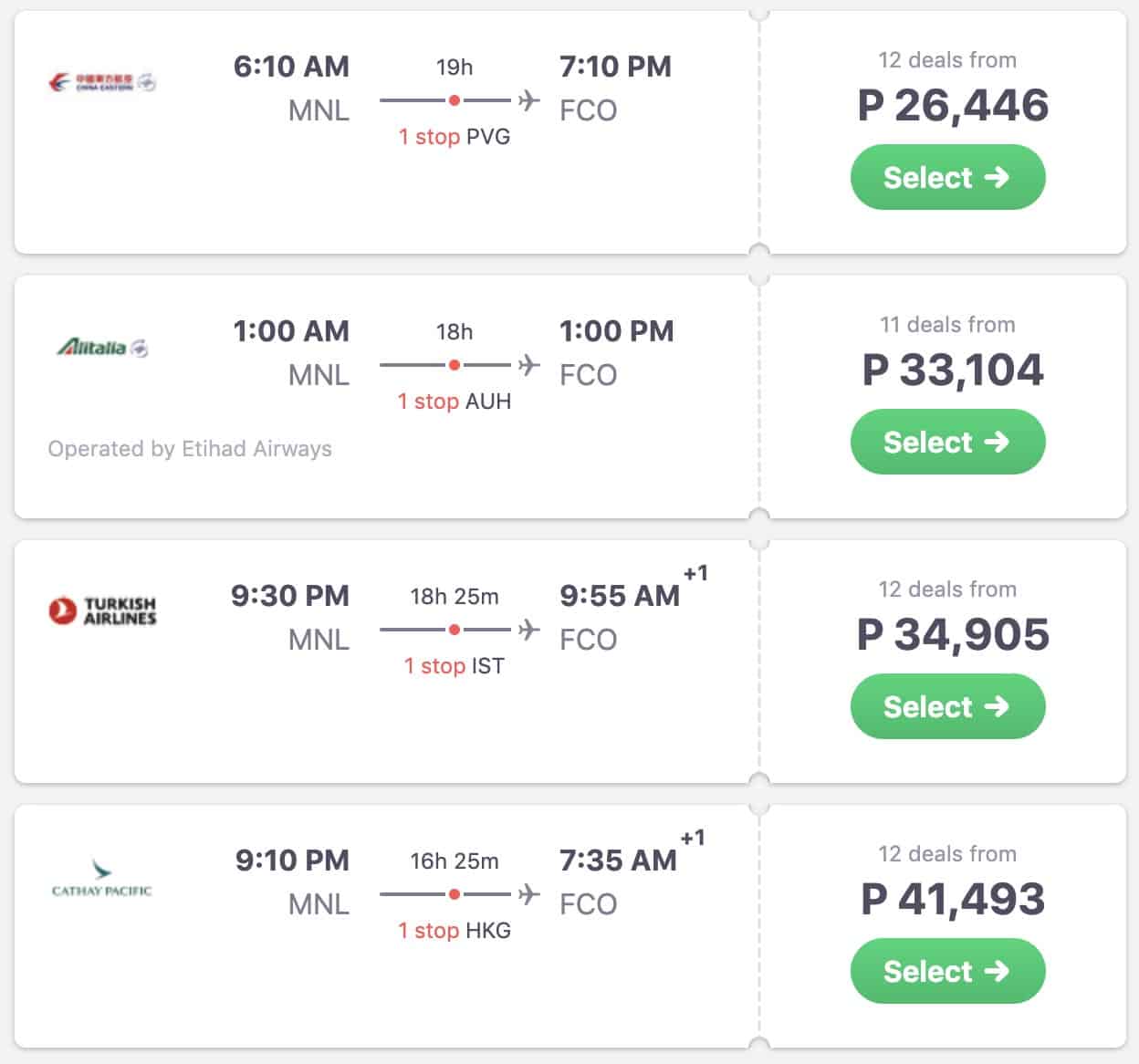 The cheapest flights are offered by China Eastern (connecting in Shanghai), Alitalia (connecting in Abu Dhabi, operated by Etihad), Turkish Airlines (connecting in Istanbul), and Cathay Pacific (connecting in Hong Kong).
---
MILAN, FLORENCE, VENICE TO ROME
If you're on a bigger tour around Italy, you can easily reach Rome from Milan, Florence, Venice and other Italian cities by train. There are multiple trains a day.
There are two high-speed train companies in Italy: the state-owned Trenitalia and the privately owned Italo. Both use dynamic pricing (much like airlines). This means that fares are not fixed. They change over time. Hence, it is best to book in advance. If you don't have fixed plans yet, you can book on the same day, but expect to pay more for your seat.
Usually, the fare is between €35 and €45. But you can fine fares that are as low as €14.90 if you book way in advance. If you don't have fixed plans yet, you can book on the same day, but expect to pay more for your seat.
---
FIUMICINO AIRPORT TO ROME CITY CENTER
Although the Fiumicino Airport is located 31 km from the center of Rome, it is well connected to the city. You can travel to and from the airport in three ways: by train, by bus, by taxi, and by Uber.
BY TRAIN. A train line directly links the Fiumicino Airport to the city center. After making it through Immigration/Customs and picking up your luggage, follow the signs that read STAZIONE FS. At the station, buy a PER TERMINI ticket. A Leonardo Express train leaves the airport station every 30 minutes from 6:23am until 11:23pm. Travel time: 30-40 minutes. Fare: €14 per adult.
BY BUS. The Terravision bus ferries passengers from the airport to multiple points around the city including a stop around the Vatican and the Roma Termini. Travel time: 45-60 minutes, depending on traffic. Fare: €5 per adult. You can also book in advance online. Reserve here!
Because taxis and Uber are expensive in Rome, let's skip them for now. LOL.
---
HOW TO GET AROUND ROME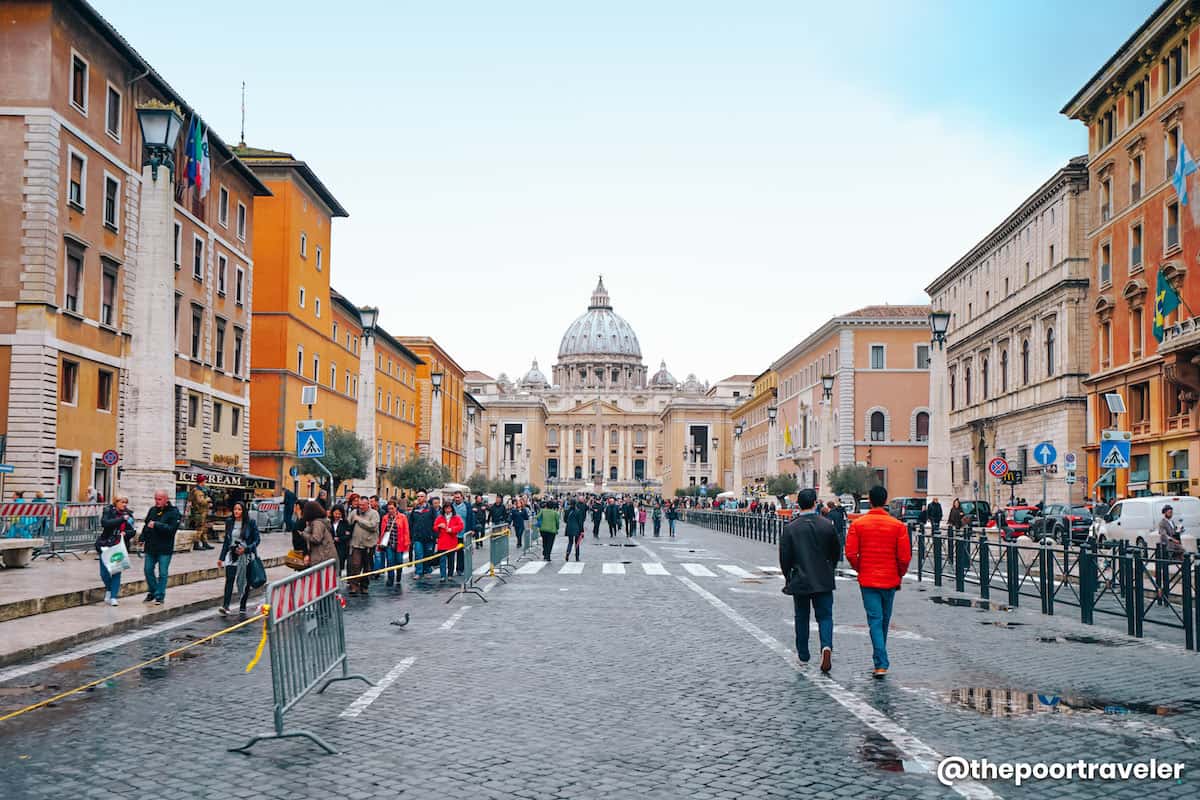 Rome is a scenic and walkable city, so the best way to travel short distances is on foot. However, make sure you're sporting a good pair of walking shoes because the city's terrain is pretty slope-y. We stayed near Roma Termini and we walked whenever we could, but it got really tiring at times. It added a bit of excitement to our Rome adventure, though. And we felt like we lost a few pounds after our trip. Felt like. In reality, whatever weight we lost was cancelled out by our pigging out. Haha. We ate a lot and often!
---
By Public Transportation
For medium and long distances, you can rely on Rome's trusty public transportation system, which is operated by ATAC (Agenzia del Trasporto Autoferrotranviario del Comune di Roma). It is a network of various transportation modes: buses, trams, metro and trolleybuses. All you need to do is find out the nearest station to your origin and destination, and enter them to the Journey Planner on the ATAC website and it will tell you the lines you can take and the fare to settle.
Rome's public transportation system is fully integrated, which means one ticket can be used on multiple transportation options. For example, you can use the bus and then the tram using the same ticket.
That said, tickets come in various types and costs:
B.I.T. (Single ticket) – valid for 100 minutes. Price: €1.50.
Roma 24H – valid for 24 hours. Price: €7.
Roma 48H – valid for 48 hours. Price: €12.50.
Roma 72H – valid for 72 hours, Price: €18.
The BIT (single ticket) allows unlimited bus/tram rides within the next 100 minutes. However, it allows only a SINGLE JOURNEY on metro/train (urban route).
The Roma 24H, 48H and 72H tickets allows unlimited use of the whole urban public transportation network including metro, train, bus, tram, and trolleybus. Again, only on urban routes. You cannot use it to travel to another city.
Here are more information about using Rome's public transportation.
The validity starts as soon as you "validate" your ticket. I'll explain below.
At the metro station or onboard the bus or tram, you'll find yellow machines. These little boxes will validate your ticket. Just insert your ticket and take it back when it spits it back out.
For BIT tickets, you need to validate the ticket at the start of your journey.
For Roma 24H, 48H and 72H tickets, you only need to validate once, at the first time you use it.
Spot checks are done and if you're caught without a ticket or with a ticket that isn't validated, you're in for a hefty fine.
You can purchase tickets at automatic ticket machines, staffed ticket counters at the station, or even tobacco stores and news stands.
---
By Hop On Hop Off Tourist Bus

If you're a fan of sightseeing buses, you'll be delighted to know that they're also available in Rome. The I Love Rome Hop On and Hop Off Panorama Bus will show you around the city and take you to its most recognizable tourist spots including the following:
Colosseum
Vatican City
St. Mary Major
Trevi Fountain
Piazza Venetia
Roma Termini
As usual, there is a multilingual audio guide which will give you information about each stop. The bus has a wi-fi connection too! Available in 24-hour, 48-hour, and 72-hour variants. You can get a slight discount if you purchase your ticket from Klook!
✅ GET DISCOUNTED TICKETS HERE!
---
Roma Pass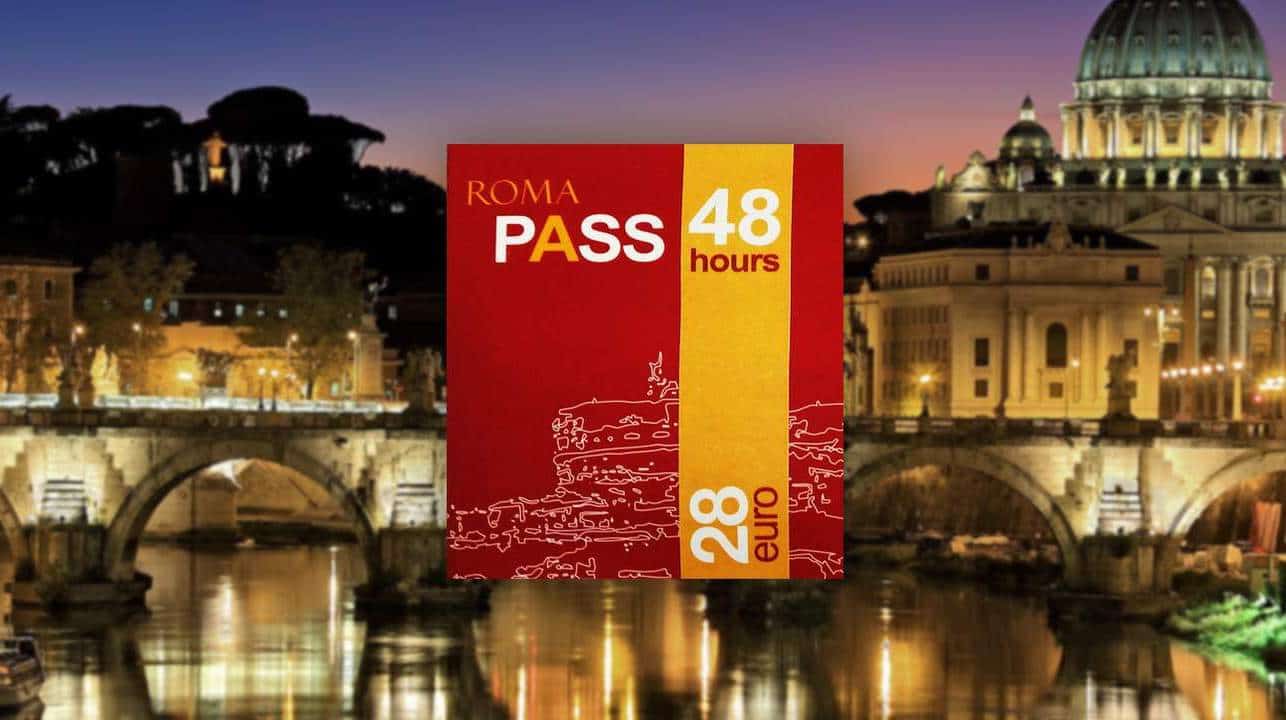 If you want to maximize your time by checking out as many attractions as you can, the ROMA PASS can give you a great deal. With this pass you can enjoy the following:
unlimited rides on bus, tram, and metro within the city
FREE entry to one or two museums or archaeological sites (including Colosseum, Roman Forum, Palatine Hill, Castel Sant'Angelo)
discounts on various museums, theaters, shops, and other attractions
skip-the-line access to Capitoline museums and Castel Sant'Angelo
Available in 48-hour and 72-hour versions. You can book with Klook and claim at the airport or Roma Termini!
✅ RESERVE A PASS HERE!
---
PLACES TO VISIT IN ROME
The first written record of the term "Eternal City" as reference to Rome was traced to the poet Albius Tibullus. But legend has it that ancient Romans strongly believed that no matter what happens, the mighty city of Rome will remain standing with the last of men. The Roman Empire was one of the greatest this world has ever known, but it eventually fell in the 5th century CE. Yet, even after its collapse, Rome has changed the world forever. Its imprints and influences are everywhere, so in a way, Eternal City remains a fitting nickname.
From its museums to archaeological sites, most of what modern-day Rome has to offer to tourists are historical in nature. While it is entirely possible to explore the city DIY-style, we still strongly suggest to have a guide — a human guide, an audio guide, whatever guide — that can give you loads of information about the places you'll visit. Otherwise, there's a chance that you might miss the insights for the sights. What looks like a random rock may have had some curious significance back in the day.
Anyway, here are some of the must-visit attractions in la Città Eterna.
Vatican City Tour
No stay in Rome is complete without spending some time in the Vatican City, the smallest country in the world. The Vatican's history has long been entwined with Rome. Even today, the independent state is fully enclaved within the Italian capital.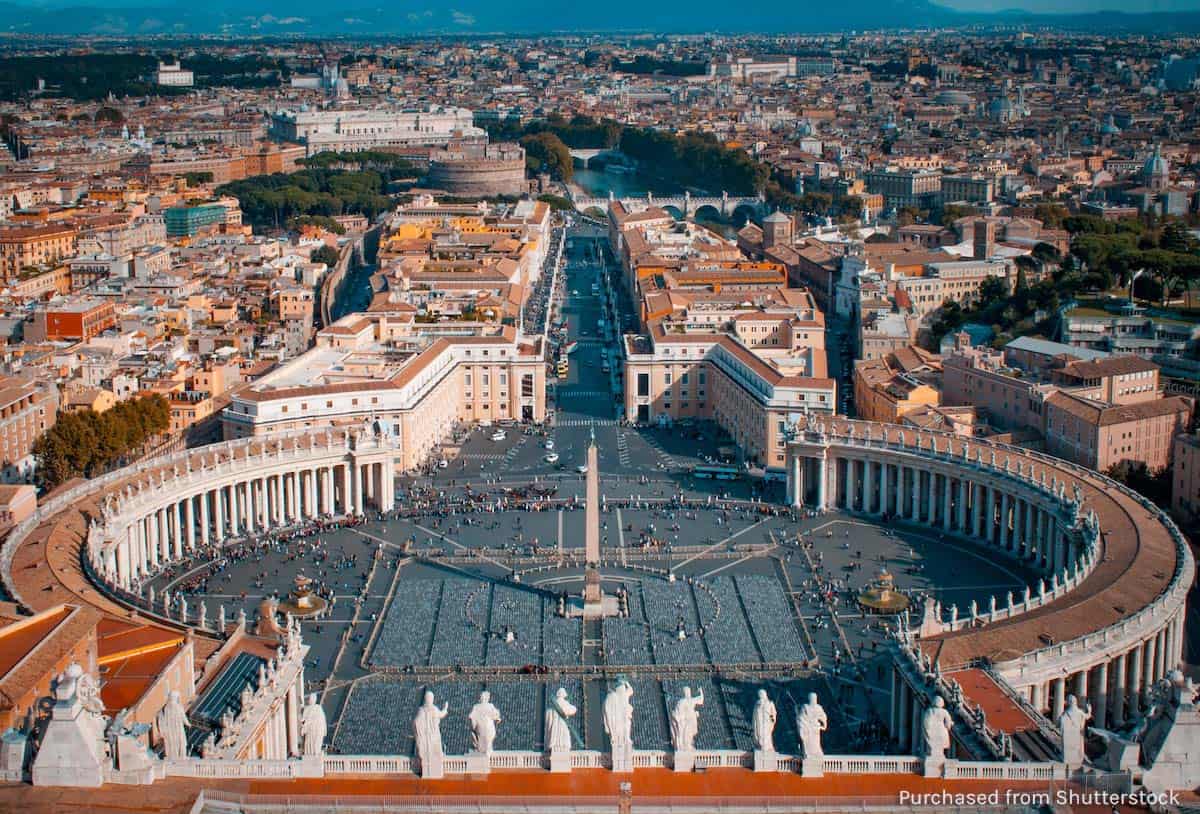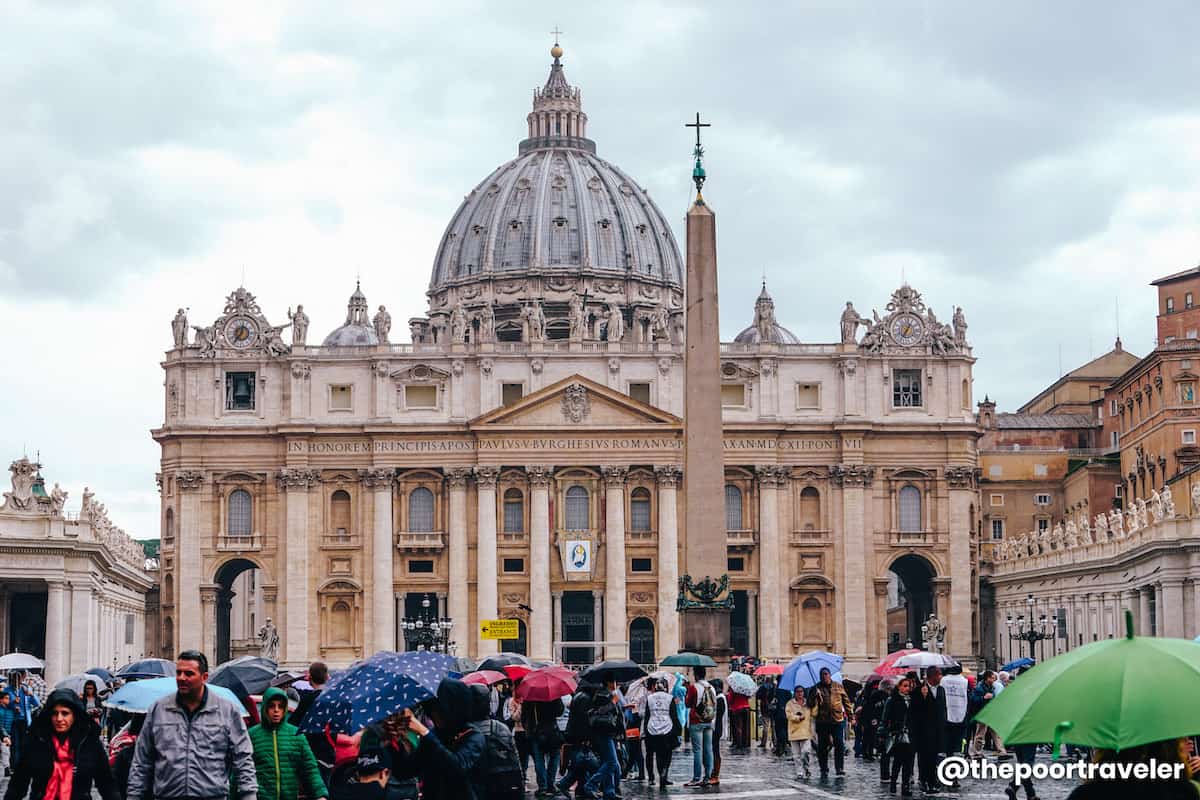 Tourists may visit the Vatican museums, St. Peter's Basilica and the Sistine Chapel in day.
St. Peter's Basilica. The largest Catholic church in the world, which also showcases iconic creations like Bernini's Baldacchino and Cathedra Petri and Michelangelo's Pietà.
Vatican Museums. Composed of 11 different museums, collectively home to over 20,000 historic artifacts and artistic masterpieces.
Sistine Chapel. Don't forget to look up and be awed by its spectacular ceiling, painted by Renaissance man Michelangelo.
Entrance to St. Peter's Basilica is FREE, but an 8€ access fee is charged to climb to the dome.
Entrance fee for Vatican Museums and Sistine Chapel is 17€. If you'll rent an audio guide, the total fee is 24€.
The queue for these attractions are notoriously long. We saw it ourselves during our visit. Good thing we have pre-booked a skip-the-line ticket. You can also book online!
✅ GET ST. PETER'S BASILICA SKIP-THE-LINE TICKET WITH GUIDED TOUR HERE!
✅ GET VATICAN MUSEUMS & SISTINE CHAPEL SKIP-THE-LINE TICKETS HERE!
How to get to Vatican City: Take the Metro Line A and get off at Ottaviano Station. From here, the Vatican City is just a short walk away.

Vatican Museums/Sistine Chapel Operating Hours: Monday-Saturday, 9am-6pm (Last entry 4pm); Last Sunday of every month, 9am-2pm
Closed: Sundays, except last Sunday of every month

St. Peter's Basilica Operating Hours: Daily, 7am-6:30pm
---
Papal Mass and Angelus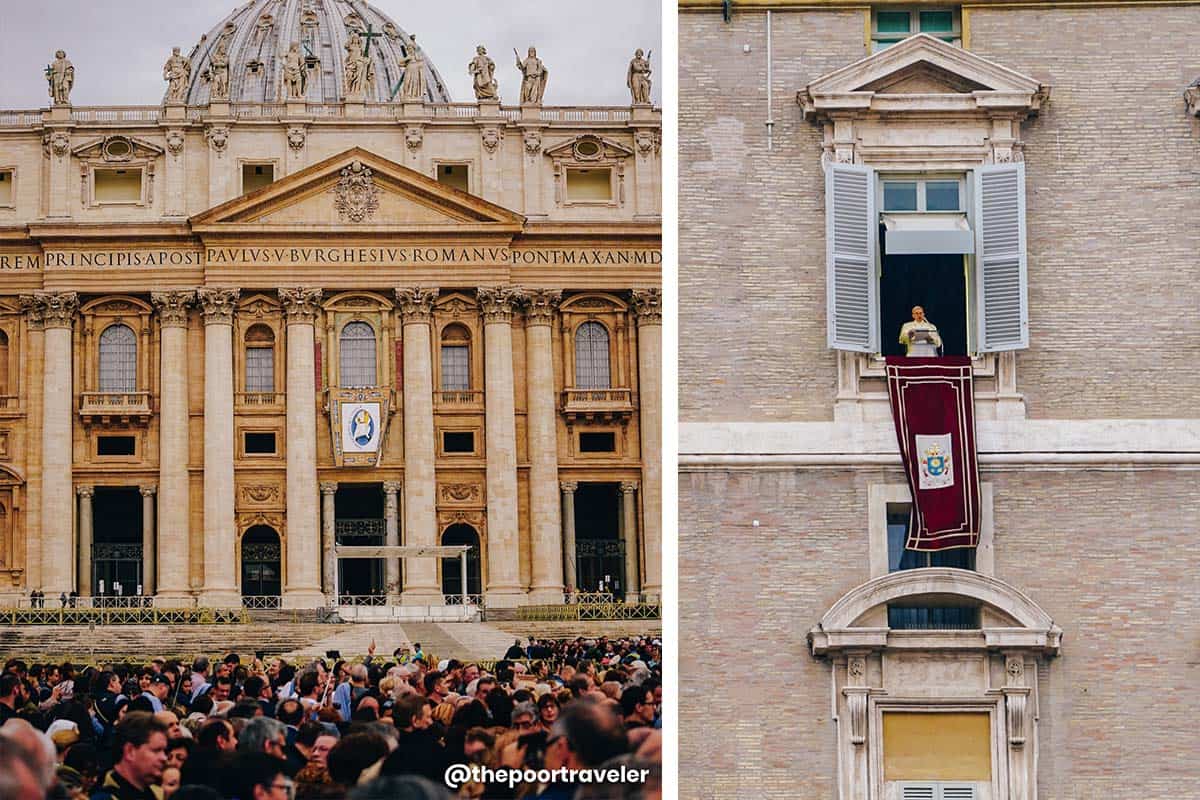 Many Catholics travel to the Vatican to see the Pope and join the Papal audience. If this is also a big reason why you're flying to Rome, it is important to plan your trip well. Timing is everything because the Pope doesn't appear publicly every day.
Usually, the Pope leads the celebration on three occasions: for the General Audience, for the Angelus, and for the Papal Mass.
General Audience. It's not a mass. The Pope greets the crowd, delivers teachings, and leads prayer(s). This happens at St. Peter's Square every Wednesday, usually at 9:30am. However, you are strongly advised to arrive much earlier if you want to secure a seat. Some show up three hours before. To get a seat, you need a ticket. If you fail to get a ticket, it is fine. You can still attend the event standing at the back.
Angelus. The Pope also leads the Angelus prayer at St. Peter's Square every Sunday at 12 noon. This is a shorter ceremony, lasting only 15 minutes. NO TICKETS needed for this.
Papal Mass. The Pope leads the liturgical celebration, usually inside St. Peter's Basilica. But when the number of expected attendees is too big, the mass is moved to the square outside to accommodate more faithfuls. If the mass happens inside the basilica, TICKETS ARE REQUIRED. Otherwise, you can find your spot in the standing room at the back. This doesn't happen weekly.
IMPORTANT! Check the Papal calendar when you're planning your trip. Occasionally, there are deviations from the weekly schedule. The Pope is not in Rome all the time. There are Wednesdays when he is not in Rome so no Audience that day. Some Sundays, he is not in town to lead the Angelus. Likewise, there are extra days of appearance added to the calendar. Check the VATICAN CALENDAR here!
HOW TO GET TICKETS: You can reserve tickets in advance by following these instructions. You can also get from the Swiss Guards at the Bronze Doors from 3pm-6pm the day before the schedule and from 7am on the day itself. But like I said before, if you're here for the General Audience, you don't really need tickets if you're willing to stand.
Note that ALL TICKETS ARE FREE OF CHARGE.
Can you attend the General Audience or Angelus and tour the Vatican Museums on the same day? Yes, it's often possible. But we recommend doing these on two separate days to avoid overloading your itinerary. You also get to dodge the big crowds that will flood into the museums that day. Instead, we suggest that you visit Castel Sant'Angelo, which is not too far away!
How to get to Vatican City: Take the Metro Line A and get off at Ottaviano Station. From here, the Vatican City is just a short walk away.
---
Castel Sant'Angelo
Completed in 134 CE under the rule of Emperor Hadrian, the Ponte Sant'Angelo is sometimes referred to as the Bridge of Hadrian. The bridge straddles River Tiber and connects the Old City to Castel Sant'Angelo, a massive cylindrical structure originally commissioned by the emperor as a mausoleum for him and his family. Over the years, it has been transformed numerous times into a military and papal fortress, and a prison. Today, it houses a museum.
It stands close to the Vatican City, so you might want to drop by before or after your Vatican tour.
How to get to the Vittoriano: From Roma Termini, take Bus 40 to Borgo Sant'angelo. You can also take the Metro to Lepanto Station, but it will entail a 15 or 20-minute walk.

Hours open: Tuesday–Sunday, 9am–7pm.

Closed: Mondays. January 1, May 1, December 25.

Entrance fee: €15 adult.
---
Colosseum, Roman Forum and Palatine Hill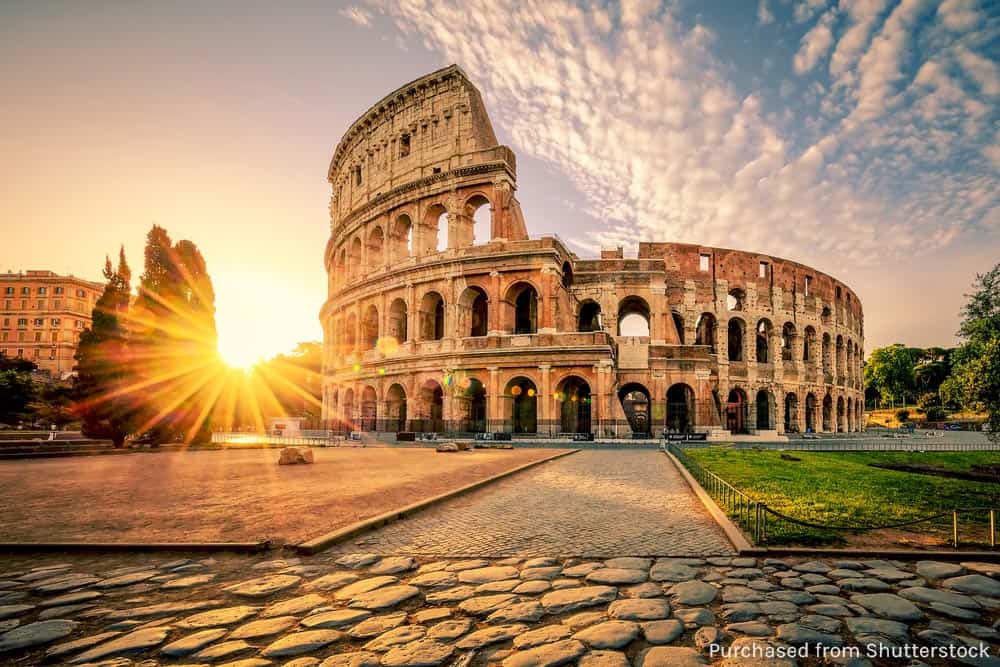 The Colosseo district was the heart of ancient Rome, adorned by impressive structures like the Colosseum and the Roman Forum. Although it has lost much, the Colosseum remains standing. You can still easily see why this was such an ambitious project at the time and effortlessly picture all the festivities and gladiator battles that were showcased here back in the day. Nearby is Palatine Hill, littered with important ruins of the palaces that once home to emperors.
You can purchase tickets and explore on your own. To avoid super long queues, you can book tickets in advance. Reservation fee applies.
Ticket (Entrance to Colosseum, Roman Forum, Palatine Hill): €12
Reservation fee: €2
If you have the budget, I recommend joining a guided tour so you get to appreciate these sites better. You can also book official tours online. Here are the links:
For ROMA PASS holders: You don't need to book a ticket, but you will still have to reserve and pay the reservation fee online. There is an option for Roma Pass holders when you reserve. If you want to book a tour, make sure you BOOK THE TOUR ONLY.
If you're a fan of Klook's services and you don't want to deal with all these complications, you can book your ticket or guided tour with Klook instead. The guided tour covers not just the Colosseum but also the Roman Forum and Palatine Hill.
✅ GET SKIP-THE-LINE TICKETS HERE!
✅ JOIN GUIDED TOUR HERE!
How to get there: Take the Metro Line B and alight at Colosseo Station. The Colosseum stands right in front of the station exit.
---
Vittoriano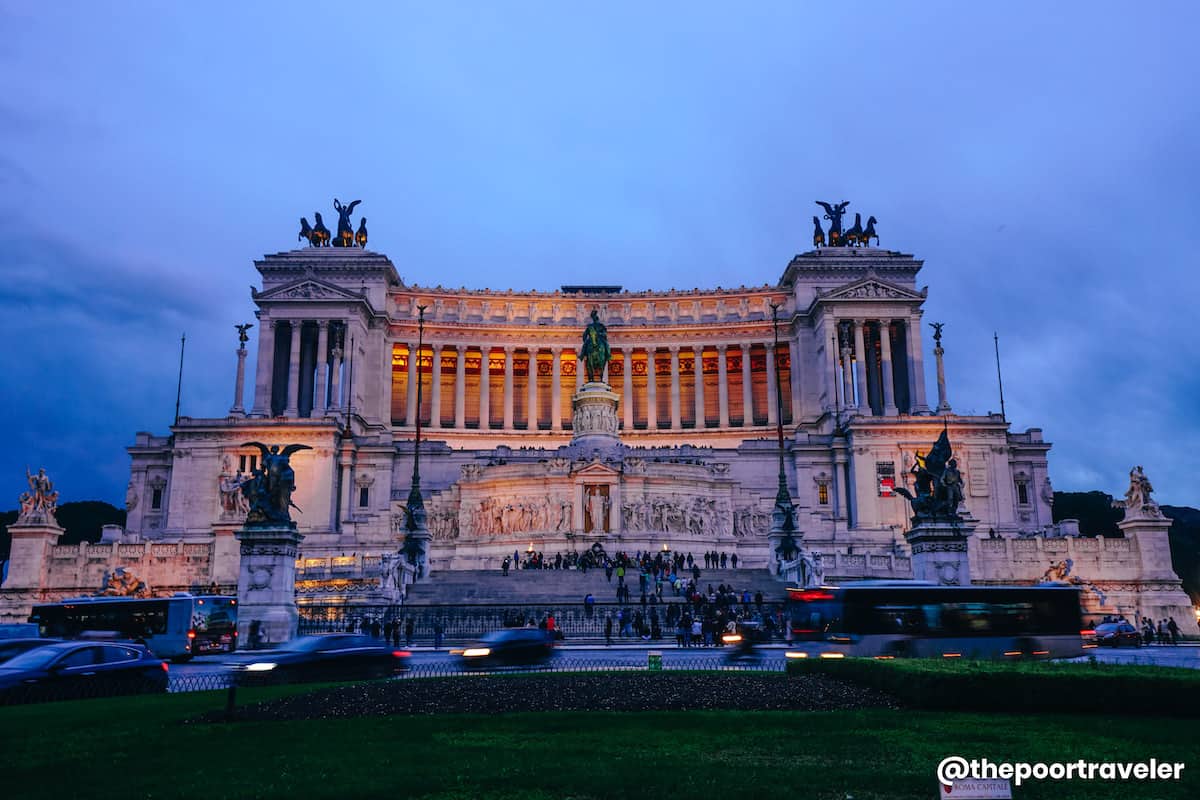 More formally known as Altare della Patria (Altar of the Fatherland), the Vittoriano is a massive white marble monument that commands attention. Rising majestically over Piazza Venezia, it was constructed in honor of Vittorio Emanuele II, the first king of the unified Italy. It also houses the Museo Centrale del Risorgimento, which narrates the journey to unification.
You can climb to the panorama terrace by boarding a glass lift for a splendid view.
How to get to the Vittoriano: The closest bus stop is the Piazza Venezia Station. The closest tram stop is Venezia. The closest Metro Station is the Colosseo Station, but you will have to walk around 20 minutes. However, the walk from Colosseo Station will also take you to the Roman Forum and Palatine Hill, so it's best visited on the same day you're visiting these sites.

Hours open: The museum is open daily, 9:30am-5:30pm (4:30pm in winter). The elevator is open until 7:30pm.

Closed: Christmas and New Year's Day.

Entrance fee: Museum and monument, FREE. Elevator to panorama terrace, €7.
---
Trevi Fountain and Spanish Steps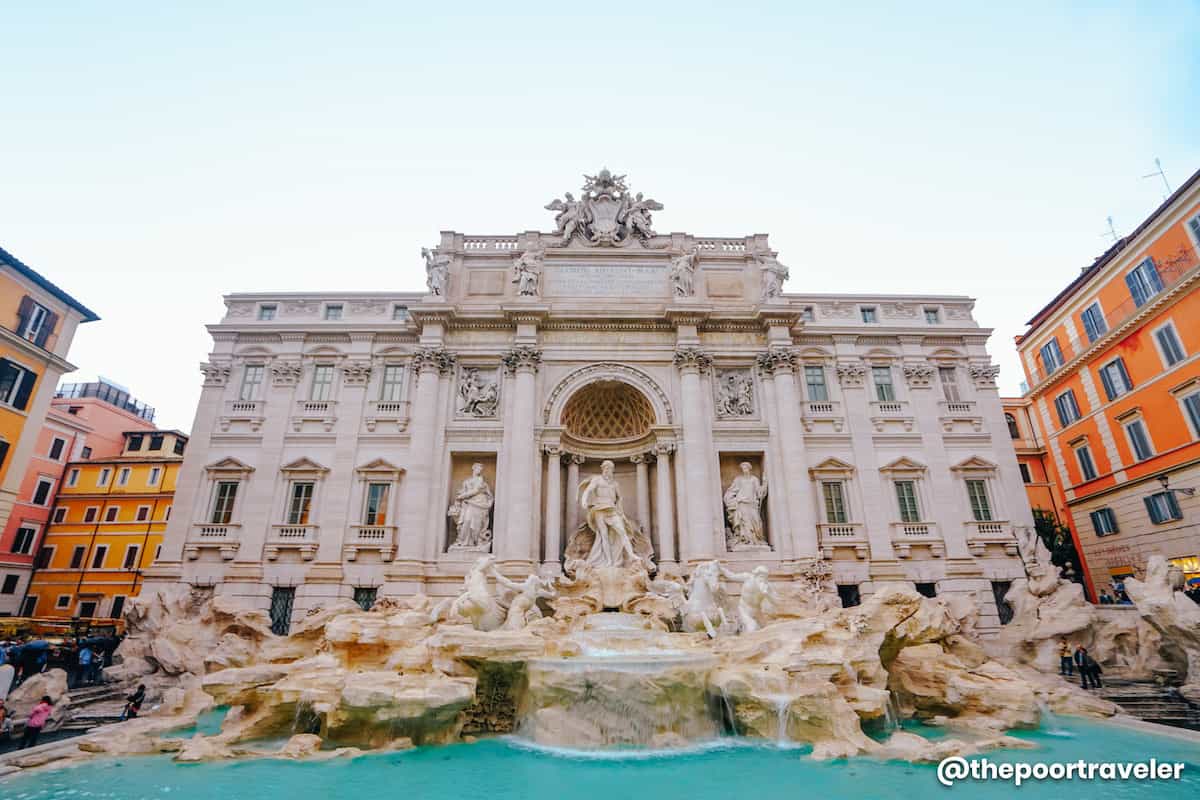 Toss a coin into the fountain, and you'll be back in Rome someday. Toss two coins, and you'll find new love. Toss three, and wedding bells will be ringing for you. At least, that's what the legend says.
The Trevi fountain is perhaps the most famous fountain in the world. So famous that it generates over a million euro per year just from people tossing coins into it. At the end of every day, the municipality collects all the coins to fund charity projects. So whether or not you believe in its rumored wish-granting features, the coin you toss is still going to do some good.
Just a few blocks from the Trevi Fountain is the cinematic Spanish Steps at Piazza di Spagna. Built between 1723 and 1725 to allow easier access to Trinità dei Monti Church, this picturesque staircase is one of the most popular tourist spots in the city. The romantic appeal of these 135 steps was imprinted on the global consciousness by the film "The Roman Holiday" starring Audrey Hepburn.
You can visit the Trevi Fountain and Spanish Steps on your own, but if you want a more insightful experience, you can join a walking tour!
✅ RESERVE A SLOT HERE!
How to get to Trevi Fountain: The closest metro station is Barberini Station on Line A. The closest bus stops are Tritone/Fontana di Trevi and Largo Chigi.

How to get to the Spanish Steps: The closest Metro Station is Spagna Station (Line A).

Admission Fee: FREE (if DIY).
---
Pantheon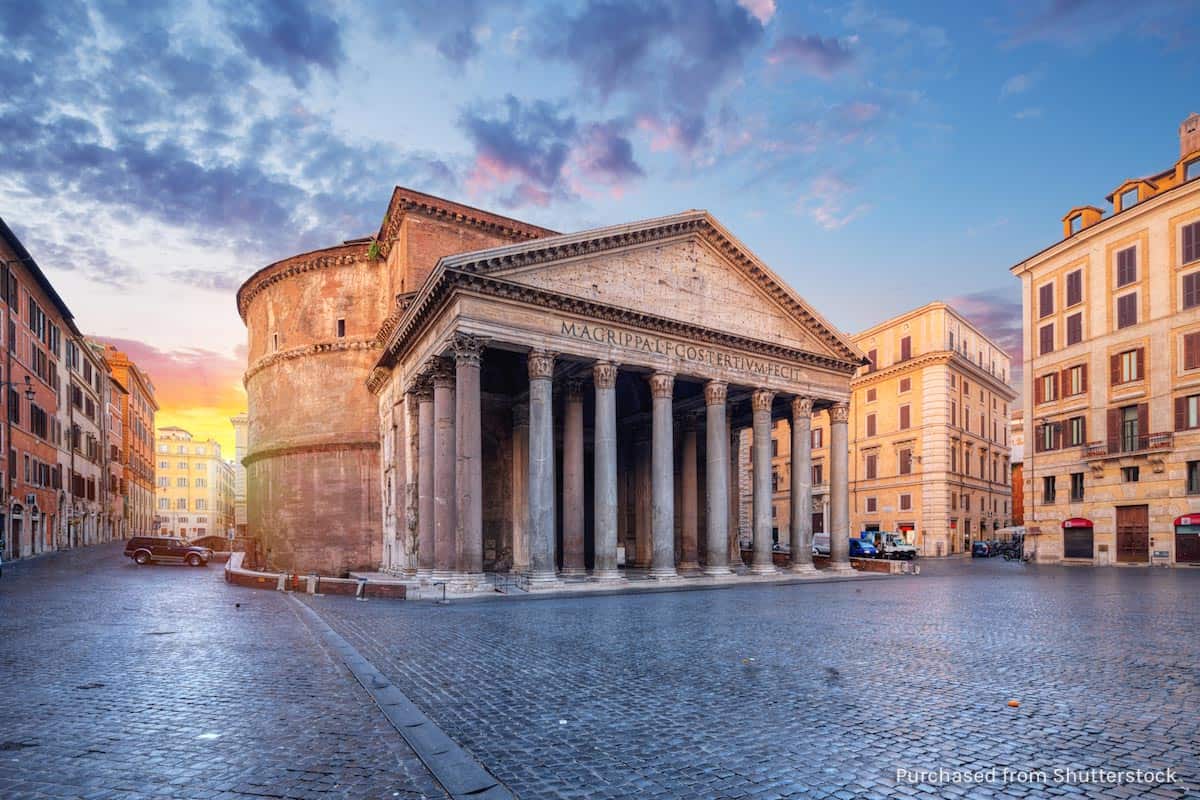 Constructed almost 2000 years ago as a temple, it is one of the best preserved ancient structures in the city. It is also the final resting place for Renaissance artist Raphael, whose tomb is one of the many reasons tourists visit this site.
How to get to the Pantheon: There isn't a Metro Station nearby. The closest are Spagna Station and Barberini Station, which are both 15-20 minutes away on foot. Hence, it's best to visit the Pantheon (and the rest of Old Rome) on the same day you're seeing the Trevi Fountain or the Spanish Steps. The closest bus stop is Argentina Station, near Largo di Torre Argentina.

Hours open: Monday-Saturday, 9am-7:15pm; Sunday, 9am–5:45pm.

Closed: When there is a mass. Also closed on some national public holidays.

Admission Fee: FREE.
---
WHERE TO EAT CHEAP IN ROME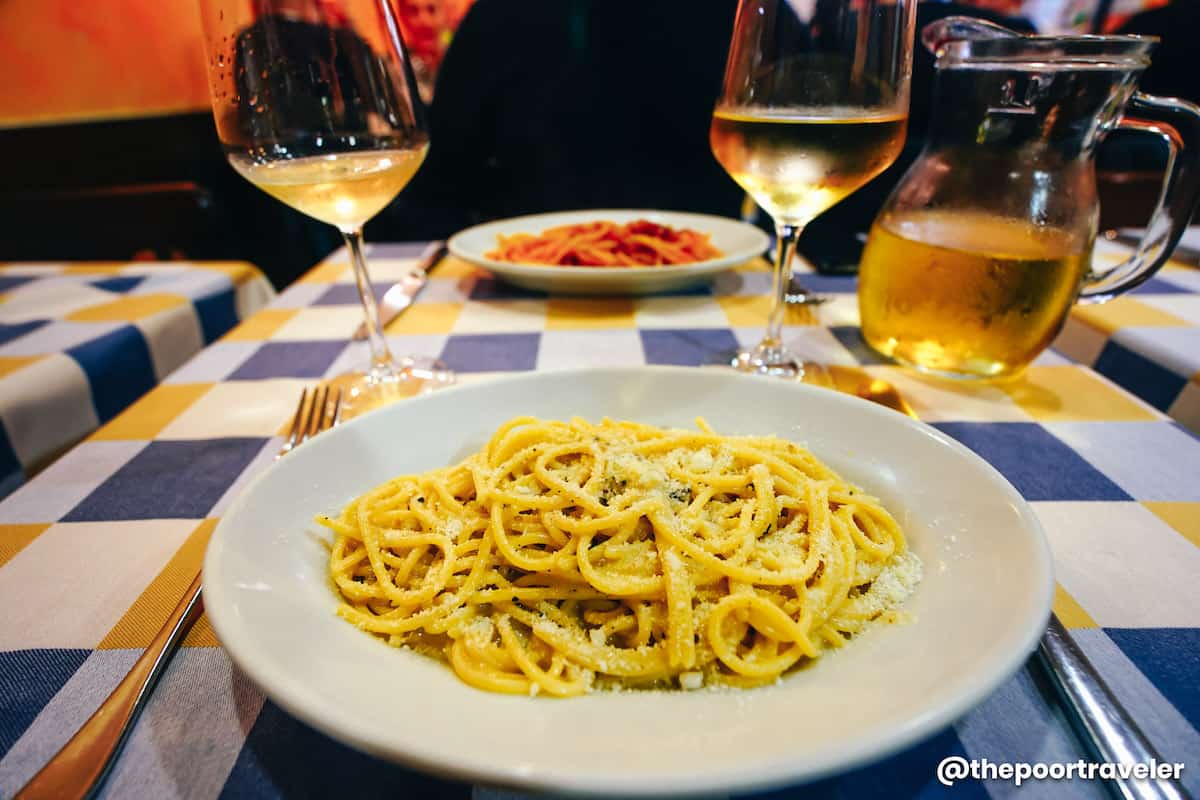 Rome is also famous for its heavenly cuisine. The city's signature pasta dish is cacio e pepe, literally "cheese and pepper". It's pasta tossed with parmesan cheese, butter or olive oil, and crushed black pepper. Another iconic dish is carbonara, pasta with white sauce, pancetta, parmesan cheese, and egg. They even have the National Museum of Pasta or Museo Nazionale della Paste Alimentari in Italian.
Food in Rome is relatively expensive, but there are cheaper options. We've tried several of these budget-friendly restaurants, but these three stood out.
Ristorante Sora Lucia. Their bestsellers are cacio e pepe (€8) and carbonara (€10). It's a small restaurant near the Trevi Fountain.
Address: Via della Panetteria, 12, 00187 Roma RM, Italy.
Price Range: €10 to €50.
La Prosciutteria Cantina Dei Papi Trevi. Cold cuts, cheeses, and a bottle of wine. Their specialty is prosciutto. They also serve bruschetta. Order one of their platters!
Address: Via della Panetteria, 34/A, 00187 Roma RM, Italy
Price Range: €10 to €30.
Cantina e Cucina. We recommend their Cartoccio Scfizioso di Calamari and their Funghi pizza.
Address: Via del Governo Vecchio, 87, 00186 Roma RM, Italy
Street food is also very filling. You can find a panini or a slice of pizza for €6-8 only.
---
SAMPLE ROME ITINERARY
Below is a sample 5-day Rome and Vatican itinerary. The times here are just estimates and for sample purposes only. Actual schedules may vary so give allowance or cross check before your trip.
This itinerary also assumes the following:
You're arriving at Fiumicino Airport.
You're staying at a budget hotel near Roma Termini for €30 per person per night.
You're a party of 2, splitting some expenses.
Your food allowance is €15 per lunch/dinner.
Prices below are in euro.
Needless to say, you should also make the necessary adjustments to fit your schedule and the Papal calendar. For example, if the General Audience with the Pope coincides with your Day 4 instead of Day 3, feel free to switch them up. Similarly, if your Vatican Tour falls on a Sunday, move it because the museums and the Sistine Chapel are most likely closed.
DAY 1: TREVI FOUNTAIN & SPANISH STEPS
10:00 am – Arrival at Fiumicino Airport
11:20 am – Train to Roma Termini, €14
12:00 nn – Walk to hotel, check in
01:00 pm – Stroll toward Trevi
01:40 pm – Ristorante Sora Lucia, €15
03:00 pm – Trevi Fountain
04:30 pm – Spanish Steps
05:30 pm – Walk back to La Prosciutteria
07:00 pm – La Prosciutteria, €15
08:30 pm – Walk back to hotel
DAY 2: VATICAN CITY TOUR
07:00 am – Wake up call
08:00 am – Metro to Ottaviano Station, €1.50
09:00 am – Vatican Museums/Sistine Chapel, €23, Reserve here!

12:00 nn – Lunch, €10
01:30 pm – St. Peter Basilica Tour, €17, Reserve here!

04:00 pm – Try to get Audience tickets from Swiss Guards
05:00 pm – Metro to Roma Termini, €1.50
05:30 pm – Free time
07:30 pm – Dinner, €15
DAY 3: OPTION A – PAPAL AUDIENCE
06:00 am – Wake up call
07:00 am – Metro to Ottaviano Station, €1.50
07:30 am – Enter St. Peter's Square
09:30 am – General Audience with the Pope
12:00 nn – Lunch, €10
01:30 pm – Castel Sant'Angelo, €15
02:30 pm – Cross the bridge to Old Rome
03:00 pm – Old Rome (Pantheon, etc.)
07:00 pm – Dinner, €15
DAY 3: OPTION B – ANGELUS WITH THE POPE
08:00 am – Wake up call
09:30 am – Metro to Ottaviano Station, €1.50
10:00 am – Enter St. Peter's Square
12:00 nn – General Audience with the Pope
01:00 pm – Lunch, €10
02:30 pm – Castel Sant'Angelo, €15
03:30 pm – Cross the bridge to Old Rome
04:00 pm – Old Rome (Pantheon, etc.)
07:00 pm – Dinner, €15
DAY 4: COLOSSEO
07:30 am – Wake up call
09:00 am – Metro to Colosseo Station, €1.50
09:15 am – Colosseum/Forum/Palatine Tour, €40, JOIN GUIDED TOUR HERE!

01:00 pm – Lunch, €10
03:00 pm – Vittoriano
04:00 pm – Bus to Roma Termini, €1.50
05:00 pm – Buy souvenirs
07:00 pm – Dinner, €15
DAY 5: DEPARTURE
06:30 am – Wake up call
08:00 am – Hotel check out
09:00 am – Train to airport
10:00 am – Flight check in
11:00 am – Lunch, €15
01:00 pm – Flight out, €14
If you follow the itinerary above, it will set you back at least €270 (USD 302, SGD 418, PHP 15750) per person excluding the airfare, accommodations, and travel taxes.
If you spend €30 per person on hotel room and pay €3.50 city tax per night, prepare to shell out €404 (USD 452, SGD 626, PHP 23570) per person, excluding airfare and travel taxes.
There are still plenty of ways to further reduce the cost! See the next section.
---
MORE TIPS FOR THE POOR TRAVELER
Find a hostel that allows you to cook or heat your food. This way, you don't have to eat out for each meal! You can hit the grocery and shop for ingredients and prepare your own.
Avail of FREE entry to museums. Many museums throughout Rome allow free access on specific days of the month or year — usually the first Sunday of every month. The actual day varies per museum so check beforehand.
Join FREE Walking Tours. I indicated paid tours above, but if you're really traveling on a shoestring, you can join free walking tours instead. There are plenty of them available in Rome, most starting at Piazza Spagna or another piazza within Old Rome. The guides depend on tips though, so while it is "free," you should still give the guide some amount if you like their service.
Don't dine anywhere near touristy spots. These overpriced restaurants cater primarily to unsuspecting tourists. Walk for 10 minutes or so into the deeper alleys and you'll find small cheaper places where locals eat.
Hungry but thrifty? Try paninis. These sandwiches cost only €5 or €6 each, but they are very filling. Pizza slices are also cheap, at €6-8 each.
Tap and fountain water is potable. They're safe to drink. It's just a matter of taste for most people.
---
FREQUENTLY ASKED QUESTIONS ABOUT ROME
Do I need a visa to visit Rome?
Italy is part of the Schengen agreement. If you're a Philippine passport holder, you will need a Schengen Visa to visit Rome. If Italy is the only country you are going to visit or if you're traveling to multiple countries but staying in Italy the longest, you will need to apply for a visa via the Italian Embassy.
For more information about how to get a visa from the Italian Embassy, READ: ITALIAN SCHENGEN VISA!
---
Is Rome safe?
Rome is generally safe. It's easy to imagine Italy as a land of gangsters just because of the word "mafia". Sure, there is organized crime in Italy, but they're not directed at tourists.
What tourists should be worried about are petty crimes like pickpocketing and scams, which are quite prevalent in the Italian capital.
---
What scams are common in Rome?
Like other major cities in Europe, scams are very rampant in Rome. Here are some of the most common:
Rose or bracelet scam. A random person (sometimes a child) will approach you and give you a rose or a bracelet. You'd think it's for free, but they will charge you exorbitantly for it. Don't accept anything from strangers, especially at touristy spots!
Switching bills. The seller or taxi driver switches notes and claims you're not paying enough. For example, you hand them a 50-euro bill but he will quickly replace it when you blink and tell you that you handed him only 5 euro. Because you're not that familiar with their money and it happened so fast, you'd actually think that you made a mistake but you didn't.
Overcharging taxis. You know this. It happens in every other city on earth. Just insist on the meter and keep an eye on it.
Pickpocketing. Rome is notorious for pickpockets. Most common at touristy places and buses! Not even the St. Peter's Square in Vatican City is safe. Someone opened my bag while I was there to pray the Angelus with the Pope. Thankfully, they didn't take anything valuable. Make sure you keep your wallet in hard to reach parts of your body/clothes and always be vigilant.
---
When is the best time to visit Rome?
March and April are the best months to be in Rome. The weather is pleasant, not too hot but not too cold. The attractions aren't that crowded either. October and November are great options, too. It's shoulder season, so it's almost like March and April. My only problem with this period is the rain because November is the wettest month.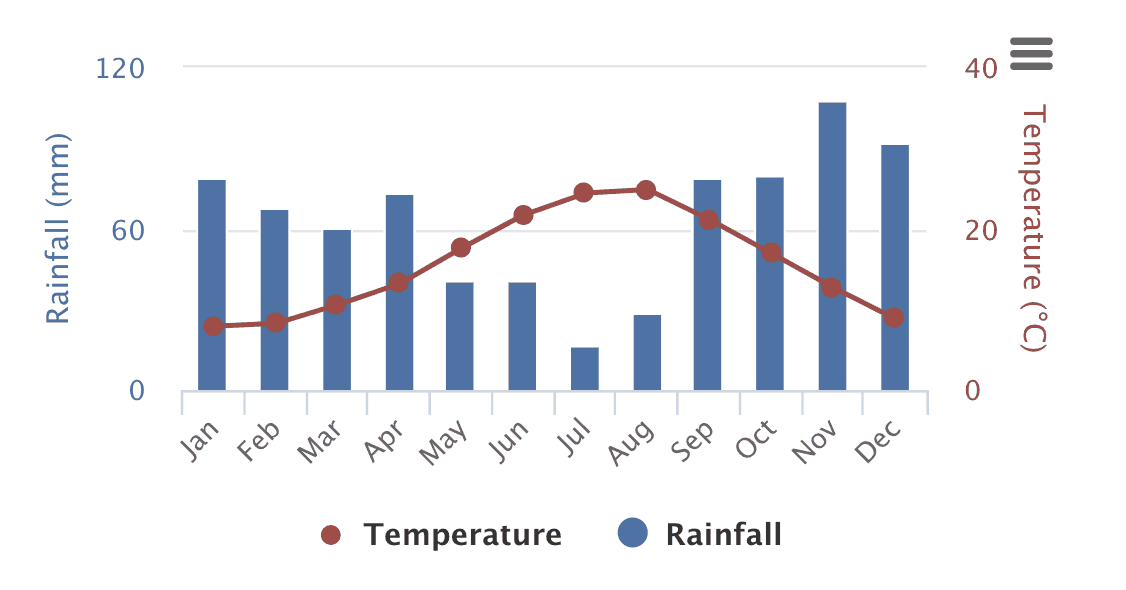 Rome is best enjoyed when it is not jam-packed with tourists. In general, October to April is okay. Winter is also when airfare and hotel rates drop significantly, enabling you to enjoy more with your budget. But avoid the weeks surrounding major holidays like Christmas and Easter (Holy Week).
May to September is high season (peak season). Not only is anything tourism-related much more expensive, you're also elbow-to-elbow with other vacationers. The summer months of July and August, in particular, are when locals go on holiday and international tourists come flooding in.
If you're visiting to attend a mass led by the Pope, check the Vatican schedule and build your itinerary around it. To see the Papal schedule, visit www.papalaudience.org/schedule.
---
How much is the Rome tourist tax? Is it included in hotel bookings?
Rome collects city tax from tourists ranging from €3 for 1-star hotels to €7 for 5-star hotels per person per night. For AirBnB, it's €3.5 per person per night.
It's often NOT included in the hotel booking and has to be settled upon arrival at the hotel.
---
What is the tipping policy in Rome?
Tipping is not expected in Rome. It is appreciated but not really expected.
At restaurants, the "tip" usually takes the form of something else (service charge, bread, etc.) and is already included in the bill. No need to tip more unless you really enjoyed the service. Note that coperto, while normal in most parts of Italy, is illegal in Rome.
At hotels, you can tip €1 per bag for porters or €1 per day for hotel chambermaids.
In taxis, tips are not expected.
---
Is tap water safe to drink in Rome?
Yes, it's safe to drink. It's just a matter of taste.
Also, you might want to refill your water bottles. There are over countless drinking fountains in Rome. No need to buy bottled water each time.
---
What type of power plug / socket is used in Rome?
Electricity Info: 230 volts, 50 Hz. Common sockets are Type F, which also accept plugs that have two round pins (C and E).

---
Co-written with Yosh Dimen.
2️⃣0️⃣1️⃣9️⃣ • 8️⃣ • 8️⃣
---