If you're traveling to WESTERN TOTTORI soon, here's our YONAGO-DAISEN TRAVEL GUIDE with sample YONAGO-DAISEN ITINERARY, list of THINGS TO DO, and budget breakdown. If you're more interested in TOTTORI CITY or KURAYOSHI CITY, check out this post instead: TOTTORI CITY TRAVEL GUIDE.
Even when I was severely struggling to walk, it was not difficult at all to be in a contemplative mood. It was our first day in Daisen. The crisp air and the fresh snow were the first to greet us. Just a few moments before, a quick dusting added another layer to the already thick blanket of snow. I am no ski-virgin, but this would be my first time to try snowshoeing. With snowshoes firmly fastened and ski poles lightly gripped, we began our trek through the bare forest to the temple up in the mountain.
Where I'm from, Mt. Daisen is unheard of. When we think of Japanese mountains, there usually is only one that pops in mind: the iconic snow-capped Mt. Fuji. But Japan's wrinkled terrain is blessed with many other peaks. One of the most culturally significant is Mt. Daisen in Tottori Prefecture. At the right angle, it looks like Fuji too, only smaller, but its importance goes beyond appearances. The volcanic Mt. Daisen is the most revered mountain in the country. In fact, for most of its history, locals believed that the mountain itself is a god.
Mt. Daisen is a center of mountain worship in Japan. It is so sacred that up until the Edo Period (Tokugawa era, 1603-1868), no one is allowed to climb unless accompanied by an assigned monk. It is of great spiritual importance to the Tendai sect of Mahayana Buddhism and the syncretic Shugendō religion.
Mt. Daisen is just one of the many destinations in store for you on this side of Tottori Prefecture!
WHAT'S COVERED IN THIS GUIDE?
UNDERSTANDING YONAGO AND DAISEN
Yonago City and Daisen Town are both on the western end of Tottori Prefecture. With only 500,000 residents, it is the least populated prefecture in Japan. It's composed of four cities — Tottori City (the capital), Yonago, Kurayoshi, and Sakaiminato — and 15 towns, many of which lie in the foothills of its iconic mountains, including Mt. Daisen.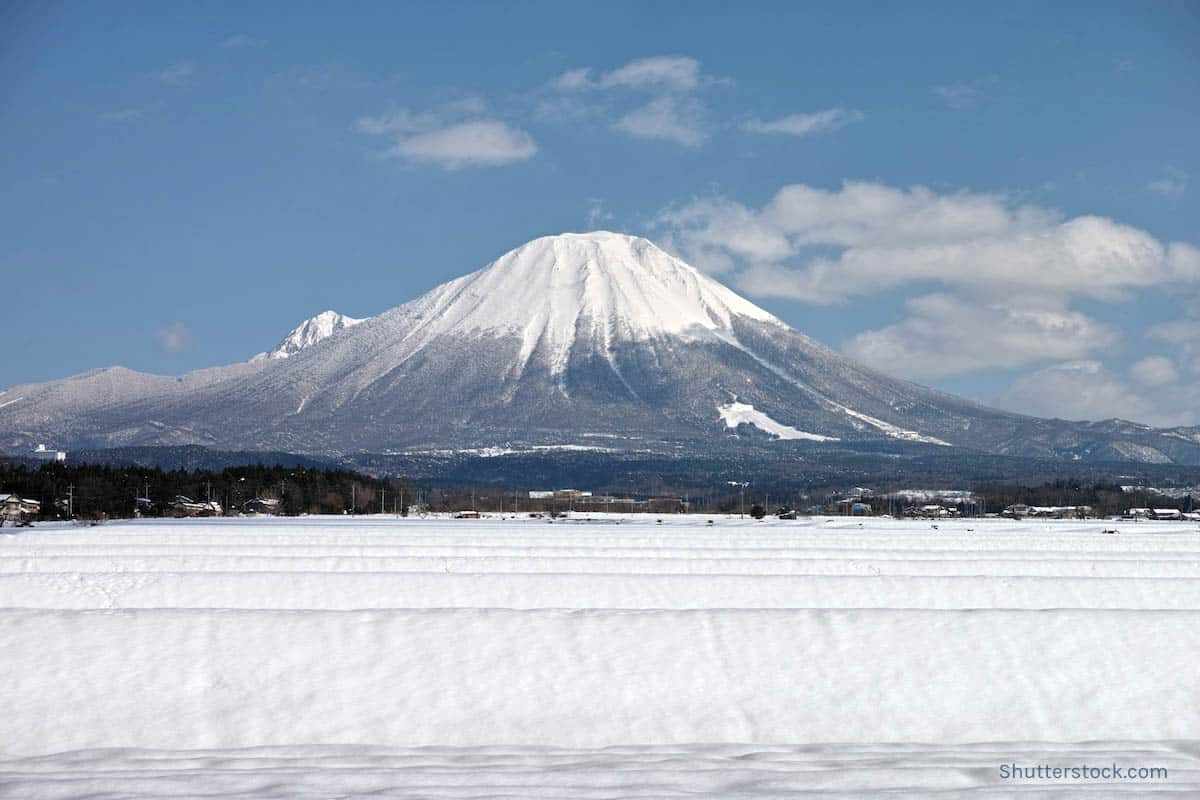 Yonago City is the second largest and second most populous city in Tottori Prefecture, next only to Tottori City. It is the commercial and transportation hub of Western Tottori.
This travel guide focuses on Western Tottori, spanning the Yonago City, Sakaiminato, and Daisen. We also included Kurayoshi City because it's easily accessible from there.
Tottori Prefecture enjoys a relatively low cost of living. Compared to Tokyo or even Osaka, you'll find your yen having more purchasing power here because much of the produce is sourced locally, a testament to the richness of the area in natural resources. The best part is, things are cheaper but the quality is often better. For example, one of the prefecture's key products is Tottori beef, a premium-grade melt-in-your-mouth precursor to other highly revered but insanely expensive Kobe beef, Matsusaka beef, and Omi beef.
Other info you need to know:
Language: Japanese (Nihongo). The majority of the locals seldom speak English, but most of the signs and other tourist promotional materials have English translations.
Currency: Japanese Yen (JPY, ¥). JPY 1000 is around USD 8.80, SGD 12.2, EUR 7.80, PHP 466 (as of November 2018).
Modes of payment: Cash is king here. Many high-end establishments also accept credit card transactions, but cash is still preferred.
Electricity Info: 100V. Type A sockets. Plugs have two flat pins. Type B is sometimes used but not that common.

---
BEST TIME TO VISIT YONAGO CITY
Like most of Japan, Tottori enjoys a temperate climate, which means four distinct seasons. The summer months of June and July are the wettest and hottest, while the winter months of January and February the driest and coldest.
That said, compared to that of other key Japan destinations, Tottori's summer isn't really that hot, and winter not that harsh. Check out the graph by the Climate Change Knowledge Portal below.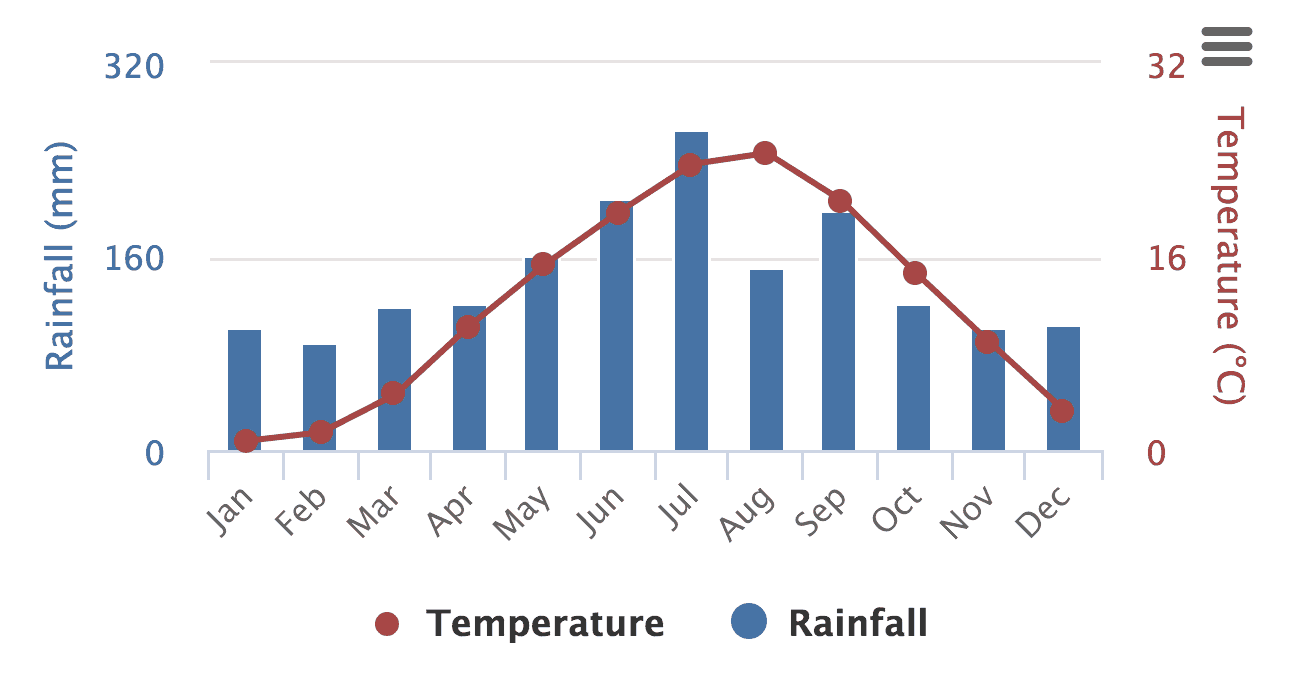 Tottori Prefecture is a year-round destination. Each season offers different experiences. The "best" season depends on what you want to enjoy. For example, I'm a winter guy, so I'm always partial to the cold months, even in Tottori. Winter brings wonderful ocean bounty including the highly sought-after matsuba-gani (snow crabs) and mosa-ebi (stalwart shrimps). I also enjoyed skiing down the slopes of Mt. Daisen!
---
HOW TO GET TO YONAGO CITY
Tottori Prefecture has two commercial airports, and both are incredibly cool: the Tottori Sanyu Conan Airport in Tottori City and Yonago Kitaro Airport in Sakaiminato. Both airports were named after famous Japanese manga, Detective Conan and GeGeGe no Kitaro.
Although the name suggests otherwise, the Yonago Kitaro Airport is actually located in Sakaiminato, not in Yonago, but it's still pretty accessible. It connects the area to mostly domestic destinations and Hong Kong and Incheon (Seoul).
Many travelers visit Yonago as part of a grander Japan itinerary. Usually, they come from Tottori City, Osaka, or Hiroshima.
---
YONAGO KITARO AIRPORT TO CITY CENTER
To get to the city center, you have plenty of options. Let's use JR Yonago Station as your destination in the city. Travel time is 30 minutes.
By Train. Walk to JR Yonago Station and take the JR Sakai Line to YONAGO. Fare: ¥240.
By Bus. Fare: ¥590.
By Taxi. Fare: over ¥4000.
---
TOTTORI CITY TO YONAGO CITY
If you're coming from Tottori City and you want to travel by train, you have 3 options from JR Tottori Station:
Limited Express Super Oki or Super Matsukaze. Travel time: 60-65 minutes. Fare: ¥1660. Seat Fee: ¥1500 if reserved, ¥1180 if non-reserved.
Tottori Liner. Travel time: 102 minutes. Fare: ¥1660. No seat fee.
JR San-in Line. Travel time: 140 minutes. Fare: ¥1660. No seat fee.
---
MANILA TO YONAGO CITY
Hong Kong Airlines, Asiana Airlines, and All Nippon Airways can all take you to Yonago but with a stop in Hong Kong, Incheon and Tokyo respectively. If you book with ANA, be aware that they fly to Yonago from Haneda. For a more hassle-free journey, make sure that you're connecting at the same airport.
Another way to reach Yonago from Manila is to fly to Osaka or Fukuoka. A lot of Airlines connect Manila to Kansai Airport, including Cebu Pacific Air and Philippine Airlines.
From Kansai Airport or Fukuoka, you need to take a bus to the city center and then take another bus to Yonago City.
---
OTHER JAPAN DESTINATIONS TO YONAGO CITY
---
---
WHERE TO STAY IN YONAGO CITY
Yonago City is a great base for travelers who want to see much of Tottori Prefecture. It's surrounded by other interesting destinations like Daisen and Sakaiminato, which are all easily accessible from here.
You should also consider spending at least one night in Daisen if you plan on doing lots of snow activities or explore much of Mt. Daisen.
Here are the budget-friendly properties in YONAGO with the best reviews on Agoda.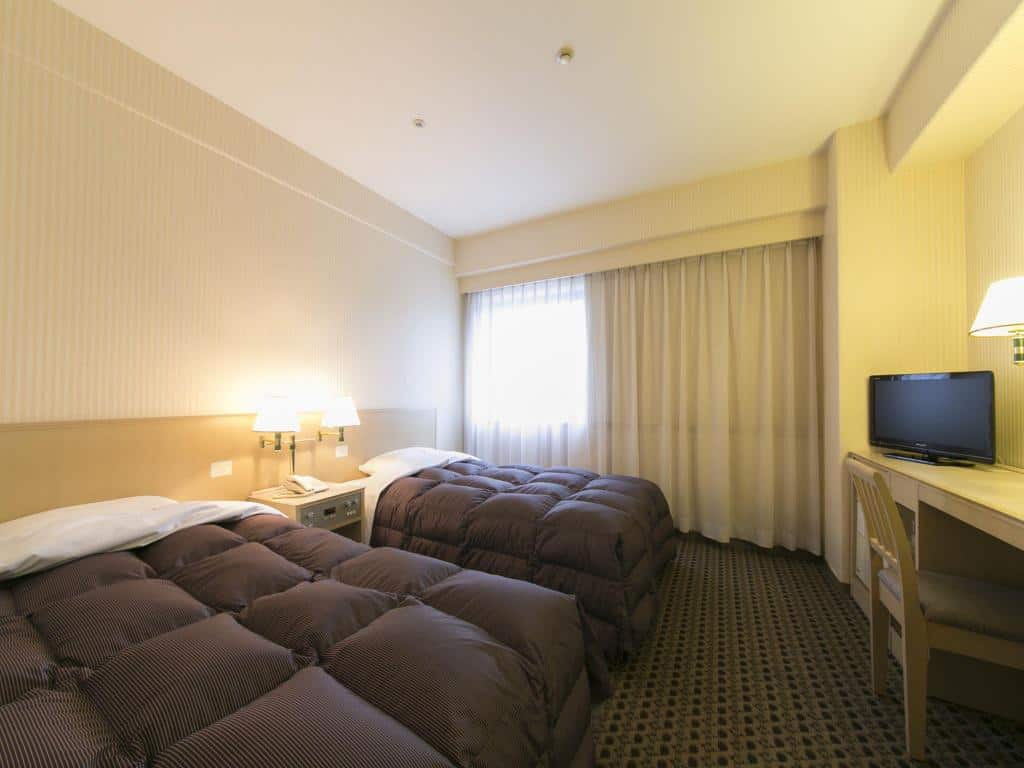 ---
HOW TO GET AROUND YONAGO CITY
Tottori is the least populous prefecture in Japan, so transportation options are quite limited. But it's still easy to get around if you know your way.
Please note that IC Cards like ICOCA and PASMO/SUICA are currently only accepted in limited areas in Yonago, Higashiyamakoen, Hoki-Daisen and Neu, all of which are on the western side of the prefecture. Yonago station and a few stations have automatic ticket gates for IC card. Tottori station and Kurayoshi Station don't have them yet. Buses in Tottori don't either. It is still a bit behind in terms of IC card usage.
---
Yonago Buses
For tourists, there are three buses that you're most likely gonna use to explore Yonago City.
Dandan Bus, aka Yonago Loop Bus. This will take you to most key spots in Yonago city. Fare: ¥150.
Donguri Korokoro Bus, aka Yodoe-cho Loop Bus. Yodoe-cho used to be a separate town but was merged with Yonago City in 2005. Fare: ¥150.
Daisen Loop Bus. This will take you from Yonago to key attractions in Daisen. It's a SEASONAL SERVICE. It does not operate all year, but only from late April to late November. It usually runs on weekends and holidays only. But it has daily service in the following periods: Japan's Golden Week, late July to mid-August, and late October to early November. Fare: ¥160-¥720. If you're planning on taking this bus often, get a pass. One-day pass costs ¥1000. Two-day pass, ¥1300.
---
Unlimited Bus Pass
If you're spending 3 days in Tottori Prefecture, you can score big savings if you purchase an Unlimited Ride Pass (aka 3-Day Wooden Ticket), which will allow you to take as many bus rides as you can around the prefecture. Yep, it's NOT limited to Yonago City. You can use this pass even in cities in Eastern and Central Tottori.
Fare: ¥1800
Validity: 3 days
Below is a list of buses that accept this pass:
Fixed-route buses serving Tottori Prefecture (i.e. Nihon Katsu, Hinomaru Bus)
Dandan Bus (Yonago Loop Bus)
Donguri Korokoro Bus (Yodoe-cho Loop Bus)
Daisen Loop Bus
Yonago Airport Shuttle Bus (Yonago Station-Tottori Station)
Loop Kirinjishi Bus
Kukuri Bus (Tottori City Circular Bus)
Iwami-cho Town Bus
Tottori Airport Shuttle Bus (Tottori Airport-Tottori Station Loop Kirinjishi Bus)
You can get one at the following spots.
YONAGO CITY
Bus Terminal in front of Yonago Station
Yonago City Tourist Information Center
Yonago Airport Information Center
Hakuho no Sato
Kaike Onsen Ryokan Union
DAISEN
Daisen Tourist Information Center
TOTTORI CITY
Bus terminal in front of Tottori Station
Tottori City Information Desk
Tottori Airport
KURAYOSHI/MISASA
Nihon Kotsu Kurayoshi Bus Center
Misasa Hot Springs Tourism Association
Bus Plaza
Hotel St. Palace Kurayoshi
---
THINGS TO DO IN WEST TOTTORI
Yonago City Tour
Here are some places you might want to check out in Yonago City.
Kaike Onsen. This is a hot spring area along the coast of Yonago, lined with almost a dozen spas and baths. The main attraction here is the warm water that comes from the seafloor, believed to have healing benefits, among others.
Yonago Castle Ruins. In Japan, most great cities have had their own castle at one point in their history. But like Tottori City's, the castle of Yonago no longer stands. Yonago Castle was destroyed in late 1800s in time for Meiji Restoration. What remains are the base structures.
Yonago City Museum of Art. Located at Nakamachi 12, this is an art gallery that houses permanent collections of photographs of Tottori's homegrown talents like Teikō Shiotani and Shōji Ueda. It also exhibits several paintings and other pieces. Open: Thursdays-Tuesdays, 10am-6pm. Closed: Wednesdays. Entrance Fee: ¥310.
Kotobuki Castle of Sweets. This souvenir shop is built after the image of the Yonago Castle back in the day. Inside is a store selling desserts and seafood products and a cafe. Hours open: Daily, 9am-6pm.
---
Daisen White Resort Skiing
Location: Daisen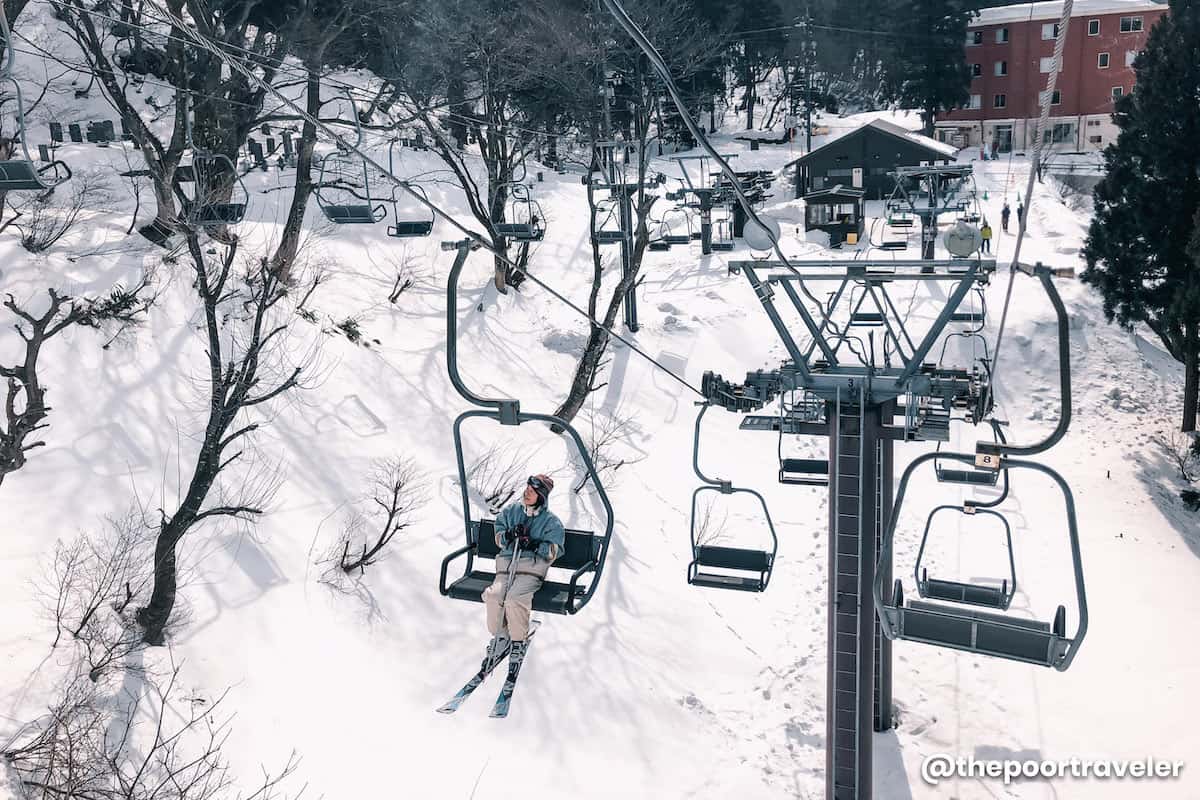 The slopes of the mountain are home to several snow resorts. Whether you're a beginner or a more seasoned skier, you'll find a ski resort that matches your needs. If you're like me who is just starting out, you can hire a skiing instructor.
One of the most popular is Daisen White Resort, which is just a short walk from Daisen Tourist Information Center and bus stop. This is where I learned to ski.
LIFT FEES
1-day ticket (weekend, holiday): ¥4,900 adult, ¥3500 child
1-day ticket (weekday): ¥4,300 adult, ¥3500 child
2-day ticket: ¥8600 adult, ¥6500 child
Parent-child ticket: ¥7300
Half-day ticket: (9am-1pm or 11:30am-5pm): ¥3700 adult, ¥2200 child
Nighta ticket (5-9pm): ¥2500
Long night ticket (3pm-9pm): ¥3000
A ¥500 security deposit is also collected per person.
Please note that there are periods of the year when the weekday discount isn't applied.
RENTAL RATES
Ski set (ski, boots): ¥3,800 on weekends and holidays, ¥3400 on weekdays
Snowboard set (board, boots): ¥3,800 on weekends and holidays, ¥3400 on weekdays
Snow wear (top and bottom set): ¥3,800 on weekends and holidays, ¥3400 on weekdays
Daisen White Resort is usually open from late December to March.
How to get there: From JR Yonago Station, take the Daisen Loop Bus to Daisenji. From the bus stop, you can walk to Daisen White Resort. Travel time: 40-50 minutes.
---
Snowshoeing at Mt. Daisen
Location: Daisen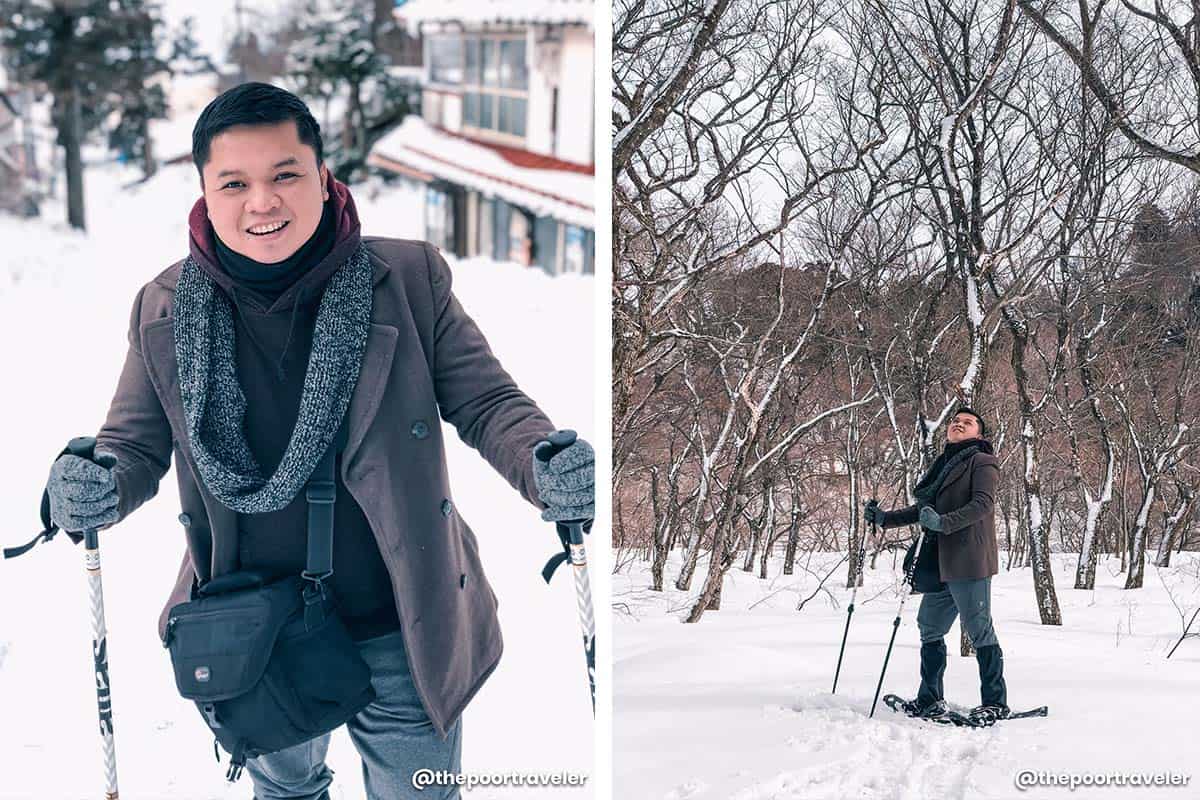 A snowshoe is a type of footwear used to walk on snow. It looks like a shoe on a sled. The "sled" distributes the weight of the wearer so that you won't sink even if you're stepping on thick snow. It's a bit bulky so it needs some getting used to, but it's quite easy to learn.
At Mt. Daisen, snowshoeing is one of the activities you may enjoy. You can walk through the snow-covered forest for 2-3 hours, admiring the scenery along the way. If you're lucky, you also get to see hare and other forest animals. (Small animals, nothing scary.) We tried it and it was a lot of fun. We made it across the forest all the way up to Daisenji Temple and back. Of course, since it's my first time to use snowshoes, I got buried in snow a couple of times. Haha.
Snowshoeing is usually only offered from January to March. Rates: ¥3000-4000, depending on length of tour.
How to get there: From JR Yonago Station, take the Daisen Loop Bus to Daisenji. Travel time: 40-50 minutes.
---
Daisenji Temple
Location: Daisen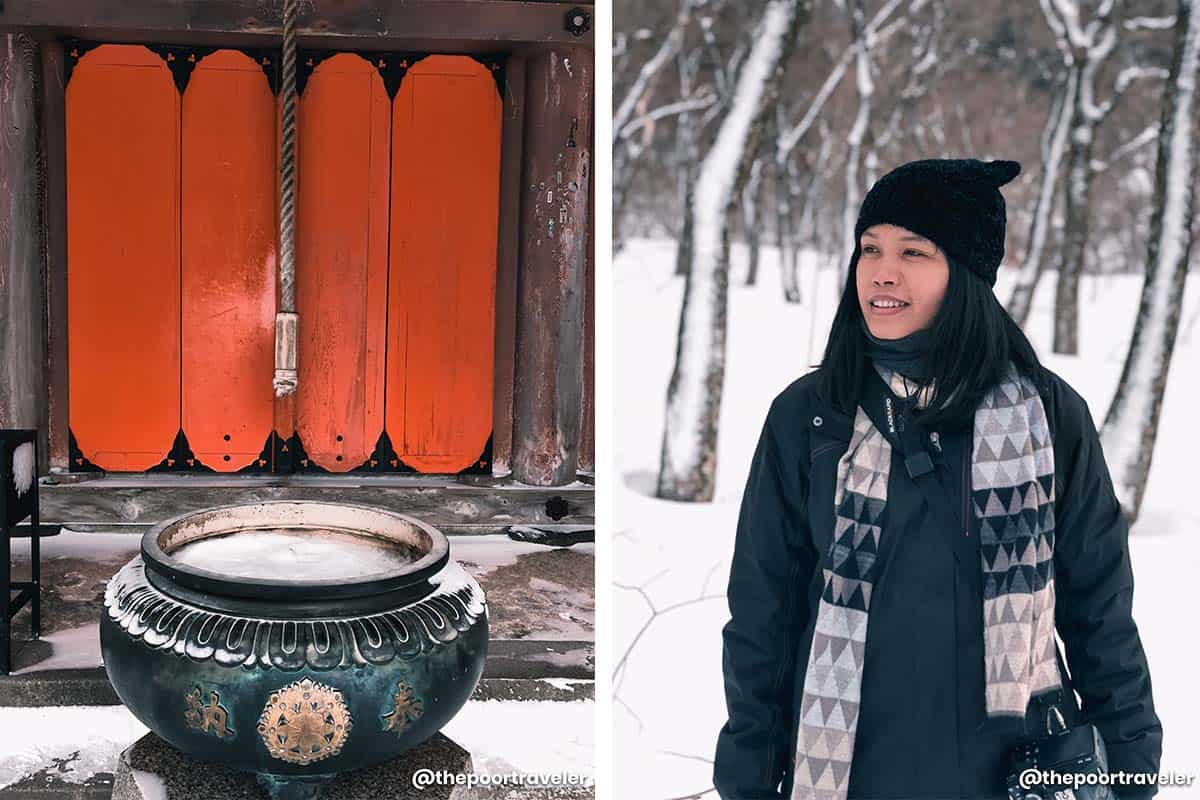 Daisen-ji stands halfway to the top of Mt. Daisen. It has a long history. It was built in 718 . During the Heian period, it was the center of shugendo, a syncretic religion that combines elements from Shinto, Taoism, and Buddhist mountain worship. Eventually, it became a site for the Tendai Buddhist sect until the Meiji Restoration in the late 19th century. It was reopened in 1903.
How to get there: From JR Yonago Station, take the Daisen Loop Bus to Daisenji. From the bus stop, walk to the temple. Travel time: 40-50 minutes.
---
Sakaiminato Fishing Port Tour
Location: Sakaiminato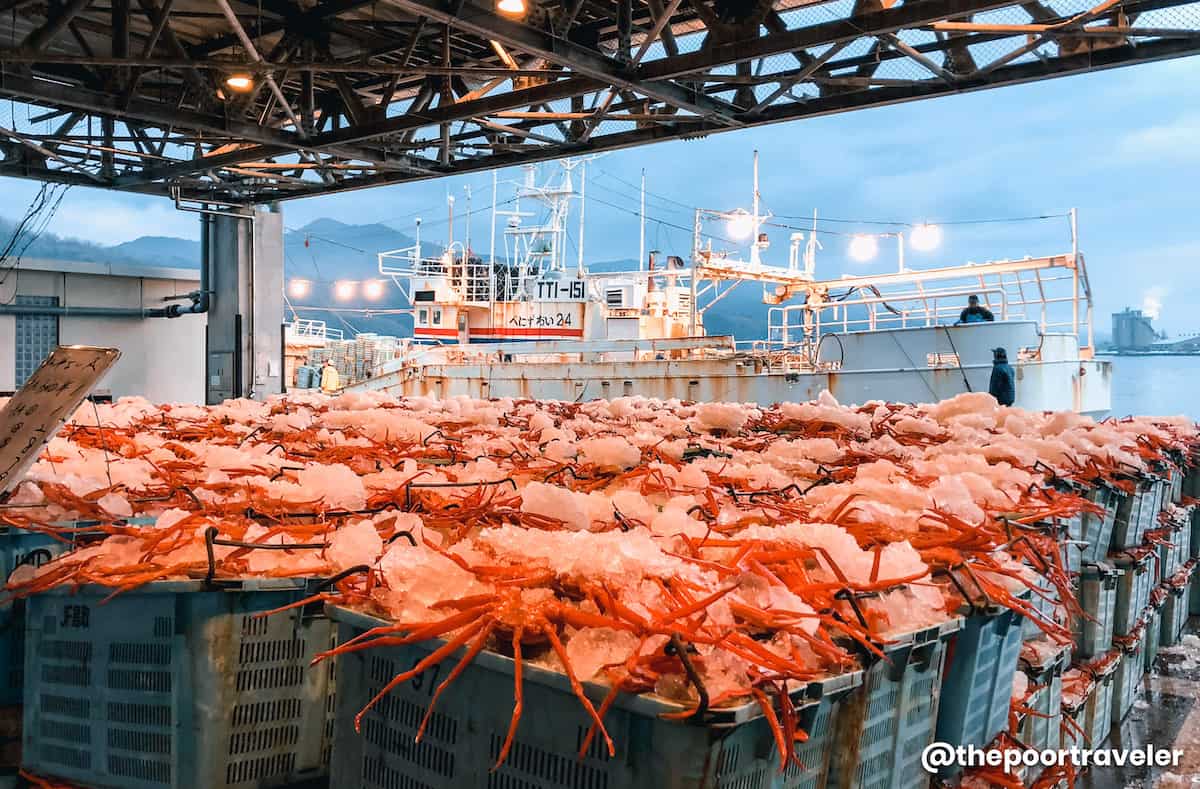 Sakaiminato has been the fishing base of Western Japan for many decades now. Facing Japan Sea, Tottori prefecture has all the right conditions for a lot of marine lifeforms to thrive. Hence, it's no wonder that Tottori is famous for its seafood including mosa-ebi (stalwart shrimp), iwagaki oysters, white squid, and the matsuba crab.
The matsuba crab (male snow crab) and mosa-ebi are two of Tottori's most immaculate winter treats. Both are packed with soft succulent meat that have a distinct natural sweetness. Both can also be eaten raw, straight from the market. They're so sweet and flavorful!
Sakai Fishing Port is the largest fish port in Tottori prefecture. If you visit before sunrise, you can have a guided tour of the fishing port and witness a crab auction up close. You'll see how reps from restaurants from around the prefecture and even other parts of the country bid for crates of precious crabs. I forgot how much the tour is but I remember thinking that it was pretty low.
After the tour, proceed to Sakaiminato Seafood Direct, a nearby market. You'll find several shops inside, each with their own display and tanks with live crabs and fish. There are tables where you can eat. In fact, during our visit at Sakaiminato Seafood Direct, we bought mosa-ebi (¥1200), found a seat, and munched on them straight away without cooking. If you want a proper sit-down meal, you'll find a couple of seafood restaurants inside too.
How to get there: Sakai Fishing Port is situated 1.3km from Sakaiminato Station. Walking takes around 30 minutes.
---
Mizuki Shigeru Road and Museum
Location: Sakaiminato
GeGeGe no Kitaro is one of the most successful manga and anime series in Japan. It's credited for bringing to a larger audience Japanese mythology and folklore. It was the brainchild of manga artist Shigeru Mizuki, who was raised in Sakaiminato.
Near JR Sakaiminato Station is a road flanked with more than 170 bronze statues of characters from GeGeGe no Kitaro. Walking down this street is like walking into another world. If you're a fan of the series, you shouldn't miss this. Not too far away is Mizuki Shigeru Museum, which showcases the life and work of the famous manga artist.
Museum hours: Daily, 9:30am-5pm
Museum entrance fee: Adult, ¥700; Child, ¥300; Foreign passport discounted rate, ¥300.
Road entrance fee: FREE.
How to get there: From JR Yonago Station, take the JR Sakai Line to SAKAIMINATO Station. Travel time: around 45 minutes. Fare: ¥320.
---
Conan Town
Location: Hokuei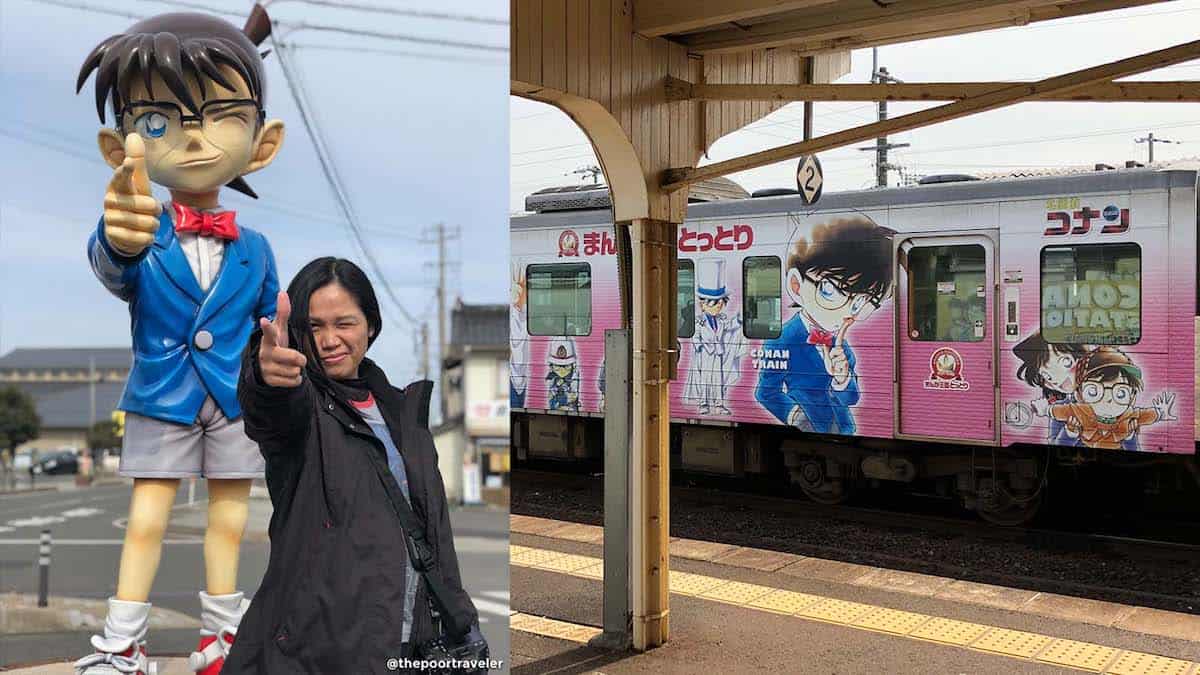 Another major point of interest for manga and anime fans is Hokuei, the birth place of the author of Detective Conan, Gosho Aoyama. The town is littered with monuments paying tribute to the manga/anime, which made it earn its nickname Conan Town. If you're arriving by train, you'll be using CONAN STATION, a train station completely illustrated with characters from the beloved manga. Drop by Conan's House, Beika Shopping Street, and the Gosho Aoyama Manga Factory.
Entrance Fee: FREE (most sites, except the Manga Factory)
Gosho Aoyama Manga Factory Entrance Fee: Adult, ¥700; Student, ¥500; Child, ¥300.
How to Get There: From Yonago Station, board the train to Yura Station (Conan Station). Travel time: 39-60 minutes. Fare: ¥760.
---
Tottori Hanakairo Flower Park
Location: Nanbu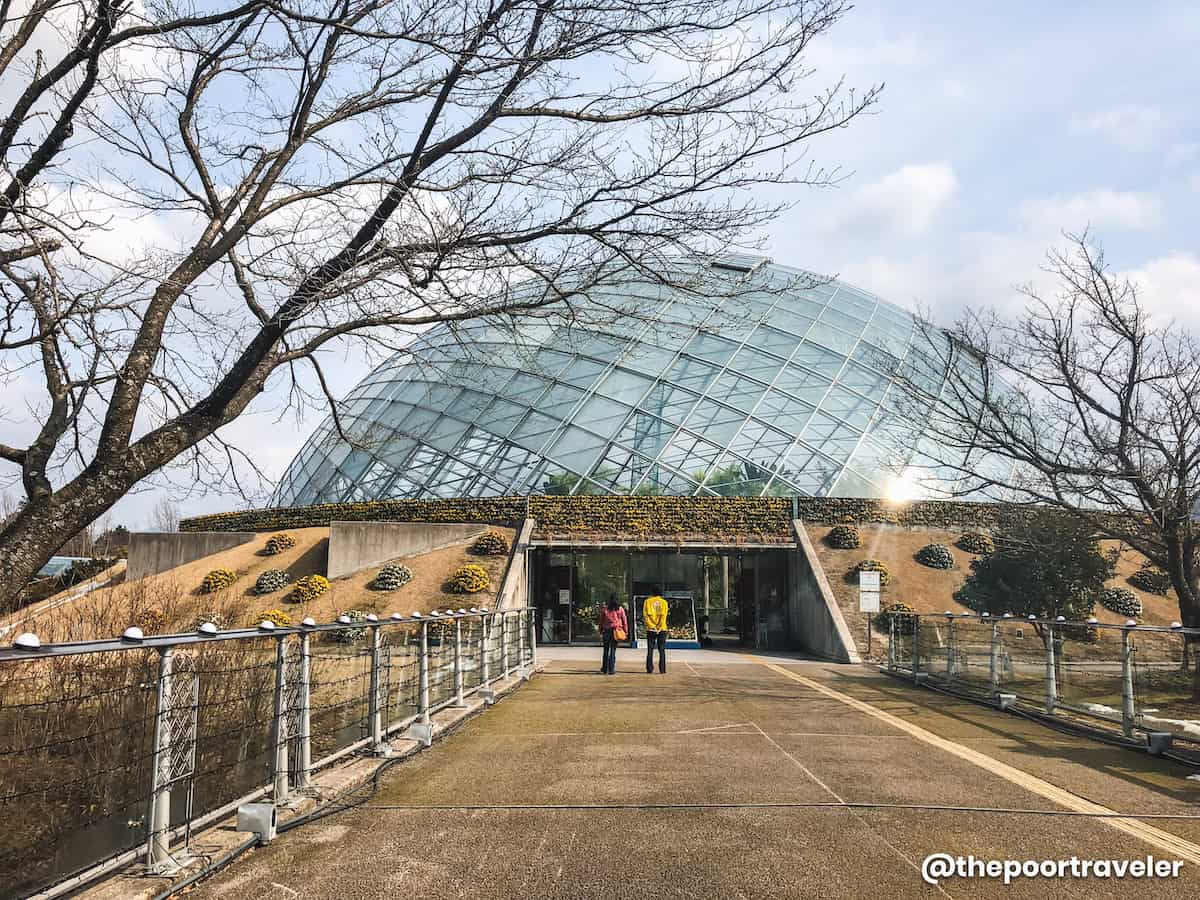 Japan has a lot of flower parks sprinkled throughout the country, but the Tottori Hanakairo Flower Park (Tottori Prefectural Flower Park) is remarkable for three reasons. First, its size: It is the largest in Japan, covering an area of 50 hectares with a 50-meter dome at the very center of it. Second, its grandeur: It boasts over 2 million individual plants of over 400 species. Lastly, the scenery: It lies at the foot of Mt. Daisen, offering an unobstructed view of the sacred mountain.
Open: April-November 9am-5pm, December-March 9am-4:30pm
Closed: December 16-31, and every Tuesday from December-March
Entrance fee: April-November ¥1,000, December-March ¥700yen
How to get there: Tottori Hanakairo Flower Park has its own shuttle bus. You can catch it at Platform 5 of Yonago Station. But if you're visiting as part of a larger Yonago-Daisen itinerary, you can take the Daisen Loop Bus and just get the ¥1,000 one-day pass. This is the 20th stop.
---
Other Places to Visit in Tottori Prefecture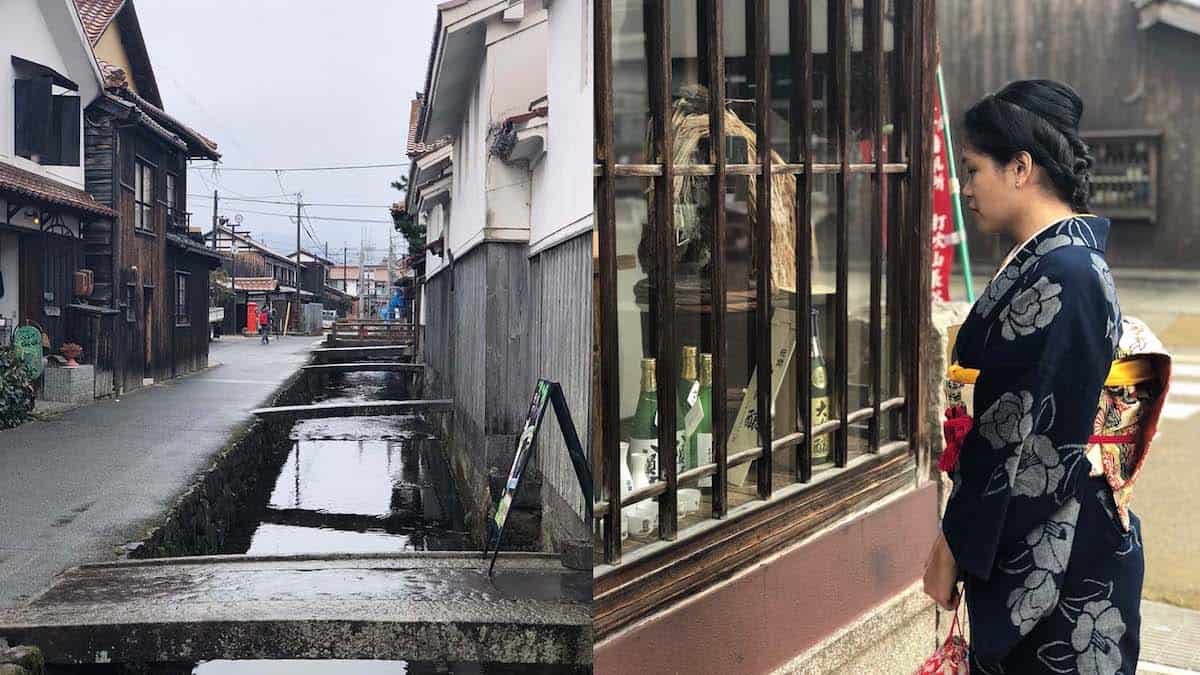 If you have more time, consider spending a few days exploring the eastern half of Tottori prefecture!
Tottori. Tottori City is the prefectural capital, famous for the Tottori Sand Dunes, one of the largest in Japan, and the Uradome coast, among others
Kurayoshi. Although a city, it feels more like a small suburban town. Kurayoshi is rich in traditions and restaurants serving the rare gyukotsu ramen.
Misasa. An idyllic town famous for its onsen (hot springs) and Sanbutsu-ji, a Buddhist Temple perched on a cliff of Mt. Mitoku, 900m above sea level.
For more information about these places, read: TOTTORI TRAVEL GUIDE!
---
WHERE TO EAT IN YONAGO AND DAISEN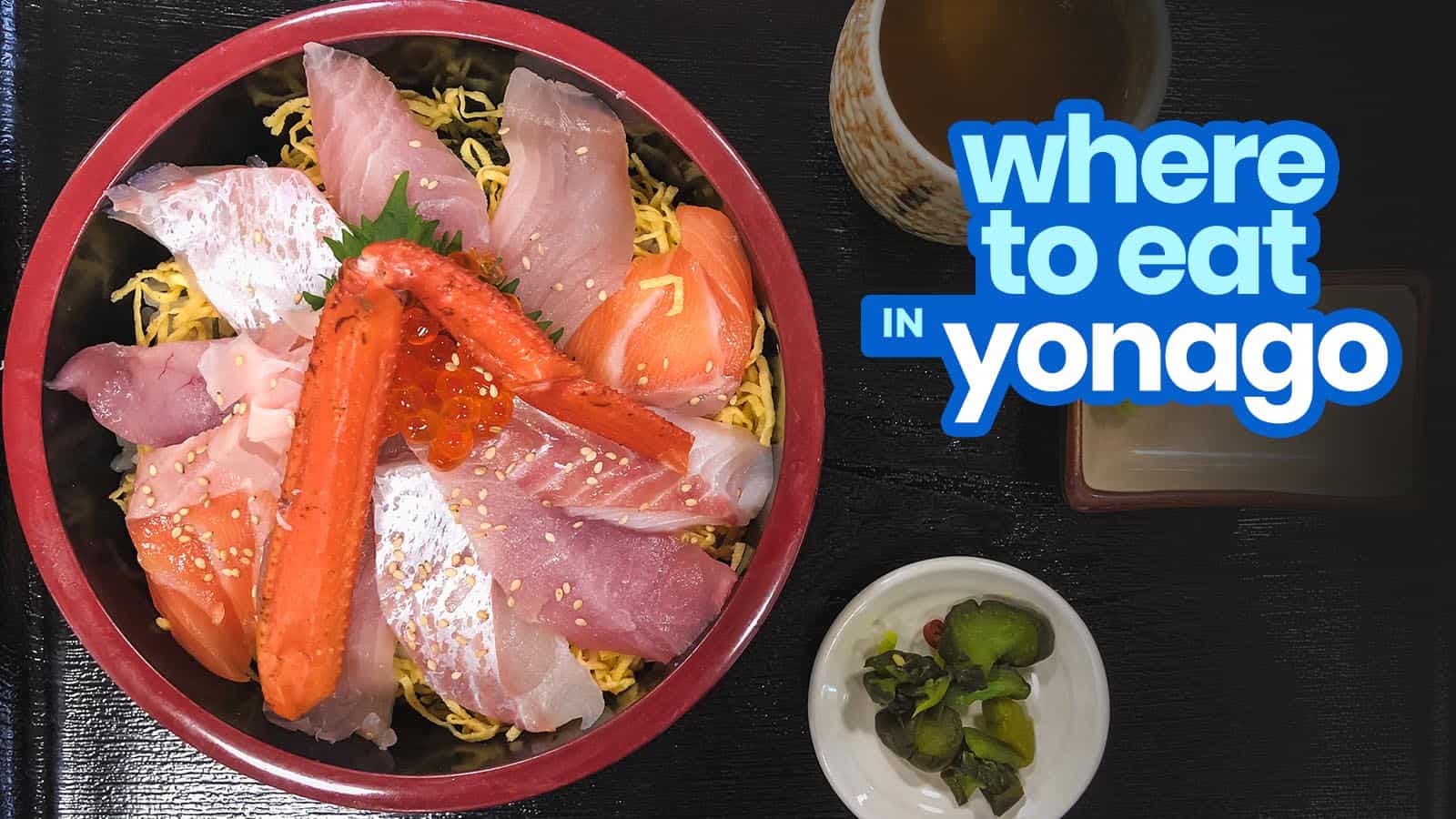 From the deep sea to the highlands, West Tottori is bursting with natural resources that provide top-quality produce and catch. Yonago and Daisen are famous for Tottori beef and Daisen chicken. Sakaiminato is celebrated for its fresh seafood including the highly sought-after matsuba-gani (snow crabs) and mosa-ebi (stalwart shrimps). Neighbors Kotoura and Kurayoshi also serve gyukotsu ramen, a one-of-a-kind noodle soup that uses cattle bones for its broth.
Because there are a lot of interesting must-try restaurants in this side of Tottori prefecture, we created a separate post for it.
READ: WHERE TO EAT IN YONAGO, DAISEN AND SAKAIMINATO!
---
SAMPLE YONAGO-DAISEN ITINERARY
Below is a sample Yonago-Daisen itinerary. Please take note that both itineraries assume the following:
You're a group of 2, splitting the cost.
You're coming from Osaka.
Your entry point to Japan is Kansai International Airport.
Airfare is not included in the cost estimates.
As always, feel free to make necessary changes to this itinerary to match your flight schedule and other preferences.
Day 1: ARRIVAL
Arrival at Kansai Airport
Bus to OCAT, ¥1050
Quick bite, ¥500
Bus to Yonago City, ¥4800
Arrival in Yonago, walk to hotel
Hotel check-in, rest
Dinner at Yakiniku Kozo, ¥4800
DAY 2: DAISEN
Walk to Yonago Station
Purchase Unlimited Bus Pass, ¥1800
Daisen Loop Bus to Daisenji
Snowshoeing (¥4000, if winter) or hike to Daisenji Temple
Lunch at Komorebito Sunset Cafe, ¥2000
Daisen Loop Bus to Tottori Hanakairo Flower Park
Tottori Hanakairo Flower Park, ¥1000
Bus back to Yonago
Dinner, ¥1000
Day 3: SAKAIMINATO + YONAGO
Bus to Sakaiminato Station
Mizuki Shigeru Road, FREE
Mizuki Shigeru Museum, ¥700
Walk to Sakaiminato Seafood Direct
Eat Mosa-Ebi, ¥600 (¥1200/2pax)
Kaisendon Lunch at Kaiyoutei, ¥1620
Bus back to Yonago
Walk to Yonago Castle Ruins
Walk to Yonago City Museum of Art
Yonago City Museum of Art, ¥310
Walk to Maikoshi Bus Stop
Bus to Kaike Onsen
Explore Kaike Onsen
Walk to Hokkaido Sushi
Dinner at Hokkaido Sushi, ¥1500
Bus back to Yonago Station
DAY 4: CONAN TOWN
Walk to Yonago Station
Buy packed lunch, ¥800
Train to Yura Station, ¥760
Walk around Conan Town
Walk to Gosho Aoyama Manga Factory
Gosho Aoyama Manga Factory, ¥700
Walk back to Yura Station
Train to Urayasu, ¥190
Eat Gyukotsu Ramen at Takauna, ¥800
Train to Yonago, ¥670
Back to hotel
Day 5: DEPARTURE
Free Time
Hotel check out
Walk to Yonago Station
Ride bus to Osaka, ¥4800
Arrival at Osaka Namba/OCAT
Lunch, ¥1000
Bus to Kansai Airport, ¥1050
Departure
If you're coming from Kansai Airport and you follow the itinerary above, prepare to shell out at least ¥40,000 (353 USD, 487 SGD, 312 EUR, 18700 PHP) excluding airfare and hotel accommodations. You can still bring down the cost by skipping dinner at Yakiniku Kozo, which costs ¥4800.
If you're flying to Yonago Kitaro Airport and you're removing Days 1 and 5, the remaining 3-DAY ITINERARY will set you back at least ¥22,000 (195 USD, 268 SGD, 172 EUR, 10,300 PHP) excluding airfare and hotel accommodations.
Of course, it also depends heavily on your spending habits. It's always best practice to pad this budget and give it wiggle room so you won't be strapped for cash just in case something comes up or you decide to try something not on the itinerary.
---
MORE YONAGO TRAVEL TIPS FOR THE POOR TRAVELER
Drop by Tourism Office every time you see one. Grab their brochures and you might just learn something. There might be other promos you may not heard of yet. Ask the staff if you have questions or in need of recommendations. They're a big help and always eager to assist.
Spend your 1-yen coins when paying at supermarkets or convenience stores. You won't be able to use them at vendo machines. I always end up going home with a pocketful of 1-yen coins and now I don't know what to do with them. Hahaha.
Many vending machines serve both cold and hot drinks. Most people are surprised to learn about the hot options. Really helpful when you're out in the cold.
Japanese bills look alike (same color). What varies is the size of the bill. The ¥1000 and ¥10,000 can be confusing so be careful. However, the Japanese are highly UNLIKELY to take advantage. They will even be the first to tell you.
When using the escalator, keep left if you're not moving.
If you have a cold or cough, wear surgical masks in public. Locals wear those not because they don't want to get sick but because they don't want to pass on the illness to others.
Learn a few Japanese phrases. The most useful would be Sumimasen (Excuse me, sorry) and Arigatoo gozaimasu (Thank you).
Save this "quick translation" image on your phone. Just point to the Japanese phrase that corresponds to what you want to say when asking locals.
---
OUR YONAGO-DAISEN SLAM BOOK
Best thing about West Tottori: Food. It's just sooooo good, especially for its price. I know that the above itinerary allocates only ¥1000 per meal most of the time, but if you have the budget, spend a little more and try the restaurants we listed here.
Something about West Tottori that you don't like: It's pretty detached from other destinations in Japan. It takes at least 3 hours to reach it from any major city like Osaka or Hiroshima. Thankfully, it's still accessible and the government is doing their best to lower the fare.
Most unforgettable moment: Skiing at Daisen White Resort. This wasn't my first time to try to ski, but this was the first time that I was able to complete skiing down a slope. I fell down multiple times on my first attempt, but my second try was smooth and fall-free! I was so excited. Haha.
Favorite meal. Oh my gosh. This one's tough, but I think I will never ever forget that bowl of gyukotsu ramen I had at Takauna. It was the best ramen I've had in my life.
Favorite spot. The woods surrounding Daisenji Temple. We went snowshoeing so we got to explore the nearby snow-blanketed forest. The view was amazing. I will never forget the sight of ghostly trees rising from pure, fresh snow.
Biggest surprise. That there's a lot to see and enjoy in Tottori. I didn't know what to expect before coming here, but this remains one of my favorite trips in Japan. And I've been to 21 prefectures!
Biggest disappointment. That we didn't have enough time to see everything that the region has to offer..
---
FREQUENTLY ASKED QUESTIONS ABOUT YONAGO & DAISEN
Is Yonago safe?
Yes, Yonago and Tottori prefecture in general are safe. But it doesn't mean that you should let your common sense fly out the window. Follow the rules all the time.
If you're traveling in winter and you're not used to snow, know that it can be very slippery. Here are some winter tips.
---
What is tipping policy in Yonago?
Tipping is not practiced in Tottori. To settle your bill, you are expected to approach the cashier on your way out. The cashier is usually stationed by the entrance/exit.
---
Is Yonago a better base for travelers than Tottori City?
That's a tough question. It depends on what you want to experience. If you're after Tottori Sand Dunes and Kurayoshi City, Tottori City is the better base.
But if your priority is Mt. Daisen or Sakaiminato, then book a hotel in Yonago City.
Tottori is best experienced if you spend your nights in multiple locations. Even Misasa Town is a great choice if you want time to relax.
---
How long to stay in Yonago or Daisen?
If you want to just see what West Tottori has to offer, 3-5 days should already give you a satisfying experience. But the central and eastern parts of the prefecture are just as fascinating, to be honest. For the full Tottori experience, I think 10 days is a great length.
We spent 7 days and it felt like it wasn't enough. We wished we stayed longer in Misasa Town and Daisen. The good news is, we have a lot of reasons to return.
---
What is the power socket used in Yonago?
100V. Type A sockets. Plugs have two flat pins. Type B is sometimes used but not that common.

---
Do I need a visa to visit Japan?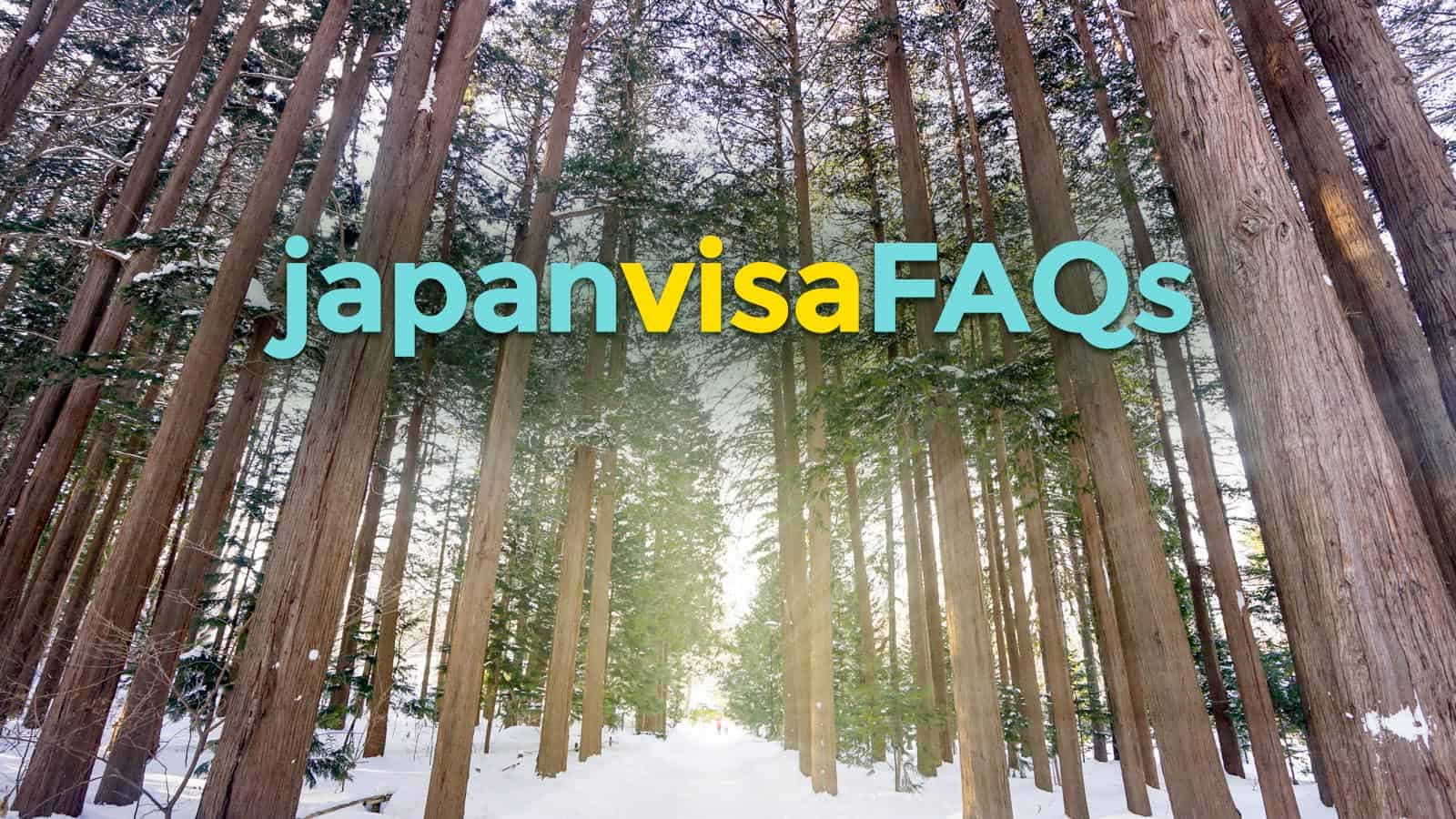 If you're carrying a Philippine passport, here are our posts about the visa application process that can help you.
---
2️⃣0️⃣1️⃣8️⃣ • 1️⃣1️⃣ • 1️⃣6️⃣