If you think the grass is always greener on the other side, it's probably time to have a closer look at your lawn because maybe, just maybe, it is greener than you think.
Laguna is one of the provinces we often overlook partly because its edges aren't laced with pearly beaches. Joke's on us because paradise isn't always made of sand and saltwater. Much of Laguna is almost untouched, still covered with dense rainforests concealing several magnificent waterfalls. Many of its historic towns retain many pieces of its glorious past. And its cuisine showcases some of the best of the Southern Tagalog region.
Laguna is actually an ideal road trip destination. From the Seven Lakes of San Pablo to the glorious cascades of Luisiana to the carving tradition of Paete, Laguna has a lot to offer. The best part: It's within close proximity of Manila.
---
WHAT'S COVERED IN THIS GUIDE?
Understanding Laguna
During the Spanish era, Laguna was officially called La Provincia de la Laguna de Bay. "Laguna" literally means lake, referring to the country's largest lake, which got its name from the town of Bay. Together with Metro Manila and the province of Rizal, the lake serves as its northern boundary, while Cavite, Batangas, and Quezon border it in the west, south, and east respectively.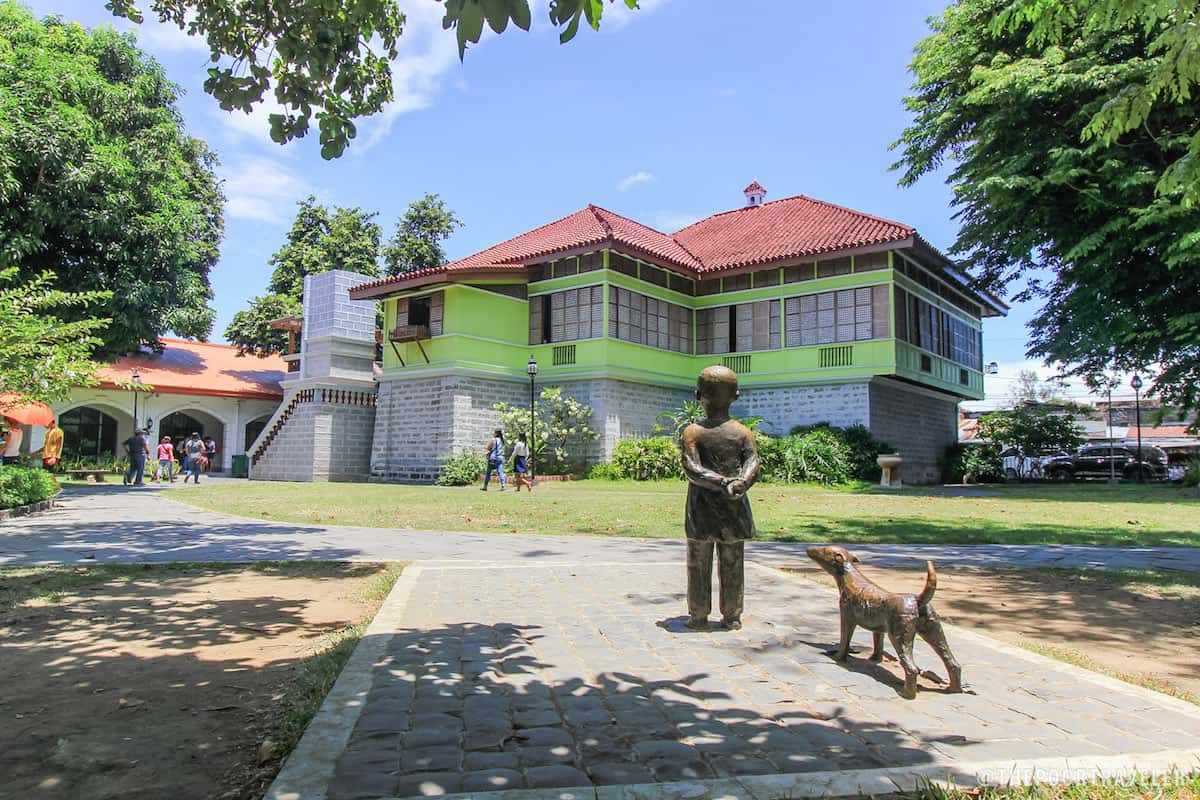 Laguna is most famous as the birthplace of Dr. Jose Rizal, the country's most celebrated hero, whose death on 30 December 1896 strengthened the yearning for Philippine independence and inspired many other revolutionary leaders.
For our non-Filipino readers, locals here speak Tagalog, but virtually everyone understands English so language barrier won't be a problem during your visit.
---
How to Get to Laguna from Manila
One of the most easily accessible provinces, Laguna is linked to Manila by two major thoroughfares: the South Luzon Expressway (SLEX) and the Manila East Road. The former is the better choice if you're going to the western side (Calamba, Sta. Rosa, Binan) and the latter for the northwestern side (Mabitac, Siniloan, Pangil).
Several bus companies ply routes to its many towns and cities, with San Pablo City, Calamba, Los Banos, Santa Rosa, and the capital Sta. Cruz as the main transportation hubs. You can find their terminals in Cubao and LRT Buendia (Pasay).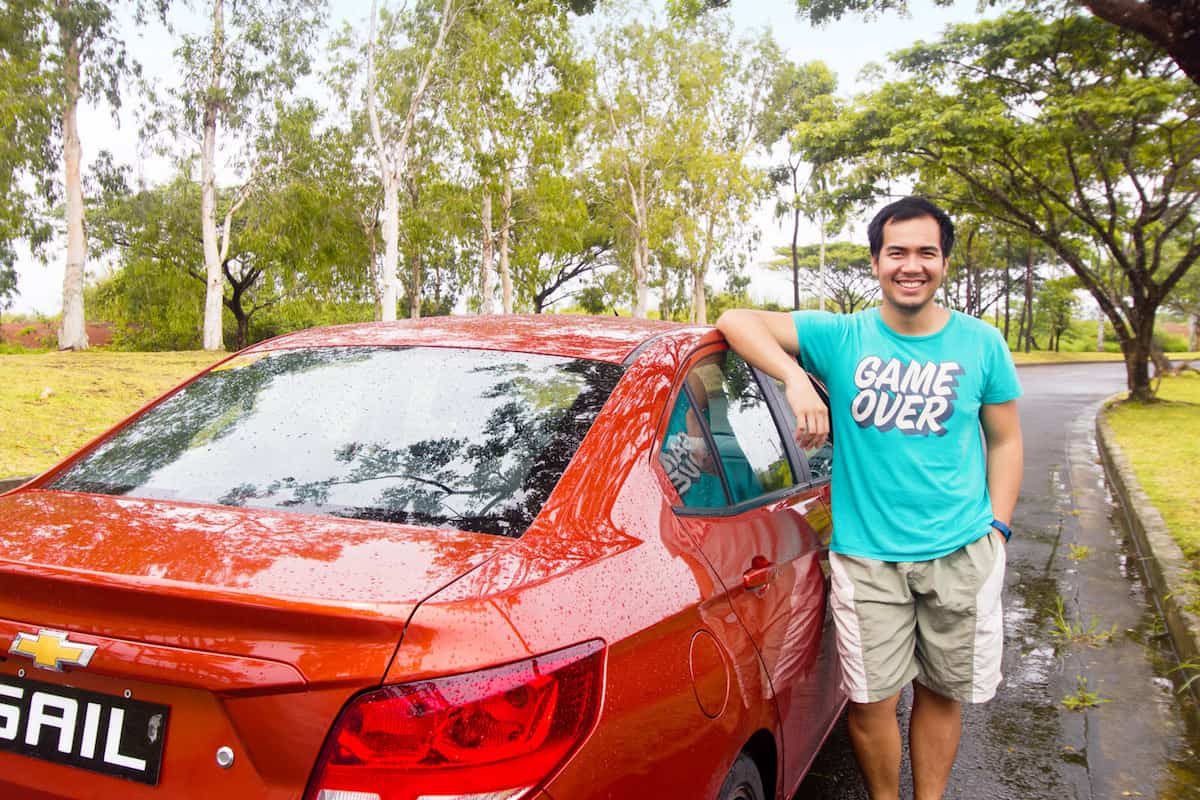 The thing with Laguna is that most of its attractions are spread out, located so far apart from one another, that while public commute is definitely possible, it can be an exhausting effort. For the longest time, we've traveled Laguna that way, but this year, we were able to bring our own car on three occasions and it makes a lot more sense. Roads in Laguna are mostly paved and it's actually an easy drive, so sedans can handle the journey really well. Not only is having your own ride more comfortable, it also turned out way cheaper than taking public transpo.
Just two weeks ago, we went on a road trip to Luisiana and Cavinti. Chevrolet SAIL lent us the car we used, and it only reinforced just how Laguna is such a great road trip destination if you're a group of three or more. Our trip was hassle-free even when it was raining hard that weekend. We got a bigass trunk that accommodated all our bags and left lots of free space, so it was so easy to fish something out of our bags in a hurry. The 16″ alloy wheels allowed light driving and quick reflexes. It's also fuel-efficient. We only refilled once, making this trip much cheaper than I expected.
For the whole 2-day trip, our transportation expenses were only the toll fee (P214 one-way) and gas (P500 and a lot was still left in the tank when we returned the car). We were a party of four, which sets the total transportation cost to Luisiana at only P232 per person. If you commute, each of us would be paying at least P360 on bus, jeepney and tricycle fares.
---
Best Time to Visit Laguna
The dry months of December-May are always a great time to visit because there's very little chance that it will rain.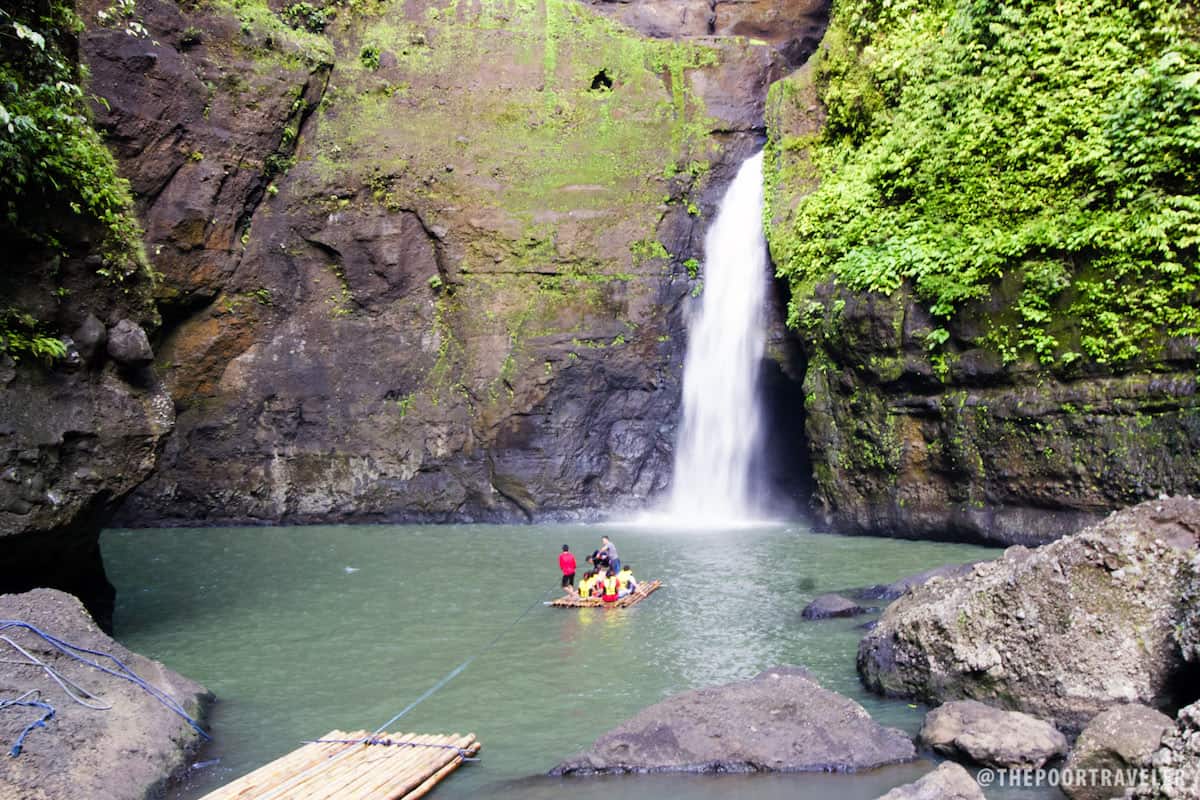 That said, Laguna is one of the few destinations that are great (even greater, sometimes) during the rainy season (June-November). It's especially true if you're going there for its many majestic waterfalls, which are splashier and more spectacular after the rain. But remember: visit in the rainy season but not immediately after the rain. After a downpour, the water turns brown and murky, and the trail muddy and slippery. Give the trail time to dry.
Also, weekends = crowds. Better visit on a weekday (Monday-Friday). But please note that most museums like the Rizal Shrine in Calamba are closed on Mondays. If your only available time is the weekend, it's alright. Go regardless.
---
How Many Days for a Visit?
Before I discuss the itinerary, you need to know first how many days you want to do this road trip.
Because it is near Manila, you can visit some attractions in Laguna a day tour. Here are some examples of day tours which will still allow you ample time to enjoy each stop. You can do each item in just one day:
San Pablo City and its lakes (usually Pandin and Sampaloc)
Boating from Pagsanjan to Cavinti Falls
Majayjay, Liliw and Nagcarlan Day Tour
Paete, Pangil, Kalayaan Day Tour
Hulugan Falls + Aliw Falls in Luisiana
Overnight tour is great too! But if you want to experience most of what the province has to offer, drive around Laguna de Bay (what many call Laguna Loop) and spend at least 2 nights. This ensures you get to enjoy multiple towns and try the many restaurants along the way.
---
Where to Stay in Laguna
Check Rates Here: Laguna Hotels!
There are a lot of budget inns and resorts scattered throughout the province. If you're really on a budget, the best post, but the best (and the most popular) ones seem to be concentrated in San Pablo City, Calamba, Santa Rosa, Pagsanjan, and Los Banos.
Below is a list not of the cheapest accommodations but those that provide an experience. Budget travel shouldn't be about the cheapest but those that give you the best value for money.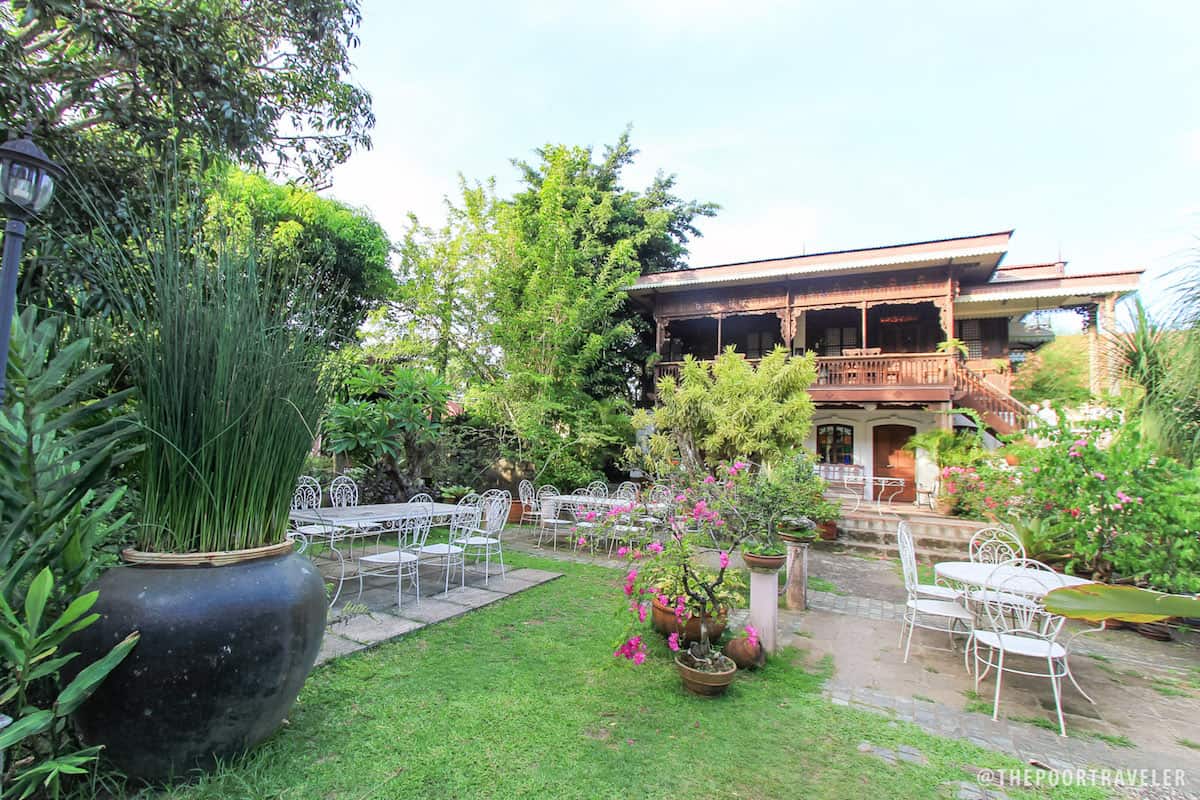 San Pablo City
In my personal opinion, San Pablo City is the most ideal place to spend the night not just because of the quality of accommodations per se but also because there are a lot of lovely restaurants around.
Sulyap Bed and Breakfast (Casa de Obando Boutique Hotel, Casa de Alitagtag Boutique Hotel). Our best hotel experience in Laguna. It's a charming complex of ancestral houses (or at least they look ancestral) fronted by one of the city's best restaurants. The rooms are super spacious. (The bathroom alone can pass as a single room in some hotels.) And the service is on point. BUT super expensive. A double room starts P2900, room for four P5100 with breakfast. Book now or check updated rates here >>
Casa San Pablo. A quiet home turned into a country inn at the heart of the city. A bit expensive but one of the best places to stay in Laguna. They charge per head: the bigger the group, the lower the rates. To give you an idea, an overnight stay if you're a party of five costs P1300 per person. If you're a party of two, P1700 per head.
Tahanan ni Aling Meding. Another good option with a great view of Sampaloc Lake. Costs P2500 per double room. Book now or check updated rates here >>
Cavinti
Caliraya Springs Mountain Lake Resort. Situated on the shore of the man-made Caliraya Lake. A little hard to reach unless you have your own ride. Standard rooms start at P2400/night, a little pricey for me. But if you're a group of 4 or 5, you may stay in a quad room for P4400/night, which is P1100 per person. Note that the rates on their website are higher, but when you're there you'll be given a list of discounted rates (the costs I mentioned), although they may change without prior notice. It's good for golfers and groups looking for team-building activities. Book now or check updated rates here >>
Places to Visit and Things to Do in Laguna
Now that you know how much time you have for this trip, time to build your itinerary. Decide what you want to do! Here are some of the more popular attractions in Laguna!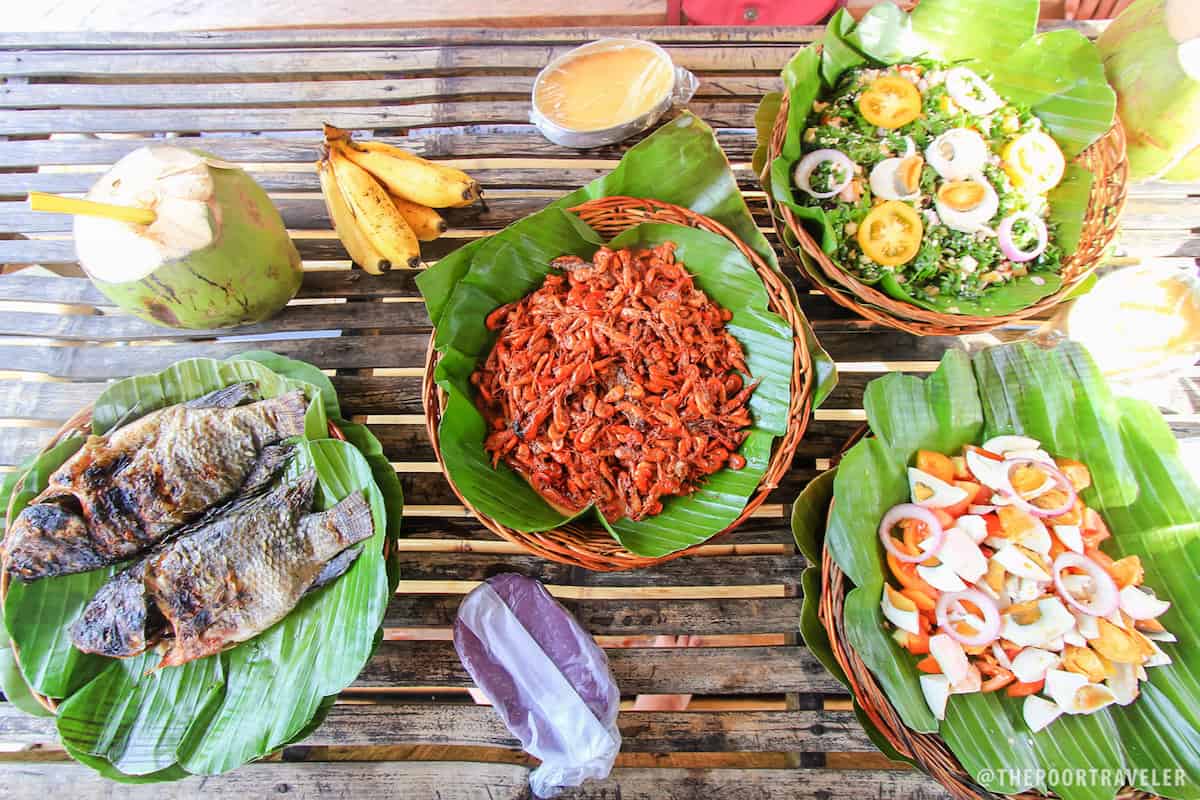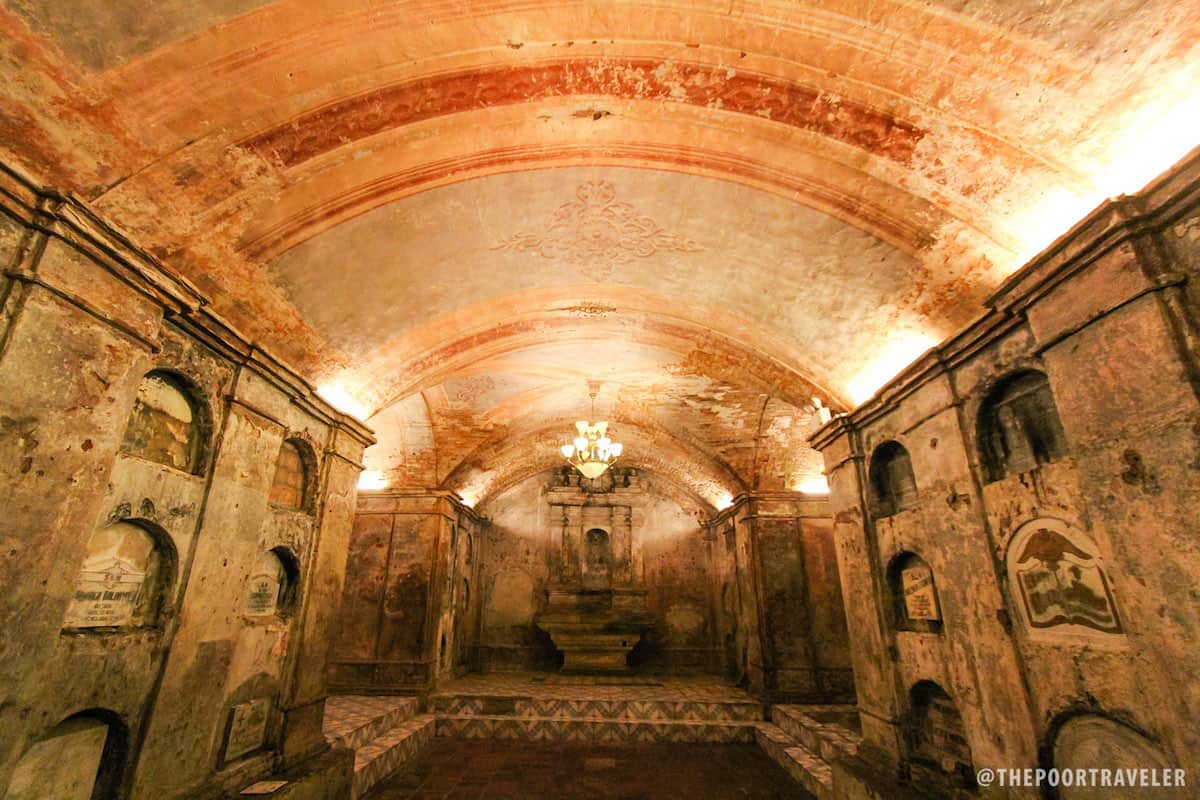 Rizal Shrine, Calamba. A replica of the house where Jose Rizal grew up in. It has been transformed into a museum exhibiting many phases of the hero's life including his childhood and his time in Europe. If you've always admired Rizal and his work, do not miss this. FREE.
Seven Lakes, San Pablo City. Have a small feast aboard a bamboo raft as you float in Lake Pandin. You can also swim here. Fee: P180 per person, bamboo raft ride only; P360 per person, bamboo raft ride + lunch!
Nuvali, Sta. Rosa. For those who love the outdoors and a little bit of shopping. You can also try wakeboarding, leisure biking, or mountain biking.
Nagcarlan Underground Cemetery. A National Historical Landmark built in 1845. The underground crypt was where friars were laid to rest during the Spanish era. FREE.
Bunga Falls, Nagcarlan. A small and not-so-well-known waterfall in Nagcarlan.
Liliw Town. Liliw's baroque red-brick church is stunning, but don't miss shopping for traditional footwear along the adjacent road.
Majayjay Falls and Cold Springs. Majayjay boasts numerous riverside cold spring resorts and a waterfall.
Shooting the Rapids to Pagsanjan Falls (aka Cavinti Falls). Most people call it Pagsanjan Falls. (Thanks to our elementary textbooks!) But it's starting to be known by another name, Cavinti Falls. The cascade is actually located in the municipality of Cavinti but the most popular jumpoff point, where the boating begins, is in Pagsanjan. The waterfall itself is great, but it is the journey that is truly unforgettable. To get there, the boatmen muscle it up, controlling the boat upstream. The view along the way is just wonderful. Rates: P1250 per person.
Cavinti Falls via Pueblo El Salvador Eco-Park. It's the same waterfall but you can access it without riding the boat. Instead, you will hike, sometimes rappel, to the valley. It's a tough 30-minute trek for the inexperienced but totally worth it. Rates: P270 for the hike/guide fee.
Hulugan Falls. Laguna's newest tourism darling, Hulugan is a massive waterfall accessible after a 30-minute steep descent. A longer trail will lead you to two other cascades — Talay Falls and Hidden Falls — but will take a total of an hour and a half to complete (excluding the stay at Hulugan). Rates: P300 if you visit just one waterfall, P600 if all three.
Paete Town. An artistic town most famous for its sculpting tradition. See how residents make masterpieces by carving wood or creating papier-mache. The Baroque-style Paete Church is also worth your time.
Aside from all of these, almost all of Laguna's towns have their own breathtaking parish church.
Sample Itinerary
Here's a sample 3-day 2-night itinerary for a group of four on a road trip. This takes SLEX as the entry way to Laguna and the Manila East Road as exit route to avoid the heavy northward traffic once you reach Metro Manila some time during rush hour.
Please feel free to make adjustments according to your wants and needs.
DAY 1 – CALAMBA & SAN PABLO
06:00am – ETD Manila
08:30am – ETA Rizal Shrine, Calamba
10:00am – Leave for Pandin Lake
10:45am – Pandin Lake car park, start trek
11:00am – Arrival: Pandin Lake, reserve bamboo raft, paluto
11:40am – Bamboo Raft Lunch
01:40am – Start trek back to Car Park
02:20pm – Check-in at Sulyap Bed and Breakfast
03:00pm – Rest
05:00pm – Sulyap Swimming Pool & Jacuzzi
07:00pm – Dinner at Sulyap
09:00pm – Sleep
DAY 2 – LUISIANA & CAVINTI
05:30am – Wakeup, breakfast, check out, leave for Nagcarlan
08:00am – Nagcarlan Underground Cemetery
09:00am – Liliw town (or if you skipped breakfast at Sulyap, have it at Chef Mau's in Liliw)
11:30am – Hulugan Falls in Luisiana
02:30pm – Cavinti Falls (Pueblo El Salvador)
06:00pm – Leave for Caliraya Lake
06:30pm – Check in at Caliraya Springs Mountain Lake Resort, order dinner
07:00pm – Freshen up
07:40pm – Dinner
09:00pm – Sleep
DAY 3 – CALIRAYA LAKE & PAETE
07:00am – Breakfast
08:00am – Caliraya Lake swimming, biking
10:30am – Check out, leave for Paete
12:00pm – Paete Tour, shopping, lunch
02:00pm – Leave for Pililla, Rizal
03:40pm – BONUS! Pililla Windmills Stopover
04:15pm – Leave for Manila
07:00pm – MANILA!
---
Breakdown of Expenses
If you follow the above sample itinerary and you are a group of four, here's how much you should be shelling out.
Toll fee – P53.5 (P214/4 pax)
Gas – P300 (P1200/4 pax)
Rizal Shrine – FREE
Pandin Lake Lunch – P360
Sulyap Room – P1500
Breakfast – FREE
Nagcarlan Underground Cemetery – FREE
Hulugan Falls Tourism Fee – P20
Hulugan Falls Guide Fee – P150
Cavinti Falls Fee – P270
Caliraya Springs Room – P1100 (P4400/4 pax)
Dinner – P200
Breakfast – FREE
Paete Tour – FREE
_________________________
TOTAL: P3953.5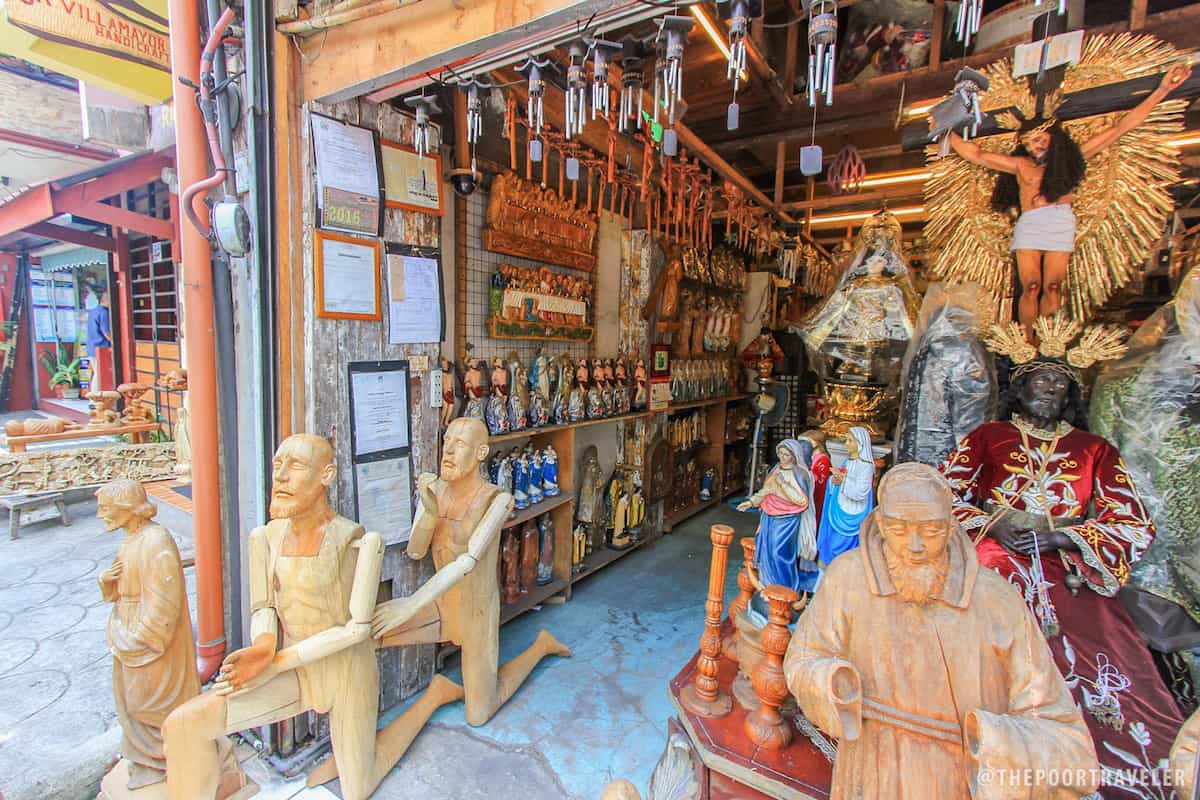 Note that it does not include tips and incidentals (bottled water, etc.).
Bulk of the cost is the hotel. You may choose to stay at a much cheaper resort in Pagsanjan or Cavinti instead of Caliraya Mountain Lake Resort.
Another way of bringing the cost down is by increasing the number of people splitting the bill. Add one more person and the cost of accommodations, gas, toll fee, and guide fee will go down dramatically to only P3513.
If you only have a weekend to spare, you can do an overnight trip instead. Remove the Day 3 from the itinerary above and exit through SLEX back to Manila after trekking to Cavinti Falls. If you do this, the total cost of the overnight trip is P2707 if you're a group of 4 or P2256 if you're a group of 5.
---
Last update: 2️⃣0️⃣1️⃣7️⃣•9️⃣•3️⃣0️⃣
First up: 2️⃣0️⃣1️⃣6️⃣•9️⃣•2️⃣6️⃣