Traveling to BRISBANE, AUSTRALIA? Here's our newest DIY BRISBANE TRAVEL GUIDE BLOG with sample DIY BRISBANE ITINERARY and breakdown of expenses. It's also rich in travel tips on tours, things to do, and hotels!
When I set foot in Brisbane for the first time, a weird feeling took over my senses.
There I was, at the sixth and final stop of our tour around Australia, but it felt as though I was just starting the journey. Weeks of being in the middle of flat, barren deserts and isolated, small islands had left me adjusting again. Suddenly, multi-story buildings and parades of cars are strangers that I needed to get to know or lost friends I would need to reconnect with. Perhaps the feeling was brought about by sheer exhaustion. By the time we hopped off the train from the airport, we were almost bereft of energy.
That's why I was so excited to return. I enjoyed Brisbane thoroughly the first time, but seeing it with renewed enthusiasm would allow me to see parts of the city that I missed and document enough useful information for this guide.
WHAT'S COVERED IN THIS GUIDE?
Understanding Brisbane
Brisbane is the capital of Queensland. Unlike most Aussie metropoles, Brisbane is not a beach city. It lies on the banks of the Brisbane River, which cuts across the city before emptying into Moreton Bay.
Despite being Australia's third largest city (next only to Sydney and Melbourne) and still developing rapidly, Brisbane is pretty laid-back. It's vibrant and youthful, but life here seems to move at a gentle pace. It's able to maintain at atmosphere that feels more relaxed than intimidating. There are plenty of greens surrounding tangled streets and towering buildings. And that's one of the reasons I love this city.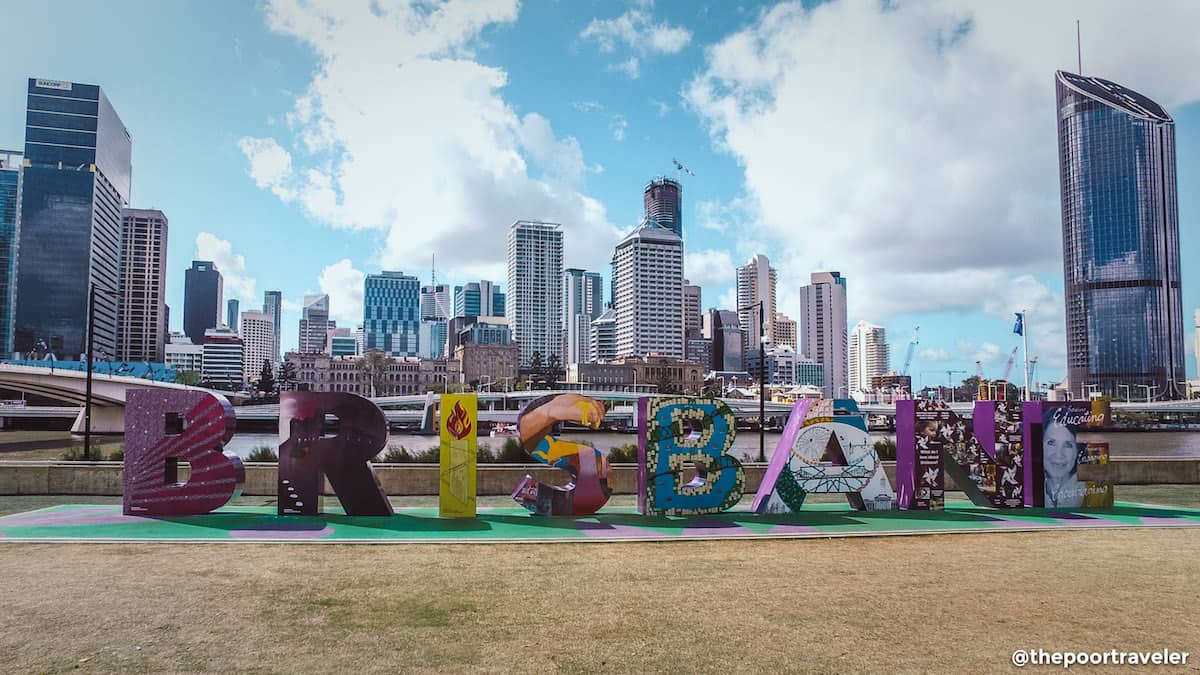 Language: English is spoken by the majority. But over 1% of the population speak Mandarin and Vietnamese.
Currency: Australian Dollar (AUD). AUD1 is roughly USD0.74, EUR0.64, PHP39.75 (as of July 2018). If you have Maestro, Cirrus, Visa, MasterCard Debit cards, you can withdraw from ATMs. Or before your flight, go to your local bank and buy AUDs.
Modes of Payment: Cash and credit cards are both commonly accepted.
Electricity Info: Australian standard is 230V, 50Hz. Make sure you check your device's voltage requirement before plugging them in. Most usual power socket is Type I, the one with slanted prongs.


---
When to Visit and What to Wear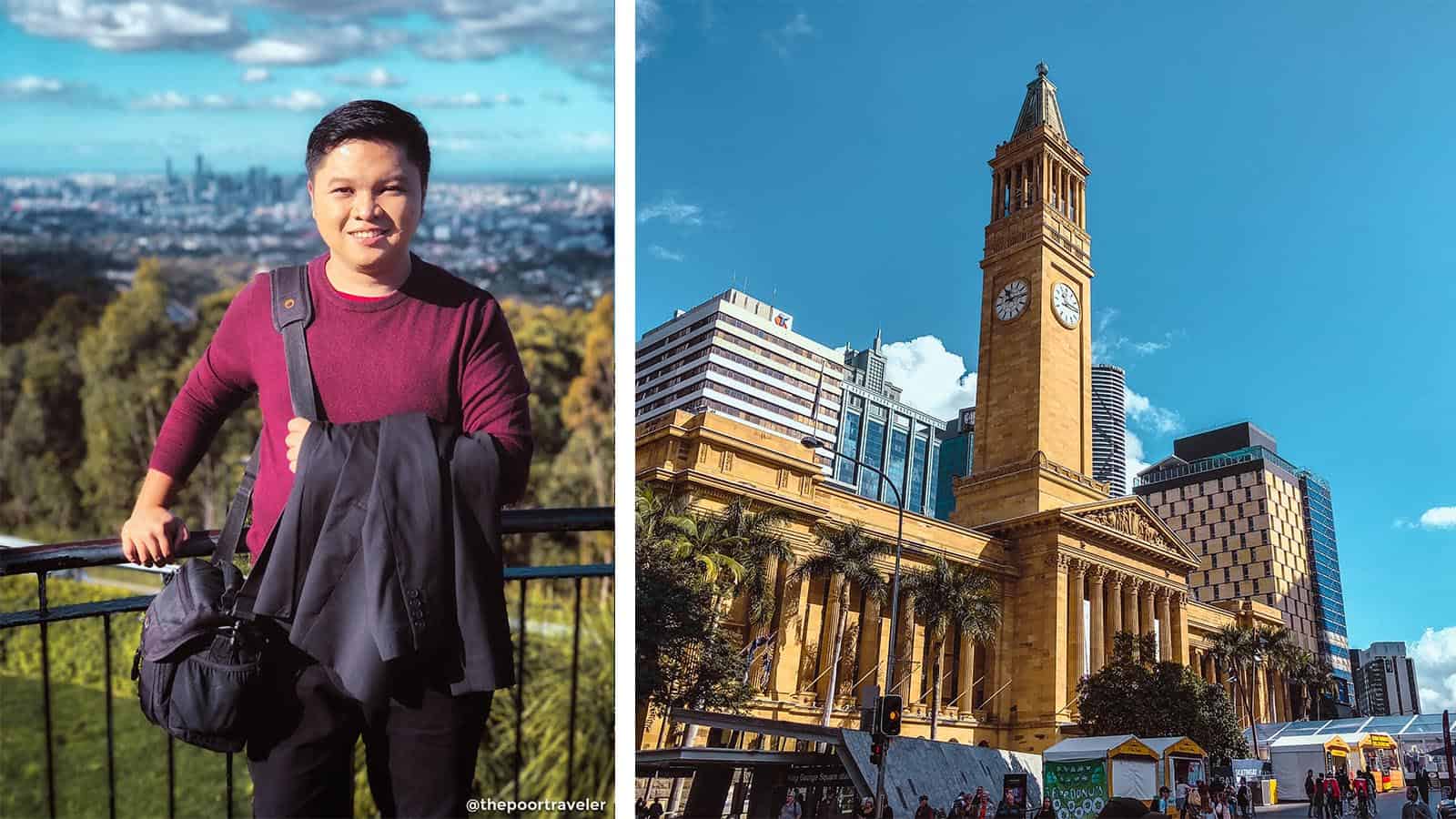 Brisbane takes pride in having at least 280 days of sunshine per year, making Brisbane a year-round destination! But when is the best time to visit? April to May, according to the tourism officers we talked to. That's considering all things: weather, crowdedness, and prices.
Brisbane enjoys a sub-tropical climate, so expect torrential showers even when the day starts all sunshiny. Summer is hot and wet; winter is mild and relatively dry.
The summer months of December-February — Australia is in the southern hemisphere — can get too hot with chances of thunderstorms. But if you're visiting this period, prepare light clothes.
Weather-wise, winter is great for tourists. The air is cool, pleasant for sightseeing and just walking around. It doesn't get too cold. All you need is a light jacket or sweater and you'll be fine. An overcoat can be over the top, even at night.
---
How to Get to Brisbane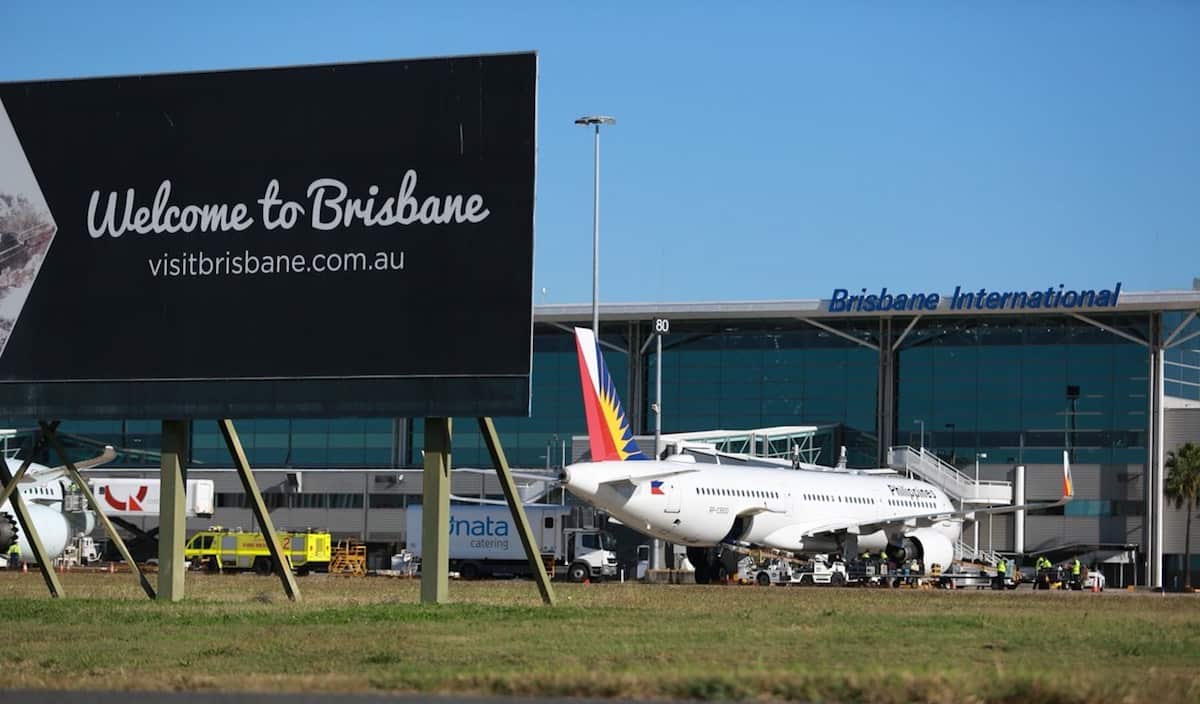 Brisbane and the larger South East Queensland area are served by Brisbane Airport. In 2016, it was named one of the world's best-performing large-size airports with 86.71% on-time performance. Although it is the third busiest airport in Australia, it is not too large or complicated, so you don't need to worry about getting lost. Airport processes are standard and streamlined.
Note, however, that Australia is painstakingly strict and thorough when it comes to customs inspections and it's also true at Brisbane Airport. To avoid any trouble, make sure you've read the policies well, have proper documents for restricted items, and don't try to come in with prohibited items. There are dog-sniffers and x-ray machines around, so don't even bother.
For a complete list of prohibited and restricted items, visit this page.
Manila to Brisbane
From Manila, the easiest and most convenient flights are offered by Philippine Airlines. PAL, the country's four-star flag-carrier, uses a brand new Airbus A321neo, a narrow-body aircraft that can fly from Manila to Brisbane for only around 7 hours! It is the first single-aisle aircraft to fly non-stop from PH to Australia.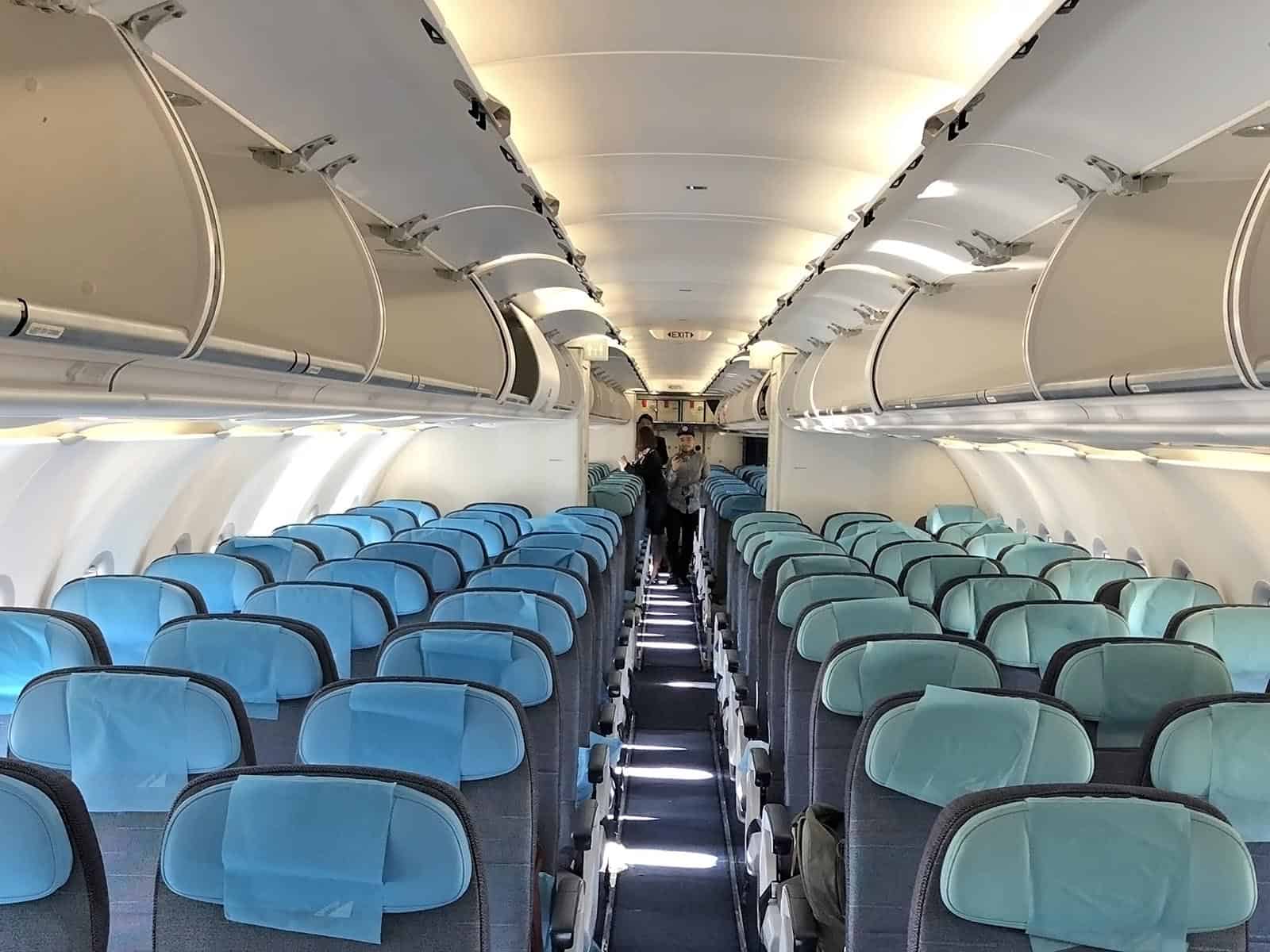 Regular fares can go as low as USD372, which can still go lower when there's a promo. All bookings come with FREE 25kg baggage allowance and a hot meal, a snack, and complimentary alcoholic and non-alcoholic drinks.

All seats are equipped with personal TV screen (10.1-inch for economy, 15.6-inch for business class) featuring an impressive collection of movies and series, and in-seat USB power supply! It's also myPAL wi-fi enabled!
Brisbane Airport to City Center
Brisbane City is situated southwest of Brisbane Airport, 20-30 minutes away. Your destination will most likely be either Central Station or Roma Station. You can take any of these options:

By Train. The Airtrain can take you the the city center in around 20 minutes. I've tried before and the journey was smooth. The regular fare is $18.50 for one way or $35 round-trip. But if you book online in advance, you can snag up to 15% discount. A ticket booked online 6 days ahead is only $15.73 one-way or $29.75 round-trip. Kids 14 and below are FREE of charge as long as they're accompanied by an adult with a ticket.
By Taxi. The taxi is a good option if you're a group of three or more. We haven't tried this, but I asked the taxi drivers how much it would usually take to the city center, and they said around $50.
By Uber. Cheaper than taxi! We tried it and were charged only $32! If you're a group of 3 or more, this is your most economical option.
By Shuttle Van. Klook offers efficient van transfers that cost $20 per person, one-way. It's slightly pricier than the AirTrain, but the good thing about is, they can drop you off in front of your hotel so you don't need to worry about navigating around the city with luggage in tow on your first day. Reserve a Seat Here
Note that the taxi, shuttle and Uber are traffic-dependent so it can take longer than 30 minutes to reach the city center especially at peak hours.
---
How to Get Around Brisbane
With the exception of Mt. Coot-tha and Lone Pine Koala Sanctuary, most of the tourist spots are concentrated in two areas: the Central Business District (CBD) and South Banks. These two districts are separated by the Brisbane River, which is straddled by a number of bridges.
The CBD and much of the South Bank Parklands are flat, which makes any stroll here a walk in the park. Brisbane is a very walkable city. If you have the energy in a pleasant, sunshiny day, you won't feel the need to take any form of transportation. Within these areas, the only time I took paid for transportation was when we switched hotels from near Central Station to near Roma Station, and only because it was raining. If the skies were clear that day, I would have walked too, even with a suitcase in tow.
But here are other public transportation options in case walking is out of the question.
By Train, Bus, and Ferry
Brisbane's major public transportation options — bus, ferry, and train — are connected by a single ticketing system called Translink. This makes any journey within the city and surrounding areas seamless and stress-free. To make it work, they implemented a tariff system that divides the greater South East Queensland area into eight concentric zones.
The fare depends on how many of these concentric rings you cross. Brisbane's city center is at the very center of it and occupies Zone 1. If you stay within the city center, then you only travel within one zone. But if you go on a trip to, say, Lone Pine Koala Sanctuary which is in Zone 2, the journey will be straddling two zones (1 and 2). Hence, you'll be paying more for it.
To see which zones your destinations are located, the links below will take you to the zone maps:
Translink also offers go card, a contactless stored-value card that passengers can use without having to pay for a ticket each time. Having this will let you save 30% on fares. However, it's not recommended for tourists because a $10 deposit is required and getting a refund (for deposit and unused value) can be a difficult process. Also, because again, you might not need to use the public transportation that much anyway.
Here are the regular adult fares and concession fares (for children and elderly):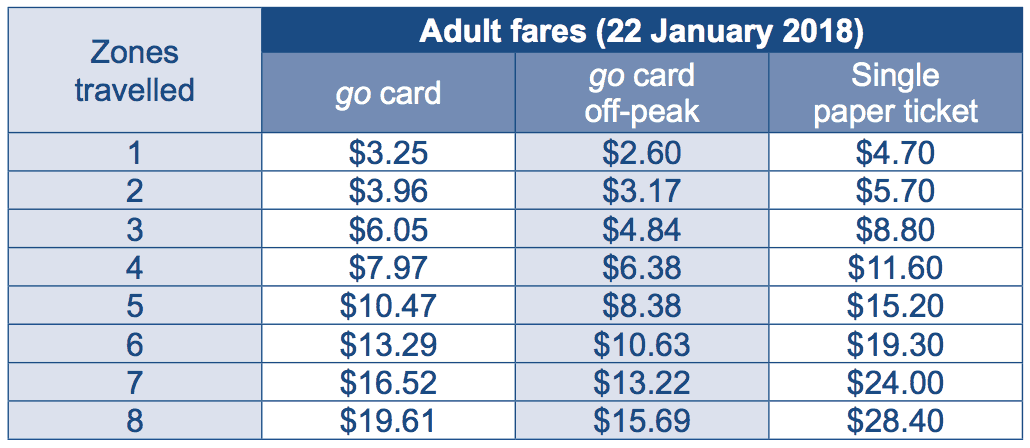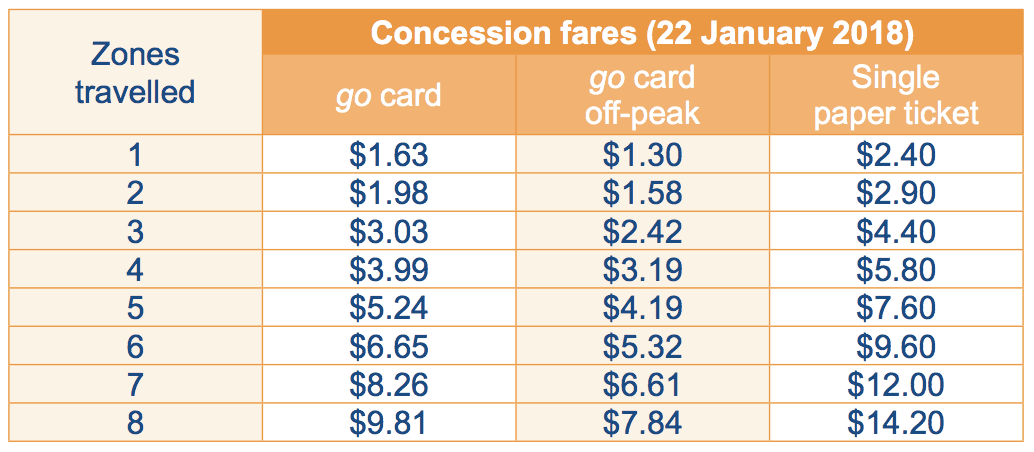 Important Notes:
Brisbane Airport is NOT covered by the usual Translink fare system. Special fares apply. So even if the airport is actually in Zone 2, prepare to pay more.
The red CityHopper ferries that crisscross Brisbane River is FREE OF CHARGE. Yep, no tickets required. Just hop onto the ferry. Only the red City Hopper! The blue ones are the regular ferries and are still covered by the fare zones.
If you're traveling beyond Brisbane and around South East Queensland, you can get a SeeQ Card, which is designed for tourists. A SeeQ card will allow you unlimited travel using the Translink bus, train, ferry and tram services for three or five consecutive days. It also covers 2 Airtrain services within the network, including the Brisbane Airport-city center route. Prices are $79 for 3 days and $129 for 5 days.
Make sure you have a valid ticket when taking public transportation. Inspections happen often and inspectors are strict in implementing fines.
By Bike
Brisbane is a wonderful city to see on bike. The inner city has 20km of bikeway. But like most things in Australia, bike rental is expensive. One of the more reputable bike hire companies is Bike Obsession, located a couple of blocks from the City Botanic Gardens. The cheapest rates they have are the following:
2 hours: $25
Day Rate (within business hours): $35
24 hours: $45
Additional night: $10
Every rental comes with a helmet, flat pedals, lock, pump, spare kit, and water bottle holder.
A cheaper option is CityCycle, a bike rental program initiated by the Brisbane City Council wherein you can use a bike at any of the 150 stations throughout the city center. It's primarily for locals. But tourists can take advantage of the so-called Casual Pass, which will give you 24-hour access to these bikes for only $2.
But here's the catch: helmets are not included. And helmets are required by law. Registration is required. For more info, visit their official website.
By Taxi
Taxi rides are pricey in Brisbane. Flagdown rates are as follow:
5am-7pm: $2.90
7pm-12mn: $4.30
12mn-5am: $6.30
The meter will then add $2.17/km or $0.82 per minute of waiting. On top of that, a $1.50 booking fee is charged if you ring or text a company to arrange a cab. This doesn't apply to cabs that you hailed in the street or those you catch at a designated taxi rank (except at airport ranks).
The main taxi ranks are located at the following:
corner of Queen and George Streets (near Treasury Building)
corner of Elizabeth and Albert Streets
along Eagle Street
along Edward Street
along Ann Street
Petrie Terrace
McWhirters
But you can also just wait by the kerbside and hail a cab like usual. You'll know the cab is vacant if the sign on the roof is lit. No booking fee is collected this way, either.
By Uber
Cheaper than taxi! If you're a group of 3 or more, this is an economical option, especially if you're carrying some bags.
One thing we noticed though is that cash isn't accepted, only credit cards. I'm not sure if this is true for all Uber units in the city or just some. But the many times we attempted to ride an Uber, the app requires a credit card enlisted in the account.
Also, make sure you know the exact address of your destination.
---
Internet Connection in Brisbane
If you're flying with Philippine Airlines, you can rent a myPAL Roam device, a pocket wi-fi that can give you unlimited 3G or 4G connection in over 90 countries. You can connect up to 5 devices per unit. The rate can go as low as P390 per day.
To get one, just visit the small kiosk at Terminal 2, in front of Manila Cigars booth. After passing through final security, turn right. You'll see the kiosk on the right side. It's easy to miss. You can also book one in advance online! Book here!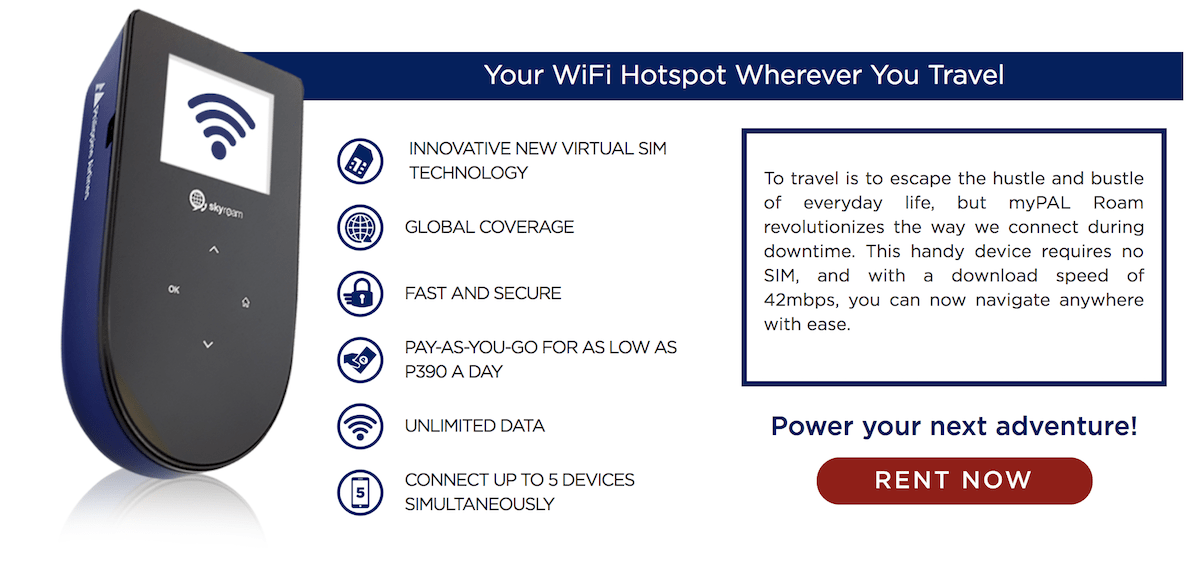 Each unit comes with a charger plug, cable, and instructions on how to use it. But it's pretty simple really. After turning it on, press the power button again an dit will display the connection name and password. Connect to it and enter the password on your device and you're good to go.
In Brisbane, free wi-fi is available in over 30 parks and public places across the city. This includes the Queen Street Mall, South Bank, Parklands, Roma Street Parkland, Mt. Coot-tha Lookout, and on CityCats. Speed is awesome too! It's part of the Brisbane City Council's mission to make the city more accessible and connected.
IMPORTANT: Yes, free public wi-fi is great, but always remember that connecting to public wi-fi isn't always safe. Hence, it's better to rent a pocket wifi or find a local SIM. If you really want to use the public wifi, a good way to protect your data is to purchase VPN. We use NordVPN when we travel abroad. More info here: Best VPN.
---
Things to Do in Brisbane
Here are some of the top places to visit in Brisbane City and surrounding suburbs.
Free Brisbane Greeters Tour
There's no better way of seeing the city than through the eyes of a local. And the government of Brisbane believes that. Brisbane Greeters is an ambassador service, wherein locals volunteer to give visitors a tour of the city. And yep, for FREE.
You can choose the program or you can let the greeter make the decision for you, but rest assured that they will try their best to make the tour enjoyable and hassle-free. There are over 100 greeters as of today, with 20 languages available.
Reservation is required. You can do that here.
---
Mt. Coot-tha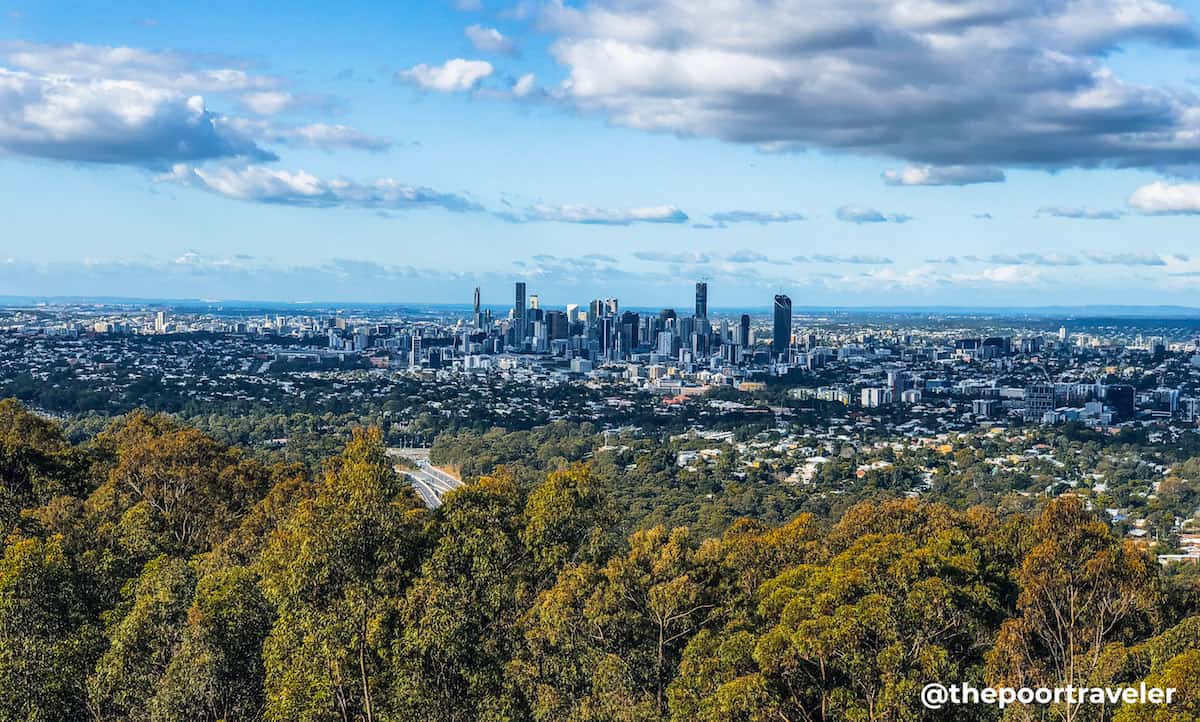 The tallest mountain in Brisbane, Mt. Coot-tha is a magnificent viewpoint. From here, you'll get a fantastic vista of the central business district's buildings towering above the city. It's also a popular make-out spot for locals. Lol.
To get here, take Translink Bus 471 from Adelaide Street in CBD. (Uber and taxi will cost around $23 and $37 respectively.)
---
Lone Pine Koala Sanctuary

Lone Pine is one of the few places on earth where you can interact and have a photo holding a koala. Established in 1927, it takes pride in being the world's first and largest koala sanctuary and conservation site. According to the staff, it has been a home for rescued koala. There's also a vast space for kangaroos and wallabies. But many parts kind of resemble a zoo, to be honest.
Guests can have photos taken while holding a koala for an additional fee. I didn't try it for I feel no need for having to hold them. But it's still up to you.
To get there, you may take Bus #430 from Platform 2C, Queen Street Station or Bus #445 from Stop 41, Adelaide Street. Fare: $5.70 (adult), $2.90 (kid).
Entrance Fee is $36. But for visitors from Asia, Klook sells tickets at a discounted price, $31.
✅ GET DISCOUNTED TICKETS HERE
---
Story Bridge Adventure Climb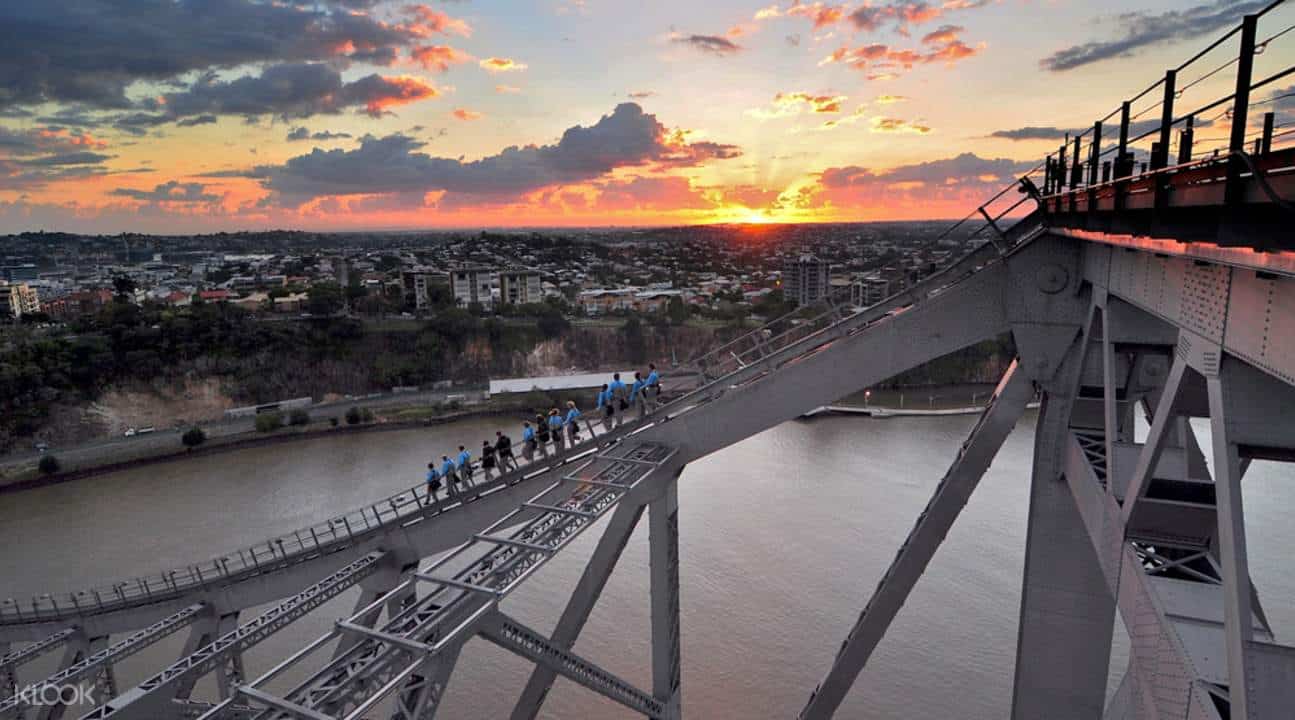 There are only three bridge climbs in the world, at least that we know of. And Brisbane's Story Bridge is one of them. Yep, you can climb to the top of this iconic landmark safely. You'll be prepped and you'll have a guide who will also tell you about the history of the bridge and Brisbane in general. You don't need to be gym-fit to enjoy this as it's done at a gentle pace for different ages and fitness levels.
✅ RESERVE A SLOT HERE
---
Skydive Brisbane Winter18
Surprisingly, tandem skydiving in Brisbane isn't that expensive! It can cost only $224 (USD166, PHP8857) if you do it mid-week and without photos/videos. That's much cheaper than in most countries!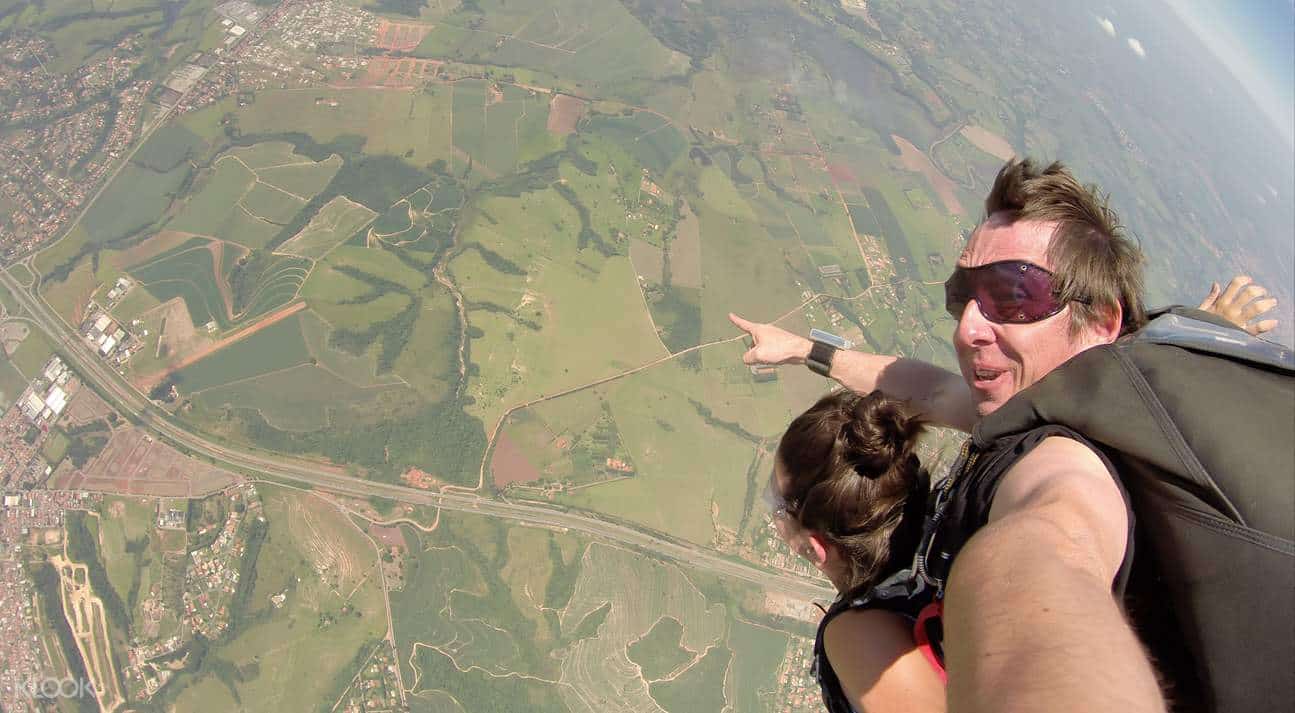 Jump out of a plane at 15,000 up in the air and enjoy free-falling while enjoying spectacular views of the Australia and the ocean! With a partner professional skydiver, of course. You'll be landing on a beach! This is definitely an experience that will give you memories for keeps.
✅ SEE OPTIONS or RESERVE A SLOT HERE
---
Riverlife Extreme Activities
Riverlife promotes itself as a lifestyle and entertainment playground. Situated on the bank of Brisbane River and at the base of Kangaroo Point Cliffs, they provide a fantastic venue for many functions (especially weddings) and adventures. For tourists, Riverlife is best-known for the many extreme activities it offers.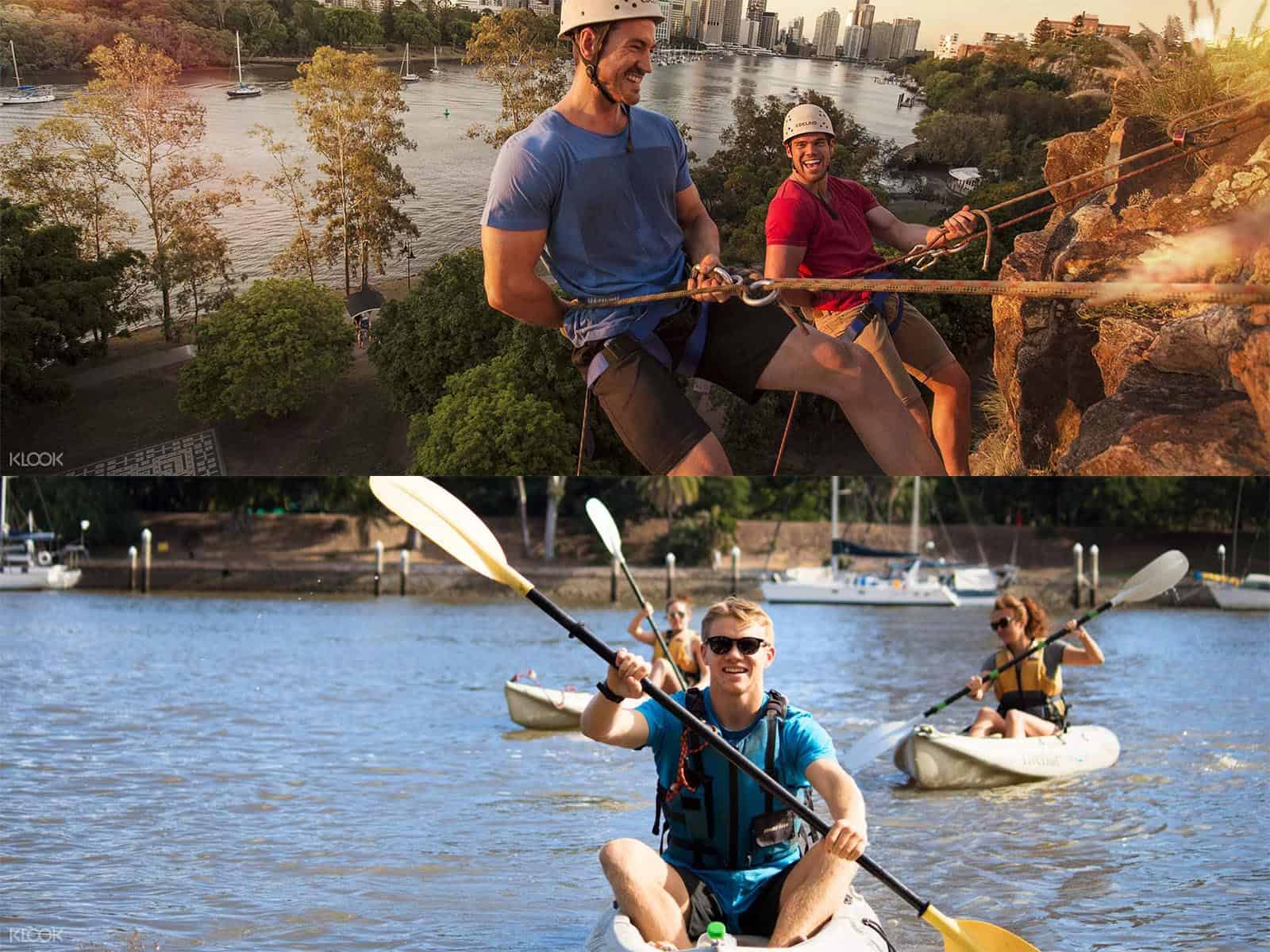 We've tried rappelling before (also known as abseiling in this part of the world), and we had a grand time. The view from the top of the cliff was fantastic, our instructor entertaining, and the activity itself unforgettable.
Here some of the activities they offer.
They provide all the equipment needed for these activities. In the case of abseiling: harness, helmet, rope, and gloves.
---
XXXX Beer Brewery Tour
Australia is known for their love of beer! Brisbane is no different. In Brisbane, the most iconic brand is XXXX. (It isn't Brisbane's or Australia's best brew, if you ask locals. But it is arguably the most well-known.)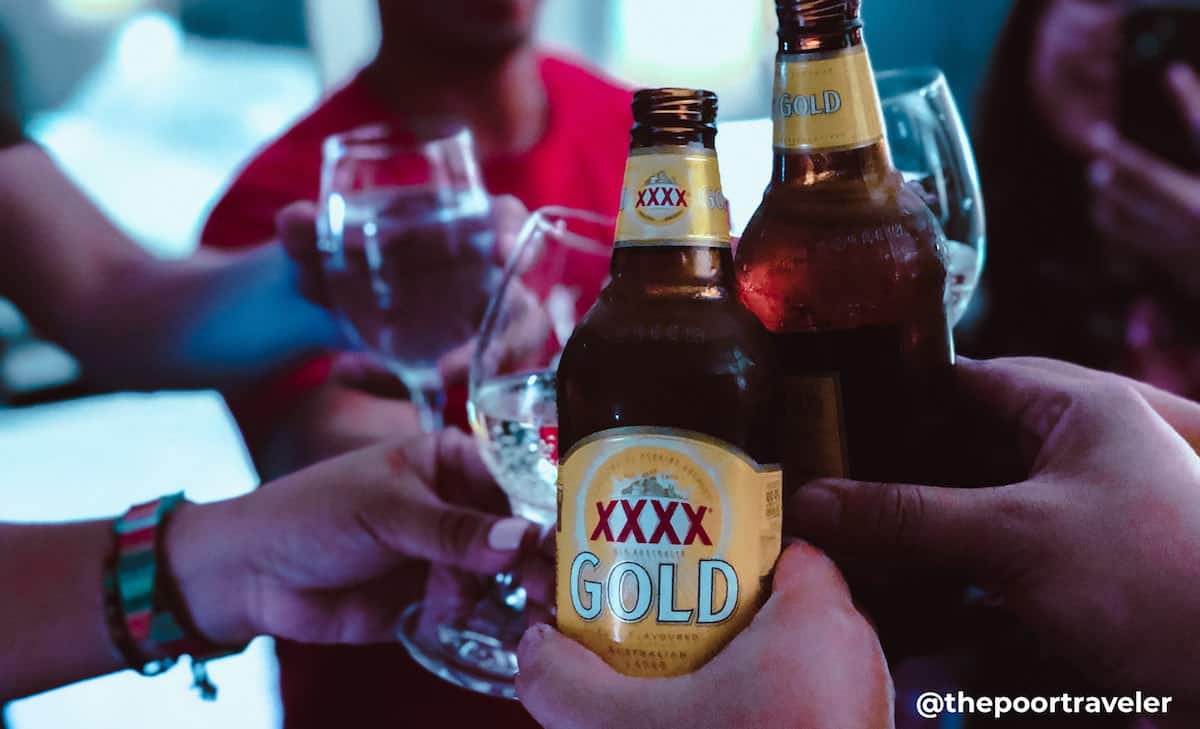 XXXX's history stretches 135 years, making it an icon. Klook's 90-minute tour will take you around the brewery and introduce to you the brand's ingredients and brewing methods. The tour ends with a beer-tasting session! It's a must for beer-lovers!
✅ CHECK RATES OR RESERVE HERE
---
Free Attractions in Brisbane
Aside from the activities and the tours above, Brisbane also has a lot of FREE attractions to offer to shoestring travelers. Here are some of them: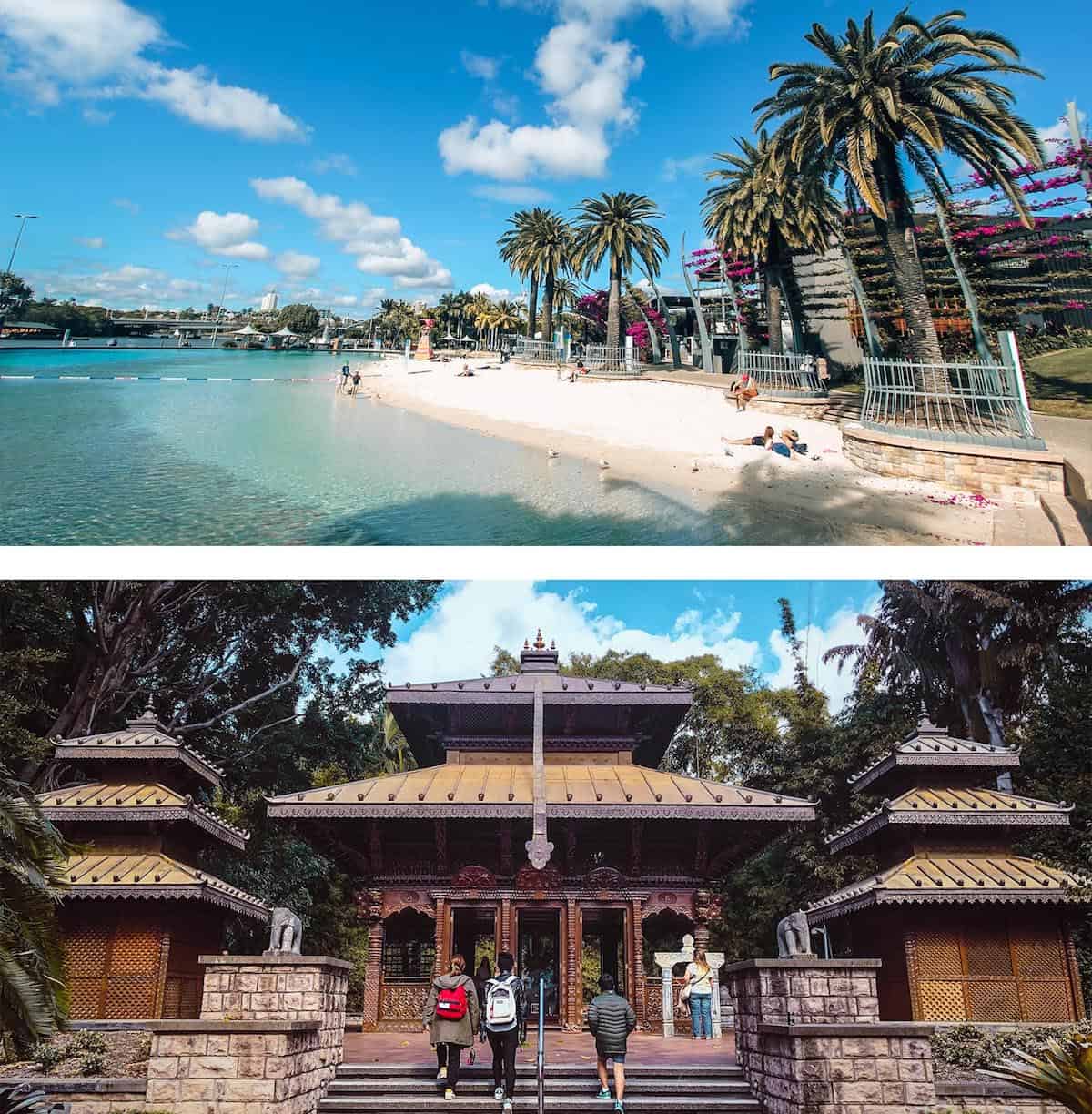 King George Square. One of the city's most visited public squares, just next to the Brisbane City Hall.
Queen Street Mall. The most popular pedestrian mall in Australia, with 700 choices of apparel stores, restaurants, and souvenir shops.
Albert Street Literary Trail. Albert Street is punctuated with 32 brass plaques installed on the pavement, all bearing literary quotes from 32 Queensland writers, who have lived in the city at one point in their lives.
City Botanic Gardens. The oldest park in Brisbane, this was once a land tended by convicts to produce crops for the prison colony but was later transformed into a public space for recreation.
South Banks Parkland. Opened to the public in 1992, this complex of plazas, restaurants, greens, and rainforest cover what used to be the site of the World Expo 88. There's a lot to see here, including the Streets Beach (an artificial beach) and the Nepal Peace Pagoda.
Fashion and Art Weekend Markets. Explore one and you might find something that matches your taste, from quirky trinkets to handmade accessories, and vintage souvenirs to limited edition art pieces.
ANZAC Square War Memorial. ANZAC is an acronym for the Australian and New Zealand Army Corps, and these monuments around the country pay tribute to everyone who has served Australia in the great wars that she has participated in.
For more information about the free attractions above, we created a dedicated post for them: 10 FREE THINGS TO DO IN BRISBANE.
---
Where to Stay in Brisbane
Three major areas have the highest concentration of accommodations.
Central Area. At the very heart of the city. This is the area surrounding Central Station, which means accessibility isn't an issue. Most major hotels like Sofitel, W, Ibis, and Best Western are here. There are also a few budget options scattered around. What's great about it is its accessibility and proximity to most of the city's key landmarks and shopping street. Buses going to Mt. Coot-tha and Lone Pine also stop here.
Upper Roma Street. For budget travelers. This short street is lined with hostels and budget hotels including Brisbane City YHA, Chill Backpackers, Yellow Submarine, and Eton House Hostel. Prices are usually half of the usual hotel's, sometimes even lower. The nearest station is Roma Street, which is directly connected to the airport.
South Banks. Plenty of lodging options, from hostels to the pricier end of the spectrum. The properties near the river are usually more expensive. As you walk farther from the river, you'll find cheaper options like Brisbane Backpackers Resort, Gonow Family Backpacker Hostel, and Somewhere to Stay. These are often the cheapest in the city.
I've tried staying both in the Central and Upper Roma areas. The former really is the best place to stay because you're in the middle of all the action, surrounded by key landmarks, bus and train stations, shops, and restaurants.
That's not to say that Upper Roma Street is bad, no, not at all. It's a few blocks from Roma Station and a bit detached from everything else, so prepare to walk a bit every day. But it's not that far, just enough dose of exercise.
Top Hostel: Brisbane City YHA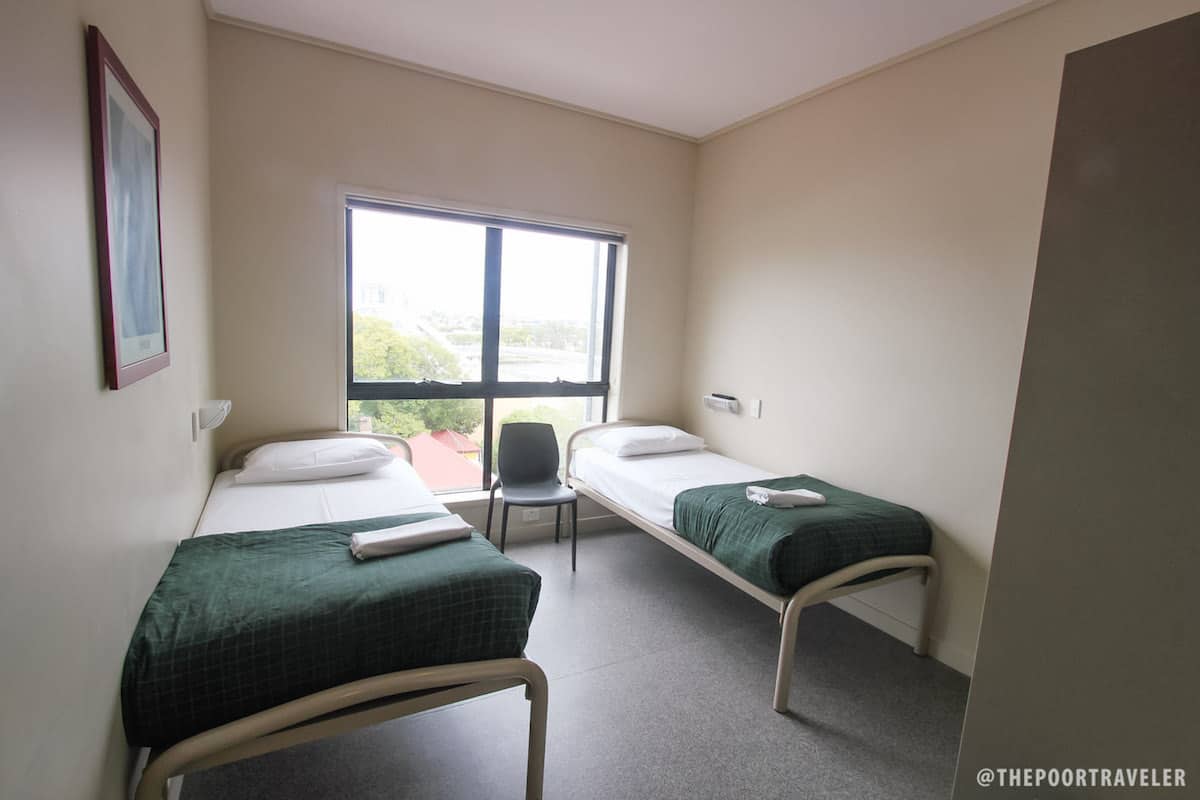 On my first time in Brisbane, I was invited by Brisbane City YHA to stay with them. When I returned to the city, I decided to stay there again, this time as a paying guest, because I truly enjoyed my first time here. Not much has changed. Rooms are clean and very affordable. The staff was helpful, friendly, and always cheerful. Lots of amenities in the common areas, especially their big, spacious kitchen. Food in Australis is expensive, so the kitchen mattered to me a lot. There's also a mall with a Coles supermarket on the other side of the street so you can easily shop for ingredients if you intend to cook your food at the hostel.
Other Brisbane Hostels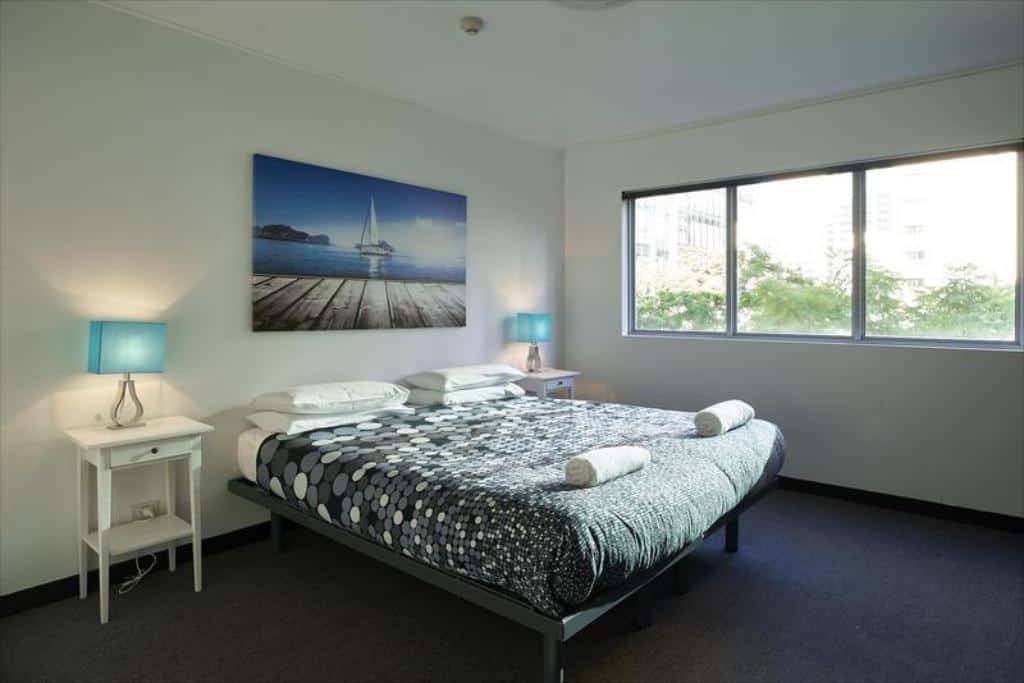 ---
Sample Brisbane Itinerary
Below is a sample Brisbane itinerary. It assumes you're staying in a dorm room of a hostel in the city for $35 per night. For breakfast and dinner, just hit the supermarket on your first day and cook at hostel. For lunches, since you'll probably be outside exploring, your budget is $15 per meal. Prices below are in Australian dollars.
Day 1: ARRIVAL
09:20am – Arrival in Brisbane
10:38am – Airtrain to city center, $35 roundtrip
11:00am – Walk to hostel
11:20am – Drop bags
12:00nn – Lunch, $15
01:00pm – Brisbane Greeters Tour, FREE
04:00pm – Supermarket, $30
05:30pm – Hotel check-in, rest
08:00pm – Dinner
10:00pm – Lights out
Day 2: LONE PINE
08:00am – CBD + South Banks or Botanic Gardens Walk
11:00am – Early Lunch, $15
11:45pm – Bus 430 to Lone Pine, $5.70
12:26pm – Lone Pine, $31, Get Discounted Tickets Here

06:09pm – Bus back to city, $5.70
06:55pm – Back in city, walk to hotel
08:00pm – Dinner
Day 3: MT. COOT-THA & RIVERLIFE
09:30am – Bus to Mt. Coot-tha, $5.70
10:04pm – Mt. Coot-tha Lookout
11:10am – Bus back to City, $5.70
11:40pm – Lunch, $15
02:30pm – Kayaking (Book Here
) or Abseiling (Book Here
), $47.5
05:00pm – Explore South Bank or shop at CBD
08:00pm – Dinner
Day 4: DEPARTURE
07:00am – Check out
08:12am – Airtrain to Airport
08:40am – Arrival at Airport
09:00am – Check-in
11:00am – Flight out
If you spend only $35 on lodging, the itinerary above will cost you AU$350 (USD260, EUR221, SGD354, PHP13860), excluding airfare.
A big bulk of it goes to Riverlife kayaking or abseiling. If you're not into either, you can replace it with another free activity to bring down the cost to only AU$301 (USD224, EUR190, SGD304, PHP11920), excluding airfare.
---
More Brisbane Travel Tips
Walk when you can. Although the city is commuter-friendly, many attractions can be reached just by walking. Many key museums and landmarks stand next to each other or within walking distance of each other.
Hit the supermarket. A meal at a restaurant plays within the $8-18 range. The best way to save on food is to buy from the grocery, supermarket, or cheap food stalls and just eat it in your hostel. Choose a hostel with an open kitchen.
Eat out for lunch. Should you wish to eat out and experience some of the city's restaurants, do so for lunch, not for dinner. Lunch is much cheaper.
---
Frequently Asked Questions
What is the tipping policy in Brisbane?
The short of it is: You don't need to tip. Tipping isn't obligatory in Brisbane or anywhere in Australia. But if you can if you enjoyed the service! 5% is safe. For exceptional service, 10% should suffice. You can also just round off the bill.
Where is the best place to exchange money in Brisbane?
I didn't see that many money changers. If you have Maestro, Cirrus, Visa, MasterCard Debit cards, you can withdraw from ATMs. Or before your flight, go to your local bank and buy AUDs.
Is Brisbane safe?
YES, Brisbane is safe and tourist-friendly. Many locals we talked to said they feel safe walking alone at night.
What is the power socket used in Brisbane?
Most usual power socket is Type I, the one with slanted prongs.
Australian standard is 230V, 50Hz. Make sure you check your device's voltage requirement before plugging them in.
Do we need a visa to visit Brisbane?
YES. For nationals of many countries (including the Philippines), an Australian visa can be obtained online. All you need to do is accomplish a lengthy but easy application form and upload some supporting documents and you can get a Visit Visa (tourist or business) in a matter of days, sometimes hours.
We have written a separate, dedicated post about it, which you will find here: Australian Visa Requirements and Application Process
---
Updated: 2️⃣0️⃣2️⃣0️⃣ • 1️⃣ • 1️⃣7️⃣