Welcome to our most updated SAGADA TRAVEL GUIDE. This blog post contains the essential travel tips including how to get there, what tours to take, where to stay, and how much budget to prepare. We also included a sample SAGADA ITINERARY that you may use as model when building your own. Happy planning!
Update: Due to the COVID-19 threat, the local government of Sagada has suspended all eco-tourism activities until further notice.
When I think about Sagada, I think about my friend Tonet.
"Let's go to Sagada," she said one time at film school. Back then, I didn't know much about Sagada other than as a setting of a Juday-Piolo movie. Tonet wanted to make her own romantic comedy too, maybe set in Sagada; she wasn't sure. But she wanted to just go, see, and perhaps be inspired by it.
Over the years, she would constantly, randomly squeeze Sagada into conversations. "I really want to go there," she would mumble. Every time, I would answer, "Sure, when we find the time and money."
The time and money eventually came just after Christmas nine years ago. Tonet was a humble script supervisor with nothing but big dreams in her pockets. Finally, she was in the presence of Sagada and she embraced every tiny moment of it. She walked up and down its terraced mountains, went deep into its caves, and at a bonfire party, danced drunk with locals with reckless abandon. I thought that was it, that it was the end of it. It turned out, it was just the beginning.
She would return again and again, each time with different companions and carrying a different piece of her. She's now been to Sagada as a wild dreamer, as a loyal friend, as a broken lover. But one day, she set foot in Sagada as somebody she was destined to be — a movie director. It wasn't until I saw her film, shot in Sagada, that I realized that her affair with this town wasn't just a simple fascination or infatuation or even obsession, it was something more powerful and transcendental. It was that thing called tadhana.
WHAT'S COVERED IN THIS GUIDE?
UNDERSTANDING SAGADA
For younger travelers, Sagada is one of the filming locations of the romantic comedy That Thing Called Tadhana. But the truth is, Sagada was already pretty popular among backpackers even before the movie hit the theaters. I've been there multiple times before the movie and there already was a considerable increase of visitors year after year. As it became easier to access, as tours became more organized, and as a new wave of travelers sought more places to explore, Sagada was already on the path to becoming mainstream.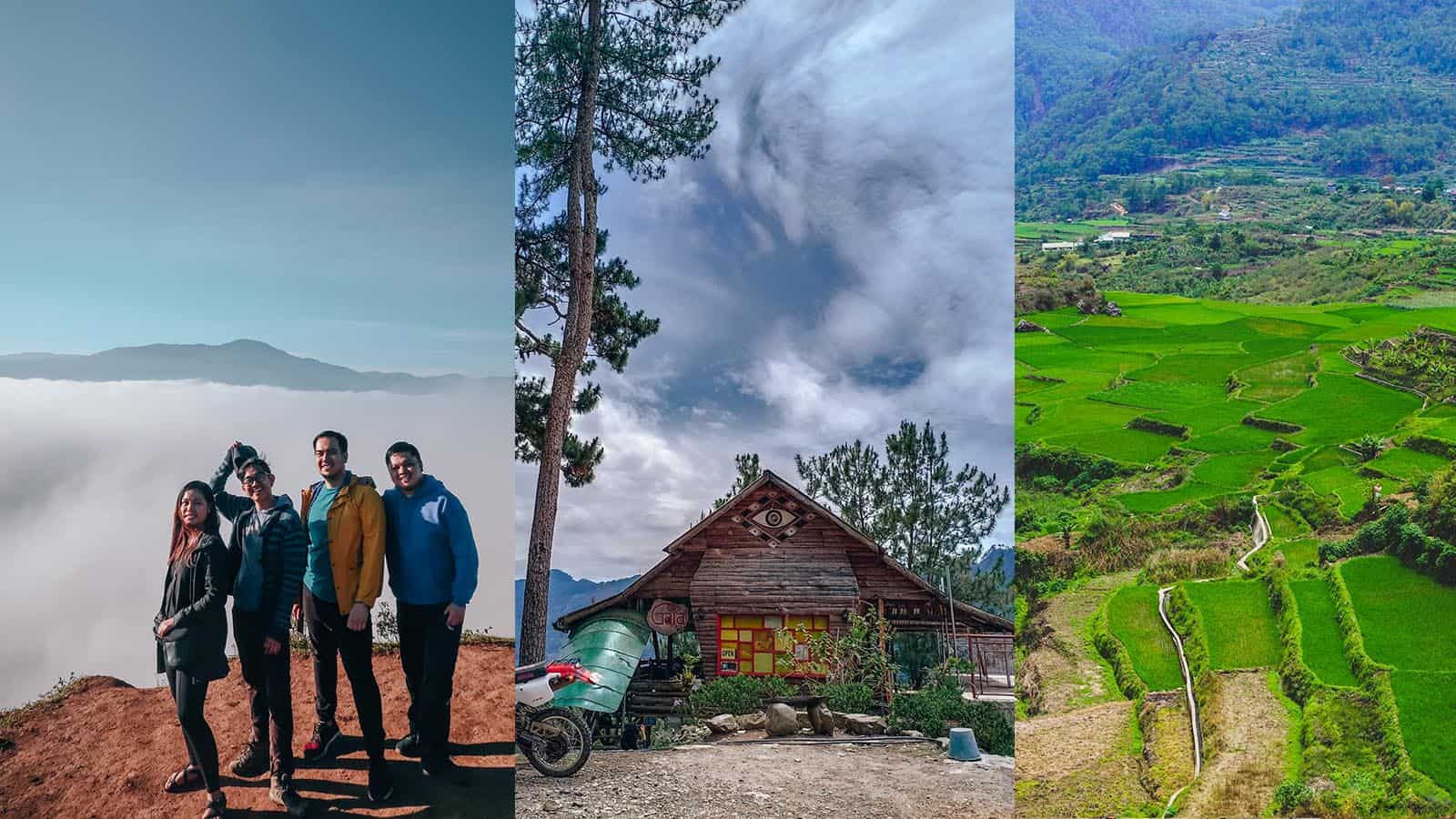 Located in the Mountain Province, Sagada is a fifth class municipality with only 11,000 residents as of 2015. Think of it as a small, slightly developed village at the heart of the Cordillera. Life here is simple. Agriculture is the primary driver of the economy, but tourism has been contributing significantly.
The town's three major roads are flanked by inns, guesthouses, and restaurants catering to tourists. It has a generally chilly climate year-round, much colder than Baguio, something that attracts domestic tourists. Aside from the cooler temperature, it also has a lot to offer to adventurers, sightseers, and history buffs alike. It's best known for the hanging coffins, waterfalls, and a network of caves. The good news is, the local government and the residents themselves are environment-conscious and have enforced certain regulations.
Here are more bits about Sagada:
Location: Mountain Province, Philippines.
Language: Kankana-ey. But most locals, especially tourism workers, are also very fluent in English and Tagalog.
Currency: Philippine peso (PHP, ₱). PHP100 is around USD 1.90, EUR 1.69, SGD 2.57 (as of April 2019).
Modes of payment: CASH is still king (and queen) in Sagada.
---
WHERE TO STAY IN SAGADA
First of all, let me just say this: There are no luxury hotels in Sagada. If you're looking for a well-appointed suite with a gazillion of amenities, you're not gonna find one here. Almost all available accommodations in Sagada are inns, guesthouses, and homestays. It's quite common for guests to share toilet and bathrooms with other guests or with the residents. If the room has a private toilet and bath, it's usually very small.
Now that we got that out of the way, you need to be familiar with the layout of the town proper. It's easy to remember. Think of Sagada as a giant letter Y. There are three main roads that meet at the center of the poblacion area. This junction is the main bus stop of the town. It's also where you'll find the tourism office, the police station, and the municipal hall. The town's church is also just a short stroll away from this. You can use this junction as your reference point.
Now, going back to the Y. Here are the three roads that compose it.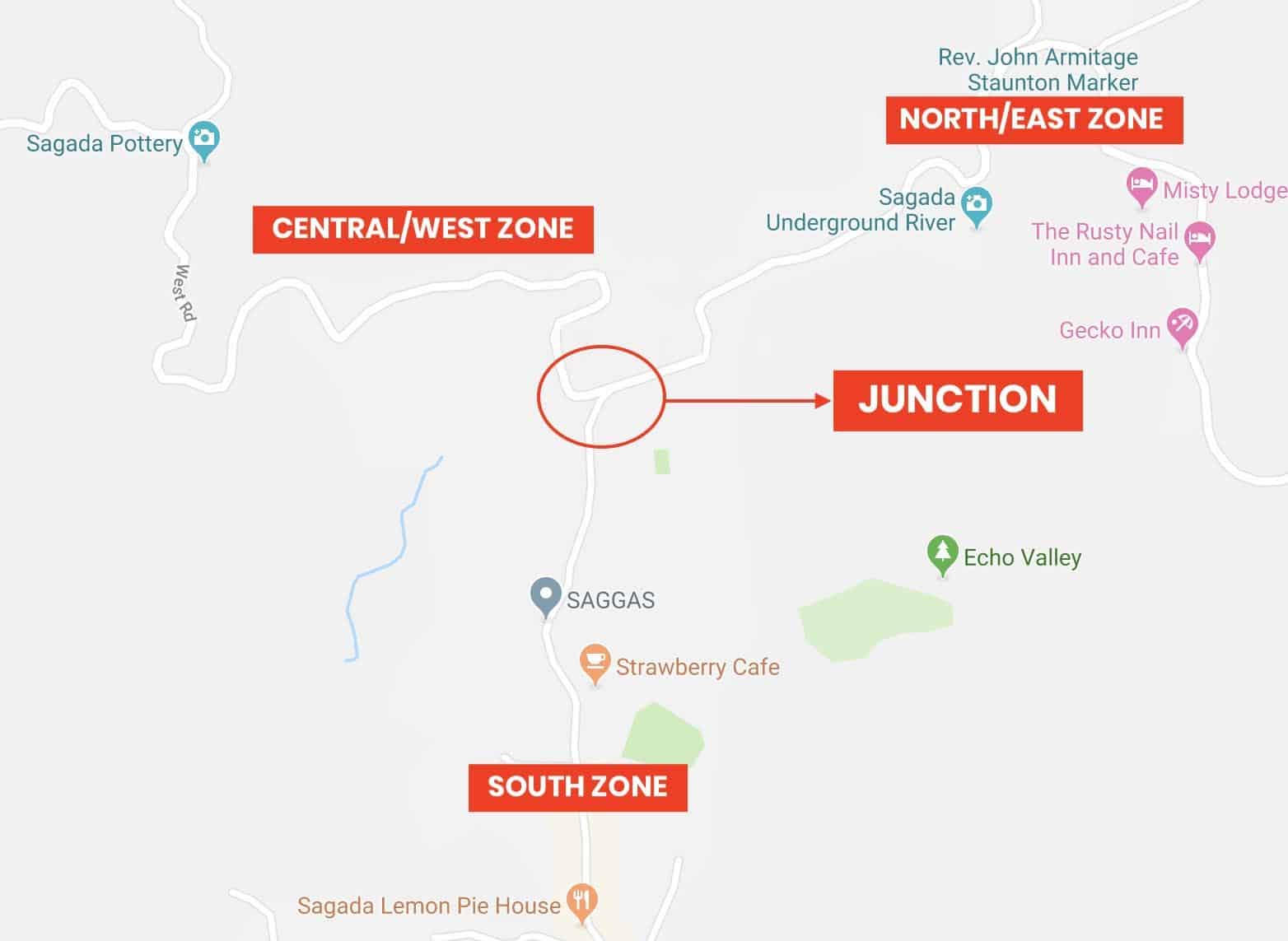 Staunton Road (North/East). If you're coming from Baguio, Bontoc or Manila, this road that you're taking to reach Sagada. This also leads to the access roads to Bomod-ok Falls, Marlboro Hill, and Kiltepan Viewpoint.
West Road. Aka Sagada-Besao Road. This road will take you to Lake Danum and Sagada Pottery. When viewed from the junction, this is an uphill road.
South Road. This leads to Barangay Dagdag and Demang, where most well-known inns and restaurants in Sagada are located. It's also the only way to Lumiang Cave and Sumaguing Cave. From the junction, this road runs downhill.
You'll find plenty of inns and guesthouses flanking any of these roads. But I prefer staying along the South Road because most of my favorite restaurants in Sagada are here.
A twin or double room usually costs P1200-P1400 per night so this is a good estimate. You can also find a single room or bed for P600 per night.
Here are the hostels and inns that you can book via Agoda.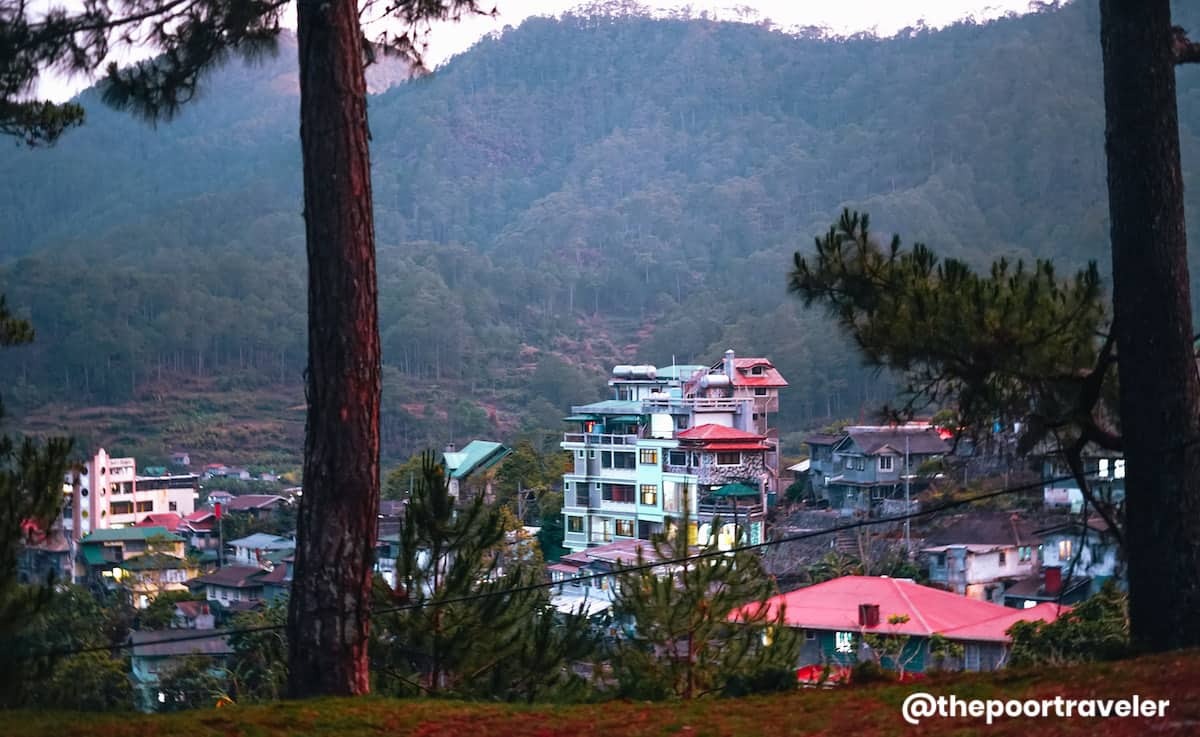 I have tried George Guesthouse and Residential Lodge along South Road, and Ligaya's Inn and Cottages.
We have a list of all accredited accommodations with contact numbers here: SAGADA HOSTELS, INNS & HOMESTAYS!
---
HOW TO GET TO SAGADA
Manila to Sagada by Direct Bus
You can now travel directly from Cubao to Sagada! Operated by Coda Lines, this bus can take you straight to Sagada in 12 hours, with a few restroom stops along the way. It takes the Banaue route (not Baguio).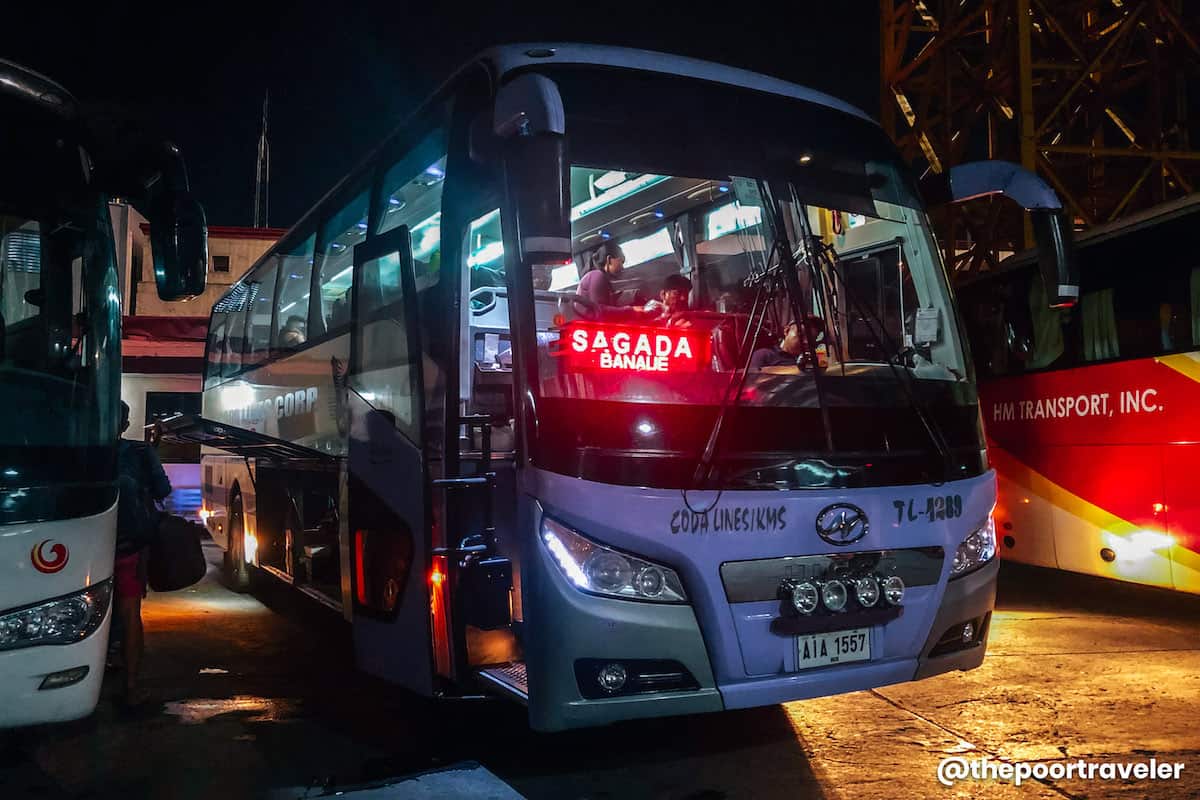 There are two types of buses:
Super Deluxe, 35-seater bus with restroom onboard. Fare: P980.
Semi-Deluxe, 45-seater bus without restroom. Fare: P760.
All buses leave Cubao in the evening and then drive through Banaue (not Baguio) to reach Sagada overnight. What I like about this is that you're not wasting a day on the road. You'll arrive in Sagada in the morning, hopefully ready to do some mild sightseeing.
Here's the Coda Lines Cubao-Sagada timetable: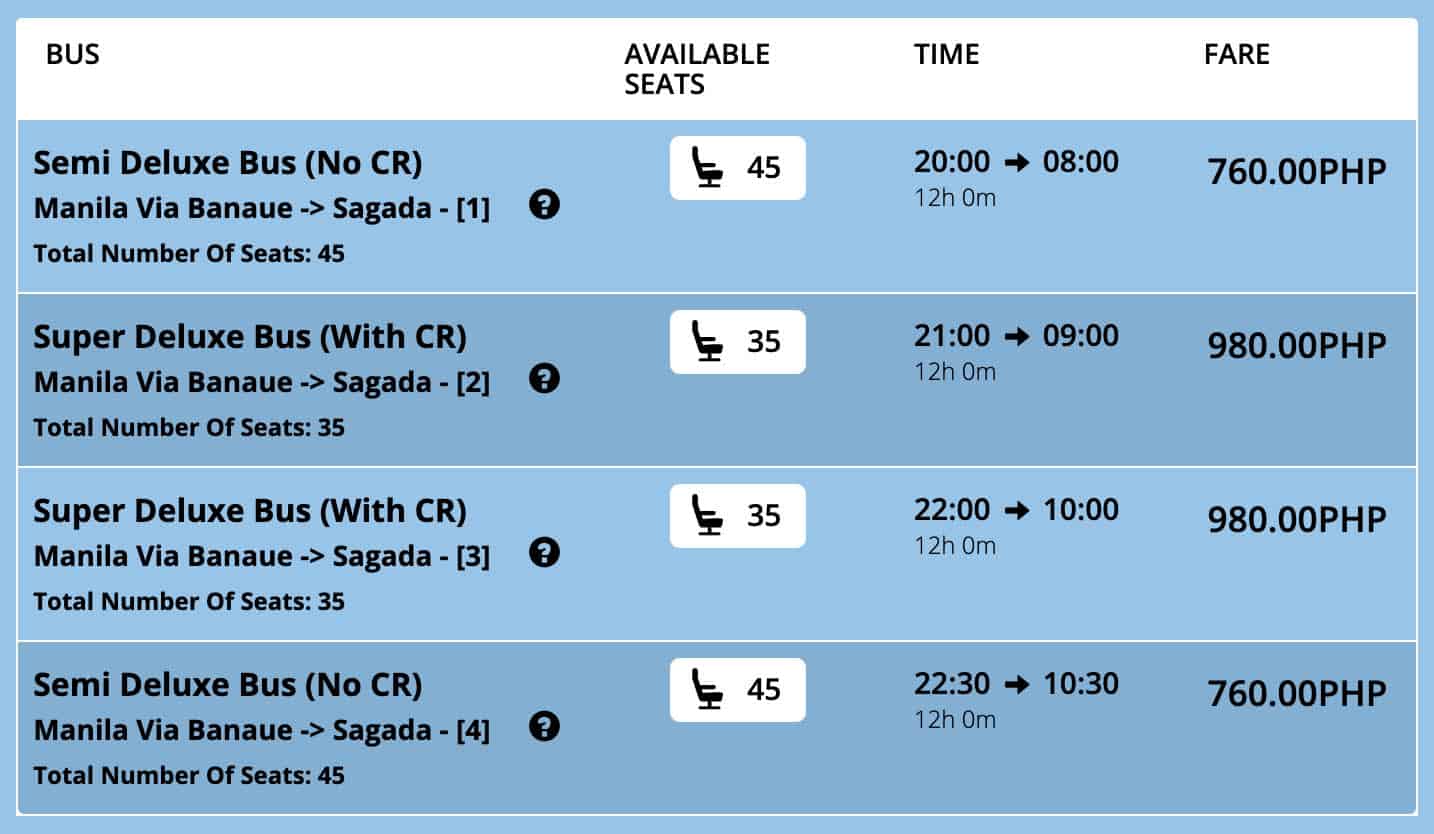 To book, visit www.codalinesph.com.
---
Manila to Sagada via Baguio
It is also possible to reach Sagada via Baguio. This involves a change of bus and terminal in Baguio City.
A number of companies offer bus services to Baguio, but two of the most popular are Victory Liner and Joy Bus.
Victory Liner has terminals in:
Pasay
Cubao
Caloocan
Sampaloc
JoyBus has terminals in:
To see the full schedule and fares of JoyBus and Victory Liner buses, check out: MANILA TO BAGUIO BUS SCHEDULE.
If you can, choose a late night bus so you'll arrive in Baguio in the early morning because the last Sagada-bound bus leaves Baguio at either 11:30am or 01:00pm.
Once in Baguio, follow the steps in the next section.
---
Baguio to Sagada by Bus
Sagada is 6 hours away from Baguio. There are two bus companies that operate this route: GL Trans and Lizardo Trans. GL Trans is more highly recommended by my local friends because they said the buses are in better conditions. I also haven't tried Lizardo so we'll be focusing on GL Trans in this post.
If you're coming from Victory Liner/JoyBus station, hail a cab and ask to be taken to GL Trans Terminal. Taxi fare: around P80.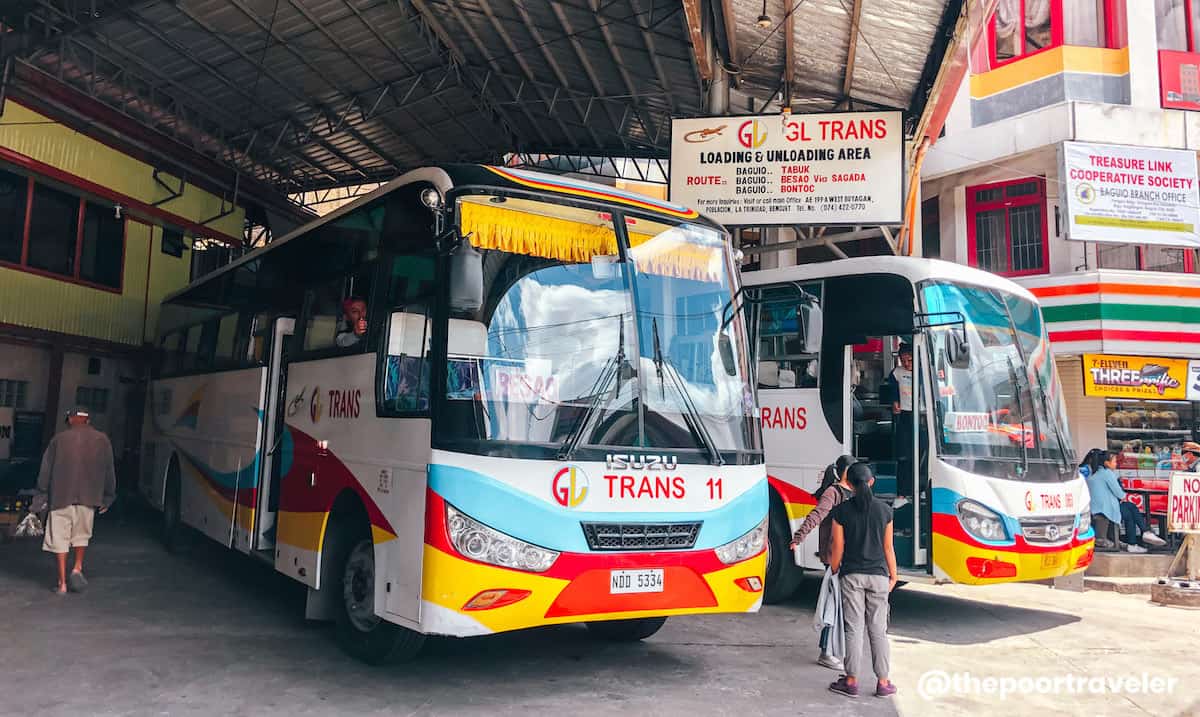 At the GL Trans terminal, approach the counter and buy a ticket immediately. Fare: P220.
Here are the schedule and routes as of this writing:
05:30 am – Sagada > Besau
08:30 am – Sagada Ambasing
09:30 am – Sagada > Besau
10:30 am – Sagada > Besau
11:30 am – Sagada Ambasing
01:00 pm (last trip) – Sagada > Besau
You'll notice that most of the buses depart Baguio before noon, so if you're coming from Manila, you must arrive in Baguio in the early morning in order to catch a ride. Otherwise, you're gonna have trouble looking for one.
In our recent trip, we arrived at the GL Terminal before 10am but the 11:30-bus was already fully booked. Fortunately, there was still another bus slated for a 1pm departure that day. We were actually surprised to learn about it because most online sources tag the 11:30-bus as the last trip. But the lesson here is, be early, especially if you're traveling on a weekend.
Here are other reminders:
Sagada Town Proper isn't the final stop of any of these buses. Don't fall asleep when you're nearing Sagada. You might miss your stop and end up in Besau.
Reservations and advance bookings are not accepted. They issue tickets for trips scheduled on that day only.
They start selling tickets at 5am. First come, first served.
The bus makes at least two stops.
If you get hungry while waiting for your bus, there is a Good Taste branch near the terminal. Good Taste is a popular local restaurant in Baguio.
---
HOW TO GET AROUND SAGADA
When it comes to public transportation, your options are very limited. You won't see that many jeepneys around town. Here are your options.
As for attractions located outside poblacion, you can easily book a tour.
To get to attractions within town center: Walk! Thankfully, the town center is quite small and very walkable. Most restaurants, cafes, inns, and souvenir shops are located not too far from one another. There are some hilly parts, but a stroll around town is generally comfortable.
To get to attractions outside the town center: Book a tour! Tourism operations in Sagada are very organized. Visitors are required to have a guide when they explore. Your guide can also arrange your transportation to get to any destination. Vehicle fee is charged on top of guide fee.
For more information about the tours, read the next section.
---
SAGADA TOURS
The local government imposes fixed and uniform rates on tours and requires visitors to have a guide when exploring. Whether you want to see Kiltepan, Lake Danum, Sumaguing Cave, Bomod-ok Falls or even Echo Valley, you MUST have a guide.
Hence, before you start exploring, the first thing you should do is drop by Sagada Tourism Office to register, pay the P50 tourism/environmental fee, and make some arrangements. If your inn is near South Road, you can also go straight to the office of SAGGAS (Sagada Genuine Guides Association) to book your tours. They can also handle the registration and payment of tourism fee for you.
After registration, you should be given a receipt and you must keep it with you at all times during your stay. You will be asked to present it upon entry to certain attractions.
Also note that vehicle fee is separate from guide fee and entrance fees.
Anyway, here are the tours and corresponding rates.
---
Sumaguing Cave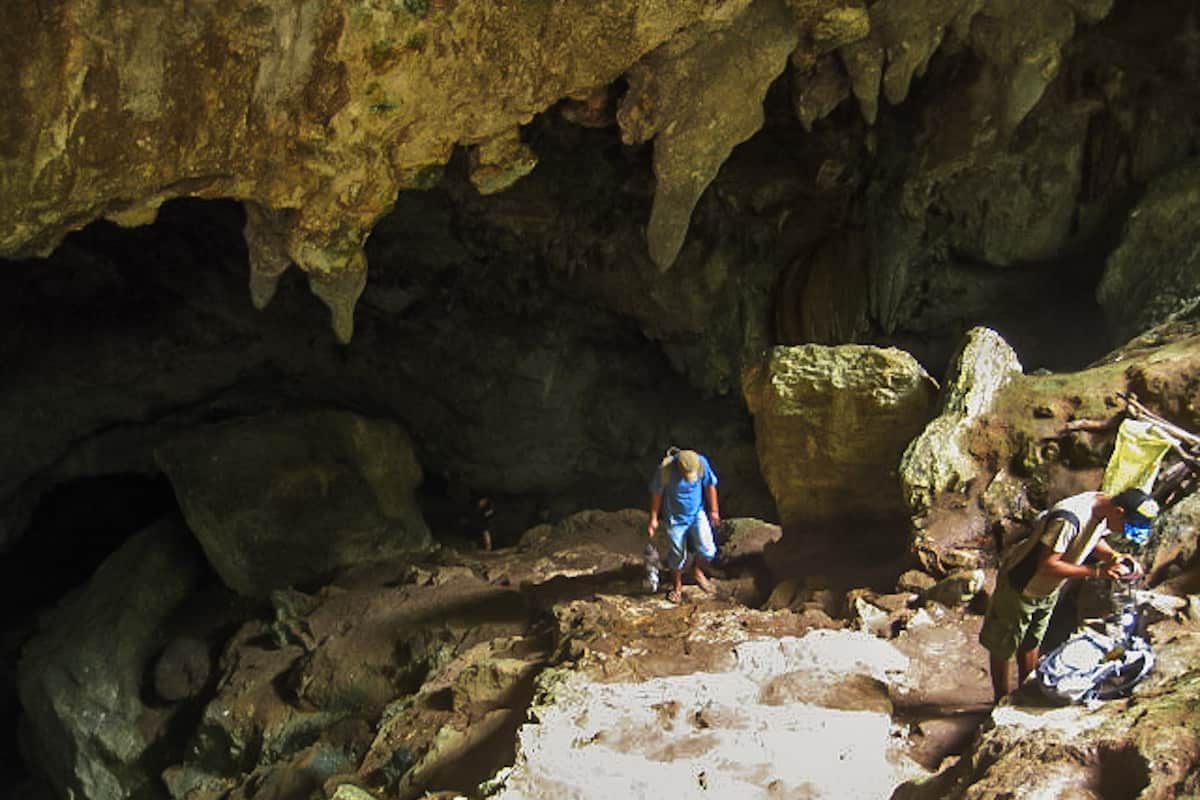 Underneath Sagada is a network of more than 60 caves, the biggest of which is Sumaguing Cave, earning its nickname "The Big Cave." Inside are countless rock formations slowly shaped by nature over thousands of years. These rock formations mimicking familiar shapes are the highlight of this spelunking adventure. Some of these formations include the bear, elephants, turtle head, chocolate cake, and pregnant woman. It is perhaps these shapes (and the overall experience) that tourists keep coming back to Sagada for. Sumaguing Cave is probably the most popular of all tourist attractions in town.
Prepare to be wet and get physical. Although it looks daunting, it's not as difficult as you might be thinking. Just follow the instructions of your guide and you'll be fine.
The whole activity lasts around 2 hours.
RATES:
1-4 pax: P800 (1 guide)
5 pax: P900 (1 guide)
6-9 pax: P1600 (2 guides)
10 pax: P1800 (2 guides)
11-12 pax: P2400 (3 guides)
13 pax or more: P200 per person
Two-way transportation fee (optional): P350
➡️ MORE INFO: OUR SUMAGUING CAVE EXPERIENCE
---
Cave Connnection (Lumiang Cave to Sumaguing Cave)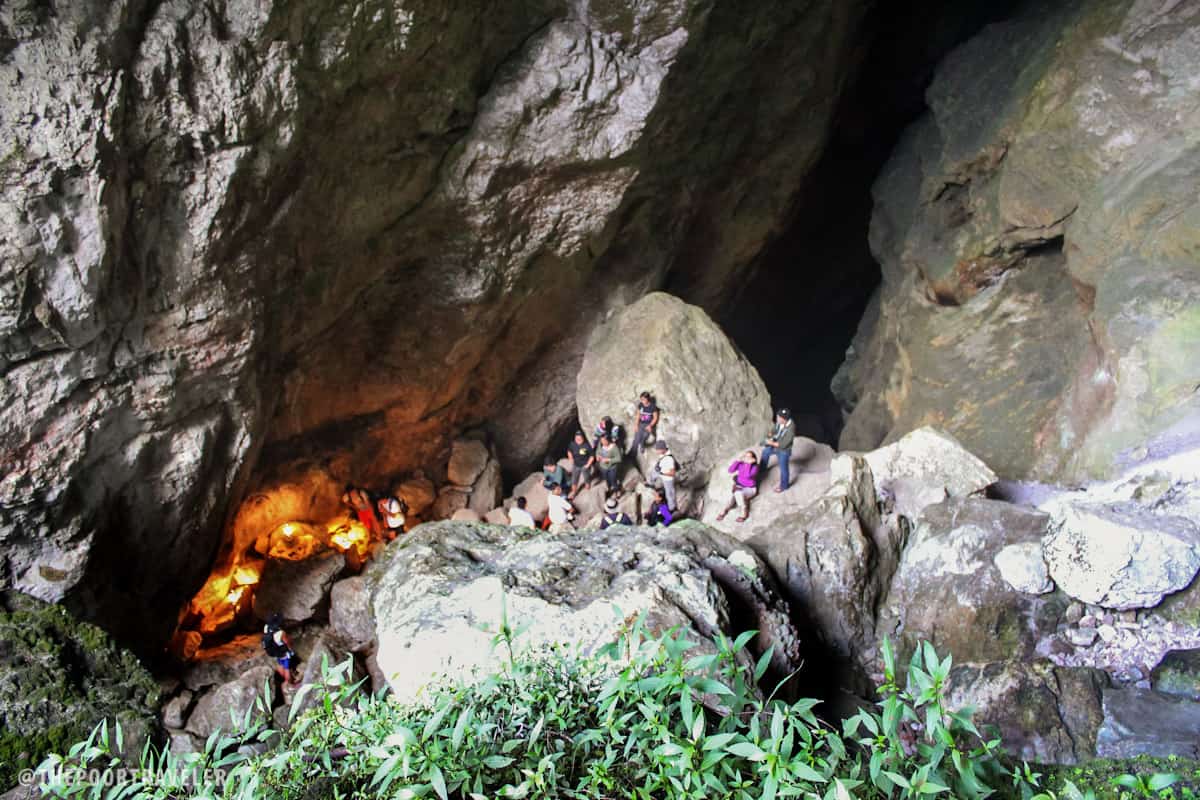 Cave Connection is much more challenging than Sumaguing Cave. It's so called because it connects two of the most well known caves in Sagada. The Cave Connection Tour starts at Lumiang Cave, a burial site where hundreds of coffins are stacked as part of the local tradition. After 3-4 hours, you'll emerge out of Sumaguing Cave.
Guide Fee:
P1000 (good for 1-2 pax).
P500 per additional person
Two-way transportation (optional): P400
➡️ MORE INFO: OUR CAVE CONNECTION EXPERIENCE
---
Bomod-ok Falls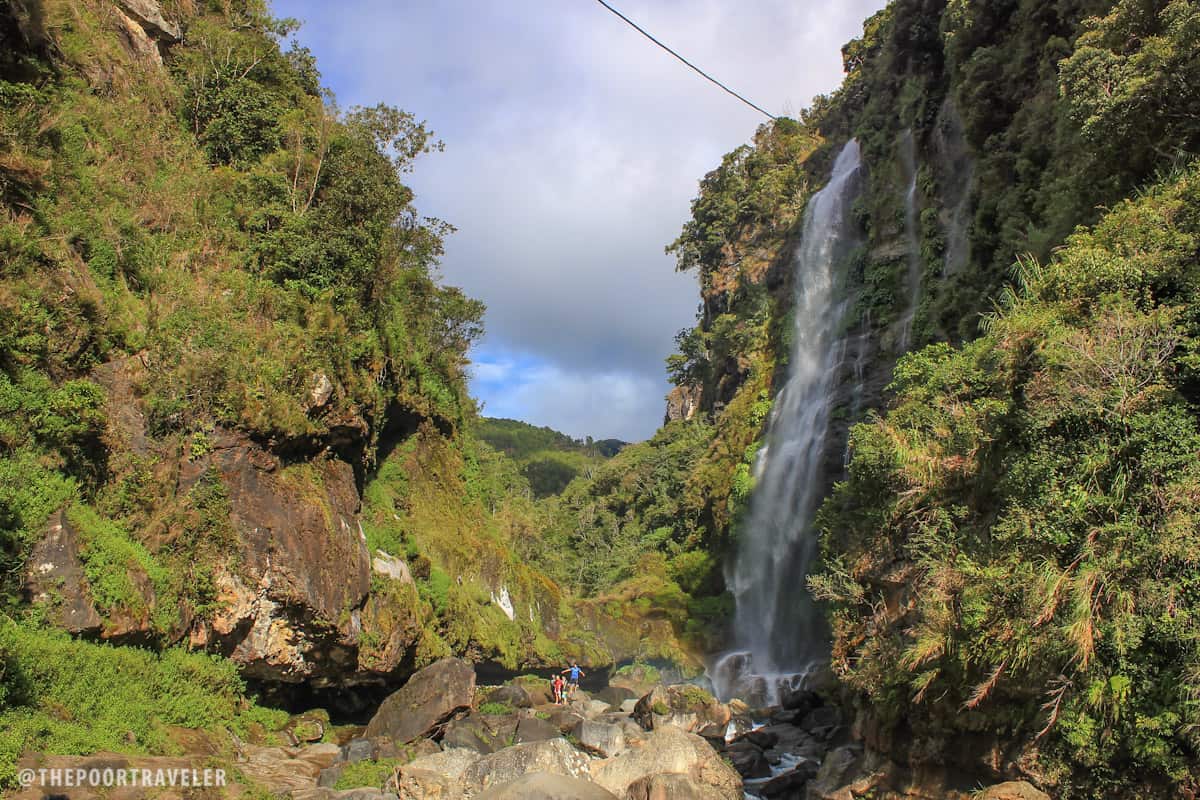 Sagada has three waterfalls that are open to tourists: Pongas, Bokong, and Bomod-ok. Of the three, Bomod-ok is the largest and tallest, which is why it's nicknamed "Big Falls."
You'll walk across mountains to reach it. The getting there is quite a challenge but this 200-ft cascade will deliver. You'll be balancing on the edge of the terraces while wallowing in the gorgeous scenery. You may also opt to take a dip at the pool at the base of the waterfall. You might find yourself doing something new — vomit air — so bring lots of water and energy.
Guide Fee: P500 (good for 1-7 pax)
Barangay Fee: P10
Transportation Fee: P500-650
➡️ MORE INFO: OUR BOMOD-OK FALLS EXPERIENCE
---
Echo Valley and Hanging Coffins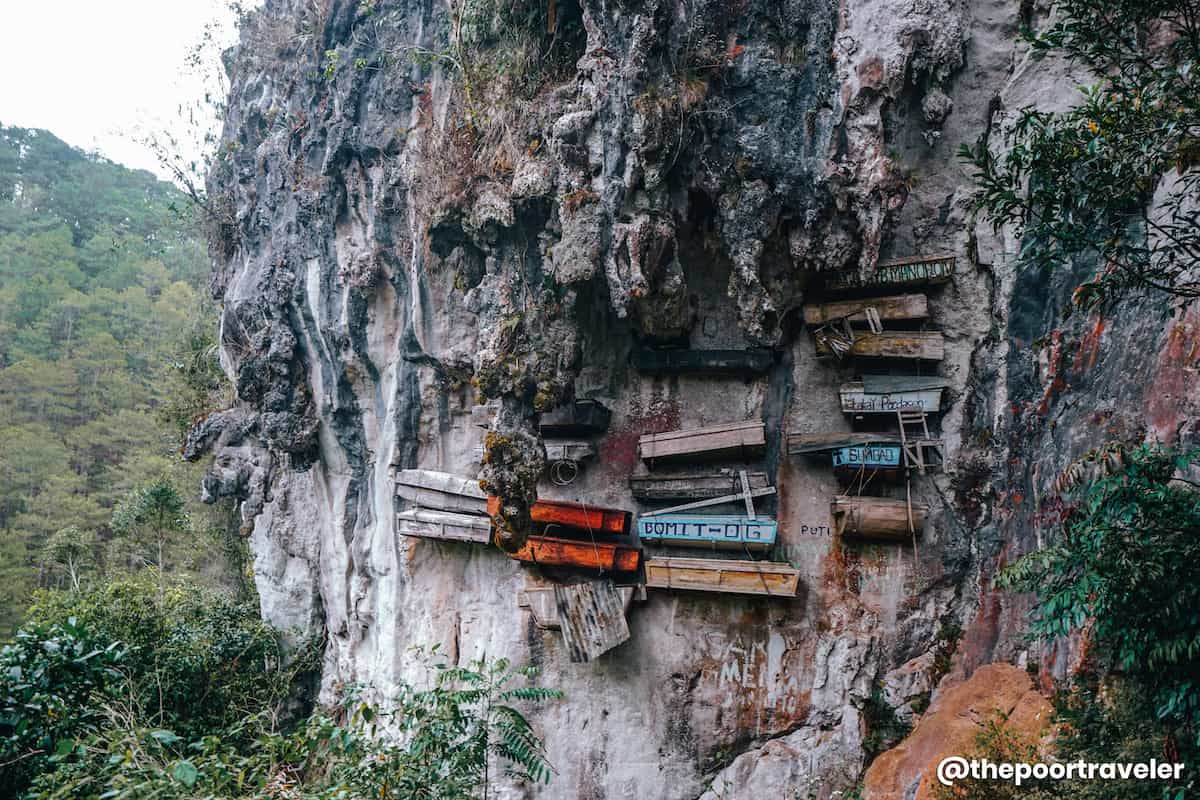 The Echo Valley is where you'll find Sagada's famous hanging coffins. It lies just next to the town center. It's a short walk away from the Church of St. Mary the Virgin and through the new cemetery. The trail from the cemetery to the coffins has been made safer for hikers.
There are three trails that you can take. All these will allow you to see the hanging coffins, but the last two will take you to more natural attractions.
ECHO VALLEY HANGING COFFINS TOUR. From the church, you'll go on a short hike to the view point and then down to the valley to see the coffins up close.
Guide fee: P300 for 1-10 pax; P400 for 11 pax; P600 for 12-20 pax.
Duration: 1 hour.
ECO TOUR. This will take you from the church to the hanging coffins to the underground river entrance to Bokong natural swimming pool through canyons and rice fields.
Guide fee: P800 for 1-10 pax; P1600 for 11-20 pax; P2400 for 12-30 pax.
Duration: 3 hours.
ADVENTURE TRAIL. From the church, this trail will lead you to the hanging coffins, Sagada Underground River, and Bokong Waterfall.
Guide fee: P1000 for 1-10 pax; P100 per additional person.
Duration: 3 hours.
---
Kiltepan Viewpoint (Temporarily closed)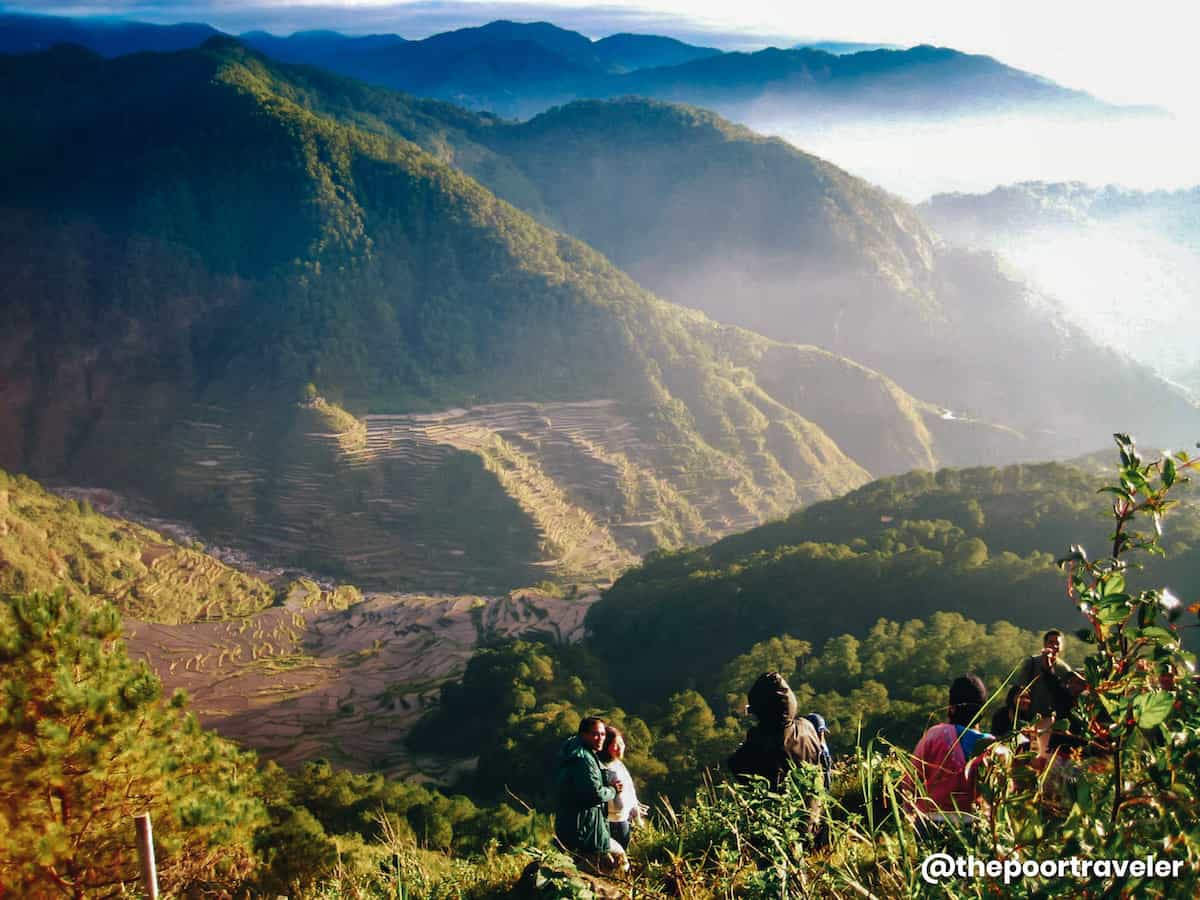 Kiltepan Viewpoint is the most popular spot to catch the romantic Sagada sunrise. The fading darkness reveals a sea of white clouds blanketing the hills and the valleys below. As the sun inches from the horizon, the clouds part and reveal the magnificent terraces underneath.
The site was made even more well-known by the movie That Thing Called Tadhana. It's evident in the number of tourists screaming their feelings out on top of Kiltepan, reminiscent of one of the movie's most affecting scenes.
If you want to catch the sunrise, you must leave at 4:30am and drive for 15 minutes. A short hike will take you to the viewpoint.
Two-way transportation fee: P500 for 1-10 pax; P50 per additional person.
Note: Kiltepan is closed for now.
---
Marlboro Hill and Blue Soil Trek
Because Kiltepan is currently inaccessible, Marlboro Hill has become the go-to sunrise-viewing spot. It's funny because I was just there last week and there were still tourists shouting their feelings at the top of their lungs a la That Thing Called Tadhana even though we were on a completely different mountain peak.
To catch the sunrise and the sea of clouds, you must leave at 4:30 am or earlier and drive to the jump off point. From there, you will be hiking for about 20 minutes to reach the viewpoint. There are also kiosks selling champorado, sopas, and arroz caldo on site.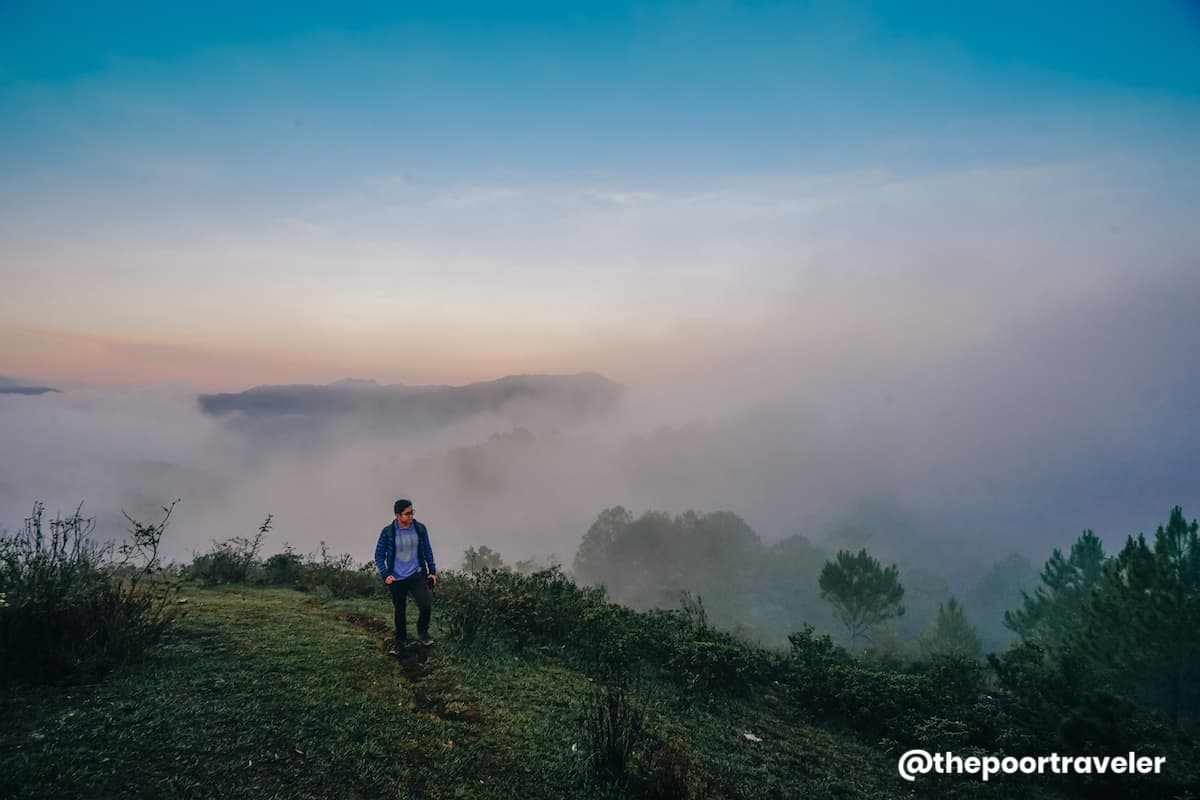 Most visitors would just watch the sunrise, take photos, and then hike back to where they came from. But what we recommend is to continue the trek to the Blue Soil Hill, locally called Kaman-utek. Along the way, you'll pass by several scenic sites including more spectacular viewpoints and limestone cliffs. It's a downhill trek so it's not that difficult. Then, you'll reach Blue Soil Hill, which gets its powder blue color from the high amounts of copper sulfate in the soil. You can take a rest here and have a quick bite.
The trek takes around 2 hours, depending on your pace. But the whole activity from pick up and Marlboro sunrise to the end of the trek lasts 4-5 hours.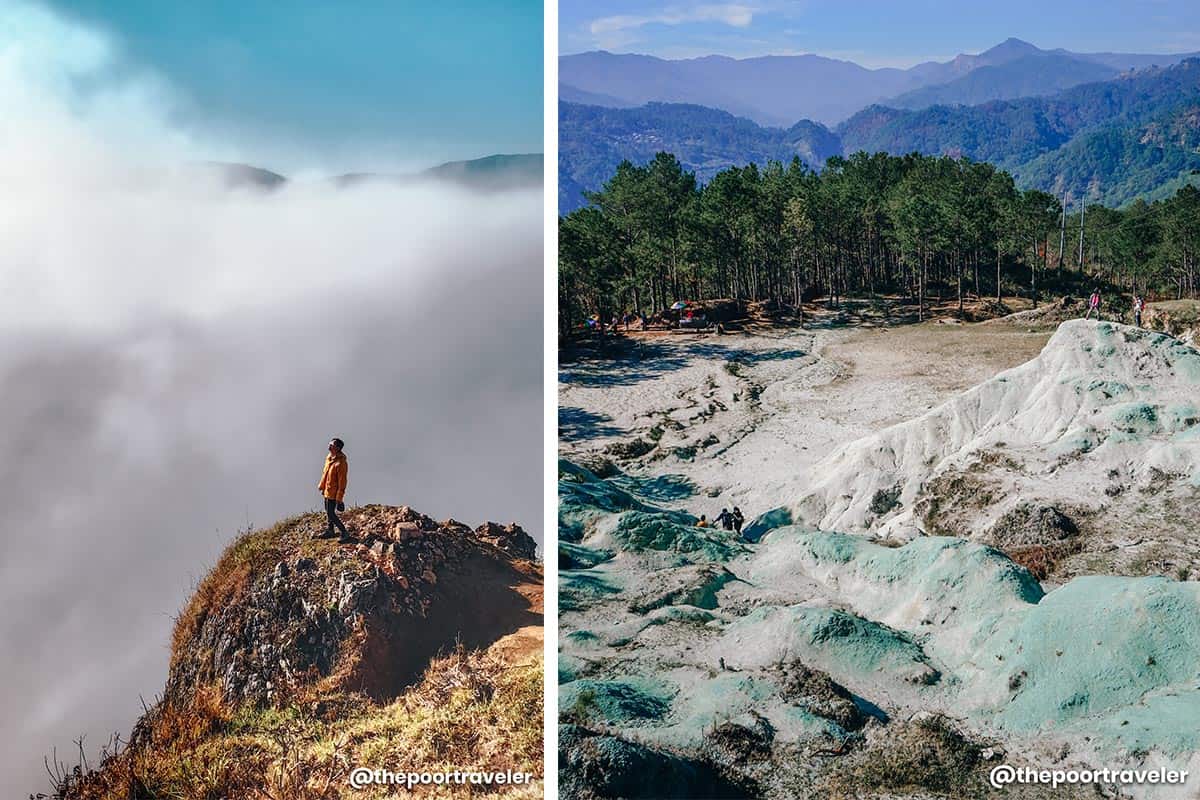 MARLBORO HILL ONLY
Guide Fee: P600 for 1-10 pax.
Two-way transportation fee: P650 (optional)
MARLBORO HILL + BLUE SOIL HILL
Guide Fee: P1,600 for 1-5 pax; P1300 per additional person.
Two-way transportation fee: P1,350 (optional)
---
Orange Picking at Rock Farm
This isn't really a guided tour, but it's a fun activity. When oranges are in season, you can visit Rock Farm and go ponkan-picking.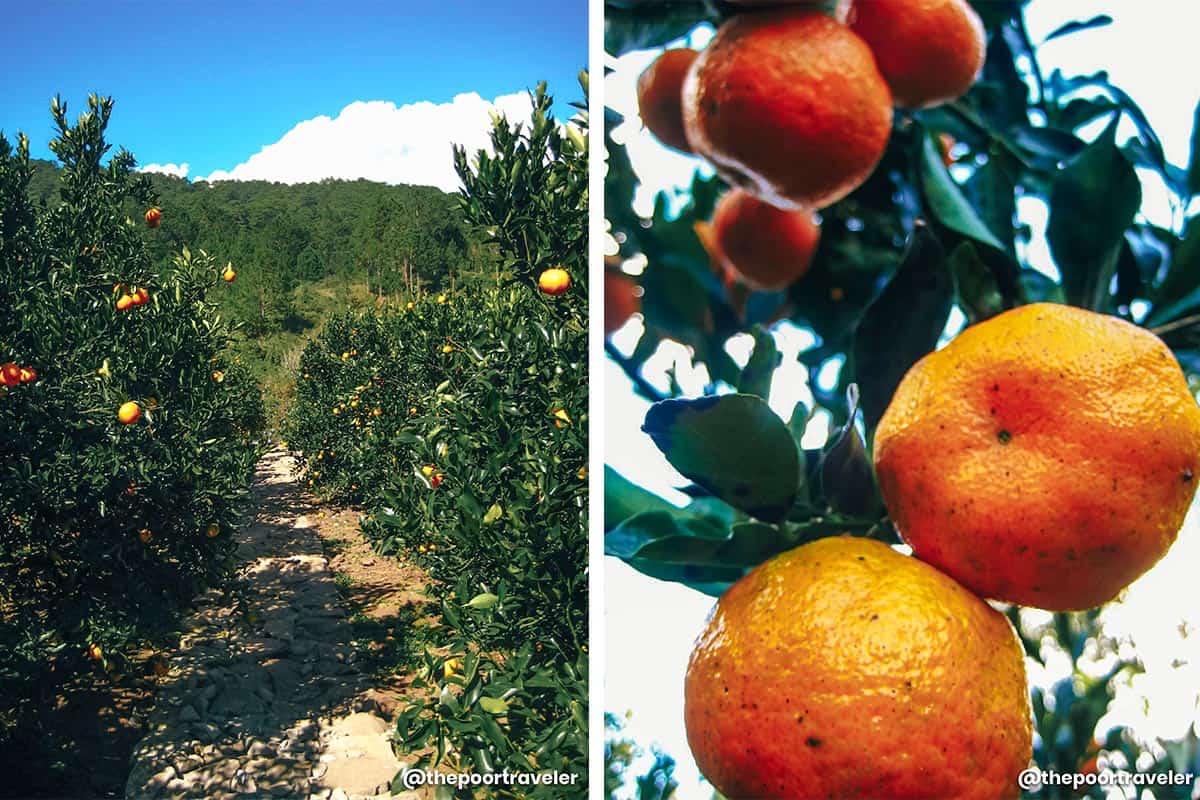 Situated east of the town center is a lodging and dining complex composed of Rock Inn and Cafe Bodega. Of all the food places in Sagada, Cafe Bodega, hands down has the best ambiance. We usually have lunch here when we're in Sagada, and while waiting for our order, we would go to the orange plantation next to it for a meet-and-greet with the poster fruit of Vitamin C!
I'm not sure how much the entrance fee is now, but as of 2017, it was P50. While inside the premises, you can eat as many oranges as you want. (That's part of the P50 fee.) Then if you decide to have some for take out, that's another P50 per kilo.
---
Other Sagada Attractions
Balangagan Cave. Located 30 minutes from poblacion, this is another cave for fun spelunking adventure. Guide fee: P650 for 4 pax, P800 for 5 pax, P1300 for 6-9 pax. Transport fee: P650.
Pongas Falls. Requires a 1-hour hike. Guide fee: P600 for 1-10 pax. Transport fee: P650.
Lake Danum. A good sunset-viewing spot 20 minutes from the town proper. Transport fee: P550 for 1-10 pax.
Mt. Ampacao. A 3-hour traverse from the poblacion to Lake Danum to Mt. Ampacao. Guide fee: P1200 for 1-10 pax.
---
WHERE TO EAT IN SAGADA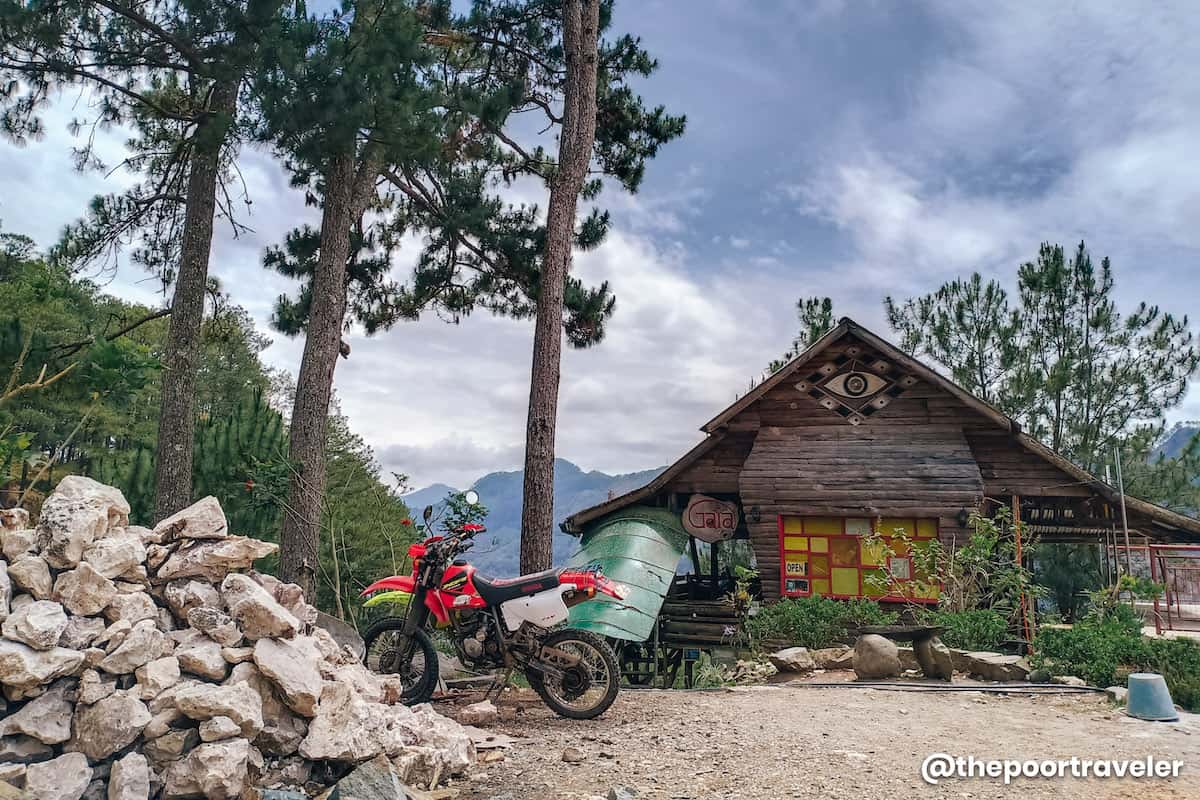 We'll be creating a separate post for this very soon!
---
SAMPLE SAGADA ITINERARY
Because tours in Sagada are organized and well-regulated, it's easy to build an itinerary. Yes, there are a lot of activities to try, but you can group them into three major types: spelunking, waterfall chasing, and trekking. What I recommend is to pick one from each category.
It is also important to note that most of these tours can be exhausting. Mind your pace. If you can, just do one tour per day, preferably in the morning so you don't need to worry about the sun too much. Then, spend your afternoon just chilling at a cafe and strolling around town. You can also add a visit to the Hanging Coffins to any day's schedule since this is an easy and hike.
Here's our sample Sagada itinerary. Note that this assumes the following:
You're a group of 4, splitting tour and transportation costs.
You have a lodging budget of P700 per person per night. A twin or double room usually costs P1200-P1400 per night so this is a good estimate. You can also find a single room or bed for P600 per night.
You're coming from Manila and taking a Coda Lines semi-deluxe bus. Fare is P760.
As always, feel free to make adjustments to this itinerary according to your taste and whatever other considerations you have.
DAY 1: SUMAGUING CAVE
08:00 am – Arrival in Sagada, Bus fare: P760
08:15 am – Pay Tourism Fee, P50
08:45 am – Hotel check in or bag drop
09:15 am – Breakfast at Salt and Pepper, P200
10:15 am – Leave for Sumaguing, Jeep: P87.50 (P350/4pax)
10:40 am – Sumaguing Cave, Guide: P200 (P800/4pax)
01:30 pm – Lunch at Gaia Cafe, P300
03:00 pm – Freshen up, rest, recharge
06:30 pm – Dinner at Sagada Brew, P300
08:00 pm – Back at inn
DAY 2: BOMOD-OK FALLS
06:30 am – Leave for Bomod-ok, Jeep: P162.50 (P650/4pax)
07:00 am – Bomod-ok Falls, P125 (P500/4pax) + P10 access fee
12:00 pm – Lunch at Yoghurt House, P250
03:00 pm – Echo Valley Tour: P75 (P300/4pax) + P10 access fee
05:00 pm – Shop for souvenirs
07:00 pm – Dinner at Log Cabin, P300
08:30 pm – Back at inn
DAY 3: MARLBORO + BLUE SOIL HILLS
04:30 am – Leave for Marlboro Hill, Jeep: P337.5 (P1350/4pax)
05:00 am – Start Trek, P400 (P1600/4pax)
06:00 am – Breakfast at Marlboro Hill, P70
06:30 am – Trek to Blue Soil Hill
09:30 am – Back to inn, shower, pack, check out
11:00 am – Brunch at Lemon Pie House, P200
01:00 pm – Try yoghurt and chill at Yoghurt House, P120
03:30 pm – Walk to junction, wait for bus
04:00 pm – Bus to Manila, P760
The itinerary above will set you back around P6300 (USD 122, SGD 165, EUR 108) per person, excluding tips/gratuities and shopping expenses. Again this is based on the assumption that you're a group of four.
The biggest chunk of the cost above was spent on restaurants, which can be expensive. A meal at a tourist-targeted resto plays within the P200-300 range per meal. But if you stay at an inn with a kitchen, you can cook your own meal.
If you limit your food expenses to P300 per day and remove the restos, the itinerary above will cost you P5700 (USD 110, SGD 149, EUR 98) per person.
---
MORE TIPS FOR THE POOR TRAVELER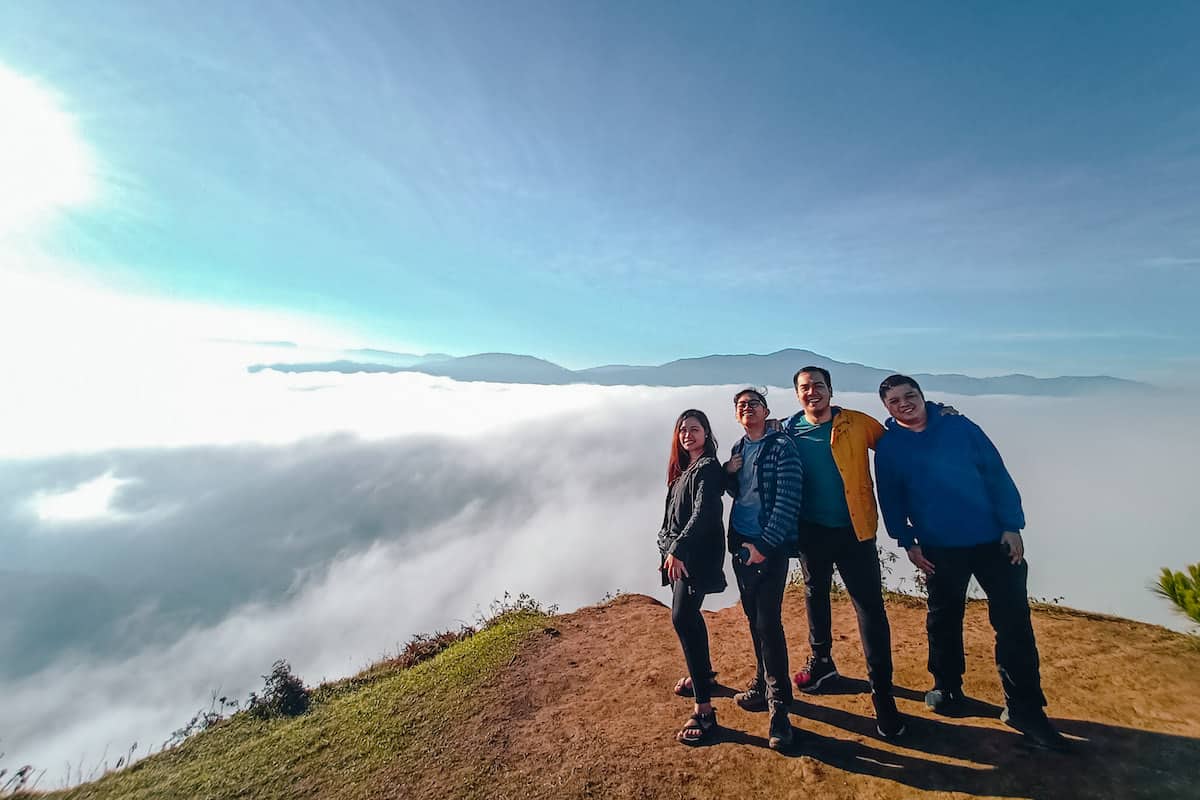 Stay at an inn or homestay with an open kitchen. This way, you can cook your own meals on some days and reduce food expenses. We once shared a floor with a family who would always cook their meals. Go try restaurants every once in a while, but if you money is tight, go prep your own food.
Try street food. This is another way to reduce food expenses. Barbeque and isaw are available for P10-15 per stick. Delicious homemade yoghurt is sold at P35 per cup.
Form a bigger group. Tour rates depend on how big your group is. Normally, the bigger your group, the smaller the per-person cost because you have more members to split it with. If you're a small party and you're on a budget, you can join or merge with another group to reduce cost. For example, the guide fee for Bomod-ok Falls Tour is P500 for 1-7 pax. If you're a party of 2, that's P250 per person. But if you merge with other travelers and form a group of 7, the cost per person is lowered to only P72.
Buy a gallon of water on your first day in Sagada. Ideally, bring your own water bottle, but note that restaurants in Sagada wouldn't allow you to refill it with their water. So just buy a big container of water, bring it to your room, and refill from there.
---
FREQUENTLY ASKED QUESTIONS
When is the best time to visit Sagada?
November to April. This is the driest and coolest period, which is suitable for all the outdoor activities. However, expect quick, passing showers in late afternoon even in the dry season.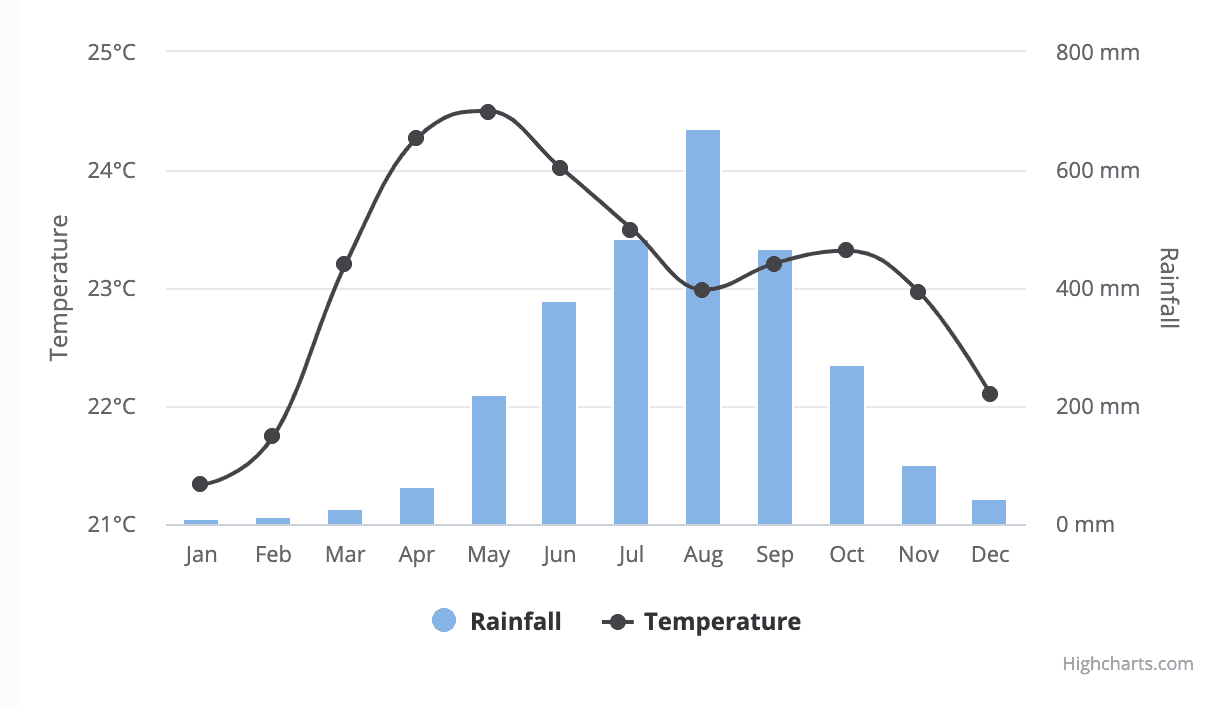 Bonfire Festival. A great time to visit is the week between Christmas and New Year. On one day of that week, you can join the Bonfire Festival where you get to meet other tourists and even locals while partying Sagada-style. There's buffet and overflowing local wines.
However, that week is peak period, so if you don't like sharing Sagada with big throngs of other tourists, you might want to pass up. Stay away from Holy Week, too.
June to September are the wettest months. The rain can make touring and trekking in Sagada difficult, so avoid this period too.
---
Is Sagada safe?
Yes, very safe.
The number of crime incidents per year is only at a double-digit level and most of them are about damage to vehicles that are parked along the road. Index crimes are very rare in Sagada. According to our guides, the municipal prison is empty, but I wasn't able to confirm this.
However, Sagada is an adventure destination so you must take extra care especially when spelunking or trekking. You're in the highlands, so expect a lot of cliffs and ravines.
Here are important numbers to keep:
Sagada Police: +63 908 225 8115
Sagada Hospital: +63 917 629 6084
Emergency Response Team: +63 906 822 0044, +63 999 994 3282
---
What type of power plug / socket is used in Sagada?
Electricity Info: 220V, 60Hz. Plug and socket Type A.

---
What is the tipping custom in Sagada?
Just like in other places in the Philippines, tipping is not mandatory in Sagada. Tip only if you really enjoyed the service.
However, I encourage you to tip your guides, especially the spelunking guides. What they do every day isn't easy. You'll understand this after you've done it. It doesn't have to be money all the time. You can invite them to join you for lunch.
---
Are there ATMs in Sagada?
YES. We've spotted a DBP ATM at the Police Station near the junction. I'm not sure if there are others, but there's at least one.
To be sure, make sure you have enough cash before arriving in Sagada. Best to withdraw or, if you're carrying a foreign currency, exchange money before you leave Manila or Baguio.
---
2️⃣0️⃣1️⃣9️⃣ • 4️⃣ • 2️⃣4️⃣