There were shooting stars.
I was a High School sophomore when I set foot in Baguio for the very first time. The details of the event are fuzzy now, but it was a Boy Scout-related trip. I was just a few steps to becoming an Eagle Scout then, which was something my friends and I had been working hard to achieve. To ensure I would be joining the trip, I had to work a little bit harder. My classmates didn't know it then — they thought every penny I had for that trip was given — but I had to earn it by selling fishballs.
After over 10 hours of bus ride from Batangas, we finally reached Baguio at around midnight. In the middle of unloading our bags, my friends and I sat and rested on the base of flagpole. As we were having a conversation about the cold, shooting stars streaked across the night sky.
That was my earliest memory of Baguio City. Even now that the city has undergone a lot of changes and more cool, rustic towns have become accessible, I still find myself in a bus bound for Baguio again and again. It's hard to forget something that left such a magical first impression. I mean, there were shooting stars.
WHAT'S COVERED IN THIS GUIDE?
UNDERSTANDING BAGUIO
Baguio was built as a hill station in 1900, at the start of the American Colonial Period. That's why the names of many of the key landmarks sound western or American. Burnham Park was named after Architect Daniel Burnham, who planned the city; Wright Park after Governor-General Luke Edward Wright; Camp John Hay after John Milton Hay, who was President Roosevelt's Secretary of State; and Bell House after General J. Franklin Bell. The Mansion, one of the city's most recognizable buildings, was constructed to serve as the official residence of the Governor General.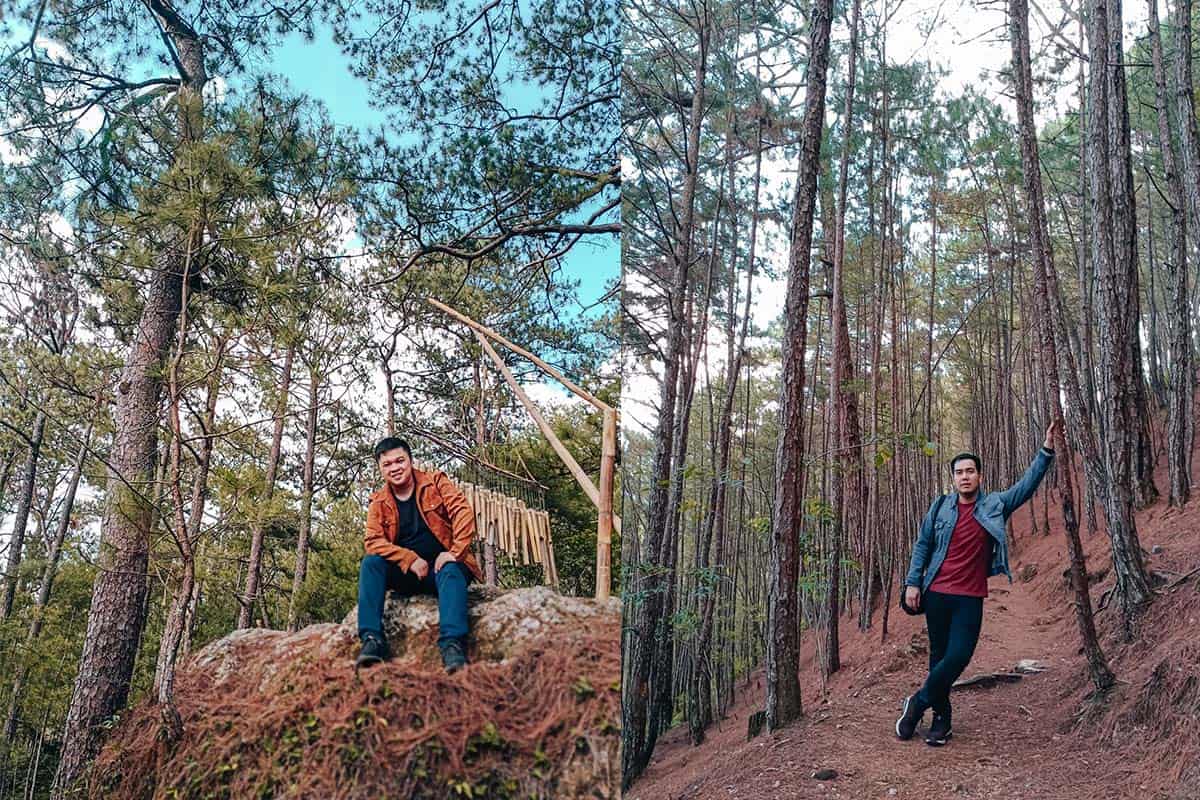 Today, Baguio is the biggest city and the economic center of the Cordillera region. Despite being a resort city, it is highly urbanized, home to almost 350,000 residents, many of which are from surrounding towns and provinces who moved to the city for work or studies. It is this cooler attitude that makes Baguio a magnet for tourists trying to escape the searing heat of the lowlands, especially in the summer.
Long before Sagada and Kalinga entered the collective consciousness of tourists, Baguio City was the go-to destination in the Cordillera region. It is known by a number of nicknames including City of Pines and Summer Capital of the Philippines, bestowed upon it because it is perched in the middle of tropical pine forests around 1500 meters above sea level, ensuring cool, pleasant temperatures year-round.
Here are more things you need to know about Baguio City.
Language: The four most spoken Philippine languages in Baguio are Ibaloi, Kankana-ey, Ilocano, and Tagalog. But English is widely understood and spoken too.
Currency: Philippine peso (PHP, ₱). PHP100 is around USD 1.90, EUR 1.69, SGD 2.57 (as of April 2019).
Modes of payment: Credit cards are accepted by many establishments but CASH is still king (and queen) in Baguio.
---
WHERE TO STAY IN BAGUIO
Baguio looks easy and simple on the map, but it is a lot more complicated in reality. But picture it this way: At the very center of the city is Burnham Park. Many of the key places of interest are located somewhere around it. Most key roads is somehow directly connected to it. Even jeepney terminals are easily accessible from the park.
Hence, if it's your first time and you want to see the key attractions in the city, pick a place that is located near Burnham Park. It doesn't have to be directly across the park. Even hotels that are just a short walk away will do. This area will be most convenient for you.
But if you're after some peace of mind and you're not here to go sightseeing, choose a hotel that is located away from Burnham Park and a little bit isolated from all the busyness. Baguio, after all, is still a bona fide urban hub, with lots of buildings and vehicles and people.
---
Top Budget Hotels in Baguio
Here are the best-reviewed hotels below P2500, as scored by Agoda users.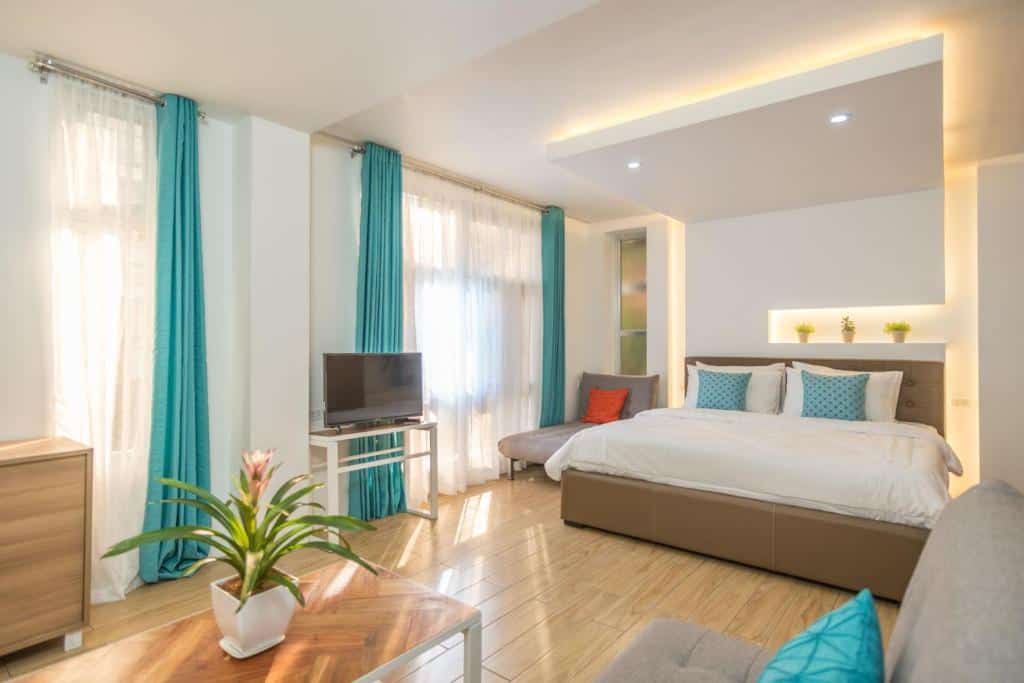 ---
HOW TO GET TO BAGUIO FROM MANILA
Several bus companies ply the Manila-Baguio route. You can catch a bus at the following terminals:
Genesis Transport: Cubao
Dagupan Bus Lines: Cubao
PARTAS: Cubao and Pasay
Joy Bus (Genesis): Pasay and Avenida
Victory Liner: Cubao and Pasay
Baguio is only 4-6 hours away from Manila, depending on which part of Manila you're coming from, which route the bus takes, and whether or not it makes a stop along the way. Regular buses usually take Dau Exit (NLEX) or Concepcion Exit (SCTEX) and make at least one stop.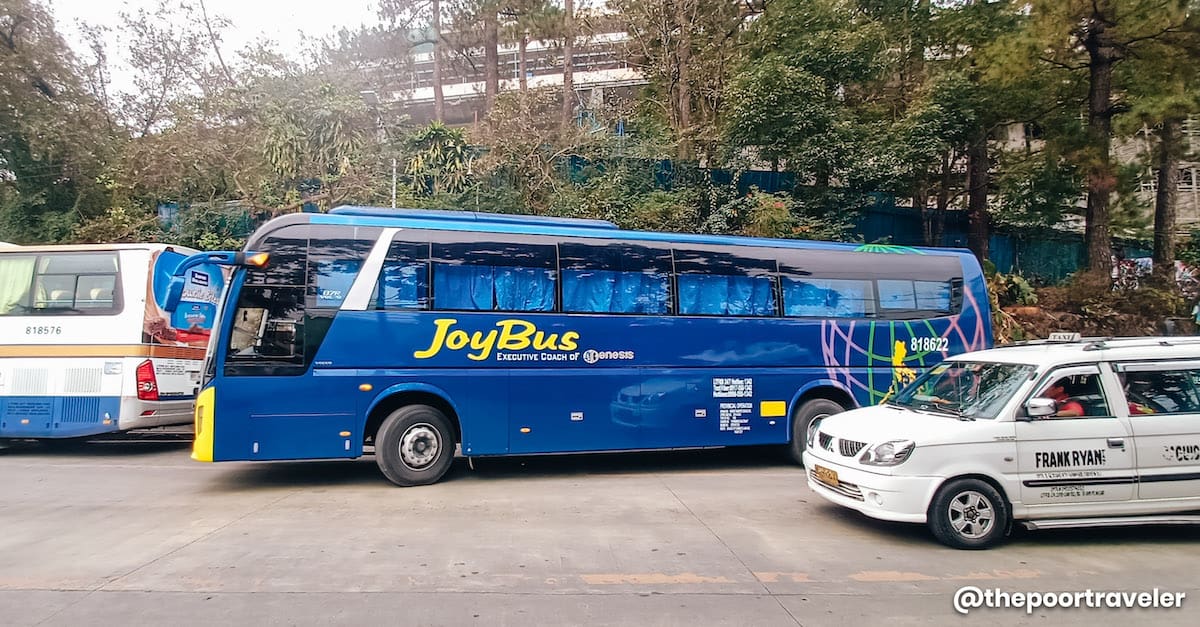 But higher end buses like Joy Bus and Victory Liner's first-class service use NLEX, SCTEX, and TPLEX non-stop, cutting down the travel time to 4-5 hours. First class buses also have wider legrooms and free snacks.
When I go to Baguio, I usually book with Victory Liner. No particular reason, really. It's just out of habit. Haha. So I'm most familiar with their fares.
CUBAO TO BAGUIO – VICTORY LINER
Regular aircon: P485
First class: P800
CUBAO TO BAGUIO – JOYBUS
Deluxe: P720
Premier: P740
PASAY TO BAGUIO – JOYBUS
Deluxe: P730
Premier: P760
PASAY TO BAGUIO – VICTORY LINER
Regular aircon: P496
First class: P800
For the schedule, check this website: VICTORY LINER & JOY BUS SCHEDULE.
From the new Victory Liner terminal, you can take a cab to your hotel. If your hotel is near Burnham Park, the fare should be around P70.
---
HOW TO GET AROUND BAGUIO
One thing that you as a tourist needs to know about Baguio is that attractions are scattered around the city in clusters. The problem is that these clusters are far from each other. Hence, it's best to explore by cluster. There are two main modes of transportation:
Jeepney. The cheaper way to get around. If your hotel is near Burnham, you can easily find a jeepney. There are terminals just outside the park. Minimum fare is P8.50.
Taxi. The more convenient way. If you're a group, it's affordable too. Cabs in Baguio are much cheaper than in Manila, and taxi drivers are known to be honest and give exact change (unlike in Manila). Of course, there are also bad drivers, but they are more the exception than the rule. Flagdown rate is P35.
GrabTaxi works in Baguio, but the number of available cabs is very limited, so expect to wait a long time to book.
You can also travel on foot. Within the city proper, I usually just walk. But I have to warn you that it can be exhausting. Visitors usually forget that Baguio's terrain is largely uneven, something that isn't obvious if you rely on flat maps. But once you're there, you'll realize that walking around Baguio involves uphill climbs. If you're not familiar with some short cuts, you'll also find yourself walking long distances.
---
THINGS TO DO IN BAGUIO & LA TRINIDAD
Camp John Hay
This is my favorite place in the city. When I was young and I conjured up images of Baguio in my head, they looked like Camp John Hay and its thick blanket of pine trees. It was established on October 25, 1903 as an R&R (rest and recreation) station exclusively for the US Armed Forces in the Philippines. At the height of World War II, it was bombed by the Japanese but fell back in the hands of the Americans in 1945. Almost 50 years later, it was turned over to the Philippine government, which transformed the site into a tourist site.
There's a lot to enjoy here including the following:
Treetop Adventures, where you can enjoy thrilling rides like the Superman Ride (zipline), Canopy Ride, and Tree Drop (harnessed free fall).
Bell House, formerly the official vacation residence of the Commanding General of the Philippines. It now houses a museum featuring American colonial architecture.
Butterfly Garden, good to see if you've never been to any butterfly garden before or if you're with kids. Otherwise, skippable.
Cemetery of Negativism, a symbolic site for the burying of negativities — thoughts, emotions, attitude.
Yellow Trail, aka Forest Bathing Trail, a 1.5km easy hiking path that will lead you through and around the pine forest. The trek takes around 2 hours. You can do it in 2 ways. The usual route is generally uphill, starting at Le Monet Hotel and ending at Scout Hill. If you don't think you have the stamina, you can do it the other way around instead. (That's what we did, LOL!) We thoroughly enjoyed it!
For more information about the places to visit here, read: THINGS TO DO AT CAMP JOHN HAY.
---
La Trinidad Strawberry Farm
Baguio is almost synonymous with strawberries, but the most visited strawberry farm is actually in La Trinidad, 30 minutes away. Here, you'll find plots of strawberries alongside vegetables and flowers. You can buy strawberries here for P250-P300 per kilo. If you want to pick the berries yourselves, prepare to shell out additional P200.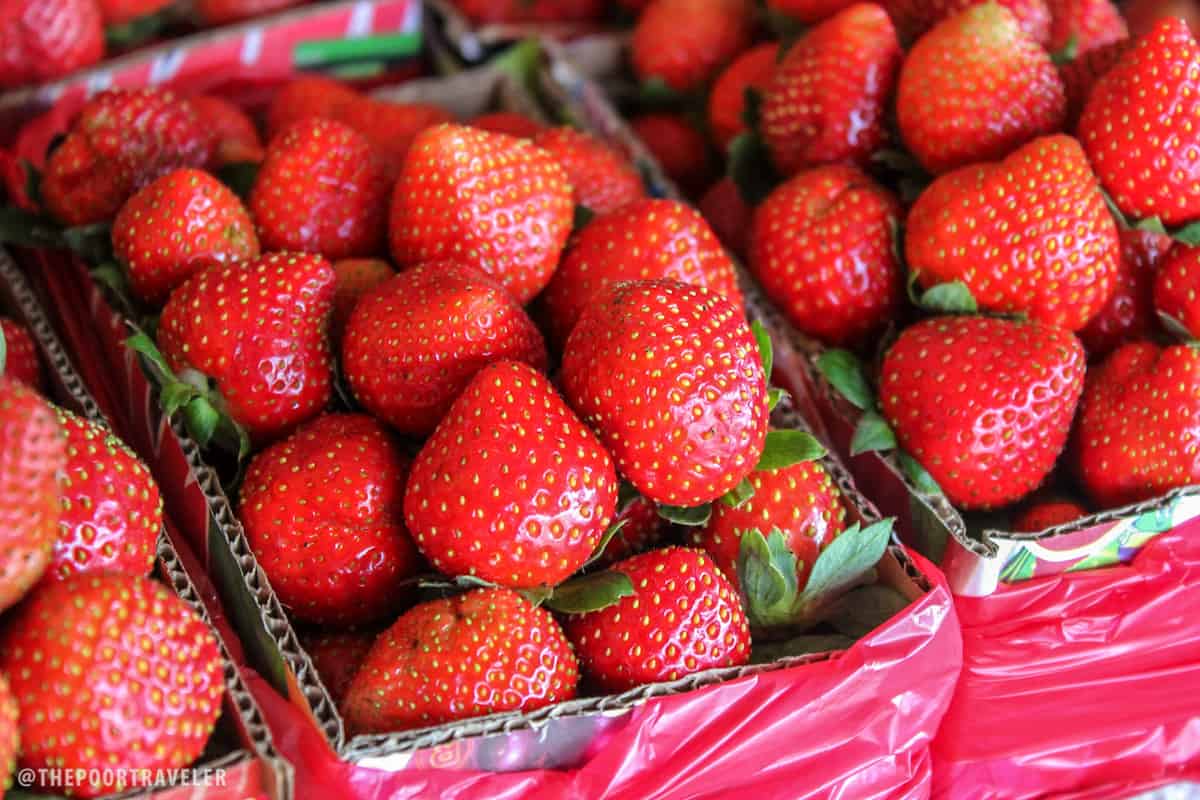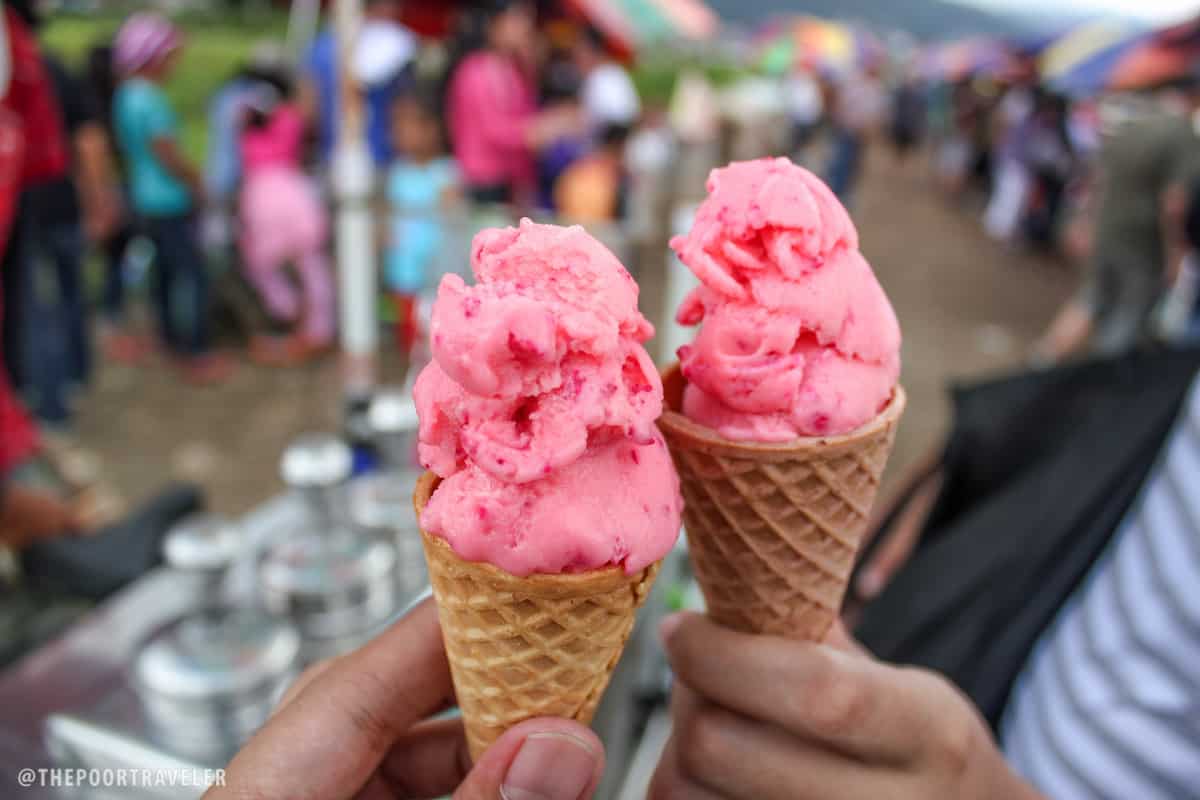 Lying along the farm is a pasalubong center made up of several souvenir stores. If you get hungry, try the strawberry ice cream (which is really good) and strawberry taho!
---
Colors of Stobosa (Mural Houses)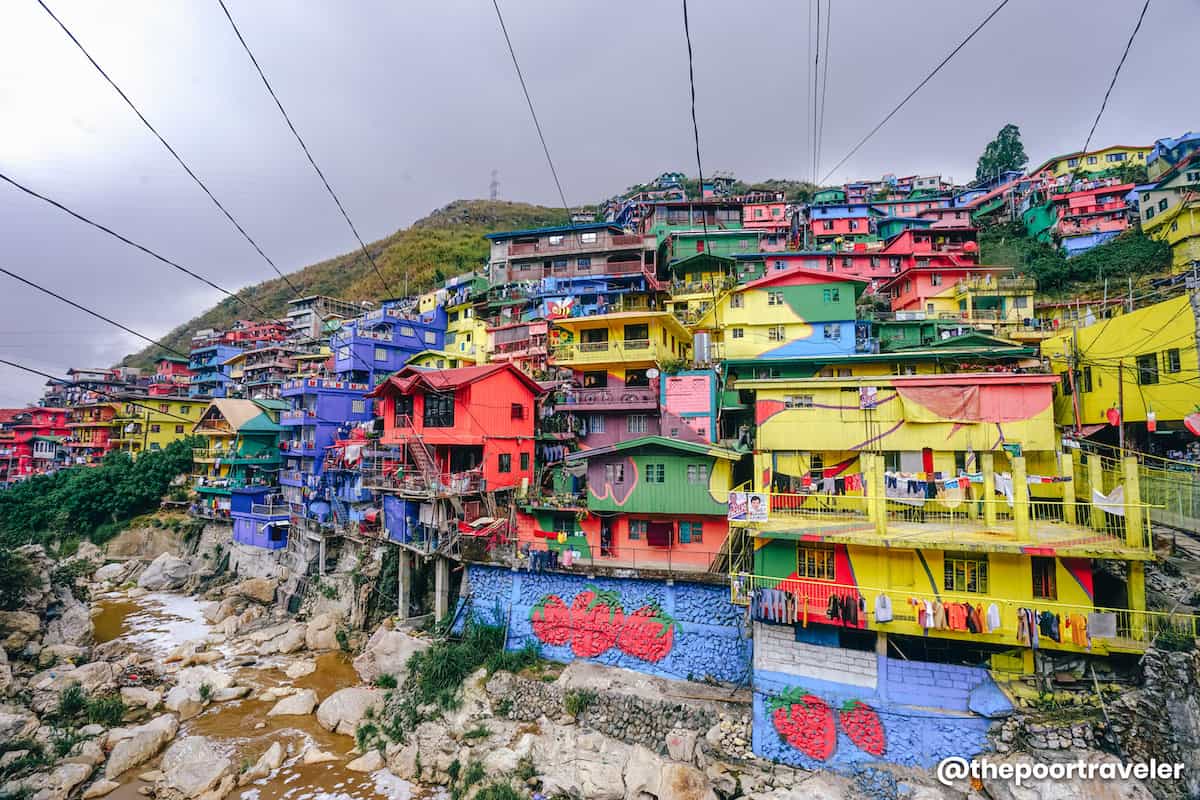 Not too far away from the strawberry field are the colorful houses of Stobosa. This community project is one of the newest attractions in La Trinidad. More formally referred to as Stobosa Hillside Homes Artwork, it is basically a cluster of hillside houses painted in various colors by the designers of Tam-awan Village. "Stobosa" stands for Stonehill, Botiwtiw, and Sadjap, the three sitios that make up the giant artwork.
---
Bell Church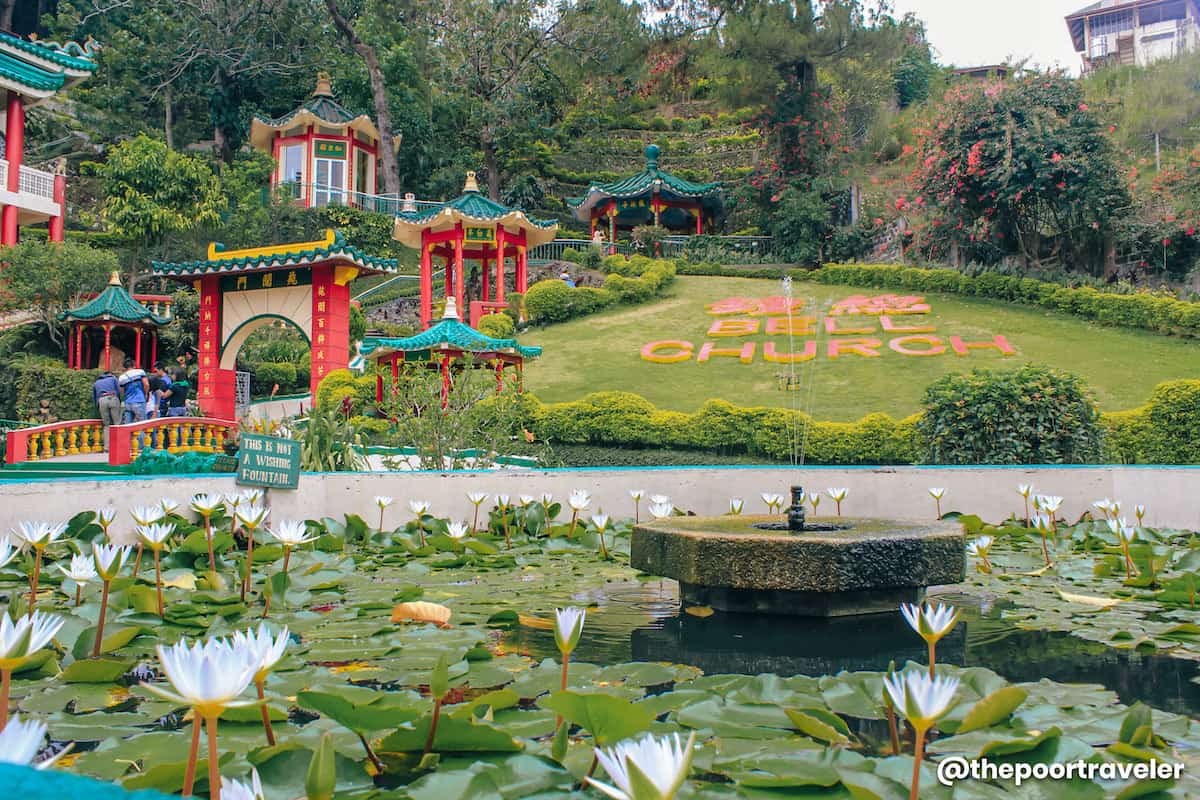 Just within walking distance of Stobosa Artwork is Bell Church, one of the most popular tourist sites in the Baguio-La Trinidad area. The Bell Church is a Chinese temple run and managed by a Filipino-Chinese religious organization, established by immigrants from Canton (Guangzhou) in 1960.
---
BenCab Museum

BenCab Museum is actually located in the town of Tuba, but it's just a short drive from the Baguio city center. The museum houses the works of Benedicto Reyes Cabrera, a National Artist for Visual Arts, and other Filipino contemporary art masters. Set amid relaxing greenery, the BenCan Museum is not just a place to appreciate art but also reflect.
Hours open: Tuesdays-Sundays 9am-6pm
Last entry: 5:30pm
Closed: Mondays, Christmas and New Year's Day.
Entrance Fee: P120
How to get there: From the public market, ride a jeepney bound for Asin. Fare is less than P20.
---
Tam-awan Village
Nicknamed "Garden in the Sky," Tam-awan Village is a reconstruction of a traditional Cordilleran village set in a forest. Established by the Chanum Foundation in 1988, it aims to showcase the craftsmanship and aesthetics of the Cordillera and bring the region's culture closer to more people while also promoting local artists. Currently, the village has Ifugao and Kalinga model houses, built using only traditional materials.
Entrance fee: P60
---
Burnham Park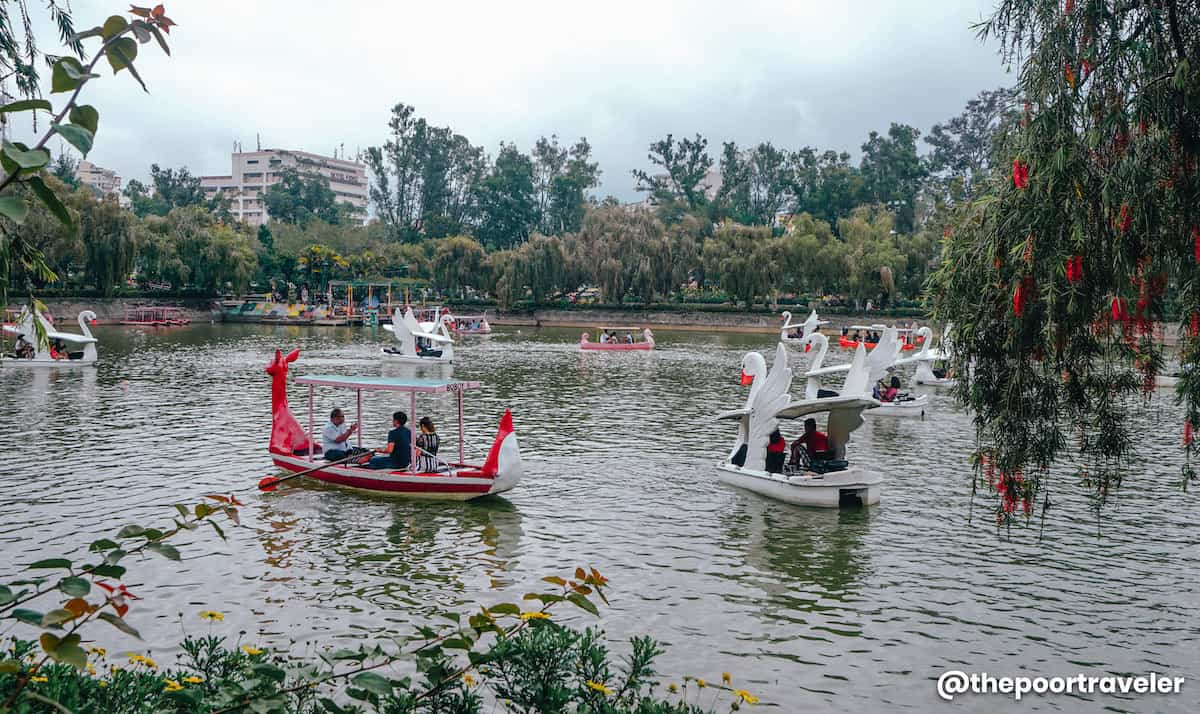 Most probably, Burnham Park is Baguio's most well-known attraction. When you see it on the map, it doesn't look much, but in reality, it is huge. Within its expanse are several smaller places of interest. The Melvin Jones Grandstand is the most visible, but if you walk around, you'll also see the Children's Playground and the Orchidarium, among others.
There's also a lot of activities to enjoy here, mostly catering to families. You can rent a swan boat so you can paddle along Burnham Lagoon or you can rent a bike or go kart and ride around the park. Here are the rates.
Rental fees:
Chopper (big bike): P75 per 30 minutes
Go kart: P50 per 30 minutes
Boat: P100 per 30 minutes (good for 5 pax) + P50 if with rower
---
Mines View Park
Another popular tourist spot is Mines View Park, so called because it overlooks the gold and copper mines of Itogon town below. The viewpoint is also a fantastic spot to watch the sunrise.
Unlike Burnham Park, the place can get crowded because the area isn't that spacious. You'll also find lots of souvenir stores around.
---
Botanical Garden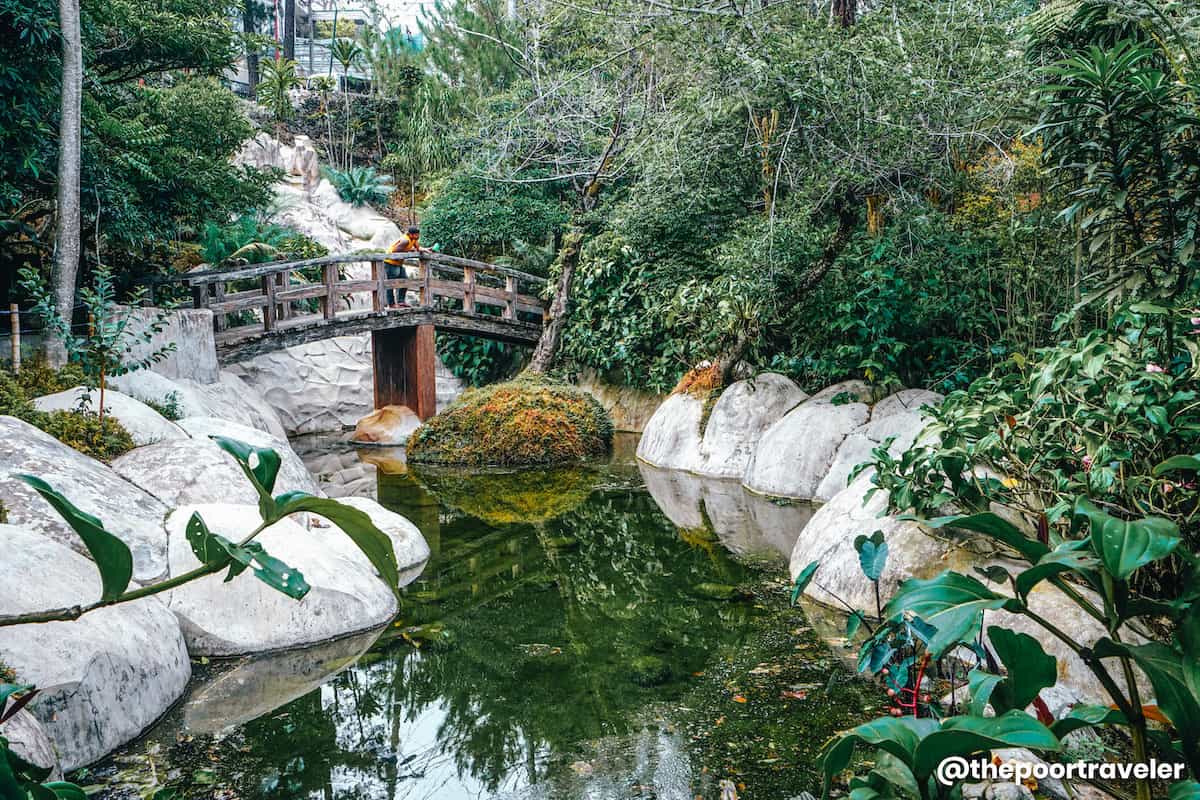 Situated between Wright Park and Teachers' Camp along Leonard Wood Road, the Baguio Botanical Garden is another popular destination in the city. It's a great place to relax and surround yourself with trees greenery without going too far from the city center. This is also pretty vast, so expect a bit of walking.
Entrance fee: FREE
---
Wright Park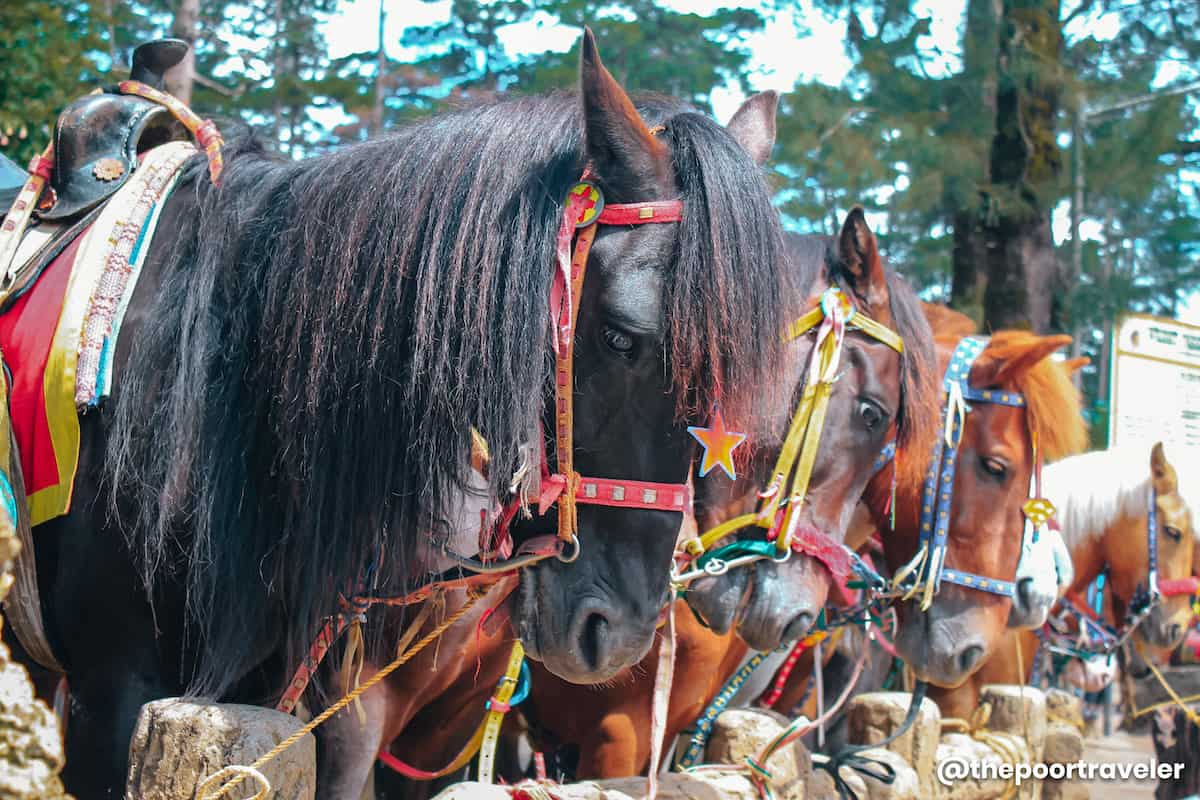 Named after Governor-General Luke Edward Wright, Wright Park is a forested piece of land located just outside the Mansion. For tourists, it is the best site for horseback riding because of its proximity to the city center and the number of available horses to choose from.
Horseback riding rate: P200 for 7 rounds.
---
The Mansion
A short walk from Wright Park is the Mansion. Built in 1908, the Mansion served as the official residence of the US Governor-General in the Philippines. Today, it is the official summer palace of the President in the Philippines. Right across the Mansion is a long pond, the far end of which is a favorite photo spot.
---
WHERE TO EAT IN BAGUIO
We will be writing a separate article about this. Check back soon!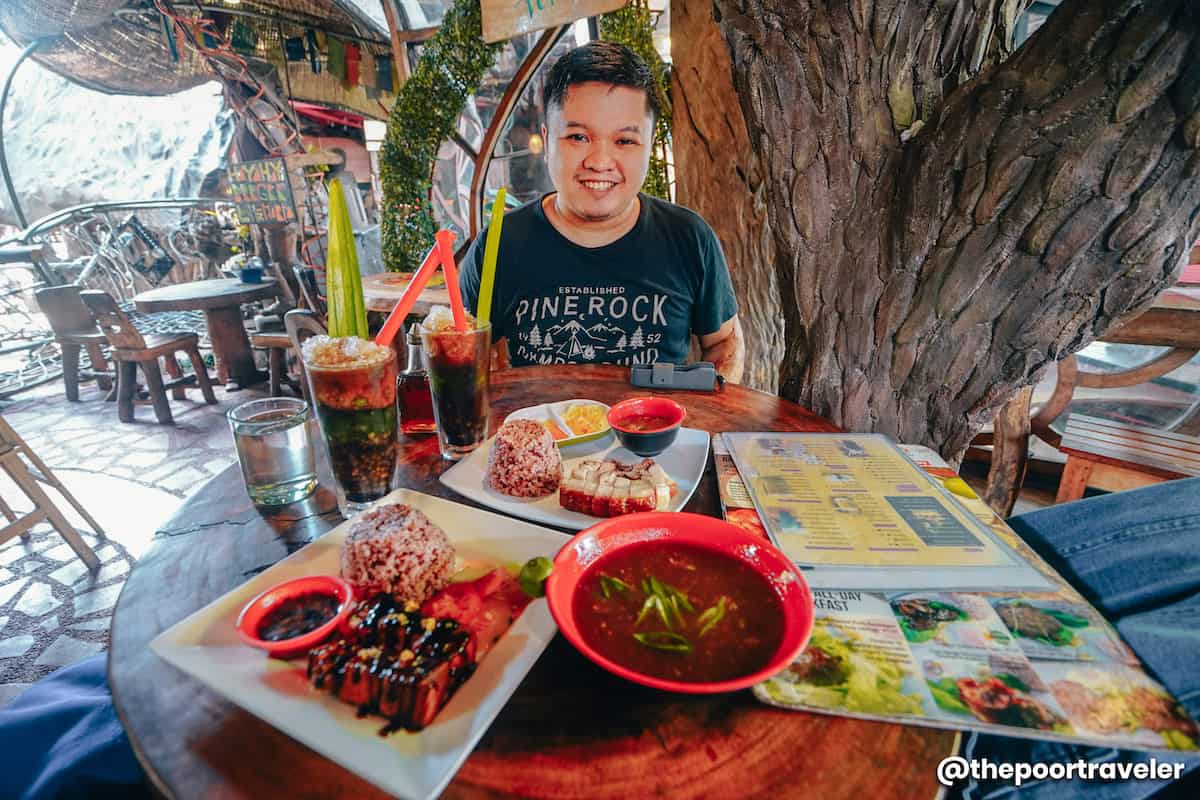 ---
SAMPLE BAGUIO ITINERARY
Below is a sample Baguio itinerary for 3 days (good for a long weekend)! This assumes you're a party of 2, splitting some costs and staying at a hotel in the city center. We also padded some of the costs to cover any price adjustments. As always, feel free to make changes to this to match your preferences.
Hotel Budget: P2000 per night (divided by 2 pax = P1000 per person per night)
DAY 1: CAMP JOHN HAY
05:00 am – Bus to Baguio, P485
11:00 am – Taxi to hotel, P35 (P70/2pax)
11:10 am – Hotel check in or drop bags
12:00 pm – Lunch, P150
01:00 pm – Taxi to Bell House, Camp John Hay, P70 (P140/2pax)
01:30 pm – Bell House + Cemetery of Negativism, P75
02:30 pm – Yellow Trail, FREE
04:30 pm – Taxi to city center, P70 (P140/2pax)
05:00 pm – Back to hotel, rest
07:30 pm – Dinner at Cafe by the Ruins, P300
DAY 2: BENCAB MUSEUM & CAMP JOHN HAY
07:30 am – Burnham Park
09:00 am – Jeepney to Bencab Museum, P20
09:30 am – Bencab Museum, P120
11:30 am – Jeepney to Baguio, P20
12:30 pm – Lunch at Good Taste, P150
01:45 pm – Walk to City Hall to catch jeep
02:00 pm – Jeepney to Bell Church, P15
02:30 pm – Bell Church
03:00 pm – Walk to Stobosa Houses
03:15 pm – Jeepney to Strawberry Farm, P8.50
03:30 pm – Buy strawberries + ice cream, P300
04:30 pm – Shop for souvenirs
05:00 pm – Jeepney to Baguio, P15
05:30 pm – Rest at Burnham Park
06:30 pm – Dinner, P150
DAY 3: BAGUIO CITY TOUR
08:00 am – Early check out, leave bags
09:00 am – Jeepney to Laperal White House, P8.50
09:20 pm – Laperal White House, P50
10:40 pm – Botanical Garden
12:00 pm – Wright Park, strawberry taho: P30
01:00 pm – The Mansion
01:30 pm – Taxi to Canto, P60 (P120/2pax)
01:50 pm – Canto, P300
03:30 pm – Pick up bags at hotel
05:00 pm – Bus back to Manila, P485
Supposing everything goes as planned, the above itinerary will cost you around P5200 (USD 100, SGD 136, EUR 90) per person excluding shopping budget but including some allowance to make up for miscellaneous incidental expenses and price adjustments. That said, we still urge you to add more to this to cover costs we might have missed.
If you want to keep track of your expenses when traveling around Baguio, download the LISTA app! It's a mobile app that will help you watch your spending so you know you're not going over your set budget and avoid running short of funds! It was originally meant for small businesses, but guess what? Travelers can use it, too! In fact, we have been using it on our past trips.
All you need to do is enter how much budget you have for the trip and as you explore, type your expenses. The app will do the rest. It will tell you how much you still have left. Don't worry, you don't need an internet connection to make it work: You can use it offline!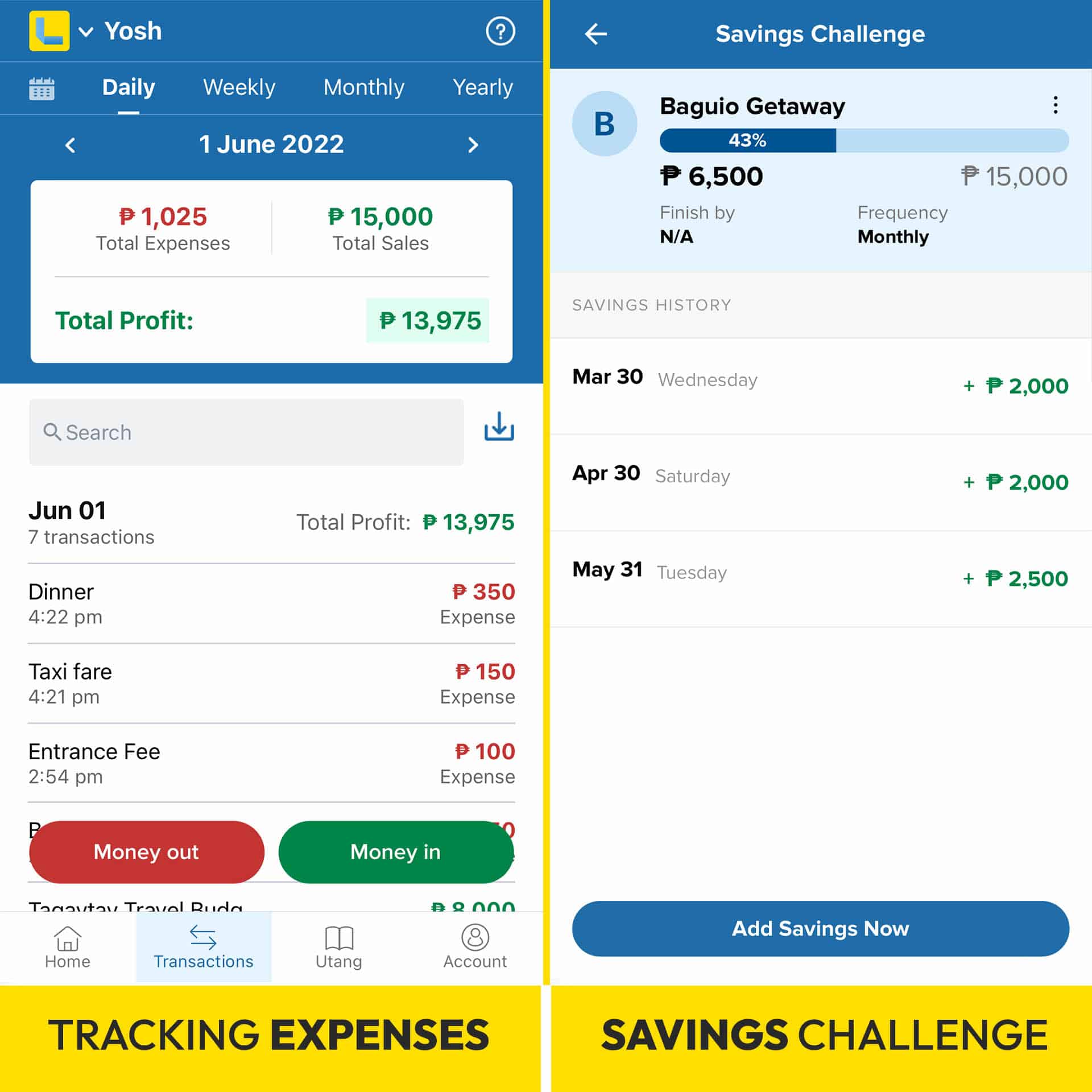 Another key feature is the SAVINGS CHALLENGE! Using the LISTA app, you can set a target amount and the frequency you're comfortable with so you know when you're financially ready to make your BAGUIO TRAVEL GOALS happen!
Excited for your next trip? I-LISTA na 'yan!
---
FREQUENTLY ASKED QUESTIONS
When is the best time to visit Baguio?
November to April, if you're sightseeing.
Baguio enjoys cool temperature year-round, but of course, some months are better than others. November to April is the driest period, which is great if you're planning on spending most of your time exploring. This means there is very little chance of heavy rain to put a damp on your itinerary.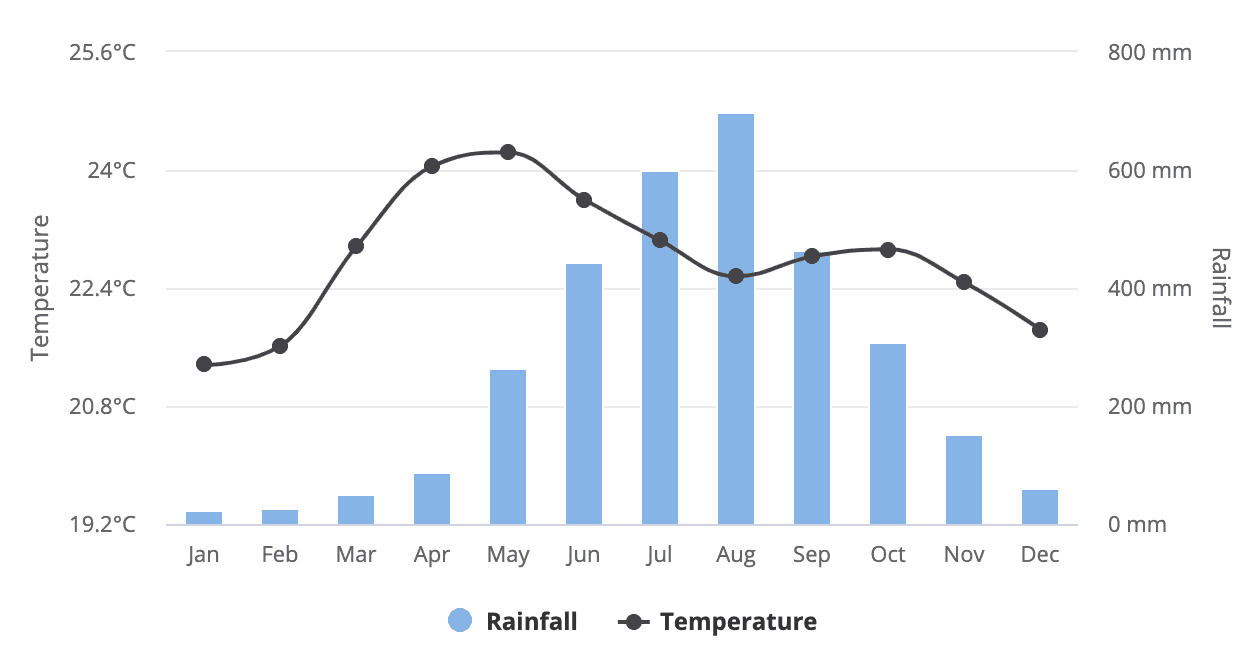 December to February is the coldest period and it will steadily rise until May, but it's still pretty chilly especially at night.
If you love festivals, visit in February when the Panagbenga (Baguio Flower Festival) is in full swing and see the grand parade of flowers. But expect thick crowds everywhere.
June to September is the wettest period, not ideal for touring. But if you're visiting Baguio to reflect, be alone, or try to finish writing something (true story, lol), then you might find the damp, foggy mornings to be inspiring.
---
What is the tipping custom in Baguio?
Just like in other places in the Philippines, tipping is not mandatory in Baguio. Tip only if you really enjoyed the service to show your appreciation.
Taxi drivers in Baguio are also known for giving exact change, which doesn't usually happen in Manila. But if you want to tip, you can just round up the meter. For example, if the cost of the ride is P62 and you pay P70, you can tell the driver to keep the change.
---
What type of power plug / socket is used in Baguio?
Electricity Info: 220V, 60Hz. Plug and socket Type A.

---
2️⃣0️⃣1️⃣9️⃣ • 4️⃣ • 1️⃣9️⃣