"Anywhere else, aside from Jakarta?"
This was the reply I would usually get whenever I said I was going to the Indonesian capital. "No, just Jakarta," was my answer. And it took them a second to realize that they heard my response right.
Jakarta feels strangely familiar. There is so much about it that reminds me of Metro Manila, my home city. Both are capital cities of developing Southeast Asian nations. Both are among the biggest urban hubs in the world, serving as a home and/or workplace for tens of millions of people. And for many international tourists, both are seen mostly as a jump-off point to another destination, a necessary means to a more spectacular end. In Jakarta's case, this spectacular end can be the beaches of Bali, the temples of Yogyakarta, or the picturesque volcanoes in other parts of Java.
But like Manila, Jakarta can hold its own. It may not be as Instagram-worthy, but it does have a long history and rich culture, making it a great stop for Indonesia first timers. From the numerous museums to the sumptuous street food, the city will give you a taste of what the world's greatest archipelago has to offer.
WHAT'S COVERED IN THIS GUIDE?
UNDERSTANDING JAKARTA
Jakarta is the capital of and the largest city in Indonesia. Located in the island of Java, the city serves as the economic, political, and cultural center of the country. Jakarta is sprawling. Over the years, as it continues to draw in more people, it also paves way for the development of neighboring areas.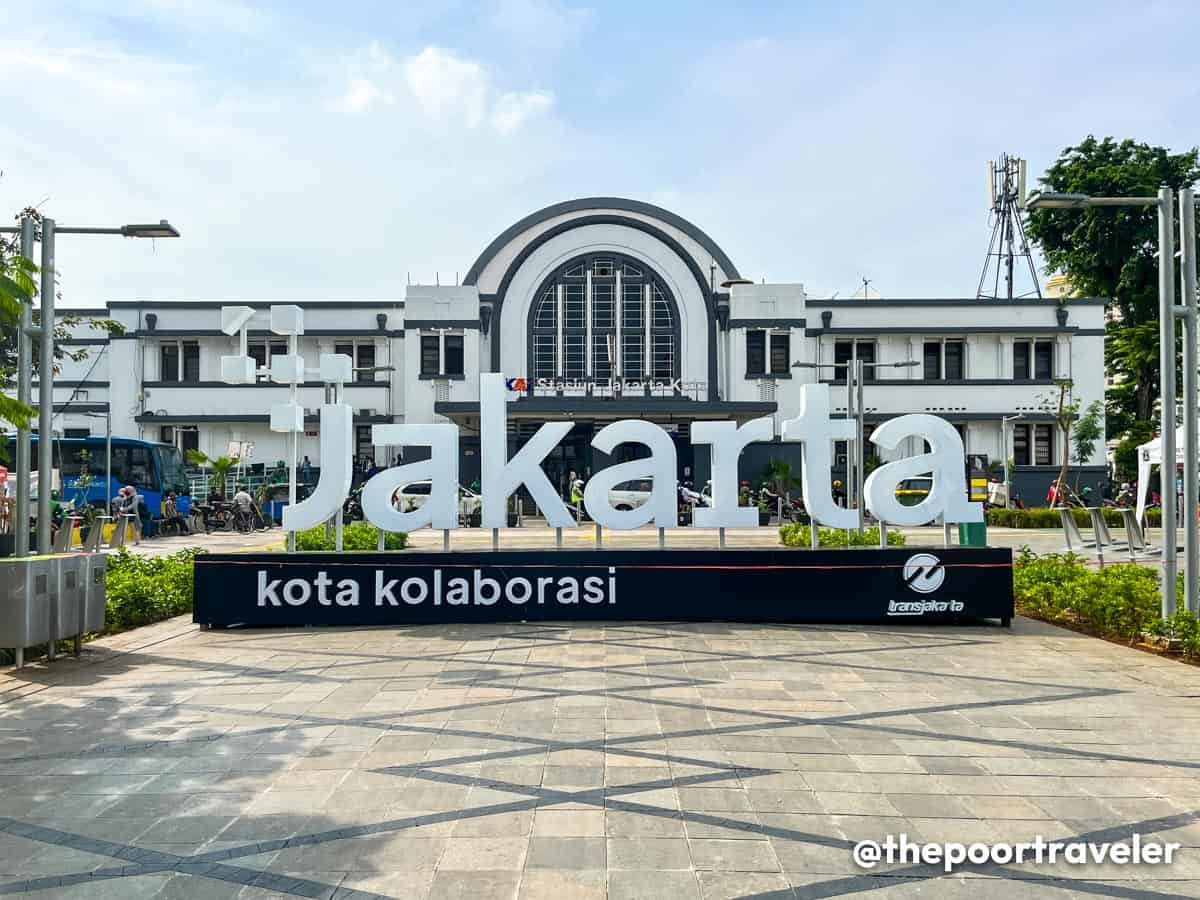 Today, Jakarta may also refer to the Greater Jakarta area or the Jakarta metropolitan area, which is also called locally as Jabodetabek, short for Jakarta–Bogor–Depok–Tangerang–Bekasi, referring to the nearby cities in West Java and Banten. And with an estimated population of 35 million, it is the second largest urban hub in the world, next only to Tokyo.
The history of Jakarta dates back to the 4th century CE, making it one of the oldest inhabited cities in Southeast Asia. It has been known by several names. Under the Sunda Kingdom, it was known as Sunda Kelapa, an important trading port at the time. In 1619, the Dutch took control and founded Batavia which became the capital of the Dutch East Indies. Then in 1942, Batavia fell to the Japanese and was under the Japanese occupation until 1945. It was 1949 when the Indonesian independence was proclaimed and Jakarta became the national capital.
ESSENTIAL TRAVEL INFORMATION
Language: Indonesian or Bahasa Indonesia. But most can understand and speak English.
Religion: Islam is the dominant religion. A small part of the population practice Christianity, Hinduism, Buddhism, and Confucianism.
Timezone: UTC+7 (Indonesia Western Time). Jakarta is one hour behind Manila, Singapore and Kuala Lumpur.
Currency: Indonesian Rupiah (IDR, Rp). USD 1 is around IDR 15,700; EUR 1 = IDR 16,200; PHP 1 = IDR 273 (as of December 2022).
Modes of Payment: Cash. Some establishments like restaurants also accept credit cards, but most still prefer cash. However, there are some places that only take card payments.
---
INDONESIA TRAVEL REQUIREMENTS
As of our most recent visit (November 2022), these are the requirements required for travelers going to Jakarta as mandated by the government. These must be presented when you check-in for your flight.
Passport. Must be valid for at least 6 months.
COVID-19 Vaccination Certificate. Only fully vaccinated individuals are allowed to enter Jakarta. Your vaccination certificate must indicate 2 doses of COVID-19 vaccine.
PeduliLindungi App. Download the app through google playstore or app store and register.
E-customs Declaration Form. Fill out the form here. Print or save a digital copy of the generated QR Code.
Depending on your country of citizenship, a visa may also be required. (Filipino citizens may enter Indonesia VISA-FREE.)
---
WHERE TO STAY IN JAKARTA
Jakarta is huge. Covering 664.01 square kilometers, Jakarta is divided it into its five administrative cities: Central Jakarta, West Jakarta, East Jakarta, North Jakarta, and South Jakarta. Easy to remember, right? But these three areas have the key points of interest for tourists: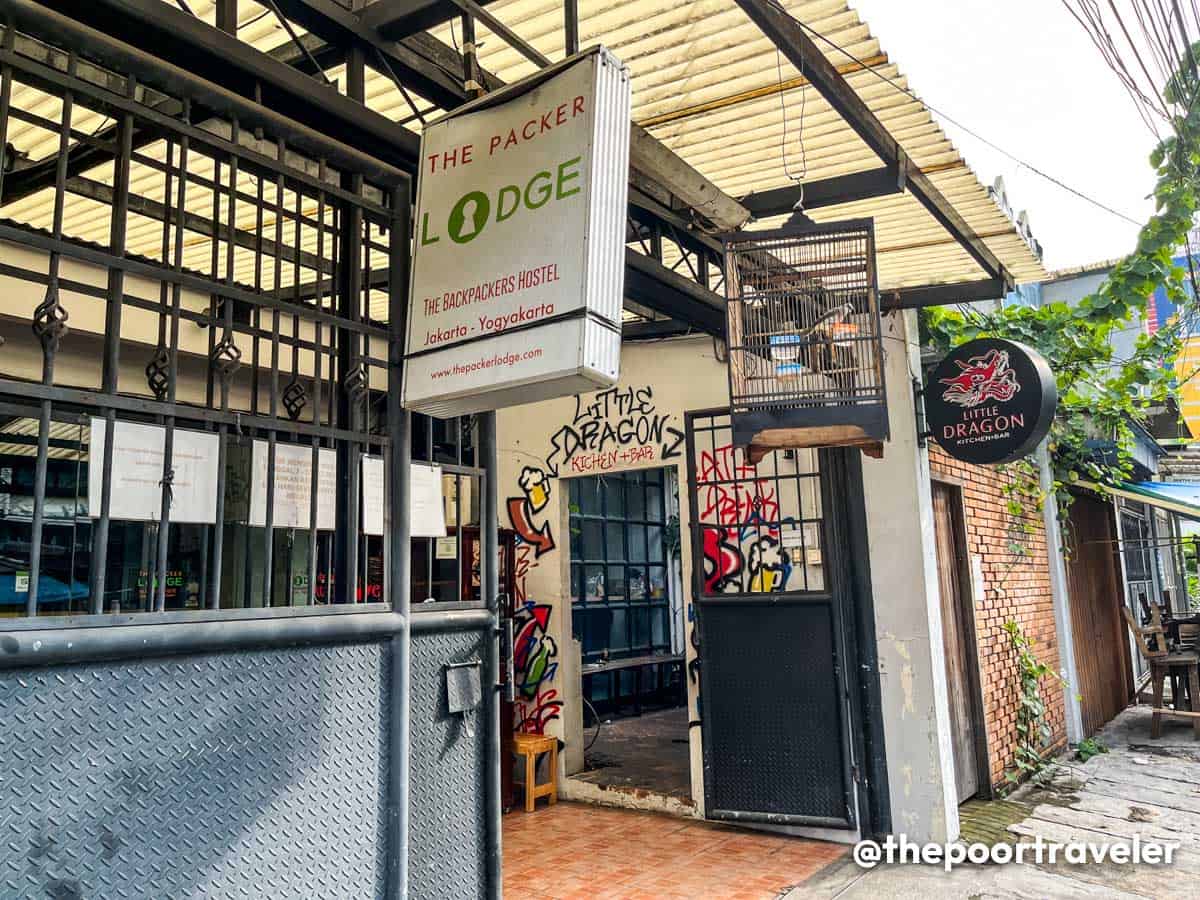 Central Jakarta is home to major landmarks like the National Monument and Istiqlal Mosque. Also situated here is Gambir Station, a major railway station that connects the capital to other cities in Java Island. You'll also find Grand Indonesia, one of the biggest malls in the country, around the corner. A large concentration of the accommodations in Central Jakarta can be found in Menteng.
North Jakarta covers the harbor area, the historic port of Sunda Kelapa, and Ancol, a waterfront complex with a theme park, water park, and other various attractions.
West Jakarta, the closest to the airport, roughly 30 minutes away. Within its territory lie parts of Kota Tua, Jakarta's Old Town. Glodok, Jakarta's Chinatown, where you can find a lot of food spots, is also here. A number of different types of accommodations are spread over West Jakarta.
South Jakarta, which harbors the Sudirman Central Business District (SCBD), with plenty of office buildings, condominiums, hotels, and shopping malls. If you're interested in experiencing the nightlife in Jakarta, this is the place to be. The accommodations in this area varies from high-end hotels to budget hostels so there are a lot to choose from.
East Jakarta. This is the largest among the five administrative cities of Jakarta. However, there's not a lot of accommodations available here. It is also the area farthest from the airport.
---
Best Area to Stay
In our opinion, the best area to stay is the part where Central Jakarta, West Jakarta, and North Jakarta meet. Staying here puts you in a position close to the key attractions and with plenty of dining and lodging options.
This area includes these neighborhoods: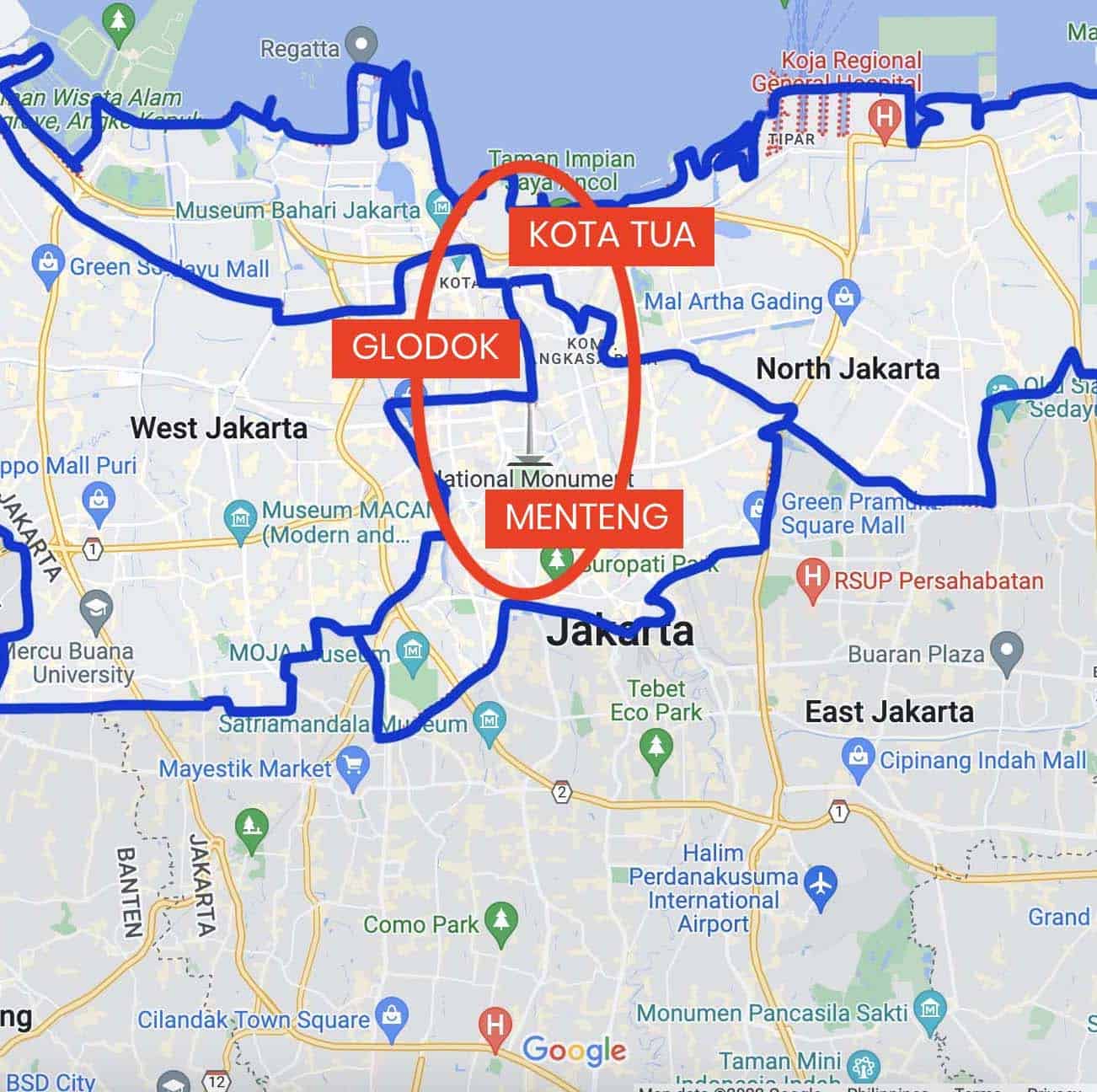 Glodok (Chinatown) in West Jakarta
Menteng in Central Jakarta
Kota Tua in North/West Jakarta
Any of places above are great for first-time Jakarta visitors. However, if you're the type of traveler who likes to spend their nights going out or partying, South Jakarta might be a great option too. Just keep in mind that this area is a bit farther from other parts of the city, especially if you plan to visit attractions in North Jakarta.
---
Top Budget Hotels and Hostels in Jakarta
I booked a dorm bed at The Packer Lodge near Kota Tua for only PHP 450 per night. Yep, that's only USD 8 or 124,000 IDR. But by random streak of good luck, I was upgraded to a private solo room for FREE! (Possibly because they might have overbooked the dorm.)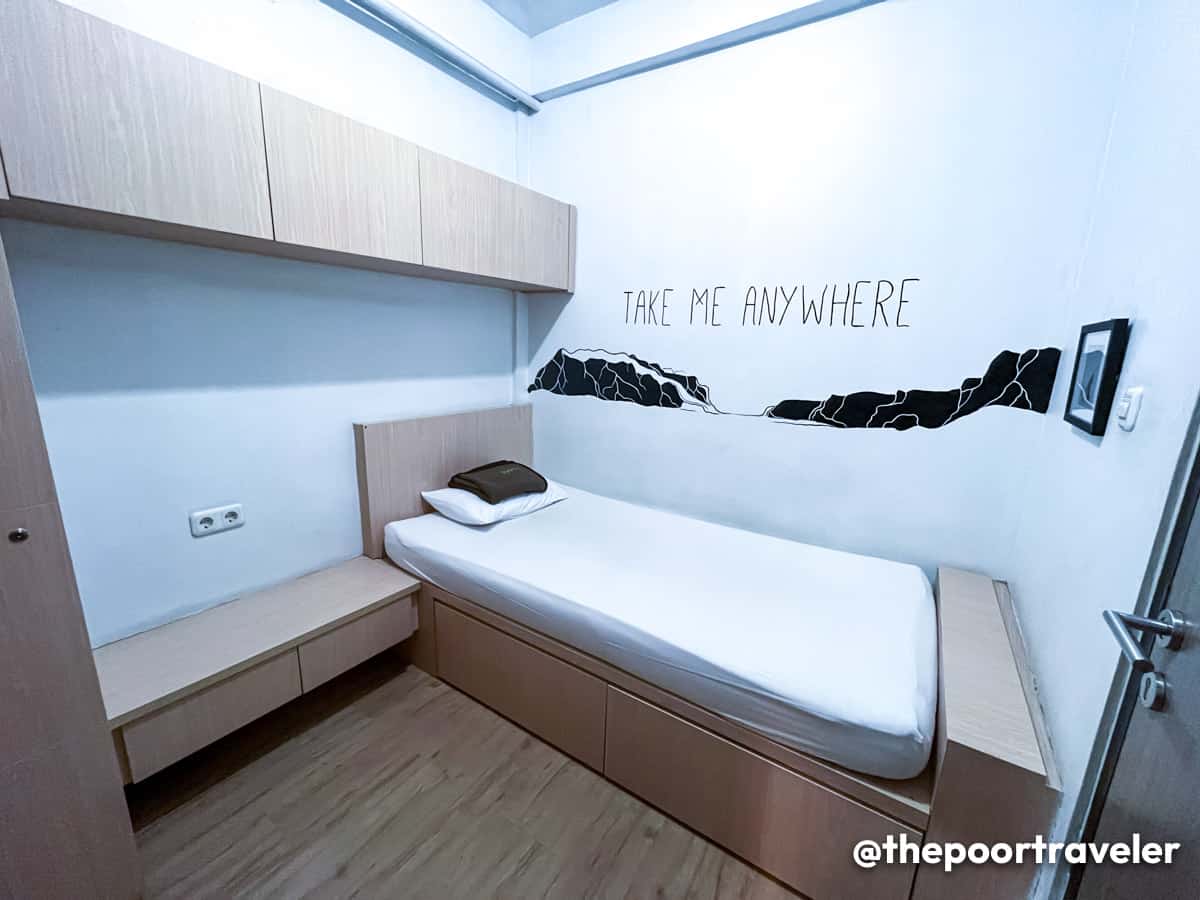 But there are plenty of other options, too! Here are some of the top reviewed but affordable properties on Agoda:
---
HOW TO GET TO JAKARTA
The primary airport that serves Jakarta is Soekarno-Hatta International Airport (CGK), formerly called Jakarta Cengkareng Airport. It is located at Benda, Tangerang, close to West Jakarta. It was expanded in 1991 to replace Halim Perdanakusuma International Airport, which now services mostly domestic and private flights—for international flights. CGK is said to be the busiest airport in Southeast Asia and currently has 3 terminals with a fourth terminal being built.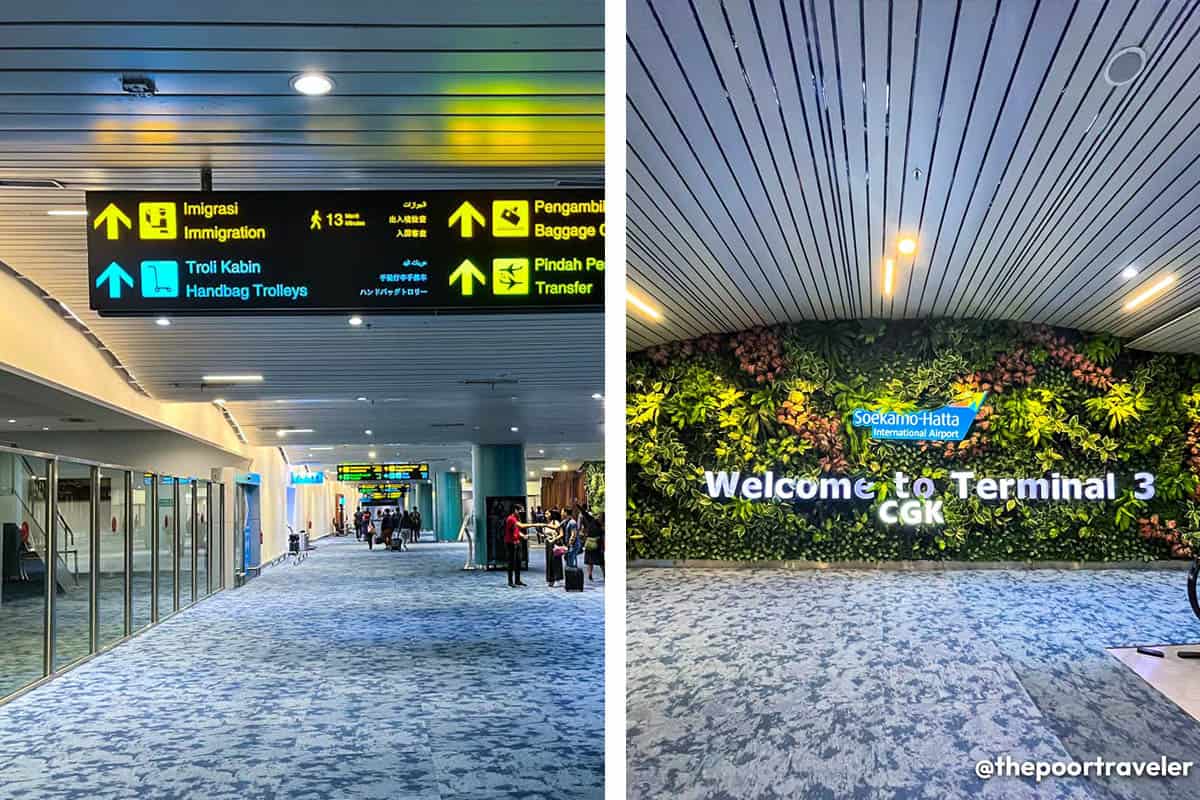 Manila to Jakarta
As Indonesia's capital, Jakarta is well-connected. If you're coming from Manila, Cebu Pacific flies directly to Jakarta and vice versa DAILY. The flight departs from Manila at 8:40 PM and takes around four hours. This is perfect for busy bees who cannot afford to file another leave of absence from work or students who can't miss a school day. This also means you arrive in Jakarta just before midnight, bypassing heavy traffic to the city center.
For your return journey, Cebu Pacific's Jakarta-Manila flights are scheduled at 12:30 AM, allowing you to make the most of your last day in Jakarta! Just leave your luggage temporarily at your hotel upon checkout, explore the city the entire day, and pick it up before heading to the airport.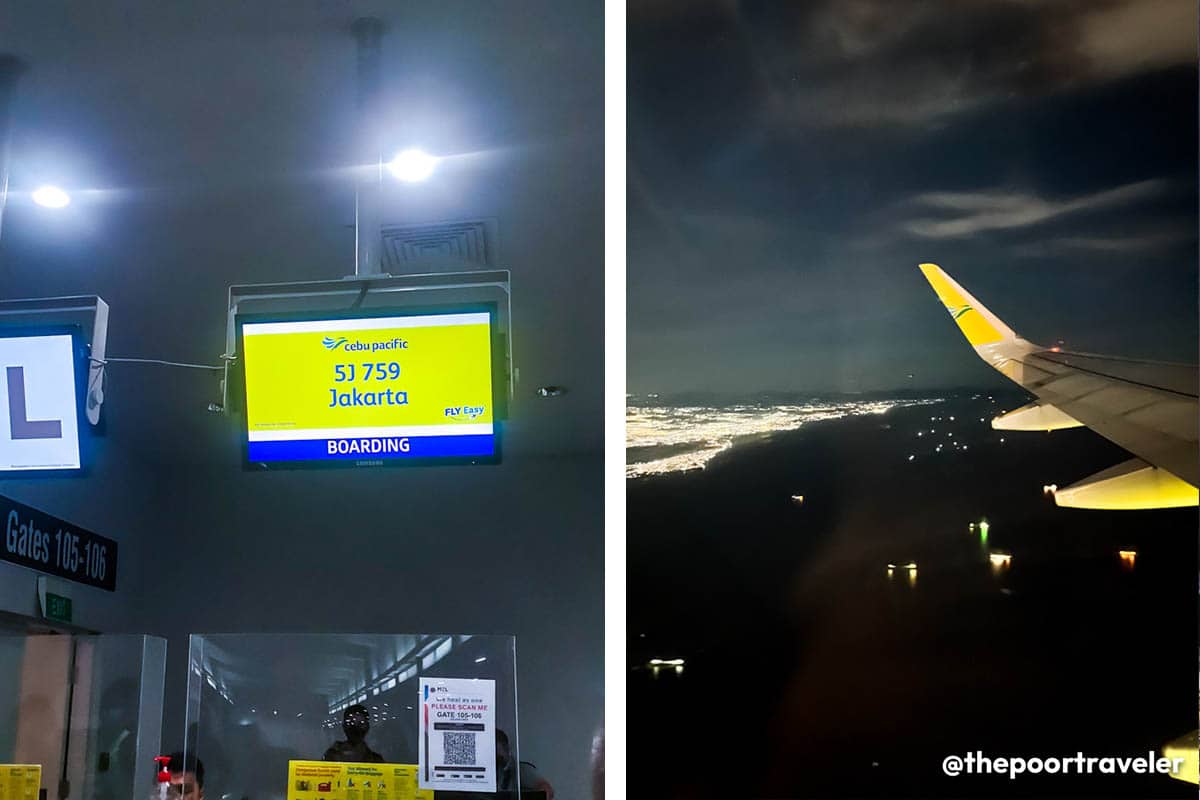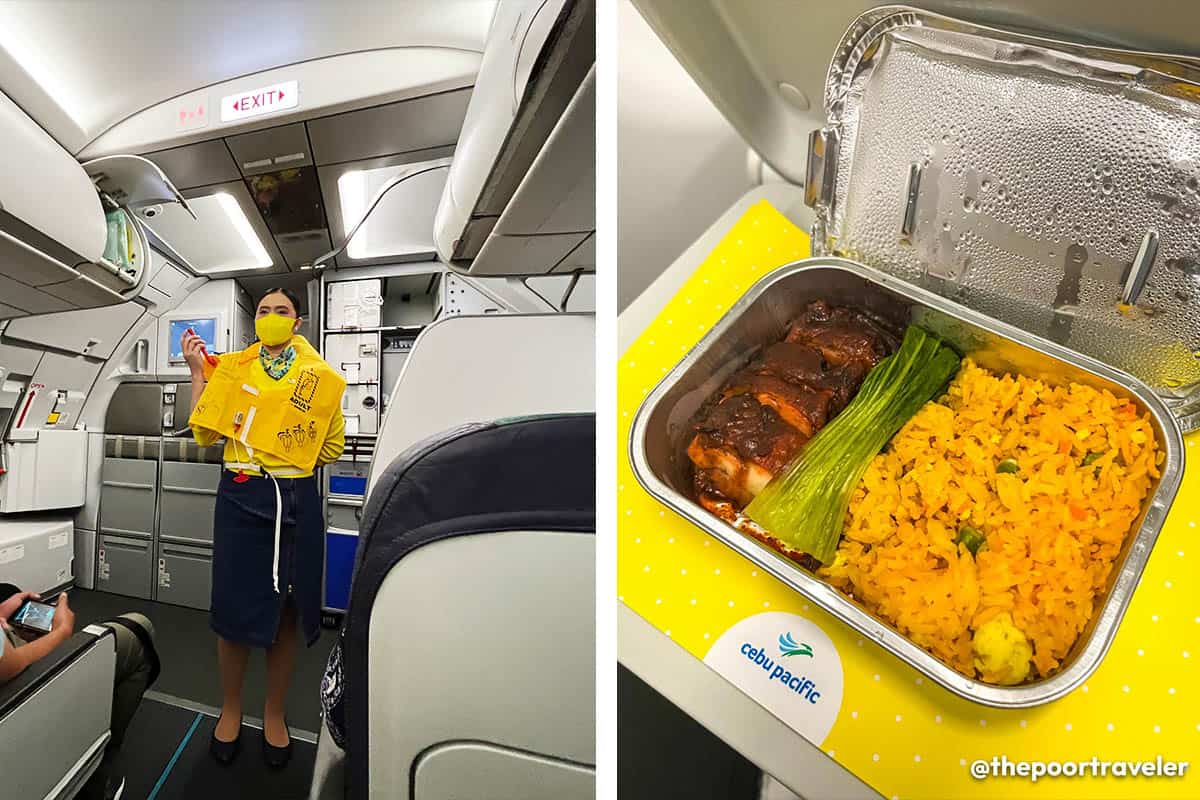 Cebu Pacific has three bundle options for your flight booking: GO Basic comes with a free hand-carry baggage allowance (7kg). If you want a checked bag and reserved seats, GO Easy includes a one piece checked baggage (up to 20kg) and a standard seat. For more flexibility, GO Flexi allows you to cancel your flight for free and store the value as a travel fund.
To book, visit: www.cebupacificair.com.
---
Jakarta Airport to City Center
Travel time from the airport to your hotel depends on which part of Jakarta you choose to stay, but it could take between 30 minutes to an hour. The most convenient way is by taking a taxi or using a ride hailing app. More details about these below.
By Taxi
Countless taxis await potential passengers at the airport. After going through customs and before reaching the exit, you'll be welcomed by people offering you taxi services. If you want to take a taxi, a recommended taxi service by locals is Blue Bird. You'll find a Blue Bird booth to your left after you exit, near the SIM card stores.
However, in my experience, their rate was higher than Grab, but this could vary. You can go to the booth to inquire about the fare going to your hotel and compare it to rates on Grab or Gojek.
By Grab or Gojek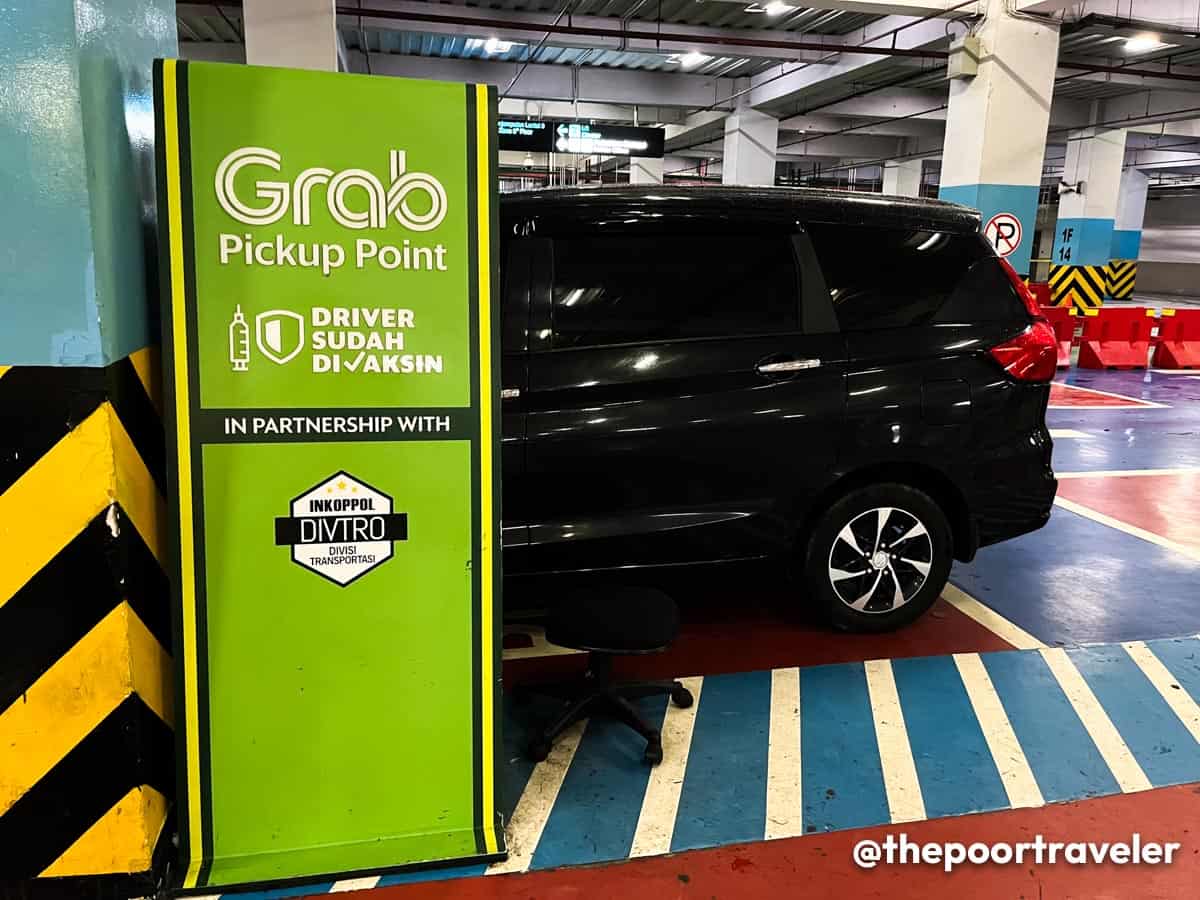 These two are the ride hailing apps available in Jakarta. It is easy to use and booking a ride only takes a few minutes. The Grab pick-up point in Terminal 3 is located at the parking of the arrival area. After you pass through customs, turn to your right and head towards the Pick-up zone. You should be exiting through the West Lobby door. At the parking, you will find signage for the Grab Pick-up Point.
It is important to know that the fare that shows on the app is not the final fare. A parking fee and highway fee or toll fee will be added on top of it. This was also clearly communicated by the person at the Grab Pick-up point once I got there and the driver after I entered the car. But the Grab fare still turned out cheaper than the Blue Bird rate even after adding these fees.
Parking Fee: IDR 5,000
Highway/toll fee: IDR 18,500
Gojek is also available at the airport. The pick-up point at Terminal 3 is also located at the international parking area. Gojek also adds the parking fee & toll fee plus a location fee on top of the fare that shows on the app when you book your ride.
---
Internet Connection / Data SIM in Jakarta
The most affordable way of staying connected in Indonesia is by purchasing a data SIM card. However, SIM cards in Jakarta need to be registered first, so you'll need to present your passport to get one. Two of the most popular internet providers are XL Axiata and Telkomsel.
You can get a SIM card at the airport, but keep in mind that the prices here are significantly higher than prices at a telco branch or SIM card center. Moreover, airport stores are open only from 7:00AM to 3:00AM.
If you're from any of the countries below, you can have the data SIM card delivered to you via Klook:
If you're from the Philippines or any other country, you may opt to pick up Indonesia DATA SIM at the Jakarta Airport (Soekarno Hatta International Airport). The pick up location is at the JavaMifi booth at Terminal 3 Departure at the 2nd floor. The staff will also help you set up the sim card on your phone. However, the operating hours is from 7:00 AM to 11:00 PM only. You can purchase one here: Indonesia DATA SIM Jakarta Airport Pickup!
If you're arriving in Jakarta late at night, you won't be able to avail of this since their registration has a cut-off time. Another option to consider is Grapari, the SIM card center of the telecommunications company Telkomsel. They have multiple locations all over Jakarta. If you want to save and you can manage to go from the airport without data, just look up the Grapari branch closest to your hotel. More info on its website.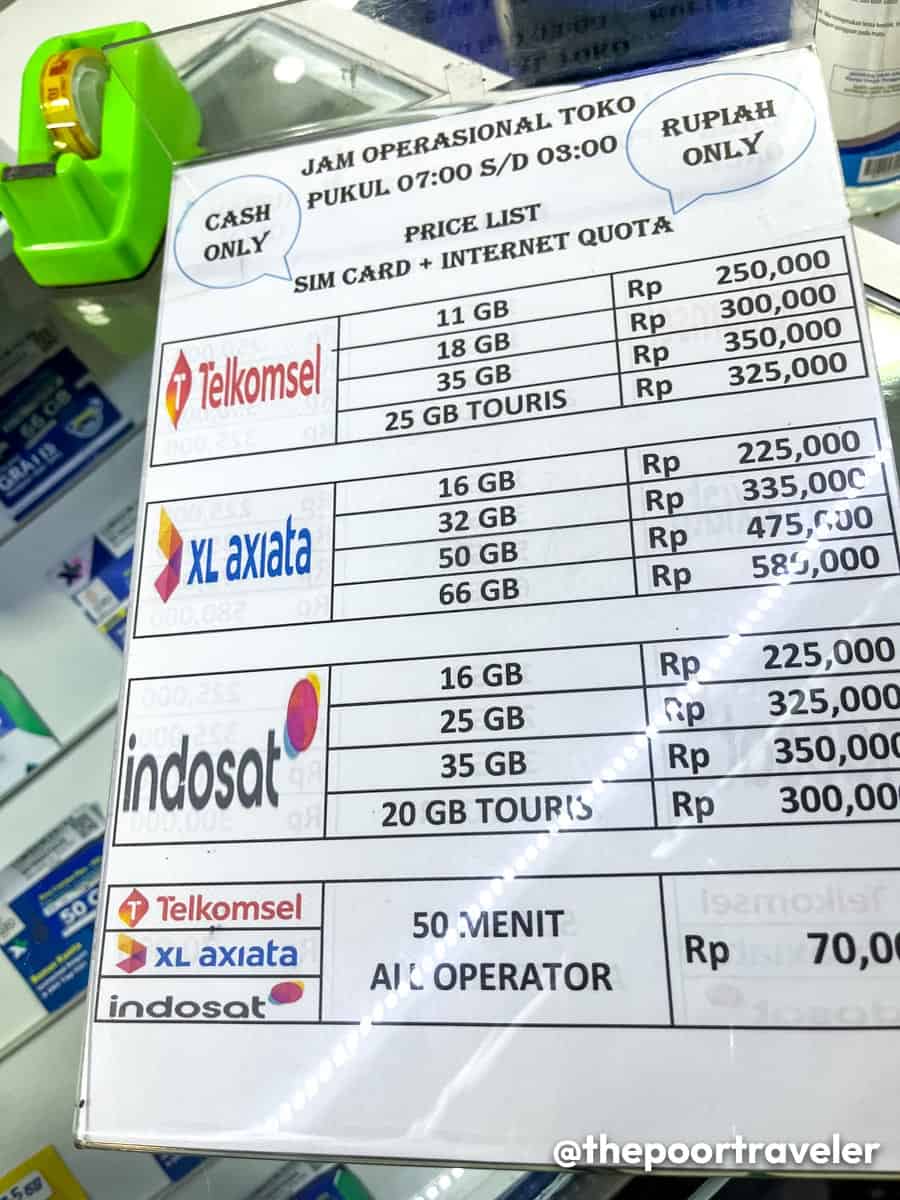 ---
HOW TO GET AROUND JAKARTA
Jakarta is a very busy city and there are various transportation options available. There are a lot of taxis all over the city and you can also use ride hailing apps. Commuting is also an option since they have an efficient public bus transportation called Transjakarta. However, because it is a busy city, the traffic gets heavy especially during rush hours.
If you're visiting attractions, some of them are within walking distance from each other. You can walk from The National Monument to see Merdeka Palace, and then walk to the National Museum. You can also explore Kota Tua or the Old Town on foot. You can choose from the following mode of transportations to explore Indonesia's capital depending on your budget and preferences.
By Taxi
There are a lot of taxis around the city. In some areas there are cabs lined up by the side of the road so you don't have to hail a cab on the street anymore. The suggested reliable taxi company in Jakarta is Blue Bird. Their units are easy to spot because they're, well, blue.
Riding a taxi may pose a challenge because of language barrier since not everyone speaks and understands English. But what you can do is write down the address of your destination or find it on Google Maps, and show it to the driver when you take a taxi. You may also ask your hotel to call a taxi for you and ask them for help to communicate your destination to the driver.
By Grab or GoJek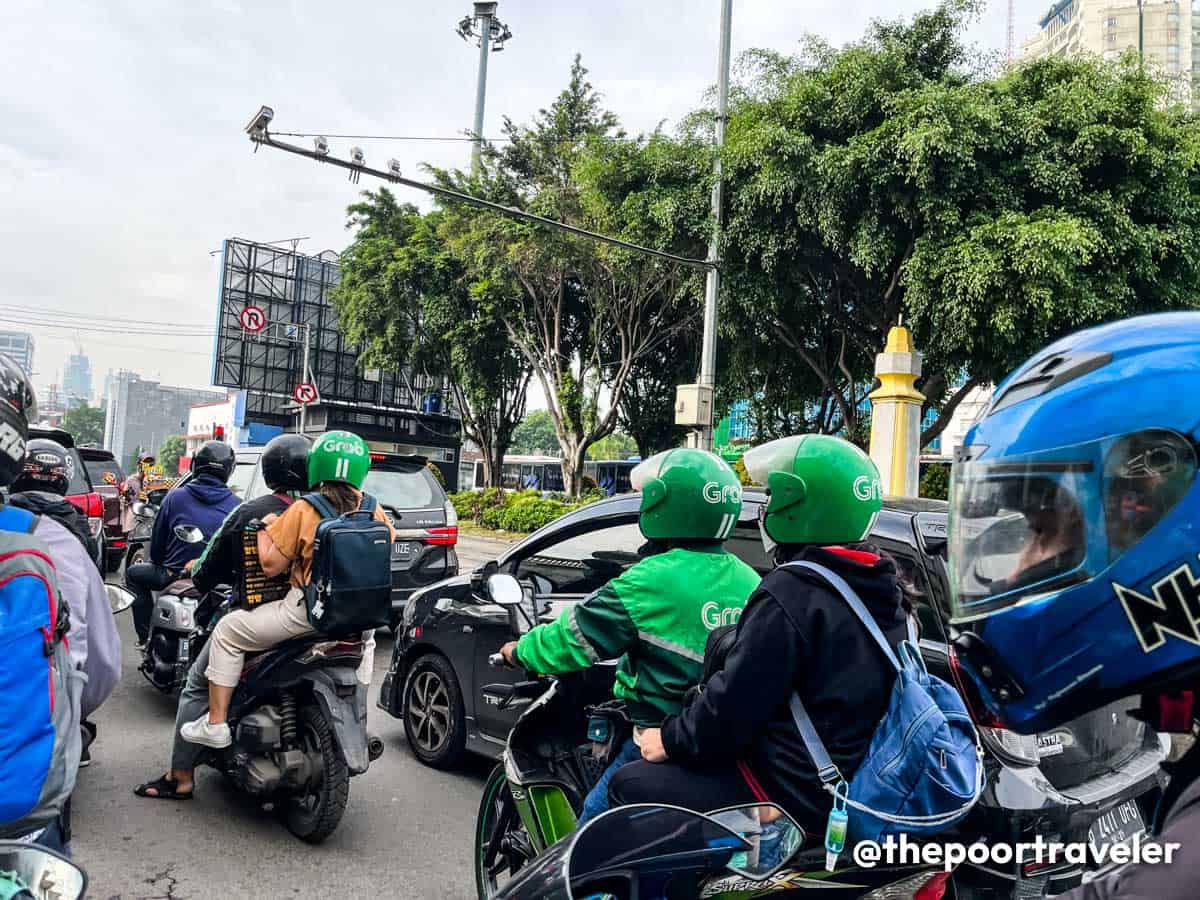 Car. If you want a more convenient mode of transportation, book a Grab or Gojek. It is more simple since all you need to do is pin your pick-up location and destination on the app and wait for your car to arrive. You may also pay using credit card or cash when using ride hailing apps.
Motorcycle. This is the best way to beat the traffic in Jakarta. If you're traveling solo, Grab and GoJek also have a motorcycle/bike option. The motorcycle is also much cheaper compared to the car option. So if you're on a budget, this is a great option to get from one place to another quicker and at a less price.
By Transjakarta Bus
Taking public transportation is the cheapest option. Each ride costs only IDR 3,500 no matter where your destination is. The bus is very efficient since there are 13 lines and over 200 stations all over the city. You may use Google maps to know which bus line you should take and where you should get off to reach your destination.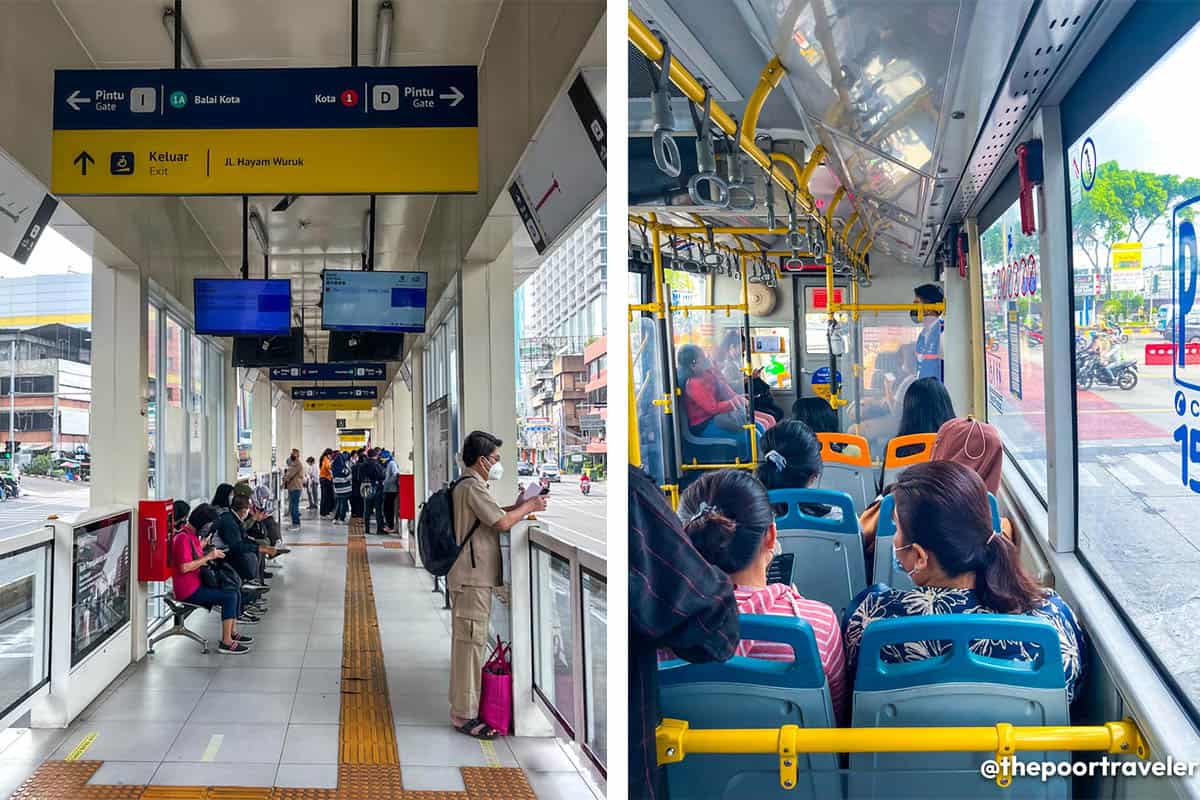 Here's how you can ride the Transjakarta buses:
Purchase a Transjakarta Card at a convenience store. These cards are available at any Indomaret, Alfamart, and other convenience stores in Jakarta. Each card costs IDR 27,500.
Top up your card at the digital kiosk at any station. You may also top-up your card when you purchase it at a convenience store, but their minimum amount is IDR 50,000 while you can top up as low as P10,000 at the station.
Tap your bus card on the ticket barrier at the station to enter.
Tap again to exit the station where you'll get off.
Riding the bus can take much longer compared to the taxi, car service, or motorcycle taxi. You can look up your destination on Google maps and compare the travel time for each and decide from there depending on your time and budget.
---
THINGS TO DO IN JAKARTA
Kota Tua
Also known as Old Batavia, Kota Tua is Jakarta's Old Town. It was a part of the first walled settlement of the Dutch in Jakarta and also served as the capital of the Dutch East Indies. In this area, you will find Dutch-style structures from the 17th century. Some of them used to be government buildings that has been turned into museums. Here are some of the places you can visit in Kota Tua.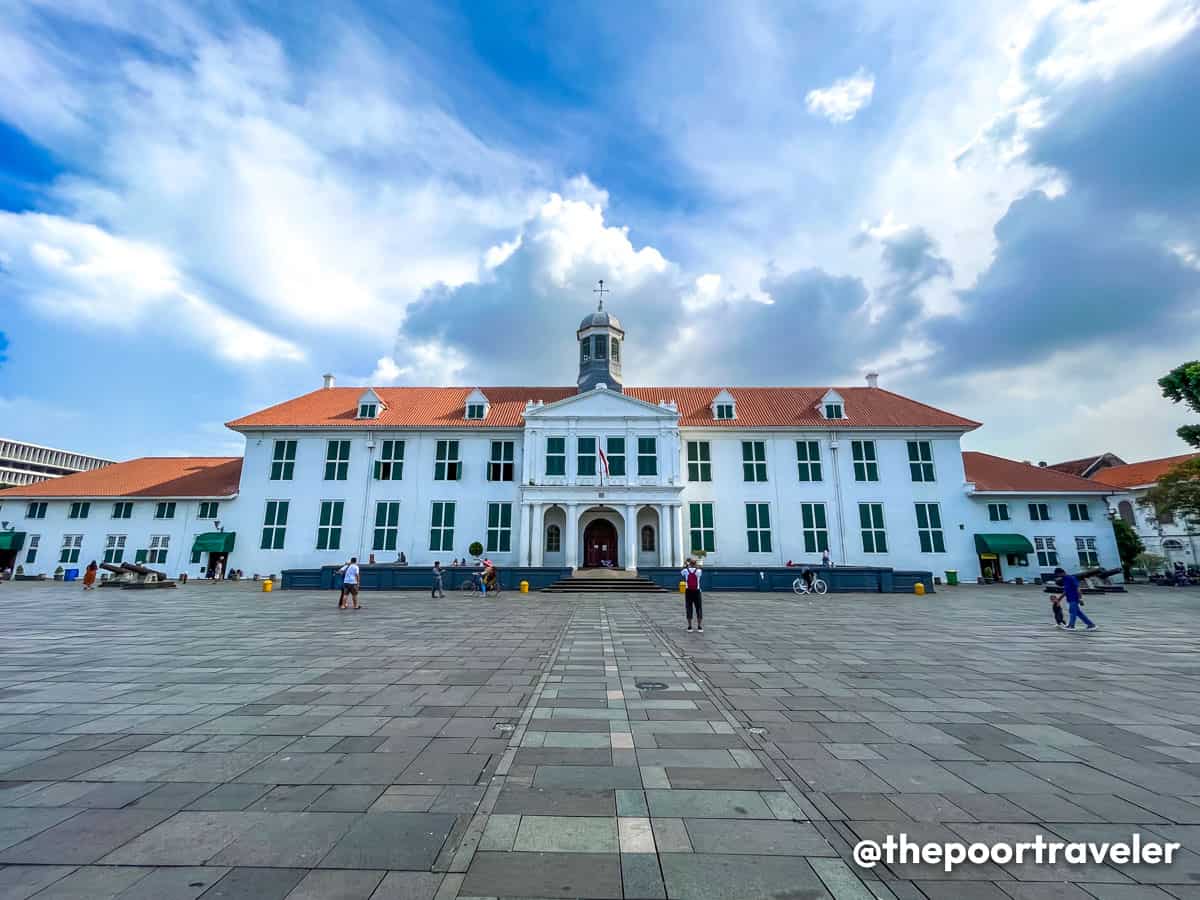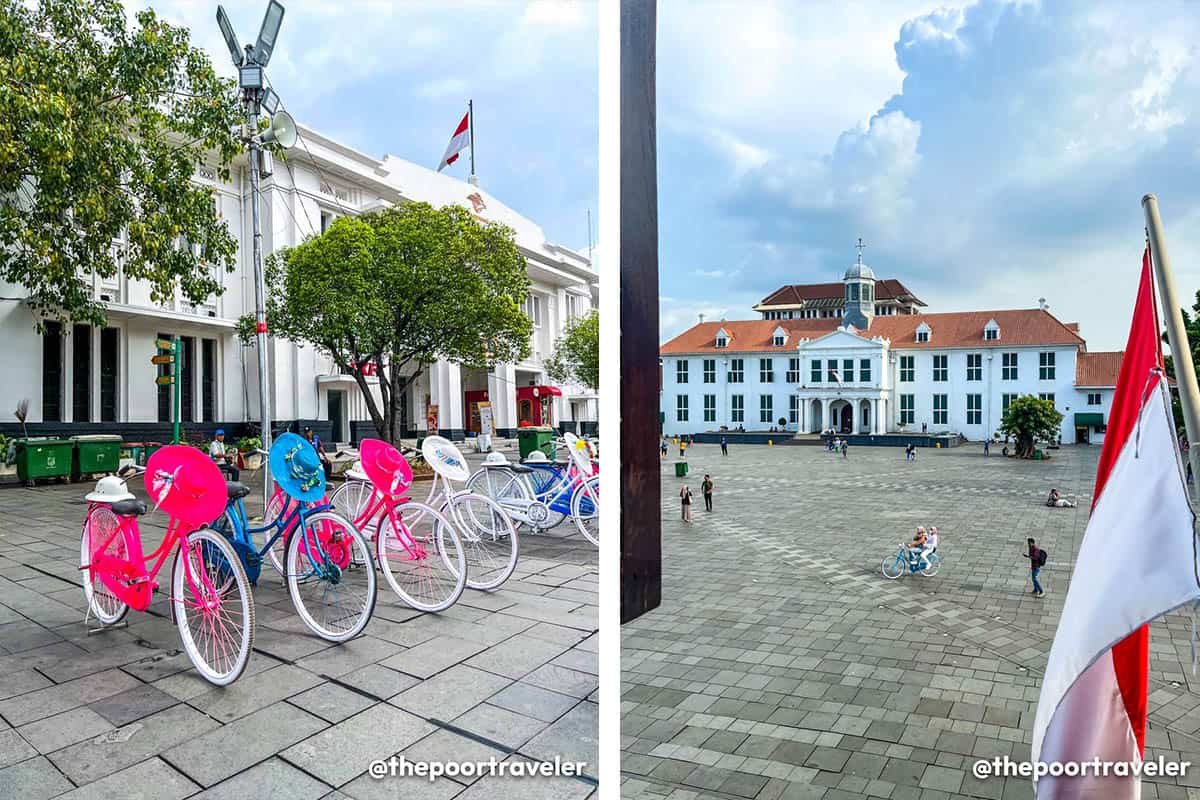 Jakarta History Museum, also called the Fatahillah Museum or Batavia Museum. It used to be the city hall of Batavia. After Indonesia gained its independence, it became the seat of the West Java governor until 1961 and a museum in 1974. Today it highlights Indonesia's past from the pre-historic era to the Dutch colonization to independence.
– Operating Hours: Tuesday to Sunday, 9:00 AM to 3:00 PM; Monday, CLOSED
– Entrance Fee: IDR 5,000
Fatahillah Square, where shophouses used to stand. It is located right at the center of the old town and is surrounded by museums. It serves as a recreational area for locals and tourists alike. Bikes are also available for rent at IDR 20,000 per unit, good for 30 minutes.

Clockwise: Wayang Museum, Museum Bank Indonesia, Museum of Fine Arts and Ceramics, Gedoeng Jasindo

Museum Wayang, putting the spotlight on Indonesia's traditional puppet theater. Admire various types of wayang like wayang kulit, Javanese leather puppets, and wayang golek, Sundanese three-dimensional wooden puppets. In the museum's garden, you will find the funeral site of Jan Pieterszoon Con, the Governor-general of the Dutch East Indies.
– Operating Hours: Tuesday to Sunday, 9:00 AM to 3:00 PM; Monday, CLOSED
– Entrance Fee: IDR 5,000
Museum Bank Indonesia, housed in a heritage building that used to be the De Javasche Bank, the central bank of Dutch East Indies. It was converted into a museum in 2006, presenting the role of Bank Indonesia in Indonesian history as well as the history of currencies and trade in the country.
– Operating Hours: Tuesday to Sunday, 8:00 AM to 3:30 PM; Monday, CLOSED
– Entrance Fee: IDR 5,000
Bank Mandiri Museum, the corporate museum of Bank Mandiri. Established in 1998, this museum is home to artifacts that was used in banking activities in the past.
– Operating Hours: Tuesday to Sunday, 9:00 AM to 3:00 PM; Monday, CLOSED
– Entrance Fee: IDR 15,000
Museum of Fine Arts and Ceramics, housed in the former Court of Justice under the Dutch. It showcases traditional Indonesian paintings and ceramics. Join a pottery workshop and make a piece of your choice. The workshop lasts for 30 to 45 minutes.
– Operating Hours: Tuesday to Sunday, 9:00 AM to 3:00 PM; Monday, CLOSED
– Entrance Fee: IDR 5,000
– Pottery Workshop: IDR 50,000
Cafe Batavia, set in the second oldest building in the square. Constructed in the 19th century, the 2-story building has a bar, performance stage, and lounge area on the ground floor and the "Grand Salon", which is the main dining hall on the upper floor. This is one of the most recommended restaurants in Jakarta because of its historic location, good food, and great service. They serve Indonesian food from breakfast to dinner plus a few western dishes. Their menu also includes coffee, tea, non-alcoholic, and alcoholic drinks.
– Operating Hours: Monday to Thursday, 9:00 AM – 12:00 AM; Friday, 9:00 AM to 1:00 AM; Saturday, 7:00 AM – 1:00 AM; Sunday, 7:00 AM – 12:00 AM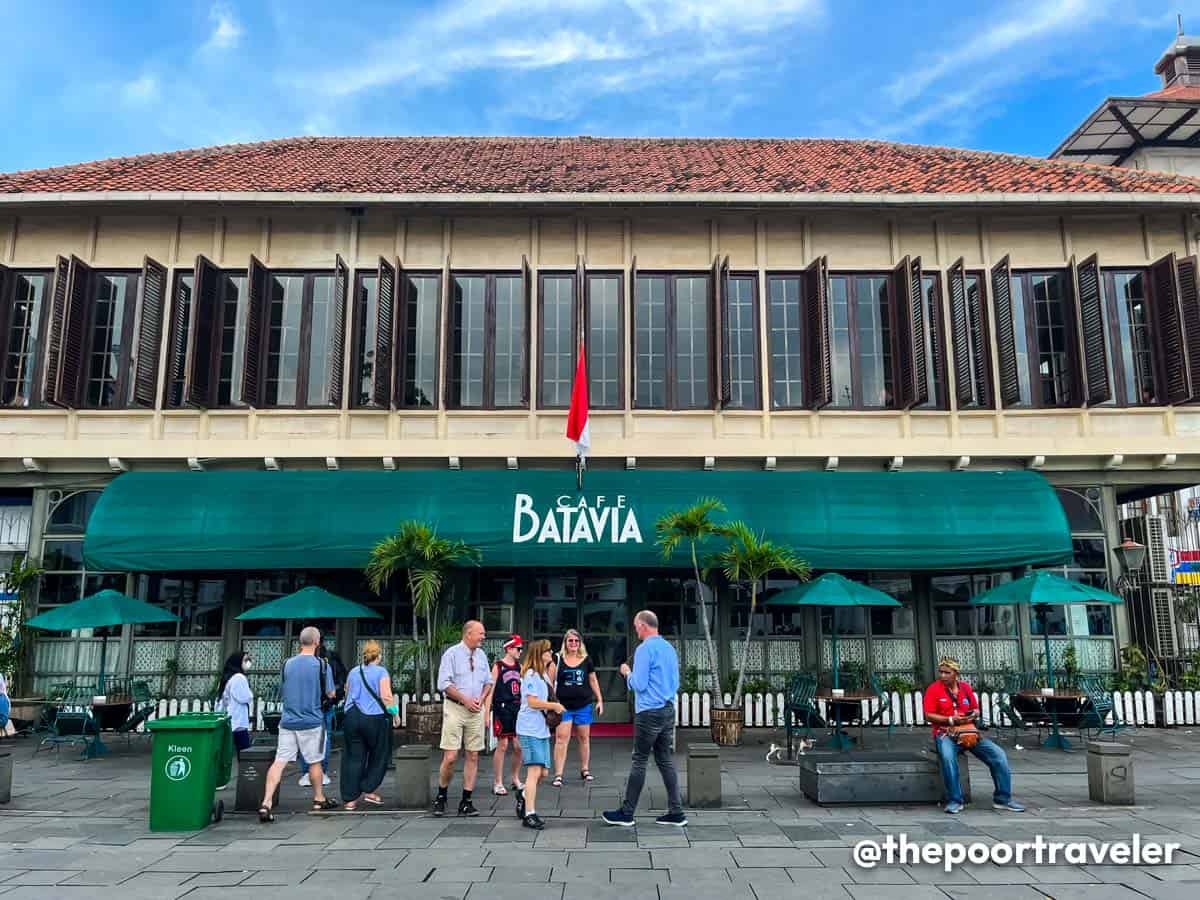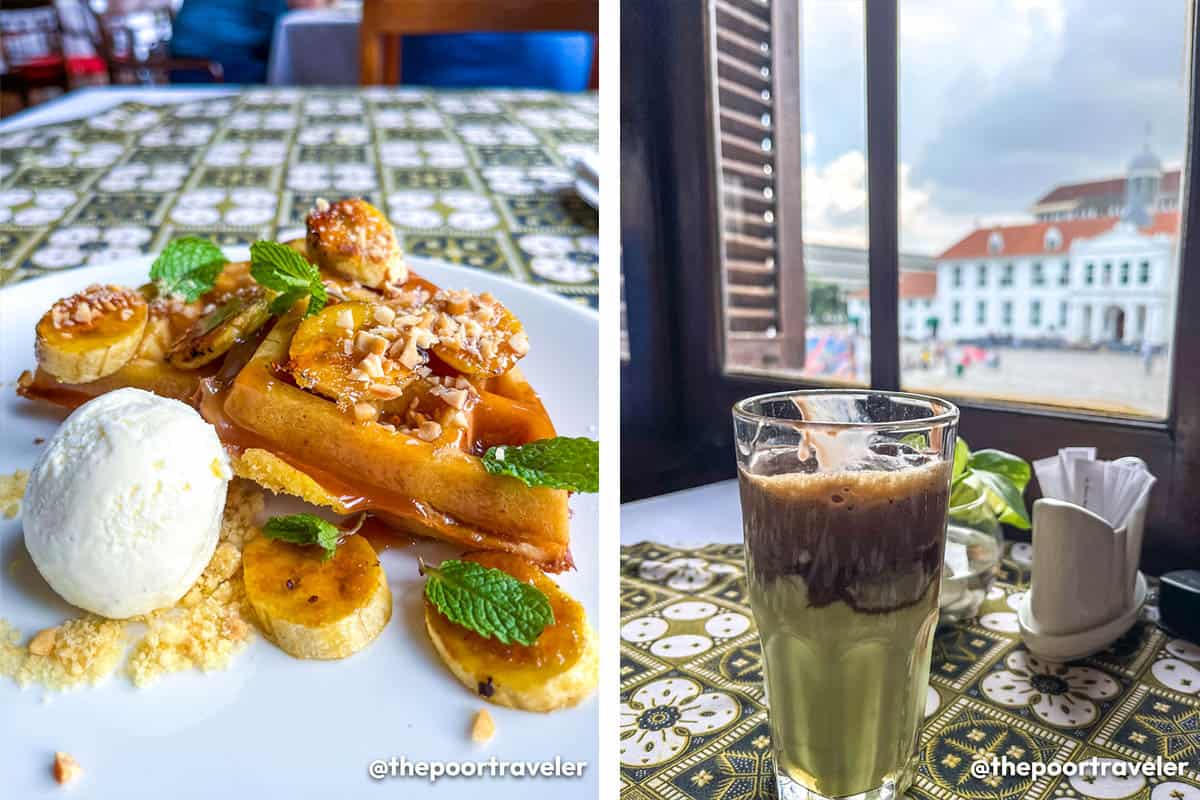 ---
Glodok
The biggest Chinatown in Indonesia, Glodok was established back in the Dutch colonial period.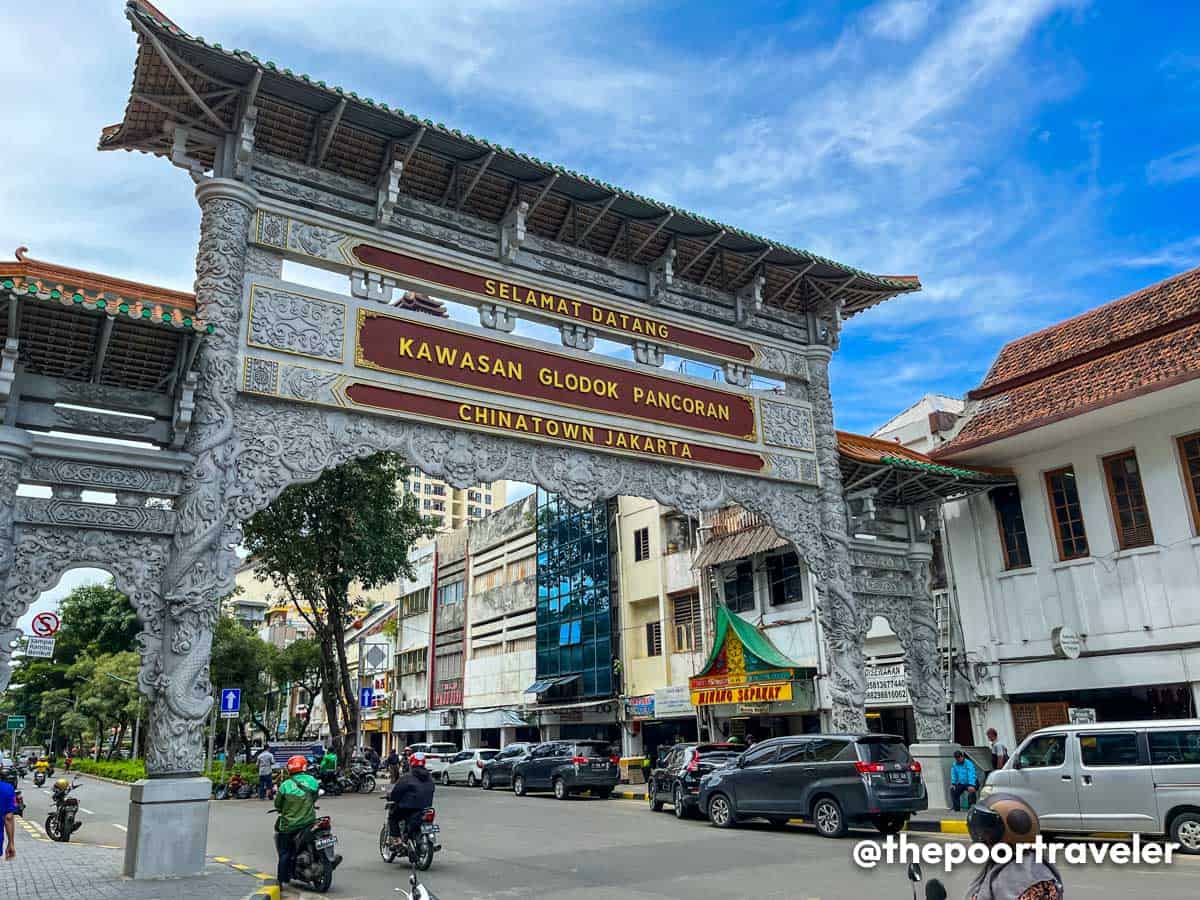 Today, Glodok is dotted with stores selling snacks and Chinese medicine. There's also a market where you can buy seafood, fruits, and vegetables. Foodies will also be delighted by an array of dining options, from street food stalls to food courts.
---
Merdeka Square & Surrounding Landmarks
Merdeka Square serves as a recreational park for the locals. With an area of around 75 hectares, the square is so vast that they even have a shuttle to take you to the National Monument, its centerpiece.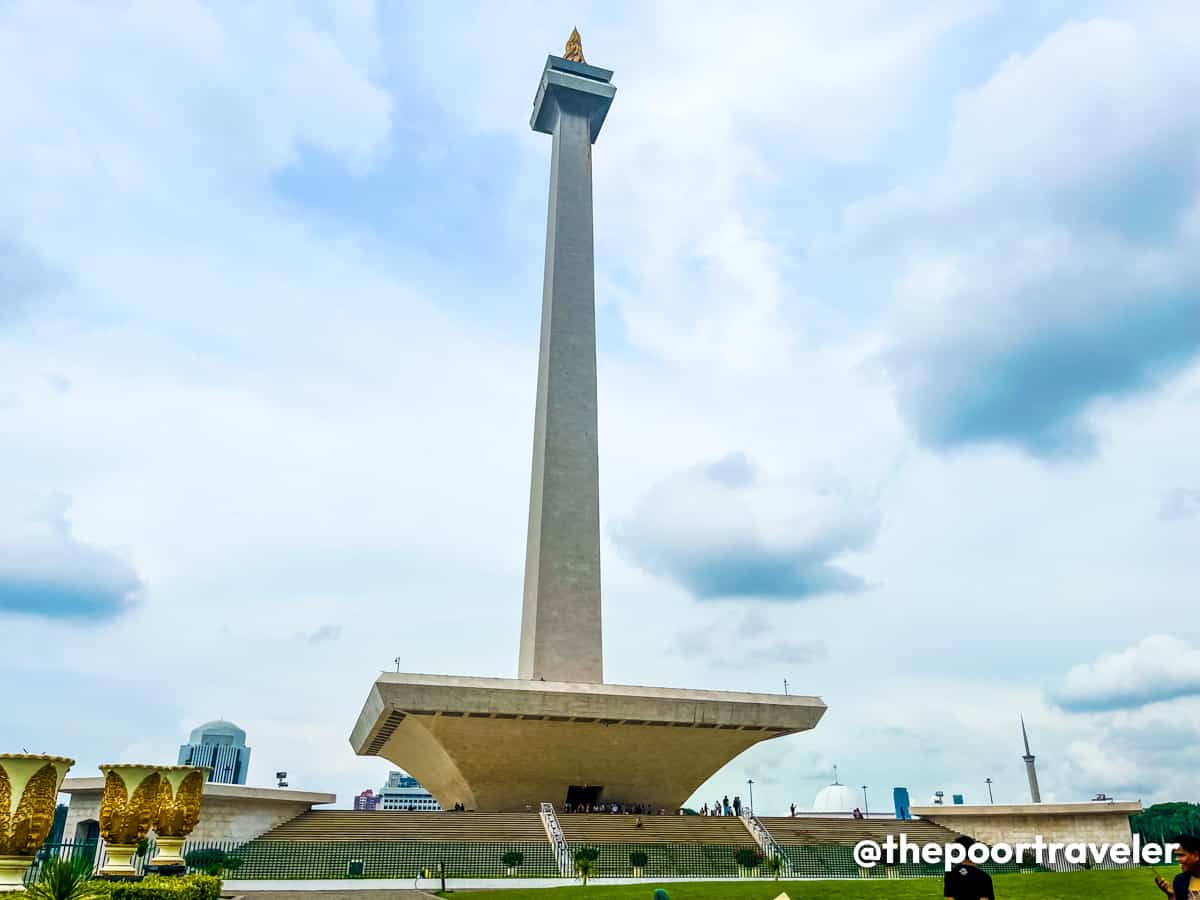 If you visit at night, you will see the Monas light up and illuminate the square. There's also a food court area here where you can have snacks or a meal.
Operating Hours: Tuesday to Sunday, 8:00 AM – 10:00 PM
Entrance Fee: FREE
Here are some of the structures within and around Jakarta's Merdeka Square:
National Monument, also called Monas, the symbol of Indonesian independence. The 132-meter (433-foot) monument was erected under President Sukarno and was opened to the public in 1975. Incorporated in its design is the date of the proclamation of Indonesia's independence — August 17, 1945. Visitors may enter the National Monument and climb to the top to get a panoramic view of central Jakarta.
– Operating Hours: Tuesday to Sunday, 8:00 AM – 3:00 PM
– Entrance Fee: IDR 40,000

Clockwise: National Museum of Indonesia, Jakarta Cathedral, Istiqlal Mosque, Merdeka Palace

National Museum of Indonesia, aka the Elephant Museum or Museum Gajah because of the elephant statue in front of the museum building. It is said to be the most complete in the country. It boasts around 141,000 artifacts including pre-historic, anthropological, and archeological artifacts from Indonesia and other parts of Asia, housed in two main buildings: Gedung Gajah which is the old wing, and Gedung Arca which is a new wing that was added in 2007.
– Operating Hours: Daily, 8:00 AM – 4:00 PM
– Entrance Fee: IDR 25,000
Jakarta Cathedral, officially named The Church of Our Lady of the Assumption. It serves as the seat of the Roman Catholic Archbishop of Jakarta. The current neo-Gothic structure is not the original church, but what was rebuilt after it collapsed in 1890.
Merdeka Palace, located on the north side of Merdeka Square. It is also known as Istana Merdeka in Indonesian. The construction of the palace started in 1873 and was completed in 1879. It was then called the Palace of the Governor-general. After Indonesia gained its independence in 1949, it became the residence of the president of the Republic of Indonesia. You may see the palace from across the street near Merdeka Square.
Istiqlal Mosque, the largest mosque in Southeast Asia. Its construction took 17 years, from 1961 to 1978. It was built to mark the independence of Indonesia hence the name Istiqlal, which means independence in Arabic. Visitors may enter the mosque through Gate 5, which is right across the Jakarta Cathedral. They also provide a guided tour of the mosque to tourists. The tour is FREE but you are welcome to give a tip or donation. Tour is held every 30 minutes from 10am to 11:30am, from 1pm to 3pm, and 4pm to 4:30pm.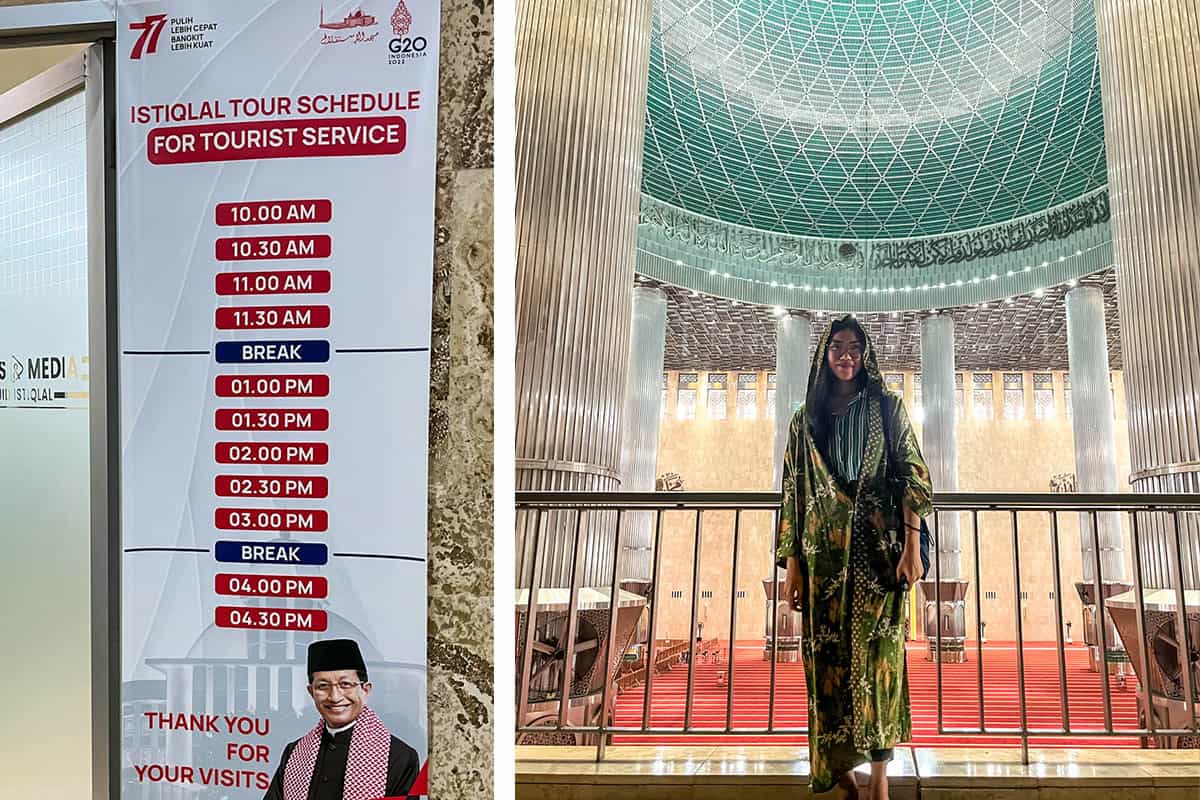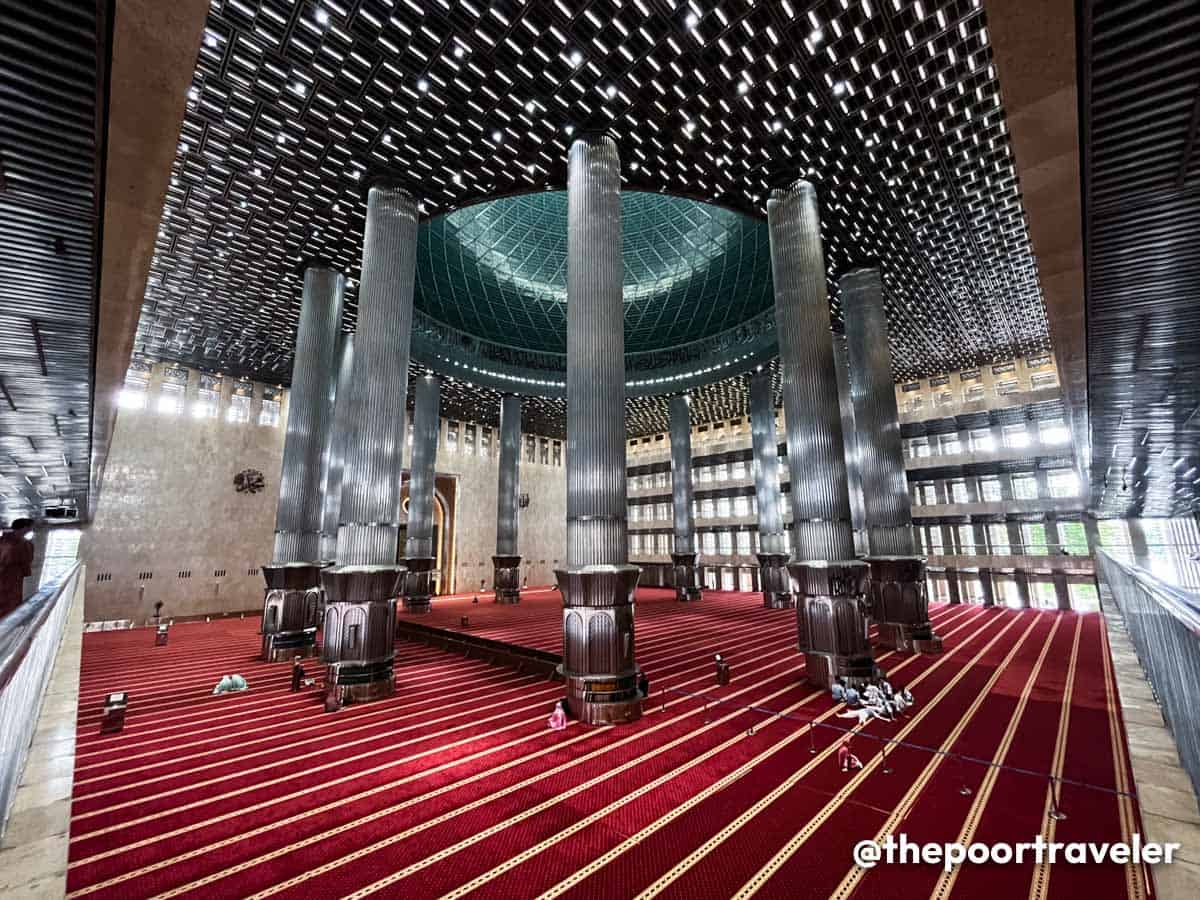 ---
Pasar Baru
A 19th century market located in Central Jakarta, Pasar Baru is one of the oldest shopping districts in the city.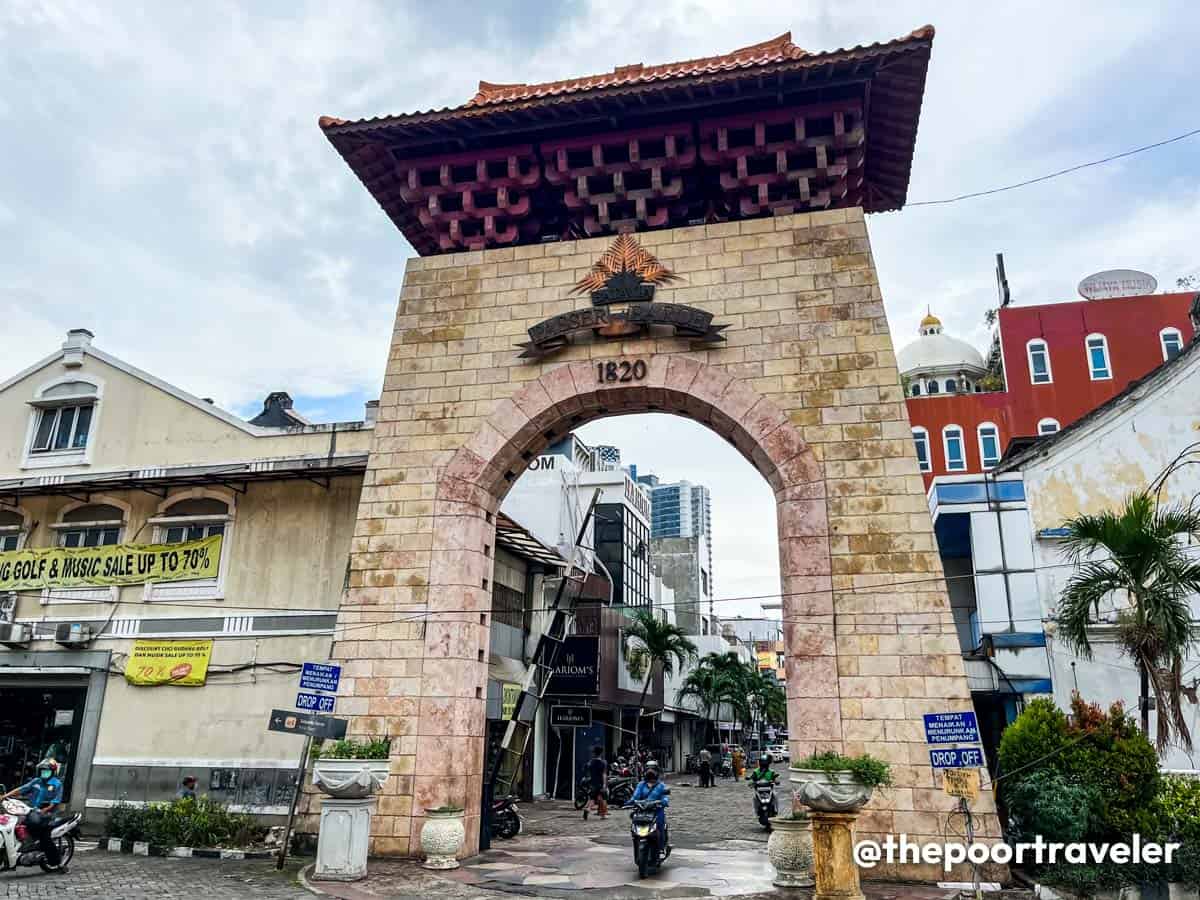 The whole street is lined with stores selling mostly textiles, shoes, and clothes. You will definitely not miss this area when you visit because the street is marked by a bridge and a gate that displays its name.
---
Ancol Beach
Ancol is a waterfront complex located in the coastal area of North Jakarta. Inside Ancol is a theme park called Dunia Fantasi or Dufan. You'll also find Atlantis Water Adventure which is a waterpark featuring the ancient cities of the Mediterranean.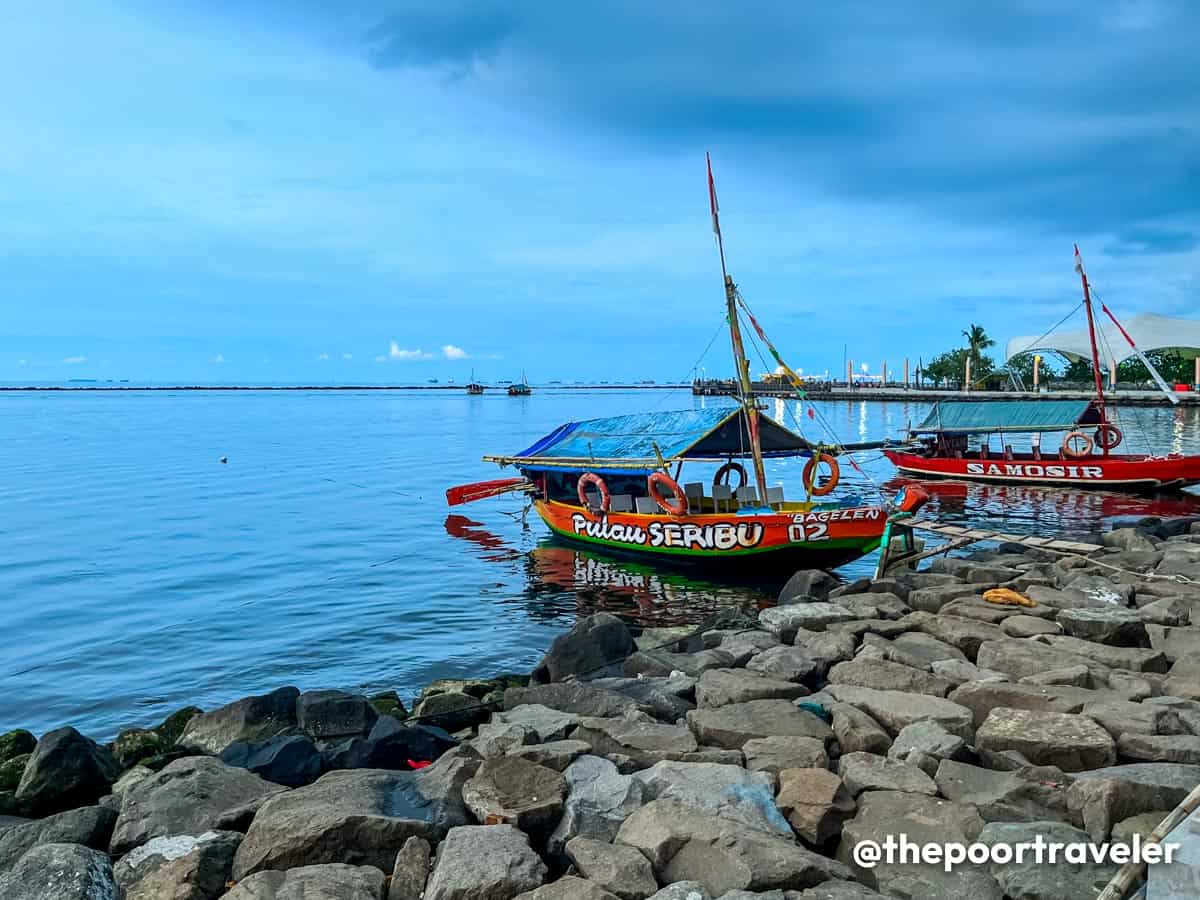 Also located within he complex are an ecopark, an art market, and Gondola Ancol, which is the first cable car ride in Indonesia. Each of these attractions has a separate entrance fee.
You may purchase tickets online through their website. You may also pay for the ticket at the entrance on-site, but take note that they only accept card payments for now.
Operating Hours: Daily, 6:00 AM – 9:00 PM
Entrance Fee: IDR 25,000
---
Textile Museum
Textiles are a huge part of Indonesia's culture. Museum Tekstil displays collections from different parts of the country. Located in West Jakarta, the museum was inaugurated in 1976 in honor of Madame Tien Soeharto, who was Indonesia's first lady at the time.
Aside from the different textiles, traditional weaving instruments and equipment used to make batik also take centerstage inside the museum.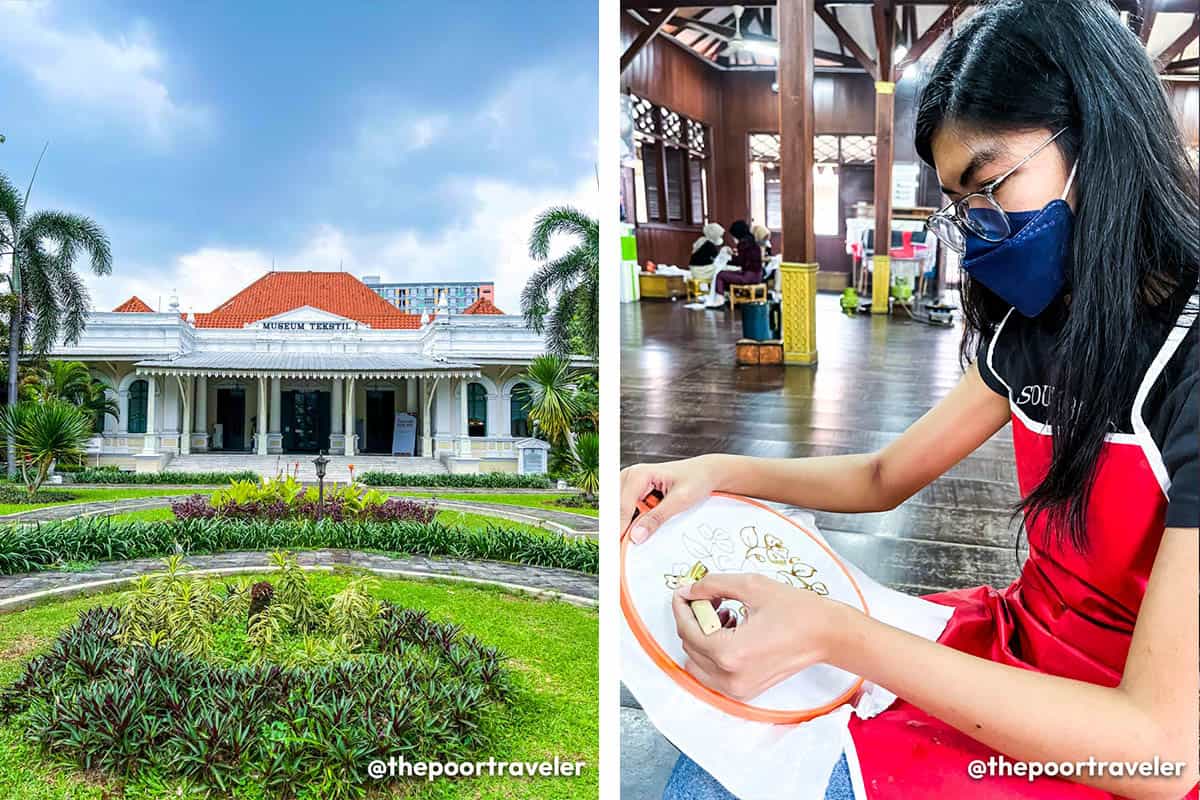 Visitors may also join a workshop where you can get try making batik. From the gate of the museum, turn to your left and follow the sign that says Pendopo Batik. You may also tell the person at the entrance that you want to make batik so they can lead you to the workshop area. Here, the nice ladies who make batik will guide you through the whole process starting from tracing your chosen design and using the tjanting, a traditional tool used to apply the liquid was to the fabric in batik making. The whole process takes around an hour and you get to keep your batik and the tjanting as a souvenir!
Operating Hours: Tuesday to Sunday, 9:00 AM – 4:00 PM
Entrance Fee: IDR 5,000
Batik Making: IDR 40,000
---
Jalan Surabaya Flea Market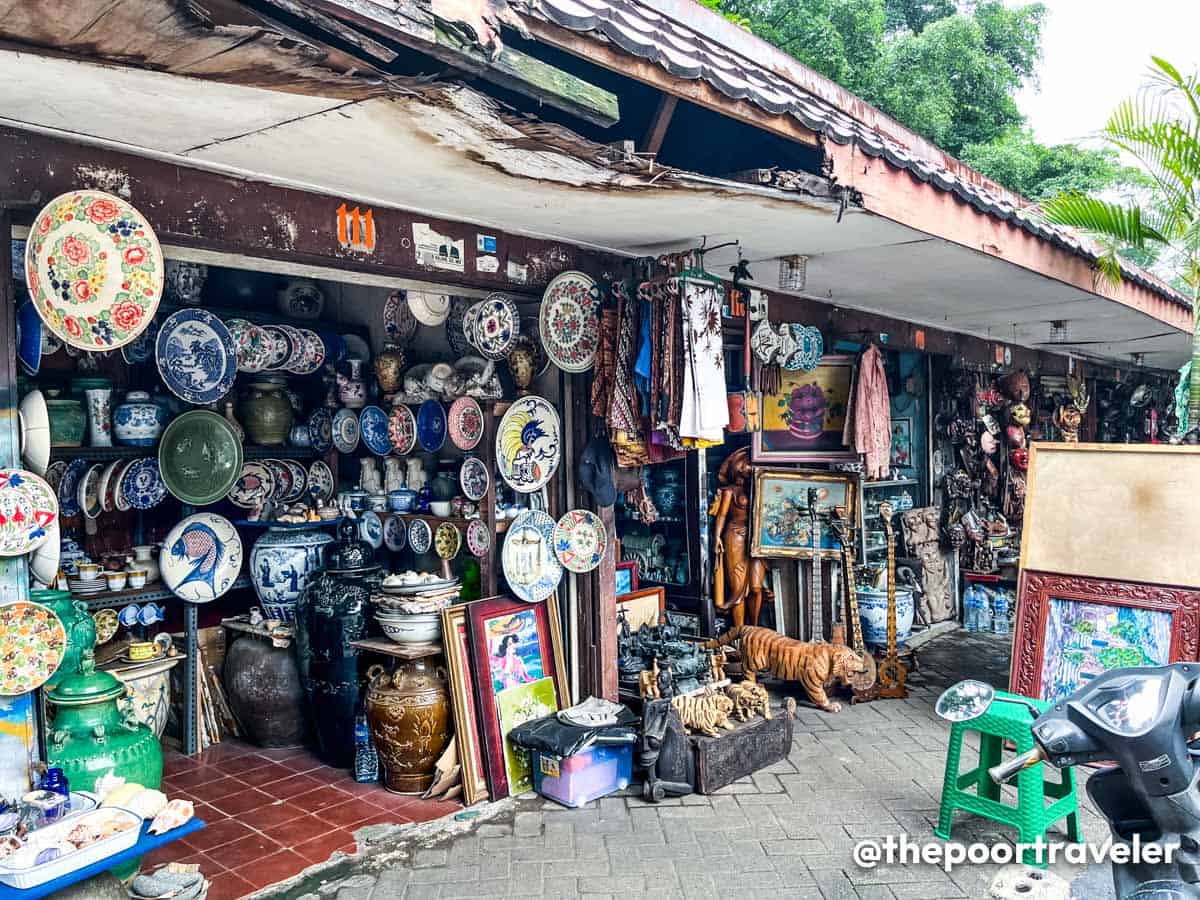 Along Jalan Surabaya in Menteng District lies a flea market. The street is lined with stores selling tons of various antique items. A visit to Jalan Surabaya is a must — especially if you're interested in antique items or you just like looking at random unique pieces, from trinkets to collectibles to chandeliers. Also available are old CDs and vinyls, ceramics, and a lot more!
---
WHERE TO EAT IN JAKARTA
Jakarta's food scene mirrors Indonesia's rich culture and long history. The food here is a mix of different cuisines from various parts of Indonesia, with influences from other places. You won't have a hard time looking for a place to eat in Jakarta because it's bursting with choices — from street food stalls to hawker centers (food courts) to proper sit-down restaurants. And because Indonesia has a strong coffee culture, you will also find a lot of cafes ranging from traditional establishments to modern ones that give a new spin to everyone's favorite drink.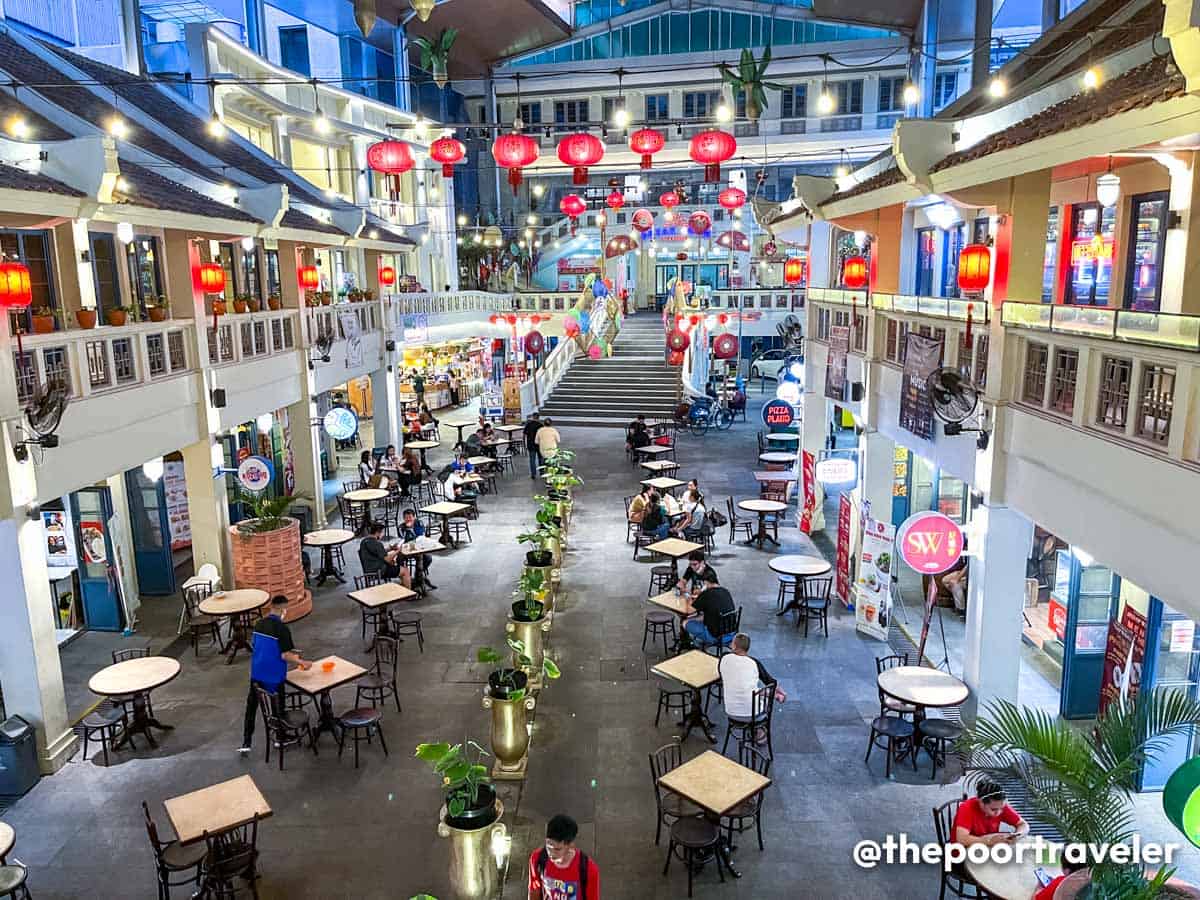 Sabang Street. Found in Central Jakarta, Sabang street food or Kampung Kuliner Sabang is located along Jl. H. Agus Salim. Starting at around 5PM, vendors begin to set up and open up their tents by the side of the road. This is one of the best places to visit in Jakarta if you want to try various Indonesian dishes — including sate, gudeg, nasi goreng, and martabak.
Glodok. Chinatown's streets are flanked with establishments selling snacks, fruits, and desserts. Some stalls also sell meals like bakso and nasi goreng that you can eat right there on the kerbside while sitting on a chair.
Petak Enam. If you prefer to have a meal more comfortably while you're in Chinatown, head over to Petak Enam, a food court in Glodok. The place is filled to the seams with stalls offering various Indonesian dishes and other cuisines too including soto betawi, which is beef soup with coconut milk broth; and nasi campur, white rice served with different types of meat dishes.
Padang Food. Padang is a cuisine from West Sumatra known for its use of coconut milk and chili. It's served in a million different ways by a million different restaurants, but the most common is perhaps hidang-style, in which customers are seated and then they are served with several small dishes. Don't worry because you're not forced to eat everything that was put on the table. You are free to choose whatever dishes you like and you'll only pay for what you consume. There are many padang restaurants in Jakarta, but here are two of the most popular:

– Rumah Makan Surya
Operating Hours: Daily, 7:00 AM to 9:00 PM.
Address: Jl. Bendungan Hilir 

– Pagi Sore
Multiple branches

Kopi Es Ta Kie. A breakfast place in Glodok, Kopi Es Ta Kie is one of the oldest cafes in Jakarta. This family-owned institution has been in business since 1927 and has been passed on over generations. They are open from early morning to early afternoon serving food like nasi campur, bakmi ayam, and more along with their coffee. Aside from the restaurant in Glodok, they also now have several branches in Jakarta.
– Operating Hours: Daily, 7:00 AM – 2:00 PM. But they might close early once they sell out.
Kopi Oey Sabang. Kopi Oey has several branches, too, but their most popular branch is probably the one in Sabang. The coffee shop has an Indonesian Chinese design with walls paintings and framed photos of food. Their menu includes a variety of nasi goreng, soto and sop, mie or noodles, pasta, roti, and other Indonesian breakfast food. If you're a coffee lover, included in their selection are single origin coffee which you can pick your preferred brewing method.
– Operating Hours: Sunday to Thursday, 7:00 AM – 11:00 PM; Friday to Saturday, 7:00 AM – 12:00 AM
– Address: Jl. H. Agus Salim 
Giyanti Coffee Roastery. if you're after cafes with Instagrammable interiors, consider Giyanti Coffee Roastery in Jalan Surabaya. This is a perfect stop for coffee and pastries for breakfast or after you feast your eyes with antiques and shop at the flea market. It has a vibrant interior and a lot of seating space including an outdoor area with a garden feel. Because it is also a roastery, you can also purchase coffee beans here that you can take home.
– Operating Hours: Tuesday to Sunday, 8:30 AM – 5:30 PM; Monday, CLOSED
– Address: Jl. Surabaya, Menteng 
– Note: Giyanti Coffee Roastery does not accept cash payments. You may pay using debit or credit card.
---
SAMPLE JAKARTA ITINERARY
Here's a sample 3-Day Jakarta itinerary with breakdown of expenses. This assumes that you will be flying with Cebu Pacific, staying in Central Jakarta, and taking public transportation to go around. You may use this itinerary and make adjustments based on your schedule and preferences.
DAY 0: ARRIVAL
11:50 AM – Arrival in Jakarta
1:00 AM – Purchase SIM card, IDR 250,000
1:30 AM – Grab to hotel, IDR 160,000
1:40 AM – Hotel check-in
DAY 1: CENTRAL JAKARTA
8:00 AM – Wake up call
9:00 AM – Breakfast at Kopi Oey Sabang, IDR 90,000
10:00 AM – Buy Transjakarta Card, IDR 27,500
10:30 AM – Walk to Merdeka Square
10:40 AM – National Monument, IDR 40,000
11:30 AM – Walk to Merdeka Palace
11:40 AM – Merdeka Palace
12:00 PM – Lunch, IDR 100,000
1:00 PM – National Museum, IDR 25,000
2:30 PM – Bus to Istiqlal Mosque, IDR 3500
3:20 PM – Jakarta Cathedral
3:45 PM – Istiqlal Mosque, Tour at 4pm
5:00 PM – Walk to Pasar Baru
5:10 PM – Pasar Baru
6:10 PM – Bus to Padang Street Food, IDR 3,500
6:40 PM – Padang Street Food, IDR 100,000

9:00 PM – Back to hotel
DAY 2: KOTA TUA
8:00 AM – Wake up call
9:00 AM – Breakfast at Kopi Es Tak Kie, IDR 85,000
10:00 AM – Bus to Kota Tua, IDR 3,500
10:30 AM – Museum of Fine Arts and Ceramic, IDR 5,000
11:00 AM – Pottery Workshop, IDR 50,000
12:00 PM – Lunch at Cafe Batavia, IDR 200,000
1:00 PM – Jakarta History Museum, IDR 5,000
2:00 PM – Museum Wayang, IDR 5,000
3:00 PM – Museum Bank Indonesia, IDR 5,000
4:00 PM – Bus to Ancol, IDR 3,500
5:00 PM – Ancol, IDR 25,000
7:30 PM – Dinner, IDR 100,000
8:30 PM – Back to hotel
9:00 PM – Lights out
DAY 3: JALAN SURABAYA & GLODOK
9:00 AM – Wake up call
10:00 AM – Early check-out, leave bags
10:30 AM – Brunch @ Giyanti Coffee Roastery, IDR 100,000
11:30 AM – Jalan Surabaya Flea Market
12:30 PM – Textile Museum, IDR 5,000
1:30 AM – Batik Making, IDR 40,000
2:30 PM – Bus to Glodok, IDR 3,500
3:30 PM – Explore Glodok
7:00 PM – Dinner, IDR 80,000
8:00 PM – Back to hotel, get bags
9:00 PM – Grab to airport, IDR 160,000
9:40 PM – Flight Check-in
12:30 PM – Flight out
This itinerary will set you back around IDR 2,700,000 (USD 172, EUR 165, SGD 235, PHP 9700), excluding airfare and travel tax, but assuming you book a hotel room that costs around IDR 200,000 per night. You may still minimize the cost if you stay in a dorm or book a cheaper hotel like we did. In reality we only paid IDR 124,000 per night.
This also includes a big allowance for incidental expenses.
---
FREQUENTLY ASKED QUESTIONS (FAQs)
When is the best time to visit Jakarta?
May to October is the best time to visit since these are the driest months in Jakarta.
Jakarta has a tropical climate. The temperature here doesn't change so much throughout the year. However, the chance of rain varies significantly making the wet and dry season very apparent. The dry months are from May to October, with the driest month being August, so schedule your trip around this time if you want to avoid the rain ruining your plans.
The wettest months are September to April, with the most rain in January. During these months, some parts of the city are prone to flooding.Public holidays may also affect the traffic and the operating hours of attractions and other establishments. Here's the list of public holidays in Indonesia:
New Year's Day – January 1
Chinese New Year – February 11
Ascension of the Prophet Muhammad – February 28
Hindu New Year – March 3
Good Friday – March or April
International Labor Day – May 1
Eid-al-Fitr
Waisak
Ascencion of Jesus Christ – April or May
Pancasila Day – June 1
Eid-ul-Adha
Islamic New Year – July 30
Independence Day – August 17
Maulid Nabi – October 8
Christmas – December 25
Where to exchange currencies in Jakarta?
I've only tried a couple of money changers along Gajah Mada near Glodok. They are open until late night and there's one that is open for 24 hours. DollarIndo and Primatama have the same or very similar rates, which are pretty good.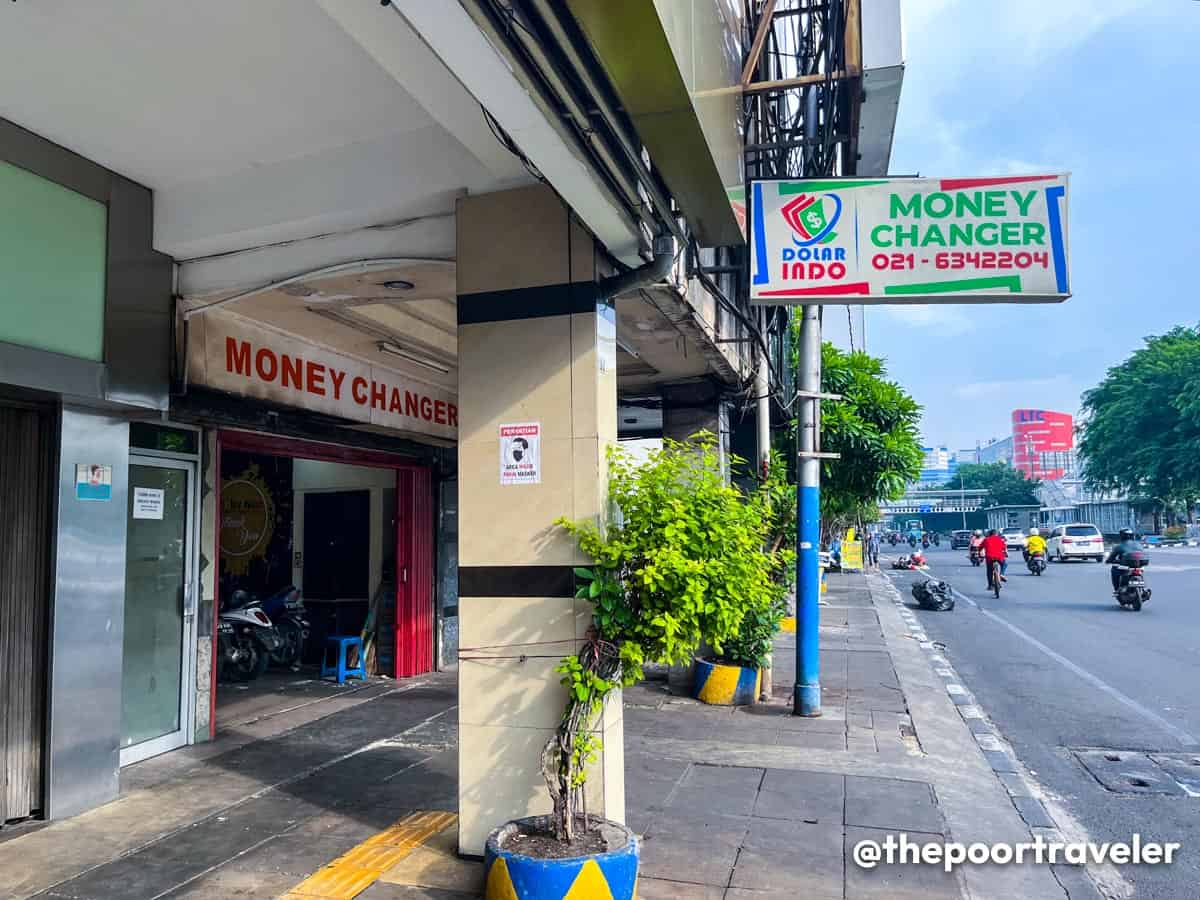 What is the power plug or socket used in Jakarta?
Electricity Info: 230V, 50Hz frequency. Type C and F plugs and sockets.

---