Here's our YOGYAKARTA TRAVEL GUIDE with tour and hotel recommendations, budget tips, breakdown of expenses, and a sample YOGYAKARTA ITINERARY.
Prior to this trip, Indonesia was never on my bucket list. I would always dismiss it because I had this foolish notion in my head that Indonesia is so much like the Philippines. I thought, "Why would I spend time and money on a place that is too similar to my home country?" But if there's one lesson that I picked up during my time there, it is this: Never make conclusions about a country until you've actually been there.
Indonesia gently drilled its place into my heart. It's not the kind of in-your-face lightning-fast wonder, but the gradual and lasting one. True, it bears countless similarities with the Philippines. Both are archipelagic states enjoying a similar climate. Both are known for the hospitality of its people. It was also a delight to know that we share countless words: payong (umbrella), langka (jackfruit), anak (child), kanan (right), balik (return), balai (house), balimbing (starfruit), dingding (wall), itik (duck), and kambing (goat), among others. But here's the thing: I realized that these similarities don't make this wonderful country less interesting; they provided me the warmth of a home away from my country. And for that, I am truly grateful.
---
WHAT'S COVERED IN THIS GUIDE?
Understanding Yogyakarta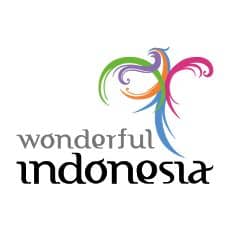 The Special Region of Yogyakarta is a separate administrative entity ruled by a monarch, the Sultan, with the city of Yogyakarta as its administrative capital. The city is teeming with attractions that interlace the old with the new. It is dotted with historical and cultural landmarks, making it fit for educational trips. For those who are up for adventure and outdoor trips, there are options like eco-tourism in Kaliburu, sandy activities in Parangkusumo, or the lava tour in Merapi.
If you want to shop and indulge in local cuisine, Malioboro Street is the place to be! To give you an idea of what Malioboro looks like, picture Binondo of Manila or Pub Street of Cambodia. It is a major shopping street in Yogyakarta with many surrounding hotels, restaurants, and other commercial establishments. Stores along this street sell various kinds of goods such as apparel, arts and crafts, souvenir products, food, and batik. At night, it gets more exciting as many side street restaurants or lesehan line along the street, giving off a laid-back and welcoming atmosphere.
Essential Information:
Language: The official language is Indonesian/Bahasa Indonesia. Javanese is also widely spoken. Most people understand English, too.
Currency: Indonesian Rupiah (IDR, Rp). USD 1 is around IDR 14,000; PHP 1 is around IDR 274; EUR 1 is around IDR 15,500 (as of October 2019)
Modes of Payment: Regular stores and restaurants only accept Rupiah, but certain foreign currencies and major credit cards (Visa and Master Card) are accepted by most hotels, fine-dining restaurants, and souvenir shops.
Electricity Info: Types C and F. Most establishments have two-pin round plugs at 220 V and 50 Hz.

---
How to Get to Yogyakarta
If you are a Philippine passport holder, you don't need to secure a visa. The Philippines is part of the 15 countries who secured reciprocal Visa-Free Agreements with Indonesia. We also have a detailed post about this section. You can read it here: HOW TO GET TO YOGYAKARTA.
By Air
Yogyakarta is served by Adisucipto International Airport. A bigger international airport, targeted to finish in 2020, is set to rise in Kulon Progo (West of Yogyakarta) to better serve the growing tourism industry in Jogja. The airport will have a train with a direct route to Borobudur.
There is no direct flight from Manila to Yogyakarta, but there are various connecting flights offered by different airline companies. Since Adisucipto connects the city to other major cities in Indonesia like Jakarta and other countries like Singapore and Malaysia (Kuala Lumpur), you can choose which route will best serve you.
As for my case, I took Manila (MNL) to Jakarta (CGK) via Philippine Airlines, then Jakarta (CGK) to Yogyakarta (JOG) via Garuda Indonesia Airlines. Garuda Indonesia prides itself as the flag carrier of Indonesia.
The major airport in Jakarta serving international and domestic flights is Jakarta International Airport also known as Soekarno-Hatta Airport.
By Land
If you are not pressed for time, you can ride a train, bus, or rented vehicle from Jakarta to Yogyakarta.
By Train: Executive class trains depart from Gambir Station, while cheaper business and economy class trains depart from Pasar Senen Station.
There are two major train stations in Yogyakarta: Lempuyangan Station and Yogyakarta/Tugu Station. Lempuyangan serves budget and economy class trains, while Tugu serves business and executive class trains.
Travel Time: 8 – 10 hours
Fare:
Executive Class: IDR 380,000 – 1,000,000 (PHP 1400-3695, USD 27-70, EUR 25-65)
Business Class: IDR 330,000 – 550,000 (PHP 1220-2030, USD 23-39, EUR 21-36)
Economy Class: IDR 180,000 – 300,000 (PHP 665-1108, USD 13-21, EUR 12-19)
By Bus: From Jakarta International Airport, search for the Damri Bus ticketing office. Damri will get you to various parts of the city for only IDR 40,000 – 80,000 (PHP 150-300, USD 2.8-5.7, EUR 2.6-5.2). You may purchase a ticket going to Gambir if you are planning to go to Yogyakarta by train. Gambir is near the popular backpacking district, Jaksa.
From the city proper, there are various bus companies offering Jakarta – Yogyakarta route such as Handoyo (with toilet), Pahala Kencana, Laju Prima, Maju Lancar, Safari Dharma Raya, Ramayana, and Santoso.
Travel Time: 12 – 13 hours
Fare:
Non-AC: IDR 85,000 – 170,000 (PHP 315-630, USD 6-12, EUR 5.5-11)
VIP/EXE AC: IDR 180,000 – 275,000 (PHP 665-1015, USD 13-19, EUR 12-18)
---
Adisucipto Airport to City Center
Here are the available modes of transportation from the airport to the city center: by train, bus, taxi, or ride-hailing apps like Grab.
BY TRAIN. From Maguwo Station, take the Prambanan Express (Pramex or Prameks). Alight at Tugu Station near Malioboro Street. Fare: IDR 8,000 – 10,000 (PHP 20-37, USD .56-.71, EUR .51-.64); Travel time: Approximately 30 minutes
BY BUS. Take the TransJogja (BRT) Bus. Board Line 1A and get off at either Tugu Station stop or Malioboro Street stop. Fare: IDR 3,600 (PHP 13, USD .25, EUR .23, single-trip ticket); Travel time: 45-60 minutes
BY TAXI. The fare for the airport taxi varies and depends on the distance of your destination. Regular metered taxis are also available. Always insist on using the meter. Fare: IDR 50,000 – 150,000 (Airport Taxi) + IDR 2,000 (airport entrance fee) / IDR 25,000 – 50,000 (Regular Taxi); Travel time: 45-60 minutes.
BY RIDE-HAILING APP. You might need to walk outside the airport premises to get to your car service. Those who tried this mode of transportation had to walk 10-15 minutes to reach the pick-up point.
---
Getting Around Yogyakarta
By Bus
Locals usually use the bus rapid transit system, TransJogja or TJ, when taking trips within the city proper or when going to other regencies (nearby places outside the city of Yogyakarta).
Trans Jogja even connects Adi Sucipto International Airport and Prambanan Temple to the city center. As formerly mentioned, Trans Jogja has a bus stop located within the airport carpark.
Operating Hours: 5:30 AM – 9:30 PM
Fare: IDR 3,600 (PHP 13, USD .25, EUR .23)
Damri Bus has a ticketing station at the airport too. It also travels around (and outside) the city including a stop at Magelang where Borobudur Temple is located.
Operating Hours: 7:00 AM – 9:00 PM
Fare: Yogyakarta city center to Magelang (Borobudur) trip costs IDR 30,000 – 35,000 (PHP 110-128, USD 2-2.5, EUR 1.9-2.25)
Giwangan Bus Terminal is Yogyakarta's main terminal for intercity buses. Bus routes connect the cities all over Java Island, as well as Bali and Sumatra (via ferry).
By Ojek
Ojeks are motorcycle taxis. This is best taken if you are traveling solo and if the traffic condition is bad and you want to maximize your time. The usual rate is IDR 2,000 – 2,500 (PHP 7-9, USD .14-.18, EUR .13-.16) per kilometer.
By Ride-Hailing App
The most popular apps are GoJek and Grab. You can book your ride — motorcycle (ojek), car, and even horse-drawn carriage (andong)!
By Andong
Andong is a two-wheeled (or four-wheeled) horse-drawn carriage. This is only used for short-distances. You may find plenty of them around Malioboro Street area and other tourist areas in Jogja.
By Becak
Becak is similar to the Philippines' pedicab but instead of the passenger carriage attached to the side of the driver, Jogja's becak has the passenger carriage in front of the driver. The trip within and around the city center will cost more or less IDR 10,000 (PHP 37, USD.70, EUR.64).
By Ontel Bicycle
Ontel or onthel bicycle are well-known in Indonesia. They are fondly called "grandfather bike" or ancient bike. Most tourists who tried this mode of transportation recommend Si Woles. It offers bicycle rental and bicycle tour packages. Bike rental rate is IDR 35,000 (PHP 130, USD 2.5, EUR 2.25), good for 24 hours (inclusive of a helmet, a lock, Jogja map, and if necessary, a raincoat). You may visit the website for more info: http://siwoles2.weebly.com/.
By Private or Rental Vehicle
There are also some who opt to rent vehicles to better manage their time. Here are the usual rates:
Car/SUV. IDR 400,000 – 700,000 (PHP 1460-2560, USD 28-50, EUR 26-45) for 12hrs (including gasoline and driver fee)
Motorcycle. IDR 60,000 – 80,000 (PHP 220-300, USD 4-6, EUR 3.9-5) per day, depending on the type of bike (excluding gasoline)
By Taxi
Taxi fares are relatively cheap in Yogyakarta. They charge by the meter, but some drivers refuse to use the meter so insist on it. Flagdown Rate: IDR 7,000 (PHP 26, USD .5, EUR .45); Succeeding Kilometer: IDR 4,250 (PHP 15, USD.30, EUR.27)
---
Where to Stay in Yogyakarta
Yogyakarta has already established itself as one of the popular travel destinations in Indonesia mainly because of its proximity to Candi Borobudur (Borobudur Temple). The city became the base camp for tourists who plan to explore Borobudur and other sites, so expect a lot of options when it comes to accommodations – from budget to luxury. If you are in the mood to splurge, you might want to check out Hotel Tentrem Yogyakarta located at Jalan A.M. Sangaji 72A, Sinduadi, Yogyakarta.
Top Jogja Hotels Under USD60
Ndalem Gamelan Guesthouse
Location: Jalan Gamelan 18 Panembahan, Yogyakarta City Center, Yogyakarta

Check Updated Rates

Omah Salam
Location: Jl. Prawirotaman 1 574, Bantul, Yogyakarta

Check Updated Rates
Top Jogja Hostels
OstiC House
Location: JL. Suryodiningratan No. 10 B, Bantul, Yogyakarta

Check Updated Rates

The Packer Lodge Yogyakarta
Location: Jl. Dagen No. 3, Sosromenduran, Gedong Tengen, Yogyakarta City Center, Yogyakarta

Check Updated Rates
---
Places to Visit in Yogyakarta
Below are some of the places you can visit and the activities you can enjoy in Yogyakarta. We're providing info that you will need to visit the spots DIY-style, but you'll also find links to Klook tours (for those who want to join an organized group tour instead).
Borobudur Temple (Candi Borobudur)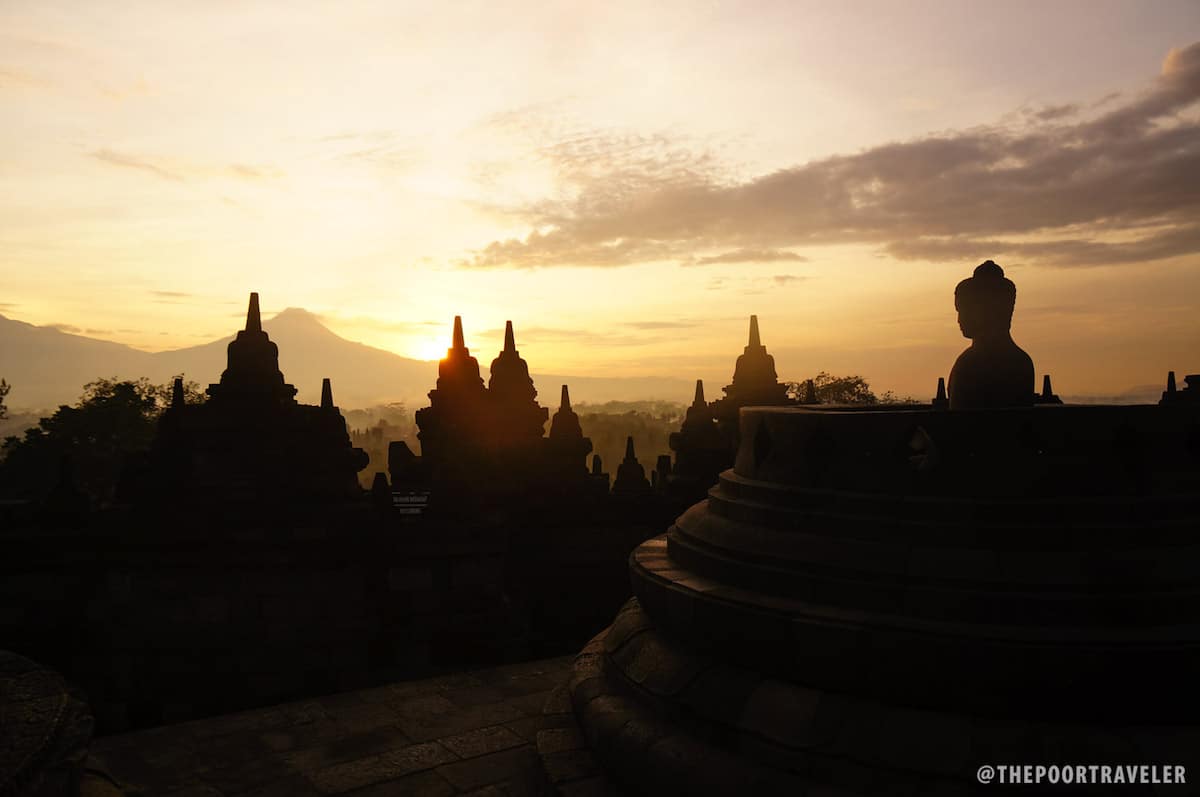 A UNESCO World Heritage Site, this 9th-century structure is considered one of the world's seven wonders of the ancient era and the largest Buddhist temple in the world.
Admission Fee:

Regular — IDR355,000/USD25/PHP1300 (Above 10 y/o); IDR213,000/USD15/PHP780 (10 y/o and below)
Borobudur Sunrise/Sunset – IDR475,000/USD34/PHP1740 (Inclusive of entrance fee, souvenir, tea/coffee, and breakfast/dinner); IDR 250,000/USD18/PHP915 (Children 6 – 10 y/o; free admission for children 1 – 5 y/o)

Operating Hours: 6AM – 5PM (Regular); 4AM – 6AM (Sunrise); 5PM – 6:30PM (Sunset)

Location: Jl. Badrawati, Borobudur, Magelang, Jawa Tengah (Central Java), Indonesia

Want to join a tour?

✅ BOOK SUNRISE TOUR HERE!

✅ BOOK REGULAR TOUR HERE!
---
Yogyakarta Palace (Keraton Yogyakarta)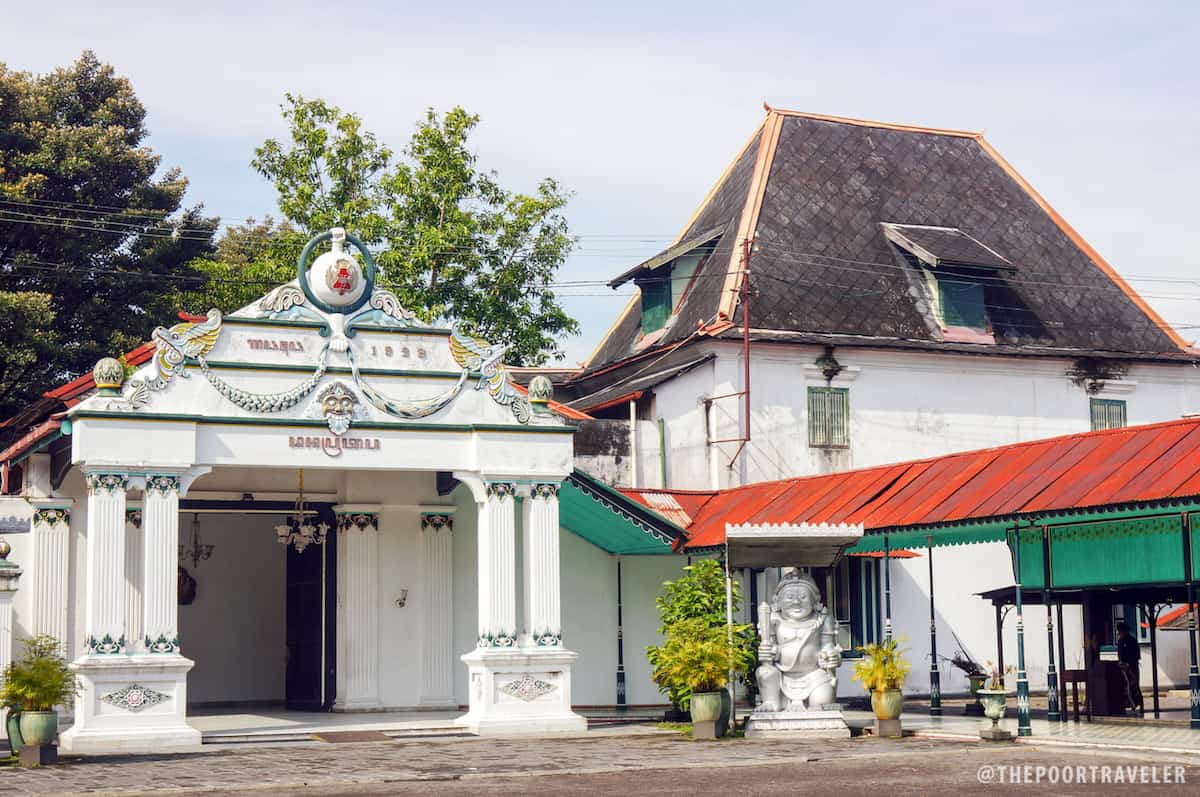 Located at the city center, the palace is the residence of the current monarch, Sultan Hamengkubuwono X (HB X). Learn about palace life, history, and traditions through the artifacts and items displayed around the palace.
Admission Fee: IDR15,000/USD1/PHP55 (Adults & Children)
Operating Hours: 9AM – 2PM (Daily except Friday); 9AM – 11AM (Friday)
Location: Jalan Rotowijayan Blok No. 1, Kota Yogyakarta, Daerah Istimewa, Yogyakarta, Central Java, Indonesia
---
Water Castle (Taman Sari)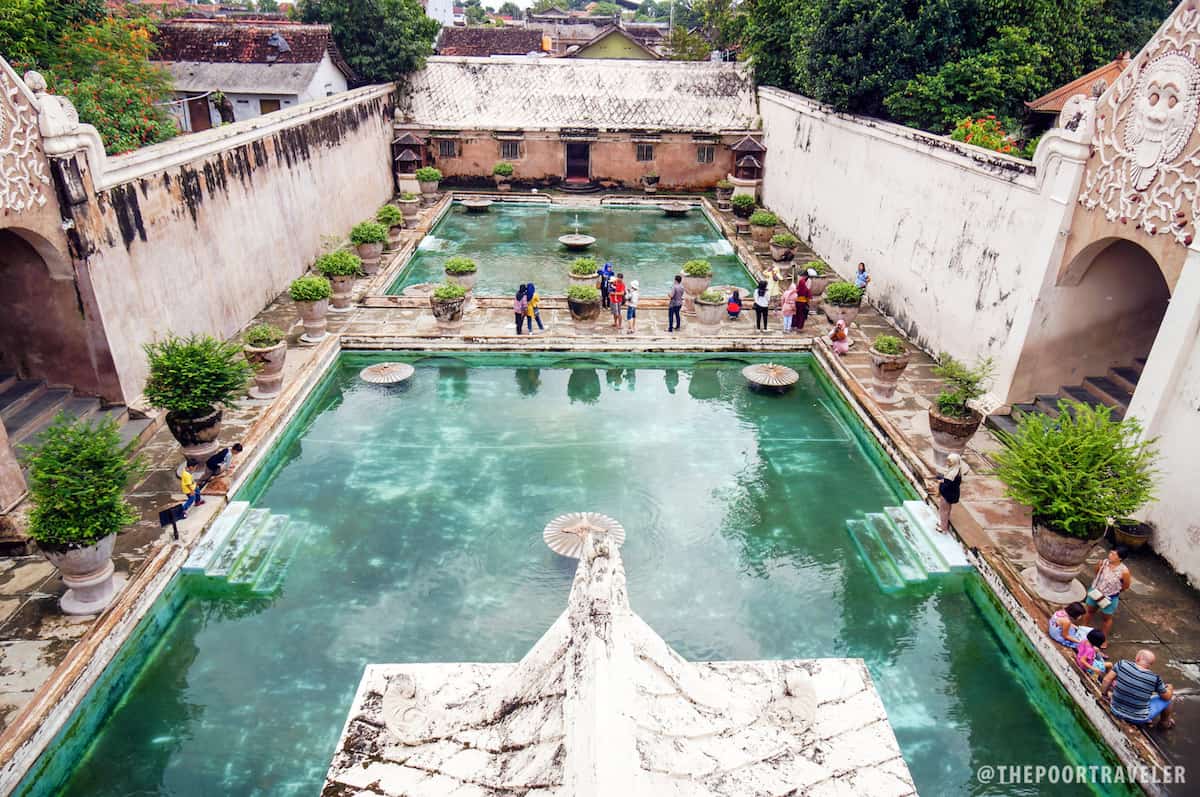 Built by Sultan Hamengkubuwono I, Taman Sari, meaning "A Beautiful Garden", had been a recreation and retreat place for the Sultan and his family. The compound has bathing pools, rooms, suspension bridge, artificial lake, water canal, and an underground water tunnel.
Admission Fee: IDR15,000/USD1/PHP55
Operating Hours: 9AM – 3PM
Location: Jalan Nogosari No. 6, Patehan, Kraton, Kota Yogyakarta, Daerah Istimewa, Yogyakarta, Central Java, Indonesia
---
Prambanan Temple (Candi Prambanan)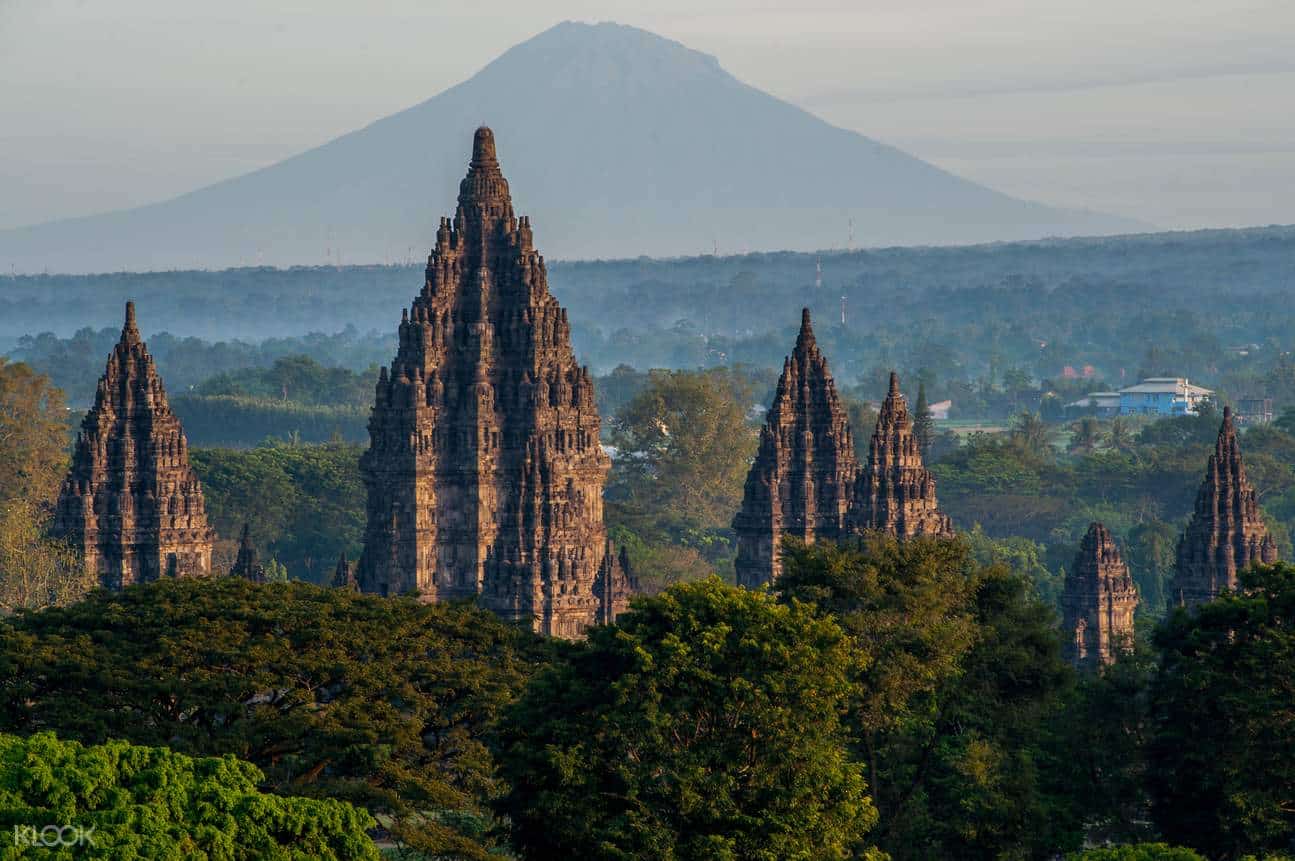 Prambanan Temple or Roro Jonggrang Temple has been hailed as the biggest Hindu temple in Southeast Asia and a UNESCO World Heritage Site. Best explored at sunset!
Admission Fee: IDR355,000/USD25/PHP1300 (Above 10 y/o); IDR213,000/USD15/PHP780 (10 y/o and below)
Opening hours: 6AM – 5PM
Location: Bokoharjo, Prambanan, Sleman Regency, Special Region of Yogyakarta, Central Java, Indonesia

Want to join a tour?

✅ BOOK SUNSET TOUR HERE!
But wait! Do you want to experience both Borobudur Sunrise and Prambanan? There are tour packages that offer a combination of these two UNESCO World Heritage sites. You
can book in advance with Klook.
✅ BOOK THIS TOUR HERE!
---
Sendratari Ramayana at Prambanan Temple or Purawisata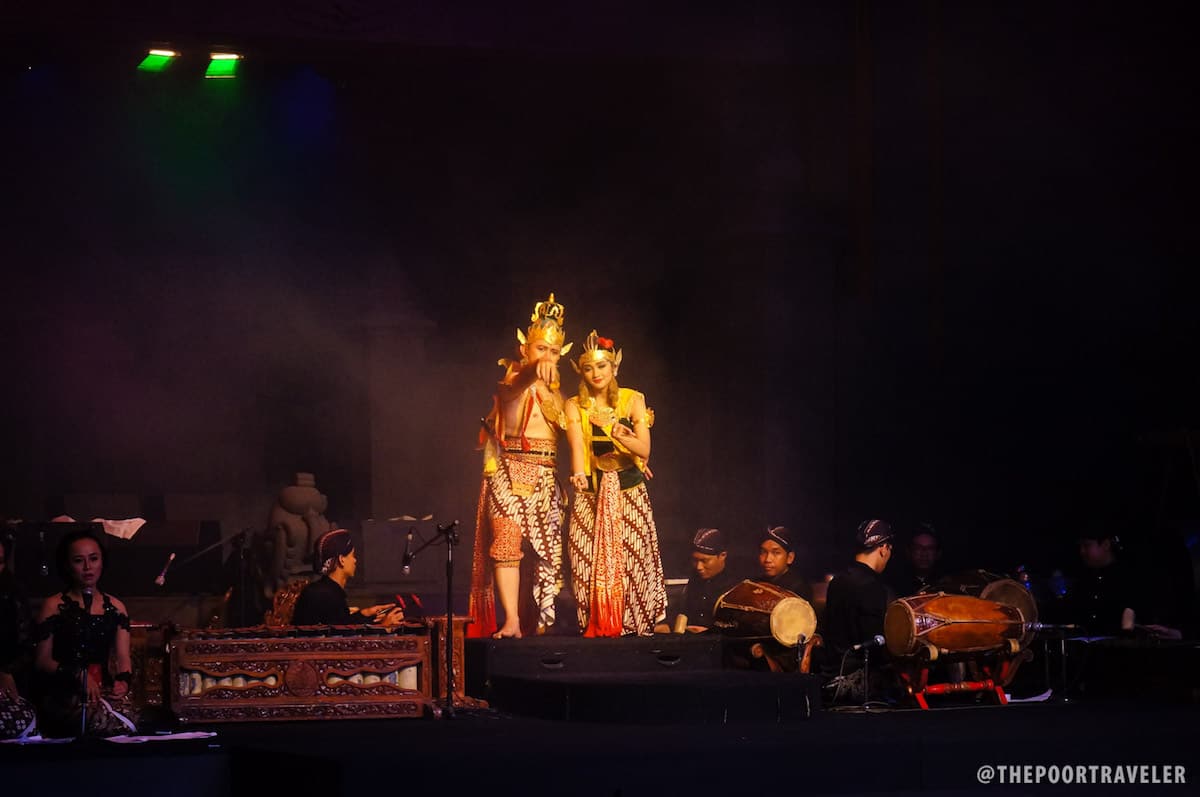 This traditional Indonesian ballet dance-drama is performed without a dialogue. The performance is an adaptation of the Indian epic Ramayana, but this is a shorter version of the original epic poem. The very first performance was held in 1961 at the open-air theatre of Prambanan.
The show is usually held either at Purawisata or at Prambanan Temple. If you book with Klook, the location will be confirmed after booking. In case it rains, the show will be moved to a nearby indoor theater.
Admission Fee:

VIP – IDR400,000/USD28/PHP1465
Special – IDR300,000/USD21/PHP1100
Class 1 – IDR200,000/USD14/PHP733
Class 2 – IDR125,000/USD9/PHP458

Operating Hours: 7:30PM – 9:30PM (Tuesday, Thursday, Saturday)
Location: Bokoharjo, Prambanan, Sleman Regency, Special Region of Yogyakarta, Central Java, Indonesia

Reserve a seat! You may book in advance online via Klook.

✅ RESERVE A SEAT HERE!
---
Yogyakarta Food Tour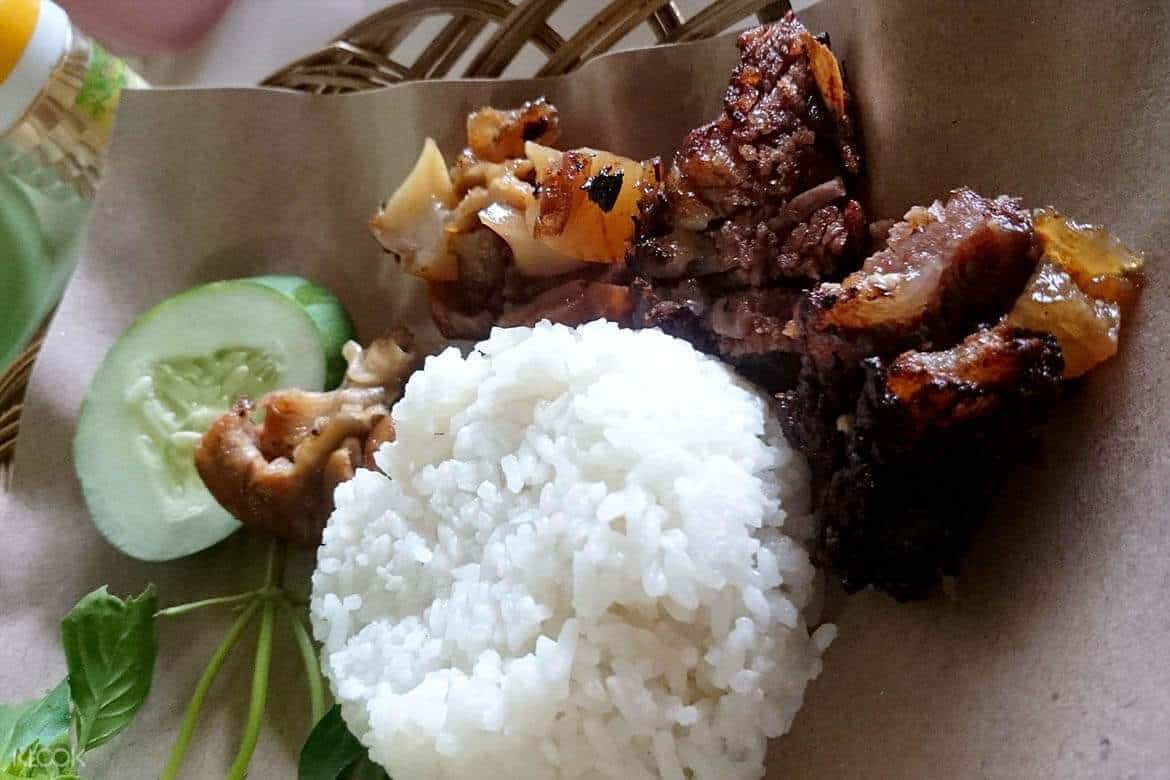 Klook offers two food tours: one in the morning and the other at night.
✅ Join the DAY TOUR!
✅ Join the NIGHT TOUR!
---
Batik Making Class
Designated by UNESCO as Masterpieces of the Oral and Intangible Heritage of Humanity, Indonesian Batik is a prized cultural heritage. One of the places where you can witness the step-by-step process and even make your own simple Batik is Batik Plentong.
Batik Plentong Contact Info

Address: No. 48 Jalan Tirtodipuran, Mantrijeron, Kota Yogyakarta, Daerah Istimewa, Yogyakarta 55143, Indonesia
Phone Number: +62 274 373777
Office Hours: 8AM – 6PM
---
Silversmithing Workshop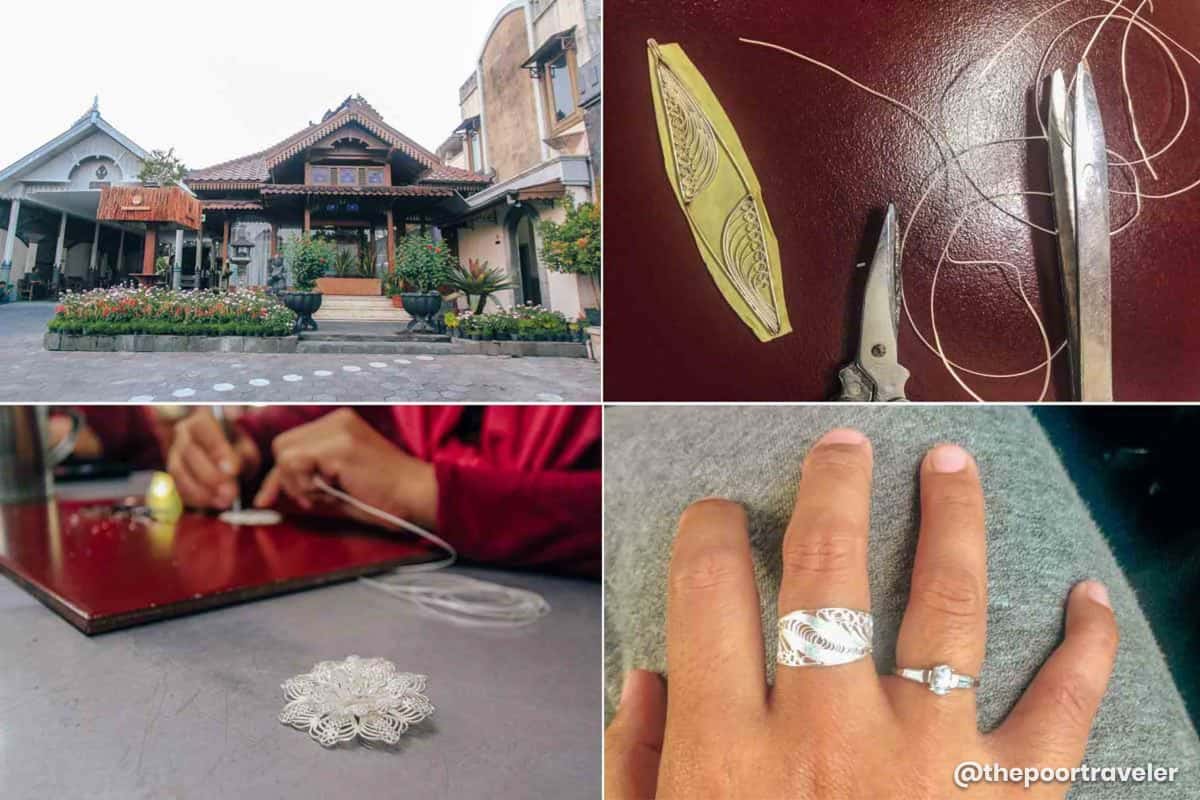 Jogja is also well-known for its fine silverworks and silversmithing. Jogja's silverwork industry flourished in Kotagede, nicknamed "silver village". You can make your own silver ring or pendant at HS Silver after a short informative tour.
HS Silver Contact Info

Address: Jalan Mondorakan, Prenggan, Banguntapan, Jagalan, Bantul, Daerah Istimewa Yogyakarta 55192, Indonesia
Phone Number: +62 812 2988 6237
Opening Hours: 8:00AM – 5:30PM

You can book your tour and workshop here!

✅ RESERVE A SLOT HERE!
---
Other Attractions:
Ullen Sentalu Museum
This is a private museum established in 1994 by the Haryono family. It is now managed by Ulating Blencong Foundation. It houses relics and artifacts from royal houses of Java revealing the history of Mataram Kingdom and reflecting the culture from the Hindu-Buddhist period.

Admission Fee:
*Adult – IDR 100,000
*Children (5-16 y/o) – IDR 60,000
Operating Hours: 8:30 AM – 5:00 PM; Tuesday to Sunday
Location: Jalan Boyong KM 25, Kaliurang Barat, Hargobinangun, Sleman, Kabupaten Sleman, Daerah Istimewa Yogyakarta

Ratu Boko Palace (Kraton Ratu Boko)
This 16-hectare archaeological site sits on a plateau and is best experienced and viewed during dusk or sunset.

Admission Fee:
*Regular – IDR 350,000 (Above 10 y/o); IDR 200,000 (10 y/o and below)
Operating Hours: 6:00 AM – 5:00 PM (Regular); 3:00 PM – 6:00 PM (Sunset visit)
Location: Bokoharjo, Prambanan, Sleman Regency, Special Region of Yogyakarta

Malioboro Street (Jalan Malioboro)
This busiest business district in the city of Yogyakarta is a shopping haven for both local and foreign visitors. It stretches 1km long from North (near Yogyakarta Station or Tugu Station) to South (Zero Kilometer or Nol Kilometer).
Kasongan
This is the center of the pottery industry in Yogyakarta, so products sold here are export quality.


Admission Fee: FREE
Operating Hours: 9:00 AM – 3:00 PM
Location: Dusun Kasongan, Bangunjiwa, Kecamatan Kasihan, Bantul

Kotagede
Yogyakarta's center of silverware industry. You might also want to visit the grave of Panembahan Senopati, the founder of Mataram Kingdom.

Location: 5km southeast of Jalan Malioboro (Take Bus 3A or 3B)

Arya Classic Wayang
Learn the principles behind the creation and the design of the traditional leather puppet (wayang kulit) characters here at Arya Classic Wayang. Be amazed at the intricate patterns of the design and discover the meaning behind each color used.

Admission Fee: FREE
Location: Jalan Magangan Kulon, KT I/30, Ngadisuryan, Yogyakarta (Behind Yogyakarta Palace)
---
Day Tours from Yogyakarta
You might want to explore these other attractions not too far away from the Yogyakarta city center.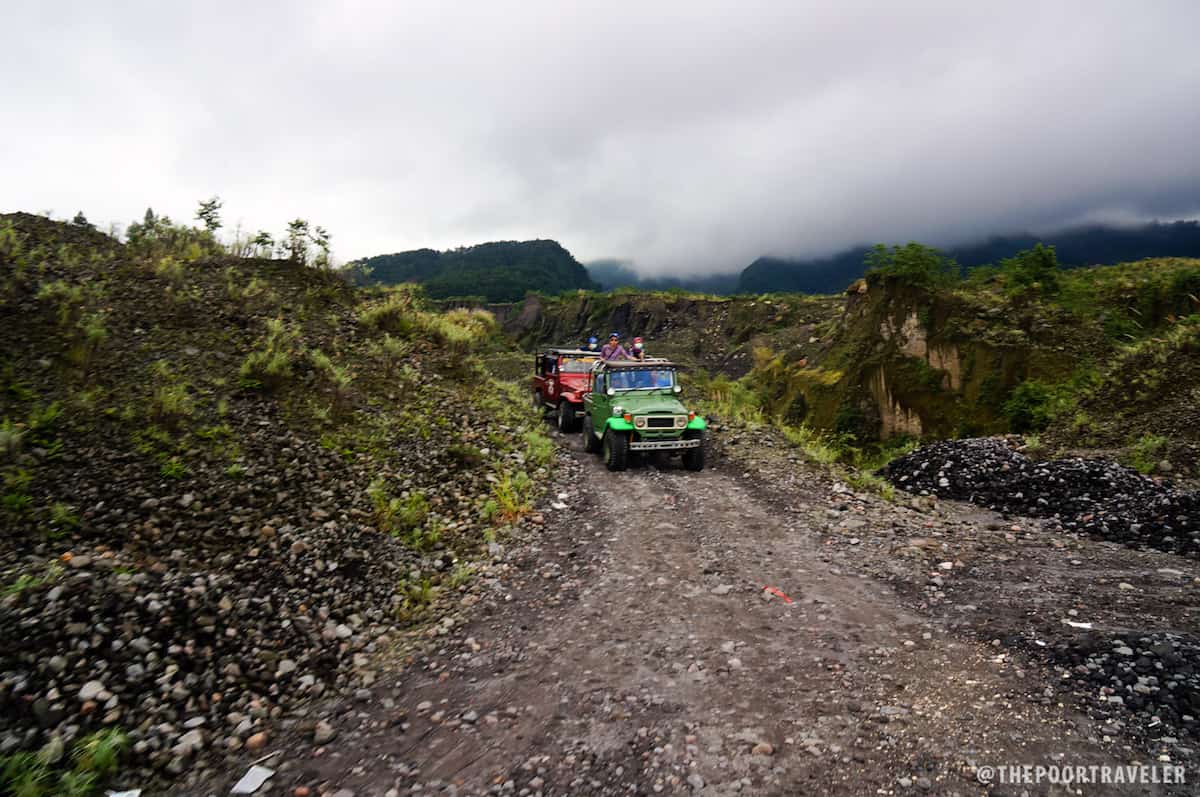 Lava Tour Merapi
Making a seemingly hopeless situation into something beneficial and useful is a mark of innovative thinking. The destructive eruption of Mt Merapi in 2010 and its aftermath can be seen and witnessed while taking an adventurous 4×4 ride. Some of the stops include the Museum Sisa Hartaku, Alien Stone, and the Bunker.

Tour starts as early as 7:00 AM and can end at 4:00 PM. The ideal time to do the tour is either morning or late in the afternoon. There are three options: Short (1-1.5hr), Medium (2-2.5hrs), and Long (3-3.5hrs). Suggested tour operators for this activity are Merapi Land Cruiser Community and Kaliurang Jeep Willis Merapi Lava Tour.

You may book this tour in advance through Klook: ✅ CHECK RATES HERE!

Kalibiru Nature Eco-Tourism
If you are in the mood for nature-tripping adventure, then Kalibiru National Park is perfect for you. Enjoy the lush mountainous setting, the fresh air, and the view (especially the sunset) from 450 meters above sea level.

The park is located in Kalibiru, Hargowilis, Kokap, Kulon Progo (about 1-2-hour drive from the city center). It is open from 6:00 AM to 6:00 PM. Entrance fee rates are IDR 5,000 (weekday) and IDR 10,000 (weekend). Other attractions inside the park have fees that range from IDR 10,000 to IDR 35,000.

Parangkusumo Sand Dunes (Gumuk Pasir Parangkusumo)
This is the place to go when you are itching for some sandboarding, ATV bike rides, or horseback riding. Rental fee of amenities starts from IDR 70,000 up to IDR 150,000.

It is located at Jalan Pantai Parangkusumo, Kretek, Bantul (about 45 minutes to one hour drive from the city center). The place is open for visitors from 7:00 AM to 6:00 PM. Entrance Fee is IDR 10,000.
---
Sample Yogyakarta Itinerary
Here's a sample 4D3N Yogyakarta itinerary. This assumes that you are a party of two that will split the cost, your base is the city center, and your budget per meal is RP40,000 (P150) per person.
DAY 1
(Note: Based on flight leaving Jakarta at 6am & arriving Yogyakarta at 7am)
07:00AM – Arrive in Yogyakarta
07:30AM – Airport to the city center (hotel): RP3,600/person (bus fare)
08:30AM – Check-in at hotel
09:30AM – Yogyakarta (Royal) Palace: RP15,000/pax (entrance fee)
11:30AM – Lunch: RP40,000/pax
01:00PM – Walk to Taman Sari (4 mins)
01:10PM – Water Castle (Taman Sari): RP15,000/pax (entrance fee)
03:00PM – Yogyakarta City Tour
06:00PM – Dinner: RP40,000/pax
07:30PM – Lights out
DAY 2
05:00AM – Borobudur Sunrise Tour: Around RP600,000, Book here!

10:00AM – Merapi Lava Tour: About RP195,000, Book here!

04:00PM – Malioboro Street Shopping
06:00PM – Dinner: RP40,000/pax
09:00PM – Lights out
DAY 3
09:00AM – Travel to Ratu Boko: RP15,000/person (bus fare)
10:00AM – Ratu Boko Palace: RP350,000/pax (entrance fee)
11:30AM – Travel to Sleman (Prambanan): RP3,600/person (bus fare)
11:45AM – Lunch: RP40,000/pax
01:00PM – Explore Sleman area near Prambanan Temple
03:00PM – Prambanan Temple Compound: RP355,000/pax (entrance fee)
05:00PM – Prambanan sunset
06:00PM – Dinner: RP40,000/pax
07:00PM – Sendratari Ramayana: RP125,000/pax (admission ticket)
09:30PM – Back to city center: RP3,600/person (bus fare)
10:00PM – Lights out
DAY 4: DEPARTURE
The itinerary above will cost you around IDR 2.2 million (PHP 8,010 / USD 155 / SGD 214 / EUR 141) per person, excluding airfare, accommodations, travel taxes, and shopping expenses but including a little bit of allowance for any miscellaneous expenses along the way.
If your hotel/hostel room is RP270,000 (P1000) per night, prepare to shell out around IDR 3.1 million (PHP 11,300 / USD 219 / SGD 301 / EUR 199) per person, excluding airfare, travel tax, and shopping expenses.
---
Side Trip: Solo
If you have more time, nearby Solo (or Surakarta) is a great choice for a side trip destination. It's the hometown of their current president, Joko Widodo. Often coined as "the twin sister of Yogyakarta", this other major city in Central Java resembles Yogyakarta in so many ways. Solo is less touristy, so it offers that authentic Javanese culture, especially the food.
Aside from the food scene, you can also visit Pasar Antik Triwindu for antique items; Ceto Temple and Sukuh Temple; Omah Sinten Heritage & Resto for a royal family treatment dinner or meal; Kampoeng Batik Laweyan village or the Danar Hadi Antiques Batik Museum to learn more about Batik history and process of making it, and UNESCO World Heritage Site Museum Sangiran to know more about the ancient man and other anthropological discoveries.
To get to Solo from Yogyakarta, the best and fastest option is to ride the train via Pramex train service at Yogyakarta (Tugu) Station. Travel time is 45 minutes to 1 hour, and the fare is around IDR 32,000 (the cheapest).
---
More Tips for the Poor Traveler
Status of trade and commerce in Yogyakarta is healthy and stable. There are plenty of business establishments — Malioboro Street being the busiest. Aside from the abundance of educational institutions, the cost of living is reasonable and cheap; hence, students flock the city.
Indonesians are friendly and very helpful. Most can speak and understand English, so don't hesitate to ask if you get lost.
Weather is very unpredictable, but dry and sunny most of the time.
Suggested mode of transportation is the Trans Jogja bus system. Locals highly regard this as the most reliable, most efficient, and cheapest when traveling around the city and even nearby places outside the city.
---
2️⃣0️⃣2️⃣0️⃣ • 1️⃣ • 1️⃣7️⃣ (updated)
2️⃣0️⃣1️⃣7️⃣ • 5️⃣ • 1️⃣0️⃣ (first up)