This travel guide covers not only Bacolod City but also other parts of Negros Occidental including Silay, Talisay, Sipalay, and Cauayan. Sample itineraries and cost estimates are also provided.
There are places that you will remember not because of what you saw but how it made you feel. Bacolod is one of those places.
Bacolod doesn't have the spectacular sights that other destinations in the Philippines boldly and loudly brag about. But what she lacks in visual treats, she makes up for by delighting the other senses. When she welcomes you into her home, she cooks for you and makes every meal unforgettable. Her chicken inasal will take you to heaven and her desserts will bring you back to earth. And the stories from her past are always worth listening to.
She's in good company too. Bacolod may not have the sweeping landscapes, but her posse have more than their share. Neighbor Murcia makes a splash with her waterfalls. Just 4-5 hours away are Kabankalan, Cauayan, and Sipalay, all waiting to showcase their natural splendor to those who go the extra mile.
WHAT'S COVERED IN THIS GUIDE?
Understanding Bacolod and Negros Occidental
Bacolod is widely known for three things: sweets, smiles, and the Masskara Festival. Oh, and chicken inasal. So okay, make that four things. Haha. It is the capital of Negros Occidental, one of the biggest provinces in the country in terms of land area and population. Yet, a big part of its territory remains unknown to non-residents. Lately, however, the beaches of Sipalay are beginning to get a lot of attention.
Negros Occidental has 13 cities (including independent Bacolod) and 19 municipalities. That's a lot of cities in just one province. But before you conjure up images of skyscrapers, know that Bacolod is the only one that is highly urbanized. The others are more like small towns, more laid-back and still pretty rustic.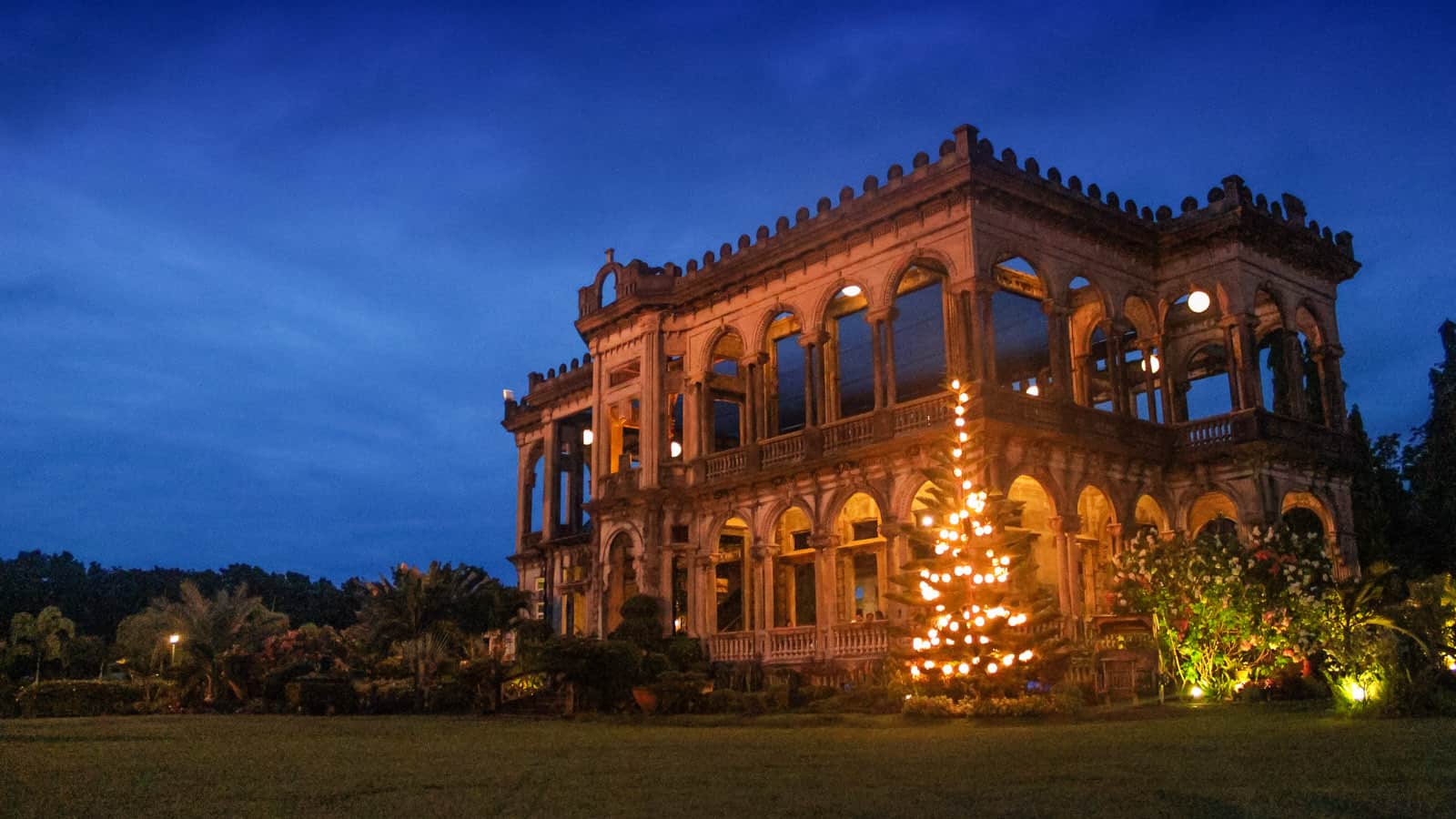 Language: Hiligaynon (Ilonggo). English is widely understood.
Currency: Philippine peso (PhP). PhP100 = USD2, EUR 1.65, KRW 22000, JPY218
Mode of payment: Cash. ATMs are all around Bacolod, but they turn much fewer in other cities and municipalities. If you're exploring other parts of Negros Occidental from Bacolod, you might want to withdraw money while you're in the capital. Credit cards are often accepted in upscale establishments in Bacolod, but cash is still preferred.
How to Get to Bacolod
The Bacolod-Silay Airport is the gateway to the province. Both Philippine Airlines (PAL) and Cebu Pacific Air (CEB) fly to Bacolod multiple times a day.
Philippine Airlines flies to Bacolod from:
Cebu Pacific Air flies from here:
Here's a quick Traveloka scan of year-round fares (random date).
Note that every Philippine Airlines booking comes with 15kg check-in baggage allowance, while Cebu Pacific's published rates don't cover any.
Promo fares are also very common for the Manila-Bacolod route. Check out actual random scan below.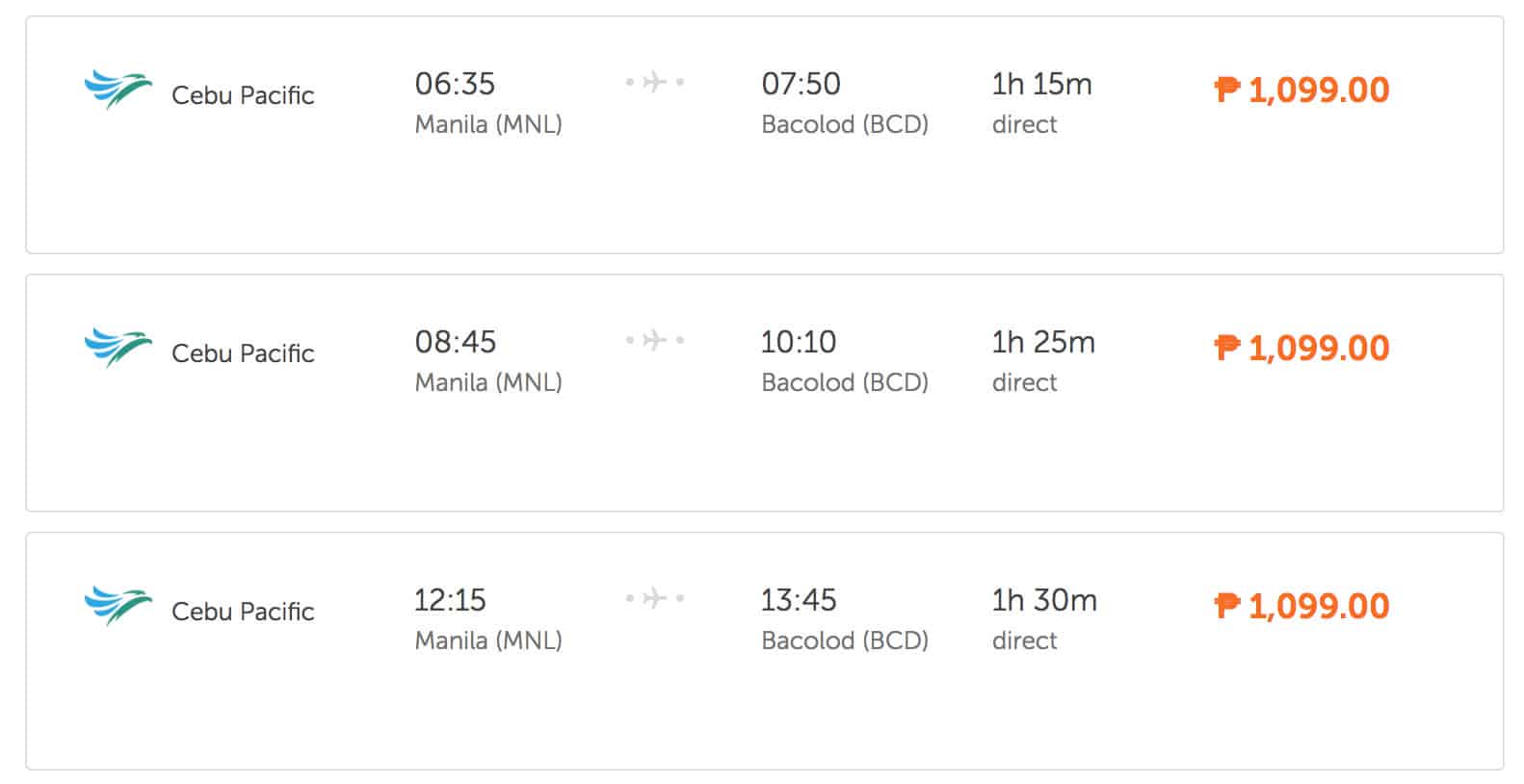 .
How to Get to from the Airport to Bacolod City Center
The airport is in Silay City, located around 15km from Bacolod city center. Here are your options:
By van (shuttle service). You'll find them stationed just in front of the airport's arrival area. Fare: P150. The journey terminates at SM City Bacolod, where you can take a taxi or jeepney to your hotel.
By taxi or Grab Taxi. The expensive option, but more convenient if you have lotsa luggage. Fare ranges from P250-500 depending on whether they use a meter or not. If you're a Grab user, you can use GrabTaxi. That's what I did and paid only P250.
By tricycle + jeepney. I don't recommend this if you have bags with you because it involves a number of transfers and can be quite exhausting. But you may ride a tricycle from outside the airport area to Silay City center, where you can take the bus or jeepney to Bacolod North Terminal. From here, take another jeepney or cab to your hotel.
Where to Stay in Bacolod
The two highest scored accommodations on Traveloka are The Suites at Calle Nueva and Mainstreet Pension House, the latter for budget travelers. Calle Nueva's rates are only around P1000 per night for a single room and P1500 for a double room. Mainstreet Pension's, P700 for a double room. Unfortunately, we have tried neither because both were fully booked during our visit. But if you want to check 'em out, follow the links below.
The Suites at Calle Nueva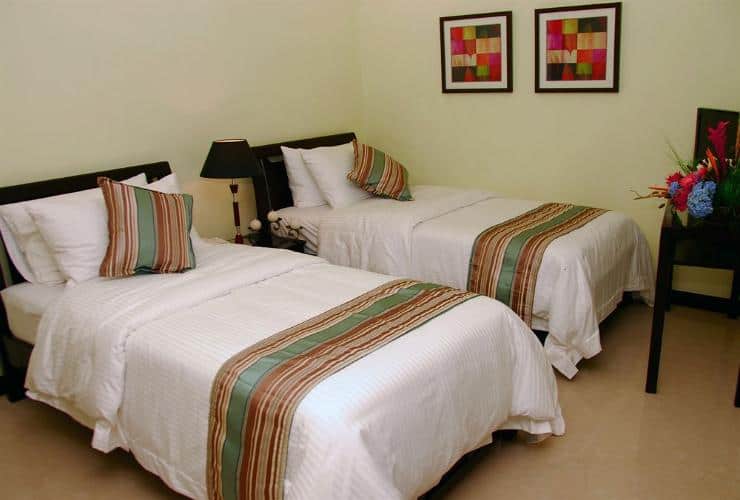 .
Mainstreet Pension House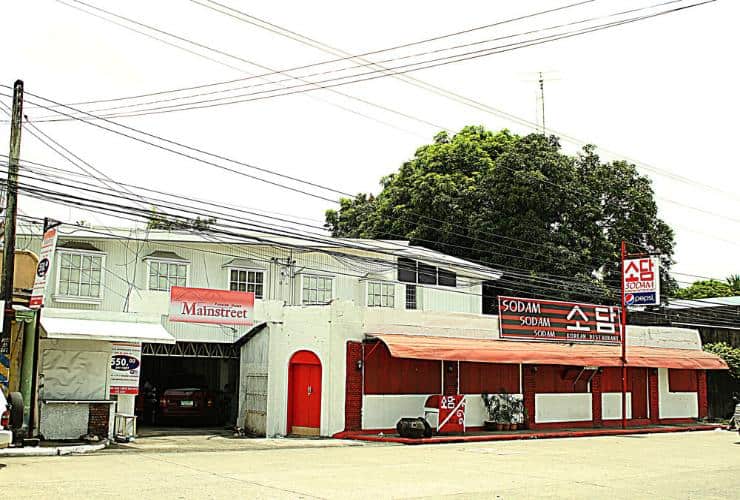 –
We have tried three hotels in Bacolod so far: Circle Inn, Avenue Suites, and Negrense Suites. More than the rooms, what we loved about the first two is their location. Circle Inn is just 5 blocks from the South Terminal, which is great if you plan on going to the beaches of Sipalay or Cauayan. Avenue Suites is just a short walk from Calea and 21 Restaurant, which are foodie must-tries in the city. Branches of Merzci and Bongbong's are also nearby so you don't have to go far for pasalubong shopping. I didn't like Negrense Suite so much.
Circle Inn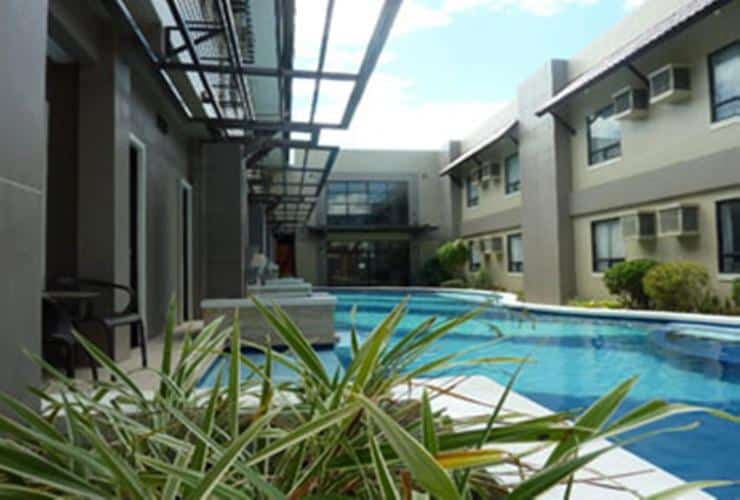 .
Avenue Suites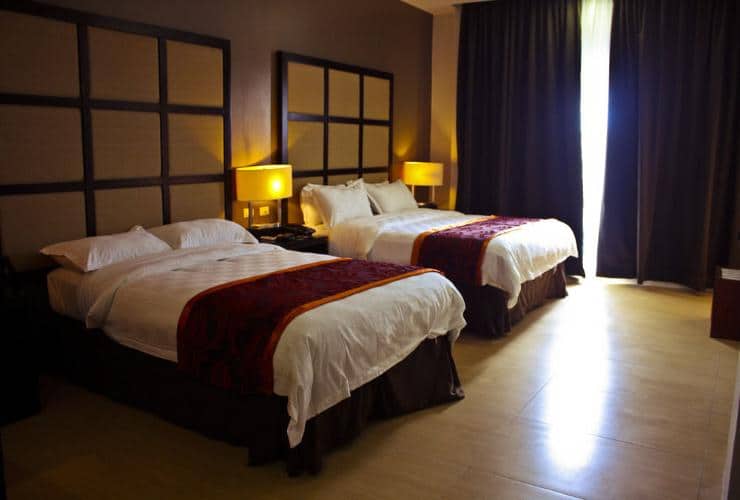 Photos above were provided by the resorts via Traveloka.
.
Things to Do in and around Bacolod
As a highly urbanized city, getting around is no problem in Bacolod. The most usual form of transportation for locals is the jeepney, although the routes can be confusing for first timers. On my first trip here back in 2011, this was my preferred mode because I was working on an extremely tight budget. I got lost multiple times, boarding the wrong jeep. Hahaha.
Fortunately, the Bacolodnons are some of the friendliest you will ever meet in your life, and they will not hesitate to help if you ask. Sometimes, you don't even need to ask.
If you don't like the jeepney, there's always the taxi. It's a great choice if you're a party of 2-4, so you can split the fare. On my most recent trip with friends, we took the cab most of the time. When we couldn't find any, we just used Grab Taxi.
Another way to do it is joining a tour or hiring a travel agency. Sadly, I don't have much info about it because I chose to pull a DIY.
Here are some of the things you can do in Bacolod and neighboring areas.
Fill your tummy with local favorites!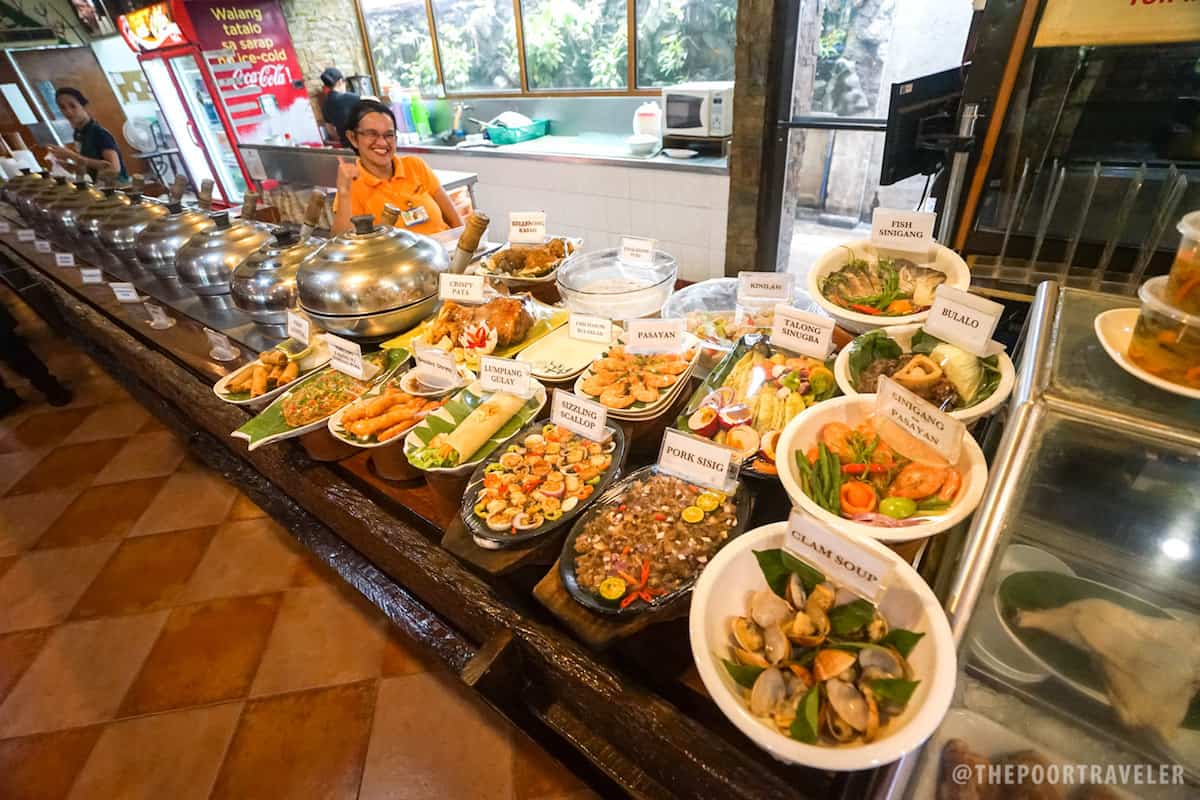 Bacolod is one of the best food destinations in the country, enriched by centuries of diverse culinary influences, from traditional Filipino to Spanish heirlooms. We have tried (and loved) the following:
Sharyn's Cansi House, a humble but multi-awarded hole-in-the-wall serving Bacolod's best bowls of cansi (P300). Cansi (or kansi) is a soupy dish traditionally composed of beef shanks, unripe jackfruit, and lemongrass. Also try their original Crispy Cansi (P450). The servings here are huge, good for 3-4 hungry pax.
Aboy's Restaurant, a turo-turo style restaurant famous for their seafood (grilled blue marlin, squid fats adobo) and steamed mushrooms. They also offer local favorites like pangat (similar to laing) and chicken inasal. Closed on Sundays.
21 Restaurant, a more dressy establishment boasting a diverse menu that includes savory Pinoy dishes with modern twists and western options. According to the waiters, their specialty is the batchoy (P110). Their squid teriyaki (P240) and fried isul (P160) are also curiously satisfying.
Manokan Country, a complex of a dozen stalls serving Bacolod's most sought-after gastronomic treat — chicken inasal. I was able to try two of these stalls: Nenas Beth and Aida's. Aida's is arguably the most popular. Most blogs and even travel shows on TV that featured Bacolod gave it a shoutout. But I actually liked Nenas Beth better. It wasn't really the taste; they taste identical, to be honest. It's more about how it was cooked. Also, just to manage your expectations, know that these are not air-conditioned. They don't provide utensils by default either because inasal is best enjoyed using bare hands. (You can ask for utensils, though.)
Calea, the city's most widely known dessert place. Order their bestsellers: white chocolate cheesecake with raspberry sauce and chocolate cake. The best thing about Calea is that they serve awesome-tasting cakes in generous servings at a low price. We ordered 4 slices of cakes and 3 cups of hot tea, and our bill was only at P560.
There are several others like 18th St. Pala-pala Seafood Grill, Diotay's, Chicken House, and Masskara Chicken. But we were only able to try the five above.
MassKara Festival
The MassKara Festival is an annual event that begins in early October and culminates in a series of celebrations on the fourth Sunday of the same month. The tradition is said to have started in the 1980s in the midst of crises: (1) when the city's sugar-powered economy hit an all-time low after the advent of substitutes, and (2) in the middle of mourning after a sea tragedy that killed many locals. To bring back the positive atmosphere and champion Bacolod's cheerful spirit, the festival was created, true to its moniker, City of Smiles.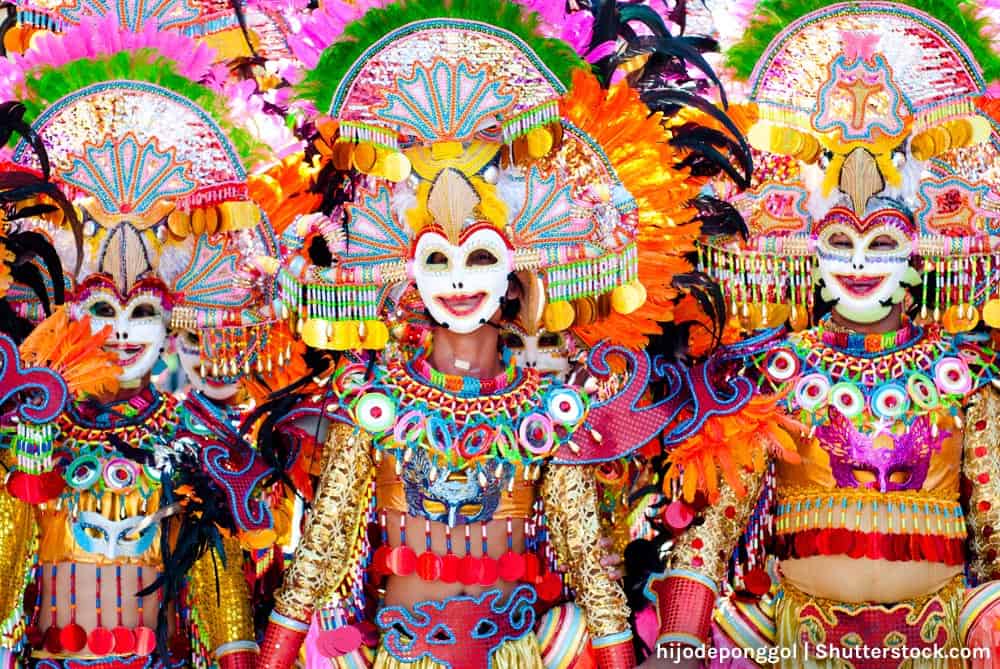 If you're visiting outside October, take home your own mask from Jojo Vito Designs Gallery. Owned by award-winning mask designer Jojo Vito, this is the largest collection of masks in the city. Made using local materials, his works have been exhibited and exported abroad, and he has been the official designer of the mask used by the Masskara Queen for years. You can have your own mask customized too (although you may need to let them know in advance). Aside from masks, you'll also find decors and other novelty items. Jojo is a travel blogger too!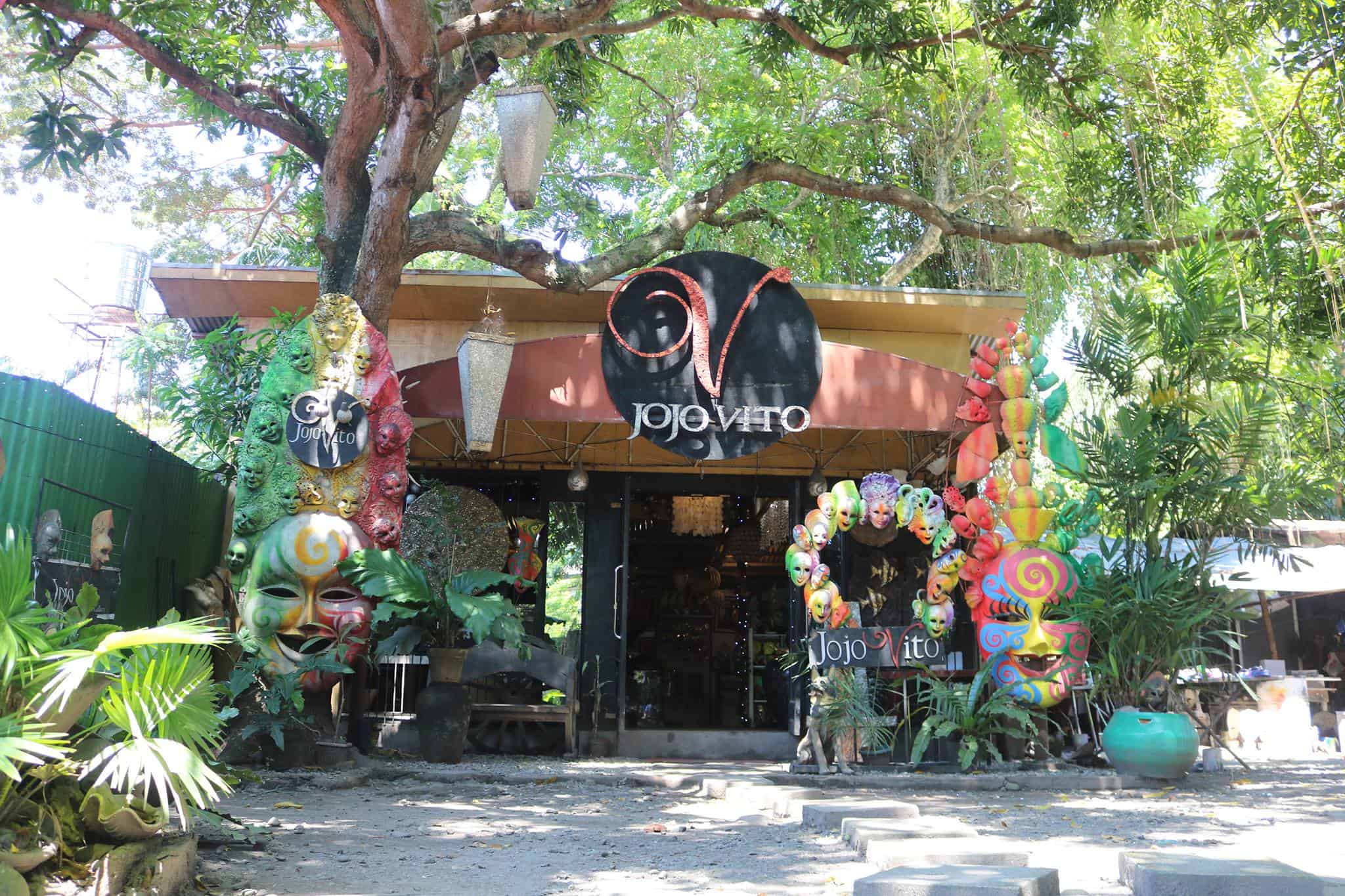 Jojo Vito Designs Gallery
Location: Metrodome Center, Bacolod City
Contact number: Telephone: (034) 435-1256
Email: vito.prints@yahoo.com, jojomalunesvito@yahoo.com
The Ruins in Talisay City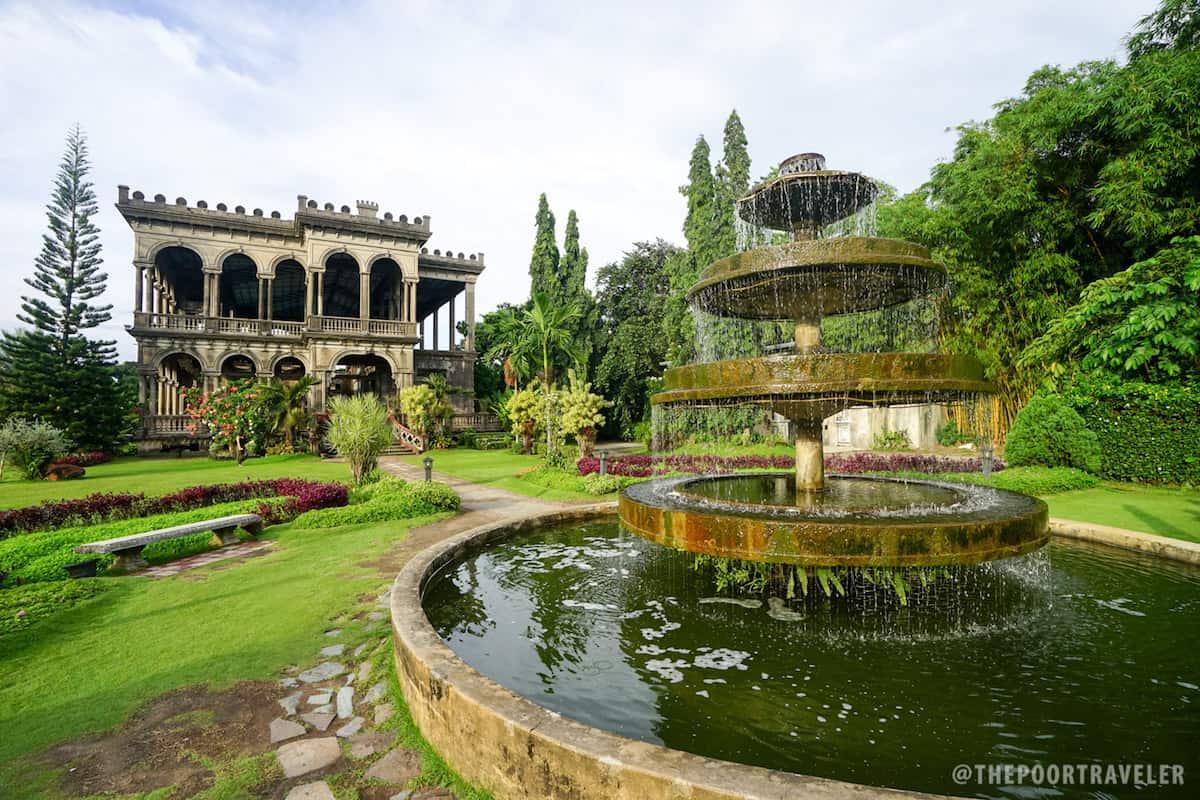 Constructed in the early 1900s, the Ruins was once a mansion that was said to be the biggest residential structure in the area at the time. Sugar baron Don Mariano Ledesma Lacson had it built in the middle of a sugar plantation for his Portuguese first wife. The architecture is Italianate and its columns neo-Romanesque.
At the height of World War II, the US Armed Forces in the Far East and Filipino guerrilla soldiers set the entire mansion on fire in order to prevent the Japanese from using it as their headquarters. What was left were the columns, the facade and the floor.
A lot has changed since our first visit in 2011. For starters, the entrance fee has taken a major leap: from P50 in 2011 to P100 today. The area has also been extended to make room for a parking space, baggage deposit counter, ticket booth, and food kiosks.
Opening Hours: 8am-8pm
Entrance Fee: P100
Parking Fee: P50
Mambukal Resort (Seven Falls)
Located 35 minutes away from Bacolod, Mambukal is a 23-hectare resort township managed directly by the Province of Negros Occidental. Its main feature is a stream that flows and creates seven waterfalls along the way. There are also boating lagoons and water holes. It's both for those who wish to relax and who seek adventure. Staying overnight is possible too.
Entrance Fee: Adults, P50; Kids, P20.
Silay City Walking Tour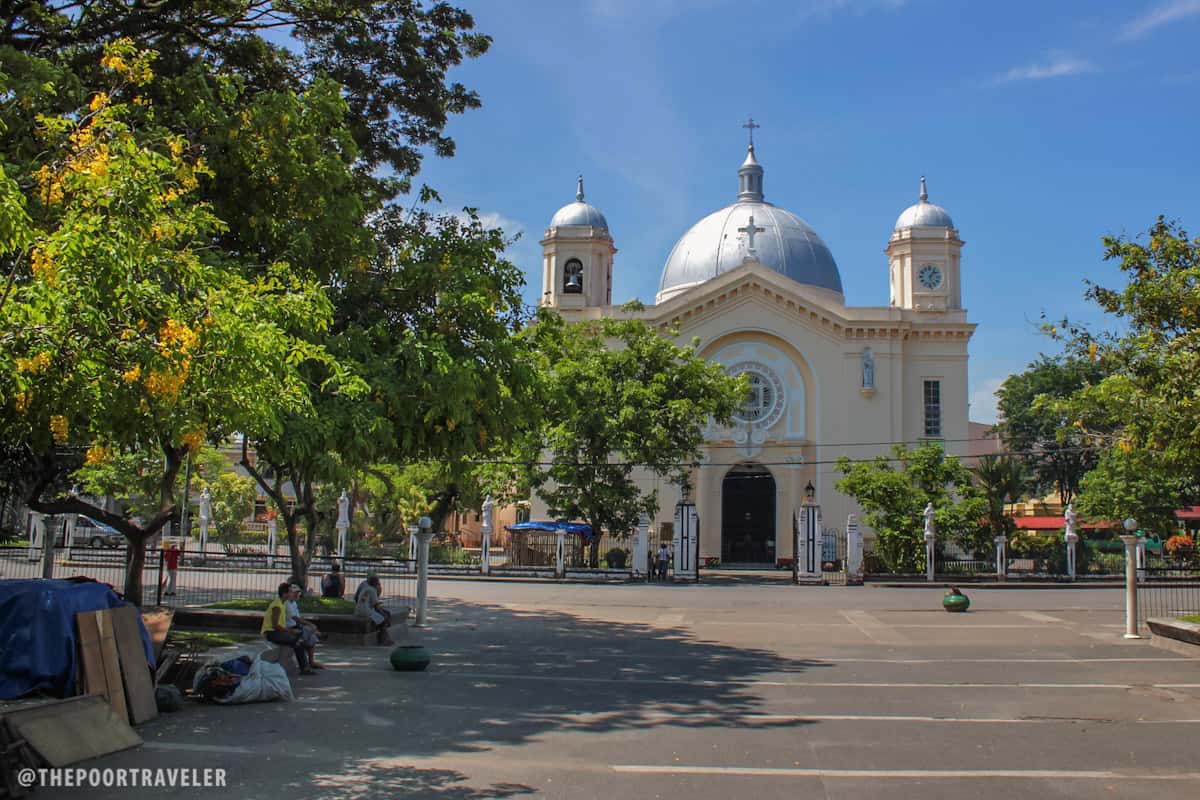 Also north of Bacolod lies Silay City. Its streets, sandwiched by elegant ancestral houses, make for a good sightseeing trail. Thirty one of these houses have been named as historical landmarks, making Silay the second "museum city" in the Philippines, after Vigan, Ilocos Sur. Here are some of the heritage sites you might want to squeeze into your itinerary.
Balay Negrense. Also called the "Victor F. Gaston House," Balay Negrense was built during the height of Silay as the region's cultural and economic center. Operating hours: Tuesday-Sunday, 9am-5pm.
Entrance Fee: P60 adults, P30 students.
El Ideal Bakery. It is the oldest bakeshop in the city, but still completely functional. El Ideal continues to offer delicious pastries and other local delicacies. Operating hours: Daily, 6:30am-6:30pm
Bernardino Jalandoni Museum. First owned by Don Bernardino and Dona Ysabel Jalandoni, the house was completed in 1908. Features a great mixture of native and foreign inspirations. Opening hours: Tuesday-Sunday, 9am-5pm. Entrance Fee: P60 adults, P30 students.
San Diego Pro-Cathedral. Built in 1925 and designed by Italian architect Lucio Bernasconi (Romanesque architecture).
Cinco de Noviembre Marker, where the Negros Revolution was planned. The event created a new government that was run by Negrense Natives. The revolution ended the control of the Spaniards of the island, albeit for a brief period of time.
Note that most ancestral houses and museums like Balay Negrense and Bernardino Jalandoni Museum are closed on Mondays. Don't make the same mistake we did the first time. LOL.
Bacolod City Tour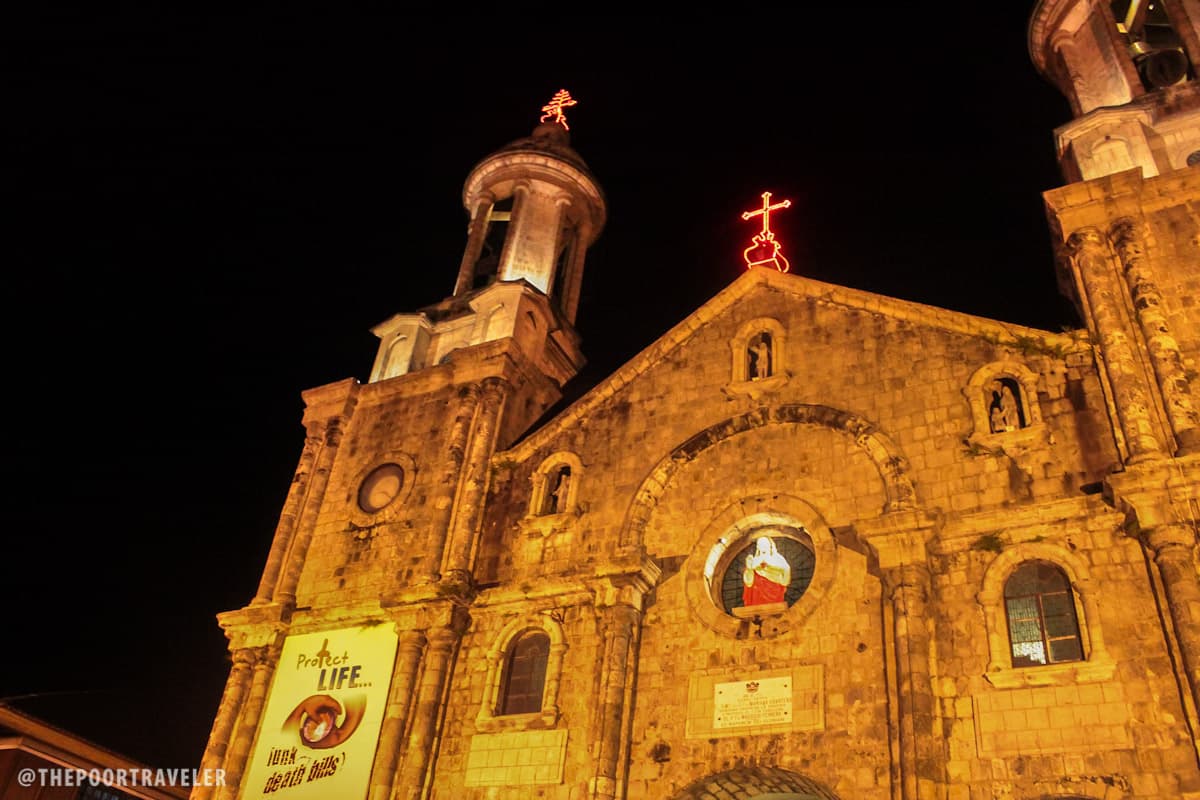 Don't expect visually arresting sites in Bacolod. Most of the attractions within the city are of historical and cultural significance for the locals, not much for tourists looking for IG-worthy backgrounds. See the following landmarks:
Bacolod Baywalk
Negros Museum
San Sebastian Church
Pope John Paul II Tower
Capitol Park and Lagoon
Some of these you can easily visit while walking around. For example, on the way to Manokan Country, we made it past San Sebastian Church.
Beyond Bacolod
Bacolod is your gateway to Negros Occidental, and the province has so much more wonders tucked neatly on its bottom edges. The north will acquaint you with its past and feed you speechless, but the south will stun you with its natural beauty.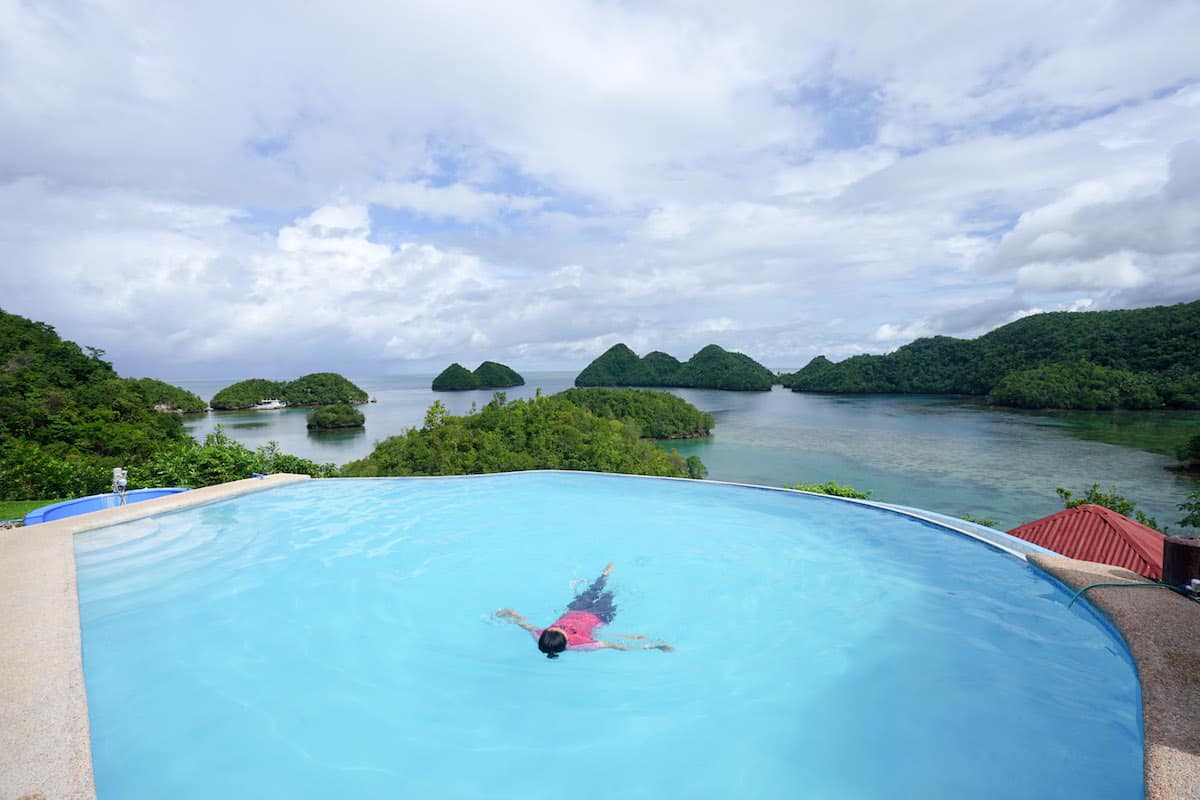 Just 4-6 hours from Bacolod are the municipality of Cauayan, bursting with marine life, and the city of Sipalay, laced with sugar beaches. Since you're already in Negros Occidental, you might as well set aside a couple of days for these. You will not regret it.
We'll be creating separate travel guides for Danjugan Island and Sipalay soon, so make sure you check back.
Sample Bacolod Itineraries
Here are two sample itineraries for Bacolod. The first covers only Bacolod and the neighboring cities of Silay and Talisay. The other will take you farther south to Sipalay. Both assume you're a group of two and will be staying in a double/twin room and split the costs.
Feel free to use this for your trip. Just make the necessary adjustments to match your flights, budget, and preferences.
Public transportation fares (jeepney, bus) are overestimated (rounded off).
Option A: Bacolod in 3 Days
Hotel: Stay 2 nights in Bacolod. Another option is to stay 1 night in Bacolod and another night in Silay. Ideal budget: P1500 per night (P750 per person)
Day 1: BACOLOD CITY TOUR
09:00 am – ETA Bacolod-Silay Airport
09:30 am – Take cab to city center – P130 (P260/2pax)
10:15 am – Early check-in or drop baggage
11:00 am – Brunch at Sharyn's Cansi House – P200
12:30 pm – Travel to Mambukal – around P50
01:30 pm – Mambukal Resort – P50
05:30 pm – Travel back to Bacolod – P50
07:00 pm – Dinner at Manokan Country – P200
09:00 pm – Calea – P150
10:30 pm – Back at hotel
Day 2: TALISAY & SILAY
09:00 am – San Sebastian Cathedral/Capitol Lagoon – FREE
11:30 am – Lunch at Aboy's – P300
01:00 pm – Jeepney to Silay – P50
01:45 pm – Tour Silay City – P120
04:30 pm – Transfer to The Ruins
05:00 pm – Explore The Ruins – P100
07:00 pm – Back to Bacolod
07:30 pm – Dinner at 21 Restaurant – P300
Day 3: DEPARTURE
07:00 am – Hotel check out
07:30 am – Taxi to airport – P130 (P260/2)
08:00 am – ETD Bacolod-Silay Airport – P200 Terminal Fee
This itinerary will set you back P3500-P4000 per person. Note that much of the budget is spent on food as you will be trying the most popular dining places in the city. If you're on a shoestring budget, you may opt to just have your meal at cheaper eateries for less than P100.
Option B: Bacolod + Sipalay
If you want to get out of the city and see more of the Negros countryside, this itinerary is for you.
Hotel arrangement: Stay 2 nights in Bacolod (Ideal budget: P1500/night) and 3 nights in Sipalay (Ideal budget: P1200/night).
Day 1: BACOLOD CITY TOUR
09:00 am – ETA Bacolod-Silay Airport
09:30 am – Take cab to city center – P130 (P260/2pax)
10:15 am – Early check-in or drop baggage
11:00 am – Brunch at Sharyn's Cansi House – P200
12:30 pm – Travel to Mambukal – around P50
01:30 pm – Mambukal Resort – P50
05:30 pm – Travel back to Bacolod – P50
07:00 pm – Dinner at Manokan Country – P200
09:00 pm – Calea – P150
10:30 pm – Back at hotel
Day 2: TALISAY & SILAY
09:00 am – San Sebastian Cathedral/Capitol Lagoon – FREE
11:30 am – Lunch at Aboy's – P300
01:00 pm – Jeepney to Silay – P50
01:45 pm – Tour Silay City – P120
04:30 pm – Transfer to The Ruins
05:00 pm – Explore The Ruins – P100
07:00 pm – Back to Bacolod
07:30 pm – Dinner at 21 Restaurant – P300
Day 3: TRANSIT TO SIPALAY
05:00 am – Hotel check out
05:30 am – Taxi to South Terminal
06:00 am – Bus to Sipalay – P209
11:00 am – Arrival in Sipalay
11:30 am – Hotel check in
12:00 pm – Lunch – P100
02:00 pm – Rest
06:00 pm – Sunset at Poblacion Beach
06:30 pm – Dinner at Sipalay Food Park – P150
08:00 pm – Back at hotel
Day 4: SIPALAY TOUR
08:00 am – Start Sipalay Beach-hopping – P750 (1500/2pax)
09:00 am – Sugar Beach – Boat: P250
11:00 am – Early lunch – P200
12:30 pm – Punta Ballo
02:00 pm – Perth Paradise Beach – P80 Entrance + P100 Pool Use
04:30 pm – Tinagong Dagat – P30
06:30 pm – Dinner at Sipalay Food Park – P150
Day 5: DEPARTURE
07:00 am – Hotel check out
08:00 am – Bus to Bacolod – P209
01:00 pm – Lunch – P150
02:00 pm – Taxi to airport – P130 (P260/2)
02:40 pm – Bacolod-Silay Airport – P200 Terminal Fee
For this itinerary, prepare to shell out P8000-P8500 per person. There are many other ways of bringing down the cost of the Sipalay leg, but we'll discuss that in a separate Sipalay Travel Guide post (which we will be publishing very soon).
Other Tips for the Poor Traveler
It's easy to overindulge your tastebuds in Bacolod, thereby burning a lot of cash on food. You can try Bacolod's most highly praised restaurants without overspending and overeating by planning your meals well. Ask the wait staff what their specialties are and order just that. For example, if on the same night you'll be dining at 21 Restaurant and Calea, have your main course in 21 Restaurant and skip the dessert. Get your sugar fix at Calea instead. This way, you get to try the bestsellers of both restos.
For pasalubong, drop by El Ideal Bakery for their guapple pie and Virgie's or Roli's for their napoleones. If you don't have much time, you can always enter any of the countless Merczi or BongBong's stores around the city.
Set aside P200 for terminal fee for your exit flight. Yep. I know.
Updated: 2️⃣0️⃣1️⃣9️⃣ • 3️⃣ • 2️⃣7️⃣