If you're traveling to MOROCCO, here's our DIY MARRAKECH TRAVEL GUIDE BLOG! This features important tips on riads and hotels, tours, and transportation. We also provided a sample DIY MARRAKECH ITINERARY to give you an idea on what you can do per day. Feel free to follow or use it as reference. Enjoy!
It wasn't love at first sight, that's for sure.
If my affair with Marrakech were a movie, it would be a romantic comedy. Like most films in the category, it would begin with me and Marrakech getting off on the wrong foot. I arrived in the city's medina just before midnight, and i couldn't find the place where I would be staying. Completely aware of all sorts of scams that have grown rampant in the city, I ignored anyone who approached and offered to help. But this medina is a maze. It's too intricate, too complicated, too insane. It's as though maps don't work here, as though this place is a giant ball of confusion. Even after asking several vendors for directions, I still could not find it.
Despite my refusal, a local insisted on walking me to my destination. I had a bad feeling about it but coming from a full day of traveling — I came from Istanbul, had a stopover in Amsterdam, landed in Casablanca and then took the train to Marrakech — I gave in. And I was right. He demanded that I pay him a not-so-small amount. Barely an hour in Marrakech and I was already scammed.
But like in most love stories, I found myself slowly falling in love with the city. And in the end, I could not get myself to leave.
WHAT'S COVERED IN THIS GUIDE?
Understanding Marrakech
Marrakech (or Marrakesh) isn't Morocco's capital or largest city, but it is the most popular among tourists. In 2017 alone, it welcomed over 2.5 million visitors. Its charm is a product of a number of factors. Its rust-colored medina, which earns the nickname "The Red City," is a UNESCO World Heritage Site. It is also at the very heart of the country, situated north of the southern foothills of the Atlas Mountains and not relatively close to the edge of the Sahara Desert. Its central location makes it an ideal jumpoff point for other destinations like Medina, Casablanca, and Essaouira.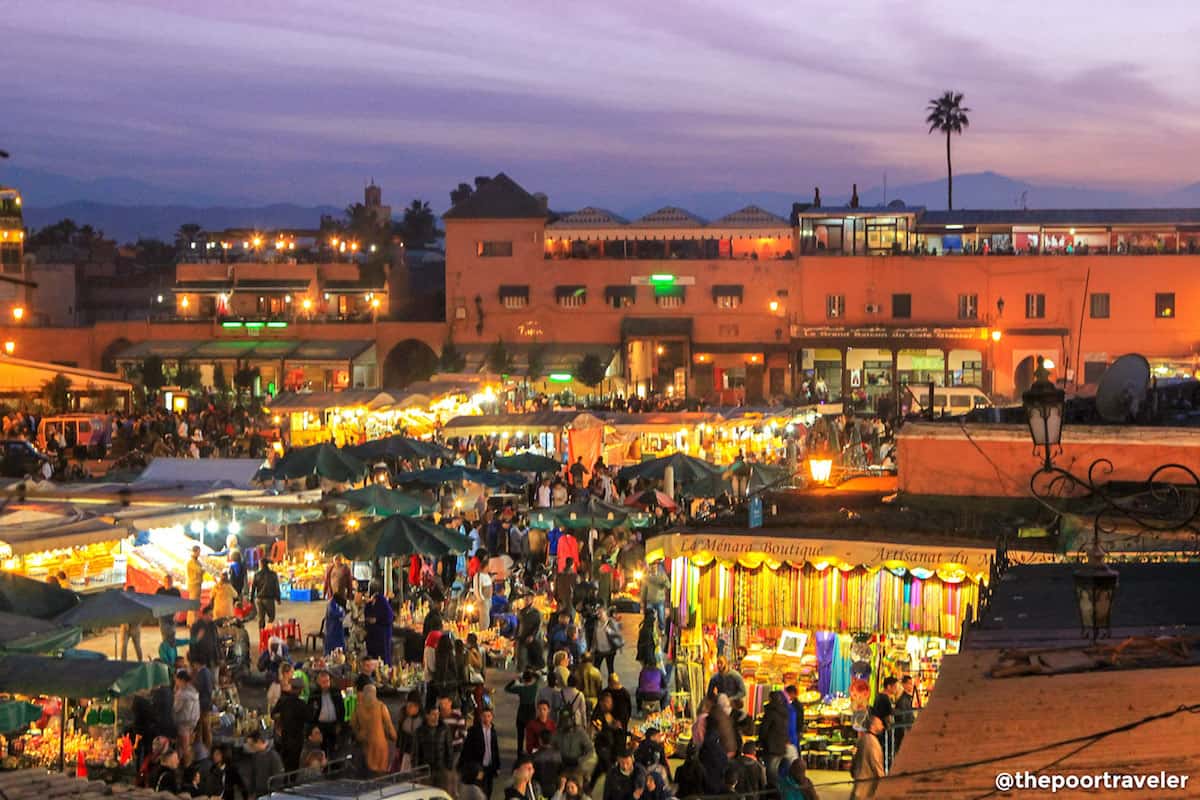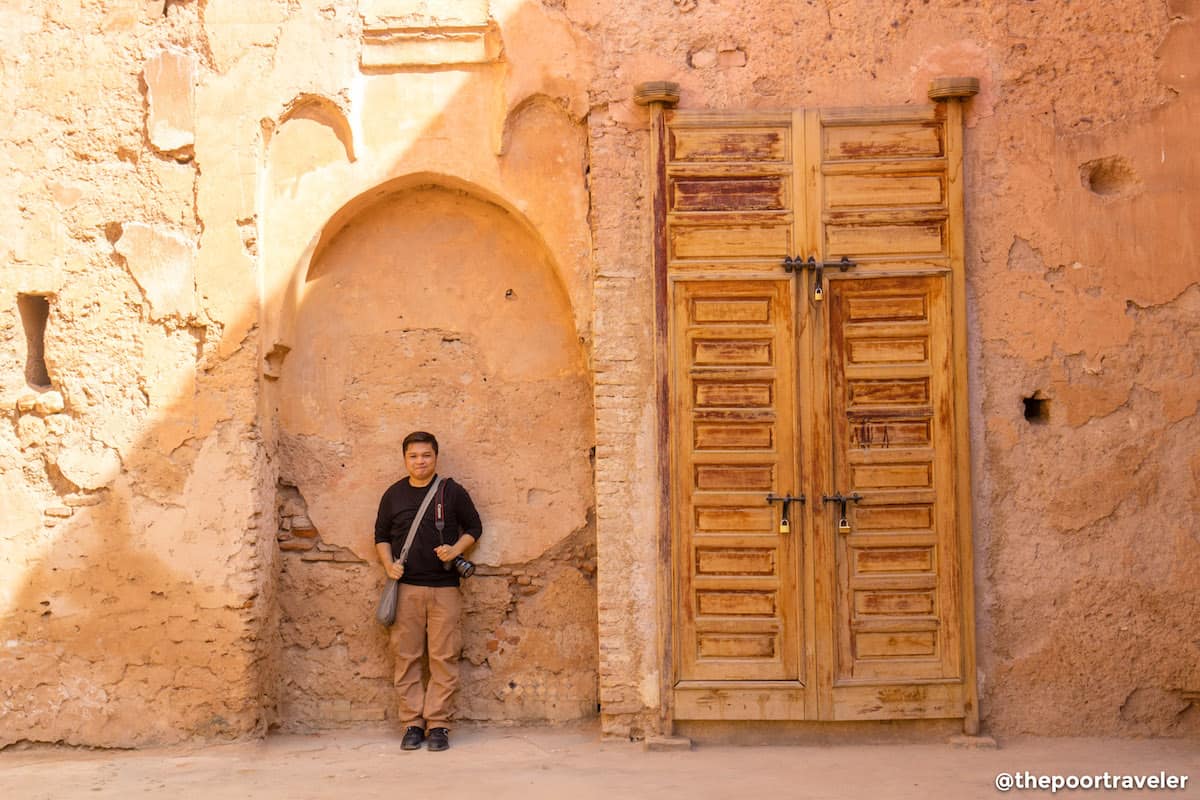 Other info you need to know:
Language: Arabic is the official language of Morocco. In Marrakech, the Arabic that is widely spoken is the Moroccan Arabic dialect "Darija," which is heavily influenced by the French language. French is also widely spoken. Most signs are written in Arabic and French. But don't worry. Most of the people you'll encounter — hotel staff, vendors, waiters — probably understand and speak English too.
Currency: Moroccan Dirham (MAD, Dh). It is a "closed currency," which means it can only be traded within the country. MAD 10 is around USD1.06, EUR0.9, PHP56.2 (as of June 2018).
Modes of payment: Most establishments prefer cash payment. But mid-range to high-end hotels and restaurants accept credit card transactions.
ATM: Many ATMs accept foreign cards as long as they have Visa, Mastercard, or Cirrus logos. I noticed that most machines are in French by default. Some have English translations.
Electricity Info: Standard voltage, 220V; Standard frequency, 50Hz. Type C and E sockets.

Best Time to Visit Marrakech
December to May. Marrakech is bursting with tourists all year round, but December to May is high season for a reason. It is the period with the most ideal weather for sightseeing. Even when the sun is shining brightly, the cool air makes exploring comfortable. In particular, December-February temperatures can drop to chilly levels especially at night. However, crowds thicken around Christmas and the days leading to Marrakech Grand Prix.
June to August is when Marrakech sizzles. Summer can get so hot, almost unbearable in mid-day. The locals we talked to dread the summer as much as the Starks do winter. Yet, it remains pretty packed. If you can't help visiting within this period, just avoid being in the sun between noon and 3pm and keep yourself hydrated.
September to November is when temperatures and hotel rates fall, ideal for budget travelers!
Visa-Free Morocco
Nationals of over 70 countries and territories can enter Morocco without a visa. Most — like the Philippines, Malaysia, Indonesia, Canada, Australia, the United Kingdom, the United States, and all the member states of the European Union — can stay for up to 90 days. Singapore passport-holders can stay for up to 30 days.
Here's a quick snapshot of the Wikipedia list.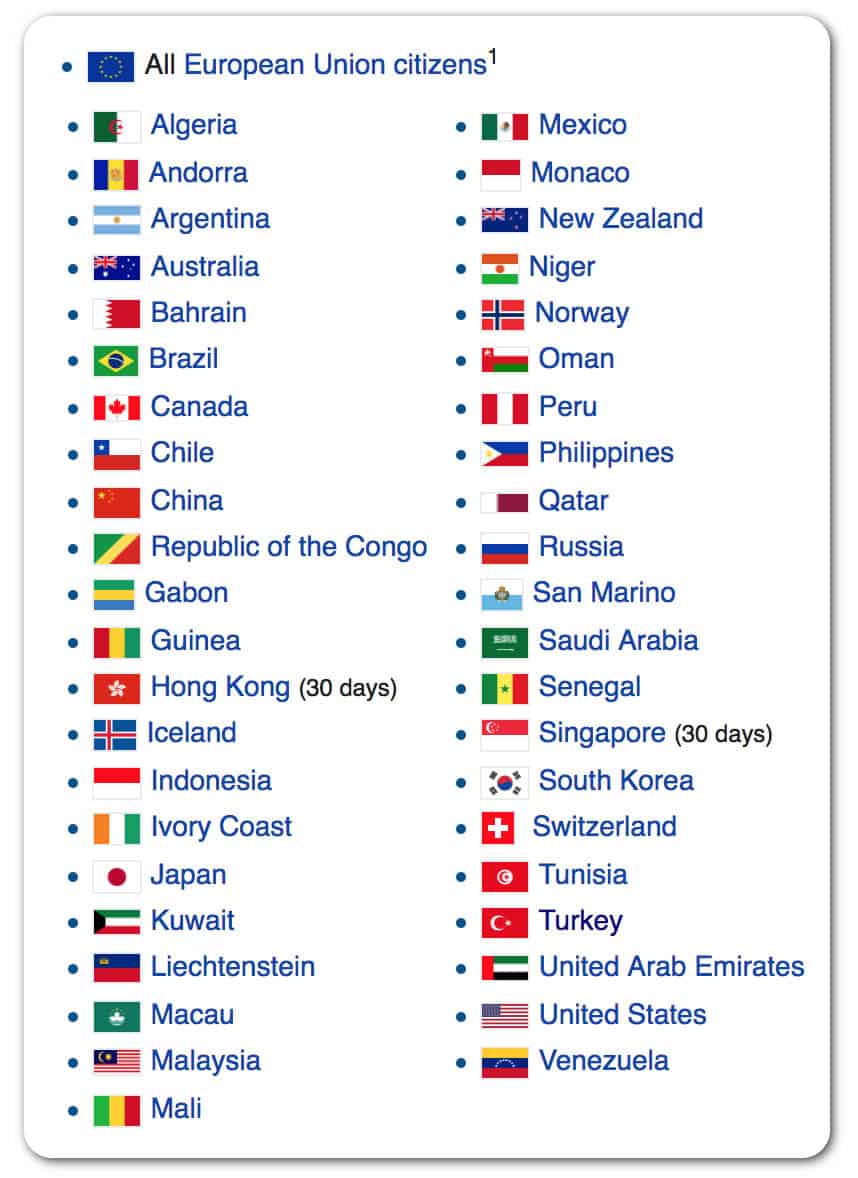 This generous visa policy makes Morocco an ideal holiday destination.
How to Get to Marrakech
Marrakech has its own airport, the Marrakech Menara Airport, located around 15-25 minutes from the Medina. It connects the city mostly to Casablanca, Doha, and European cities including Amsterdam, Vienna, Madrid, London, Paris, Geneva, Frankfurt, Brussels, Copenhagen, and Barcelona.
However, fares are generally higher for direct flights to Marrakech than to the bigger Casablanca Airport. Hence, many backpackers choose to fly to Casablanca instead and just travel by train to Marrakech.
Manila to Morocco
If you're coming from Manila, our random search revealed that Gulf Air (with stop in Bahrain) and Etihad (with stop in Abu Dhabi) offer the lowest fares! The cheapest I found are Wednesday flights to Casablanca via Etihad, which amounted to only USD696 (PHP37,000) roundtrip and including taxes and fees. One way is only at USD349 (PHP18,500).
Marrakech Airport to Medina
If you opt to fly directly to Marrakech, check whether or not the hotel you booked offers airport pickup service. This is especially helpful if your hotel or riad is within the Medina, which as I said earlier, is a giant red maze. If it's your first time here and your riad is deep into the medina, you will get lost. If they offer airport transfer, then good, that's one less thing to worry about.
Otherwise, take public transportation. You have two options: taxi or bus.
By Bus. The cheaper, more convenient way to reach the city center. Take Bus #19. There's one every 30 minutes from 6:15am to 9:45pm. It makes a stop at Koutoubia Mosque, close to Jemaa el Fna in the Medina. Fare: 30Dh one-way or 50Dh roundtrip. Just pay and get your ticket from the driver.
By Taxi. The faster option. As soon as you emerge from the terminal, you'll be greeted by overzealous drivers trying to get your attention. Fare: Petit Taxi (up to 3 pax), 70Dh; Grand Taxi (up to 6pax), 100Dh. You can share with other tourists to split the cost. Unfortunately, many of the drivers are going to persistently ask for additional fee, which is why the bus, although slower, is more hassle-free.
By the way, make sure you have some cash before leaving the airport. There are currency exchange booths and four ATMs inside the terminal.
Casablanca Airport to Marrakech Medina
If you choose to fly to Casablanca instead, here's how to reach Marrakech from the airport. Note that the airport is commonly referred to in French as Aeroport Med V.
Go to the Airport Train Station at the basement of the airport terminal building.
Purchase 2 tickets separately: one from airport to Casa-Voyageurs Station, and the other from Casa Voyageurs to Marrakech. All trains to Marrakech from the airport entail switching at Casa Voyageurs Station, but if you book airport-Marrakech tickets at once, your train options will be limited. Booking them separately will give you flexibility and ensure you have enough transfer time between rides.
Board the train to Casa Voyageurs Station. Travel time: 32 minutes. Fare: 60Dh, first class; 40Dh, second class.
At Casa Voyageurs Station, transfer to your train bound for Marrakech. Know that sometimes, the schedule and platform assignment change at the last minute so make sure you double check the platform's overhead displays before boarding your onward train. Travel time: 3.5 hours. Fare: 148Dh, first class; 95Dh, second-class.
Alight at Marrakech Station.
Take a cab. If your hotel is within the Medina, you can ask to be dropped off at Jemaa el Fna. Fare is only 20Dh. It's very close! Some drivers will try to offer to take you for a higher fare, but insist on 20Dh. That's what I did.
Train Travel in Morocco
Some notes about traveling by train in Morocco.
First class vs second class. Trains in Morocco are divided into passenger compartments with two rows facing each other. (Think Hogwarts Express!) First-class compartments are more comfy and can accommodate up to 6 pax. Each first-class passenger has an assigned seat number that you can reserve. Second-class compartments can accommodate up to 8 pax, and seats are on first-come first-served basis.
Find an vacant seat. In second-class train cars, there might still be vacant seats even when people are standing in the space between cars. For our Casablanca-Marrakech, we had a second-class ticket. Because the space near the door was so full of passengers, we assumed the compartments were full. One of the locals noticed that we were tourists and asked what our destination was. When we said Marrakech, they said we should go in and find a seat. And to our surprise, there were lots of free seats! Apparently, they were standing there only because they were getting off after only a few stops.
Most signs and labels are in Arabic or French. Often, they have NO ENGLISH translations. Yep, even ticket machines. I'm just lucky because I had French classes back in college so I can understand basic travel words in French. Hence, download the Google Translate app before your trip and save offline French translations.
Where to Stay in Marrakech
There are three major areas where you can stay: Medina, Ville Nouvelle, and the outskirts of the city. The outskirts are where big, modern hotels stand. Ville Nouvelle, aka Gueliz, has mid-range hotels. The medina is a labyrinth of souks, restaurants, and so-called "riad."
A riad is a traditional Moroccan house with a courtyard or garden in the middle. The medina has lots of these riads, repurposed as small boutique hotels. I strongly recommend staying in one not just because of the experience but also because the medina is where most historic attractions are located.
We stayed at Riad Les 2 Portes. It wasn't our first choice, but our trip was not really planned so we booked at the last minute. There weren't that many riad rooms available. But we were delightfully surprised! Like most riads in the medina, it was a little difficult to find, but our stay was excellent overall. The room was clean, and the staff was absolutely friendly and helpful.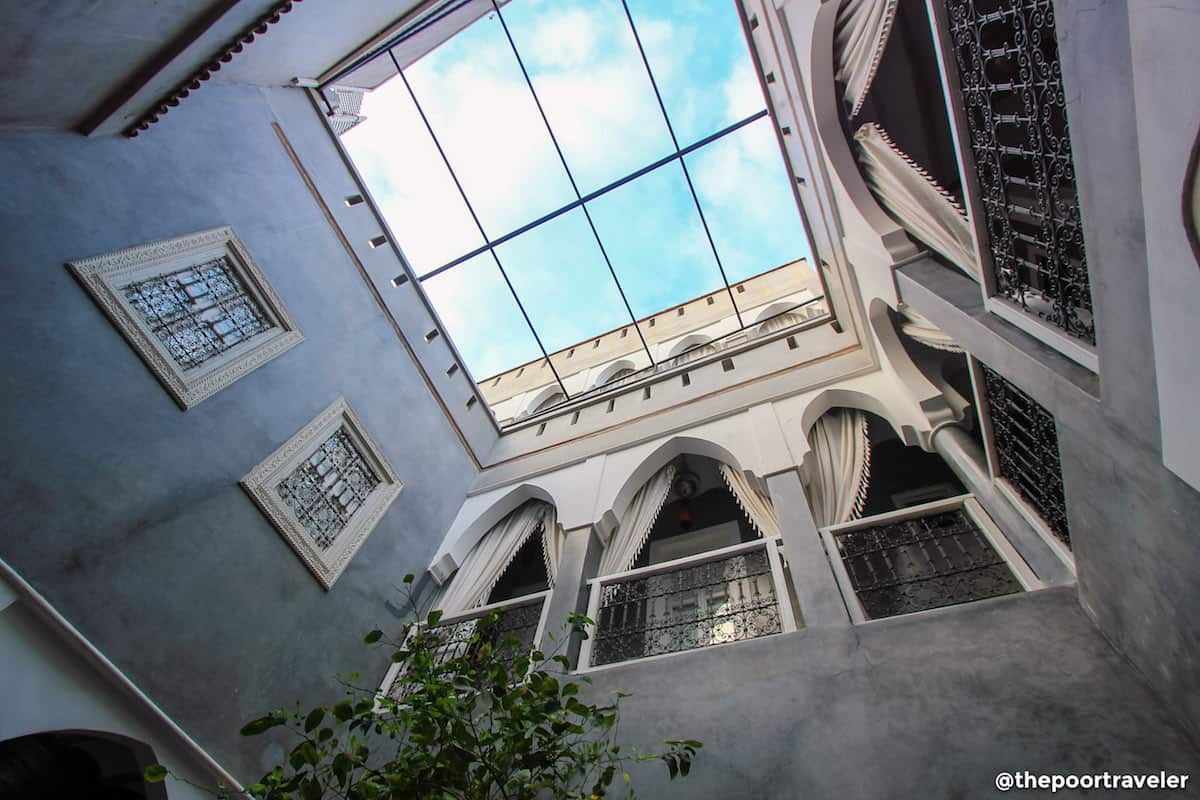 Here are the top-rated riad options as ranked by Agoda reviews.
.
Where to Eat in Marrakech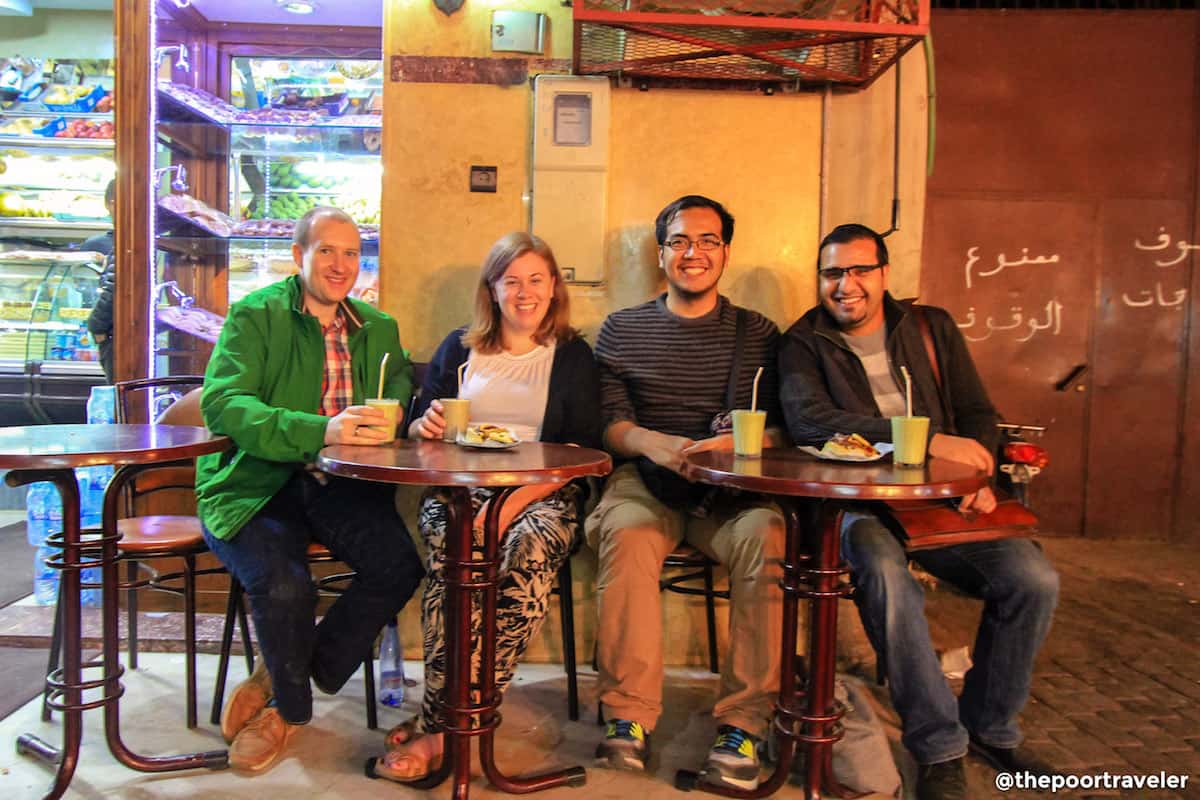 I wasn't too pleased in the beginning. Cumin and cinnamon are the only two spices that I detest, and both are staple in Moroccan cuisine. The restaurants surrounding Jemaa el-Fnaa are also average at best, and some are known to take advantage of tourists.
Marrakech is also notorious for restaurant scams. There have been reports of some restaurants charging tourists twice more than what's on the menu or providing "complimentary appetizers" that would turn out on the bill later. So yeah, I wasn't too excited.
But it quickly changed as soon as we joined a food tour. It was the best decision we made on this trip.
Marrakech Food Tour
Marrakech Food Tours organizes an evening street food tour around the medina. It's a four-hour walk, hopping from one food place to another. I didn't catch the name of the restaurants, but below are the dishes that we totally loved: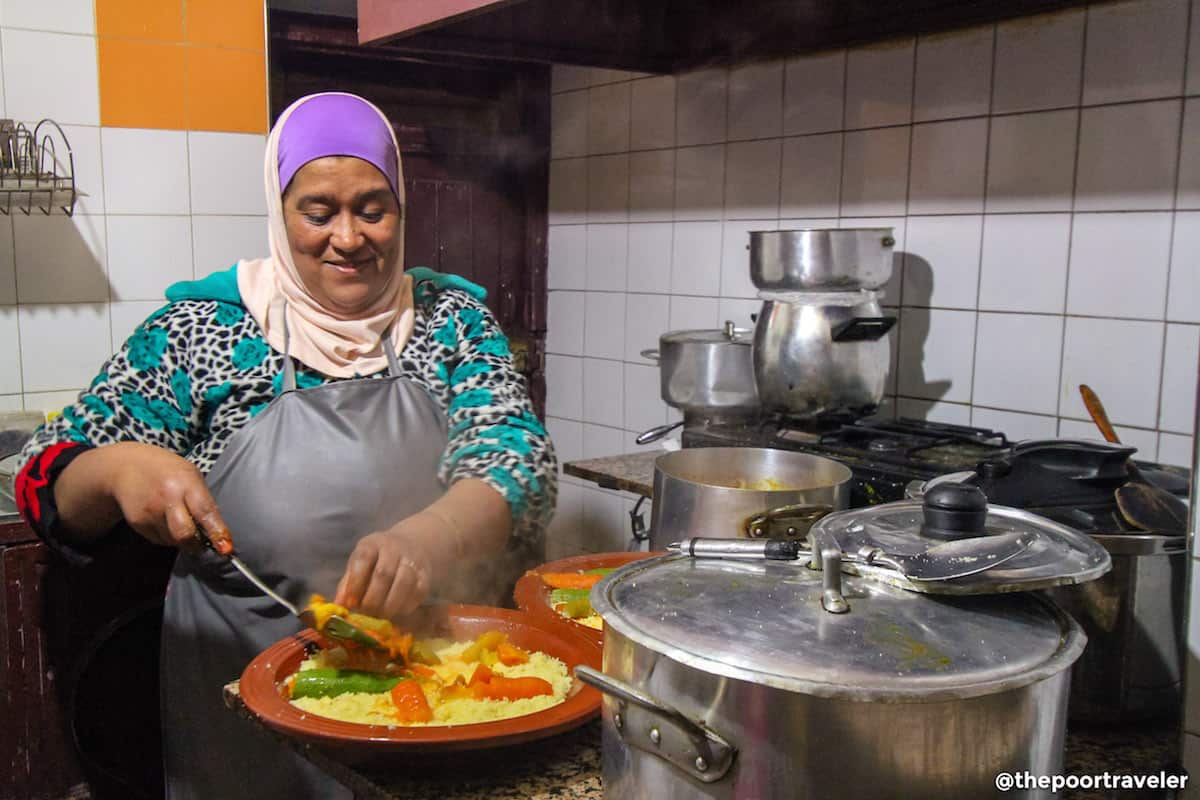 Tangia. The term refers to the urn-shaped clay pot and the stew that is cooked in it. While the rest of the country is known for tajine, Marrakech in particular takes pride in their tangia, a lamb stew that is oven-cooked for hours. This is the best-tasting lamb that graced my palate in this part of the world. At the same restaurant, we were served sheep's head, and our group had a Fear Factor moment especially when it was turn to taste the eyes. (You can totally skip this if you're not that adventurous.)
Hout Quari. The idea of a sardine sandwich isn't really that appetizing, but this was surprisingly delectable. We had ours from a humble stall deep into the medina.
Couscous Tfaya. The best couscous I had in my life. We were led to a house of a woman, who is known as the mother of couscous in the area. Although couscous is a common item at Moroccan restaurants today, traditionally couscous is prepared by the women in the family on Fridays. Using traditional methods, the prep takes an entire day. No meat, just vegetables and tfaya or caramelized onions.
We had several other stops including an olive stall, a dessert house, and a traditional donut kiosk, but the three above were the real highlights of the evening.
Do this tour on your first evening in Marrakech so that if you like a place, you can easily return to it. You can also ask your guide — usually either Youssef or Amanda — about their other safe and excellent recommendations. They really turned around our dining experience in Marrakech. We paid for our tour in full and this is NOT sponsored, so no biases here.
You can book your tour here: Marrakech Food Tour
Cafe Clock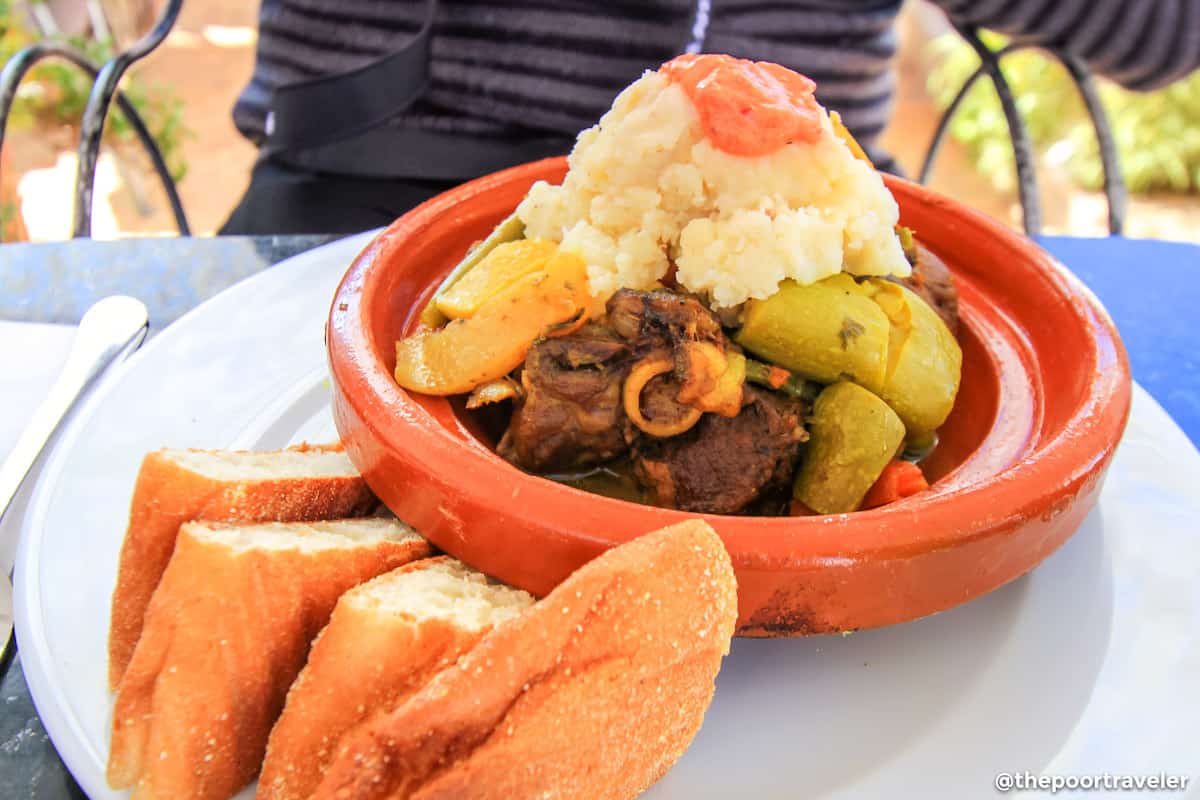 Cafe Clock is a popular dining spot in the Marrakech Kasbah serving modern Moroccan dishes. Because it's close to the Saadian Tombs and the Badi Palace, you can eat here in between sightseeing. They're well-known for their camel burgers, but because we're not adventurous eaters (haha), we opted with safer choices: toasted chicken bouhaloo (90Dh) and lamb tagine (85dh).
Things to Do in Marrakech
As the historic core, the medina harbors most of the best places to visit in the city. If you're staying in a riad in the medina, these attractions are all within walking distance.
Jemaa el-Fnaa
Jemaa el-Fnaa is the main square and the heart of Marrakech. It's lined with kiosks selling fresh orange juice and surrounded by a labyrinth of souks, restaurants, and other establishments.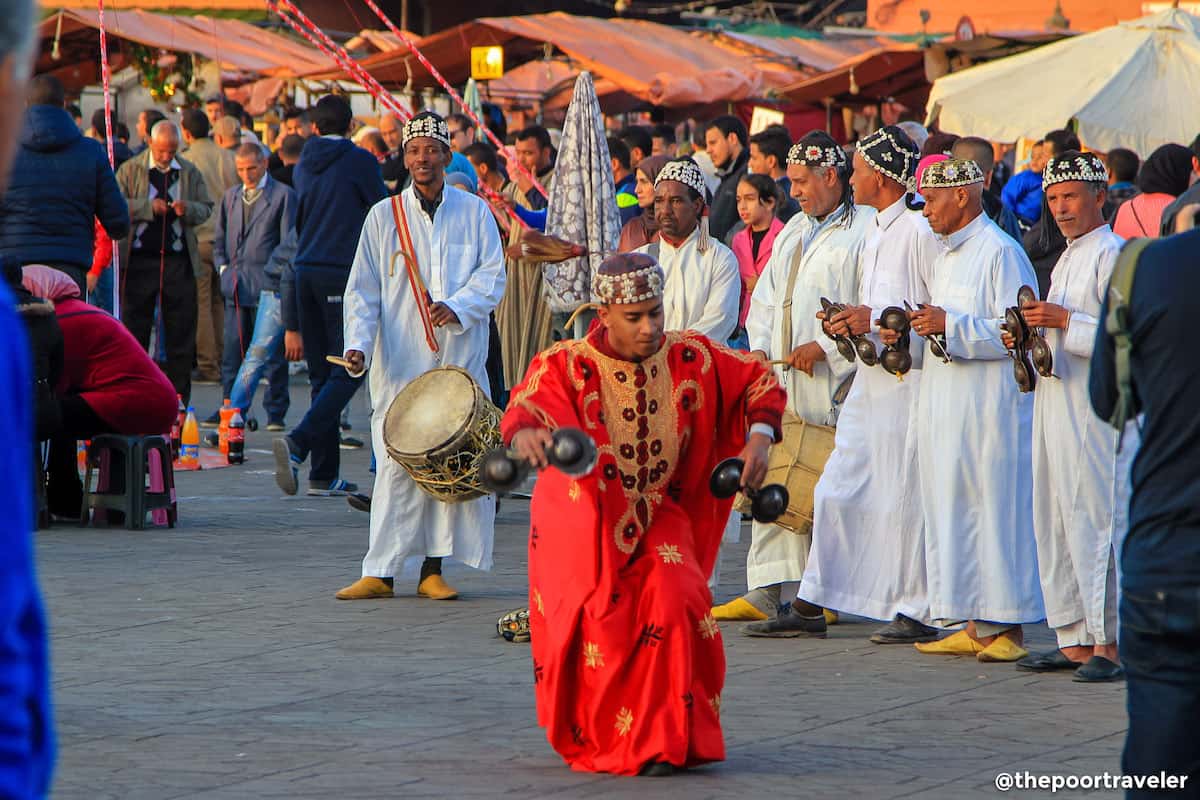 Under the sun, this busy, chaotic plaza pulsates with all things vibrant and curious like locals in traditional dress, tattoo artists, dancers, and even snake charmers. (I almost stepped on a snake!) At night, it gets even more energetic as food stalls and foodies fill the space.
Koutoubia Mosque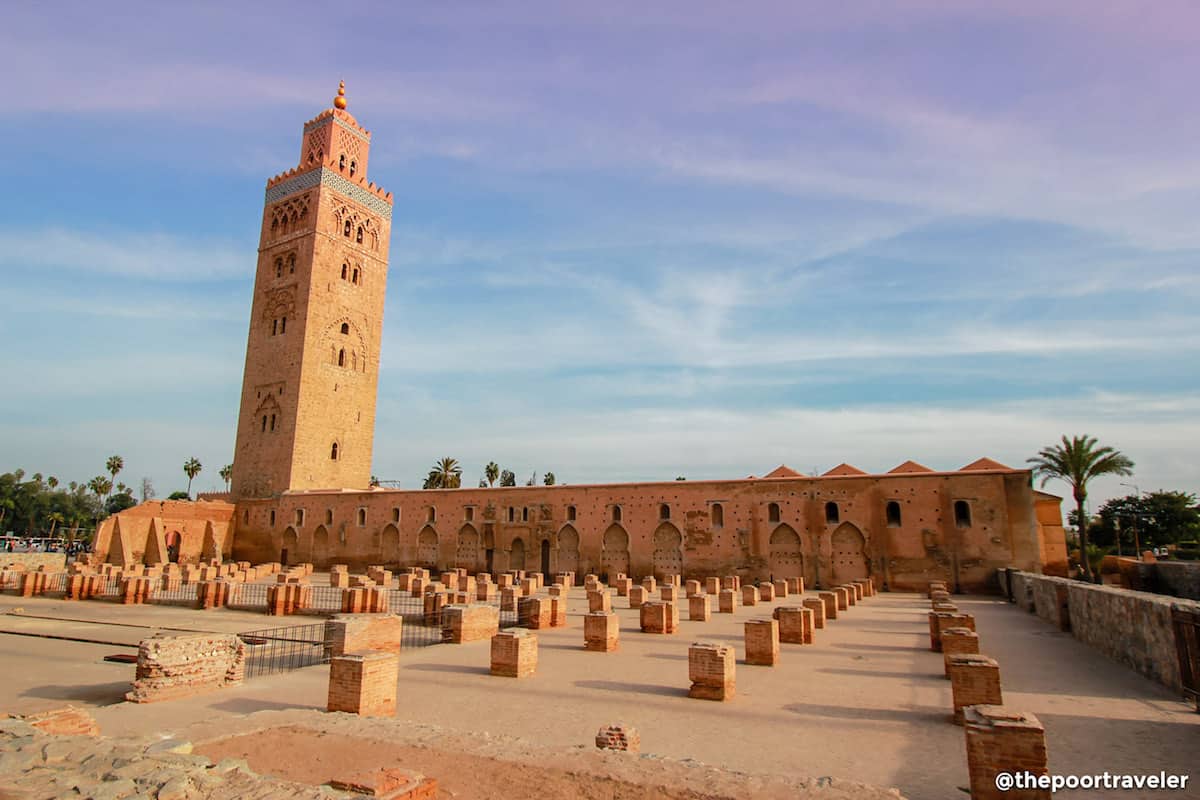 The Koutoubia Mosque is the spiritual center of Marrakech. Its minaret is the most eye-catching and most imposing structure in the medina. You can clearly see it from Jemaa el Fnaa. It is closed to non-muslims, so we just admired this beautiful red stone structure from the outside.
Saadian Tombs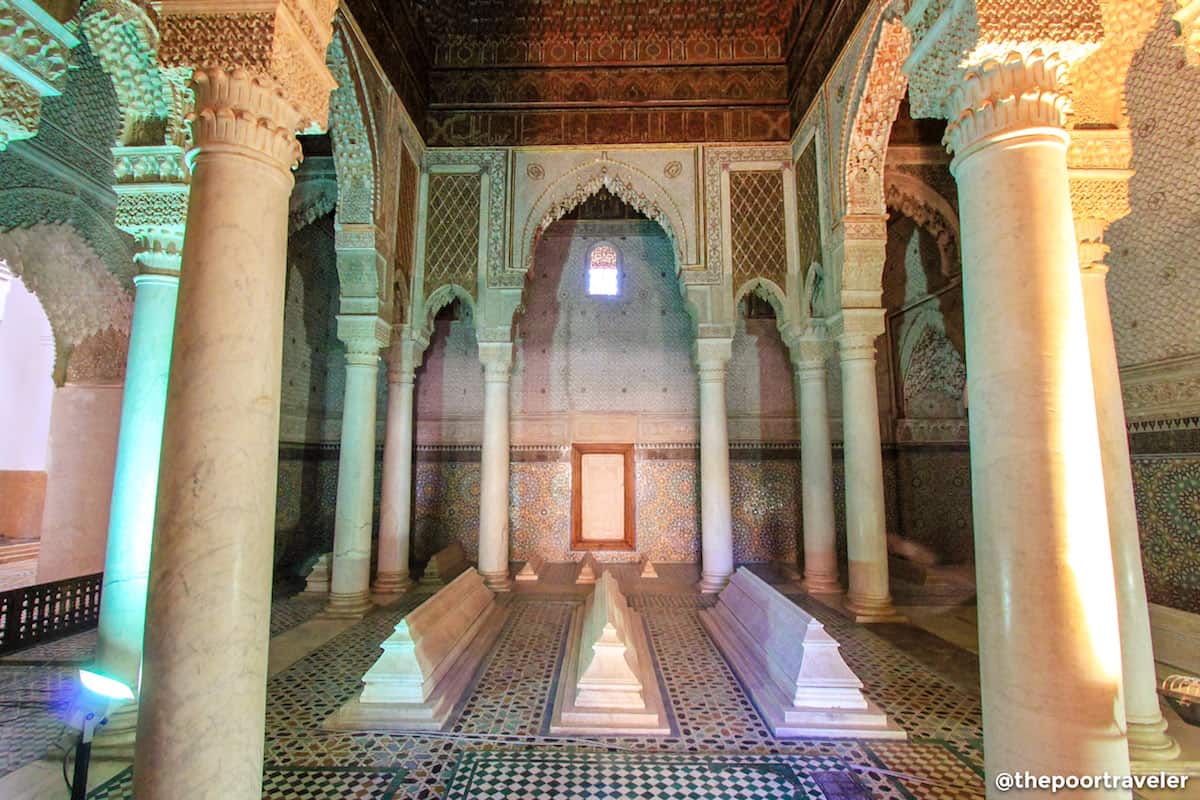 These sepluchres date back to the late 1500s, during the rule of Sultan Ahmad al-Mansur of Saadian dynasty. However, it wasn't until 1917 when it was rediscovered. The site is the resting place of the sultan and his family, soldiers, and servants.
Open: 9am – 4:45pm
Entrance Fee: 10Dh, adult; 3Dh, child.
Ben Youssef Madrasa
This Islamic college is the largest Quranic learning center in Morocco and Northern Aftrica. The madrasa was named after 12th century Almoravid sultan Alu ibn Yusuf, but it was founded by 14th century Marinid sultan Abu al-Hassan.
Open: 9am-6pm, winter; 9am-7pm, rest of the year.
Entrance Fee: 20Dh
El Badi Palace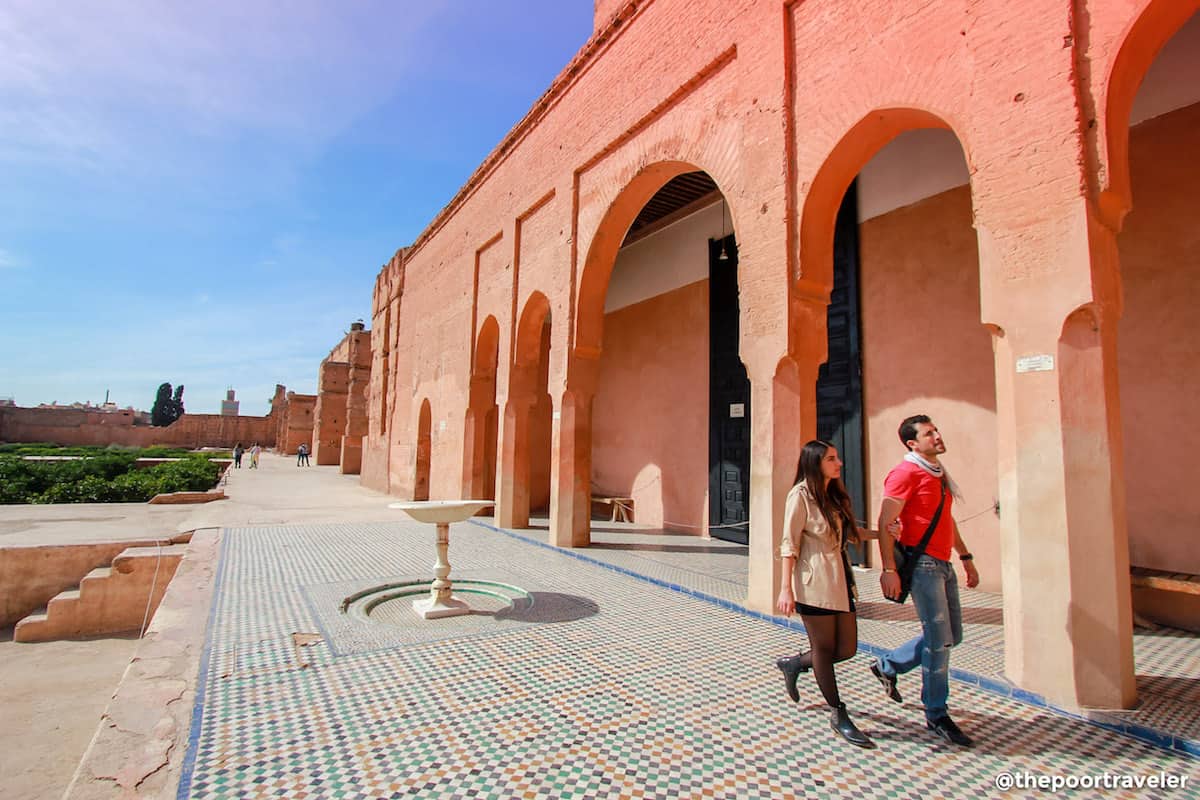 El Badi Palace was built by Saadian sultan Ahmad al-Mansur shortly after accession in 1578. It was a grand display not just of Moroccan craftsmanship but also of wealth. Some parts were made of gold. Today, only the ruins remain, but the site houses a museum and the Koutoubia minbar. Note that in some areas, photography is prohibited.
Open: 9am-5pm
Entrance Fee: 10Dh, adult; 3Dh, child.
Souks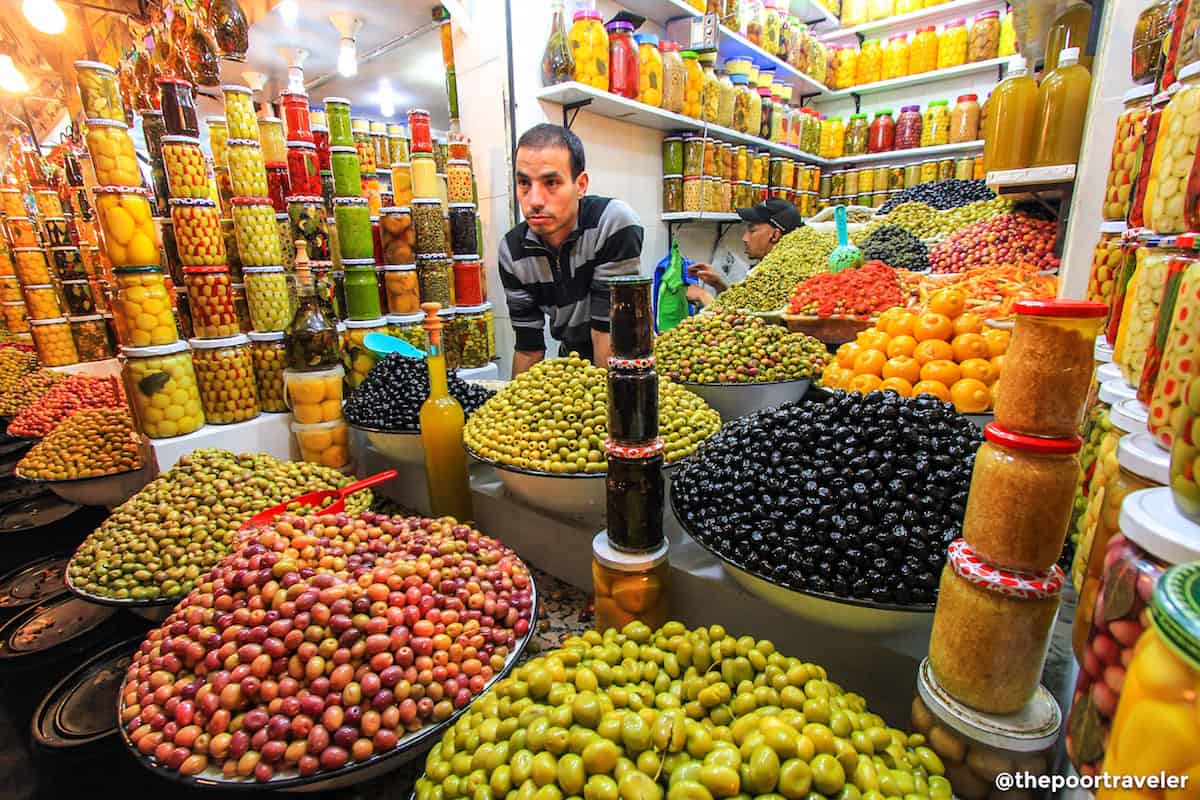 Medina's colorful souks have everything you can think of! Spices, dried fruits, garments, Berber carpets, woodwork, leatherwork, ironwork, kaftans, pottery, jewelry, and more! Shop if you want to take home a piece of Marrakech. Yoi can haggle. There are also guided tours available.
Tours from Marrakech
Essaouira Day Tour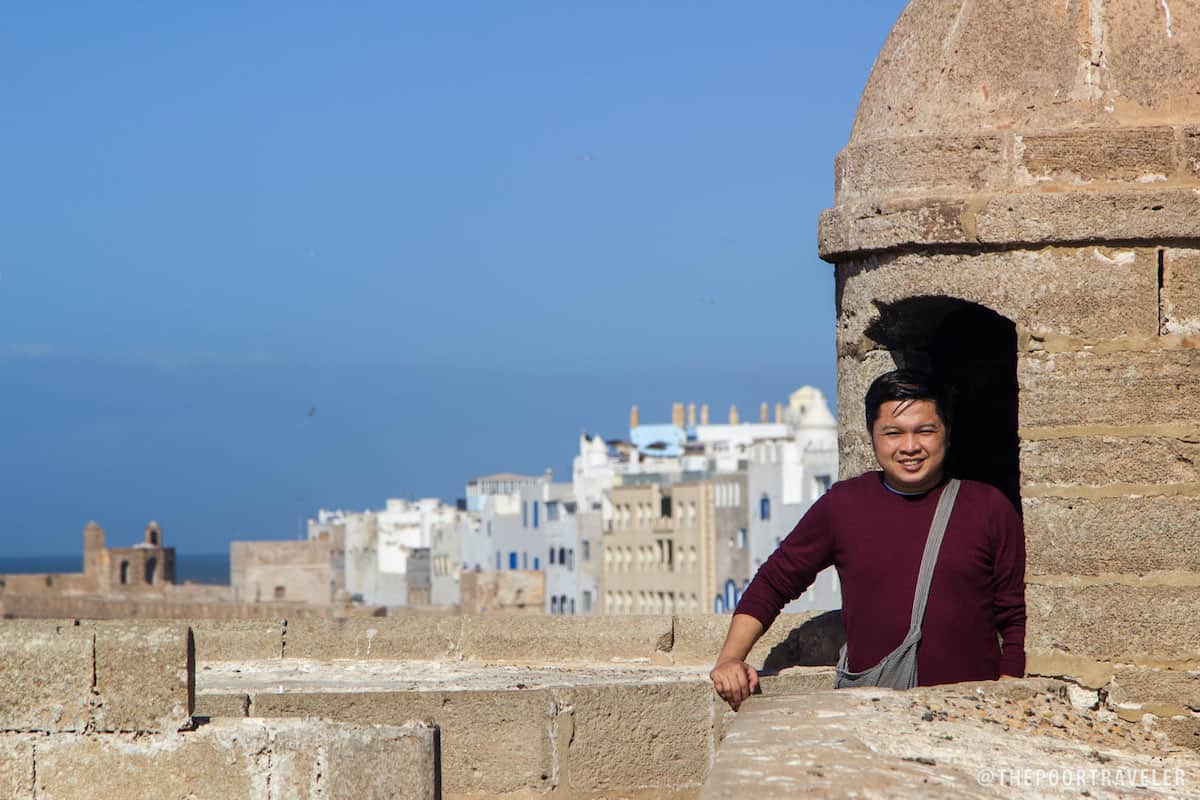 Essaouira is only a 3-hour drive away from Marrakesh and is a common tour destination. It is a great example of an 18th century fortified port city. Although along Morocco's Atlantic coast, it looks more like a Mediterranean town with a North African attitude. The citadel is predominantly white, rising from a rocky shore, accented by cerulean boats. Gelato shops mark some corners, and European restaurants punctuate some streets. Yet, a walk is impossible without running into locals clad in djellabas and being treated to the aroma of cumin-mixed tagines. And while it is home to multiple ethnic groups, it is distinctly, undeniably Moroccan.
Most recently, Essaouira is known as one of the filming location of Game of Thrones, in which it served as Astapor, the city that Danaerys Targaryen burned to the ground to free the Unsullied.
Group tours cost between 280Dh and 350Dh and last around 10 hours (including travel time).
However, while they are called "tours," most of the cheaper options are more like transfers, to be honest. They won't give you insight or guide you around the city. They'll just drop you off near the port and then pick you up at a designated time.
Ouarzazate and Aït Benhaddou Day Tour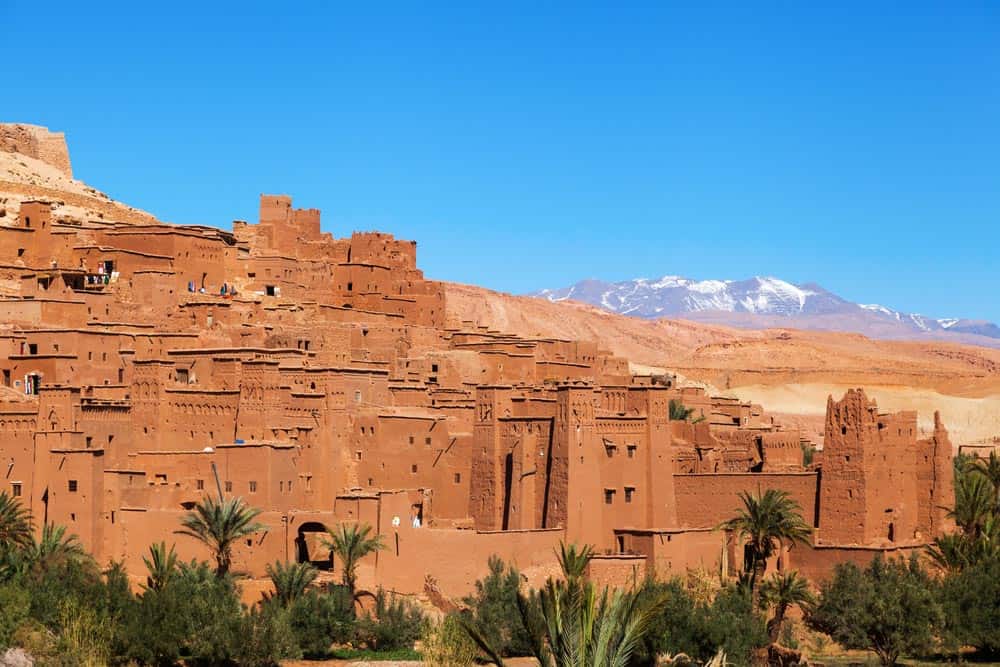 You might recognize Ouarzazate as the filming location for a lot of Hollywood movies: Lawrence of Arabia (1962), The Last Temptation of Christ (1988), The Mummy (1999), and Prince of Persia (2010) among others. But in the Game of Thrones world, a nearby kasbah, Aït-Ben-Haddou is Yunkai, aka Yellow City and one of the three great city-states in Slaver's Bay.
From Marrakech, it can be reached after a 3.5-hour drive. Group tours cost 350Dh to 500Dh, depending on the agency and size of the group.
Sahara Desert Tours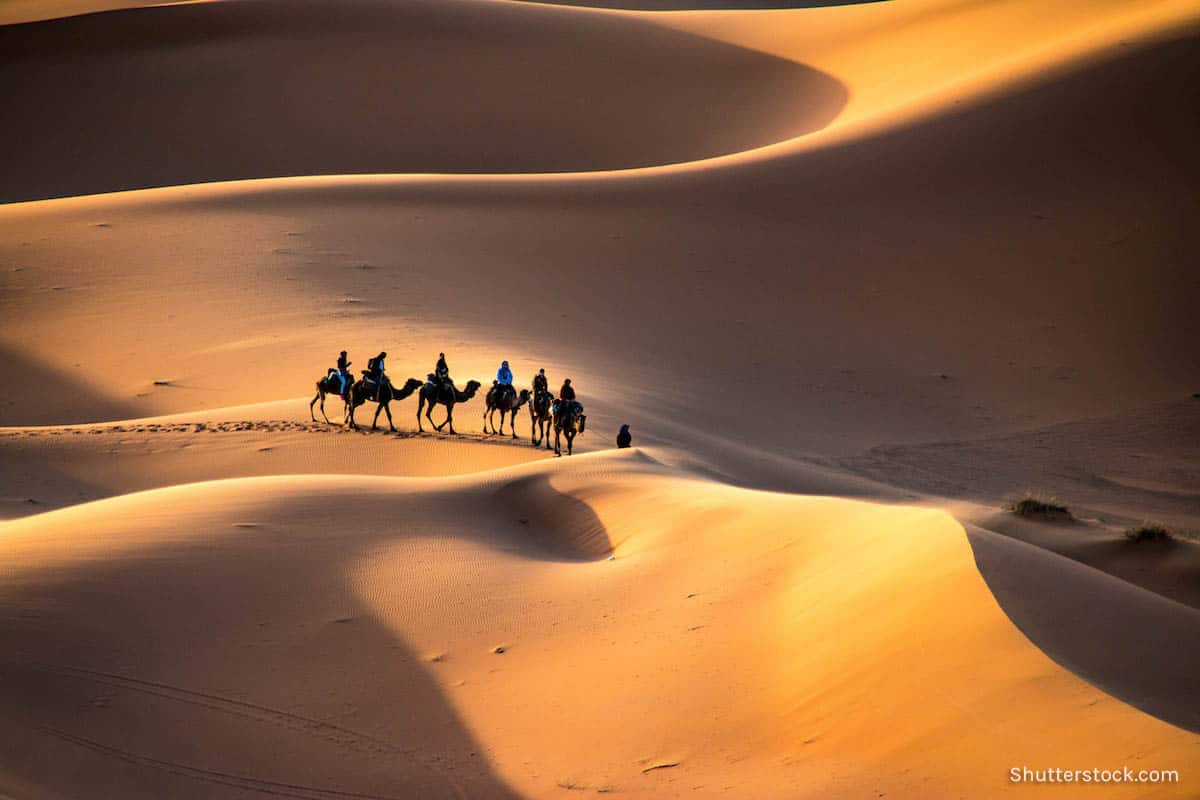 In Marrakech, there are two major types of Sahara Desert Tours: 2-day and 3-day tours. Both will drop by Aït Benhaddou but the endgame is different. The 2-day tour will take you to Zagora dunes, which according to the caretaker of our riad, isn't much. If you really want to get your money's worth, take the 3-day tour instead, which will take you all the way to Merzouga.
If you see photos of Morocco depicting endless sand dunes and camel rides, chances are their photographers once stayed in Merzouga. Situated on the edge of the Sahara, it is a tiny village best known for its proximity to Erg Chebbi, a Saharan erg.
Prices are usually around 780Dh for a 2-day tour and 1060Dh for a 3-day tour.
Marrakech Scams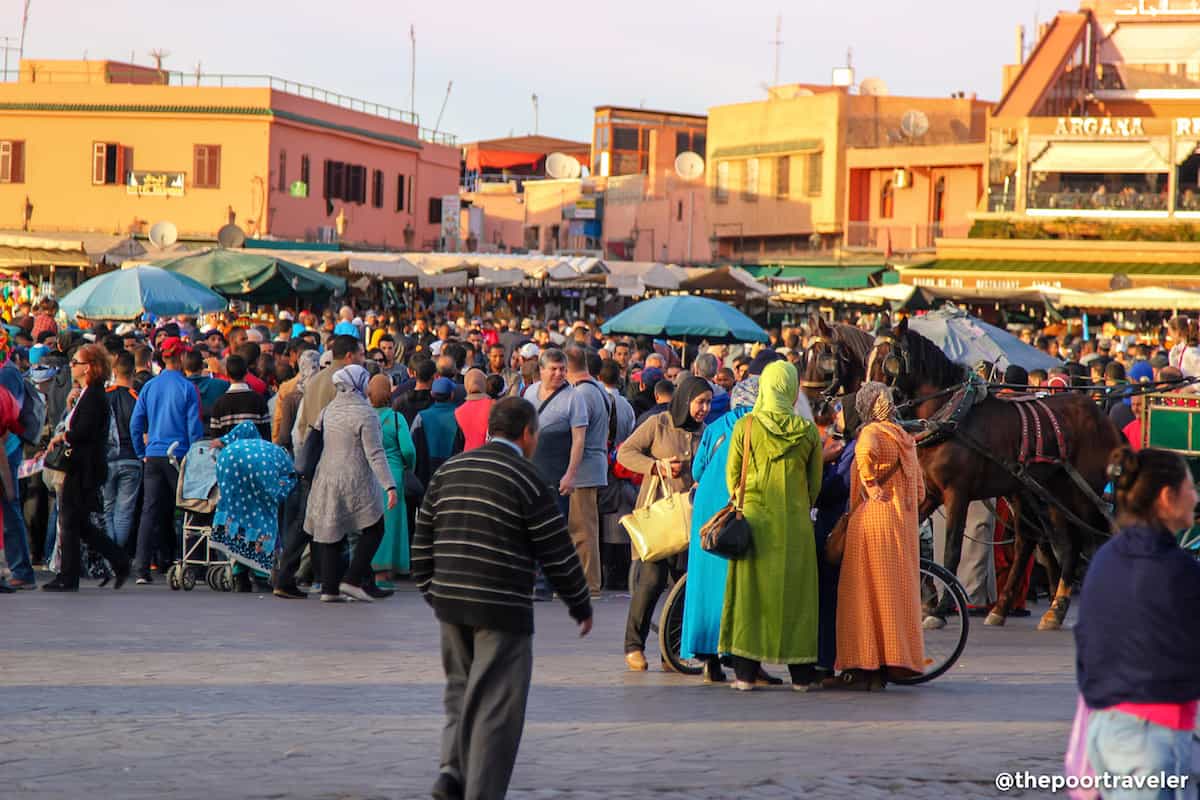 There's a reason I opened this article with an account of our scam experience: Scams are rampant in Marrakech. Being familiar with them as early as now will save you from a lot of costly trouble if you learn it the hard way.
In general, Marrakech is safe. Like what a local friend said, scammers can be darn annoying and persistent but they won't really hold you at gunpoint. Not usually, at least. But use common sense. Don't leave your things unattended or out of sight. Keep your valuables secure. And don't trust easily. Here are some of the most common scams in the city. We fell for one and almost fell for the others.
Faux Guides. If you look lost or confused, these "guides" offer to help like good samaritans. They will volunteer to help you find your riad or walk you to your destination, but these "nice guys" do so at a price, a steep one. They can be pretty persistent. Just ignore them and don't talk to them in any way. They would charge 50-200Dh, depending on how gullible they think you are. Happened to us. We must have looked mighty gullible, haha. We know it's very common because we have witnessed this many times during our stay. Locals and tourists shouting at each other in disagreement wasn't an unusual sight.
Photo Scams. Don't just take pictures even if it's something curious, especially if it's something curious. At Jemaa el-Fnaa, you'll find snake charmers and monkey trainers. Don't take photos of them. They'll charge you after. Even the locals in traditional kaftan may charge you for a pic too.
Taxi Scams. Some taxi drivers charge way more than the right fare. Make sure you are aware of the right cost and agree with the driver before hopping in. When we emerged from the train station, we were approached by taxi drivers who offered to take us to their hotel. When I asked how much to the medina, some said 100Dh. In the end, I was able to find a cab that took us at the right price, 20Dh only.
Restaurant Scams. There have been reports of some restaurants charging tourists twice more than what's on the menu or providing "complimentary appetizers" that would turn out on the bill later.
Rigged ATMs. Should you need to withdraw, do so in secure places like malls or terminals. Don't withdraw from a machine along a random, secluded street, much less when there are people loitering around the ATM.
Don't be discouraged by these scams. Just don't let your guard down, and you'll be fine.
Sample Itinerary
Below is a sample 4-day Marrakech itinerary. It assumes that you're arriving in Marrakech at 1pm and you're a party of 2, splitting expenses.You have 170Dh/day budget for meals. If you spend 70Dh on lunch, you have 100Dh for dinner (and vice versa). Figures below are per person.
Day 1: ARRIVAL, FOOD TOUR
01:00pm – Arrival at Marrakech Railway Station
01:10pm – Taxi to Medina, 10Dh (20Dh/2pax)
01:35pm – Check-in at riad
02:30pm – Explore Jemaa el Fnaa, Koutoubia Mosque
06:00pm – Marrakech Food Tour, 615Dh
10:00pm – Back to hotel
DAY 2: DIY MEDINA TOUR
09:00am – El Badi Palace, 10Dh
10:40am – Saadian Tombs, 10Dh
12:00nn – Cafe Clock, 100Dh
02:00pm – Ben Youssef Madrasa, 20Dh
05:00pm – Explore souks
07:00pm – Dinner, 70Dh
Day 3: DAY TOUR
Choose between Essaouira and Ouarzazate/Aït Benhaddou, 350Dh
12:00pm – Lunch, 70Dh
07:00pm – Dinner, 100Dh
Day 4: DEPARTURE
If you're flying out via Casablanca, use this time for train travel.
If via Marrakech Airport, you can spend some time at the square/souks before your flight.
If you have more time, go on a 3-day Sahara Desert Tour on Days 4-6!
If you spend 456Dh per night on accommodations (228Dh/night/person), the itinerary above will set you back around 2100Dh (USD223, 189EUR, SGD297, PHP11,810) excluding airfare, airport transfers, and shopping budget.
If you're coming from Manila and you're able to snag a P37,000 roundtrip ticket to Casablanca, the itinerary above will cost you around P50,950 including airfare, transfers, and PH travel tax.
Other Tips for the Poor Traveler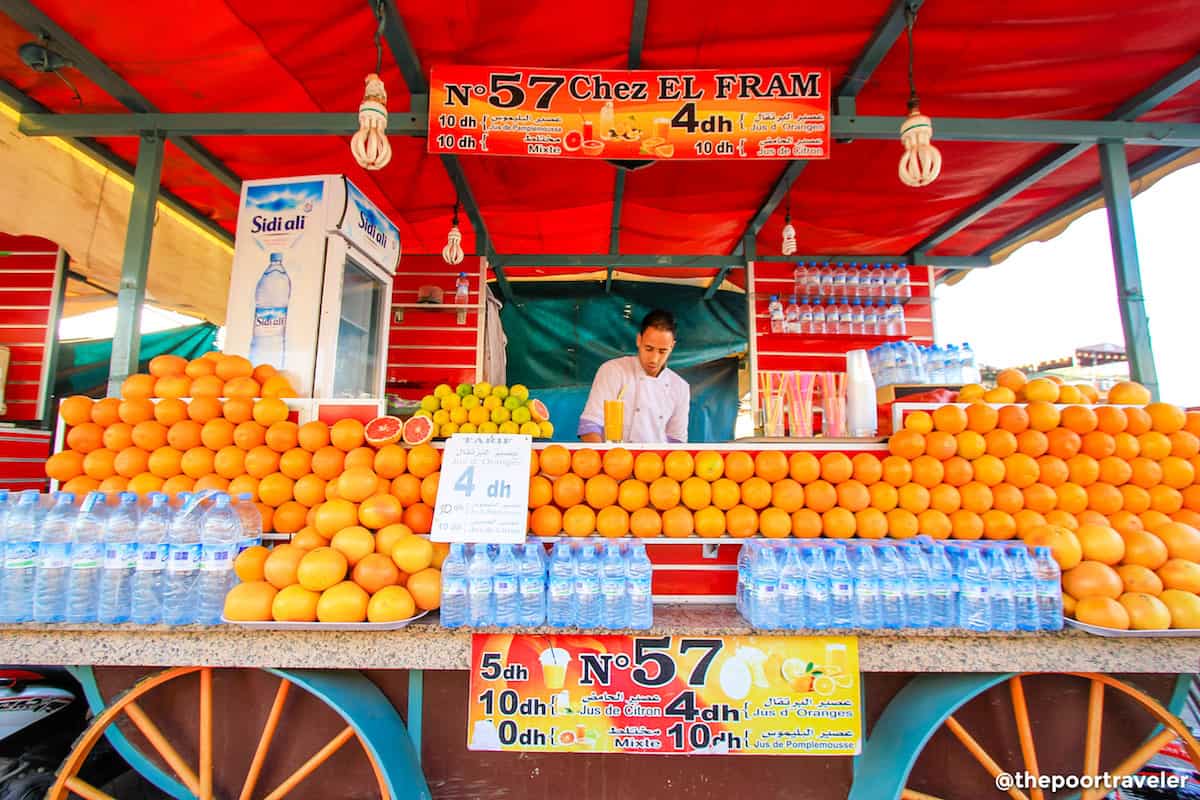 Beware of scams! In case you missed our entire section about it, here it is again: Marrakech Scams.
Tipping is common in Marrakech and Morocco in general. At restaurants, check if a 10% service charge has been added to the bill. If not, it's usual to leave around 10% for a good service, more if exceptional, and none at all if you feel like there's none deserved. Taxi meters are rounded off to the nearest 5. For example, if the meter says 23Dh, it's okay to pay 25Dh. If someone from the hotel staff carries your luggage for you, a 10Dh tip will be greatly appreciated.
The Moroccan dirham is a closed currency. You won't be able to trade it outside of Morocco. Hence, make sure you withdraw or exchange just enough for your trip.
Squat toilets are usual in public areas. Public restrooms often have a tap and a water container. But most hotels are equipped with a toilet bowl and paper.
Dress modestly in the medina. Both men and women should always have their shoulders covered in public places. Short shorts are often considered inappropriate.
Don't leave without trying Moroccan oranges. A glass costs only 4dh! It's a sweet way to quench your thirst after a day of sightseeing.
---
2️⃣0️⃣1️⃣8️⃣ • 6️⃣ • 1️⃣3️⃣