The first thing that entered my head was "peace."
When our boat touched the beach, I sensed it in an instant. It was in the fresh air, the gentle waves. Each second my toes dipped in its wide, wide bed of white, white sand was a moment of therapy. By noon I was lying under the shade by the shore, reading a book and enjoying a pint of beer. Sun shining. Water shimmering. Wind dancing. And I was in the middle of it all, just taking it all in.
They must have felt it too — the filmmakers behind Camp Sawi, they must have. When they set foot on the island while scouting for shooting locations for their fictional retreat for the brokenhearted, they must have felt it too. Bantayan Island is therapeutic. It is where you go to heal.
WHAT'S COVERED IN THIS GUIDE?
Understanding Bantayan Island
Before the public at large came to know Bantayan Island as Camp Sawi, travel circles already have it as a secret hideaway. Tucked away from urban centers, Bantayan Island lies off the coast of northern Cebu. The island is divided into three municipalities: Bantayan, Madridejos, and Santa Fe. Not to be confused with Daanbantayan, which is a separate municipality on the main island of Cebu.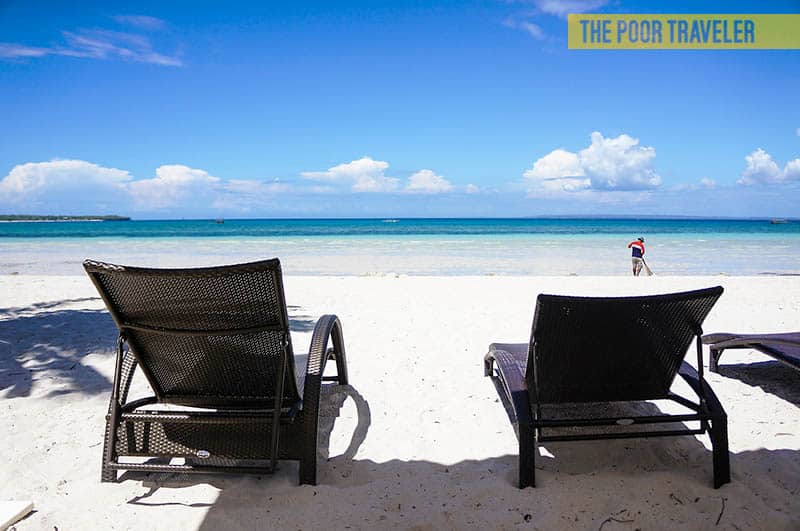 What used to be a sleepy fishing village years ago has been enjoying the fruits of tourism as tourists look for laid-back alternatives to Boracay. Bantayan has found its way to Cebu all inclusive travel packages but remains a favorite among backpackers for its sheer beauty and serene atmosphere.
Bantayan Island's biggest asset is its white, white, white sand! It is so white that it can give Boracay a run for its tourist money. It is very fine but not too fine to smudge the crystal clear water, which, by the way, is also very shallow. Perfect for kids and non-swimmers (like me).
How to Get to Bantayan Island
Bantayan Island is part of the province of Cebu, and the easiest, most convenient way to reach it is via Cebu City. The Mactan-Cebu International Airport is the second busiest and most important hub in the Philippines so getting here should be a walk in the park. Here's how.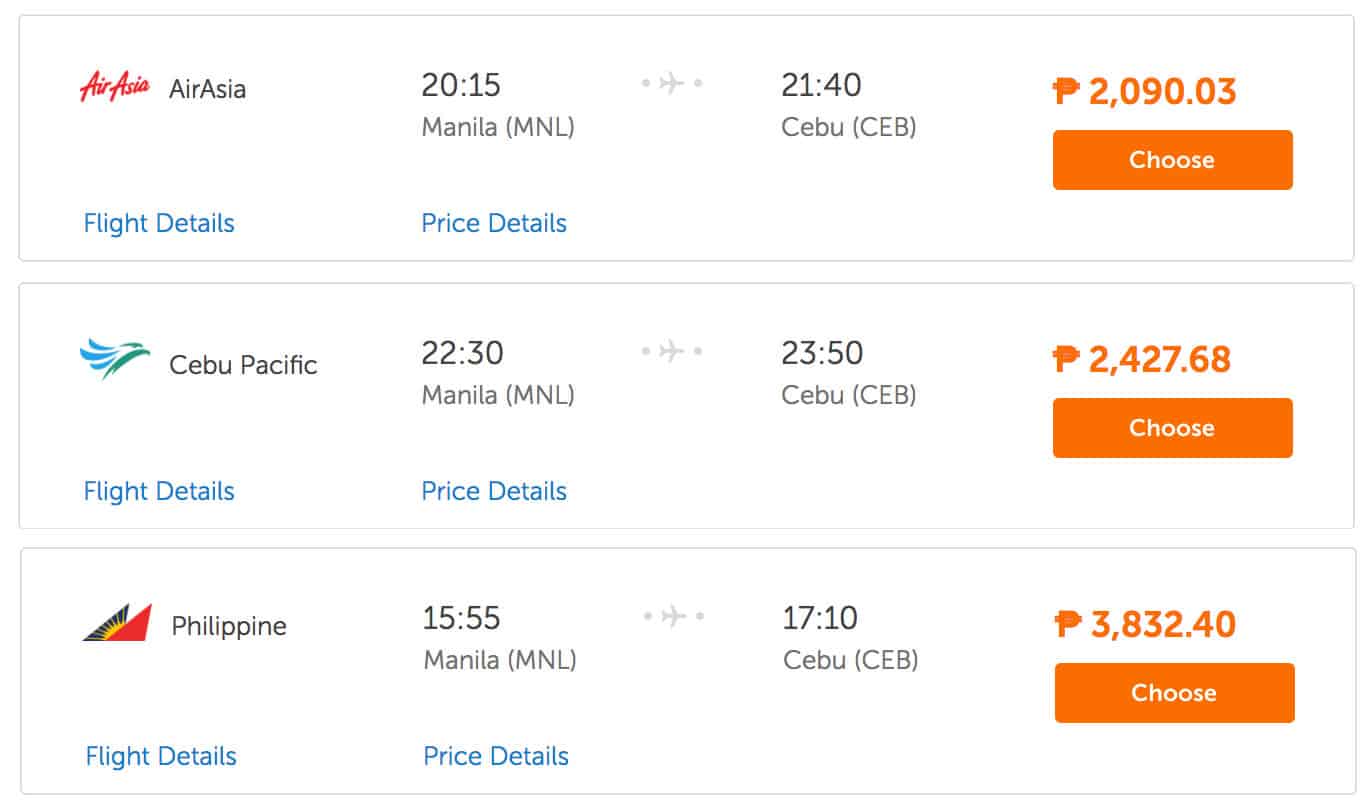 Fly to Cebu. All three of the country's major airlines fly to Cebu so you have plenty of choices. Above are sample year-round fares as scanned and aggregated by Traveloka. Note, however, that the published rates for Cebu Pacific and AirAsia don't include baggage allowance yet, while booking with Philippine Airlines would automatically give you 10kg allowance. You can search for more flights at Traveloka.com.
Take myBus to the North Bus Terminal. There's a bus leaving the Mactan Airport every 30 minutes from 7am-11am, and every 20 minutes from 11am-9:30pm. Fare: P25. Outside these hours, you may take a cab, Uber or Grab. Fare is between P200-P300, depending on traffic.
At the North Bus Terminal, board a Ceres bus bound for Hagnaya Port. Travel time: around 4 hours. Fare: P165. You will also find a Direct Bus (Fare: P200), which drives onto the ferry and off to Bantayan Island. But it's a bit complicated. We still recommend taking the bus to Hagnaya Port and then taking the ferry on your own.
Board the Island Shipping or Super Shuttle ferry bound for Santa Fe Port. First trip is at 3am, last trip 5:30pm. Travel time: 1 hour. Fare: P170. An additional P10 terminal fee will be collected.
At Santa Fe Port, follow the covered walkway to the Tourism Office. You will have to pay the Ecological Fee which is at P30.
Take a tricycle to your resort. Fare: P20-25. If you have pre-arranged a shuttle service with your resort, they will be picking you up here.
That's about it! The total travel time from the airport to Bantayan Island is around 5.5 hours, excluding the waiting times.
Where to Stay in Bantayan Island
There are over 40 resorts, inns, and guesthouses all around the island, so finding a place to stay should be easy. You can find a basic room for as low as P400 per night. Campers are also welcome. If you don't have your own tent, you can rent one for less than P200.
Below are four of the top-rated properties on Agoda. The first two are mid-range resorts (around P3000), while the other two are budget options (less than P1000 per night).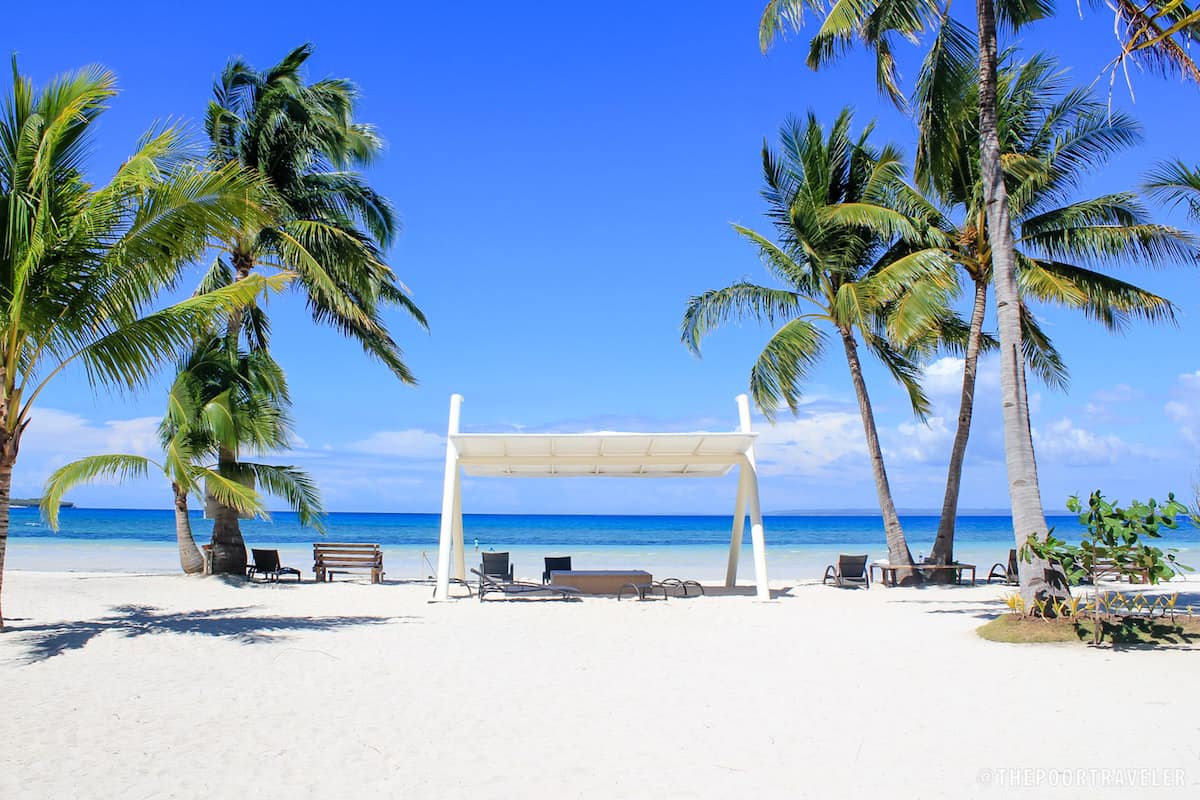 Photos above were provided by the resorts via Agoda.
.
Places to Visit in Bantayan Island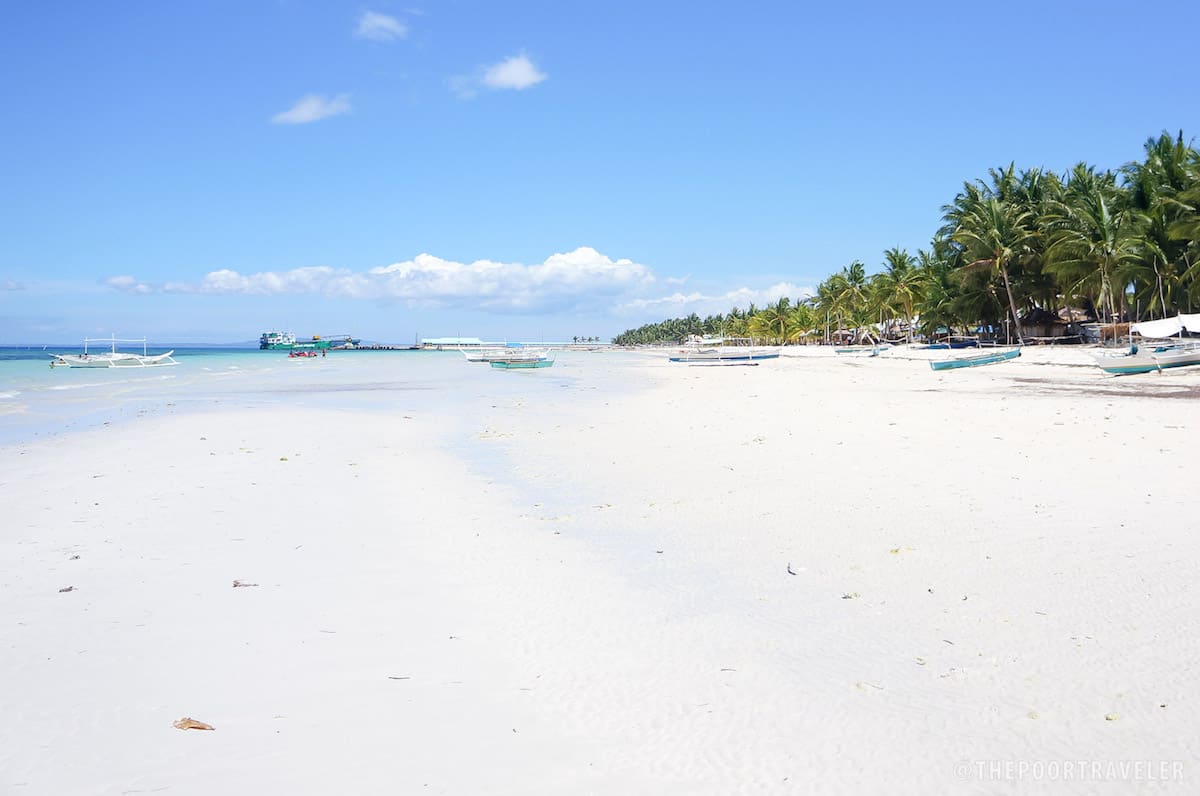 Below are some of the best tourist spots in the island. Save for Virgin Island, Hilantagaan Island, and skydiving, everything can be reached on a half-day tricycle tour for P500-P700.
You may also rent a bicycle to get around Santa Fe. Rates are between P150 and P200 for 24 hours.
Paradise Beach, a secluded stretch in Santa Fe. If you want to get away from the crowd, this is where you should run to. Open from 9am-5pm. Entrance Fee: P50. There are a few other beaches in Santa Fe that you might want to check out: Alice Beach, Sugar Beach, and Maricaban Beach.
Ogtong Cave, a small cave sheltering a natural pool located within Sante Fe Beach Club Resort. Emphasis on "small." If you expect to swim, you'll be disappointed. All you can do here is take a dip. But the P120 entrance fee entitles you access to the resort's pools.
Kota Park in Madrilejos. Kota means "fort," which was what used to stand here before it was transformed into a park. The fort was built by the Spaniards in the 1790s but natural forces have had its time with it.
Kota Beach and Sandbar, a favorite among beach bums. It can get crowded here especially in summer, but this is something you shouldn't miss.
Obo-ob Mangrove Eco Park. A mangrove forest that you can explore by boat, by kayak, or on foot. Kayaks are for rent for P150, and small boats for P350. There is also an elevated boardwalk which will take you around if you're up for a relaxing stroll. Entrance Fee: P50.
Sts. Peter and Paul Church. Built in 1580, it is the oldest parish church in Visayas and Mindanao.
Virgin Island and Hilantagaan Island. Bantayan can also be your jump off point for nearby islands including Virgin Island (Silion Island), Hilantagaan Island, and Kinatarkan Island. A full day tour can set you back P1000, while a half-day tour P700. You can still hagglle though. Privately-owned, Virgin Island collects a P500 entrance fee for the first 2 pax and P100 per additional head.
Splurge option: Go skydiving! Bantayan Island is home to Skydive Cebu, one of the few skydiving establishments in the Philippines. They offer tandem skydiving, which is great if you want to experience the thrill for the first time. The whole activity takes about 2 hours. It costs P18,000, which is way more than I can afford, LOL, and why I haven't tried it. But my friend has done it. Check out his video below:
Sample Itinerary + Budget Breakdown
Below is a sample 3D2N itinerary. You may use this as model for your own itinerary, just make the necessary adjustments. But please take note of the following:
If you can, take an early morning flight to Cebu to maximize your days. Philippine Airlines (PR 2835) and Cebu Pacific Air (5J 563) have flights that would land in Cebu before 6am.
You can book a tricycle tour of the island immediately after arrival. You can then ask the driver to make a quick stop at your resort to check in and leave your bags at the reception before continuing your tour.
Make sure to visit Paradise Beach before 5pm and end your day by watching the sunset at any of the key spots like Kota Park.
Day 1: EN ROUTE, LAND TOUR
04:00 am – ETD NAIA Manila
05:15 am – ETA Arrival at Mactan Cebu Airport
05:45 am – Cab to North Bus Terminal – P100 (P200/2pax)
06:30 am – Board bus to Hagnaya Port – P165
10:30 am – Arrival at Hagnaya Port
11:00 am – Grab quick brunch – P150
11:30 am – Board ferry to Santa Fe – P170 + P10
12:30 pm – Arrival at Bantayan Island
12:45 pm – Walk to Tourism Office. Pay P30
01:00 pm – Start Tricycle Tour – P350 (P700/2pax)
07:00 pm – Dinner – P200
08:30 pm – Return to resort
10:00 pm – Lights out
Day 2: ISLAND HOPPING
05:30 am – Wake up, sunrise viewing
06:45 am – Breakfast, preps
08:00 am – Start island hopping – P350 (P700/2pax)
01:00 pm – Lunch – P150
02:30 pm – Back at the resort, chill
04:30 pm – Kota Beach, sunset
07:00 pm – Dinner – P200
09:00 pm – Rest, lights out
Day 3: BACK TO CEBU CITY
05:30 am – Wake up, check out
07:00 am – Board ferry back to Hagnaya Port – P170 + P10
08:00 am – Arrival at Hagnaya
08:30 am – Grab snacks – P100
09:00 am – Board bus to Cebu City – P165
01:00 pm – Arrival in Cebu City
The above itinerary will set you back P3700 if you stay in a basic fan room at Ritzy (Althea White Beach) or P5900 if you stay at Anika Beach Resort. Estimates don't include airfare yet. You can further reduce the cost by spending less on food. We allocated P150-P200 per meal here.
You have several options for Day 3. Since you're back in Cebu City, you may visit some of its most iconic heritage sites like the Magellan's Cross, Fort San Pedro, and the Cebu Taoist Temple. You may also spend the afternoon digging in to Lechon de Cebu and buy pasalubong at a supermarket afterwards. Cost of these isn't considered in the estimates above.
If you have more days, you may also visit Malapascua Island, which is easily accessible from Bantayan. (Or do it the other way around like we did.) We'll make a sample Malapascua-Bantayan itinerary soon too, so bookmark this page for future reference.
2️⃣0️⃣1️⃣9️⃣ • 1️⃣2️⃣ • 2️⃣3️⃣