Here's our DIY SHIRAKAWA-GO TRAVEL GUIDE BLOG with hotel and tour recommendations, and a sample SHIRAKAWA-GO ITINERARY to help you plan your next Japan trip!
Last updated: March 27, 2020
When I think of Japan, my mind automatically conjures up images of these attractions: Tokyo, Kyoto, Osaka, Mt. Fuji, anime, and cherry blossoms. But there's one image that is forever etched in my memory from now on — Shirakawa-go.
---
WHAT'S COVERED IN THIS GUIDE?
Understanding Shirakawa-go
With hundreds of years of history, Shirakawa-go is one of Japan's cultural treasures. In fact, in 1995, this majestic, picture-perfect village was recognized by UNESCO as a World Cultural Heritage Site.
Nestled in the mountainous Gifu Prefecture in the central region, the surrounding peaks add to its irresistibly rustic charm, which draws in tourists, mostly on Central Japan packaged tours or a day trip from Nagoya.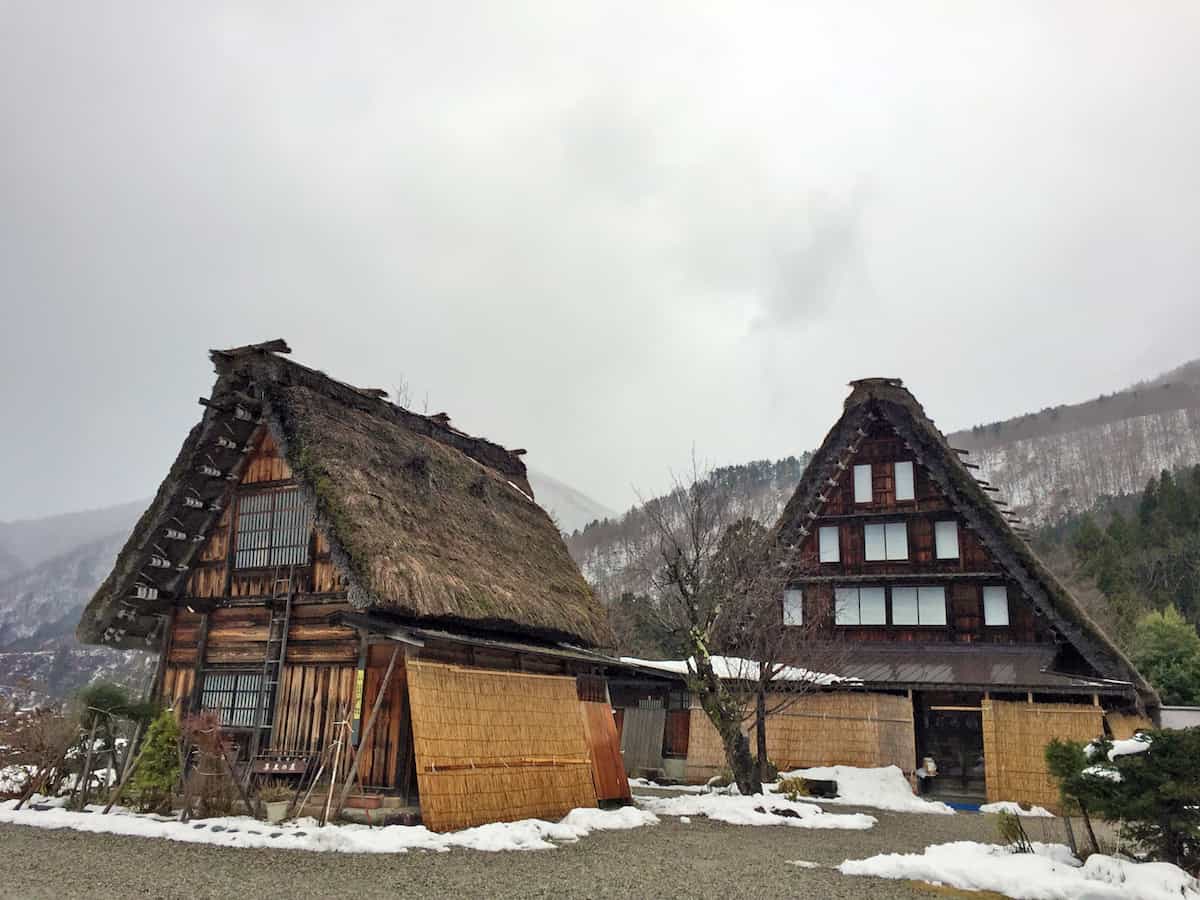 It's one of those places that you would think only exists in fantasy films or your wildest dreams. Every angle of this little hamlet looks like it jumped out straight from a fancy holiday greeting card, especially in winter when the thick snow blankets transform the site into a winter wonderland. In fact, the technique and construction style of the houses combined with the region's colder climate gave birth to a tradition that has equally become one of the defining characteristics of this cultural heritage treasure — yui.
The iconic Gassho-style thatched roof houses can withstand the heavy snowfall during winter. Gassho means "hands in prayer." The long-standing architectural design brought the villagers together, helping each other in re-thatching the roofs. It's astonishing how these roofs, constructed sans nails, bound the people of Shirakawa-go together through religiously carrying out the yui tradition.
There are still about a hundred of these century-old houses, especially in Ogimachi. Some of them function as museums, inns, or guesthouses. All the traditional houses in Shirakawa-go share these common features — irori (sunken hearth) placed in the center of the living room, 60-degree angle roof inclination, the absence of nails in the construction, and they face the same direction (gable ends facing north and south).
Other info you need to know:
Language: Japanese (Nihongo). The majority of the locals seldom speak English, but most of the signs and other tourist promotional materials have English translations.
Currency: Japanese Yen (JPY, ¥). JPY 1000 is around USD 9, EUR 8, PHP 465 (as of March 2020).
Modes of payment: Most establishments prefer cash payment, but many of them also accept credit card transactions.
Electricity Info: 100V. Type A sockets. Plugs have two flat pins. Type B is sometimes used but not that common.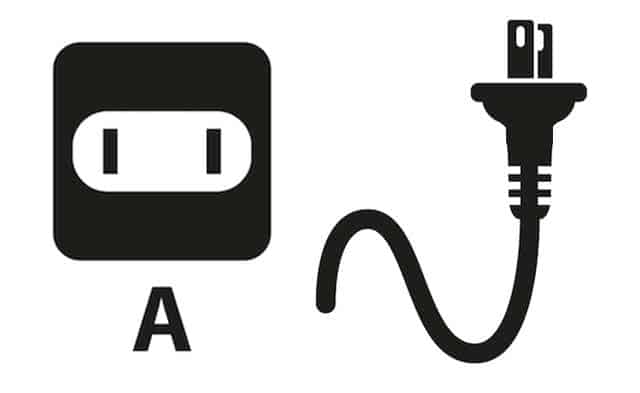 ---
Best Time To Visit Shirakawa-go
Situated high in the Japanese Alps, Shirakawa-go is one of Japan's incredibly scenic destinations, with its traditional farmhouses dotting the landscape and lush forest surrounding the town. The historic site radiates different charm for each season. Depending on what you want to see and do, any season is the best time to visit Shirakawa-go.
WINTER (December – February). Since the design and construction of these historic structures are deeply rooted in the region's cold temperature and hugely connected to the heavy snowfall, winter is arguably the most recommended season for a Shirakawa-go Tour.
Don't Miss: Winter Illumination/ Light-Up Event in January and February. Dates vary, so please check schedules first before going. Enjoy the winter wonderland magical experience!

Shirakawa-go in Winter

SPRING (March – May). If you want a refreshing view of blossoming flowers and lush surroundings, spring season might be the best time for you to visit Shirakawa-go. The weather is not too cold and not too hot. Explore the town amid the rice paddies or snap photos with the snow-capped peaks as your background.
Don't Miss: Full bloom Cherry Blossom Trees in late April and local hot springs.

Shirakawa-gō in Spring

SUMMER (June – August). Vibrant green vegetation covers the fields and the surrounding mountains. Don't forget to check the weather forecast as there's a high chance of rainfall during the first half of the season (June to early July).
Don't Miss: Hike/Trek Mount Haku if you are into mountains and peaks.
AUTUMN (September – November). Most people go to Shirakawa-go during autumn to take photos of the landscape's lovely mixture of red, yellow, and orange hues.
Don't Miss: Doburoku Festival celebration in mid-October.
---
How to Get to Shirakawa-go
The nearest airport is the Chubu Centrair International Airport. It serves Central Japan area, including its principal city and international hub, Nagoya.
From Manila
Direct flights to Chubu Airport are offered by several airline companies. Travel time is 4 hours and 15 minutes.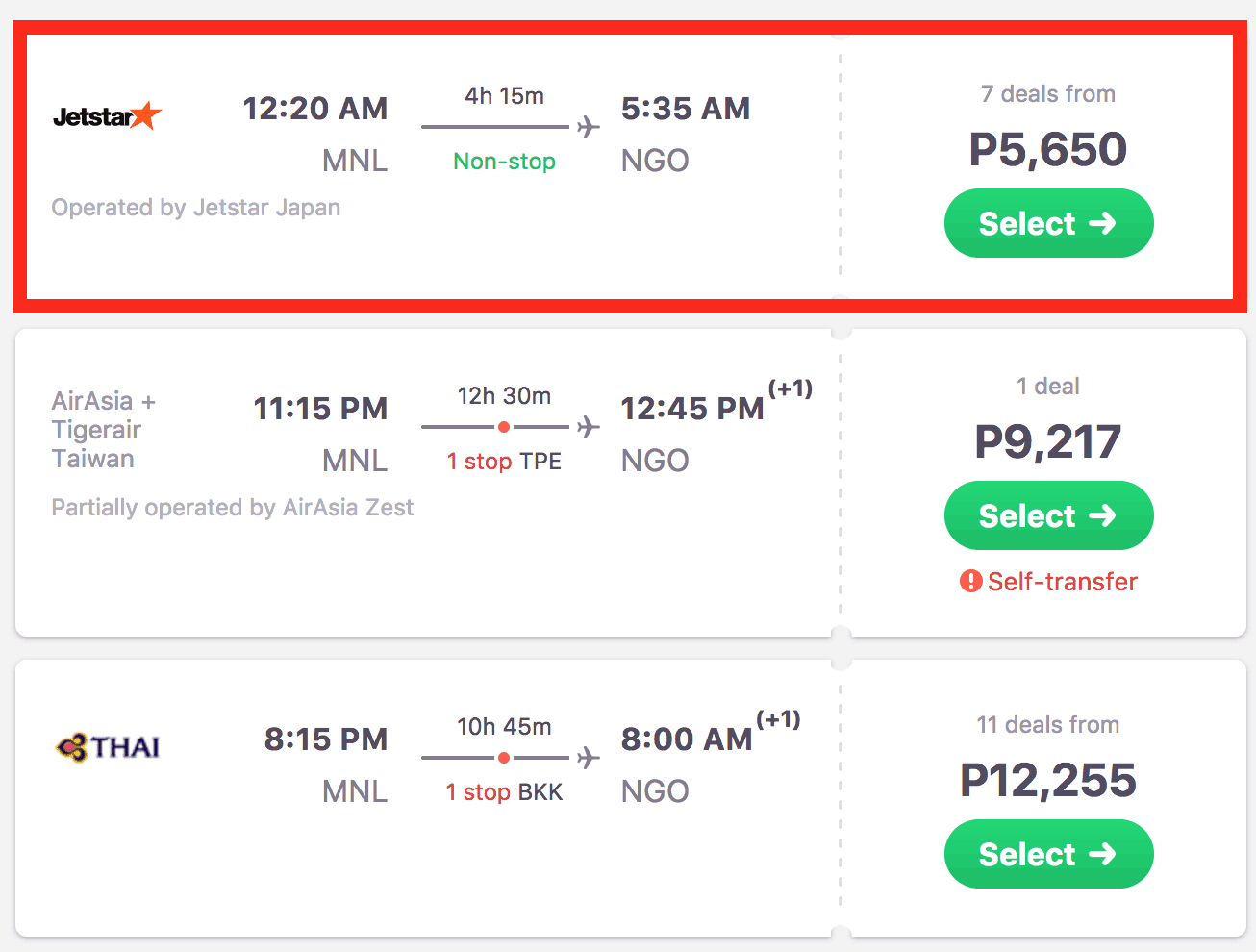 As the capital of Aichi Prefecture, Nagoya is also the usual jump-off point to different destinations in Central Japan, so it has a good number of transportation terminals.
From Chubu Airport
From the airport, walk to Chubu Centrair International Airport Station of Meitetsu Line.
Board the Meitetsu-Limited Express train bound for Meitetsu Nagoya Station. Travel Time: Approx. 30 minutes. Fare: ¥890 + seat fee.
Alight at Nagoya Station.
Go to Meitetsu Bus Center
Take the Gifu Bus on the Shirakawa-go Express Line. Travel Time: Approx. 3 hours, 30 minutes. Fare: ¥4,000. Note: Reserved seating only. Prior reservation is highly advised.
Alight at Shirakawa-go bus stop at Ogimachi.
From Nagoya
Go to Meitetsu Bus Center
Take the Gifu Bus on the Shirakawa-go Express Line.
Alight at Shirakawa-go bus stop at Ogimachi.
Travel Time: 3 hours.
Fare: ¥4,000
Note: Prior reservation is highly advised.
From Takayama
Go to Takayama Nohi Bus Center
Take the Nohi Bus on the Shirakawa-go/Kanazawa Line.
Alight at Shirakawa-go or Ogimachi Bus stop.
Travel Time: Approx. 50 minutes
Fare: ¥2,600
From Tokyo, Kyoto, or Osaka
If you are coming from Tokyo, Osaka, or Kyoto, you can check our previous post: How to Get to Shirakawa-go
---
Getting Around Shirakawa-go
Shirakawa Highway (also called High Street) is not accessible to buses and tourists' private cars from 9 AM to 4 PM, but that won't be a problem because the best way to explore the UNESCO-recognized heritage site is on foot. You also have the option to rent a bicycle if you want to maximize your time.
Seseragi Park, located near Deai-bashi Suspension Bridge and the Main Information Center, is the designated parking area for private cars and tour buses. There are other temporary parking areas, especially during peak season.
Travel Time on Foot from Seseragi Parking Lot to:
Suspension Bridge (which connects the parking lot to Ogimachi Village): 1 minute
Shirakawa Hachiman Shrine: 8-10 minutes
Myozen-ji Museum: 8-10 minutes
Wada House: 15-20 minutes
Shiroyama Observation Deck: 30-35 minutes
Travel Time on Foot from Shirakawa-go Bus Stop to:
Suspension Bridge (which connects the parking lot to Ogimachi Village): 18-20 minutes
Shirakawa Hachiman Shrine: 12-15 minutes
Myozen-ji Museum: 12-15 minutes
Wada House: Five to 10 minutes
Shiroyama Observation Deck: 20-25 minutes
---
Things to Do in Shirakawa-go
Wada House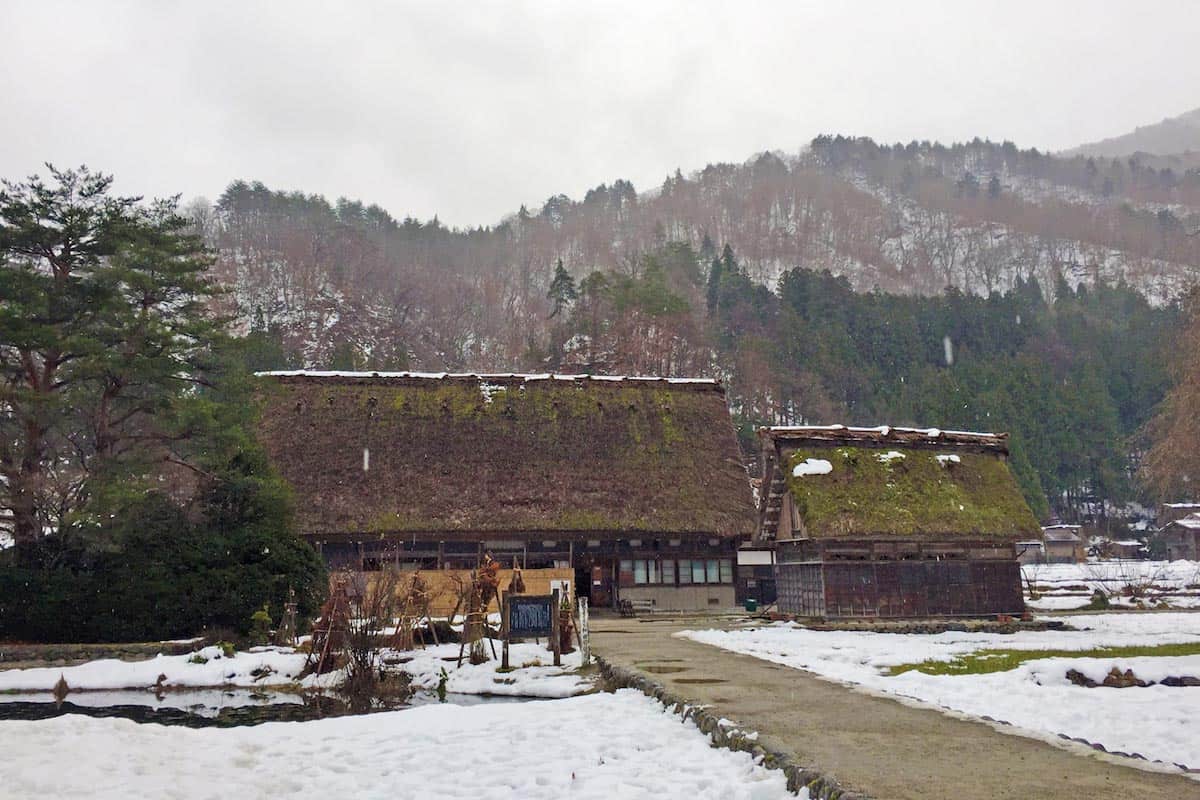 Recognized as an Important Cultural Property by the Japanese Government, Wada House perfectly embodies the traditional Gassho-style house, which has secured Shirakawa-go's reputation as UNESCO World Heritage Site and secured its position as one of the most popular destinations in Central Japan, if not the entire country. For over three centuries, the prominent Wada family, whose members had become the village heads and officials, has resided in here. It is the largest and also one of the oldest among the Gassho-zukuri houses in Shirakawa-go.
Entrance Fee: ¥300 (Regular); ¥150 (Elementary School Students)
Opening Hours: 9:00 AM – 5:00 PM
Location: 997, Ogimachi , Shirakawa-mura,Ono-gun, Gifu, Japan
---
Shiroyama Viewpoint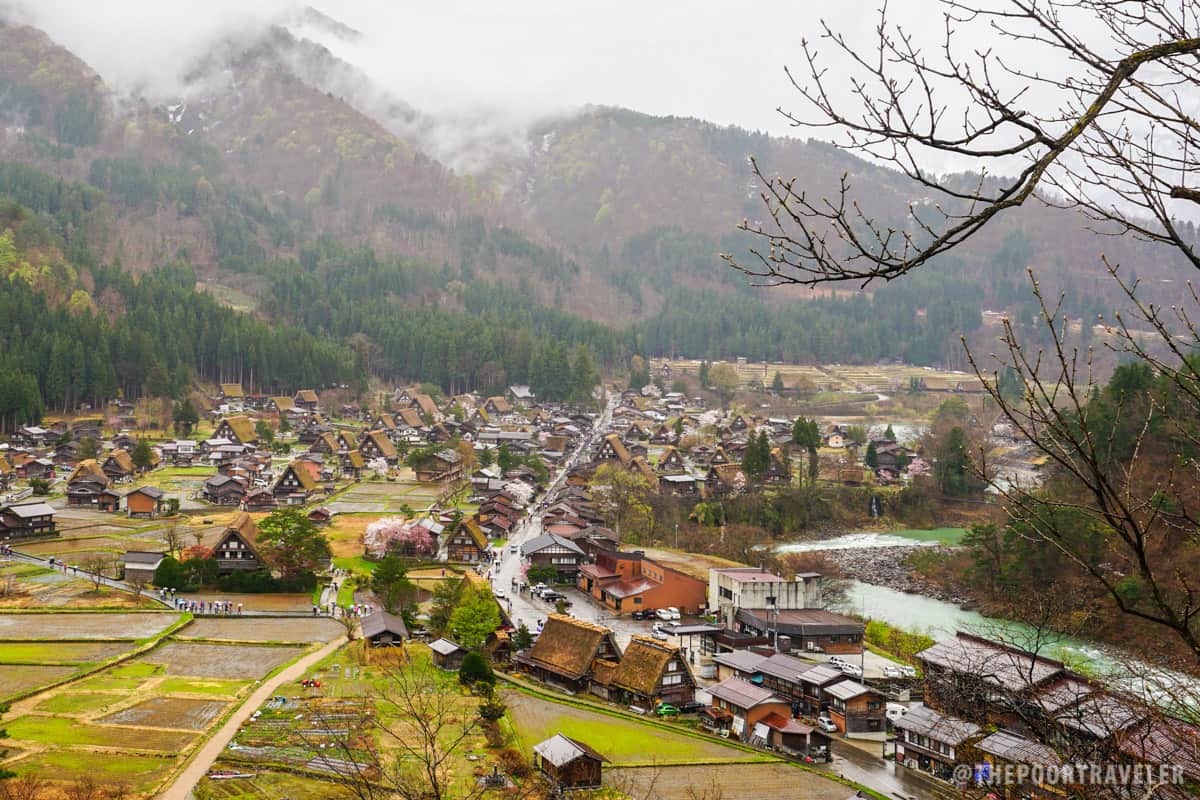 For more idyllic (and dramatic) photos, Shiroyama Viewpoint is an excellent vantage point. Take in the breathtaking beauty of Ogimachi village, clothed in different colors depending on the season. It is located high on a hill, which you can reach either by trekking or by riding a vehicle.
Entrance Fee: FREE
Opening Hours: 24 hours
Location: 889, Ogimachi, Shirakawa-mura, Ono-gun, Gifu, Japan
---
Winter Illumination/Light-Up Event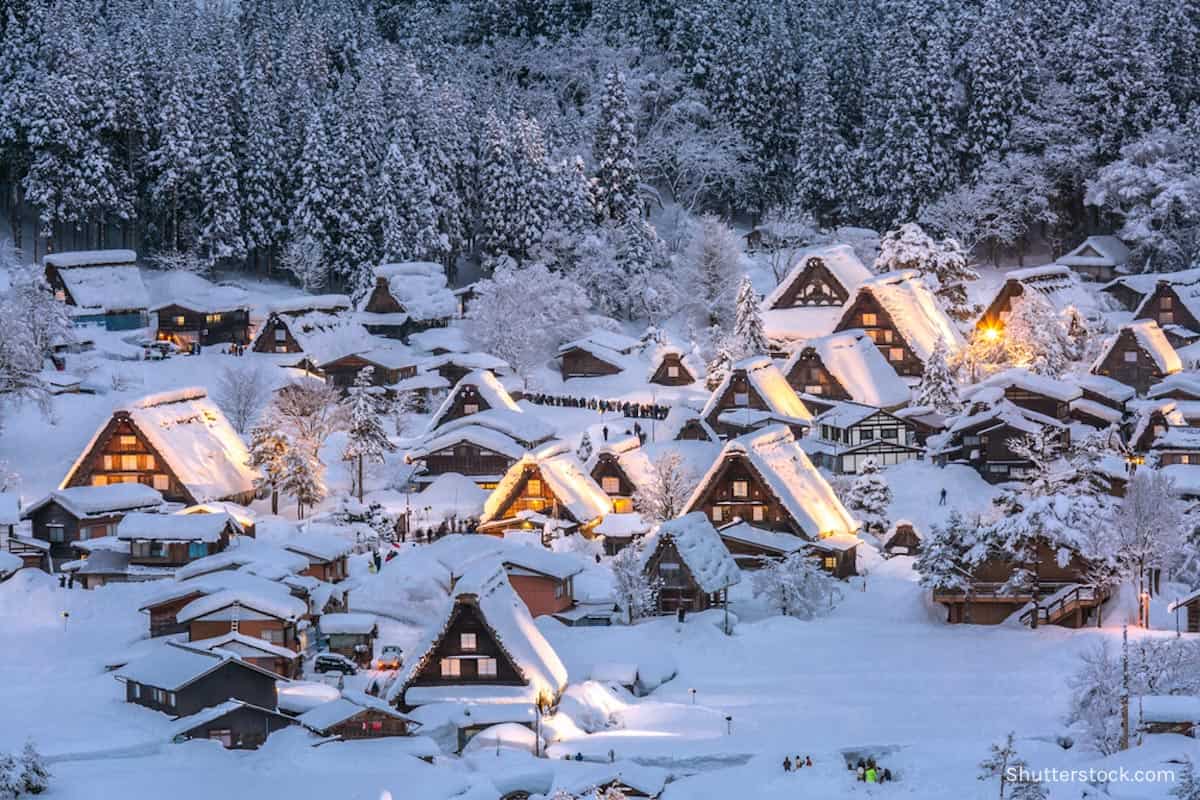 One of the most anticipated events in Shirakawa-go during the winter season is the light-up event which takes place in January and February. There are only seven illumination events in total and schedules vary each year, so it's important to check first before going. The best spot to witness the illumination is from Shiroyama Viewpoint.
Entrance Fee: FREE
Time: 5:30 PM – 7:30 PM (Winter Season only)
Location: Ogimachi, Shirakawa-mura, Ono-gun, Gifu, Japan
Note: Book your accommodation in or near Shirakawa-go in advance as there will be no available public transportation out of the village after the illumination event. You can also hire a taxi or rent a private vehicle if you already booked your hotel outside Shirakawa-go.
✅ RESERVE A SLOT HERE
---
Kanda House
Another cultural gem in Ogimachi, like the Wada House, Kada house was converted into a museum that lets you picture how the farm villagers used to go about their day-to-day activities and how some of these are still carried out up to this day.
Entrance Fee: ¥300
Opening Hours: 9:00 AM – 5:00 PM
Location: 796 Ogimachi, Shirakawa, Ono District, Gifu 501-5627, Japan
---
Doburoku Festival (Fall)
Doburoku Festival takes place at any of these shrines: Shirakawa Hachiman Shrine, Hatogaya Hachiman Shrine, and Ii Jima Hachiman Shrine. It is held in mid-October where visitors get to see the lion dance performance, hear the folktales, and try Shirakawa-go's specialty product from which the festival got its name, the doburoku. Doburoku is unrefined sake which undergoes fermentation in the breweries of shrines. You can also get this specialty product at Kondo Market in Ogimachi village.
---
Museum Hopping
Jin Homura Museum of Art exhibits the paintings of the famous painter Jin Homura
Entrance Fee: ¥300 (Adult); ¥100-200 (Student)
Opening Hours: 9 AM – 4 PM
Myozen-ji Museum. Located near the Buddhist temple houses antique furniture, traditional farming tools, and old kitchenware.
Entrance Fee: ¥300 (Adult); ¥100 (Student)
Opening Hours: 9 AM – 4 PM (December-March) / 8:30 AM – 5 PM (April-November)
Gassho-zukuri Open Air Museum gives you an idea of how the people of Shirakawa-go lived in the past.
Entrance Fee: ¥600 (Adult); ¥400 (Student)
Opening Hours: 9 AM – 4 PM (December-February) / 8:40 AM – 5 PM (March-November)
Note: From December to March, the museum is closed every Thursday.
---
Where to Stay
In Shirakawa-go
If you want to level up your Shirakawa-go experience, you can stay in one of the Gassho-style houses. Most of these traditional structures have been opened to the public by the owners as guesthouses. One of most interesting place offering rooms for lodging is Shirakawa-go no Yu, which is also the only hot spring facility within Ogimachi. It has open-air onsen baths, as well as indoor baths and sauna.
Travelers can have a taste of home-cooked meals or can even experience eating around an irori sunken hearth with the host family or other guests. Used for cooking food and keeping the house warm, irori hearth is a crucial element in traditional Japanese houses.
There are quite a number of guesthouses in Shirakawa-go, but travelers who want to spend the night must book in advance, especially during peak season. For the list, rates, and availability of guesthouses in Shirakawa-go, you may check Japanese Guest Houses.
There are also interesting accommodations near Shirakawa-go like Tosuke no Yu Fujiya and Toyota Shirakawa-go Eco-Institute.
In Nagoya
Because lodging options in Shirakawa-go are limited, many choose to visit the site on a day tour. Because Nagoya is the urban hub closest to the airport, it often serves as the base for many travelers.
Hotel prices may vary on the season. For backpackers, there are hostel dormitories that can give you a bed for as low as ¥2,000.
If you're not a dorm guy and you have a bit more dough, here are the top budget hotels under $60/night as ranked by Agoda users as of March 2020.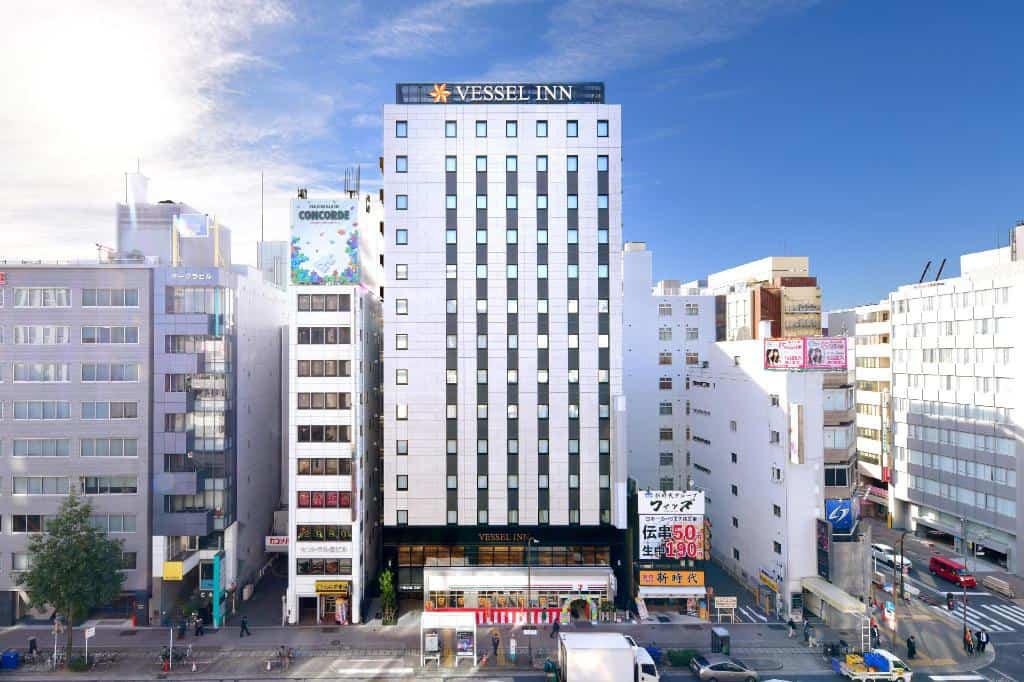 ---
Where to Eat in Shirakawa-go
The first order of business when we arrived in Shirakawa-go was to fill our stomachs with Japanese food, and boy was I floored! We had our reservation at Kita no Sho (also Kita no Syo), a 250-year old Gassho-style restaurant with irori hearth and tatami-covered floor. The restaurant also has a souvenir shop fronting the entrance to the dining area.
The restaurant offers set meals, but it can also customize its menu according to your preference and budget. You can request to swap your meat for fish and vice versa, or you can have meals without meat or fish. Request for special menus requires prior reservation.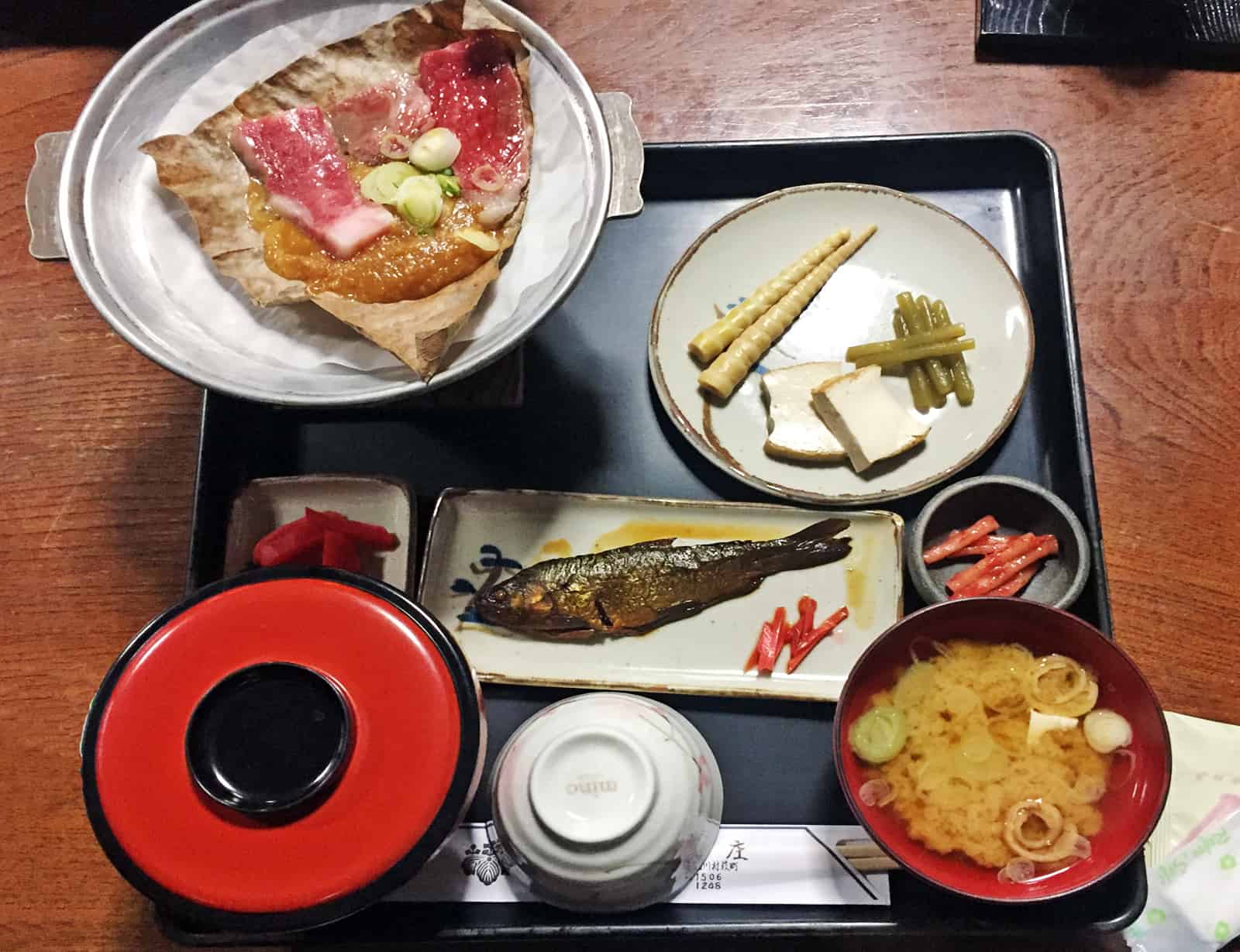 Our group had Hida beef miso baked meal from the group meal set menu. At ¥1,620 (tax included), we thoroughly enjoyed our sweetened rainbow trout, Hida beef cooked with miso paste on Hoba leaf, rice, miso soup, tofu, pickled vegetables, and dessert.
There are plenty of restaurants in Shirakawa-go; some of the most recommended, aside from Kita no Sho, are Bunsuke, Nomura, Ochudo, Irori, Soba Wakimoto, and Hina. Most of the restaurants and cafes also double as souvenir shops, while some of them offer rooms for lodging as well.
---
Attractions Near Shirakawa-go
Here are some tourist spots easily accessible from Shirakawa-go. We included directions to each site below for those who want it DIY-style.
We're also providing links to Klook for those staying in Nagoya and considering joining a guided tour.
Takayama Old Town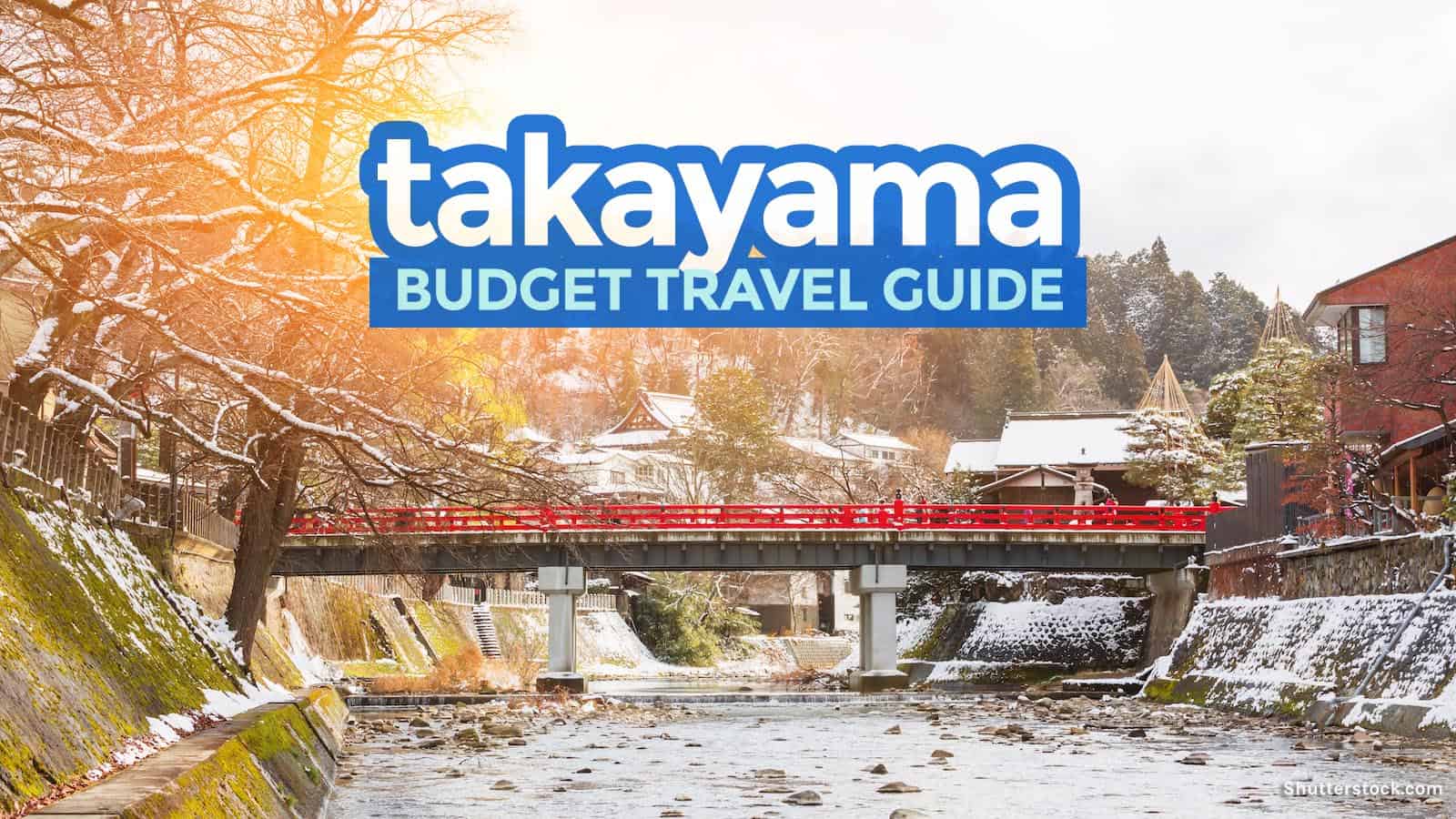 Located in the mountainous region of Gifu Prefecture, the city is aptly named Takayama, which literally means "tall mountain". To differentiate it from other places in Japan with the same name, this one in Gifu is also called Hida-Takayama, referring to the old Hida Province.
Getting There: Take the Shirakawa-go/Kanazawa Line of Nohi Bus going to Shirakawa-go from Takayama and vice versa. Travel time is 50 minutes. A one-way ticket is worth ¥2,600 while roundtrip is ¥4,600.
If you want a hassle-free trip, Klook is offering a day tour package in Shirakawa-go and Takayama.
✅ RESERVE A SLOT HERE
---
Hida Furukawa Old Castle Town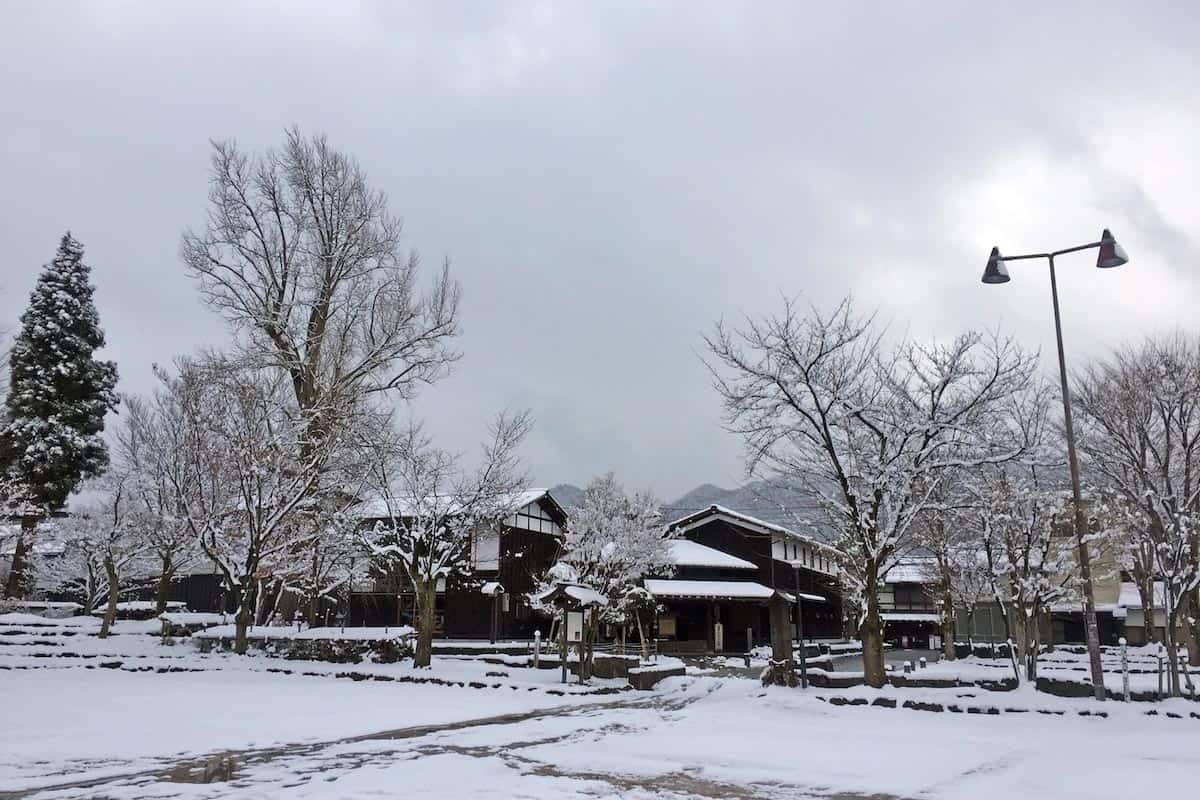 Hida Furukawa is located north of Takayama, which can be reached in about 15 minutes by train. This small town in Hida, Gifu is reminiscent of the 15th-century old castle town with its canal-lined streets that feature traditional wooden storehouses.
Getting There: From Takayama Train Station, take the JR Takayama Main Line. Alight at Hida Furukawa Station. Travel time is about 15 minutes. The fare is ¥240.
---
Gokayama
Gokayama, like the nearby Shirakawa-go, is also recognized by UNESCO as a World Heritage Site for its Gassho-style houses. The village is located in Toyama Prefecture.
Getting There: Take the Kaetsuno Bus from Shirakawa-go bus stop going to Suganuma or Ainokura (the popular Gassho-style villages in Gokayama) and vice versa. Suganuma bus stop is located along the main road near the entrance to the village, while Ainokura village entrance is five minutes on foot from the bus stop. A one-way ticket is worth ¥870 for the Shirakawago-Suganuma route and ¥1,300 for the Shirakawago-Ainokura route.
If you are traveling with kids and elders and you're staying in Nagoya, consider joining a tour. Klook is offering Gokayama Ainokura & Shirakawago Bus Tour.
✅ RESERVE YOUR SLOTS HERE
---
Shinhotaka Ropeway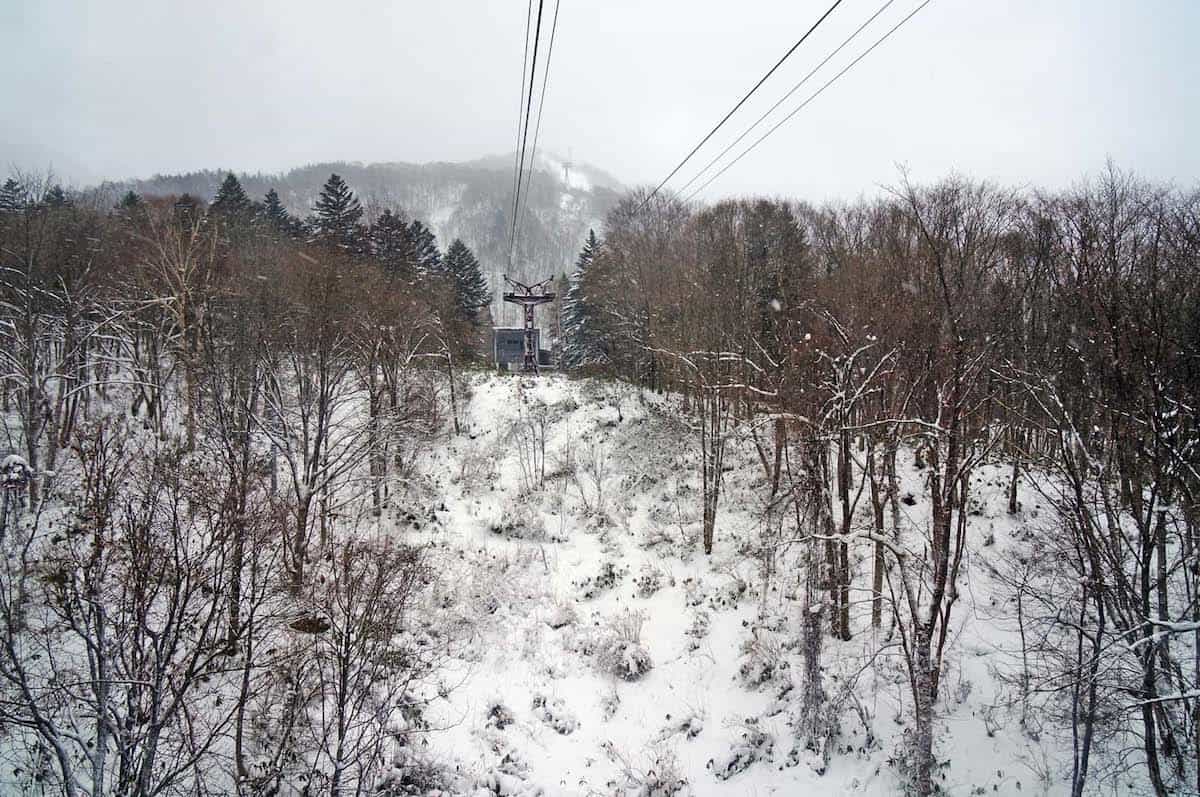 Enjoy the view of the Japanese Alps and the surrounding areas any season of the year on a double-decker gondola that can ascend up to a thousand meters! Each season provides a different picturesque scenery.
Ride Fee: ¥1,600 (one-way); ¥2,900 (RT)
Opening Hours: 8:30 AM – 4:00 PM (may vary depending on the season)
Location: Shinhotaka Onsen, Okuhida Onsen-go, Takayama City
Getting There: From Takayama City, go to Takayama Nohi Bus Center. Take the bus via Hirayu/Shinhotaka Line. Alight at Shinhotaka Ropeway bus stop. Travel time is one hour and 30 minutes.
---
Sample Itinerary
Here's a sample 4-day 3-night itinerary that covers Nagoya, Takayama, and Shirakawa-go. As always, make the necessary adjustments to match your preferences. This itinerary assumes that:
You are a party of two and will be splitting expenses like the hotel.
Your accommodation budget is ¥7,000 per night. You will be splitting it in half, so each will only pay ¥3,500 per night.
You will use the Meguru Tourist Loop Bus for the Nagoya City Tour.
Note that this is only a sample itinerary. You may tweak the details to match your preferences and flight schedule.
DAY 1: ARRIVAL + TAKAYAMA
05:30 AM – Arrival at Chubu Centrair Airport
06:00 AM – Travel to Nagoya City Center via Meitetsu Railway: ¥1,250 (fare + seat fee)
06:30 AM – Arrival at Meitetsu Bus Center in Nagoya
06:45 AM – Quick Breakfast: ¥500
07:30 AM – Travel to Takayama: ¥3,100 (bus fare)
10:15 AM – Arrival at Takayama Nohi Bus Center + Walk to Hotel
10:45 AM – Hotel Check-in
11:30 AM – Early lunch: ¥1,000
12:30 PM – Takayama Jinya: ¥430
02:00 PM – Takayama Old Town exploration
05:00 PM – Early dinner: ¥1,000
07:00 PM – Early lights out
DAY 2: SHIRAKAWA-GO
07:00 AM – Miyagawa Morning Market
08:00 AM – Check out + Walk to Takayama Nohi Bus Center
08:30 AM – Store big luggage in a locker at the bus center: ¥700
08:50 AM – Travel to Shirakawa-go: ¥4,600 (roundtrip bus fare)
09:40 AM – Arrival at Ogimachi, Shirakawa-go + Start exploring
12:30 PM – Lunch at Irori: ¥2,000 (traditional Japanese meal)
01:30 PM – Wada House: ¥300 (entrance fee)
03:00 PM – Travel back to Takayama: PAID already
03:50 PM – Retrieve luggage from the locker + snack
05:00 PM – Travel to Nagoya: ¥3,100 (bus fare)
07:45 PM – Arrival in Nagoya + Hotel check-in
08:30 PM – Dinner: ¥1,000
09:30 PM – Lights out
DAY 3: NAGOYA CITY TOUR
Note: For this tour, you might want to consider getting the 1-Day Meguru Tourist Loop Bus. For the price of ¥500, you will have unlimited access to most of the attractions in Nagoya. But if you are using this, make sure the schedule will not fall on a Monday as the loop bus is not available.
09:00 AM – Wake up
09:40 AM – Toyota Museum: ¥500 (entrance fee)
11:00 AM – Nagoya Castle: ¥500 (entrance fee)
01:00 PM – Lunch: ¥1,000
02:00 PM – Explore Sakae District + Shopping
07:00 PM – Dinner: ¥1,000
08:00 PM – Walk to hotel
09:30 PM – Lights out
DAY 4: DEPARTURE
Train to Chubu Centrair Airport: ¥1,250 (fare + seat fee)
This itinerary will set you back around ¥24,000 (USD 220, SGD 317, PHP 11,300) per person, not including the hotel accommodations, airfares, and taxes. If you will include the hotel at ¥3,500 per person per night, this will cost you ¥34,500 (USD 317, SGD 455, PHP 16,200) per person, excluding airfare, taxes, and other miscellaneous expenses like shopping budget.
Remember that the actual prices and schedules may vary. These are only estimates. You can modify and adjust according to your preferences.
---
Other Tips for the Poor Traveler
Wear comfortable shoes. Walking around the village is the best way to explore this world heritage site. You also need to take off your shoes before entering the traditional houses.
All houses are private properties. Some are open to the public, but you must keep in mind that the owners still reside in them. Always ask for permission before entering.
Don't smoke just anywhere. There are designated smoking areas.
Do not litter. Be responsible, and observe proper garbage disposal.
Try doburoku. If you are visiting during Doburoku Festival in autumn, you must at least try it. The people of Shirakawa-go have special permission from the Japanese government to produce home-brewed unrefined sake; elsewhere in Japan. Finding home-brewed alcohol elsewhere in Japan is not easy because the government banned the practice.
Be mindful of others. During peak season, Shirakawa-go can get crowded. Don't take too much time posing for photos to give others a chance to enjoy the views and attractions also.
Be polite. If you are using Nihongo to say thank you, don't just say arigatou, but rather arigatou gozaimasu. The latter is more formal and polite. Sumimasen can mean excuse me or sorry.
If you're planning a multi-city tour of Japan, check out our guide for that here: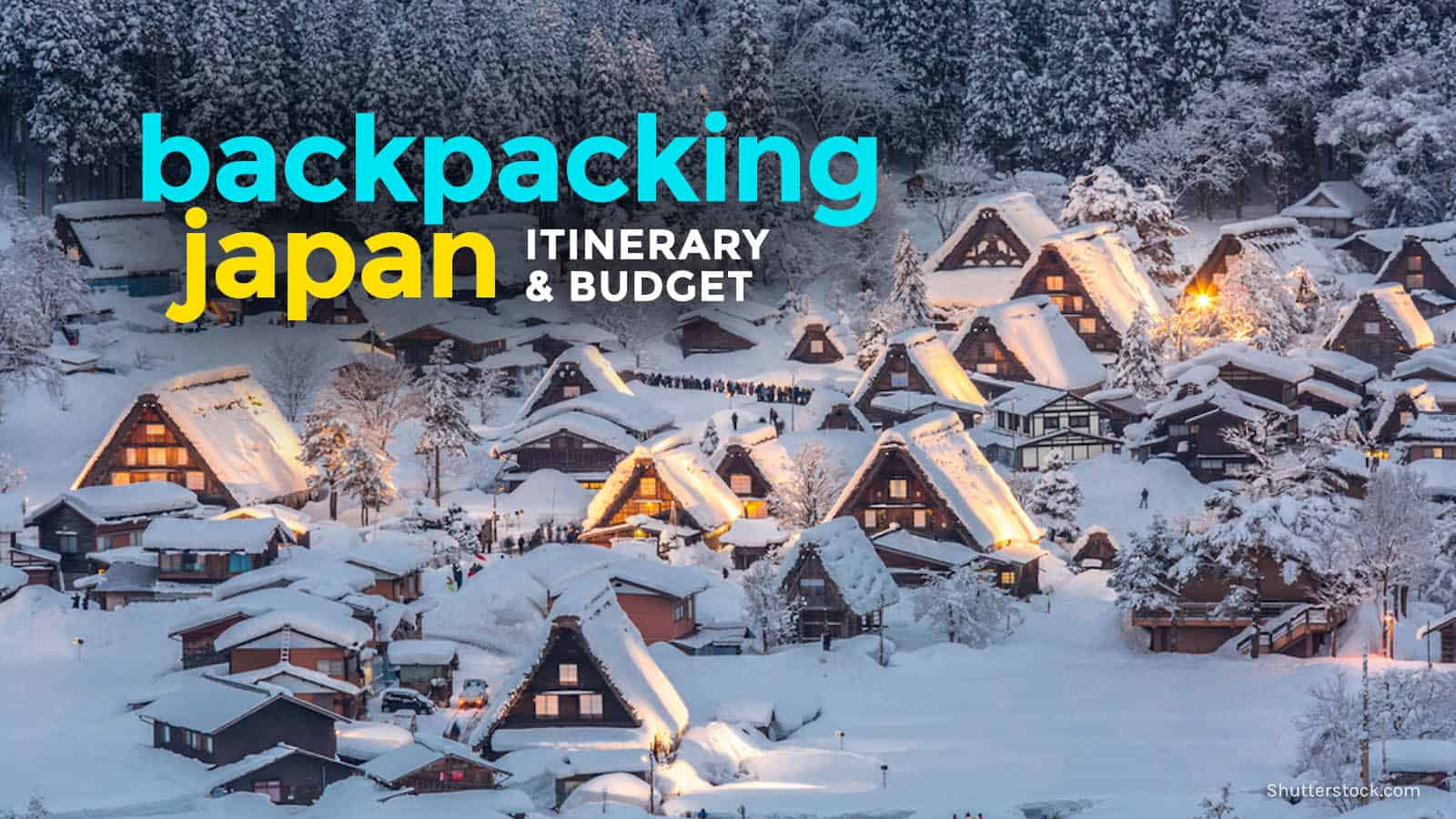 This post is brought to you by the Chubu Transport Bureau.
2️⃣0️⃣2️⃣0️⃣ • 3️⃣ • 2️⃣7️⃣