UPDATE: Make sure you have the requirements and you're flying to the right airport when traveling to Boracay. READ: BORACAY & KALIBO TRAVEL REQUIREMENTS!
Boracay is back! Well, it didn't really leave. It was just closed to visitors for six months in 2018, which sparked countless debates. The good news is, it has been reopened to tourists! There have been some changes and new policies, so we're publishing a brand new BORACAY TRAVEL GUIDE with sample itinerary to help you plan your trip. If you've been to the island prior to closure, this guide can also serve as your short refresher.
WHAT'S COVERED IN THIS GUIDE?
UNDERSTANDING BORACAY
Any conversation about the Philippines as a tourist destination isn't complete without a mention of Boracay. It is, after all, the country's most well-known beach attraction, topping various publications' lists of best islands in Asia and in the world.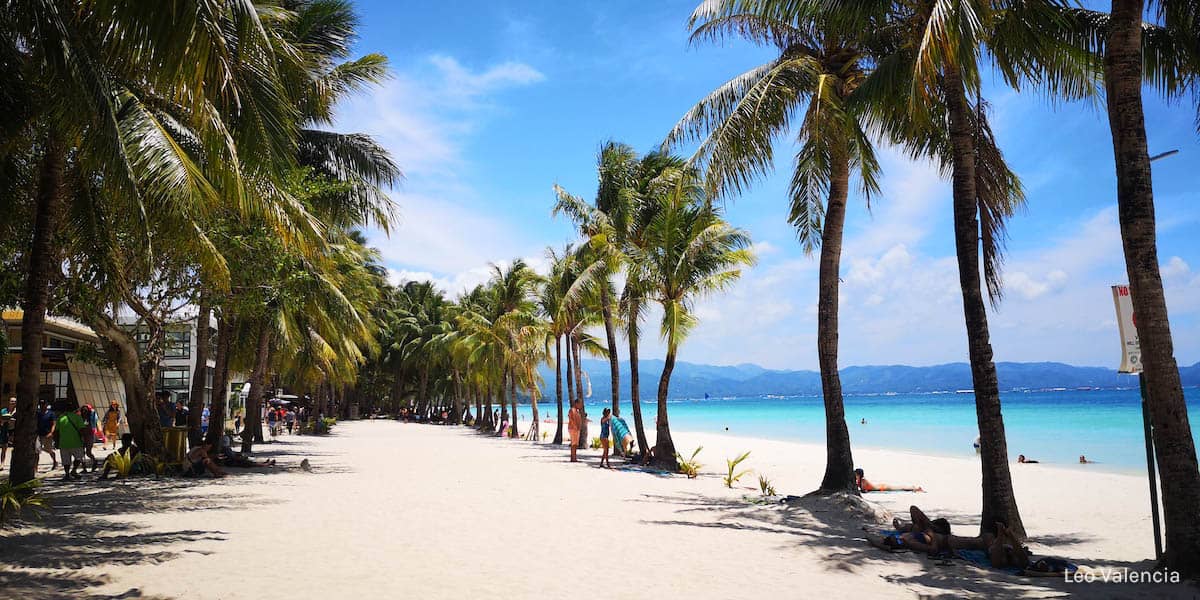 This enormous attention transformed what used to be a quiet village into an overdeveloped tourist destination. Resorts of various shapes, sizes and classes have sprouted along the coast. Lanes of restaurants and shops mushroomed along its streets and alleys. And two airports have been built to serve the growing number of locals and visitors. The year before its 2018 closure, Boracay registered receiving over 2 million tourists.
It's not difficult to understand Boracay's appeal. You'll see it immediately upon setting foot on the island. Aside from its sheer natural beauty — I have yet to see another destination that can match the island's white sand — Boracay has something for everyone. Whether you're a budget backpacker or a luxury traveler, young or old, solo or on a honeymoon, with friends or with family, you'll find something to fall in love with here.
Here are more bits about Boracay.
Location: Boracay is within the municipality of Malay, province of Aklan in the Philippines. Mainland Aklan is part of Panay Island.
Languages: Aklanon and Ati are the native languages. But locals, especially those working in the tourism industry, can fluently speak and understand Tagalog and English.
Currency: Philippine peso (PHP, ₱). PHP100 is around USD 1.90, EUR 1.69, SGD 2.57 (as of May 2019).
Modes of payment: CASH, primarily. Some establishments accept credit cards, but bring cash to be safe.
---
WHERE TO STAY IN BORACAY
When looking for a place to stay in Boracay, it is important to be familiar with its geography. Boracay is a bone-shaped island politically divided into three barangays (villages): Balabag, Manoc-Manoc, and Yapak. Manoc-Manoc is the southernmost barangay, where both jetties are located.
You'll be encountering the names of these barangays when checking out accommodations online. But for tourism purposes, it'll be easier to split the island not by barangay but by beach.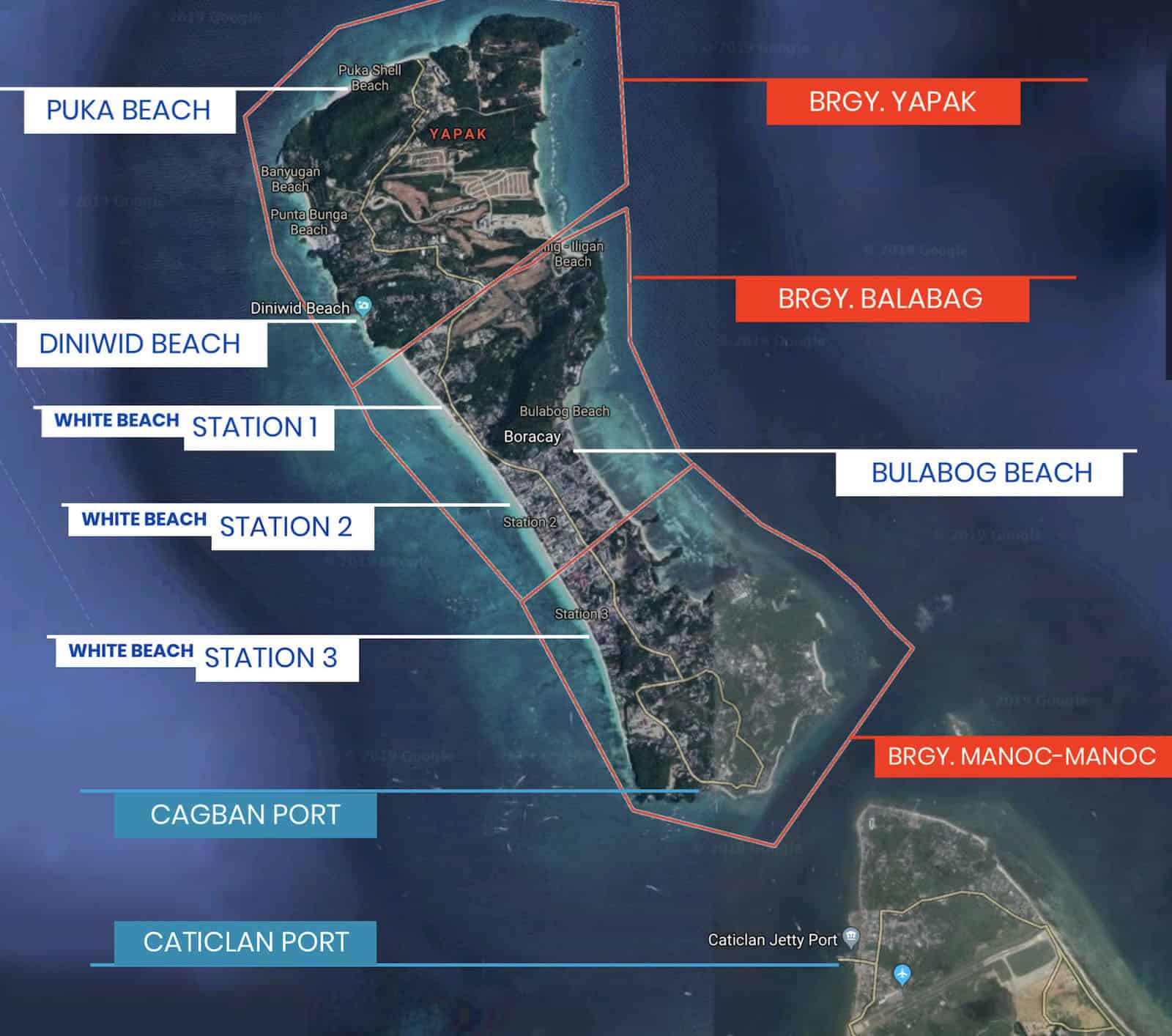 Most people who haven't been to Boracay are under the impression that it has only one beach because most media features focus on its main stretch — White Beach. And while it is the longest and most popular, it is not the only strip of sand here. The island is hemmed by over a dozen beaches! When looking for accommodations, it is important to consider not just the barangay but also the beach where it is located. Here are some of the beaches in Boracay.
White Beach, the busiest, most crowded, and arguably the most stunning beach on the island. This has the highest concentration of accommodations. It is also the longest beach, split into three stations. Stations 1 and 2 are located in Barangay Balabag, while most of Station 3 is in Manoc-Manoc. Many of the island's key attractions like D'Mall, the grotto, and most popular restaurants can be found here. Station 1 is tucked on the northernmost end of the beach, which makes it relatively quiet. Stations 2 and 3 are where most shops and bars are located. Filling the island's western coast, White Beach is also the best and most accessible place to watch Boracay's glorious sunset.
Bulabog Beach, another long stretch hugging the eastern side of the island. The sand here isn't fine, but it is also very accessible and is most well-known as the jump off point for many exciting water activities.
Diniwid Beach is a short patch of sand north of White Beach's Station 1, separated only by a promontory. Although seemingly isolated, there is a cemented walking trail along the beach that connects Diniwid to White Beach. You'll also find a few resorts and hostels here.
Some higher-end resorts like Shangri-la Boracay and Flora East are located along smaller coves.
IMPORTANT! If you wish to stay in Boracay, NO BOOKING, NO ENTRY.. You must show proof of booking or reservation with any of the accredited hotels.
To see the complete list, check out: LIST OF ACCREDITED BORACAY RESORTS AND HOTELS!
Below are the top accredited Boracay budget hotels and hostels on Agoda, as ranked by users.
---
Top Boracay Budget Hotels & Guesthouses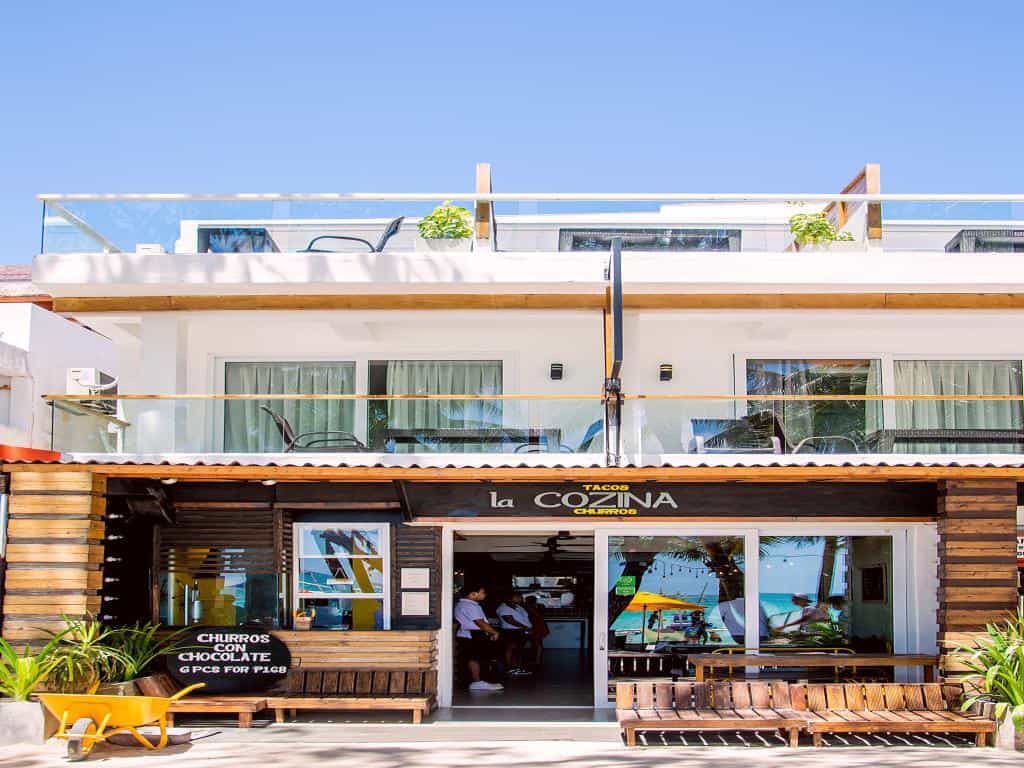 ---
Top Boracay Hostels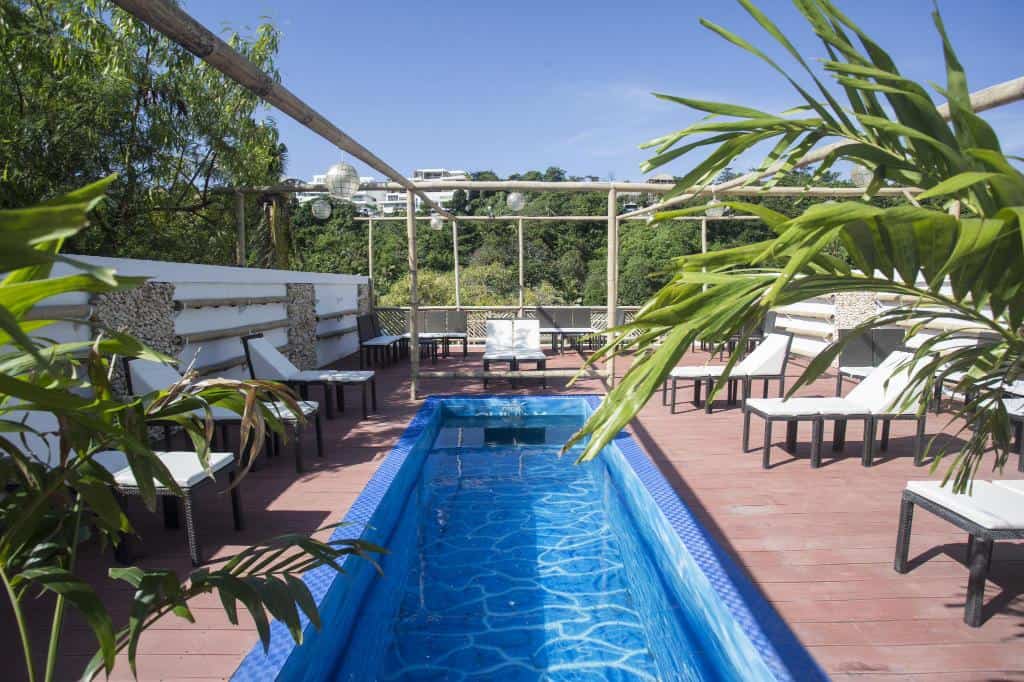 ---
---
HOW TO GET TO BORACAY
UPDATE: In the pre-pandemic world, Boracay Island was served by Aklan's two gateways: the bigger Kalibo International Airport and the closer Caticlan Airport, which is now being called and referred to as Boracay Airport. Starting October 2020, however, as advised by the Inter-Agency Task Force on Emerging Infectious Diseases (IATF), each airport will be serving a specific type of passenger, depending on the purpose of travel.
Boracay Airport or Caticlan Airport, for Boracay-bound leisure travelers
Kalibo Airport, for returning overseas Filipino workers (ROFWs), locally stranded individuals (LSIs), and authorized persons outside of residence (APORs)
MANILA TO BORACAY
If you're coming from Manila, flying is the fastest and easiest way to Boracay. The island is served by two airports: Kalibo and Caticlan. Each airport has its own pros and cons.

Kalibo Airport is farther, requiring around 2 hours of travel time, but fares to Kalibo are much cheaper.
Caticlan Airport is closer, 15-30 minutes away, but fares are way more expensive than Kalibo.
Once you're at Kalibo or Caticlan Airport, you will need to make your way to Boracay. Follow the steps below.
---
KALIBO AIRPORT TO CATICLAN

If you're flying to Kalibo, you will need to travel to Caticlan Jetty Port, which is 1.5 to 2 hours away. You have plenty of options. Upon arrival at the airport, you'll see staff offering packaged transfers to Boracay. Many of these already include the bus transfer to Caticlan, boat transfer to Boracay, and other fees. But these are expensive.
Here's what we recommend:
OPTION A: LOCAL BUS. Take a tricycle to the bus terminal and board a Ceres bus bound for Caticlan. The bus fare is only P120. This is the cheapest way to reach Caticlan from Kalibo. Once at Caticlan Jetty Port, follow the steps at the next section (CATICLAN TO BORACAY).
OPTION B: TOURIST BUS/VAN. Look for "non-packaged" vans or buses that can take you directly to Caticlan Jetty Port. Fare should be only P200. Once at Caticlan Jetty Port, follow the steps at the next section (CATICLAN TO BORACAY).
OPTION C: PACKAGED BUS/VAN TRANSFER SERVICE. If, for whatever reason, you don't want to do the transfers on your own, a good option is to book a packaged transfer service. Aside from the comfortable transfer from Kalibo Airport to Caticlan, the price also covers the boat crossing, terminal fee, environmental fee and HOTEL transfer. You will also be assisted through the sometimes confusing process at the jetty port. This is great for those traveling to Boracay for the first time and traveling with kids or elderly. You can book them on Klook too for only P490 (van) or P480 (bus).
Below are where you can book packaged bus/van transfer services.
✅ RESERVE BUS TRANSFER HERE!
✅ RESERVE VAN SERVICE HERE!
---
CATICLAN TO BORACAY
If you're flying straight to Caticlan Airport, ride a tricycle to Caticlan Jetty Port. Fare: P50 to P75 per person (depending on the number of passengers). At the jetty port, follow the steps below.
If you're coming from Kalibo Airport, take a van or bus to Caticlan Jetty Port. Then follow these steps.
At Caticlan Jetty Port, look for the Registration Area in the tents set up outside the terminal building. You'll then be asked to write down your name on a logbook. This is used to monitor the number of tourists visiting Boracay.
Proceed to the Verification Area. Here, you'll need to present proof of accommodations or hotel booking. Remember, if you're spending at least one night in the island, hotel booking is REQUIRED.
Pay the fees. Proceed to the payment windows. Decide whether you want to take the cheaper pumpboat or the bigger but pricier Oyster Ferry, where you'll need to settle the following: terminal fee (P100), environmental fee (P75), and boat fare (your choice: pump boat P25-30 or oyster ferry P100). You'll settle all these at once but you'll be given separate receipts.
Enter the port building. You'll have to go through a security check. Proceed to the Passenger Waiting Area and wait for boarding.
When it's time for boarding, find your boat and queue up. Travel time is 10-15 minutes.
Take a tricycle to your hotel. You will be taken to Cagban Port or Tambisaan port. Either way, you will find tricycles waiting for passengers in the area. They can take you to your hotel or resort in White Beach for P100-P150 per ride.
That's it! Welcome to Boracay!
For a more detailed, step-by-step guide, read: CATICLAN AIRPORT TO BORACAY.
By the way, the guide above involves tricycle rides. If, for whatever reason, you want a more comfortable journey to your hotel, opt to book Klook's packaged transfer service. Aside from the air-conditioned van transfer from Caticlan Airport to the jetty port, you will also be assisted through the port processes and the driver can help you with your luggage. The price already includes the van airport transfer, boat crossing, and multi-cab hotel transfer.
✅ RESERVE OR CHECK RATES HERE!
---
HOW TO GET AROUND BORACAY
The tricycle is the primary mode of transportation around the island. For our non-Filipino readers, the tricycle (trike) works like a taxi. The difference is, other than the obvious, is that you can share the tricycle with other passengers who are going to the same destination. A trike can also pick up or drop off passengers along the way. UNLESS you charter the entire vehicle for a "special" trip, which means the driver will not make any stop or pick up anyone else and you can have the unit to yourself.
In Boracay, there are two types of tricycles: motorized (regular) and electric.
Tricycles are regulated and fares have fixed rates. Here are the fares if you're coming from a White Beach Station:
To another station (e.g. Station 2 to Station 3): P10 per person
To area just outside the stations (e.g. Bulabog Beach): P20-30 per person
To Diniwid Beach: P35 per person
To Puka Beach or Yapak area: P40 per person
To Cagban Port or Tambisaan Port: P120 per tricycle
To an area far from the main road: P150-200 per tricycle
Special trip: P100-200 per tricycle
To get to the surrounding islands, you may join an island hopping tour. I'll discuss the rates in the ISLAND HOPPING section below.
---
THINGS TO DO IN BORACAY
Island Hopping
There's more to Boracay than White Beach. The island's jagged corners are filled with sand, creating shorter but still stunning beaches. There are also smaller islands around it.
On the island, you'll find touts offering "island hopping" with stops at Puka Beach, Crystal Cove Island, and Crocodile Island. It usually costs P500-600 per person. The problem is that many of them don't communicate that Crystal Cove Island is CLOSED for now and that you won't actually be stopping at Crocodile Island, you'll just admire it from the boat or the snorkeling site. So you're left with a snorkeling site and Puka Beach.
Klook also offers an island hopping tour with stops at the following:
Puka Shell Beach
Tambisaan Beach
a coral garden (snorkeling site)
You'll also get to see Crocodile Island but no stop either. "Island hopping" is actually a misnomer because most stops are part of Boracay Island. It's more like "beach hopping."
You can join a group tour or charter a private boat. Joining a group tour means sharing the boat with other travelers. Lunch is also included.
✅ RESERVE A SLOT ON THIS TOUR HERE!
---
Ariel's Point Cliff Diving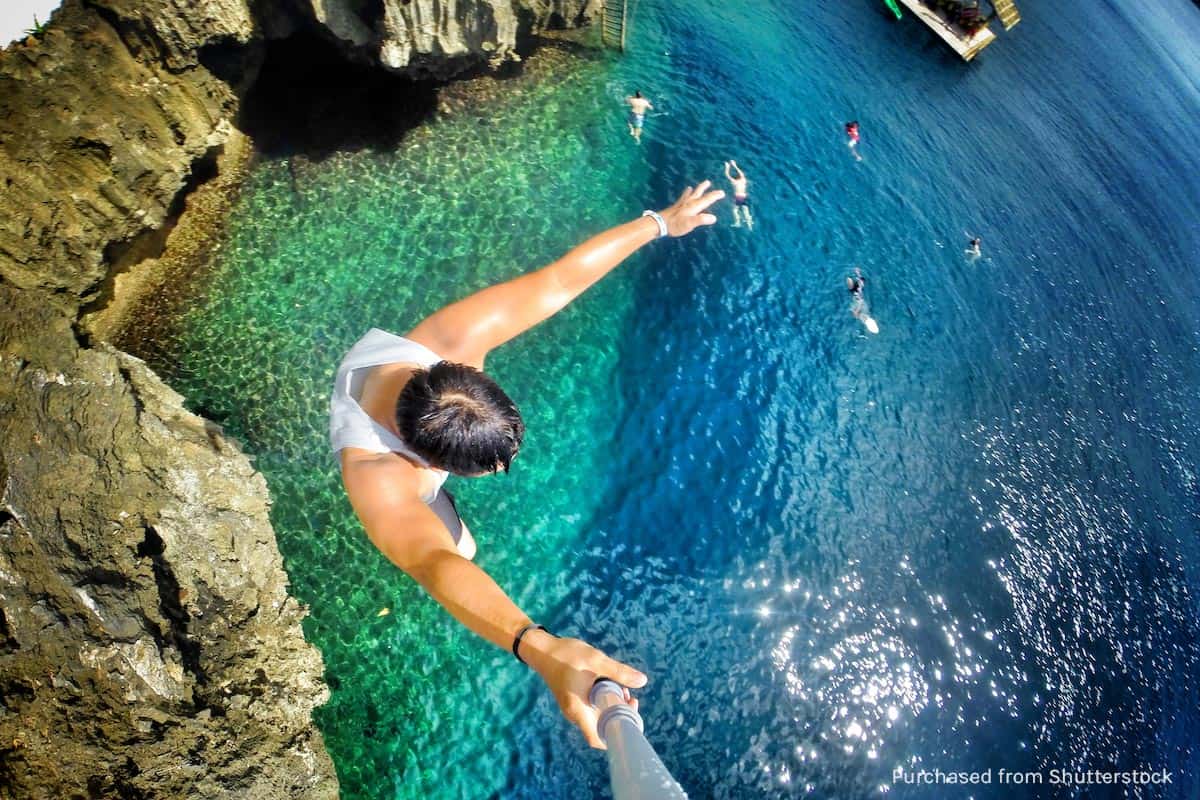 A favorite among the adventurous. Leap off a cliff and make a big splash into the sapphire waters below! Ariel's Point has five cliff diving platforms, with the highest at 13 meters. "The lower ones at 7 meters, 6 meters, 5 meters, and 3 meters," according to their website. "Guests who prefer not to jump from any of the platforms can use our floating dock to enter the water."
Rate: P2,800 per person, but this cost is actually for a package that includes "a round-trip outrigger ride, BBQ lunch buffet, merienda (afternoon snacks), unlimited drinks, full use of Ariel's Point amenities and services (cliff-diving, canoes, kayaks, snorkeling gear, and floating raft), and coverage of local environmental and snorkeling fees."
✅ RESERVE A SLOT HERE!
---
Parasailing Boracay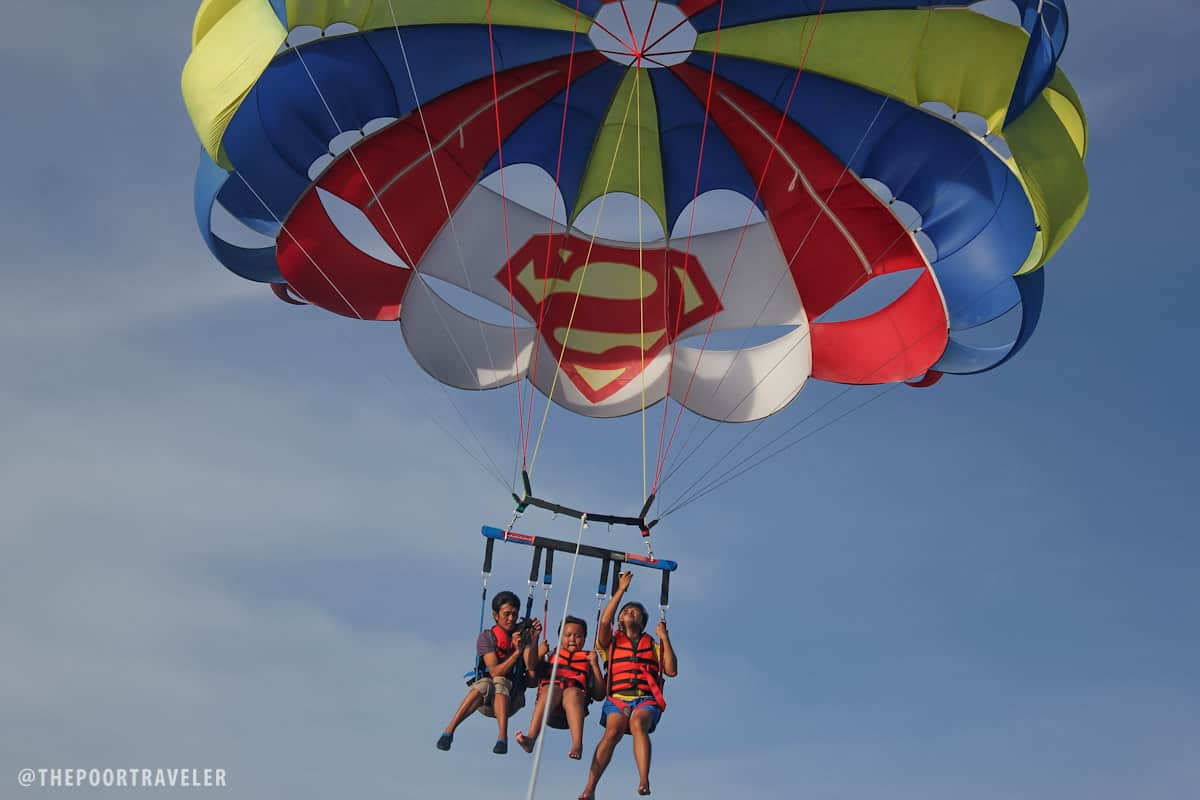 Zoom on a speedboat off Bulabog Beach and then soar high above Boracay! Not only do you get an adrenaline rush, you also get an awesome view of the island while you're at it. Don't forget to bring a camera because the boat staff are usually skilled in taking pictures of overwhelmed (and dizzy) flying tourists!
Rates: The regular rate is P2500 per person. Klook's offer is around the same price. But the good thing about booking on site (instead of online) is that you get a chance to haggle especially during off peak season or if you're a group. Just remember that it's more expensive if you're doing it solo!
If, for whatever reason, you don't want to book on site and you'd rather book online, check out the link below.
✅ BOOK A SLOT HERE!
---
Paraw Sailing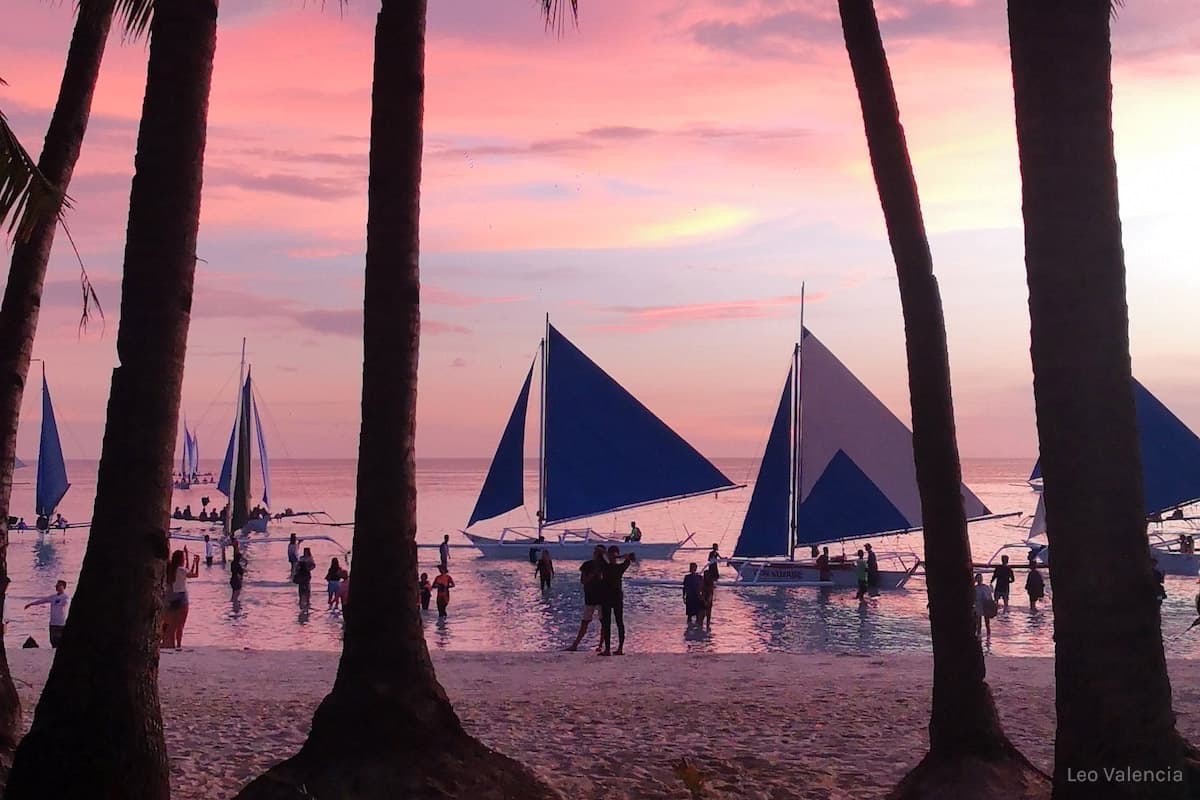 Sailing old school! A paraw is an outrigger boat with two sails. These sailboats are ubiquitous in Boracay seascapes and have become one of the island's most recognizable icons. Get onboard, get the hang of it, and let the wind take you.
You can do it in the day or at sunset!
☀️ RESERVE A DAY SLOT HERE!
🌅 RESERVE A SUNSET SLOT HERE!
---
Haqqy Boracay Pub Crawl
Boracay has made a name for itself as a party island (among others). When it was temporarily closed to the public, many wondered if it meant the end for its legendary nightlife. Well, after reopening, Boracay's night remains alive and kicking. While LaBoracay is no longer observed, the clubs and bars are still there.
A good way to get a generous dose of Boracay's nightlife is by joining a pub crawl. The one offered on Klook is organized by Haqqy Pub Crawl, which will allow you to go bar-hopping and partying with other travelers from around the world and "turn strangers into friends." You'll also have a guide and a professional photographer tagging along.
✅ JOIN THIS PUB CRAWL!
---
Banana Boat & UFO Rides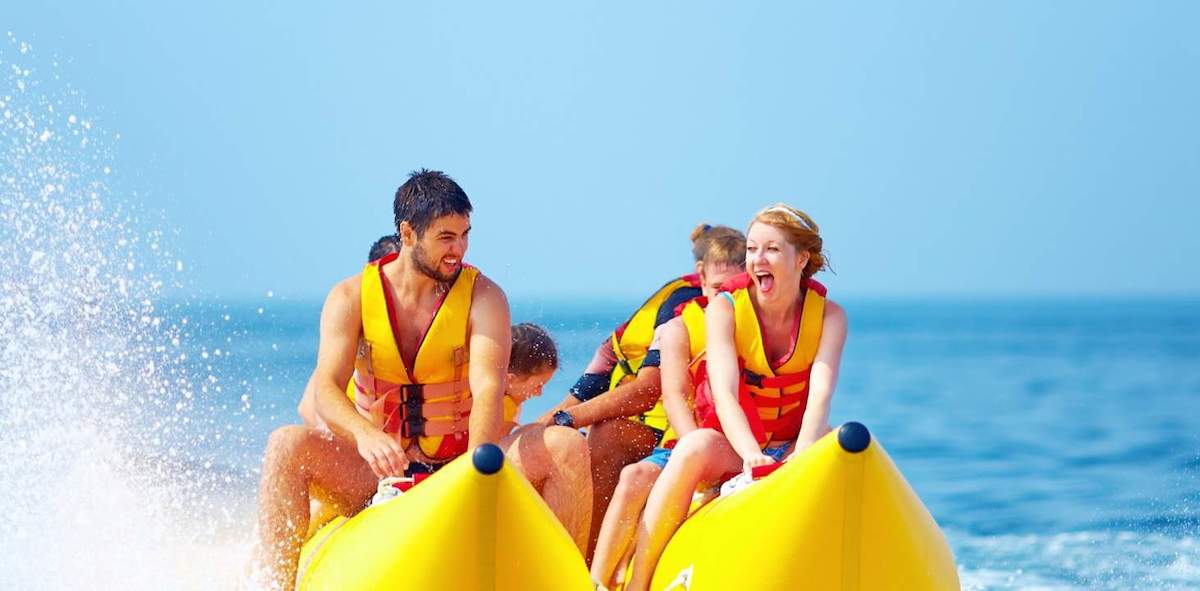 Exhilarating rides not for the faint-hearted! Ride a giant inflatable vessel and get pulled along by a speedboat! It's one hell of a bumpy (sometimes bouncy) ride that is perfect for barkadas. Hang on to your soul tight, for you might leave it behind! Not recommended for 18yo and below.
🍌 BOOK A BANANA BOAT RIDE HERE!
🛸 BOOK A UFO RIDE HERE!
---
Stand Up Paddleboarding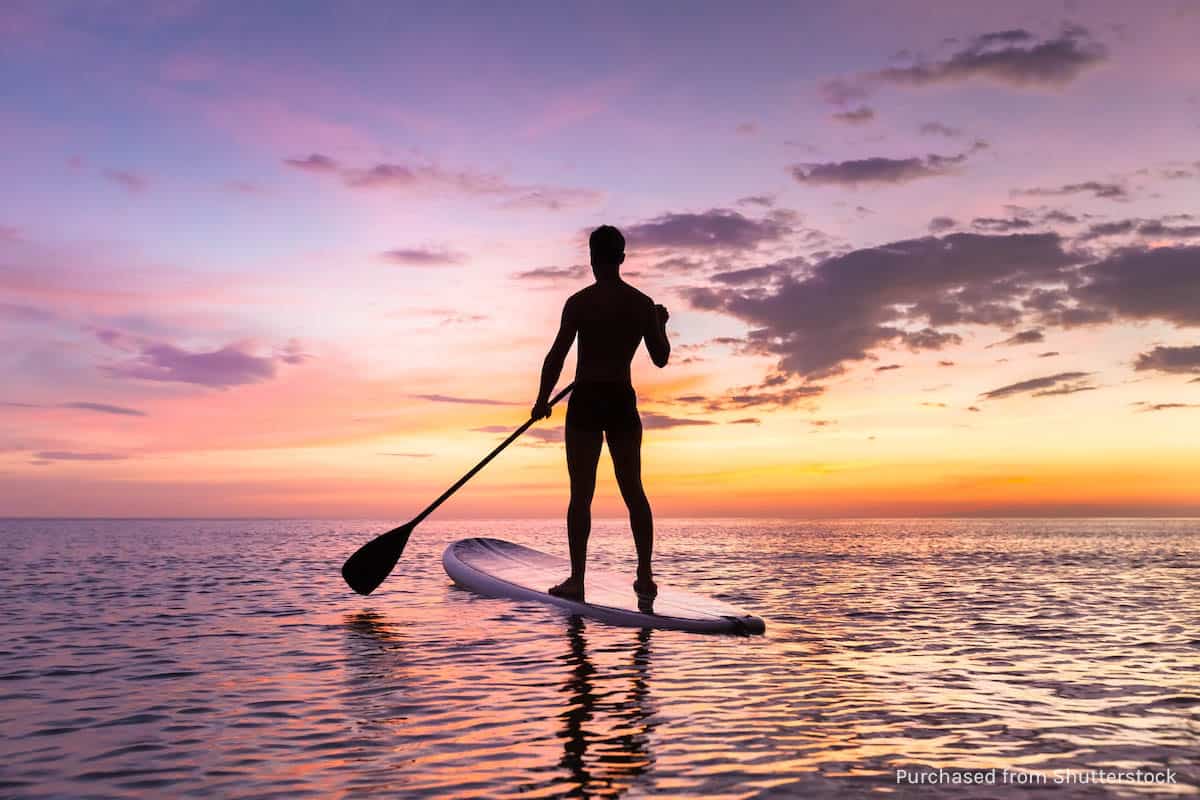 Because being seated is so overrated. LOL. If you've always wanted to learn how to do standup paddleboarding (aka standup paddling), Boracay might just be the best place to do it. The calm waters of White Beach makes it an ideal SUP playground for beginners!
✅ BOOK THIS ACTIVITY!
---
WHERE TO EAT IN BORACAY
Most beachfront restaurants are very costly. There are mid-range restos farther from the beach that may be worth a try. But if you're really concerned about the prices, your best bet are the turo-turo carinderias along the main road and inner alleys. P100 should already buy you a decent rice meal.
When I'm too tired or hungry to decide where to eat, my go-to place is Andok's at D'Mall. Hahaha. When I'm alone, I order one of their rice meals, which is usually around P70. When I'm with friends, we order Lechon Kawali Royale which costs around P220 and then we split the cost.
One popular food place is D'Talipapa, where you can shop for fresh ingredients (seafood!) and have one of the surrounding eateries prepare them the way you like it for a fee. This is ideal for groups!
If the place you are staying in allows you to cook or prepare food yourself, pay a visit to Talipapa Bukid at Station 3 for the ingredients!
We'll create a separate post about the food places in Boracay. In the meantime, here's a short list of the most popular local snacks in the island.
Jonah's Fruit Shake. P120+
Halo Mango. P120
Merly's BBQ's chori burger. P50.
Los Indios Bravos' beer sampler. P225
Real Coffee and Tea Cafe's calamansi muffin. P70 each
We'll be adding more in our dedicated post about Boracay food.
---
SAMPLE BORACAY ITINERARY
Here's a sample Boracay long weekend itinerary that you may pattern your own after. It assumes you're a party of 3, splitting the cost of accommodations and other expenses. Feel free to adjust in order to match your flight schedules, tastes, and needs.
DAY 1: WHITE BEACH
09:25 am – Arrival at Caticlan Airport
09:40 am – Tricycle to Jetty Port, P50
10:00 am – Go through registration/verification
10:15 am – Pay fees: P100 terminal fee, P25 ticket, P75 environmental fee
10:30 am – Boarding
10:50 am – Arrival in Boracay
10:55 am – Tricycle to resort, P40 (P120/3pax)
11:20 am – Hotel checkin or drop bags
11:40 am – Lunch, P200
01:00 pm – Back to hotel, freshen up
03:00 pm – Walk along or swim at White Beach
05:30 pm – Watch sunset
06:30 pm – Back to hotel, freshen up
07:30 pm – Dinner, P200
08:30 pm – Walk around D'Mall
10:00 pm – Back to hotel
DAY 2: ISLAND HOPPING
09:30 am – Island hopping tour, P700
02:00 pm – End tour
02:30 pm – Jonah's Fruit shake, P120
03:00 pm – Back to hotel, freshen up
05:30 pm – Watch sunset
06:30 pm – Chori burger, P50
07:30 pm – Boracay Pub Crawl, P990,
01:30 am – End tour
02:00 am – Back to hotel
DAY 3: DEPARTURE
09:00 am – Wake up call
10:00 am – Check out
10:30 am – Tricycle to port, P40 (P120/3 pax)
11:00 am – Buy ticket P25, terminal fee P100
11:30 am – Trike to Caticlan Airport, P50
12:00 pm – Flight check in
02:10 pm – Flight out
If you follow the itinerary above, prepare to shell out around PHP 2990 (USD 58, SGD 79, EUR 51) excluding airfare, accommodations, and extra booze during the pub crawl but including a P200 allowance for miscellaneous expenses.
For accommodations, you can find a dorm bed for as low as P700 per night. If you're able to score a bed that price, the itinerary above will cost you around PHP 4390 (USD 85, SGD 115, EUR 75) excluding airfare and booze.
---
FREQUENTLY ASKED QUESTIONS
When is the best time to visit Boracay?
November to May is the best time to visit Boracay.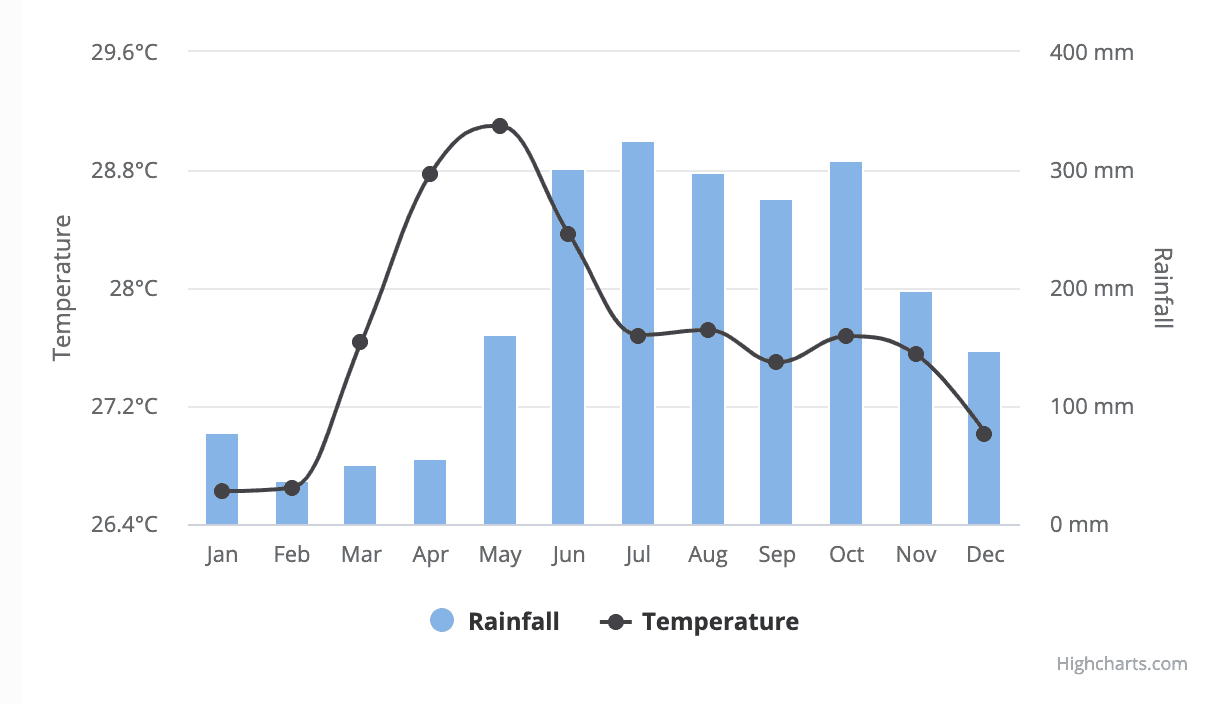 Weather-wise, the months of February to May are the driest, which means there's very little chance that unexpected showers would ruin your itinerary. However, it is also considered high season (peaking during Holy Week), so prepare to share the island with thousands of tourists!
If you don't like big crowds but you also want a relatively pleasant weather, November to January is the most ideal time to visit as long as you stay away from the days leading to Christmas and New Year.
---
Is Boracay safe?
Yes, Boracay is generally safe.
Like many touristy destinations, there are a couple of overcharging practices, but scams are not as rampant as in other beach destinations in Southeast Asia.
But it's always best to keep an eye on your belongings and don't leave them just anywhere.
---
What type of power plug / socket is used in Boracay?
Electricity Info: 220V, 60Hz. Plug and socket Type A.

---
What is the tipping custom in Boracay?
Just like in other places in the Philippines, tipping is not mandatory in Boracay. Restaurant bills usually include a service charge but it does not always go to the servers.
If you enjoyed the service, feel free to tip. A tip of 5-10% of the bill is generally well-appreciated.
---
Are there ATMs in Boracay?
YES, lots. You'll fine most of them along the main road near Stations 1-3 and around D'Mall.
There are also money changers and Western Union branches throughout the same area.
---
Are drones allowed in Boracay?
YES, but you need to secure a special permit from the local government. The permit will specify the dates and times when and the areas where you can use your drone.
Example: This special permit is granted to Yosh Dimen to use his drone only at the front beach on June 15 and 17, from 6am to 6pm only.
Permit fee is P1300 per day. It's a bit steep, but you know what's steeper? Fines. If you're caught flying your drone without a permit, you'll be fined around double the permit fee.
Only a limited number of drone permits are issued per day.
---
What other things are NOT ALLOWED in Boracay?
The following activities and items are prohibited on the beach:
NO smoking
NO drinking of alcohol
NO illegal drugs
NO pets
NO littering
NO loud music
NO fire dancing
NO pitching of umbrella
NO beach beds/chairs
Also, taking sand as souvenir is illegal, so empty that vial and don't be a sand thief.
Always remember: Take nothing but pictures. Kill nothing but time. Leave nothing but footprints.
---
2️⃣0️⃣1️⃣9️⃣ • 6️⃣ • 1️⃣3️⃣