Welcome to our latest BANGKOK TRAVEL GUIDE with sample itinerary, budget breakdown and tips on finding budget-friendly Bangkok tours, hotels, and attractions.
If backpacking were a college degree, Bangkok would have to be the 101 course.
Not only is Bangkok the the most visited city in the world, it also considered the global epicenter of backpacking culture. The famed Banana Pancake Trail, perhaps Asia's most used travel route, often starts and ends in the Thai capital. No shock there, given that it sits at the heart of mainland Southeast Asia, boasts affordable prices, serves delicious local cuisine, and is home to some of the most hospitable people you'll ever meet. Best of all, even during the pandemic, it remains tourist-friendly.
We have just arrived from our ninth — yes, 9th — Bangkok visit, and in this article, we'll share with you all the tips and latest updates we've collected.
---
ESSENTIAL BANGKOK LINKS
Before we dive into the details, here's a list of links to some of our recommended hotels, tours, attractions, and other must-haves, for easy reference in the future.
Top Bangkok Hotels

Top Day Tours on Klook

Transportation Passes

Internet Connection
---
WHAT'S COVERED IN THIS GUIDE?
UNDERSTANDING BANGKOK
Bangkok is the capital and the commercial, economic, and political center of Thailand. The name Bangkok is an exonym, something that foreigners use. Thais call it Krung Thep (meaning City of Angels), short for its official name Krung Thep Maha Nakhon, which is also a shortened version of its full, ceremonial name: Krung Thep Mahanakhon Amon Rattanakosin Mahinthara Ayuthaya Mahadilok Phop Noppharat Ratchathani Burirom Udomratchaniwet Mahasathan Amon Piman Awatan Sathit Sakkathattiya Witsanukam Prasit.
At first glance, Bangkok appears as your typical highly-urbanized metropolis, but a closer look reveals it remains very much in touch with its past. The city's roots as the capital can be traced back to 1782, when King Rama I, after the fall of Ayutthaya in 1767, ordered the people to move south and establish a new center at a more militarily strategic location along the Chao Phraya River. Many of Bangkok's most visited attractions today were built under King Rama I, including the Grand Palace complex and the other temples that will be discussed in the guide.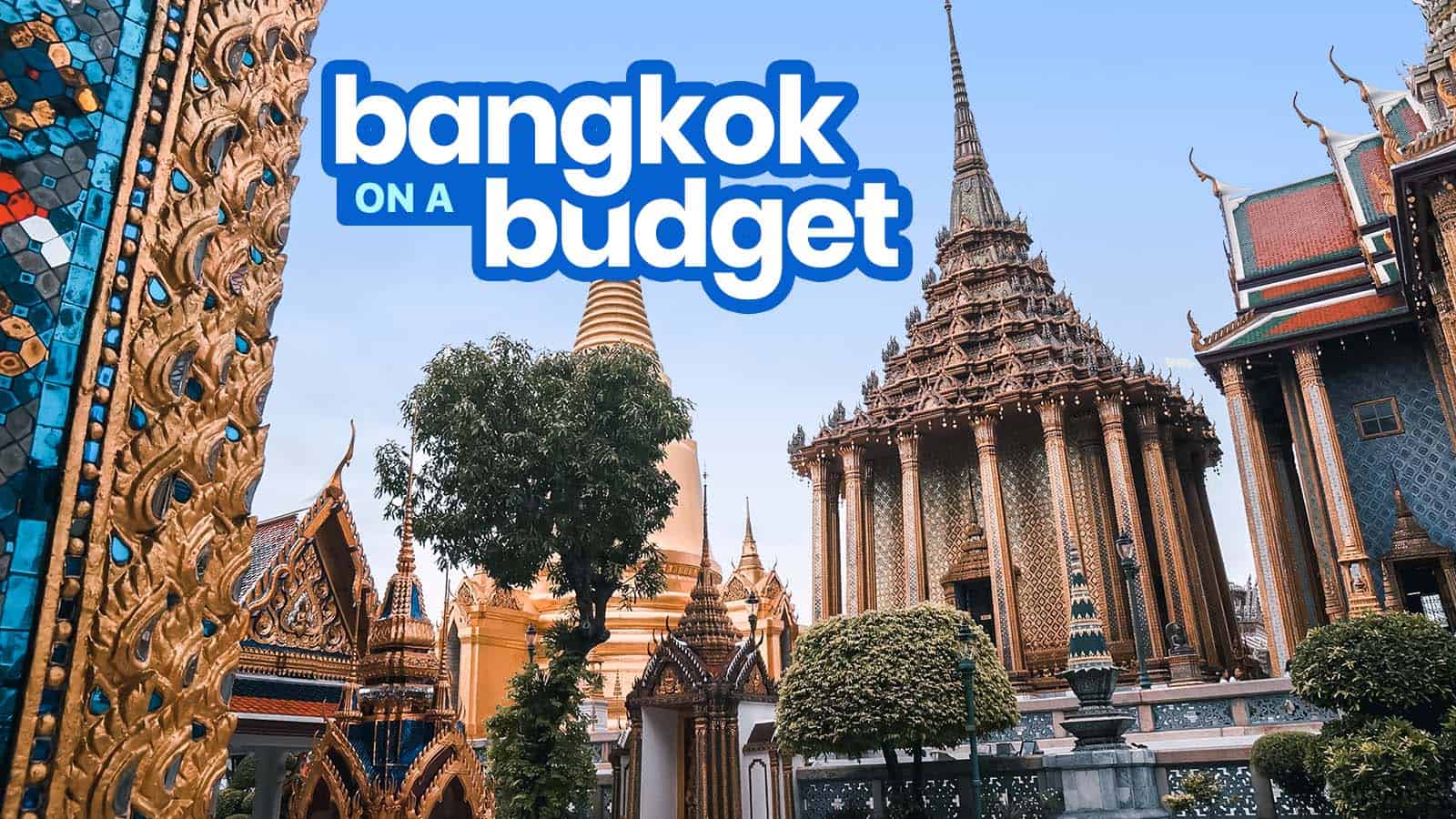 Here are a few more facts you need to know:
Language: Thai. For newly exposed non-native speakers, it can be quite intimidating, especially its lengthy words. It's also a tonal language, i.e. the meaning changes with the tone. But many road and establishment signs are also written in Latin alphabet. English isn't normally spoken. You'll encounter taxi drivers and vendors who cannot speak English. But most younger locals can. And what the Thais lack in English fluency, they make up for with their friendly attitude toward tourists.
Timezone: UTC+07:00 (ICT – Indochina Time), year round. No daylight saving time observed. Same time zone as Vietnam, Cambodia, and Laos. Thailand, in general, is one hour behind the Philippines, Singapore and Malaysia.
Currency: Thai Baht (THB, ฿). TTHB100 is roughly USD 2.89, EUR 2.72, SGD 3.9, PHP 161 (as of December 2022).
Modes of payment: Cash. Although some restaurants and hotels accept credit cards, smaller establishments prefer cash.
Religion: Buddhism is the predominant religion, practiced by almost 93% of the population. Most others identify with Islam, Christianity, Hinduism, Sikhism, and Confucianism.
---
WHERE TO STAY IN BANGKOK
Best Area to Stay
Bangkok is a vast city, and many of the key attractions are spread apart. Thankfully, there are also plenty of neighborhoods that are ideal places to stay. What's best depends on why you're in Bangkok in the first place.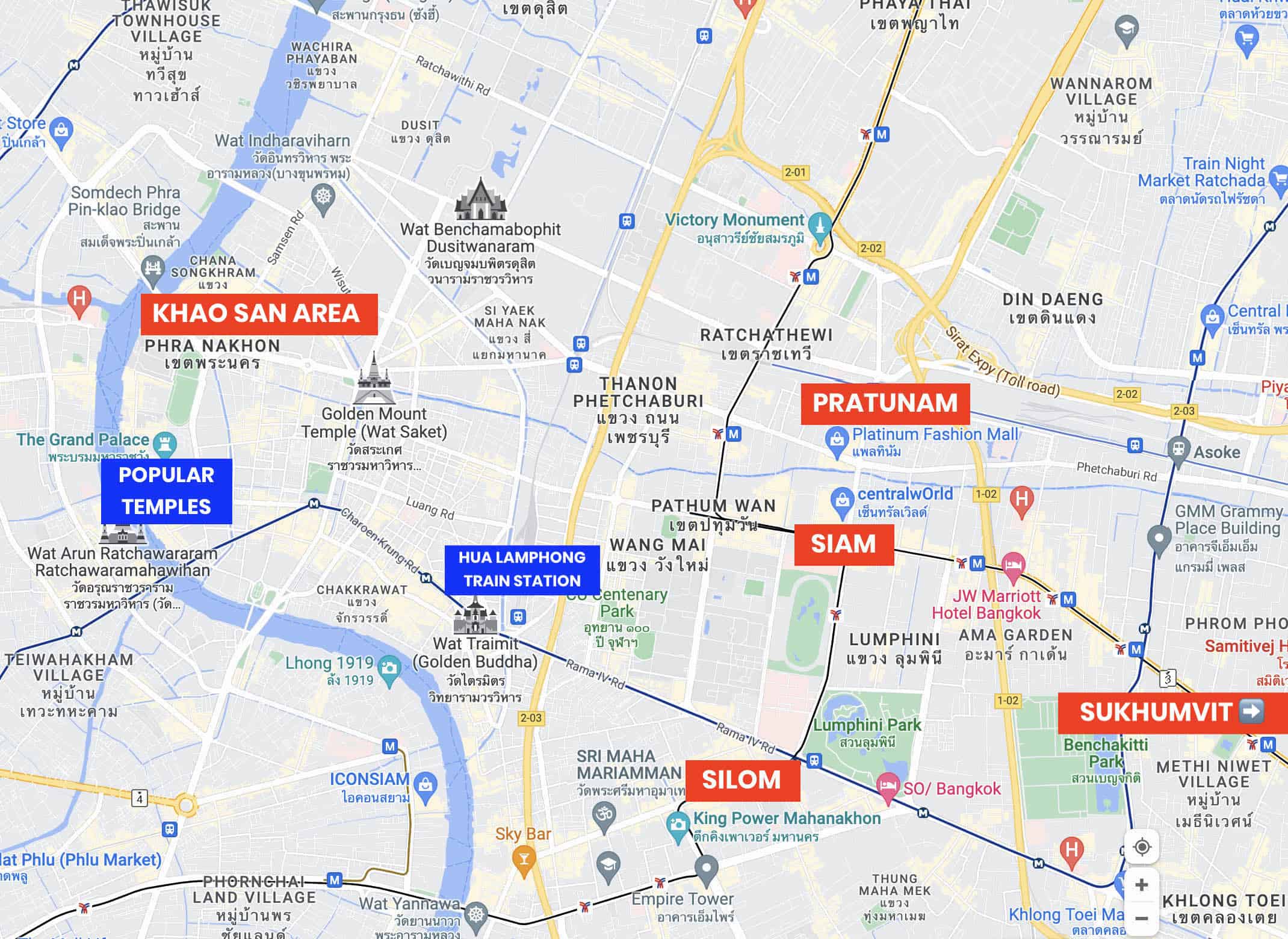 If you're on a budget, SIAM and SILOM have a good selection of hostels and budget hotels, especially the areas around BTS National Stadium Station or MRT Ratchathewi in Siam and BTS Sala Daeng and MRT Si Lom in Silom. From any of these, most of the attractions easily accessible, ensuring savings on transportation. Cheap food spots are also scattered around these districts.
If you're backpacking or after Bangkok's wild nightlife, the KHAO SAN area should be your top choice. Khao San Road is loud, but it is where backpackers from around the world congregate. The area also harbors countless hostels and other lodging options for budget travelers. It's also easily accessible from the Grand Palace and the city's popular temples.
If you're here to shop 'til you drop, the PRATUNAM and SIAM areas are ideal because of the many bargain centers and shopping malls around.
If you wish to experience modern Bangkok, the SUKHUMVIT area has a lot of dining, shopping, and clubbing options, including many of its famed rooftop bars. It's also where most expats are based, creating a more cosmopolitan vibe.
If you're a foodie, SILOM and CHINATOWN are home to some of the best but affordable food spots in the city. Silom is the business district with the Lumphini Park, Bangkok's largest green space, at its center, ensuring a balance between quiet and chaos. The BANGLAMPHU area (near the Democracy Monument and Khao San Road) also has a great selection of Michelin-listed pocket-friendly restaurants.
All these areas are conveniently located because there are BTS/MRT stations nearby. Well, almost. The only exception is KHAO SAN / BANGLAMPHU, which is a 30-minute walk away from the nearest BTS Station (Sam Yot). But Khao San is close to a pier, where you can board a boat to get to key attractions along Chao Phraya River. Other than that, tuktuk and taxi are the main transportation options to and from Khao San. That said, I can still recommend staying there, especially if you wish to have a taste of Bangkok's backpacking culture.
If you prefer to stay somewhere easily accessible, the SILOM and SIAM areas are my top recommendations. Both have a number of BTS/MRT stations and offer a little bit of every thing that the other districts have to offer — good food, shopping, and nightlife.
---
Top Budget Hotels & Hostels in Bangkok
Here are some of the top-reviewed hostels and budget hotels on Agoda that won't break the bank:
---
Top Mid-Range/Upscale Hotels in Bangkok
If you have a bigger budget, here are the top properties on Agoda:
---
---
HOW TO GET TO BANGKOK
Bangkok is one of the busiest and most connected cities in the world. If you're living in a major city, chances are, there's a direct flight from where you are to Bangkok.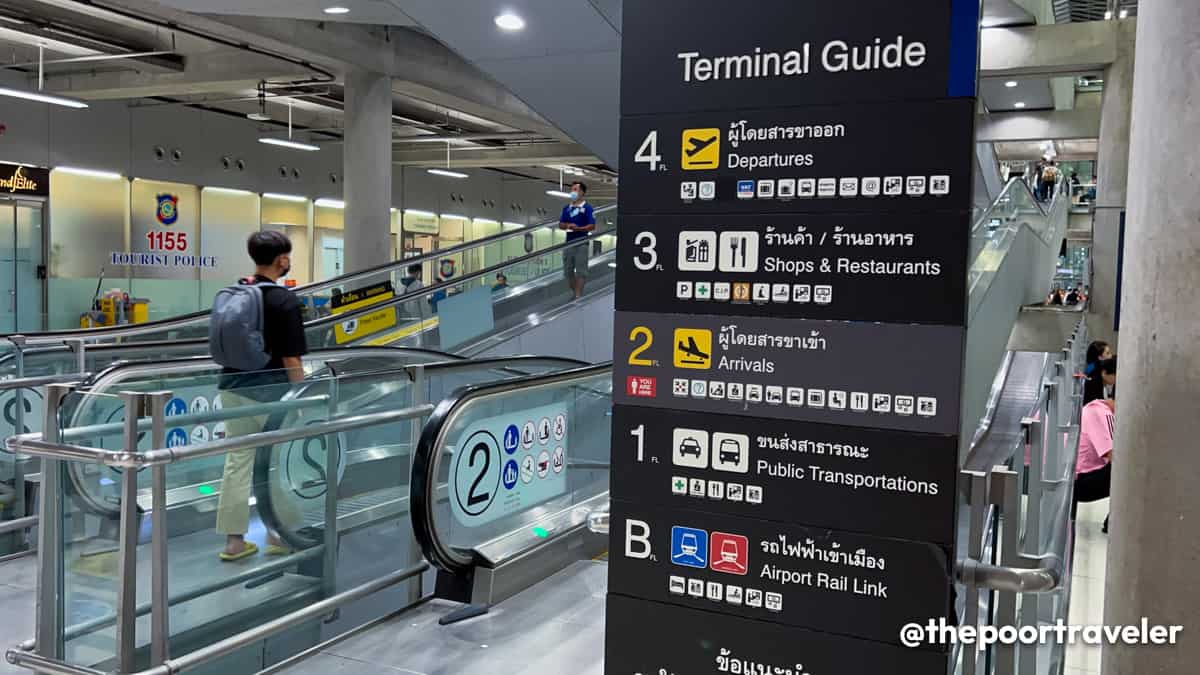 The city is served by two airports:
Suvarnabhumi Airport (BKK), the newer and bigger airport, serving most airlines, except a few low-cost carriers. It's situated east of the city proper, roughly 1 hour away.
Don Mueang Airport (DMK), serving mostly AirAsia, Nok Air, Thai Lion Air, and TigerAir Taiwan. It lies north of the city center, 45 minutes to 1 hour away, depending on traffic conditions.
Manila to Bangkok
If you're flying from Manila, it's easy to find direct, non-stop flights to Bangkok as multiple airlines operate this route. As of this writing, here are your options:
TO SUVARNABHUMI AIRPORT (BKK)
Philippine Airlines
Cebu Pacific Air
Thai Airways
TO DON MUEANG AIRPORT (DMK)
Travel time: 3.5 to 4 hours.
For our most recent visit, we flew with Philippine Airlines for many reasons:
30 kg check-in baggage allowance. Most other airlines only provide 20kg. Although we had been to Bangkok many times before, this would be the first time we intended to go shopping here. Bangkok is a retail paradise, so bargain hunters can easily have a field day at any of their shopping centers. It turned out to be a great decision because we really did use almost the entire 30 kg.
FREE rebooking. There were a lot of uncertainties about this recent trip. When we booked our tickets, we still weren't decided yet on how long we wanted to stay in Thailand. It was a multi-city trip and we weren't sure if we also wanted to visit Chiang Mai and Koh Samui. We wanted more flexibility, just in case. As of this writing, PAL doesn't charge additional rebooking fees if the new flight is within 60 days after the original flight. (But double check first because airline policies change often these days.) Fare difference still needs to be settled, though.
To compare ticket prices, you may search Skyscanner!
---
HOW TO GET TO DOWNTOWN BANGKOK
Just in case you missed it, Bangkok has two airports: Don Mueang Airport (DMK), located 25 km north of the city center, and the new Suvarnabhumi Airport (BKK), 30 km west of the city center.
We'll be creating a more detailed guide about this. But here's a condensed rundown of the ways to get to downtown Bangkok from either airport.
Suvarnabhumi Airport to Bangkok City Center
By Train
The AIRPORT RAIL LINK is the fastest way to get to the city proper because you'll be dodging Bangkok's infamous traffic jams. You can find the station at the basement of the airport's passenger terminal. There's a train every 15 minutes from 6am to 12 midnight (every 10 minutes within the peak hours).
It's connected to the city's BTS Skytrain at two stations: Makkasan (฿35) and Phayathai (฿45), the last station. Travel time: around 25 minutes.
Depending on where your hotel is located, you can switch lines.
To SUKHUMVIT or SILOM Area: You can connect at either Makkasan or Phayathai Station. Find out the station closest to your hotel and transfer to either the MRT Blue Line at Makkasan Station (then to Petchaburi Station) or to BTS Sukhumvit Line (Light Green Line) at Phayatai Station.
To SIAM Area: Alight at Phayathai Station and transfer to BTS Sukhumvit Line (Light Green Line). Catch a train bound for Kheha. Get off at Siam Station (or whatever station is closest to your final destination).
To VICTORY MONUMENT Area: Connect at Phayathai Station and transfer to BTS Sukhumvit Line (Light Green Line). Catch a train bound for Kho Khot. Alight at Victory Monument Station.
To KHAO SAN Area: Alight at Makkasan Station, transfer to MRT Blue Line at Petchaburi Station, and get off at Sam Yot Station. From here, take a cab, tuktuk or Grab to Khao San.
By Taxi or Grab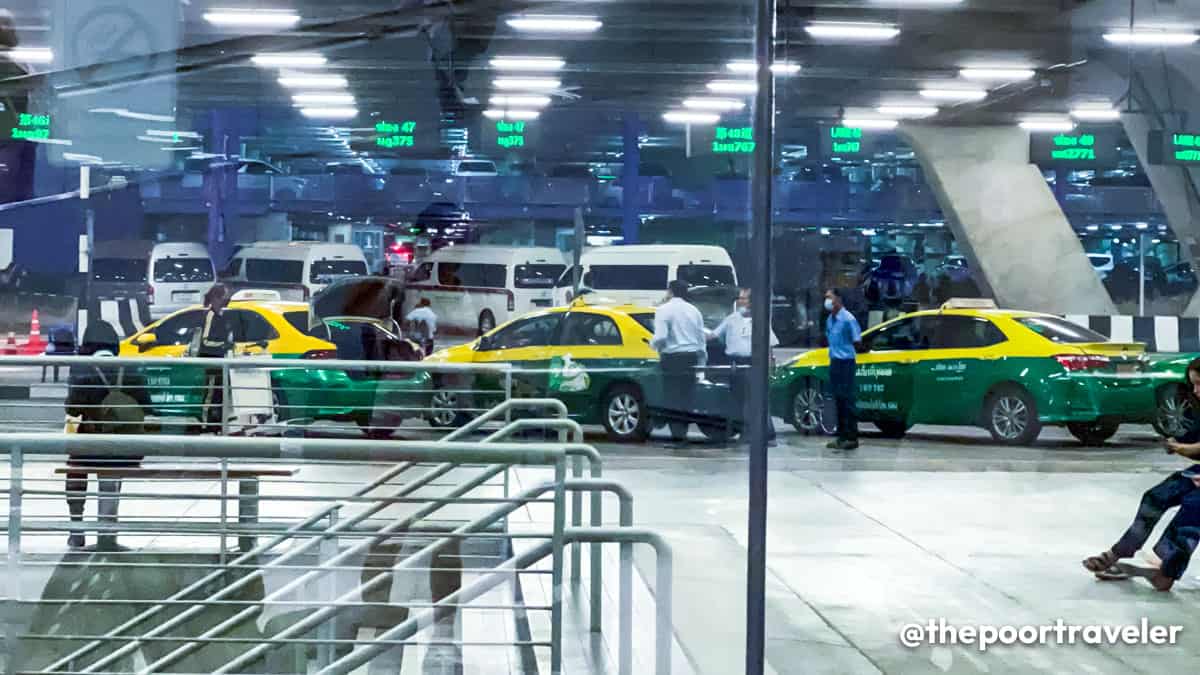 If you're a group or if you have heavy luggage in tow, consider taking a cab or book a Grab car straight from the airport (especially if you'll be staying Khao San area). If you opt for a taxi, always insist on using the meter.
Travel time: 45 minutes to 1 hour
TAXI RATES:
Fare: around ฿400
Airport surcharge: ฿50
Highway toll fees: ฿75
GRAB RATES:
฿530 and ฿600, inclusive of toll fee or highway fee. This is based on the experience of our team.
---
Don Mueang Airport to Bangkok City Center
By Train
According to reports, the Don Mueang Airport was finally connected to Bangkok's train network in August 2022. I say "according to reports" because we haven't tried this ourselves yet.
From the airport, you can walk to the Don Mueang Station, along the SRT Dark Red Line. Board the train bound for Bang Sue and alight there, at the last stop. Transfer to the MRT Blue Line.
To SILOM Area: Most stations in Silom are along the Blue Line, so just get off at the station closest to your hotel.
To SIAM Area: Alight at Chatuchak Park Station and transfer to BTS Sukhumvit Line (Light Green Line) at Mochit Station. Catch a train bound for Kheha. Get off at Siam Station (or whatever station is closest to your final destination).
To VICTORY MONUMENT Area: Connect at Phayathai Station and transfer to BTS Sukhumvit Line (Light Green Line). Catch a train bound for Kheha. Alight at Victory Monument Station.
To SUKHUMVIT Area: The Sukhumvit area has a lot of stations that are either along the MRT Blue Line or the BTS Sukhumvit Line (Light Green Line). If the closest station to your hotel is along the Blue Line, it's going to be easy because you're already on the same line. If your hotel is closer to a Light Green line, alight at Chatuchak Park and transfer at Mochit Station. Then, board a train bound for Kheha.
To KHAO SAN Area: Alight at Sam Yot Station (along the same Blue Line) and take a cab, tuktuk or Grab to Khao San.
If, for whatever reason, you do not like taking the train straight from Don Mueang Airport, you can also take the bus and the switch to BTS/MRT. And follow the steps above.
By Bus
There are direct buses from Don Mueang Airport to select destinations around Bangkok.
To MOCHIT BUS TERMINAL: Bus A1
To BTS MO CHIT STATION: Bus A1
To VICTORY MONUMENT: Bus A2
To BTS RATCHADAMRI STATION: Bus A3
To LUMPHINI PARK: Bus A3
To KHAO SAN ROAD: Bus A4
Fare: ฿30-50, depending on route
To see the complete list of stops, visit this page.
By Taxi or Grab
If you want a more straightforward journey, consider taking a cab or book a Grab car straight from the airport (especially if you'll be staying Khao San area).
Travel time: 45 minutes to 1 hour, depending on traffic
Fare: around ฿540 (including ฿50 airport surcharge)
If you opt for a taxi, always insist on using the meter.
---
POCKET WIFI AND DATA SIM CARD IN BANGKOK

Data Sim Card
This is the cheapest and most convenient option. Klook has two main options: TrueMove and dTac. Both offer:
15GB data for up to 16 days
Internet connection anywhere in Thailand
Inclusive of FREE call credits
Pickup at Suvarnabhumi Airport or Don Muang Airport
✅ RESERVE TRUEMOVE DATA SIM HERE!
Pocket Wifi
If your phone is locked to your home network or you have more devices to connect, you can rent a pocket wifi. You'll find many wifi rental booths around Bangkok, but if you want to stay connected from the get-go, you can reserve one in advance via Klook and just pick it up at the airport, either at Don Muang Airport or Suvarnabhumi Airport.
If you're coming from Manila, you can also get one at NAIA Terminal 3. Either way, they can accommodate up to five devices at one.
✅ RESERVE POCKET WIFI – BANGKOK PICKUP!
✅ RESERVE POCKET WIFI – NAIA PICKUP!
---
HOW TO GET AROUND BANGKOK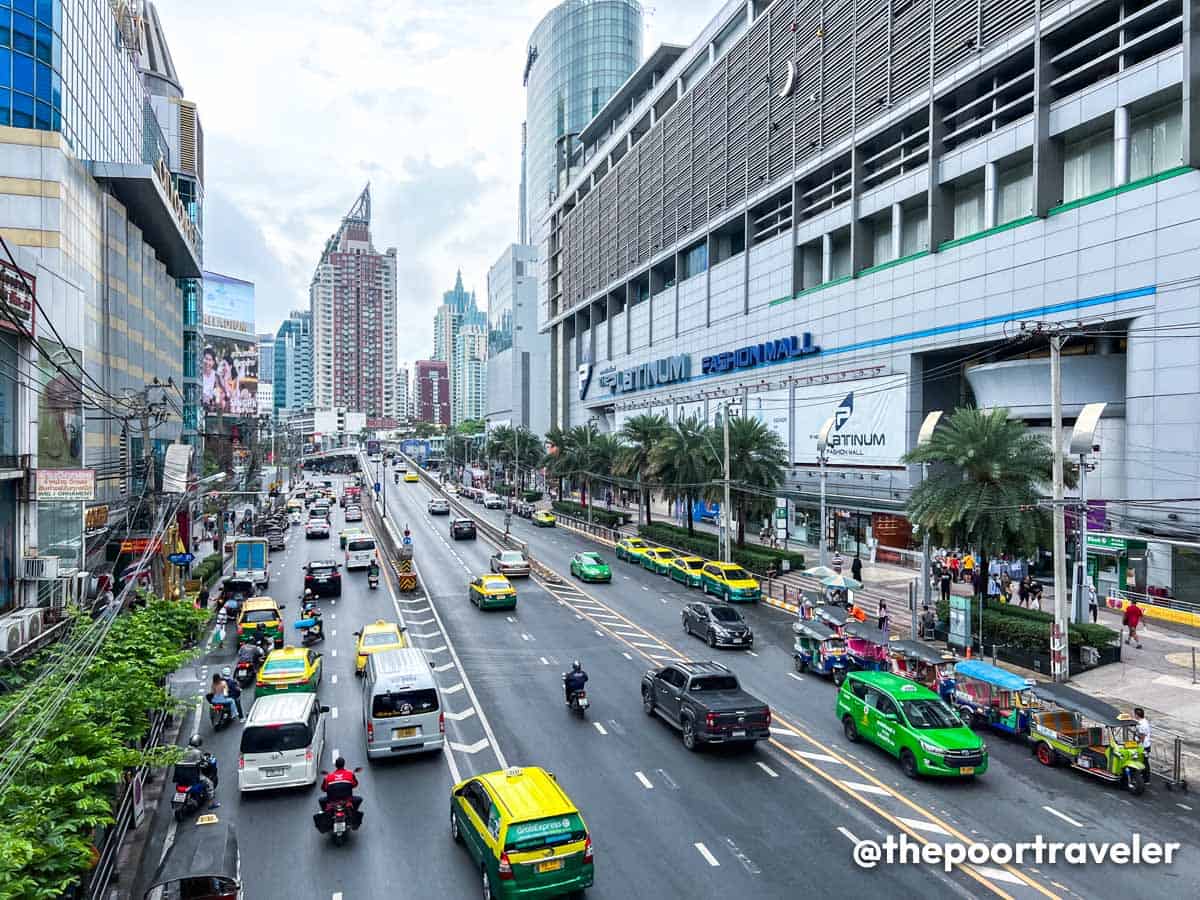 The Thais have their own address system and first timers in Bangkok can be easily disoriented. Wikitravel explains it really well: "Large roads such as Silom or Sukhumvit are thanon while the side streets branching off from them are called soi. Sois are numbered, with even numbers on one side and odd numbers on the other side. Thus, an address like 25 Sukhumvit Soi 3 means house number 25 on the 3rd soi of Sukhumvit Road."
Although it is not as sweat-free as in Hong Kong or Singapore, commuting in Bangkok is quite easy. Vehicular traffic can get crazy during rush hour though. But if you're used to the giant parking lot that runs across Manila called EDSA, you'll be fine in Bangkok (or any other Southeast Asian city for that matter).
Getting around via public transportation means using one or more of these four modes: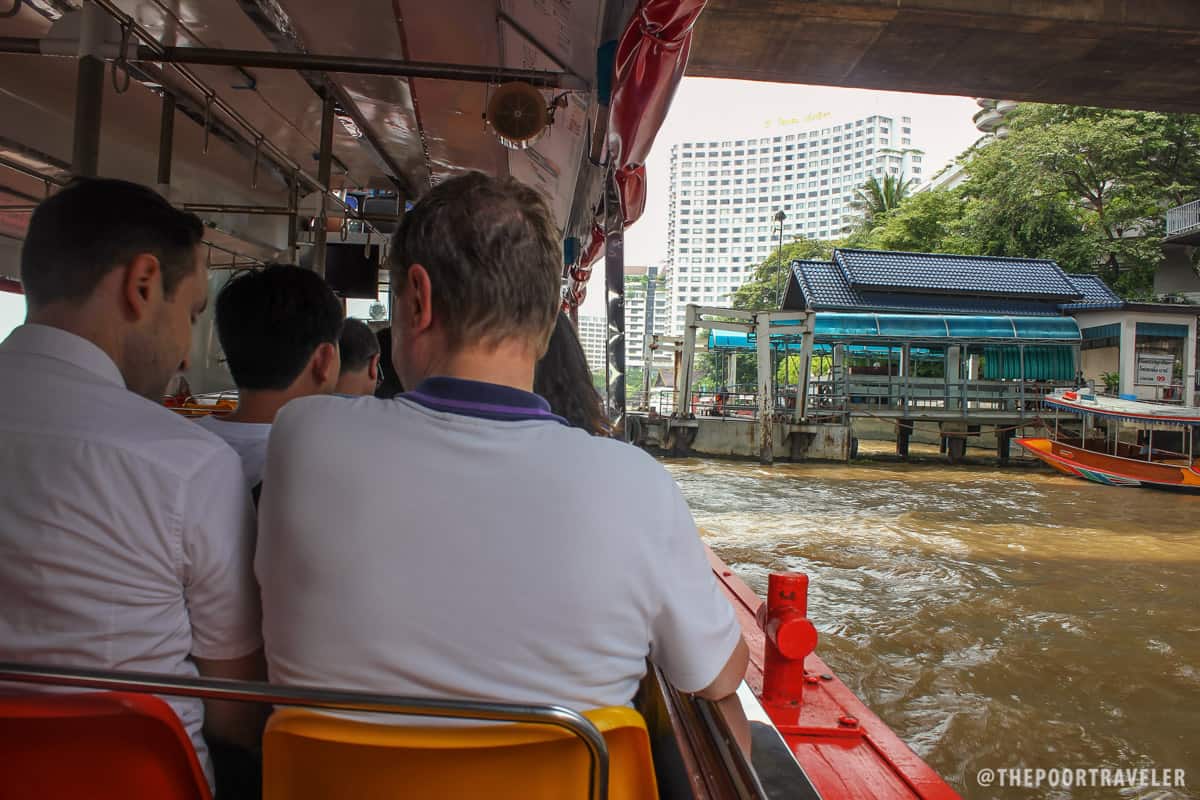 Train (BTS Skytrain/MRT). Bangkok's train system is fast and reliable, and will take you to many attractions throughout the city. I always find myself taking the train most of the time because many attractions are located close to a station. Also, it allows me to bypass traffic jams especially during rush hours. Although connected at a few stations, the BTS and the MRT are completely separate systems, run by different managements and use different tickets. The fares for both are similar, ranging from 16 to 52 baht. Most stations have a counter than can break your large bills and a ticket machine that accepts bills. For a more convenient journey on BTS, use a Rabbit Card (stored-value ticket) or a One-Day Pass (unlimited rides for 1 day).
Boat. The two boat services operating in Bangkok are the Chao Phraya Express Boat, which plies up and down the Chao Phraya River and is popular among tourists for it stops at many of the city's most popular landmarks; and the Saen Saep Express Boat, used mostly by locals who commute to work. The Chao Phraya boat is the best option for you if you intend to visit the Grand Palace complex (at Tha Chang) and Wat Pho (at Tha Tien), and Khao San Road (at Phra Athit) within one day! Both the Chao Phraya TOURIST BOAT and the cheaper ORANGE-FLAG BOAT will make a stop at these key tourist attractions. Fare: tourist boat, ฿50 single ride or ฿180 for day pass; orange-flag boat, ฿15 flat rate.
Taxi/Grab. If my destination is too far from a train or boat station, I would just hail a cab. A ride costs more than in Manila but nowhere near the rates in Hong Kong or Singapore. The flagdown is 35 baht and the average ride within the city is probably around 100. You might encounter cab drivers who take advantage of tourists by not using the meter and then overcharging. If the driver refuses to use the meter, just get off the vehicle. Know that all cabs in Bangkok must use the meter. Many of these drivers wait for tourist passengers at the popular attractions like temples and Khao San Road.
Tuktuk. I didn't even bother. They are very expensive, even more expensive than cabs, and many (not all, but it's hard to know) are involved in scams. If you really want to try for the heck of it, just agree on the price first.
---
THINGS TO DO IN & AROUND BANGKOK
Before we enumerate the many attractions waiting for you in Bangkok, allow us to introduce KLOOK PASS BANGKOK & PATTAYA. This ticket will give you up to 45% discount. The pass is valid for 30 days upon confirmation.
How it works is simple. With this pass, you'll have access to a number of attractions. You get to choose how many and what these attractions will be. The first step is to choose how many attractions you want your pass to cover and purchase the pass. Once paid, you can go to the BOOKING section or your app or account, and redeem it. Say, if you purchase a 3-attraction pass, you can book up to 3 attractions from the list. Some attractions might also require you to reserve afterwards.
Here are the attractions in Bangkok and Phuket that you may choose from:
Mahanakhon Skywalk
Siam Amazing Park
Safari World
SEA LIFE Bangkok Ocean World
Madame Tussauds Bangkok
Pororo Aquapark
Sanctuary of Truth
Dream World
Frost Magical Ice of Siam
Underwater World
Ancient City Museum
Damnoen Saduak Floating Market
Grand Palace and Emerald Buddha
Wat Pho & Wat Arun Walking Tour
One More Thai Massage
Chao Phara Princess Dinner Cruise
Alcazar Cabaret Show
Tiffany's Show
Bangkok Hop on Hop Off Bus
✅ CHECK RATES & GET PASS HERE!
How much you save depends on what you book. Regardless of the attractions you use it on, the price of the pass remains the same. So what we recommend is to use this pass on pricey attractions.
Here are examples on how you could save using this pass: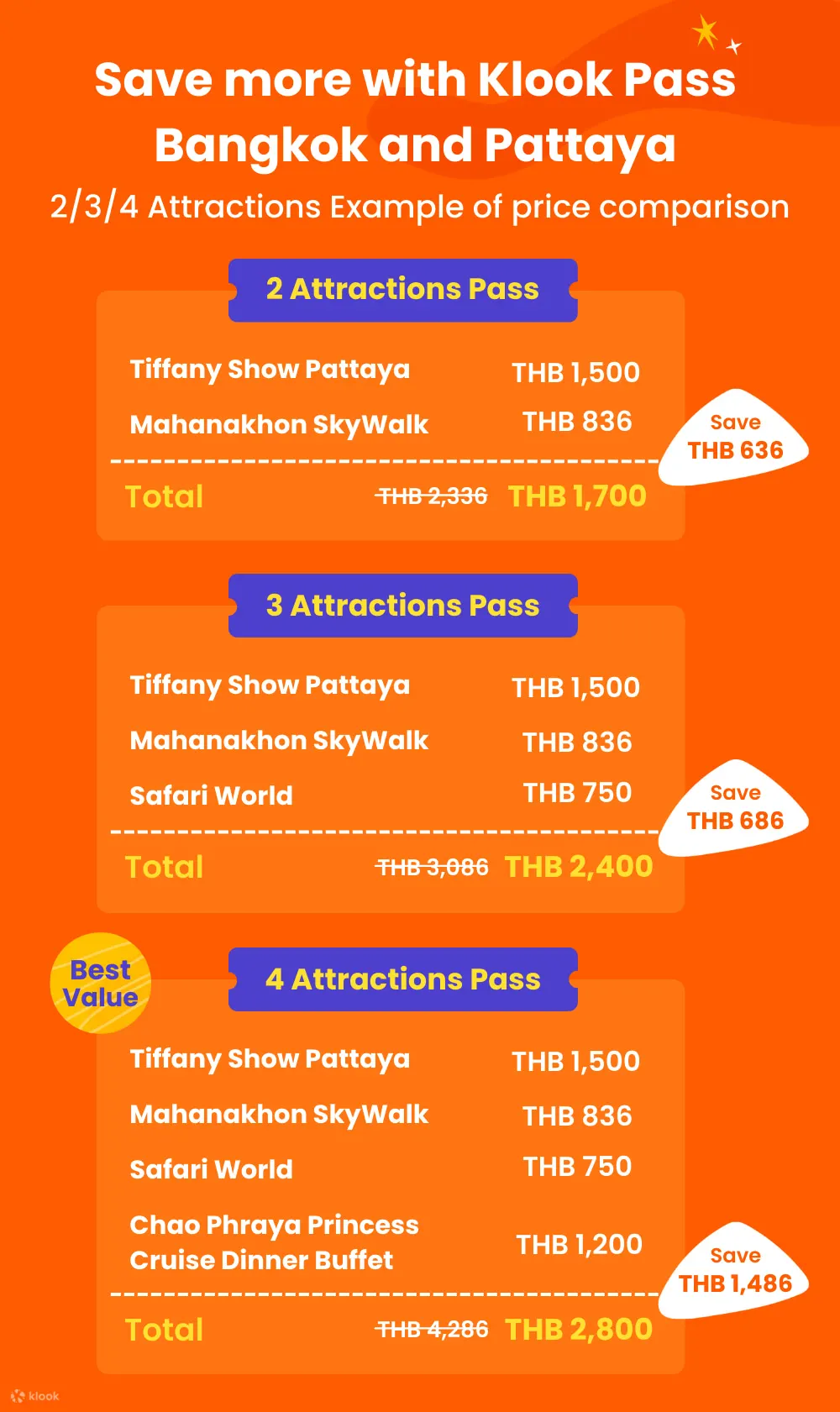 ---
Grand Palace and Temples Tour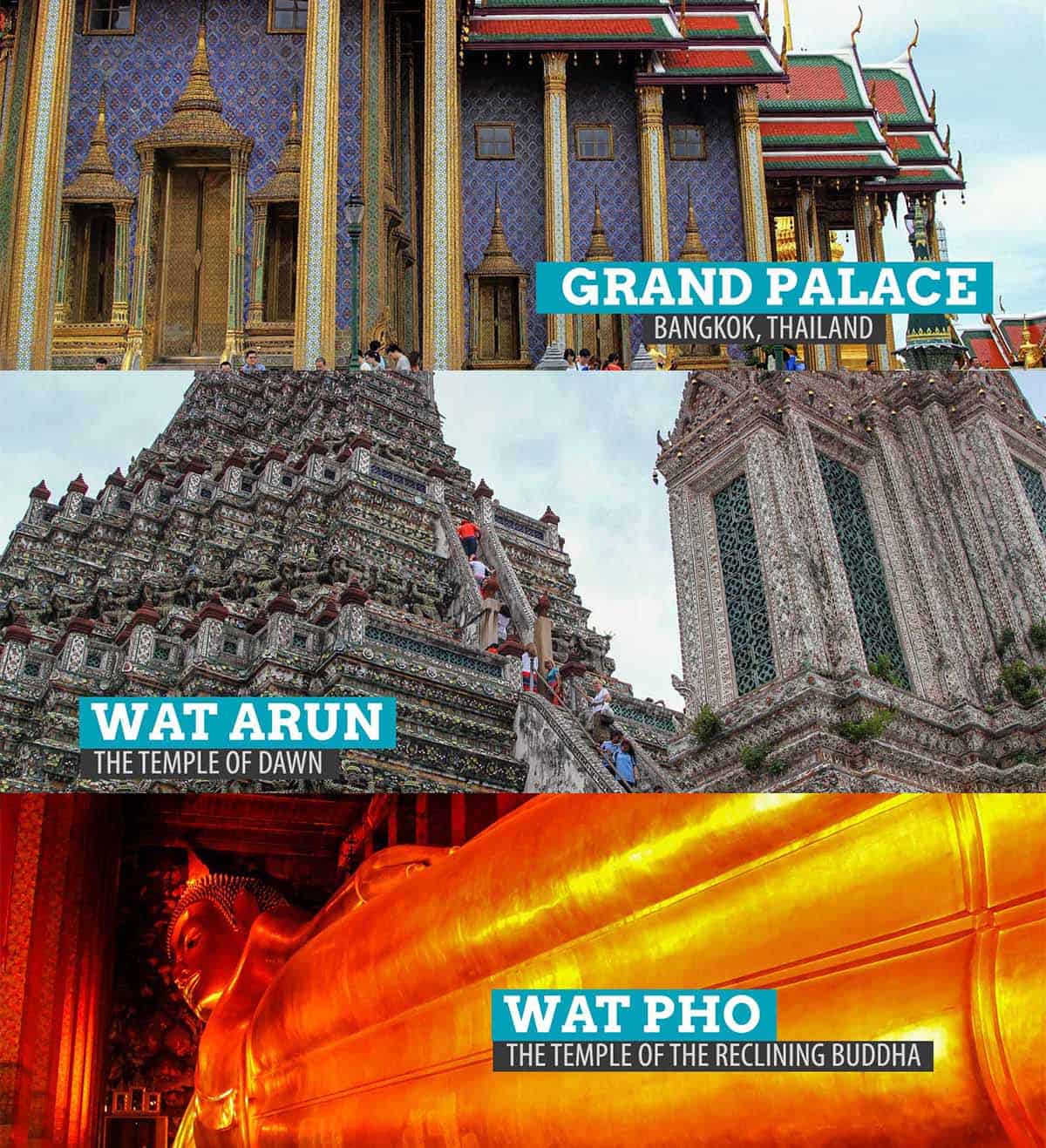 If you're fit and you enjoy walking, you'll be glad to know that many of the city's key attractions are located within walking distance of each other. For example, Bangkok's most popular temples and shrines, Chinatown, and even Siriraj Forensic Museum are easily accessible from the Chao Phraya River and can be easily visited in one day.
How to get there: If you're from Silom, Siam or Sukhumvit areas, take the train to Saphan Taksin Station. Take Exit 2, and walk to the boat terminal. Buy a ticket and board a boat to either Tha Thien or Tha Chang. Boat fare is ฿50 if you board the tourist boat or ฿15 if orange-flag boat.
Here are the usual stops:
Grand Palace. A complex of structures, pavilions, and courtyards including the Temple of the Emerald Buddha. The entrance fee also includes admission to "Khon: Thai Classical Masked Dance".
Boat stop: Tha Chang Pier (No. 9).
Opening hours: 8:30 AM – 4:30 PM (Ticket counters close at 3:30 PM).
Entrance fee: ฿500.
Wat Arun. Probably the most recognizable landmark in Bangkok with a 70m tall spire (called prang).
Boat stop: Tha Thien pier (N8) and then cross the river on a smaller boat.
Opening hours: 8:00 AM-6:00 PM
Entrance fee: ฿100, inclusive of bottled water.
Wat Pho. Famed for the enormous reclining Buddha that it houses.
Boat stop: Tha Thien pier (N8) and then walk up the perpendicular road to Wat Pho.
Opening hours: 8:00 AM-6:30 PM
Entrance fee: ฿200, inclusive of bottled water.
Dress Code: The rule is to have your shoulders, knees, and heels covered. The following are not allowed:
Shorts, short skirts, mini-skirts, tight fitting trousers
Torn trousers/pants
Sando, vests, sleeveless shirts
See-through shirts
Sandals
The management used to rent out pants to inadequately dressed tourists, but perhaps because of the pandemic, they only sell those now for ฿200 apiece.
Although it's completely possible to pull this off DIY-style, it's still much more recommended to join a guided tour so you have better appreciation of each site. These are historic and cultural landmarks that hold so much significance for the Thai people. You can book a guided tour on Klook, which includes all entrance fees, boat transfer fee, insurance, and the service of an English-speaking guide.
✅ CHECK ITINERARY & BOOK HERE!
---
Floating Markets & Railway Market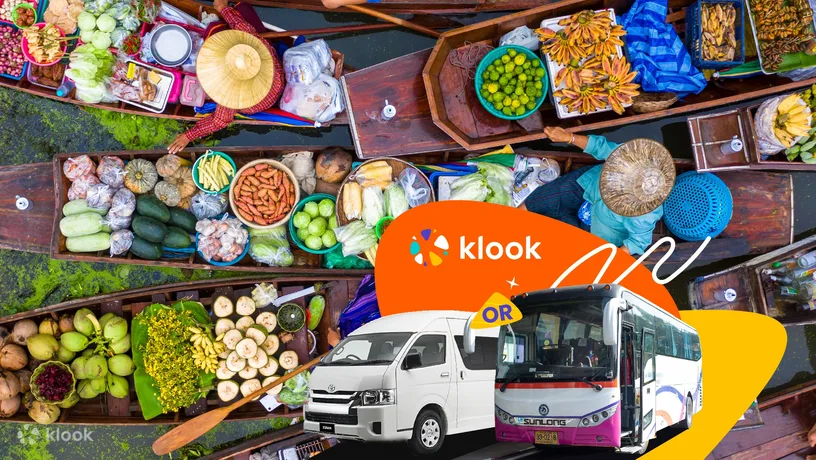 Aside from its ornate spires and temples, Bangkok is also best known for its floating markets. But the truth is, these boat-navigated markets are actually located outside the capital. Two of the most accessible are:
Damnoen Saduak Floating Market in Ratchaburi Province
Amphawa Floating Market in Samut Songkhram
A visit entails boarding a small boat as you negotiate the market canals. Plenty of souvenir and food options around!
Another market that has been attracting throngs of tourists is the Marklong Railway Market. Yes, railway, because it's set up along the train tracks. And when a train chugs along, watch and be amazed by how the vendors make way for it. You can also spend an hour chilling at a railway cafe.
Klook has tours that combine Maeklong Railway Market with either Damnoen or Amphawa Market — your choice. There are several departure times available so choose the most convenient for you.
---
Mahanakhon Skywalk
At 314 meters tall, King Power Mahanakhon is one of Thailand's tallest buildings, housing a hotel, residential units and tourist attractions. From the outside, it looks like a pixelated skyscraper, a design that easily captivates. Inside, a multimedia elevator will take you to the highest outdoor observation deck in the country, allowing a magnificent view of Bangkok and surrounding areas.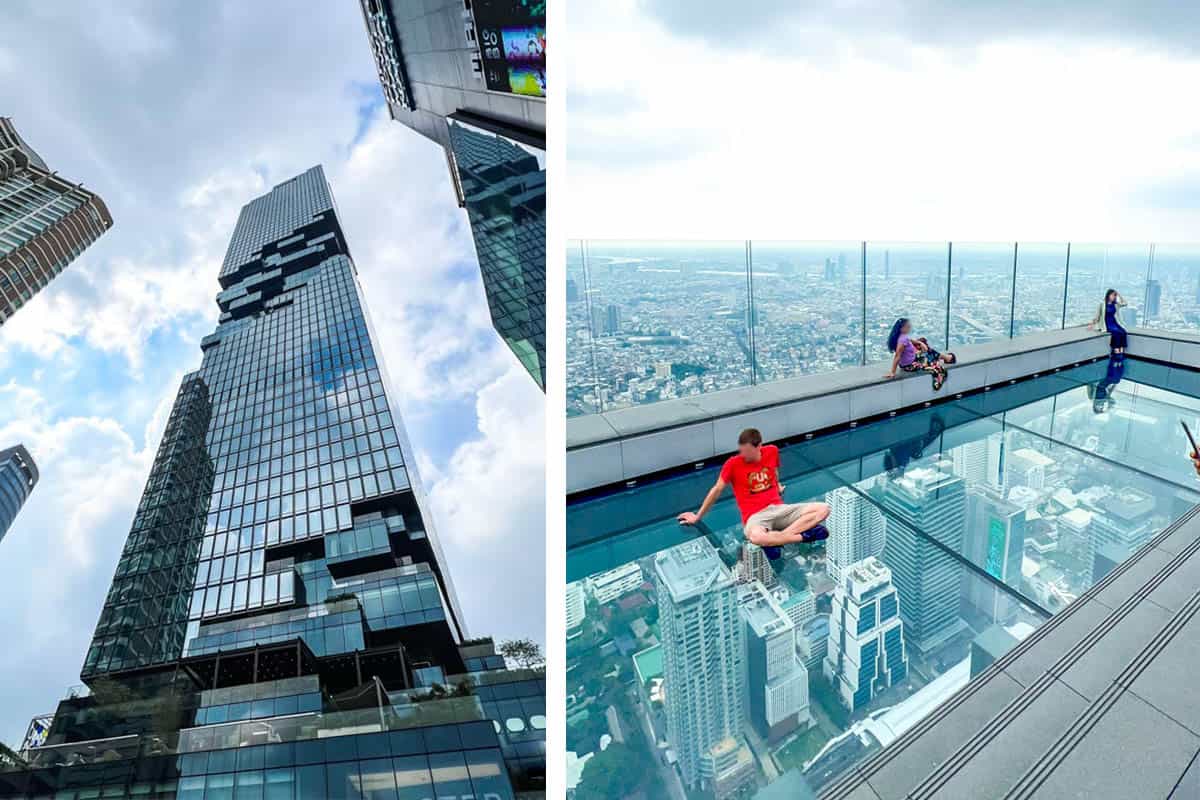 But most visitors are here for the Skywalk. Atop the building is an area with a glass floor that you may walk on, creating a nerve-wracking but pretty mind-blowing experience.
You need to wear the shoe covers provided onsite before you're allowed to step on it. And mobile phones (and other loose items) are NOT allowed within the glass tray area. This means that you won't be able to take a selfie while on the glass. If you're after photos, best to visit with someone else. Or if you're traveling alone, make friends with other solo visitors and just take photos of each other.
Location: 114 1 Naradhiwas Rajanagarindra Road, Bang Rak, Bangkok
Nearest Station: Chong Nonsi BTS Station
Opening Hours: Monday – Sunday, 10:00 AM – 7:00 PM (Mahanakhon SkyWalk);
Entrance Fee: Mahanakhon SkyWalk (Indoor & Rooftop) – Adult, ฿836; Child (3-15 y/o), ฿250; Senior (Above 60 y/o), ฿250.
Only a limited number of tickets are sold per day, so it's best to book in advance. You can reserve online via Klook! You can also check out other Mahanakhon experience package options and choose the one that suits your preference.
---
Bangkok Nightlife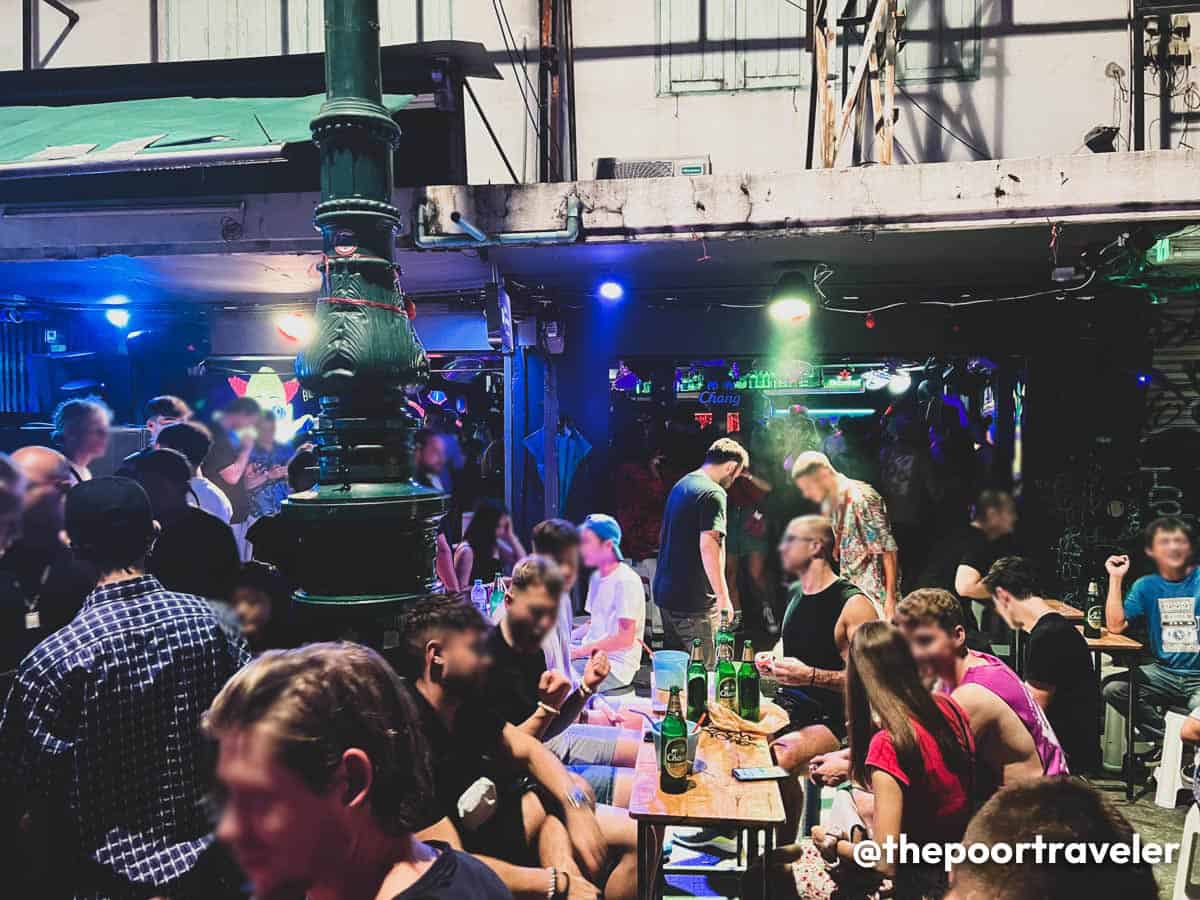 No Bangkok trip is complete without getting a taste of its (in)famous nightlife. We already mentioned Khao San Road, the backpacker mecca. It is crowded, loud, and wild. Thunderous music from nightclubs and the delicious smell of street food fill the air, while tourists fill every vacant seat, table and corner.
Aside from Khao San, Bangkok has several other nightlife districts! Most clubs and bars are safe, but as in any other major city, not all. Scams targeting tourists do exist at some establishments. You've probably heard about tourists entering a bar and then not being allowed to leave without paying a hefty price for a ridiculously overpriced drink.
If you want to try Bangkok nightlife and make sure you're in good hands, you may join a guided tour. Klook has two main options: a bar hopping tour, more like a pub crawl, and a Hangover tour, where you get to visit the bars featured in The Hangover 2 movie (including a ping pong show)!
---
Dream World Bangkok
Bangkok has its fair share of theme parks, too! And on top of that list is Dream World, a 25-hectare adventure park featuring over 40 rides, shows, and other attractions, spread around four key zones!
Some of the most popular rides are the cable car, Sky Coaster (rollercoaster), Tornado, Vikings (pendulum ride), and Grand Canyon (water rapids)!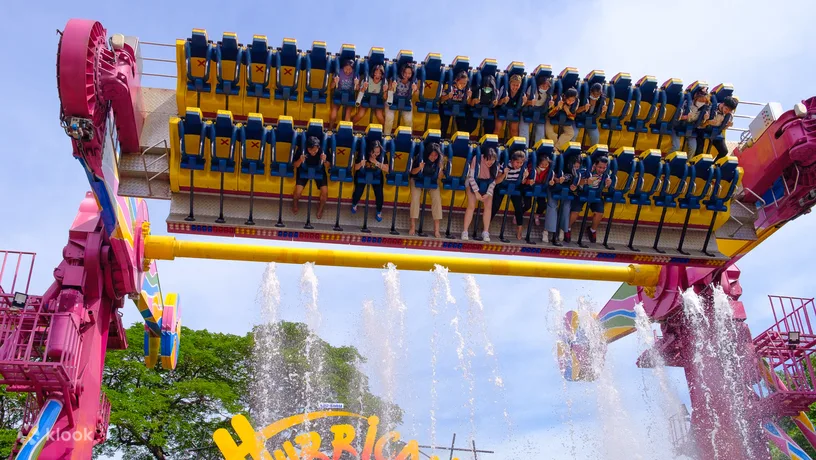 ENTRANCE FEE
Dream World Visa (26 rides with unlimited time per ride EXCEPT Alien, Bump Car, and Haunted House, which can be enjoyed once only): ฿600
Dream World Super Visa (includes all the rides for unlimited time): ฿1,000
Children below 90cm: FREE
Opening Hours: Monday – Friday, 10:00 AM – 5:00 PM; Saturday – Sunday, 10:00 AM – 6:00 PM. The schedule might change, so it's best to check updated opening hours before going.
Location: 62 Moo 1, Rangsit-Ongkharak Road (Km.7), Thanyaburi, Pathum Thani

How to Get to Dream World: From Victory Monument BTS Station, take Bus No. 523 or 538 to Dream World.
Dream World is very popular even among locals, so you might want to book your ticket in advance to skip the line. You may also add transfers.
✅ GET SKIP-THE-LINE TICKETS HERE!
---
Siam Amazing Park
The Siam Amazing Park is the largest theme park in Thailand and is home to the largest wave pool in the world (according to the Guinness World Records). You can also enjoy exhilarating rides including Southeast Asia's first suspended looping coaster with five inversions and the 7-story water slides.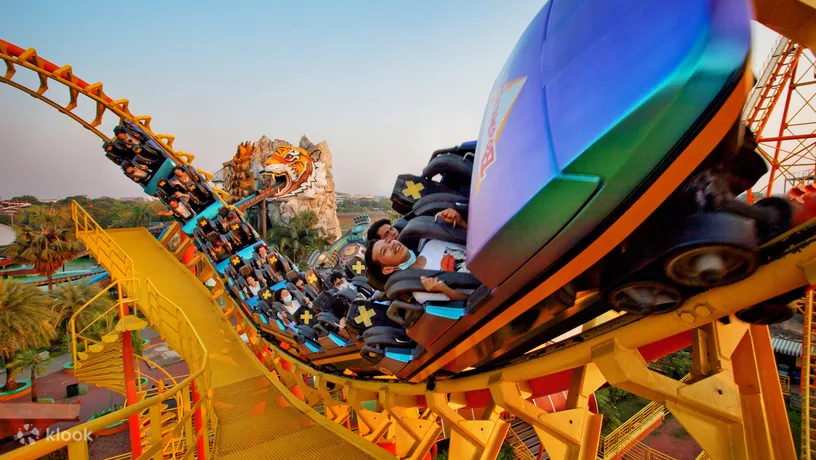 Opening Hours: Monday – Sunday, 10:00 AM – 6:00 PM. The schedule might change, so it's best to check updated opening hours before going.

Entrance Fee: Adult, ฿1000; Child, ฿850; Children below 101cm, FREE.

Location: 203 Suan Sayam Road, Khan Na Yao, Bangkok

How to Get There: From Victory Monument BTS Station, head towards Ko Din Daeng Bus Stop via the circular skywalk, then take Bus No. 168 or 36ก to Siam Amazing Park.
Visitors must purchase their tickets at least one day in advance. You can book online via Klook! You can also choose the package — combine your ticket with an international lunch buffet or combine it with both lunch and shared transfer.
---
Ayutthaya Day Tour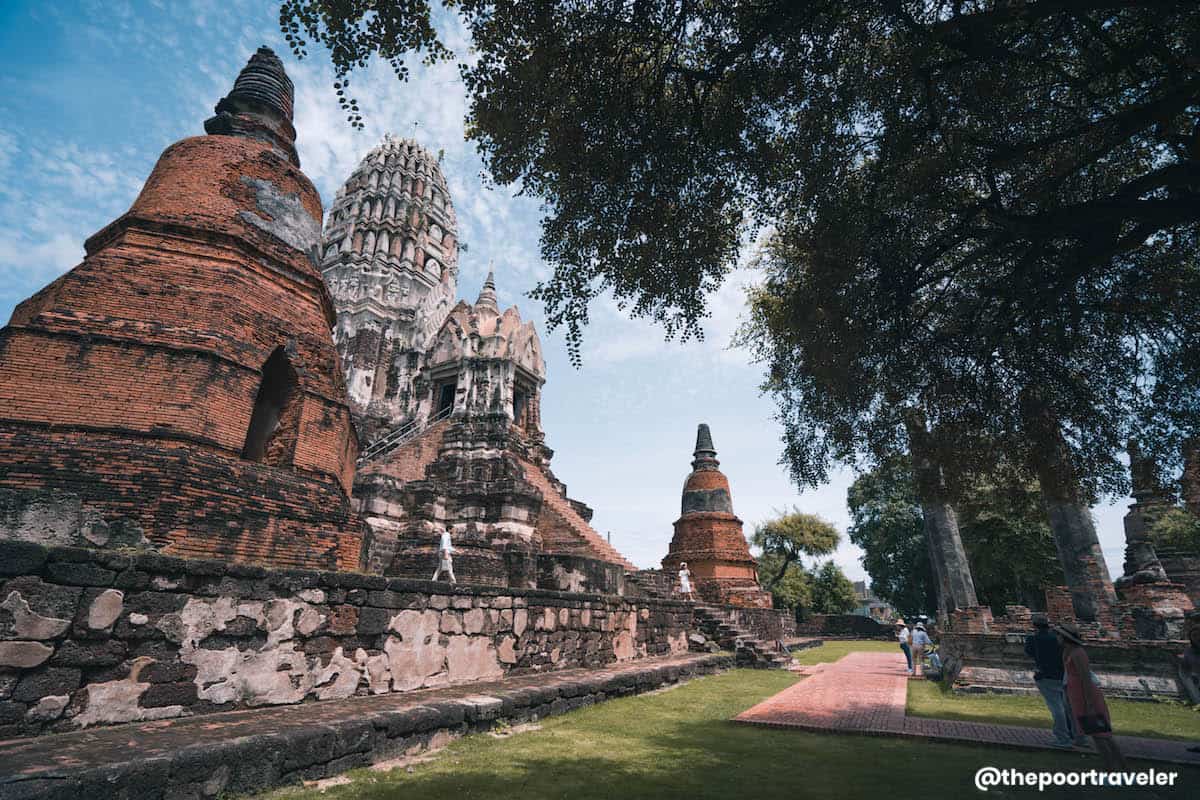 Founded in the 1350s, Ayutthaya was Siam's old capital before it was destroyed by the Burmese. Today, however, parts of its glorious past still shine through, especially at the Ayutthaya Historical Park, where four major temples stand up to this day: Wat Mahathat, Wat Phra Ram, Wat Phra Si Sanphet, and Wat Ratchaburana – the Royal Palace and Wiharn Phra Mongkol Bophit. It was declared a UNESCO World Heritage Site in 1991.
Lying about 80 km from Bangkok, it is easily accessible and can be visited on a day trip. You can do this independently by taking public transportation and then hiring a tuktuk to tour you around. (We'll write a separate post about it.) But if you need a guide and you want someone else to take care of everything for you, you can book with Klook.
---
Pattaya Day Tour
Pattaya is another popular day trip destination from Bangkok, thanks mainly to its proximity, just around 150 km and roughly 2.5 hours away. The closest major beach destination to the capital, it is best known for water sports, island tours, and beach activities. But it also harbors some cultural structures like Wat Phra Yai Temple and the Sanctuary of Truth.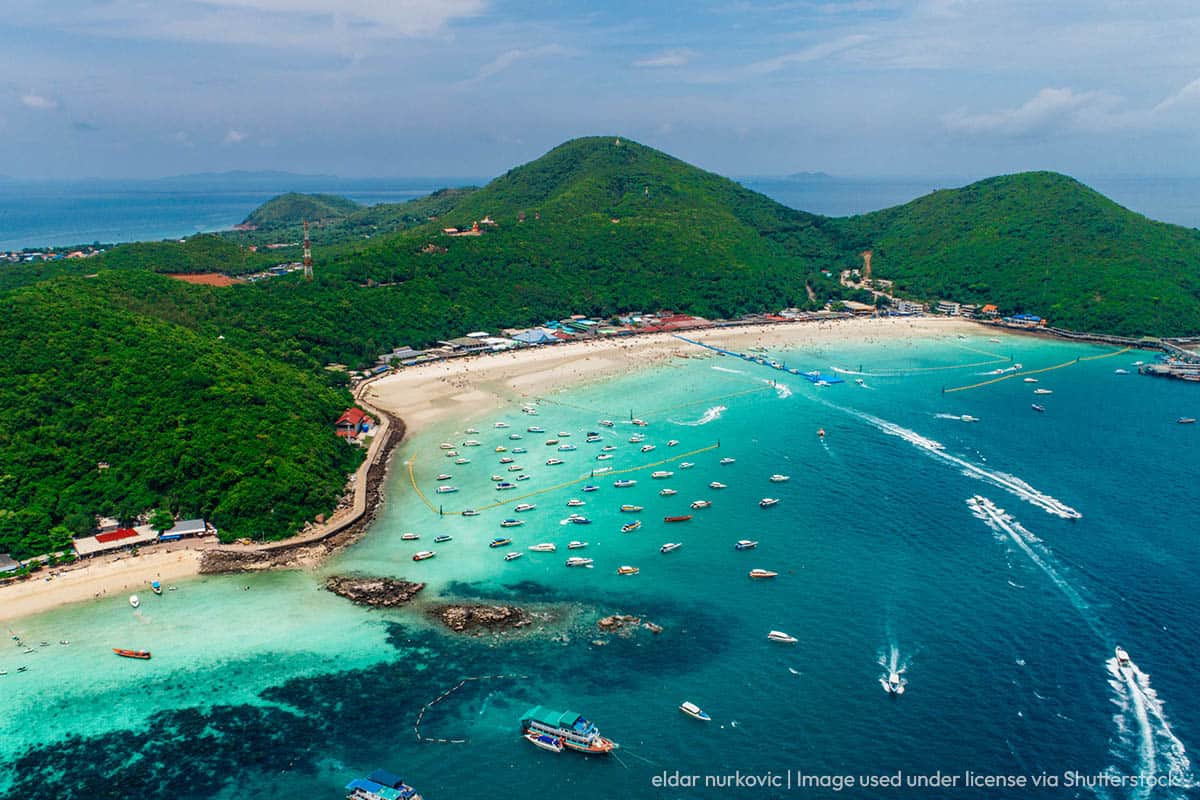 Jump-Off Point: Bangkok Eastern Bus Terminal/Ekkamai Bus Terminal or Mo Chit Bus Terminal (Bus); Hua Lamphong Railway Station (Train)

How to Get to Pattaya: By bus, go to Bangkok Eastern Bus Terminal, then take the bus bound for Pattaya. The travel time is about two and a half hours. The one-way fare is ฿130-200 per person. By train, go to Hua Lamphong Station and get on a train to Pattaya. The travel time is 2-3 hours, depending on the type of train. The fare is ฿30-฿300, depending on the ticket class. The train for Pattaya normally leaves early in the morning — around 6:00 AM.
If you want a convenient roundtrip transfer between Bangkok and Pattaya, you can just join a guided tour. Klook offers Pattaya Beach and Koh Larn Coral Island Full Day Tour from Bangkok. This covers roundtrip transfers, an English-speaking guide, a Sanctuary of Truth ticket, insurance, and bottled water.
✅ CHECK RATES OR RESERVE HERE!
---
Muay Thai Match
If you've ever wanted to witness a live muay thai match, there's no better place to make that happen than Bangkok! The two common venues are: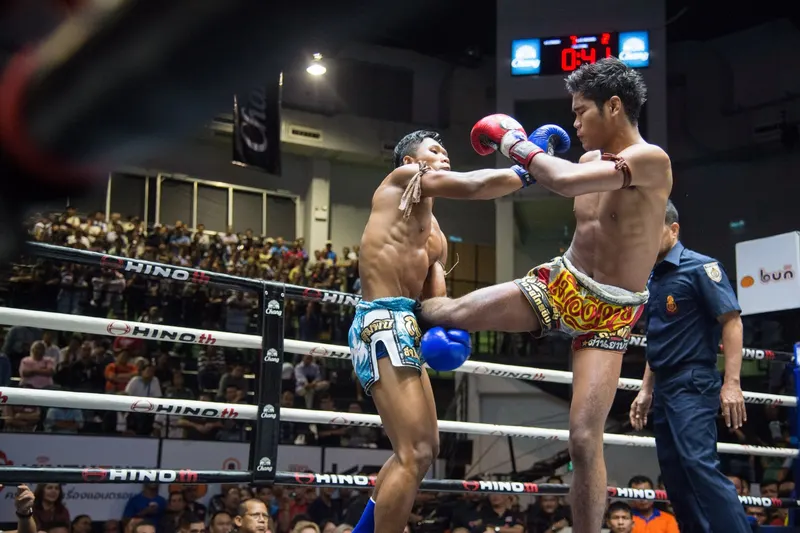 Lumpinee Boxing Stadium
6 Ramintra Road, Anusawaree,
Bangkok
Rajadamnern Thai Boxing Stadium
1 Ratcha Damnoen Nok Road,
Bangkok
You can secure your slot in advance and get discounted ticket by booking online through Klook!
✅ GET LUMPINI STADIUM MATCH TICKET HERE!
✅ GET RAJADAMNERN STADIUM MATCH TICKET HERE!
---
Other Attractions: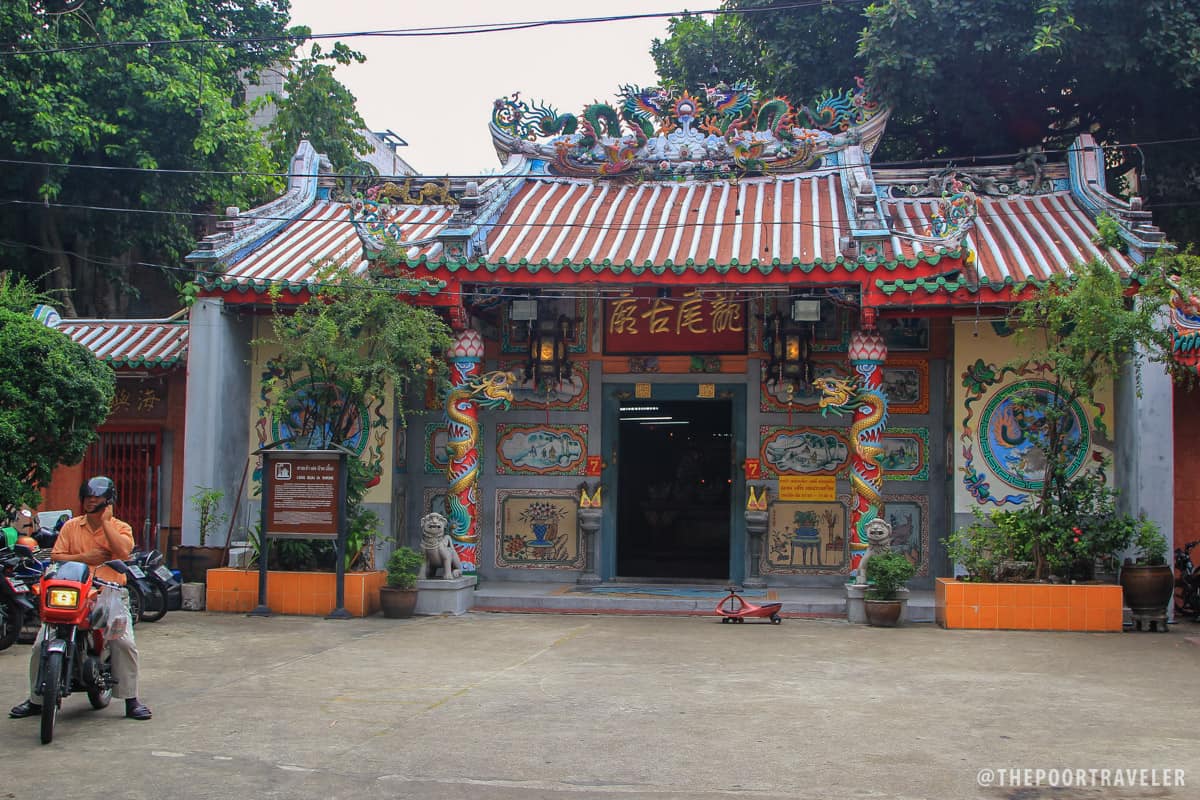 Siriraj Medical Museum. Not for the faint of heart! Also known as the Museum of Death, it houses a huge collection of artifacts gathered in the 120 years of the Siriraj Hospital's service as a pioneer in the medical field in the country. These pieces are divided into seven smaller museums dedicated to parasitology, anatomy, and forensic science among others. It's a must-visit for dark tourism enthusiasts and those who simply wish to learn more about these fields.
How to get there: Board the SkyTrain to S6 Saphan Taksin Station, take Exit 2, and hop onto a Chao Phraya Express Boat to Siriraj Pier N10 or Tha Rot Fai Pier, both on the west side of the river. Walk a couple of blocks into the hospital complex. Follow the signs to Adulyadej Vikrom Building. The museum is on the second floor. More info: Siriraj Museum
iconSIAM. Opened in 2018, this massive shopping mall is one of the largest in Asia. It is bursting with retail shops including luxury labels and budget-friendlier options, and the first Takashiyama Department Store in the country. But it's best known for its indoor floating market, mimicking those in nearby provinces and showcasing local products and cuisine.
Nearest Station: Charoennakorn Station (Sky Train Gold Line via Krung Thon Buri BTS Station) or Saphan Taksin BTS Station (then ferry from Sathorn Pier to IconSIAM)
Opening Hours: Monday – Sunday, 10:00 AM – 10:00 PM.
Bangkok Chinatown. Popular for its shops, especially near Charoenkrung Road. But there are also temples around the district. To be honest, it's not as grand or as visually arresting as Chinatowns in other countries, unless you visit during the Chinese New Year, when the district really comes to life. How to get there: Take the Skytrain to S6 Saphan Taksin Station (BTS Silom Line), take Exit 2, and walk to the boat terminal. Buy a ticket and board a Chao Phraya Express Boat. Alight at the Ratchawong Pier (N5) and make your way on foot from Ratchawong Road to Sampeng Lane and Yaowarat Road.
---
WHERE TO SHOP IN BANGKOK
Here are some of the best areas to satiate your inner shopaholic! We'll be creating a separate, more detailed article about these spots in another post.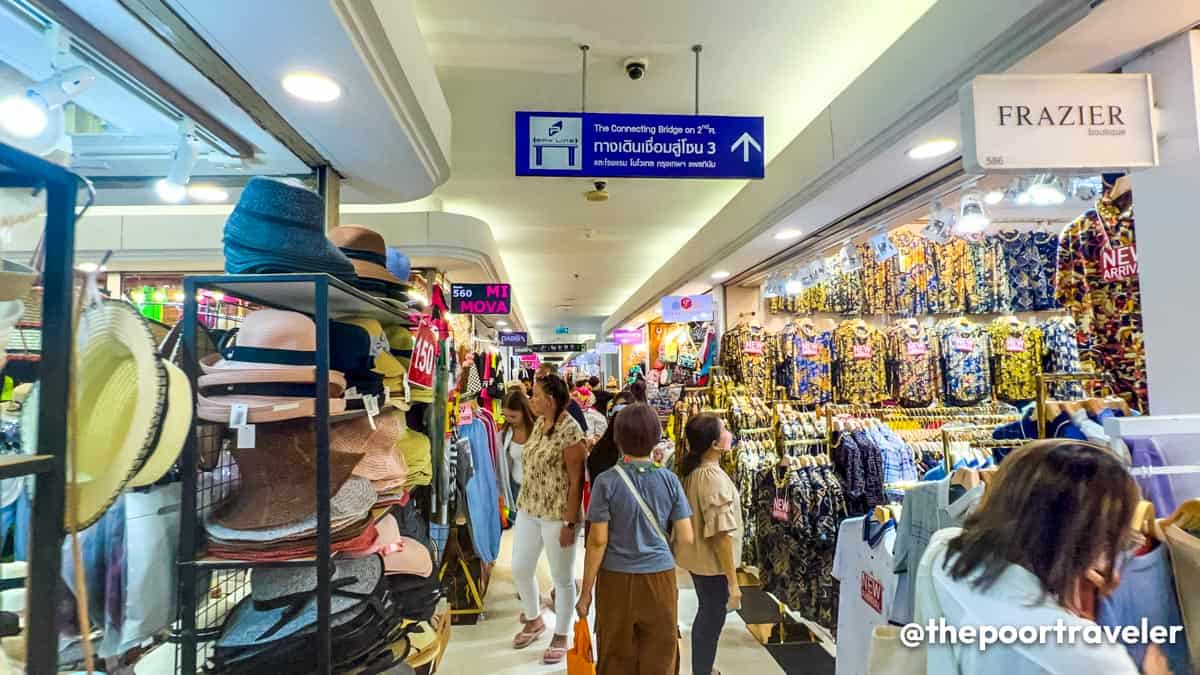 Pratunam. Bangkok's most popular shopping district. Between its busy alleys are even busier blocks filled with indoor and outdoor stalls selling mostly apparel and accessories. Smack at the heart of the area stand two massive malls — Platinum Shopping Mall and the Paladium World Shopping — both filled to the brim with bargain finds. Most of these specialize in wholesale, they also sell in retail quantities.
How to get here: Take the MRT to Ratchaprarop Station and walk south from there. It should take around 10 minutes. Alternatively, you can also take the BTS Skytrain System and get off at Chit Lom Station.
Chatuchak Weekend Market. If your visit in Bangkok falls on a weekend, squeeze this into your itinerary. This retail paradise is a labyrinth made of shops, once popular only to wholesale traders but eventually became a favorite attraction among tourists. Here you'll find almost anything you can think of: from souvenirs to flowers to clothes to furniture to street food! Prioritize this over Pratunam. We found that most of the items in Pratunam are also sold here at a cheaper price. (That said, I think Pratunam has a much more diverse selection when it comes to apparel.)
Nearest BTS Station: Mo Chit Station, take exit 1.
Siam Square. Made more popular to foreigners as the shooting location for the hit movie The Love of Siam, Siam Square does not disguise itself with pretenses of being culturally significant. It is a shopping and entertainment district. Yet, if you think about it, it somehow represents a generation — a younger, more industrialized, more fashionable Bangkok. Catering mostly to college students and young adults, Siam Square comprises several blocks harboring a wide array of stores — over a hundred of 'em — apparel stalls, boutiques, bookshops, record stores, restaurants, cafes, even cinemas. How to get here: Take the BTS Skytrain System and get off at Siam Station.
Ratchada (Train Night Market). The colorful rows of tent stalls of Ratchada (New Rot Fai Market) will absolutely fill your stomachs with its wide selection of affordable Thai cuisine and international dishes— snacks, street food, sweets, exotic delicacies, and milk teas! The market also offers affordable clothing, accessories, shoes, and many more!
Nearest Train Station: Bangkok MRT Thailand Cultural Centre Station. Take Exit 3, then walk towards Esplanade Mall. Ratchada is located just beside the mall.
⛔️ Opening Hours: As of this writing, Ratchada Night Market remains temporarily CLOSED!
---
WHERE TO EAT IN BANGKOK
We'll be creating a more detailed version of this article soon. But in the meantime, here's a quick rundown of our favorite places to eat in Bangkok.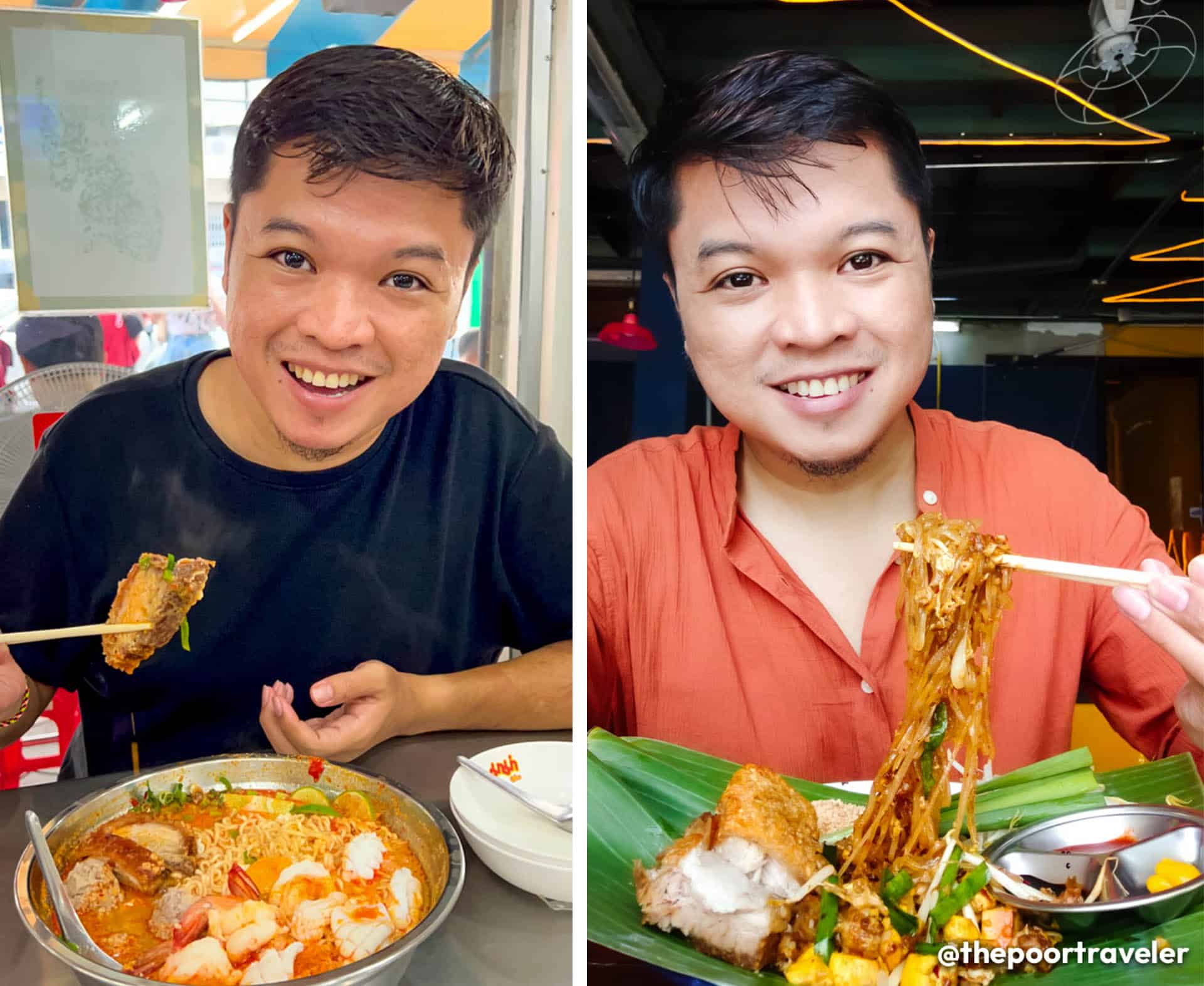 Thipsamai, where we had the best pad thai of our lives. It's said to be the first store to serve the now ubiquitous noodle dish. It uses thinner rice noodles coated in shrimp oil.
Michelin bib gourmand awardee
Address: 313 315 Maha Chai Rd, Samran Rat, Phra Nakhon, Bangkok 10200, Thailand
Bestsellers: Pad Thai, ฿105; Pad Thai with prawns: ฿150
Open: 10AM – 12MN for takeaway only; 5PM – 12MN, dine in & takeout
Jeh O Chula (Jay Oh), for the best affordable tom yum noodle soup! It's crazy popular that queuing can take up to 2 hours, unless you arrive early. We arrived past 4pm, just in time for the opening. But barely 5 minutes after we arrived, the line grew quickly. If you could, reserve a table via Klook. Those who book with Klook have a separate line, which is much shorter. Reserve here! ✅
Michelin bib gourmand awardee
Address: 113 ซอย จรัสเมือง Rong Muang, Pathum Wan, Bangkok 10330, Thailand
Bestsellers: Tom yum mama (spicy tom yum noodle soup), plain ฿150, with meatballs, squid, shrimps and crispy pork belly, ฿300; salmon salad, ฿300.
Open: Daily 4:30PM-12MN
Polo Fried Chicken, another Michelin-recognized establishment just across Lumphini Park in Silom area. It started out as a humble street stall but grew to become a proper eatery serving only a few Thai favorites.
Address: 137/1-3,9 10 Sanam Khli Alley, Lumphini, Pathum Wan, Bangkok 10330, Thailand
Bestsellers: Fried chicken half, ฿130; som tam (papaya salad) with salted egg and dried shrimp, ฿80; pork larb/laap (spicy sour minced meat salad), ฿80.
Operating Hours: Daily 7am-8:30pm
Moo Yang Mae Sumontha, a hidden stall inside Chatuchak Market serving moo yang (grilled pork). But its version is roasted honey glazed, which is incredibly tender, succulent, and properly cooked.
Address: 587 โครงการ 22 ซอย 4 /2ตลาดนัด จตุจักร 10 Kamphaeng Phet 2 Rd, Chatuchak, Bangkok
Bestseller: Roasted honey glazed pork, ฿60 per 100g.
Open: Weekends 8AM-6PM
Kuang Heng Chicken Rice, established 1932. If you get hungry while shopping around Pratunam, this is the place to refill that empty tummy! It's located just next to Platinum Mall and across the street from Palladium.
Address: 930 Phetchaburi Rd, Makkasan, Phaya Thai, Bangkok 10400, Thailand
Bestsellers: Hainanese chicken and deep-fried chicken, ฿50 (single); chicken/pork satay, ฿80 per 10 sticks.
Open: Daily 7am-10pm
Jay Fai, with one Michelin star and featured on the Netflix series Street Food. It's so incredibly popular that we still haven't been able to try it. It doesn't accept reservations beforehand, so you need to show up and fall in line early to be considered for the waitlist. We attempted three times but the waitlist was always full by the time we arrived. Nevertheless, I'm adding it to this list so you could try it for yourself.
Address: 327 Maha Chai Rd, Samran Rat, Phra Nakhon, Bangkok 10200, Thailand
Bestsellers: Hainanese chicken and deep-fried chicken, ฿50 (single); chicken/pork satay, ฿80 per 10 sticks.
Open: Wednesday-Saturday, 9am-9pm
Closed: Sunday-Tuesday
---
USUAL PRICES IN BANGKOK
Below is the list of the prices of common items that you will need for a comfortable budget stay in Bangkok! Bear in mind that the figures are in Thai Baht.
FAST FOOD & CONVENIENCE STORE
Bottled water (500ml): ฿6-12
Bottle of softdrink (550ml): ฿20
7-Eleven rice meal: ฿40-55
Big Mac (McDonald's): ฿128
STREET FOOD
Grilled meat: ฿10-30 per stick
Pad thai: ฿50-60
Noodle soup: ฿50-70
Rice meals: ฿50-100
ENTRANCE FEES
Grand Palace: ฿500
Wat Pho: ฿200
Wat Arun: ฿100
Siriraj Medical Museum: ฿200
Mahanakhon Skywalk: ฿836
Dream World Bangkok: ฿575
Siam Amazing Park: ฿650
TRANSPORTATION
BTS/MRT fare: ฿16-52
Taxi flagdown rate: ฿35
Grabcar within the city: ฿100-280, depending on distance/traffic conditions
TOURS (with Transfers)
Maeklong Railway Market + Damnoen/Amphawa Floating Market: ฿1356
Ayutthaya: ฿1690
Pattaya + Koh Larn: ฿2239
---
SAMPLE BANGKOK ITINERARY
Here's a sample itinerary that you may use. We stayed much longer, but if you have only an extended weekend to spend in Bangkok, here's something to consider.
Note that this itinerary assumes that you're a party of 2, splitting some of the costs, and that you're staying at a hotel in Siam, close to BTS National Stadium Station. Feel free to adjust here and there to match your hotel location, flight schedule, and your travel preferences.
DAY 1: MAHANAKHON SKYWALK & JEH-O-CHULA
01:00 PM – Arrival in Bangkok
– Pickup Data SIM Card & Rabbit Card
02:30 PM – Train to Phaya Thai Station ฿45
– Transfer to BTS to Siam, ฿25
03:00 PM – Walk to your hotel, check in, freshen up
04:00 PM – Train to BTS Chong Nonsi Station, ฿28
04:15 PM – Mahanakhon Skywalk, ฿836, Book here!
– Chill and wait until sunset
07:00 PM – Train to BTS National Stadium, ฿28
07:15 PM – Walk to Jeh-O Chula
07:30 PM – Eat tom yum set at Jeh-O Chula, ฿350/pax, Reserve here!!
09:00 PM – Walk or train to Siam, ฿22
09:30 PM – Back to hotel, lights out
DAY 2: DIY TEMPLES TOUR & KHAO SAN ROAD
07:00am – Wake up call
08:00am – Train to BTS Saphan Taksin Station, ฿37
08:30am – Walk to Sathorn Pier
08:45am – Board orange-flag boat, ฿15
09:15am – Get off at N9 Tha Chang Pier
09:30am – Grand Palace Complex, ฿500
10:00am – FREE Tour at Temple of Emerald Buddha
11:00am – Lunch, ฿100
12:00pm – FREE shuttle to Sala Chalermkrung Royal Theatre
01:00pm – Khon Performance (included in Palace ticket)
01:45pm – Walk to Wat Pho
02:00pm – Wat Pho, ฿200
03:30pm – Boat to the other side of the river, ฿5
03:45pm – Explore Wat Arun, ฿100
05:00pm – Boat to the other side (Tha Thien*), ฿5
05:15pm – Boat to N13 Phra Arthit, ฿15
05:40pm – Walk to Khao San Road
06:00pm – Dinner & drinks at Khao San, ฿400
09:00pm – Taxi/grab to Silom, ฿100/pax
*Note: Tha Thien/Tha Tian Pier is temporarily closed for renovation, as of Dec 2022. For now, you may walk all the way back to Tha Chang and catch the boat to Phra Arthit Pier.
DAY 3: FLOATING MARKET DAY TOUR
07:00am – Wake up call
07:15am – BTS to Siam Station, ฿15
09:30am – Floating/Railway Market Tour ฿1356, Book here!

Additional food budget: ฿250/pax
Tour guide tip: ฿50/pax
06:20pm – Dinner: ฿120
09:30pm – BTS to hotel, ฿15
10:00pm – Back to hotel, lights out
Day 4: SHOPPING, DEPARTURE
A: If this falls on a weekend
08:00am – Wake up call, check out, leave bags
08:40am – BTS to Chatuchak Park Station, ฿42
09:00am – Shop at Chatuchak Market
11:00am – Lunch at Moo Yang Mae Sumontha, ฿120
11:30am – Continue shopping
02:00 PM – BTS back to hotel, ฿42
02:20pm – Back to hotel, pick up bags
02:50pm – BTS to Phaya Thai Station ฿25
– Transfer to ARL to Suvarnabhumi Airport, ฿45
03:30 PM – Flight check in
06:45 PM – Flight out
B: If this falls on a weekday
08:00am – Wake up call, check out, leave bags
08:40am – BTS+ARL to Ratchaprapop Station
09:00am – Platinum + Palladium Malls
11:30 AM – Lunch at Kuang Heng Chicken Rice, ฿120
12:30pm – Continue shopping in Pratunam
02:00 PM – ARL+BTS back to hotel
02:20pm – Back to hotel, pick up bags
02:50pm – BTS to Phaya Thai Station ฿25
– Transfer to ARL to Suvarnabhumi Airport, ฿45
03:30 PM – Flight check in
06:45 PM – Flight out
If you follow this Bangkok itinerary, prepare to shell out ฿5000 (USD 144, EUR 136, SGD 195, PHP 7950), excluding airfare and hotel but including a bit of allowance for wiggle room and to make up for any possible price adjustments and incidental expenses.
If you spend TH฿600 per night per person on accommodations, the same itinerary will cost you TH฿6800 (USD 197, EUR 185, SGD 264, PHP 10,800), excluding airfare but with some allowance to cover adjustments and incidental expenses.
(If you're coming from the Philippines, it doesn't include the PHP1650 travel tax yet.)
---
FREQUENTLY ASKED QUESTIONS ABOUT BANGKOK
What are the COVID-19-related travel requirements in Thailand?
The Thai government has lifted COVID-19 restrictions for tourists. Travelers are only required to present the usual border requirements like passport (and visa if applicable). No proof of vaccination required.
But if your next destination is a country that requires an RT-PCR COVID test (like India and China), travel insurance is mandatory. It must cover the full length of intended stay in Thailand + 7 extra days.
That said, the airline may ask for a vaccination ID. On our most recent trip in November, we flew with different airlines. While Thai Airways did not ask to see any proof of vaccination, Philippine Airlines (PAL) asked my teammates for their vaccination card/certificate, and they complied. I'm not sure if that's official airline policy or what would have happened if they didn't have it, but they did ask.
But because health policies change fast especially these extraordinary times, please double check the latest rules with the Thai authorities and the airline before your trip.
*This section is as of January 2023
---
Is Bangkok safe?
Yes, Bangkok is generally safe and tourist-friendly. Of course, you should still use common sense at all times, and don't flash your gadgets in the open or leave your valuables unattended.
My only frustration with Bangkok is that it has more than its share of scams targeting tourists, so always be careful.
---
What are the common Bangkok scams?
Bangkok's scams are more organized than they appear. One widespread modus operandi involves people loitering by the gate of temples (or other tourist spots) and approaching tourists. I almost fell for this on my first trip. They are very friendly, and they usually introduce themselves as teachers. They claim that the site you're about to visit is closed because it is a holiday and that they know a more beautiful place that is not on tourist maps. They then hail a random tuktuk (which isn't random at all for the driver is part of the scam) and tour you around. You will be taken to a jewelry store selling overpriced gems and accessories. The tuktuk may also overcharge you for the ride.
Khao San Road is also rife with scams. You'll find tourist agents selling all sorts of transportation tickets that turn out to be less than what they promise. For example, you'll find plenty of "direct buses" to Siem Reap, but most of them are not really direct as they involve switching vehicles at one point during the trip. Worse, some of these buses stop at "travel agencies" that will sell you fake visa.
Patpong is also notorious for scams. You'll be invited by barkers to a sexy club to see a "pingpong show" or other mind-blowing presentations, to say the least. They'll say the show is free but you must order a drink. The catch is, the drink is ridiculously overpriced.
As in any other city, be careful and vigilant. If something sounds too good to be true, it probably is.
---
When is the best time to visit Bangkok?
November to February, when the temperature and precipitation levels are kind and low. But because of the pleasant weather, it is also the peak season. High season begins in November and ends in April, around Songkran Festival (Thai New Year, April 13-15). If you're visiting within this period, prepare to share the city with millions of other tourists.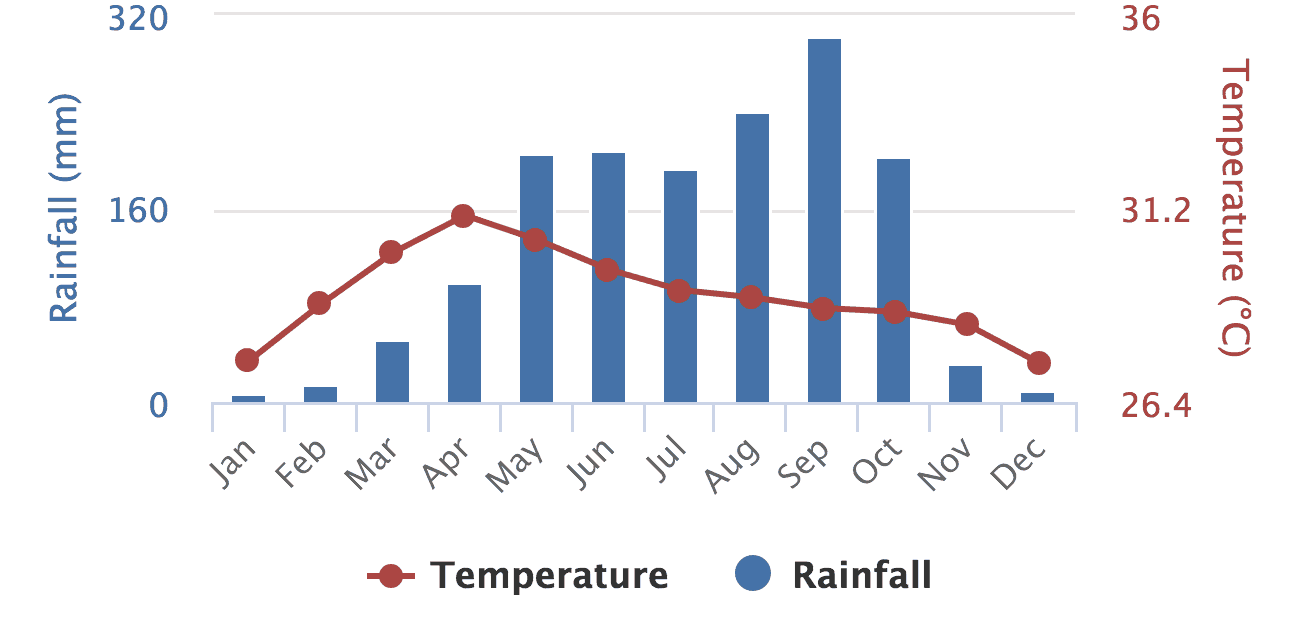 Bangkok could've been a year-round destination if it weren't for the bouts of rain and flooding problems, which is why it is best to avoid the wettest months.
Rainy season is from May to October, but the wettest months are September-October. We have tried traveling to Bangkok in January, July, August, September, October, and November, and we can tell you that the precipitation level can definitely affect your overall travel experience. We've been stranded in some sites because of torrential rains and flooding and ended up wasting much of our time.
---
What is tipping policy in Bangkok?
Tipping is NOT mandatory in Bangkok, but it is surely appreciated.
When eating at sit-down restaurants, a tip of 10% of the bill should be fine. You can also just round off your bill. For example, if your bill is ฿135, you can leave ฿150. Same with cabs. If the meter is ฿105, round it off to ฿110 or ฿120. At hotels, you can give ฿20-50 to the porter who carries your luggage to your room, depending on the number of pieces. For a massage, tip ฿50. For full-day tour guides, at least ฿200 is alright.
---
Where to exchange money in Bangkok?
Bangkok has countless money changers, but most of them have poor rates, especially those at the airport. Trust me. I made that mistake and lost a lot in the conversion. If you really need to do so at the airport, exchange only a little or enough to get you to the city center.
At the city center, find a SuperRich Thailand branch. SuperRich has the best rates, make sure it's a legit SuperRich branch.
---
What is the power socket used in Bangkok?
Most common sockets are sort of a combination of Types A and C. They have two holes that can accept both flat and round pins, the shape of two door knobs or rubber stamps facing each other. This type of socket can take plugs that are Types A, C, and F. If your plug has three pins, you will be needing an adaptor.

---
Do I need a visa to visit Thailand?
Foreigners holding passports issued by the Philippines, Singapore, Indonesia, Malaysia, United States, United Kingdom, Germany and 40+ other countries can enter Thailand visa-free, provided that they stay shorter than 30 days.
To see the complete list of countries, visit this: List of Visa-Free and Visa-on-Arrival Countries
However, visitors must have the following upon entry:
a valid passport (with at least 6 months validity)
return or onward ticket
at least 10,000 baht per person or 20,000 baht per family or equivalent in other currencies, cash.
It will also help to have a hotel reservation.
Note that if you're not arriving by air, you're only allowed to enter Thailand twice per year.
---
Do I really need 10,000-baht show money at the immigration?
In theory, yes. It is the law. But it's not implemented all the time. Lately, they have been a bit stricter.
Our team has been in and out of Thailand recently but none of us were asked how much we carry. But it would help to just comply, just in case.
The amount should be 10,000 baht per person or 20,000 baht per family.
It doesn't need to be in baht. It can be any currency as long as it has the equivalent value.
---