When we walked past the Duomo on our last night, the air carried a familiar classical tune coming from a string quartet positioned along an adjacent alley. The drizzling had stopped and a small crowd had gathered around them. Suddenly, a little boy took his mother's hand and together they danced to the melody, to the delight of other tourists, who watched and snapped away.
It's tender moments like this that made our time in this glorious city for keeps. I felt it as soon as we emerged out of the Santa Maria Novella Station when we arrived in the city. Trying to find our guesthouse, we walked with 30+ kilos of luggage on our back. It's been a long, tiring ride from Zurich and we could definitely use some rest. The concrete pavement turned into cobblestones, the streets turned to narrow alleys. It was quiet. It was as though we were never tired. And for a moment, I felt like Diane Lane (hahahahahhaahhaha), playing with the Tuscan sun, peeking from the top of the heritage buildings. Then one left turn and we were greeted by a massive swarm of people, all admiring the Duomo. Hello there, fellow tourists.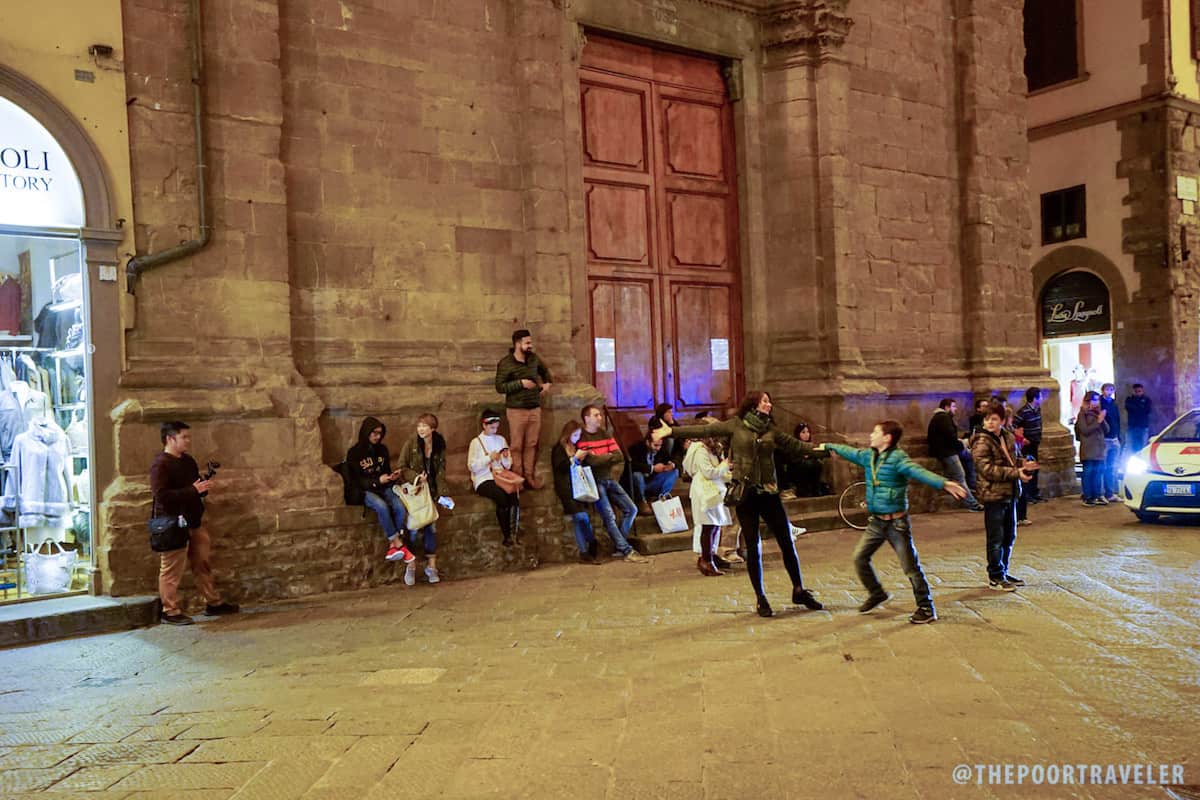 We never expected to fall in love with Florence. When we were planning this 16-country European tour, I prepared for Paris or Reykjavik to take my breath away, but it was Florence who stole my heart and ran with it. Easily, it became my favorite city. (Yosh's most-loved remains Paris, though. But he's a Francophile, so that's not really surprising.)
WHAT'S COVERED IN THIS GUIDE?
UNDERSTANDING FLORENCE
The city was founded as early as 59 B.C. During the medieval times, it was one of the wealthiest cities in Europe. But it is best known for giving life to the Renaissance in the 14th century, the period that gave us Botticelli, Leonardo da Vinci, and Michelangelo. Many factors contributed to the rise of Florence as a cultural epicenter. One of them: its ruling clan, the Medici, were huge patrons of the arts. Art is the heart and soul of Firenze, which continues to inspire artists from around the world. Its streets are bursting with captivating architecture, sculptures, and even musicians and street painters trying to make a living.
Today's Florence is a metropolitan hub and the capital of Italy's Tuscan region, but its historic core remains intact, tucked at its center. It has 80 museums, not counting outside galleries that adorn its many piazzas. The city's Old Town attracts 13 million tourists a year, making it one of the most visited cities in the world.
Language: Italian. Most signs have English translations.
Currency: Euro (EUR, €). €1 is roughly $1.11, PHP 55.94 (as of June 2017).
Modes of payment: Many establishments accept credit cards, but most still prefer cash.
Electricity Info: 230 volts, 50 Hz. Common sockets are Type F, which also accept plugs that have two round pins (C and E).

---
BEST TIME TO VISIT FLORENCE
In general, the period between October to May is alright, but April is the most comfortable weather-wise. This is when the cold is slowly giving way to the summer heat. It gets much hotter in the next months and peaks in August, the month you want to avoid. Even the locals try to go out of town during this month to escape the heat.
If you enjoy winter, January and February may be a great choice for two reasons: lower prices, thinner crowds. Florence is always jampacked almost any time of the year, regardless of weather conditions. During our visit, we noticed that even in the middle of rain showers, the piazzas remain brimming with tourists, especially the area surrounding the Duomo.
---
HOW TO GET TO FLORENCE
Florence is served by Amerigo Vespucci Airport (FLR), an international airport situated just 30 minutes from the city center. But the Galileo Galilei Airport in Pisa is the largest in Tuscany. Because the the two airports are connected by rail and bus, Pisa is also a good gateway to Florence. Pisa Airport also serves many of Europe's low-cost carriers including EasyJet, RyanAir, Transavia, and Thomsonfly.
---
PISA TO FLORENCE
From Pisa Airport's Terminal 1, you can board the train to Firenze SMN Station. Multiple trains ply this route per day so reservation is not needed. Just buy a ticket when you arrive. The journey takes 1.5 hours. Fare is fixed at €11.10.
---
ROME, MILAN OR VENICE TO FLORENCE
If you're on a bigger tour around Italy, you can easily reach Florence from Rome, Milan, Venice and other Italian cities by train. There are multiple trains a day.
There are two high-speed train companies in Italy: the state-owned Trenitalia and the privately owned Italo. Both use dynamic pricing (much like airlines). This means that fares are not fixed. They change over time. Hence, it is best to book in advance. If you don't have fixed plans yet, you can book on the same day, but expect to pay more for your seat.
Usually, the cheapest fares are at €14.90 for Italo and €19.90 for Trenitalia. But Italo's fare for some routes can go as low as €9.90 if you book way in advance. If you don't have fixed plans yet, you can book on the same day, but expect to pay more for your seat.
---
OTHER EUROPEAN CITIES TO FLORENCE
If you're coming from other cities in Europe, the fast and cheap option is usually flying. Intercity flights within Europe are surprisingly cheap and they will save you a lot of time.
However, there are also trains available coming from outside Italy. There are day trains and overnight trains, depending on where you're coming from. Often they make stops in another Italian City, usually Milan or Turin.
From Paris. The cheapest option is to travel by high-speed to Turin (Travel time: 5h40; Fares from €29). Then, board an Italian train from Turin to Florence (Travel time: 2h45; Fares from €19.90). Book the Italian train with Trenitalia.
From Zurich, Switzerland. Take a EuroCity train to Milan (Travel time: 3h26; Fare from €9) and then board an Italian train to Florence (Travel time: 1h40; Fare from €19.90).
From Munich, Germany. Travel with German Railways to Verona, Bologna, or Venice (Fare starts at €9). Then take an Italian train to Florence SMN (Fare from €19.90).ole trip, but this does
---
MANILA TO FLORENCE
If you're a Filipino citizen, you'll need a Schengen visa. Here's how to get a Schengen visa.
There are no direct flights from the Philippines to Florence. Most routes entail a few layovers. A good option is to fly to Pisa instead. Pisa is easily accessible. Turkish Airlines and Qatar Airways fly to Pisa with stops in Istanbul and Doha respectively.
---
FLORENCE AIRPORT TO CITY CENTER
The fastest way to get to Historic Center from Florence Airport is by bus. Bus ticket price for single trip is €5 (P281.25 or $5.57) and €8 (P449.35 or $8.92) for round-trip ticket. Take the Volainbus, operating from 06:00AM to 11:30PM and departs every 30 minutes in front of the airport. It will take you directly to Santa Maria Novella (SMN) Train Station, which is located just next to the Old Town.
---
POCKET WIFI AND LOCAL SIM IN FLORENCE
Local SIM
If you own an open-line or unlocked phone (meaning, your phone can accept SIM cards from other carriers), this is your cheapest option. Italy has four main telco companies: Vodafone, TIM, Tre, and WIND. The first two have the best coverage and 4G data connection.
TIM for Visitors. Cost: 30€. Includes 4GB of 4G internet, 100 minutes of international and national calls, and a SIM Card. Valid for 30 days. The price is fixed, but you will be encouraged to top-up to get more data, especially if you're a heavy user.
Vodafone Holiday. Cost: 30€. Includes 2GB of 4G data, 300 minutes and 300 SMS to all Italian numbers and to your home country, and a SIM Card. There is a 1€ maintaining balance.
Before you decide to buy an Italian SIM, take note of the following:
You can only get one at the physical store or booth. Activation can't be done online. The tricky part is that it can be challenging if you don't speak Italian, so make sure you know exactly what plan you want before approaching any store staff to avoid confusion. Note that the name of TIM's holiday package is "TIM for Visitors" and Vodafone's is "Vodafone Holiday."
Bring your passport to the store. SIM registration upon activation is required by law.
Have the staff set up the APN on your phone to be sure you have the settings right. This changes depending on the device you use.
If you're a heavy data user, top up after activation so you don't need to return to the store in the middle of your trip.
---
Pocket Wifi Rental
You can rent out pocket wifi before your flight.
If you're coming from the Philippines, one of the brands you can use is Flytpack.
Flytpack charges P500 per day for Europe and an additional P2800 deposit, which you can get back after your trip.
Because it can connect multiple devices, you can split cost with your companions.
The unit comes with a built-in power bank, which ensures you get to use it for an entire day tour without draining the battery.
Each rental comes with a universal adaptor. Super useful!
---
Roaming
If you're based in the Philippines, you can also use your provider's roaming services. Rates will vary depending on your provider.
Globe Telecom: They have lots of roaming options. You can choose the Roam Viber (P199) or Roam Facebook (P299) for 24 hours. Or choose the unli data roaming for P599. You can check all their rates by accessing Globe Roaming Page
Smart: They also have the unli data roaming service called Surf Abroad for P550 or their TravelWifi for P390 per day with 1GB data for 24 hours. You can check the their website for more info –> Smart Travelling The World
This isn't the most economical option, but roaming has its own advantages. Postpaid roaming is activated automatically, so you don't need to register or visit a store or make a deposit. You also don't have an extra gadget to charge and take care of during the trip. And if you're a group, you can turn on personal hotspot or tethering to split the cost.
---
HOW TO GET AROUND IN FLORENCE
Florence's Historic Center can be easily explored on foot. In fact, many streets are for pedestrians only and block car access. However, it can still be very confusing. Google Maps should be able to help you with navigating.
But if you want to explore the more modern side of Florence, you can take the bus or the tram. The T1 tram line runs from Villa Costanza (Scandicci) to Santa Maria Novella (SMN) station. You can buy your tram tickets from the SMN Station or any authorized establishment — pharmacy, coffee shops, newspaper stands — that has a "ATAF" sticker.
There are many types of tickets available. The ordinary ticket can be used once and is valid for 90 minutes. Best to book in advance because it costs more if you buy the ticket onboard. But there are also multiple ride tickets, which you can use multiple times within the same 90-minute period. Here are the costs:
1 ticket x 90 minutes (pre-booked): €1.20
1 ticket x 90 minutes (onboard): €2.00
2 Tickets x 90 minutes: €2.40
4 ticket x90 minutes: €4.70
Longer-duration tickets are also available, if you plan on using the tram and bus systems frequently.
24-hour ticket: €5
3-day ticket: €12
7-day ticket: €18
You can also use the ATAF tickets on the bus.
---
Florence Hop on Hop off Bus Pass with Audio Guide

If you're a fan of the hop on hop off bus, there's also one operating in Florence. This will take you to some of the city's key attractions. Every seat comes with a multi-lingual audio guide, sharing information about each spot.
The pass is available in 24-hour, 48-hour, and 72-hour variants.
✅ RESERVE A PASS HERE!
---
Guided Walking Tours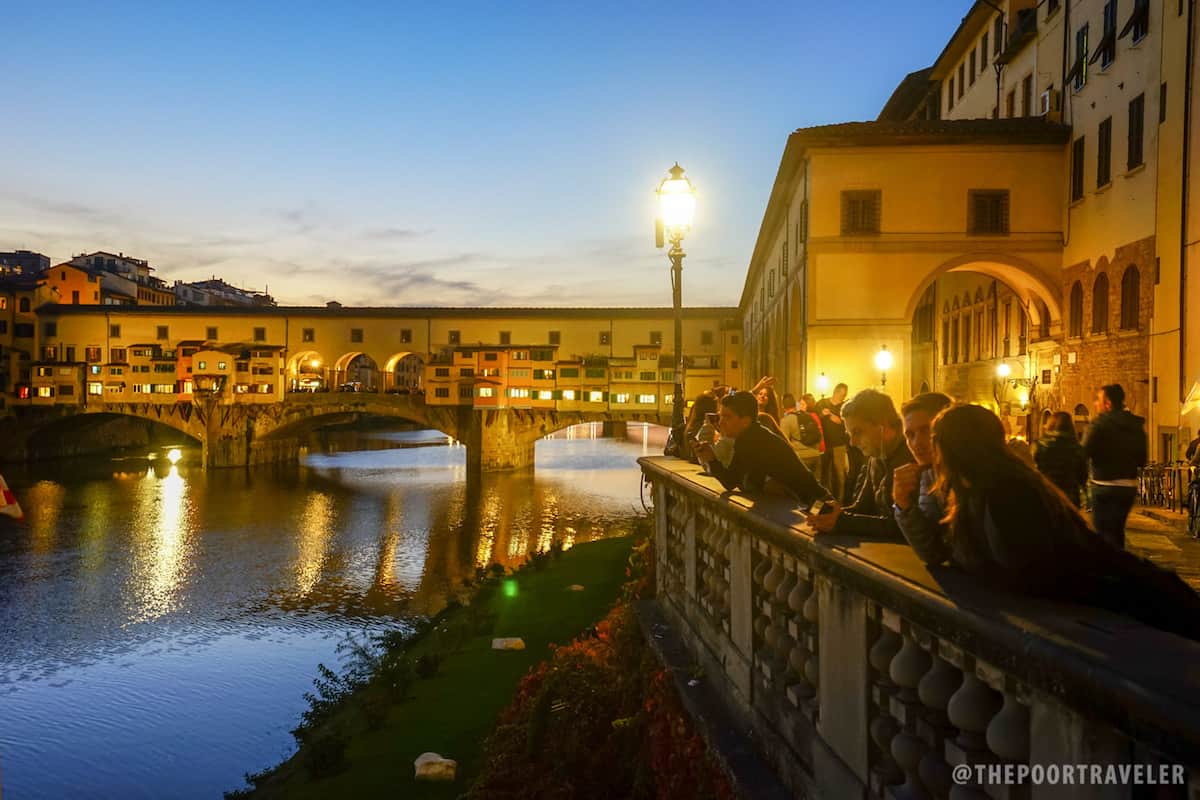 Although touring Florence can be done DIY-style, you'll be able to appreciate the city and its history more if you join a guided tour. Walking tours will take you to key attractions like Cattedrale di Santa Maria del Fiore, the Baptistery, and Giotto's Bell Tower, with a guide explaining the significance of each stop.
Klook offers a walking tour in English, Spanish, and Italian. The tour makes a stop at Piazza Duomo, Piazza Signoria, and Ponte Vecchio among others. A guide will be leading the tour, sharing important insights about each stop along the way. The English tour costs €13.20 per person.
✅ RESERVE A SLOT HERE!
There are FREE walking tours available in Florence, too.
---
THINGS TO DO IN FLORENCE
Accademia Gallery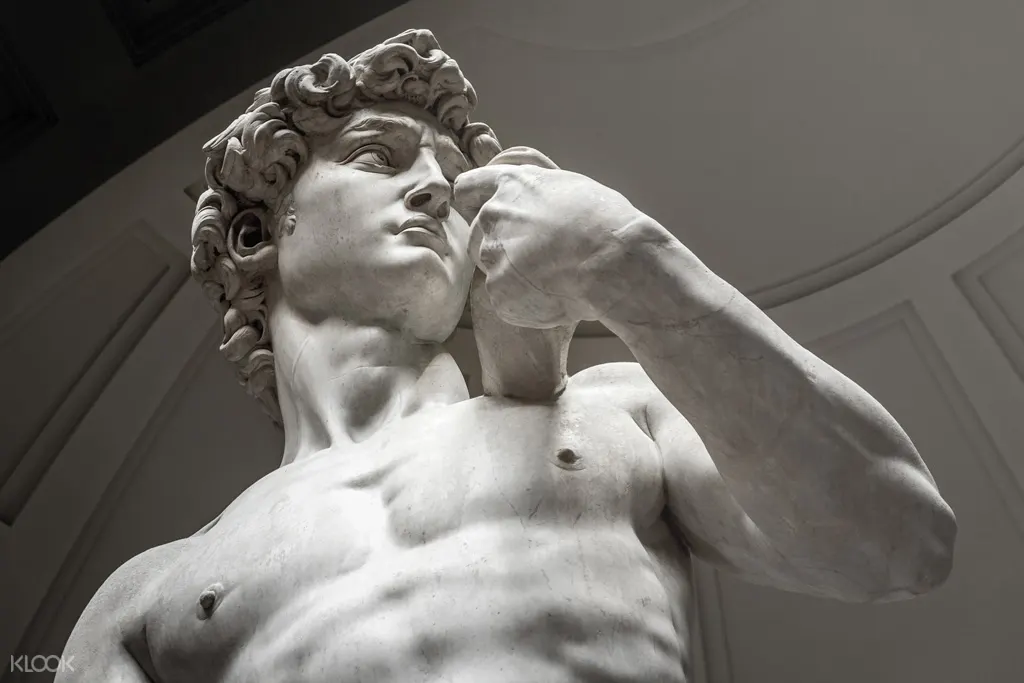 Accademia Gallery founded in 1784 and it's the museum where you can see Michelangelo's famous sculpture David.
Address: Via Ricasoli, 58/60, 50121 Firenze, Italy
Admission Fee: Full €8.00 (€12.50 during exhibits) | Reduced €4.00 (€6.25 during exhibits)
If you need a guide, you can book a tour from Klook, which is inclusive of a skip-the-line ticket.
✅ RESERVE A SLOT HERE!
---
Piazza del Duomo
Piazza del Duomo, the location of one of the most breathtaking churches I've ever seen: the Cattedrale di Santa Maria del Fiore or Il Duomo di Firenze. The massive structure showcases its Gothic architecture and Renaissance dome (Brunelleschi's Cupola). The interior of the church showcase Giorgio Vasari's frescoes of the Last Judgment which was painted in 1572. You can also climb to the church's dome for a marvelous skyline view of Florence.
✅ RESERVE A SLOT HERE
---
Pitti Palace and Boboli Gardens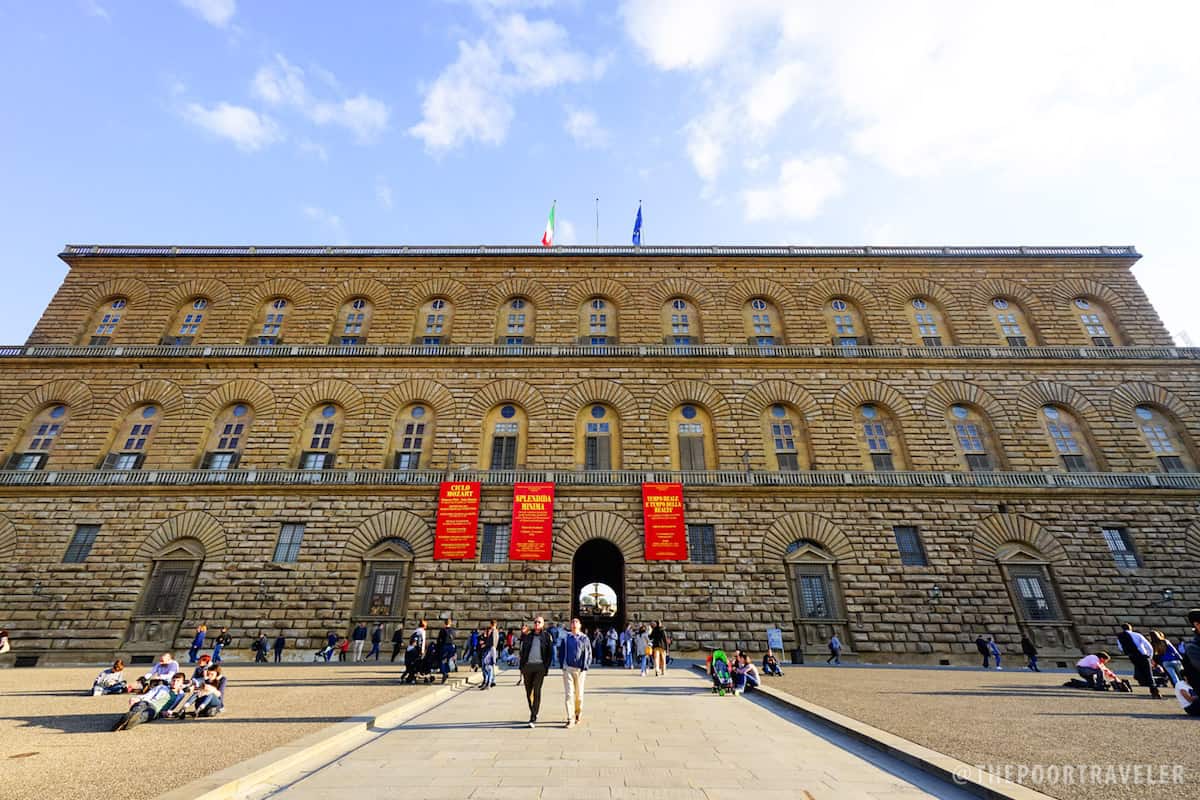 Pitti Palace and Boboli Gardens was originally built in 1457. But it was expanded in 1549 after it the Medici family bought it. The first floor houses the Palatine Gallery featuring works by Rafael and the other master Baroque and Renaissance artists.
Address: Piazza Pitti, 1, 50125 Firenze, Italy
Admission Fee: Full: €7.00 | Reduced: €3.50
---
Piazzale Michelangelo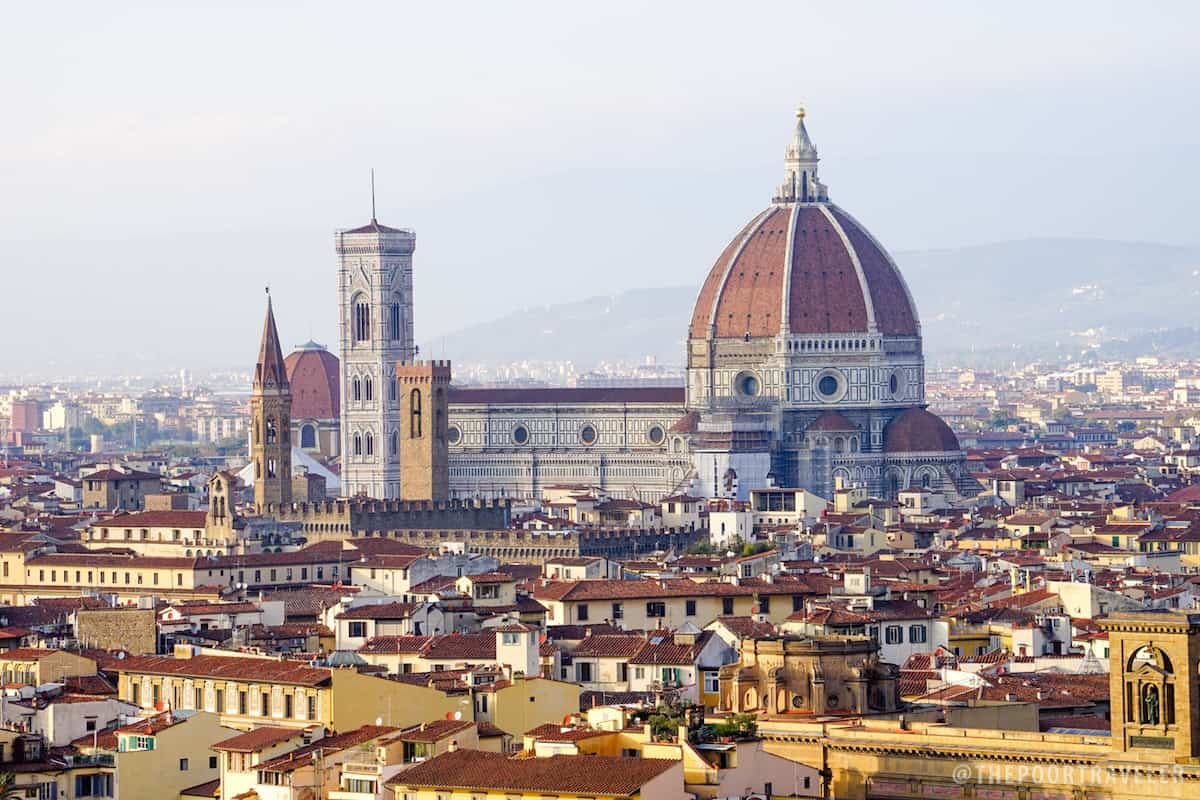 Piazzale Michelangelo was built in 1869 by architect Giuseppe Poggi and it's highly recommended if you want to have a panoramic, unobstructed view of the city of Florence. The best time to be here is sunrise or sunset.
Address: Piazzale Michelangelo, 50125 Firenze, Italy
Admission Fee: FREE
---
Other Florence Attractions
Ponte Vecchio, built around 996. This has always been hosting shops and merchants even up to this day. It's a small bridge but crowded because it's the easiest way to Pitti Palace and Boboli Gardens.
Admission Fee: FREE
Galileo Museum & Castello d'Altafronte or formerly known Istituto e Museo di Storia della Scienza (Institute and Museum of the History of Science). Housed in Castello d'Altafronte (Palazzo Castellani), it's an 11th century house sheltering one of the biggest collections of scientific instruments.
Address: Piazza dei Giudici, 1, 50122 Firenze, Italy
Admission Fee: Full fee €9.00 | 6-18 years old €5.50 | Groups (15 person minimum) € 5.50 | Under 6 years old free entry | Family ticket (2 adults + max 2 children 18 and under) €22.00
Basilica di San Lorenzo a Medicean structure located at the city's main market and a few meters away from Mercato Centrale. It houses decors and sculptures by Donatello. Just next to it is the Laurentian Library, which was designed by Michelangelo.
Address: Piazza di San Lorenzo, 9, 50123 Firenze, Italy
Admission Fee: €5.00
---
FLORENCE DAY TOURS
Tuscany Tour

Florence is the heart of Tuscany, and you can use it as your jumpoff point in exploring other wonderful cities and towns in the region. There are Tuscany Tours widely available in Florence, usually using a bus and stopping in the historic city of Siena, the walled town of San Gimignano, and at the Leaning Tower of Pisa. There's also usually a lunch stop at a winery along the way.
Klook's Tuscany tour is cheaper than the ones offered by other agencies.
✅ RESERVE A SLOT HERE!
---
Assisi and Cortona Tour

This tour is something we really wanted to do but weren't able to because of time and budget reasons. Klook's version of this tour will take you to Assisi, a medieval city which is now a UNESCO World Heritage Site. Here you'll get to see the Basilica of San Francesco and learn about the life of St. Francis of Assisi.
You'll also get to admire the town of Cortona and the view of the Tuscan countryside along the way.
You'll have an English-speaking guide, who will be leading the way and sharing info about each stop.
✅ RESERVE A SLOT HERE!
---
WHERE TO EAT IN FLORENCE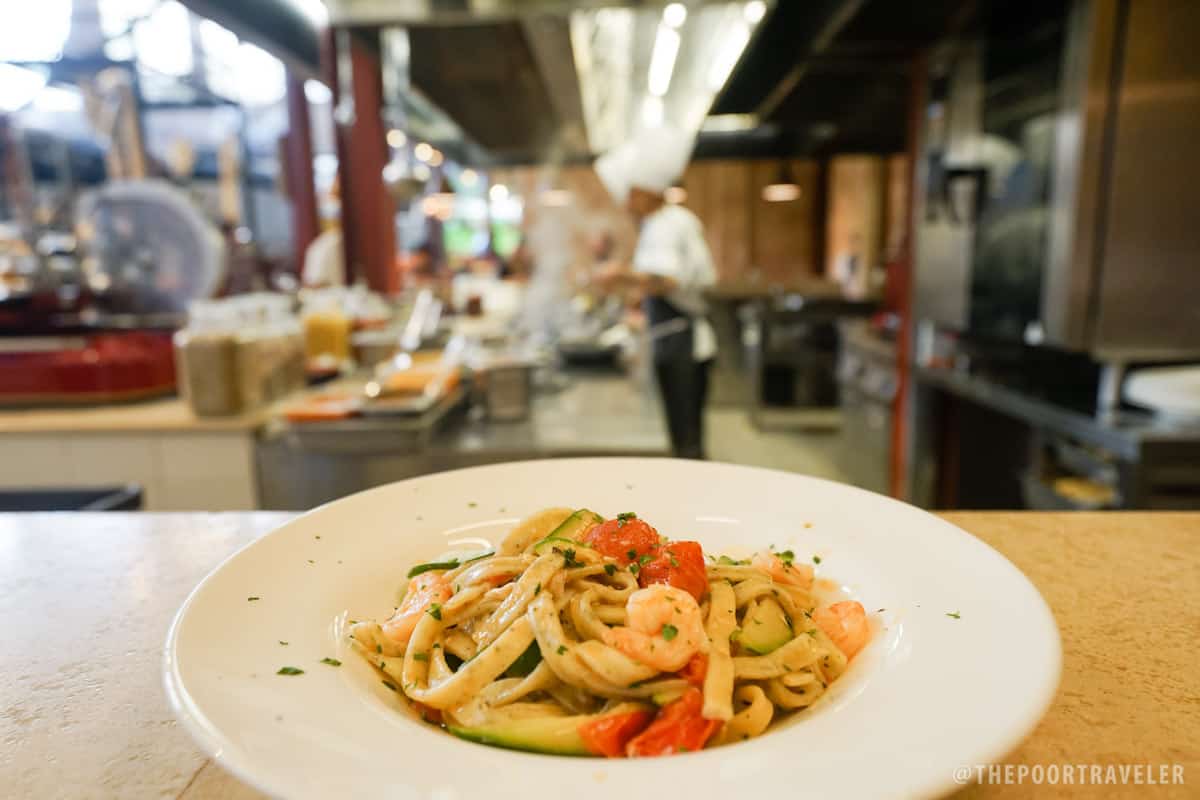 Florence has a wide, rich collection of dining spots, from small panini booths to family-run trattorias to more upscale restaurants. You'll never run out of options. It's just a matter of finding the good ones. The challenge is finding those that fit your budget.
In general, restaurants in the main squares of the Historical Center are bad, expensive, or both. But all you need to do is walk a little bit father and you'll find more promising choices. Here are some of those we tried with their respective price ranges and locations. We'll be providing short descriptions because we'll be publishing more detailed reviews in a separate post.
Trattoria Mario. This restaurant has been for around 60 years. A highly recommended restaurant if you want to dig in to some home-cooked Italian food. Much of Trattoria Mario's menu changes every day, but of course they get repeated sometimes. Some permanent favorites are their Bistecca Florentina, which is always served rare, and lombatina or roast veal. It's probably the best cheap restaurant meal we tried in the city. Because it's open only during lunch time (closed for dinner), the place is always bursting with diners. We shared our table with an American expat couple, who have been living in Florence for over 12 years, and this was also their go-to place for some great Italian food.
Address: Via Rosina, 2r, 50123 Firenze
Opening Hours: Monday-Saturday 12:00nn – 3:30pm
Closed Sunday and holidays
Price Range: €8 to €35
Trattoria Anita. One of our best dining experiences happened here at Trattoria Anita, which stands just a block away from our guesthouse. We arrived 5 minutes before the 7pm opening but in just a minute, the place was packed with mostly locals. There were only two tables with tourists during our visit, our table included. The food was flavorful, the atmosphere was warm and homey, and the staff was very friendly. The menu was in Italian but our waiter explained to us
Address: Via del Parlascio, 2, 50122 Firenze
Opening Hours: 12nn-3pm, 7-11pm
Price Range: €7 to €20
Panini Toscani. It's a humble hole-in-the-wall panini place, but it's quite popular, judging by the looong queue that snaked from the store to the edge of the Duomo during our visit. We decided to return in the late afternoon, which was a great decision because by then, the queue was no more. When we approached the counter, the staff asked us if it was our first time and when we said yes, they meticulously explained in great detail each ingredient — each type of cheese and meat, where they are from, how they are made — and asked us to taste everything before making our choices. It was an educational experience, a simple gesture that made our stay there a memory for keeps.
Address: Piazza del Duomo, 34R, 50122 Firenze, Italy
Price Range: €11 to €20
I' Vinaino Restaurant.Our experience on this restaurant was superb and food didn't disappoint. We ordered for the ravioli with meat sauce, pot roast veal, and house red wine.
Address: Via Palazzuolo 124r, 50123, Firenze, Italy
Price Range: €7 to €20
Mercato Centrale. The first floor is where the market is, where you can find ingredients. On the second floor, you get to try those ingredients that are showcased in the food booths, where they serve cooked or prepared dishes. Italian staples like homemade pasta, bistecca (steak!), prosciutto (dry cured ham), and pizza are here. There are also cheese and bread stalls.
Address: Via dell'Ariento, 50123 Firenze, Italy
Price Range: €8 and up
---
WHERE TO STAY IN FLORENCE
If you can, stay within the city's historical center so you don't need to worry about transportation going to major attractions. The Old Town is also just a short walk from Firenze Sta Maria Novella (Florence Central Train Station). Several cheap guesthouses and hostels are located in the area, so finding a place shouldn't be a problem if you book in advance.
Where We Stayed: Bronze Horse Guesthouse
Address: Via Della Condotta 3, Historical Center, Florence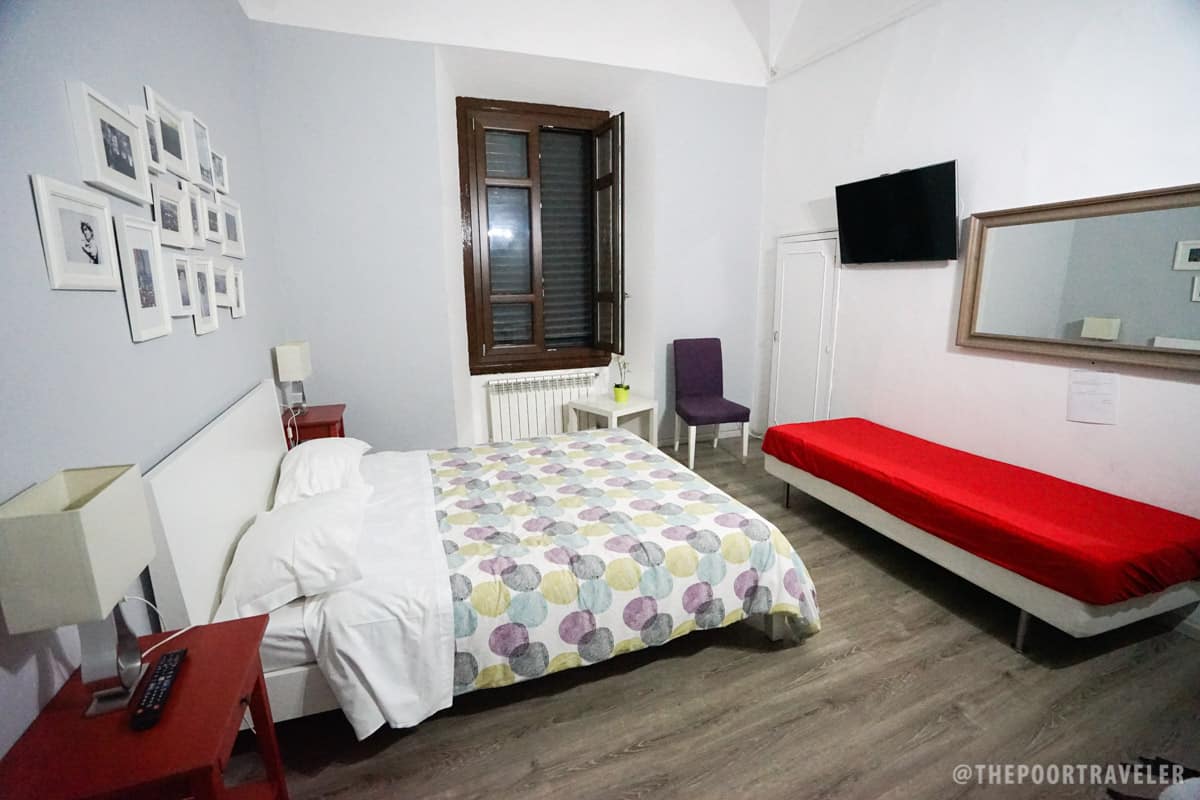 Bronze Horse is a two-room shared apartment space being rented out to tourists. It's located on the third floor of an old building at the heart of Florence's Old Town. The two rooms share a single bathroom, so consider that if you're interested to book this.
To be honest, we hesitated booking this because there were some horrible reviews. But its location is so good, we took a leap of faith. The owners-managers-caretakers of the place don't stay here, so if you're checking in, you will need to schedule it beforehand. The bulk of the usual complaints about this place was about not being able to arrange a check-in time, leaving the guests outside for a long time. Thankfully, we didn't have that experience. Our entire stay was pleasant, comfortable, and smooth, from check-in to check-out. Still, make sure you have prior check-in arrangements before arrival.
The rooms are being cleaned every other day, and the people in charge were friendly when they're around. But its best asset really is its location. Most Old Town attractions — piazzas, churches, museums, monuments, and restaurants — are within walking distance.
Overall, we looooved our stay here, and it's something we can recommend in a heartbeat. Especially given its price.
How to get to Bronze Horse: From Firenze Sta Maria Novella, walk west on Piazza della Stazione, turn right toward Piazza dell'Unità Italiana, slight right onto Piazza dell'Unità Italiana, continue onto Via Panzani, via Panzani turns slightly left and becomes Via de' Cerretani, continue straight onto Piazza S. Giovanni, turn right onto Piazza del Duomo, continue onto Via dei Calzaiuoli, turn left onto Via della Condotta, destination will be on the right.

Cost: We paid €50 for a double room with shared bathroom. This doesn't include €2.50 City tax per person per night.

What we loved: Perfect location. Fast internet connection. Clean, spacious toilet and bath.

What we didn't like so much: There's only one bathroom so it can be a problem sometimes. The main door of the unit was difficult to unlock. Took us at least 3 minutes before we could finally enter. Haha.
---
Top Budget Hotels Under €60
Below are the top-rated hotels in the area as scored by Agoda users.
---
SAMPLE FLORENCE ITINERARY
Below is a sample 5-day/4-night Florence itinerary. This assumes the following:
You are a group of two.
You will be staying in a twin room at Bronze Horse.
Your meal allowance is limited to only €3 for breakfast, €10 for lunch and €15 for dinner. For breakfast, you can simply buy bread or crackers. Best if your hotel or hostel serves free breakfast.
You can adjust the itinerary accordingly.
Pre-trip expenses
Hotel booking – €120 (€60 x 5 nights divided by 2pax)
Day 1: ARRIVAL + FLORENCE SIGHTSEEING
01:00pm – Airport to Florence Historical Centre – €5
02:00pm – Check in at hotel
03:00pm – Florence Historical Centre Cattedrale di Santa Maria del Fiore (Duomo)
05:00pm – Piazzale Michelangelo
07:00pm – Dinner at Mercato Centrale – €20 budget
09:00pm – Sleep!
Day 2: Museum Day
08:30am – Wake up
09:30am – Grab breakfast – €3 budget
10:00am – Galileo Museum & Castello d'Altafronte – €9
12:30pm – Lunch – €10 budget
02:00pm – Accademia Gallery – €8.00
04:00pm – Basilica di San Lorenzo & Laurentian Library – €5.00
07:00pm – Dinner – €15 budget
08:30pm – Back to Hotel
Day 3: Tuscany Tour
07:00am – Wake up
08:00am – Grab breakfast – €3 budget
08:30am – Depart from Florence and Begin Tuscany Tour – €50
07:30pm – Dinner – €15 budget
09:00pm – Back to Hotel
Day 4: Palace & Gardens
09:00am – Wake up
10:00am – Brunch – €10 budget
11:00am – Pitti Palace and Boboli Gardens – €7
03:30pm – Ponte Vecchio
04:30pm – Snack Time – €5
07:00pm – Dinner – €25 budget
09:30pm – Back to hotel
Day 5: PACK UP + DEPARTURE
Train back to Airport – €5
This Florence itinerary will cost you €315 (USD 376, PHP 19,200), excluding the airfare and guide tips.
If you're not interested in touring Tuscany, you can just spend another day exploring Florence. That would bring the cost down to only €275 (USD 328, PHP 16,800).
Staying at a dorm will also reduce costs, so it's something to consider, especially if you're traveling alone or with friends.
---
OTHER TIPS FOR THE POOR TRAVELER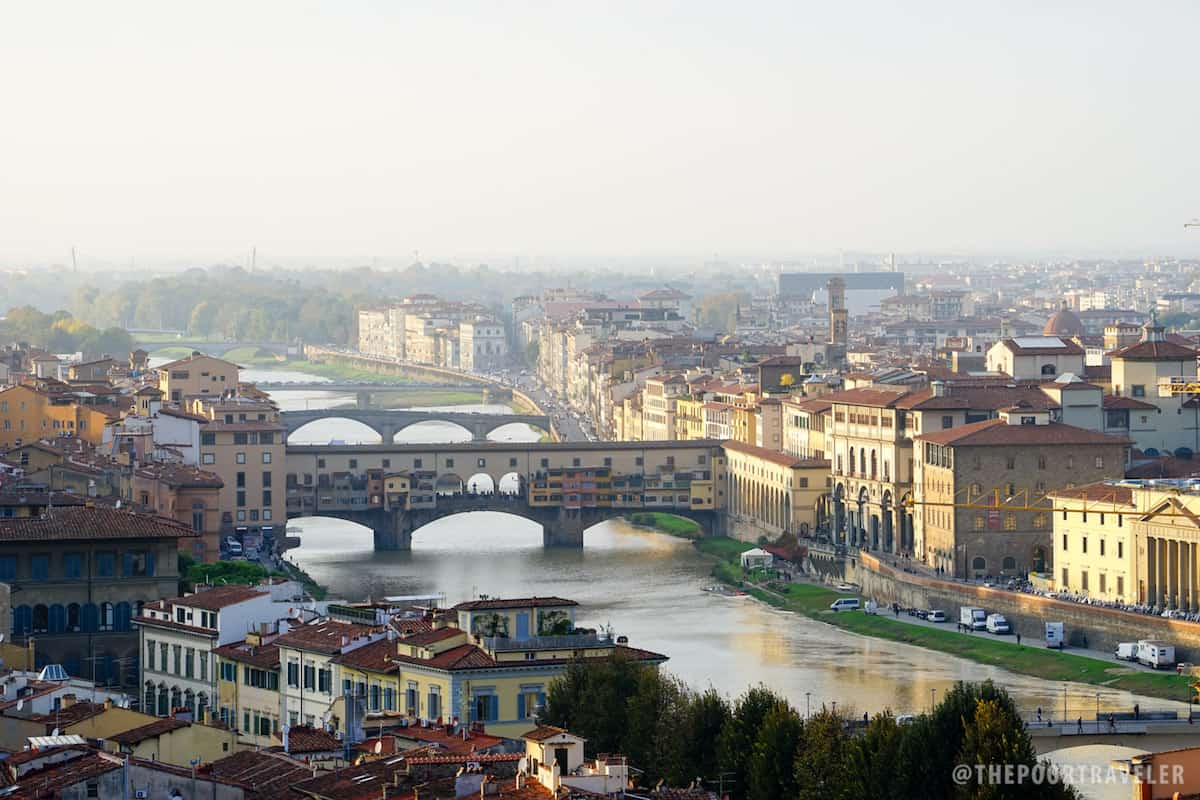 Tipping at restaurants is not compulsory in Italy. The norm is simply to round up the bill. Say the bill is €38.50, you can simply pay €40 and leave the change. Of course, you're free to tip more if you're happy and satisfied with the service.
Restaurants in Italy charges "coperto" (except in the Lazio region including Rome). If you see coperto or coperto servizio or pane e coperto on your bill, it's normal. It's basically cover/service charge, and the figure differs per restaurant. Often it's somewhere between €2 and €3, but it can go lower or higher. At Trattoria di Mario, the coperto is at €0.5, while in some restaurants it can go as high as €5.
There are free walking tours around Florence. The meeting place is usually in front of the Santa Maria Novella Church, next to the obelisk. It's free, yes, and the guide just relies on tips. Not that we recommend it. There are still questions about the ethics of free walking tours. But it's up to you.
Do not exchange currencies at money changers especially in touristy areas. I repeat, NOT at the money changers. They charge huge fees and the exchange rates are terrible! Always exchange money at a bank or withdraw from an ATM from your home bank account.
Get your tax refund before leaving Europe. If you decide to go shopping, ask the store for a tax-free form. Have it filled out and then when it's time to leave, you can have the form Customs approved and then claim the refund. You're eligible if you're not an EU resident and you paid at least €154.94 to a single shop. You can even claim refund for items you bought from other EU countries. Likewise, you can claim refund for products you bought in Italy at other EU airport. For example, if you buy a gadget in Rome and you're leaving Europe via Paris, you can process the refund in Paris. Make sure you bring the gadget with you because they will need to see it. For more info, visit their official website.
2️⃣0️⃣1️⃣9️⃣ • 1️⃣2️⃣ • 2️⃣3️⃣