Welcome to our CHINESE VISA GUIDE for FILIPINO TOURISTS! In this post, we'll enumerate the REQUIREMENTS and the step-by-step APPLICATION PROCESS. We also answer some of the most frequently asked questions we receive. Note that this post is for Philippine passport holders applying for a TOURIST VISA only, NOT for work visa, study visa or anything else.
Anxious is a word I often describe myself when I'm planning a trip to China, and I say that in every sense of the word. Anxious, as in nervous, because I'm aware of the long standing tension between China and the Philippines. I'm always jittery when I apply for a visa or face their Immigration officers. But I try to brush it off because I'm also very anxious to visit China — anxious, as in eager. Out of all the countries I have set foot in, when it comes to landscapes, China is one of the most breathtaking. I have visited only three provinces so far — Henan, Hunan, and Guangxi — but all of them absolutely blew me away. The nerves also dissipate as soon as I make it through the Immigration gates. Locals have shown me nothing but a warm brand of hospitality.
Recently, I assisted a teammate who is applying for a visa for the first time. Along the way, I noticed that there have been a few changes to the application process since the last time I applied, so I decided to write an updated version of our CHINA VISA GUIDE. So here it goes. Enjoy!
WHAT'S COVERED IN THIS GUIDE?
LIST OF CHINESE VISA REQUIREMENTS
1. Original Passports
Original copy of your CURRENT passport. Must have at least 6 months validity and at least one blank page.
Photocopy of the passport's bio page and emergency page. These are the page with information and the one with emergency contact details.
If you have old passports, you must submit them too.
If you don't have old passports or you have lost your old passports, make sure you state it on Item 3.7 of the application form.
---
2. Accomplished application form
Must be computerized or filled out digitally. Handwritten forms are not accepted.
Type in uppercase letters.
Don't leave any field blank. If an item doesn't apply to you, type N/A.
If minor, the form must have signatures of parents or legal guardian.
---
3. Two (2) recent photographs
Photo size: 48mm x 33mm.
Must be color photos with white background. Front view. Without head cover.
Must be taken within the past 6 months.
One of the photos must be pasted on the application form. Stapled, taped or clipped photos are not accepted.
---
4. Travel itinerary
Make sure your itinerary is consistent with the dates you indicated on the application form.
This is the format I followed. You can also download an editable version here.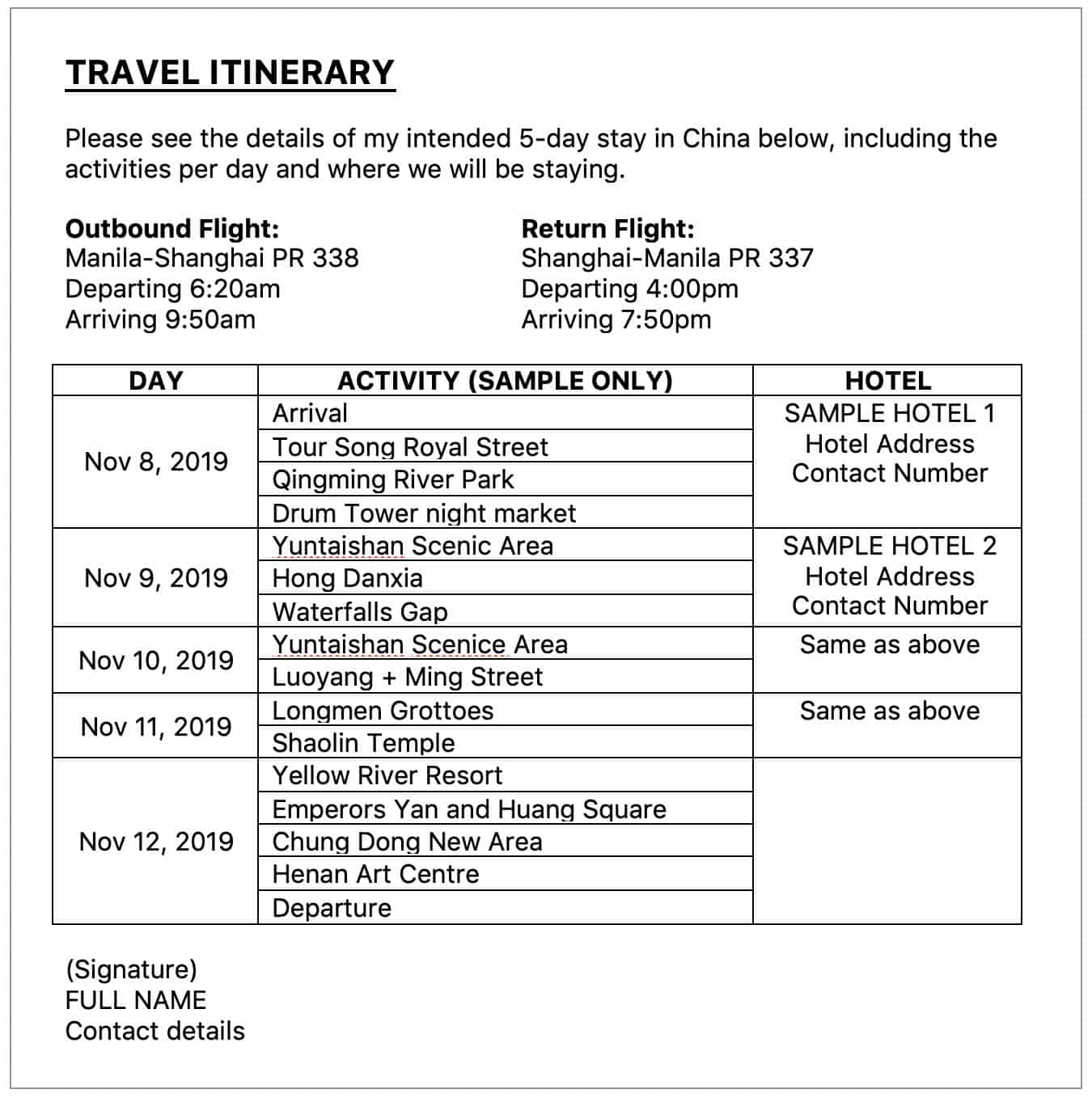 ---
5. Flight reservations or tickets
Including outward and return flights. Make sure your document has a Passenger Registration Number (or reservation number).
If you have already booked your flights, you can submit the confirmed flight itinerary from the airline.
If you don't have tickets yet, you might want to consider submitting a flight reservation instead. Flight reservation is something that you can cancel so you won't end up wasting a lot of money if you are denied a visa.
Find a travel agency that can reserve flights for you. In our case, we get our flight reservations from Gazelle Travel and Tours. You can reserve flights here: HOW TO GET FLIGHT RESERVATIONS
---
6. Hotel reservations
Submit hotel reservations under your name. You can reserve a hotel online without any charge. Just choose properties that allow FREE CANCELLATION so you can easily cancel your booking for free in case your application is rejected.
---
7. Invitation Letter
ONLY IF YOU ARE INVITED BY SOMEONE IN CHINA. OTHERWISE IGNORE THIS PART.
The invitation letter must indicate the following information.
APPLICANT'S INFORMATION. Applicant's full name, gender and date of birth, and the inviter's relationship with the applicant.
TRAVEL INFORMATION. Purpose of visit, arrival and departure dates, places to visit, and source of funds that you will use to support your trip
INVITER'S INFORMATION. Inviter's full name (if individual) or company name (if organization), address, contact numbers, official stamp, and signature.
The invitation letter can be a computer printout or a photocopy. However, the visa officer has the right to require the original copy, so it's best to have it handy.
In addition to the Letter of Invitation, the following must also be submitted:
Photocopy of the inviter's Chinese ID or passport with Chinese residence permit
Proof of relationship. This maybe birth certificates, marriage certificate, or certificate of kinship issued by the Chinese Public Security Bureau or notarized certification of kinship.
---
8. If applying for the first time
If this is your first time applying for a Chinese Visa, you need to prove your financial and employment status. Here are the documents you must submit.
Bank certificate with bank statement for the past 6 months and official receipt. Some travel agencies and online sources say that a minimum of P100,000 is required. But the friend that I assisted recently has only P70,000 and her application was approved. It was also her first time applying for a Chinese visa.
Income tax return (ITR). BIR-stamped.
If employed: Certificate of Employment. Must indicate how much salary you receive and how long you have been with the company. Although not listed, a copy of your company ID is also something you can submit.
If self-employed: Business Registration Certificate. It would also help your cause to submit other business registration docs — BIR, SEC, permits.
If professional: PRC ID.
If student: current school ID.
You can also submit other relevant documents that can provide more information about your purpose of travel, finances, source of income, occupation.
---
9. If you have past Chinese visa
If you have been granted a Chinese visa before, you don't need to submit the financial and employment documents listed in the previous section.
Instead, submit the following:
Photocopy of your past Chinese visas
Old passports that contain the old Chinese visas
---
10. Visa Fee
Here's the cost of a Chinese Visa (Tourism/Visit) at the time of writing:
Single entry: P1400
Double entry: P2100
Multiple entry (6 months): P2800
Multiple entry (over 6 months): P4200
---
HOW TO APPLY FOR A CHINESE VISA
1. Complete the requirements.
The first step is to gather all the documents listed above. Prioritize those that might take time to secure such as employment certificates or bank certificate/statements.
You might also want to arrange them in the same order as the above list.
If you have other documents that you think can help your case but not listed on the list, bring them regardless and have them ready JUST IN CASE they ask for more supporting papers.
Please DON'T submit fake documents. Forged items will result in immediate refusal.
---
2. Submit your application.
Once you have all the necessary documents, it's time to lodge your application. No prior appointment necessary. You can simply walk in.
You'll be shocked to learn that the Chinese Embassy has several addresses in Metro Manila. Where you need to go is their CONSULAR SECTION. And this is their address in Metro Manila:
Embassy of the People's Republic of China
2nd Floor, the World Center,
330 Sen. Gil J. Puyat Avenue,
Makati City, Metro Manila
Visa Office Hours:
Monday-Friday, 9am-11am only
When you get there, look for the staff by the door. They will inspect all your documents and tell you if you miss anything. If everything's fine, they will give you a number. You will then have to wait for your number to be called.
After submitting all the docs, you will be given a RELEASE SLIP, which indicates the date you should claim your passport.
PROCESSING TIME AND FEES:
The standard processing time is 4 WORKING DAYS. But if you've been granted a Chinese visa before and you want to get your passport/visa sooner, you can request for faster processing for a fee. Here are the additional charges per visa:
Express service (third working day release): P1100
Rush service (second working day release): P1700
To reiterate, these options are only available to NON-FIRST-TIMERS.
---
3. Claim your passport.
Return to the consular center on the date indicated on the release slip handed to you. Claiming your passport is much easier and quicker than submitting your application. Get another number from the door staff. You will get the passport after making the payment. There are windows specifically for passport releasing.
Once you have your passport — hopefully with a visa — double check the information and make sure there are no misspellings.
---
FREQUENTLY ASKED QUESTIONS
1. How long is the processing of a Chinese visa?
4 BUSINESS DAYS, usually.
If you have been granted a Chinese visa before, you have the option to shorten the process by paying additional fee. Here are the rates per visa:
Express service (third working day release): P1100
Rush service (second working day release): P1700
Note that these are on top of the visa fee. You will have to add the rush/express service fee to the P1400 visa fee. For example, if you choose to get your passport/visa after 2 business days, prepare to shell out P3100.
However, despite all these, the consular officer may still ask you to submit more supporting documents or even require an interview.
---
2. How long is the validity of a Chinese tourist visa?
Usually, 6 MONTHS. However, the duration of stay per visit is usually 14 DAYS only.
To illustrate, for example, my friend was granted a single entry visa that is valid from May 1 to November 1, 2019. She can enter China anytime before November 1, 2019, but she can only stay for 14 days.
---
3. How early can I apply for a China visa?
I don't know for sure. But the tourist visa's usual validity is 6 months so I'm guessing 6 months before your travel date is the earliest (but that would be pushing it). Again, I don't know.
I usually apply 1 month before my travel date.
---
4. Should I apply for a single-, double-, or multiple-entry visa?
It depends on your itinerary and flight reservations. If your itinerary/flight reservations suggest you're entering China just once, then apply for a single entry visa. If you plan to go in and out and back in again, then go for a double entry visa.
I once applied for a double-entry visa but my itinerary suggests I needed a single-entry visa. They granted me a single-entry visa despite my request for double.
---
5. How much money should I have in the bank to get approved?
This is a bit tricky.
Some online sources and travel agencies claim that your bank account must have a minimum of P100,000. But I handled my friend's recent application and she has around P70,000 in her bank account, but she was granted a visa. It was also her first time applying.
I don't know if we just got lucky or something. But I'm just sharing our experience.
My personal rule is this: I add the cost of all the flights and hotel reservations I submit and then add P10,000 per day of stay.
---
6. What are the reasons why my visa application would be denied?
This applies not just to the Chinese Embassy but also other countries:
You can't prove that you intend to return to the Philippines. You probably don't have a stable job at this point, newly employed, or newly resigned, and it's giving the impression that you plan on staying longer than your declared duration.
You can't prove that you can financially afford this trip. You or your sponsor may not be in a good financial standing.
Your documents are inconsistent. Your application form may be stating one thing, but your supporting documents may be suggesting another.
Your purpose in China is unclear or dubious. This is why it is best to be specific when you're detailing the reasons for your visit.
We have more detailed explanations in this post: COMMON REASONS WHY VISA APPLICATIONS ARE DENIED!
---
7. Do I really need flight tickets before applying?
No, you don't need to plane tickets. If anything, you are DISCOURAGED from purchasing plane tickets so you won't waste money in the event that your application is rejected.
Actual tickets are NOT a requirement. What you can submit is a so-called FLIGHT RESERVATION, which is different from actual tickets. "Reservations" are just proof that you have blocked these plane seats. Some airlines can hold the booking for you.
Travel agencies can also issue flight reservations. If you don't have time to go to a travel agency, you can have it reserved online.
Our go-to travel agency for flight reservations (and travel insurance) for visa application is Gazelle Travel and Tours, a DTI-registered and DOT-accredited agency. We created a form here so you can contact them completely ONLINE:
---
8. Can I just mail my application?
NO. Mail applications are not accepted.
---
9. What does an Chinese Visa look like?
Like this: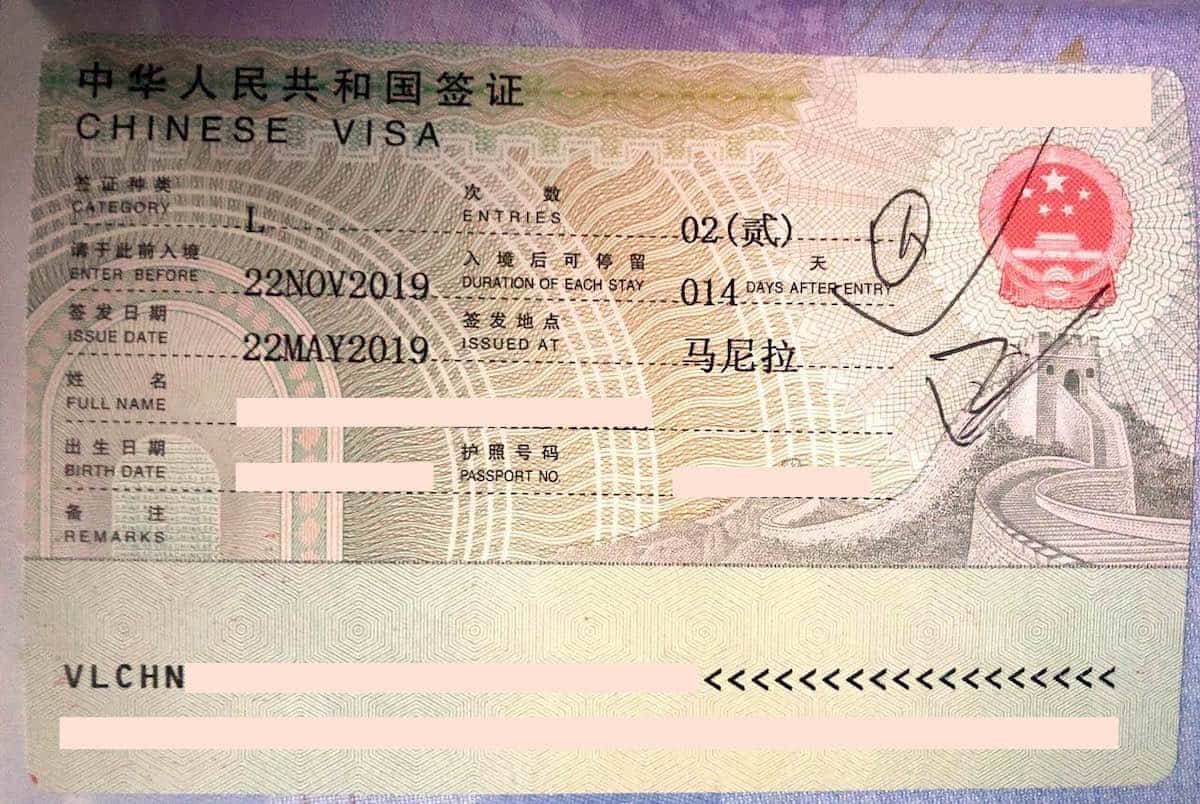 ---
10. I am submitting this and that. What are the chances of my application being approved?
I have no idea. No one and nothing can guarantee visa approval beforehand. The only person who can answer this question is the visa officer evaluating your application.
You can be adequately prepared for it, but sometimes, we just don't know what is going to happen. Sometimes, no matter how qualified or prepared you are, you can still end up denied a visa.
---
2️⃣0️⃣1️⃣9️⃣ • 8️⃣ • 2️⃣