We finally have a new DIY ANAWANGIN COVE TRAVEL GUIDE BLOG. This post contains the information you need to plan your next ZAMBALES trip including boat tour rates, camping rates, things to bring to, and things to do at the cove. We also included directions to PUNDAQUIT and sample ANAWANGIN COVE ITINERARY.
We've already established that while Metro Manila is lacking in natural scenery, it is surrounded by numerous scenic provinces that easily make up for it. Of all these destinations, our absolute favorite has always been the same for years: San Antonio, Zambales.
San Antonio has everything we adore about a destination: fantastic sights, accessibility, and a unique geology. Yes, its coast is fringed with stunning beaches like many other provinces in the country, but what sets them apart is its composition and history. The beaches here are not strewn with your ordinary fine sand but volcanic ash, straight from the gut of the mighty Mt. Pinatubo. All these factors combined make San Antonio an interesting weekend destination, to say the least.
The once sleepy fishing village of Pundaquit in particular was jerked awake by tourism. Many fishermen today double as boatmen taking tourists to the municipality's cloistered beaches. And it all started with Anawangin Cove.
WHAT'S COVERED IN THIS GUIDE?
UNDERSTANDING ANAWANGIN COVE
When Mt. Pinatubo erupted in 1991, it dumped tons of ash to the shore of San Antonio. What used to be a rocky coast became a supple, shining piece of paradise that seems to have come out of a crazy beach-lover's fantasy. Over time, agoho trees (sea pine trees) began growing in its ashen slopes, creating a surreal Boracay-meets-Baguio landscape.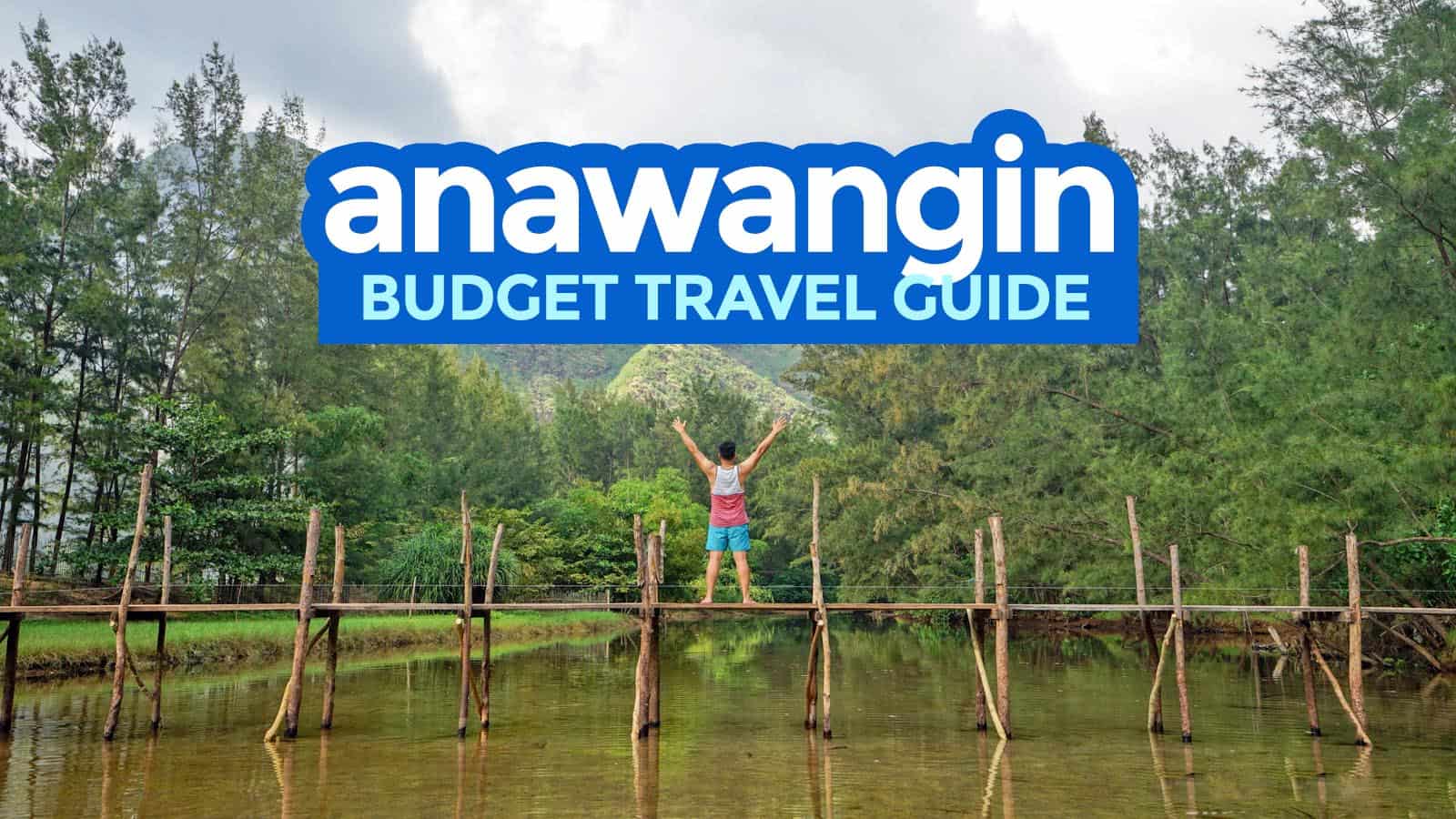 Anawangin Cove is just one of the many ash-filled nooks and crannies of San Antonio, but it's the one that started the tourism wave in the area mainly because it's the nearest and the most accessible.
Anawangin is not an island; it is part of mainland Luzon. However, it is tucked away behind the mountains that getting there by land requires hours of trekking over an almost bare landscape. The easiest way to reach it is by boat, and the closest major settlement is Brgy. Pundaquit.
Aside from Anawangin Cove, other destinations that can be easily accessed from Pundaquit are the following:
Nagsasa Cove
Silanguin Cove
Talisayin Cove
Camara Island
Capones Island
You can go straight to Anawangin from Pundaquit, but you can also go island-hopping (or beach-hopping). You just need to make an arrangement with a boatman while you're in Pundaquit. And yes, you can visit all five on a day tour, provided that you arrive early! I've done that before!
Anawangin has no electricity and no mobile signal, which makes it ideal for an escape from the jolts of the city. That said, the truth is, it is no longer a best kept secret. The secret has long been out. Anawangin has been the go-to destination for sun-worshippers from the capital. I, for one, have been here several times. In summer, it can get really crowded and chaotic — some of the boatmen we meet call it Divisoria — but it's all about the timing.
Speaking of timing…
---
HOW TO GET TO ANAWANGIN COVE
The first step is to get to Brgy. Pundaquit, which is the jump off point to Anawangin Cove and other San Antonio beaches.
MANILA TO ANAWANGIN COVE
Catch a Victory Liner bus bound to Iba or Santa Cruz, Zambales, and get off at San Antonio Public Market. Travel time: 4-5 hours. Fare is between P270 and P360, depending on which part of Manila you're coming from.  Alternatively, you may also travel by bus to Olongapo City (P218 from Pasay; P207 from Cubao), and then board another bus to San Antonio (P58).
Take a tricycle to Pundaquit. Travel time: 20 minutes. Fare: P60 if you're alone; P30 per person if you're part of a group.
Rent a boat to Anawangin. Travel time: 20 minutes. Boat rates below.
If they're charging you way over P300 for the bus ride to San Antonio, it could be because they think you're getting off in Iba. Make sure it's clear that you're alighting in San Antonio.
Update: According to a commenter, the bus fare from Manila to San Antonio is now at P360. Tricycle to Pundaquit is P80 for 2 pax or P40 per person.
---
CLARK AIRPORT TO ANAWANGIN COVE
The nearest commercial airport is Clark (Diosdado Macapagal International Airport). From here, Pundaquit is roughly only 3 hours away.
Ride a shuttle (P100) to Dau Bus Terminal. A cheaper alternative would be taking the jeepney from the main gate, but since it will involve a transfer, the direct shuttle to Dau makes more sense.
Ride the bus to Olongapo. Travel time: 1.5 hours. Fare: P140.
Ride another bus to San Antonio, Zambales. Travel time: 1 hour. Fare: P59.
Take a tricycle to Pundaquit. Fare: P60 if you're alone; P30 per person if you're part of a group.
Rent a boat to Anawangin Cove. Travel time: 20 minutes. Boat rates below.
---
PUNDAQUIT TO ANAWANGIN COVE
Please note that a P20 municipal/environmental fee will be collected upon entering Pundaquit. Once there, you have two options:
By Sea. Find a boatman that will take you to Anawangin. Pricing is a bot complicated, so we have created a separate section below.
By Land. Trekking is also a good option. Anawangin Cove can be reached after a 4-5-hour hike over Mt. Pundaquit (Jump-off point: Pundaquit), while Nagsasa after a 5-6-trek over Mt. Nagsasa from Sitio San Martin, Subic.
---
PUNDAQUIT BOAT TOUR RATES
Here are the latest rates for boat rental and tour.
Small Boat Rates
Capacity: Up to 4 pax
Prices are PER BOAT
Anawangin Cove Only: P1200
Talisayen Cove Only: P1500
Nagsasa Cove Only: P1800
Silanguin Cove Only: P2500
Anawangin + Capones Island: P1300
Anawangin + Capones + Camara: P1800
Anawangin + Nagsasa: P2400
Nagsasa + Capones Island: P2100
Nagsasa + Capones + Camara: P2400
Anawangin + Nagsasa + Capones + Camara: P3000
Note that the figures above are per boat, which means it will still be divided by how many you are in the group. A boat can ferry up to 4 passengers.
Big Boat Rates
Minimum of 5 pax or more
Prices are PER PERSON
Anawangin Cove Only: P300
Talisayen Cove Only: P300
Nagsasa Cove Only: P450
Silanguin Cove Only: P600
Anawangin + Capones Island: P300
Anawangin + Capones + Camara: P450
Anawangin + Nagsasa: P600
Nagsasa + Capones Island: P550
Nagsasa + Capones + Camara: P600
Nagsasa + Anawangin + Capones + Camara: P750
Many tour operators also offer packages that already include transfers, food at camp, tents, entrance fees, and boat rental.
The only tour operator we have tried is Harry Balais of LegendHarry Travels. You can contact him at: 0917 6274945.
---
WHERE TO STAY IN ANAWANGIN COVE
Anawangin is now divided into several basic resorts. It has always been like that, but the boundaries are somewhat more pronounced now. Everywhere you'll find signages and fences, things that were not existent years back.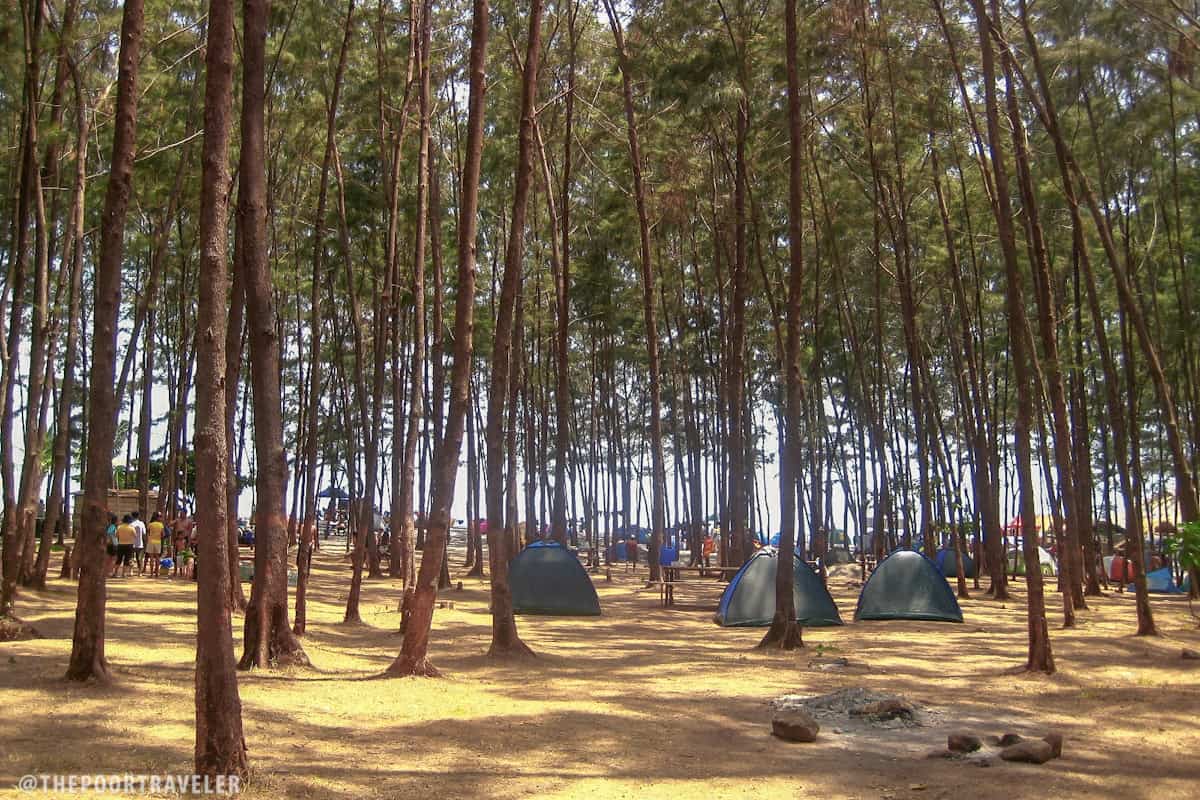 I call them basic resorts because there are hardly any amenities, other than some open-air nipa and bamboo huts. Camping is still the name of the game in Anawangin, Nagsasa, and Silanguin Coves. You can rent a tent on site, but I highly encourage that you bring your own. If you don't own a tent, buy one. Tent rental is around P500 per night, but you can find a good tent for around P1000!
There are cottages for rent too. Here are the fees you need to know: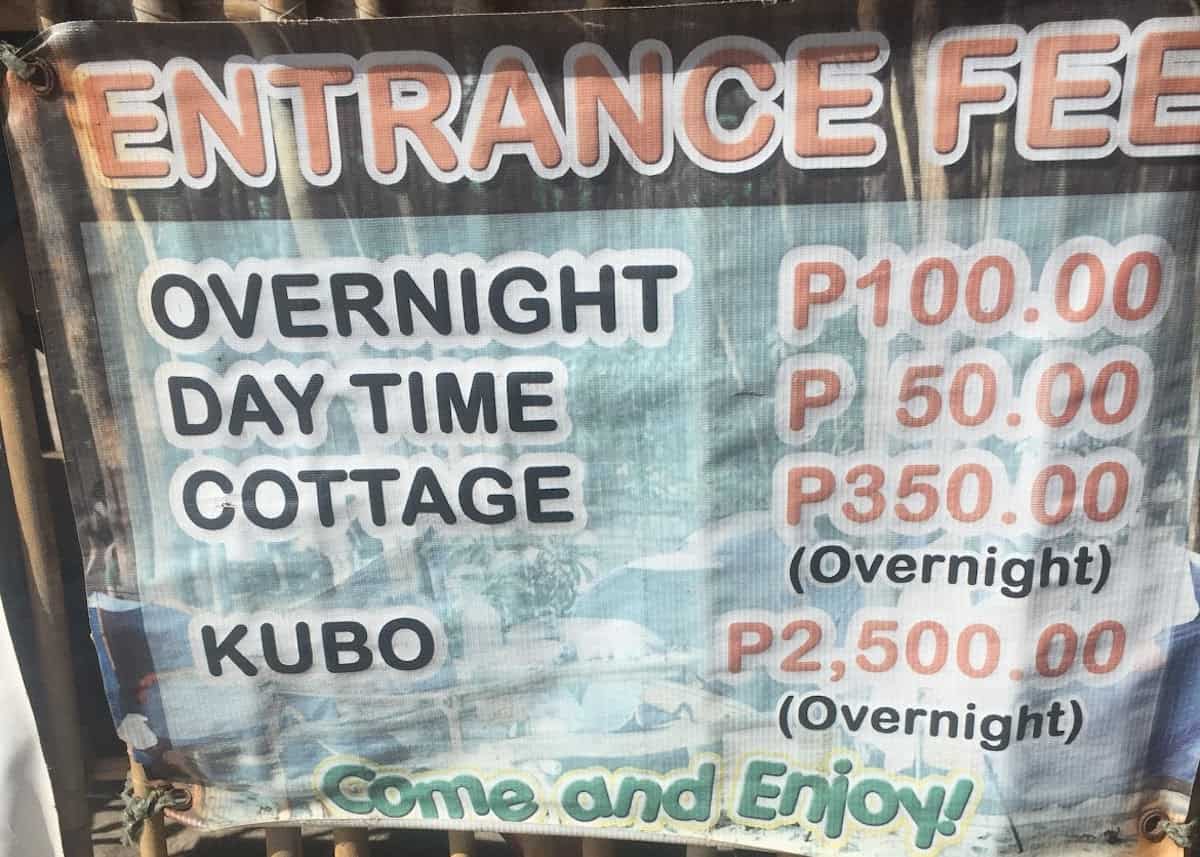 ANAWANGIN COVE
Entrance Fee: P50 per person
Overnight Fee: P130 per person
Small Cottage Rental Fee (Day): P200 per kubo
Small Cottage Rental Fee (Overnight): P350 per kubo
Big Kubo Rental Fee (Overnight): P2500 per kubo
Tent Rental Fee: P400-500 per tent
NAGSASA COVE
Entrance Fee: P50 per person
Overnight Fee: P100 per person
Cottage/Hut Rental Fee (Day): P100 per cottage
Cottage/Hut Rental Fee (Overnight): P200 per cottage
Tent Rental Fee: P400-500 per tent
CAPONES ISLAND
Entrance Fee: P350 per person
Overnight Fee: P750 per person
---
DAY TOUR vs OVERNIGHT STAY
It really depends on which sits higher on your list of priorities: comfort or adventure? I have tried both staying overnight and visiting on a day tour, and they have their own pros and cons.
Staying overnight onsite means you have more time exploring the place. You'll get to see both the sunset and the sunrise. You'll get to watch more and brighter stars at night. It is an experience that offers a more intimate time with nature and can be unforgettable in the most positive sense.
However, know that aside from the absence of electricity and cellular signal, another thing to consider is the absence of clean restrooms. Even up to now, the toilets and bathrooms onsite are poorly maintained and in the hygiene department is still, to put it mildly, wanting. I know that's a deal-breaker for some. I know because now that I am older, it is for me.
And that's why doing a day tour has its own appeal. You can still see much of what the cove has to offer, but you will need to be back in Pundaquit by sundown. Many choose to spend the night at a resort in Pundaquit for the usual comforts, giving them the best of both worlds, so to speak.
---
THINGS TO BRING TO ANAWANGIN COVE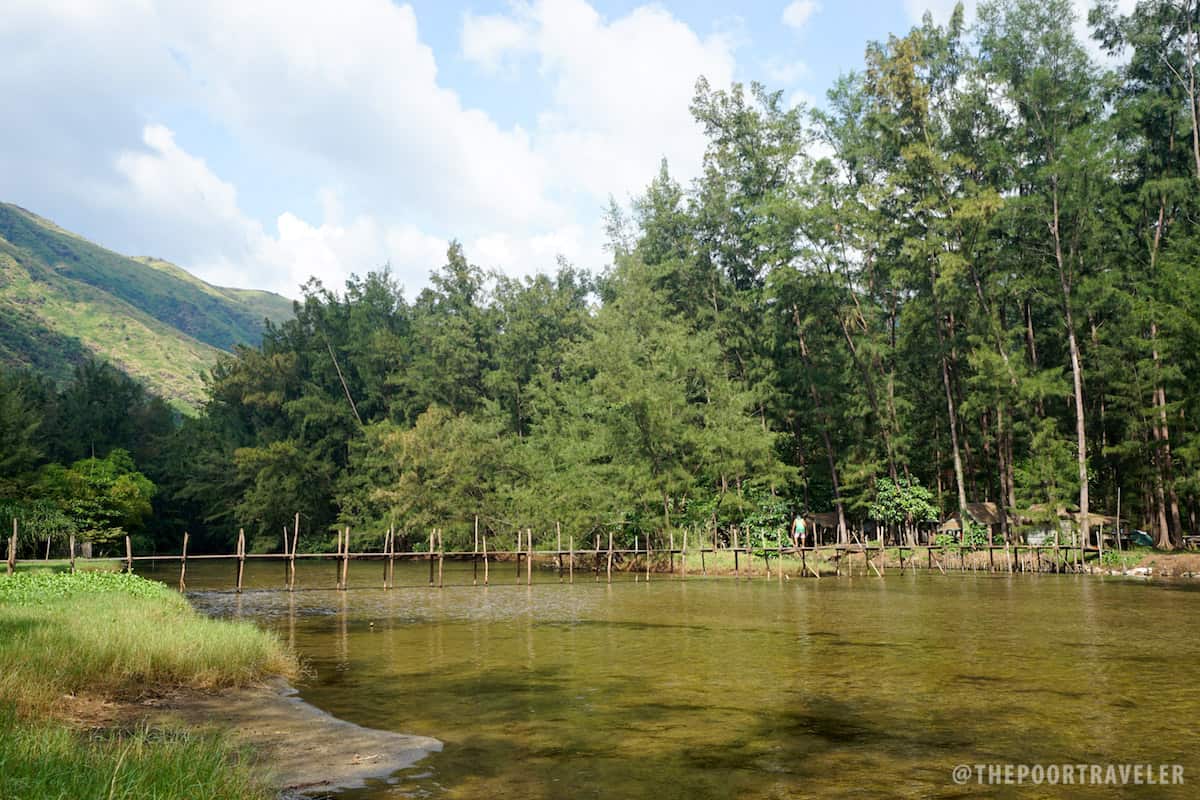 If you decide to stay overnight, however, here are some things you need to bring to have an incident-free stay:
Tent. Ask your friends. One of them might just own a tent that you can borrow. A medium-sized tent can accommodate up to four people. But if you're the type that protects your personal space so much, you can also limit it to only 3. It is not advisable to rent tents. If you planning on renting a tent for P500 per night, ditch it and just buy one. There are tents available at DIY shops and sports houses for as low as P1000. Best part is you get to keep the tent and you won't have to worry about finding one next time.
Water. In secluded beaches like Anawangin, water is gold.
Can/bottle opener and knife. You will need these to open stuff. Opening things with your teeth is impressive but…
Rope. You might need this to create an improvised clothesline so your wet clothes will dry easily.
Flashlight. No electricity, baby.
Mosquito repellent. Avoid mosquito bites and all the diseases that might come with them.
Sunblock. Protect your skin from the sun, of course.
Camera. Anawangin offers not just a good place to swim but awesome scenery that you WILL want to capture.
Also, don't try to bring too many clothes. If you're staying for only a night, bring just enough. Don't forget toiletries.
---
THINGS TO DO IN ANAWANGIN COVE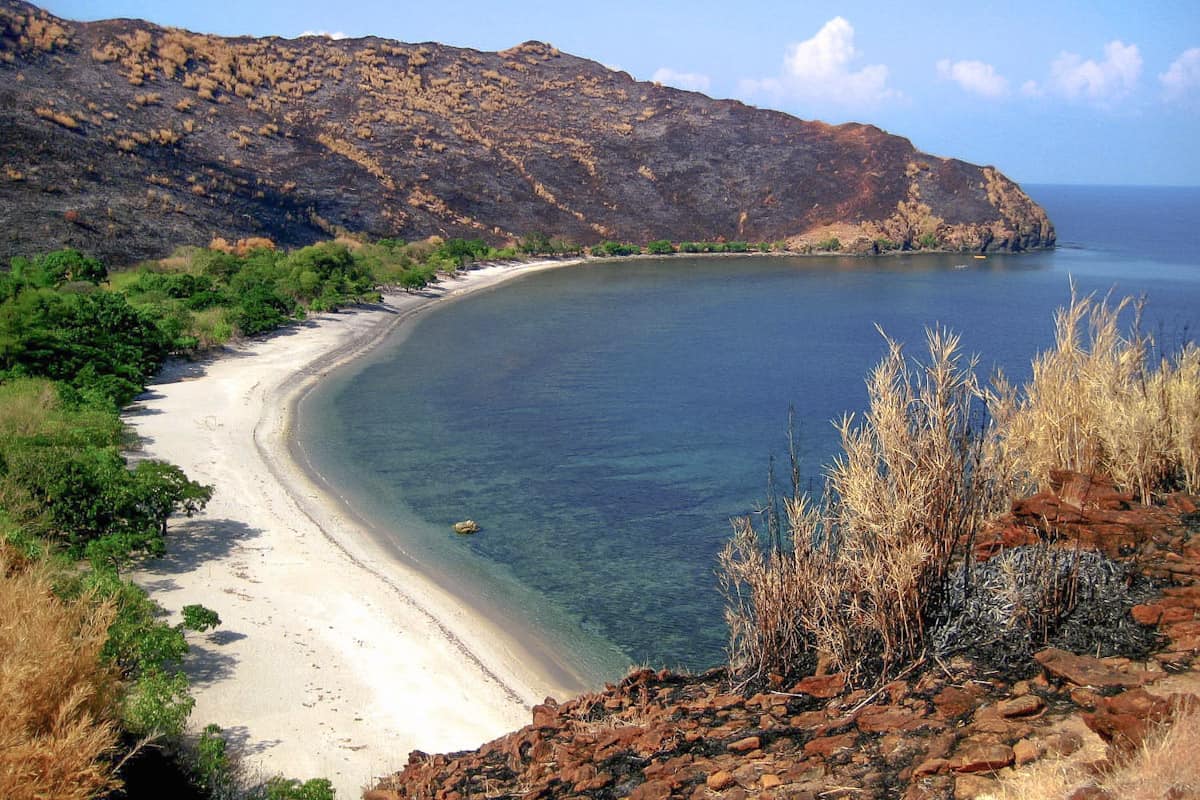 The best thing about Anawangin Cove is, it is surrounded by other equally breathtaking beaches. Hence, while you're at it, you might as well consider checking them out. Here's a list of things you can do at and around Anawangin Cove.
Swim and beach bum. Warning, though: Beware of rip currents and spots that go deep abruptly. I had a close call here.
Stroll along the inlet. Anawangin has a shallow inlet that cuts across the area and a cute wooden bridge that straddles it. On slow days and in off-peak season, this spot can be truly romantic and calming.
Watch the stars. If you have a smartphone, download a stargazing app like Google Sky Map for Android and GoSkyWatch for Apple. Limited or non-existent electricity on the beaches make them ideal places to watch the stars!
Climb the nearby hill for an awesome view. If you're facing the sea, you'll find a small hill to your left. At the top, enjoy a spectacular view of the cove! According to one of our readers, a P20 entrance fee is now being collected.
Visit Nagsasa Cove. It's Anawangin's sister cove. Like Anawangin, Nagsasa is also strewn with volcanic ash, bookmarked with picturesque hills, and harbors a shallow inlet. Only better, hehe. Nagsasa has a small waterfall too!
Check out Capones Island and Lighthouse. The entrance fee is a bit steep (P350), but Capones Island is lovely too. If you're staying overnight in Anawangin, you can make a stop here on the way back to Pundaquit on your second day.
Drop by Casa San Miguel on your way back. Casa San Miguel is a small museum highlighting the cultural heritage of San Antonio, Zambales. You can access it by tricycle from Pundaquit or San Antonio Public Market. It's a peaceful, enlightening way to end an adventure.
---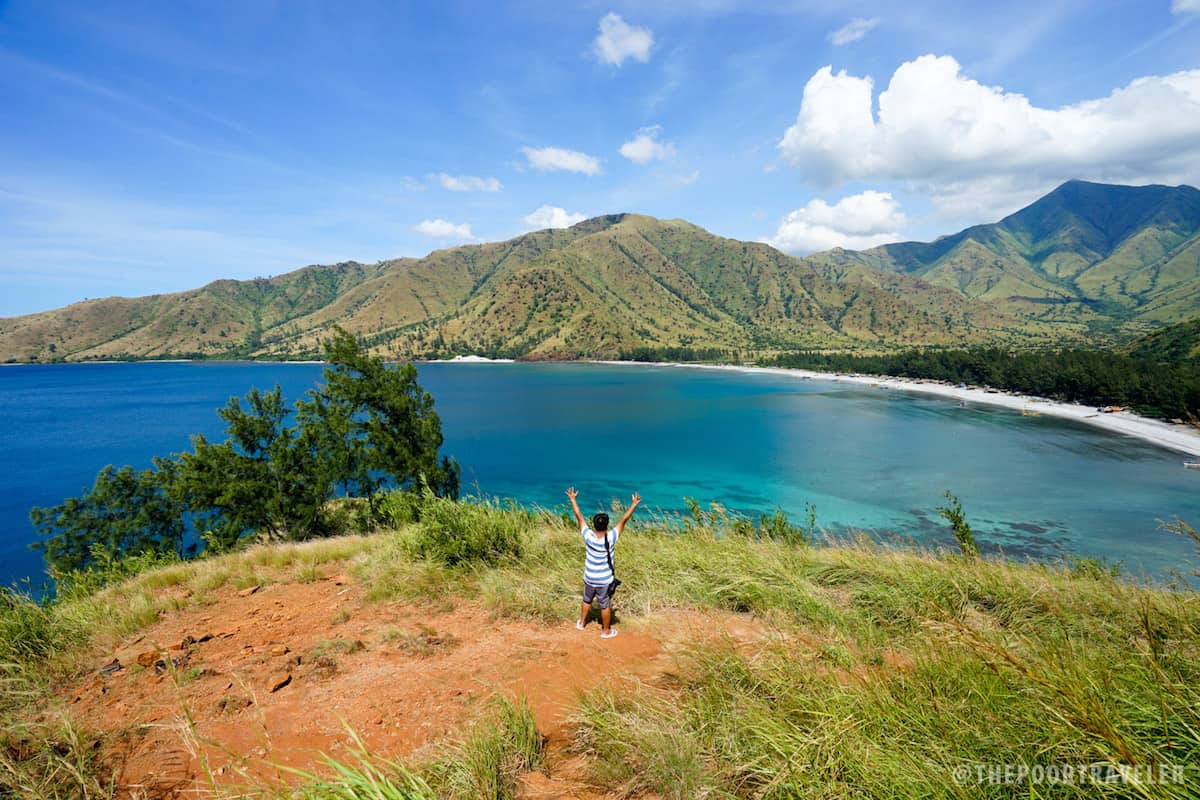 ---
MORE TIPS FOR THE POOR TRAVELER
Go to market! The San Antonio Public Market stands near the bus stop, where you will be alighting. Before heading to Pundaquit, drop by the market to buy supplies. The market sells meat, seafood, and other ingredients at very affordable prices. If you're camping overnight in one of the secluded beaches, this is the best place to get raw or fresh ingredients to be grilled or cooked on the beach. They also have Pinoy kakanin like kutsinta, puto, nilupak, and sapin-sapin.
There are canteens on the beach. One is Chef Ronnie Canteen (near Merlyn White Beach Resort), which is open 24 hours and serves Pinoy dishes like tapsilog, tocilog, sisig, and pancit. Another is Mabel's Kitchenette, which offers usual lutong bahay fare (rice + ulam) and merienda favorites like halo-halo, kwek-kwek, turon, and banana que. But expect the prices to be higher than in the main village.
Ask your boatman if you could use his bathroom in Pundaquit. The only cure to that sticky feeling after a beach trip is a good shower/bath. Many boatmen open their homes to their clients. Ask your boatman if you can use his or if he knows a place in Pundaquit where you can shower.
Don't forget to bring slippers. Again, the beach is covered in volcanic ash. For some reason, it gets waaaaay hotter than the usual sand especially at noon. It is impossible to walk on it barefoot!
---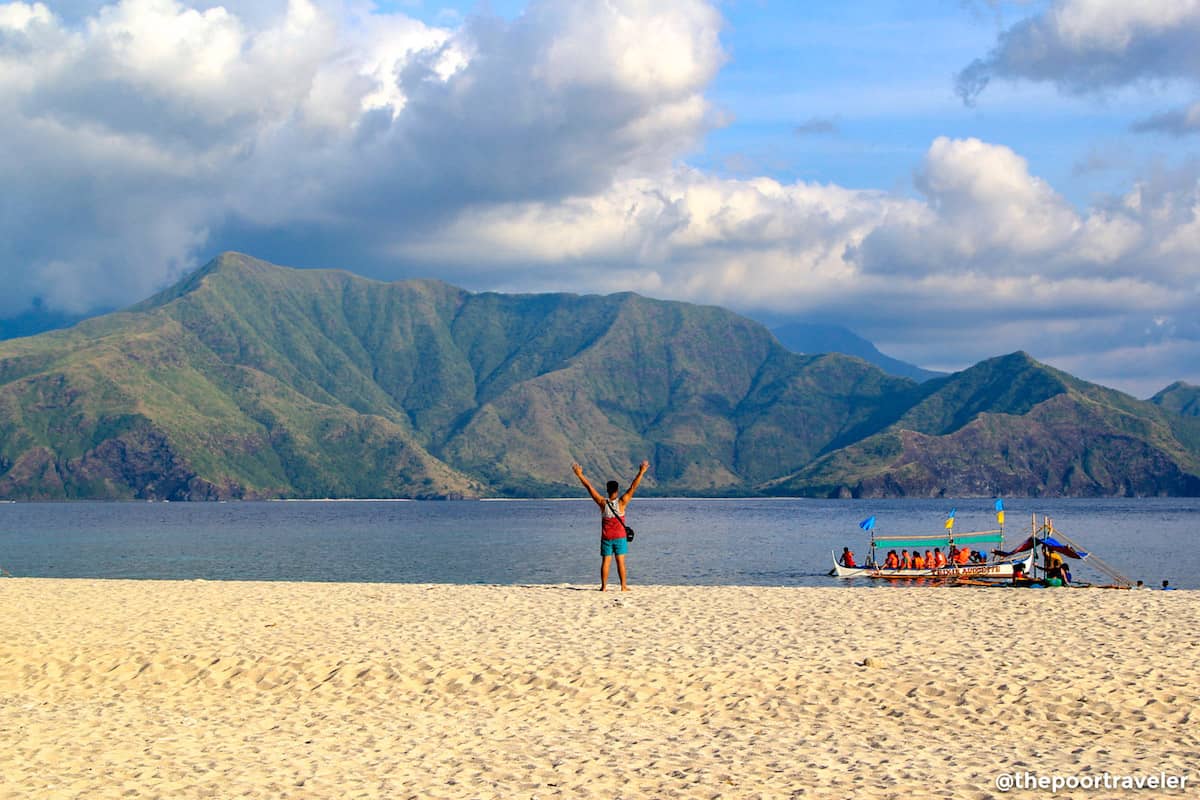 ---
SAMPLE ANAWANGIN COVE ITINERARIES with EXPENSES BREAKDOWN
Below are two sample itineraries. The first one will take you to Anawangin Cove only, while the other will also make a stop at Nagsasa Cove and Capones Island.
Please take note that both of the itineraries and breakdowns assume the following:
You are coming from Manila.
You are a group of four (4), but the rates below are per person.
You are bringing some food for dinner (canned good, cup noodles, etc)!
Feel free to make the necessary adjustment to match your preferences and condition.
ANAWANGIN COVE DAY TOUR ITINERARY
This 1-day itinerary is good for those with limited time.
04:00am – ETD Manila, P360
09:00am – ETA San Antonio
09:10am – Shop for lunch ingredients at the public market, P250/person
09:40am – Tricycle to Pundaquit, P40 + P20 environmental fee
10:10am – Boat to Anawangin, P300 (P1200/4pax)
10:40pm – Pay entrance fee, P50
10:40am – Rent kubo, P87.5 (P350/4pax)
11:00am – Prepare lunch or paluto, P50 (P200/4pax)
12:00nn – Lunch
01:00pm – Stroll along inlet, take photos
02:00pm – Climb nearby hill for a wonderful view, P20
03:00pm – Swim, swim, swim
04:30pm – Leave Anawangin
05:00pm – Trike to San Antonio Proper, P40
06:00pm – Catch bus to Manila, P360
This itinerary will set you back around P1600 per person.
There is still a way to reduce costs. If you have your own car, you'll get to save a lot on fare. The only things you will need to worry about are the gas and toll fees. But since you're a group of 4, it wouldn't amount to much. It can save you P250-P300 per person.
---
OVERNIGHT ANAWANGIN-NAGSASA COVE ITINERARY
For this itinerary, you'll need to bring your own tent.
DAY 1
04:00am – ETD Manila, P360
09:00am – ETA San Antonio
09:10am – Shop for lunch ingredients at the public market, P250/person
09:40am – Tricycle to Pundaquit, P40 + P20 environmental fee
10:10am – Boat to Nagsasa, P600 (P2400/4pax)
10:40pm – Pay entrance fee, P50
10:40am – Rent kubo, P25 (P100/4pax)
11:00am – Prepare lunch or paluto, P50 (P200/4pax)
11:00am – Stroll along inlet
12:00nn – Lunch
01:30pm – Climb nearby hill for a wonderful view, P10 donation
03:00pm – Boat to Anawangin, P130 Entrance Fee
03:30pm – Pitch tent
04:30pm – Swim swim swim
06:00pm – Dinner
09:00pm – Stargazing
DAY 2
06:00am – Climb hill (viewpoint)
07:30am – Stroll along Anawangin inlet, take photos
09:00am – Breakfast, Budget: P100
10:30am – Pack up
11:30am – Boat to Pundaquit
12:00pm – Shower
01:00pm – Quick lunch, P100
01:40pm – Tricycle back to San Antonio proper, P40
02:00pm – Wait for bus to Manila, P360
This itinerary will cost you around P2300 (USD 44, EUR 39, SGD 60).
Again, you can still reduce the cost if you have more people to split the shared costs with.
---
FREQUENTLY ASKED QUESTIONS
Is Anawangin Cove safe?
I had a pretty incident-free experience, as far as peace and order is concerned. But that's just my experience. That said, it's always best to keep an eye on your belongings and never leave your valuables unattended.
Know that there is no clinic on the cove. And make sure you bring insect repellant and first aid.
One thing I also noticed is that there are "biglang-lalim" parts underwater. One moment, you're standing on sand underwater and the next, you can't feel it anymore. It happened to me twice. If you're traveling with kids or non-swimmers, keep an eye on them and never leave them swimming or dipping alone.
---
When is the best time to visit Anawangin Cove?
Weather-wise, December-April is the safest choice because it's the driest period. See the graph below by Climate Change Knowledge Portal.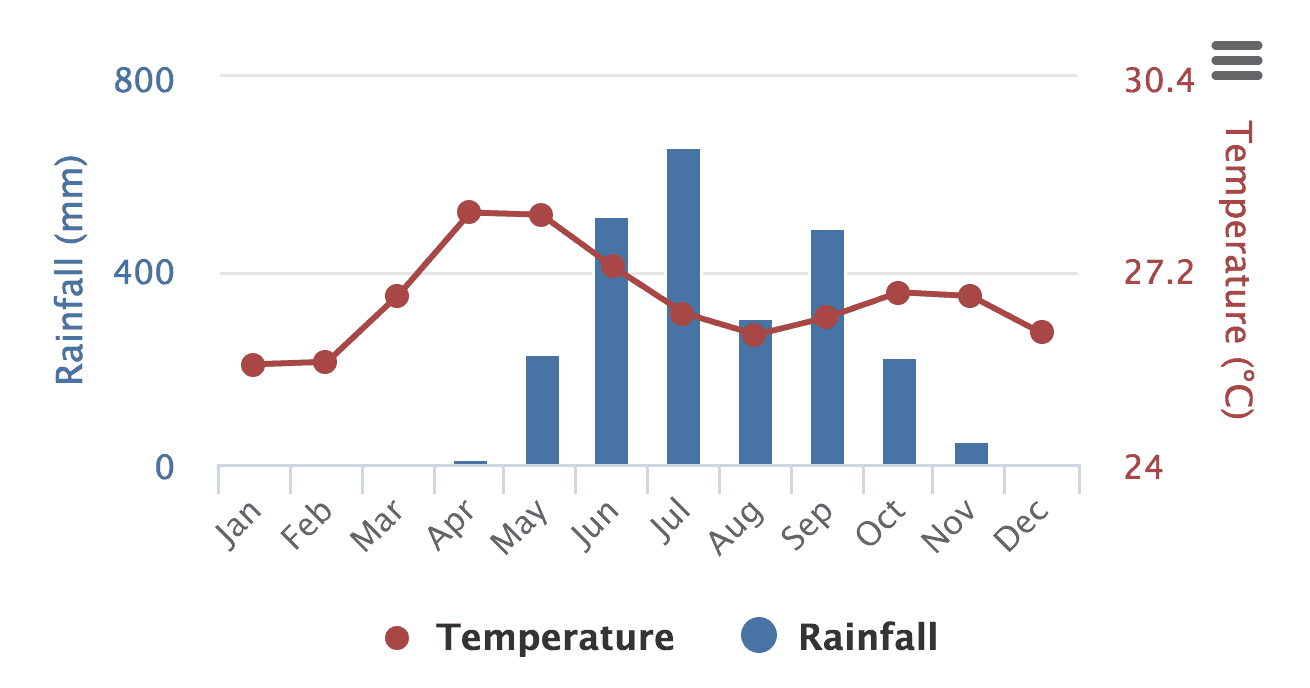 But precipitation levels should not be the only concern here. Anawangin's proximity to Manila means it can get crowded pretty quickly. The number of arrivals begins rising steadily in March and peaks in April and May, which are the months generally considered "summer season" in the Philippines.
If you can, avoid the weekends!
All things considered, November to February is the best time to visit, at least in my opinion. I have been to Anawangin Cove in February, April, and November. Although I had a fabulous experience each time, I'm not coming back there in April.
---
Which is better: Anawangin Cove or Nagsasa Cove?
Tough question. Both are great and they seem to be equal on many aspects. Both have a shallow inlet that looks like a small "lake." Both are bookmarked with small hills that can be climbed for a great view of the stretch. Both are carpeted by sea pine trees.
But I think it depends on what ranks higher on your list of priorities. Anawangin is more crowded, but it's much closer to the mainland, so it's easier to get to, which is something that travelers with kids or seniors consider. That said, I think Nagsasa Cove is a little bit better but farther.
---
2️⃣0️⃣1️⃣9️⃣ • 3️⃣ • 1️⃣9️⃣