The French Riviera, in general, has made a reputation for being the favorite playground for the rich and famous. For over a century, it was the go-to destination for Russian and British aristocrats including Queen Victoria. It has also inspired artists like Pablo Picasso and Henri Matisse. Today, it remains highly associated with celebrities and wealthy personalities. From the prestigious film festival in Cannes to the yacht vacations in Saint-Tropez (hello, Leo!), the French Riviera is almost synonymous with glamor and luxury.
But is it possible to explore the region on a budget? Of course!
WHAT'S COVERED IN THIS GUIDE?
UNDERSTANDING NICE AND THE FRENCH RIVIERA
The French Riviera refers to the coast of Provence-Alpes-Côte d'Azur region, tucked in France's southeast corner, facing the Mediterranean Sea. Its coastline is dotted with several picturesque cities and small towns, all easily accessible from each other, including Nice, Villefranche-sur-Mer, Antibes, Cannes, Saint-Tropez, and the Principality of Monaco, which is a completely separate country.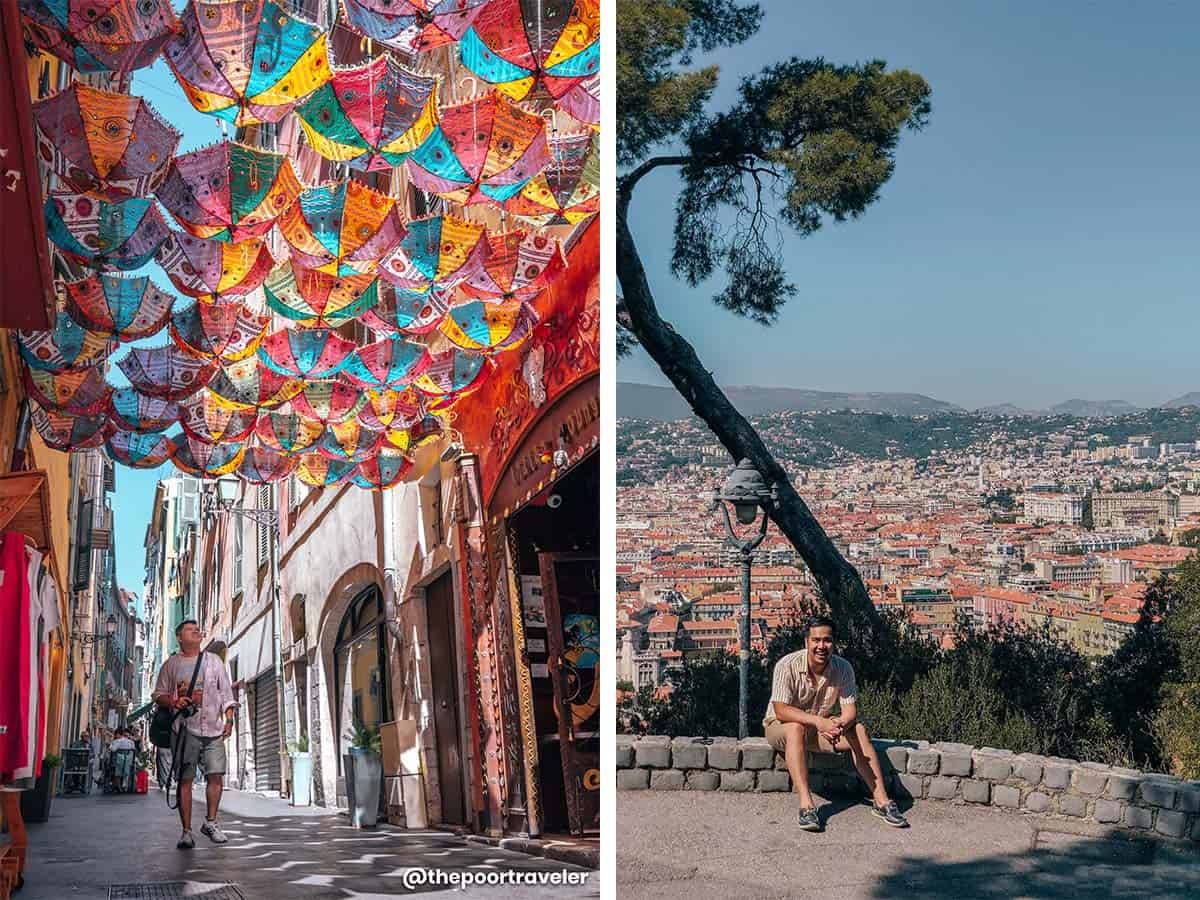 The most ideal base in the region is Nice, dubbed the Jewel of the French Riviera. From here, most of the area is easily accessible. Although Nice is the second most visited city in France today, next only to Paris, it wasn't always French. It was the Greeks of Marseilles who founded the city in 350 BC and named it Nikaia, after the Greek goddess of victory, Nike. But for many centuries, it was part of the Duchy of Savoy.
Nice's location and history explain why a strong Italian influence is undeniable in the city today. Ventimiglia, the closest Italian city, is less than an hour away. For a time, it was also under the Kingdom of Piedmont-Sardinia until it rejoined France in 1860. So yes, Nice has only been a part of France for around 150 years!
Here are more bits about Nice:
Location: Nice is in the Alpes-Maritimes department of France's Provence-Alpes-Côte region.
Time Zone: UTC+1 (Central European Time). Nice is 7 hours behind the Philippines, Singapore or Malaysia; and 8 hours behind Japan. However, daylight saving time is in effect from the last Sunday of March until the last Sunday of October, which puts it at UTC+2, only 6 hours behind PH, SG, and MY.
Language: French. Before re-annexation by France, Nice spoke Niçard, a dialect of the Occitan language, not commonly spoken today. But you can easily get by using English.
Currency: Euro (EUR, €). €1 is roughly USD 1.18, SGD 1.61, PHP 57.23 (as of August 2020)
Modes of Payment: Many establishments accept credit cards, but most still prefer cash.
---
WHERE TO STAY IN NICE
Best Area to Stay
Nice's city center is composed of several districts, but these four will interest tourists the most: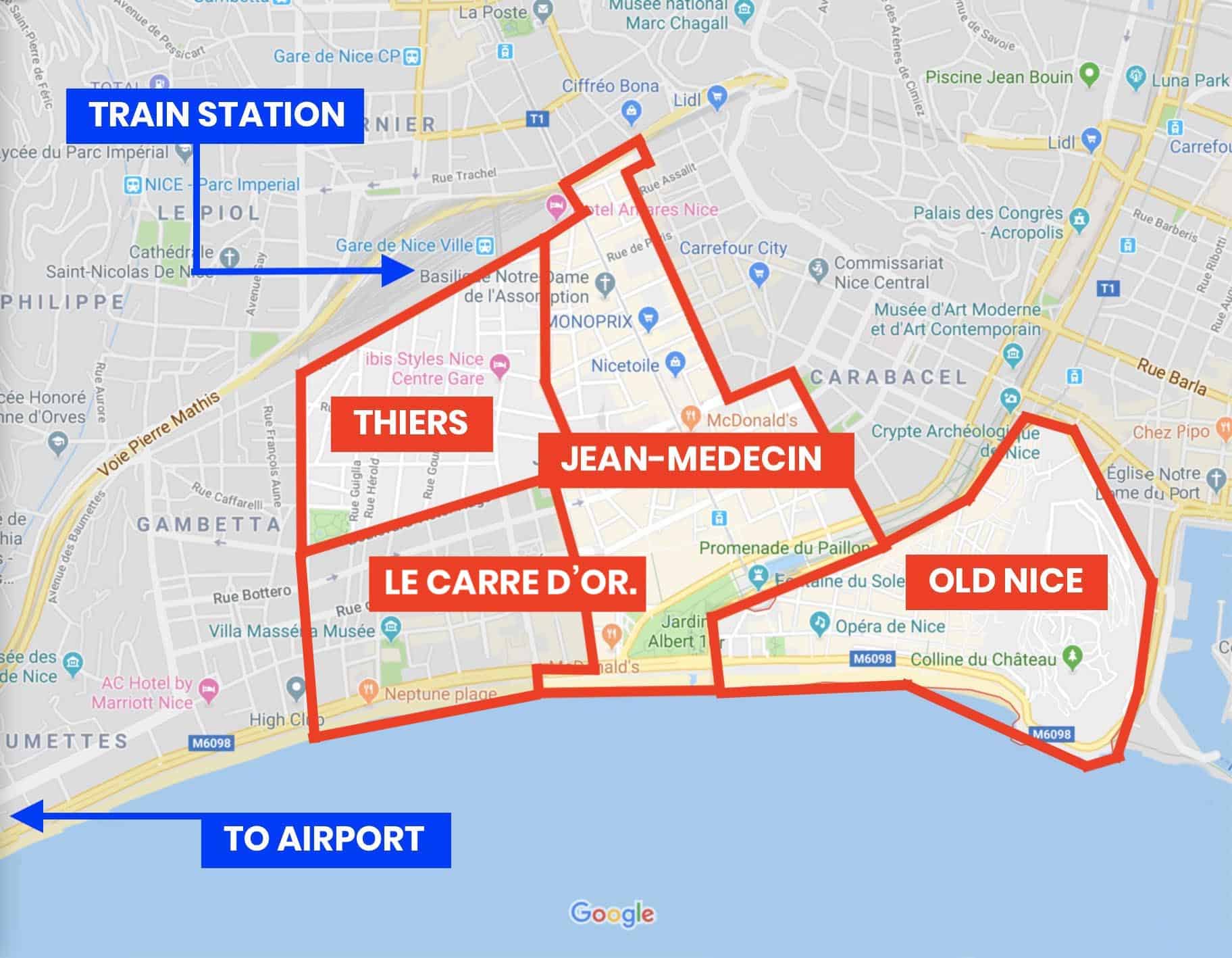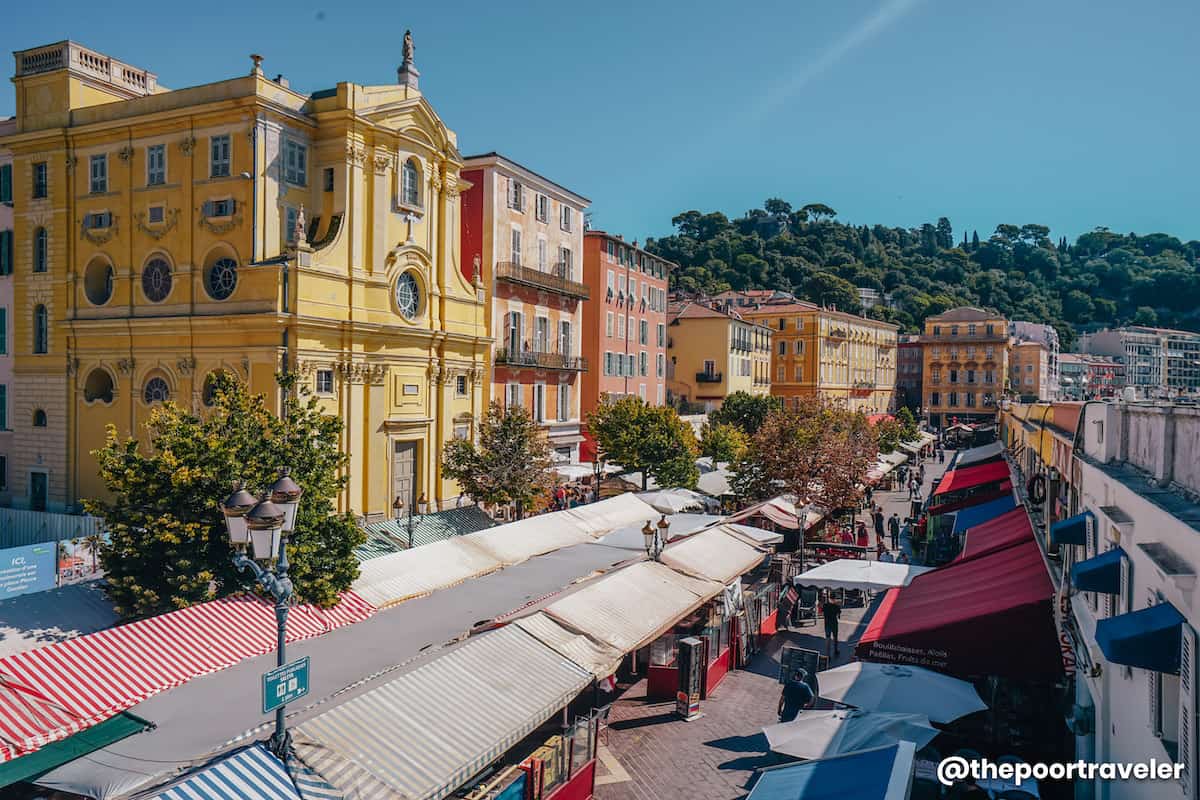 Vieux Nice (aka Vieille Ville or Old Town). The historical and cultural core of the city in the shadow of the castle hill. Its narrow medieval alleys are lined with old buildings and punctuated by local restaurants. Its southern edge is hemmed by Promenade des Anglais ("Walkway of the English" or English Promenade), the city's popular beach area. It harbors several relatively cheap hostels and apartments.
Jean Médecin. It generally refers to Avenue Jean Médecin, but in this article, let's also use it for the area surrounding it. The avenue runs from the railway (a short walk from the main railway station) to Place Massena (at the entrance to the Old Town). A tram line (T1) runs the entire length of the avenue, which means staying near it gives you easy access to other parts of the city.
Thiers. Situated west of Jean Médecin, this neighborhood is suitable for backpackers. Cost of lodging and dining here is significantly cheaper than the Old Town and Jean Médecin, but it remains accessible. It's also suitable if you're planning on visiting other cities in the French Riviera because it fronts the main railway station (Gare de Nice Ville).
Le Carré d'Or (Golden Square). Straddling Boulevard Victor Hugo and the Promenade des Anglais, it is probably the most upmarket side of the city. While it is possible to find less expensive options especially as you go Thiers-ward, it is well-known for several high-end hotels. Golden Square, indeed.
If you're a budget traveler, the first three would be the most ideal. They're easily accessible and dotted with numerous points of interest. They also have the most options that won't bankrupt you.
---
Top Hostels in Nice
Luckily, we were able to book the last room at Antares Hostel, which is near the train station and just a block away from Avenue Jean Medecin.
Here are other hostels in Nice, as ranked by Booking.com customers.
---
Top Budget Hotels
Here are top-ranking but relatively inexpensive places to stay in Nice, as scored by Agoda customers:
---
---
HOW TO GET TO NICE
By Plane
Nice and the French Riviera are served primarily by Nice Côte d'Azur Airport (NCE), often shortened to Nice Airport. Welcoming almost 14 million passengers per year, it is the third busiest airport in France, next only to Paris's Charles De Gaulle (CDG) and Orly (ORY).
Nice Airport is used by over 60 airlines (around 20 seasonally), connecting the region to numerous European cities and a few outside the continent.
---
Nice Airport to City Center
Nice Airport is located roughly 6 km from the city center of Nice, around 20 minutes away. Most online sources suggest taking Bus 98 or Bus 99 to the city center, but they are no longer operational.
Instead, the newly opened Tram Line 2 (T2) links the airport to the city center. Both Terminal 1 and Terminal 2 have tram stops on this line. If your hotel is in the Old Town, Jean Medecin or in the area near the Nice Ville Station, here's how to get there from the airport.
Buy a ticket from the machines at the station. One-way fare is only 1.50€. The machine accepts euro coins and credit card only. No change given.
Take the tram to Jean Médecin. The tram operates from 5:19 am until 12:15am (24:15). But note that there are fewer journeys in the early morning (5-7am) and late night (9pm-12:15am).
Validate your ticket upon boarding. The validation machines are positioned by the door of the vehicle. Insert your ticket with the arrow down into the small box and wait for it to stamp your card.
Get off at Jean Médecin stop. This stop is located near the corner of Boulevard Victor Hugo and Avenue Jean Médecin.
Make your way to your hotel. Depending on your hotel's address, you can either transfer to Tram Line 1 (T1) or just walk if it's not too far.
For more detailed instructions, READ: NICE AIRPORT TO CITY CENTER!
---
By Train and By Bus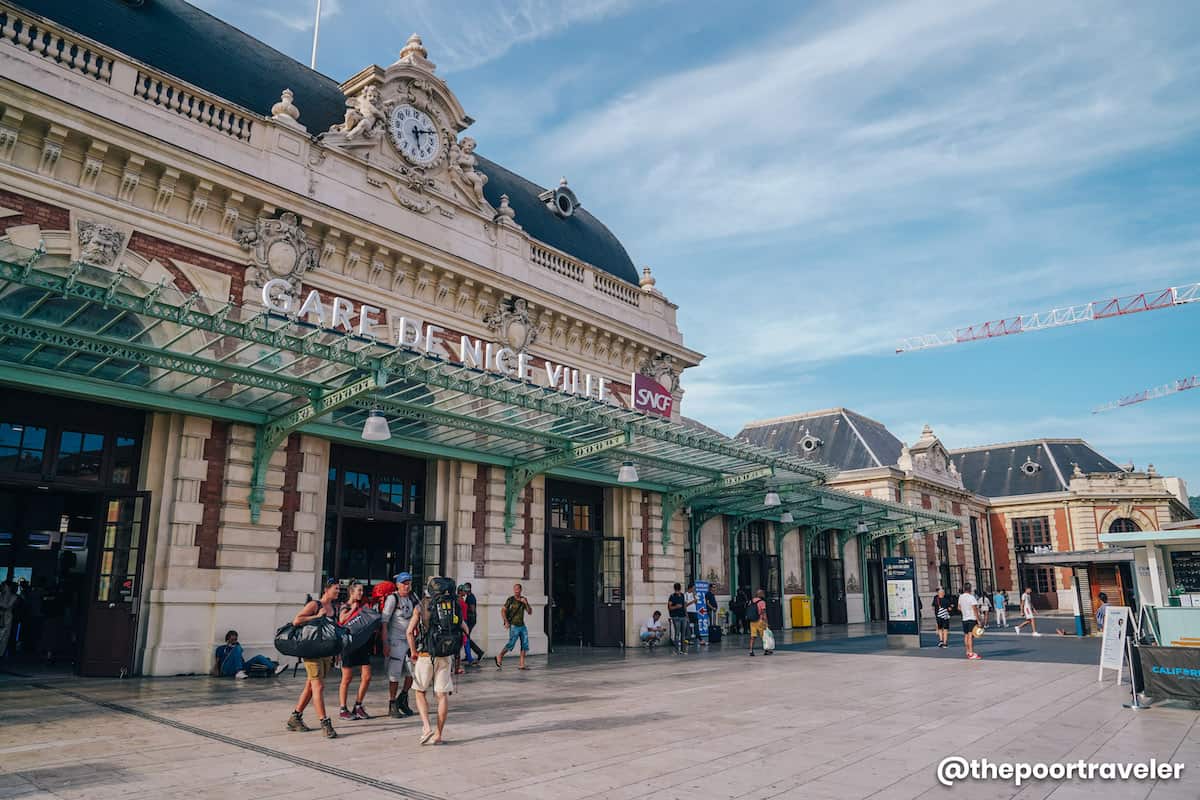 Gare de Nice-Ville is the city's main railway station. It's located in the Thiers area, just a short walk from the northern end of Avenue Jean Medecin. Here are the train companies operating here and the cities they connect Nice to:
TGV (French high speed train): Paris, Marseille, Cannes, (Nice); Lyon, Avignon, Cannes, (Nice)
Thello (EuroCity): Milan, Genoa, Savona, Ventimiglia, Monaco, (Nice,) Cannes, Marseille
Russian Railways: Moscow, Minsk, Warsaw, Vienna, Innsbruck, Milan, Monaco, (Nice)
TER Provence-Alpes-Côte d'Azur (Regional): Marseille, Toulon, Cannes, (Nice)
TER Provence-Alpes-Côte d'Azur (Local): Cannes, Antibes, (Nice,) Monaco, Menton, Ventimiglia; Tende, Breil-sur-Roya, (Nice)
If you prefer the bus, FlixBus also has trips to Nice from various cities in Europe including Milan, Genoa, Aix-en-Provence, Marseilles, and even as far as Paris and Barcelona.
To search for bus rides to Nice, visit this page: FIND AFFORDABLE BUS HERE! ✅
---
HOW TO GET AROUND NICE
The best way to get around Nice is by walking! The city is pretty pedestrian-friendly, and most of the key attractions are within spitting distance of each other. But if you can't travel on foot, you can take the public transportation.
By Tram and Bus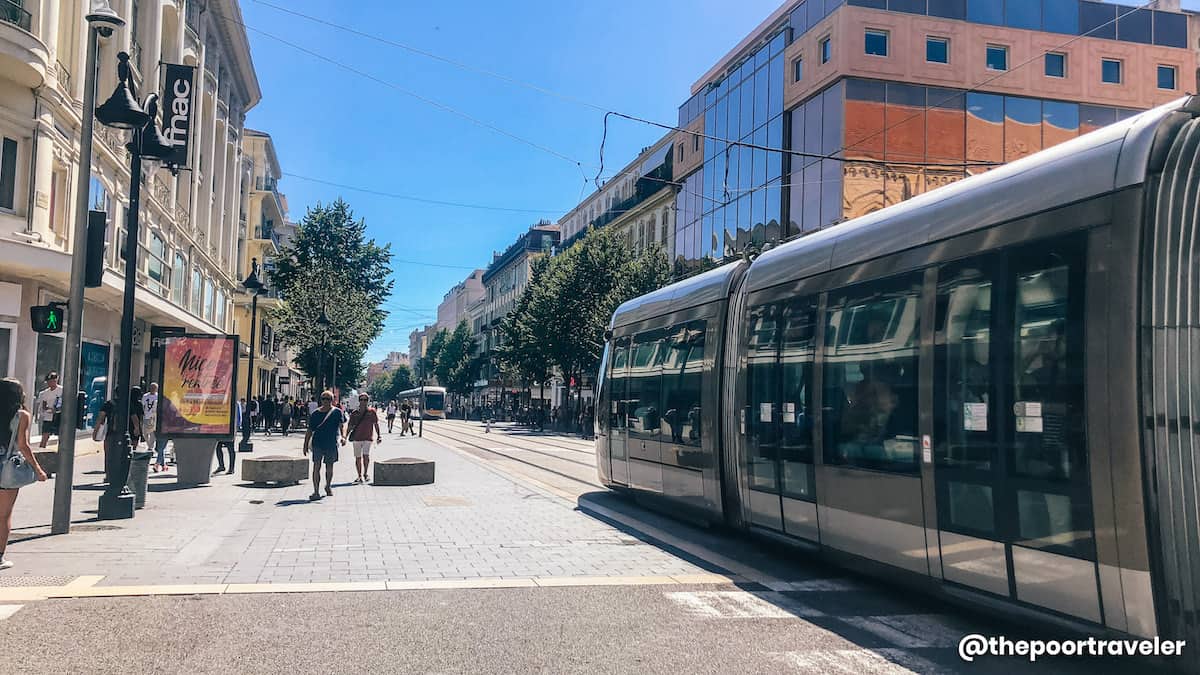 When traveling within Nice, the two primary modes here are the tram and the bus, both operated by Lignes d'Azur.
Another bus company is the TAM (Transport Alpes-Maritimes), which operates regional buses. But because their routes overlap with some of Lignes d'Azur's within Nice, their ticket systems are integrated.
Fare is only 1.50€, valid for both the tram and the bus, regardless of the distance. However, the ticket is valid only for 74 minutes. You are allowed to make a transfer as long as it's within the 74-minute period.
Aside from solo tickets, you can also purchase a tram and bus pass, which comes in three variants: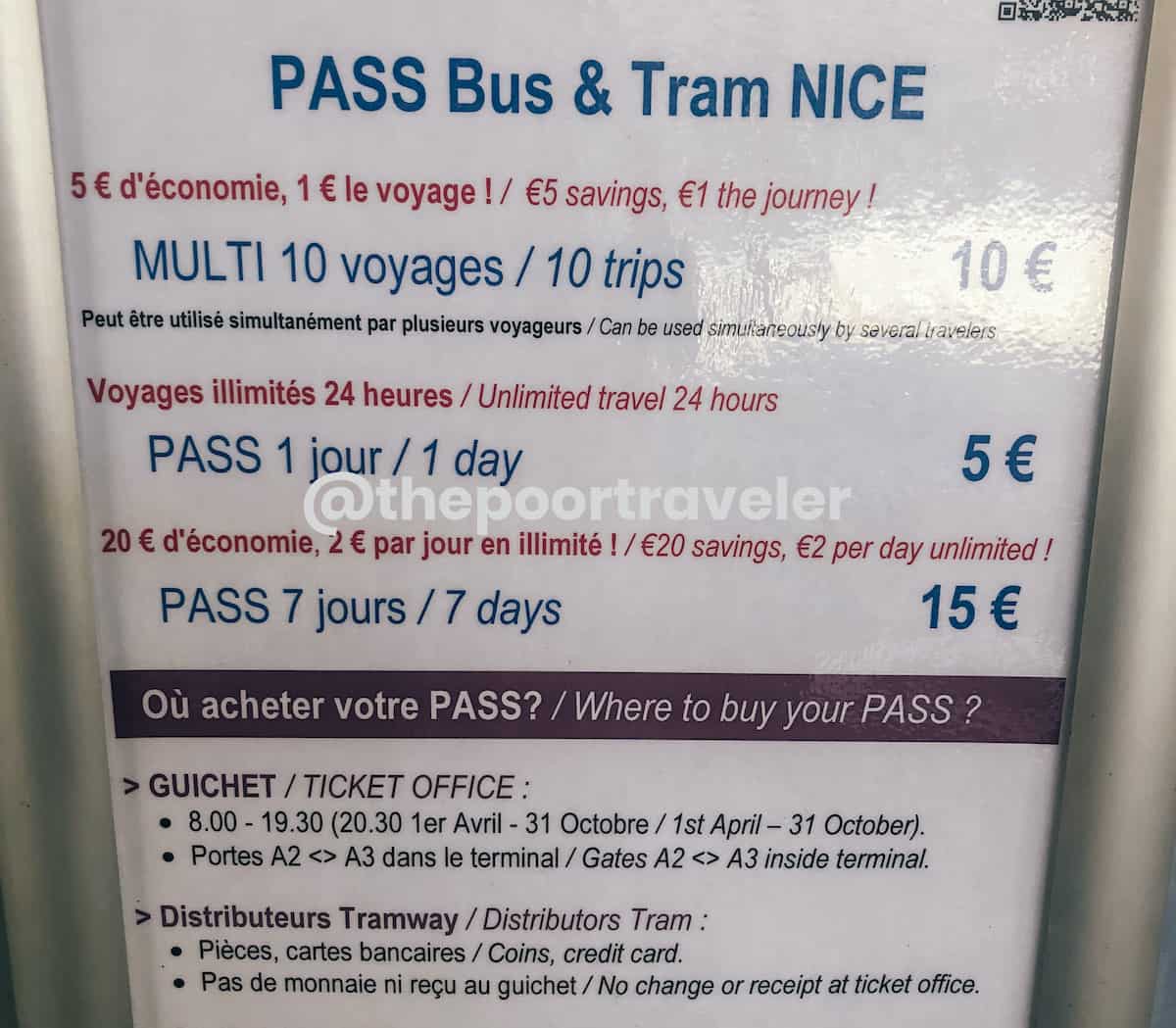 1-day pass, unlimited. Valid for 24 hours. Price: 5€.
7-day pass, unlimited. Price: 15€.
10-trip pass. Valid for 10 trips only. Can be used simultaneously by multiple travelers. Price: 10€.
These passes are also accepted by the TAM but only within the common ticket zone, which covers mostly Nice and up to Monaco. When traveling beyond this area, you will need to buy another ticket even if you have a pass.
---
By Hop-on Hop-off Bus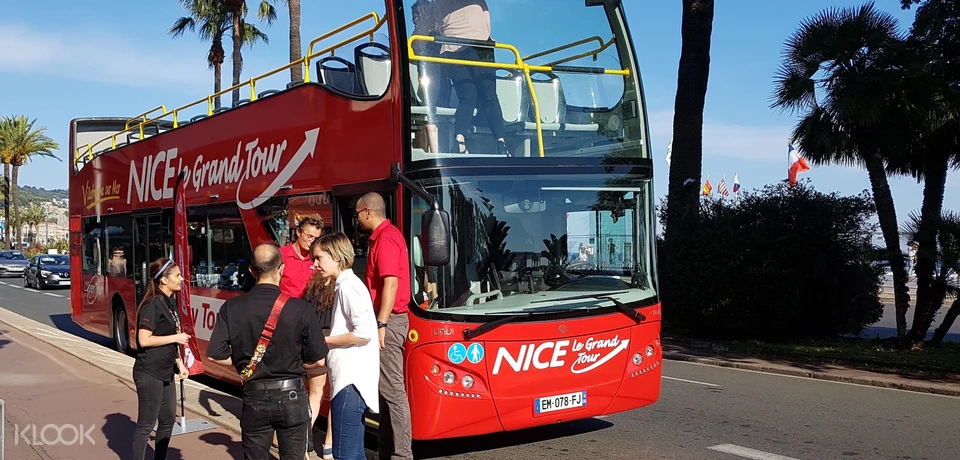 If, for whatever reason, you don't want to take the public bus or tram, another option is to travel by HOHO bus. This is ideal if you want to be seated comfortably while sightseeing. An audio-guide is provided, which shares information about each stop. You may also get off if you want to explore a stop further, but you will need to wait for the next bus to get to the next site.
✅ GET YOUR TICKET HERE!
---
By Bike or E-Bike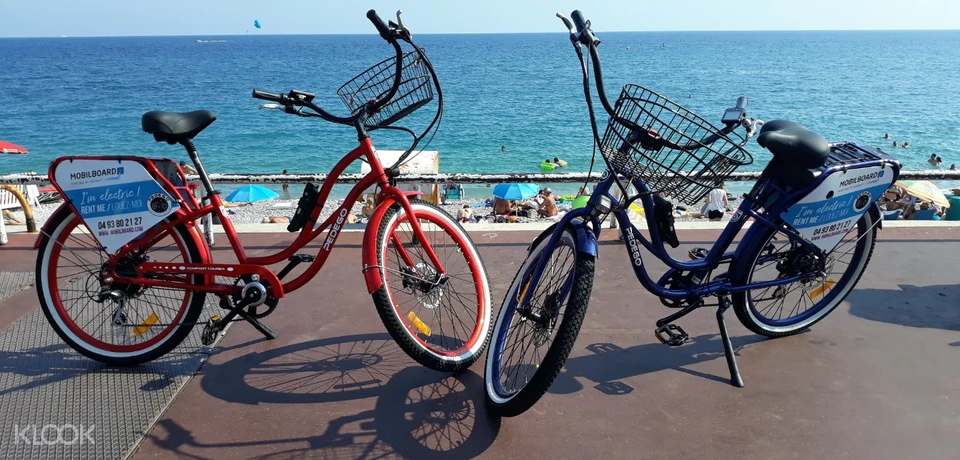 You can rent a regular bike or an e-bike. There are multiple bike lanes that allow you to weave in and out of the beautiful alleys and buildings of Nice. Experience the fetching squares and boulevards on two wheels, and make your way to a quaint part of the city called Vieille Ville. You can rent a bike via Klook.
✅ RESERVE A BIKE HERE!
---
NICE & FRENCH RIVIERA TOURS
In this section, instead of discussing the tourist spots one by one, we're grouping them in tours. This way, you'll get to visit places close to or accessible from each other. You can either do these tours on your own or you can join organized group tours. We've provided both the links to sites where you can book such tours and, if you prefer to pull a DIY, the instructions on how to get there by public transportation.
For a specific list of places to visit and things to do in and around Nice, check out our more detailed post here: NICE ATTRACTIONS!
FREE Walking Tour of Nice Old Town
We booked with Riviera Bar Crawl Tours. This 2-hour tour will take you around the Old Town, stopping at some interesting landmarks along the way. Because it's a guided tour, you'll have a better appreciation of each site as you learn along the way.
Here are a few of the key stops:
Place Massena, the meetup point. Just look for the guide in a red T-shirt with a red umbrella near the fountain and statue of Apollo. Place Massena is the city's main square, designed by Joseph Vernier in 1834.
Cours Saleya, a market street within the Old Town best known for Marché aux fleurs (flower market) and Marché aux fruits et legumes (fresh produce market). Both markets are closed on Mondays.
Le Palais de Justice, the city's Hall of Justice completed in 1892.
Place Rossetti (Rossetti Square), a small square fronting the Nice Cathedral (Basilique-Cathédrale Sainte-Marie et Sainte-Réparate de Nice) and surrounded by a dozen restaurants and narrow alleys.
These are just some of the stops. After combing the Old Town, you'll be marching towards Promenade des Anglais. The tour ends at the Castle Hill, where you can spend your time after the tour.
It's FREE in theory. But you are expected to tip the guide. How much you should tip depends on how much you liked the tour. I usually tip 5€ to 10€. But I add more if the tour is exceptional.
Although it is free, you are encouraged to register beforehand. You can do that here.
Operating days: Tuesday-Sunday (unavailable on Mondays)
Meetup point: Place Massena fountain
Meetup time: 11 am
Duration: 2.5 hours
---
Monaco Tour
The second smallest country in the world, the Principality of Monaco is an independent microstate on the Riviera, but it's easily accessible from Nice. Some of the key attractions are the Palais du Prince, the Oceanographic Museum, Jardin Exotique, and Larvotto Beach. It also hosts one of the most prestigious racing events in the world — the Monaco Formula One Grand Prix.
How to get to Monaco: You can take the scenic Bus 100. Fare: 1.50€. Travel time: 45 minutes. Alternatively, you may take the train from Gare de Nice-Ville. Fare: 4.10€. Travel time: 20 minutes.
For a better appreciation of Monaco, we recommend joining a guided tour instead. The tour starts at Gare de Nice-Ville, where you'll meet the guide who will lead you by train to Monte Carlo. The guide will take you around Monaco, sharing information about each attraction along the way. You can book this tour on Klook.
✅ RESERVE A SLOT HERE!
---
French Riviera Tour
Aside from Monaco, Nice is the usual jumpoff point to other destinations in the French Riviera including Antibes, Villefranche-sur-Mer, and Cannes. You can take either the bus or the train, or join a group tour.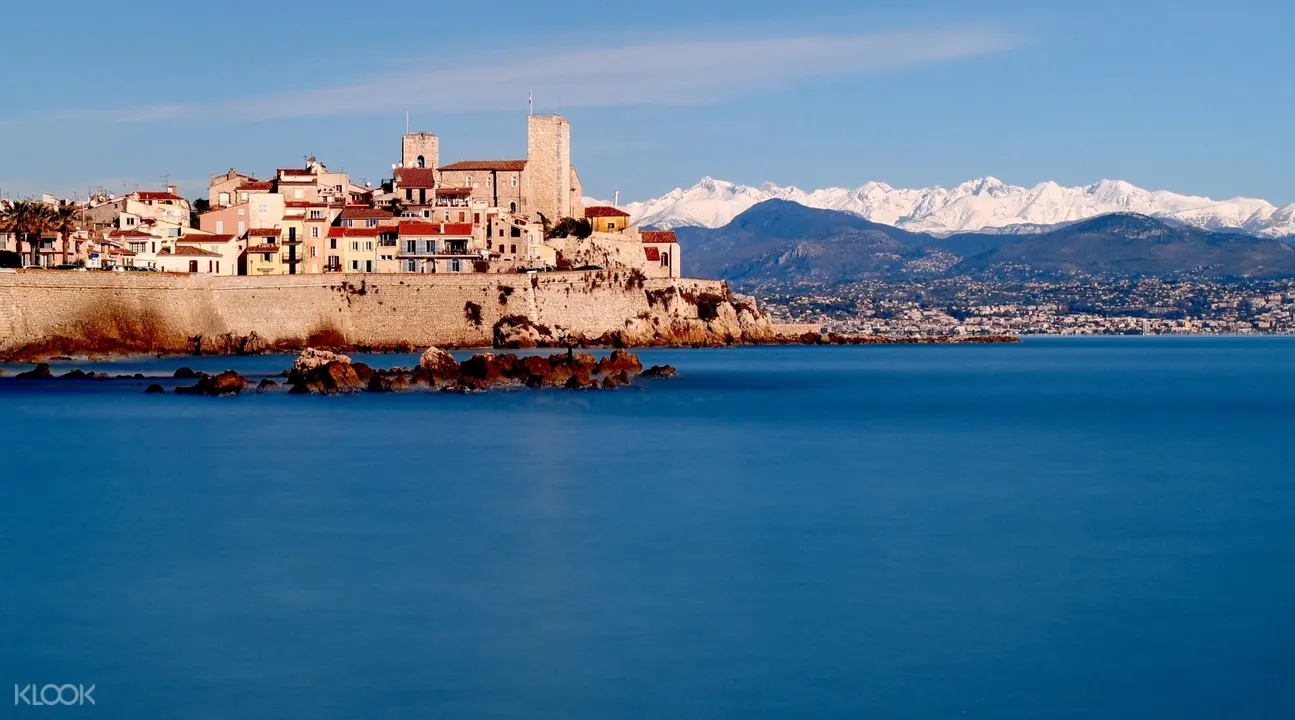 By Bus. The TAM (Transport Alpes-Maritimes) operates intercity buses within the region, from Cannes to Menton. The most popular bus route is the Bus 100, which can take you from Nice to Villefranche-sur-Mer to Monaco to Menton. The journey is considered one of the most scenic bus rides in the world. Bus 200 will take you to Antibes and Cannes. Fare is only 1.50€, valid for the next 74 minutes. See schedule here!
By Train. The TER Provence-Alpes-Côte d'Azur can take you to other cities and villages in the region. The main station is the Gare de Nice-Ville. Fares are 1.90€ for Villefranche, 4.10€ for Monaco, 4.80€ for Antibes, 5.50€ for Menton, and 7.20€ for Cannes. Check schedule here!
If you want to see much of the Riviera in a day or you need a guide, a good option is to join a group tour. You'll find dozens of them, each with their own itineraries. The tour available on Klook ticks most of the boxes: Mont Boron, Villefranche, Eze, Monaco, and Cannes.
✅ RESERVE A SLOT HERE!
---
Alpes-Maritimes Countryside Tour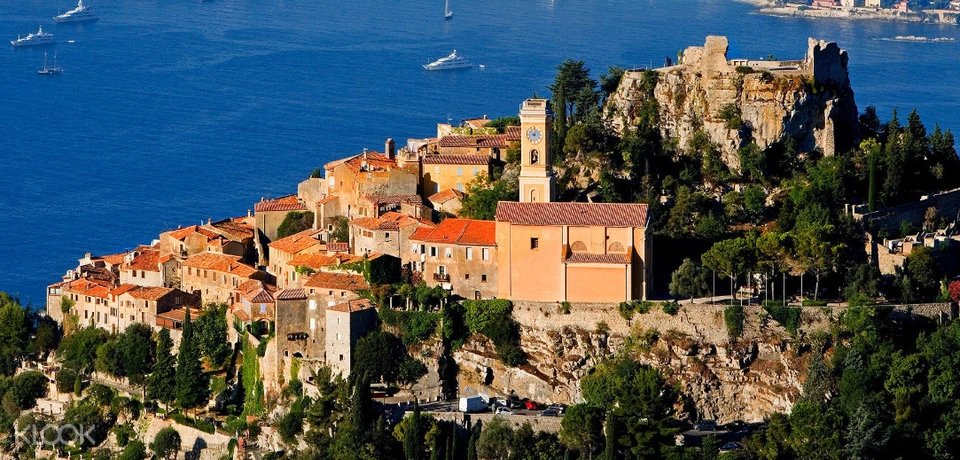 While it's easy to understand why most tourists flock towards the seaside cities, one must not dismiss the quaint and cozy villages farther inland. Three of the most notable communes in Alpes-Maritimes are Grasse, the world's perfume capital; Opio, where you can learn the process of making olive oil; and Gourdon, home to the Saut du Loup waterfall and Loup Gorge.
✅ RESERVE A SLOT HERE!
---
Nice Food Tour
French food is globally celebrated. That alone is reason enough to stuff your face in Nice. But there's one more reason: Niçoise cuisine is distinct, utilizing the fresh ingredients readily available in the region, with a dash of Italian influence. Some of the dishes you shouldn't miss are: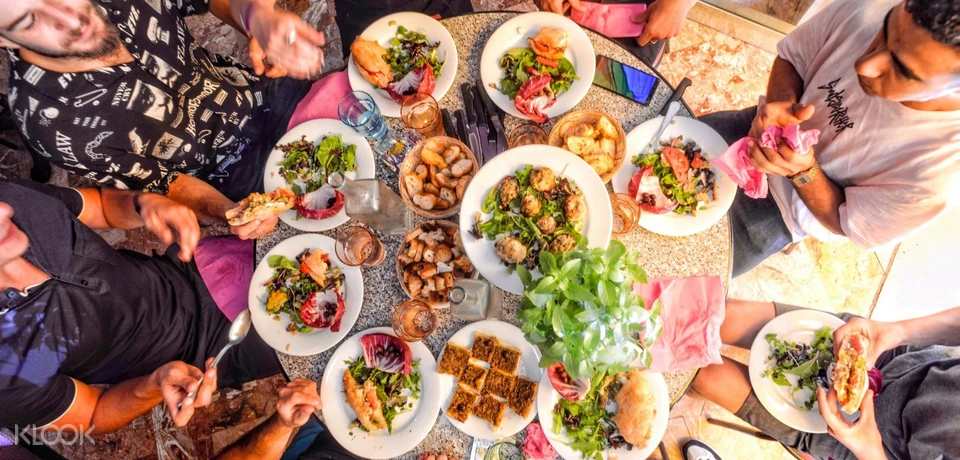 Salade Niçoise, composed of mesclun (a mix of fresh, young greens like arugula lettuces and chevril), black olives, tuna, anchovies, hard-boiled eggs, and olive oil.
Pan bagnat, which is, in a nutshell, salade Niçoise as a sandwich.
Socca, a type of thin pancake made from chickpea flour.
Pissaladière, a pizza-like treat made of bread dough topped with onions, black olives, and anchovies.
La Daube Niçoise, beef slowly stewed with cremini mushrooms, cayenne pepper, and brandy.
Les Petits Farcis (also called farçis Niçois), veggies stuffed with ground meat then baked.
Ratatouille, layered stew of vegetables like zucchini and eggplant, which originated in Nice!
When choosing a place to eat, look for the "Cuisine Nissarde" sign. This label is awarded to restaurants that serve quality Niçoise specialties and provide warm service.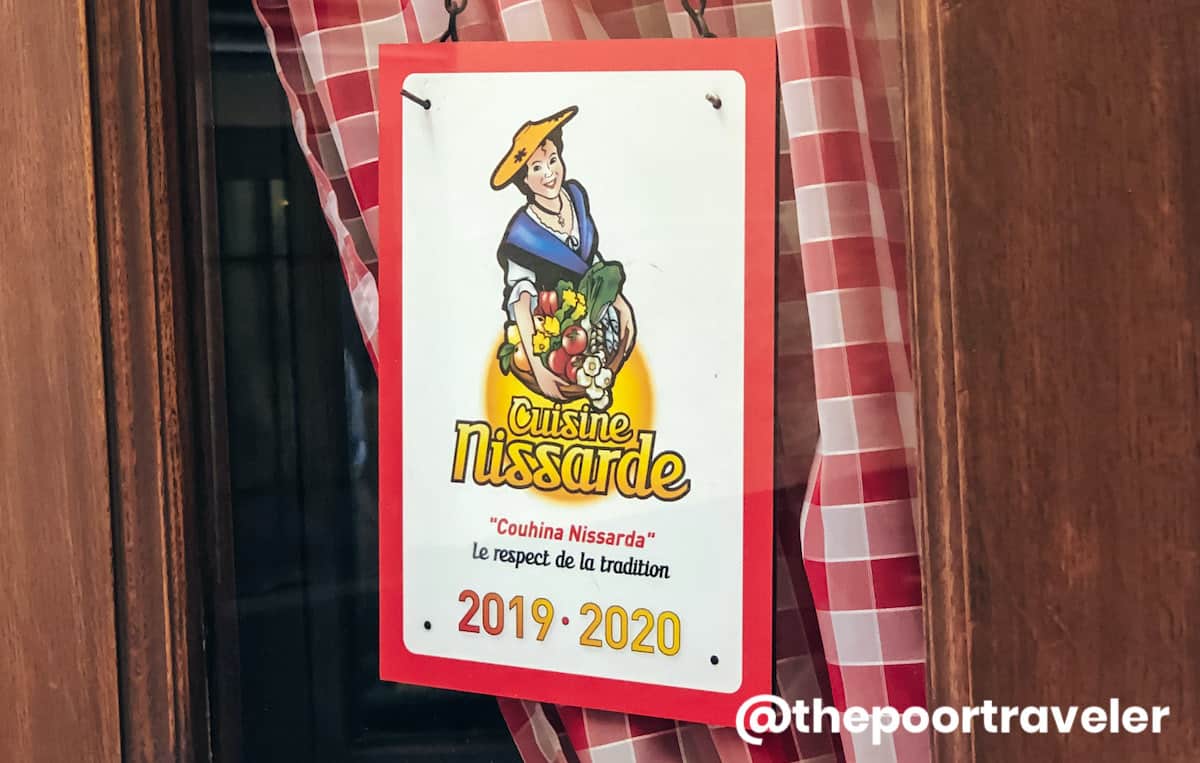 Oh! Don't forget to treat yourself to a scoop or two of refreshing ice cream, especially if you're visiting in summer. Try special regional flavors like lavender (yep!), thyme, black olive, and tomato!
If you want to learn more about each dish — how they are prepared, where they originated, and more — join a guided food tour! The food tour on Klook features pan bagnat, socca, farçis niçois, and pissaladière. You also get to try artisanal macarons and gelato (Italian ice cream).
✅ RESERVE A SLOT HERE!
---
Other Places to Visit in Nice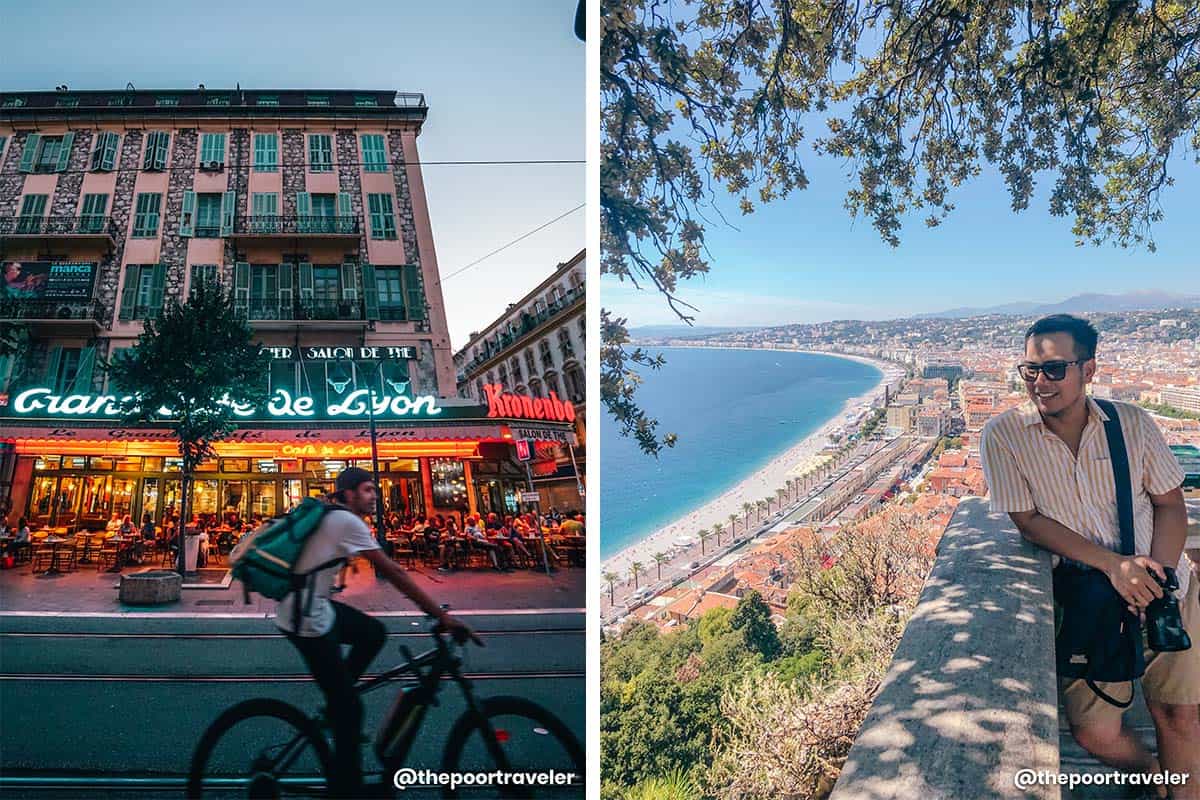 Promenade des Anglais (literally means the "Walkway of the English"), a beachside walkway hemming the city. Although the beach here isn't sandy, this popular beach still attracts tourists who wish to swim, sun-bathe or simply pass the time. You can rent a lounge chair for around 20€ per day.
Colline du Chateau (Castle Hill), used to be crowned with the Castle of Nice before it was destroyed by Louis XIV in 1706. Today, it is a public park where you can enjoy the best view of the city, Baie des Anges (Angels' Bay), and Port Lympia. You can also bring some snacks — perhaps some fruits you bought at Cours Saleya — and have an afternoon picnic. To get to the top, you can either climb the winding staircase or take the FREE elevator.
Avenue Jean Medecin, Nice's primary shopping street. Many locals simply call it "the Avenue". Pulsating with life, this energetic street is flanked by restaurants, bars, stores, and the Basilica of Notre-Dame de Nice.
---
DAY TRIPS FROM NICE
Although it is possible to visit multiple Riviera destinations in one day, you could also take it slow by visiting just one or two and spending more hours there. Aside from Monaco, you could visit Antibes, Villefranche-sur-Mer, Menton, Eze, and Cannes.
We created a separate post for this. READ: DAY TRIPS FROM NICE!
---
SAMPLE NICE ITINERARY
Below is a sample Nice itinerary that you may use as a model in building your own. Feel free to make changes as you see fit.
DAY 1 – ARRIVAL, JEAN MEDECIN
01:35 pm – Arrival at Nice Airport/Station
02:19 pm – Tram to Jean Medecin, 1.50€
02:50 pm – Walk to hotel
03:10 pm – Hotel check-in, rest
05:00 pm – Explore Avenue Jean Medecin
07:00 pm – Dinner, 15€
09:00 pm – Back to hotel
DAY 2 – NICE TOUR
10:00 am – Quick brunch, 10€
10:30 am – Walk to Place Massena
11:00 am – Free Walking Tour
– Tip tour guide, 5-7€
– Buy snacks at market, 7€
02:00 pm – Chill at Castle Hill Park
03:30 pm – Walk along Promenade des Anglais
05:00 pm – Buy gelato from Azzurro/Fenocchio, 5€
05:30 pm – Explore other parts of Old Town
07:30 pm – Dinner, 20€
09:00 pm – Walk back to hotel
DAY 3 – FRENCH RIVIERA TOUR
08:30 am – Hotel pick-up
09:00 am – Start French Riviera Tour, 103€, Book here!

– Lunch, 15€
06:00 pm – Back to Nice
07:00 pm – Dinner, 20€
08:30 pm – Back to hotel
DAY 4 – DEPARTURE
08:30 am – Pack up
10:30 am – Early check out, leave bags
11:00 am – Early lunch, 10€
12:00 pm – Leave for airport/train station, 1.50€
If you're able to book a bed for 40€ per night, the above itinerary will cost you at least EUR 365 (USD 430, SGD 588, PHP 21,000) per person excluding airfare and airport taxes but including some allowance to cover incidental expenses, future price movements, and other possible expenses we might have missed.
You can insert this into a greater European itinerary. We didn't include airfare in the budget because many travelers visit Nice on a multi-city tour of Europe and may be coming from various cities, some by train.
You can significantly reduce the cost by skipping the French Riviera group tour and doing it on your own by taking public transportation instead.
---
MORE TIPS FOR THE POOR TRAVELER
Walk when you can. The greater part of Nice is pretty pedestrian friendly. You can explore on foot if you're fit or up for it.
Toilets in the Cours Saleya area charge 35 cents. When walking around the Old Town and you need to heed the call of nature, you can use these restrooms.
Most good restaurants are not open the whole day. They only operate during lunch hours (11:30 am – 1:00 pm) and dinner hours (7:00 pm – 9:00 pm).
Hit the supermarket. A meal at a cheap restaurant plays within the EUR 10-12 range. Drinks not yet included. At mid-scale restaurants, you'll find set meals for EUR 16-22. The best way to save on food is to buy from the grocery or supermarket and just eat it in your hotel. If your hostel has a microwave oven, you can use it to reheat food.
Ask for tap water. Tap water in Nice is safe to drink. At a restaurant, ask for "un verre d'eau" or "un carafe d'eau." When you're asked if you want flat or sparkling, just say you want tap water.
---
FREQUENTLY ASKED QUESTIONS
Do I need a visa to visit Nice?
Nice is part of France, and France is part of the Schengen agreement. If you're a Philippine passport holder, you will need a Schengen Visa to visit Nice.
If France is the only country you are going to visit or if you're traveling to multiple countries but staying in France the longest, you will need to apply for a visa via the French Embassy.
For more information about how to get a visa from the French Embassy, READ: FRENCH SCHENGEN VISA!
---
Is Nice safe?
Nice has relatively low crime rate. But as in any other touristy city in Europe, be careful of some scams and petty crimes like pickpocketing.
Always keep an eye on your valuables, especially if you're lounging on the beach, having a meal outdoors, or taking public transportation. Someone might secretly or swiftly steal them.
You might also encounter some of the common scams in Europe. The posts below might help.
✅ HOW TO AVOID SCAMS IN EUROPE
✅ HOW TO AVOID PICKPOCKETS IN EUROPE
---
When is the best time to visit Nice?
Spring and autumn.
Nice has a mild climate that is sunny for most of the year. However, it can get really crowded and hot during the peak summer months of July and August.
The ideal seasons to visit the country are during autumn and spring with the weather just a right mix of comfortable and sunny.
---
What is the tipping policy in Nice?
Tipping is not mandatory in Nice, but it is appreciated.
At restaurants, you can round up the bill or leave 5-10% if you truly enjoyed the service.
At FREE walking tours, most participants leave 5€ if it's a big group and 10€ if it's a rather small group (fewer than 10 guests).
---
Is tap water safe to drink in Nice?
Yes, it's safe to drink. It's just a matter of taste.
At a restaurant, ask for "un verre d'eau" or "un carafe d'eau." When you're asked if you want flat or sparkling, just say you want tap water.
If you really want bottled water, buy big bottles from a supermarket. It's much much cheaper than buying small bottles at restaurants. Just buy big bottles, leave them in your room, and refill the small bottle before going out.
---
What type of power plug / socket is used in Nice?
Electricity Info: 230 volts, 50 Hz. Common sockets are Type F, which also accept plugs that have two round pins (C and E).

---
2020 • 8 • 28