Welcome to our SIARGAO DIY TRAVEL GUIDE. In this post you'll find key travel information about Siargao and surrounding islands including hotel and tour recommendations, sample itinerary, and breakdown of expenses. Enjoy reading!
The huge waves look ominous the first time you see it.
I asked my boatman, Jojo, what I'm seeing. Is that turbulent area dangerous? Is it inaccessible to fishers and swimmers? Should I, um, tighten my life jacket?
He chuckled. "Oh, that," he said in a voice that suggested he's had this conversation many times before. "Those are the Cloud 9 waves. Surfers love those."
And then it hit me like 'em big kahunas: this is Siargao, Glenn. There are supposed to be waves.
While the uninitiated like me may feel uneasy, for the people of who call Siargao home, these waves are the most familiar thing. As the name implies, it's their piece of heaven.
WHAT'S COVERED IN THIS GUIDE?
UNDERSTANDING SIARGAO ISLAND
Siargao is an island located off the northeastern coast of Mindanao. It is within the jurisdiction of Surigao Del Norte province, and composed of nine municipalities: Burgos, Dapa, Del Carmen, General Luna, Pilar, San Benito, San Isidro, Santa Monica and Socorro. Around the main island are smaller islands, included as part of the Siargao Group.
Siargao is known today as a surfing mecca, a place where thrill-seekers the world over gather to ride the waves. For the local population, however, Siargao is their simple, non-assuming hometown, with vast swaths of coconut farms, thick mangroves, and secluded coves. If it's your first time here, it's hard to ignore the contrast between the adventuring, wide-eyed tourists and the simple, stoic ways of the locals. Case in point: me and Jojo.
The island is a relatively sheltered surfing destination until around the early 2010s, when word of the island's majestic waves exploded in the surfing world. Today, surfing culture is pretty much a staple in the island. This is particularly true in General Luna, where the island's best waves can be found.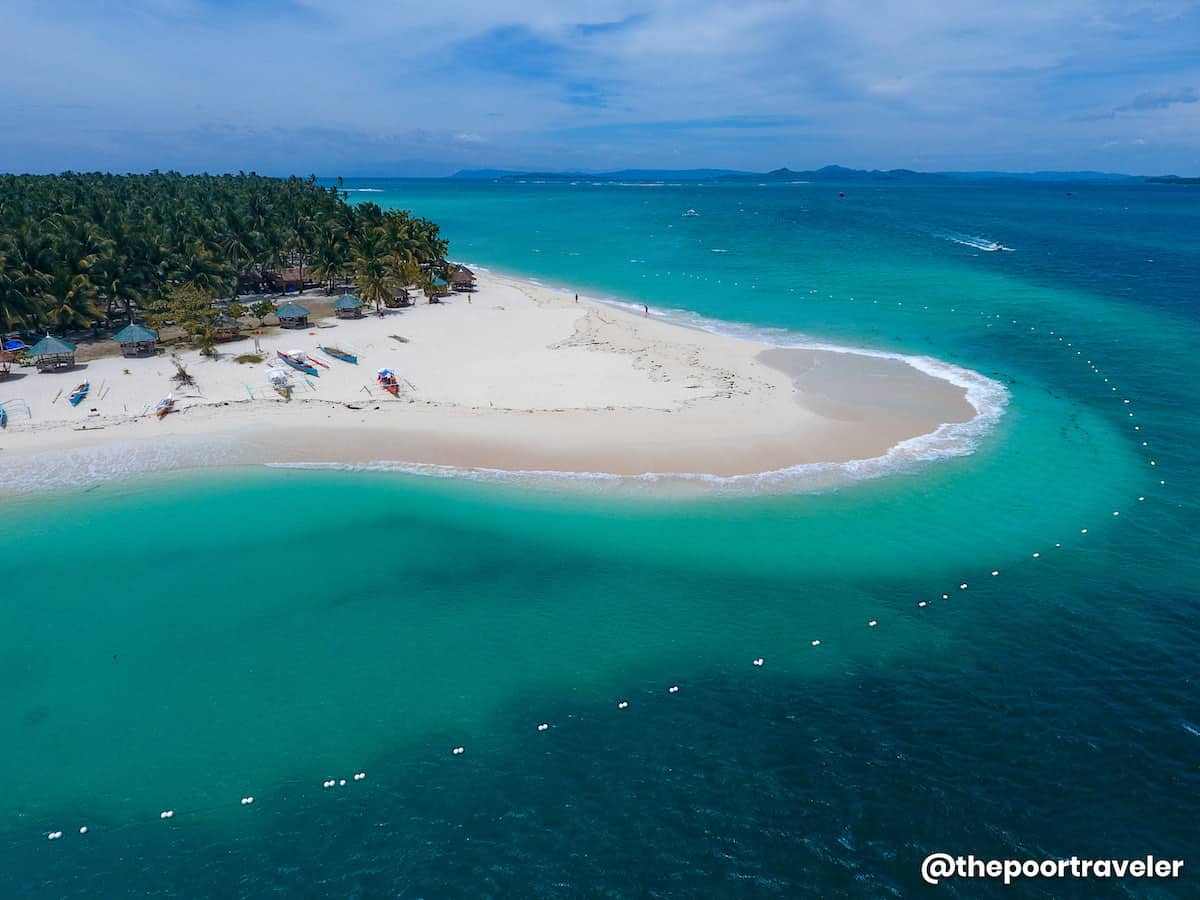 More info about Siargao Island:
Language: Surigaonon is the dominant language, but Tagalog, Cebuano, and English are widely understood and spoken.
Time zone: UTC+8 (Philippine Standard Time). Same time as Singapore and Malaysia; one hour behind Japan.
Currency: Philippine peso (PHP, ₱). PHP 100 is around USD 1.85, EUR 1.60, or SGD 2.55 (as of October 2018).
Mode of payment: Cash preferred. Large establishments often accept credit cards.
---
WHERE TO STAY IN SIARGAO
You'll never run out of options when it comes to accommodations in Siargao. The island attracts tourists within the full spectrum of budget preferences. Whatever your own budget is, there is a hotel, hostel, or resort to fit your needs.
If you're looking for a place that's close to surfing sports and other major attractions, we highly suggest that you book a place within General Luna, somewhere along Tourism Road. Here most attractions like the Cloud Nine and Quicksilver surfing camps, Mama's Grill, and the General Luna public market, are just a habal-habal ride away.
Top Siargao Resorts and Inns
On our recent trip, we stayed at La Luna Island Resort and had an fabulous time. Its rooms are spacious, beds huge, and location excellent, close to a wide selection of dining spots.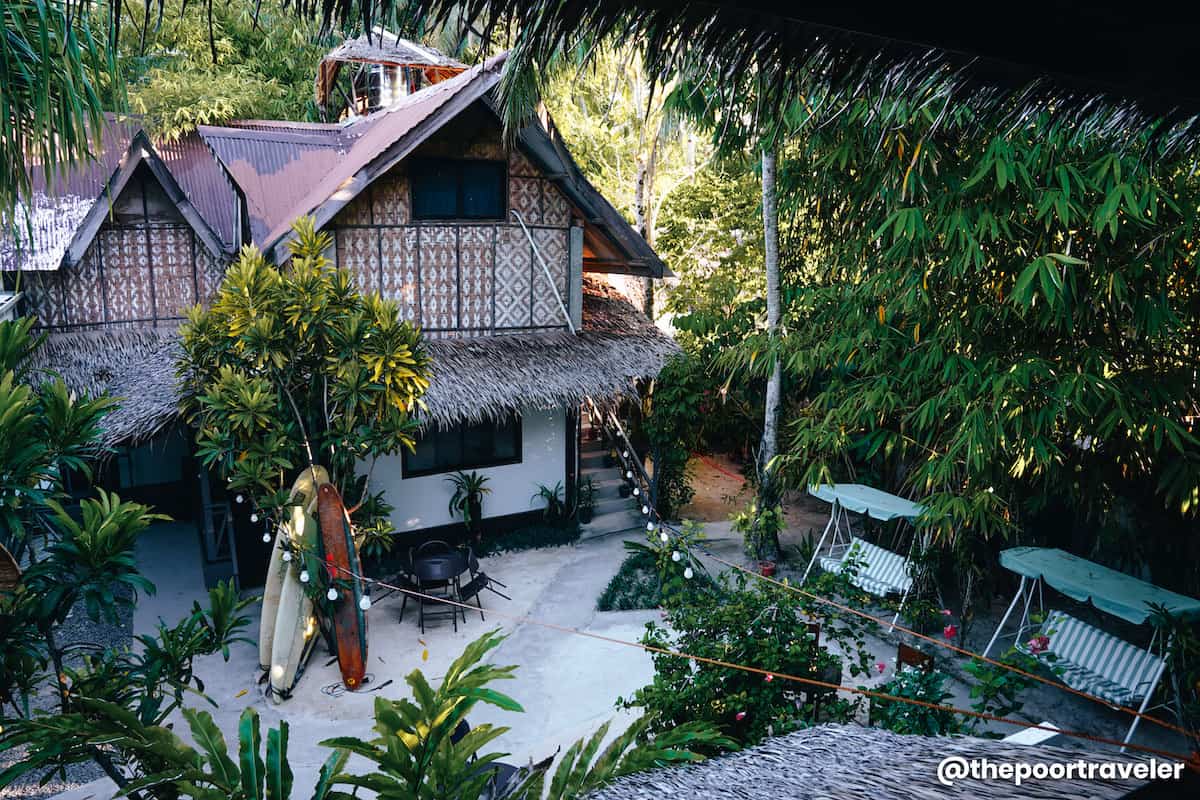 It's also one of the best-rated resorts on Agoda, as reviewed by actual customers. Here are some of the top resorts and lodges in the island (not in order).
---
Top Siargao Hostels
---
---
HOW TO GET TO SIARGAO ISLAND
By Air
Siargao has its own small yet serviceable airport, named Sayak Airport. Traveling by air is the most efficient way to get to the island.
In the past, the usual route (from Manila) is to first take a flight to Cebu City or Surigao City, then take another flight to Siargao. This has changed, however, since Siargao Airport now offers direct flights to and from Manila, as well as Clark and Davao.
Manila to Siargao: Cebu Pacific and Skyjet
Cebu to Siargao: Cebu Pacific and Philippine Airlines
Clark to Siargao: Philippine Airlines
Davao to Siargao: Philippine Airlines
Surigao City to Siargao: Cebu Pacific
From Manila, it usually takes two hours to get to Siargao (one hour if you fly from Cebu). The fare will vary, with the cheapest average at around PHP 3,000 for Cebu Pacific (non-promo) flights.
---
By Ferry
You can also get to Siargao via Roll-on, Roll-off (RoRo) ferries. These ferries leave to and from Surigao City. The main seaport in the island is located in the municipality of Dapa. Boat and ferry rates vary, between PHP 200-300.
---
SIARGAO AIRPORT TO GENERAL LUNA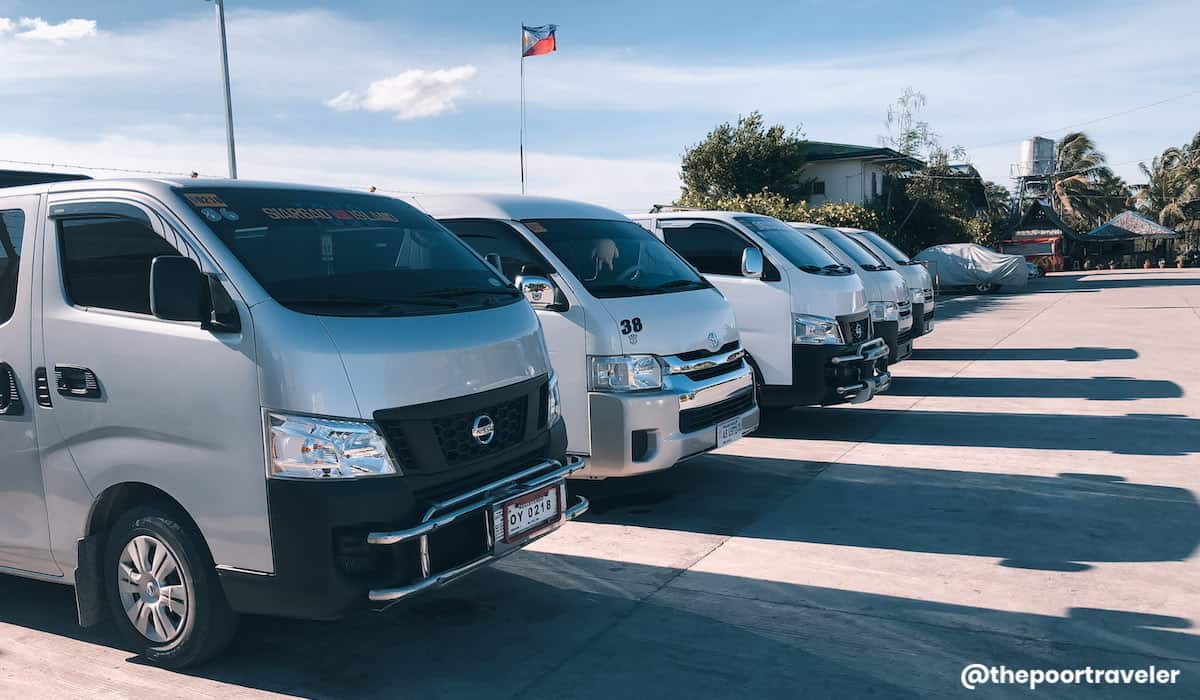 By Van
Most of the hustle and bustle occur in the municipality of General Luna. Here is where Cloud 9, Quicksilver and other surfing camps are located. Many hotels, resorts and restaurants are also found here.
Sayak Airport, however, is located in another municipality, in Del Carmen. To get to General Luna, head outside the airport, where vans for rent are parked. Traveling by van is your fastest and cheapest option to get to General Luna, but you may have to share the van with other passengers.
Travel time: 45 minutes
Fare: PHP 300
---
By Motorbike (Habal-habal)
If you're feeling adventurous, or you'd like to travel privately, you can get to General Luna on a motorcycle, either via habal-habal (hired motorcycles), or for-rent motorbikes you operate yourself. These are also available outside the airport. Of course, if you have lots of luggage with you, this isn't a viable option. Or maybe it is, provided you have very dextrous teeth.
Habal-habal fare: PHP 500
Motorbikes for rent: PHP 500 per day
Travel time: 45 minutes
---
By Multi-cab
Another popular form of transport is the multicab, small multi-seater vehicles that look like bonsai trucks. Multicabs have enough space for luggage, and the ride is relatively more comfortable than the two-wheeled options.
Travel time: 45 minutes
Multicabs for rent: starting at PHP 1500
---
HOW TO GET AROUND GENERAL LUNA
By Habal-habal. The habal-habal motorcycle, a common sight in rural Philippines, takes center stage in Siargao as the primary mode of transportation. These motorcycles bear a quirky design: riding a habal-habal is like riding a car frame on two wheels. Getting around on these icons of rural ingenuity is cheap and fast. If you only want to get around General Luna proper, it only costs PHP 20 per ride.
By Tricycle. Tricycle are usually on par with the habal-habals.
By Rented Motorcycle. You can also rent motorbikes for PHP 500 for 24 hours.
By Bike. Bikes cost PHP 150 for 24 hours.
By Car Rental. On one of our trips, we have rented a Toyota Avanza for only P3000 per day (24 hours). We've seen also seen posters advertising smaller cars for rent for P2500 per day.
---
THINGS TO DO IN SIARGAO
Siargao Land Tour
You can explore the main island and see the wonders it keeps in its jagged corners and lush landscapes. Here are the usual stops of the land tour (not in order):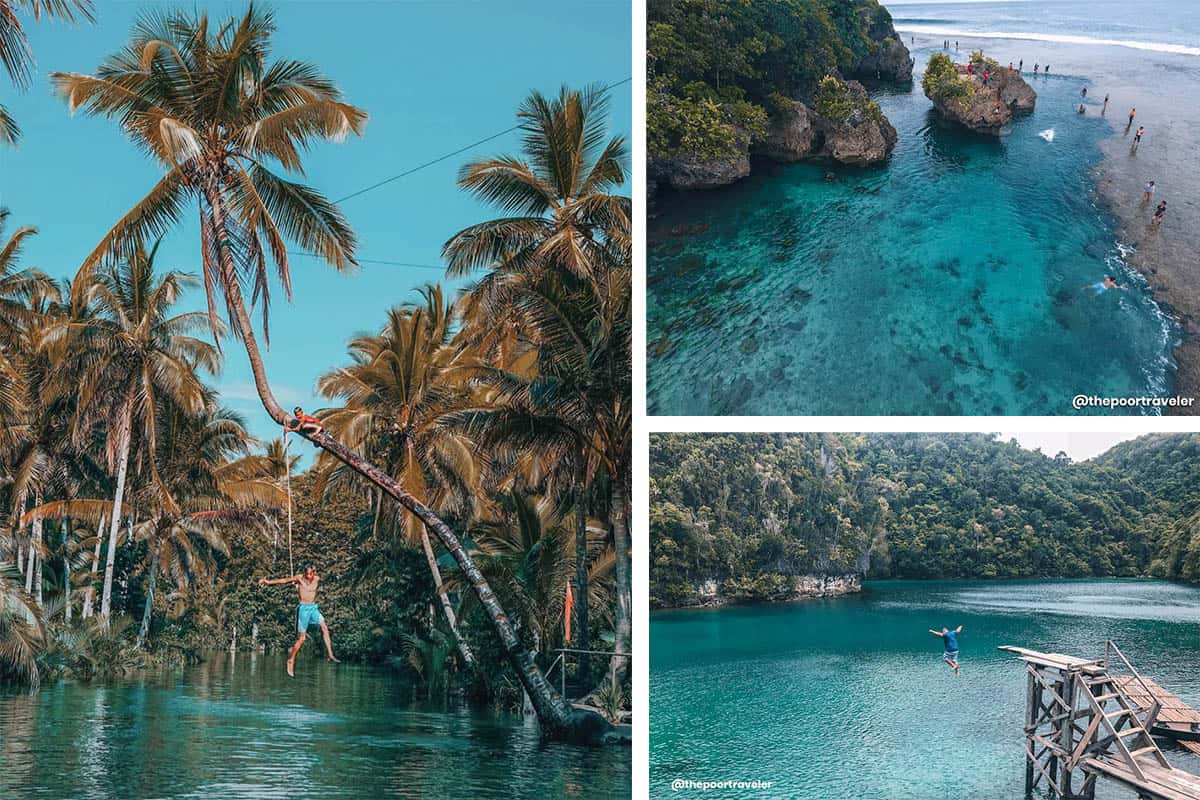 Magpupungko Rock Pools. During low tide, the receding coastline reveals rock formations and natural pools perfect for some leisurely swimming. It's an all-natural infinity pool, so to speak. Entrance fee: P50.
Sugba Lagoon. Within the lagoon is a two-story docking area where you can stay and rent a table for PHP 50. The cool, turquoise waters seem to invite everyone to explore the lagoon's site, and there's equipment available to do just that. There are paddle boards, canoes, and snorkeling paraphernalia available onsite for rent. There's also a diving platform you can use for free. Entrance fee: P50.
Coconut Mountain View. Siargao is carpeted with almost endless rows of coconut trees. It makes exploring the island more fun because of the relaxing green scenery and the various Instagrammable spots along the way.
Maasin River. A picturesque river, especially the spot with the bent coconut tree extending over the river. There's a rope attached to the tree where you can swing and plunge into the river. The water is about 6-foot deep. Entrance fee: P20.
Although I indicated the entrance fees above, these are already included by land tours. The one offered by Klook also includes lunch.
✅ RESERVE A SLOT HERE!
---
3 Islands Tour
This tour follows the three islands nearest General Luna: Guyam Island, Daku Island, and Naked Island.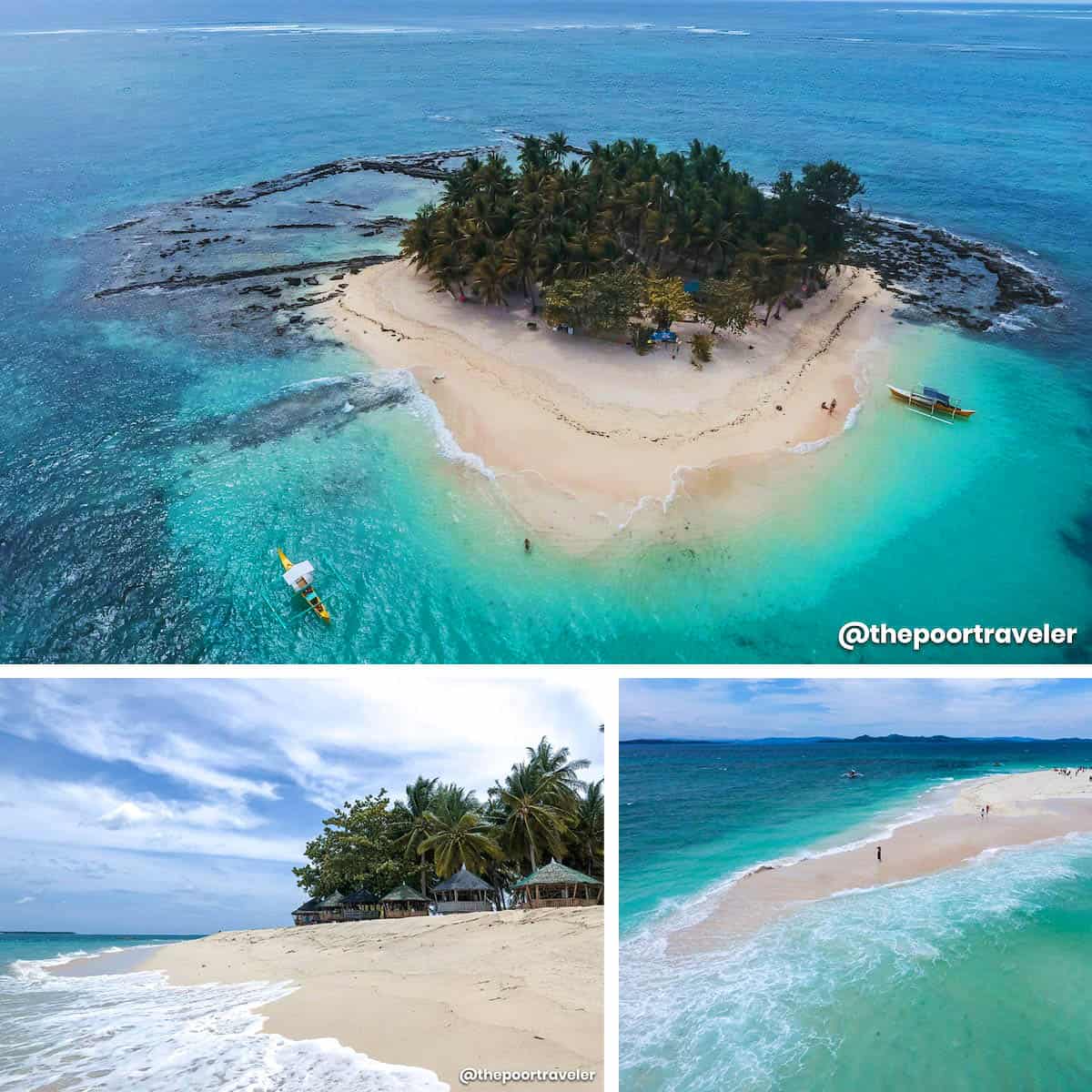 You can do this tour in two ways: charter a private boat or join a group tour.
If you're a group, you can go to the wharf and charter a private boat for P1500 – P2000. That's per boat, not per person. However, this does not include lunch. Fresh fish are available at Daku Island (that you can have the locals cook for you), but if you're in a tight budget you can always bring your own food. It doesn't include the additional entrance and docking charges once you set foot on the islands, which are:
Guyam Island: P30 per head
Daku Island: P100 per boat
Naked Island: free of charge.
If you're traveling alone, you don't want to deal with finding a boat or preparing food, or you simply want to make friends, we recommend joining a group tour instead. Klook offers this tour. The price covers the boat fees, all the entrance fees, and a boodle-style lunch buffet.
✅ RESERVE A SLOT HERE!
---
Sohoton Cove (Bucas Grande Island)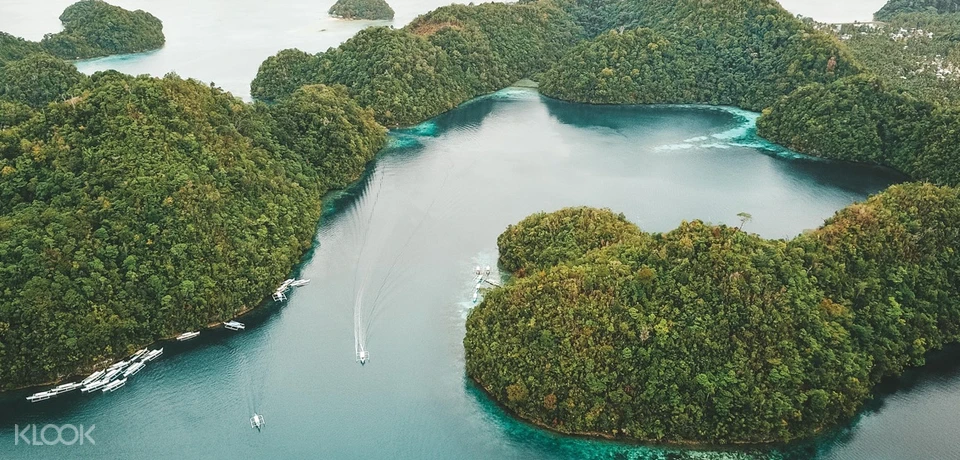 Sohoton Cove is part of Bucas Grande Islands, an intricate network of stunning karst hills and islands that nestle breathtaking lagoons, beaches and even caves. The crystal clear water of some lagoons carry stingless jellyfish, something tourists can swim and interact with if their timing is right. Jellyfish season begins in March but reaches its peak in July and August.
Located in Socorro in Surigao del Norte, Sohoton Cove is a bit detached from Siargao but still easily accessible if you have the time or money. Boat tours from Siargao cost P3000, but some boatmen and operators merge it with the 3 Islands Tour to create the ultimate island hopping adventure. This Sohoton Cove + 3 Islands combination tour usually costs P4000. If you want to save a lot, find other travelers to split the cost with.
If you're solo or you don't want to plan anything, you can join a group tour instead! A Sohoton + 3 Islands Combo Tour is available on Klook!
✅ RESERVE A SLOT HERE!
---
Surfing!
Surfing is Siargao's biggest draw, hands down (and on opposite rails, as the surfing instructor tells us). The island's picture-perfect waves, the famous "Cloud 9" swell, entice surfers from all corners of the globe. These waves occur along the General Luna coast: the best places to catch them will be the Cloud 9 and Quicksilver surfing camps.
The surfing camps offer surfboard rentals and surfing classes for beginners and intermediates. Beginner surfing classes are at PHP 1000 for 2 hours. That's enough for about 2 dozen epic wipeouts.
---
Cloud 9 Boardwalk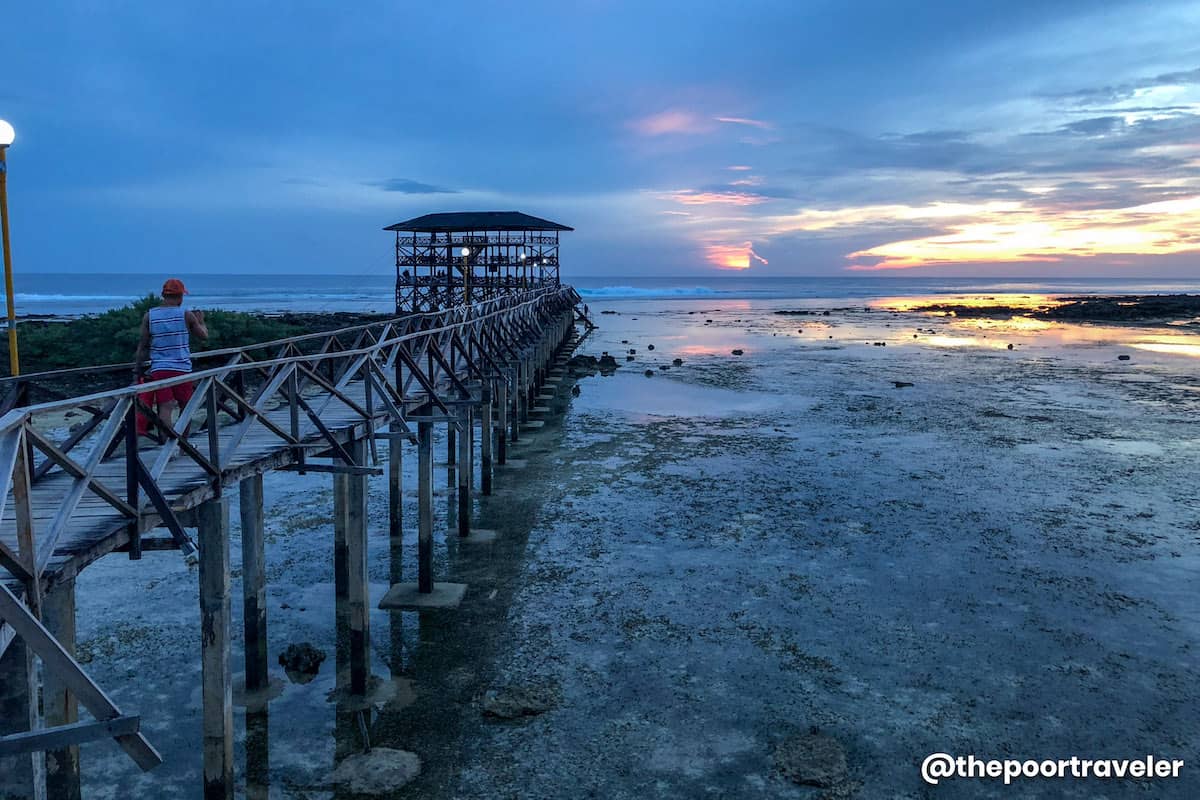 Also located within the Cloud 9 beach is the famous Boardwalk and Tower. This three-story wooden structure, and the promenade that leads to it, greets visitors when they enter the vicinity. It offers an exemplar view of the Cloud 9 beach, the waves, and the Pacific Ocean. You need to shell out PHP 50 for the entrance fee.
Here's a tip: Make sure you arrive before the break of dawn, as the Tower is an ideal place to catch some breathtaking sunrises.
---
Secret Spot
Siargao has a place locally known as the "Secret Spot" or the "Secret Place". Contrary to its name, it's not a heavily guarded secret. Rather it's a place that seldom receives attention compared to other Siargao attractions.
But make no mistake, the place should be high on your Siargao checklist. It has two sides: Doot Beach, a tranquil beachfront with fine, semi-white sand, and the mangrove forest, where you can rent a small paddle boat and explore the floating foliage. It's out of the way from the general hubbub of the surfing areas, a half-hour's ride from General Luna proper.
---
SAMPLE SIARGAO ITINERARY
Here are two sample Siargao itineraries, both for a 4-day, 3-night stay. The first version is for a couple who want a more convenient stay, while the other is for a group on a budget. In both itineraries, you are assumed to have P100-150 allocation per meal.
Feel free to adjust depending on your length of stay and budgetary preferences.
Itinerary A: Convenient (Party of 2)
This itinerary prioritizes convenience more than savings. It assumes you're a party of two (2) travelers sharing a twin or double room that costs P3000 per night (P1500 per person per night).
DAY 1: ARRIVAL
02:00 pm — Arrival, van to hotel, P300
03:00 pm — Check-in, rest, walk around
07:00 pm — Dinner, P150 + P20 fare
08:00 pm — Drink at a bar, P300
10:00 pm — Return to hotel, P20 fare
DAY 2: LAND TOUR
07:00 am — Hotel pick-up
07:30 am — Siargao Land Tour, P1925, Book here!

05:30 pm — Back to hotel, freshen up
07:30 pm — Dinner at Mama's Grill, P150
09:00 pm — Return to hotel
DAY 3: 3 ISLANDS TOUR
06:30 am – Travel to Boardwalk at the Boulevard, P20
07:00 am — 3 Islands Tour, P1265, Book here!

04:30 pm – Back to Boulevard, Travel to hotel, fare: P20
05:00 pm – Back to hotel, freshen up
07:30 pm – Dinner, P150 + P20 fare
09:30 pm – Back to hotel, P20 fare
DAY 4: DEPARTURE
05:00 am — Leave for Cloud 9 surf camp, P20 fare
05:30 am — Sunrise at the Tower, P50
07:00 am – Swimming, FREE!
09:00 am — Souvenir run, back to hotel, P20 fare
10:00 am – Freshen up, pack up, check out
11:00 am — Lunch, P150
12:00 pm – Leave for airport, P300 for van fare
03:30 pm — Flight out of Siargao
The itinerary above will cost you around P9900 (USD 196, EUR 171, SGD271) per person excluding airfare, tips, and souvenirs, but including accommodations and a P500 allowance for miscellaneous purchases and other expenses we might have missed.
If you have bigger funds, you can do the 3 ISLANDS + SOHOTON COVE combination tour instead to maximize your stay and see more wondrous spots!
Itinerary B: DIY Budget (Group of 4)
The itinerary below is for a group of four traveling on a budget. This assumes that you're splitting boat rental costs and spending P500 per night at a dorm or hostel. This also assumes that one on the group can drive and has a license because you'll be renting a car on Day 2.
DAY 1: ARRIVAL
02:00 pm — Arrival, van to hotel, P300
03:00 pm — Check-in, rest, find car rental + boat
07:00 pm — Dinner & beer at Mama's Grill, P300 + P20 fare
08:00 pm — Return to hotel, P20 fare
09:00 pm — Sleep!
DAY 2: DIY SIARGAO LAND TOUR
08:30 am — Car rental, P625 (P2500/4pax)
09:00 am — DIY Land Tour, Total entrance fees: P100
11:30 am – Lunch, P150
12:30 pm – Continue tour
02:00 pm – Arrival at Del Carmen, P30 parking fee
02:30 pm — Boat to Sugba Lagoon, P400 (P1,600 fare/4 pax)
03:30 pm — Sugba Lagoon, P50 entrance fee
06:00 pm — Back to hotel, freshen up
07:30 pm — Dinner, P150
09:30 pm — Back to hotel
DAY 3: 3 ISLANDS TOUR
08:00 am – Return car, refuel: P250 (P1000/4 pax)
09:00 am — 3 Islands Tour, P400 (P1600/4pax)
10:30 am – Naked Island
12:00 nn — Daku Island, P100 entrance fee
12:30 pm – Lunch at Daku, P150 + P75 cottage fee (P300/4)
02:30 pm — Guyam Island, P30 entrance fee
04:30 pm — Back to Boulevard, travel to hotel, P20 fare
05:00 pm – Back to hotel, freshen up
07:00 pm — Dinner, P150 + P20 fare
09:00 pm – Back to hotel
DAY 4: DEPARTURE
05:00 am — Leave for Cloud 9 surf camp, P20 fare
05:30 am — Sunrise at the Tower, P50
07:00 am – Swimming, FREE!
09:00 am — Souvenir run, back to hotel, P20 fare
10:00 am – Freshen up, pack up, check out
11:00 am — Lunch, P150
12:00 pm – Leave for airport, P300 for van fare
03:30 pm — Flight out of Siargao
The itinerary above will set you back around P5900 (USD 117, EUR 102, SGD162) per person excluding airfare, tips, and souvenirs, but including accommodations and a P500 allowance for miscellaneous purchases and other expenses we might have missed.
Of course, you can still bring the cost down if you're part of a bigger group.
---
---
OTHER SIARGAO TIPS FOR THE POOR TRAVELER
Leave no trace. Don't leave trash on the beach. Whatever you bring to the place, take them with you when you leave. Leave nothing but footprints!
Use coral-friendly sunscreen. Surfing is all fun and games until you get home and you see how burnt you are. Wearing sunscreen is not just for cosmetic purposes, too. UV rays are harmful to one's skin and are known to cause skin deformities. But choose sunscreen that doesn't contain chemicals like oxybenzone, benzophenone, and parabens, which are harmful to marine life.
Befriend your habal-habal driver. Siargao locals are friendly and helpful to tourists. The most informative person you'll meet in Siargao is your own habal-habal driver. Befriend him and you may get privy to a lot of wonderful new discoveries in the island, and even a few discounts!
Practice sustainability. Siargao is home to vibrant mangroves and a diverse marine ecosystem. Let's do our small part and ensure the island remains pristine by practicing sustainable travel hacks, like bringing our own water and soap bottles.
At nighttime, look up! It wouldn't hurt to remind ourselves of the simpler things. The skies are darker here because of the lack of strong nightlights. Being a city guy, it's the first time I saw the Milky Way again in a very long time.
---
FREQUENTLY ASKED QUESTIONS ABOUT SIARGAO
Is Siargao safe?
Siargao is very safe. NOT all of Mindanao has security issues. Siargao is very far from the places you see on TV. In fact, in Siargao, many domestic and foreign tourists have stayed long enough to start living like the locals. It's not unusual to see white guys in dreadlocks speaking Surigaonon.
However, you should also be careful when swimming in the open, as Siargao has a seasonal jellyfish population. Always ask around before taking a dip.
Don't sweat safety. Wear life vests when on the boat. Don't leave gadgets plugged in when going out. Wear aqua shoes on beaches and rocky shores. These small safety measures can go a long way to ensure you enjoy every moment in paradise.
When is the best time to visit Siargao?
Siargao Island has a dry and wet season: it's relatively dry between March and November, while the rest of the months are frequented by monsoon rains.
If you're going to Siargao solely for surfing, then these seasons don't really matter. The waves are strong year-round. However, September to November are particularly enticing since various activities take place at these times, most prominent being the Siargao Cloud 9 Surfing Cup.
If you're going to Siargao for other leisurely activities aside from surfing, then the dry season between March and November is your best bet. Take into consideration that most travelers have the same mindset, too, and Siargao might get more crowded than usual during these months.
Are there ATMs in Siargao?
Yes, there are ATMs in Siargao, BUT, and it's a big but, signal losses make them unreliable. Most of them are also incompatible with foreign cards. It's best to bring enough cash with you or use credit cards for major transactions. Convert your cash to Philippine pesos before traveling to the island. An alternative is to get cash via money transfer facilities like Western Union, M Lhuillier, etc.
What is the power plug / socket used in Siargao?
220V, 60Hz. Socket Type A.

There were a couple power outages during our stay, but these were during daytime, when we were in the middle of our day trips.
---
2️⃣0️⃣2️⃣0️⃣ • 1️⃣ • 3️⃣