Fancy a trip to PHUKET, THAILAND? Below is our latest DIY PHUKET TRAVEL GUIDE BLOG with all the tips and information that we know about this island destination including tour and hotel recommendations, top tourist spots, things to do, and a sample PHUKET ITINERARY for your reference.
It was almost midnight when I emerged from the airport terminal. There were no more buses, only cabs that had been aggressively calling for passengers. But I couldn't afford a ride alone. I approached some of my fellow Pinoy travelers from my flight, but they just looked at me as though I was going to scam them. Hahaha. That's totally understandable. Back home, we're told and taught not to trust strangers at the airport. Too bad, I desperately needed companions to split taxi fares with.
Phuket was the first stop on my fourth backpacking trip across Southeast Asia, second in Thailand. This time, I'd be visiting cities that I skipped the first time. I wasn't going to be alone for the whole trip. Two friends would be joining me in Bangkok until Vietnam. I chose to start in Phuket to be alone even just for one stop.
Finally, I spotted two other solo travelers just standing by the taxi line. And just like that, I gained new fleeting friends. This is why I missed solo backpacking so much!
WHAT'S COVERED IN THIS GUIDE?
UNDERSTANDING PHUKET
Is Phuket an ideal destination for solo backpacking? Yes and no, depending on why you're doing it. If you're traveling alone so you could meet other like-minded souls, then yes, it could be a great place for you. If you're embarking on a solitary journey to chase some peace and quiet, hmmm, not quite.
An island off the coast of Southern Thailand, Phuket is the richest province in the country and one of the most visited destinations in the Southeast Asian region. It's a favorite weekend getaway for domestic tourists, a common stop for cruise ships, and a bridge for Bangkok-bound backpackers from Malaysia and Singapore.
Here are more facts about Phuket.
Language: Thai. Their language can be quite daunting to non-native speakers, especially its lengthy words and tongue-twisting pronunciations, but as with every other language, it only intimidates in the beginning. English isn't widely spoken, but what the locals lack in English fluency, they make up for with their friendly attitude toward tourists.
Currency: Thai Baht (THB, ฿). THB100 is roughly USD3, EUR 2.6, PHP 163 (as of June 2018). Exchange rates at the airport are bad, so if you have a MasterCard/Visa/Cirrus ATM, just withdraw from one of the many machines inside the terminal. If you don't have one, just exchange enough to get you to your hotel.
Modes of payment: Cash. Although some restaurants and hotels accept credit cards, smaller establishments prefer cash.
Safety: Phuket is generally safe and tourist-friendly. But scams run aplenty, so always be on guard and vigilant.
Electricity Info: 220V. Power sockets are types A, B, and C. Modern buildings use Type B, but old ones use Types A (two flat prongs) or Type C (two round prongs).

---
WHERE TO STAY IN PHUKET
It doesn't look like it on the map, but Phuket is a big island. Getting from one key attraction to another can take over an hour, so it's important that you pick the right place to stay. For tourists, there are four major areas with plenty of lodging options:
Patong Beach. The island's most developed beach. It's bursting with big resorts, inns, restaurants, bars, and other establishments. If crazy nightlife and watersports are what you're after, stay here.
Karon Beach. The cove to the immediate south of Patong Beach. It's lined with resorts across the road, but it's nowhere near as crazy as Patong.
Kata Beach. Situated south of Karon. There are fewer big resorts here but it has lots of guesthouses. It's much quieter than the other two.
Phuket Town. The island's economic center, located in the southeastern part of Phuket. Accommodations here are much cheaper than those along the beaches, which makes it a great option for budget travelers. If you're after heritage and culture, stay here.
The area where you should stay depends on your interests. Below are the top-rated properties on Agoda.
---
Top Budget Hotels in Phuket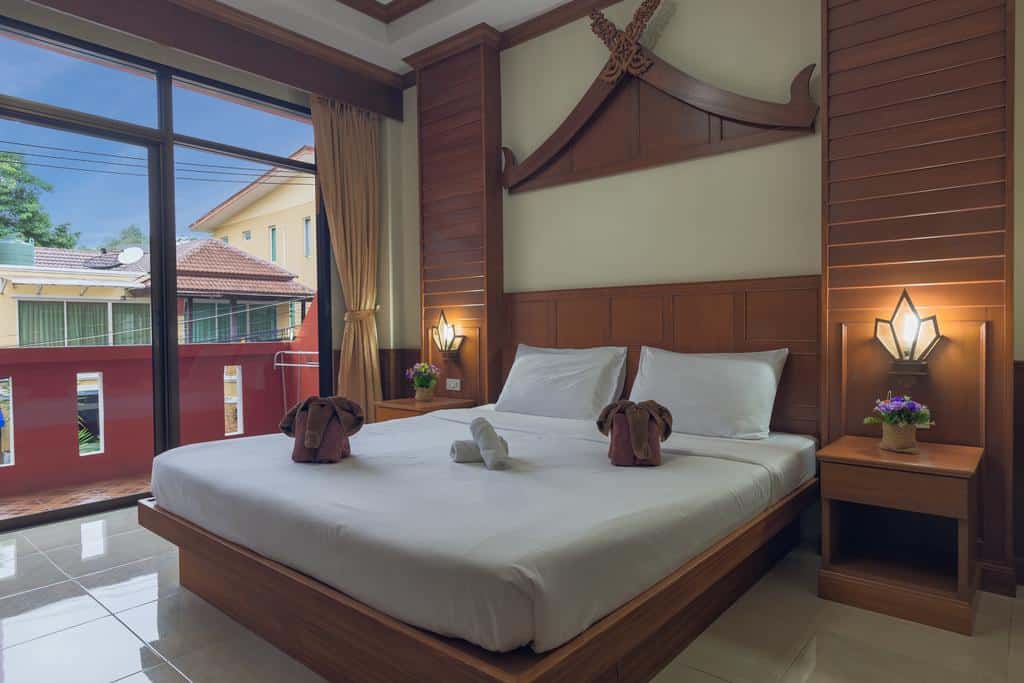 ---
Top Phuket Hostels and Dorms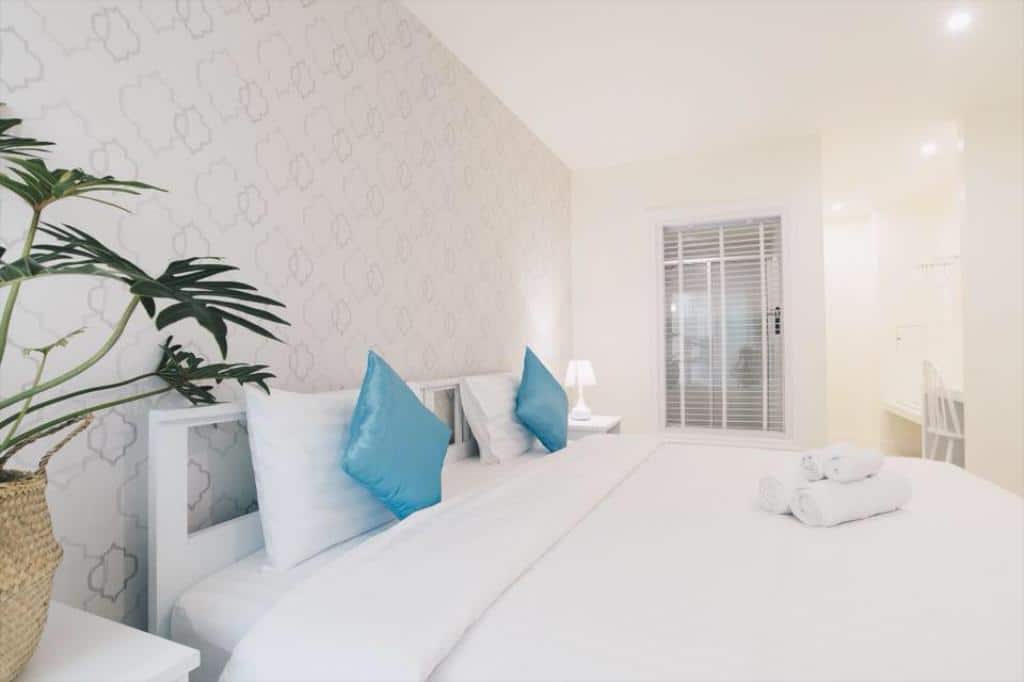 ---
HOW TO GET TO PHUKET
Although relatively small, Phuket International Airport (IATA: HKT) is Thailand's second biggest hub and second busiest airport. Most flights operating here come from or go to Bangkok and other destinations within ASEAN like Kuala Lumpur and Singapore. However, during high season, some airlines mount flights from Australia or Europe.
Bangkok to Phuket
There are three ways to reach Phuket from Bangkok: by plane, by bus, or by train.
By Plane. Low-cost carriers Nok Air and AirAsia offer the cheapest Bangkok-Phuket flights. You can find fares for only around ฿1000, excluding meals, baggage allowance, and other fees. Travel time: 1.5 hours.
By Train. There are no direct trains from Bangkok to Phuket. What you can do is take the train to Surat Thani instead, and from there, travel by bus for the rest of the trip. The train part takes 8 hours. The bus, around 5 hours. I haven't done this myself, so I can't say if it's advisable or not.
By Bus. This I've tried. The bus is the cheapest. The downside, it takes 13 to 16 hours, depending on traffic. The public bus (BKS bus) is generally okay, but because it's a loooong ride, you might want to be more comfortable. Private companies like Phuket Travel, Phuket Central, and Bus Express offer trips for only ฿643 per person. Reservations are possible and recommended in peak season. Reserve a Ticket Here.
Whether you want to travel by train or by bus, you can book via 12Go below. 12Go is bus- and train-booking service specializing in Southeast Asian destinations.
---
Manila to Phuket
The cheapest flights from Manila to Phuket are operated by JetStar (which entails an 11- to 16-hour stopover in Singapore) and AirAsia (9-hour stopover in Kuala Lumpur). Fares can go as low as P4500, one way, excluding meals and baggage allowance.
A combo Cebu Pacific-Scoot flight is also an option, but it involves a one-day layover in Singapore too. Fares are usually between P5800 (promo) and P9000 (year-round), excluding baggage allowance and meals.
---
Phuket Airport to Phuket City
Phuket Town (aka เมืองภูเก็ต Mueang Phuket or Phuket City) is a popular base for travelers. You can reach it by bus, minibus, or taxi.
By Bus. Exit the terminal and turn left. You'll find an AIRPORT BUS sign. Look for orange buses. There's one bus every hour from 6:30am to 9:30pm. Fare is only ฿90. No need to reserve. Just buy your ticket from the driver. Travel time: 1.5 hours.
By Minivan. This is a slightly faster option. Fare: ฿120.
By Taxi. There are two types of taxis operating at the airport. The limousine taxi, which is pricey, and the regular metered taxi. The ones that aggressively look for passengers from their booths inside the terminal are limousine cabs, so just ignore them. To find a metered cab, exit the terminal and look for a booth with the sign "Taxi Meter." Fare is between ฿650 and ฿1100. Travel time: 40 minutes.
---
Phuket Airport to Patong, Kata, or Karon Beach
If you're in a hotel or resort in Patong, Karon or Kata Beach, here's how you can get there from the airport.
By Bus. Exit the terminal and turn left. You'll find an AIRPORT BUS sign. Look for cream-colored buses, which stop at Patong, Kata, and Karon. The first bus leaves the airport at 7:30am. Fares are ฿150 for Patong Beach and ฿200 for Kata or Karon Beach. No need to reserve. Just buy your ticket from the driver.
By Minivan. Fares are ฿180 to Patong Beach and ฿200 to Kata or Karon Beach.
By Taxi. There are two types of taxis operating at the airport. The limousine taxi, which is pricey, and the regular metered taxi. The ones that aggressively look for passengers from their booths inside the terminal are limousine cabs, so just ignore them. To find a metered cab, exit the terminal and look for a booth with the sign "Taxi Meter." Fares are usually ฿800-1400 for Patong Beach and ฿900-1600 for Karon or Kata Beach. Just split the cost amongst yourselves if you're a group. Travel time: around 1 hour.
---
THINGS TO DO IN PHUKET
Because Phuket is an archipelago, most of the activities that you can enjoy in Phuket are beach related: island hopping, snorkeling, diving, and watersports. Phuket is also a great jump off point for islands that belong to Krabi, a nearby province, which is also a burgeoning tourist destination. For example, Phi Phi Island (Ko Phi Phi Le) is actually within Krabi, but is easily accessible from Phuket.
Here are some things you can do in and around Phuket.
---
Phi Phi Islands and Maya Bay
The Phi Phi Islands are some of the most famous beach destinations in Thailand. The archipelago is actually within the territory of nearby Krabi Province, but it can be conveniently reached from Phuket. Karst cliffs rise from clear, turquoise waters, as though ushering visitors in. If you've been to El Nido, it's very much like it. The largest island in the group is Ko Phi Phi Don, while the second largest is Ko Phi Phi Le.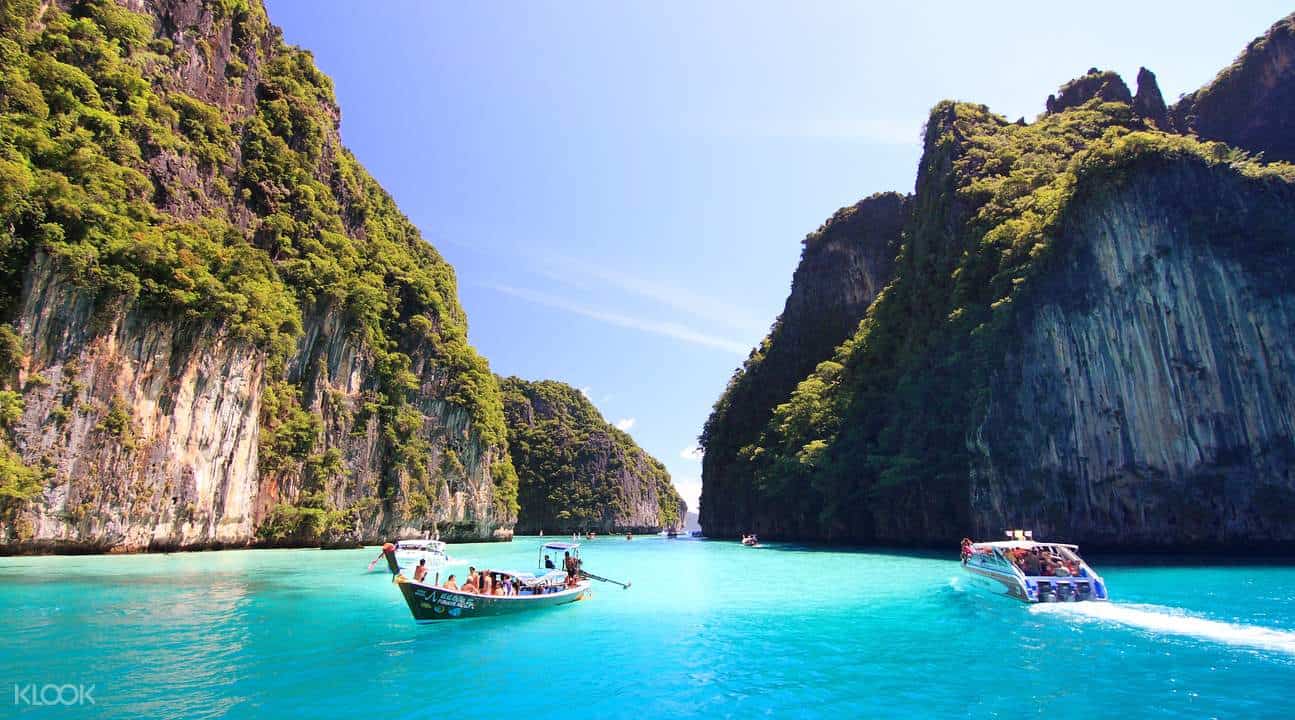 In Ko Phi Phi Le, the most popular attraction is Maya Bay, well-known as the filming location of the Leonardo DiCaprio-starring Holywood blockbuster "The Beach". It has recently been closed to tourists, but I'm not sure whether or not it has been reopened since.
To get to Ko Phi Phi on your own, the most usual option is to take a ferry. First, you need to make your way to Rassada Pier in Phuket Town. From here, board the ferry to Ko Phi Phi Don. Travel time: 2 hours. One-way fare is ฿500.
If you want to make the most of your time, you can join a group tour instead. This way, you also get to visit multiple islands without worrying about transportation. Klook's speedboat tour also include meals. You can also opt to include roundtrip transfers so you can get picked up and dropped off at your hotel.
Here are the usual stops:
Maya Bay
Monkey Island
Mosquito Island
Pileh Cove
Khai Nok Island
✅ RESERVE A SLOT HERE
---
James Bond Island and Phang Nga Bay Tour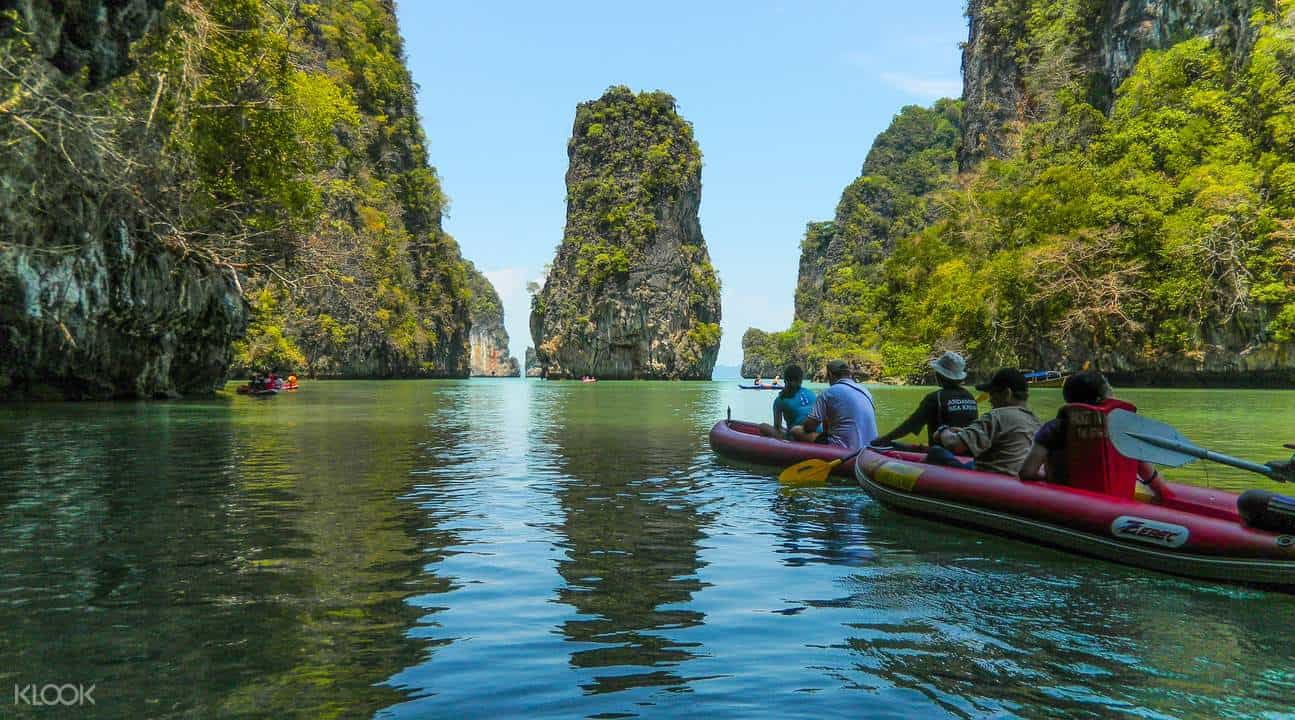 Phang Nga Bay separates Phuket from Krabi. It's specked with big and small islands, many of which are fringed by limestone cliffs and mangrove forests. Hundreds of tour options are available in Phuket alone, highlighting many magnificent natural and cultural attractions. Tour stops often vary from operator to operator, so make sure you check the inclusions before booking. But here are the usual activities included:
A stop at James Bond Island (Ko Khao Phing Kan), nicknamed after the hero of the 007 movie that was filmed here
Kayaking through the caves and hidden lagoons of Panak Island and Hong Island
Seeing the Reclining Buddha at Suwankuha Temple
A stop at Panyee floating village, a muslim fishing community
You can join a BIG BOAT TOUR or a LONG TAIL BOAT TOUR. The big boat is best for those who suffer from sea sickness. You'll be joining a big group here. On the other hand, the long tail boat is a small traditional boat, which is more intimate.
✅ BIG BOAT TOUR DETAILS HERE
✅ LONG TAIL BOAT TOUR DETAILS HERE
---
Phuket Old Town Heritage Tour
At first glance, Phuket Town appears to be just your ordinary Thai town, but it's rich in heritage. You can easily explore it on your own, but it's better to have a guide who can explain the history of its every street, corner and building.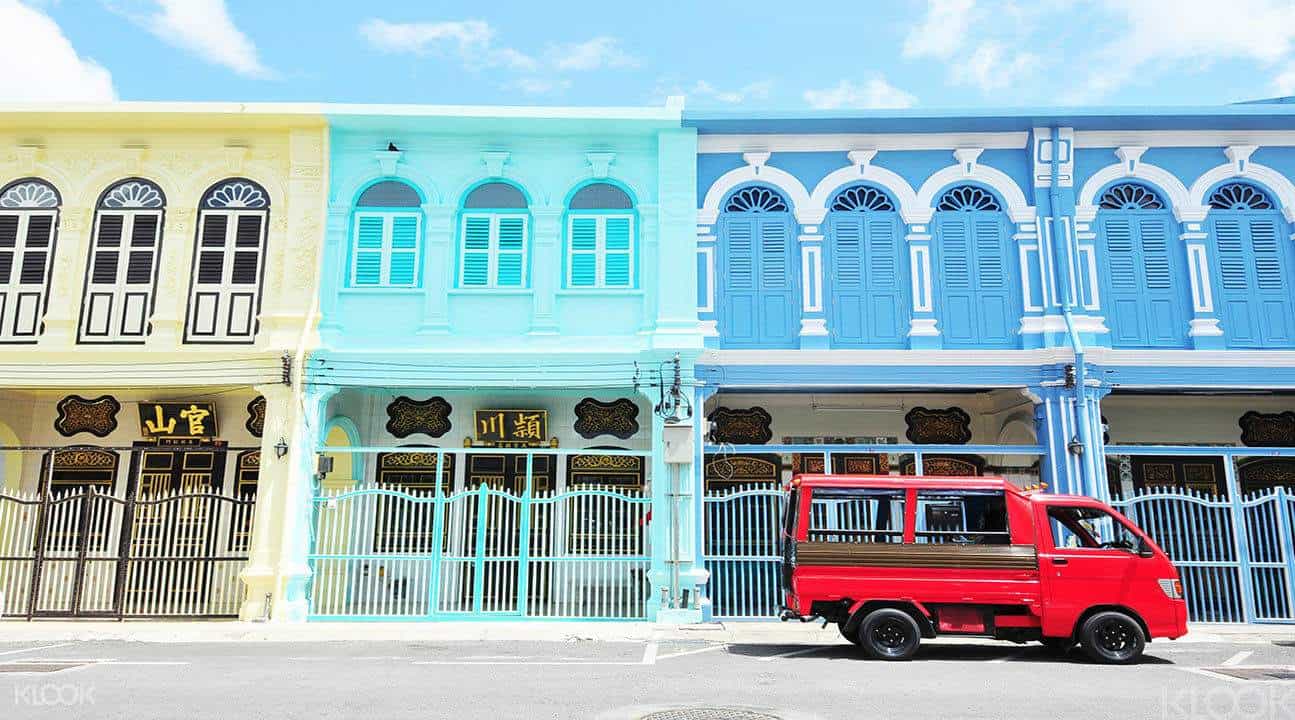 A usual group tour will take you to the following:
Wat Koh Siray, Buddhist temple that houses a huge reclining Buddha among others. The grounds also allow stunning views of nearby islands.
Phuket Downtown, with stops at key landmarks like the Old Police Station, Chinpracha House, Thai Hua museum and other structures
Market, to try various native and exotic fruits and ingredients
Some tours also include a meal at a restaurant.
Klook has two half-day tours with a meal: one in the morning, which ends with a lunch; and the other in the afternoon that culminates in a dinner. You can book below.
✅ MORNING TOUR WITH LUNCH RATES
✅ AFTERNOON TOUR WITH DINNER RATES
---
Thai Cooking Class
It's something that I love doing when I'm in Thailand. I adore Thai food and every chance I get to learn (while making friends) is something I tremendously enjoy. Most tours usually begin with a visit to the market to gather ingredients. Much of the time will then be spent cooking and preparing various Thai dishes. The class ends with filling your face with what you cooked! Rates already include the prices of the ingredients.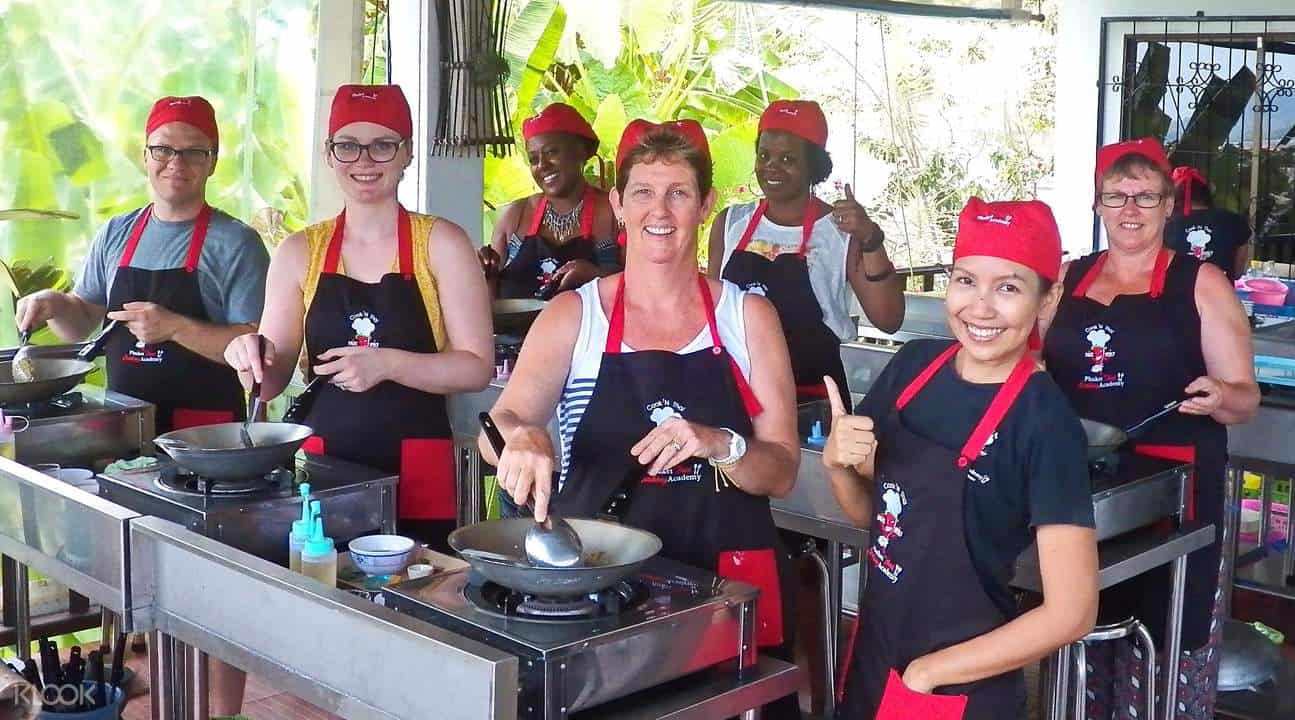 Most classes take half a day. But some companies offer full day classes, at a higher price of course.
Klook has at least two cooking classes, organized by different operators.
✅ EASY COOKING CLASS
✅ COOKING ACADEMY CLASS
---
Thai Traditional Costume Rental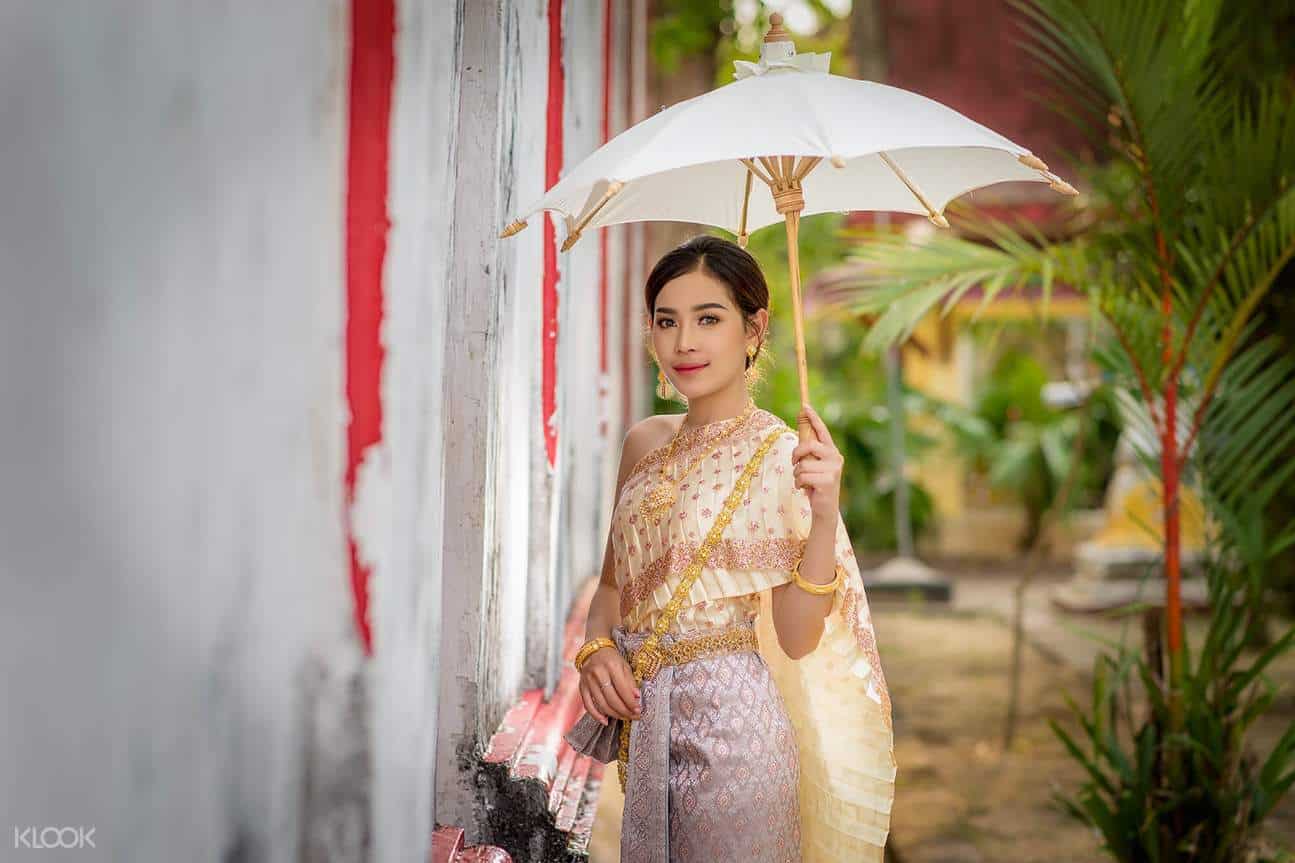 You can get into a full traditional Thai costume for a more memorable walk around Phuket. They will dress you up in your chosen set and style your hair. You can take photos on your own or hire a photographer.
✅ RESERVE A COSTUME HERE
---
Patong Beach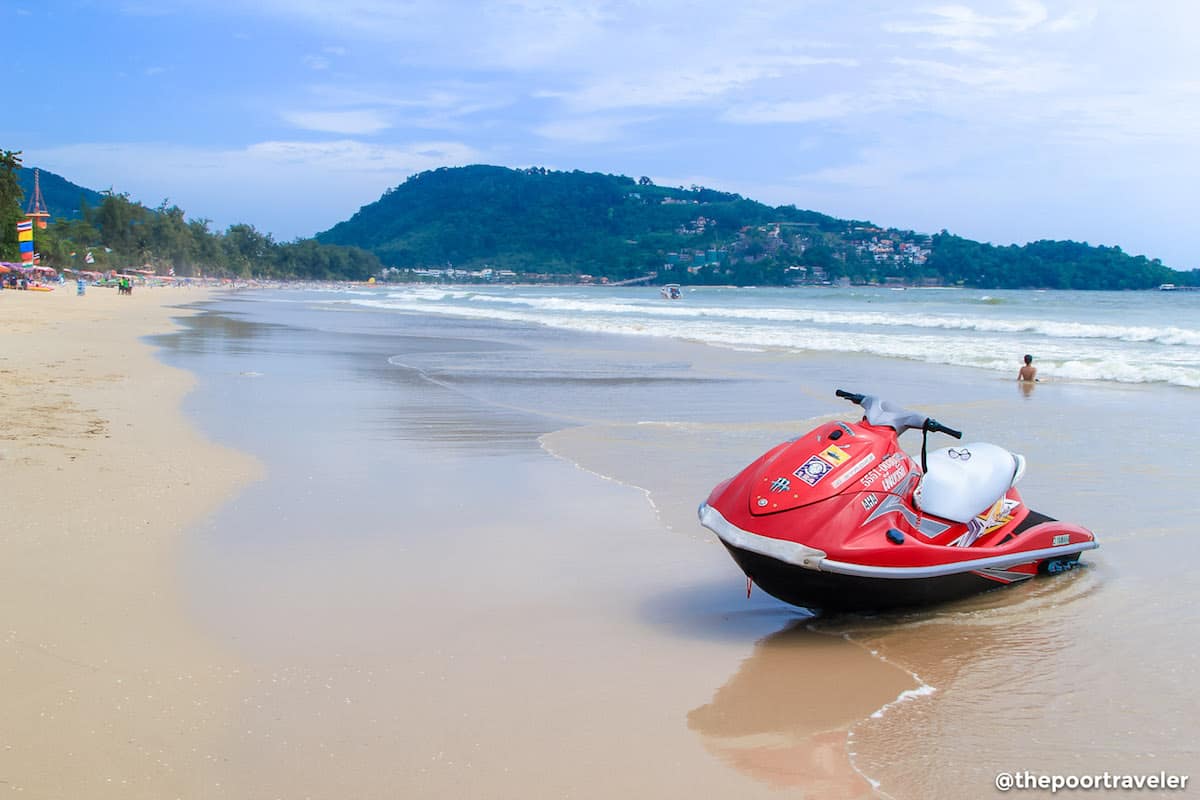 Patong is Phuket's flagship beach. It is what Kuta Beach is to Bali, and White Beach to Boracay. It is the most popular, most developed, and not surprisingly, most crowded beach in the island. Aside from swimming, sun bathing, and just walking along the shore, you can enjoy other activities like:
Jet ski: ฿15000 per 30 minutes
Water ski: ฿1200 per 15 minutes
Wakeboard: ฿1200 per 15 minutes
Parasailing: ฿1200 per person
Banana Boat: ฿600 per person
A vibrant nightlife also takes over the island, especially Patong Beach. Clubs and bars flank its streets. A visit can leave you culture shocked, if you know what I mean.
---
Khai Islands Tour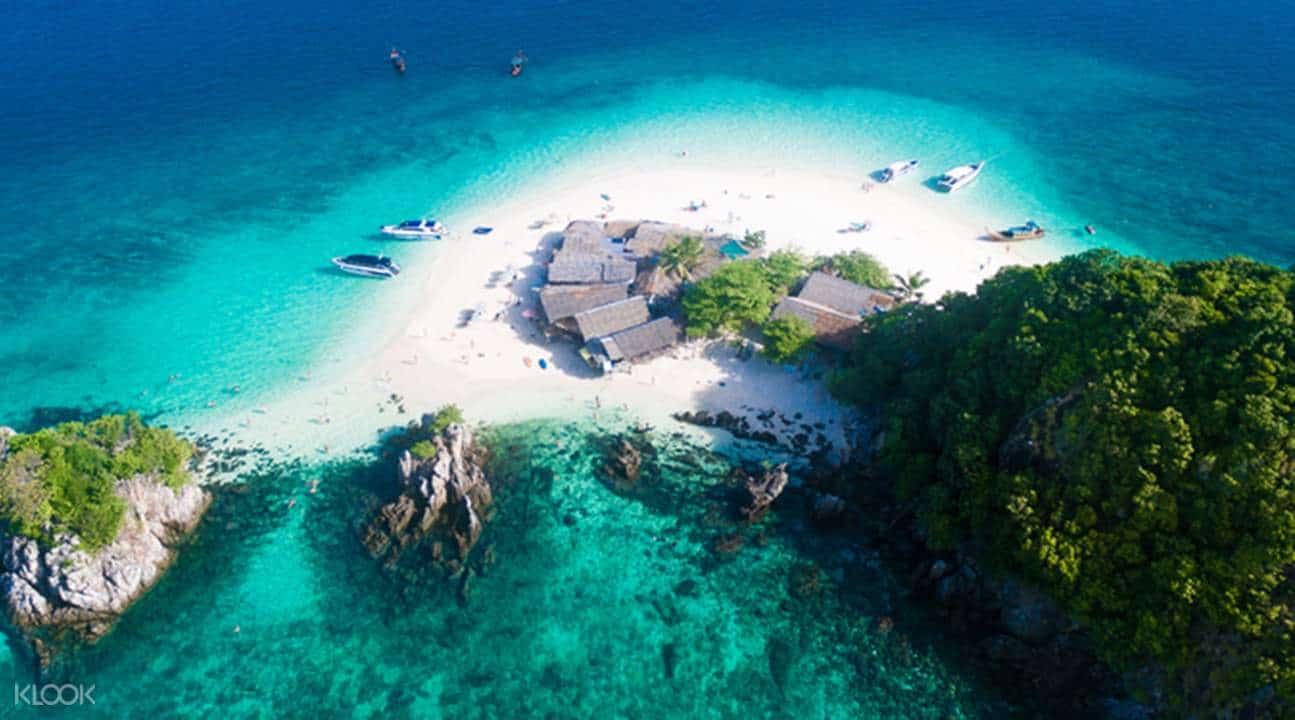 The Khai Islands are composed of three islands: Khai Nai, Khai Nui, and Khai Nok. All three are laced with stunning white beaches and crystal clear, turquoise waters. Snorkeling is also a popular activity here. Located just 10km from the main island of Phuket, it can be reached after 20-30 minutes by speedboat.
Klook's tour includes tour guide, roundtrip transfers, and entrance fees. Full day tour includes lunch.
✅ CHECK TOUR RATES HERE
---
Other Attractions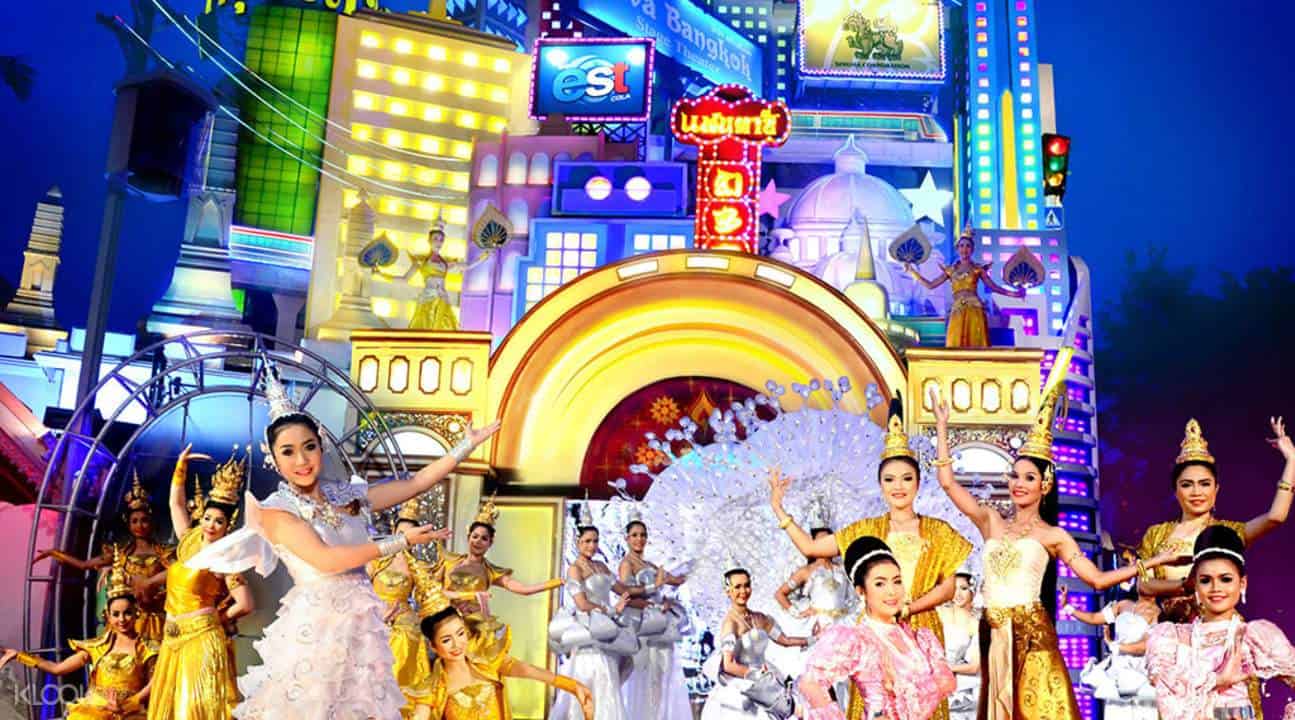 Phuket Fantasea. A fantastic entertainment show that showcases Thailand's cultural heritage. Check Ticket Rates.
Splash Jungle Waterpark. A water resort theme park filled with Aqua Play Pools, slides, and more. For the entire family! Check Ticket Rates Here.
Bungy Jumping. A fully licensed and safe bungy jump in Phuket. Enjoy a 50m drop! Check Rates Here
---
SAMPLE PHUKET ITINERARY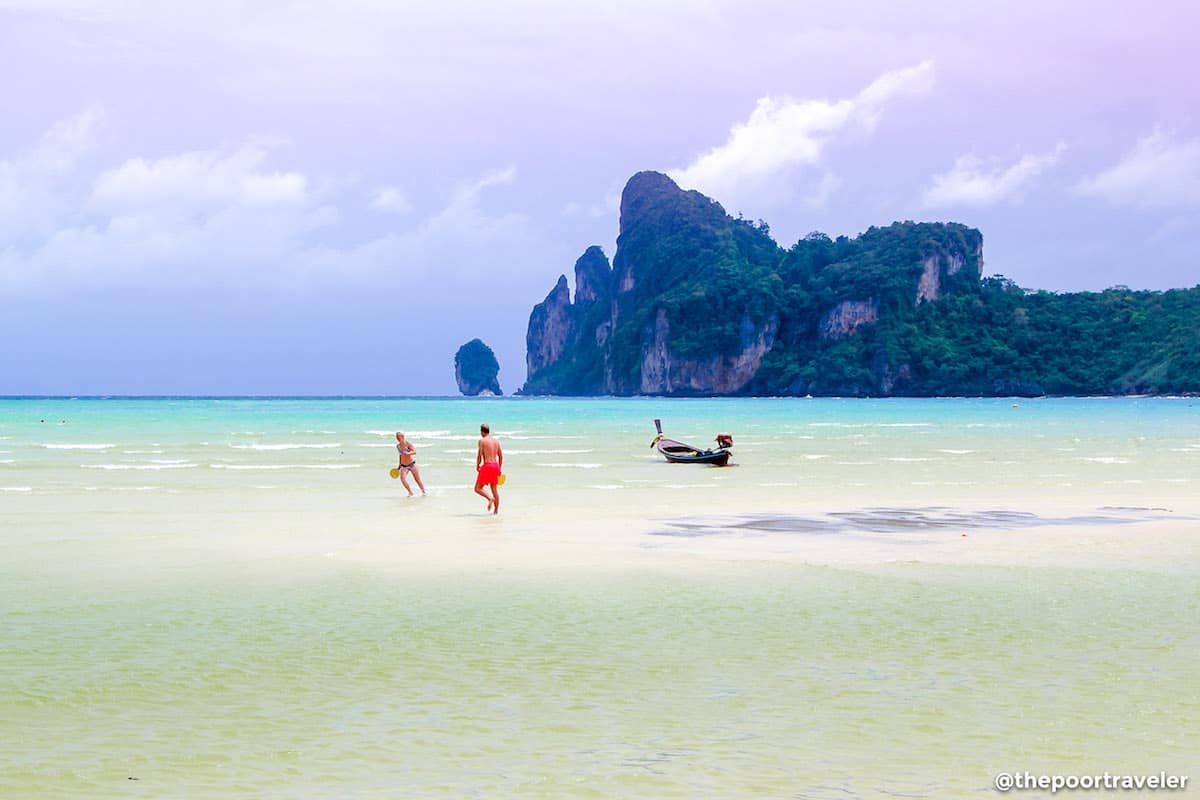 Here's a sample weekend itinerary. In reality, I stayed much longer than a weekend. But if I only had 3 days and 2 nights, here's how I would have done it.
Note that it assumes you're staying in Patong and booking your tours via Klook. Feel free to make the necessary adjustments to match your preferences.
Day 1: ARRIVAL, PATONG
01:00pm – Arrival in Phuket
01:30pm – Bus to Patong, ฿150
03:00pm – Check in at hotel
04:00pm – Walk along Patong Beach
06:00pm – Back at hotel to freshen up
07:30pm – Dinner, ฿200
09:00pm – See Patong nightlife
Day 2: JAMES BOND ISLAND & PHANG NGA BAY
07:30am – Phang Nga Bay Tour, ฿1100, Book Here

06:00pm – Back at hotel, rest, freshen up
07:00pm – Dinner, ฿170
Day 3: PHI PHI ISLANDS
07:00am – Early check-out
07:30am – Phi Phi Islands Tour, ฿1600, Book Here

05:30pm – Back at hotel, pick up bags
06:30pm – Bus to airport, ฿150
08:00pm – Flight check-in
09:00pm – Dinner, ฿200
09:55pm – Flight
If you stay in a dorm and spend only ฿400 per night, the above itinerary will set you back around ฿4500 (USD136, EUR118, SGD186, PHP7300) excluding airfare and travel tax.
You can spend much less if you decide to replace the Phang Nga Bay Tour with a DIY Phuket Heritage Tour on Day 2.
Of course, it also depends heavily on your spending habits. It's always best practice to pad this budget and give it wiggle room so you won't be strapped for cash just in case something comes up or you decide to try something not on the itinerary.
---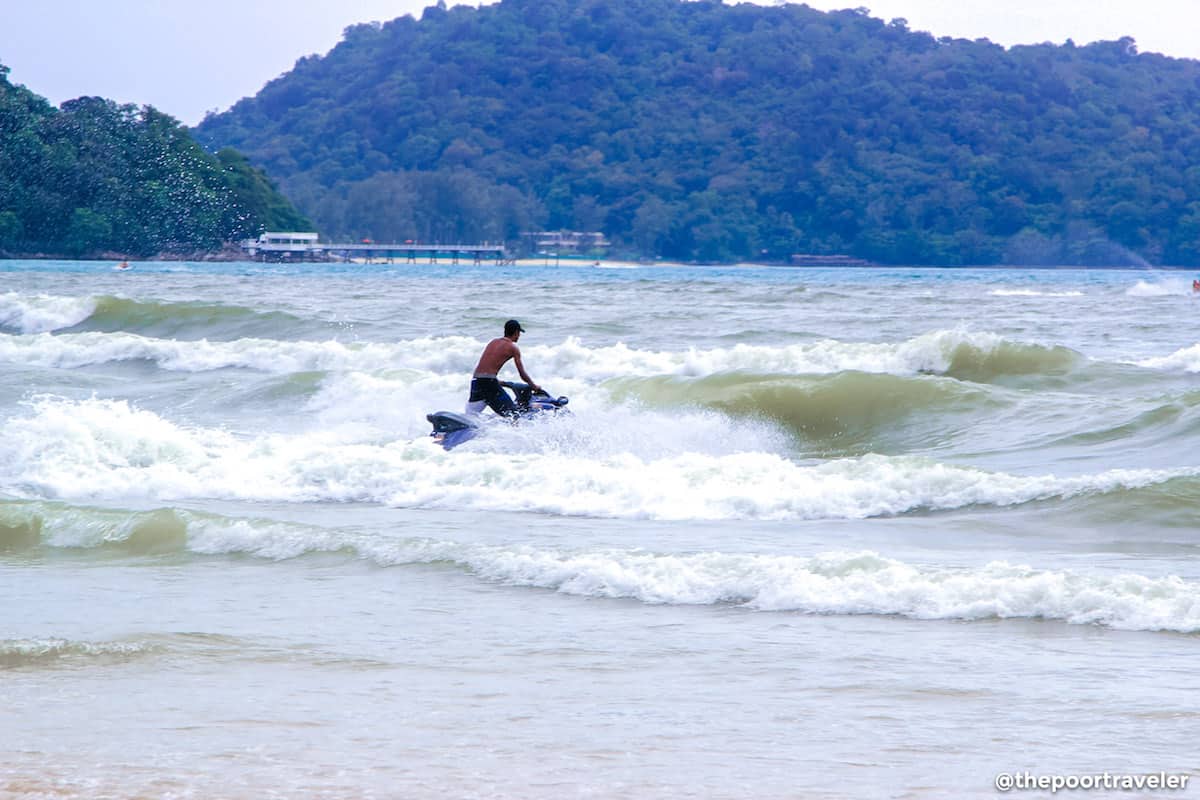 ---
FREQUENTLY ASKED QUESTIONS
Is Phuket safe?
It is, but beware of scams. Plenty of scams plague Phuket, they probably merit a separate, dedicated blog post. But here are some of the most rampant.
Jet-ski rental scam. Their modus operandi is, they rent out a jet ski and then when you return it, they complain that it is damaged. The catch is, the damage has always been there and they're just trying to get settlement money from you. Same with motorcycles. There are even cases when the motorcycles are stolen by the same owners so they could demand money from the victim. These scams are the main reason why I never tried to rent anything in Phuket. But if you must, take plenty of photos of the unit before you go so you have proof that you're returning it in the same condition.
Survey or promo scam. Don't trust easily. Some locals or even foreigners may approach you for many things like quick surveys. Many of these are scams. They will tell you you've won something. Don't fall for it. If it's too good to be true, it probably is.
Taxi scams. Some cabs, especially those picking passengers at the airport, will make unnecessary stops. Sometimes at a travel agent, who will tell you that your hotel is closed or fully booked, in a ploy to get you to book another one through them. Some will take you to a jewelry stop, where you will be compelled to purchase overpriced gemstones. Hail a cab at the right places. During my stay, because I got close with the hotel staff, I just asked them to find a tuktuk and they negotiate the fare for me. I never ran into any problem and paid just the right amount.
Tuktuk Scams. Agree on the fare with the tuktuk driver before the trip. Many tuktuk drivers are hustlers. They will charge way more than they should. If you're a group, they will even claim that what you had agreed on was per person, not per ride. So make sure it's clear to both parties.
In cases of emergency, call the Tourist Police phone number: 1155.
What is the tipping custom in Phuket?
Tipping is not mandatory in Phuket but it is surely appreciated. When eating at restaurants, just round off your bill. For example, if your bill is ฿135, you can leave ฿150 and tell the staff to keep the change. Same with cabs. If the meter is ฿105, round it off to ฿110 or ฿120. At hotels, you can give ฿20 to the porter who carries your luggage to your room.
When is the best time to visit Phuket?
December to April. These months are the driest. Not surprisingly, they also make up the biggest chunk of the island's high season. January to February is the coolest period, perfect for sightseeing, but it's also the most crowded.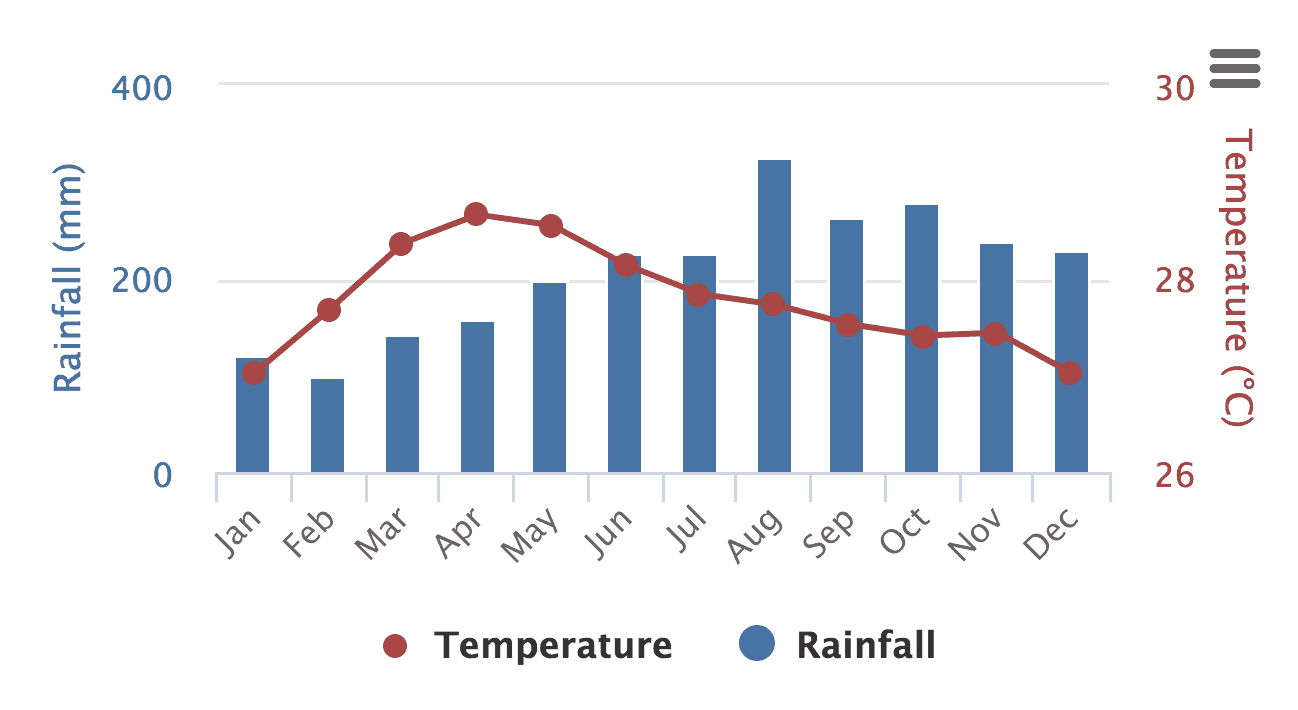 Temperatures begin to rise and the monsoon kicks in mid-May, lasting until October. August-October is the period that catches the most rainfall, so if you can avoid it, do so. November is when the high season begins again.
---
2️⃣0️⃣1️⃣8️⃣ • 6️⃣ • 2️⃣9️⃣