UPDATE: The initial DICT Vaccine Certificate portal has been replaced by VaxCertPH by the Department of Health (DOH). More info about VaxCertPH here: HOW TO GET A DIGITAL VACCINE CERTIFICATE!
If you're traveling to a country that requires the ICV or yellow card or yellow book recognized by the World Health Organization (WHO), here's HOW TO GET AN INTERNATIONAL CERTIFICATE OF VACCINATION!
---
5 July 2021
Good news! The Inter-Agency Task Force for the Management of Emerging Infectious Diseases (IATF-EID) has announced easing of travel restrictions and protocols for fully-vaccinated individuals, who have gone 14 days or more after receiving their second dose of the vaccine against COVID-19.
Fully-vaccinated travelers entering the Philippines no longer need to spend 10 days in hotel quarantine upon arrival. Based on the IATF-EID Resolution 119, the mandatory isolation period for international passengers who have been fully vaccinated (in the Philippines or in any of the so-called "green" countries) has been shortened to only 7 days. The RT-PCR test may be done on the fifth day of stay. (For non-vaccinated travelers, the regular 10-day hotel quarantine still applies.)
Meanwhile, for travels within the Philippines, fully-vaccinated individuals may be required to show their vaccination card or vaccination certificate and no longer need to undergo a swab test, according to Presidential Spokesperson Harry Roque in a statement on 2 July 2021. That said, local government units and private establishments will probably need some time to adjust to this new development. As of this writing, many destinations and resorts continue to require an RT-PCR test even for fully vaccinated visitors. But some LGUs like Baguio City have already caught on.
UPDATE (7 July 2021): DOH Secretary Francisco Duque III says that tourists are again required to present NEGATIVE COVID-19 test when traveling to other provinces.
If you've been fully vaccinated, it's a good idea to have a copy of a vaccination certificate issued by the Department of Information Communication and Technology (DICT). In this post, we'll walk you through the process of securing a Certificate of Vaccination Record online. Here's how!
WHAT'S COVERED IN THIS GUIDE?
1. Visit the Vaccination Record Portal.
You will find it at https://vaxcert.doh.gov.ph.
You'll be greeted by a summary of the steps to complete the process.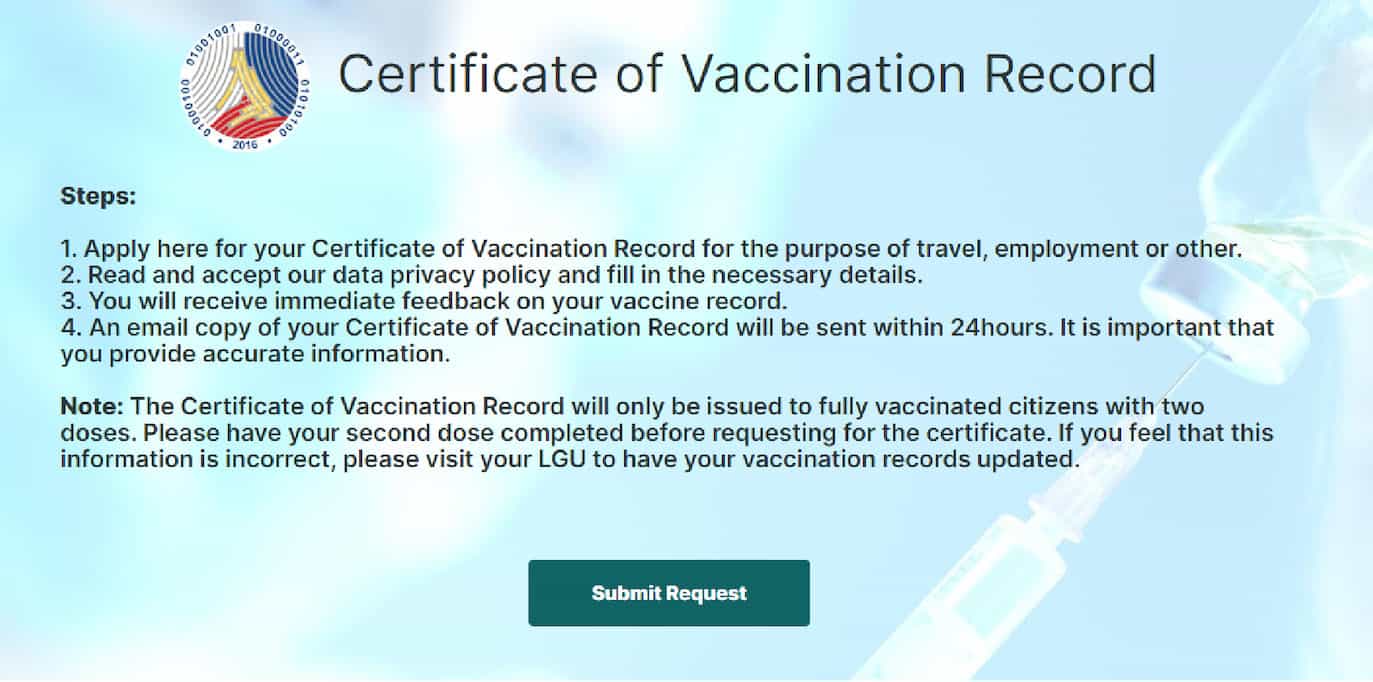 Click SUBMIT REQUEST to get started.
---
2. Read the Data Privacy Policy.
After reading, click ACCEPT to start with the request process.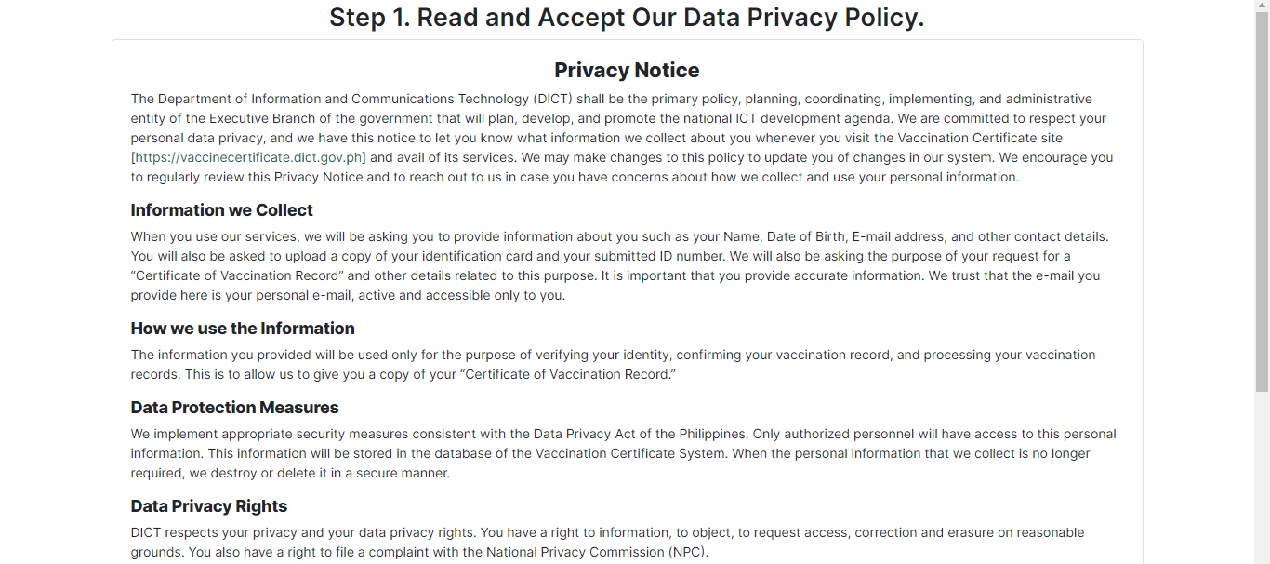 ---
3. Accomplish the Personal Information Form.
Supply the following details:
Purpose — what you need the vaccine certificate for (travel, employment, etc.)
Full name
Date of birth
Email address
Address on vaccine record
Contact number
Make sure you input a valid email address that you can access because this is where the certificate will be sent.
For the Address on Vaccine Record field, you only have to enter the city where you received your vaccine.
Once the details are complete, click VALIDATE.
---
4. Upload a photo of your valid ID.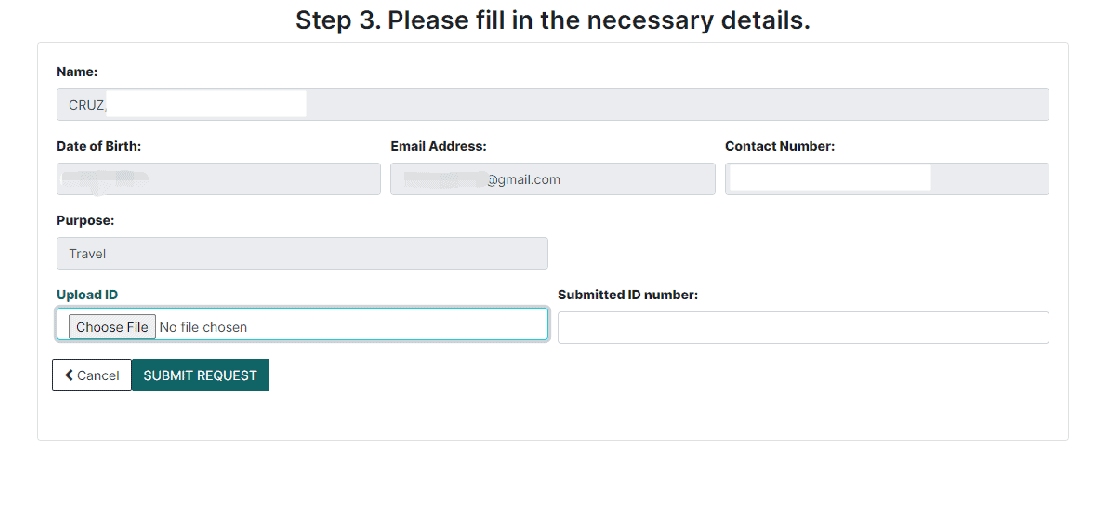 You also need to enter the ID number.
Then, click SUBMIT REQUEST.
---
5. Wait for your vaccine certificate to be sent to your email.

According to the website, you should receive the Certificate of Vaccination Record within 24 hours.
---
FREQUENTLY ASKED QUESTIONS
Who can request a Certificate of Vaccination Record?
The Certificate of Vaccination Record is only issued to fully vaccinated individuals.
You are only considered FULLY VACCINATED if you have gone 14 days or longer after receiving your second dose of a 2-dose vaccine or the only dose of a 1-dose vaccine.
---
Is a Vaccine Record Certificate required when traveling out of the country?
NO. According to this report, "It's not mandatory and will apply only to those who want a shortened quarantine upon their return." Official channels previously announced this as mandatory by mistake but this has since been clarified. (Special thanks to Al D. for the tip!)
---
Something is incorrect in my certificate. How do I change it?
Have your vaccination records updated via your local government unit.
---