2020 • 12 • 14
Like in many destinations in the Philippines, travel restrictions in Coron have been eased after months of lockdown due to the COVID-19 pandemic. On December 1, 2020, this beautiful Palawan destination reopened its doors to tourists.
Popular tourist spots like the Twin Lagoon and Maquinit Hot Spring can now be visited again. But to ensure the health and safety of the public, the local government is strictly enforcing health and safety protocols. The LGU also has a list of requirements that all tourists must present to be allowed entry.
If you are planning to head to Coron, here are the things you need to prepare and other things you need to know.
WHAT'S COVERED IN THIS GUIDE?
List of Coron Travel Requirements
1. Negative RT PCR test
All tourists must secure a Negative RT-PCR test result conducted 48-72 hours before their flight.
The test must be done by a DOH-accredited COVID-19 testing laboratory.
2. Confirmed booking with an accredited hotel or resort
You must have a copy of your confirmed booking at an accommodation with a Certificate of Authority to Operate (CAO) from the Department of Tourism (DOT) or a confirmation letter from the hotel or resort.
Here are just a few of the many properties on the list:
MORE OPTIONS HERE: ACCREDITED CORON HOTELS!
3. Confirmed tour itinerary from an accredited tour operator
You should have a copy of your tour itinerary or confirmation letter from a DOT-accredited tour operator.
You can find the list here: ACCREDITED CORON TOUR OPERATORS!
4. Confirmed roundtrip tickets
Cebu Pacific and Philippine Airlines have direct flights to Busuanga Airport (Francisco B. Reyes Airport), which is the gateway to Coron.
Booking has to be round trip.
5. Coron QR code
The QR code will serve as your pass upon entry and while you're in Coron. To get a QR code, first, you need to register.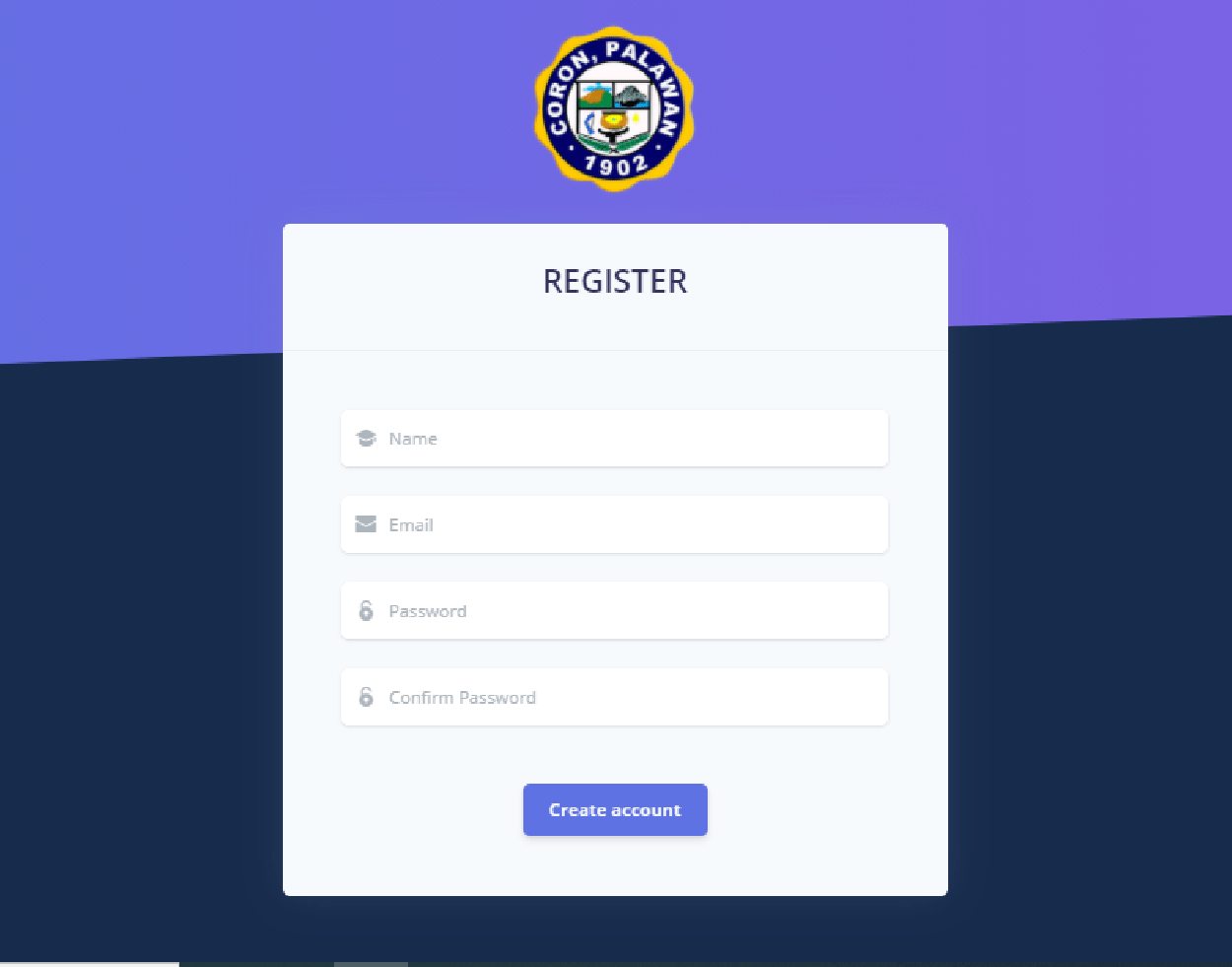 Here's how:
Enter your complete name, email address, and password then click create account.
Fill out the Health Declaration Form. You need to provide your personal details, flight information, accommodation, and tour provider.
Upload your negative RT-PCR test result taken 48-72 hours before your flight and the official receipt.
Upload your confirmed accommodation booking, confirmed tour itinerary, and round trip ticket.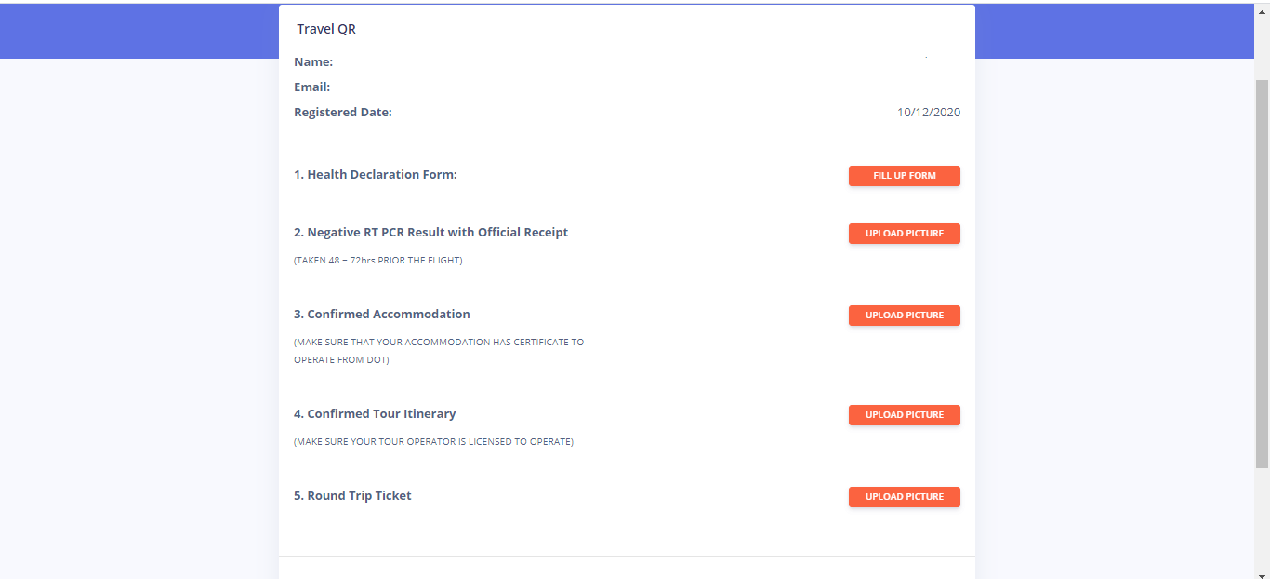 Once you've filled out the health declaration form and uploaded all the required documents, you will get your Coron QR Code. Print the QR code and save another copy on your mobile device.
6. Traze App
Traze is a contact tracing app for unified and automated contact tracing. This is required by the government for all passengers arriving or departing from any airport in the Philippines.
Download the app on your mobile device before going to the airport. You may check our post for more details here: HOW TO DOWNLOAD & USE THE TRAZE APP!
---
Arrival Protocol
1. Undergo Health Assessment.
Upon arrival, all tourists must proceed to the triage area of Busuanga Airport (Francisco Reyes Airport).
If exhibiting symptoms, antigen testing will be required. The cost of the antigen test amounting to Php 3,500 shall be paid by the tourist.
If you tested positive, you will be sent to the isolation room of your booked hotel or the local government identified center for COVID-19 positives.
If the test is negative, you may continue and enter the island.
2. Coordinate with the front desk clerk at your hotel.
Limited movement is strictly enforced in Coron and because of this, wandering around the town is not allowed.
You must coordinate your itinerary with the front desk clerk at your hotel so they may work with your touring agency. They will also arrange your transportation for you.
Every movement must be logged for contact tracing purposes.
---
Frequently Asked Questions (FAQs)
Who are allowed to travel to Coron?
Filipino citizens and foreign residents in the Philippines aged 15-65 years old are allowed to travel to Coron.
Are leisure tours allowed?
Yes, but all tours must be pre-arranged with a DOT accredited tour operator.
Are there available public transportation options?
If you need transportation while in Coron, coordinate with your hotel so they can arrange it for you.
Keep in mind that vehicles are at 50% capacity, and physical distancing is a must.
Wearing of a face mask and face shield is also mandatory.
Do restaurants allow dine in?
Yes, however, they have at 50% capacity, which is why prior reservations are recommended.
There's also a 10pm curfew for restaurants, and health protocols must be observed.
Is there a limited capacity for tours?
Yes, boats and destinations both operate on a 50% capacity. Health protocols must be observed as well.
What if a tourist starts to manifest symptoms of COVID-19 while in Coron?
If you start to manifest symptoms of COVID-19, you must have an assessment at the Municipal Health Office. You will be required to get a Sofia Antigen Test. The Php 3500 fee will be at your expense. You will also stay at a designated hotel for COVID-19 positives.
If you develop severe symptoms of COVID-19, you will be sent to Culion General Sanitarium for Medication. All medical and accommodation bills related to COVID-19 while in the municipality of Coron or Culion are to be shouldered by the tourist.
What is the protocol when leaving Coron?
On the day of your departure in Coron, you must go directly to the airport from your hotel. Stopovers are not allowed.
You should also prepare the required documents for entry to your next destination.
---