Our team had been to Thailand many times. Yet, it still has its distinct character that elicits excitement when I think about visiting again. For one, I love Thai food — all the signature dishes like Pad Thai, Tom Yum, Khao Pad, Pad See Eiw, and Som Tam among others. And the street food scene and night or weekend markets? They sure know the name of the game. Secondly, I am always amazed at the beautiful and intricately designed structures, both modern and historic sites. It always feels good to be back. But this time, our team went to explore the northernmost province of Thailand — Chiang Rai.
WHAT'S COVERED IN THIS GUIDE?
Understanding Chiang Rai
Located on the northern tip of Thailand, Chiang Rai province is the area in Thailand which is part of the popularly known area where three countries converge — the Golden Triangle. At the junction of the Ruak River and Mekong River, the borders of Thailand, Laos, and Myanmar (formerly Burma) meet. Particularly, Chiang Rai shares borders with Myanmar (Shan State) to the north, Laos (Bokeo Province) to the east, Chiang Mai province to the west, Phayao province to the south, and Lampang province to the southwest. The capital city/town shares the same name as the province, Chiang Rai.
Chiang Rai used to be a part of the Lanna Kingdom. In 1262, King Meng Rai made it the first capital of the Lanna Kingdom. "Chiang" means city in Thai, so Chiang Rai literally means City of (King) Rai. The capital was then changed to Chiang Mai (New City) and since then, it has become the economic and tourism hub of Northern Thailand. Chiang Rai is more laidback compared to the neighboring Chiang Mai, but it has it possesses a distinct character brought about by the presence of several ethnic groups, including the hill tribes. There are a lot of temples and museums, showcasing the customs and tradition.
Aside from the peculiar indigenous culture and antiquities, Chiang Rai boasts its countryside and mountainous region. A majority of the tourists coming to Chiang Rai head to the mountains for trekking, nature tripping, trail running, chasing waterfalls, dipping in hot springs, and finding good viewpoints among others.
Here are other facts you need to know:
Language: Thai and Kham Muang. Aside from the Thai language, Kham Muang is also widely spoken, particularly by the majority of the ethnic population in Chiang Rai. It is closely related to Lao/Laotian, but more on Central Thai. Compared to Central Thai, the people of Chiang Rai (and Northern Thailand in particular) speak relatively slower or unhurried.
Currency: Thai Baht (THB, ฿). THB100 is roughly USD 3, EUR 2.9, SGD 4.5, PHP 170 (as of August 2019).

Modes of payment: Cash. Some restaurants and hotels accept credit card transactions, but smaller establishments prefer cash.

ATMs: There are many ATMs in Chiang Rai, but most of them are concentrated in the capital — Chiang Rai City. ATMs are located in front of the banks, commercial complexes, and even inside 7/11 stores.
Electricity Info: 220V AC electricity. Most of the sockets have two holes that can accommodate both flat and round pins. Compatible plugs are Type A, C, and F.
---
How to Get to Chiang Rai
From Manila
From Manila, there's no direct flight to Chiang Rai. Bangkok will be your jump-off point. Many airline companies are flying the Manila-Bangkok route. You will either arrive at Suvarnabhumi Airport (BKK) or Don Mueang Airport (DMK). The former (BKK) is the newer and bigger airport and serves most international flights, both long-haul and short-haul. It also handles domestic flights. PAL and Cebu Pac flights land here. The latter (DMK) also handles international flights but the majority is domestic. This is also the hub of low-cost carriers. If you are flying via Air Asia, you will most likely land here.
If you want to spend a day or two in Bangkok before going to Chiang Rai, you must give an allowance of one to two hours travel time to the city center as rush hour traffic is notorious. If you are traveling between these two airports for a connecting or transfer flight, you must note that the two airports are very far from each other. Allot 45 minutes to two hours (depending on the time and traffic condition) travel time.
From Bangkok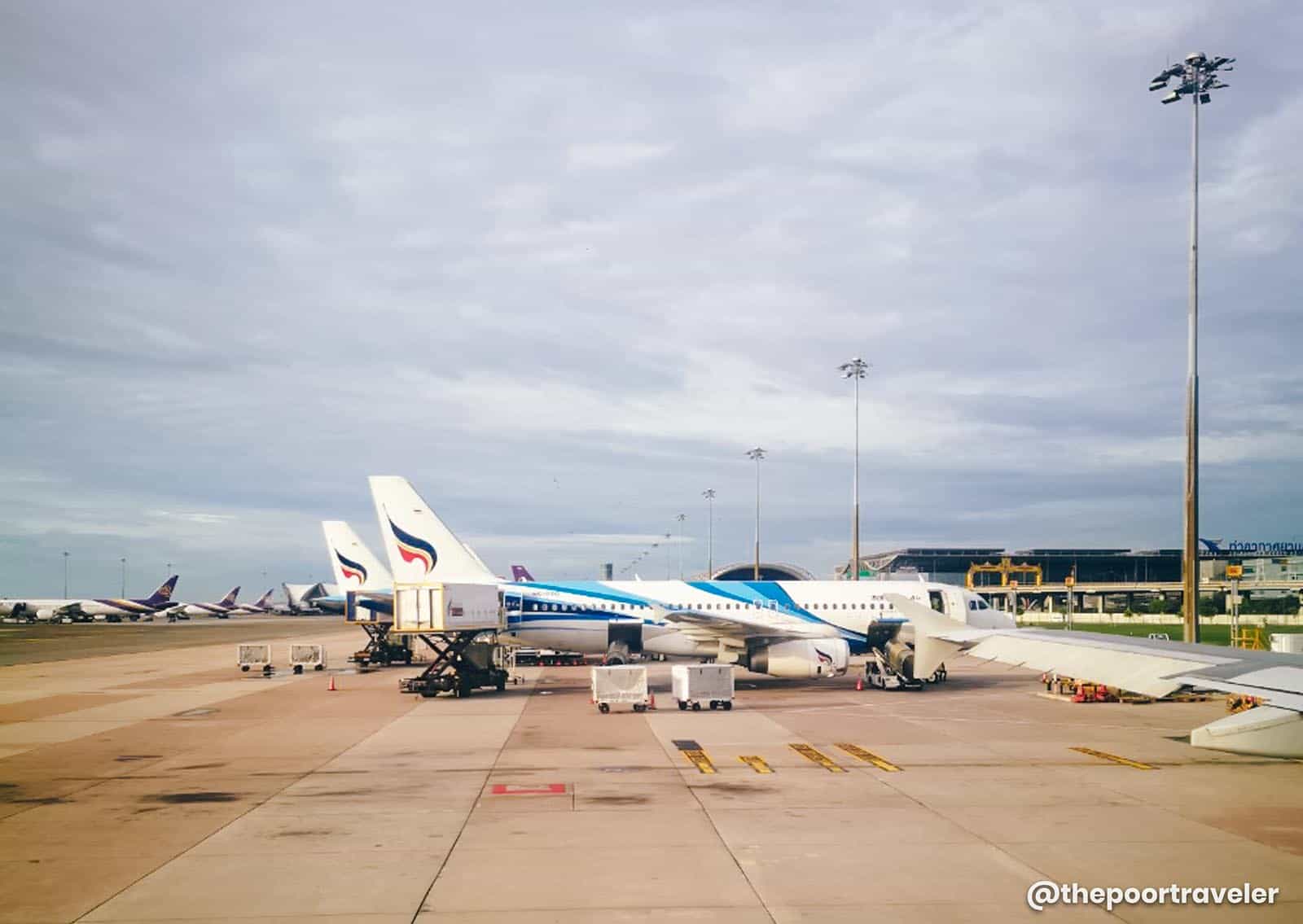 Bangkok is one of the transportation and tourism hubs in Southeast Asia. Most tourists, particularly backpackers choose the capital city as their set-off point to other parts of Thailand and even the neighboring countries. Chiang Rai is over 800km north of Bangkok. From the capital, you can reach Chiang Rai by plane, by bus, and by train. We have a detailed post about this here, How to Get to Chiang Rai from Bangkok, but here's a summary.
BY AIR
The fastest and most convenient option. You might even score cheap flights, which makes this even more appealing to some. The primary gateway to Chiang Rai by air is Mae Fah Luang International Airport (CEI), formerly named Chiang Rai International Airport. Although located in the capital, Chiang Rai City, it will take you 15-20 minutes to reach the city center as the airport is located about 8km from there.
Many airline companies offer the Bangkok-Chiang Rai route, connecting it to either Suvarnabhumi Airport (BKK) or Don Mueang Airport. One of the established and reliable airlines is Bangkok Airways, a Skytrax awardee for 2019 Best Regional Airline not only in Thailand but also in Asia. The reflected fare is inclusive of in-flight meal/snack and free 20kg baggage allowance. If you are flying Bangkok Airways, your point of departure is Suvarnabhumi Airport (BKK). The flight duration is 1-1.5 hours.
BY BUS
The cheaper option but takes longer travel time. In Chiang Rai City, there are two bus terminal: the old one called Bus Terminal 1 and the new one called Bus Terminal 2. Bus Terminal 1 is located in the city center, near the Night Bazaar. Bus Terminal 2 is located 7km from the city center. If you are coming from Bangkok, your bus will most likely terminate at Terminal 2. Some buses make a stop here first, then terminate at Bus Terminal 1.
From Bangkok, go to Mo Chit Bus Terminal (Northern Bus Terminal), near Chatuchak Market. The nearest BTS Station is the Mo Chit Station.
At the Mo Chit Bus Terminal's departure section, purchase your ticket. The fare ranges from THB 400 to THB 900, depending on the type of bus and season. During high season (November-May), it is highly advised to purchase in advance. For convenience, you may also book online via 12Go, where you can compare the fares of the different bus companies offering the route.
Board your bus and alight at either Chiang Rai Bus Terminal 1 or 2. The travel time is 10-12 hours for the overnight bus and 12-14 hours for the day bus. Most travelers choose the night bus to save money and time. If you want to see the scenic drive, you may choose the day bus. It's up to you.
BY TRAIN
There's no railway directly linking Chiang Rai to Bangkok. The nearest station is located in Chiang Mai or Lampang. You may check State Railway of Thailand for the fares and schedule.
From Bangkok to Chiang Mai, the train ride will take 11-13 hours, depending on the type of train. Then from Chiang Mai, you need to board a bus to Chiang Rai. The bus ride takes 2-4 hours. Train fare: THB 120-600. Bus fare: THB 300.
From Bangkok to Lampang Station, the train ride will take 9-11 hours, depending on the train type. Then from there, board a bus to Chiang Rai. The bus ride takes 3-5 hours. Train fare: THB 100-500. Bus fare: Around THB 400.
---
From Chiang Mai
Chiang Mai is a neighboring province of Chiang Rai. It is the economic and cultural hub of Northern Thailand. In terms of tourist volume, Chiang Mai by far busier as the economy is mainly driven by tourism. Although Chiang Rai is slowly gaining the attention of tourists, it is still pretty much laidback compared to Chiang Mai. Most of Chiang Rai's visitors are coming from Chiang Mai, usually on a day tour. Some of the ways you can reach Chiang Rai from Chiang Mai are by bus, private transfer or tour package. There's no railway system connecting these two points. We also have a detailed post about this here, How to Get to Chiang Rai from Chiang Mai. Here's a quick rundown.
BY BUS
Go to Arcade Bus Station on the eastern end of Kaew Nawarat Road, 3km from Chiang Mai City center. Note that there are three bus terminals in Chiang Mai City. You need to go to Bus Terminal 2 and 3, collectively called Arcade Bus Station/Terminal. These two are located across each other.
Purchase your ticket. The most reliable and popular bus company among tourists is the Greenbus. It's ticket counter/office is at Bus Terminal 3.
Get your queue number and wait for your turn. When your number is called, go to the ticket counter and purchase your ticket. The fare ranges from THB 130 to THB 300, depending on the type of bus — Express or VIP. Rates may vary depending on the season. It's best to book in advance online during high season. 12Go is the most trusted booking site.
Get on your bus and alight at either Chiang Rai Bus Terminal 1 or 2. The travel time is 2-4 hours, depending on the season and traffic condition.
BY PRIVATE TRANSFER
Others choose to book a private transfer between Chiang Mai and Chiang Rai. This might be more convenient for those traveling as a group. Klook is offering a private transfer package that includes door-to-door hotel transfer, and a professional English-speaking driver. You can choose between a car or a van.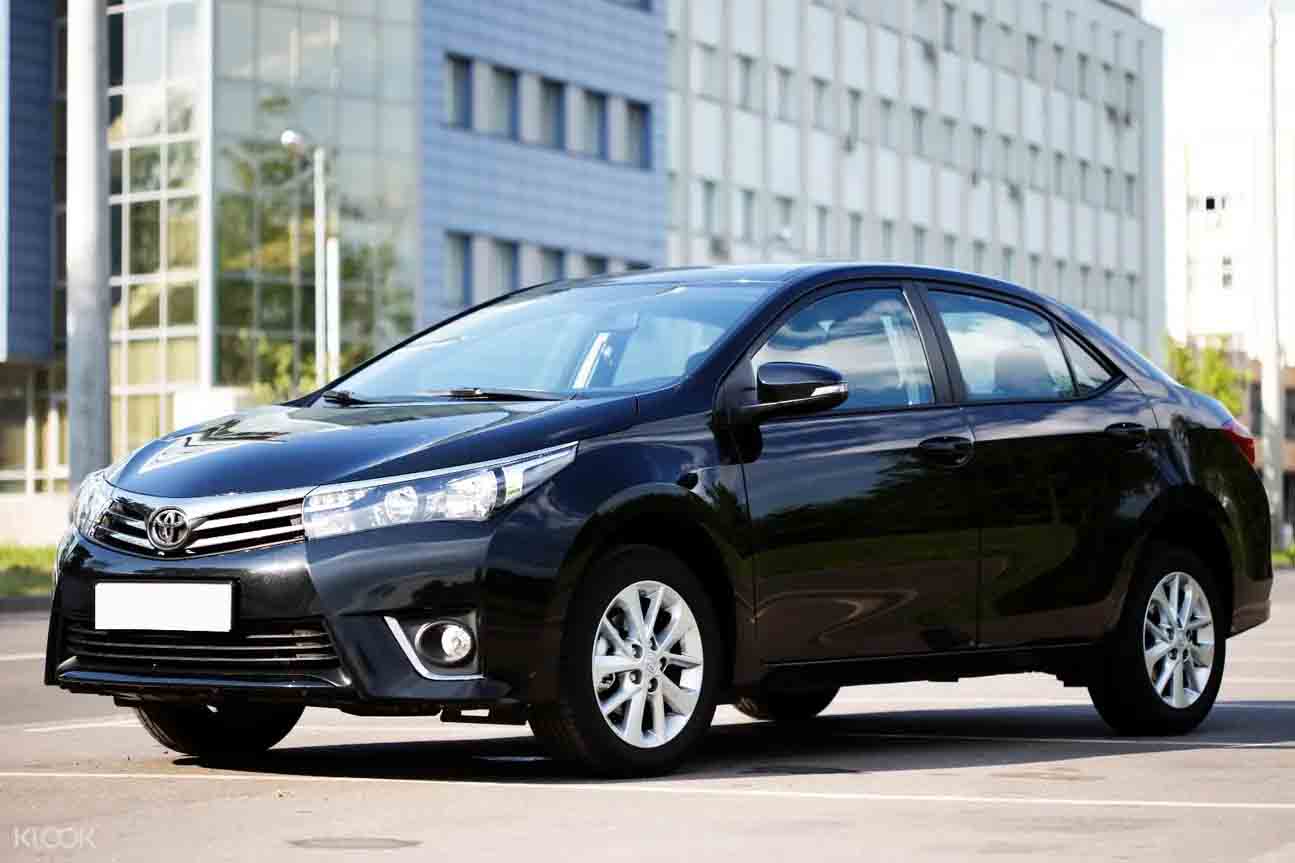 ✅ BOOK PRIVATE TRANSFER BETWEEN CHIANG RAI AND CHIANG MAI HERE
BY TOUR PACKAGE
There are tour operators and travel agencies in Chiang Mai that offer a day tour to Chiang Rai. You may join a group or book a private tour. Klook also curates tours to Chiang Rai from Chiang Mai. The itineraries usually include the Golden Triangle, White Temple, Blue Temple, and Black House. Most of the packages are inclusive of lunch. Klook usually gives discounted rates.
---
Chiang Rai Airport to City Center
Although located in the capital city, Mae Fah Luang-Chiang Rai International Airport is still 8km away from the city center. The good news is that Airport Buses/Shuttles are now available. Launched October 2018, this made Chiang Rai more accessible. Other modes of transportation are pre-paid taxi, meter taxi, and private car rental.
Airport Bus. This is the cheapest option. After Arrivals Exit, turn to the left. You will see directional signs pointing you to the boarding platform. The route runs between the airport and Chiang Rai Bus Terminal 2. It covers these stops: King Meng Rai Monument, the Night Bazaar, Chiang Rai Bus Terminal 1, Central Plaza, and finally, Chiang Rai Bus Terminal 2. The fare is fixed at THB 20. It starts operation at 6:00 AM and ends at 11:30 PM.
Pre-paid Taxi. This is similar to fixed-rate taxis in the Philippines. The fare to the city center from the airport is THB 200.
Meter Taxi. The meter-taxi station is located just outside of the Arrivals exit. Turn to the left as you exit. Sometimes, they will refuse to use the meter and just give you an amount. Insist on using the meter. If they won't budge, just find another taxi. The fare to the city center is THB 120-150.
Private Car Transfer. The car rental counters are located on the first floor, just across the Domestic and International Arrival Area. Klook also offers private airport transfer to your hotel. This is already inclusive of a professional driver. This is a possible option for those who have a lot of luggage or for those with seniors and kids.

✅ BOOK PRIVATE AIRPORT TRANSFER HERE
---
Where to Stay in Chiang Rai
Chiang Rai is often passed by tourists crossing borders to either Laos or Myanmar from Chiang Mai. But for those who made time to explore the province, they are rewarded with best-kept natural and cultural treasures that are similar to other neighboring provinces in northern Thailand but still unique to Chiang Rai.
Aside from the capital Chiang Rai City, here are some of the towns/districts that tourists prefer as their base, depending on their itinerary and interests.
Chiang Rai City. The largest city in Northern Thailand. As the capital, you will find many commercial establishments and shops here. There are temples aplenty too. This is the usual set-off point for day trips to other parts of the province as well as to neighboring countries Laos and Myanmar. The iconic White Temple is located here.
Chiang Khong. Some tourists heading further to Laos choose Chiang Khong as a base. It also has many accommodation options as tourists used to flock here as a stopover before boarding a ferry to Laos. The Friendship Bridge built across the Mekong River, connecting Chiang Khong to Huay Xai town in the province of Bokeo in Laos, paved a new route between Thailand and Laos. At present, the ferry service to Laos is halted.
Mae Sai. This is the northernmost town/city of Thailand. Other tourists do day trips and spend a night in Mae Sai before crossing the border to Myanmar.
Mae Salong. Officially called Santikhiri, Mae Salong is known for its hills, valleys, and tea plantations. Trekking, cycling, and nature-tripping are the usual activities here. The most prominent tea plantation is the Wang Put Tan, offering a picturesque view of the plantation and the hills.
Note: The town or district nearest to the Golden Triangle is Chiang Saen, situated between Mae Sai and Chiang Khong.
For this guide, we will just choose Chiang Rai City as the base. So here are the top budget hotels and hostels as rated by Agoda users.
Top Budget Hotels in Chiang Rai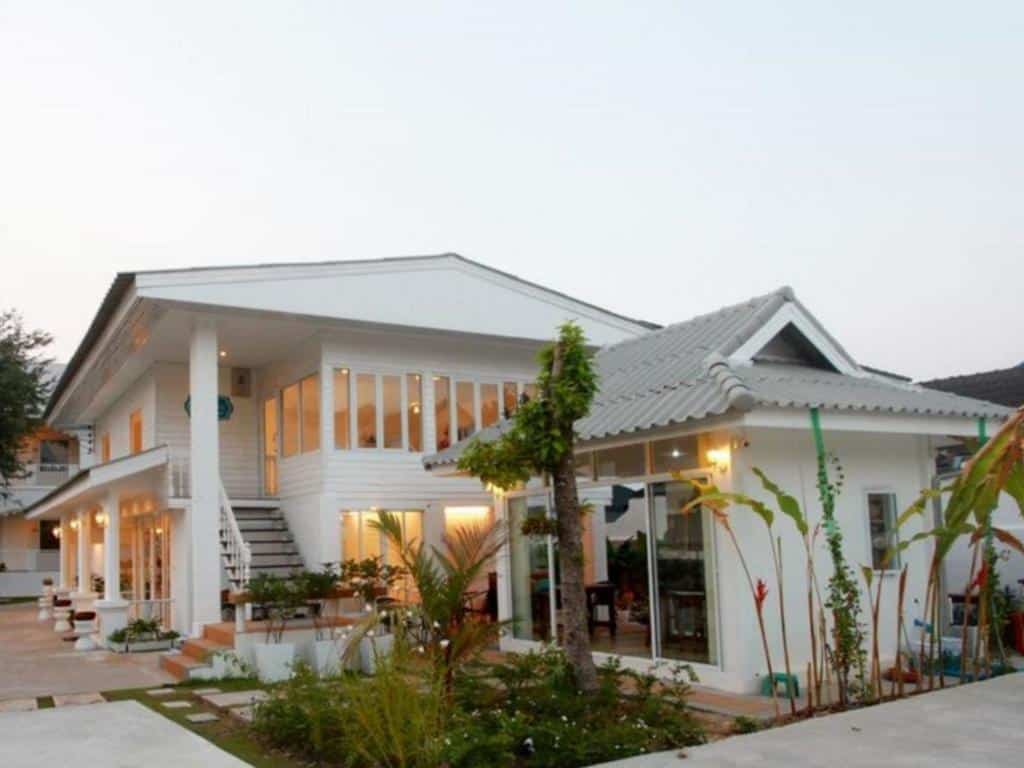 ---
Top Budget Hostels in Chiang Rai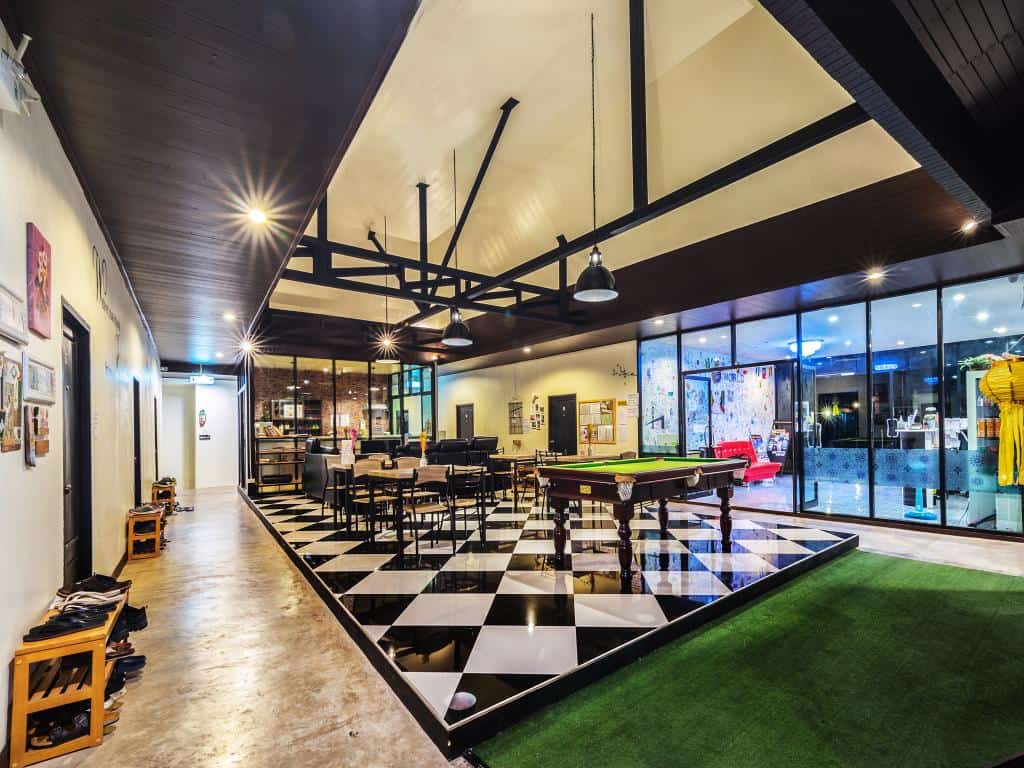 Mercy Hostel. ✅ Check Rates & Availability!
Tong Siam. ✅ Check Rates & Availability!
Busket Hostel. ✅ Check Rates & Availability!
Spinomad Hostel. ✅ Check Rates & Availability!
Grace Hostel. ✅ Check Rates & Availability!
---
Getting Around Chiang Rai
Chiang Rai is still in the process of developing and keeping up in terms of tourist-friendly amenities and services. Although there are various modes of transportation available, they are not as plentiful as those of Chiang Mai. This is more challenging as you move away from the city center. You must plan your trip well, so you will determine which option to take. Here are some of them:
Tuk-tuk or Samlor. Thailand's iconic tuk-tuk is a three-wheeled motorized rickshaw, while samlor is a three-wheeled manual cycle rickshaw. This may be a convenient and cheaper option for short-distance travel. The minimum fare per person is around THB 30.
Songthaews. Songthaews is another public transportation in Chiang Rai. It is a covered pickup truck taxi, much like the Philippines' jeepney. The minimum fare per person is around THB 20.
Walking. You can explore the city center by walking too. This is good if you just want to see the morning or night market, buy some souvenirs or do a food walk/tour.
Taxi. Taxis are available but might not be practical.
Motorcycle or Bicycle. Some tourists rent bicycles or motorcycles. Note that Chiang Rai's roads and terrain are quite hilly. This option is for those who have the stamina and up for the challenge; otherwise, this can be good for a leisurely ride around small towns.
Private Car/Van. Some even choose to rent or book a private car, especially if they are traveling as a group. You may drive the car/van or you may book one with a driver. Some of the famous sites and landmarks in Chiang Rai can be somewhat far from each other, so others find this option more sensible.
Booking Tours. This is currently the most popular option among tourists in Chiang Rai. By joining a group tour or booking a private group tour, you will have in-depth knowledge about the place because you will be accompanied by a tour guide. The package usually includes a charter vehicle, hotel pick up and drop off in Chiang Rai, and lunch.
---
Internet Connection in Chiang Rai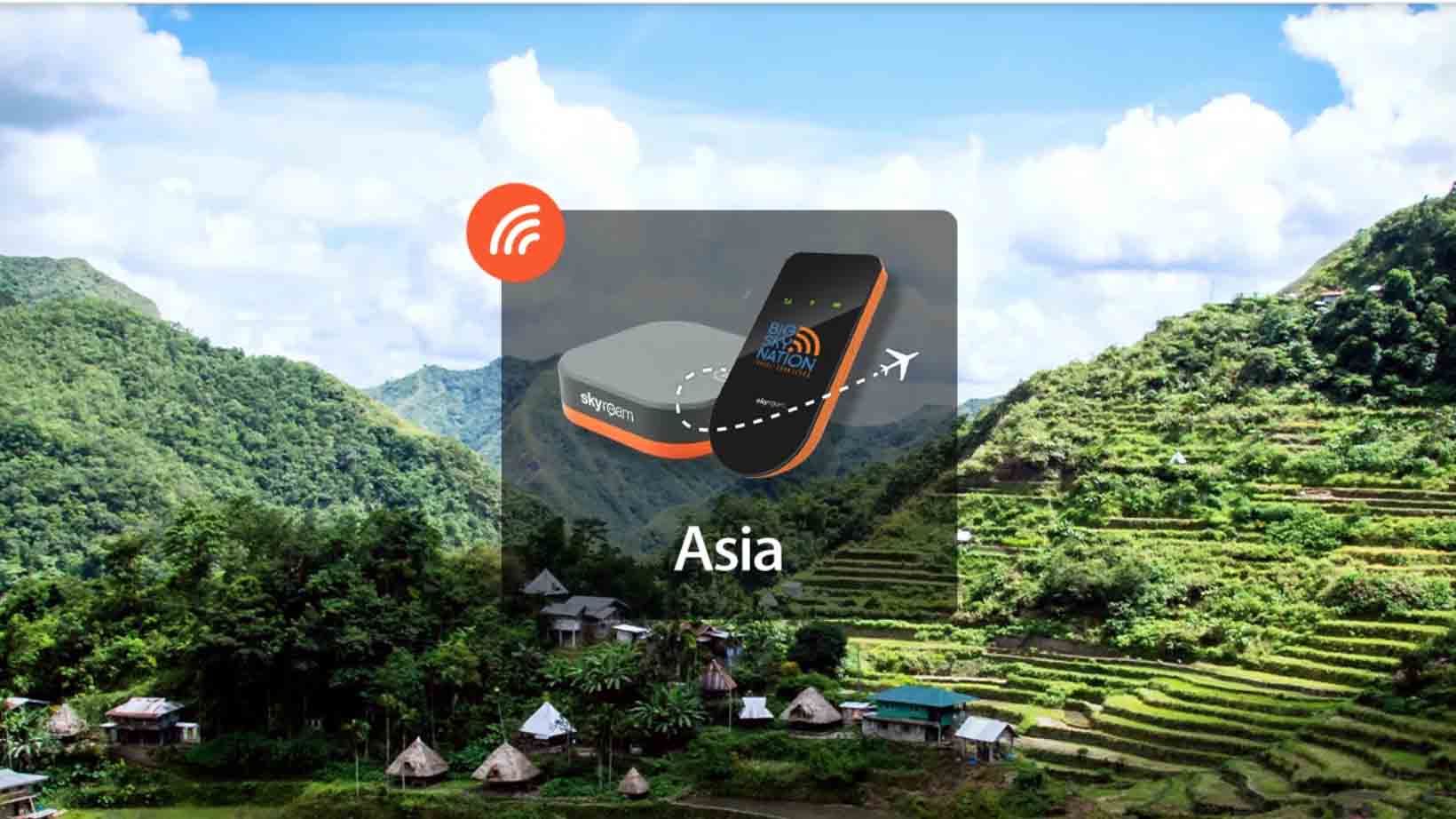 Most hotels in Chiang Rai have good internet service. But if you want to stay connected while touring around, you can either get a local SIM card or a pocket WiFI.
Local SIM. This is the cheaper option. But some phones (like mine) do not accept other networks' SIM, so this won't work for you. For those carrying open-line phones, you can take this option.
Pocket WiFi. This is reasonable if you are a group and will connect multiple devices.
Klook has plenty of options for SIM card and Pocket Wifi rental. You may choose to pick them up at Suvarnabhumi Airport (BKK) or Don Mueang Airport (DMK). If you are from Manila and want to rent a Pocket WiFi, you can have it delivered to your house or pick it up at the airport (NAIA 1 or 2).
✅ RESERVE A DATA SIM HERE
✅ RESERVE A POCKET WIFI HERE
---
Places to Visit in Chiang Rai
Wat Rong Khun (White Temple)
The iconic temple is one of the famous landmarks in Chiang Rai. It is privately-owned by the Thai artist, Chalermchai Kositpipat, who solely conceptualized the design, inspired by death and rebirth, hence the white color. Aside from the very sophisticated design, one notable material used throughout the temple are mirrors.
It was opened to the public in 1997 and has been a significant structure that captured the reverence of the locals and the hearts of those who laid eyes on it. Better known as the White Temple, it is just one of the several buildings in the complex. The whole complex is still a work-in-progress. Locals are donating to help fund the project.
Admission Fee: THB 50
Opening Hours: 6:30 AM – 6:00 PM (Note that schedule varies and may change, but this is the usual operating time.)
Address: Pa O Don Chai, อำเภอเ มือง, Chiang Rai 57000, Thailand
Distance from the city center: About 13 kilometers (20-30 minutes travel duration).
---
Wat Rong Seur Ten (Blue Temple)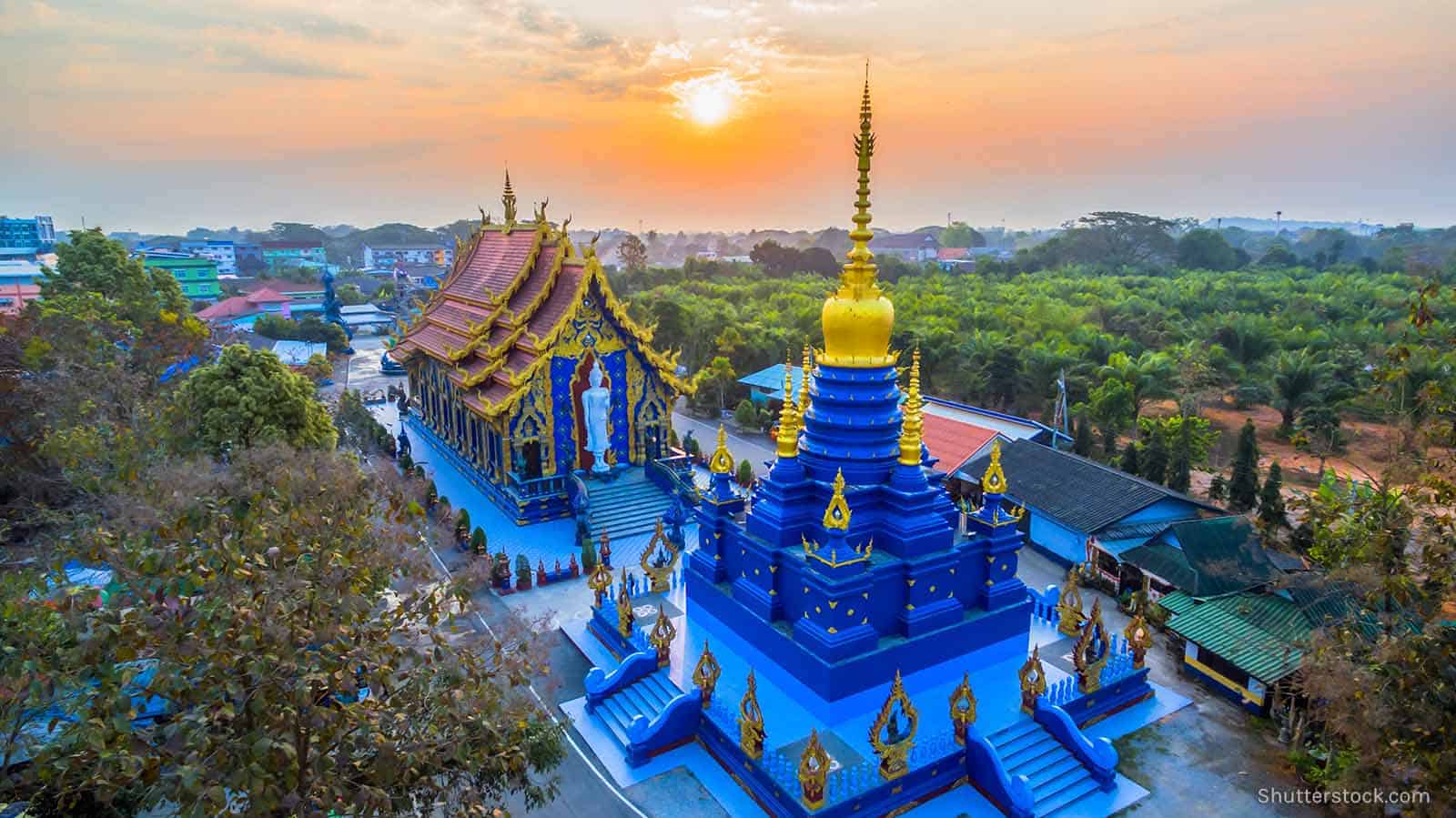 Another remarkable colored temple in Chiang Rai! This one is relatively new, completed in 2016. The entrance gate is guarded by huge intricately stunning statues, followed by a beautiful fountain just outside the temple entrance. Aside from the blue color, the temple is also accented with gold-colored paint, making it more dreamy. The interior is impressive, painted also in blue with other embellishments and decorations. But the dominant structure is the pure-white statue of Buddha.
Admission Fee: FREE
Opening Hours: 6:00 AM – 7:00 PM
Address: หมู่ที่ 2 306 Maekok Rd, Mueang Chiang Rai District, Chiang Rai 57100, Thailand
Distance from the city center: Under 3 kilometers (8-10 minutes travel duration).
---
Baan Dam (Black House)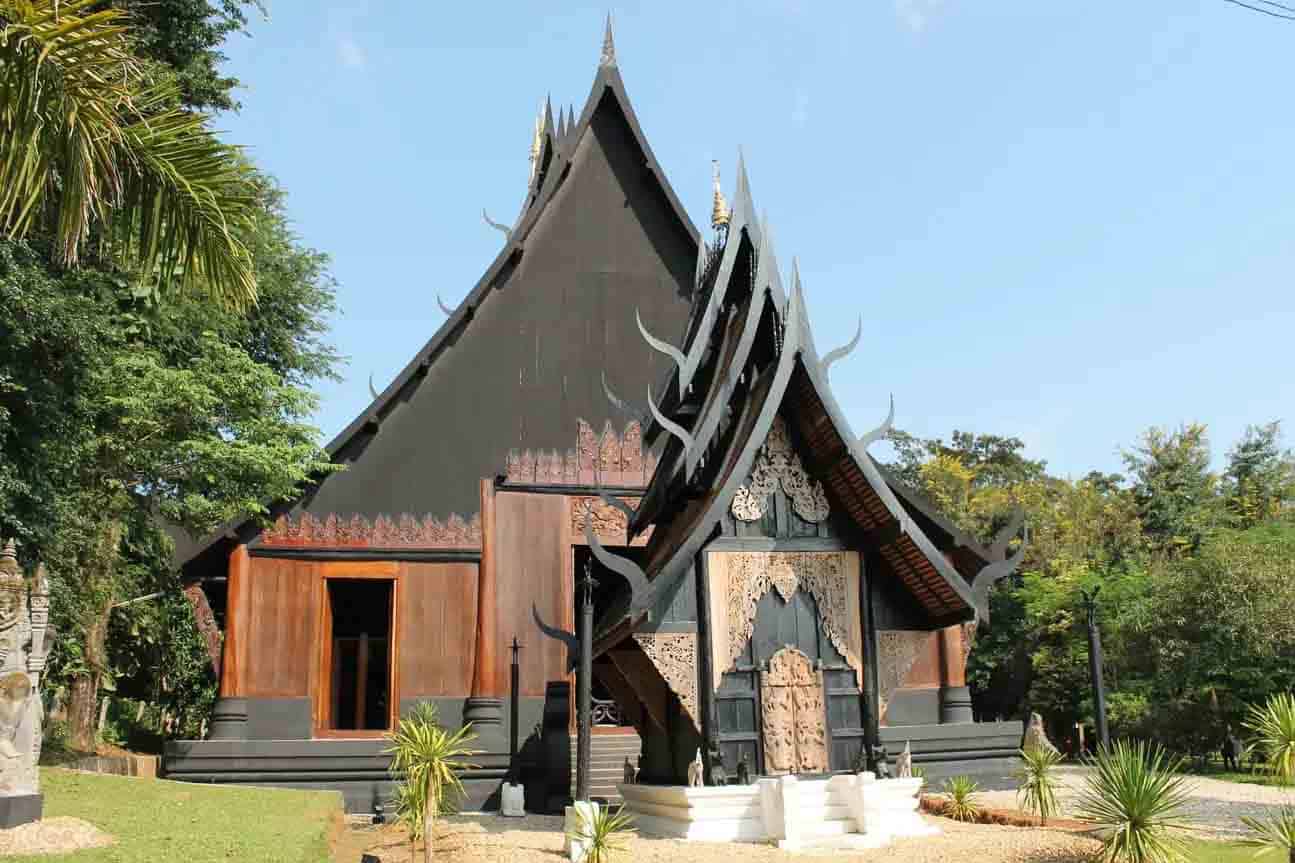 The Baan Dam Museum, also known as the Black House, is a museum complex that showcases 40 buildings with many dark art pieces that go together with the theme of the museum — darkness in humanity and other Buddhist concepts. This is established by another prominent Thai artist — national artist Thawan Duchanee. All structures and buildings inside the museum complex are black (or dark in color) with other color accents like red. All the artworks breathe Northern Thai culture and style.
Admission Fee: THB 80
Opening Hours: 9:00 AM – 5:00 PM (closed, 12:00 AM – 1:00 PM)
Address: 333​ หมู่ 13 พิพิธภัณฑ์บ้านดำ Nang Lae, อำเภอเมือง Chiang Rai 57100, Thailand
Distance from the city center: Under 12 kilometers (20-30 minutes travel duration)
If you don't want to think much about figuring out how to get to one point to the next, how much is the fare or negotiating the fare, and the trip schedule, you can just join a guided Chiang Rai City tour. A full-day tour has an English-speaking guide, transfers, and lunch. The attractions included are White Temple, Blue Temple, Black House, and Singha Park. If you are pressed for time, you can take a half-day tour which has the same stops except for the Singha Park. Klook offers both full-day and half-day tours.
✅ BOOK CHIANG RAI CITY FULL-DAY TOUR HERE
✅ BOOK CHIANG RAI CITY HALF-DAY TOUR HERE
---
Golden Triangle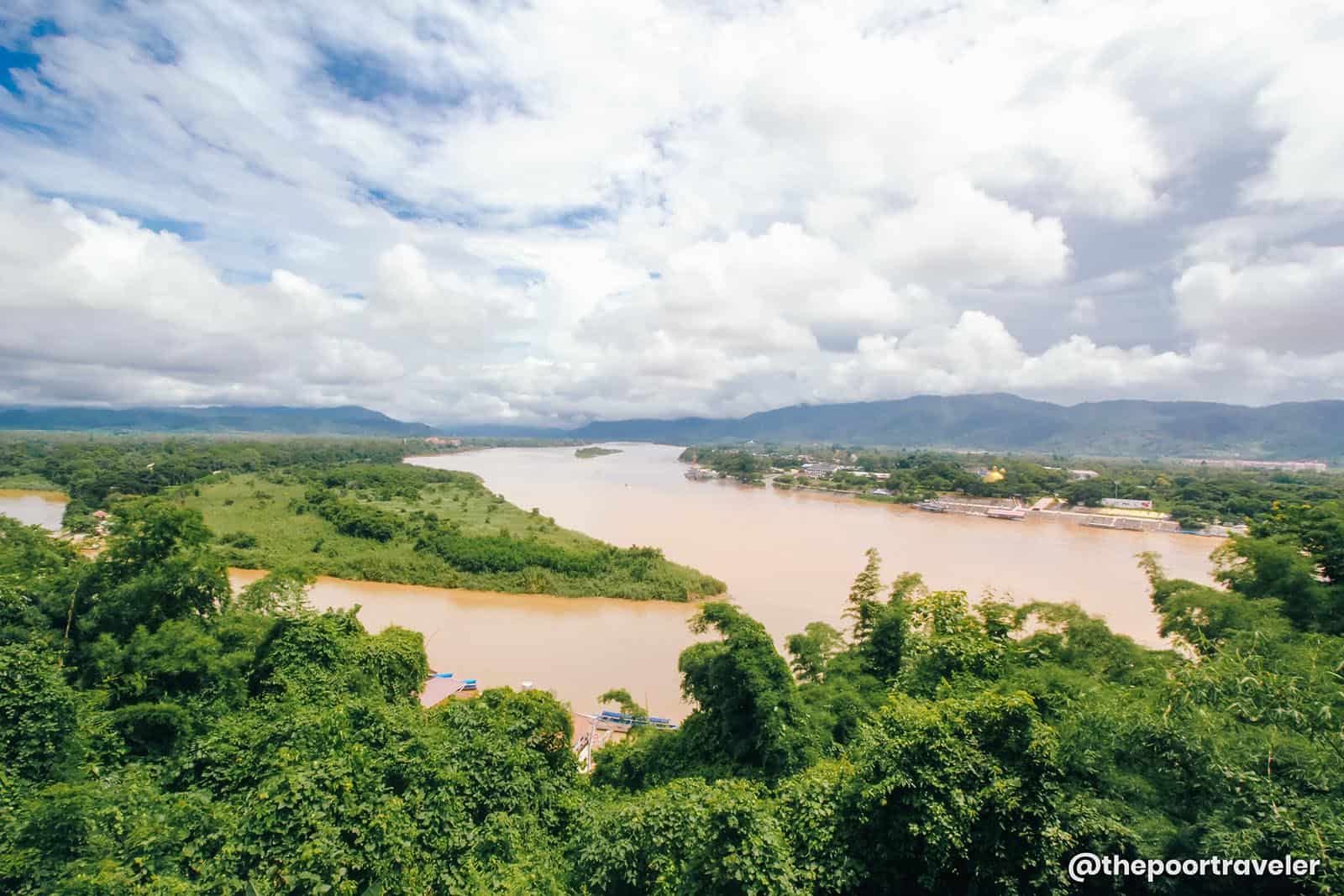 Locally known as Sop Ruak, the Golden Triangle is the point where the borders of three countries — Thailand, Laos, and Myanmar — meet at the junction of the Mekong River and the Ruak River. Some people have the misconception that Thailand's side of the Golden Triangle is found in Chiang Mai, but it's actually located in Chiang Rai.
Chiang Saen is the town/district nearest the Golden Triangle. From here, you can view the confluence of the two rivers and the banks of Laos and Myanmar. The area has a park, making it noticeable from the road. The Golden Triangle Park has a giant golden Buddha, giant elephant statues, and various shops. Other things to do here are:
Longtail Boat Cruise. You can go on a boat cruise along Mekong River or ride a longtail boat to Don Sao in Laos to check out the market there.
Wat Phra That Pu Khao. This is an ancient hill temple near the Mekong and Golden Triangle in Chiang Saen. It is said to date back to the 8th century. There are also shops here and a viewpoint of the Golden Triangle just before you climb up the stone stairs with two large serpent statues.
Admission Fee: FREE
Opening Hours: 24 hours
Distance from the city center: About 70 kilometers (1.5-2 hours travel duration)
If you are staying in Chang Mai but want to visit Chiang Rai for a day, one convenient option is to book a tour inclusive of the Golden Triangle, White Temple, and Black House. Klook is offering this tour with English-speaking guide and professional driver.
✅ BOOK CHIANG RAI DAY TOUR FROM CHIANG MAI HERE
---
Chiang Khong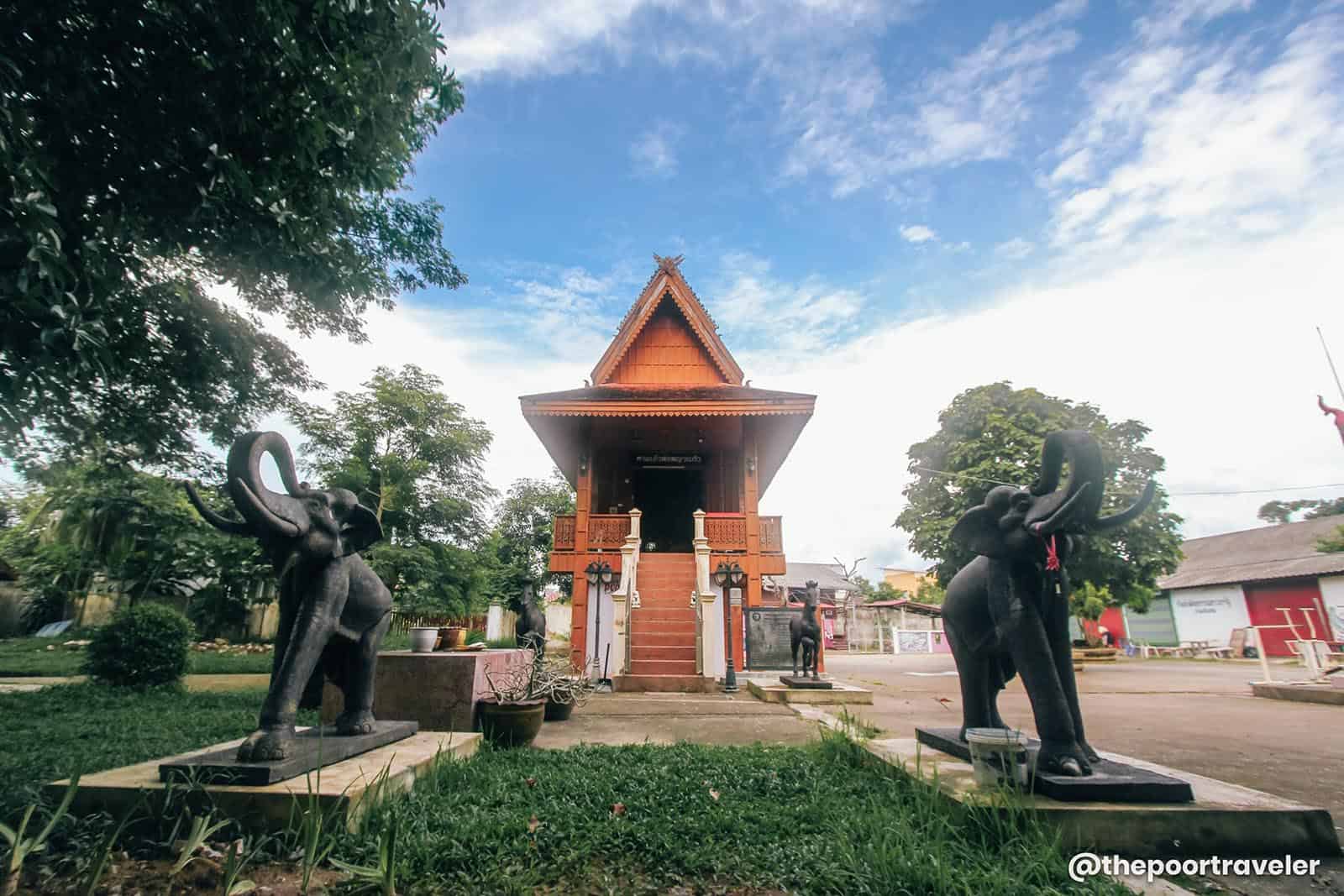 The town/district of Chiang Khong is usually overlooked by those heading further to Laos. But it is an interesting stop if you are interested in learning more about the Northern Thailand culture which is hugely influenced by the ethnic groups. Here are some of the things you can do in Chiang Khong:
Lue Lai Kham Museum. This museum highlights the handwoven textiles of the Tai Lue people. The place also has a model traditional Tai Lue house where you can learn more about their history and way of life. There's also a cafe inside with a relaxing view of a rice field.
Wat Phra Kaew. Said to be the oldest temple in Chiang Khong. Also called Wat Sri Boon Yen, this is the original home of the famous Emerald Buddha, now ensconced in Wat Phra Kaew Bangkok.
Phaya Kaew Shrine. This is marked as the center of Chiang Khong. The shrine is also important to several ethnic groups, especially the Tai Lue people. The park housing the shrine was also the site of the launching of the "Experience ASEAN Pop Culture", a project by Thailand as the current holder of the chairmanship of ASEAN for 2019. The project aims to elevate and introduce other destinations in Thailand and other Southeast Asian countries aside from those that are already established. Other initiatives for this project are art collaborations with other artists from South East Asia. There are mural/wall paintings around the park and the Mekong-inspired art installation called "Connection" using bamboo, fishing nets, and fabrics. Pop Culture is a powerful tool to connect traditions and customs to the younger generation, making it accessible and more relatable to them.

Tai Lue traditional outfit rental. Experience donning the exquisitely crafted Tai Lue traditional clothing and have your photo taken for souvenir. If you are interested, you may contact Ms. Greetar at +66 95 776 4621.
Mekong River cruise. Witness how the people live along the river banks of Mekong, both the Thais and the Laotians. The cruise will take about two hours. You can go to Buck's Pier if you like to do this cruise.
Distance from the city center: About 100 kilometers (1.5-2 hours travel duration)
Bus Fare from the city center: Around THB 65
---
Mae Salong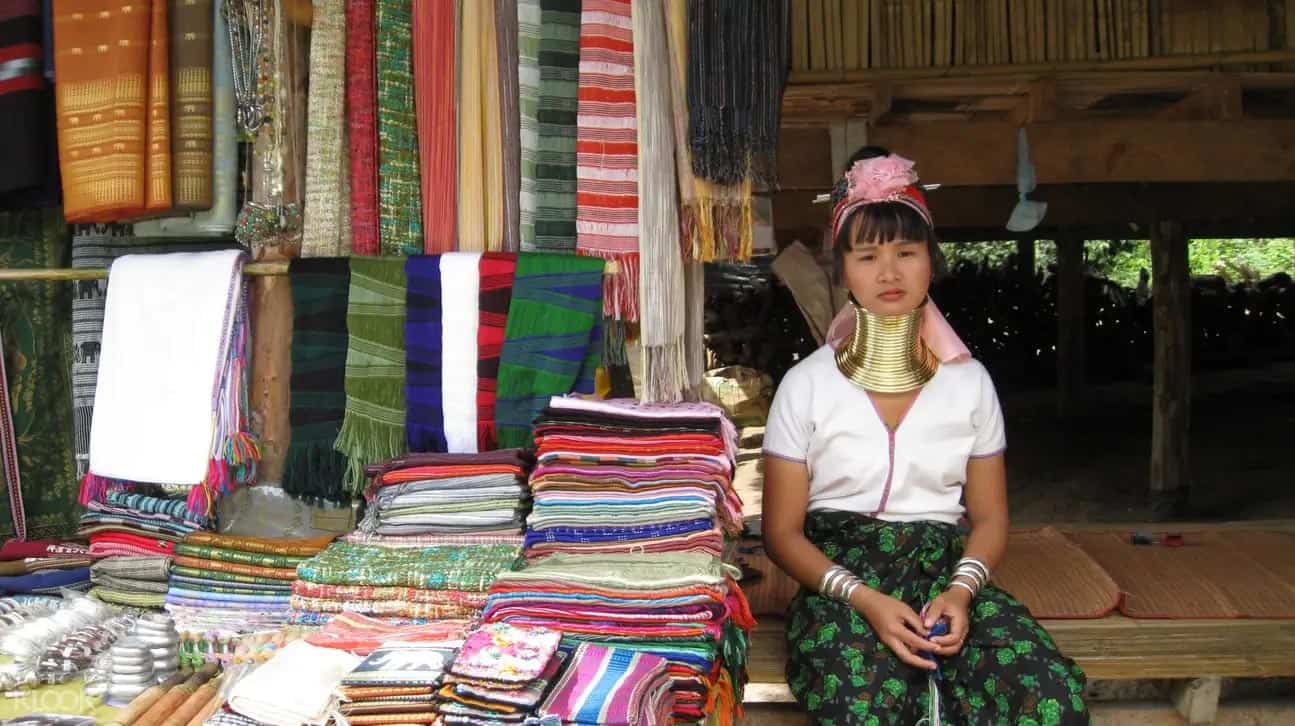 If you like communing with nature, Mae Salong (Santikhiri) is all about greenery and fantastic views. Go trekking or explore on a bicycle. You can also visit bucolic tea and coffee plantations. Mae Salong is also home to of some of the hill tribes — Yao, Akha, and Padong. The Padong hill tribe is known for their long-necked women.
Distance from the city center: Over 60 kilometers (1-1.5 hours travel duration). The commute here is quite complicated as it involves one or more transfers, depending on the route. It might be better to book a tour that includes this in the itinerary.
If you want to visit some of the hill tribes and learn more about their customs, you can join an organized tour to these villages. Klook is offering a tour that includes hotel transfers and these stops: Doi Mae Salong Mountain, greeting the Yao and Akha tribe villagers, tea and coffee plantation, and visit the Padong hill tribe village.
✅ BOOK THIS TOUR HERE
---
Chiang Rai Food Trip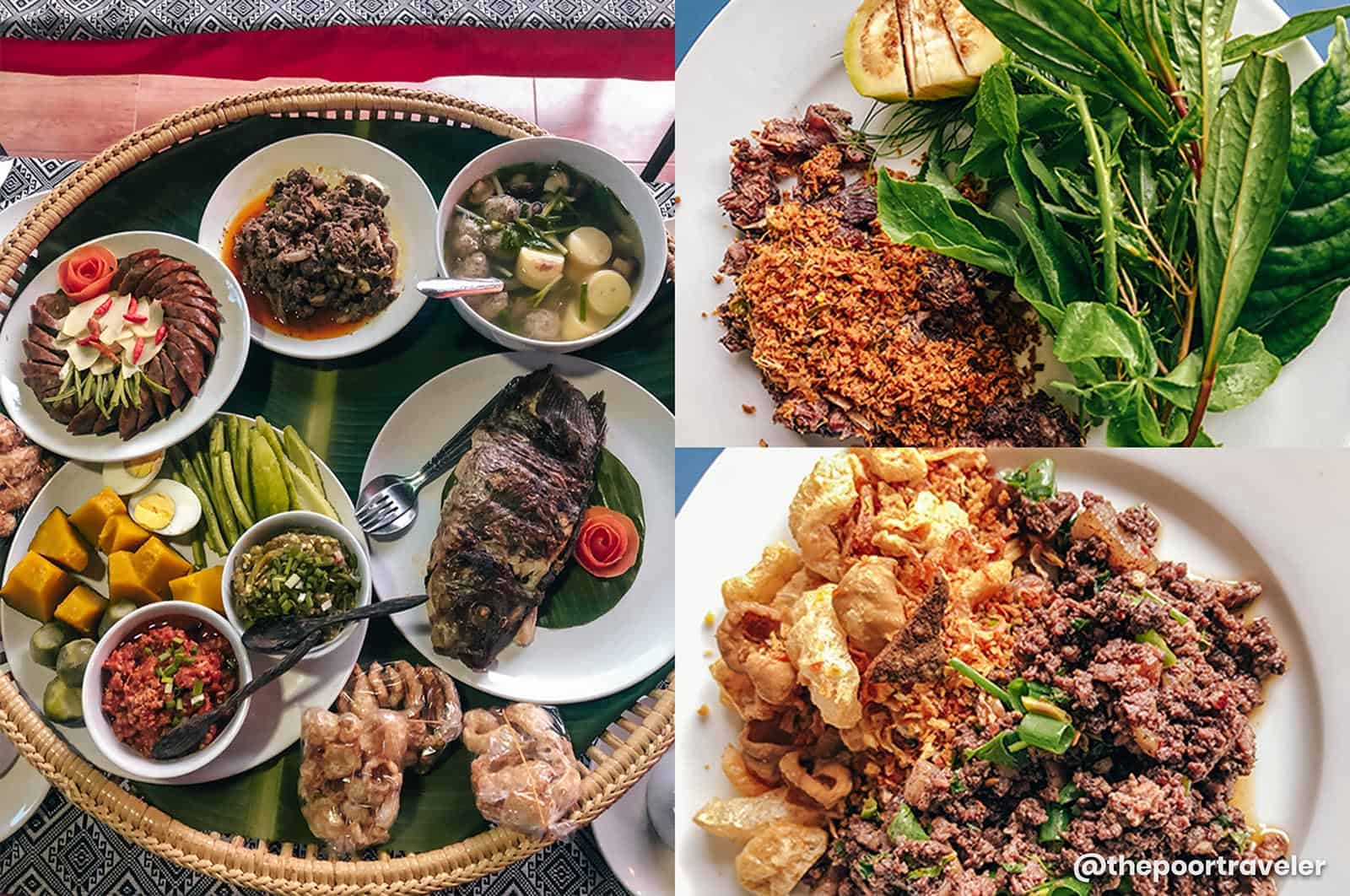 Of course, we must never leave this one out when in Thailand. The food scene in Chiang Rai is generally savory with herbs and spices, just like the rest of the country. However, there are some dishes that are unique to Northern Thailand like the Khao Soi. Neighboring countries Myanmar and Laos have their own version of this soup dish too. Northern Thai's version is composed of both fried and boiled egg noodles with coconut milk, curry, meat (beef or chicken), shallots, lime, chilies, and pickled mustard greens.
For other choices, here are some of the places you can try:
Night Bazaar. Aside from the souvenir shops and apparel, the Night Bazaar also has a selection of both Thai and western food. This is near Chiang Rai Bus Terminal 1.
Chivit Thamma Da. Quite a popular place. This is a café, bakery, and restaurant in one place. Overlooking the Kok River, the place is utterly calming with its nature-inspired ambiance. I really savored both the food and my time here. Plus, I love my Milky Blue-flavor tea! (Where can I find it? Hehe.)


Address: Chivit Thamma Da Co., Ltd., 179 Moo 2, Rim Kok, Chiang Rai 57100, Thailand
Contact Details: Telephone: +66 81 984 2925 / Chivit Thamma Da

Huen Kham Phaeng Restaurant. Try their Tai Lue cuisines. The whole property functions not only as a restaurant but also an event venue, especially traditional Tai Lue wedding. The owner is of Tai Lue descent and takes pride in their heritage. The place also has a mini-museum in the form of a traditional Tai Lue house, displaying items that resonate their customs and traditions. It also has a shop, selling Tai Lue products.


Address: 119 Village No. 14, Sri Mongkol Village, Sridonchai Subdistrict, Chiang Khong District, Chiang Rai Province, 57140 Chiang Khong
Contact Details: +66 81 366 9447 / Huen Kham Phaeng
If you still got the extra time and money, you can join a cooking class in Chiang Rai. A local will teach you how the Thais cook their savory food. This does not only include cooking but also a market tour and tasting tour. And of course, eating what you cooked and sharing it with the other participants. :)
✅ BOOK THE COOKING CLASS HERE
---
Sample Chiang Rai Itinerary
Here's a sample 2-day 1-night itinerary. This assumes the following:
You are traveling as a duo and splitting the cost (hotel and transport).
You are arriving at Chiang Rai Airport in the morning from Bangkok.
You are spending the night at a budget hotel or hostel for (more or less) THB 450 per person.
Your budget for food is THB 100 per person. There are a lot of cheap but good food places in Chiang Rai.
Day 1: ARRIVAL + GOLDEN TRIANGLE
08:30am – Arrival in Chiang Rai
09:00am – Airport to the city center: Airport Bus, THB 20
09:10am – Hotel Check-in
09:30am – Travel to Golden Triangle/Sop Ruak (Chiang Saen): Greenbus minivan (Bus Terminal 1), THB 50
11:30am – Lunch, THB 100
12:30nn – Explore the Golden Triangle/Sop Ruak area
01:00pm – Mekong River Cruise to Chiang Khong from Sop Ruak: Boat, THB 1800 (good for 8 pax)
02:30pm – Explore Chiang Khong riverside road on foot to Wat Phra Kaew (more or less 15 mins)
03:00pm – Wat Phra Kaew to Chiang Khong Local Bus Station: Tuk-tuk, Around THB 30
03:05pm – Travel to Chiang Rai City: Bus, THB 65 (the last trip is at 4 PM)
05:05pm – Arrival and early dinner, THB 100
06:00pm – Explore the city center or the Night Bazaar
08:00pm – Hotel: Rest & Sleep
After the Golden Triangle, another option is to further explore Chiang Saen, one of the oldest settlements in Thailand.
Day 2: CHIANG RAI CITY TOUR + DEPARTURE
08:00am – Breakfast
09:00am – Chiang Rai Half Day City Tour: THB 720, Book here!
White Temple
Blue Temple
Black House
01:00pm – Hotel check out and departure
If you want to D-I-Y the city tour, the total fare is THB 300-500, depending on your mode of transportation (bus, tuk-tuk, taxi, songthaews, taxi, Grab/Uber).
If you follow this Chiang Rai itinerary and you spend ฿450 per night at a hostel, prepare to shell out around ฿2000 (USD65, EUR60, SGD90, PHP3415), excluding airfare.
Additional Notes:

The times indicated here are just estimates. Make adjustments based on your preferences or flight schedule.
Arrival can be from Bangkok or Chiang Mai (or any other parts of Thailand).
For the departure part, you can either be heading for Bangkok for your flight or explore neighboring Chiang Mai (or other parts of Thailand or Laos or Myanmar).
For this itinerary, the jump-off point is Chiang Rai City. You may change the jump-off point or the area where you will stay for the night based on your itinerary. If you are crossing the border to Laos, you may choose Chiang Khong as your base instead. If you are crossing the border to Myanmar, consider Mae Sai as your base.
If you are pressed for time, but you still want to see a tea plantation, you can just go to Singha Park in Chiang Rai City instead of traveling to Mae Salong.
---
More Chiang Rai Tips for the Poor Traveler
Book hotels in advance, especially during the Songkran Festival (April). Peak season in Chiang Rai and Thailand, in general, is November to March. However, this extends to the month of April as the Songkran Festival is held.
Grab taxi is available in Chiang Rai. Some say they saved more money than joining tours. But this depends on the season and your itinerary. Joining a tour might be convenient for some because they don't have to think about transportation and they can always ask the guide for information about the place.
Protect yourself from the harmful sun rays. Tropical summer heat can be too hot for some of you. Bring hats, caps, scarves, sunglasses or apply sunscreen. Keep yourself protected and hydrated.
Bring your refillable water container. Help lessen plastic waste and opt to bring your own water container and just have them refilled at your hotel or restaurants.
Respect temple rules. Although light clothing is recommended in summer, bring outerwear if you want to visit temples. When visiting temples, follow the dress code. Temples don't allow outfits that show too much skin. Don't worry though, you can always bring your own cover-up/sarong or rent one. Temples usually don't allow strapless top, wide/plunging neckline, tank top, crop top, short pants, mini skirt, and low-waist pants.
Wear comfortable footwear. Some places, like temples, also require visitors to take off their footwear. Choose footwear that you can easily take off and put on.
Safety first. If you want to go cruising along the Kok River or Mekong River, always wear your life vest on board.
Attend visitation briefing. If you are pulling a D-I-Y trek to the hill tribe villages, you must go to the Population Development Association's Hill-Tribe Education Center before you embark on that journey. But it is better to just join an organized tour for this.
Bangkok stopover before flying out. If your departure time is late at night and you arrive in Bangkok from Chiang Rai a day before or early in the morning, you can do your last-minute shopping at King Power Mahanakhon. Rising at 314m with 78 floors, it is currently the tallest building in Thailand, presenting a 360-degree view of the city from its Sky Walk at 78th floor. Other features include an indoor observation deck on the 74-75th floor, Sky Bar (the highest bar and restaurant in Thailand on the 76-77th floor), hotel, freehold residences, Duty Free and retail stores, and ParaDrop VR, a simulated paragliding experience. For your luggage, they have lockers on the first floor across the elevator area.
---
Frequently Asked Questions About Chiang Rai
When is the best time to visit Chiang Rai?
Chiang Rai has the typical tropical season: dry and wet. November to March is the high season period; therefore, it is expected to be crowded and prices are higher. To be safe, it's better to book your hotel in advance. During this time, rainfall is scarce and the weather is relatively cool, especially from November to February. It starts to get warmer in March.
April is the peak of summer and the hot weather can be a bit harsh. The hottest temperature is often recorded during this month. April is also the month of Songkran Festival where the locals splash each other with cold water to celebrate their new year. This celebration draws tourists who want to witness or even participate in the festivities.
May to October is the monsoon period and the low season for tourists, meaning cheaper hotels and services. July to September is the period when rainfalls are most frequent and typhoons usually occur.
---
Is it safe in Chiang Rai?
Chiang Rai is safe. However, just like any places, you must still be vigilant. Avoid places that make you uncomfortable. Also, the capital has several hospitals — private, semi-private, and public.
---
How does Chiang Rai differ from Chiang Mai?
As a tourist destination in northern Thailand, these two are unique in their own right. Each has its own strengths and character, but here's a simple juxtaposition.
Both became the capital of the ancient Lanna Kingdom; Chiang Rai being the first, followed by Chiang Mai.
Both provinces have capital bearing the same name: Chiang Rai City for Chiang Rai province and Chiang Mai City for Chiang Mai province.
Aside from the White Temple and the Golden Triangle, Chiang Rai is known for its laidback lush countryside and hill tribes. Chiang Mai is more developed in terms of tourism amenities and services and its capital is bustling with tourists.
---
This trip is brought to you by the Tourism Authority of Thailand, Bangkok Airways, and King Power.
2️⃣0️⃣1️⃣9️⃣ • 9️⃣ • 6️⃣
---