Here's our latest DIY SAIGON TRAVEL GUIDE BLOG that can help you plan your next trip to HO CHI MINH CITY, VIETNAM. We covered essential travel information in this post including top tourist spots, things to do, tour recommendations, and list of possible tour expenses. Hope this helps!
The first city I visited in Vietnam was Hanoi. And despite some misgivings and warnings from fellow travelers, I found the capital to be surprisingly charming. It wasn't love at first sight, that's for sure. But Hanoi warmed up to me, slowly but surely.
Hence, I was really excited to return to Vietnam. This time around, my base would be Ho Chi Minh City. For some reason, I was counting on the idea that it would be very similar to Hanoi. But they turned out to be two sides of the same coin.
Ho Chi Minh City: Essential Travel Information
In many ways, Ho Chi Minh City is similar to Hanoi. Its map is dotted with museums. Its curbsides are lined with small restaurants serving delicious local eats! Its streets are ruled by motorbikes, 7.3 million of them! While traditional heritage is strong, the so-called French flair is undeniable, mainly because it was a colony of France from 1859 to 1955.
Ho Chi Minh City, still commonly referred to as Saigon and often abbreviated as HCMC, is the largest and economic center of Vietnam. It is also the most populous and the most visited, served by the country's busiest airport. It is a bustling metropolis. It has all the key signs of a big city in a developing world: noise, crowd, chaos, pollution, and an energy that can't be contained. Life here seems to move at a much faster pace. Nightlife is alive, feeding an already brewing youth culture. It kinda reminded me more of Manila than Hanoi, to be honest.
Saigon was the center of the capitalist South Vietnam which fought the communist North during the Vietnam War. The South was assisted by the United States primarily, while the North by the Soviet Union. The South was defeated after the Fall of Saigon or Liberation of Saigon (depending on who you ask) on April 30, 1975, putting an end to the war. Saigon was renamed Ho Chi Minh City, in honor of the revolutionary leader of the Việt Minh independence movement.
Other info you need to know:
Language: Vietnamese. In writing, the Latin or Roman script is used with additional diacritics for tones. English is understood and spoken in most touristy places. Taxi and Grab drivers speak limited English, so it's advisable to have the address of your destination written down to avoid confusion. Most street vendors speak or understand very little English or none at all.
Currency: Vietnamese đồng (VND, ₫). VND 100,000 is around USD 4.27, EUR 3.76, SGD5.78, PHP 230 (as of August 2018). However, it is not uncommon for hotel and tour operators to use US dollars.
Modes of payment: Cash is still king in Ho Chi Minh City. Upscale establishments accept credit cards, but pay only cash at small stores and eateries.
Electricity Info: 220V, 50Hz. Most common sockets are sort of a combination of Types A and C. They have two holes that can accept both flat and round pins, the shape of two door knobs or rubber stamps facing each other. This type of socket can take plugs that are Types A, C, and F. If your plug has three pins, you will be needing an adaptor.

---
WHAT'S COVERED IN THIS GUIDE?
When is the Best Time to Visit Ho Chi Minh City?
The best time to visit Ho Chi Minh City is December to March.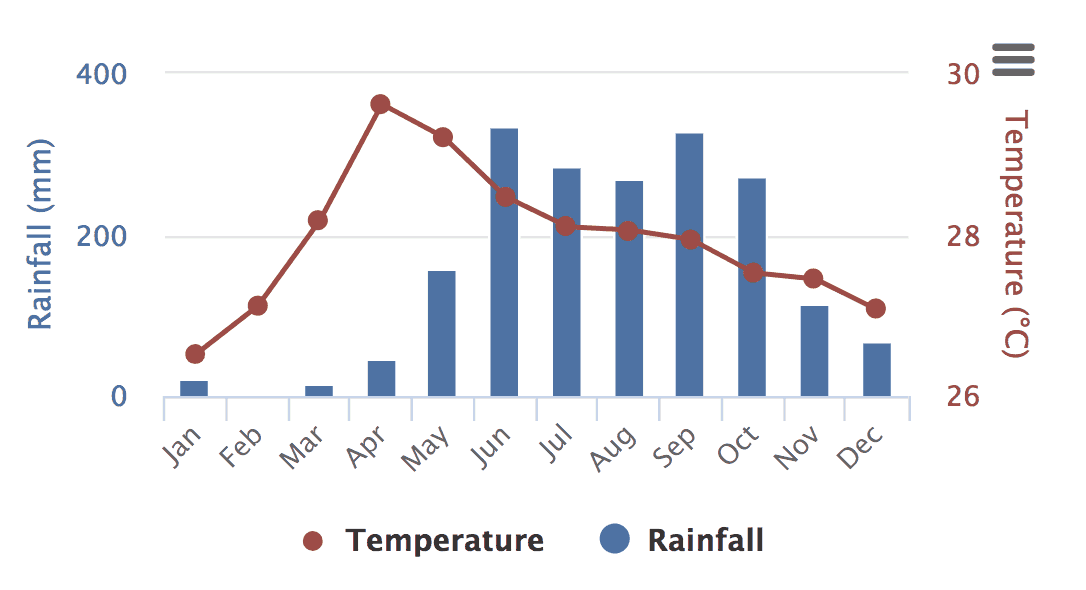 Ho Chi Minh City enjoys a tropical climate with only two seasons: wet season, from May to October, and dry season, from November to April. However, April and May are the hottest months with temperatures sometimes reaching 39C. December is the coldest, dipping to just above 16C in early morning.
Where to Stay in Ho Chi Minh City
If Hanoi has the Old Quarter, Saigon has District 1, where Ben Thanh Market and Pam Lu Ngao Street are located. Pam Lu Ngao to Saigon is what Khao San is to Bangkok. It's where most backpackers stay because of high concentration of hostels, dormitories, and budget hotels. Cheap restaurants and souvenir shops also abound.
Accessibility is also a major draw. Buses to and from the airport and other destinations in Vietnam and Cambodia also make a stop here. The airport shuttle terminates here. And when we traveled from Siem Reap, the bus also dropped us off here, which was great because our hotel was just around the corner.
---
Top Budget Hotels in Saigon
The price of a double or twin room in District 1 is usually between ₫400,000 and ₫2,000,000. If your budget is limited, here are the top budget hotels as scored by Agoda users!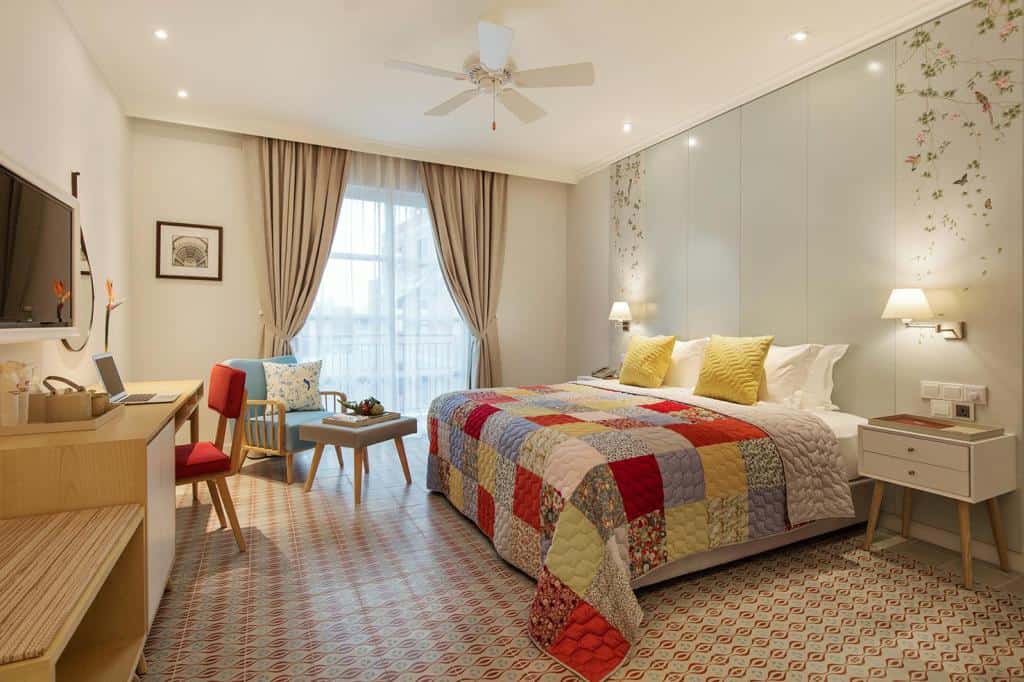 ---
Top Saigon Hostels and Dorms
In District 1, dorm bed rates range from ₫90,000 to ₫200,000 per night. Here are the top hostels and dormitories in District 1 as ranked by Agoda users!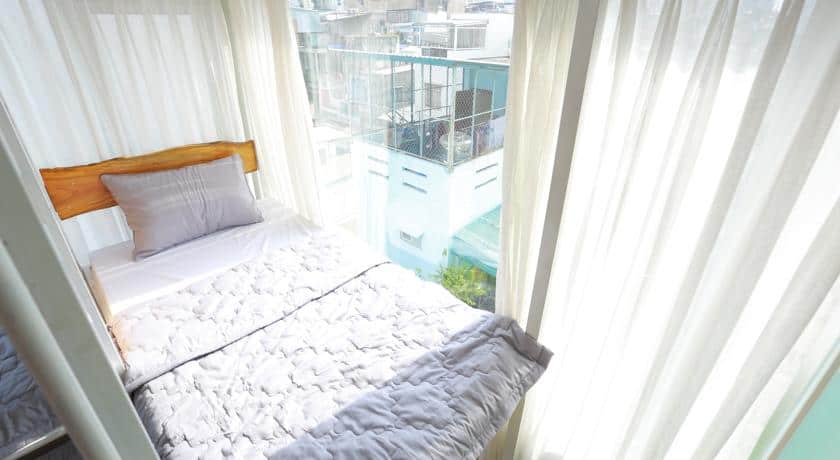 ---
---
How to Get to Ho Chi Minh City
Ho Chi Minh City is served by Tân Sơn Nhất International Airport (IATA: SGN), Vietnam's busiest airport. It's designed to accommodate 25 million passengers, but in 2016, record hit over 32 million, so expect some congestion if this is your gateway to the city.
Part of the reason why Ho Chi Minh City is popular among tourists is its proximity to other destinations not just in Vietnam but also Cambodia, making it a compelling entry point for those planning a multi-city or multi-country backpacking tour. From Ho Chi Minh, you can easily reach Mui Ne and Da Lat, and even Phnom Penh in Cambodia.
Manila to Ho Chi Minh City
Ho Chi Minh City is only 2 hours 40 minutes from Manila by plane. The lowest year-round fares are offered by AirAsia and Cebu Pacific. You can grab one-way fares for as low as P2500 (base fare only, no baggage allowance). It can still go lower when there's PISO SALE or other massive promos. I'm always tempted to book flights to Saigon because it's easy to find promo fares. It usually has a lot of available seats on sale.
Scoot also offers very competitive fares, with a stopover in Singapore. Philippine Airlines and Vietnam Airlines also operate direct Manila-HCMC flights.
Here's a sample Traveloka search.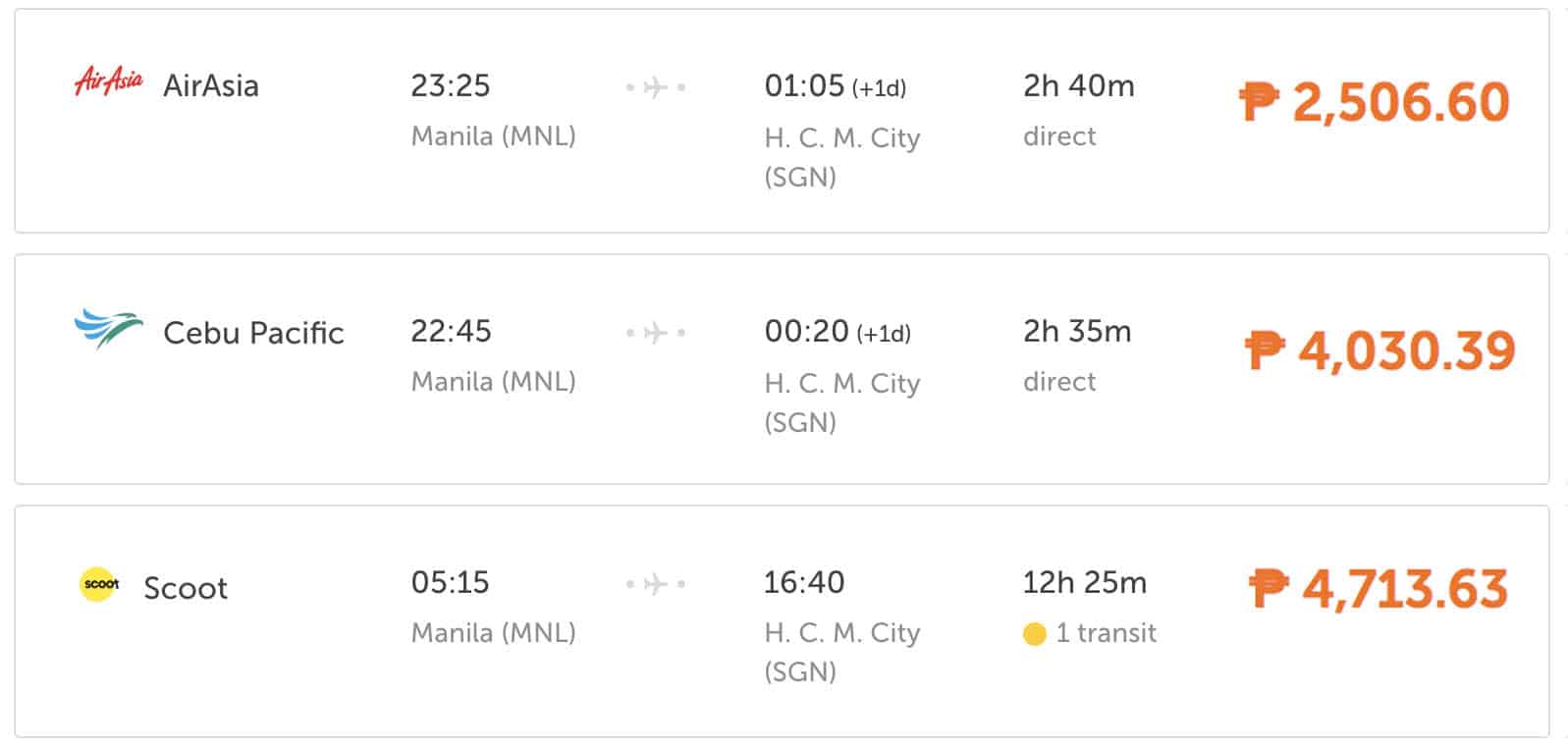 ---
Phnom Penh to Ho Chi Minh City
You can travel from Phnom Penh to Saigon by bus, by van, or by plane.
By Plane. Travel time is 55 minutes. Fares range from USD80 to USD200, the cheapest offered by Cambodia Angkor Air and Vietnam Airlines.
By Bus. Travel time: 6-8 hours. Fare: USD 13.55 to USD 16. Popular bus companies are usually Mekong Express and Kumho Sanco. Overnight buses are also available. If you want to catch some sleep on the road, book a sleeper bus. Reserve BUS Ticket Here.
By Van. Travel time: 7 hours. Fare: USD 19. Reserve VAN Ticket Here.
If you're taking the bus or the van, you'll have to get off at the Bavet-Moc Bai border to pass through Immigration.
---
Siem Reap to Ho Chi Minh City
The easiest way to travel from Siem Reap to Saigon is by plane. But it is also possible to do it by land. I've done this before, by bus, although it is an experience I do not wish to repeat. Haha.
We may have just have been unlucky and chanced upon a bad bus, but it was terrible. We booked an overnight bus via a travel agency in Siem Reap. Even though all the windows were closed, the dust was able to seep into the vehicle so we couldn't breathe or sleep properly. When we switched buses in Phnom Penh, our bags, clothes, and skin were all covered in a thick layer of dirt. So yeah, fly when you can.
Anyway, here are your options.
By plane. The cheapest flights are operated by Cambodia Angkor Air and Vietnam Airlines. Travel time: 1 hour 15 minutes. You can find fares for as low as USD76 or PHP4000.
By bus. Overnight sleeper buses are operated by Virak Buntham Express. Travel time: around 15 hours. Mekong Express has shorter travel time, 12 hours, but it leaves Siem Reap 7:30am and reaches Saigon at 7:30pm. Check Rates or Reserve Here.
You can also search for buses and vans using the form below:
---
Ho Chi Minh City Airport to City Center
The airport is not too far away from the city center, but the travel time can range from 30 minutes to over an hour, depending on your mode of transfer and traffic conditions.
As you exit the terminal, you'll be greeted by taxi drivers offering their services. To avoid getting ripped off, don't pay any attention to them. Drivers operating at the airport are notorious for overcharging clueless international passengers.

If you don't want to deal with all the scam-dodging or navigating around an unfamiliar city with heavy luggage in tow, you can book a private car transfer with Klook. A driver will pick you up at the airport and take you straight to your hotel.
Here are the prices if your hotel is located in District 1 or District 3. Rates are per vehicle, NOT per person and are inclusive of toll fee.
1-3 pax: ₫280,000 (USD12, PHP641)
4-5 pax: ₫326,094 (USD14, PHP748)
6-12 pax: ₫628,895 (USD27, PHP1442)
As you can see, this is best if you're a group.
✅ RESERVE A CAR HERE
---
Here are your public transportation options to get to the city center.
By taxi. Taxi scams are prevalent at the airport, so it is important to be informed and know when to walk away. When you exit the terminal, turn left and you'll see the main taxi queue. This is the only place where you should take a cab. Insist on using the meter and keep an eye on it, for it might be tampered with. WikiTravel specifically mentions Vinasun and Mai Linh taxi companies as trustworthy. If your hotel is in District 1, fare should be between ₫140,000 to ₫170,000 plus ₫10,000 toll fee.
By Bus #152. These are the older green buses. The cheapest way to reach the city center. After exiting the terminal, turn right and you'll see the airport's bus station. A bus departs every 15-20 minutes until 6pm only. If your hotel is in District 1, you can alight at Pham Ngu Lao. Fare: ₫5000. An additional ₫5000 baggage fee is collected for bags heavier than 10kg.
By Bus #109. These are the yellow airport shuttle buses that are in much better condition than the green ones. It leaves the airport for Pham Ngu Lao Street every 15-20 minutes from 5:30am-1:30am. Fare: ₫20,000. No additional charge for the luggage.
Grab also operates in Ho Chi Minh City. I'm just not familiar with how much the fare should be.
---
Pocket Wifi Rental and SIM Card in Ho Chi Minh City

Staying connected in Ho Chi Minh City will prove useful when going around because of the language barrier. You can use your smartphone to research, look for recommendations, or simply get in touch with loved ones back home.
You have two options: renting a pocket wi-fi or buying a local data SIM card. Klook offers both. They can be delivered to your hotel, so no need to worry about going out of the way to pick it up. Just ask the front desk if there is a pocket wifi or SIM card for you upon check in. The SIM card can also be picked up at the airport, if that's what you prefer.
---
Things to Do in Ho Chi Minh City
Saigon City Tour

You can pull off a city tour DIY-style, but it would be much safer, more insightful, and more enjoyable if you have a guide that can explain in detail the significance of the places and structures along the way. Saigon city tours come in various lengths, schedules, and styles, but the following are the usual stops of a half-day group tour:
War Remnants Museum
Reunification Palace
Notre Dame Cathedral
General Post Office
Opera House
These are just the usual stops. Some tour operators have more or less or change some stops. Full-day tours have more stops, usually covering Chinatown, Thien Hau Temple, Cholon and Binh Tay Market. Full day tours also often include traditional lunch (pho!).
For hassle-free tours, you can book with Klook.
---
Saigon Food Tour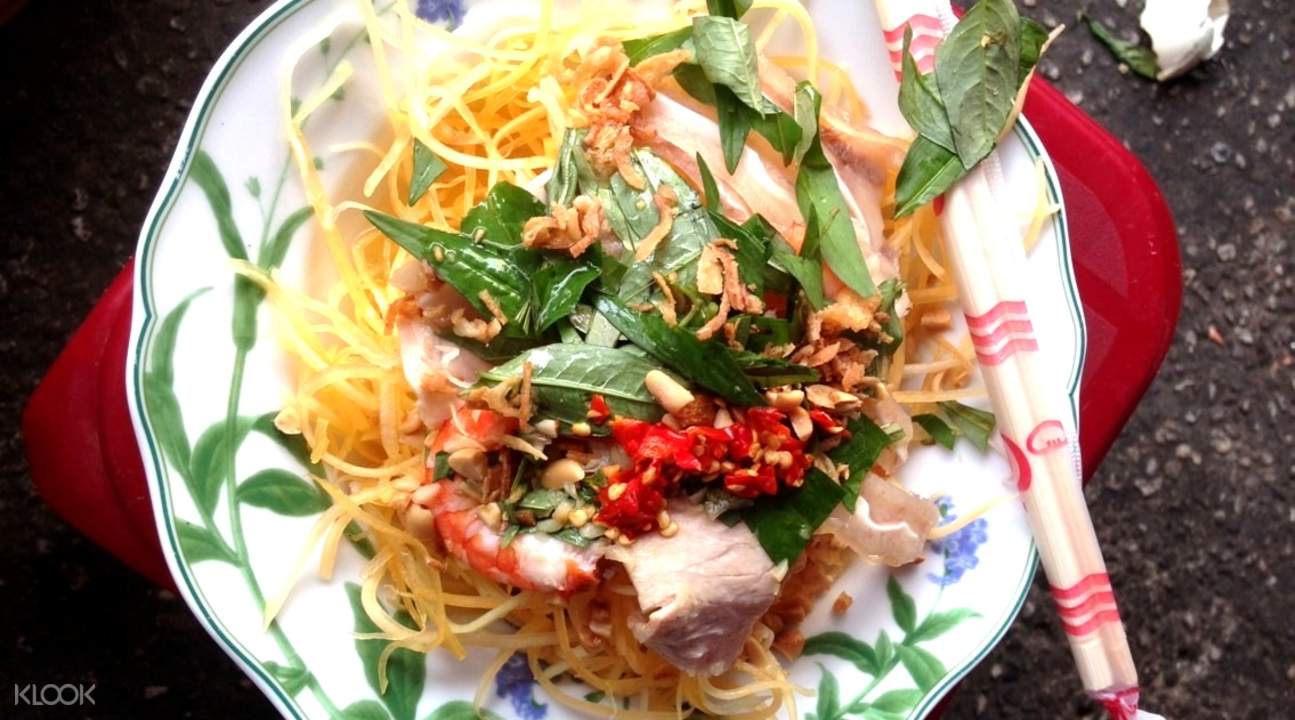 I have to say, my favorite thing about Vietnam is the food. Looking back at my trip, I realized that the moments that really stuck on my mind are those when we would just scour the city for traditional Vietnamese eats! Just writing that makes me crave Vietnamese spring rolls and pho.
The best way to experience Saigon's gastronomic treats is to join a food tour, in which a guide takes you to places where you can find great dishes and explains the ingredients and significance of each. No one knows the streets and the eats better than a local. This way, if you're able to try something you really like, you know where to return.
You can time your food tour in the evening, after a day of sightseeing, so you start with a big appetite. Klook's tour lets you sample spring rolls, meat balls, porridge, pork barbeque, local coffee, and more over 3.5 hours. It ends with a glass of beer!
✅ RESERVE A SLOT HERE
---
Vietnamese Cooking Class

Can't get enough of Vietnamese food? Learn how to cook authentic dishes so you can prepare them yourself even when you're back home! Like most cooking classes, you'll have an instructor to guide you every step of the way.
The cooking class offered by Klook is organized by M.O.M. and has a 4.8-star user review rating. The full class starts with a trip to a local market to shop for ingredients before proceeding to the kitchen for the actual class. If you have limited time, you can skip the market visit and go straight to the cooking.
✅ RESERVE A SLOT HERE
---
Saigon Skydeck in Bitexco Financial Tower

Bitexco Financial Tower is the tallest building in Ho Chi Minh City. It is crowned with a skydeck that enables an unobstructed 360-degree view of the metropolis. It also houses the only World of Heineken in Asia, where you can learn more about their history while gulping ice cold beer. Open: 9:30am-9:30pm.
✅ RESERVE A TICKET HERE
---
Cu Chi Tunnels Tour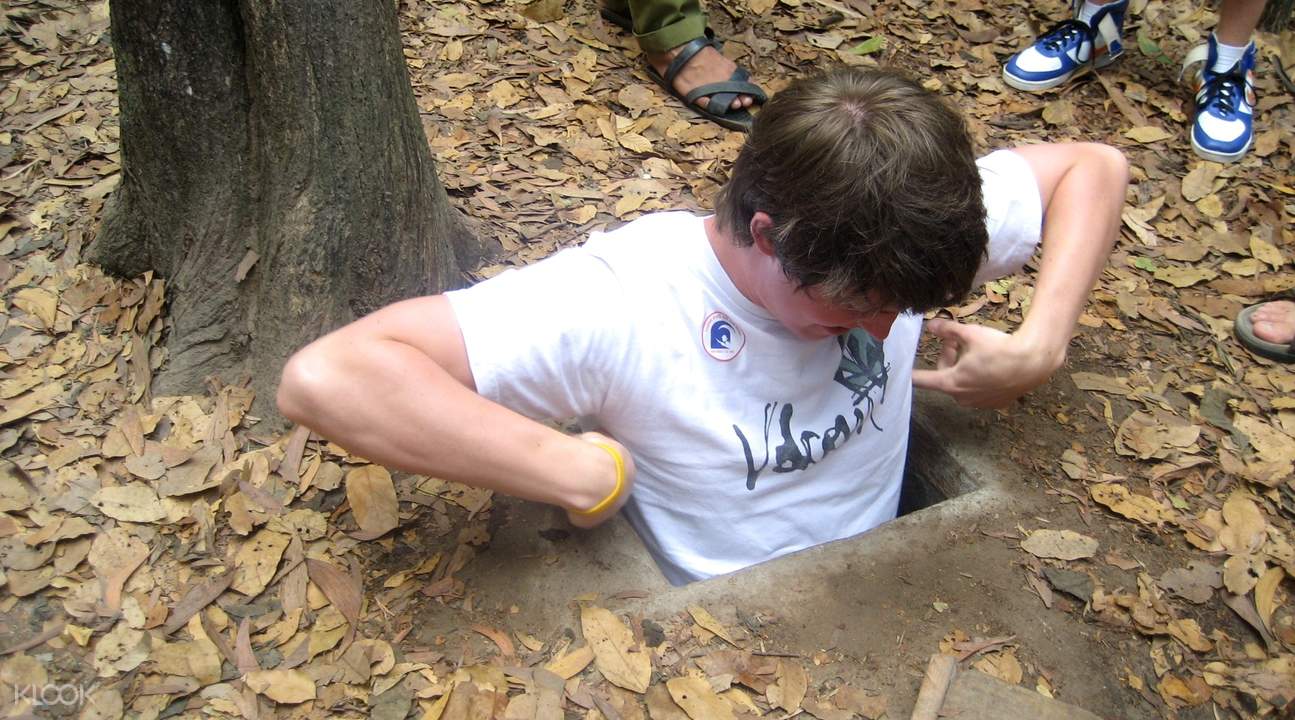 Learn about Vietnam's history as you explore its intricate network of underground tunnels! There are two tunnel areas that you can visit: Ben Duoc and Ben Dinh. Ben Duoc is farther and less touristy. Ben Dinh is where travel agencies take their guests.
How to get there: You can go to Cu Chi Tunnels on your own by taking the public bus. Make your way to Cong Vien Park 23/9 (September 23 Park). If your hotel is in Pham Ngu Lao, you can reach it on foot. Here, take Bus #13 and alight at Cu Chi, the last stop. Travel time: 1.5 hours. Fare: ₫7000.
At Cu Chi Station, you'll be greeted by touts and drivers. Ignore them all. Instead, find Bus #79 and get onboard. This ride will take around 45 minutes to an hour. At one point, the bus will reach a junction. Ben Dinh is to the right, Ben Duoc to the left. If you want to go to Ben Dihn, alight here. You can reach Ben Dihn on foot from here. If you're going to Ben Duoc, DON'T get off. The bus will pass by the entrance to Ben Duoc soon. Fare: ₫6000.
Opening hours: 8am-5pm, daily.
Entrance fee: Ben Duoc, ₫90,000; Ben Dinh, ₫110,000.
If you're worried about getting lost or you just want to be comfortable, you can book a day tour from Klook instead. The tour usually takes just half a day (around 6 hours), so you may choose to do it in the morning or in the afternoon. Some operators combine it with other attractions around the area or add a visit to a local family or a meal stop. You'll also see bomb craters, reminders of the country's violent past.
✅ CHECK RATES or RESERVE HERE
---
Mekong Delta Tour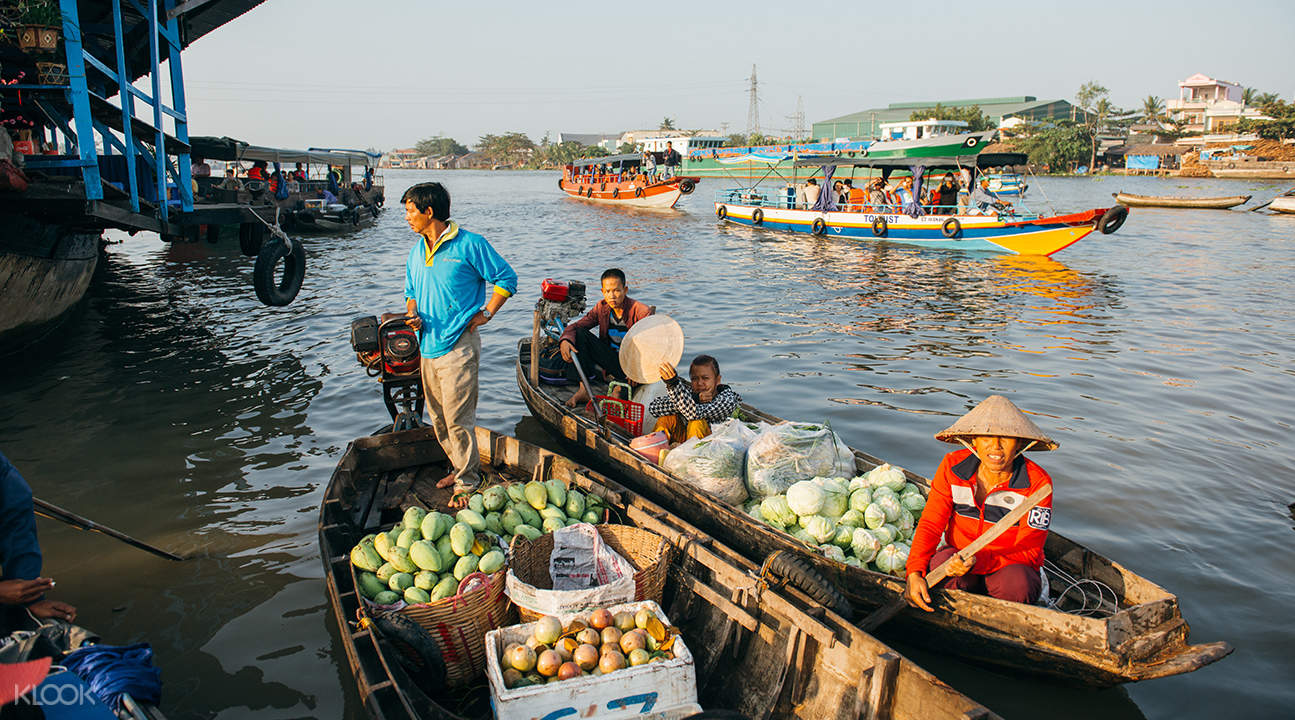 In this full day excursion, you'll exit the city and see the countryside of Southern Vietnam on your way to Mekong Delta. You'll ride a boat down Tien River, see stilt houses that make up fishing villages, enjoy traditional lunch, and have tea and snacks.
✅ CHECK RATES or RESERVE A SLOT HERE
---
Sample Ho Chi Minh City Itinerary
Here's a sample 3-day/3-night Saigon itinerary with breakdown of expenses. This assumes the following:
You're arriving at night. Late-night flights are significantly cheaper, especially if you're coming from Manila. Make sure you communicate your check-in time with your hotel.
You're staying in District 1, where most budget hotels and hostels are located.
You're taking Bus 109 or Klook's airport transfer service to the city center. Bus 109 operates until 1:30am, so if you think you can make it, take this bus. Otherwise, book a Klook's private car transfer instead of taking the taxi so you don't worry about overcharging scams. Book here.
Your budget per meal is ₫100,000. That's actually way too much. You can find a good bowl of pho for as low as ₫30,000 or a sandwich for ₫25,000. What I usually do is, if I don't spend much on lunch, I'm going to splurge a little for dinner. For example, if I spend only ₫40,000 for lunch, I'll add the supposed ₫60,000 savings to my dinner budget, which gives me ₫160,000 that night. This rule keeps my spending in check while still being able to do most of the dishes I want.
You're skipping breakfast. It's healthy (according to intermittent fasting advocates, hehe)!
Feel free to make necessary adjustments to this itinerary to match your flight schedule, personal tastes, and whatnot.
Day 0: ARRIVAL
12:20am – Arrival at SGN Airport
01:30am – Transfer to city center: Bus ₫40,000 or Klook car ₫280,000
02:00am – Hotel check-in
03:00am – Rest
Day 1: CU CHI TUNNELS TOUR
10:00am – Wake up call
11:00am – Lunch, ₫100,000
12:30pm – Cu Chi Tunnels Tour, ₫250,000, Book here

07:00pm – End tour
07:30pm – Dinner, ₫100,000
10:00pm – Lights out
Day 2: CITY TOUR & FOOD TOUR
06:00am – Wake up call
07:30am – Saigon City Tour, ₫250,000, Book here

12:00nn – End tour
12:30nn – Lunch, ₫100,000
02:00pm – Free time, rest at hotel
05:00pm – Saigon Food Tour, ₫750,000, Book here

09:00pm – Back to hotel
10:00pm – Lights out
Day 3: COOKING CLASS & BITEXCO SKYDECK
07:00am – Wake up call, hotel check-out, leave bags
08:20am – Start Cooking Class, ₫820,000
01:30pm – Shopping (souvenirs/pasalubong)
05:00pm – Bitexco Skydeck, ₫200,000, Book here

09:00pm – Pick up bags
09:30pm – Travel to airport, bus ₫40,000 or Klook car ₫280,000
10:30pm – Flight check-in, dinner ₫100,000
01:35am – Flight out
The itinerary above will set you back around 3.5 Million dong (USD150, EUR130, SGD206, PHP8020), excluding flights and hotel.
The bulk of the budget goes to the cooking class. If you skip it, the total cost goes down to only 2.7 million dong (USD116, EUR100, SGD159, PHP6200), excluding accommodations and hotel.
If you're staying in a dorm for ₫200,000 per night, the total cost is 4.1 Million dong (USD176, EUR152, SGD241, PHP9400), excluding airfare.
If you're coming from Manila and you're able to score P5000 promo fare, the total cost is P16,020 including airfare and travel tax.
You can still further reduce the cost by doing the city tour on your own DIY-style, but we highly recommend having a tour guide for a more educational experience and better appreciation of the sites. You can also skip the cooking class.
Again, do note that these are inflated estimates. A good allowance is added to it to cover possible incidental expenses like bottled water and snacks. Besides, it's always better to over-budget than under.
---
Saigon Travel Tips for the Poor Traveler
Walk when you can. If you have the energy and the weather is pleasant, use those legs.
Being a millionaire is hard. Vietnamese dong banknotes can be confusing if you're not that familiar with them. They all feature Uncle Ho, and all those zeroes are dizzying. If you get confused, take your time. Don't let a stranger count your money or pull a bill from your wallet. Sleight-of-hand scams are not uncommon. They're fast. They can take a note even when they're counting it in front of you. Double check when paying.
Be careful when crossing the street. In Ho Chi Minh City, every day is a battle with the countless scooters. They are speedy, reckless, and oblivious to the crossing pedestrians. Find a pedestrian lane and look to your left and right before crossing. When you do, commit to it. Don't stop or hesitate in the middle because drivers expect you to keep on walking.
---
Frequently Asked Questions
Is Ho Chi Minh City safe?
It is safe, generally. But you need to be cautious.
Like in many Southeast Asian cities, petty crimes like scams and snatching happen. But you can avoid these. When you walk, don't flash your phone or wallet. When riding open vehicles (like scooters, cyclos, or open cars), make sure your purse, wallet or phone are secure and not within easy reach of anyone outside.
Before riding a cab, make sure you agree on a fare or insist on using the meter and keep an eye on it. You can also use Grab instead.
When it comes to tours, don't just go with anyone. Always book with reputable companies like Klook.
---
What is the tipping policy in Ho Chi Minh City?
In general, tipping is not mandatory in Vietnam. In small restaurants, locals don't tip. But tipping is starting to be practiced in touristy areas. If you enjoyed the food, a dollar is well appreciated by waiters.
More upscale restaurants add a 10% service charge to the bill, but often it doesn't go to the staff. If you want to reward a particular member of the staff for exceptional service, hand it to them directly.
Hotel staff like bellboys and cleaners are rarely tipped, but you can still show your appreciation with a dollar. Tour guides, however, are often expected to be tipped, especially if it's a private tour.
---
Where to exchange money in Ho Chi Minh City?
Money changers abound in the Ben Thanh Market area and many of them are the go-to places for tourists and locals alike. Jewelry stores also exchange currencies. However, exchange only if you have dollars, euro or other major currencies.
If you're carrying less common currencies like Philippine peso, it will be hard to find good rates. If you can, just buy dong in your home country before flying to Vietnam. You can also withdraw from ATMs. You'll find a lot throughout the city. Most have a withdrawal limit of 2 to 3 million dong per transaction.
The bank is also a good place to exchange money, although a small processing fee might be added. The rates from bank to bank vary but not greatly enough to matter, unless you're exchanging huge amounts.
---
What is the power socket used in Ho Chi Minh City?
Most common sockets are sort of a combination of Types A and C. They have two holes that can accept both flat and round pins, the shape of two door knobs or rubber stamps facing each other. This type of socket can take plugs that are Types A, C, and F. If your plug has three pins, you will be needing an adaptor.
---
Do I need a visa to Visit Vietnam?
If you're a Philippine passport holder staying for 21 days or shorter, no need for a visa. Just show up at the airport with a valid passport, return or onward ticket, and hotel reservation, and you're good.
---
*Cover image purchased from Shutterstock
2️⃣0️⃣1️⃣8️⃣ • 8️⃣ • 2️⃣4️⃣