For a budget traveler like me, Monaco is an interesting country, to say the least.
Monaco is tiny, but it is a giant when it comes to wealth! According to our guide, a third of its population is composed of millionaires, partly because it is a tax haven. (No income taxes!) It is also one of the richest countries in the world per capita. If you divide all its wealth among its residents equally, every single one would be a euro millionaire.
What was I doing in Monaco? Well, one of the perks of being a professional travel blogger is being able to visit countries that I never imagined I would ever set foot in. So there I was — a backpacker in an unremarkable t-shirt-and-shorts ensemble I got from a clearance sale somewhere — surrounded by a parade of Porsches and Ferraris and all things posh. All the while I was daydreaming what it would be like to live here. When our guide said that a 500,000-euro deposit is required, well, that dream died instantly.
Anyway, here's our budget travel guide to the grand and glitzy Monaco.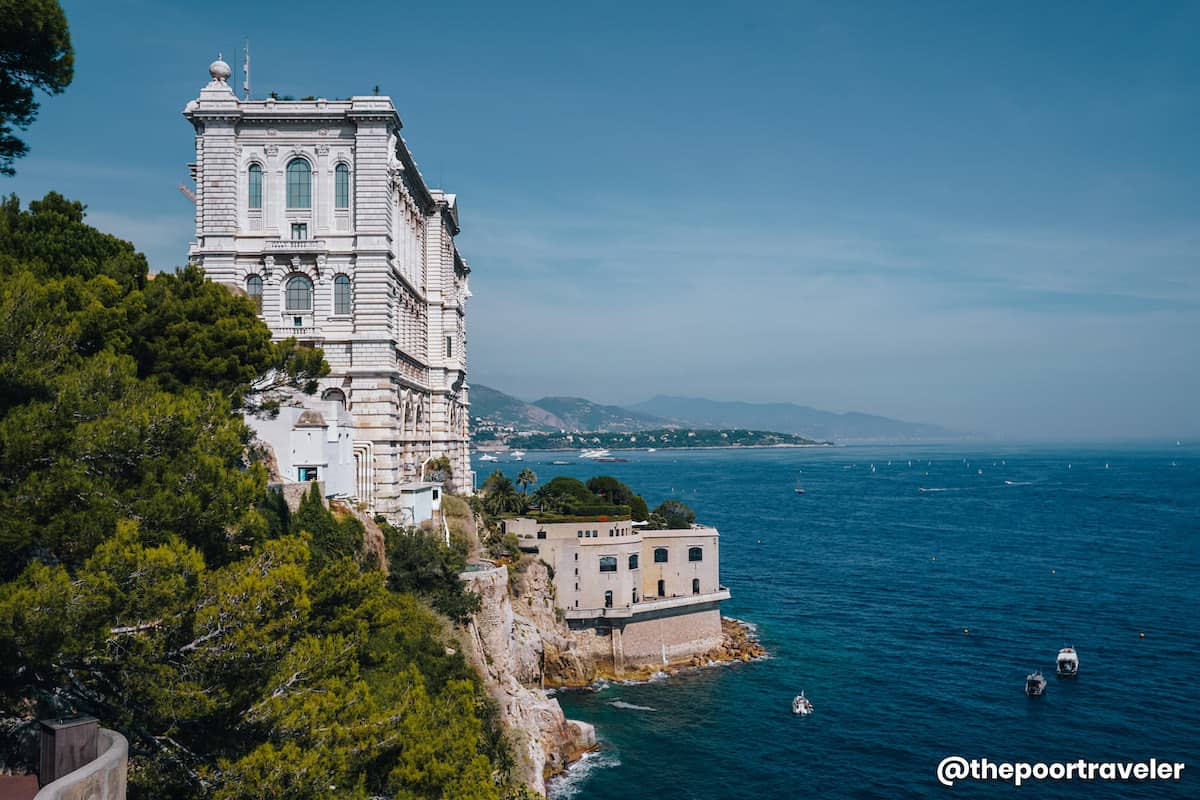 WHAT'S COVERED IN THIS GUIDE?
UNDERSTANDING MONACO
Occupying an area of roughly 2 square kilometers, Monaco is the second smallest country in the world, next only to the Vatican City. It is one of Europe's six microstates; the other five are the Vatican City, San Marino, Liechtenstein, Malta, and Andorra.
Although a sovereign nation, Monaco is practically along the scenic French Riviera. It is lapped up by the blues of the Mediterranean on one side and surrounded by the peaks of France on the other fronts. Its history has been intertwined with France on many points and maintains a special relationship with France especially on customs, defense (military), and some aspects of the economy. Monaco is also very close to the France-Italy border, so don't be surprised to see some Italian influences seeping in here and there.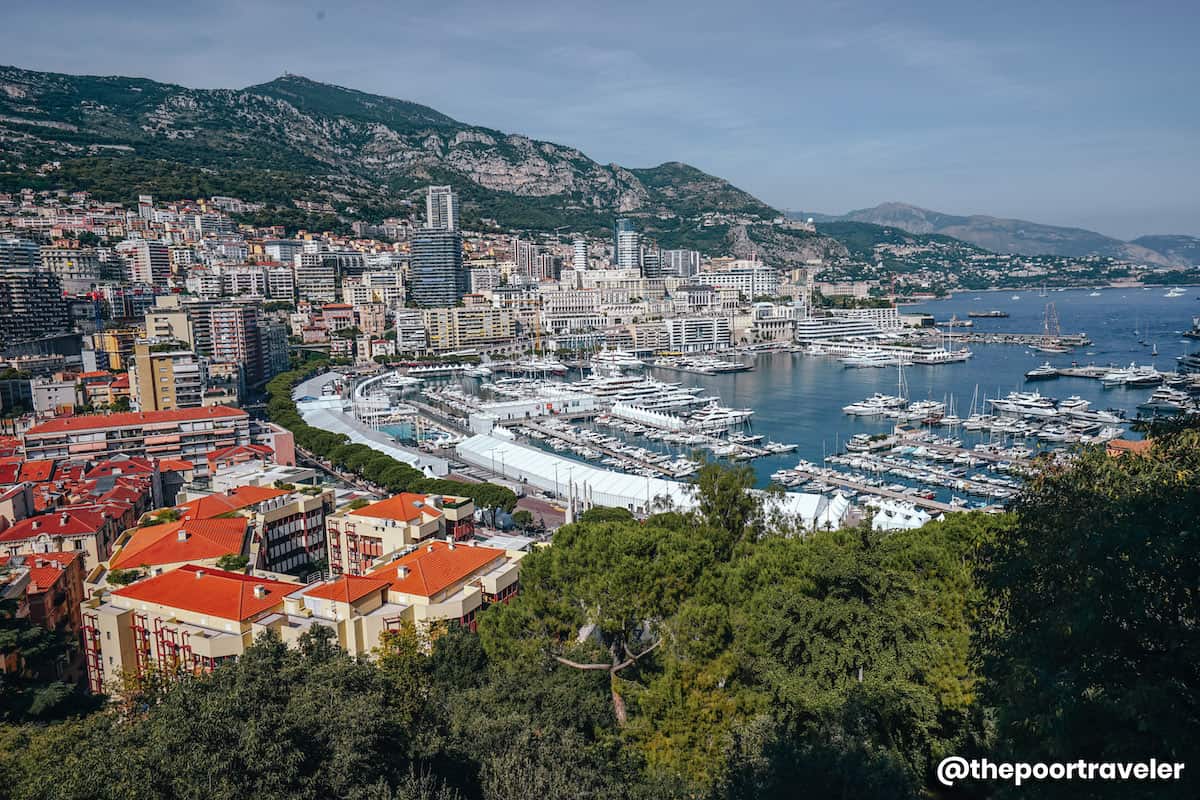 Here are more information tidbits about Monaco that you might find useful:
Time Zone: UTC+1 (Central European Time). Monaco is 7 hours behind the Philippines, Singapore or Malaysia; and 8 hours behind Japan. However, daylight saving time is in effect from the last Sunday of March until the last Sunday of October, which puts it at UTC+2, only 6 hours behind PH, SG, and MY.
Language: French is the official language. Italian is also spoken by a significant fraction of the population. Monégasque, a dialect of the Ligurian language, is considered "a lenga d'i nostri avi" or the language of the ancestors. It is spoken by some and taught at schools. Street signs are both in French and Monégasque. But you can also get by with English.
Currency: Euro (EUR, €). €1 is roughly USD 1.19, SGD 1.62, PHP 57.8 (as of August 2020)
Modes of Payment: Cash is common and international credit cards like Visa and MasterCard are widely accepted.
---
WHERE TO STAY IN MONACO
While it is possible to spend your nights in Monaco, it may get pretty expensive quick. The cheapest hotel room in high season can only go as low as 200€ per night. Alternatives like apartments are available, but they're still pretty steep at at least 170€ per night. These may go lower in low season, but still relatively pricey.
Since Monaco is small and can easily be explored in a day or two, most travelers choose to stay in the nearby city of Nice instead and use it as a jump-off point. From there, you can visit Nice DIY-style or you can join one of the guided tours.
TOP MONACO HOTELS & APARTMENTS
Here are the top properties on Booking.com as scored by confirmed customers. These are the ones that are relatively inexpensive. I say "relatively" because some of these are still way too much for a budget traveler are less expensive than the other hotels in the area.
---
TOP NICE HOSTELS
If budget is an issue, consider staying at a hostel in Nice instead. We were stayed at Antares Hostel, which is near the train station so it was easy to reach Monaco.
Here are other hostels in Nice, as ranked by Booking.com customers.
For more options, you can also search Agoda!
---
HOW TO GET TO MONACO
Monaco doesn't have an airport. The closest is the Nice Côte d'Azur Airport (NCE), or simply Nice Airport. It is used by over 60 airlines (around 20 seasonally), connecting the French Riviera to dozens of European cities and a few outside the continent.
---
NICE AIRPORT TO MONACO
If you're coming straight from Nice Airport, there are many ways to reach Monaco. The taxi and helicopter are convenient but too costly. Another option is taking the tram to Nice and transfering to the train at the Gare de Nice-Ville.
The easiest is the good old bus, which can take you straight to the airport. The BUS #110 connects the Nice Airport Terminals 1 and 2 to three stops in Monaco:
Place d'Armes
Monte-Carlo
Larvotto Bay Hotel
Check which of the above stops is closest to your hotel. The bus terminates not in Monaco, so make sure you'll not miss your stop. Otherwise, you might find yourself in Menton, near the Italian Border.
For the full schedule visit this page: BUS 110 TIMETABLE!
If you've booked your accommodations in Monaco, check first whether or not your hotel offers airport transfer service.
If you wish to take the tram/train, taxi or even the helicopter, we have a separate post for that here: NICE AIRPORT TO MONACO!
---
NICE CITY CENTER TO MONACO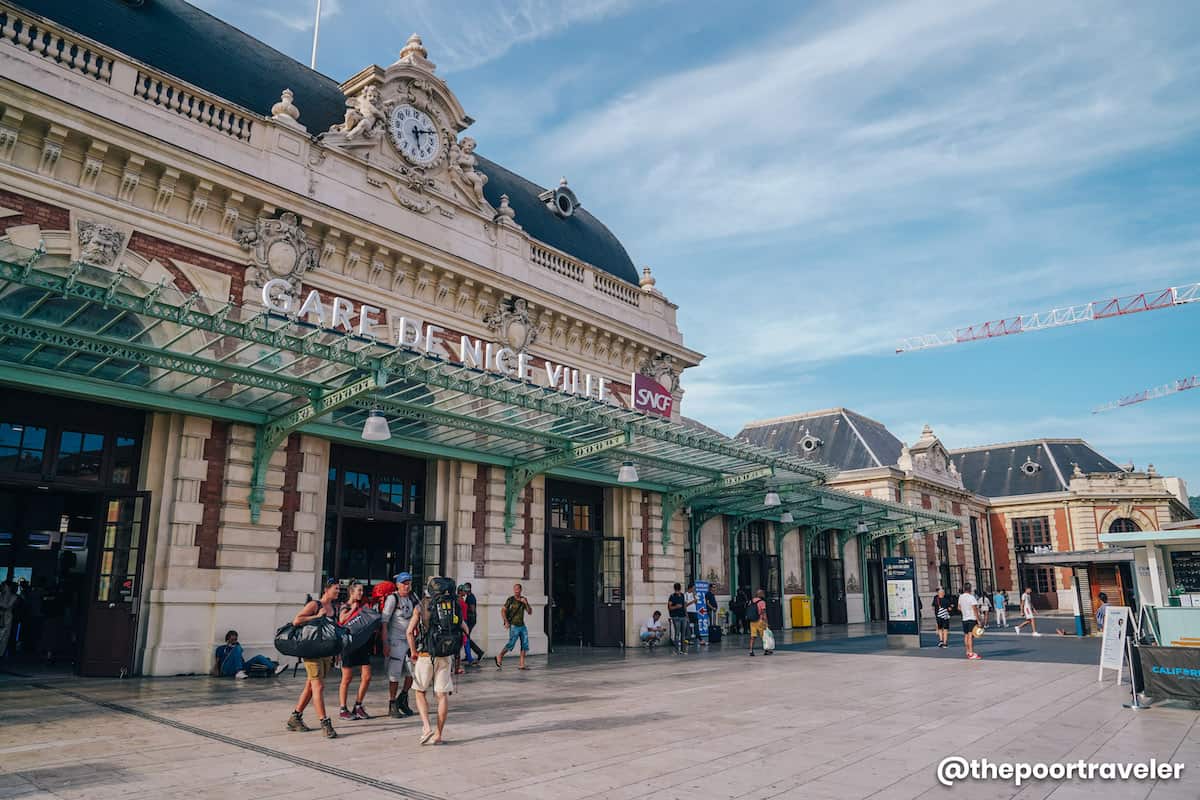 If you're coming from the city center of Nice, you may reach Monaco by taking the bus or the train.
By Bus. The most popular is BUS 100, which takes one of the most scenic routes in the world. The bus comes from Port Lympia, which is the best place to catch it. It goes all the way to Menton but makes several stops in Monaco including at Place de Moulins and Monte-Carlo. Fare: 1.50€. Travel time: 45 minutes. BUS 100X can also take you to Monaco faster, but the time difference isn't much and without the views, so BUS 100 is more recommended.
By Train. To get to Monaco by train, you need to make your way to Gare de Nice-Ville, Nice's main train station, or Gare de Nice-Riquier. From here, you can board the TER (regional) train to Monte Carlo. It's the sixth stop from Nice-Ville station or fifth from Riquier. Fare: 4.10€. Travel time: 25 minutes.
You may also reach Monaco by joining a guided group tour from Nice, which I will discuss later in the HOW TO GET AROUND section below.
---
HOW TO GET AROUND MONACO
Monaco is tiny and scenic, so the best way to explore is on foot. Monte Carlo, in particular, is very walkable. However, Monaco's terrain is uneven especially around the Exotic Garden and towards the Prince's Palace, so prepare for some uphill walks. It's not too difficult but it may be an issue if you're not that fit. If you're fine, it's quite easy to get from one tourist spot to another, as long as you plan your itinerary well.
It's also possible to rent a bike, which costs 15€ to 50€ per day depending on the type of bicycle. But again, Monaco is hilly, so biking can get strenuous at times.
By Public Transportation
By Bus. There are five bus routes within Monaco, all operated by Compagnie des Autobus Monaco. It runs from 6am-9pm. Fare is 1.50€ if you buy from the ticket machines (2€ if from the bus driver). A night bus also operates from 10pm-4am.
By Taxi. First of all, if you're staying at a hotel, you might want to ask for assistance from the reception in booking a taxi. Cabs don't stop at passengers on the side of the road. You may book them in advance here. Fare is 15€ within Monaco and 90€ to Nice Airport.
---
By Group Tour
This is a great option, especially if you're coming from outside Monaco like Nice. Joining a guided group tour means you'll not only see a lot of attractions, you'll also learn so much about each stop and the Monégasque way of life. The guide can also tell you good photo spots!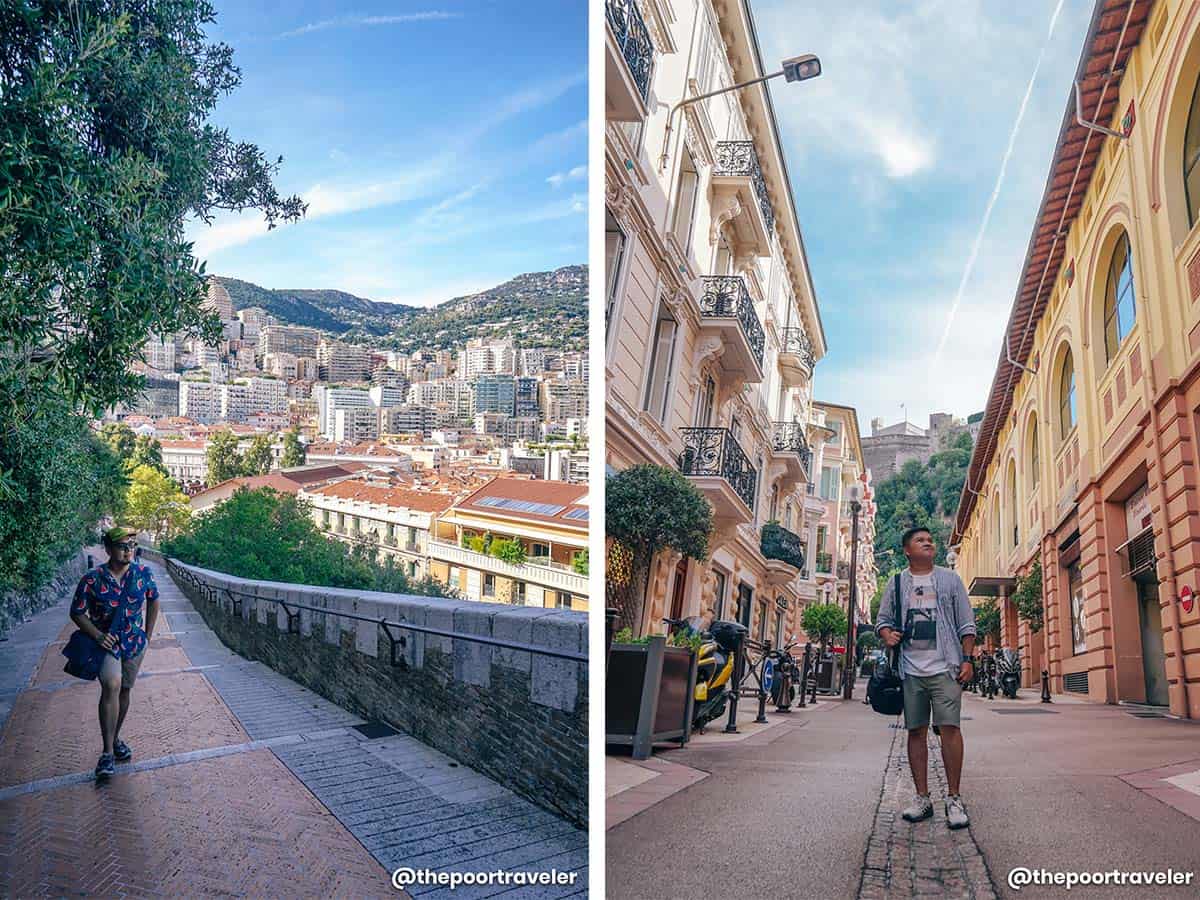 Several options are available. On Klook, you can book any of these three tours:
Day Tour from Nice.
Reserve a slot here!
✅
Evening Tour with Dinner from Nice, Cannes, or within Monaco.
Reserve a slot here!
✅
Evening Tour without Dinner from Nice.
Reserve a slot here!
✅
---
By Hop-on Hop-off Bus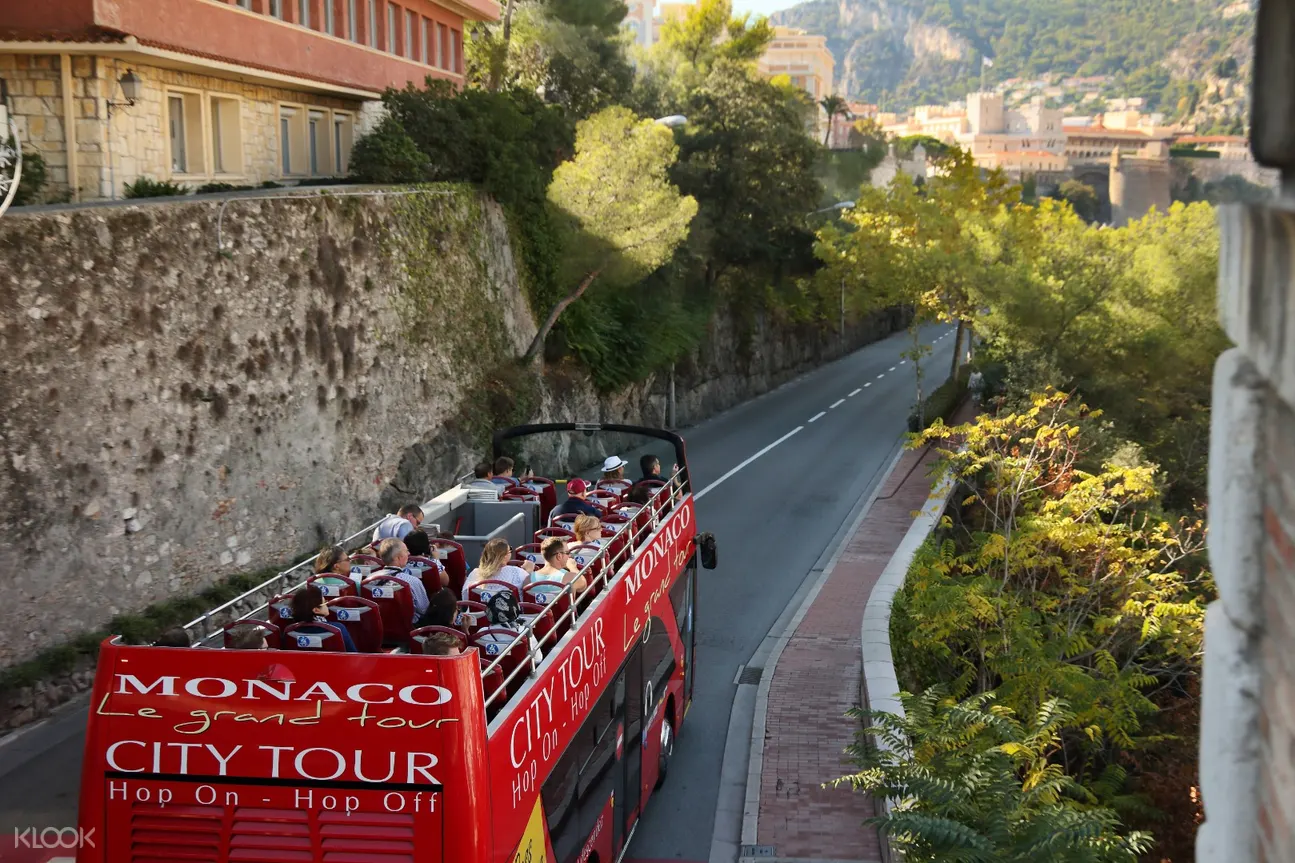 If you're a fan of the HOHO bus, you'll be glad to know that they operate in Monaco too. This is ideal if you want to be seated comfortably while sightseeing. The Le Grand Tour HOHO bus, which is available on Klook, makes a stop at 16 of the key attractions in Monaco.
An audio-guide, available in 8 languages, is provided, which shares information about each stop. You may also get off if you want to explore a stop further, but you will need to wait for the next bus to get to the next site.
✅ RESERVE A BUS PASS HERE!
---
PLACES TO VISIT IN MONACO
Here are some of the key tourist attractions in Monaco.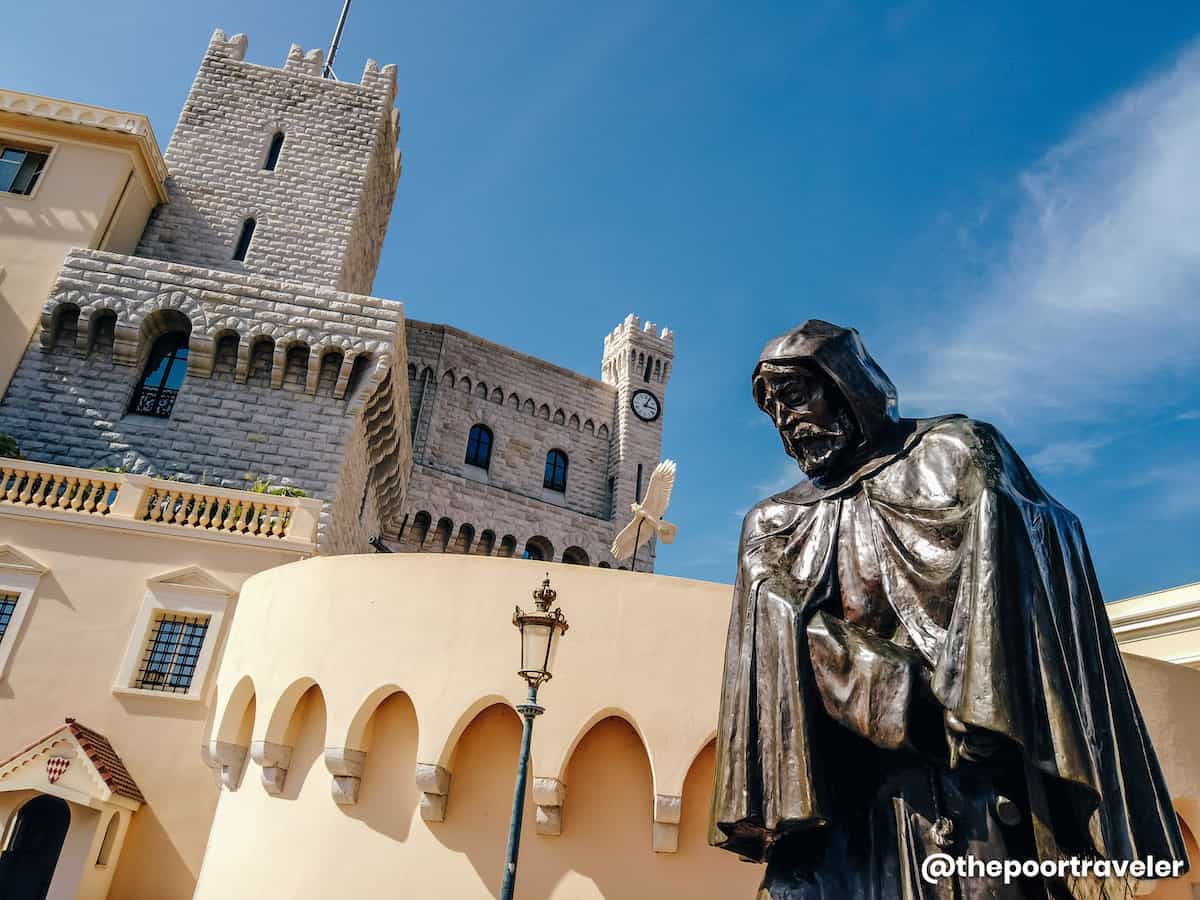 Monte Carlo Ca sino, possibly the most well-known of all the attractions in Monaco. It was opened in 1863 to save the House of Grimaldi from going bankrupt, after losing significant chunks of its territory. For over a century, this has been the primary source of income for state and the royal family. Even if you don't play, you may enter the building and take photos inside.
Larvotto Beach, Monaco's most famous seaside strip. Located in the easternmost ward, it is a good spot to soak in the sun, get a tan, wade in the waters or even go people watching.
Le Jardin Saint Martin (St. Martin Garden), a relaxing spot on the Rock of Monaco. Aside from its Aleppo pine trees, this garden on the Rock of Monaco is best known for the walkways and a statue of Prince Albert I.
Monaco Cathedral, also known as the Cathedral of Our Lady of Immaculate or Saint Nicholas Cathedral. It was completed in 1903. Inside you'll find the beautiful marble Episcopal Throne and the Great Altar.
Palais du Prince (Prince's Palace), the official residence of the Prince of Monaco. It was initially a Genoese fortress constructed in 1191. Throughout the course of its history, many foreign invaders have attacked it. The Grimaldis took it in the late 1290s and have made it their stronghold for centuries after. Fast forward to today, the Prince of Monaco still calls the palace home. The palace grounds also offer the best view of the Monaco Port (Port Hercules).
Musée Océanographique de Monaco (Oceanographic Museum), a marine science museum. Housed in a beautiful Baroque-Revival building, it was opened in 1910 by Prince Albert I, who dedicated much of his life to exploration and oceanography.
Port Hercules, also known as the Port of Monaco being its only deep-water port. Located in the La Condamine district, it takes up much of the state's coastline. The harbor has been used for centuries as a major port, but its modern era began in 1926. It can shelter up to 700 boats and yachts. It is also quite possibly the most photographed view in Monaco, best seen from the Palace.
These are just some of the attractions in Monaco. For more places to visit and more information about the sites above, visit this post: THINGS TO DO IN MONACO!
---
SAMPLE MONACO ITINERARY
Because most travelers visit Monaco from Nice as part of a larger French Riviera trip, the sample itinerary below covers these two destinations. For the Monaco leg, this itinerary assumes you'll be taking the guided group tour from Nice.
If you're only interested in Monaco, we created a separate, more detailed itinerary here: MONACO ITINERARY!
DAY 1 – ARRIVAL, JEAN MEDECIN
01:35 pm – Arrival at Nice Airport/Station
02:19 pm – Tram to Jean Medecin, 1.50€
02:50 pm – Walk to hotel
03:10 pm – Hotel check-in, rest
05:00 pm – Explore Avenue Jean Medecin
07:00 pm – Dinner, 15€
09:00 pm – Back to hotel
DAY 2 – NICE TOUR
10:00 am – Quick brunch, 10€
10:30 am – Walk to Place Massena
11:00 am – Free Walking Tour
– Tip tour guide, 5-7€
– Buy snacks at market, 7€
02:00 pm – Chill at Castle Hill Park
03:30 pm – Walk along Promenade des Anglais
05:00 pm – Buy gelato from Azzurro/Fenocchio, 5€
05:30 pm – Explore other parts of Old Town
07:30 pm – Dinner, 20€
09:00 pm – Walk back to hotel
DAY 3 – MONACO TOUR
10:00 am – Travel to Gare de Nice-Ville
10:20 am – Start Monaco Tour, 35€, Book here!

– Lunch, 15€
03:00 pm – Walk to Place d'Armes
03:25 pm – Bus to Larvotto/Grimaldi Forum, 2€
03:35 pm – Walk to Larvotto Beach
04:30 pm – Champions Promenade & Japanese Garden, FREE
05:10 pm – Walk to Place des Moulins
05:30 pm – Bus to Nice, 1.50€
06:40 pm – Dinner, 20€
08:30 pm – Back to hotel
DAY 4 – DEPARTURE
08:30 am – Pack up
10:30 am – Early check out, leave bags
11:00 am – Early lunch, 10€
12:00 pm – Leave for airport/train station, 1.50€
If you're able to book a bed for 40€ per night, the above itinerary will cost you at least EUR 290 (USD 344, SGD 470.5, PHP 16,770) per person excluding airfare and airport taxes but including some allowance to cover incidental expenses, future price movements, and other possible expenses we might have missed.
You can insert this into a greater European itinerary. We didn't include airfare in the budget because many travelers visit Nice and Monaco on a multi-city tour of Europe and may be coming from various cities, some by train.
---
FREQUENTLY ASKED QUESTIONS
Do I need a visa to visit Monaco?
YES, you need a Schengen visa. Although Monaco is a sovereign state, it has a Customs Union with France, with which it shares all of its land border. Even though Monaco is not part of the Schengen Agreement, it is considered part of the Schengen Area and covered by the Schengen Visa.
If Monaco or France is the only country you are going to visit or if you're traveling to multiple countries but staying in Monaco or France the longest, you will need to apply for a visa via the French Embassy.
For more information about how to get a visa from the French Embassy, READ: FRENCH SCHENGEN VISA!
---
Is Monaco safe?
YES, Monaco is one of the safest places in the world. It has a very low crime rate, and it has been decreasing recently.
That said, you should still remain vigilant and keep an eye on your valuables. Because it's a touristy area, there are petty crimes like pickpocketing and bike theft.
---
When is the best time to visit Monaco?
Spring and autumn.
The months from June to August are peak season; this is when Monaco's temperatures are at their hottest, crowds are at their biggest, and prices are at their highest. You'll have to book weeks in advance to get a room and you have to make restaurant reservations before going.
The most ideal times to visit are during fall from September to November and spring in April. Crowds are not that thick and you can find a room for a reasonable price compared to summer months.
If you want to experience the Monaco Grand Prix, know that it's held on two weekends in May. But expect the prices of everything to skyrocket during this period.
---
What is the tipping policy in Monaco?
Tipping is not mandatory in Monaco.
At restaurants, bills usually cover a 15% service charge so no tip is needed. But if your bill does not include this, you should tip 15%.
---
Is tap water safe to drink in Monaco?
Yes, it's safe to drink. Like in most places, it may have an aftertaste. But yes, it's drinkable. It's just a matter of taste.
---
What type of power plug / socket is used in Monaco?
Electricity Info: 230 volts, 50 Hz. Common sockets are Type F, which also accept plugs that have two round pins (C and E).

---
2020 • 8 • 20