2020 • 2 • 9
Abandoned places always captivate me. Being there or just seeing photos of those once glorious places heightens my senses and imagination; the breaths made, sighs released, and laughter shared in the past are magnified and revived by the solemnity of the place. Most of the time, I catch myself playing inside my head the hustle and bustle of what used to be busy places, making them livelier to me than ever.
Fortune Island gave me that feeling. When I finally arrived, it did not disappoint. The timing of my visit contributed a lot in enabling me to take in as much as I wanted from the trip – have quality time with friends, appreciate the ruins, enjoy the waves, and revel in the calm blue waters. It was a weekday, Thursday to be exact, and there were only us and two other small groups. At one point, we had the island to ourselves.
WHAT'S COVERED IN THIS GUIDE?
UNDERSTANDING FORTUNE ISLAND
Fortune Island is located Nasugbu in Batangas. It used to be a private island harboring an exclusive luxury resort. But it is difficult and costly to maintain a luxury resort without a ready source of fresh water. One cannot drink luxury. Consequently, it ceased its operations in 2006. One remarkable reminder of its grandeur stands atop the island's limestone cliff overlooking the sea – an acropolis with Grecian pillars and statues.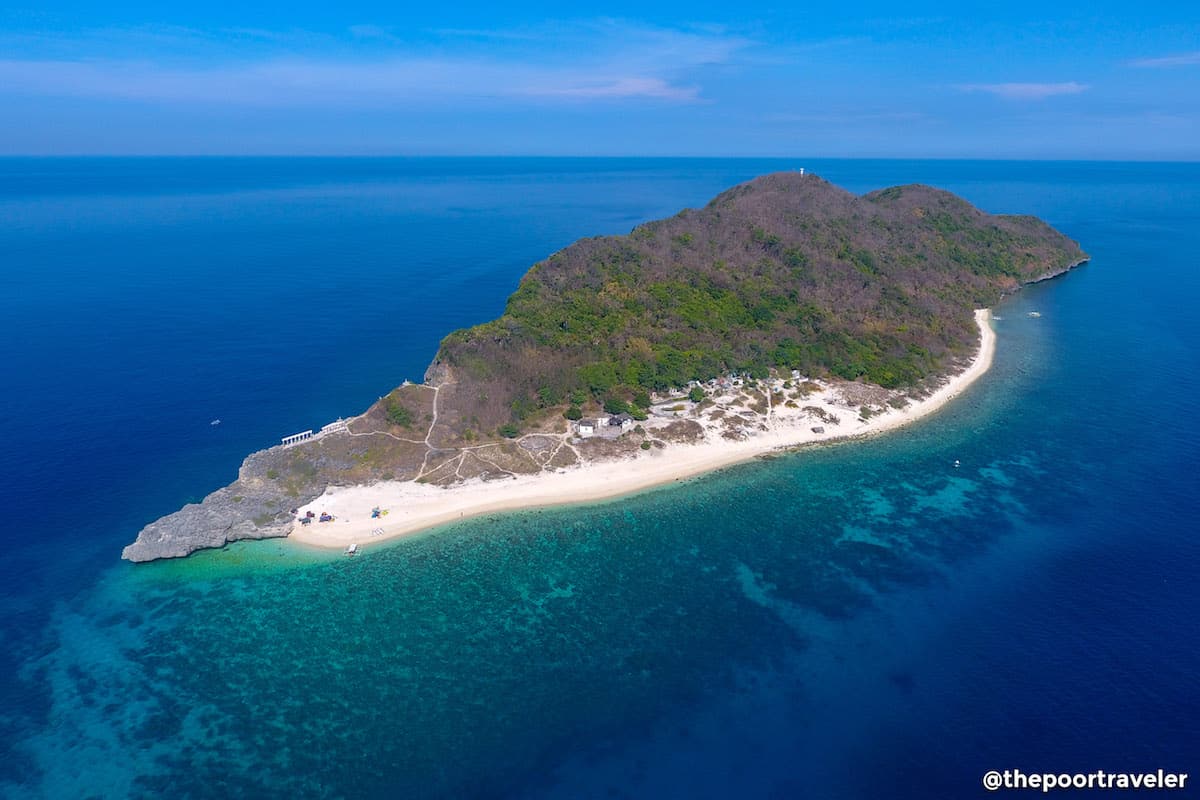 It was a rough yet thrilling boat ride. The waves were strong and unforgiving, but our boatmen managed to bring us to the island safely. Approaching the island, the Grecian ruins proudly greeted us. Our boat docked at the cliff diving area instead of the beach to prevent the boat from damaging the corals and vice versa. At Fortune Island, you have two options: shallow but rough water or calm but deep water. If you choose the former, head over to the beach and tumble with the waves. If you choose the latter, brave your way to the cliff diving point and plunge into the relaxing clear blue water. Or why choose when you can do both?
---
HOW TO GET TO FORTUNE ISLAND
By Public Transportation
Take the bus from Manila to Nasugbu, Batangas.

There are several bus companies with direct route to Nasugbu:
DLTB (Buendia Taft Ave corner Sen. Gil Puyat)
San Agustin Bus Line (Cubao)

Travel time: around 4 hours (depending on the traffic)
Fare: Around P200

Tell the driver to drop you off Jollibee-Nasugbu.

Ride a tricycle to Fortune Island Resort in Barangay Wawa.

Fare: P10-P15 per person

At Fortune Island Resort, pay entrance fee:

Day Trip: P350/head
Overnight/Camping: P500/head

From Fortune Island Resort (mainland), rent a boat going to Fortune Island.

Travel Time: 1 to 1.5 hour
Day Trip: P4000 (1-4 pax) / P4500 (5-8 pax) / P5000 (9-12 pax) / P5500 (13-15 pax) / P6500 (16-20 pax)
Overnight/Camping: P4500 (1-4 pax) / P5000 (5-8 pax) / P5500 (9-12 pax) / P6000 (13-15 pax) / P7000 (16-20 pax)
You can find boats for hire outside the resort at a cheaper rate but you still have to go to Fortune Island Resort to register and pay the entrance fee.
---
By Private Car
Via Cavitex: Head to Governor's Road, and then continue onto Nasugbu -Ternate Highway until you reach Nasugbu. You will see Jollibee, and then make a right turn to C. Alvarez Street. Keep on driving straight until you reach Apacible Blvd, onto which you will make a right turn. Just stay on that road and you'll reach Fortune Island Resort.
Via SLEX: Exit to Sta Rosa, and then turn right. Continue onto Tagaytay-Sta Rosa Road. From Tagaytay, continue onto Tagaytay-Nasugbu Highway until you reach Palico. Make a right turn to Palico-Nasugbu Highway. At the end of Palico-Nasugbu Highway, make a right turn. Continue driving until you reach Nasugbu town proper. Make a right turn to C. Alvarez Street, and continue driving. Turn right to Apacible Blvd, and then continue driving until you find Fortune Island Resort.
---
FORTUNE ISLAND ENTRANCE FEES AND BOAT RATES
Entrance Fees
Day Trip: P350
Overnight/Camping: P500
Boat Rates
From Fortune Island Resort (mainland), here are the boat rates (roundtrip). Travel Time: 1 to 1.5 hour.
Day Trip: P4000 (1-6 pax) / P4500 (7-10 pax) / P5000 (11-15 pax) / P6500 (16-20 pax)
Overnight: P4500 (1-6 pax) / P5000 (7-10 pax) / P6000 (11-15 pax) / P7000 (16-20 pax)
Island Cottage Rates
The management constructed cottages on the island. Visitors may opt to rent one of these for a day or an overnight stay.
Day Trip: P1500/cottage
Overnight: P2000/cottage
Camping Rates
If you opt to pitch a tent and rough it out, here are the rates for the tent rental.
Day Trip: P300/tent
Overnight: P500/tent
You can also bring your own tent but you still need to pay for the placing charge. Here are the rates.
Day Trip: P100
Overnight: P200
---
WHERE TO STAY IN NASUGBU
Camping is the name of the game on Fortune Island. But if you want to spend the night in Nasugbu but you refuse to rough it out, Fortune Island Resort on the mainland also offers accommodations. Here are the rates:
South Wing Rooms: P1500 (Two Single Bed Room) / P1500 (One Double Bed Room)
North Wing Rooms: P1500 (One Double Bed Room) / P2000 (One Double Bed + One Single Bed Room) / P2500 (Two Double Bed + One Single Bed Room) / P500 (Extra Mattress)
Here are other resort options in the municipality.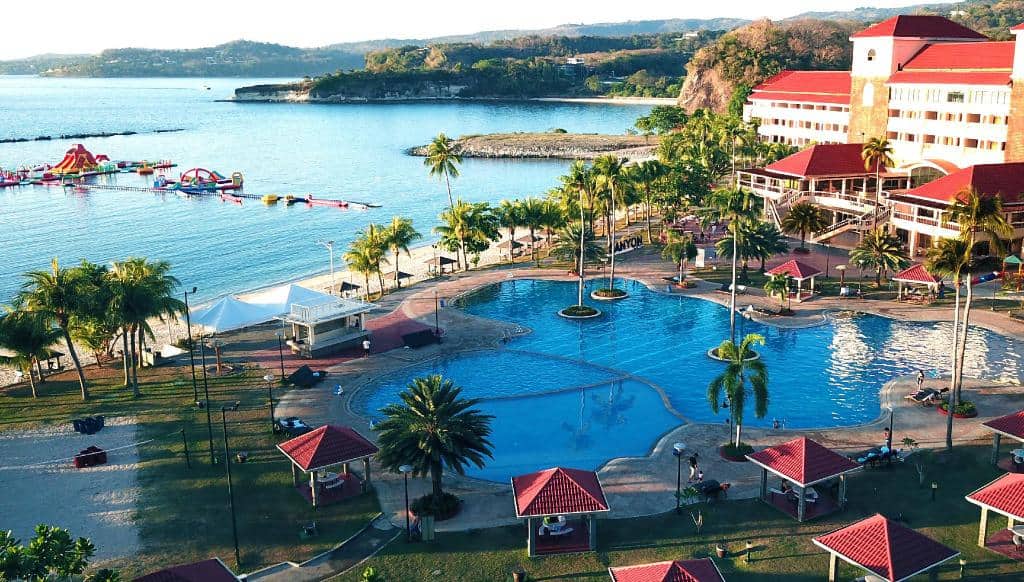 ---
THINGS TO DO AT FORTUNE ISLAND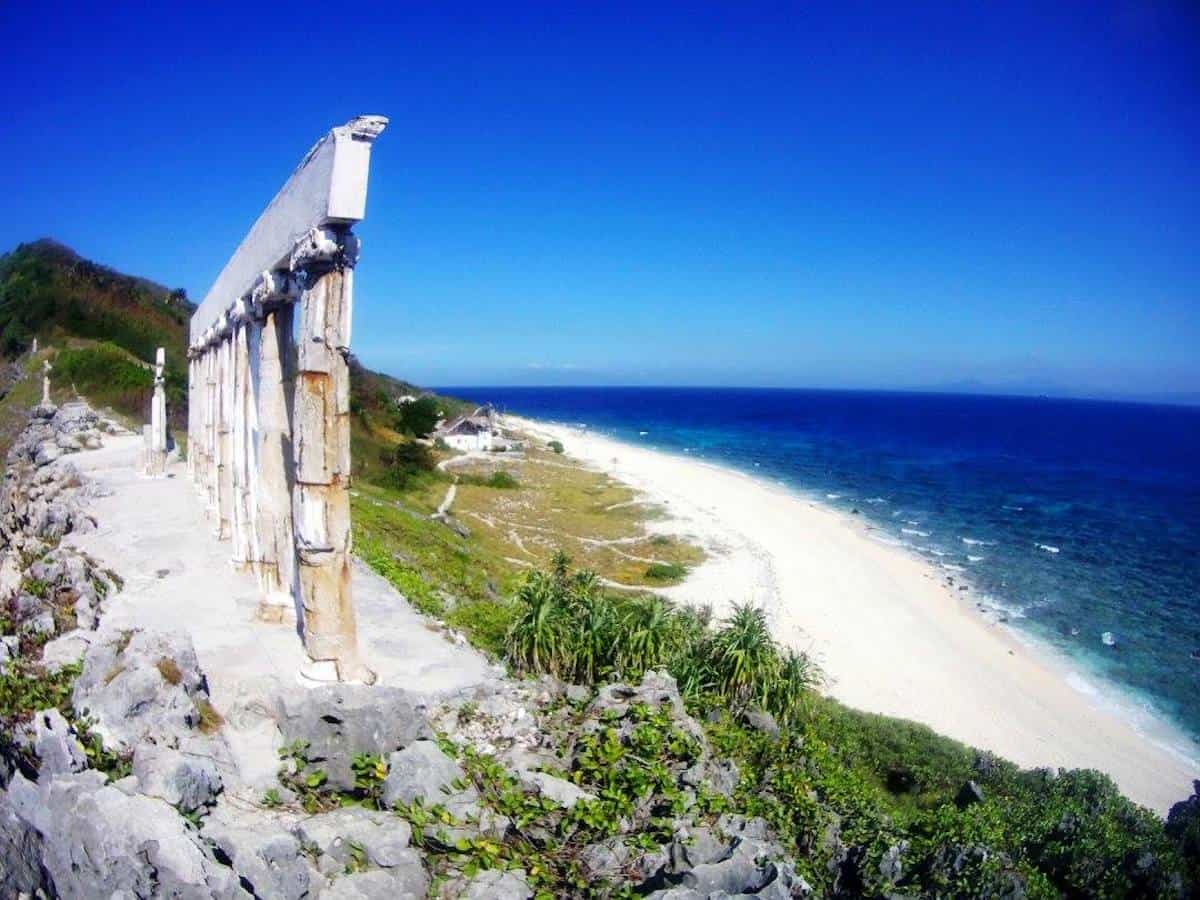 Aside from swimming and cliff diving, here are other activities that you can do to maximize your visit (meaning your time and money):
Chill. The place has its own charm. Find a spot and just relax with friends while enjoying the view. My friends and I brought drinks with us and chose the Grecian ruins as our spot, so we got this scenic setting while we were drinking and catching up with each other.
Strike a Pose. Take advantage of the Grecian ruins and the newly-built photo walls. Strike a "profile picture-worthy" pose, then press the click button to your heart's content. You can do however you want it: selfie, groufie, or like a fashion magazine photoshoot.
Trek to the Lighthouse. It will take you around 30 minutes to get to the lighthouse.
Snorkeling. After exploring and walking around the island, take time to appreciate the beauty of the sea. It is best to bring your own gear.
Scuba Diving: Go further by plunging deeper into the sea and discover wonders underneath. These are what await you, according to DivePhil.com:
– The Blue Holes: an interesting underwater feature made up of three sinkholes leading into an open-topped cavern.
– The Wreck: located 65ft under the sea, not far from the beach, is the rear part of a Dutch freighter. A Volkswagen minibus can also be found near the freight.
– Fortune NW: found between the Blue Holes and the Wreck with coral formations and valleys dropping to over 120 ft.
Camping. If you want to stay on the island much longer and day trip seems not enough, you can bring and pitch your own tent.
---
WHAT TO BRING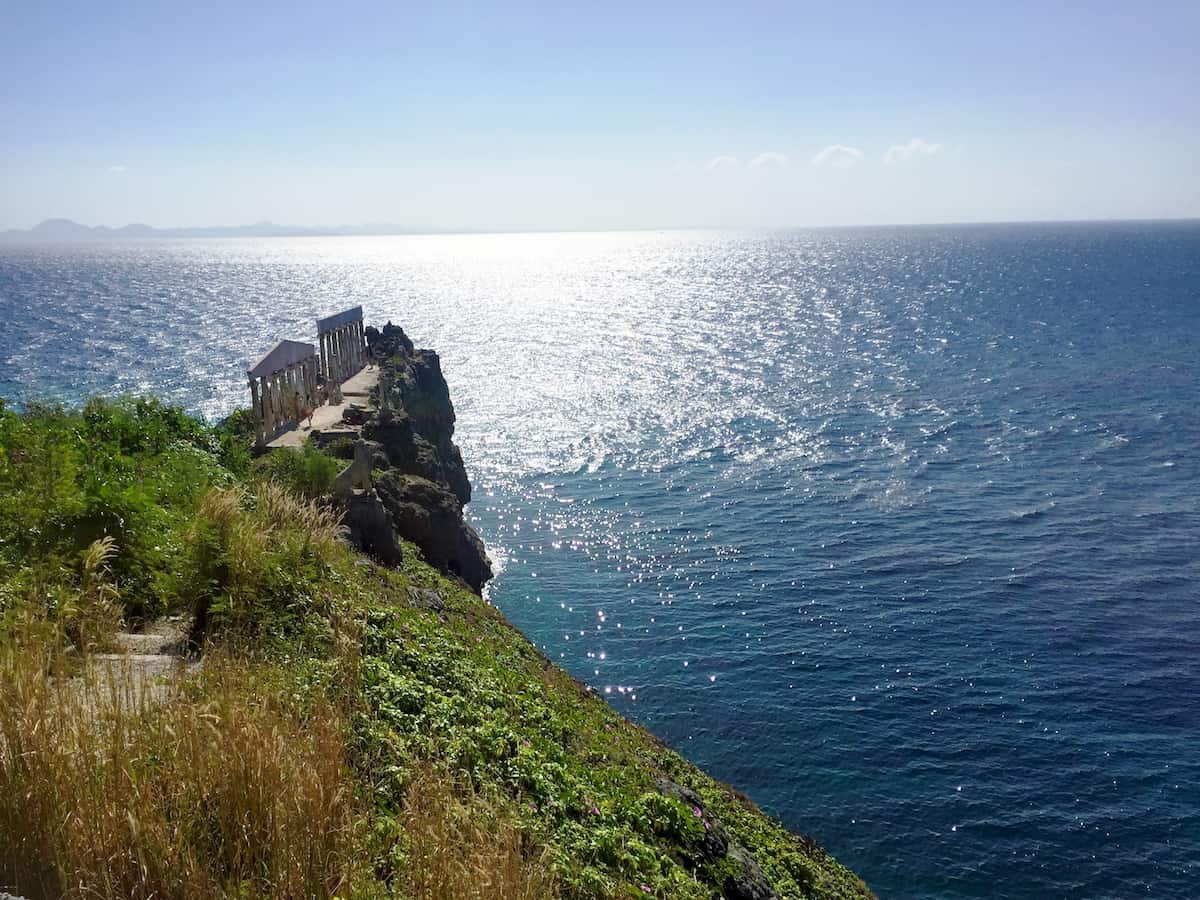 Day Trip: Water!!! Extra clothes, swimwear, water activity gear (goggles, snorkel gear, etc), sunblock, headgear (cap, hats, etc), toiletries, towel, malong or sarong, medicine (allergy, asthma, etc), first aid kit, food and drinks, garbage bags, cameras, and power banks.
Camping: Day trip stuff mentioned above + tent, lamp, flashlight, portable stove (and fuel source) and/or grilling essentials, eating and cooking utensils and tools, ice chest, and lots of water.
Note: These are only suggested items and things to bring. You are free to bring whatever you think you need for this trip.
---
SAMPLE FORTUNE ISLAND ITINERARY
Here's a sample Fortune Island itinerary. Please note that it assumes you're a group of 5 people, splitting the costs of some items.
04:00 am – ETD Pasay/Buendia
07:00 am – ETA Nasugbu, P200
07:10 am – Tricycle to Fortune Island Resort, P15
07:25 am – Pay entrance fee, P350
07:40 am – Boat to Fortune Island, P800 (P4000/5pax)
08:40 am – Arrival in Fortune Island, swim
11:00 am – Lunch
12:00 nn – Leave island
01:00 pm – Shower, P15
02:00 pm – Trike to town proper, P15
02:30 pm – Ride bus for Manila, P200
If you follow this itinerary, prepare to shell out around P2095 (USD40, EUR36, SGD56).
If you're a group of eight, the itinerary above will set you back P1900 (USD37, EUR33, SGD50).
There are ways to further reduce costs. If you bring your own food, you can remove the P500 meal allocation.
---
SUMMARY OF EXPENSES
If you're a group of 5 and you're driving:
Gas + Toll: P280/person
Resort Entrance: P350/person
Boat Rental: P4000/5 = P800
Meals and other provisions: P500/person
Mainland Bathroom Fee: P15/person
Total expense per person: P1945
If you're taking public transportation:
Bus fare: P200/person (one-way)
Tricycle Fare: P15/person (one-way)
Resort Entrance: P350/person
Boat Rental: P4000/5 = P800
Meals and other provisions: P500/person
Mainland Bathroom Fee: P15/person
Total expense per person: P2095
---
MORE TIPS FOR THE POOR TRAVELER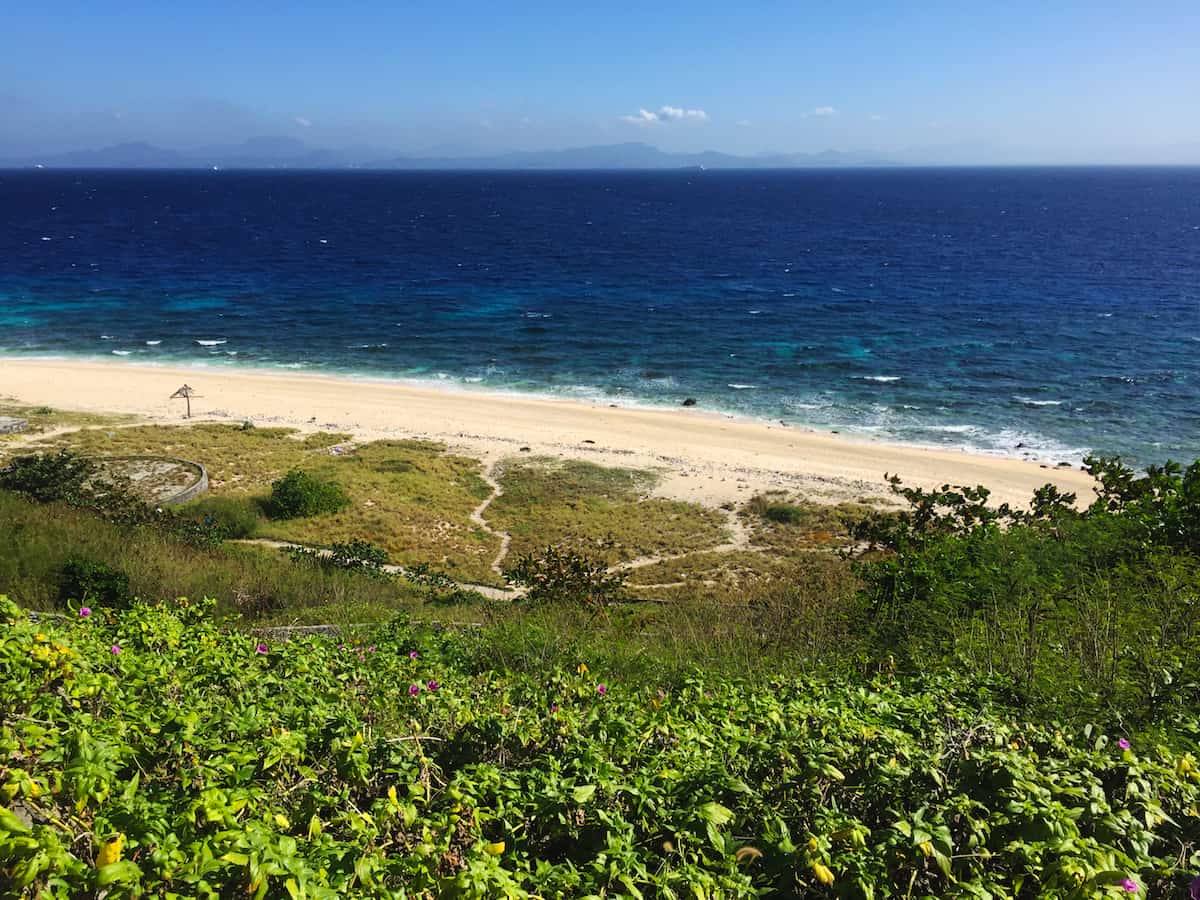 You have to rough it out. No fresh water source, and basic bathroom and toilet.
Bring food and water. There are no meals sold on the island.
Leave nothing but footprints. Take your trash with you. If you can, pick up other garbage left by other tourists on the island and dispose them properly when you get back to the mainland.
Expect strong waves and rocky coastline.
Go there early. For campers, especially during weekends and peak season, it's better to be there early, so you can find a better spot to set your tents. For those going on a day trip, the boatmen will strongly advise and insist that you leave not later than 2PM. In our case, the boatmen wanted to leave the island by 12nn, but we managed to extend until 1pm. We tried bargaining for another extension, but they are very persistent to leave the island. Their reason: strong waves.
If you are bringing your car, you can arrange and secure parking space with your contact person
---
Contact Information
Fortune Island Resort: 0917 893 6507 (Resort Manager)
---
2️⃣0️⃣2️⃣0️⃣ • 2️⃣ • 9️⃣ (updated)
2️⃣0️⃣1️⃣7️⃣ • 5️⃣ • 2️⃣8️⃣ (first up)