Fukuoka is the name of both the capital city and the prefecture. This Fukuoka Travel Guide focuses primarily on Fukuoka City but also features other places in the prefecture that can be easily accessed from the capital. It also includes Fukuoka hotel and tour recommendations, sample Fukuoka itinerary, and other travel tips.
Fukuoka is a city that I often overlook. And I mean that in more ways than one.
My sister has been living in Hiroshima for a while now. While Hiroshima has its own airport, the cheapest way to get there from the Philippines is flying to Fukuoka. I have done this route many times now. For the longest time, however, the only view I had of Fukuoka was through the window of the plane or the train, never up close. Fukuoka was never my destination, just a place to pass through. That until this year, when I decided to finally stop and see what the city has to offer.
It turned out that Fukuoka is delicious. And I mean that in more ways than one, too.
WHAT'S COVERED IN THIS GUIDE?
UNDERSTANDING FUKUOKA
I admit, the biggest reason I wanted to finally explore Fukuoka can be spelled in five letters: RAMEN. Damn. I'm salivating just writing that. (Sorry for the mental image.) But it's true. Ramen, for me, is Japan's second greatest contribution to mankind. (Next only to anime, of course, haha.) I don't understand why it took me so long to give Fukuoka some love and attention.
For many, Fukuoka is the ramen capital of the world and the birthplace of the most revered tonkotsu ramen, famous for its pork bone-based broth. In Fukuoka and Kyushu in general, tonkotsu is synonymous with Hakata ramen, named after the city's central ward.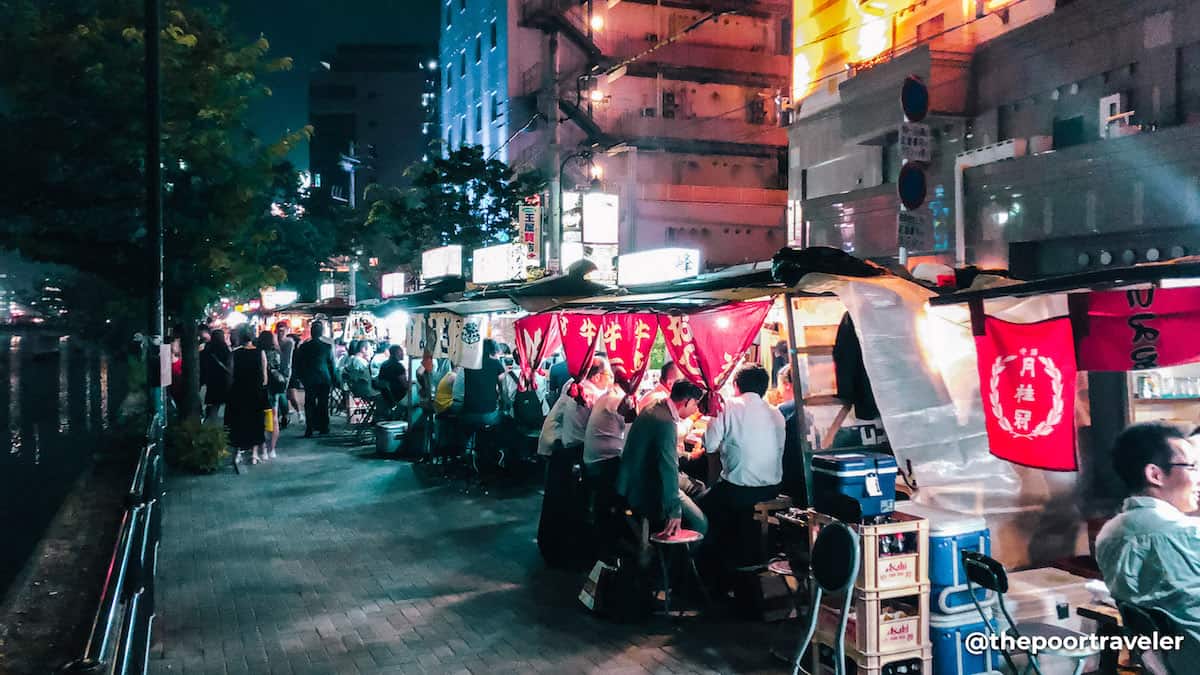 Hakata was a city on its own. But in 1889, it was merged with neighbor Fukuoka, present-day Tenjin, to form a bigger prefectural capital. Today, Hakata and Tenjin are the two wards making up the city center, where most of the action happens. The two are divided by a river. Hakata Station retains its name and is the centrail railway station in Fukuoka.
One thing I noticed about Fukuoka is that although it is undoubtedly modern, it moves at a gentle, relaxed pace. This makes Fukuoka an ideal choice for travelers visiting Japan for the first time or a perfect first stop in a multi-city tour around the archipelago.
Other info you need to know:
Language: Japanese (Nihongo). The majority of the locals seldom speak English, but most of the signs and other tourist promotional materials have English translations.
Currency: Japanese Yen (JPY, ¥). JPY 1000 is around USD 9, EUR 7.7, SGD12.3, PHP 479 (as of July 2018).
Modes of payment: Most establishments prefer cash payment, but many of them also accept credit card transactions.
Electricity Info: 100V, 50/60 Hz. Type A sockets. Plugs have two flat pins. Type B is sometimes used but not that common.

---
BEST TIME TO VISIT FUKUOKA
October to November, all things considered. These months enjoy pleasant and dry weather, ideal for sightseeing. October is when temperatures begin to drop to 18.8C average. It's also the least popular among tourists, which makes exploring a lot less stressful.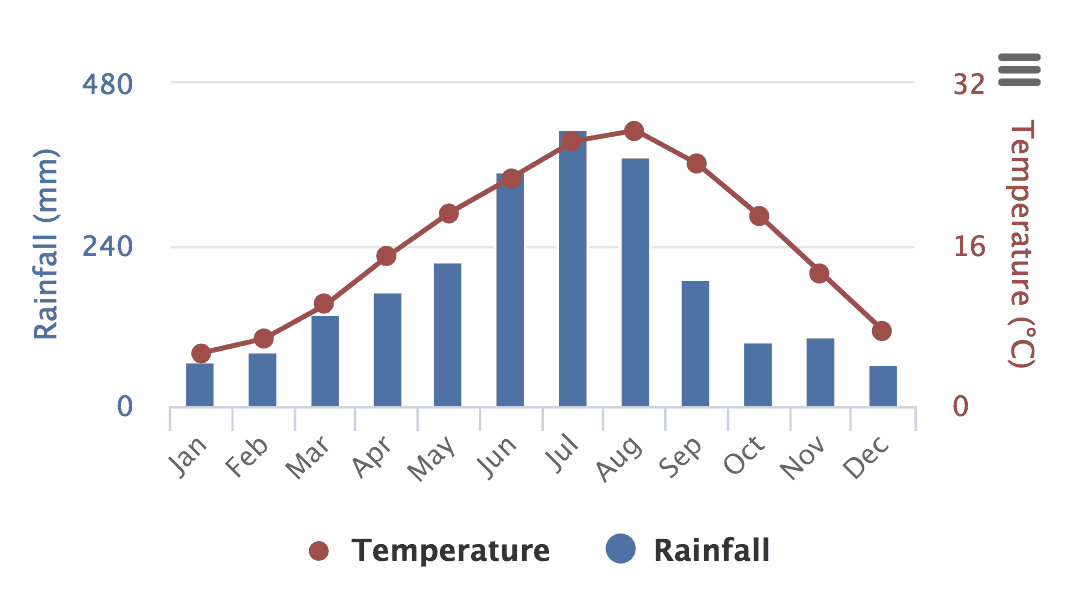 If you don't mind the cold, winter is a good option too. The temperature can plunge to 5.2C average, but it also sees the lowest precipitation levels. It's the second busiest season as far as tourism is concerned, especially from January-February.
The summer months of June-August are the busiest, the hottest, and the most expensive.
---
HOW TO GET TO FUKUOKA
Fukuoka Airport (FUK) is the primary gateway to Fukuoka City and Kyushu Island in general. It is Japan's fourth busiest airport (next to Haneda, Narita, and Kansai) and is connected to virtually every other airport in the country.
Manila to Fukuoka
The cheapest year-round fares for Manila-Fukuoka are offered by Cebu Pacific, which flies every Tuesday, Thursday, and Sunday. Travel time is 3 hours, 55 minutes.

This can still go much lower when there's a SEAT SALE. Because it's not as popular as other Japanese destinations like Osaka and Tokyo, there are usually more promo seats on Fukuoka flights and less competition. It's just much easier to snag promo fares for Fukuoka.
---
Fukuoka Airport to City Center
The good news is: Fukuoka Airport is within the city. Hakata Station, which is the biggest and the central train station in the city, is only around 5 minutes by subway or 15 minutes by taxi. There are also a lot of hotels in the Tenjin area. Tenjin Station is just 12 minutes away by subway.
The bad news is: The domestic and international terminals are housed in two separate buildings located on either side of the runway. The fastest way to reach the city center is the subway, but only the domestic terminal has a subway station.
No worries, though. There is a FREE airport bus service that ferries passengers from the international to the domestic terminal. Other modes of transportation are also available to reach the city center.
---
By Subway
If arriving at the International Terminal, you need to take the FREE shuttle bus to the domestic terminal first.
Go to Bus Stop 1 and wait for a bus.
Alight at Domestic Terminal 2, the last stop, where the subway station is located.
Go down to the underground level and get a ticket.
Take the Kuko Line for Meinohama or Chikuzemmaebaru.
Alight at Hakata Station, which is only 2 stops away. Travel time: 5 minutes. Fare: ¥260.
If you're going to Tenjin Station, it's 3 stops away. Travel time: 12 minutes. Fare: ¥260.
---
By Bus
The bus is the cheapest way to reach the city center.
Get a ticket from a ticket machine. Even if you approach the manned counter, you'll be pointed to the ticket machine.
Go to Bus Stop #2.
If going to Hakata Station, ride the City Bus (Nishitetsu bus). This bus also stops in Tenjin. Travel time to Hakata Station: 15-20 minutes. Fare: ¥260 (Hakata), ¥310 (Tenjin).
– If your hotel is closer to Tenjin City Hall or Canal City Hakata, go to Bus Stop #4 and take the Royal Bus. Travel time: Around 30 minutes.
---
By Taxi
Surprisingly, taking the taxi from the airport to the city center isn't as expensive as I thought. If you're a group of 3, this is a compelling choice, especially if you have heavy luggage in tow.
Here are the usual rates:
Fukuoka Airport to Hakata Station: ¥1200
Fukuoka Airport to Tenjin-minami: ¥1580
Fukuoka Airport to Tenjin Station: ¥1830
Hakata Station to Tenjin-minami: ¥1080
---
FUKUOKA POCKET WIFI

Because of the language barrier, having a good internet connection in Fukuoka can help save you time and money. You will want this with you to get around: when navigating, using Hyperdia and Google maps, converting yen to your currency, and translating signs.
Klook's unlimited 4G LTE pocket wifi service is a convenient option because you can pick it up at Fukuoka Airport and return it at almost any major airport in Japan. It also uses Softbank, which I have found to be reliable. It can also connect up to 14 devices, which means you can split the cost with a group. Here are more bits about it:
Unlimited 4G LTE and 3G data
Wide coverage all over Japan
No deposit required
Can connect up to 14 devices
Battery life: 9 hours
Return at any other major airport in Japan (see list)
The only problem is, it sells out fast. So if you have a scheduled trip to Japan, reserve it as early as you can.
✅ CHECK RATES or RESERVE HERE
---
HOW TO GET AROUND FUKUOKA
Most key tourist spots in Fukuoka are accessible by subway. If you've traveled to Japan before, you'll have no problem exploring Fukuoka. It's pretty much the same.
If it's your first time in Japan, it is important to be familiar with how to use the train. One thing that has proven helpful to me again and again is Hyperdia. It's a web-based search engine that would tell you train schedules and routes instantly. Just make sure you know the nearest train station to your destination and let Hyperdia do the rest.
Don't worry. In the Places to Visit (Things to Do) section below, I'm indicating the station closest to each attraction.
For more information on how to use Hyperdia and Japan's train system, read: HOW TO USE HYPERDIA.
---
Fukuoka Passes
If you're staying within Fukuoka City only and you're taking public transportation multiple times a day, get one of the following passes:
Fukuoka Tourist City Pass, which will enable you unlimited rides on buses, trains, and subways around the city (except Nishitetsu Train). Valid for 1 day. Price: ¥820 for adults and ¥410 for children.
1-Day Subway Pass, which will allow you unlimited rides on any Fukuoka City Subway routes (Kuko Line, Hakozaki Line, and Nanakuma Line). Subway only, buses excluded. Valid only for 1 day, on the day of purchase. Price: ¥620 for adults and ¥310 for children.
2-Day Subway Pass, which will allow you unlimited rides on any Fukuoka City Subway routes (Kuko Line, Hakozaki Line, and Nanakuma Line). Subway only, buses excluded. Valid for 2 days starting on the day of first use. Price: ¥720 for adults and ¥360 for children.
Note that these are not valid on JR lines.
If you think none of these passes are for you but you don't want to fall in line or get a ticket each time you use public transportation, you can use HAYAKAKEN instead. HAYAKAKEN is an IC card similar to ICOCA, SUICA or PASMO. All you need to do is hover the card upon entry to the subway station or bus and you're good to go.
All these passes are available at the following spots among others:
Hakata Station Tourist Information Center
Fukuoka Airport Bus Terminals and Information Desk
Hakata Port International Terminal General Information Counter
Tenjin Tourist Information Center
---
Train Pass for Fukuoka + Hiroshima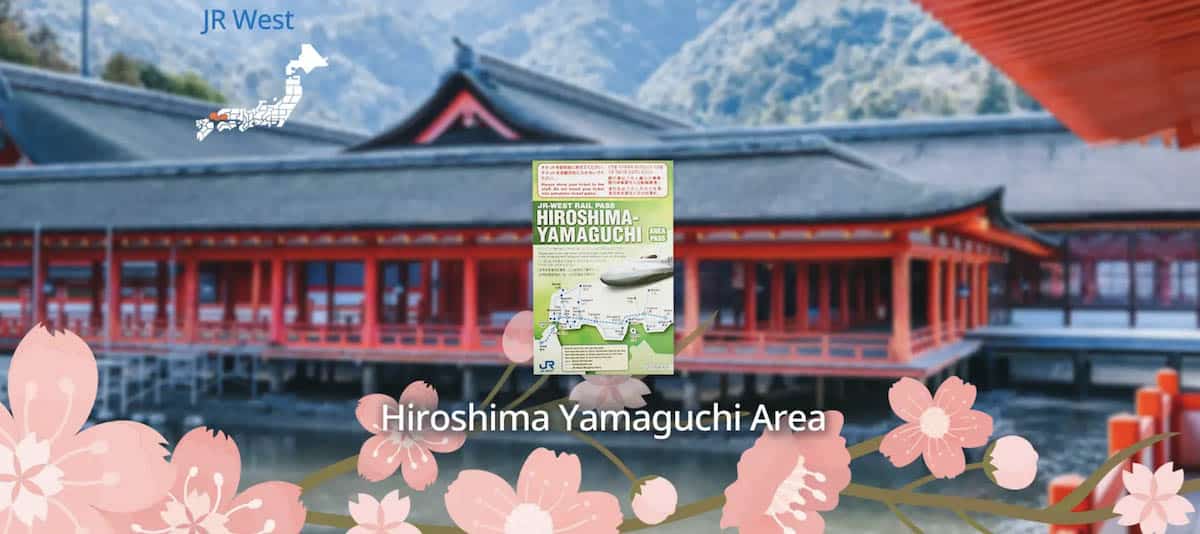 If you plan on exploring multiple destinations with Hiroshima Prefecture and Yamaguchi Prefecture and coming in via Fukuoka, consider the JR Hiroshima Yamaguchi Area Pass. This will enable you to get unlimited access to designated JR trains (including shinkansen) and bus lines within Hiroshima and Yamaguchi. This also covers shinkansen rides to and from Fukuoka (Hakata) and ferry ride to Miyajima.
If your trip is only 5 days, this is a good deal. The shinkansen ride from Hakata Station (Fukuoka) to Hiroshima alone is already over ¥8000, one way. But this pass costs only ¥11,000 and it gives you much more.
Price: ¥11,000
Validity: 5 days
✅ RESERVE A DISCOUNTED PASS!
---
---
Train Pass for Fukuoka + Other Cities in Kyushu

If you plan on visiting multiple destinations on Kyushu Island aside from Fukuoka City, it may be wise to get a JR Kyushu Rail Pass. There are 3 types available: the Southern Kyushu Pass, the Northern Kyushu Pass, and the ALL Kyushu Rail Pass. Only the last 2 cover Fukuoka.
JR Northern Kyushu Rail Pass, which covers the northern cities of the island including Fukuoka. Available in 3-day and 5-day versions.
ALL Kyushu Rail Pass, which gives you unlimited access to the JR rail network within the island, north and south included. Available in 3-day and 5-day versions.
✅ CHECK RATES or RESERVE HERE!
---
Nationwide JR PASS?
If you're visiting Fukuoka ONLY, you don't need a JR Pass. It's only for those who will make multiple long-distance journeys.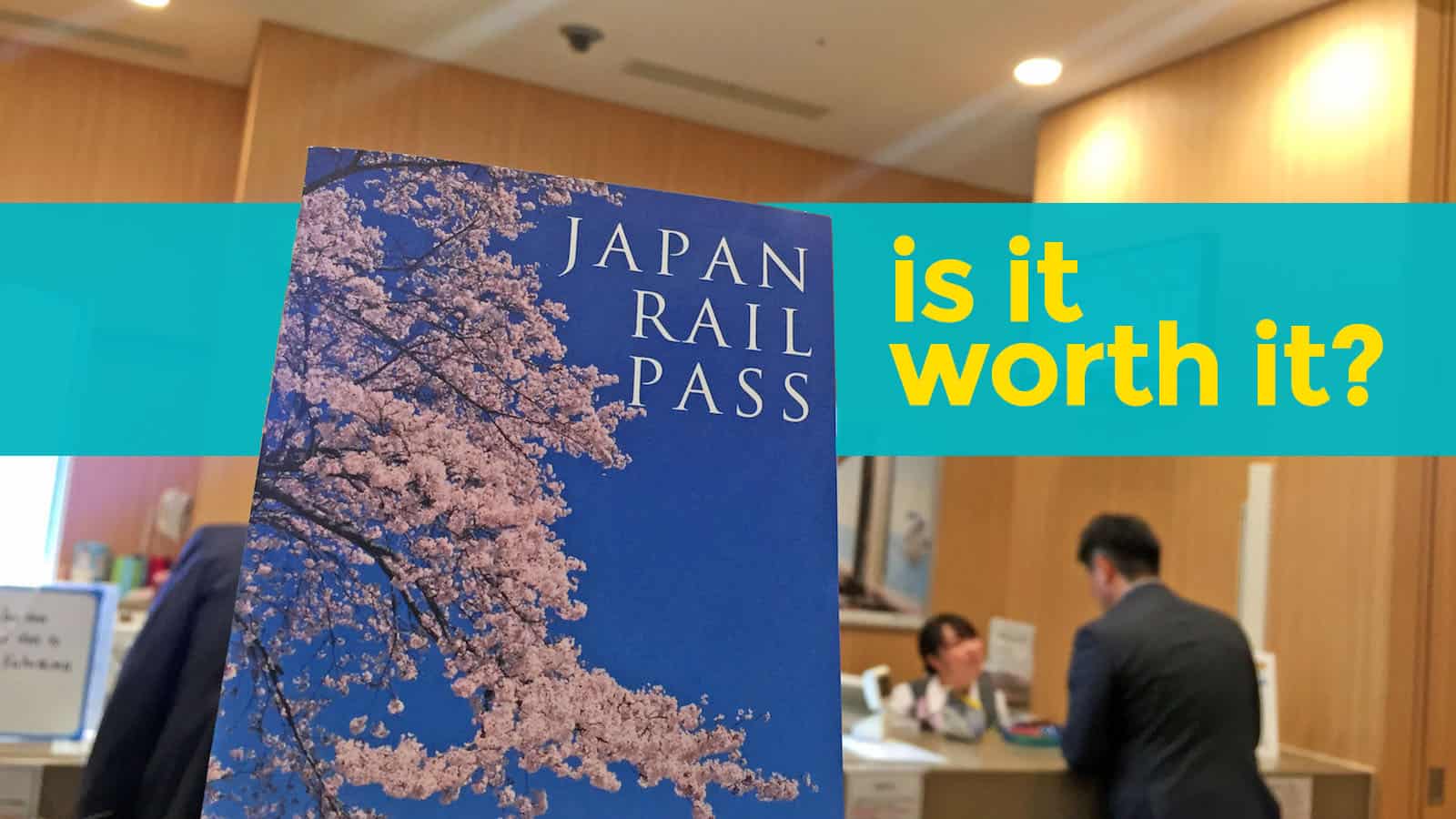 When is it wise to purchase a JR Pass? If you're visiting multiple cities in Japan and you're staying for at least 7 days. If your itinerary is more like that, purchase a pass before your trip. Klook offers the cheapest JR Passes available. If you live in the Philippines, the pass will be delivered to you in 7 days.
✅ CHECK JR PASS RATES HERE
---
THINGS TO DO IN FUKUOKA
Fukuoka is easy to explore, and many of the attractions can be accessed DIY-style. However, it would be great if you join guided tours in order to have better understanding and greater appreciation of each stop instead of just gawking at it.
Having a guide means having more info not just about the history of the places you visit but also insights into the way of life in the city.
Most tours begin at Hakata Station.
Fukuoka Food Trip
Fukuoka's biggest draw: FOOD! Fukuoka is the ramen capital of the world and the birthplace of the super yummy tonkotsu ramen!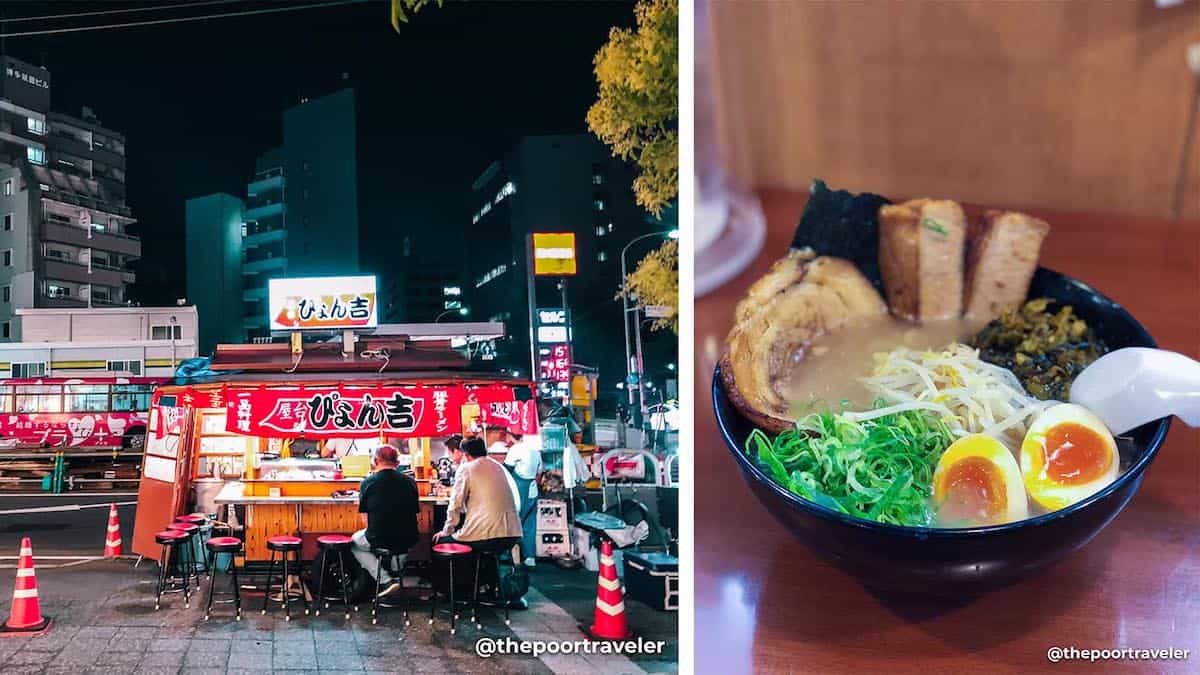 On top of that, while the rest of Japan isn't big on street food, Fukuoka embraces it big time, as evident in the popularity of yatai here.
A yatai (屋台) is a mobile food cart or stand stationed on the sidewalk. It usually opens in the early evening and closes in early morning. More than half of all the yatai in Japan can be found in Fukuoka. Most of them sell ramen, but other stalls offer a variety of other dishes like hotpot, yakitori, and seafood. There's even one that serves French delicacies like escargot with wine!
We've created a separate post for it! Read it here: WHERE TO EAT CHEAP IN FUKUOKA.
---
Traditional Japanese Shopping Tour

Hakata has always been an eclectic trading city. Many of the businesses especially along this street are run by merchant families. In this tour, you'll get to have a cup of tea, sample traditional snacks and see local produce!
Here are the stops:
Rakusui Garden, a Meiji-era pond garden
Minoshima Shopping Street, which is bursting with Showa-period shops
Yanagibashi Market, aka Hakata's Kitchen because it the city's main market for over 100 years
✅ CHECK RATES or RESERVE A SLOT HERE
---
Street Shopping Tour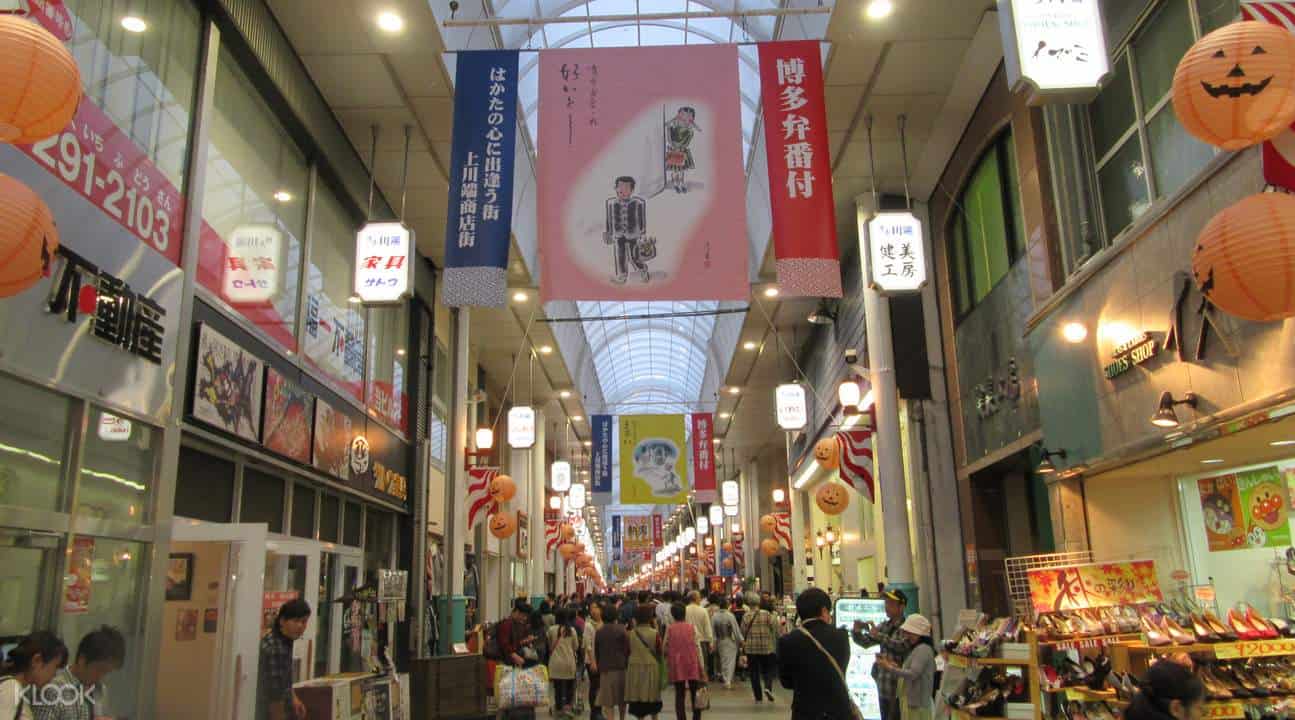 This walking tour will showcase why Hakata has been a major trading hub for over a century. Even in the modern times, the city's shopping and trading culture is alive. Here are the usual stops:
Kushida Shrine, famous for the annual Hakata Gion Yamakasa Festival, which features a time trial race of majestically decorated floats around the city. It's also where you'll find the biggest Otafuku mask in Japan and where you can pray for eternal youth.
Hakata townhouse museum
Traditional handicraft exhibition
Hakata Kawabata Shopping Street
Hakata Riverain Shopping Mall
✅ RESERVE A SLOT HERE
---
Historical Hakata Tour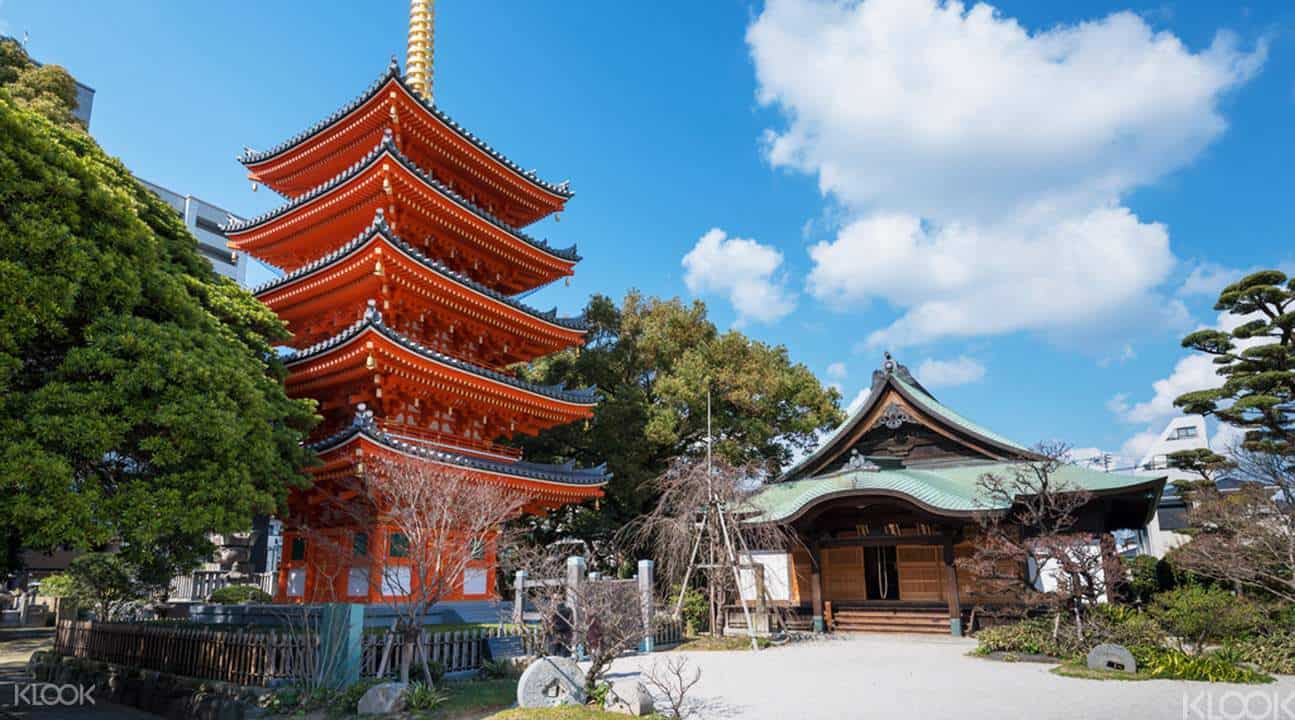 Hakata was once a separate city, and it was one of the oldest in Japan. This tour focuses on some historic sites that offer a glimpse into the city's glorious past. The stops are as follow:
Sakura tea store, to see and learn more about Yame and Japanese tea wares
Ancient tomb of Xie Guoming, a Chinese merchant in the Song dynasty who played a big role in the rise of Hakata
Jotenji temple, a Rinzai temple built founded in 1242 and its peaceful garden
Tochoji temple, a Buddhist temple with a towering five-story pagoda
✅ RESERVE A SLOT HERE
---
PLACES TO VISIT IN FUKUOKA PREFECTURE
Yanagawa River Cruise
Yanagawa is situated 50 minutes from Hakata Station. Built in 1588, it is a castle town surrounded by moats, used to protect the castle and its inhabitants from enemies and keep away animals. You can cruise down these moats on a small boat, which is great in autumn and perfect in spring, when the cherry blossoms are in full bloom.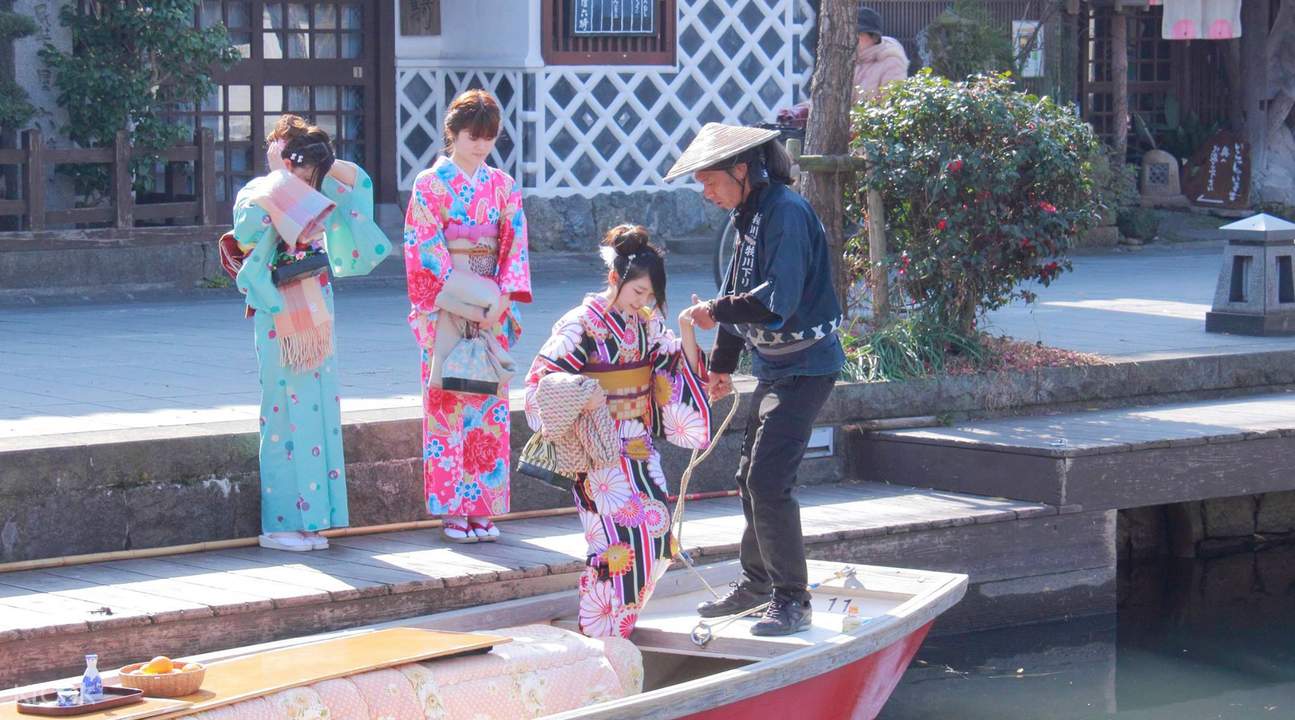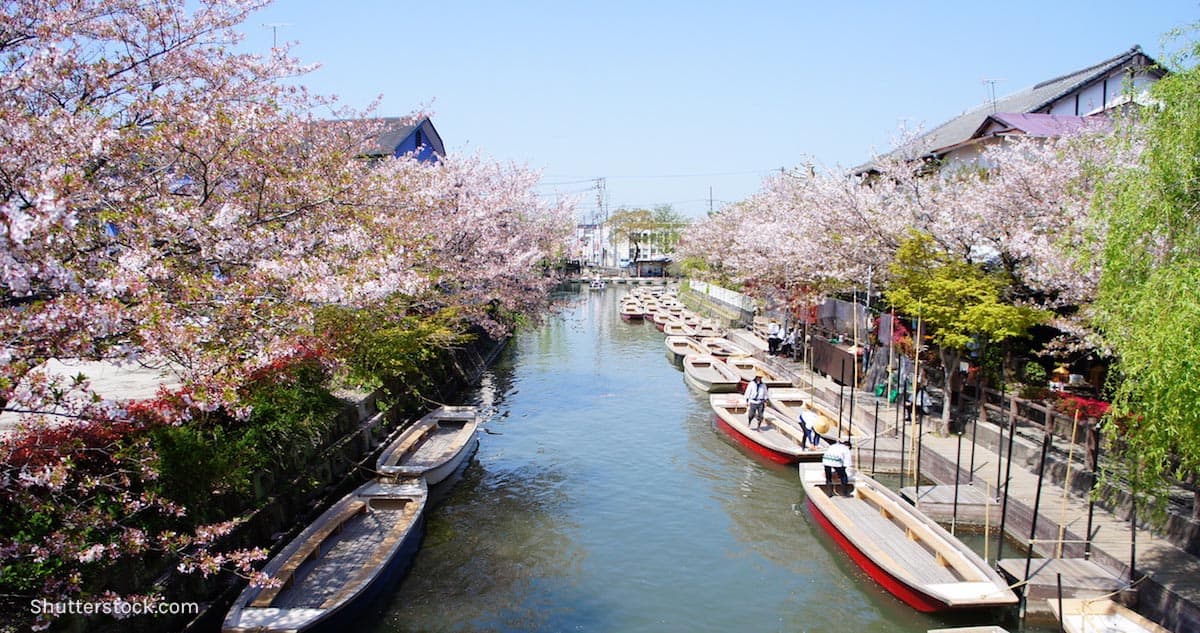 Outside these periods, you can still make this extra memorable by doing it in full traditional kimono set. Great for IG-worthy moments!
✅ CHECK RATES or RESERVE A KIMONO HERE
---
Nanzoin Temple and the Reclining Buddha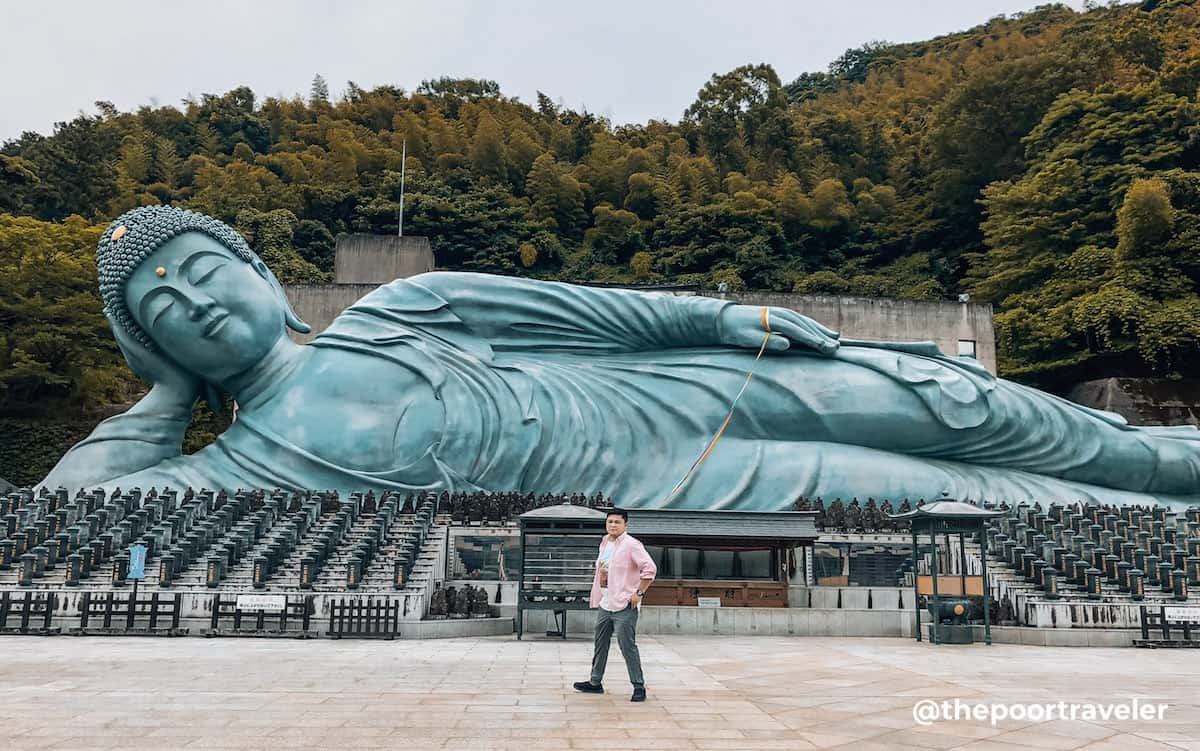 Nanzoin Temple is located in Sasaguri, 15 kilometers from the city. It is one of the most visited Buddhist shrines in Fukuoka Prefecture and even Kyushu Island as a whole. What most tourists want to see is the giant reclining Buddha. Stretching 41 meters, it is said to be the biggest bronze reclining Buddha in the world. If you make it stand on its feet, it is believed to be taller than the Statue of Liberty (excluding the stand).
Nearest Station: Kido Nanzoin-mae Station (JR Sasaguri Line)
Open: 9am-5pm
Entrance Fee: FREE (¥500 to enter the prayer room)
---
Kawachi Wisteria Garden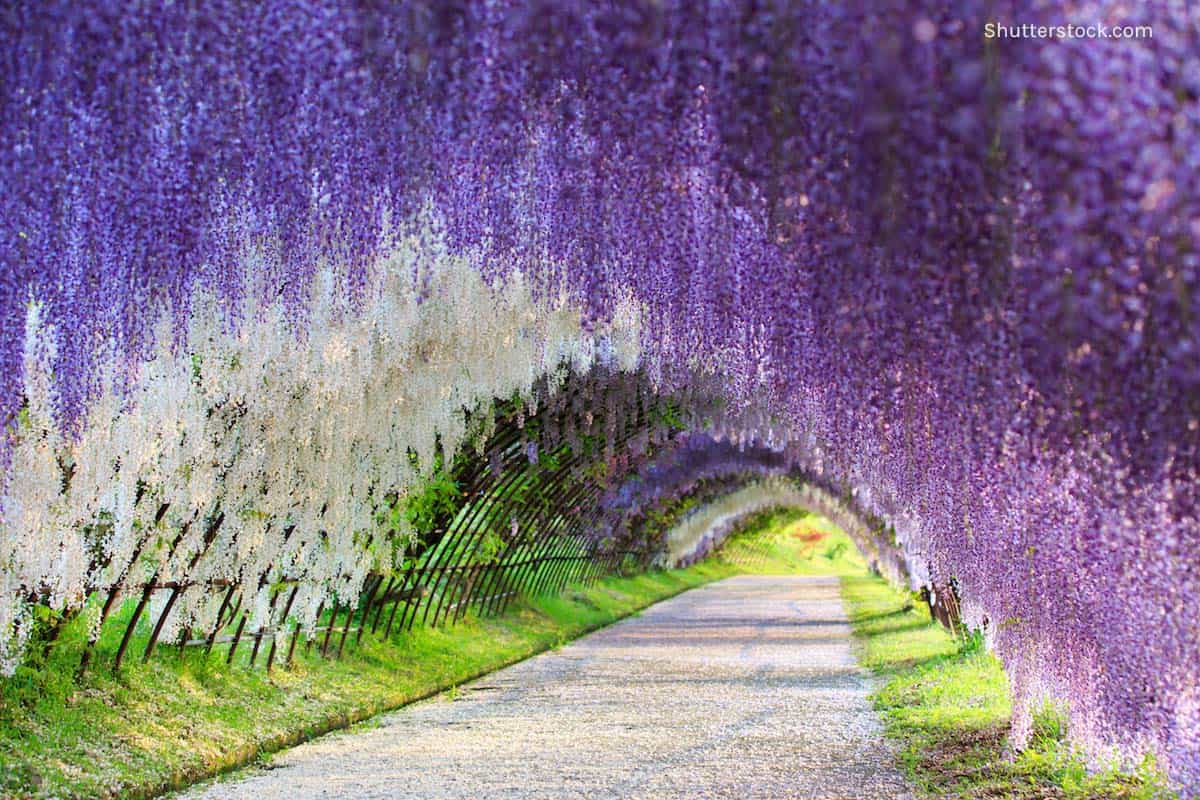 This is not in Fukuoka City but in Kitakyushu, which is the other designated city in Fukuoka Prefecture. This wonderful private garden shot to fame after several of its photos went viral online, thanks to its two spectacular 100m wisteria tunnels! It has become extremely popular especially during wisteria season which coincides with Japan's golden week. Yes, it's best experienced in April-May, but it's also the most crowded time of the year in the garden.
How to get there: It's quite hard to reach. During peak season (usually last week of April to first week of May), you can take the shuttle bus that takes passengers from Yahata Station to Kawachi Wisteria Garden. Outside this period, you can reach it by taking Nishitetsu Bus #56 from Yahata Station to Kamishigeta. Travel time: 20 minutes. Fare: ¥260. From there, you will have to walk for almost an hour.
Open: mid-April to mid-May and mid-November to early December, 8am-6pm.
Entrance Fee: ¥500 to ¥1500, depending on the season.
---
Nokonoshima Island Flower Park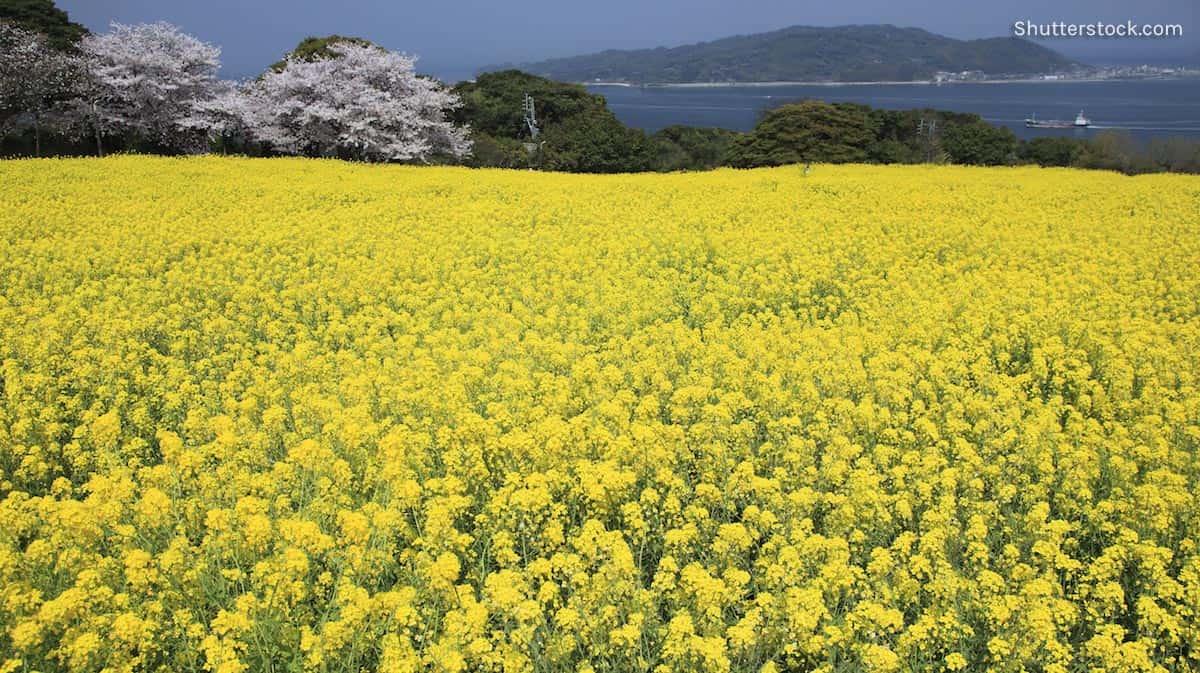 Fukuoka City has plenty of parks that get adorned by flowers come spring, but for more flower power, you can board a ferry to Nokonoshima Island, where you can enjoy various types depending on the season. In spring, you can see cherry blossoms, rapeseed blossoms, livingstone daisies, and poppies. In the summer, the place is carpeted with marigold, sunflower, and scarlet sage. In autumn, cosmos and the fiery foliage take over. In winter, you can still see Japanese narcissuses, camellias, and plums.
How to get there:
From Hakata Station, take the Nishitetsu Bus from Hakataeki-mae A to Noko Tosenba (aka Noko Dosenba), which is the ferry terminal. Travel time: 42 minutes. Fare: ¥430.
From here, take the ferry to Nokonoshima Ferry Terminal. Travel time: 10 minutes. Fare: ¥230.
Then, board the Nishitetsu bus bound for the island park. Travel time: 13 minutes. Fare: ¥230.
Open: Monday-Saturdays, 9am-5:30pm; Sundays and Holidays, 9am-6:30pm (March-November).
Entrance Fee: ¥1,200, adult; ¥600, kid.
---
Fukuoka Castle Ruins and Ohori Park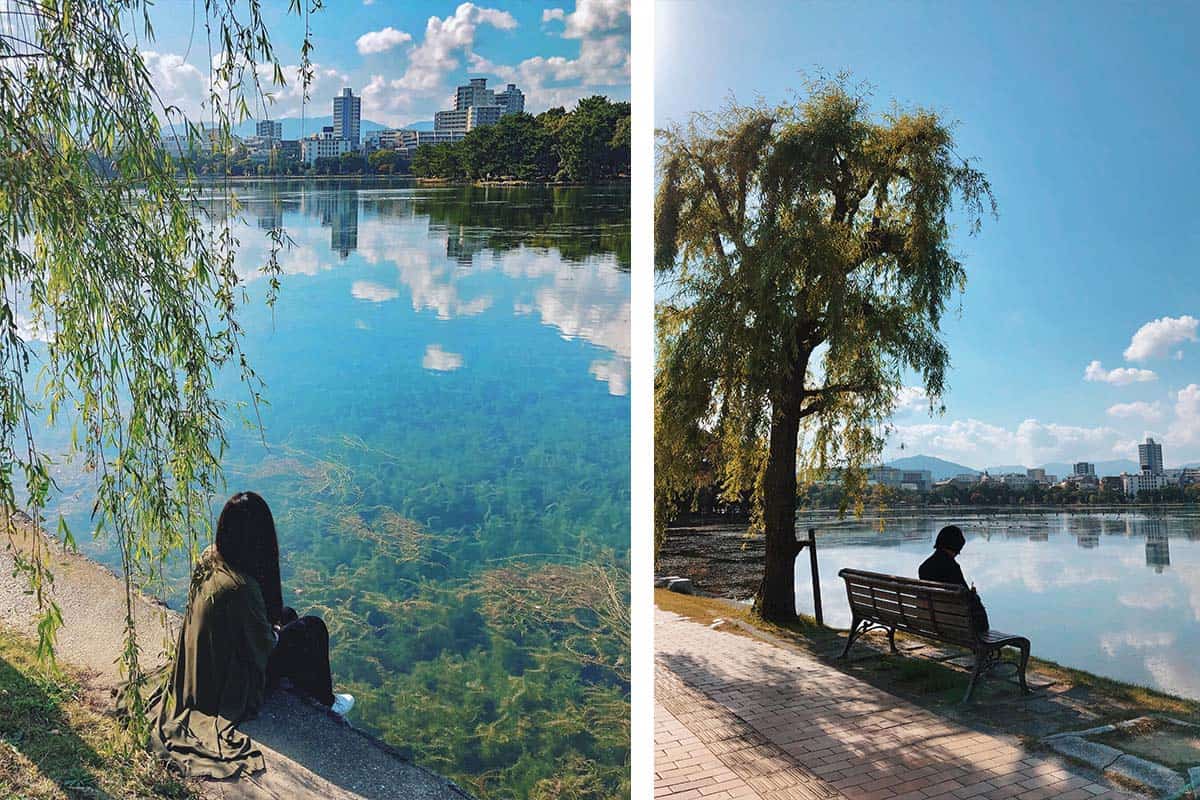 Ohori Park is located just next to the ruins of Fukuoka Castle. In fact, the park's pond used to be part of the castle's moat system. It's a great place to just relax, walk around, and admire the view.
The park is also surrounded by interesting sites including Fukuoka Art Museum (closed until March 2019), Korokan Ruins Museum, and Fukuoka Ken Gokoku Shrine.
Nearest Station: Ohori Koen Station.
---
Canal City Hakata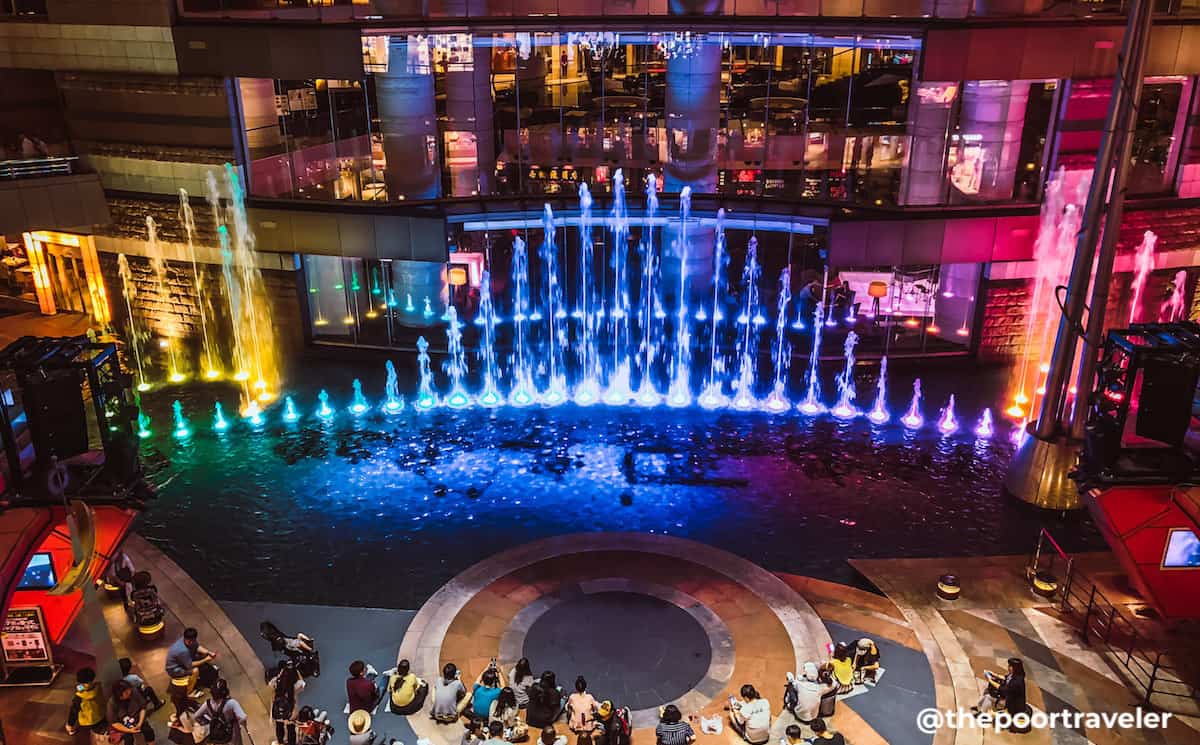 This giant mall is a shopping and entertainment complex with 250 shops and restaurants, two hotels, cinemas, and a canal with a dancing fountain that illuminates. But my favorite part of the complex is the Ramen Stadium on the 5th floor, a collection of eight ramen shops showcasing various styles of ramen!
Nearest Station: Hakata Station. From there, you can take the loop bus. But I prefer walking. It just takes 15 minutes or so. Not too far.
Open: Daily, 10am-9pm.
---
WHERE TO STAY IN FUKUOKA
Fukuoka's city center is composed of two wards: Hakata and Tenjin, divided by the river. These two wards used to be separate cities. For locals and tourists alike, this area is unavoidable. I always found myself crossing the bridges that connect the two wards.
Many key tourist spots are on the Hakata side, but most budget hotels are in Tenjin. If you can, choose a hotel that is not too far away from either Hakata Station or Tenjin Station. As long as you're close to either, it will easy for you to explore the rest of the city.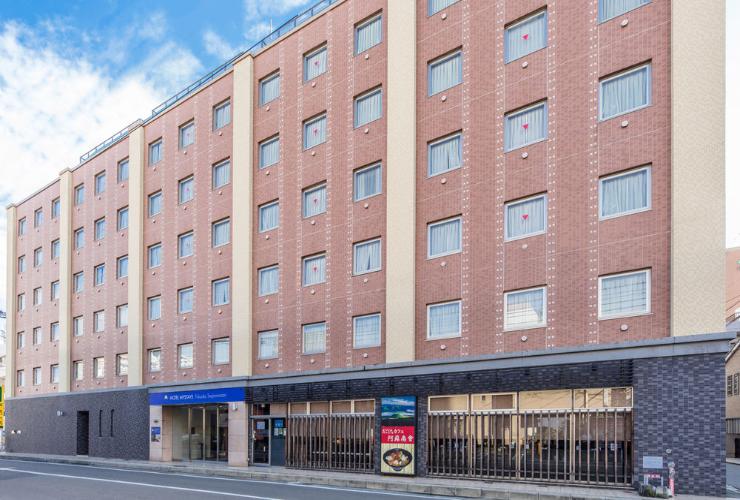 If you can't find one near a station, choose a hotel near the river where Tenjin meets Hakata. This place is rich with restaurants, shops, and other attractions.
On my last visit, because I wanted to spend most of my time food tripping, I stayed at Hotel Mystays Tenjin-Minami. It's located just a block from the river. Tenjin Station is within walking distance, too. And because I've been a fan of their branches in Tokyo, I wanted to try their hotel in Fukuoka.
For Hotel Mystays Tenjin-Minami, check rates or reserve here.
---
Top Fukuoka Budget Hotels Below ¥6000
Here are the top Fukuoka hotels below ¥6000 per night, as scored and ranked by Traveloka users.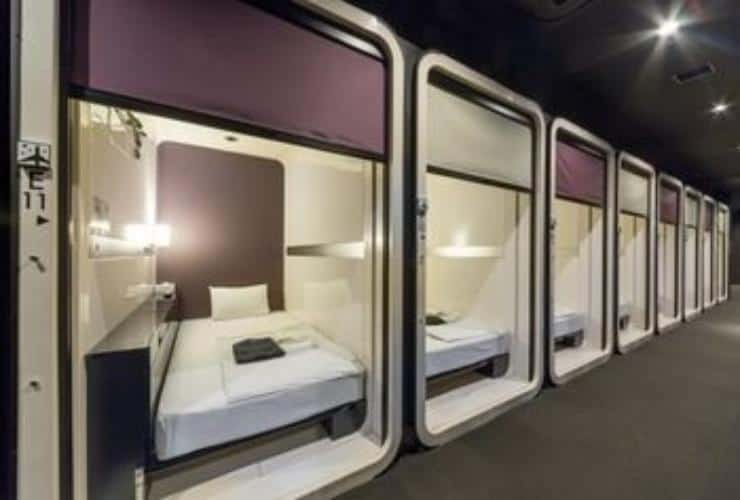 ---
SAMPLE FUKUOKA ITINERARY
Below is a sample 3-day 3-night Fukuoka itinerary. It assumes the following:
You're taking Cebu Pacific flight scheduled to arrive in Fukuoka at 7:20pm.
IMPORTANT! Because you're arriving at night, make sure that the first thing you do after going through Immigration and picking up your bags is to collect your pocket wifi that you booked with Klook because it closes at 9:30pm.
You DON'T need a JR Pass for this itinerary. Unless this is part of a bigger Japan tour, in which case, you can purchase a JR Pass here: JR PASS Reservation.
Your accommodations budget is ¥5150 per night. You can find a bed in a capsule hotel or a single room with that amount.
You're skipping breakfast. It's healthy (according to intermittent fasting advocates, hehe)!
Make the necessary adjustments to match your schedule and preferences.
Day 0: ARRIVAL
07:20pm – Arrival at Fukuoka Airport
08:30pm – Collect Pocket Wifi at Arrival Hall
09:40pm – Board bus to city center, ¥310 (Tenjin), ¥260 (Hakata)
10:30pm – Check-in at the hotel
Day 1: HAKATA
07:00am – Wake up
08:41am – Train to Kidonanzoinmae Station, ¥370
09:30am – Explore Nanzoin Shine & Reclining Buddha, FREE
11:53am – Train to Hakata Station, ¥370
12:30pm – Lunch at Shin Shin or Hakata Issou, ¥890
02:00pm – Guided Walking Tour (Shopping or Historical), ¥3800
05:00pm – Walk to Canal City
05:30pm – Explore Canal City
07:30pm – Dinner at Yatai Lane near Nakasu, ¥1000
09:00pm – Back to hotel, sleep
Day 2: NOKONOSHIMA ISLAND & TENJIN
06:00am – Wake up, buy onigiri from convenience store, ¥600
08:02am – Nishitetsu Bus from Hakataeki-mae A to Noko Tosenba, ¥430
08:45am – Arrival at ferry terminal
09:15am – Ferry to Nokonoshima Island, ¥230
09:45am – Bus to Flower Park, ¥230
10:00am – Explore Nokoshima Flower Park, ¥1000
12:30pm – Quick Lunch
01:18pm – Bus back to ferry terminal, ¥230
02:00pm – Ferry back to mainland, ¥230
03:00pm – FREE TIME
07:00pm – Tenjin Yatai hopping, budget ¥2500
10:30pm – Back to hotel, sleep
Day 3: OHORI PARK, DEPARTURE
07:00am – Wake up
08:00am – Early check out
08:31am – Subway to Ohori Park, ¥260
08:40am – Explore Ohori Park and Fukuoka Castle Ruins
11:30pm – Lunch, ¥1000
01:00pm – FREE TIME, Pasalubong hunting
05:05pm – Bus to Airport, ¥260
05:30pm – Check in, dinner ¥1000
08:00pm – Flight out
If you're able to snag P6900 airfare, the itinerary above will cost you around PHP24,000 (JPY50,000, USD452, EUR386, SGD616) ALL IN, including airfare, tours, transportation, travel tax, meals, and accommodations.
If you have already booked your flights, the itinerary will set you back around JPY32,000 (USD291, EUR249, SGD396, PHP15,450), excluding airfare and travel tax.
You can still reduce the cost by slashing your food budget or not taking the guided tour. Convenience stores and supermarkets sell meals for a much lower cost. But you're in Japan! It would be such a shame to visit Fukuoka and not try their restaurants or even yatai.
---
FREQUENTLY ASKED QUESTIONS ABOUT FUKUOKA
Is Fukuoka safe?
As safe as any other Japanese city, which means YES, it is very very safe. Irene, a female friend who lives in Fukuoka, says she can walk alone at night confidently. So yes, walk when you can.
What is the tipping policy in Japan?
Tipping is unusual in Japan. Most restaurants have the cashier stationed by the exit so you pay after your meal on your way out.
How long is the recommended stay in Fukuoka?
Oh gosh, tough question. If you're just into sightseeing within the city, I say 3 days. If you're after food, you might want to stay longer because it is impossible to try the most popular food places in Fukuoka in a week. If you want to see neighboring cities like Kitakyushu, Yanagawa, or even Nagasaki, then just add more.
Do I need a visa to visit Fukuoka?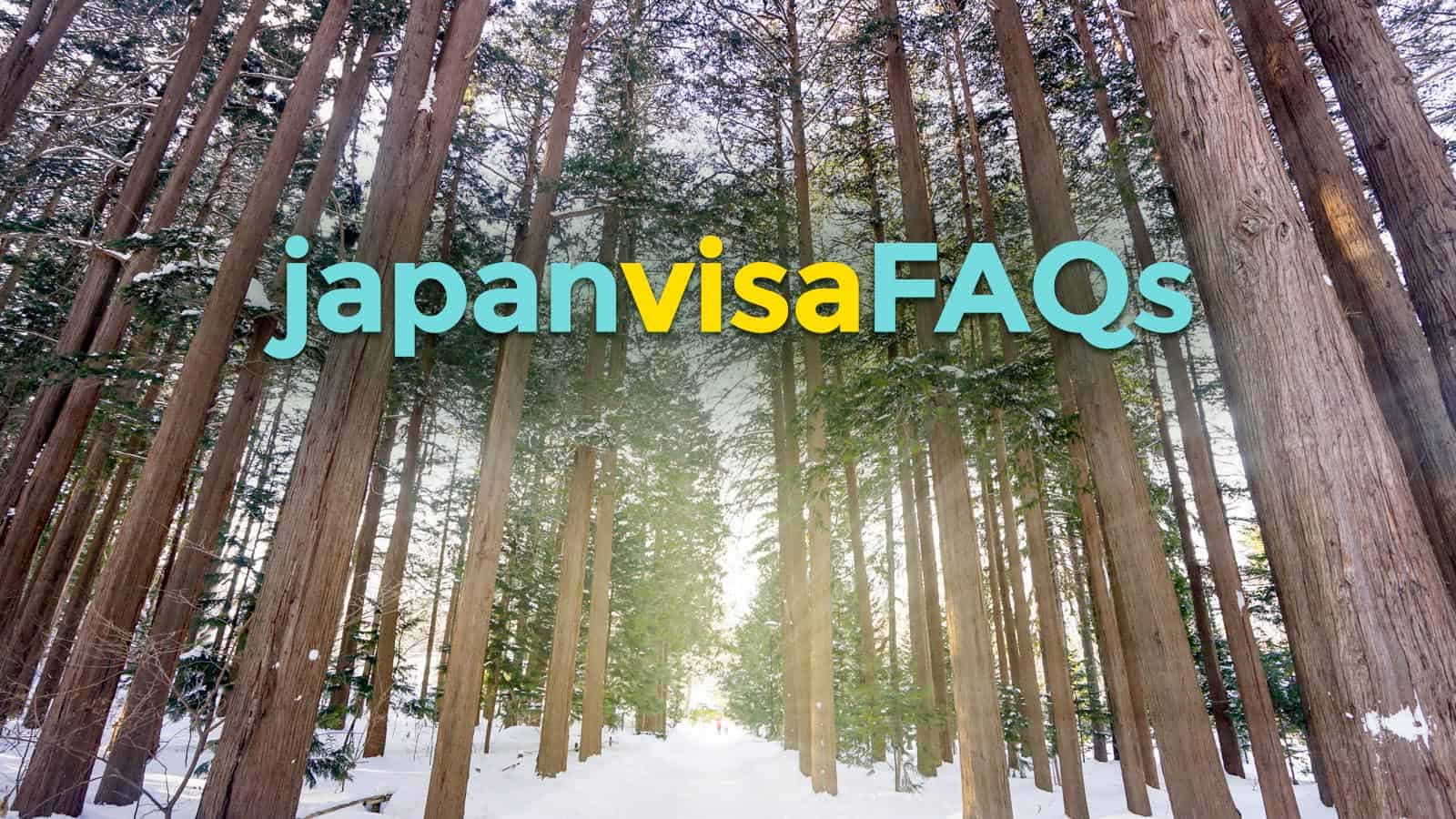 If you're from the Philippines, YES, you need a Japan visa. The posts below will help you get through the application process.
---
*Cover image Wisteria photo and Nokonoshima Island photo purchased from Shutterstock
2️⃣0️⃣1️⃣8️⃣ • 7️⃣ • 3️⃣0️⃣
---