Hiroshima is the name of both the prefecture and the capital city. This Hiroshima Travel Guide largely focuses on the city, but also touches on nearby destinations. This guide also includes hotel and tour recommendations, budget travel tips, and a sample itinerary.
We are foremost a travel blog, and we have always been keen to provide the best budget-friendly tips for travelers. We take care of the hows. Sometimes, though, when we visit places like Hiroshima, we are also reminded of the whys. We travel not only for leisure, but also, through a learning of history, discover a bit more about ourselves, our humanity, and our role in the world.
And this can't be any truer in Hiroshima.
Once you're there, especially if it's your first time, you'll know this isn't just any trip of leisure. I quickly realized this as I was walking around the area known as Ground Zero. Visiting that and the other places that commemorate the Hiroshima bombing have been quite a solemn, emotional experience for me.
WHAT'S COVERED IN THIS GUIDE?
UNDERSTANDING HIROSHIMA
On August 6, 1945, the first atomic bomb ever used in warfare was dropped on Hiroshima.
It was the tail-end of World War II. Germany and Italy have surrendered, and the only major Axis Power left standing was Japan. The Japanese Empire refused to accept defeat. Determined to forego a lengthy and bloody invasion, the Allied leaders were looking into the option of using their newly developed weapon, the atom bomb, to finally end the global war that has already claimed over 70 million lives.
They had to choose a city to drop the bomb onto, one with a sizable population and a military garrison. They want to show the massive destructiveness of this new weapon and to ensure, once and for all, that all hostilities end. They chose the city of Hiroshima.
On August 6, 1945, at exactly 8:15 am, the atomic bomb named "Little Boy" was released from an Allied bomber and dropped onto Hiroshima, creating an immense fireball that eviscerated almost 12 square kilometers of the city. In an instant, 70,000 people perished. In the following months, tens of thousands more will succumb to burns, radiation, and disease.
On August 9, a second bomb was detonated on another city, Nagasaki, with similarly tremendous casualties. By August 15, Japan announced unconditional surrender. World War II came to an end.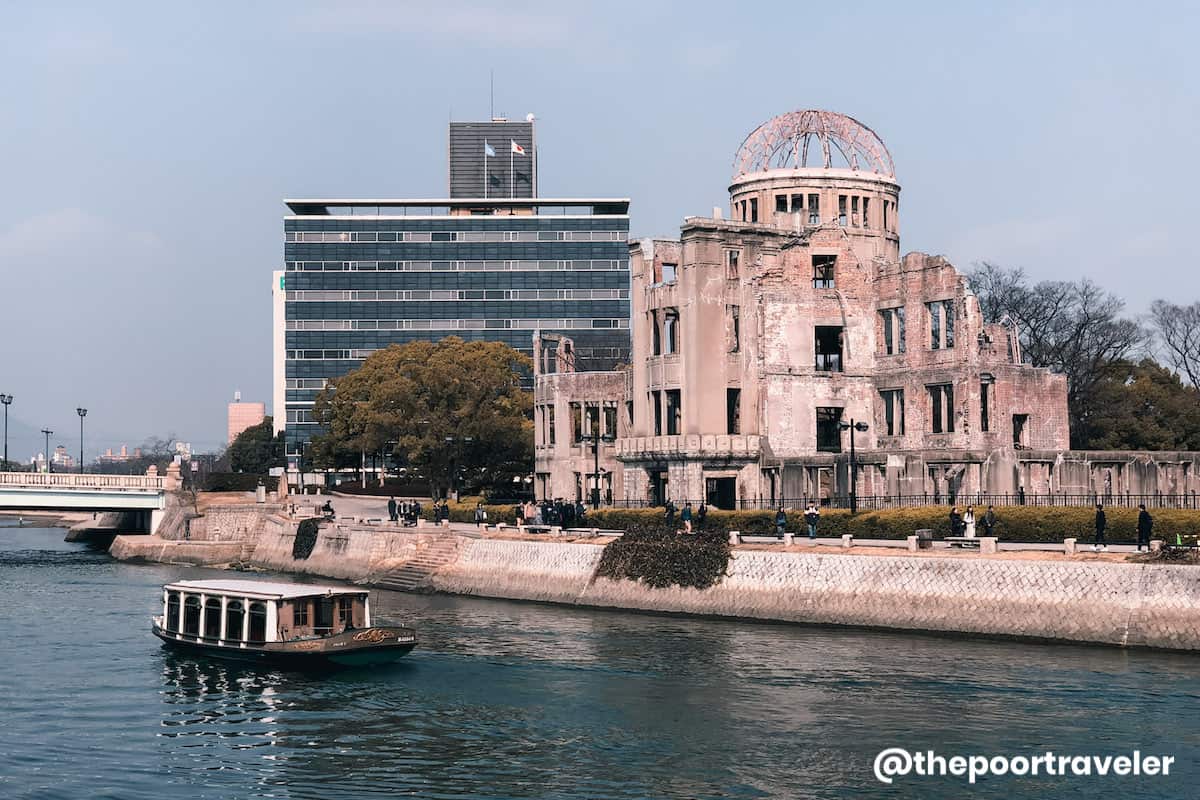 Today, Japan and the United States are staunch allies, and Hiroshima is as modern as any Japanese city, a sprawling metropolis that's one of the most important cities in western Japan. Even the atomic radiation caused by the bomb is now virtually non-existent.
The history of Hiroshima dates back to feudal times. A warlord named Mori Terumoto established a stronghold in the area in the 16th Century. From the 17th to 19th Century, Hiroshima was under the rule of the powerful Asano clan. By the 19th Century, Hiroshima has developed enough to become a focal point in the region's commerce. Today, Hiroshima is an important commercial and cultural center in the region.
---
HIROSHIMA TODAY
Modern Hiroshima checks all the boxes of the quintessential Japanese city. It shows a delicate balance between heritage and progress. Schoolchildren huddle in groups as they ready for a field trip. Teenage girls in their seifuku school dress chat while they wait for their train. Office people go about their daily affairs, walking by fast food restaurants side-by-side with traditional okonomiyaki houses.
Hiroshima ("broad island" in Nihongo) is the capital of Hiroshima Prefecture and the largest city in Japan's Chugoku region. It is the westernmost region of Japan's largest island, Honshu. Hiroshima faces the Seto Inland Sea, the body of water separating Honshu from two other Japanese islands, Kyushu and Shikoku.
The city was founded in a rich seaside delta where the Inland Sea meets the branching mouth of the Ota River. If you look at Hiroshima on a map, you'll see the city is divided by several rivers and waterways. Walking around the city will involve crossing dozens of bridges through these waterways.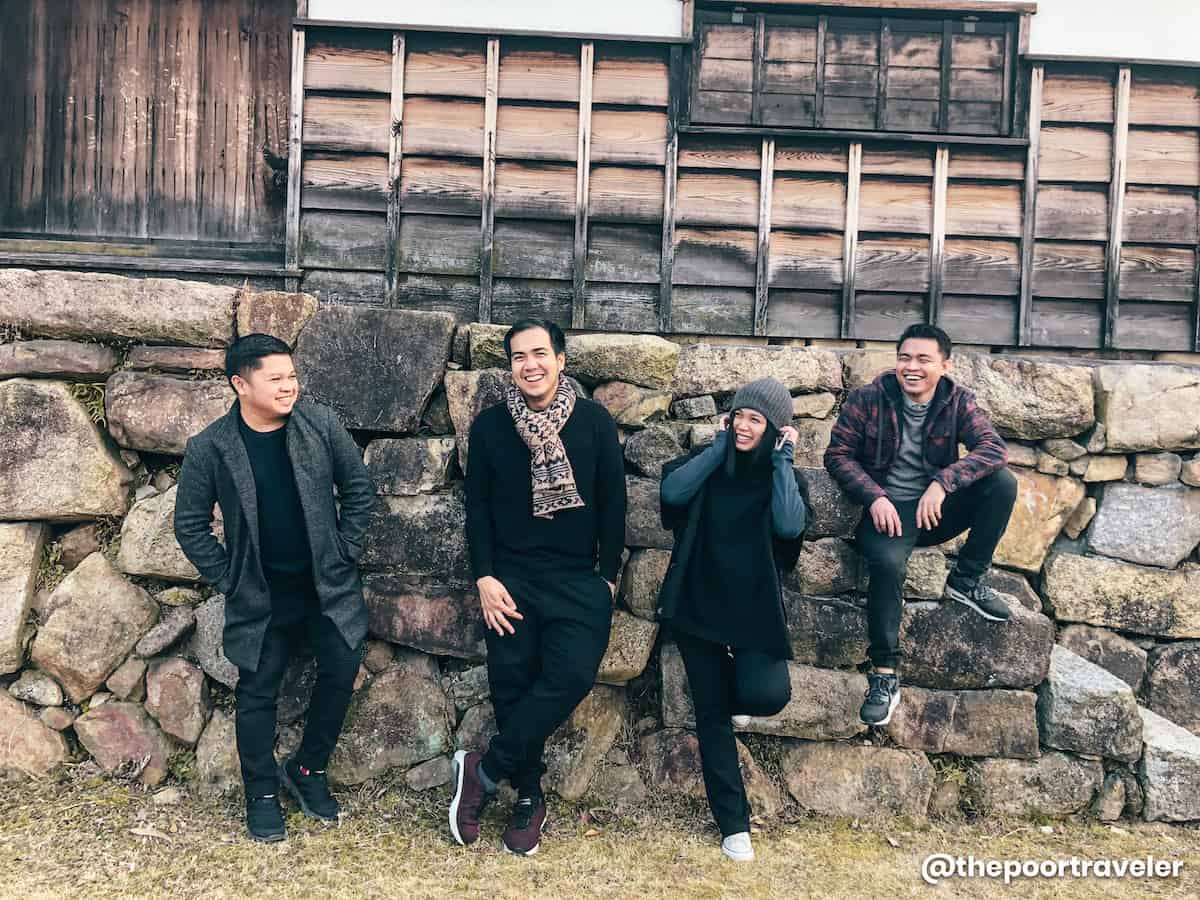 Here's additional useful information about Hiroshima:
Language: Japanese (Nihongo). English is widely used as a second language in printed material and signage. Most attractions have English translations, among other languages.
Currency: Japanese Yen (JPY, ¥). JPY 1000 is roughly USD 9.05, EUR 8.00, PHP 471.79 (as of March 2019).
Modes of payment: Preferably cash, but credit cards are also accepted in select establishments.
Electricity Info: 100V, Type A sockets. Plugs have two flat pins.
---
WHERE TO STAY IN HIROSHIMA
Hiroshima is a popular destination for tourists, so it's fairly easy to find a place suitable to your tastes and budget. Us at The Poor Traveler always suggest to pick a hotel that's near a train station, in this case, near Hiroshima Station. You get quick access to transportation, food, and information.
The following our top rated Hiroshima hotels as ranked by Agoda users.
---
TOP HIROSHIMA BUDGET HOTELS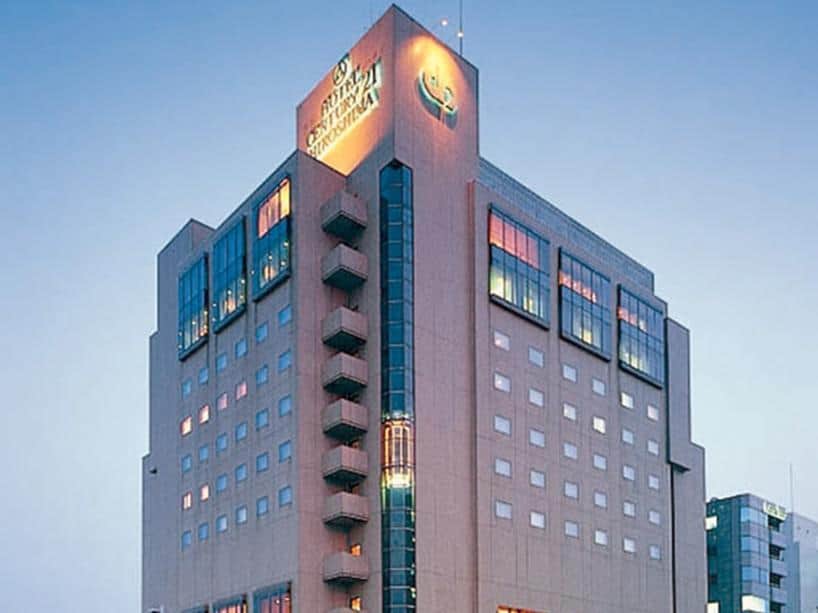 ---
TOP HIROSHIMA HOSTELS & CAPSULE HOTELS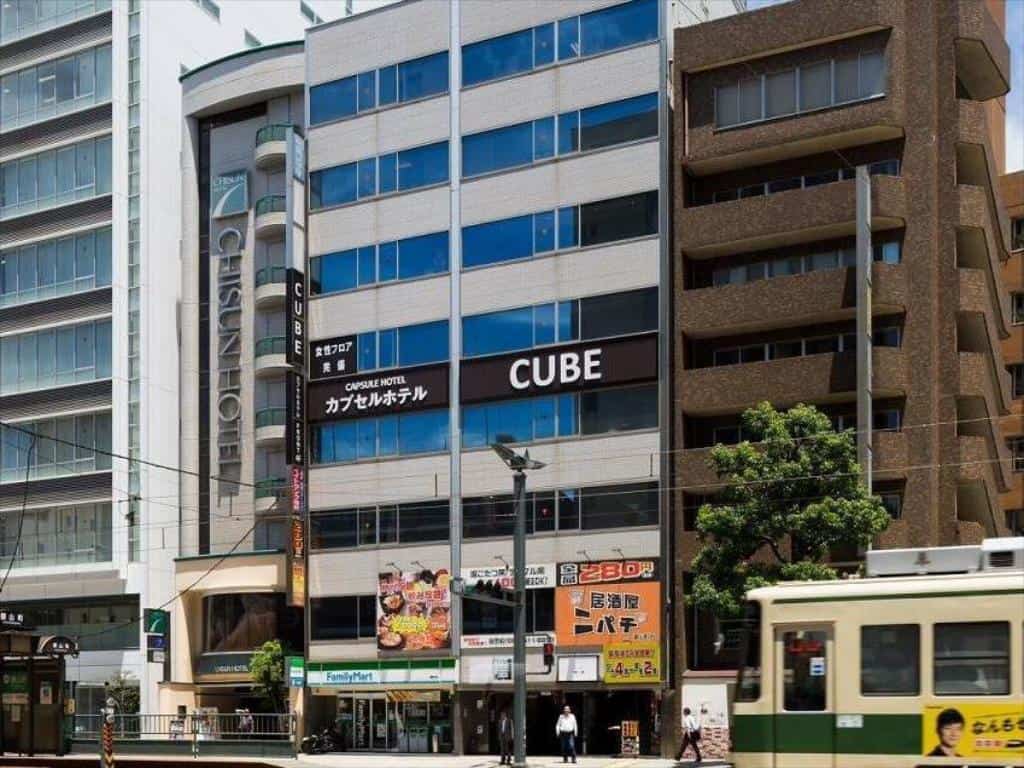 ---
Search for more Hotels!
---
HOW TO GET TO HIROSHIMA
Hiroshima has its own international airport, with flights connecting the city to several Asian destinations. Internationally, it is directly connected only to Beijing, Shanghai, Taipei, Hong Kong, Seoul (Incheon) and Singapore.
Most international travelers access Hiroshima via Kansai Airport in Osaka or Fukuoka Airport. Then, they can either take the train or the bus to Hiroshima. We've created more thorough guides on how to get to Hiroshima from Fukuoka or Osaka here:
If you're traveling from the Philippines, though, there are no direct flights from Manila to Hiroshima. What we'd suggest is to take a flight either to Osaka or Fukuoka, and then travel to Hiroshima by bus. This is by far the cheapest way to get to Hiroshima from the Philippines.
So what's better, the Fukuoka or the Osaka route? Actually, it just depends on your itinerary. If you're in a multi-city tour, with a westward route, then coming from Osaka is more reasonable. Otherwise, Fukuoka would be a shorter and cheaper trip.
---
POCKET WIFI IN HIROSHIMA

Getting constant internet connection in Japan won't be much of a problem, especially in Hiroshima where tourism is a primary industry. Hotels and hostels provide free wi-fi for guests. Train stations, cafes and malls have their own wi-fi services as well.
If you want a personal, more secure connection, you can avail of portable wi-fi routers. Telecom companies often have kiosks available at airports and other places of convenience, where you can rent portable wi-fi packs for the duration of your trip. We suggest that you reserve yourself a unit online, via Klook, even before you set foot in Hiroshima.
The best part, if you're a group, you can connect multiple devices hassle-free. You can then split the cost with your friends. You can pick up the device at the airport. No deposit is required.
If you're interested in renting a pocket wi-fi, click on the links below.
✅ CHECK RATES OR RESERVE AT KANSAI AIRPORT HERE
✅ CHECK RATES or RESERVE AT FUKUOKA AIRPORT
---
HOW TO GET AROUND HIROSHIMA
On Foot
Within the city center, the best way to get around is to walk around. Hiroshima was built from the ground up after the bombing, so city planning was more systematized compared to other Japanese cities its size. Getting around is fairly easy, and many of the city's most visited sites are fairly close to each other. Just make sure you have comfortable walking shoes.
---
By Train
Traveling around by train is a staple in Japan, and an interesting experience in itself. You get to see firsthand the world-famous efficiency of Japanese public transportation. I personally like to observe Japanese city life, and trains are a perfect window for that.
Hiroshima Station is the city's central station. If you arrived in the city by bus, it most likely dropped you off here. It is very accessible from many of the city's main attractions.
If you feel like you'll be using trains a lot while in Hiroshima, you may want to avail of an IC Card. It's a prepaid card that lets you pass through the gates of train stations conveniently, avoiding the hassle of queuing for a ticket. ICOCA, PASMO, and SUICA all work in Hiroshima.
---
By Streetcar (Tram)
Streetcars, locally called "hiroden", are fun to ride just for the sheer novelty of it, after all, it's not everyday that us Filipinos get to ride one.
Take note that riding a streetcar has a different payment method. For one, you pay in cash or ICOCA card, and you do so just after your trip, before you step off the streetcar. There are automated collectors situated near the exits that will collect your payment.
Like buses and trains, streetcars have stations. Make sure you're getting in the right car, as multiple routes often stop by the same stations.
---
By Bus
Buses in Hiroshima have scheduled pick-up/drop-off times and stations. You can't just hail a bus currently on its way. You must walk toward a bus stop. Don't worry though, most bus stops are exactly beside or nearby train stations. The timetables are also displayed at every bus stop.
---
THINGS TO DO IN HIROSHIMA CITY
Peace Memorial Museum and Park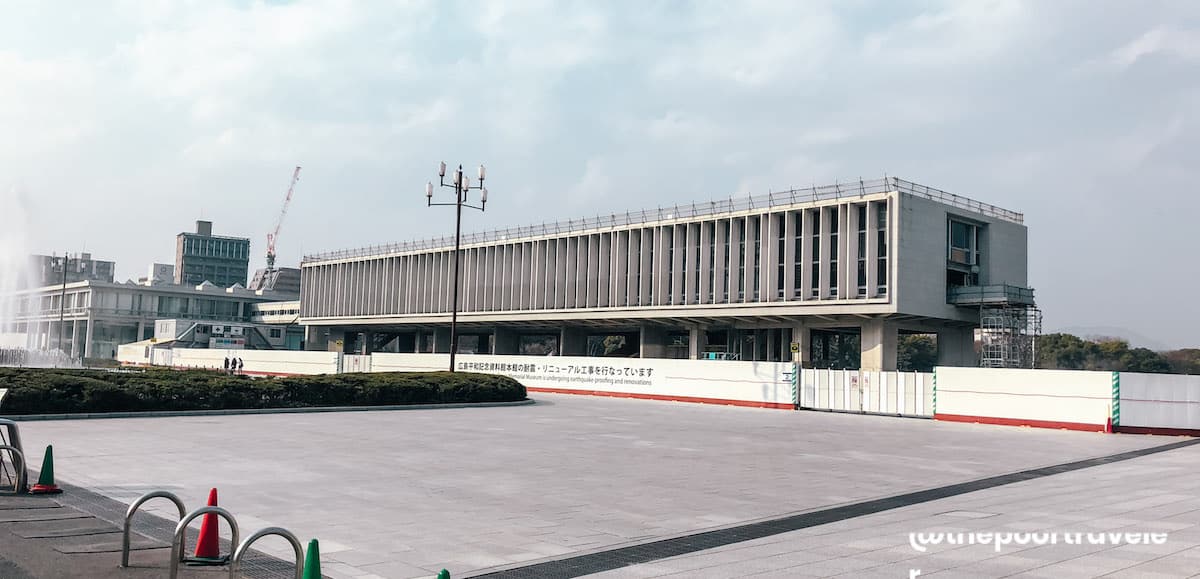 Many tourists visit Hiroshima to remember and reflect on the atomic bombing of 1945. There are several sites within the city that specifically serves as a memorial for the event.
The Peace Memorial Museum and Park is dedicated to the thousands of lives lost during the nuclear attack, and is located right in the heart of the city. Monuments include the A-Bomb Dome, the Children's Peace Monument, and the Hiroshima Peace Memorial Museum.
The Hiroshima Peace Memorial Museum is the primary museum that educates the public on the bombing. This includes the technology used, the war situation at the time, the timeline of the bombing, and the destruction it caused the city.
Prior to the bombing, the A-Bomb Dome was a promotional hall that showcases industrial and educational exhibitions. It was the building closest to "Ground Zero", and the ruins are currently preserved as a UNESCO World Heritage Site.
The Children's Peace Monument was built in memory of the children perished and wounded by the bombing. The monument, depicting a girl with a folded paper crane, is based on Sadako Sasaki, a girl who folded 1,000 paper cranes to fulfill her wish of getting cured of atomic radiation.
Admission fee: JPY 200 for the Hiroshima Peace Memorial Museum
How to get there: From JR Hiroshima Station, take either Tram 2 or Tram 6 to Genbaku-Domu Mae Station (A-Bomb Dome Station). Travel time: approximately 15 minutes. Fare: ¥180.
---
Hiroshima Castle
The original Hiroshima Castle was built in the late 16th Century by the warlord Mori Terumoto. It stood for four centuries, but was destroyed during the atomic bombing. The current castle is a replica built after World War II. The inside of the castle is now converted to a museum that showcases Hiroshima history prior to the war. Around the castle is a park/complex that houses several other historical buildings.
Entrance Fee: FREE except for the 'Main Keep' which collects ¥370.
Hours Open: Main Keep (9AM – 6PM, March – November; 9AM -5PM, December – February); will stop admitting visitors 30 minutes before closing time. Note: Closed on December 29 to 31.
Nearest Station: Kamiyacho-nishi or Kamiyacho-higashi tram stop. From JR Hiroshima Station, take the tram (Tram 1, 2, 6) and alight at Kamiyacho-nishi/Kamiyacho-higashi stop. From here, take a 10-minute walk to the castle ground. The travel time is approximately 20 minutes (tram and walking). The fare for the tram ride is ¥180. Note: If you are coming from the Peace Park or Shukkeien, you can reach the castle on foot (10-15 minutes).
---
Hondori Shopping Street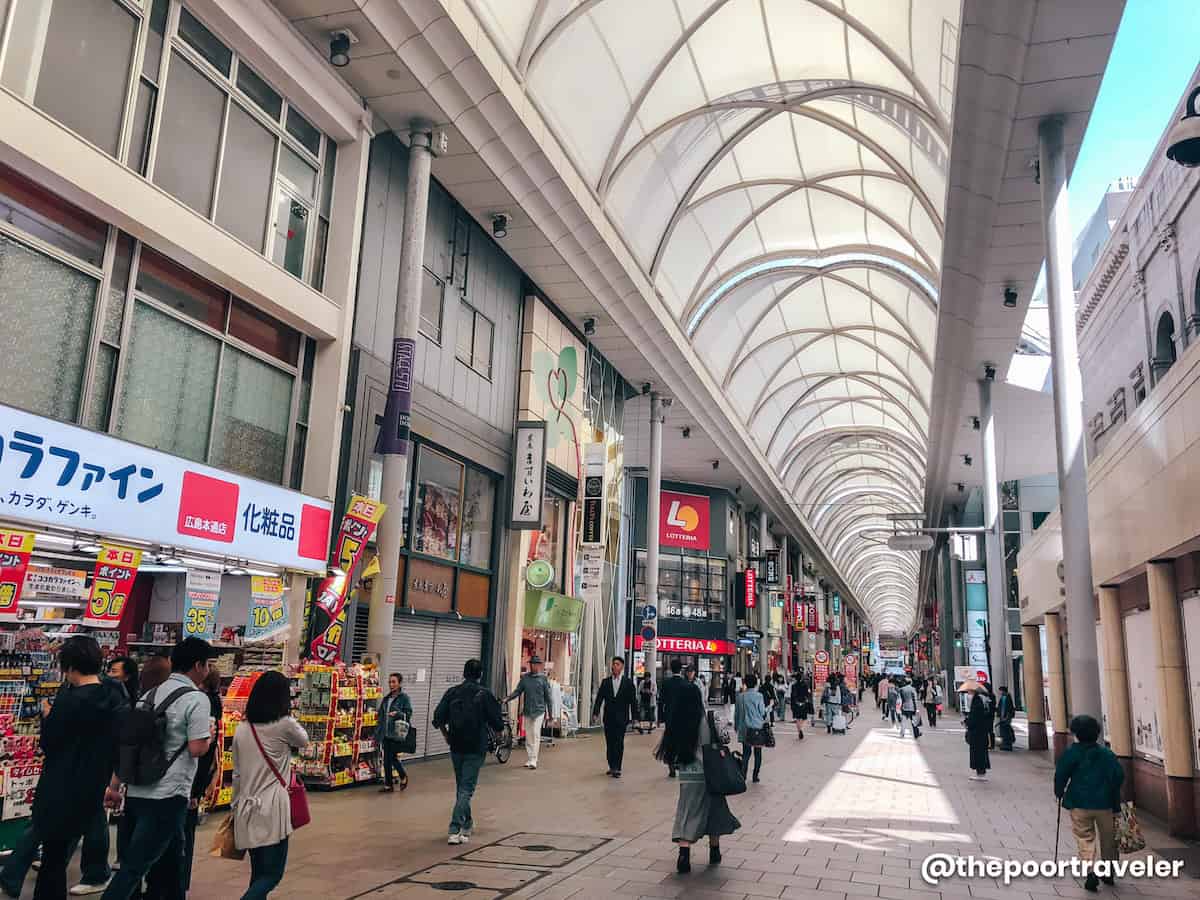 Almost every major city in Japan has their own covered shopping arcade, and Hiroshima is no exception. In Hiroshima, that place is Hondori, a pedestrian-only shopping street flanked by several stores from the usual global brands like H&M to local labels. You'll find apparel, jewelry, gadgets, and souvenirs.
If you get hungry, dine in one of the cafes and restaurants including a branch of Fukuoka-rooted Ichiran Ramen and a local Hiroshima okonomiyaki favorite Okonomi-mura.
Nearest Station: Hondori Station
How to get there: From Hiroshima Streetcar Station, take the Tram 1 bound for Hiroshima Port and get off at Hiroden Station. Fare: ¥180.
---
Hiroshima Food Trip
Hiroshima is also a foodie's paradise. They give their own twist to the quintessential Japanese dishes! Here are some of those you must try.
Hiroshima okonomiyaki. Hiroshima is well-known for its okonomiyaki, a savory pancake made with eggs, vegetables, meat and noodles. You can tell that Hiroshima locals love their okonomiyaki very much: there are over 2,000 okonomiyaki houses peppered across the prefecture. It's up to you which ones you're willing to try, but a couple of well-reviewed okonomiyaki houses are Hassei, in Nakaku, and Okonomiyaki Nagata-ya, both of which are within walking distance from the Hiroshima Peace Memorial. While okonomiyaki exists in other parts of Japan, the okonomiyaki in Hiroshima is famed for its unique mixture of ingredients. Bean sprouts, cabbages, pork, and stir-fried noodles are all mixed together, along with a special sauce (each resto has thier own unique concoction), to create a gigantic bundle rich in flavor and texture. Also, the cooks who prepare the dish often do so with flair, cooking the food right in front of you.
Hiroshima oysters. As one of the top producers of oyster in the country, Hiroshima takes pride in its oysters. Hiroshima oysters come aplenty from October to March, but the best season to try these mouthwatering mollusks is from January-February. It's not hard to run into a good oyster place anywhere in Hiroshima. You'll find several just walking around Hiroshima Station! Miyajima is also a great place to try these tasty oysters without breaking the bank. We tried raw, grilled, steamed, and fried oysters in Miyajima.
Hiroshima ramen. Hiroshima's own take on the good old ramen comes with a spicy punch. The broth is thinner than the more well-known varieties in other parts of Japan. Its broth combines the saltiness of shoyu and the umami of pork bone. Aside from the noodle soup, Hiroshima also serves the "shirunashi tantanmen" or the soupless dan dan noodles. Instead of broth, it normally has chili oil, fried ground pork sauce, and pepper mixed with thin straight noodles.
---
HIROSHIMA DAY TOURS
Miyajima Island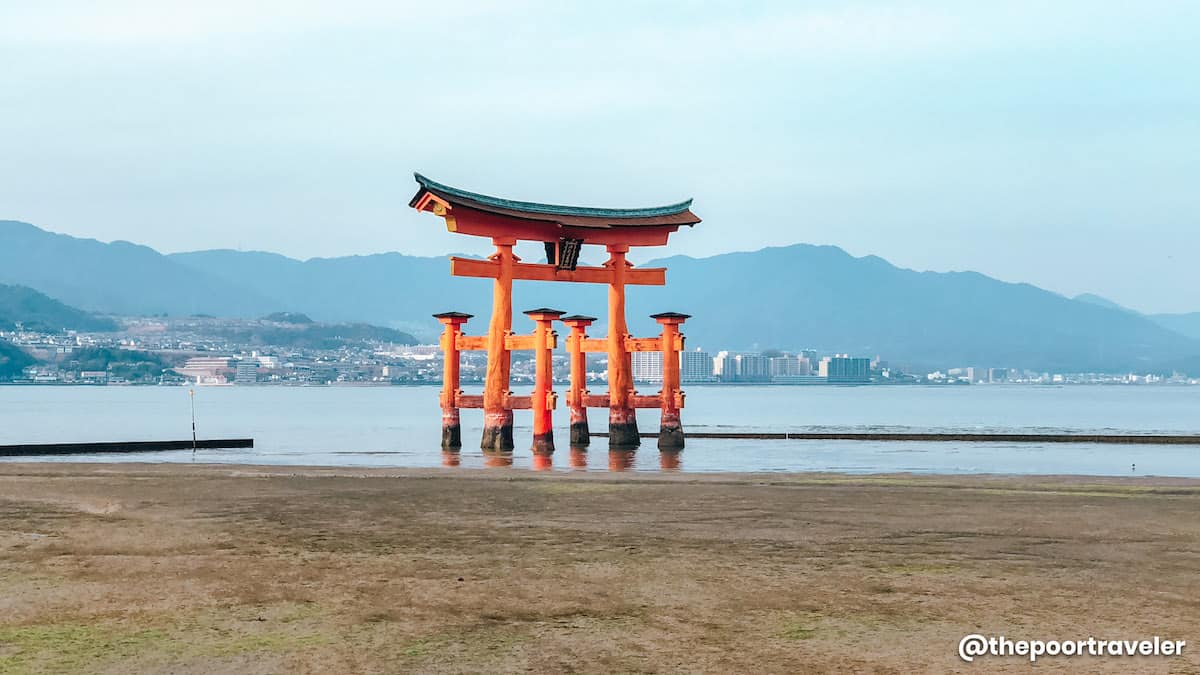 Itsukushima Shrine is located in Miyajima Island, within Hiroshima Bay. The shrine is famed for its Great Torii Gate, which, during high tide, is partially submerged, creating the effect that the gate is floating on water.
The shrine is one of Japan's most historically beautiful sites, as noted by the Japanese scholars then and now. The famous histoprian Hayashi Gaho claimed that the temple in Miyajima is one of the most scenic sites in all of Japan, when he recorded his visit in the 17th Century. Even today, the popularity of Miyajima Island has not waned.
Aside from the shrine, the island is also known for its oysters. Oyster farming is a primary industry in the island, and the town alleys are filled with various oyster shops and restaurants.
To get to Miyajima Island, get onboard the JR San-yo Line in Hiroshima Station. Get off at Miyajimaguchi Station. Miyajimaguchi Station is very near the pier, where ferries are in wait to take you to the island.
Ticket price: JPY 410 from Hiroshima Station to Miyajimaguchi Station, JPY 180 for ferries (one-way)
Travel time: 27 mins for train, 10 mins for ferry
---
Sandankyo Gorge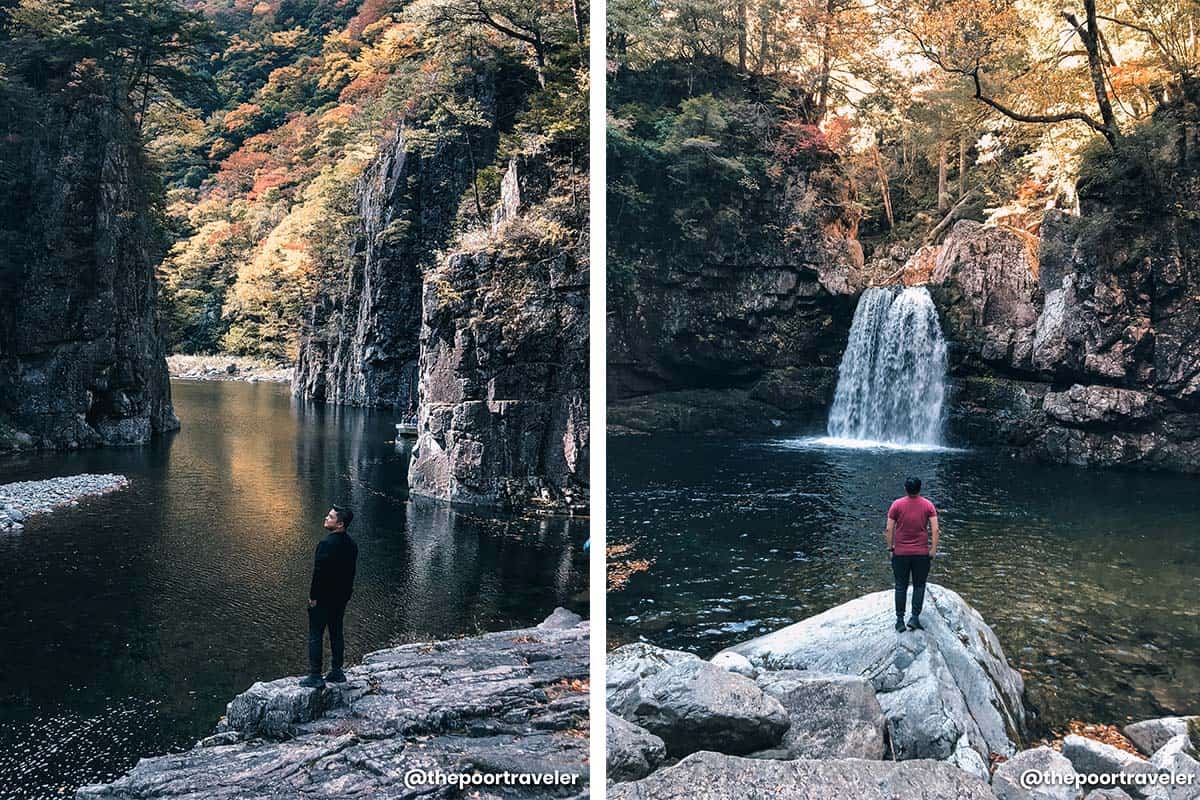 Skirting the town of Akiota, Sandankyo Gorge can be reached after an hour by bus from the city center of Hiroshima. Most visitors come to Sandankyo for a scenic hike, especially in autumn. The trail follows the ravine that dances along the mountains of Hiroshima. Along the way, you'll get to be blown away by multi-tiered waterfalls and pools. The usual trail takes around 5 hours, but the duration is highly dependent on your pace. If you get hungry, you can dine at a restaurant half-way, serving grilled fish from the river.
The best time to go is from April to November. But it is closed when when the weather is not good, so it's better to check first before going during the rainy season. The gorge is closed in winter.
How to Get There: From Hiroshima Bus Center, board the morning bus at Platform No. 7 going to Sandan-kyo Bus Stop. There is only one rapid bus traveling directly to Sandan-kyo Bus Stop in the morning.
Fare: ¥1,400 (one way)
Travel Time: 1 hour, 15 minutes
---
Onomichi Day Tour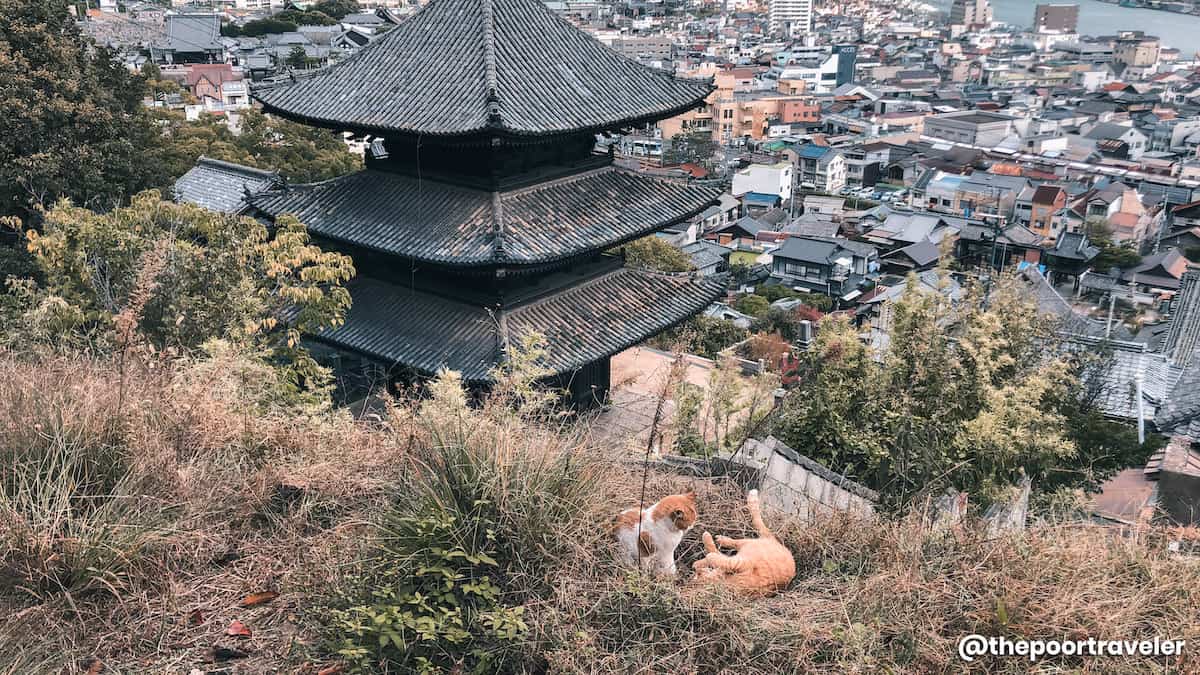 Onomichi is just an hour away from the city. Onomichi is home to dozens of monuments and age-old temples and shrines, connected by a walking trail called the Temple Walk route. Some of the attractions are the Hirayama Museum, Onomichi City Museum of Art, and the Kosanji Temple. Part of the Temple Walk is Cat Alley. It's called such because of the countless cat-themes establishments along it like cat cafes and cat museums. Of course, there are a lot of real cats roaming the area.
HOW TO GET TO ONOMICHI
By train: From JR Hiroshima Station, take the train on JR Sanyo Line to Onomichi Station. There are direct trains, but some would involve a transfer usually at Itozaki or Mihara Station.
Fare: ¥1,490
Travel Time: 1 hour, 30 minutes
By highway bus: From Hiroshima Bus Center, board a bus to Onomichi. Alight at Onomichi Station.

Fare: ¥1,750
Travel Time: 1 hour, 30 minutes
---
Okunoshima Rabbit Island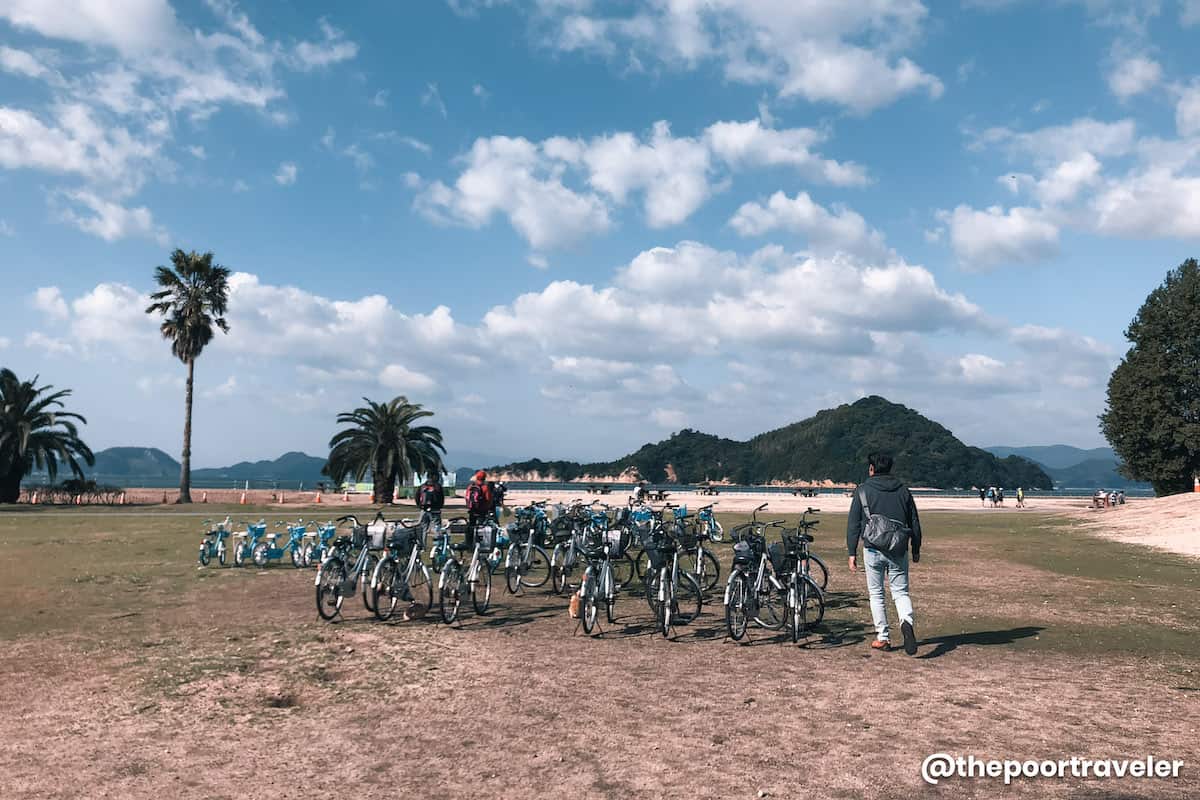 Okunoshima Island is one of the islands in the Seto Inland Sea. It's called Rabbit Island because there are countless rabbits living here and they are not shy around tourists. It's pretty small and takes only three hours to be fully explored. You can just pick a trail and it will take you to key attractions including the ruins of some World War II structures and the Poison Gas Museum.
During the war, the island was converted into a factory of chemical weapons. According to some, the weapons were tested on rabbits. But don't worry, after the war, the test rabbits were removed. The rabbits that live in the island today are a completely separate population.
HOW TO GET TO RABBIT ISLAND
From JR Hiroshima Station, take the Kodama train on the Sanyo Shinkansen Line to Mihara Station. From Mihara Station, transfer to a train on JR Kure Line to Tadanoumi Station. From there, take a short walk to the port/ferry terminal. Purchase a ticket and board the ferry to Okunoshima.
Fare: ¥1,320 + ¥970 (Kodama train + seat fee to Mihara); ¥320 (local train to Tadanoumi); ¥310 (ferry to Okunoshima)
Travel Time: 1 hour, 15 minutes
Alternatively, you can take the bus from Mihara Station to Tadanoumi or the Kaguyahime Highway Bus from Hiroshima Bus Center to Tadanoumi Station.
---
Saijo Sake Tour
Not too far from Hiroshima city proper is the town of Saijo. The water in Saijo is fresh and clear — just right for premium sake production — and many of the renowned breweries in the region are located here. The breweries are near each other, too, and a walking tour is available for those interested. Just drop by the Saijo Tourism Office just across the ticket counters at Saijo Station.
There are guided sake tours where you get to learn how Japan's favorite alcoholic beverage is made. And yes, there's a chance to try out free samples. On a good day, when all factories are open, you might be able to visit up to nine breweries. That's a lot of sake! According to the tourism officer, the guided tour schedule is Tuesdays-Sundays at 10am. The tour is FREE from Saturday-Sunday, but costs ¥500 from Tuesday-Friday.
You can also tour DIY-style. Make a stop first at the Tourism Office and grab brochures that you can use as guide. It has a suggested route and more info about each stop. From there, you can do your sake storehouse hopping!
If your trip falls in October, you might want to check out the Saijō Sake Matsuri or Sake Festival! It happens on one weekend in October, but the dates change per year, so check first.
How to get there: To get to Saijo from Hiroshima, take the JR San-yo Line at Hiroshima Station.
Ticket price: ¥410 from Hiroshima Station to Saijo Station
Travel time: 40 mins
---
HIROSHIMA TOURIST PASSES
VISIT HIROSHIMA TOURIST PASS
The Visit Hiroshima Tourist Pass will grant you unlimited access to streetcars (trams), buses, and ferries around Hiroshima Prefecture. Note that this doesn't cover JR trains. The coverage depends on the type and duration of the pass. There are five variants available.
Small Area. Good for exploring Hiroshima City and Miyajima (including ferry). Costs ¥1000, valid for 3 days.
Middle Area. Good for exploring Hiroshima City and travels to Miyajima (including ferry), Iwakuni, Akiota, Higashihiroshima, and more. Costs ¥2000, valid for 3 days.
Wide Area. Good for exploring Hiroshima City and travels to Miyajima (including ferry), Onomichi, Fukuyama, Fuchu, Sera, Takehara, Iwakuni, Akiota, Higashihiroshima, and more. Costs ¥3000, valid for 3 days.
Small Area with Hiroshima Airport Limousine Bus Access. Costs ¥4000, valid for 5 days.
Wide Area with Hiroshima Airport Limousine Bus Access. Costs ¥6000, valid for 5 days.
---
JR KANSAI HIROSHIMA AREA PASS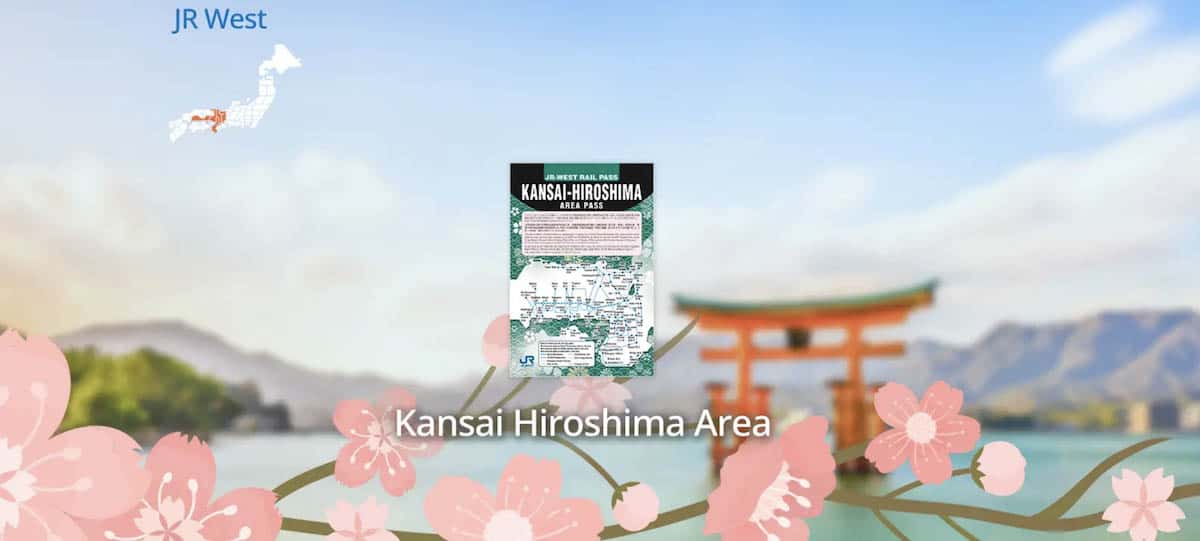 If your itinerary includes the Kansai Region (Osaka, Kyoto, Nara, Kobe, Himeji) and Hiroshima, the pass to consider is JR Kansai Hiroshima Area Pass. It will allow you unlimited travel on select JR trains including non-reserved Sanyo Shinkansen (Shin-Osaka to Hiroshima), non-reserved express trains like Haruka, Thunderbird, Kuroshio, Kounotori and more, and rapid, special rapid and local trains on the JR West network. It also covers JR West Miyajima ferry.
This is an awesome deal. The shinkansen ride from Shin-Osaka to Hiroshima alone is already almost ¥10,000, one way. But this pass costs only ¥13,500 and it gives you access to a lot more.
Price: ¥13,500
Validity: 5 days
✅ RESERVE THIS PASS!
---
JR HIROSHIMA YAMAGUCHI AREA PASS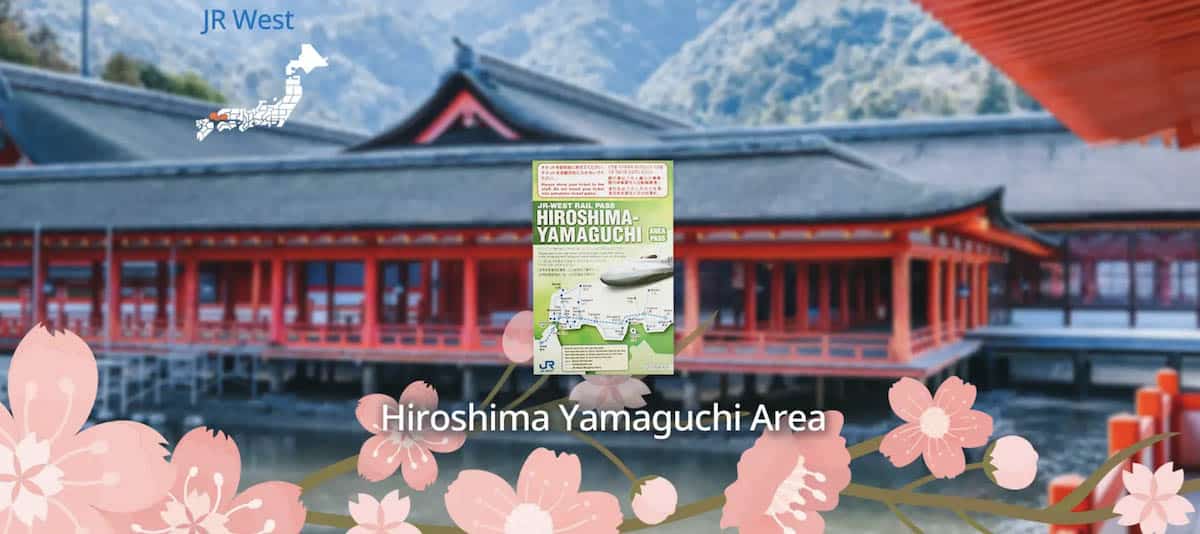 If you plan on exploring multiple destinations with Hiroshima Prefecture and Yamaguchi Prefecture and coming in via Fukuoka, consider the JR Hiroshima Yamaguchi Area Pass. This will enable you to get unlimited access to designated JR trains (including shinkansen) and bus lines within Hiroshima and Yamaguchi. This also covers shinkansen rides to and from Fukuoka (Hakata) and ferry ride to Miyajima.
If your trip is only 5 days, this is a good deal. The shinkansen ride from Hakata Station (Fukuoka) to Hiroshima alone is already over ¥8000, one way. But this pass costs only ¥11,000 and it gives you much more.
Price: ¥11,000
Validity: 5 days
✅ RESERVE A DISCOUNTED PASS!
---
JR PASS (NATIONWIDE)
If you're visiting multiple destinations in Japan including Hiroshima and other cities outside Kansai or Chugoku region, get a JR Pass before your trip. Klook offers the cheapest JR Passes available. If you live in the Philippines, the pass will be delivered to you in 7 days.
✅ CHECK JR PASS RATES HERE
---
SAMPLE HIROSHIMA ITINERARY
This sample itinerary covers only Hiroshima City and Miyajima. For this itinerary, we are not considering your entry and exit points to make this more flexible. This way, you can insert this to an even longer Japan itinerary.
Your accommodations budget is ¥3000 per night. You can find a bed in a capsule hotel or a single room with that amount.
You're skipping breakfast. It's healthy (according to intermittent fasting advocates, hehe)!
You're using a Visit Hiroshima Tourist Pass (3-Day, Small Area).
Feel free to make any adjustments to match your needs and preferences.
DAY 1: HIROSHIMA CITY
AM: Tram 2 or 6 to Genbaku-Domu Mae Station. ¥180. FREE with PASS.
AM: Explore Peace Memorial Park. FREE.
AM: Explore Peace Momorial Museum. ¥280.
AM: Walk to Hondori Shopping Arcade.
NN: Lunch. ¥1000.
PM: Walk to Hiroshima Castle
PM: Hiroshima Castle. ¥370.
PM: Tram to Hiroshima Station. ¥180. FREE with PASS.
PM: Dinner. ¥1000.
PM. Back to hotel.
DAY 2: MIYAJIMA
AM: Hiroshima Station to Miyajimaguchi Station. ¥410. FREE with PASS.
AM: Ferry to Miyajima. ¥180. FREE with PASS.
AM: Itsukushima Shrine. ¥500.
NN: Lunch. ¥2000.
PM: Explore Omotesando Street.
PM: Explore other parts of island. Budget: ¥500.
PM: Ferry back to Miyajimaguchi. ¥180. FREE with PASS.
PM: Train back to Hiroshima Station. ¥410. FREE with PASS.
PM: Dinner. ¥1000.
DAY 3: DEPARTURE
AM: Early hotel check out. Leave bags.
AM: Tram 1 to Hondori Station. ¥180. FREE with PASS.
AM: Shopping at Hondori.
NN: Lunch. ¥1000.
PM: Departure.
If you have the VISIT HIROSHIMA PASS, the above itinerary will cost you more or less ¥9000 (PHP 4230, SGD 110, USD 81) excluding airfare, airport transfers, accommodations, travel taxes, and shopping budget.
If you're able to book a room or a bed for ¥3000 a night, the above itinerary will set you back a total of ¥15000 (PHP 7051, SGD 184, USD 135)
We'll be creating more sample itineraries soon!
---
MORE HIROSHIMA TIPS FOR THE POOR TRAVELER
Brush up on a bit of Japanese. Knowing a few basic Japanese phrases can help you wiggle out of tight spots. There are free Japanese phrasebooks apps available, or use your handy Google Translate app.
Don't be afraid to ask for directions. Most Japanese people are helpful to tourists, and some go out of their way to help out a lost traveler. There are also tourist information centers found in most train stations and city centers.
Prepare for the weather. You need to be careful on what clothes to bring, as Hiroshima has a temperate climate and can get very hot or very cold depending on the time of the year. If you're going in the colder months, don't underestimate the amount of cold you can tolerate. Bring enough winter clothes and thermal underwear to keep yourself toasty at all times.
Have Google Maps and Hyperdia at the ready. These two apps are always my go-to tools when navigating in Japan. Google Maps shows your present location, and lets you know your approximate travel time. Hyperdia is a website that lists all train schedules and destinations, so you don't mix up your trains and end up someplace else.
---
FREQUENTLY ASKED QUESTIONS ABOUT HIROSHIMA
When is the best time to visit Hiroshima?
October-November and March-May. Our team has been to Hiroshima in February, March, May, June, October, November, and December. It was the October-November period that we enjoyed the most, when the mountains are clad in bright autumn colors and the temperature is just perfect for sightseeing. March-May is great, too!
Like most of Japan, Hiroshima enjoys a temperate climate, with warm, humid summers and cool, snowy winters. It is a vibrant city that entices tourists all year, but is particularly popular during the fall (October-November) and late spring (March-May) seasons. There's a small rainy season between June and July, but this shouldn't stop you if you want to travel during these months.
In May, particularly within the so-called Golden Week, domestic tourism spikes and almost everyone is in the mood to travel. It's a festive time in Hiroshima, particularly because its annual Flower Festival occurs during this time, but you must also consider the large crowds and higher-then-usual rates and fares during this period. If you're aiming for cheaper rates and less queues, better to schedule your trip in other months.
What type of power plug/socket is used in Hiroshima?
Electricity Info: 100V, Type A sockets. Plugs have two flat pins.

---

Photos and additional words by Yosh Dimen.
2️⃣0️⃣1️⃣9️⃣ • 3️⃣ • 1️⃣0️⃣
---