There are three things that I always make sure I experience when I'm on an island getaway, and they all start with S: the sea, the sunset, and loud, scandalous sss.., uhm, singing. Yep. sea, sunsets, and singing. For real.
When it comes to the sea and sunsets, the famed Gili Islands off the coast of Lombok, Indonesia, will not disappoint. This trio is composed of Gili Trawangan, the largest, most populated and the most developed of the three; Gili Meno, middle and the smallest; and Gili Air, the second biggest and closest to mainland Lombok. The band is located off the northwestern coast of Lombok and dots the southern edges of Bali Sea.
It is the most popular destination in Lombok, initially riding on the tourism pull of Bali and often a favorite side trip for Bali vacationers who are seeking more island and diving adventures. Its first waves of tourists were made up of divers and snorkelers. Over the years, the islands have seen rapid development — mostly concentrated in the largest of the three, Gili Trawangan — with cafes, bars, and other establishments mushrooming along the beach. Slowly, it has earned a reputation of being a "party destination." Yet, it still is far more relaxed and laidback than Bali, something that I really enjoyed about the place.
WHAT'S COVERED IN THIS GUIDE?
Best Time to Visit Gili Islands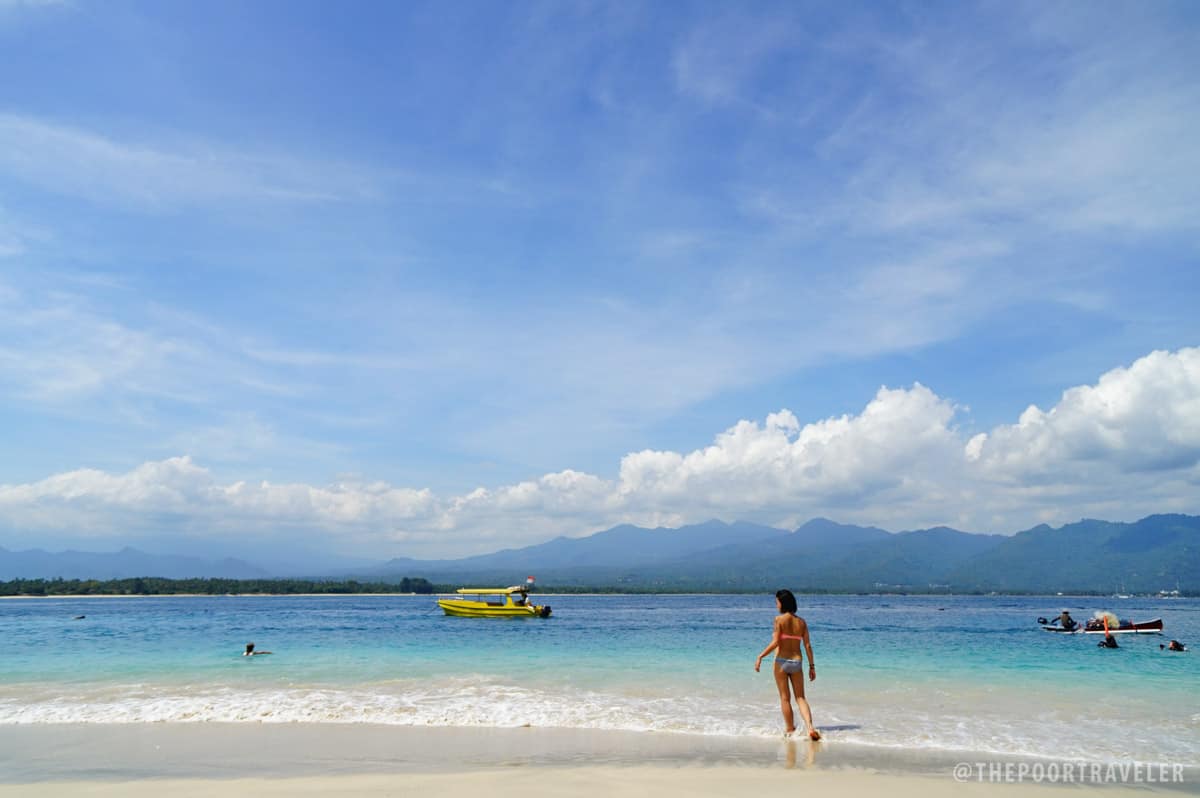 The months of July, August, September are considered peak season because of the good weather. Rain and storms are highly unlikely during these months. December and January are also considered high season because of the Christmas and New Year demand. As with any other tourist destination, rates are higher throughout these months and accommodations get sold out easily. Make sure you book your hotel before coming to the island.
The rainy months of February to April are considered low season.
One thing you also need to consider when planning your trip is the Balinese holiday called Nyepi, which is usually observed on a day in mid-March. On this day, the entire island of Bali goes on a standstill. No lights, no businesses, no outside activities are allowed. This is important because you might be going to the Gilis via Bali. Seaports and the airport will be closed on this day. However, this is not observed in Gili Islands or Lombok.
How to Get to Gili Islands
Two airports serve as gateways to Gili Islands: Lombok International Airport (LOP) in Praya and Ngurah Rai International Airport also known as Denpasar Airport (DPS) in Bali. Note that Lombok is much closer to the Gilis, making it the fastest route but not necessarily the most cost effective.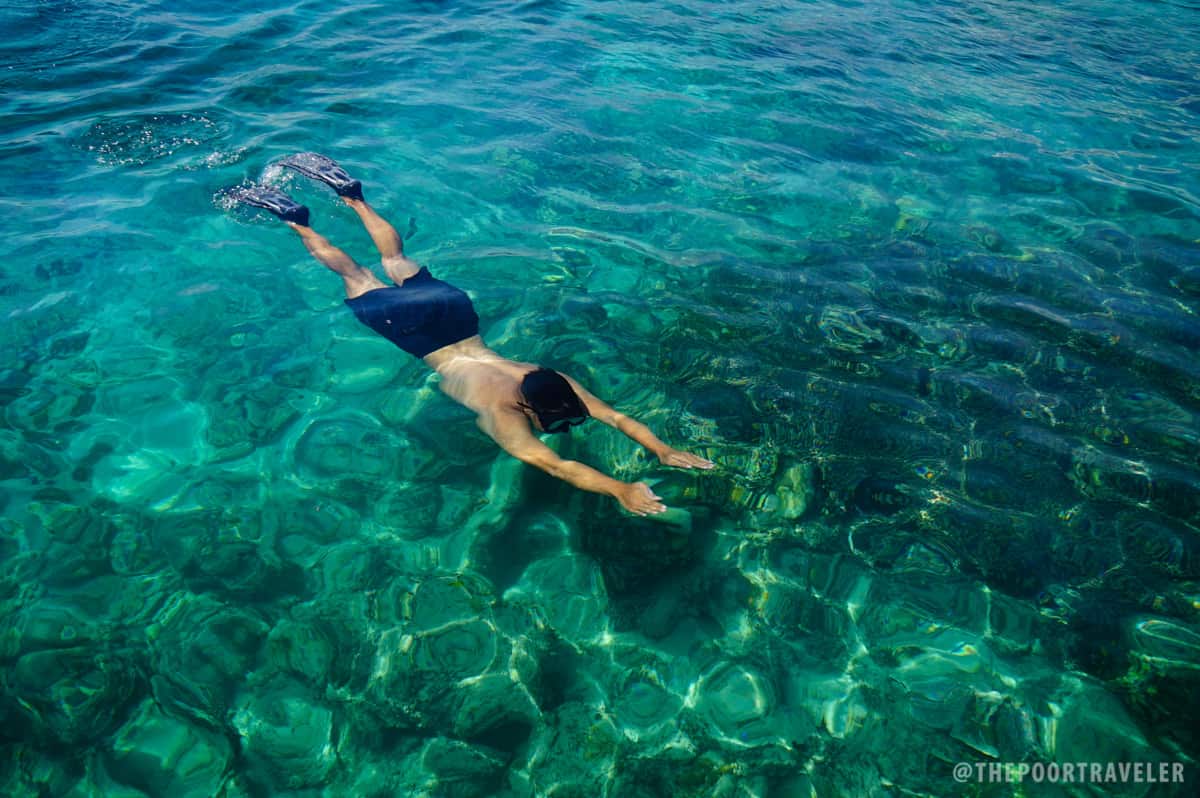 If you're coming from outside of Indonesia, fare to Lombok costs a little bit more because you're most likely connecting in another Indonesian city like Jakarta, Surabaya, or Denpasar (Bali). You can also connect outside the country. There are direct flights from Singapore and Kuala Lumpur, but they cost much more, sometimes double or triple, unless you get your ticket during a promo.
If you're flying directly to Lombok
At the airport, hire a metered taxi or private car to Bangsal Harbor (Bangsal Port). A metered taxi ride costs approximately IDR 300,000, while private car service may cost somewhere between IDR 400,000 to 650,000 depending on the company. Note that taxis in Lombok must always use the meter. Travel time is around 2.5 hours.
At Bangsal Port, walk to the beach where you will find the ticket office for public boats. DO NOT buy tickets where the taxi would drop you off. Scams are rampant in this area, and touts will do everything they can to squeeze money out of you. You will be told that there are no more public boats or that the ticket office is closed, but ignore them. Just walk straight to Bangsal Harbor and look for the ticket booth there.
Take the public boat to the Gili Island you wish to visit. A public boat ticket costs IDR 8,000 for Gili Air, IDR 9,000 for Gili Meno, and IDR 10,000 for Gili Trawangan. The boat will not leave until the boat if full. Make sure you're in Bangsal between 8am to 4pm so you have more people to share the boat with.
Alternatively, if you are a group and you have more money than time, you may charter a private boat in Bangsal or in nearby Senggigi for around IDR 200,000 depending on your negotiating skills.
Again, whatever you choose, DO NOT INTERACT with the touts.
If you're coming from Bali
If Bali is part of your itinerary, you have four options in reaching the Gili Islands. (There are a few more choices, to be honest, but they cost a fortune, so let's skip them for now.)
By Plane to Lombok
.
There are direct flights from Denpasar (Bali) to Lombok and vice versa.
Fly from Denpasar Airport to Lombok.
Fare: around IDR 400,000 (USD 50)
Travel time: 50 minutes
From Lombok Airport, follow the steps listed above.
Via Padang Bai
Padang Bai is a port town located 60-90 minutes from the Denpasar Airport or Kuta Beach. The thing with this route is, there are ferries to the Gili Islands only in the morning. Gili Cat, one of the more popular operators in the island, departs Padang Bai at 9:15am. (Embarkation starts at 8:45am.) There are seasonal afternoon sails, but it's safer to just leave in the morning.
If you wish to go to Gili Islands on the same day of your arrival, make sure that the flight you're booking lands before 6am. This ensures you have time to go through Immigration, find land transfers, travel to the port, and buy ticket. Note that this does not yet take flight delays in consideration, so you might still need to book a much earlier flight to be on the safe side. What many travelers do is spend a night in Kuta or in Padang Bai instead.
To Gili Trawangan
Departure time: 9:15am
Travel time: 80 minutes.
Fare: IDR 1.2 Million (USD 92), roundtrip; IDR 700,000 (USD 54), one-way
To Gili Air
Departure time: 8:45am
Travel time: 120 minutes
Fare: IDR 1.02 Million (USD 78), roundtrip; IDR 630,000 (USD 48 )
If you have a lot of time, you may also take the slow, public ferry to Lombok (4-5 hours) and then ride a boat to Gili Trawangan when you reach Bangsal Harbor.
Via Amed
Amed is a beach accessible after an almost 3-hour drive from the airport of Kuta Beach. It has its own port, which is closest to the Gili Islands than any other port in Bali. Although distant, one thing that's going for Amed is that it is a beautiful place especially at sunrise. It's far from all the chaos, noise, and overdevelopment in other parts of the island.
Departure time: 9:30am
Travel time: 1 hour
Fare: IDR 875,000 (USD 67) roundtrip
Where to Stay in the Gili Islands
You can find hotels and resorts in all three islands, although a big fraction of them are in Gili Trawangan. You can find a wide range of accommodations, from luxury resorts to homestays that offer rooms for as low as IDR 150,000 (USD 12) for a fan room.
If homestays are not your thing, check out some of their budget and mid-range hotels.
Things to Do in Gili Islands
All three islands are small and can explored end-to-end on foot. Know that there are no cars, motorbikes or any other motorized vehicles in the islands. To get around, you either walk, bike, or ride horse-drawn carts called cidomo. Cidomo fare can be somewhere between IDR 20,000 to 50,000, depending on your destination.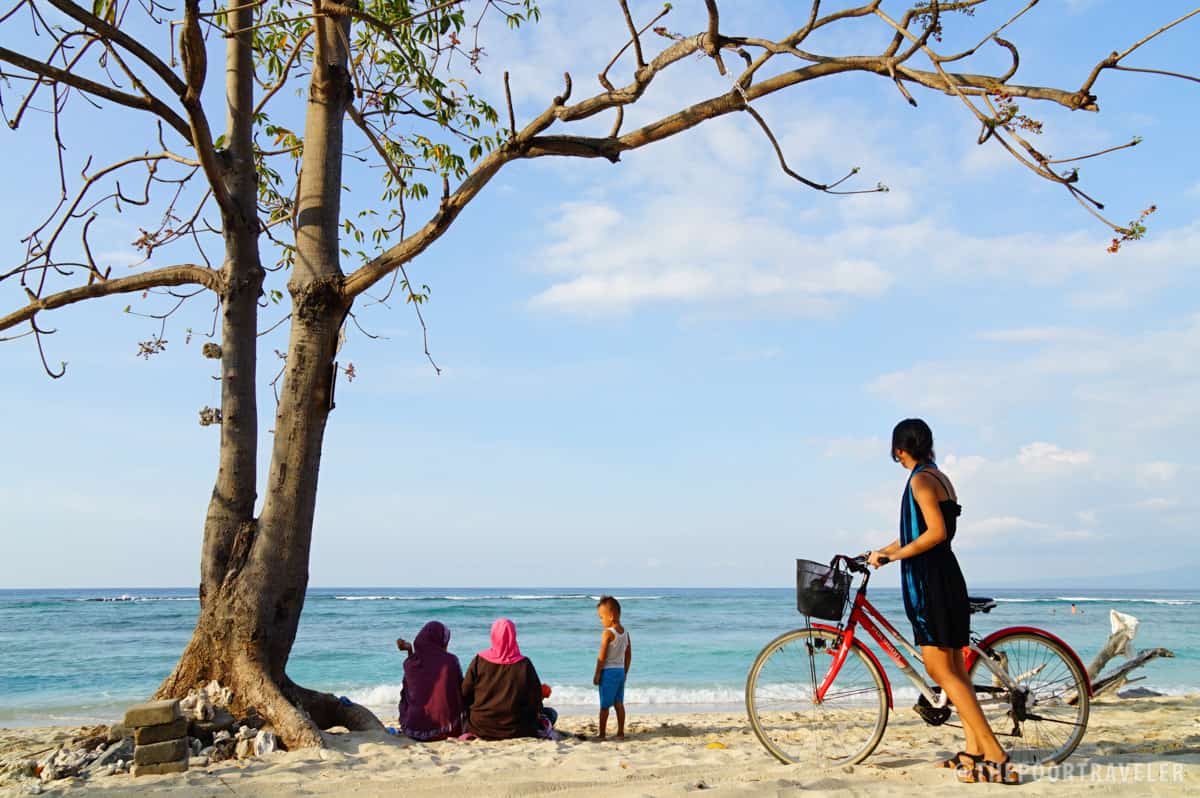 Here are some activities to enjoy:
Island Hopping. You don't need to charter a private boat to explore all three islands. You just need to catch the public boats. There's always one boat in the morning, usually between 8am to 9:30am, and another in the afternoon, usually between 3-4pm. Fare: IDR 18,800 (USD1.5) to IDR 25,000 (USD 2) depending on your route.
Bike Tour. Most hotels and homestays also offer bike rental services, the cost of which usually ranges from IDR 50,000 for 4 hours to IDR 150,000 for 24 hours. A circumferential road runs along the beach which is perfect for biking. Some parts are sandy so be prepared to drag your bike at times. Do it just after dawn or before sunset.
Have a sunset photo of you taken while on an Ocean Swing. Standing in shallow waters on the west side of the Gili Trawangan, include this as one of your stops in your biking tour. The use of the ocean swings are FREE, but be prepared for the long queue.
Snorkel or dive! The Gilis' marine life made these islands famous, so you absolutely need to take a peek at what's hiding in its emerald waters. Make sure you have a waterproof or underwater cam.
Food trip! There are a lot of well-known restaurants in the island. Seafood, of course, is their specialty and they fuse it with other cuisines. For example, Scallywags Organic Seafood Bar & Grill Restaurant serves marinara pasta alongside a wide selection of grilled seafood! Their menu is filled with dishes that play within the price range of IDR 40,000 for starters to IDR 150,000 for main courses. Or if you just want to cool down and beat the heat, have a glass of fruit shake (or cocktails!).
Party! They're not calling it a party island for nothing. But be cautious of accepting drinks from strangers. Also, keep it clean. Indonesia has some of the harshest laws for drug-related offenses. Drug possession can put you in jail for up to 12 years. Drug trafficking can send you to the death row.
Sample Itinerary
Here's a sample 3D2N itinerary. This assumes that you'll be coming from Bali and staying in Gili Trawangan. If you're going to use this as guide, make sure you book a flight that will arrive in the early morning or spend the night in Padang Bai or Kuta. Also, it would be best to book your tickets in advance.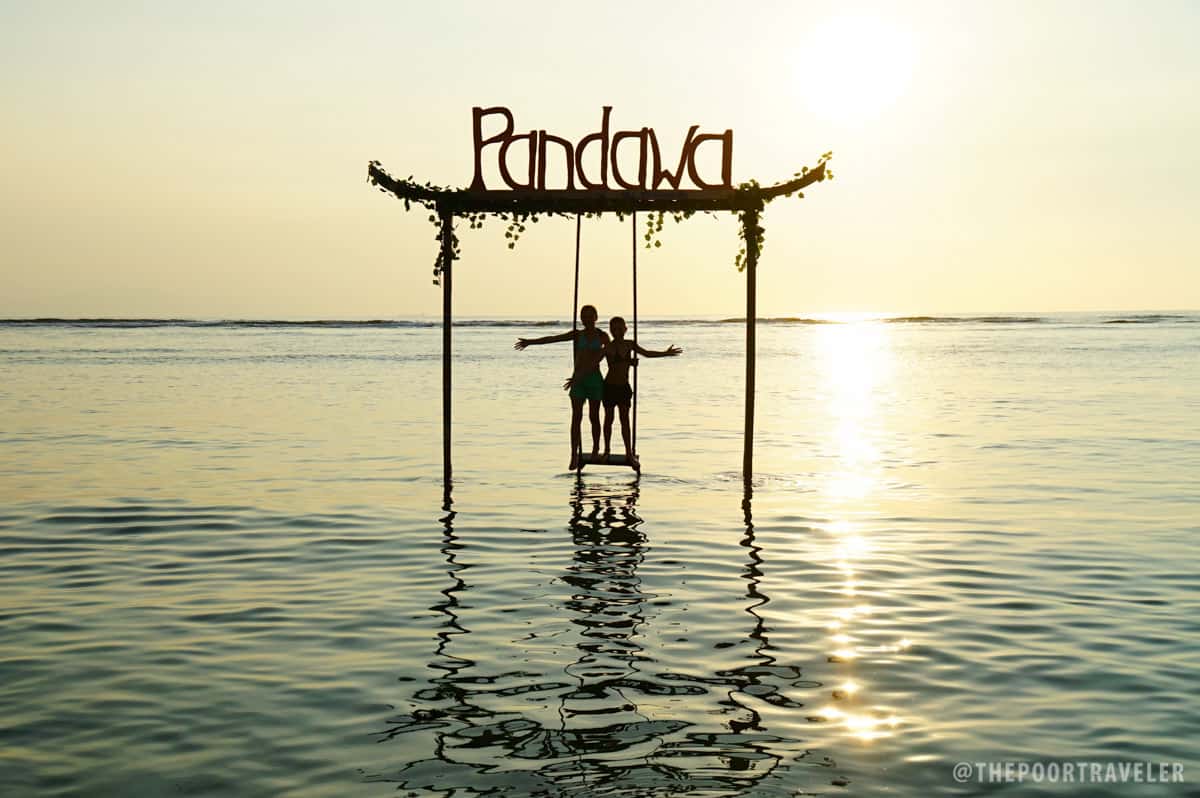 DAY 1: BALI TO LOMBOK
08:45 – Gilicat Embarkation at Padang Bai
09:15 – Gilicat Departure
10:45 – Arrival at Gili Trawangan
11:30 – Early Check in at Hotel (or drop baggage)
12:15 – Lunch
14:30 – Swimming
16:00 – Biking + Ocean Swing sunset
19:00 – Dinner
DAY 2: ISLAND HOPPING
06:00 – Breakfast
08:00 – Island hopping/snorkeling/diving around Gili Islands
12:00 – Lunch
14:30 – Back to Gili Trawangan
16:00 – Rest or explore Gili Trawangan more
19:00 – Dinner
20:30 – Party!
DAY 3: BACK TO BALI
07:00 – Breakfast
08:30 – Hotel checkout
10:50 – Gilicat Embarkation
11:20 – Gilicat Departure
13:00 – Arrival in Bali
15:00 – Airport Checkin or Stay in Bali
This was part of #TripOfWonders, a blogger tour organized by Indonesia's Ministry of Tourism.
2️⃣0️⃣1️⃣6️⃣•9️⃣•1️⃣0️⃣