Here's our most updated SEOUL SOUTH KOREA TRAVEL GUIDE blog with sample Seoul itinerary for 4 DAYS and 3 NIGHTS, hotel and tour recommendations, list of top things to do, and breakdown of expenses. Last updated: 2018 • 4 • 20
Some countries change your life even before you set foot in it.
One lazy day at the university, I was chillin' with friends at the lobby of our college building when the College Secretary approached us. "I'm looking for volunteers," she said. Apparently, exchange students from Korea had arrived way earlier than expected. She needed people who could tour them around the campus while they were preparing whatever it was they were preparing. Bored af, I was first to raise a hand.
Many of these exchange students became good friends of mine. They were my first foreign friends.
At the time, my brother was coincidentally working at a factory near Seoul. The computer that I relied on in college was a product of his hard work there. (Katas ng Korea, sabi nga nila.) This also means that every now and then, we would receive a package bursting with Korean products, which would then fill our living room racks and kitchen drawers.
After graduation, my first job was with a Korean company that brought Korean students to the Philippines to learn English. So yes, my first boss, the first person who believed in my skills as a worker, was Korean.
South Korea had already changed my life way before I set foot in it. So when I finally did, it felt wonderful. It felt like I was giving thanks. But yeah, the whole time, I was grateful.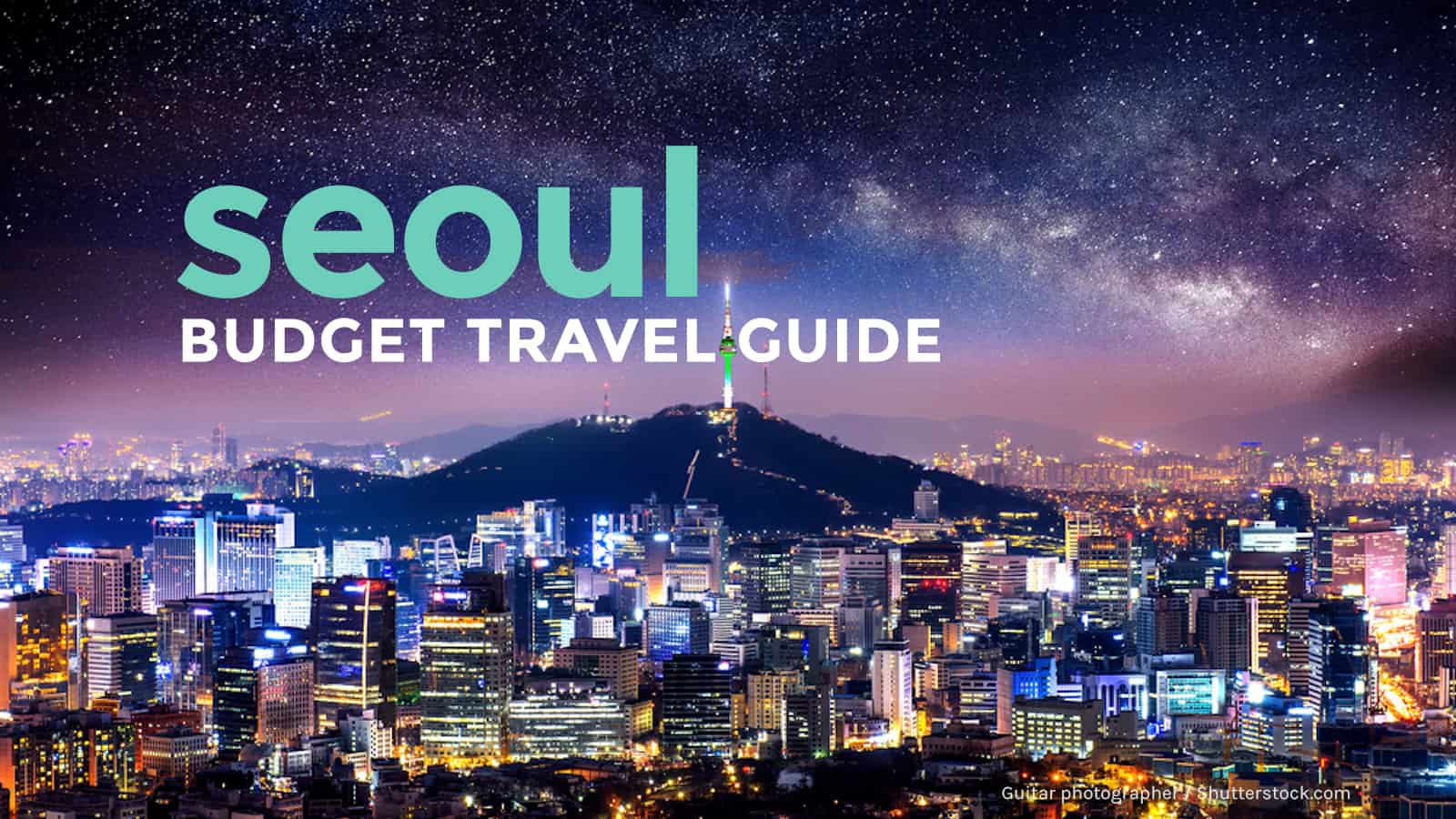 WHAT'S COVERED IN THIS GUIDE?
Understanding Seoul
The political and economic center of South Korea, Seoul is home to almost 12 million residents. The larger Seoul Capital Area (Sudogwon), which includes neighboring Incheon and Gyeonggi-do, houses 25.6 million people (half of the country's population), making it the fourth largest metropolitan area in the world, after Tokyo, Shanghai, and Jakarta.
Like most capital cities in East Asia, Seoul is pulsating with curiosities. Think of it as a younger but more tamed Tokyo. Everywhere you go, there's always something interesting to find even in a random neighborhood. A regular cafe (often located next to another cafe across another cafe) displays how many calories are in your order for the benefit of the weight health-conscious in you. If you're feeling a bit offbeat, walk into a cat cafe to indulge the animal-lover in you or a toilet-themed one to satiate your appetite for humor. And that's just the coffee shops!
Seoul is also known for its obsession to beauty, something that became apparent as soon as I passed by half-dozen cosmetic shops after only two minutes of walking. (I LOVE IT. Here, I could step into a cosmetic store without anyone giving me judging stares.) But their constant quest for physical perfection isn't limited to beauty products. Almost everything here looks pretty! Street food looks gourmet, university grounds are tourist spots, and historical sites are well-preserved!
Language: Korean. English is getting increasingly common. Most signs have English translations.
Currency: South Korean Won (KRW, ₩). KRW 1000 is roughly USD 0.88, EUR 0.77, SGD 1.22, PHP 47.8 (as of October 2018).
Modes of payment: Many establishments accept credit cards, but most still prefer cash.
Electricity Info: 220 volts. Plugs have two round pins.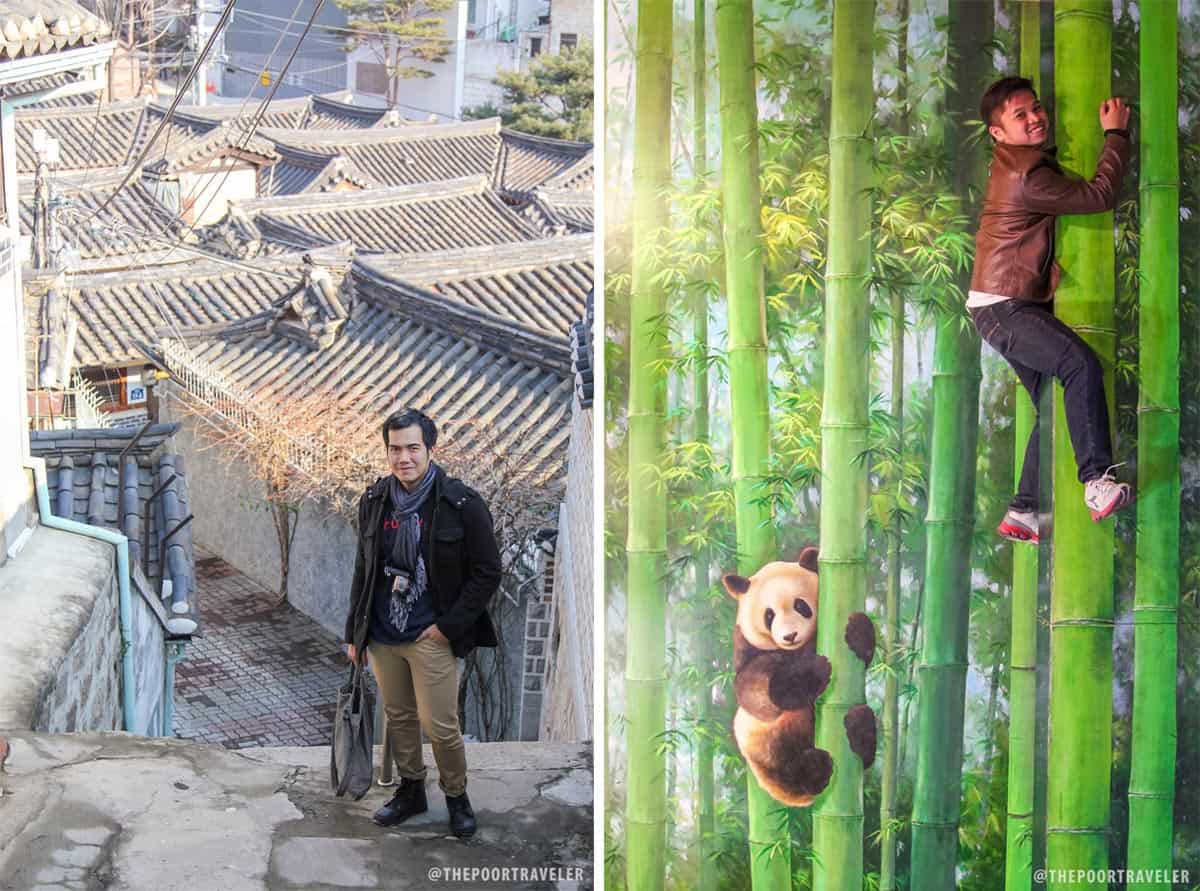 ---
How to Get to Seoul
If you're a Filipino citizen, you'll need a visa. Here's how to get a Korea visa.
Seoul is served by two airports: Incheon International Airport (ICN) and Gimpo International Airport (GMP). Gimpo is used primarily for domestic and a few international flights (mostly from China, Japan, and Taiwan). Incheon, on the other hand, is used by most international flights. It is the largest and the primary gateway to South Korea. Gimpo is much closer, just 30 minutes away from Central Seoul, while Incheon is roughly an hour away by train or 1.5 hours by bus.
If you're coming from Southeast Asia, the cheapest flights to Incheon are offered by low-cost carriers. The lowest rates are often from Manila. AirAsia has the lowest year-round fares and they get even lower when there's a promo. Here's a quick search on SkyScanner.
Manila to Incheon (Seoul)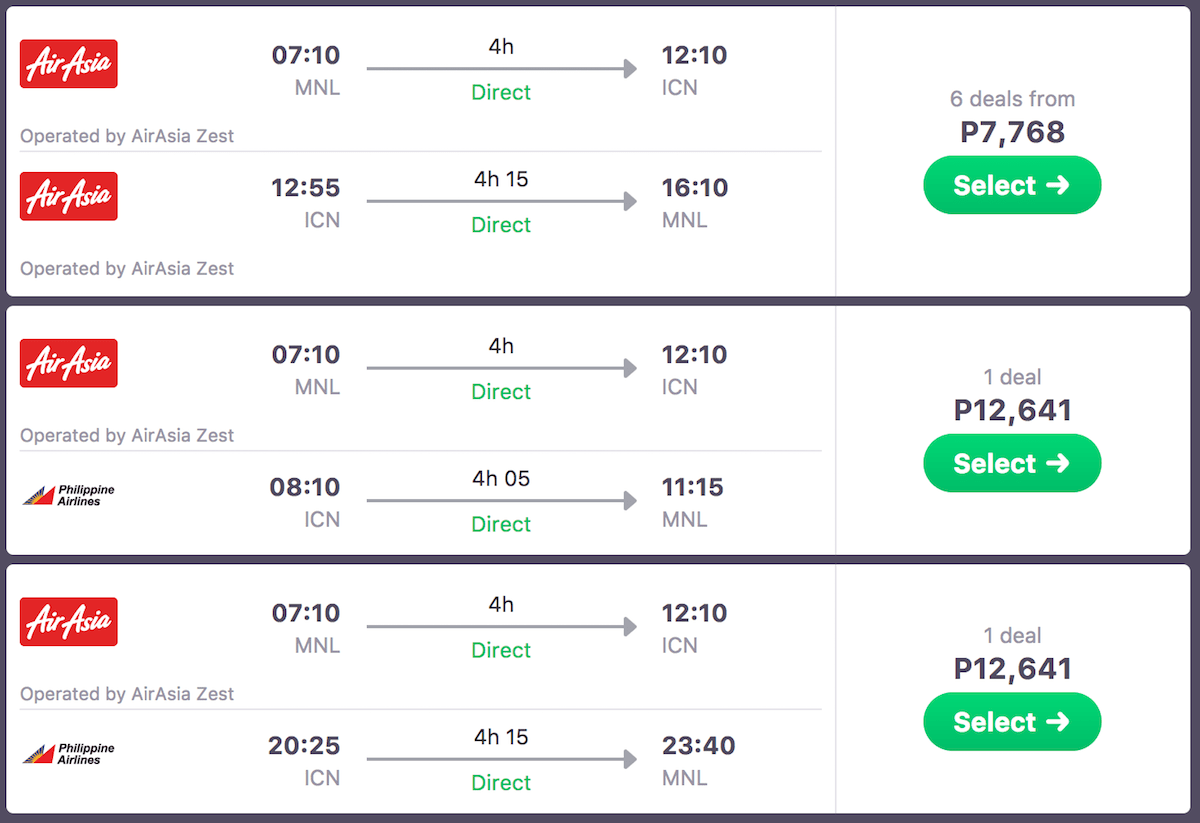 Kuala Lumpur to Incheon (Seoul)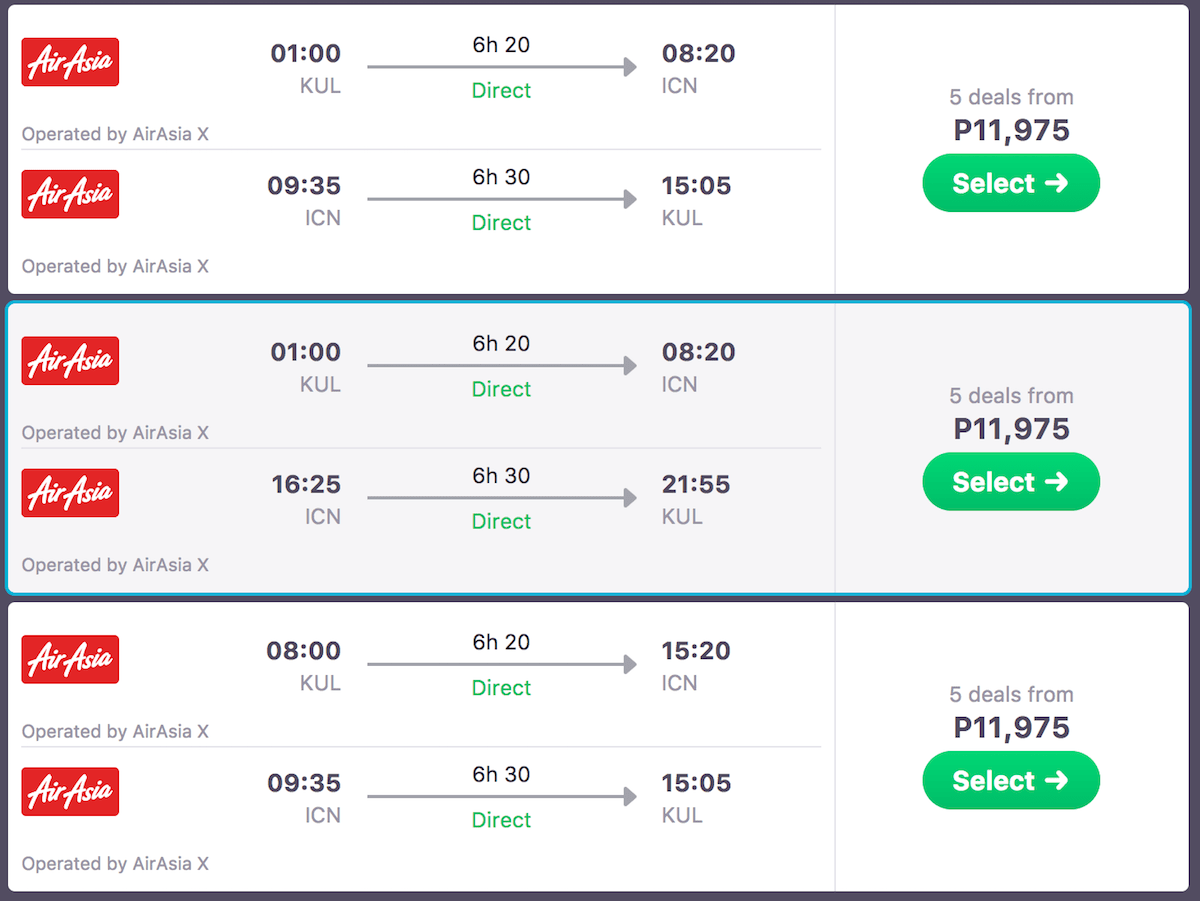 ---
---
Where to Stay in Seoul
Seoul has three major backpacking districts: Jongno, Myeongdong and Hongdae. Which is the best? Well, I hate answering with "It depends," I would have to say "It depends." Haha. All these areas are close to major tourist stops, so it will depend on which of these attractions you will visit. But here's a quick summary.
Myeongdong. Seoul's main shopping district, dotted with boutiques and department stores. Close to Myeongdong Shopping Street and Namdaemun Market. If you love shopping, stay here. Check rates of Myeongdong hotels here.
Hongdae-Sinchon. Seoul's university belt. This place is driven by Seoul's youth culture, nurturing a more romantic and underground atmosphere. Lots of creative and quirky shops and food places. Close to: Hongik University Street, Hongik Mural Street, and Ehwa Women's University. If you're a foodie, stay here. Check rates of Hongdae hotels here.
Jongno. Seoul's historic core. Its map is littered with shrines, temples, and other traditional sites. In fact, four of the city's five grand palaces can be found in Jongno. It is also where the Bukchon Hanok Village, Gwangjang Market, and Insa-dong are located. If it's your first time in Seoul, stay here. Check rates of Jongno hotels here.
I have experienced staying in all three districts, and I personally prefer Jongno. There's just so much to see and explore within walking distance.
---
Where We Stayed in Seoul
Here are the hostels and a hotel that I have tried. You can read our reviews here: Where We Stayed in Seoul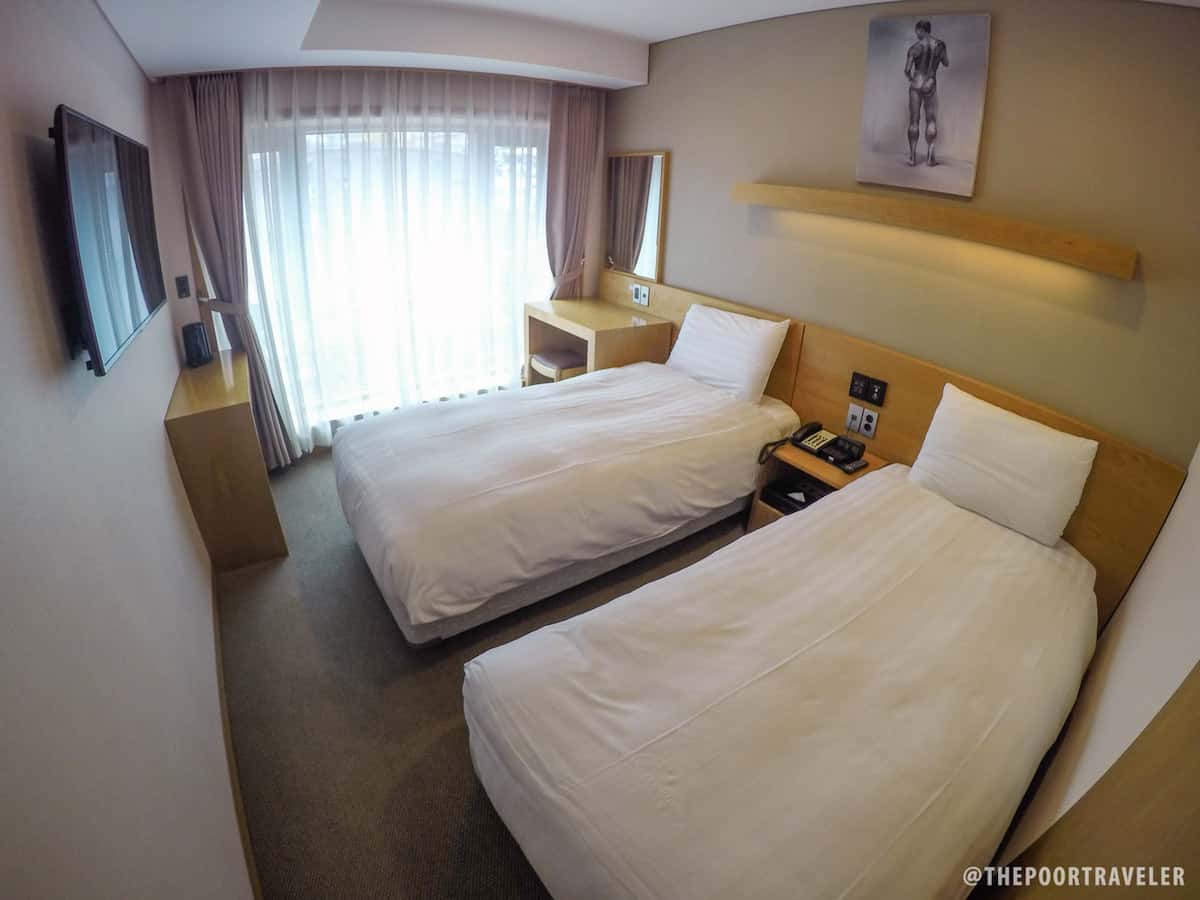 ---
Top Budget Hotels Under $60 in Seoul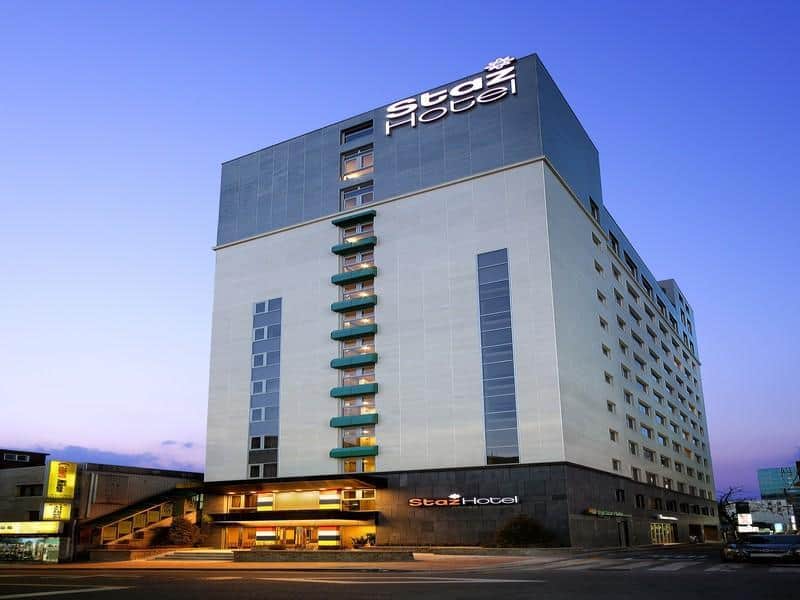 ---
Top Seoul Hostels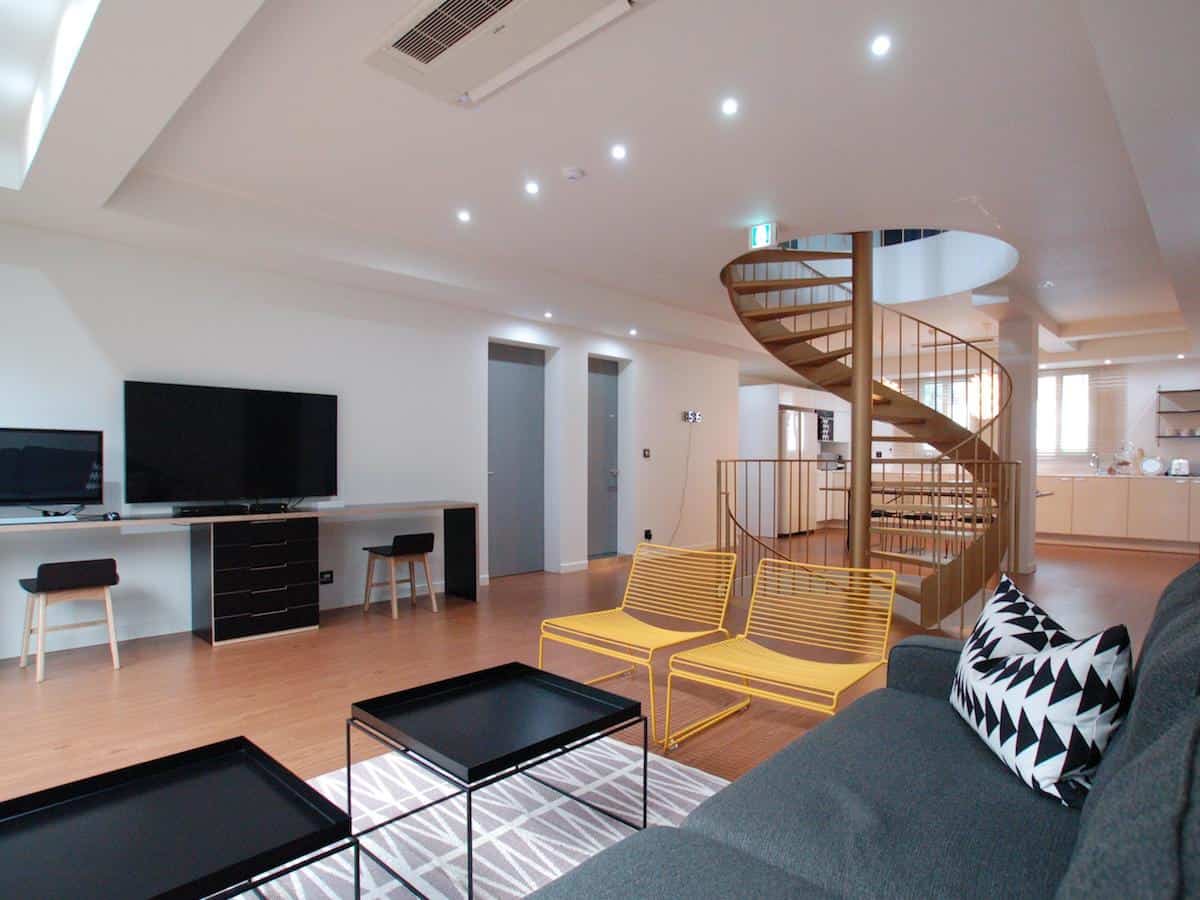 ---
How to Get from Incheon Airport to Seoul City Center
Incheon Airport to Seoul by Train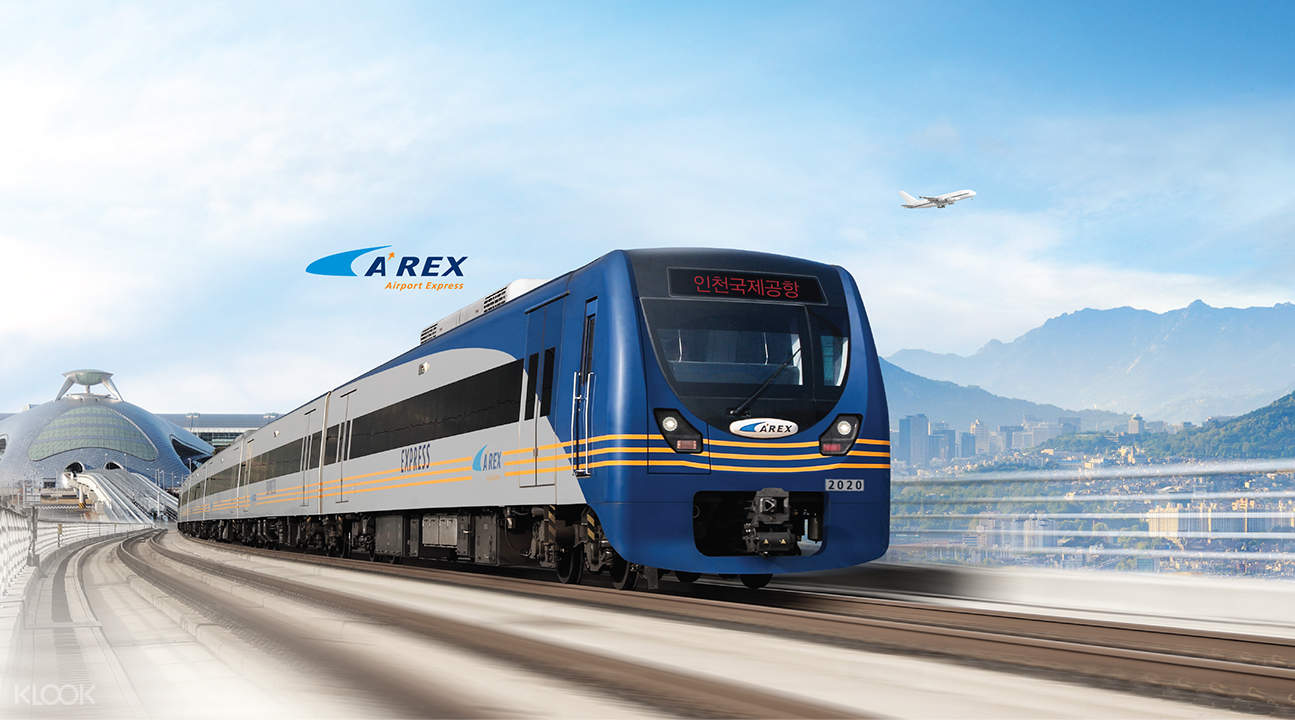 The Airport Railroad Express (AREX) connects Incheon Airport to Seoul city center. It has two types: EXPRESS and ALL STOP.
The fastest way to reach the city is by taking the AREX EXPRESS Train. But the cheapest way is to take the ALL STOP Train.
The Airport Railroad Express (AREX) EXPRESS Train. The fastest option! The Express Train usually costs ₩14,800, but I think discounted rates are still in effect, which is only ₩8000 for adults and ₩6900 for children. Travel time is 43 minutes. You can reserve a seat in advance with Klook! RESERVE A SEAT HERE!
AREX ALL STOP Train. The Cheapest Option. Will stop at all 12 stations before arriving at Seoul Station. It's 15 minutes slower (travel time: 58 minutes), but costs only ₩4250.
---
Incheon Airport to Seoul by Bus
By bus, if your hotel is close to one of the many bus stops scattered throughout the city. I say it's easiest because there is no need to switch trains. I personally prefer this method because I despise transferring to another train line when I have 20+++ kilos of baggage on my back. The good news is, the three main backpacking districts in Seoul have their own bus stops! Here are the buses you need to catch:
JONGNO: Bus 6002 (at Gate 5B or 12A). Get off at Jongno 1, 2, 3,4,5, or 6, whichever is closest to your hostel/hotel. Last bus: 11:30pm. Fare: ₩10,000.
HONGDAE: Bus 6002 (at Gate 5B or 12A). Get off at Hongik University Station. Last bus: 11:30pm. Fare: ₩10,000.
MYEONGDONG: Bus 6015 (at Gate 5B or 11B). Get off at Myeongdong Station. Last bus: 10:50pm. Fare: ₩15,000.
If your hotel is closer to a subway station than the bus station, then take the train instead.
---
Pocket Wifi Rental and Data SIM in Seoul

South Korea has the fastest internet connection in the world! Most establishments like fast food restaurants and cafes offer FREE wifi, too.
But if you want to make sure you're connected all the time, you can buy a 4G SIM Card or rent a Pocket Wifi.
Pocket Wifi. Take advantage of Korea's blazing internet speed! This pocket wifi will give you unlimited access anywhere in Korea. It can connect up to 3 devices at once. You can pick it up at Incheon Airport when you arrive. You will be charged per day. But if you reserve with Klook, you just need to pay for the first day and then settle the rest when you return the unit. RESERVE POCKET WIFI HERE!
4G LTE SIM Card!. There are various pre-paid plans available depending on how long your stay is: 5 days, 10 days, 30 days. You can buy one in advance and just pick it up at Incheon Airport so you're connected as soon as you land. RESERVE SIM CARD HERE!
---
How to Get Around Seoul
You'll find Seoul an extremely walkable city. Walk when you can. If you're staying in Jongno, most historic attractions are within walking distance of each other. Otherwise, there's always the subway, which makes Seoul-searching a walk in the park.
Seoul's expansive subway system is the third largest in the world. It consists of 14 lines criss-crossing underneath the vibrant city. It looks intimidating when you look at it, but it's actually pretty easy to get the hang of. It uses cards that require a ₩500 deposit, which can be refunded after the ride.
Before the trip, I encourage you to download a FREE app called Subway Korea. It is available for iOS and Android. Here's how to use it.
Open the app. You will be greeted by Seoul's complicated subway map.
Find your station of origin and tap it. It will reveal options. Choose Departs From.
Find your destination station and tap it. Choose Arrives at.
Choose between the route that will get you there fastest and the route that will make the fewest stops.
It will then tell you the following:
The estimated travel time (top of the screen)
Number of stops (top of the screen)
Fare (bottom, in green)
The recommended route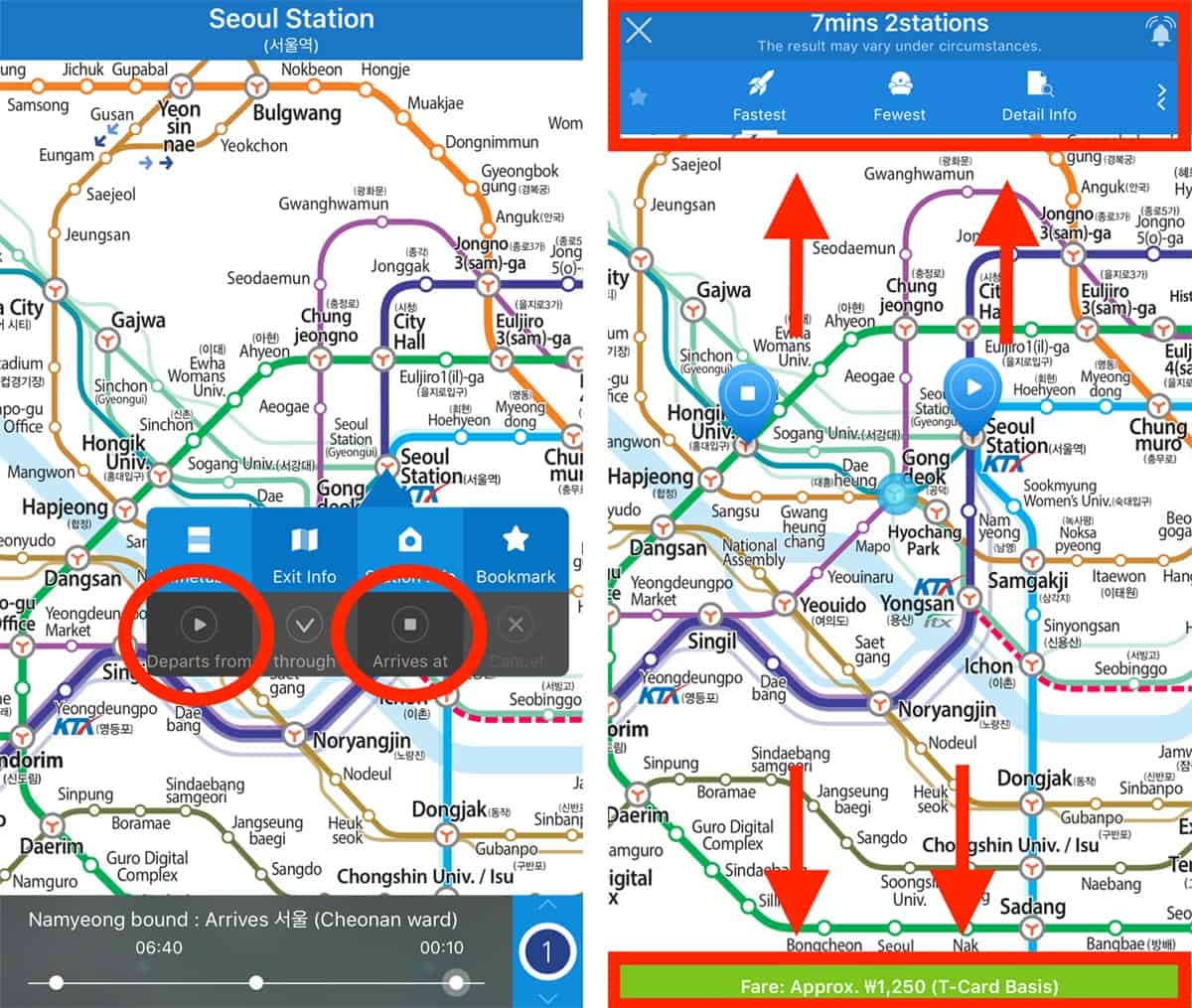 Here's how to use Seoul's subway system.
Find a single journey traffic card ticket machine at the station.
Select your destination.
Select the number of tickets.
Insert payment + refundable deposit of ₩500.
Collect the single journey traffic card that will be released.
After your ride, you can get the ₩500 deposit from one of the payment return machines at your destination.
Each station stems into several routes that lead to exits that are far apart. Check the map displayed near the gates to make sure you're taking the right exit. Often, signs leading to key tourist attractions are found around the station. Also, when walking inside train stations, keep right.
There are prepaid cards available at every station, too. One of the most popular is the T-Money Card. It will save you ₩100 per ride, which isn't much, but it's convenient because you don't need to get a ticket every single time. Another great thing about it is its coverage. You can use it on trains AND buses in many cities including Seoul and even Busan. Just make sure you load it with just enough credit so you don't need to worry about getting a refund.
---
Discover Seoul Pass
If you have a pretty packed itinerary, you might want to consider purchasing a Discover Seoul Pass, which was created by the Seoul Tourism Organization specifically for foreign tourists. You can choose between the 24-hour pass and the 48-hour pass.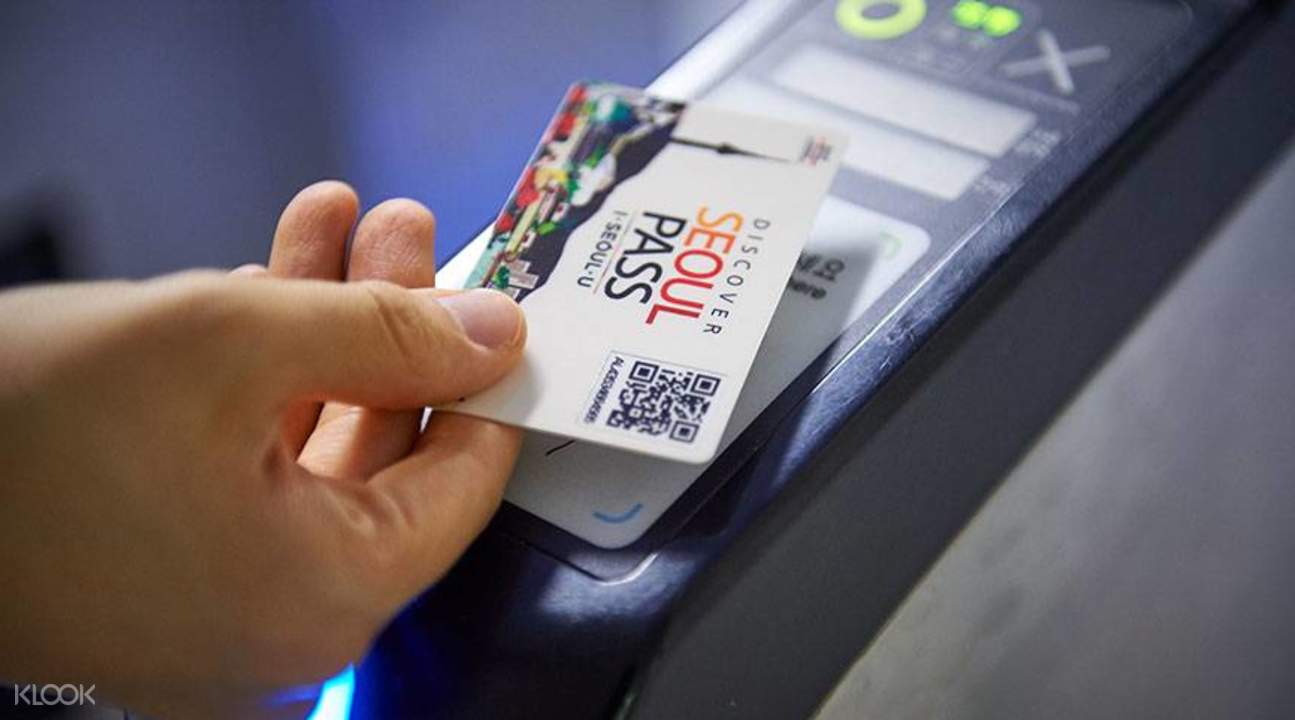 Here are some things that the Discover Seoul Pass can do for you:
FREE access to 22 key attractions like the palaces and shrines, specialty museums like the TrickEye Museum in Hongdae, N Seoul Tower Observatory using only one card.
Access to the Seoul City Double Decker Tour Bus
Comes with T-Money (which I discussed above). But you need to top up before use. If you don't use all credits, you can refund the remaining balance.
Can be picked up at Incheon Airport at the time and date you specified
Here are some of the tourist sites that are covered by the Discover Seoul Pass:
N Seoul Tower (Observatory)
MBC WORLD
Trickeye & Ice Museum
HANBOKNAM
Gyeongbokgung Palace
Changdeokgung Palace
Changgyeonggung Palace
You can get the Discover Seoul Pass in advance with Klook!
✅ RESERVE A DISCOUNTED PASS HERE!
---
Places to Visit in Seoul
Below are some of the tourist attractions in the city and the nearest subway station.
Everland
Everland is Korea's largest theme park.
Admission Fee: Adults, ₩52,000; Children, ₩41,000.
Nearest Station: Jeondae-Everland (Yongin EverLine, Exit 3).
Klook offers discounted tickets if you buy online!
✅ GET YOUR DISCOUNTED TICKET HERE
If you don't want to bother with the getting there part, you can book an Everland Day Tour instead, which includes the following.
Admission ticket
Transportation from Seoul and back
Tour guide service
This is great if you want to catch the fireworks display at night because you won't need to compete with the crowd for transportation back to the city. They use a shuttle bus, which can pick you up in Hongdae, Myeongdong or Dongdaemun. Book Below!
✅ RESERVE A SLOT HERE!
---
Lotte World
Lotte World is another theme park that is great for kids.
Admission Fee: Adults, ₩52,000; Teens, ₩45,000; Children, ₩41,000.
Nearest Station: Jamsil (Line 2, 8; Exit 4)
✅ GET DISCOUNTED TICKET HERE!
---
N Seoul Tower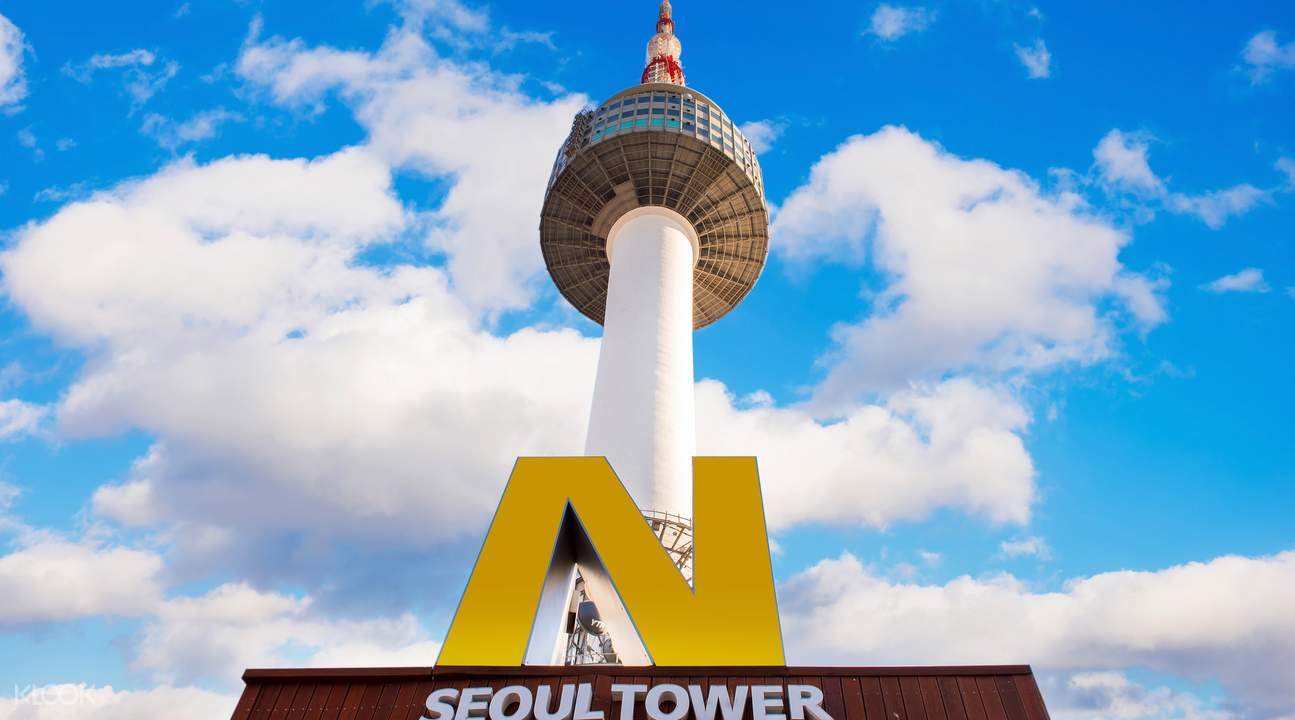 N Seoul Tower, the city's iconic skyscraper that allows breathtaking views of the city. It also has a revolving restaurant. It's accessible by bus, but a scenic approach is by cable car. The boarding station is located 15 minutes from Myeongdong Station (Line 4, Exit 3). Just walk down the street on the right side of Pacific Hotel and you'll find it soon after.
Admission Fee: Adults, ₩10,000; Children, ₩8,000.
Get a discount if you purchase your tickets online with Klook! On top of that, you also get a ₩5,000 shopping coupon that you can use at Namdaemun Market for FREE!
✅ GET DISCOUNTED TICKETS HERE
---
TrickEye 3D Museum + Ice Museum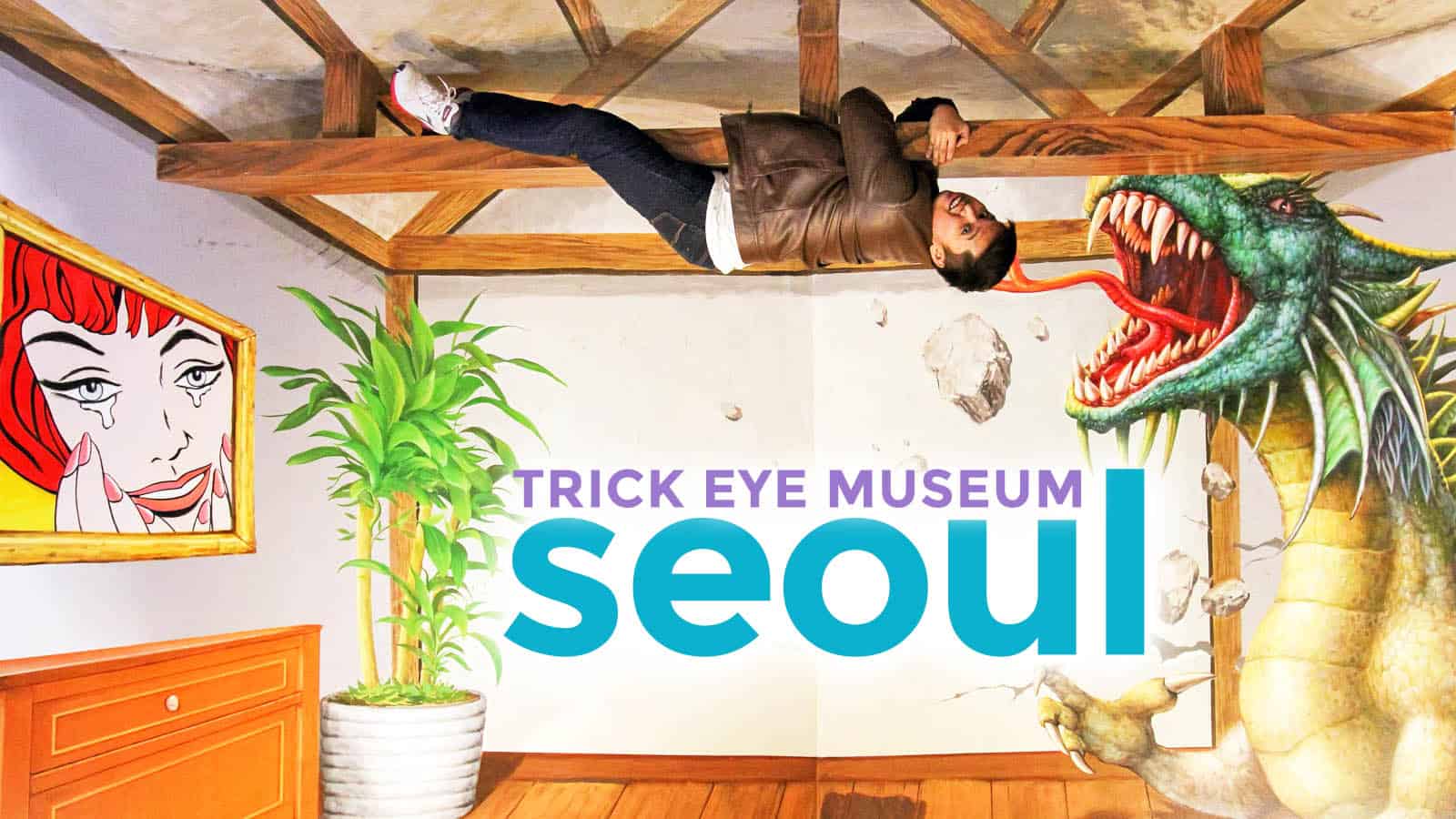 A "trick art" museum for wacky photos! It's located in Hongdae. There's also an annexed Ice Museum.
Nearest Station: Hongik University
✅ RESERVE A DISCOUNTED TICKET HERE!
---
Hanbok Experience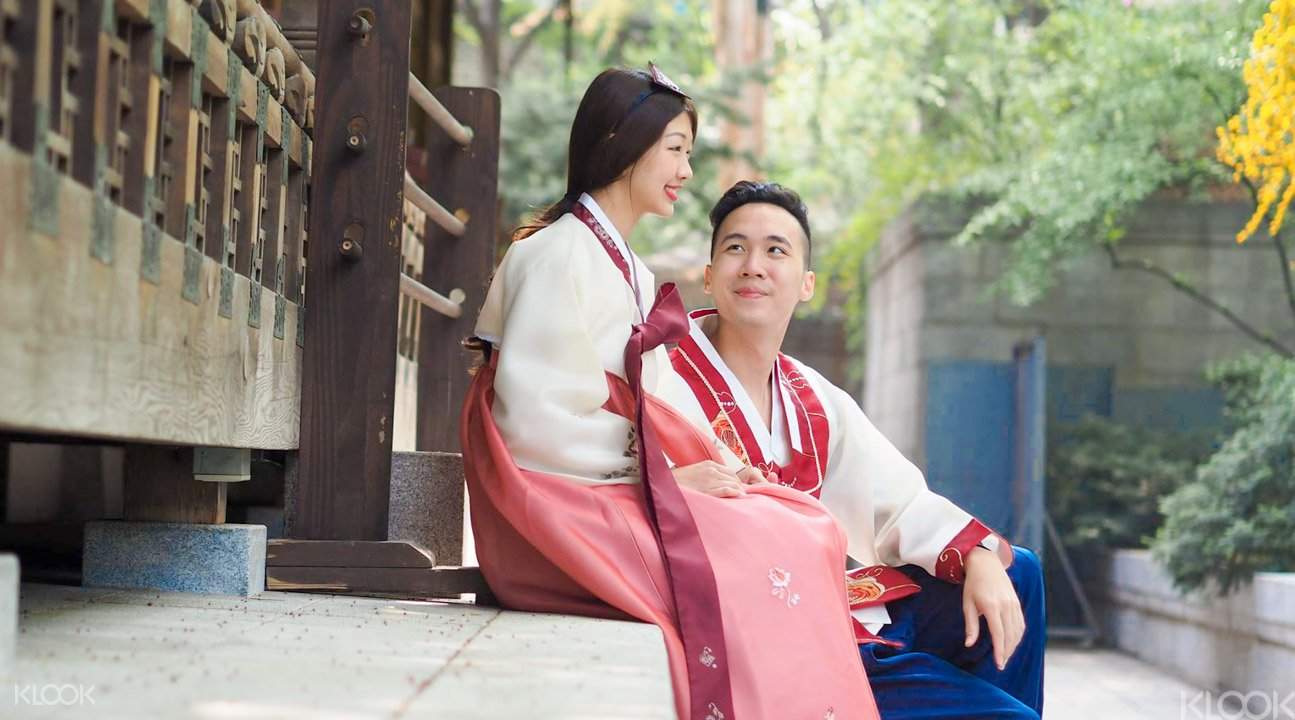 Did you know that you can enter Seoul's palaces and shrines for FREE if you're wearing hanbok? You can rent a hanbok for 4 hours or 24 hours!
✅ RESERVE A HANBOK HERE!
---
Gyeongbokgung Palace
The grandest among the city's five important palaces.
Admission fee: Adults (19-64yo) ₩3,000, Youths (7-18yo) ₩1,500.
Nearest station: Gyeongbokgung Palace (Line 3, Exit 5)
---
Changdeokgung Palace
A well-preserved royal villa that has been standing for more than six centuries.
Admission fee: Adults (19-64yo) ₩3,000, Youths (7-18yo) ₩1,500.
Nearest station: Anguk (Line 3)
---
Other Seoul Attractions
Gangnam. Prior to the global success of PSY's Gangnam Style, Gangnam has always been popular among locals for social gatherings and events.
Admission Fee: FREE
Nearest station: Gangnam (Line 2, Exit 10 or 11)
Gwangjang Market. Built in 1905, it is Seoul's oldest traditional daily marketplace. It's mostly a food market so make sure you're hungry when you visit.
Entrance Fee: FREE
Nearest stations: Jongno 5-ga Station (Line 1, Exit 8) or Euljiro 4-ga Station (Lines 2 or 5, Exit 4)
Myeongdong, one of Seoul's main shopping districts! If you're after branded clothes, mid-range restaurants, cosmetic products, and all sorts of street food, this is the place for you.
Admission Fee: FREE
Nearest station: Myeongdong (Line 4, Exit 6).
Ewha Women's University. Founded in 1886, it is Korea's first educational institute for women. The area around it is a popular shopping destination, too. You'll find a whole bunch of accessories and footwear, and quirky apparel. Since they cater to students (mostly), prices are much friendlier!
Entrance Fee: FREE
Nearest station: Ewha Womans University Station (Line 2, Exit 2 or 3)
Hongdae. The epicenter of Seoul's youth culture, it is a place for many students' self-expression. Lots of creative shops and quirky food places. Visit on a Saturday, when the Hongdae Free Market comes to life. It is a flea market that offers some unique items that are often handcrafted by young student artists.
Entrance Fee: FREE
Nearest Station: Hongik University (Line 2, Exit 9)
Bukchon Hanok Village harbors traditional houses called hanok, the history of which can be traced back to the Joseon Dynasty. Many of these houses also function as restaurants and shops.
Entrance Fee: FREE
Nearest station: Anguk Station (Line 3, Exit 1 or 2)
---
Day Tours from Seoul
Many other attractions outside Seoul Capital Area are easily accessible if you want to do it DIY-style.
But you can also join a group tour if you want a hassle-free experience. Many of these tours will provide transportation with hotel pickup and drop off and entrance tickets.
Nami Island

Nami Island, a half-moon shaped island in the middle of the Han River in Chuncheon. It became the final resting place of General Nami, a well-known historical figure during Joseon Dynasty. Foreigners are most familiar with it as the filming location of Winter Sonata, a Korean TV series (koreanovela) that became a hit all over Asia.
How to get to Nami Island: Travel by train to Gapyeong Station. Walk or take a cab from the station to the ferry wharf, where you can buy tickets to the island. You can also travel by bus. Catch the shuttle bus in Insadong (near the West Gate of Tapgol Park) or Sungnyemun Square Bus Stop in front of Namdaemun Market. Bus leaves at 9:30am. Roundtrip fare is ₩15,000. You can reserve a bus seat by emailing bus@naminara.com or calling +82-2-753-1247.
Entrance Fee: ₩13,000.
If you want to book a group tour instead, Klook bundles Nami Island with Petite France, a French-village theme park, so you get to see two attractions in one day. There's no hotel pick up for this but you will be meeting your guide at a convenient location in Seoul. Entrance fees are already covered.
✅ RESERVE A SLOT NOW
---
DMZ Tour and Panmunjom Tours (and See North Korea)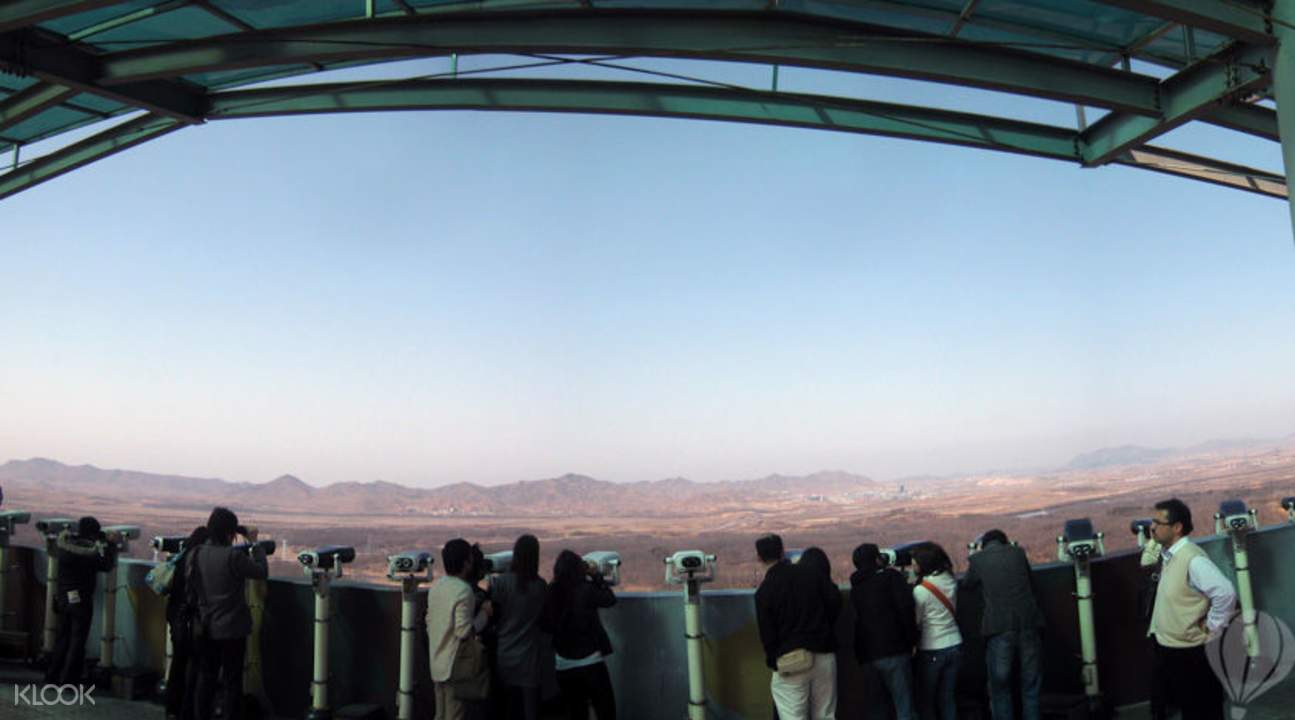 Korean Demilitarized Zone (DMZ) and Panmunjom.. Learn more about the Korean War and how these places came to be. You can also take a glimpse of North Korea from the Dora Observatory. DMZ and JSA tours are also offered separately if you want to see just one. Often, reservations have to be made at least 3 days in advance so it is best to book online.
Klook offers two types of tours: DMZ Only Tour and DMZ + Panmunjom.
DMZ Tour (DMZ Only)
Hotel pick up
English-speaking guide
Lunch option
Inclusive of admission fees
Visit at Imjingak Park, 3rd Infiltration Tunnel, Freedom Bridge, and the DMZ Exhibition Hall
A chance to see North Korea through binoculars at Dora Observatory
Slots per day are limited so book as early as you can.
✅ RESERVE A SLOT FOR THIS TOUR HERE!
Panmunjom + DMZ Tour
Enter and see the JSA (Joint Security Area) to see Freedom House and Conference Room. You also get to visit the Bridge of No Return and the Ax Murder Incident area.
Visit at Imjingak Park, 3rd Infiltration Tunnel, Freedom Bridge, and the DMZ Exhibition Hall
A chance to see North Korea through binoculars at Dora Observatory
Hotel pick up
English-speaking guide
Lunch is included
Inclusive of admission fees
✅ RESERVE A SLOT FOR THIS TOUR HERE!
---
Boryeong Mud Festival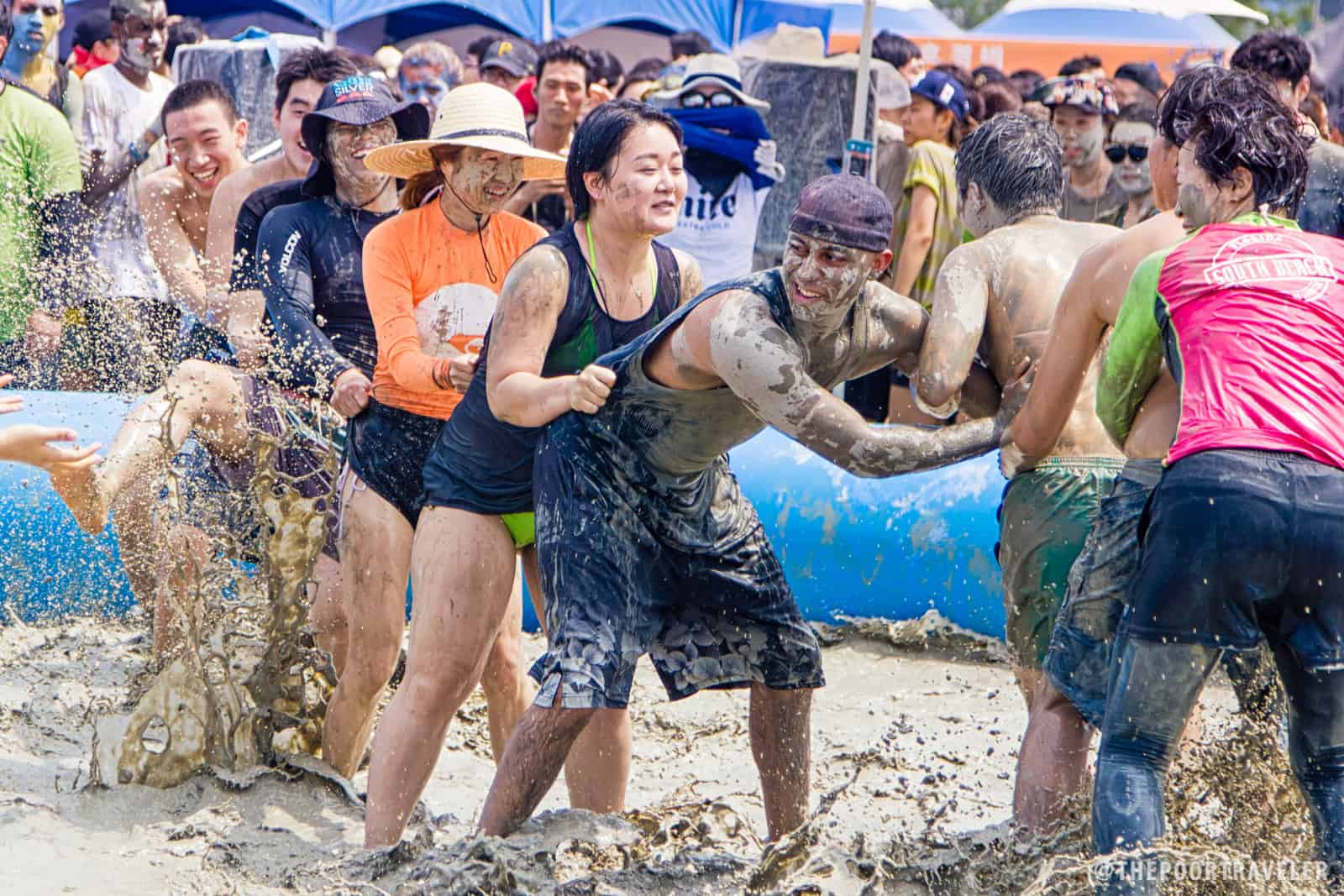 Boryeong, a port city located 3 hours from Seoul, is most famous for the Boryeong Mud Festival, which happens in July. Koreans sometimes refer to the place as Daecheon because the present-day Boryeong is a merger between Daecheon City and Boryeong-gun. Hemmed in by the waters of the Yellow Sea in the west, it is a popular summer destination, with Daecheon Beach as a top place to visit. During the festival, giant inflatable slides, a performance stage, and other attractions are set up along Daecheon Beach, where all the fun happens.
How to get there: From Seoul, take the train/subway/metro to Yongmun Station, where you will board a Korail train to Daecheon Station. The Korail train ride takes 2 hours and 40 minutes and costs ₩11,700.
If you're joining Boryeong Mud Festival for only a day, it may be hard to find accommodations because the prices double. What you can do is just join a group tour which will cover your transportation from Seoul and back. You will also have a guide to help you in storing your things, finding the locker areas, etc.
✅ BOOK THIS TOUR
---
Where to Shop in Seoul
Aside from Myeongdong and Hongdae:
Dongdaemun Market. Everything fashion, from the trendiest fabrics to bridal wear. Composed of 26 shopping malls scattered around 5 blocks, housing 50,000 different manufacturers and 30,000 specialty shops. Although best known for wholesale, retail is also alive here.
Nearest Station: Dongdaemun Stadium (Line 2, 4 or 5)
Namdaemun Market. The oldest and the biggest traditional market in Korea, this 400yo shopping mecca houses 10,200 stores across 66,000 sq. m. You'll find all sort of products here, from clothes to kitchenware to electronics.
Nearest station: Hwehyeon (Line 4, Exit 5)
Insadong. Great if you're looking for traditional souvenirs such as artworks, ceramics, paper goods, or if you want to try some of its traditional teahouses. If you can, visit on a Sunday, when they close off the road from vehicular traffic.
Nearest station: Jonggak Station (Line 1, Exit 3)
More info here: 8 Shopping Places in Seoul
---
Sample Seoul Itinerary and Expenses
Below is a sample 5-day/4-night Seoul itinerary with breakdown of expenses. This assumes the following:
You are a group of two.
You will be staying in a twin room at Fully Hong Hostel.
You will be using a T-Money card (T-Card).
Your meal allowance is limited to only ₩5000 for breakfast and ₩15000 for lunch and dinner. It's actually too much for me considering that you will find a bowl of delicious bibimbap for only ₩5000. But I think it's better to overestimate so let's leave it at ₩15,000. I'm not a breakfast person, either. But fine, let's still include breakfast for good measure.
Just make necessary adjustments to match your needs.
Pre-trip expenses
Hotel booking – ₩116,000 (₩58,000 x 4 nights divided by 2pax)
Day 1: ARRIVAL + GYEONGBOKGUNG
01:00pm – Airport to Jongno-3ga – ₩4150 + ₩1250
02:20pm – Check in at hostel
03:00pm – Gyeongbokgung Palace – ₩3000
06:30pm – Cheonggyecheon Stream
08:00pm – Gwangjang Market – ₩15,000 budget
10:30pm – Sleep!
Day 2: ANGUK AREA + MYEONGDONG
08:00am – Wake up
09:00am – Grab breakfast – ₩5000
09:30am – Bukchon Hanok Village
11:30am – Lunch – ₩15,000
01:00pm – Changdeokgung Palace – ₩3000
06:00pm – Subway to Myeongdong – ₩1250
06:20pm – Dinner – ₩15,000 budget
09:30pm – Back to Hotel
Day 3: NAMI ISLAND
07:00am – Wake up
08:00am – Grab breakfast – ₩5000
08:30am – Subway to Gapyeong Station – ₩2250
10:00am – Taxi to ferry wharf – ₩3000
10:20am – Buy Nami Island ticket – ₩13,000
10:50pm – Explore Nami Island
01:30pm – Lunch – ₩15,000 budget
02:30pm – Continue exploring Nami Island
04:00pm – Ferry back
04:30pm – Taxi back to Gapyeong Station – ₩3000
05:00pm – Subway back to city – ₩2250
06:30pm – Dinner – ₩15,000 budget
09:00pm – Sleep
Day 4: HONGDAE & SINCHON
09:00am – Wake up
10:00am – Brunch + Insadong – ₩15,000 budget
01:00pm – Subway to Ewha Women's University – ₩1250
01:30pm – Ewha Women's University
02:30pm – Subway to Hongik University – ₩1250
02:45pm – Seoul Trick Eye Museum – ¥15,000
05:00pm – Explore Hongdae
08:00pm – Dinner – ₩15,000 budget
10:30pm – Back to hotel – ₩1250
Day 5: PACK UP + DEPARTURE
Train back to Airport – ₩5400
This itinerary will cost you ₩292,000 (USD 256, EUR 226, SGD 355, PHP 13,700), excluding the airfare.
You can still bring down the cost by staying in a dorm (and there are great options in the city), skipping the Trick Eye Museum (it's not really unique to Seoul), or cutting down on your food budget (Please don't. Korean food is awesome!)
If you're coming from Manila and you're able to snag PHP7700 fare, the total cost of this trip is PHP 21,400.
For my first trip, I got my plane tickets from a SEAT SALE and paid only PHP 6000, hehe. Add the travel tax (which was being collected separately at the time) and the total is pretty much the same.
---
More Tips for the Poor Traveler
Changdeokgung and Gyeongbokgung are the best palaces, but if you're interested to explore more + Jongmyo Shrine, get an Integrated Palace Pass. If you buy individual tickets, the total will be at ₩14,000 but the palace pass is only ₩10,000.
Walk when you can. Like I said, Seoul is very walkable and you'll discover something along the way. In the itinerary above, I included the fare for the subway ride from Ewha University to Hongik University, but in reality I just walked. I also never used the subway to go around the Jongno area.
Get a T-Card. It will save you ₩100 for every ride. But I said that already.
If you're on a really tight budget, you can skip restaurants altogether and just eat at Gwangjang Market (considerably cheaper) or munch on street food because they're pretty tasty too. But if you can afford it, spend! For me, Korean cuisine is one of the best in the world! I'm salivating right now just typing this. (Sorry about the mental image.) Hahaha.
Updated: 2️⃣0️⃣1️⃣8️⃣ • 4️⃣ • 2️⃣0️⃣