When I think of Istanbul, I think of my childhood.
This ancient city took up almost a chapter in our grade school textbook, and as someone who grew up fascinated with history, it certainly made an impression early on. I remember how I studied its days as Constantinople and its significance as a center of trade and cultural diffusion in the region. I remember sleepless nights of memorizing the important dates that marked the rise and fall of both the Byzantine and Ottoman Empires. I remember trying to wrap my head around the Silk Road and its role in Medieval Europe.
Back then, I had no idea I would be a traveler. I was raised thinking that travel is a luxury, something enjoyed only by the rich. But I remember making a deal with my young self that I would someday see the city, its landmarks, historic sites and relics depicted in our books.
As I stood by the fountain at the Sultan Ahmet Park in between the Blue Mosque and Hagia Sophia, I wallowed in a sense of accomplishment knowing that a bucket list item had been ticked.
Truly, it is one of the most fascinating cities in the world. She is one of those with a lot of soul, somebody who has been through a lot and has a globe of stories to tell.
WHAT'S COVERED IN THIS GUIDE?
Istanbul: What You Need to Know
Istanbul is the poster city of a borderless world. It is where Asia sits down with Europe by the Bosphorus for an enjoyable a cup of tea. It is where East meets West for a passionate endless dance. It is where the past mingles with the present to have a conversation about the future. It is a city drenched in a multitude of colors, and things are hardly black or white.
It is perhaps this strategic location that made Istanbul one of the greatest cities in centuries past. It's no wonder that its biggest pull is its magnificent history, showcased in many of its tourist spots. The Sultanahmet area alone is brimming with awe-inspiring landmarks that boast incredible Byzantine and Ottoman architecture and unique cultural traditions.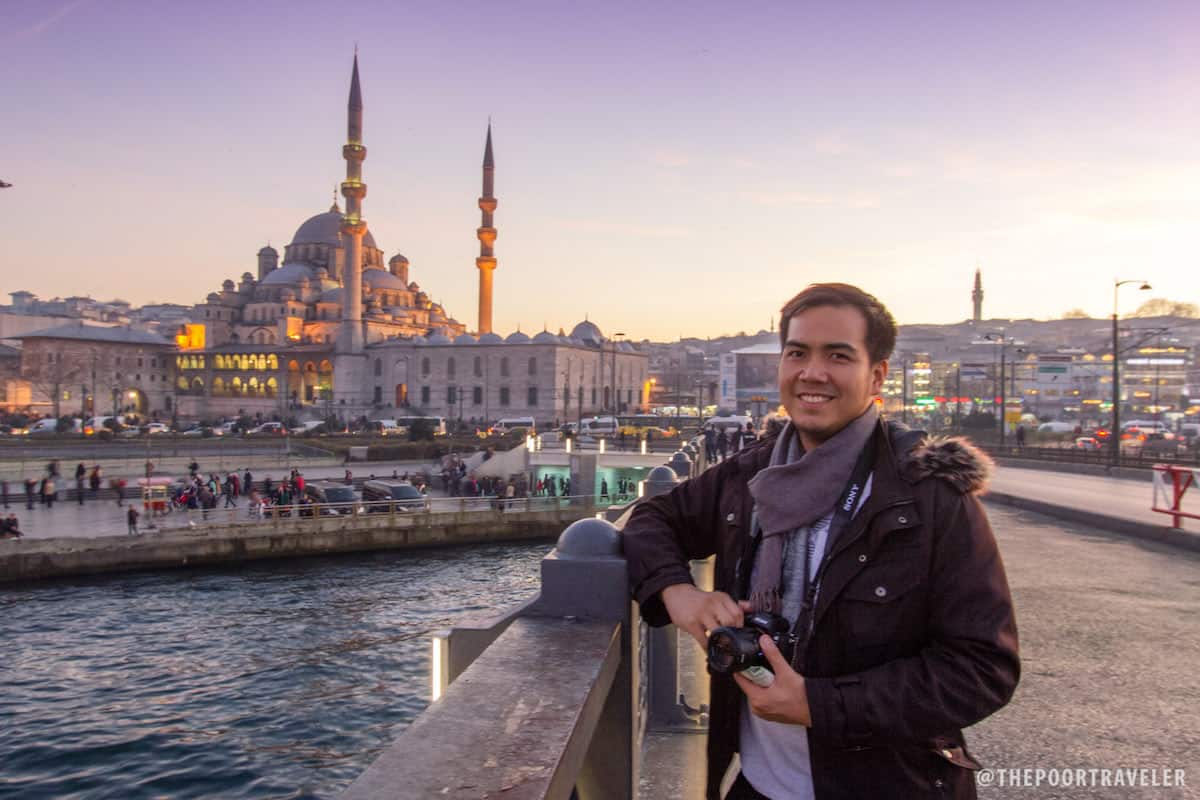 Today, contrary to popular belief, Istanbul is NOT the capital of Turkey. The distinction is now owned by Ankara. But although it is no longer the seat of power, it remains the cultural and economic center, and the most populous in the country, with almost 15 million residents.
Here's more info about Istanbul:
Language: Turkish. It's not as intimidating because they use the familiar Latin alphabet. English is also widely spoken, too.
Currency: Turkish Lira (TRY, TL, ₺). TL1 = USD 0.26, EUR 0.22, PHP13.35 (as of November 2017). Some establishments accept the euro, but it would be best to pay in lira because the euro rate is usually costlier. There are a lot of money changers around the city, often concentrated in the Grand Bazaar, Sultanahmet, and Taksim areas. The difference in rates isn't much, to be honest, but feel free to compare. You can also withdraw from ATMs.
Modes of payment: Cash. Although some restaurants and hotels accept credit cards, public transportation and smaller establishments accept only cash.
Safety. Outside our textbooks, at least in this part of the world, we only hear about Istanbul in the news. Unfortunately, the city has suffered from a number of terrorist attacks over the past few years. (In fact, our first visit happened just a week after the Sultanahmet bombing in 2016.) Naturally, our followers who also dream of Istanbul are concerned about safety. We always get questions on whether or not it is safe to visit. Our answer has always been the same: Personally, these attacks don't stop us from traveling to a city because fear is what they want to get out of it. (Our only exception is war zones.) However, that's just us. We don't want to encourage or discourage anyone. Listen to your embassy's advisory at the time, and consider your insurance coverage. But ultimately, make that decision for yourself. But always be vigilant wherever you choose to travel.
Electricity Info: 220V, 50Hz. Socket Type F. It's the socket that is indented into the wall and accepts plugs with two round prongs.

When is the Best Time to Visit Istanbul?
Istanbul enjoys all the four seasons. Weather-wise, April to August is the perfect time to visit because it is during this period that the skies are usually clear and the city gets the least rainfall, with July being the driest. However, as soon as summer kicks in, the city gets packed with tourists. June-August is the peak season so expect the crowds to be big and the rates high.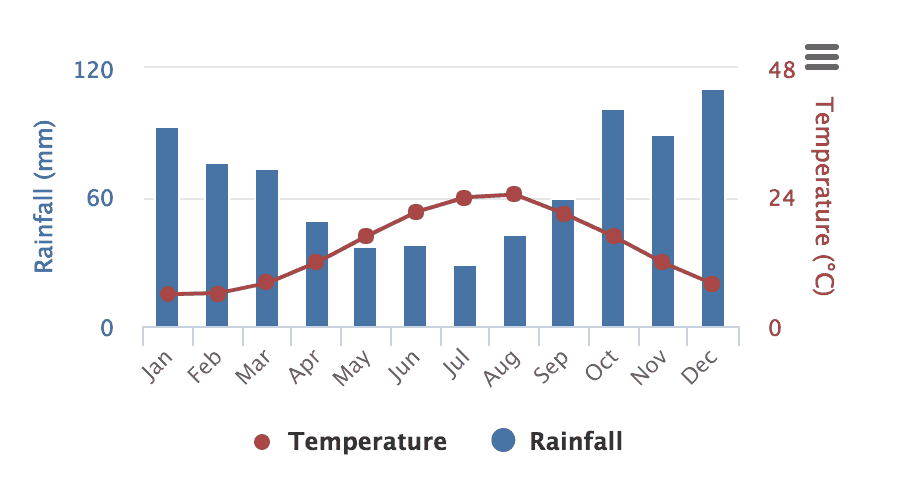 The autumn months of September to November are great too, The temperature is comfortable and the crowd manageable, but prepare for rain showers every now and then.
December to February is winter and off-peak. It is here that airfares and hotel rates go down, which is something you can take advantage of if you're a budget traveler. Winter here is cold, yes, but not harsh. We were here in the first two weeks of February and we found the weather to be delightful. It drizzled a little but nothing major.
Because it stands in between two bodies of water, Istanbul is also pretty windy, which can sometimes intensify the cold.
How to Get a Turkish Visa
If you have a valid visa or residence permit from the US, UK, Ireland or any Schengen country, you may apply for a visa online (e-visa). It's fast and easy.
More info here: Turkey Visa Online
Here are the requirements:
Valid passport that covers your travel period. (In PH case, your passport must also have at least 6-month validity.)
A return or onward ticket.
Proof of accommodation (hotel reservation).
Funds of at least USD 50 per day of your stay in Turkey.
Valid supporting visa
If you're not holding a valid visa from any of the mentioned countries, you will have to apply for a physical sticker visa at the Turkish Embassy or consulate in your area. The application starts by filling out this form: Turkey Visa Application Form.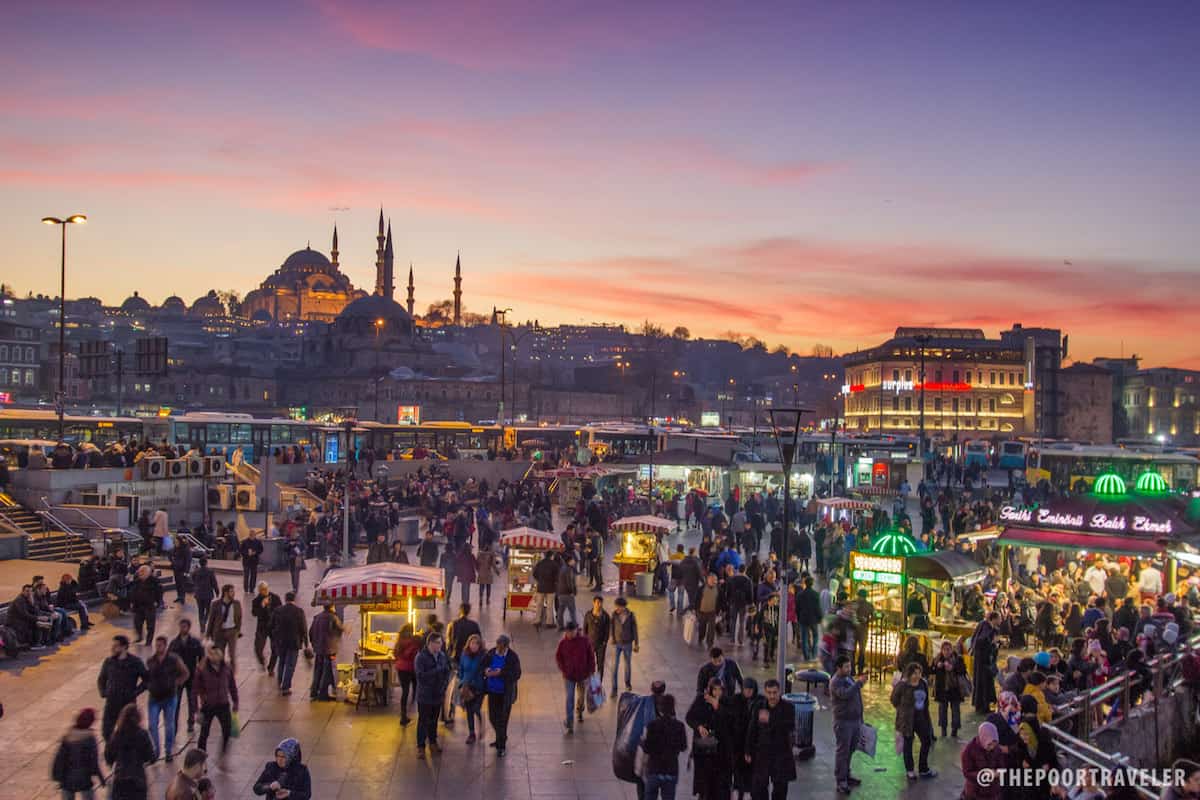 How to Get to Istanbul
Istanbul is served by two airports: Istanbul Atatürk Airport in the European side and Sabiha Gökçen Airport in the Asian-Anatolian side. More flights fly in and out of Ataturk, as it is considered the city's main gateway. It's also much closer to the city center than Sabiha Gökçen.
If you're traveling from outside Europe, there's a big chance that the cheapest direct flights to Istanbul from your area are offered by Turkish Airlines, the country's flag carrier. Turkish Airlines is connected to 120 countries, more than any other airline in the world.
From Manila, the cheapest nonstop flights are offered by Philippine Airlines (but this particular flight is also operated by Turkish Airlines). Regular year-round fares are at USD940 (PHP 48,000). It can still drop when there is a sale or promo. Qatar Airways also offers competitive rates at USD920 (PHP 47,000) but it has one stop in Doha, Qatar.
From Singapore, the cheapest option is to fly to Athens with Scoot and then transfer to Turkish Airlines to Istanbul. Combined fares are just at USD 580 (SGD 790). However, because you will be switching airlines in Greece, which is part of the Schengen area, there might be a need to get a Schengen visa, unless you're holding a Singapore passport. Turkish Airlines offer the cheapest nonstop flights at USD 700 (SGD 950). Emirates and Qatar are also great choices at around USD 630 (SGD 860) with a stop in Dubai and Doha respectively.
From Jakarta, the best non-stop flight is offered by Garuda (operated by Turkish Airlines) at USD 1266. But the cheapest option is from Saudia at USD 850, but it involves a stop in Jeddah, Saudi Arabia.
From Hong Kong, the cheapest flights are offered by Aeroflot (with a stop in Moscow) at USD 515 (HKD 4020). But the best direct flights are with Turkish Airlines at USD 970 (HKD 7600).
If you want to be notified when there are cheaper flights to Istanbul, download the Traveloka app and set up the PRICE ALERT for Istanbul. The app will let you know when there is a sale or flights that fall within your preferred price range.
.

How to Get from Ataturk Airport to Istanbul City Center
Ataturk Airport is located 30-40 minutes from Istanbul's city center, but like many big cities, traffic jams are common, so the journey can be longer. To get to the city center, you may take a cab, the bus, or the metro/subway.
By taxi. You'll find the taxi queue right outside the Arrivals area. It's the costliest option. The fare to Taksim is between 50-55 TL. To Sultanahmet, 65-70 TL. But if you're a group of 4, this isn't bad at all. Just be wary of taxi scams, which I will be discussing more of below.
By HAVABÜS (formerly called Havatas Bus). This is the Airport Shuttle Service, and one bus leaves the airport for Taksim Square every 30 minutes from 4am until 1am. Fare: 11TL. The bus terminates at Taksim Square. If your hotel is in Sultanahmet, you may take a cab to Sultanahmet, which should cost an additional 12 TL. Or you can walk and take the F1 Taksim-Kabataş funicular, then the T1 Kabataş-Bağcılar tram to Sultanahmet Station.
By Metro/Subway + Tram. From the Arrivals area, follow the signs to the metro station and take the M1A Yenikapı – Atatürk Airport Line. It's operational from 6am to 12midnight. However, if your hotel is in Sultanahmet or Taksim area, you will have to switch to the tram/funicular line at Zeytinburnu or Aksaray station. (Check out the map below.) This option is great if you're not carrying big bags. Otherwise, it can quite the hassle since it can get crowded at certain times and confusing at first.
During our visit, we used Uber a lot because we were a group so we would just split the cost. It ended up cheap and convenient. But that was before the service was banned by Turkish authorities late last year. I'm not sure if it's operational now or if any of the alternatives are as reliable.
How to Get from Sabiha Gökçen Airport to Istanbul City Center
The Sabiha Gökçen Airport is located much farther into the Asian side. The journey can take up around 90 minutes.
By Taxi. Just because of the sheer distance, taxi rides are expensive. Fare can be as high as 115 TL to Taksim or 125-130 TL to Sultanahmet.
By HAVABÜS (Havataş Bus). Operates from 4am to 1am. Fare to Taksim Square: 14 TL.
If your hotel is in Sultanahmet, you can take the HAVABÜS to Taksim and take a cab to Sultanahmet, which should cost an additional 12 TL. There is a cheaper way (metro/tram/ferry), but because you're probably carrying heavy bags and you're unfamiliar with the city yet, I suggest taking the cab.
Where to Stay in Istanbul
Before you pick a hotel or hostel, it is imperative that you know the city's geography so you know you're in the right area. Istanbul's layout is interesting and unique, to say the least. The city straddles two continents. The Bosphorus Strait, connecting the Black Sea to the north and the Sea of Marmara to the south, cuts the city in half: one half in Europe, another in Asia. The European side is also almost divided by a major inlet called the Golden Horn. Confused? Here's how it looks.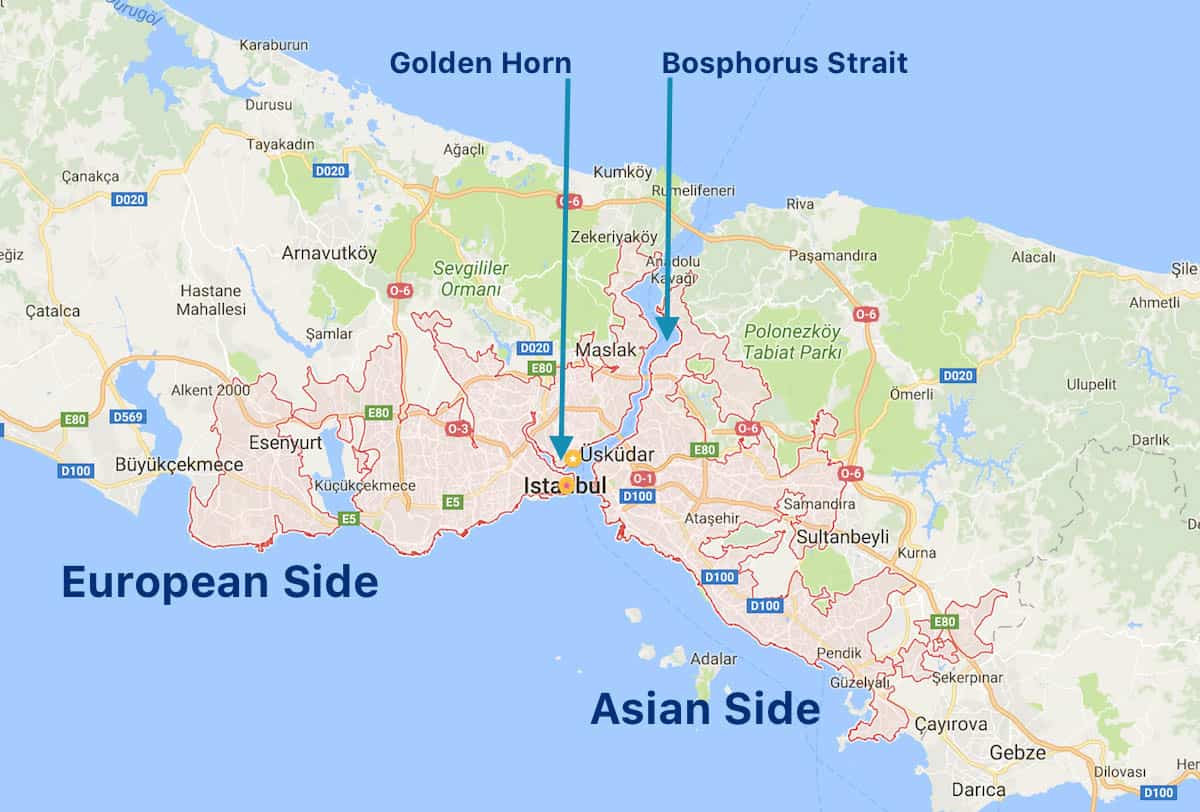 Istanbul has a total of 39 districts. But for tourism purposes, let's just focus on four key areas.
Asian side. Mostly residential. Because of the high cost of rent on the European side of the Bosphorus, many locals choose to stay here. While it is always a great idea to pay a visit, I do not recommend staying here to tourists because most places of interest are on the European half.
Sultanahmet. Often referred to as Old City, this is in a district called Fatih, south of the Golden Horn. Many of the city's iconic structures and landmarks are here: Hagia Sophia, Blue Mosque, and the Grand Bazaar, among others. There are a number of hotels and hostels here.
Beyoğlu (Galata). Opposite Fatih, on the other side of the Golden Horn, is the district of Beyoğlu. Like Sultanahmet, it harbors many of the city's tourist attractions including Taksim Square, İstiklal Caddesi, and the Galata Tower, dominating the area's skyline. This area has the greatest concentration of accommodations.
New Istanbul and the Bosphorus. Further north are four more districts: Beşiktaş, Kağıthane, Şişli, and Sarıyer. This is where Istanbul gets modern and a little bit artsy. At the center of it is the city's central business district, surrounded by some pretty bohemian neighborhoods. Although a bit far from the key attractions, there are several hotels and hostels scattered across the area.
Where to stay depends on your itinerary. If you're planning to spend more time in the city's historic core, then book a place in Fatih (Sultanahmet). If you dig the busyness of Galata, go for Beyoğlu. Or if you want a more modern vibe, stay in the New City.
But personally, if I return to Istanbul, I will definitely stay in the Sultanahmet area.
Best Budget Hotels in Istanbul
Sultanahmet Suites – Apartments is the top property according to reviews and ratings by online users. The apartments are located in Sultanahmet area, where most key tourist spots stand. There are single rooms, double rooms, and suites. Rooms are equipped with free wifi, private bathroom, air-conditioning, TV, kitchen amenities, and daily housekeeping.

Other Top Budget Hotels in Istanbul:
Hotel La Villa Special Class. Check Rates & Availability.
Istanbul Hotel Nomade. Check Rates & Availability.
Star Holiday Hotel. Check Rates & Availability.
Best Istanbul Hostels
Antique Hostel & Guesthouse is the best-reviewed hostel in Traveloka, as scored by users. Backpackers can stay at their 4-bed or 6-bed dorms. Also available: single rooms, double rooms, twin rooms, and triple rooms, all with private bathrooms. Each booking comes with free wifi and free local calls.

Other Top Hostels in Istanbul:
Sultan Hostel & Guesthouse. Check Rates & Availability.
Taksim Green House Hostel. Check Rates & Availability.
Cheers Hostel. Check Rates & Availability.
Photos above were provided by the resorts via Agoda.
.
How to Get Around Istanbul
Traveling in a foreign city as big as Istanbul can be quite overwhelming at first. Traffic jams are increasingly becoming a problem. The city's roads accommodate over 3 million private cars, on top of 17,000 taxis and 5000 buses. But it is easy to commute in Istanbul when you get the hang of it. You just need to be mindful.
By taxi
Taking a cab is a good choice in many situations, especially in trying to reach places that are far from any metro or tram station. However, it comes with many disadvantages. First, it is much more expensive. Second, taxi-related scams are rampant in the city. You need to be aware with every modus operandi that they try to pull so you won't fall victim to one (like we did, LOL). Here are some of them:
Not using the meter. Always insist on using the meter.
Using tampered meter. The cab we hired from Eminonu used a meter that moved a lot more quickly than usual. A cab ride from Sultanahmet to Beşiktaş should be just around 20 TL (at the time). Ours made it past 100 TL.
Charging night rates. There used to be higher rates for night travel, but that has been abolished.
Not giving exact change.
Taking a long detour. We were surprised that the taxi driver took the long way to get to our hotel in Beşiktaş. It was already our third day in the city and we were already familiar with the area. He used terrible traffic as an excuse. He then took us around, taking unnecessary turns.
Switching money. Some drivers would switch your bills when it's time to pay. When you give him a 50TL note, he would claim that you had given him a 5TL note. They do it so fast you won't even notice. Don't fall for this.
To avoid any of this, do the following:
Always insist on using the meter.
Pretend you've been in Istanbul for quite a while. Scammers usually ask how long you have been in town.
If you're coming from your hotel, ask the staff to get a cab for you.
Make sure you pay in smaller bills or coins.
When paying, double check your bills and say the amount per bill out loud when handing them to the driver.
Be familiar with the usual fares. How much is the taxi fare from Sultanahmet to other parts of Istanbul? Here:
From Sultanahmet to Beşiktaş: 25TL
From Sultanahmet to Galata Tower: not exceeding 20TL
From Sultanahmet to Taksim Square: not exceeding 20TL
From Sultanahmet to Atatürk Airport: 50-55 TL
From Sultanahmet to Sahiba Gökçen Airport: 125-130TL
By Metro, Tram, Funicular, Ferry
I found taking the metro and tram in Istanbul to be a delightful experience. Except in rush hour, they are comfortable and not crowded. Istanbul's rail network isn't as intricate or complicated as, say, Tokyo or Seoul or Paris. It's also easy to get used to. Here's the city's network map. Click on the image to enlarge:
You also don't need to memorize fare matrices. For example, Metro Istanbul charges a flat 5TL fare for every token or single-use ticket, regardless of your destination within their line.
But if you feel like you'll be taking public transportation a lot, get an Istanbul Kart, an all around RFID card that you can use on the metro, buses, trams, funiculars, and more. This will give you significant discounts, almost 50%.
For example, as mentioned, the flat metro fare is 5TL but if you use Istanbul Kart, it is only 2.6TL. The transfer fares are even lower, only 1.85TL on the first transfer, 1.4TL on the second, and 0.9TL on succeeding transfers.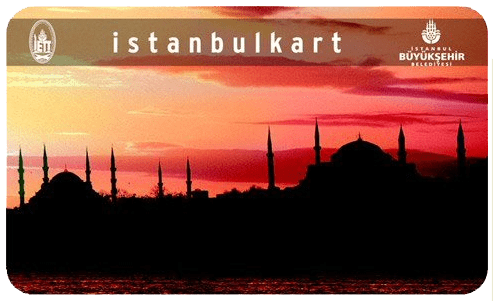 How much is the Istanbul Kart? The card costs 10TL which already has a 4TL load (so the card itself is only 6TL).
Where can I buy Istanbul Kart? You'll find card automated card machines at almost every metro, tram, ferry or metrobus station in the city. At the Ataturk airport, just go to the metro station and you'll find 'em there.
Where can I use it? You can use it for your ride on any of the following: bus, metro, tram, funicular, teleferic, metrobus, HAVABUS, tunnel, double decker express, IDO ferry (IDO-IST, IDO-ADA1, IDO-ADA2), TURYOL Bosphorus Cruise, Dentur Bosphorus Cruise, Şehir Hatları ferry (ŞH-İST, ŞH-ADA), and TCDD trains.
How do I use it? Just hover the card on top of the reader upon entering the station.
How much should you load? Depends on your itinerary. But an initial 20TL should be okay. Just top up when necessary.
Places to Visit in Istanbul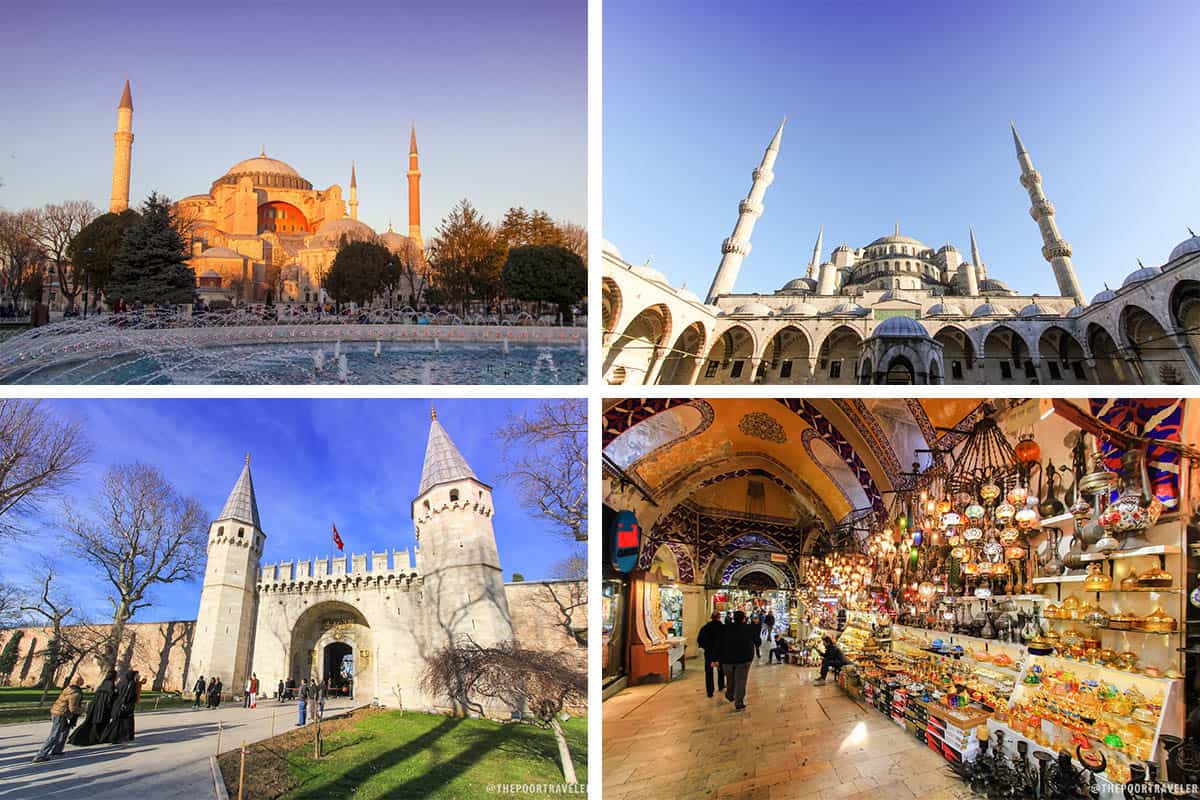 Sultanahmet Area
This neighborhood in Istanbul's Fatih district is home to many of the city's key historic structures including the following:
Hagia Sophia (Ayasofya). Istanbul's most iconic structure, which is also a microcosm of the city. It was initially an Orthodox Christian cathedral from 537-1204, 1261-1453, under the Byzantine Empire; then converted into a Roman Catholic cathedral from 1204-1261, under the Latin Empire,; then made over into an imperial mosque during and after the Ottoman Empire (1453-1931). Today, it houses a museum (Ayasofya Müzesi). Entrance fee is 30TL. But you can also book a guided tour which includes the entrance pass, skip-the-line privilege, and an English speaking guide for only USD15.
Opening hours: 15 April-25 October 09:00-19:00; 25 October-15 April 09:00- 17:00
Blue Mosque, (Sultan Ahmed Mosque). This is a functioning mosque, which means that it closes during prayer time 5x a day. It is open at these times: 08:30am, 01:00pm, and 03:30pm.
Admission Fee: FREE
Hippodrome of Constantinople (Sultanahmet Square), where you can find the Obelisk of Thutmose III, the German Fountain, the Walled Obelisk, and the Serpent Column.
Opening hours: All day
Entrance fee: FREE
Basilica Cistern (Sunken Palace).
Opening hours: mid-April to September 9am-6:30pm; November to mid-April 9am-5:30pm
Entrance fee: 10 TL
Grand Bazaar (Kapalı Çarşı). One of the world's oldest covered markets, which houses 61 streets and 3000 shops selling a wide array of products. Its construction began in 1455 right after the Ottomans had taken over the city.
Nearest tram station: Beyazıt-Kapalıçarşı
Entrance fee: FREE
Opening hours: Mondays-Saturdays 08:30am-7pm
Museum of Turkish and Islamic Arts
Opening Hours: Mon-Sun, 9am-7pm (summer); 9am-5pm (winter)
Entrance Fee: 25TL
To get to any of these sites, you can take the tram to Sultanahmet Station. You can visit all these on foot in one day.
We actually created a walking trail that will make a stop at all these, with more details and tips per site, including what to wear, what time to visit, and specific directions. Read: Sultanahmet DIY Walking Trail
However, you will appreciate these sites better if you join a guided tour, for a better understanding of their historical and cultural significance. Most 1-day walking tours in Istanbul focus on the Sultanahmet area and include a visit to most of the sites above. (Basilica Cistern and the Turkish and Islamic Arts Museum are usually skipped.)
So yeah, if you can spend more on a guide, do so. Klook has a lot of options that include an English-speaking guide and hotel pick-up and drop-off.
CHECK TOUR RATES
Topkapi Palace
Opening hours: October 26-April 15 9am-4:45pm; April 15 – October 26 9am – 6:45pm
Entrance fee: 30 TL
From Hagia Sophia, there will be signs that will lead you to Topkapi Palace, one of the residences of the sultans during the Ottoman rule. Sultan Mehmed II, who took control of the city from the Byzantine, ordered its construction in 1459. Today, it is a vast museum complex, which may take quite some time if you want to explore most of it. Some of the most treasured artifacts inside are the cloak and sword of Muhammed, among other relics considered holy in Islam.
The most intriguing part of the palace for me was the Harem, a 400-room building which sheltered the sultan's mother (the Valide Sultan or Queen Mother), the sultan's wives and concubines, and the rest of his family.
This is also part of the Sultanahmet Area, but you might want to spend more time here. It's one of those attractions that are better appreciated with a guide.
RESERVE A SLOT
Watch a Whirling Dervishes Ceremony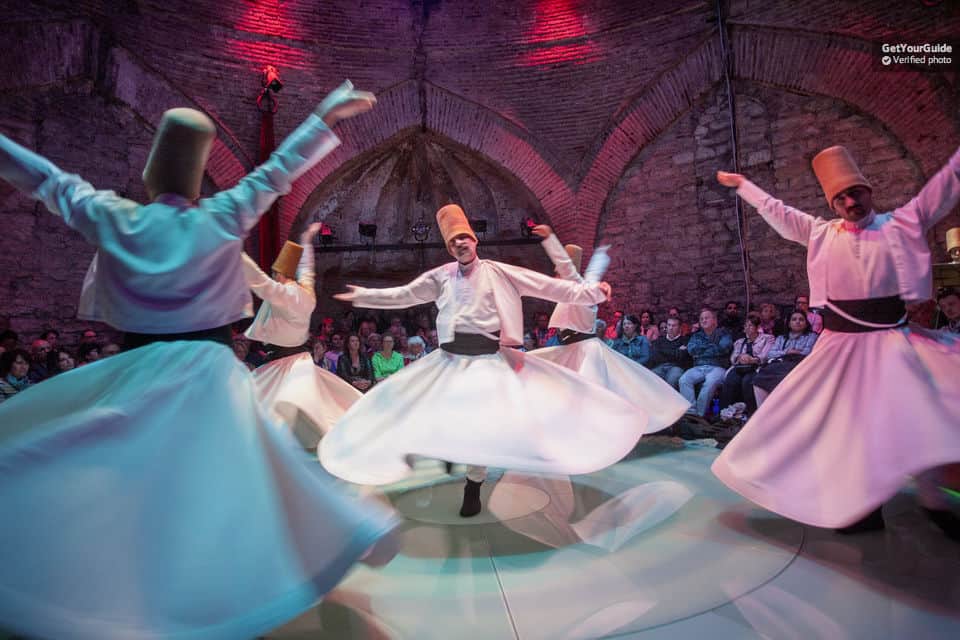 See the mesmerizing Mevlevei Sema ceremony which features the whirling dervishes and learn more about their spiritual journey. This 800-year old dance is presented at HodjaPasha Culture Center, which is a restored 550-year-old Ottoman Turkish bath. The show lasts 30 mins to an hour.
Tickets here are always likely to sell out so book in advance online. Each booking comes with the ticket, a complimentary drink, and a program booklet.
Address: Hocapaşa Culture Center, Ankara Caddesi, Hocapaşa Hamam Sok No: 3.B
Nearest Tram Station: Sirkeci Tram Stop
Bosphorus Cruise
One of the most refreshing ways of enjoying Istanbul is by taking a boat cruise and seeing it from the Bosphorus. It's a must for first-time visitors. To do it from Sultanahmet, you can walk or take the tram to Eminonu. From here, you need to hop onto a boat. You'll be presented with a lot of options. Many will approach you and offer a seat on their boat even as you walk along the water. But ignore most of them. They're waaaay overpriced.
The most reputable affordable cruises are by Sehir Hatları, which offers three types: Full Bosphorus Cruise, Short Circle Cruise, and Sunset/Moonlight Cruise.
Full Bosphorus Cruise. The whole shebang. This will take you from Eminonu all the way to Anadolu Kavağı, just on the edge of the Black Sea, revealing incredible sights along the way. The full roundtrip journey lasts around 6 hours.
Roundtrip Fare: 25TL, adult; 12.5TL, kids under 12
One-way Fare: 15TL, adult; 6TL for kids
Sailing Schedule: Check here
Short Circle Cruise. This will ferry you from Eminonu up to Istinye area, in the mid-part of the Bosphorus. Travel time is around 2 hours.
Fare: 12TL, adult; 6TL children
Sailing Schedule: Check here
Sunset/Moonlight Cruise. Not available year-round. Usually operational only during summer months (July/August). If you can, choose this one. This is basically the same as the Full Bosphorus Cruise, but the difference is in the timing. The boat leaves Eminonu before sunset, allowing you to see Istanbul bask in the golden light on the way north, but the cruise returns in the evening. You get to experience the Bosphorus in the day, during sunset, and at night!
Fare: 20TL
Klook also offers a guided afternoon tour which also includes a cable car ride up to the Pierre Loti Coffee House for wonderful panoramic views.
RESERVE A SLOT
Traditional Turkish Bath (Hamam)
Istanbul is famous for its traditional turkish bath called hamam. It involves scrubbing or peeling, washing, or soap massage. You'll find several hamam places throughout the city, and they can either be self-service or traditional style, which involves an attendant. Self-service is cheaper, of course, but it's not recommended for first-timers since they are unfamiliar with the process.
A 60-90 minute hamam usually costs around 100TL, but in the older, more well-known establishments, it can go as much as 180 TL (40 euro). You don't need to bring anything because they will provide all toiletries, slippers, and wraps. Other more upscale places offer bath + massage packages that can cost 80 euro or higher.
GetYourGuide offers two hamam options. One of them is at the Çemberlitas Bath, an institution built in 1584. It's located on Divanyolu Street, at the heart of Sultanahmet. Their traditional bath option involves a 15-minute soap massage. The shampoo, soap, and towel will be provided.
.

Spice Bazaar (Mısır Çarşısı)
Also called Egyptian Bazaar or Egyptian Market because it was built in the 1600s using Ottoman's earnings in Egypt. It houses 80 shops selling spices, cheeses, and other products, but it's most popular among tourists for Turkish delight (locally called lokum), a delicacy made of starch and sugar.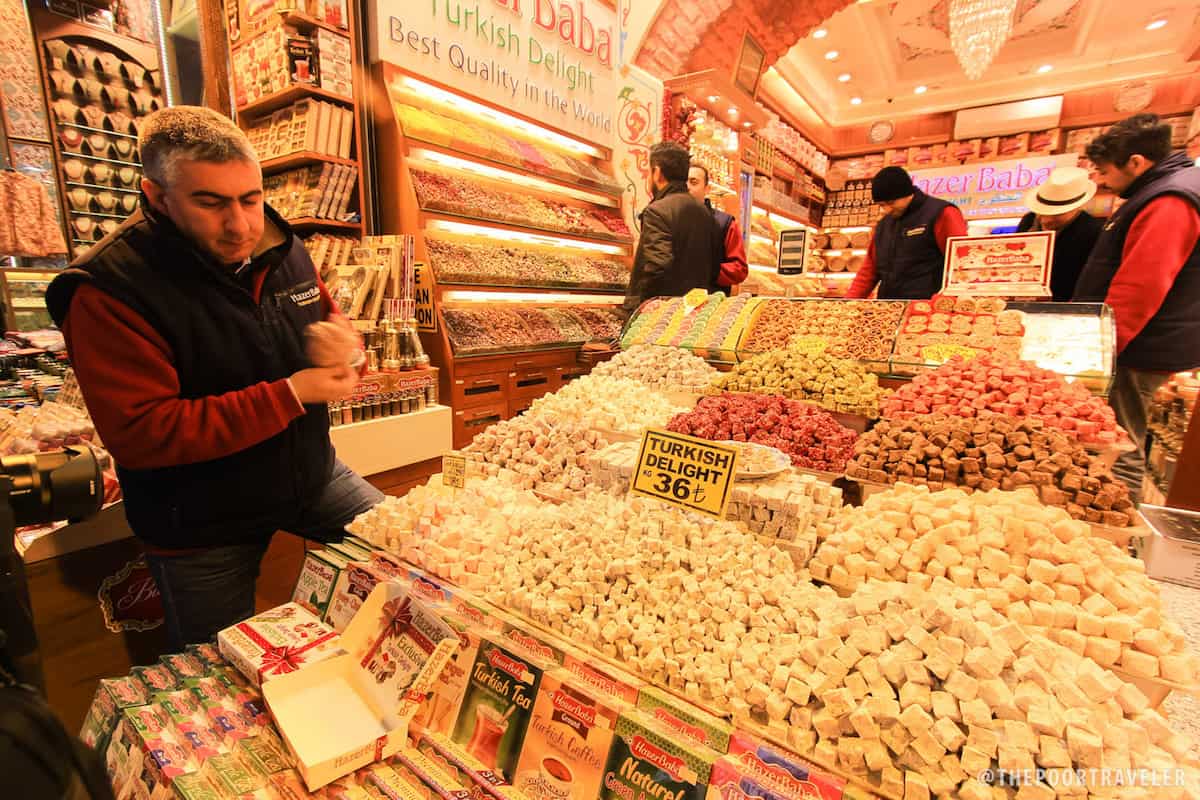 Nearest tram station: Eminönü
Entrance fee: FREE
Opening hours: Mon-Sat 8am-6pm, Sun 8am-7pm
Galata Tower (Galata Kulesi)
A medieval Romanesque-style stone tower built in 1348. It allows a wonderful, not-to-be-missed 360-degree view of Istanbul. From here, you can see the Blue Mosque, Topkapi Palace, and Hagia Sophia, and witness the city transform into a blanket of lights at nightfall.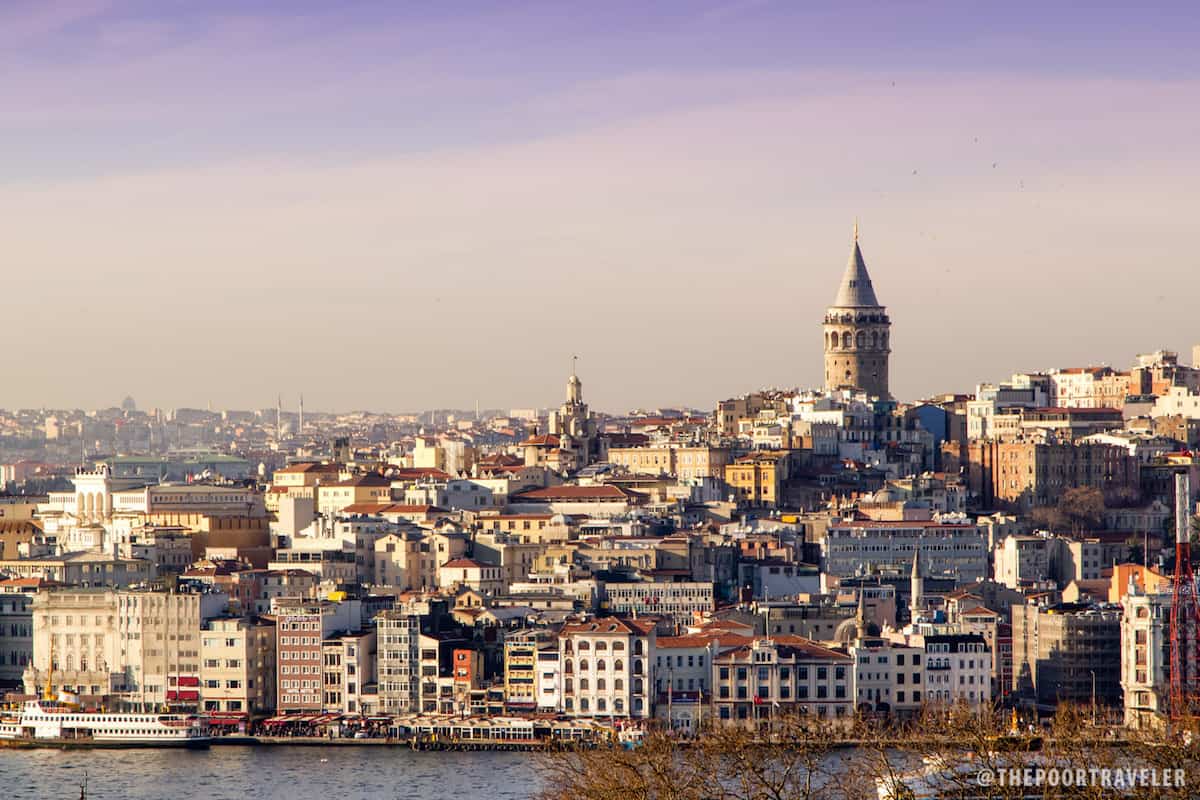 Nearest station: Karaköy
Admission Fee: 25 TL
Opening hours: 9am-8pm
Other Istanbul Tourist Spots:
Taksim Square, the city's central park which is surrounded by notable restaurants, hotels, and shops.
Nearest Station: Taksim
Dolmabahçe Palace, center of government of Ottoman Empire Istanbul from 1856 to 1887 and 1909 to 1922. Today it can be explored only via guided tour.
Nearest Tram Station: Kabatas (+ 10-minute walk)
Operating hours: Fri-Sun, Tue, Wed, 9am-4pm
Entrance Fee: 30TL
Guided Tour: Reserve a Slot Here
Istiklal Caddesi (Independence Avenue), a 1.4km pedestrian street flanked by shops, boutiques, art galleries, cafes, and food spots. Popular among tourists.
Chora Church (Kariye Museum) to see their mosaics.
Nearest Station: Edirnekapi
Operating Hours: Thursday-Tuesday, 9am-4:30pm
Entrance Fee: 15TL
Museum of Turkish Calligraphy Art (Calligraphy Museum)
Nearest tram station: Beyazıt-Kapalıçarşı
Operating Hours: Tues-Saturday 9-4pm
Panorama 1453 History Museum, a historical gallery that depicts the fall of Constantinople after the conquest by Ottoman Sultan Mehmed II.
Nearest Station: Topkapi
Operating hours: Daily 8am-5pm
Entrance Fee: 5TL
Kizkulesi (Maiden's Tower) is a tower at the entrance of the Bosphorus Strait, built in the 5th century BC by AAthenian general Alcibiades. It's also called Maiden's Tower because of a legend about a Byzantine emperor's daughter who was destined, according to the prophecy, to die by snake bite. The emperor had the tower built to protect the princess, but a snake was able to get to her regardless.
Sample Istanbul Itinerary & Breakdown of Expenses
Istanbul is one of the cheaper cities in Europe. You won't need to pawn your house if you know your way around. The sample 3D/3N itinerary below focuses mostly on the historic core, but if you have more days, you can also explore the more modern side of this glorious city.
This itinerary assumes the following:
You are a group of two and that you are splitting the expenses.
You are staying in a double/twin room at a budget hotel in the Sultanahmet area so key attractions will be within walking distance, therefore saving on transportation. In this itinerary, I'm using Sultanahmet Suites, which has double rooms for less than USD22 per night. So that's USD11 per person per night.
Your food allowance is 25TL per meal. Trust me, that's a big overestimate. You can find a good doner kebab or a meal for less than 15TL, but it is better to go over than under when it comes to budget. You can be flexible with this. You may splurge and spend more than 25TL but make sure you make up for it by limiting your budget for the next meal. We also usually skip breakfast and just eat brunch/early lunch, but if you can find a hotel/hostel that serves free breakfast, that would be ideal.
You will be using an Istanbul Kart (as explained above).
As always, feel free to make changes to this itinerary to match your flight schedule and your personal preferences.
Pre-trip expenses
Hotel booking – $33 ($22 x 3 nights divided by 2pax)
Day 1: ARRIVAL + SULTANAHMET
06:25am – Arrival at Ataturk Airport
07:30am – Take Havabus to Taksim Square, 11TL
08:20am – Taxi to Hotel, 6TL (12TL/2pax)
09:00am – Hotel check-in or baggage drop
09:30am – Get Istanbul Kart, 10TL + 20TL topup
09:50am – Topkapi Palace, 30TL
11:45am – Grab quick lunch, 25TL
12:45nn – Hagia Sophia, 30TL
02:15pm – Basilica Cistern, 10TL
03:00pm – Blue Mosque, FREE
04:00pm – Hippodrome, FREE
05:00pm – Grand Bazaar
07:00pm – Whirling Dervishes Show, 85TL
08:30pm – Dinner, 25TL
10:00pm – Back at hotel
Day 2: TAKSIM SQUARE & BEYOGLU
07:30am – Wake up
10:00am – Taksim Square
11:30am – Lunch, 25TL
01:00pm – İstiklal Caddesi
03:00pm – Dolmabahçe Palace, 30TL
05:00pm – Galata Tower sunset view, 25TL
08:00pm – Dinner, 25TL
09:30pm – Back to Hotel
Day 3: BOSPHORUS CRUISE
07:00am – Wake up
08:00am – Early hotel check out, leave bags
09:30am – Tram to Eminonu
10:35am – Start Şehir Hatları Full Bosphorus Cruise, 25TL
12:30pm – Lunch, 25TL
03:00pm – Continue cruise back to Eminonu
03:30pm – Spice Bazaar, Budget: 30TL
05:00pm – FREE TIME
07:00pm – Dinner, 25TL
09:00pm – Pick up bags at hotel
09:30pm – Taxi to Taksim, 6TL (12TL/2pax)
10:00pm – Havabus to Ataturk Airport, 11TL
11:00pm – Check in at Airport
02:35am – Flight out
This itinerary will set you back 670TL (USD 173, EUR 150, PHP 8900) excluding the airfare and visa fees.
You can still reduce cost by limiting your food expenses to 15-20 TL per meal or skipping the whirling dervishes show. If you do that, the total cost is down to 550 TL (USD 142, EUR 123, PHP 7300).
Other Tips for the Poor Traveler
Get a 5-Day Museum Pass if you're visiting numerous museums. The pass costs 85TL. It's a good deal if, in addition to Hagia Sophia and Topkapi Palace, you plan on going to any of the following: Chora Museum, Fethiye Museum, Galata Mevlevi House Museum, İstanbul Archaeological Museums, İstanbul Mosaic Museum, Museum for the History of Science and Technology in Islam, Museum of Turkish and İslamic Arts, Rumeli Hisar Museum, and Yıldız Palace. Hagia Sophia and Topkapi Palace alone cost 30TL each, so museum rats will be able to save a lot with this pass.
Tipping is expected at restaurants and bars. Common practice is to 10% of the bill at upscale restaurants or 5% at cheaper ones. When riding taxis, no need to tip unless the driver helped you with your luggage. Locals usually just round off the fares.
Beware of scams. Aside from the taxi scams we mentioned above, there are a few more that you must be aware of. Some of these happen at restaurants and at key tourist sites. To explain it further, we have a separate post just for it. Read: Istanbul Scams
2️⃣0️⃣1️⃣9️⃣ • 3️⃣ • 2️⃣4️⃣