Our first day in Melbourne was a series of unfortunate events.
We spent our first two hours wandering aimlessly along its almost empty streets. I was supposed to rely on data roaming on my first day, but for some reason, my service provider decided to cut my line despite having paid my bill in full even before my trip. It would have been easy finding a pocket wifi or SIM card but our plane landed in the early morning, at 3am, and none of the shops at the airport or the city were open. I connected to the airport wifi for a minute to load Google maps and search for some info and decided to head out to my hotel.
Without access to the internet, we took the bus and successfully reached the city only to end up boarding the wrong tram, taking us farther from my hotel. LOL. We tried hailing a cab, but there weren't that many passing by and none of them would stop. With luggage in tow, we decided to just walk to the taxi queue that we spotted earlier, eight blocks away. The cold, cold mid-autumn wind was sweeping Melbourne's wide streets. When we finally arrived at the hotel, the receptionist greeted us with a warm, warm welcome. I knew it would be too early for check-in, but she smilingly shared that there was already an available room and that we could check in if we so preferred. "It's your lucky day," she said. She had no idea.
When I finally hit the bed to rest, I was immediately reminded of the first years of The Poor Traveler. We built this blog to document our misadventures and share tips to our readers so they could learn from our mistakes. This trip is one of our most unforgettable because we made a lot of mistakes along the way. So here's our Melbourne Travel Guide, and here's hoping you'll learn from it.
WHAT'S COVERED IN THIS GUIDE?
UNDERSTANDING MELBOURNE
Melbourne is located along the southern edge of Australia. It is cradled in the sheltered Port Phillip Bay, which opens up to Bass Strait, separating the mainland from the island of Tasmania.
Way before Europeans arrived, Australian Aborigines have inhabited the area for thousands of years. In the 19th century, free settlers from Tasmania (called Van Diemen's Land at the time) moved to this corner of the Australian continent. Other groups of settlers followed. Back then, the area was part of the British colony of New South Wales. On 30 August 1835, the city was founded, named after the Prime Minister of Britain at the time, William Lamb, 2nd Viscount Melbourne. The next decades saw a gold rush fueling the fast development and population growth of the city.
Today, Melbourne is the capital of the Australian state of Victoria. Next only to Sydney, it is Australia's second largest city, home to around 5 million residents, and one of the most visited by travelers, with its main airport welcoming over 35 million passengers in 2016-17.
Here are some useful bits about Melbourne.
Location: Melbourne is part of Victoria, Australia. It's on the southern hemisphere, so they enjoy summer in December-February and winter in June-August. Coordinates: 37°48′49″S 144°57′47″E.
Time Zone: UTC+10. Australian Eastern Standard Time (AEST). Melbourne is ahead of the Philippines, Singapore or Malaysia by 2 hours, and ahead of Japan by 1 hour. Daylight saving time is in effect in summer: AEDT (UTC+11).
Language: English is spoken by the majority. But Mandarin, Greek, Italian and Vietnamese are spoken by a significant fraction of the population.
Currency: Australian Dollar (AUD). AUD1 is roughly PHP36, USD0.7, SGD 0.95, EUR0.62, (as of July 2019). If you have Maestro, Cirrus, Visa, MasterCard Debit cards, you can withdraw from ATMs. Or before your flight, go to your local bank and buy AUDs.
Modes of Payment: Cash and credit cards are both commonly accepted but the city is moving in the cashless direction.
---
WHERE TO STAY IN MELBOURNE
If you look at the map of Melbourne, you'll find that it is split into two by the Yarra River. The city is further divided into several districts, but travelers can focus on five areas, which I'll discuss below.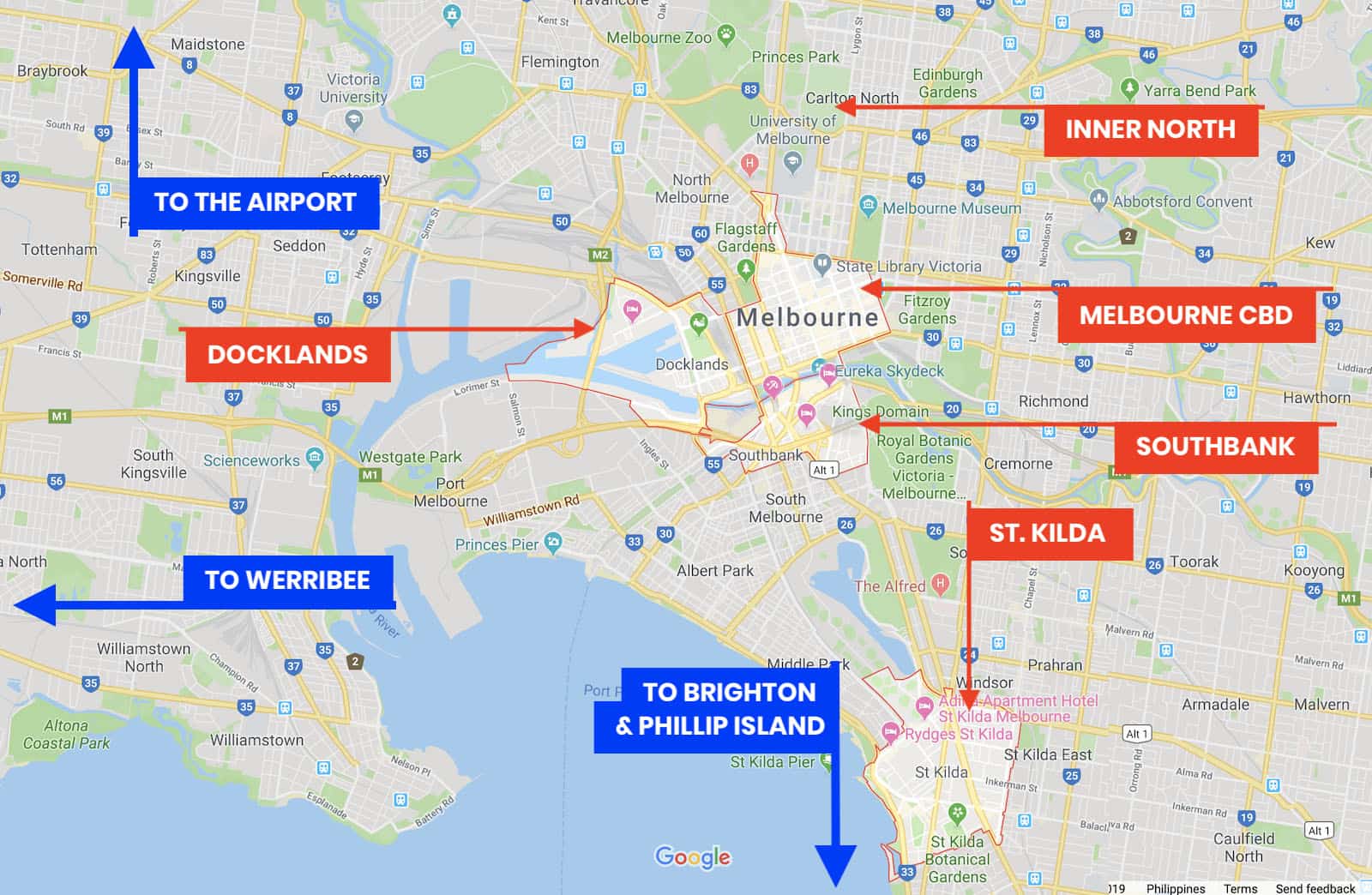 Central Business District (CBD), located north of Yarra River. In many cities around the world, the financial district is separated from its old town. In Melbourne, the CBD is also its historical core, which makes it the most ideal place to stay for tourists. It is well-connected to many other parts of the city and surrounding suburbs.
Docklands, also north of Yarra River but west of the CBD. Think of it as Melbourne's marina. There isn't much activity here on a regular day, but attractions include the Marvel Stadium, the Melbourne Star Observation Wheel, and some shopping centers.
Southbank, which stands on the southern banks of the river, hence the name (duh). This is the city's entertainment center with a theater complex and the Crown Casino area.
Inner North, the area in the immediate north of the CBD. Its map is shaded by a number of gardens and parks, but the most popular tourist spot is the Melbourne Zoo.
St. Kilda, south of the city center. It has emerged as the city's backpacking district; thanks to its vibrant nightlife, accessible bay beach, and a multitude of affordable hostels and restaurants. Attractions include Luna Park and the Sunday art market.
---
BEST AREA TO STAY IN MELBOURNE
Which is the best area? Well, it depends on a lot of things.
If I'm traveling with family or friends, I'll definitely choose the CBD. Everything else is also easily accessible from here. But if I'm traveling alone, I'll probably consider St. Kilda. There are also direct buses from the airport to both areas.
If you choose to stay in CBD, pick a hotel or hostel near a train station, so you don't need to walk long distances or rely on the tram too much if you decide to see attractions outside the city. In particular, consider the areas close to the following:
Central Station
Southern Cross Station
Both are in a good location: bursting with cheap lodging, dining, and shopping options. But I believe that Southern Cross Station is more ideal. I stayed near Central because I cluelessly assumed that it is the city's main station. It turned out that Southern Cross Station is the real heart of the city because most train arteries pass through this area especially if you plan on seeing the suburbs and attractions outside the city like Werribee. In fact, I often find myself making a transfer at Southern Cross when I'm coming from Central.
Several bus lines also start or terminate at Southern Cross. Many organized tours also have their meet-up points somewhere around the area. So yep, it's Southern Cross for me.
The most common accommodations in Melbourne are hotels. All of them are expensive, especially if you're used to Southeast Asian rates. But cost of living in general is pretty high. There are budget hotels available in the CBD. Another slightly more affordable option is booking an apartment or a room in a residential building or area. Hostels are also available.
Below are the top-rated properties on Agoda, as scored by customers.
---
Top Budget Hotels in Melbourne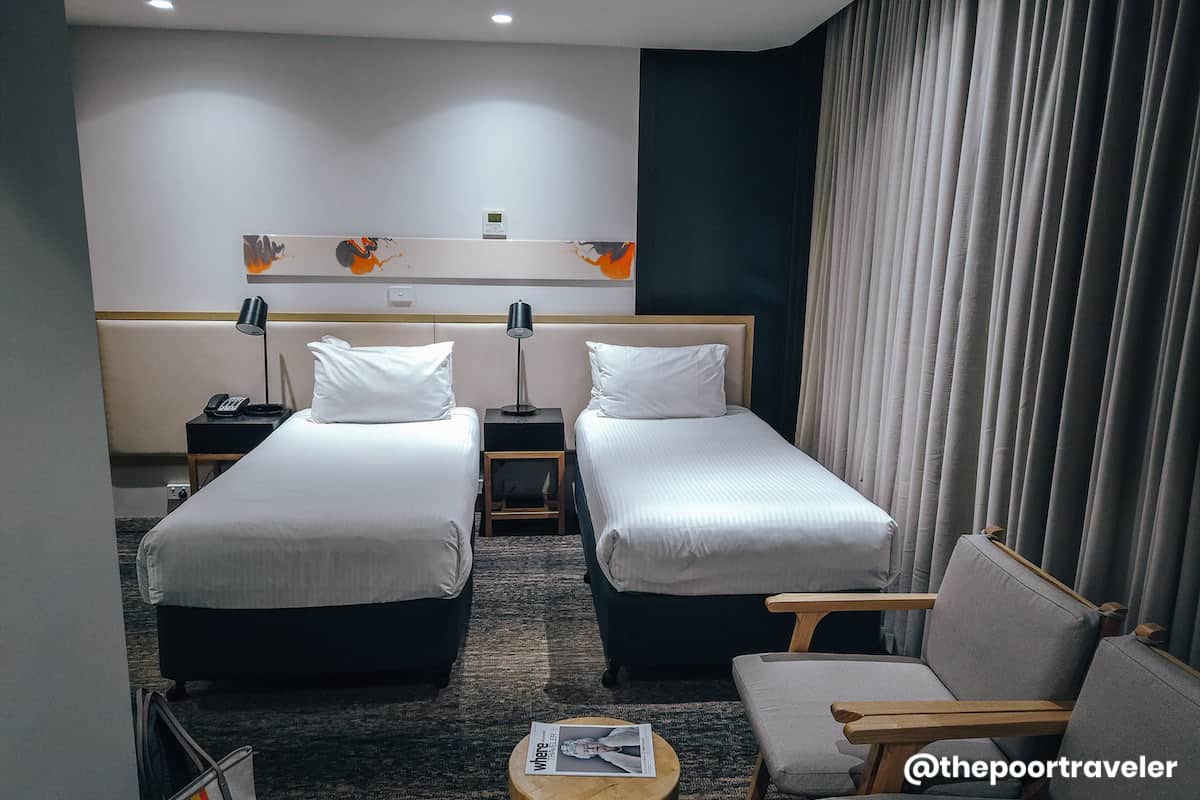 ---
Top Melbourne Apartments for Rent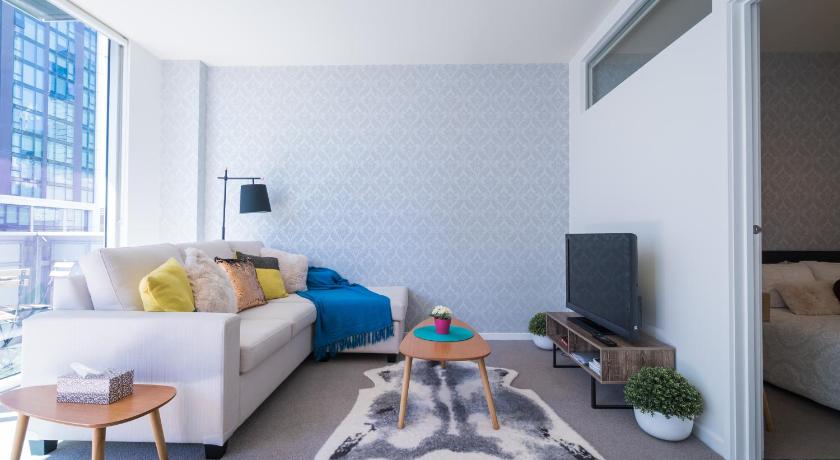 ---
Top Melbourne Hostels & Dormitories
For budget travelers and backpackers, staying at a hostel is a great idea. Not only do you save some bucks, you also get to meet other travelers. You can find hostels near Southern Cross Station (Melbourne Central YHA) or other parts of CBD that offer beds for as low as A$30 per night.
Most hostels also have an open kitchen where you can cook your own meals. You get to save a lot on food this way.
---
---
HOW TO GET TO MELBOURNE
As one of Australia's most popular destinations, Melbourne is connected by air to numerous cities around the world and over 30 other destinations in Australia. It is served by two airports:
Melbourne Airport (MEL), also known as Tullamarine Airport because it's located in the suburb of Tullamarine, north of the city center. As the bigger airport, it is used by more airlines including Philippine Airlines and Cebu Pacific.
Avalon Airport (AVV), located in Avalon in Geelong City, 50 km southwest of Melbourne. It's used primarily by JetStar and AirAsia.
If you're coming from Manila, the easiest and most convenient flights are offered by Philippine Airlines. PAL, the country's four-star flag-carrier, uses a 309-seater Airbus A330-300. They use the Melbourne Tullamarine Airport. Travel time is only around 8 hours.
Regular fares can go as low as USD233 one-way, which can still go lower when there's a promo. All bookings come with FREE 25kg baggage allowance and a hot meal, a snack, and complimentary alcoholic and non-alcoholic drinks.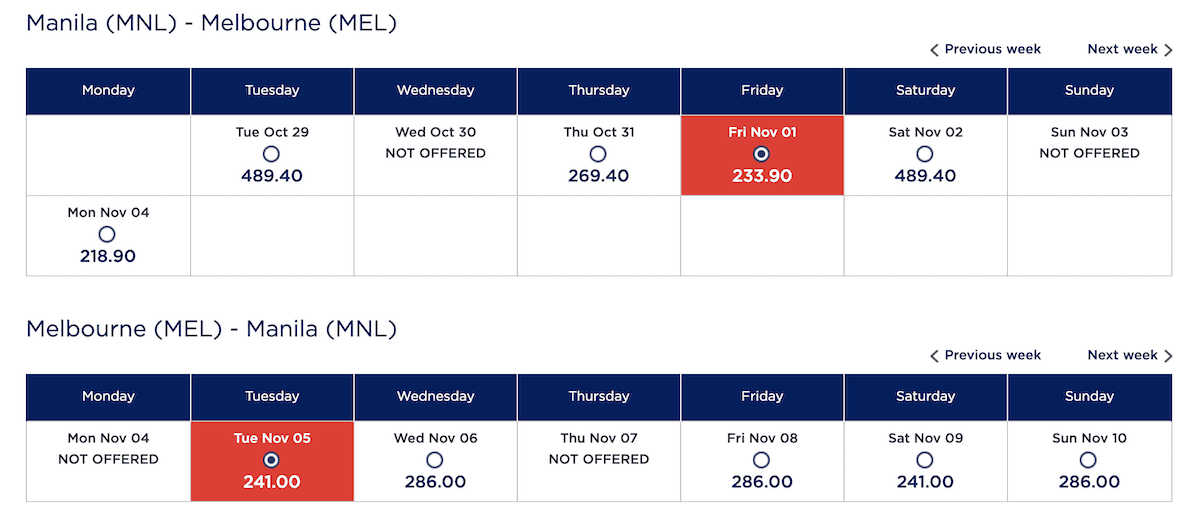 All seats are equipped with personal TV screen featuring an impressive collection of movies and series, and in-seat USB power supply! I binge-watched episodes of Young Sheldon onboard! Haha. It's also myPAL wi-fi enabled!
---
MELBOURNE AIRPORT TO CITY CENTER
The easiest way to travel between the airport and the city center is by taking the SkyBus, which runs for 24 hours (varying frequencies throughout the day). The journey lasts 30-45 minutes, depending on traffic.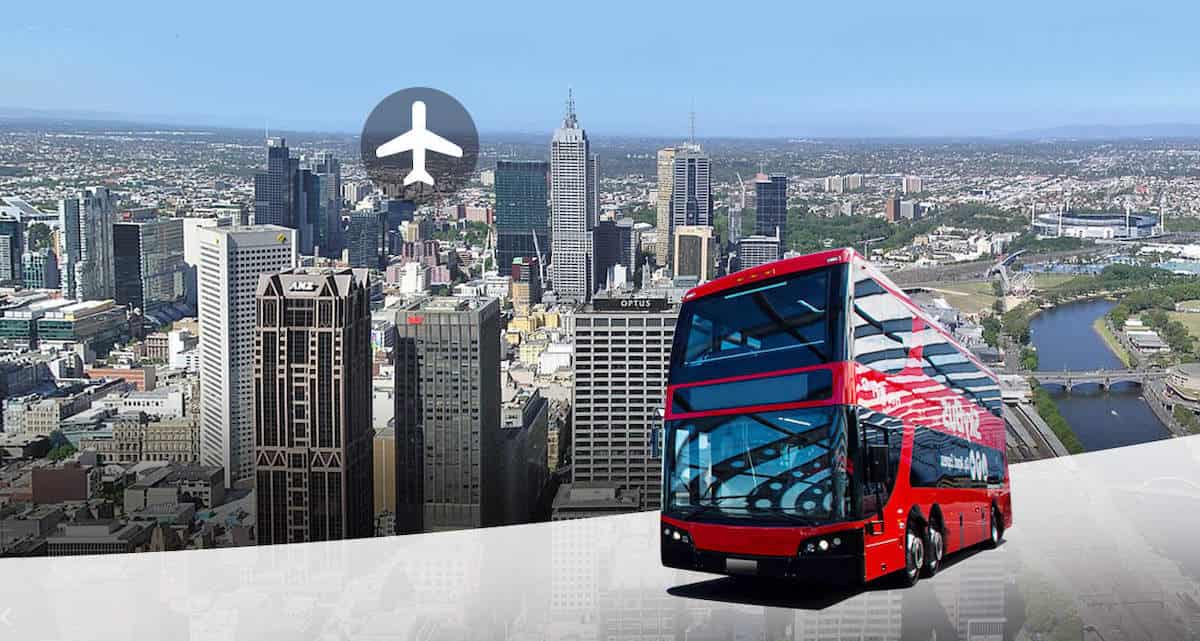 After emerging from the Immigration and Customs inspection area, head to the exit to your right. Immediately outside, you'll fine the SkyBus stop. You'll know you're at the right place when you see the electronic ticket kiosks and a ticket booth.
You can book a SkyBus ticket via the electronic machines here. Note that these machines don't accept cash, only credit cards. Fare: AUD 19.75, one-way; AUD 38, roundtrip. All buses are equipped with FREE wifi.
You can also book online. You can score a slight discount if you book with Klook ahead of time.
✅ GET DISCOUNTED TICKETS HERE!
There is also a cheaper option: taking the public bus. But it takes a lot longer! If you're interested, you can read about it here: MELBOURNE AIRPORT TO CITY CENTER!
---
AVALON AIRPORT TO MELBOURNE CITY CENTER
Avalon Airport (AVV) is located in the city of Geelong, roughly an hour away from Melbourne CBD. Just like at Melbourne Airport, you can catch the SkyBus to the city center. However, it is NOT available 24 hours.
First trip: 9am
Last trip: 12 midnight
The bus passes through Werribee before reaching Melbourne. It terminates at Southern Cross Station.
Fare: A$24 one-way, A$46 round-trip.
Travel time: 1 hour.
You can book at the airport when you arrive but you can also book online in advance for a slight discount.
✅ GET DISCOUNTED TICKETS HERE!
---
SOUTHERN CROSS STATION TO YOUR HOTEL
Whether they're coming from Melbourne Airport or Avalon Airport, all SkyBus units bound for Melbourne CBD terminates at Southern Cross Station. If your hotel is nearby, you can just walk from the station. This is just one of the reasons why the Southern Cross area is the best place to stay in the city. Just use Google Map to navigate.
If your hotel is located in other parts of the CBD, you have plenty of options too. If you're arriving between 6:30am and 7:30pm, you can avail of the complimentary transfer from Southern Cross Station to a stop near your hotel. This is FREE-OF-CHARGE for those who took the SkyBus. It operates 7 days a week, 06:30 to 19:30. You can find the stop closest to your hotel here.
If your hotel is closer to Central Station, you can also travel by tram (free), train (fare: A$4.40), taxi (fare: around A$10.6), or Uber (around A$8.6) to Central area.
---
HOW TO GET AROUND MELBOURNE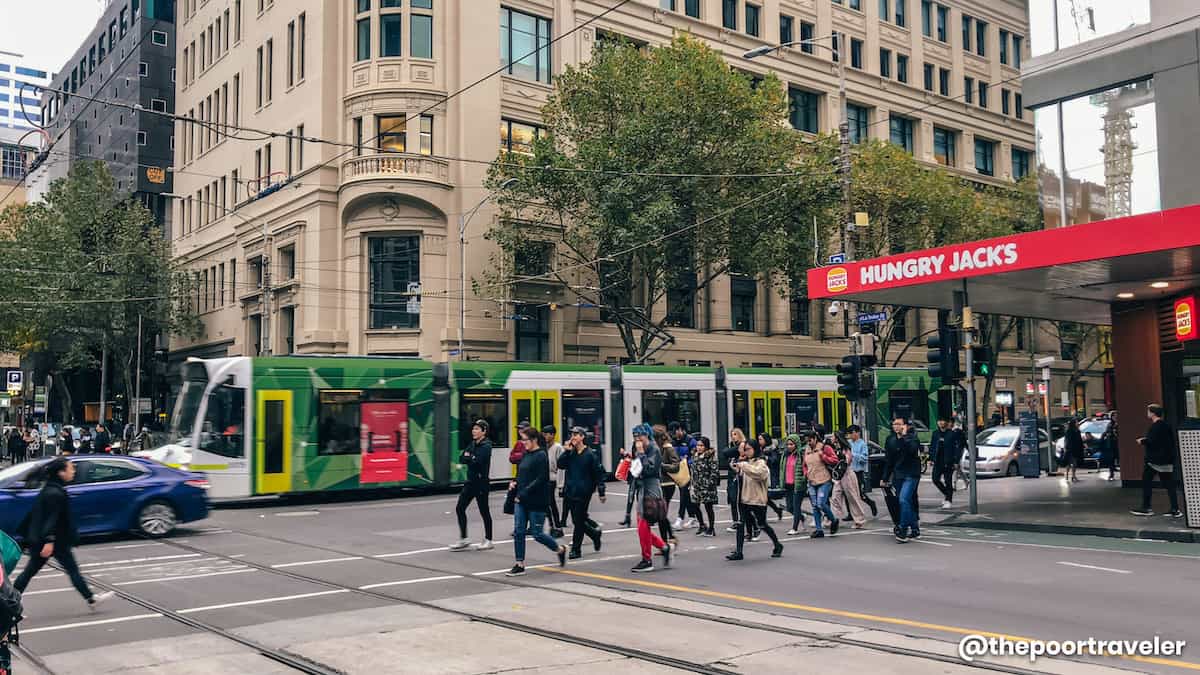 If traveling within CBD, I prefer walking. Melbourne is a very pretty city, with a distinct European vibe that other Australian cities don't possess. You'll also stumble upon delightful surprises like artful graffiti and food kiosks.
---
By Public Transportation
There are plenty of options to get around including trams, trains and buses. But how do you know which is the best option for your desired destination? If you own a smartphone, you can download the PTV app. PTV stands for Public Transport Victoria, the agency that governs and runs the tram, train, and bus systems in this part of Australia. You can download here: iOS, Android.
On the app's Journey Planner, enter your origin and destination and it will present a selection of routes that you may take. Pick one based on your schedule and preferences.
FREE Tram Zone
For visitors, one of the best things about Melbourne is its iconic FREE TRAM. You don't need to get any sort of pass or ticket to avail of this; just hop into the tram. It's FREE as long as you're traveling WITHIN the FREE TRAM ZONE.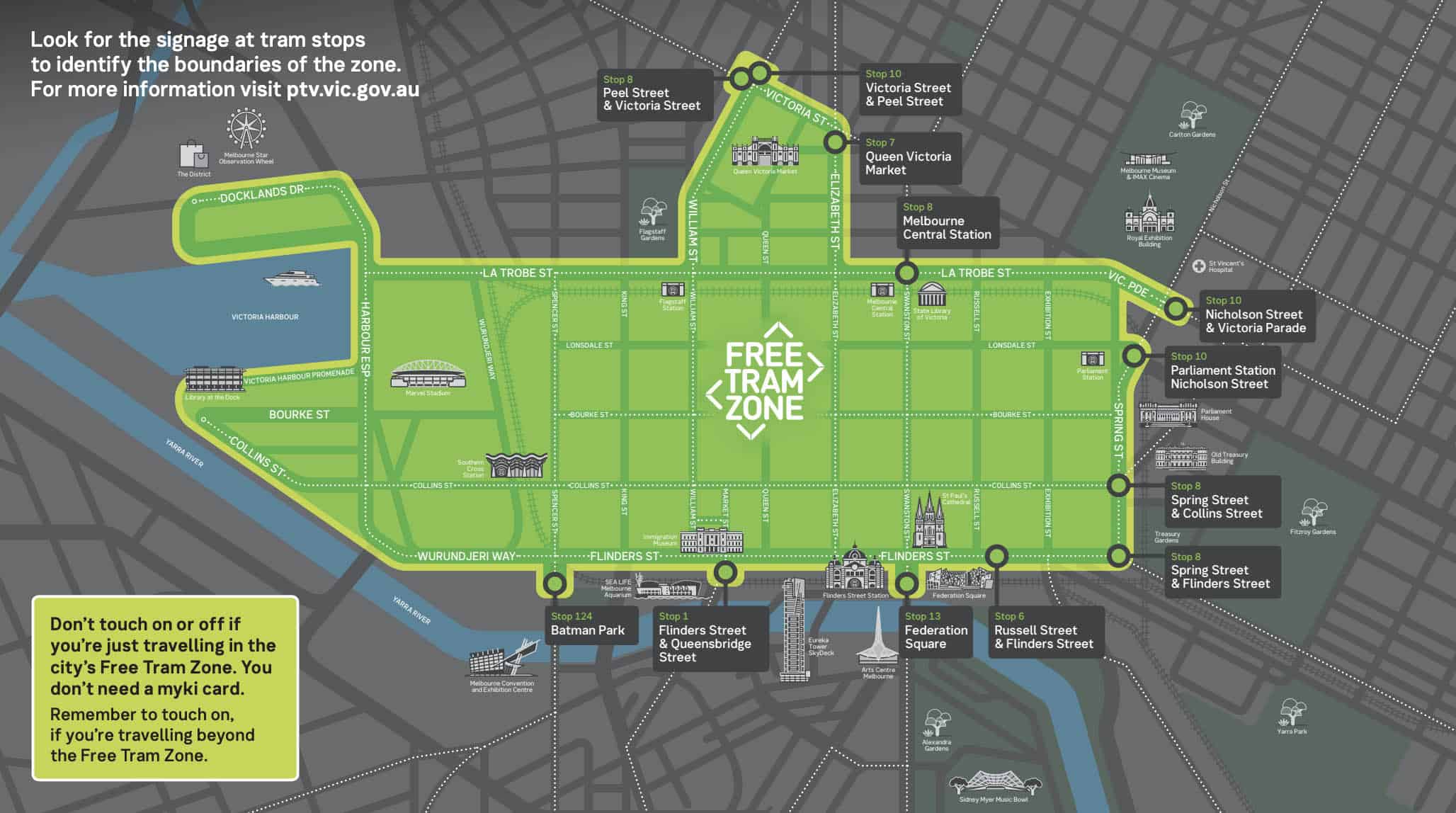 If your starting or ending point is outside the zone, the A$4.40 2-hour rate will apply.
Outside the free tram zone, you have plenty of options. But wait, before that, let me introduce to you the myki.
How Does the myki Card Work?
Melbourne's public transportation systems no longer accept cash payments. Instead, they use the so-called myki, an electronic reloadable card. Even if you're a tourist staying in Melbourne for a few days, you will need to get a myki card if you want to use the train and the bus, and the tram outside the free zone.
The problem is: myki is confusing to newbies.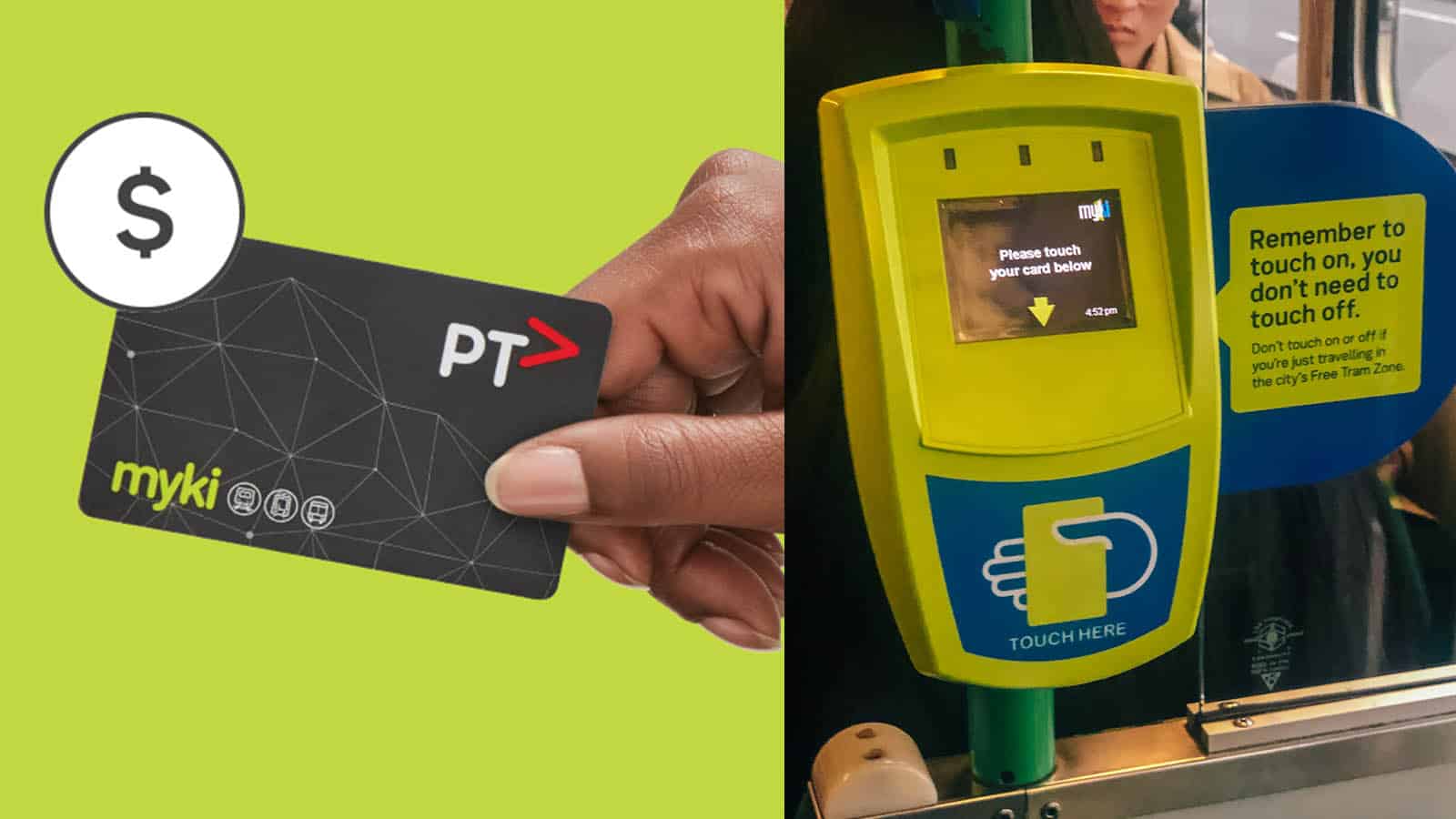 So how does it work? Using it is easy to understand. Onboard the tram and the bus and at the entrance gate to the train station, you simply "touch on" the card at the start of the journey and "touch off" when you reach your destination. Easy.
It's the pricing that is a bit complicated. But it gets less confusing once you get the hang of it. Let us break it down:
The card costs AUD 6. That's just for the card itself. You will need to top it up after.
The standard fare is AUD 4.40, which is good for 2 hours — that is 2 hours from the moment you first use or touch on the card. However, if you touch on after 6pm, the 2-hour fare is valid until 3am the next day.
The daily fare is AUD 8.80. This is the maximum you can spend per day as long as you're traveling within Melbourne City (Zone 1) and suburbs (Zone 2). Meaning, if you use the card once, you're gonna get charged A$4.40 for the first 2 hours. If you use it again after 2 hours, you'll be charged A$8.80, valid for another 2 hours. But if after 2 hours, you decide to use it again, you will no longer be charged because the A$8.80 daily cap is already reached. Same with succeeding uses on that day. It sort of automatically becomes an unlimited pass.
On weekends, the daily cap is only AUD 6.40. Same reduced rate applies to public holidays.
A 7-Day myki Pass is available for only AUD 44. This is a good deal if you're exploring Melbourne for 7 days. Note that these are consecutive days.
Passengers 5-18 years old can avail of the 50% concession discount. The card price becomes only A$3, weekday fare A$2.20 for 2 hours, daily rate A$4.40, weekend daily cap A$3.2, and 7-day pass cost A$22. Passengers younger than 5yo can travel for FREE.
You don't need a myki when traveling by tram within the FREE Tram Zone. If you have a myki, you DO NOT need to touch on your card if within the Free Tram Zone. But if your starting or ending point is outside the zone, the A$4.40 2-hour rate will apply.
Here's a quick summary of the fares (as of 2019).
There is actually a lower fare that applies when traveling within Zone 2 (suburbs far from the city center), but since most tourists will be coming from Zone 1, let's not go into detail because it will just make matters more complicated.
IMPORTANT! Don't forget to touch on and touch off when traveling outside the free zone. Ticket inspectors sometimes patrol the area and make random checks. I've seen it before. If you're caught trying to score free rides, you may be fined around A$250!
MORE INFO: MELBOURNE PUBLIC TRANSPORTATION
---
By Uber or Taxi
If you're in a hurry and money is not an issue, you may take the taxi or Uber.
Uber is generally cheaper than taxi. I once tried taking a cab from Southern Cross to Central Station and I was charged A$ 10.60 for the ride. Another day, I used Uber on the same route and paid only A$ 8.60.
---
By Sightseeing Bus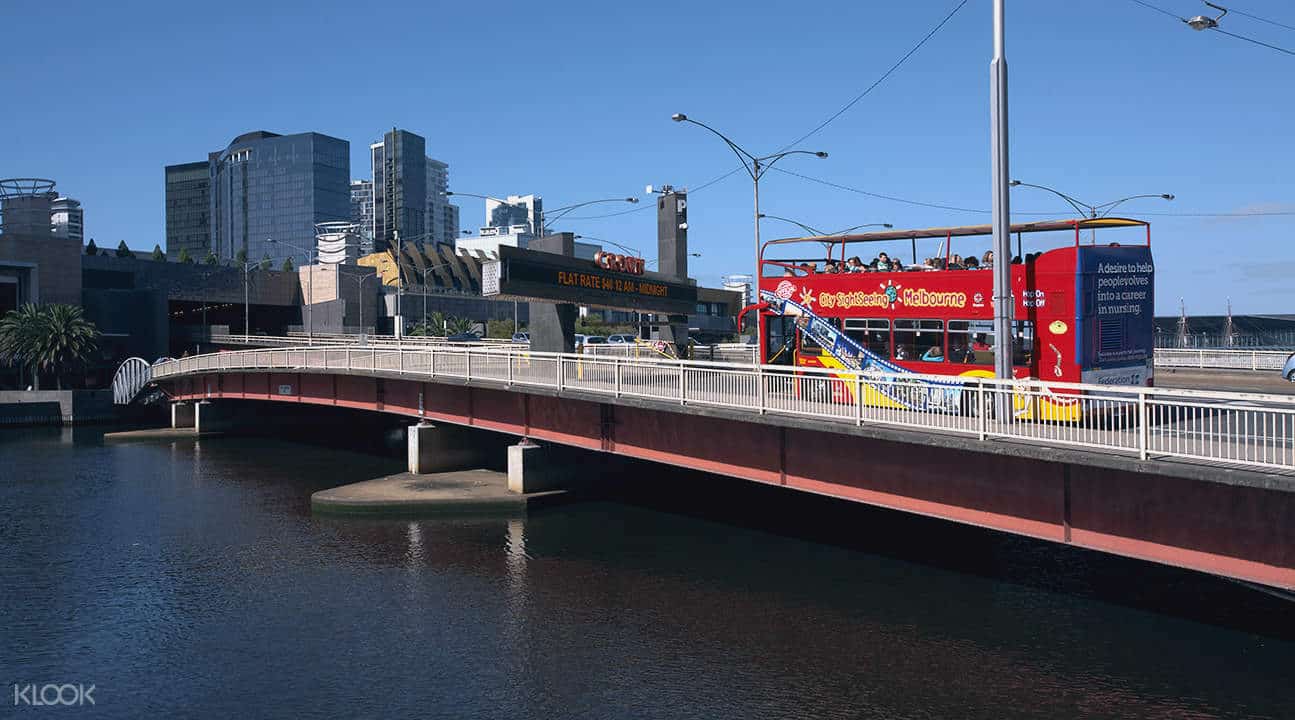 Another way to get around Melbourne conveniently is by taking the Sightseeing Bus, which passes by 27 attractions throughout the city (including St. Kilda). As you go around, you can get more information about each stop with the audio commentary guide installed at each seat. If you feel like you want to explore a site further, you can hop off easily and just wait for the next sightseeing bus when you're done.
There are two routes: Melbourne City Tour and St. Kilda Tour. You can switch to experience both, if you have the time. There are two variants available: 24-hour and 48-hour passes.
✅ CHECK RATES OR RESERVE HERE!
---
THINGS TO DO IN MELBOURNE
Great Ocean Road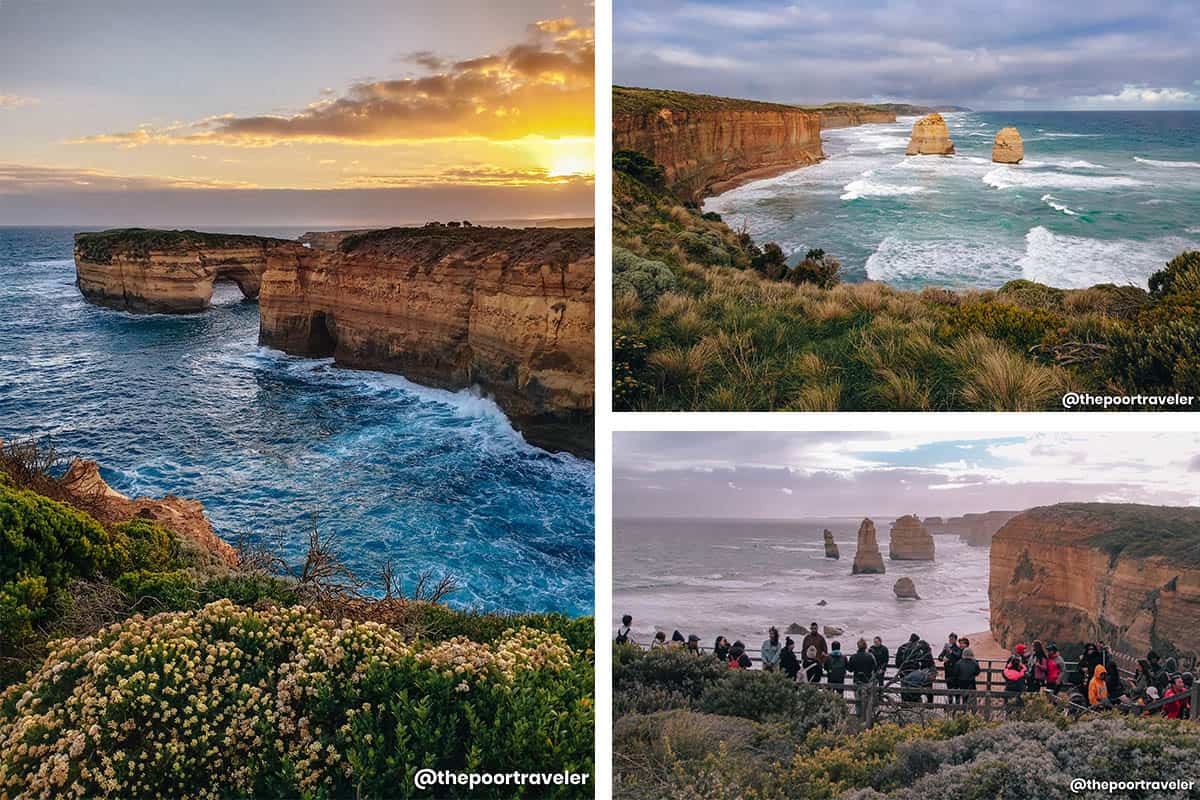 Melbourne is already my seventh destination in Australia but I have to say that the Great Ocean Road is one of the most breathtaking journeys I have taken. This 243-km road runs along the southern coast of Victoria, Australia. Constructed by soldiers from 1919 to 1932, it is the largest war memorial ever built in the world.
The Great Ocean Road starts from the city of Torquay and ends in Allansford, but tours usually culminate at the 12 Apostles site, a group of limestone isles at the Port Campbell National Park. The park and its spectacular views became the highlight of our entire trip. If you can do only one tour from Melbourne, make it this one!
I don't think it's ideal to do this by public transport, so you're left with two options: by car or by group tour. If you know how to drive and you have a driving license, do it. Otherwise, join a group tour, like we did. (We don't drive!)
The great thing about joining a group tour is you get to learn more about each stop. Along the way, you'll drop by some scenic viewpoints and meet koalas and native birds like the Australian cockatoo!
✅ RESERVE A SLOT HERE!
---
Melbourne City Tour
The map of Melbourne's city center is dotted with several historic landmarks and interesting spots including the following:
Federation Square
Melbourne Museum
Old Melbourne Gaol
Queen Victoria Market
Chinatown
Melbourne Zoo
Fiztroy Gardens
You can go around in many ways. For short distances, you can simply walk or take the free tram. For longer distances, you may take the train or the bus, as detailed in the How to Get Around section above. Just enter the attraction or the nearest station on the PTV app and follow the directions.
You can also take the hop-on hop-off bus tour. The City Sightseeing Bus will take you to 27 spots around the Melbourne city center and St. Kilda. Booking a pass means you have unlimited access to this bus for 24 or 48 hours.
✅ CHECK RATES OF SIGHTSEEING BUS HERE!
---
Queen Victoria Market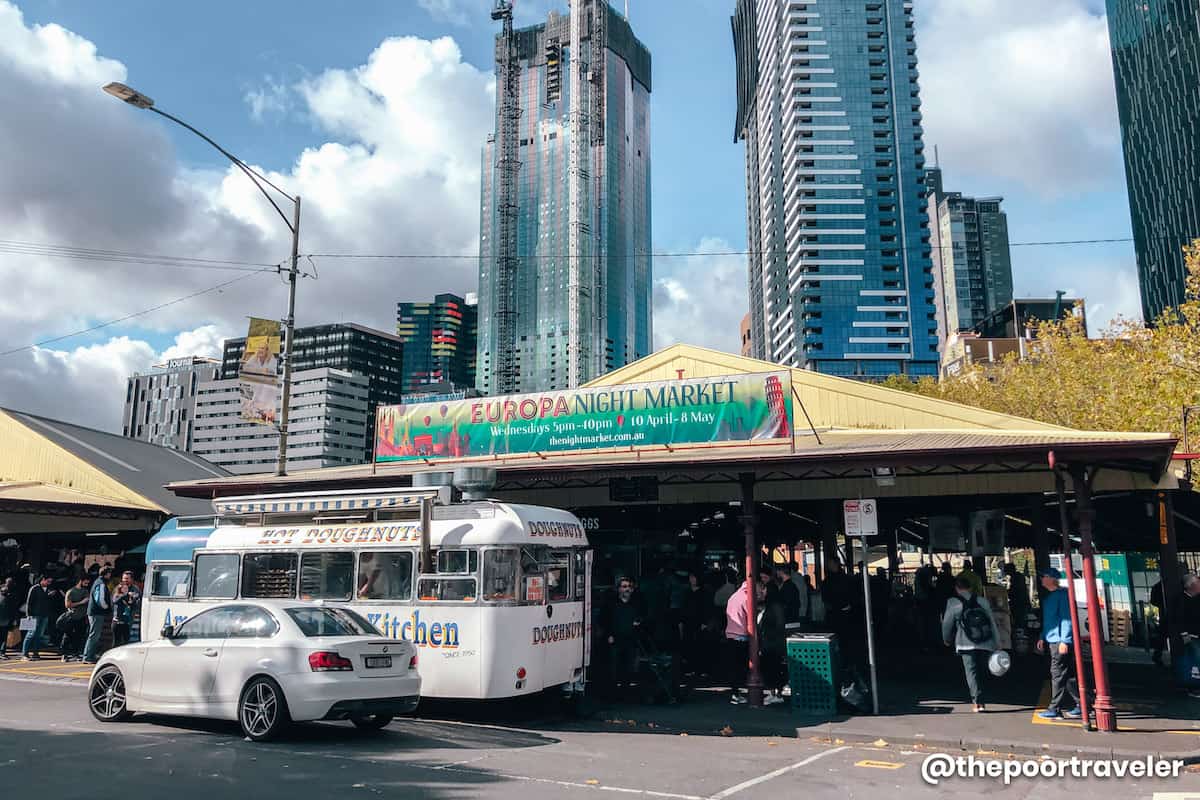 The Queen Victoria Market, aka Vic Market, is one of the most popular spots in Melbourne. At seven hectares occupying two blocks, this 19th century market is the largest market in the city and the largest open-air market in all of the Southern Hemisphere.
It is divided into several sections trading a smorgasbord of products — meat, deli, organics, and dry goods, to name some. There's also a small food court within the complex. But the most popular section among tourists is the Dairy Produce Hall, where you can enjoy tasty international snacks. Here are some of the treats you shouldn't miss.
Borek Shop (Dairy Produce Hall). A borek is a Turkish delicacy which is basically baked filled pastry. The filling can be a number of ingredients, but here at Vic Market's Borek Shop, they offer three versions: cheese and spinach, potato and vegies, and spicy lamb. Cheese-and-spinach seems to be the most popular, but I have a love-hate relationship with cheese, so we got the lamb borek. We loved it. My mom, especially. She even bought another one and took it back to our hotel. Haha. Price: A$4 each.
Bratwurst Shop & Co. (Dairy Produce Hall). Bratwurst is a variety of German sausage traditionally made of veal or beef. Not sure what type of meat is used by this shop, but I think it's beef and pork. They have a wide selection: spicy, mild, cheese, black pepper, weisswurst. The sausages are grilled nicely and then put in a roll. You also get to choose the trimmings including mustard and sauerkraut. Price: A$5 for the sausage only, A$5.80 with all the trimmings.
American Doughnut Kitchen (Outside, Queen Street). This donut shop whips out jam-filled goodness, best enjoyed hot. After trying it, I even returned another day to have another dose of it. That's how much I enjoyed these donuts! Set in a 1950s van, you'll find it parked along Queen Street, right in front of the Organics section. It's impossible to miss because of the long, long queue leading to it. Don't worry because the line moves fast. Price: A$5.50 for 5 dougnuts.
Some months, they also open a Night Market at the same site, but this is not open year-round. Usually there's one in winter.
You can totally do this on your own (as I did), but if you want to learn more about the market — historically and gastronomically — you can join a food tour!
Klook's food tour includes not only the stroll but tasting some of the best that the market has to offer. You'll also enjoy a glass of Victorian wine!
✅ RESERVE A SLOT HERE!
How to get to Queen Victoria Market: Ride a Yarra Tram (Route 19, 57, 58 or 59), which stops outside the Market. If you're staying near Melbourne Central, you can just walk. It's only a few blocks away.

Operating hours: Tuesday, Thursday, 6am-2pm; Friday, 6-am-5pm; Saturday, 6am-3am; Sunday: 9am-4pm.

Closed: Mondays, Wednesdays.
---
Melbourne Star Observation Wheel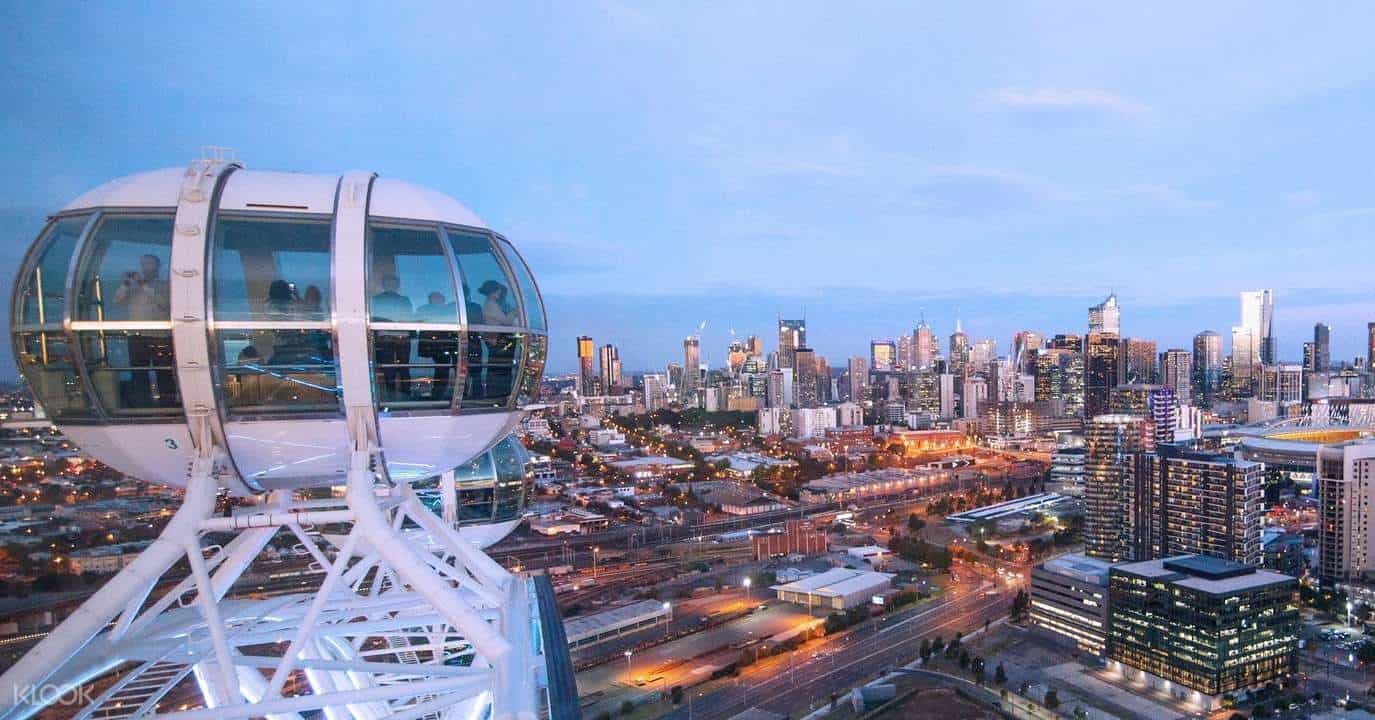 Spinning slowly at the Docklands, the Melbourne Star Observation Wheel faces Port Phillip Bay. At 120 meters, its highest point offers wonderful 360-degree views of the harbor and the central business district. It is perfect for families.
Klook sells DISCOUNTED and skip-the-line tickets to this wheel. When you book with Klook, all you need to do is print out or save the voucher on your phone. No need to fall in line for tickets. No need to exchange it for another ticket. Just walk straight though the entrance and find the boarding queues. There are two lines: alcohol and non-alcohol. An in-cabin audio guide will add depth to your experience.
✅ GET DISCOUNTED TICKETS HERE!
---
Eureka Skydeck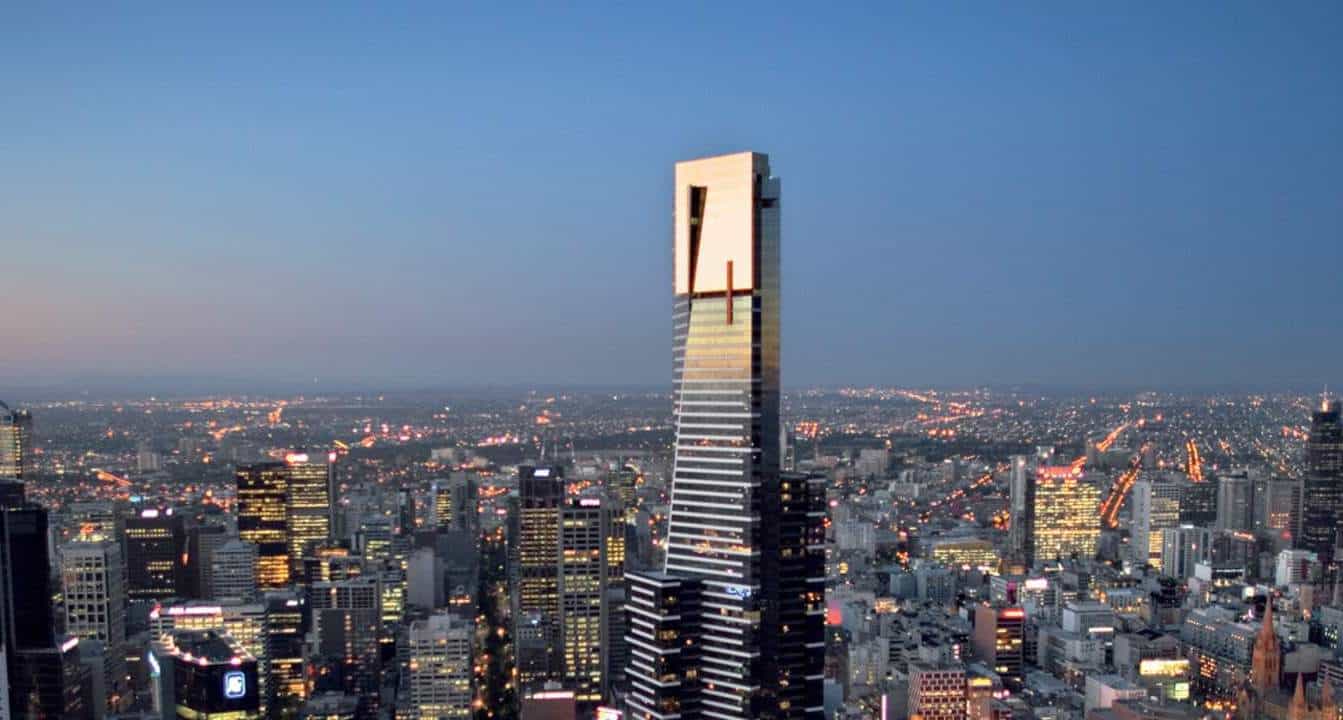 At 297m, the Eureka Tower is the tallest building in Melbourne and the second tallest building in Australia. Visitors may take the southern hemisphere's speediest elevator to its observation deck, at 285 meters above ground, for a fantastic 360-degree view of the city.
If you're feeling adventurous, you can avail of the Skydeck+Edge package and stand on the glass floor!
✅ GET DISCOUNTED TICKETS HERE!
How to get there: Take the train to Flinders Street Station then travel on foot over the bridge to the other side of the river. The walk should take about five minutes.

Hours open: 10am – 10pm, daily. Last entry is 9:30pm.
---
Phillip Island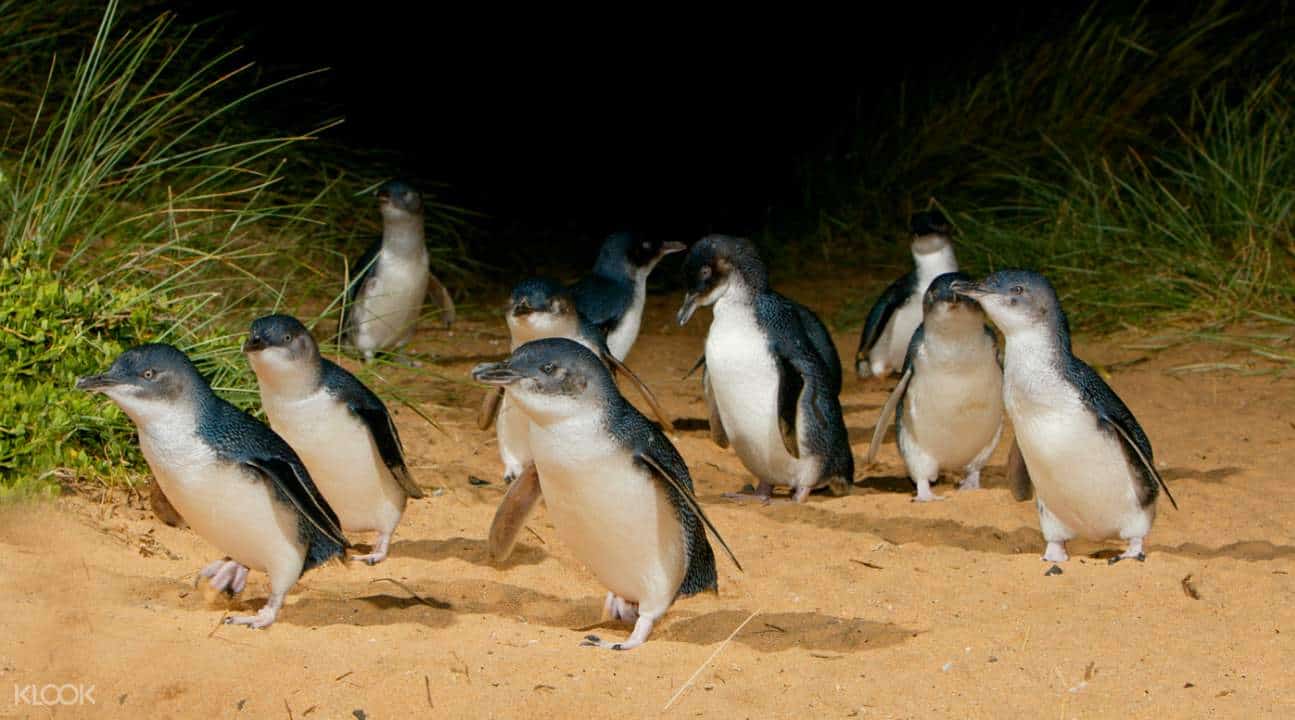 Phillip Island is situated southeast of Melbourne, over 3 hours away by train/bus or around 2 hours by car. As a tourist destination, it is best known for the nightly Penguin Parade, in which fairy penguins, walk on the shore in groups after a day of fishing. The fairy penguins are the smallest species of penguins in the world. It attracts about 3.5 million visitors every year.
Although it doesn't look much on the map, Phillip Island is huge. Aside from the Phillip Island Nature Park, where the penguin parade happens, it is also home to the historic Churchill Heritage Farm, the Koala Conservation Centre, and the Seal Rocks, where you can see dozens of fur seals frolicking on the coast.
It's easy to reach Phillip Island by public transportation. You can catch a V/L bus at Southern Cross Station going to Cowes, which is the main township of Phillip Island. (Schedule here!) But there's a catch. The buses are few and far between. That's not all.
‼️ IMPORTANT! Public transportation on the island is very limited, so it's pretty difficult to get around. There is a taxi service, which is expensive. Moreover, the last bus back to Melbourne leaves Cowes at around 6:30pm. It's a problem if you plan to watch the penguin parade, which is the highlight of any Phillip Island visit. The parade happens at sunset, which is sometime between 5:30pm in summer and 8:45 in winter. Cowes and the Penguin Parade area are 20-30 minutes apart so even in summer, it is unlikely that you'll catch the last bus out. Some visitors choose to just stay overnight in Cowes.
If you don't want to stay overnight in Phillip Island, you can rent a car or join a group tour instead. Driving on your own is the most ideal so you have total control of your car. You can even drop by St. Kilda or Brighton Beach along the way. But if you can't drive or you don't have a license, you can join a group tour instead. Some tours also make a stop at Brighton Beach.
There are many Phillip Island offers on Klook but I've narrowed it down to only two. (See links below.)
The first link will take you to the Klook page where you can book DISCOUNTED attraction tickets only, no transfers, good for those with their own ride. The second link will take you to the DISCOUNTED DAY TOUR page. It's a guided day tour package inclusive of transfers to and from Melbourne, hotel pick up and drop off, and a guide-driver service. The tour also stops at Brighton Beach where you can see their famous colorful beach boxes.
✅ GET DISCOUNTED TICKETS ONLY!
(If you have your own ride)
✅ BOOK DISCOUNTED TOUR WITH TRANSFERS & GUIDE!
(If you don't drive)
---
Werribee Open Range Zoo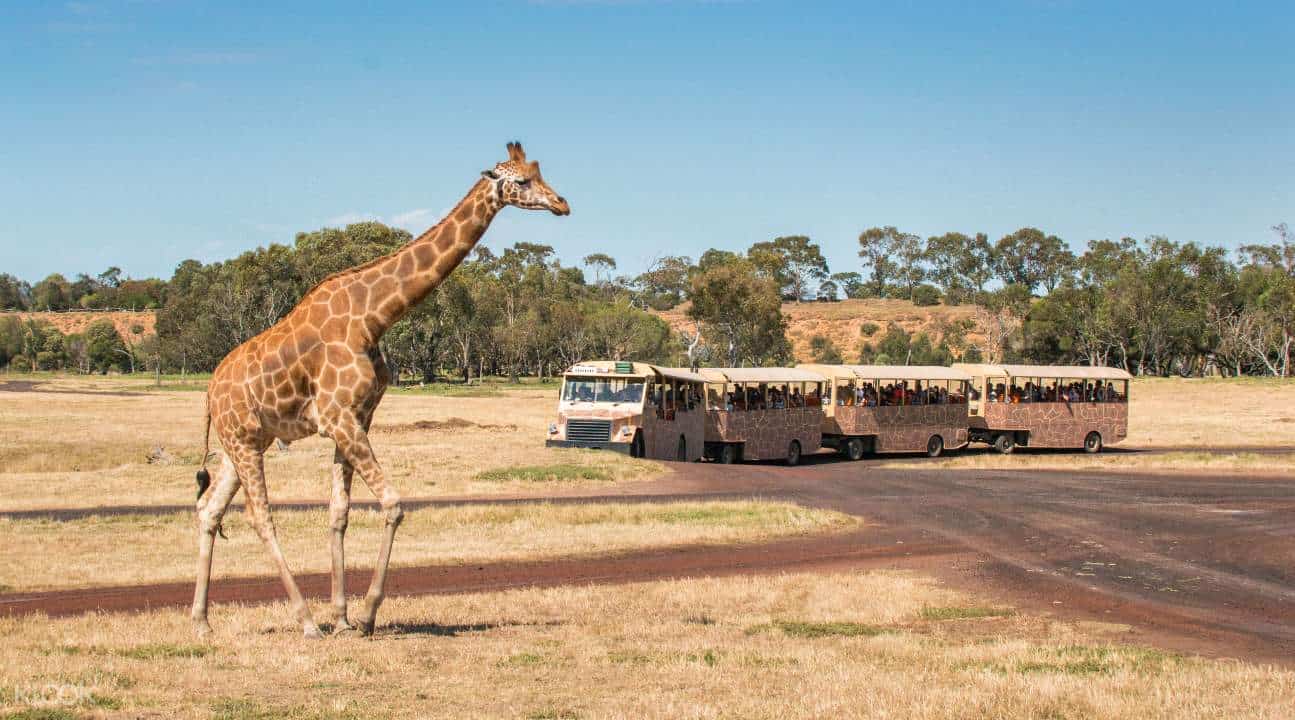 We had to choose between Melbourne Zoo and the Werribee Open Range Zoo, and we chose the latter. Although both are managed by Zoos Victoria, the Werribee Open Range Zoo is much, much larger. It's vast, spanning 225 hectares of land next to Werribee River, giving the animals plenty of space to move around.
The Australian Journey Walk will lead you to the kangaroos, emus, and koalas. But the rest of the site is impossible to be explored on foot. You can take the FREE safari bus tour to see much of the site. Yep, the bus tour is already covered by the entrance fee. Multiple tours happen a day. You just need to show up and queue up at the Safari Station. From the main entrance, turn right — multiple times a day. Along the way, you'll spot dozens of animals including rhinoceros, hippopotamus, ostrich and zebra.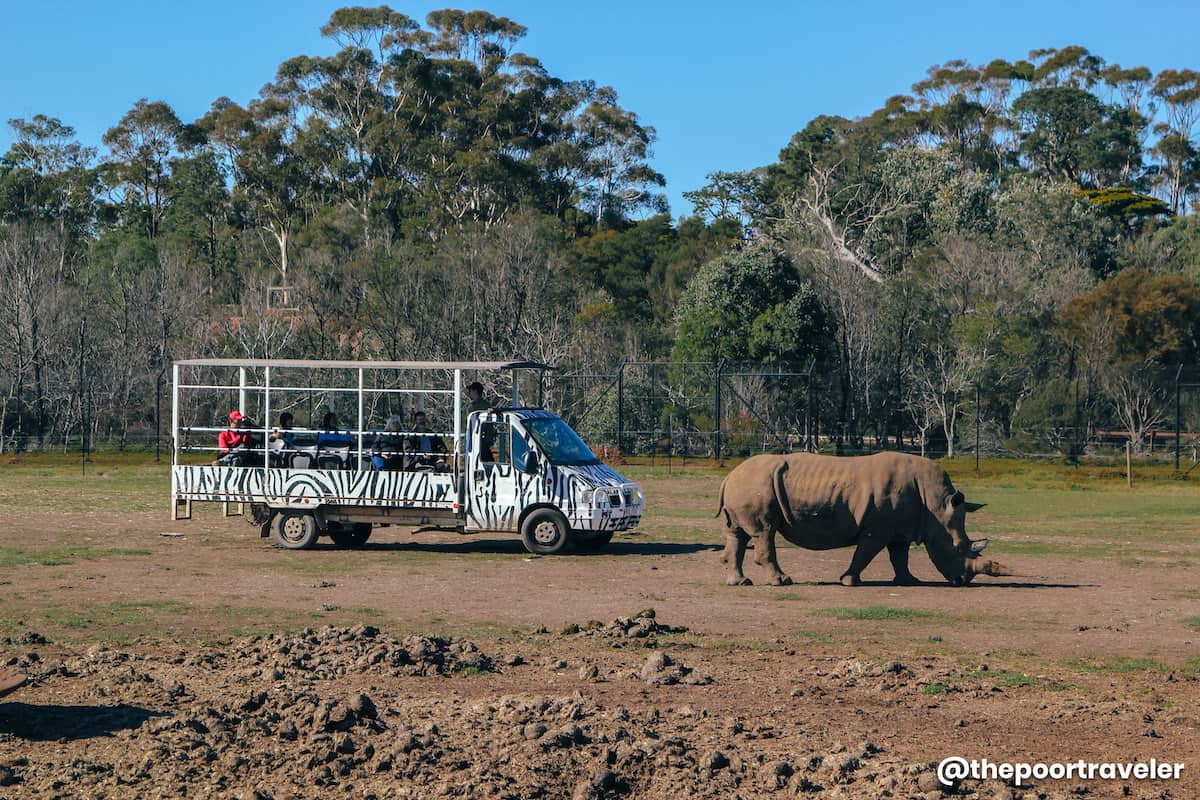 If you want to take your experience to the next level, you can join an off-road safari tour. This is different from the bus tour, which follows a fixed path. The off-road tour uses a smaller open vehicle that goes off the trail and much closer to the animals. This tour happens only twice a day so if you choose to do this, make sure you make it to the zoo in time for your schedule.
Klook offers both discounted entry tickets and the off-road safari tour. The cost of the off-road tour already covers the entrance fee so you DON'T need to book separate tickets.
✅ GET DISCOUNTED ENTRANCE TICKETS HERE!
✅ BOOK OFF-ROAD SAFARI TOUR HERE!
How to get to Werribee Zoo: From Melbourne CBD, take the train to Werribee Station (A$ 4.40). Outside the station, you'll immediately find the bus stop. Catch Bus 439 Werribee South and alight in front of Werribee Zoo. Note that there's only one bus per hour. First bus leaves Werribee Station at around 6am, last bus around 7pm. See updated schedule here. (Click To Werribee South!)

Hours open: 9am-5pm, daily.

Entrance fee: Adult, A$38; Child 4-15yo, FREE on weekends/holidays, A$19 on weekdays.
---
Brighton Beach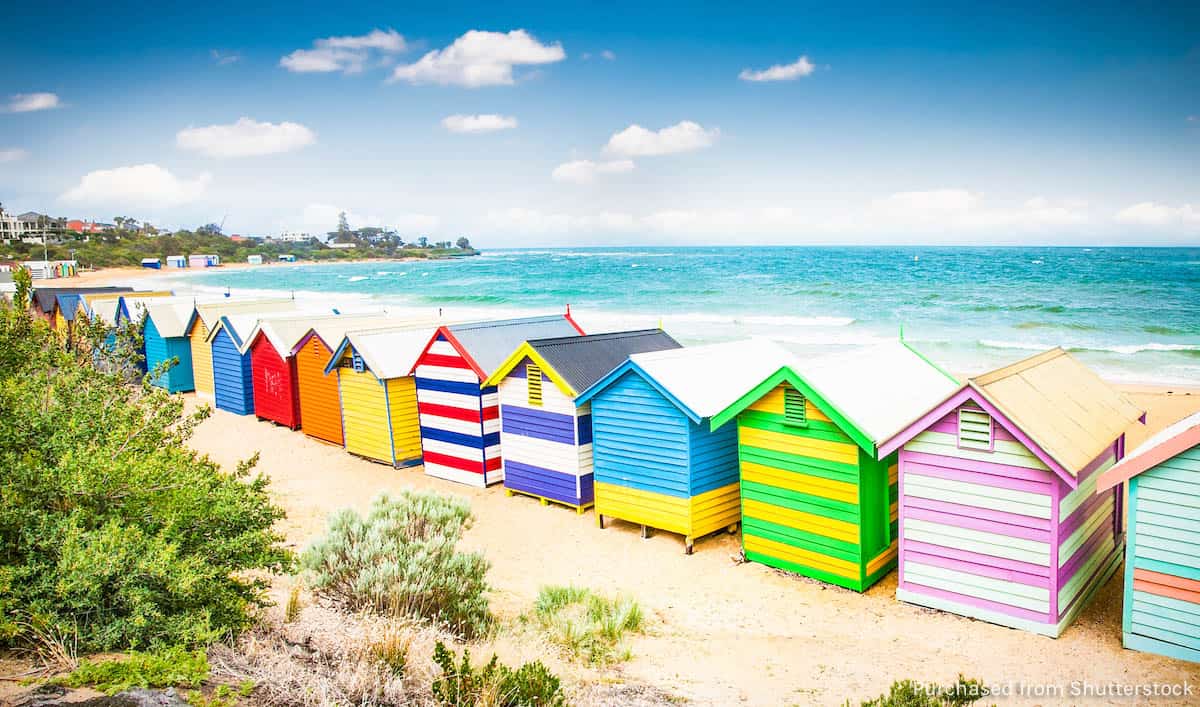 Although located 14 km south of the city center, Brighton Beach has become an icon for Melbourne. Thanks to its 82 brightly painted and uniformly shaped bathing boxes! Along with St. Kilda, this is one of the most accessible beaches from the city so you can come here to swim, lounge on the sand, or simply admire the view. There are also cafes around the area.
How to get to Brighton Beach: From Melbourne CBD, hop on the train on the Sandringham Line and get off at Middle Brighton Station. From here, it's a 15-minute walk to the Brighton Bathing Boxes.
---
St. Kilda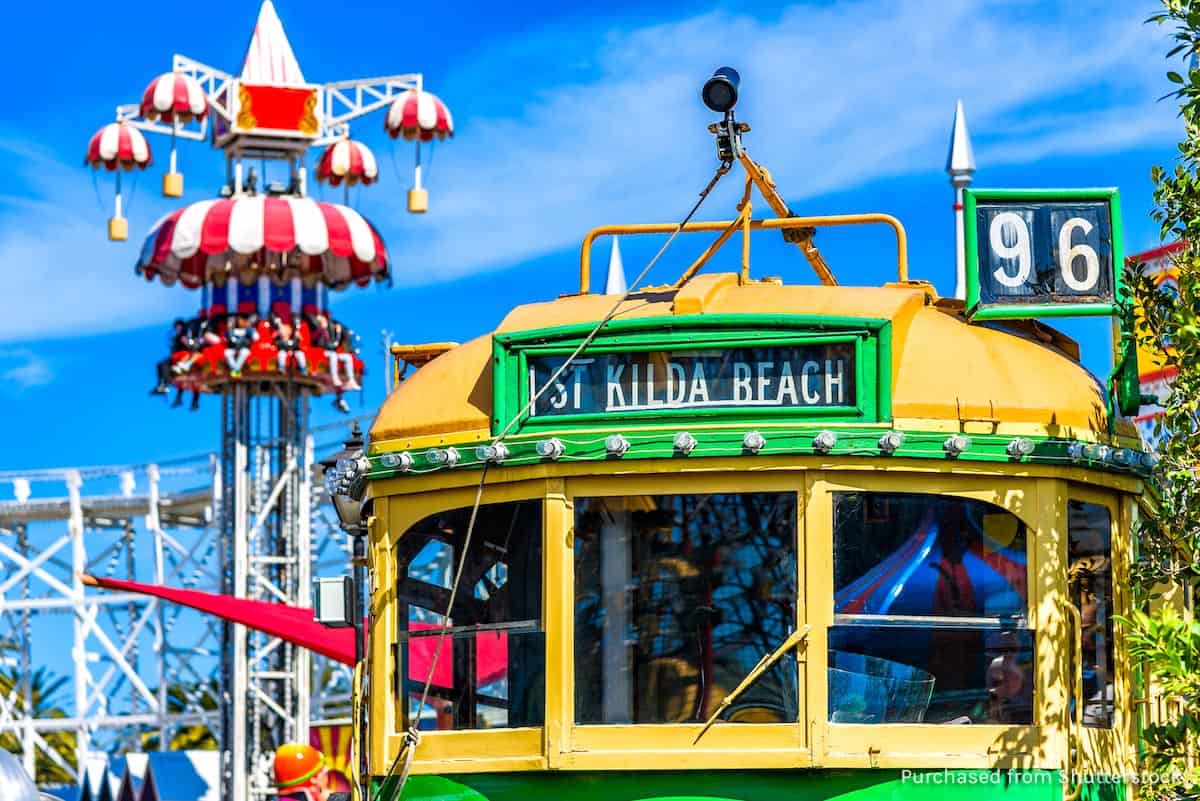 St. Kilda is a suburb located 6km southeast of Melbourne CBD. It has emerged as the city's backpacking district because it has the right ingredients — exciting nightlife, accessible beach, and a wide array of budget-friendly hostels, restaurants, and cafes. Key tourist sites include Luna Park and the Sunday art market.
You can explore St. Kilda on your own by using the public transportation. You can also use the City Sightseeing Bus (hop-on hop-off service), which also plies a St. Kilda route, stopping at major attractions in the city.
✅ CHECK RATES OR RESERVE HERE!
---
Other Melbourne Attractions
Old Melbourne Gaol. Standing along Russel Street, this museum used to be a prison, where 135 people, including some of Australia's most notorious criminals, were executed by hanging. Today, you can also do a ghost tour of the premises. Entrance Fee: A$28. Hours open: 9:30am — 5pm. Last entry: 3:30pm.
Melbourne Zoo. Located at the Royal Park, 4km north of the CBD. This is the city's main zoo. If you only have one spot for animal encounter in your itinerary, make it the Werribee Open Range Zoo instead. But if you insist on Melbourne Zoo, you can GET DISCOUNTED TICKETS HERE!
Yarra Valley. The rich lands surrounding Yarra River have nurtured vineyards and wineries, contributing greatly to Victoria's thriving wine industry. You can join food and wine tours to sample all the bounty that the region has to offer including cheese, fruits, chocolates, and of course, wine! BOOK THIS TOUR!
---
SAMPLE MELBOURNE ITINERARY
Here's a sample 5-day Melbourne itinerary. This assumes the following:
You're arriving at Melbourne Tullamarine Airport.
You're staying at a hostel in the city center for A$30 per night.
Your hostel has a shared kitchen where you can prepare your breakfast and dinner. For lunches, you can eat out with a budget of A$15 per meal.
Prices below are in Australian dollars.
Note that the times here are just estimates, for sample purposes only. Actual times may vary so double check before your trip.
Feel free to change anything in the itinerary in order to match your preferences or flight schedule.
DAY 1 – WERRIBEE OPEN RANGE ZOO
06:20 am – Arrival at Melbourne Airport
07:50 am – Proceed to SkyBus Station
08:02 am – Board SkyBus to Melbourne, $36 roundtrip
08:40 am – Arrival at Southern Cross Station
08:45 am – Purchase myki card, $14.80 (entire day)
09:00 am – SkyBus Link to Hotel, FREE
09:15 am – Hotel check-in or drop baggage
09:50 am – Train to Werribee Station,
11:02 am – Bus to Werribee Zoo
11:15 am – Werribee Zoo, $37, Discounted here!

01:00 pm – Lunch
01:40 pm – Safari Bus around the zoo
03:45 pm – Bus back to Werribee Station
04:25 pm – Train to Melbourne CBD
04:45 pm – Back to hotel, rest, freshen up
07:00 pm – Grocery, dinner, $40
DAY 2 – GREAT OCEAN ROAD TOUR
07:00 am – Walk to pick-up spot, wait for bus
08:00 am – Great Ocean Road Tour, $135, Book here!

11:30 am – Lunch stop, $15
12:00 am – Continue tour
07:30 pm – Dinner stop, $15
09:00 pm – Back to hotel
DAY 3 – QUEEN VICTORIA MARKET & CITY TOUR
09:00 am – Travel to Queen Victoria Market, $8.80 (entire day)
09:20 am – Explore Queen Victoria Market
10:30 am – Vic Market Food Trip, Budget: $20
12:00 pm – Start DIY City Tour
05:00 pm – Melbourne Star Observation Wheel, A$28, Discounted Here!

08:00 pm – Back at hostel, dinner
DAY 4 – BRIGHTON BEACH & ST. KILDA
07:00 am – Train to Middle Brighton Station, A$8.80 (whole day)
07:41 am – Walk to Brighton Bathing Boxes
08:00 am – Enjoy the beach, explore nearby sites
10:00 am – Train + tram to St. Kilda
10:36 am – Explore St. Kilda Beach
11:30 am – Lunch, A$15
12:15 am – Continue exploring St. Kilda
02:00 pm – Luna Park, A$22 (2 rides only)
04:00 pm – Tram back to Melbourne
05:00 pm – Explore Melbourne CBD, buy souvenirs
07:00 pm – Back to hotel, dinner
DAY 5 – DEPARTURE
04:00 am – Check out
04:37 am – SkyBus to Melbourne Airport
05:10 am – Arrival at airport
05:20 am – Flight check-in
08:00 am – Flight out
If you follow the itinerary above, prepare to shell out at least AUD 415 (PHP 14800, SGD 393, USD 290, EUR 257) per person excluding accommodations, airfare, travel tax, and shopping expenses.
If you're able to book $30-accommodations, the itinerary will cost you AUD 535 (PHP 19100, SGD 507, USD 373, EUR 331) per person excluding airfare, accommodations, travel tax, and shopping expenses.
We added a little bit of extra allowance to cover incidental expenses, price adjustments, and other costs we might have missed.
There are many ways to reduce the budget. If you're a group, you can split some of the costs. If one of you can drive and has a license, you can also save a lot by renting a car instead of joining the Great Ocean Road Tour.
More budget tips in the next section.
---
OTHER MELBOURNE TIPS FOR THE POOR TRAVELER
Book a hostel with an open kitchen so you can prepare your meals on your own. On your first day, hit the grocery and shop for ingredients or ready-to-eat food. I usually buy bread and some filling, and it lasts for days. Doing this can drastically reduce your food expenses.
If booking a hotel, choose one with a ref and microwave. You can buy cooked food items at the grocery too. Sometimes, I would purchase a pack of ready-to-eat chicken wings then I put the leftovers in the ref and just reheat it.
If you must eat out, do so for lunch. Often, you'll be out exploring in the day anyway. They have your dinner at the hostel/hotel. Note also that Australian servings are huge. You can just buy one and share.
For dinner, you can also visit food courts at closing time (around 8pm). They usually pre-pack the last servings of the day and put them on sale. At Melbourne Central, many of the shops sell 2 rice meals or noodles with protein for only A$10. Yep, that's only $5 each. But it only happens at closing time.
Melbourne tap water is potable. You don't need to purchase bottled water. Just bring a reusable water bottle with you and refill whenever you're back at the hotel. A small bottled water costs A$4 at restaurants. If you must buy bottled water, drop by a grocery store or supermarket and buy a big bottle instead, which costs only $1.5-2.5.
For souvenirs, you can find cheap ref magnets and keychains at specialty shopping section of the Queen Victoria Market. Ref magnets are at A$4 per pack or A$10 per 3 packs. Each pack contains 4-12 pieces.
---
FREQUENTLY ASKED QUESTIONS ABOUT MELBOURNE
Is Melbourne safe?
Melbourne is a low-risk destination. Australia in general is one of the safest in the world.
Like most big cities around the globe, pickpocketing and transport accidents can happen, so you must never be careless. But if you're worried about violent crimes, while it's there, it doesn't happen all the time. Just practice common sense, keep your valuables with you, and don't invite trouble.
---
Do we need a visa to visit Melbourne?
Australia requires all visiting foreigners to have a visa, e-visa, electronic travel authority (ETA), or similar document. The only exception are the citizens of New Zealand, which can avail of a Special Category Visa (SCV) which can be obtained upon arrival.
Thankfully, nationals of several countries (including the Philippines) can apply for a visa online. It's easy to apply. Here's our step-by-step guide: AUSTRALIAN VISA REQUIREMENTS!
---
Are Immigration and Customs in Melbourne strict?
Yes. Immigration and Customs officers in Australia in general are very strict. Make sure you're not bringing in any prohibited items or undeclared regulated items. They often do thorough baggage inspection. Aside from using sniff dogs, they may also require you to open your bags and show the content to them.
Cigarettes and food served to you on your flight are PROHIBITED.
Most food items must also be declared.
To check whether or not the item you're bringing with you is allowed, visit this page: Australian Border Force.
---
When is the best time to visit Melbourne?
First of all, Australia is in the Southern hemisphere, so Australians enjoy summer in December-February and winter in June-August.
The amount of rainfall is pretty consistent year round, but the period between June and November gets drenched the most. Summer is the driest, but downpours are not uncommon even in these months.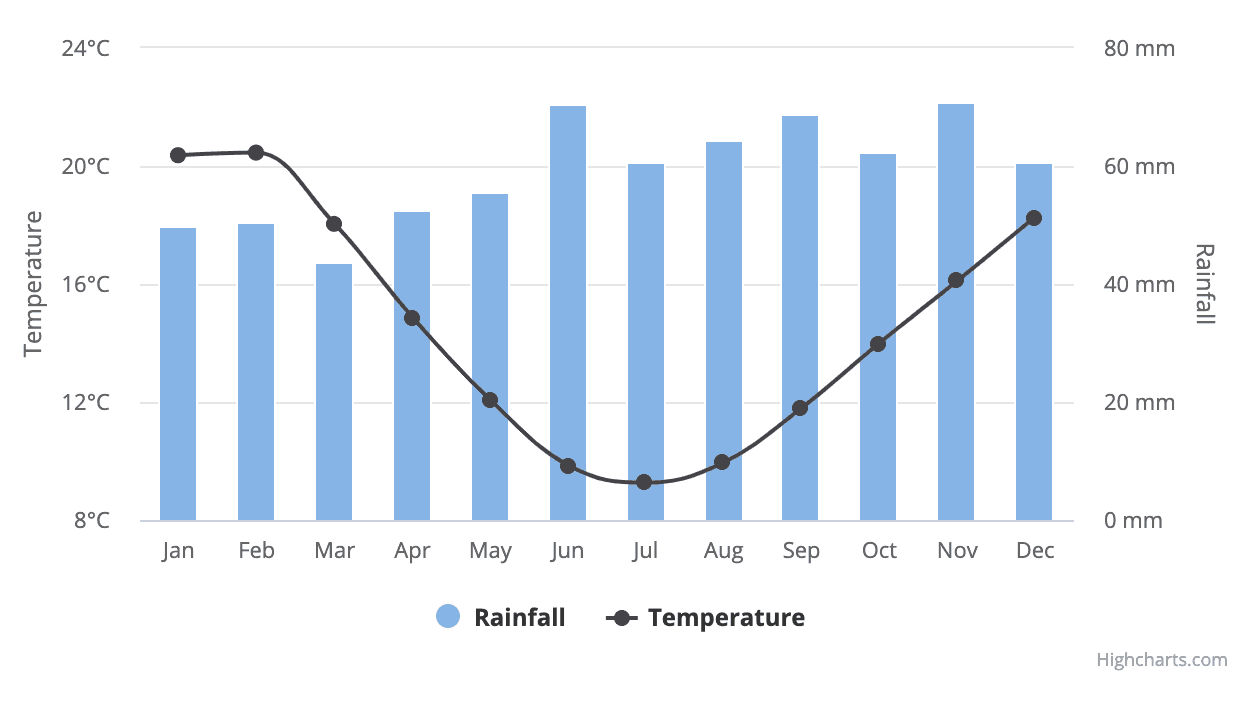 Hence, the best time depends on the activities you want to enjoy. If you like the beach or you're feeling festive, summer is a good time to visit. It's also when the Australian Open happens. However, it is also the peak season so expect most attractions to be crowded and cost of almost everything to be higher than usual.
If you're on a budget winter is okay because airfare and accommodation rates fall.
I personally prefer traveling to Australia in the shoulder periods: autumn (March-May) and spring (October-November). The temperatures are pleasant — not too hot, not too cold — and prices are great.
---
What type of power plug / socket is used in Melbourne?
Australian standard is 230V, 50Hz. Make sure you check your device's voltage requirement before plugging them in. Most usual power socket is Type I, the one with slanted prongs.

---
Is Melbourne expensive? What are the usual costs of common items?
The cost of living in Australia in general is pretty high. Melbourne is not an exception. Here are the usual costs (in Australian dollars):
Meal without drink from budget restaurant: $10-15
Meal without drink from mid-range restaurant: $15-20
Meal with drink from fast food chain: $10-20
Fried rice from restaurants: $6-10
Bottled water (350mL) from restaurant: $4
Bottled water (1.5L) from grocery: $2
Tram/Train/Bus fare: $4.40
Coffee: $4-5
Beer from restaurant: $10
Beer from grocery: $5-6
Bread (500g): $3-5
---
What is the tipping custom in Melbourne?
You don't need to tip. Tipping isn't obligatory in Melbourne or anywhere in Australia.
But if you can if you enjoyed the service! 5% is safe. For exceptional service, 10% should suffice. You can also just round off the bill.
---
What is the escalator etiquette in Melbourne?
Stand on the left, walk on the right.
---
Where is the best place to exchange money in Melbourne?
I spotted a lot of money changers around the Central area, and the rates aren't that bad when I checked.
However, I still prefer just making withdrawals from an ATM. If you have Maestro, Cirrus, Visa, MasterCard Debit cards, you can withdraw from ATMs. Or before your flight, go to your local bank and buy AUDs.
---
What is better: Sydney or Melbourne?
Never been to Sydney (yet) so I can't compare. But I know one thing: I love Melbourne. It is perhaps my favorite Australian city so far!
---
2️⃣0️⃣1️⃣9️⃣ • 7️⃣ • 3️⃣