From where I stood, the city looked sprawling, like a concrete jungle that had sprouted and spread from the base of the mountain to the shore. But even from here, atop a rocky cliff, Onomichi felt down-to-earth.
I had no intention of climbing anything when we visited. But I was traveling with the kids in the family, who insisted to tackle the rocky trail just behind the temple, so I had to join them. It wasn't that hard. I just wasn't prepared for it. Assisted only by metal chains, we tackled the giant boulders to the lookout. When we reached the summit, we were greeted by a magnificent view of the city and the islands off its coast. Being a good uncle has its rewards, after all.
WHAT'S COVERED IN THIS GUIDE?
UNDERSTANDING ONOMICHI, JAPAN
Onomichi is a small coastal city in Hiroshima Prefecture. It's one of those cities that still have that small town vibe, gritty, rustic, and nostalgic.
Although the city was founded in 1898, this area has a long history of playing a significant role in the development of Japan. Located along Seto Inland Sea, which connects three of Japan's four main islands, Onomichi lies in a sweet, strategic spot on the map in terms of commerce and navigation. As early as 1169, its main port and warehouses were already busy venues for trade. It is an integral part of the kitamaebune, an important shipping route from Tokugawa era to Meiji era. Throughout this period, its locals prospered and became rich merchants, who invested much of their money in erecting temples.
Today, Onomichi continues its ship-building tradition. Many of these temples also remain standing. Yet, for foreign tourists, it is largely unheard of. Most of the visitors who set foot in the city come from other parts of Japan.
Other info you need to know:
Language: Japanese (Nihongo). The majority of the locals seldom speak English, but most of the signs and other tourist promotional materials have English translations.
Currency: Japanese Yen (JPY, ¥). JPY 1000 is around USD 8.80, SGD 12.2, EUR 7.80, PHP 466 (as of November 2018).
Modes of payment: Cash is king here. Many high-end establishments also accept credit card transactions, but cash is still preferred.
Electricity Info: 100V. Type A sockets. Plugs have two flat pins. Type B is sometimes used but not that common.

---
BEST TIME TO VISIT ONOMICHI
March to May and October to November. Spring and autumn are the best times to visit because air temperature is comfortable and the rain isn't a problem, most of the time.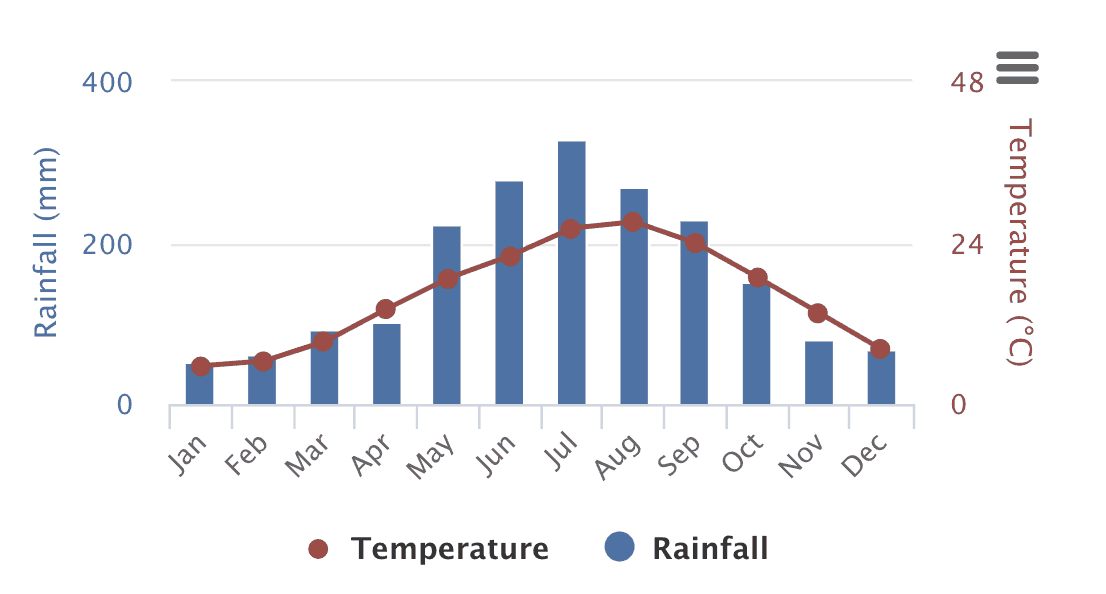 The summer months of June-August are the warmest and the wettest. It's also very humid, so if you can, avoid this period. Winter is a bit milder than in Osaka or Kyoto, but it can still get really cold in January and February, so layering is still necessary in most days.
Note that most establishments are closed from December 29 to January 3.
---
HOW TO GET TO ONOMICHI
The airport nearest Onomichi is Hiroshima Airport (HIJ). However, most of the flights it serves are domestic. There are a few international routes available, mostly to and from Beijing, Shanghai, Taipei, Hong Kong, Seoul (Incheon) and Singapore.
Most tourists visit Onomichi as part of a greater Hiroshima itinerary. Often, they come to Onomichi on a day tour. If you're coming from Hiroshima City, here's how to get there.
By Train. From Hiroshima Station, take the JR Sanyo Line to Onomichi Station, which is conveniently located in the center of the city. Travel time: 1.5 hours. Fare: ¥1,490.
By Bus. From Hiroshima Bus Center, board a bus to Onomichi. Alight at Onomichi Station. Travel Time: 1.5 hours. Fare: ¥1,750.
---
---
WHERE TO STAY IN ONOMICHI
Many travelers stepping foot in Onomichi are on a day trip from Hiroshima City. They tour Onomichi but return to the prefectural capital at the end of the day.
But if you want to get to know the city deeper, spending at least a night is advisable. There are a few hostels, but full-service hotels are more popular. Which part of town hardly matters because it's a small city. Almost all attractions are within walking distance of each other. But if you want more convenience, choose a place that is near the train station.
Here are the top-rated hotels as ranked by Agoda users.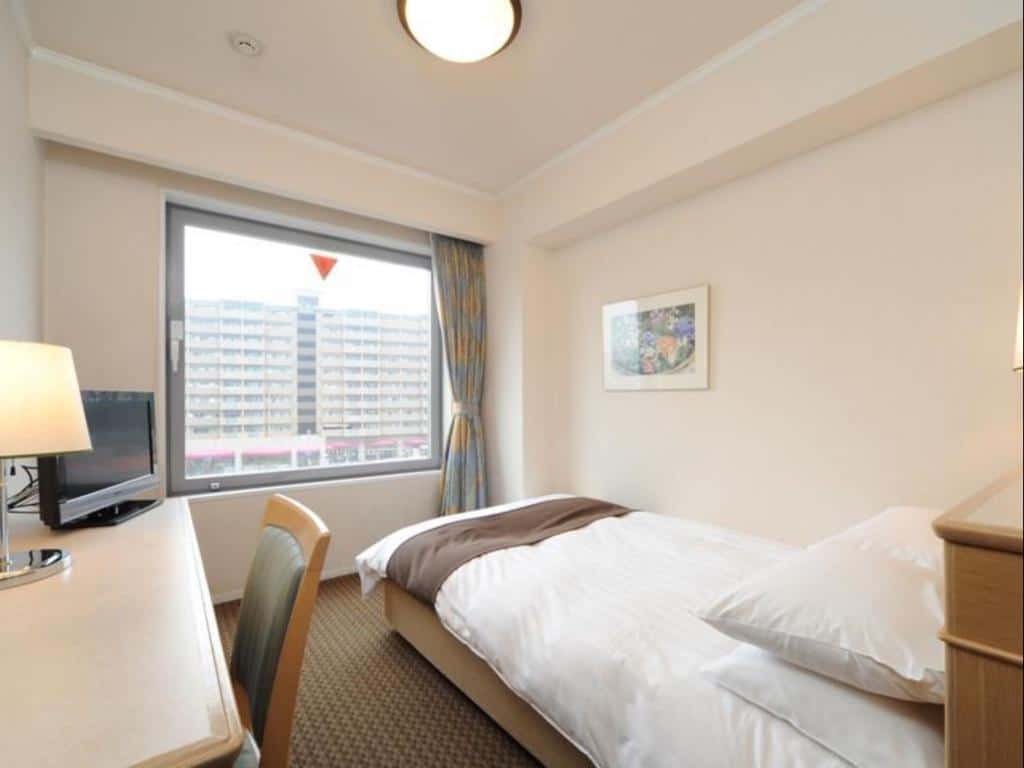 Search for more Hotels
---
THINGS TO DO IN ONOMICHI
Senkō-ji Temple and Ropeway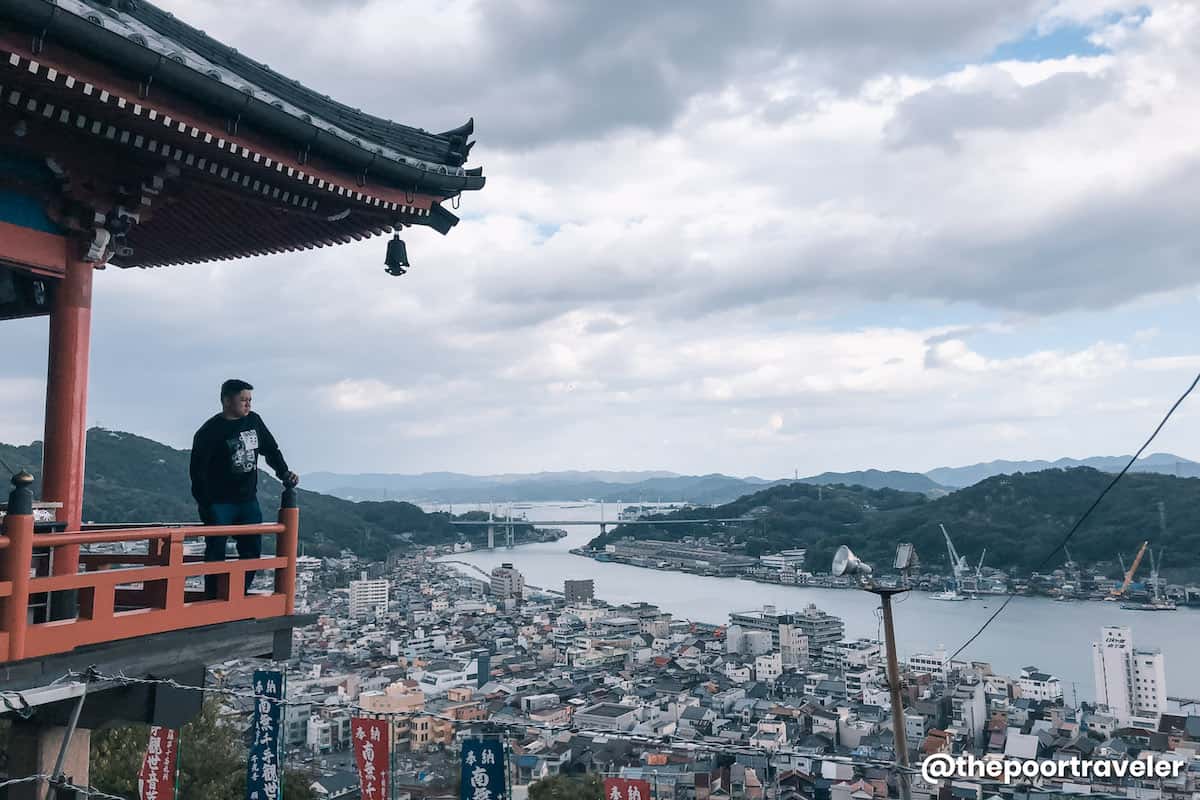 Founded in Year 806, Senkō-ji is an ancient temple on the slope of Mt. Senkoji, overlooking the city and some of the islands peppering the Seto Inland Sea. It is the largest temple along Onomichi's famous Temple Walk. In spring, tourists and locals alike gather in the surrounding park to view the cherry blossoms.
If you can't or don't want to climb the mountain on foot, you may use the Senkoji Ropeway, a cable car line that ferries passengers to the temple. Ropeway hours: 9am-5:15pm. Fare: ¥270 one-way, ¥430 roundtrip.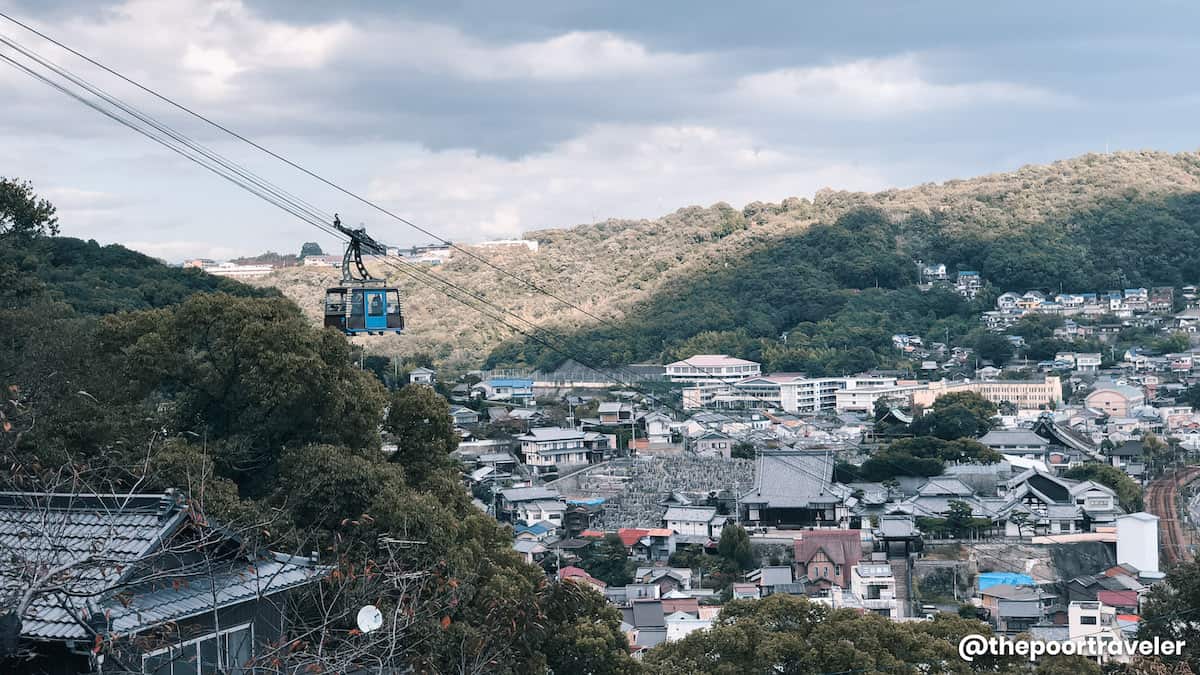 Behind the temple is an even higher viewpoint set on top of giant boulders. Although there is a longer but easier way up, many prefer to reach the viewpoint by using the metal chains mounted on the rocks. It's not for the physically challenged, but if you're used to treks, it's not that difficult either. In fact, my 12-year-old niece was able to tackle it with no problem.
---
Onomichi Temple Walk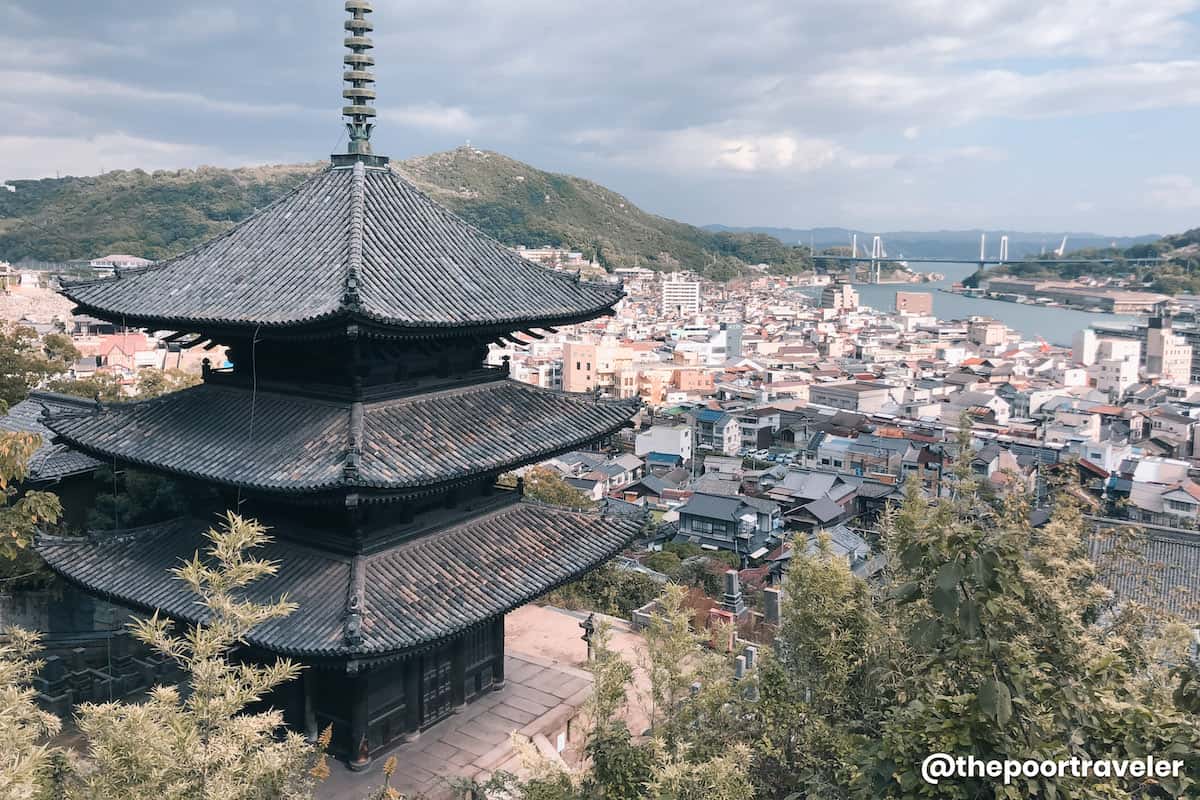 Among domestic travelers, Onomichi is well-known for its temples. Although none of them are particularly overwhelming in terms of size or grandeur — some are pretty small — but they are remarkable for its number and density. For such a small city, Onomichi has 25 of them!
A 2.5-kilometer walking trail connects all these temples, which can take around 1-3 hours, depending on your pace and how long you stay at each site.
Some temples don't charge an entrance fee. At some sites, the grounds can be freely accessed, but for the halls, admission rates apply. Here are some examples:
Senkoji: FREE
Tenneiji: FREE
Saikakuji: grounds, FREE; main hall, ¥400.
---
Path of Literature
Onomichi's setting and history are bursting with inspiration. Many of Japan's most prominent authors and poets, including Takahashi Gen'ichirō, Shiga Naoya, and Hayashi Fumiko, have called Onomichi home at least one point in their lives.
Onomichi's "Path of Literature" follows rocks with poems written on them. It will also take to sites where you'll discover more about the talents that the city has produced, including houses where famous authors grew up in and the Literature Museum.
Hours open: The path itself is open anytime, but the Literature Museum and the authors' residences are open only from 9am-5pm (November to March) and 9am-6pm (April-October).
Closed: December 29-January 3, and every Tuesday from December-February
Entrance fee: Outdoor attractions are FREE. But a ¥300 ticket is needed to enter the 3 indoor sites.
---
Cat Alley (Neko no Hosomichi)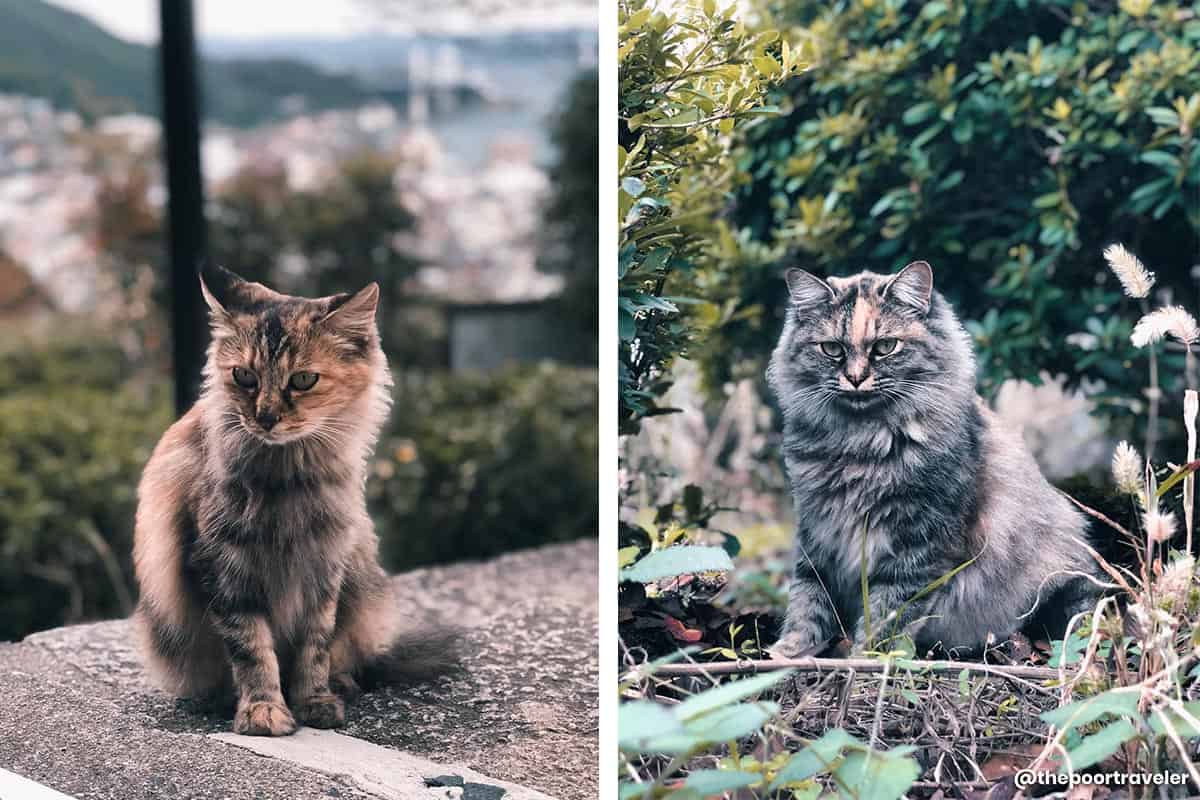 Onomichi has a fascinating affinity for cats. Part of the Temple Walk is Cat Alley, so-called for the number of cat cafes, cat shops, and cat decors along the trail. One of the most popular attractions is the Maneki-Neko Museum, which houses 1,500 figurines of Japan's lucky cat.
Along the way, you'll find cat images including 108 fukuishi neko or lucky stone cats, hand-painted by Shunji Sonoyama, a famous manga artist! Of course, there are a lot of real cats that roam the area.
The alley itself is open to everyone and can be accessed any time of the day. But the establishments that flank it have operating hours and may collect entrance fee. For example, the Maneki-Neko Museum charges ¥300 per person. It's open on Weekdays 11am-5pm, Weekends and holidays 10am-5pm.
---
Onomichi Ramen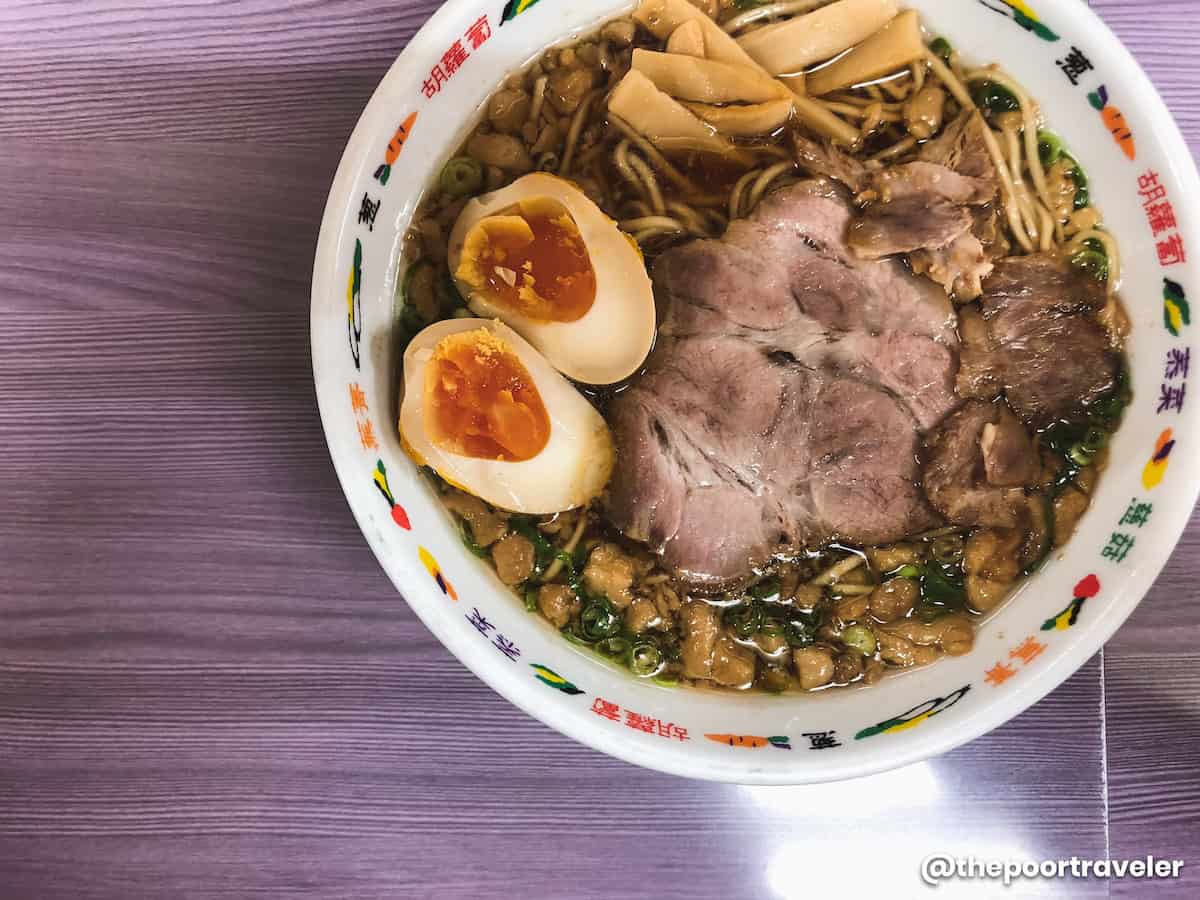 Almost every city in Japan has their own version of ramen. Onomichi-style ramen is the ultimate comfort food. It's light and sinful at the same time. Light because its broth is shoyu-based mixed with fish paste and chicken extracts. Sinful because floating on top are bits of fat (seabura), an ingredient that this type of ramen has been particularly known for. Onomichi ramen also uses flat noodles.
Plain Onomichi ramen usually costs ¥600. Most restaurants add toppings for a higher price.
---
Ichibangai Shōtengai
Every key city in Japan also has its own covered arcade, and Onomichi is no exception. Onomichi's Ichibangai Shōtengai is a kilometer-long shopping street parallel to the coast. Here you'll see various shops selling a myriad of items from fruits to soft-serve ice cream to kitchen utensils.
---
SAMPLE ONOMICHI ITINERARY
Here's a sample day trip itinerary. This assumes you're coming from Hiroshima City and returning within the day. Accommodations are not included.
You can insert this into a bigger Hiroshima itinerary. Just make the necessary adjustments.
ONOMICHI DAY TOUR
Walk to Hiroshima Station
Train to Onomichi Station
Travel Time: 100 minutes
Fare: ¥1490
Path of Literature
Literature Museum Entrance: ¥300
Lunch: Onomichi Ramen
Budget: ¥1000
Walk to Senkoji Ropeway Station
Ride Senkoji Ropeway
One way fare: ¥270
Walk down to the city and visit the temples along the way.
Senkoji: FREE
Tenneiji: FREE
Saikakuji: ¥400, main hall
Explore Cat Alley
Maneki-Neko Museum: ¥300
Walk to Onomichi Station
Train to Hiroshima Station
Travel Time: 100 minutes
Fare: ¥1490
The above itinerary will cost you at least ¥5500 (USD 49, SGD 67, EUR 43, PHP 2545).
Of course, it also depends heavily on your spending habits. It's always best practice to pad this budget and give it wiggle room so you won't be strapped for cash just in case something comes up or you decide to try something not on the itinerary.
MORE ONOMICHI TIPS FOR THE POOR TRAVELER
Tipping is not practiced in Onomichi. At restaurants, when paying, approach the cashier usually stationed by the exit.
Drop by Tourism Office every time you see one. Grab their brochures and you might just learn something. There might be other promos you may not heard of yet. Ask the staff if you have questions or in need of recommendations. They're a big help and always eager to assist.
Many vending machines serve both cold and hot drinks. Most people are surprised to learn about the hot options. Really helpful when you're out in the cold.
Japanese bills look alike (same color). What varies is the size of the bill. The ¥1000 and ¥10,000 can be confusing so be careful. However, the Japanese are highly UNLIKELY to take advantage. They will even be the first to tell you.
Learn a few Japanese phrases. The most useful would be Sumimasen (Excuse me, sorry) and Arigatoo gozaimasu (Thank you).
Save this "quick translation" image on your phone. Just point to the Japanese phrase that corresponds to what you want to say when asking locals.
2️⃣0️⃣1️⃣8️⃣ • 1️⃣1️⃣ • 2️⃣2️⃣