When Captain John Lort Stokes of the Beagle reached a harbor in Northern Australia in 1839, he thought about a friend and former shipmate who would probably like the area had he been part of the crew — Charles Darwin. Yet, Darwin himself never set foot in the port city that would later be named in his honor.
When asked why the Captain named it after the renowned evolutionist, no one in our group was certain. "Perhaps he saw the many remarkable species that walked the land at the time," our tour guide theorized. And it could be true. From the white ibis birds that roam the shores to the saltwater crocodiles that rule the rivers, Australia's biodiversity is quite fascinating, to say the least.
Despite its natural beauty, however, Darwin isn't really the first that comes to mind when we think of Australian cities. It's the Jon Snow among the Stark children, the Tyrion among the Lannister siblings, the Dorne of the Seven Kingdoms. Isolated. Outcast. Somewhat out of place. It's laidback when the others are bustling, tropical when others are temperate. Yet, it survives, thrives, and leaves a unique imprint among the lucky souls who would come visit.
Darwin: Essential Travel Information
Since it was founded in 1869, Darwin has had its ups and downs. The town saw fast prosperity during the gold rush at neighboring Pine Creek that began in 1871, but growth slowed down after decades. Darwin has always been cut off from the rest of Australia, especially before the completion of the Stuart Highway.
Darwin is also the first Australian city to be directly attacked by a foreign power. On 19 February 1942, 242 Japanese aircraft led two air raids on the city of Darwin. It was just the beginning of a series of attacks that pushed Australia to widen its participation in World War II.
Today, much of what was left after the war has been turned into attractions for thousands and thousands tourists, who have been contributing heavily to the city's economy. Darwin is the gateway to the natural wonders of what many refer to as the Top End, which is also composed of the Litchfield and Kakadu National Parks, Arnhem Land, and the town of Katherine.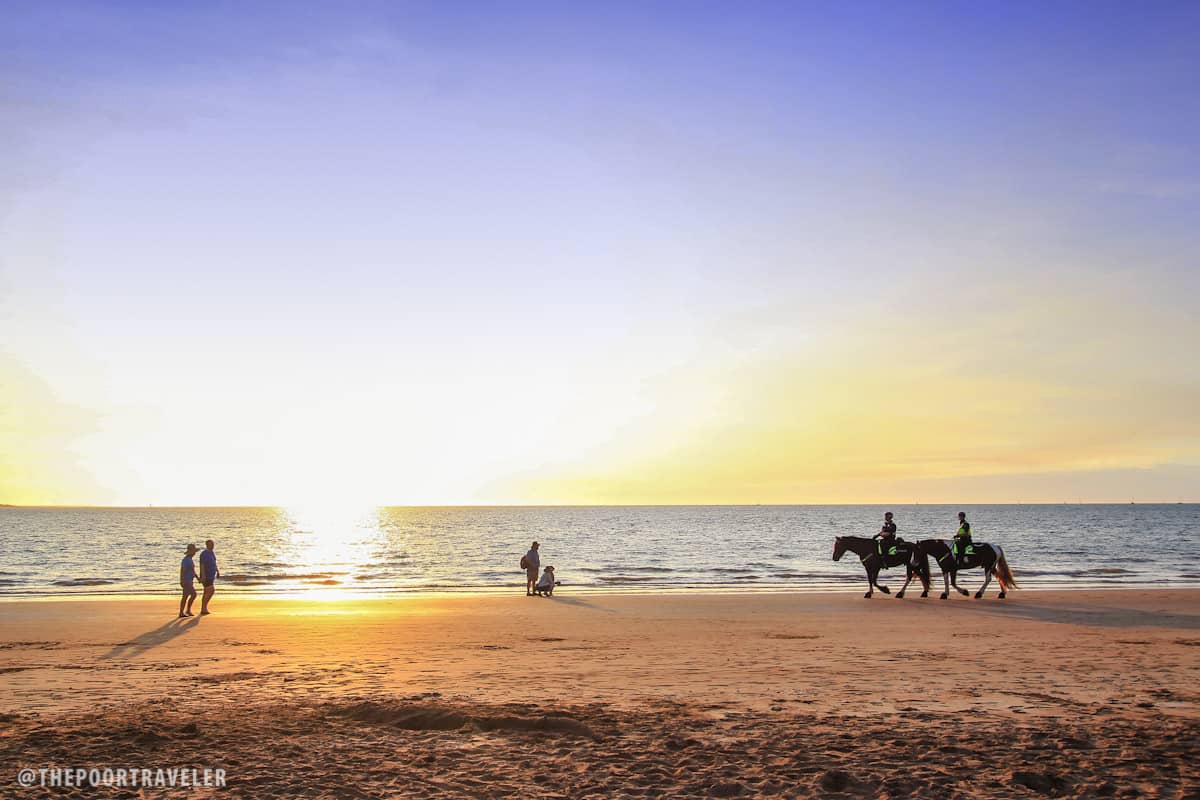 Language: English is spoken by the majority.
Currency: Australian Dollar (AUD). AUD1 is roughly USD0.74, EUR0.64, PHP39.75 (as of August 2018). If you have Maestro, Cirrus, Visa, MasterCard Debit cards, you can withdraw from ATMs. Or before your flight, go to your local bank and buy AUDs.
Modes of Payment: Cash and credit cards are both commonly accepted.
Electricity Info: Australian standard is 230V, 50Hz. Make sure you check your device's voltage requirement before plugging them in. Most usual power socket is Type I, the one with slanted prongs.

---
WHAT'S COVERED IN THIS GUIDE?
When to Visit and What to Wear
Darwin enjoys a tropical savanna climate with only two seasons: dry season (May-September) and wet season (October-April). The annual maximum average temperature stays around 32°C (90°F) all year-round. It's the minimum that varies a little bit: around 24°C in December (the hottest month) and 19°C in July.
This means you can pack light because tees and shorts are the most comfortable especially during sunny days.
Humidity begins to rise in November and December. Rainfall peaks in January-March. The upside is that this is when the Top End's natural beauty blooms to the fullest: waterfalls are grander, rivers higher, lands greener, and biodiversity livelier. You might want to throw in waterproof pouches and covers to make sure your gears are protected.
---
How to Get to Darwin
Darwin International Airport is the only one serving the city and the biggest in the Northern Territory. It is directly connected to many of other Australian cities, but only a few international destinations. Here is a list of the destinations you can fly from and to Darwin and the airlines offering these flights.
AUSTRALIA
Adelaide – Jetstar, Qantas
Alice Springs – Airnorth, QantasLink, Virgin
Brisbane – Jetstar, Qantas, Tigerair, Virgin
Cairns – Jetstar, QantasLink
Melbourne – Jetstar, Qantas, Virgin
Perth – Airnorth, Qantas, Virgin
Sydney – Jetstar, Qantas, Virgin
ASIA
Denpasar (Bali) – AirAsia Indonesia, Jetstar
Jakarta – AirAsia Indonesia
Kuala Lumpur – Malaysia Airlines
Manila – Philippine Airlines
Singapore – Jetstar Asia, SilkAir
If you're coming from elsewhere, you may connect in any of the cities listed above.
In addition, the following airlines operate regional flights to and from these towns:
Airnorth – Broome, Cairns, Dili, Elcho Island, The Granites, Groote Eylandt, Gove, Katherine, Kununurra, McArthur River Mine, Maningrida, Milingimbi, Tennant Creek, Townsville, Wadeye
Alliance Airlines – The Granites
Fly Tiwi– Gapuwiyak, Minjilang, Milikapiti, Nguiu, Pirlangimpi, Ramingining, Warruwi, and Tennant Creek
From the airport, you may ride the shuttle bus (AUD 18) to get to the city center. But if you're a party of 2 or more, know that taking a taxi could be wiser. We took a cab to Mitchell Street and paid only AUD 28 (divided by 2 because we're a pair, and that's AUD 14 each).
---
Where to Stay in Darwin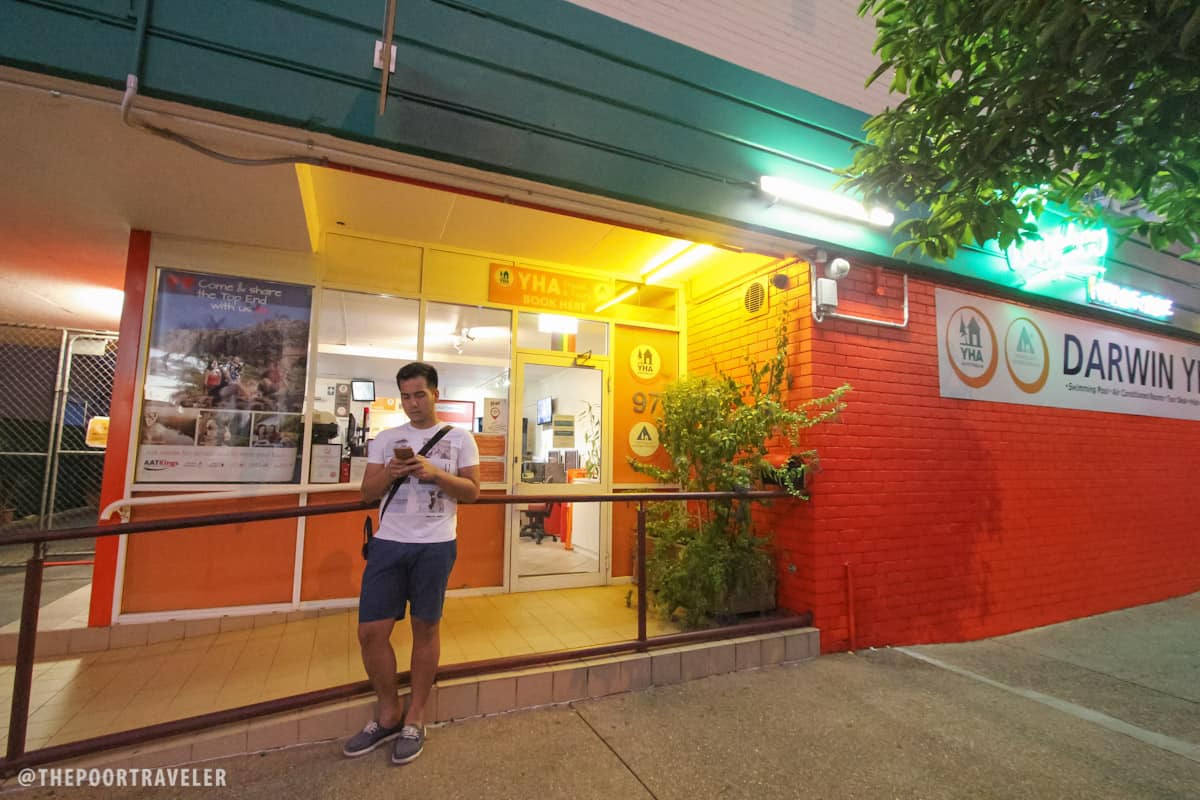 Most hostels and budget hotels in Darwin are located along Mitchell Street, the city's main artery. We stayed at and recommend:
Darwin YHA (Globetrotters Lodge)
Dorm Beds: AUD 31-34.50
Private Double Rooms: AUD 127
Full review here
Book or check rates here: Darwin YHA
Here are the other hostels. The title links below will take you to their Agoda page.
---
Things to Do in Darwin
Most tourists come to Darwin to see the national parks surrounding it including Kakadu and Litchfield. There are day tours to these wonderful areas from Darwin.
The thumbnails below will lead you to the specific posts with more info about the place.
Here are other day tours that you may take from Darwin:
Katherine Gorge and Edith Falls Tour, AUD 250.
Jumping Crocs Tour, AUD 99.
The rates above are from AATKings, the most popular tour operator in the city. There are cheaper tours but we haven't tried those.
There are spots within the city center that you may find worthy of your time. Here are some of them.
| | |
| --- | --- |
| Mindil Sunset Market (Thursday/Saturday, May-October). FREE. | Mindil Beach. FREE. |
George Brown Darwin Botanic Gardens (Gardens Road), a 130-year-old garden complex showcasing Northern Australia's monsoon flora. Open daily, 7am-7pm. FREE.
Fannie Bay Gaol (East Point Rd & Ross Smith Ave), operational from 1883 to 1979, sheltered the Northern Territory's offenders, including Jerry Coci and Jonus Novotny, the last inmates to be hanged here. Open 10am-5pm. FREE.
Adelaide River War Cemetery (97 & 105 Memorial Terrace, Adelaide River), where Australian soldiers and civilians who perished that day were buried and are honored. FREE.
Bicentennial Park, dotted with war memorials and monuments that pay tribute to the souls lost during the Battle of Darwin. FREE.
World War II Tunnels (Kitchener Drive), built to safely shelter fuel oil following the 1942 Japanese raids. Today, it houses a photo exhibit depicting life in Darwin during the war. Open from May-September, 9am-4pm; October to April, 9am-1pm. AUD 5.
Museum and Art Gallery of the Northern Territory (MAGNT) (19 Conacher Street, The Gardens), features the region's cultural and natural history. Also home to an 18-foot saltwater crocodile called "Sweetheart," notorious for attacking humans decades ago. Open Monday-Friday 9am-5pm, Weekends, 10am-5pm. FREE.
Deckchair Cinema (Jervois Road off Kitchener Drive, Wharf Precinct) holds film screenings under the stars every nightly during dry season. Opens at 6:30PM, April-November. AUD 13.
More info: 10 FREE or Cheap Things to Do in Darwin
---
How to Get Around Darwin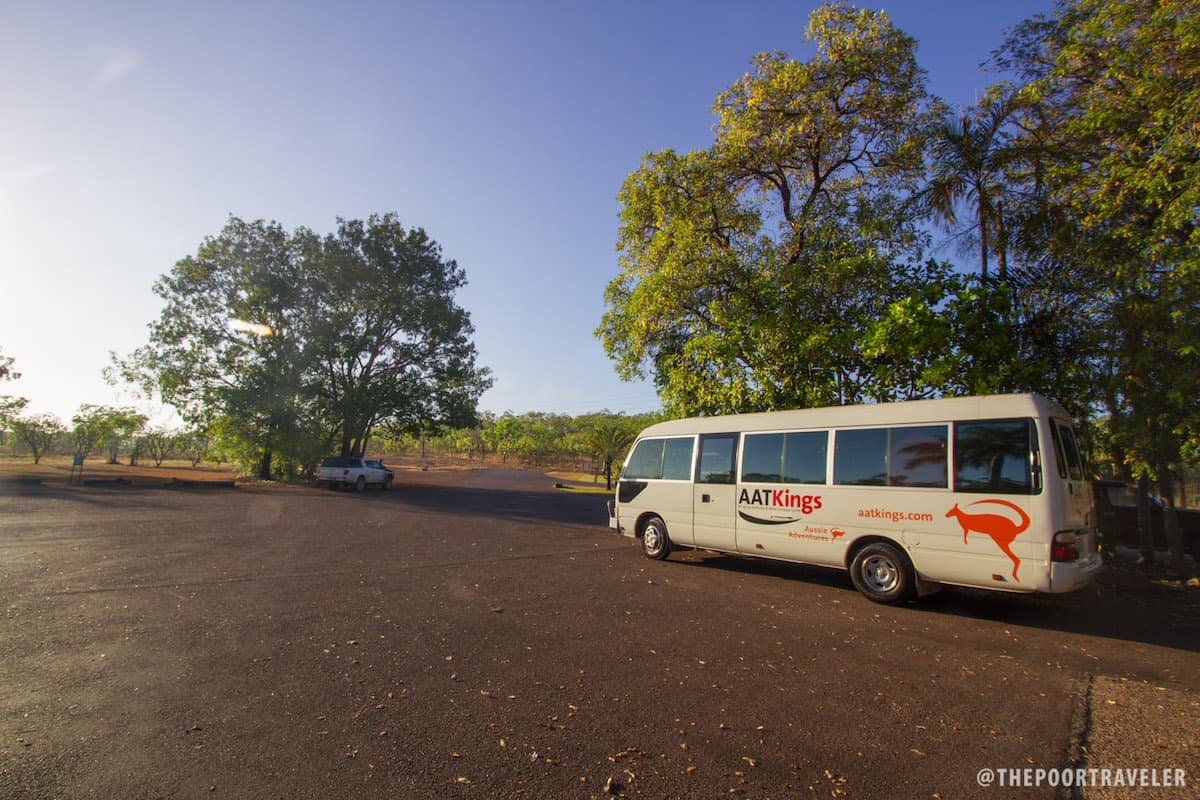 If you're visiting a spot within the downtown area, you'll find walking to be a good choice only when the weather conditions are favorable. It might not be a great idea during the wet season and in December, the hottest month. If you're planning on seeing much of what the city has to offer (including those in the suburbs), it would be wise to pick any of the following options.
Bus. Bus fare in the city costs AUD 3, which is good for unlimited bus rides for 3 hours. Unlimited all-day fares are at AUD 7. See more details below.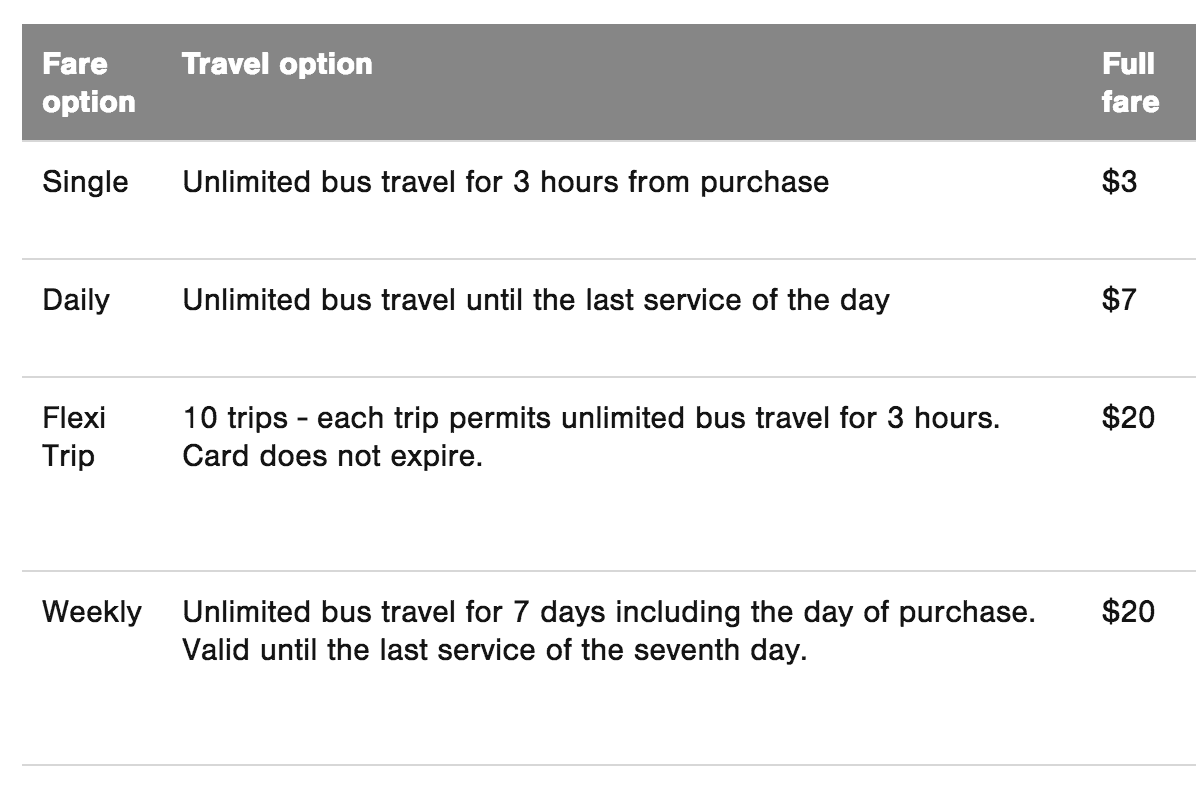 You may check the bus timetable here.
Taxi. Standard fare varies depending on the day and time. Rates are a bit higher during weekends and in the evening. See table below.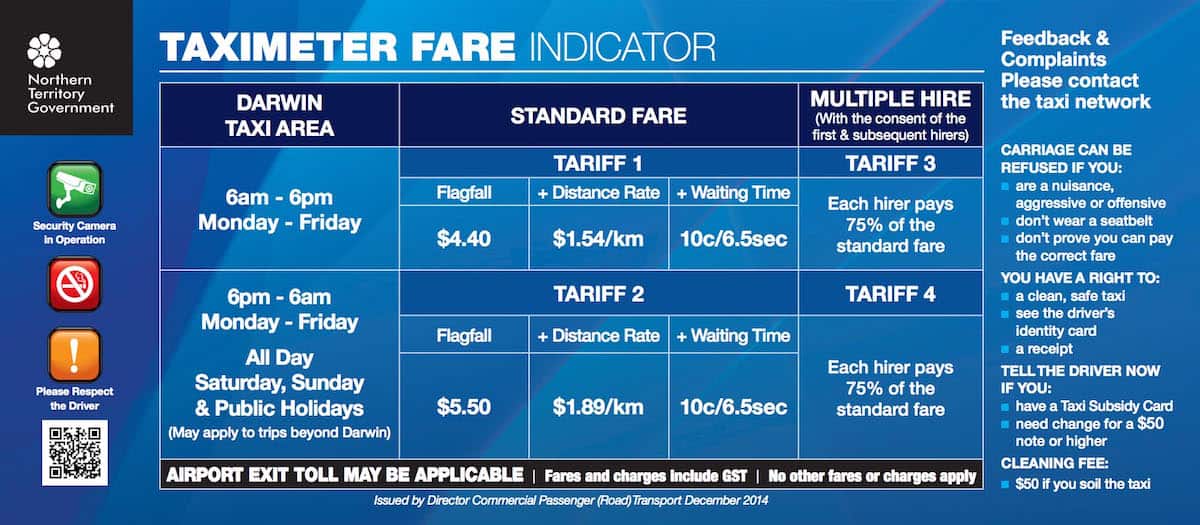 Note that cabs are ideal for downtown and suburbs trips only. Don't take a cab to Litchfield or Kakadu. Unless you're extremely wealthy. LOL.
Car Rental. If you're a group, renting a car is the best way to see the city because key attractions are actually far apart. Usual rates are around AUD 77 for a Toyota Yaris with a 100km/day limit, and around AUD 130 for an unlimited mileage arrangement. Make sure you read all the terms and conditions before signing any contract. Car Rental is also a great option for exploring the national parks (if you're part of a group).
Group Tour. If you are not interested in driving, you may join a group tour, which usually includes a tour guide and lunch.
---
Sample 5-Day Darwin Itinerary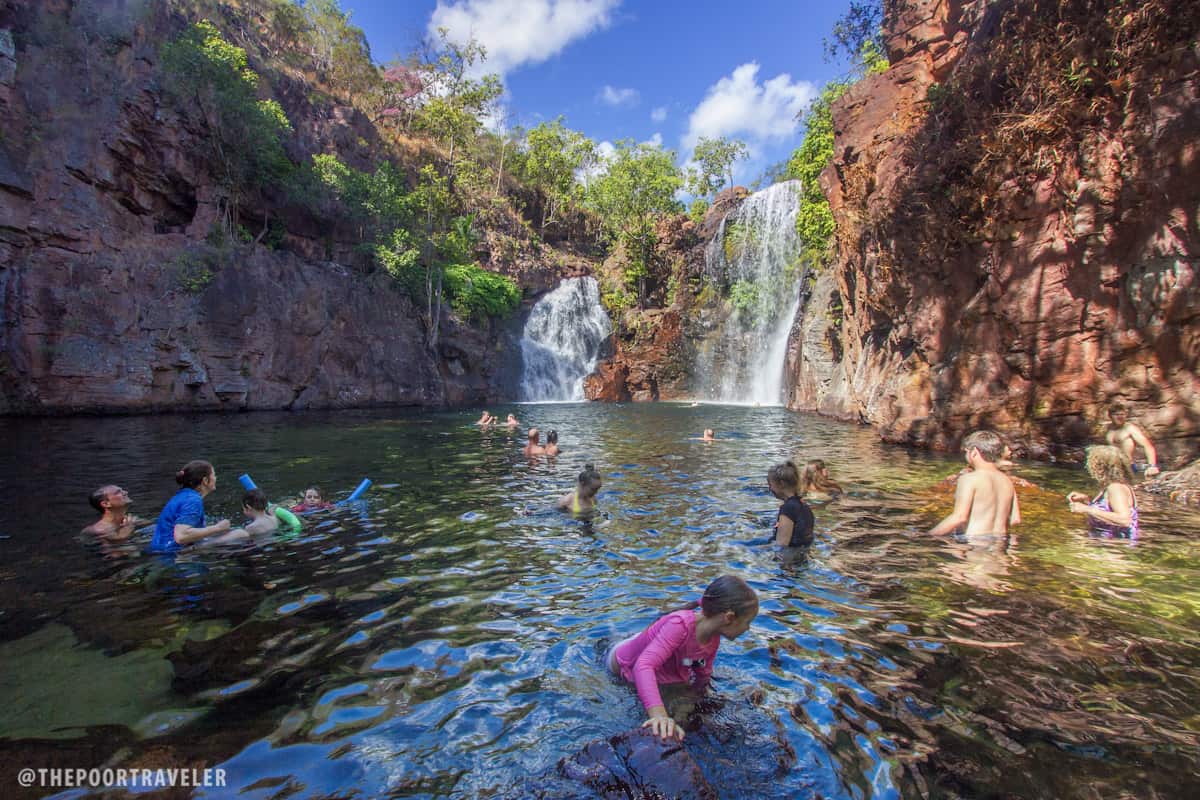 If you have only five days for this trip, here's a sample basic itinerary.
DAY 1
05:10 am: ETA Darwin
06:00 am: Check in at YHA Hostel if possible (Drop baggage if not)
06:30 am: Explore Bicentennial Park (or rest if checked in)
09:00 am: Crocosaurus Cove
12:00 pm: Lunch
01:00 pm: City Tour
07:30 pm: Dinner, sleep
DAY 2
Litchfield National Park Tour
Mindil Sunset Market (if Thursday/Saturday of dry season)
DAY 3
Kakadu National Park Tour
Dinner, Rest
DAY 4
Katherine Gorge and Edith Falls
Dinner, Rest
DAY 5
Check out
Flight back to where you came from.
---
Budget Breakdown
To give you an idea on how much the above itinerary will cost you, here's a breakdown of possible expenses. Note that this list assumes that you're traveling ALONE and joining a typical group tour instead of renting a car and DIY. This is meant to give you just a ballpark figure.
Cost per meal at a restaurant: AUD 15-20
Darwin YHA Hostel (per night): AUD 34.50
Darwin Airport Shuttle: AUD 18
Katherine Gorge Tour: AUD 250
Kakadu Tour: AUD 245
Litchfield Tour: AUD 250
City Tour: AUD 95
You can bring down the cost of your trip significantly if you cook your own food, stay at dorms, and just rent a car. Cost will also go down if you're part of a group because you have others to split cost with (especially for car rentals and food). This does not include airfare and incidentals and souvenirs.
---
Other Tips for the Poor Traveler
Choose a hostel with a kitchen. There are a lot of dining options in Darwin, but meals are generally expensive. To give you an idea, a decent meal at a budget restaurant costs AUD 15-20 on the average and soda in can is at AUD 4. If you're staying at a hostel with a kitchen open to guests, you can simply buy ingredients from the supermarket and cook for yourself. It's your cheapest bet.
Tour lunch is usually composed of cold cuts, salad, and beets.. If that's not your thing, best to buy food (a sandwich or something) before the trip.
Wear comfortable hiking shoes. If you plan on exploring the sites, know that there might be a lot of trekking and a bit of climbing. A good pair will make your trip more enjoyable. If you're joining a Litchfield tour, bring extra clothes because there are swimming/dipping spots.
There are plenty of currency exchange places in Darwin. It shouldn't be a problem.
Tipping isn't obligatory. But if you like the service at the restaurant, 10% should be enough. For the taxis, locals just round off the fare.
In case of emergency, call 000.. This will send an ambulance, firefighters, or the police. Be calm and clearly state your exact address.
This guide is a work in progress. If you have other tips, let us know in the comments section below and we'll include them.
2️⃣0️⃣1️⃣6️⃣•6️⃣•2️⃣3️⃣