Planning a trip to VENICE, ITALY? Here's our latest DIY VENICE TRAVEL GUIDE BLOG with tips on key tourist spots, tour recommendations, and hotel recommendations. It also comes with a sample DIY VENICE ITINERARY with breakdown of expenses to help you do your budget.
It was just like how I pictured it in my dreams. I was riding the gondola as we navigated the intricate canals, gliding in between historic buildings, and passing under postcard-worthy bridges. Almost exactly in my dreams. The difference is: I wasn't just riding the boat, I was rowing it.
I wasn't too thrilled to visit Venice in the beginning. Many of my friends who had been here shared stories of disappointment. They cited that the gondola ride was not short and sweet, it was just short. They said they walked on makeshift boardwalks because the actual ground was below sea level. They said meals were expensive. They said it was too crowded.
The Venice we found was nothing like it. We could walk on dry ground. It wasn't too crowded. We didn't have to deal with sketchy gondola rides because we signed up for a 2-hour rowing class instead. We were able to find cheap and good food places, thanks to the recommendations of our local rowing instructor. Either our timing was great or we just had luck on our side! Thank you, Universe!
WHAT'S COVERED IN THIS GUIDE?
Understanding Venice
There was a time when Venice was the most powerful city in the world. Venice is located in Northeastern Italy, facing the Adriatic Sea, which is the northernmost arm of the Mediterranean. It was an independent republic from the 8th to 18th century and was nicknamed La Serenissima, short for Most Serene Republic of Venice.
At the time, Venice was home to extremely rich merchants, whose influence reaches the far ends of Europe. They make up the city-state's ruling class, including the members of the Great Council, who elected their ruler — the Doge. At its peak, Venice's wealth and power rivaled the Byzantine Empire, whose capital Constantinople (now Istanbul) was sacked by the Crusaders and Venetian forces in 1204. Some of the loots were sent back to Venice. The horses that adorn St. Mark's Basilica in Venice were originally from the Hippodrome of Constantinople. This golden era as well as its most tragic periods — like the Plague — are highlighted in any tour of the city.
Today, the Metropolitan City of Venice is the capital of Italy's Veneto region. It spans a part of the Italian mainland and the 118 islands in the shallow Venetian lagoons that make up an area called "Sestieri." The Sestieri is composed of San Marco (the epicenter of touristic activities in the city), Cannaregio, Castello, Dorsoduro, San Polo, and Santa Croce. These 118 islands are separated by canals and connected by 400 bridges.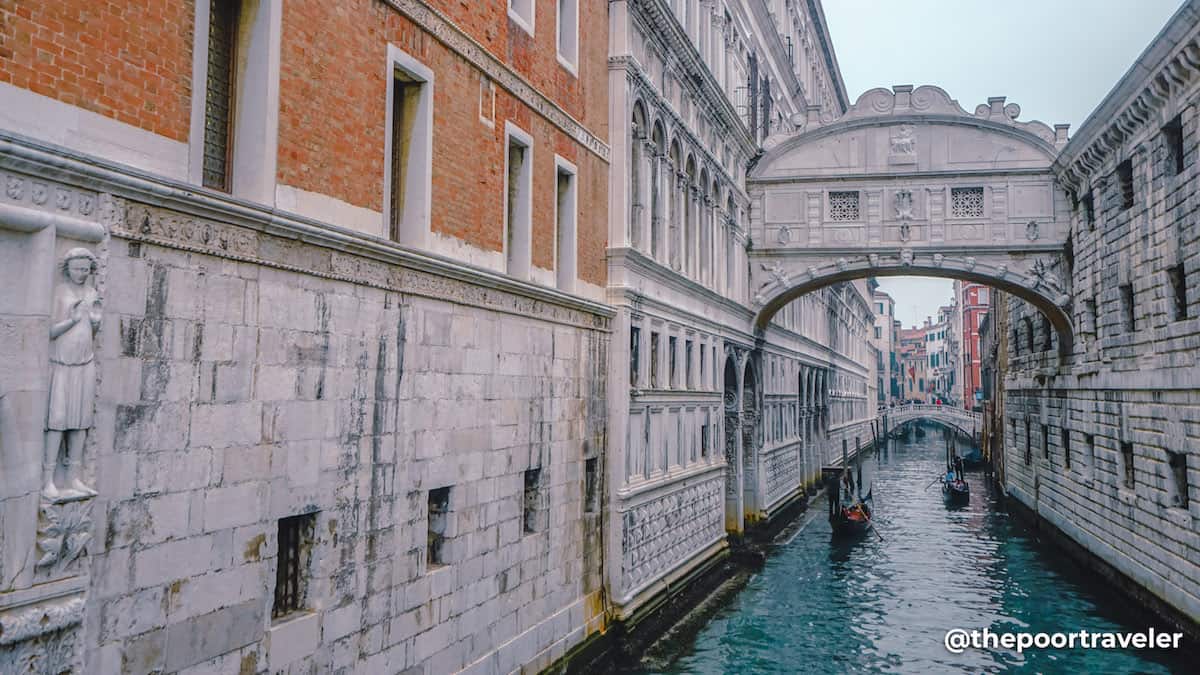 Venice continues to sink at the rate of 1-2mm per annum. And yes, some days, the ground is covered by seawater, which makes it necessary for makeshift boardwalks. Here are other things you might need to know:
Language: Italian. Most signs have English translations.
Currency: Euro (EUR, €). €1 is roughly $1.17, SGD 1.6, PHP 62.5 (as of July 2018).
Modes of payment: Many establishments accept credit cards, but most still prefer cash.
Electricity Info: 230 volts, 50 Hz. Common sockets are Type F, which also accept plugs that have two round pins (C and E).

---
Best Time to Visit Venice
Any day but summer and holidays! Venice looks great year-round, but the summer months of June to August can be too much in terms of heat and crowdedness. Venice is one of those destinations where tour experience can be greatly affected by the size of the crowd. So avoid the summer and holidays like Easter.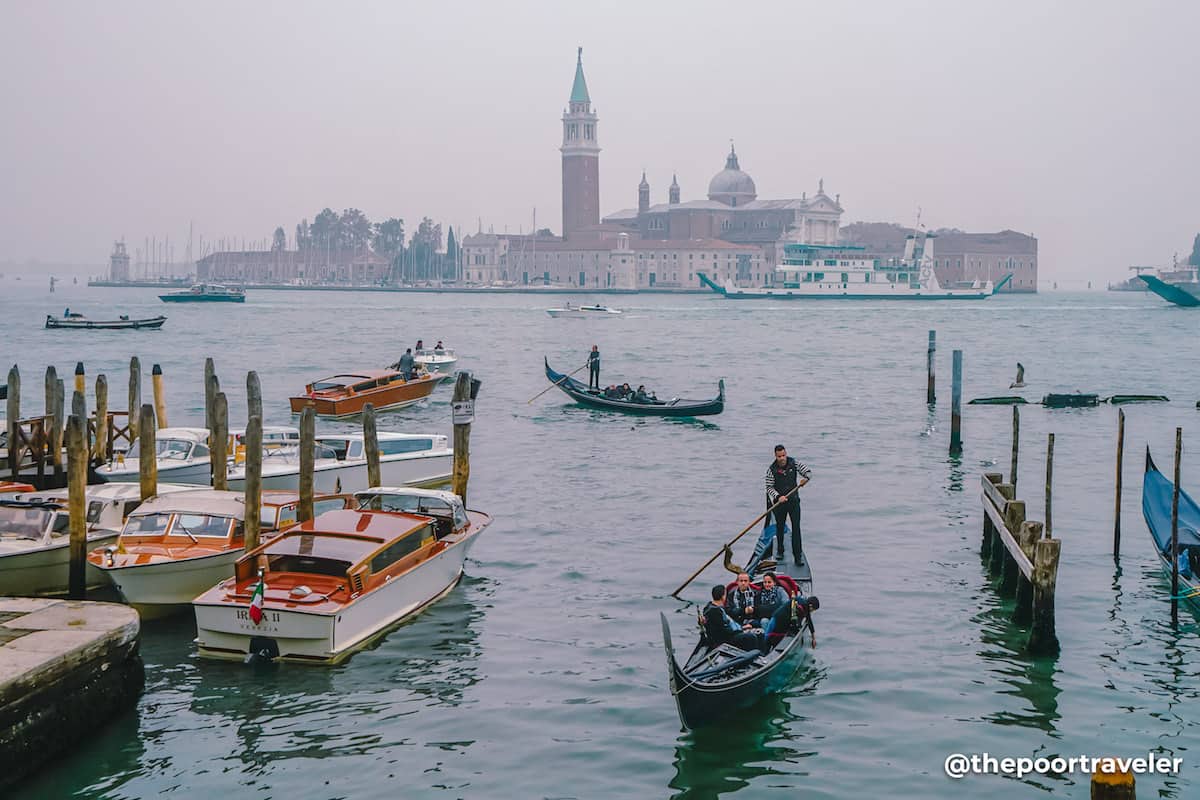 All things considered, the shoulder seasons of April-May and late September-November seem to be the most ideal time. April-May is still a bit cool but sunshine comes aplenty, making sightseeing more pleasant. Late September-November is great too. Not many tourists, but don't expect clear skies. We visited in late October-early November and yes, it was cloudy all the way, but the city didn't seem like it would sink because of the size of the crowds. We had a fantastic time.
Winter is said to be a good time to visit too. Venice in winter is cold, with a light dusting of snow. But it is when the locals reclaim their city from tourists. If you want to see the most "authentic" Venice, this is the best time. Many establishments are closed, but most attractions remain open, albeit with shorter operating hours.
Another thing to consider is the so-called "acqua alta," literally "high water." It's when the sea level goes above the ground, flooding the low parts of the city. It happens on some days from September to April due to many factors. It DOESN'T happen every day, but late November-December seems to be most prone to it. It gets worse over time. Built on water, Venice is particularly vulnerable to climate change. It's inconvenient but it's still very possible to enjoy the city.
The Carnival of Venice happens every year, from Shrove Tuesday (aka Martedì Grasso or Mardi Gras), the day before Ash Wednesday. It usually falls in February or March.
---
How to Get to Venice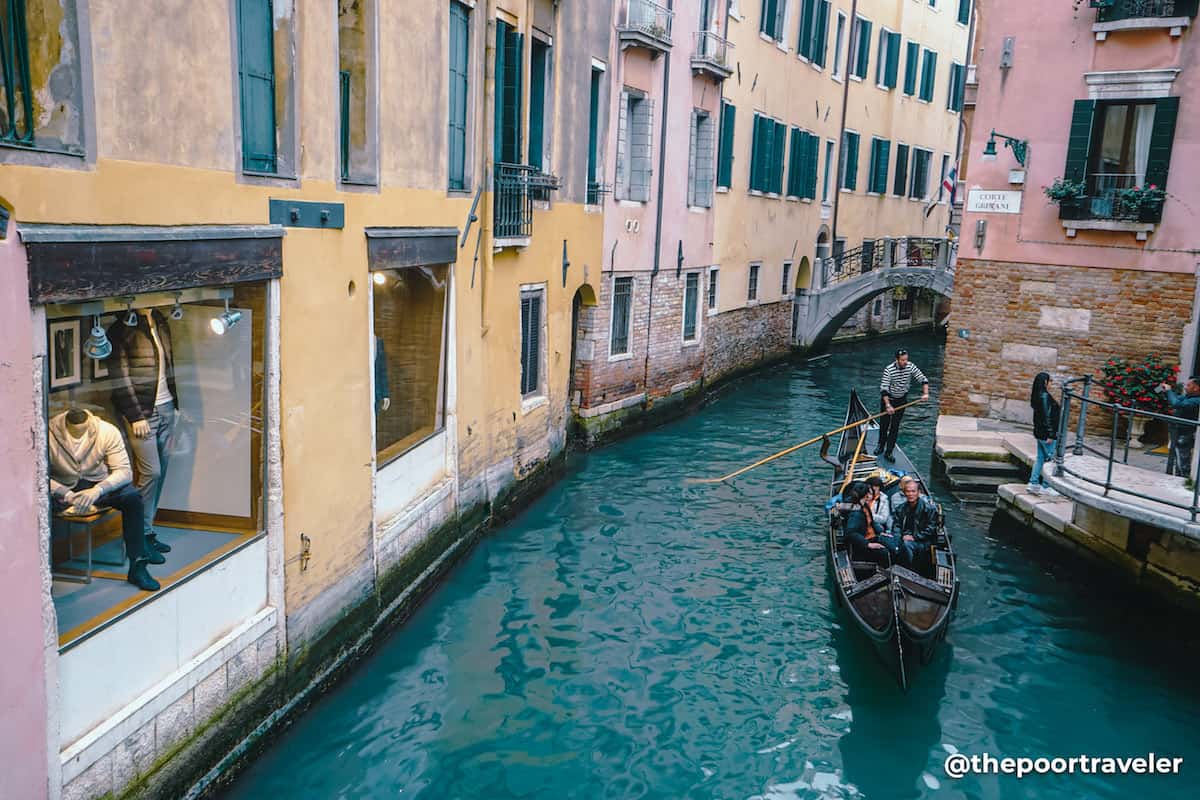 Venice is served by Venice Marco Polo Airport, an international airport that is linked to Dubai, Doha, Seoul, Tel Aviv, and several European cities including Paris, Madrid, Frankfurt, and London.
Aside from the airport, another gateway to the city is the Venezia Santa Lucia train station, which is the terminal on the islands. Do not confuse it with Venezia Mestre Station, which is on the mainland.
If you're taking the train, you have two high-speed options: the state-owned Trenitalia and the privately owned Italo. Both use dynamic pricing (much like airlines). This means that fares are not fixed. They change over time. Hence, it is best to book in advance. If you don't have fixed plans yet, you can book on the same day, but expect to pay more for your seat.
Usually, the cheapest fares are at €14.90 for Italo and €19.90 for Trenitalia. But according to Danny, one of our readers who recently traveled in Italy, Italo's fare for some routes (like Milan-Venice) can go as low as €9.90 if you book way in advance.
---
Florence to Venice
The fastest way to get to Venice from Florence is by taking high velocity trains. Trenitalia's high-speed train plying this route is called Frecciarossa. Several of these high-speed trains leave Florence's Santa Maria Novella Station (S.M. Novella) for Venice Santa Lucia Station per day, from 8:30am to 9:30pm. Italo trains are available from 7:54am to 7:54pm.
Travel time: 2 hours and 5 minutes.
Fares start at €14.90.
Cheaper trains are also available but they can take as long as 4 hours and 45 minutes. Some involve one or two transfers, usually in Prato, Bologna, or both.
---
Milan to Venice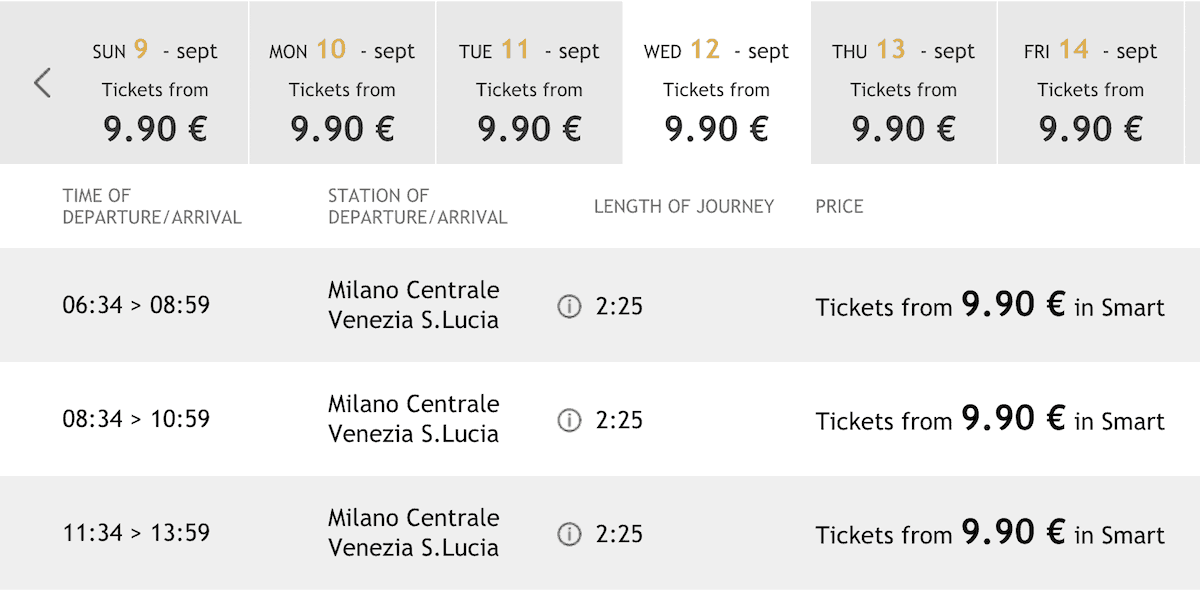 Trenitalia high-speed trains (Frecciarossa) are available as early as 6:45am until 8:45pm, while Italo trains 6:34am until 6:37pm.. These are direct trains, no transfers involved.
Travel time: 2 hours and 25 minutes.
Fares start at €9.90.
---
Rome to Venice
From Rome, high speed trains take 3 hours and 45 minutes. It's usually either Frecciargento or Frecciarossa (Trenitalia). First high-speed train departs Roma Termini Station at 5:35am, last train at 7:50pm. There are many other trains available, but they take double the time, longer than 6 hours. Those that involve transfers, usually in Bologna and Falconara Marritima, take as long as 11 hours. So yep, take the high-speed trains.
Italo operates up to 8 trains from Roma Termini to Venezia Sta. Lucia from 6:15am to 6:15pm.
Travel time: 3 hours, 45 minutes
Fares start at €19.90.
---
Other European Cities to Venice
If you're coming from other cities in Europe, the fast and cheap option is usually flying. Intercity flights within Europe are surprisingly cheap and they will save you a lot of time.
However, there are also trains available coming from outside Italy. There are day trains and overnight trains, depending on where you're coming from. Often they make stops in another Italian City, usually Turin.
Paris to Venice. The cheapest option is to travel by high-speed train to Turin (Travel time: 5h40; Fares from €29). Then, board an Italian train from Turin to Venice (Travel time: 3h35; Fares from €19.90). Book the Italian train with Trenitalia.
Zurich to Venice. There used to be a direct EuroCity train from Zurich to Venice, departing Zurich at 09:09 every day and arriving at Venice Santa Lucia at 03:40pm. But I'm not sure if it's still operational. Most of the journeys I find make a stop either in Milan or Munich.
Munich to Venice. There is a direct overnight train (NightJet) from Munich to Venice. The train departs Munich at 11:35pm and arrives in Venice at 8:24am the next day. Travel time: 8h49. Fare: around €69. An alternative is to make transfers in Verona or Bologna, and then take an Italian train to Venice (Fare from €19.90).
---
Manila to Venice
There are no direct flights from Manila to Venice. The cheapest flights are offered by Qatar Airways and Asiana Airlines, which involve a stopover in Doha and Incheon (Seoul) respectively. Fare is usually around P37,000, complete with baggage allowance and meals.
If you plan on going on a bigger tour of Italy or Europe, you'll find much lower fares if you fly to other cities instead: Berlin, Paris, Amsterdam and even Rome are cheaper. From here, just visit other cities in your itinerary until you make it to Venice. That's what we did. We flew in via Paris, visited over a dozen cities including Venice before flying back to Manila from Rome, over 2 months later.
---
Venice Airport to City Center
The most convenient and most hassle-free way to get to the city center from Venice Marco Polo Airport is by taking the ATVO Venezia Express. This is a privately-run direct, nonstop bus, perfect for tourists. It employs a reserved seating system and has a designated luggage compartment. Not to be confused with the regular bus, the ATVO Venezia Express is usually blue or white and with ATVO in front. (Regular public buses are usually white-and-green or orange.)
The bus will take you straight to Piazzale Roma in the city center of Venice, in the islands. No stops.
Travel time: 25 minutes.
Fare: €8 one-way, €15 round-trip. For groups of 2-9 pax, fare per person is down to €7 one-way, €13 round-trip.
---
How to Get Around Venice
On foot! Venice's unusual set up — divided by canals, connected by 400 small bridges — leaves it impossible for cars to rule the streets, making it one of the greatest pedestrian cities in the world, if not the greatest. Venetian alleys are narrow, sometimes crooked, and on uneven grounds. Walking is the way to go here. Beyond Piazzale Roma, no cars or bicycles are allowed.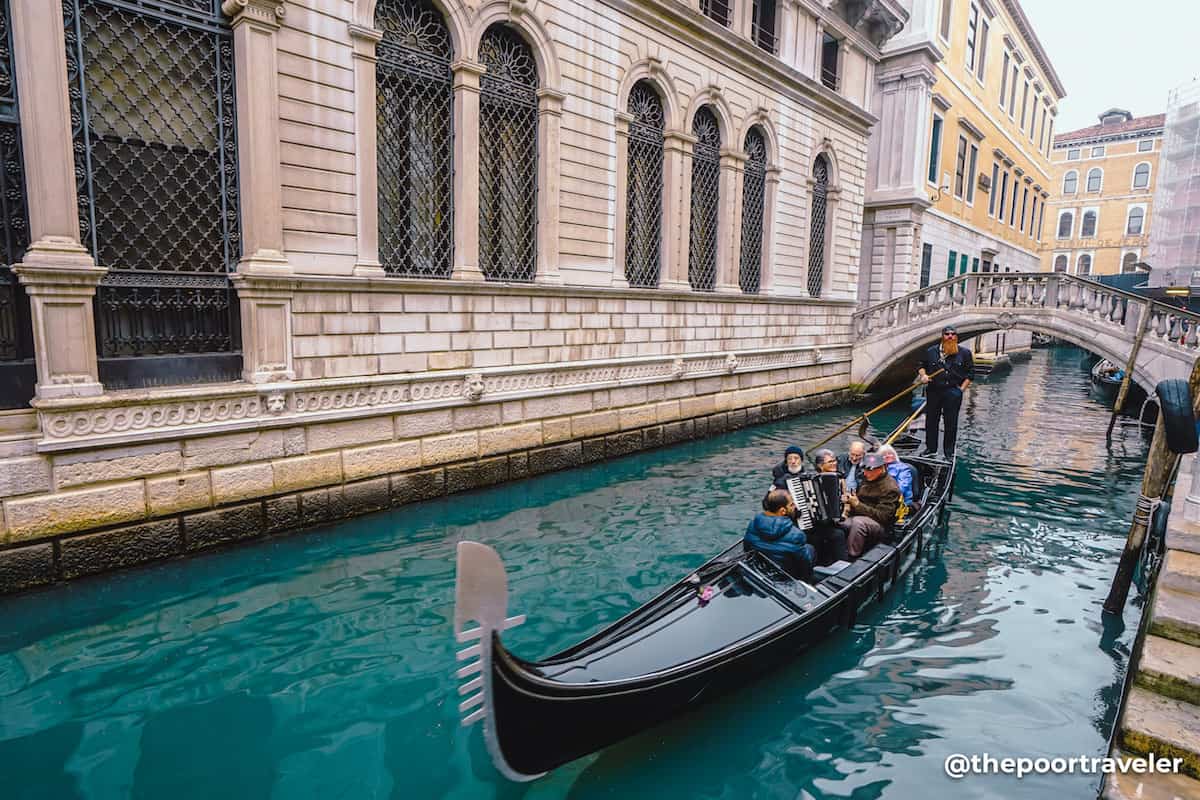 That's not to say that walking does not have its challenges. First things first, Venice is huge. It's made of 118 islands that make up 6 sestieri: San Marco, Cannaregio, Castello, Dorsoduro, San Polo, and Santa Croce. Think about that for a minute — 118 islands. Yes, these are small islands, but it's a pretty big place.
You won't notice it at first but getting from one point to another within the city can be exhausting. We realized it early on. When we arrived in Venice, we had an early morning rowing class, which was stationed on the other end of the city. We decided to travel on foot because we thought it would be a walk in the park. We were so wrong. The shortest distance between two points is a straight line, yes? Well, in Venice, it's not always possible to walk on a straight line because of the canals! What should be a short stroll can easily become a maze puzzle. You need to find the nearest bridge and there's not always one nearby. No wonder the locals we met told us the city needs more bridges!
Other than walking, here are your only options:
By water bus. Water buses are called vaporetti (singular, vaporetto), and they ferry passengers around Canal Grande, large canals, and nearby islands including Lido, Murano, and La Guidecca. The vaporetti cannot enter smaller canals. One-way journey costs €7. If you feel like you will have to take it multiple times, it's best to get a travel card. A 24-hour card costs €20, 48-hour card €30, 72-hour card €40, 7-day card €60.
By water taxi. Like land cabs, water taxis have no fixed route, so you can charter one to take you to your destination. The problem is, it's very expensive. Fare for short distance starts at around €50. It's pretty hefty. But it's a good choice if you're carrying luggage or part of a big group. A water taxi can carry up to 10 passengers. (7th+ person has additional fee.) Not all canals can be accessed by water taxis so coordinate with someone from your destination.
---
Things to Do in Venice
Venice Gondola Ride
First things first: It's very costly. But for many, a trip to Venice isn't complete without going on a gondola cruise! The official day rates are €80 for 40 minutes, plus €40 every succeeding 20 minutes. In the evening (7pm or later), the rate goes up to €100 for 40 minutes, plus €50 per additional 20 minutes. Each gondola can accommodate up to 6 passengers. Singing can add to the cost.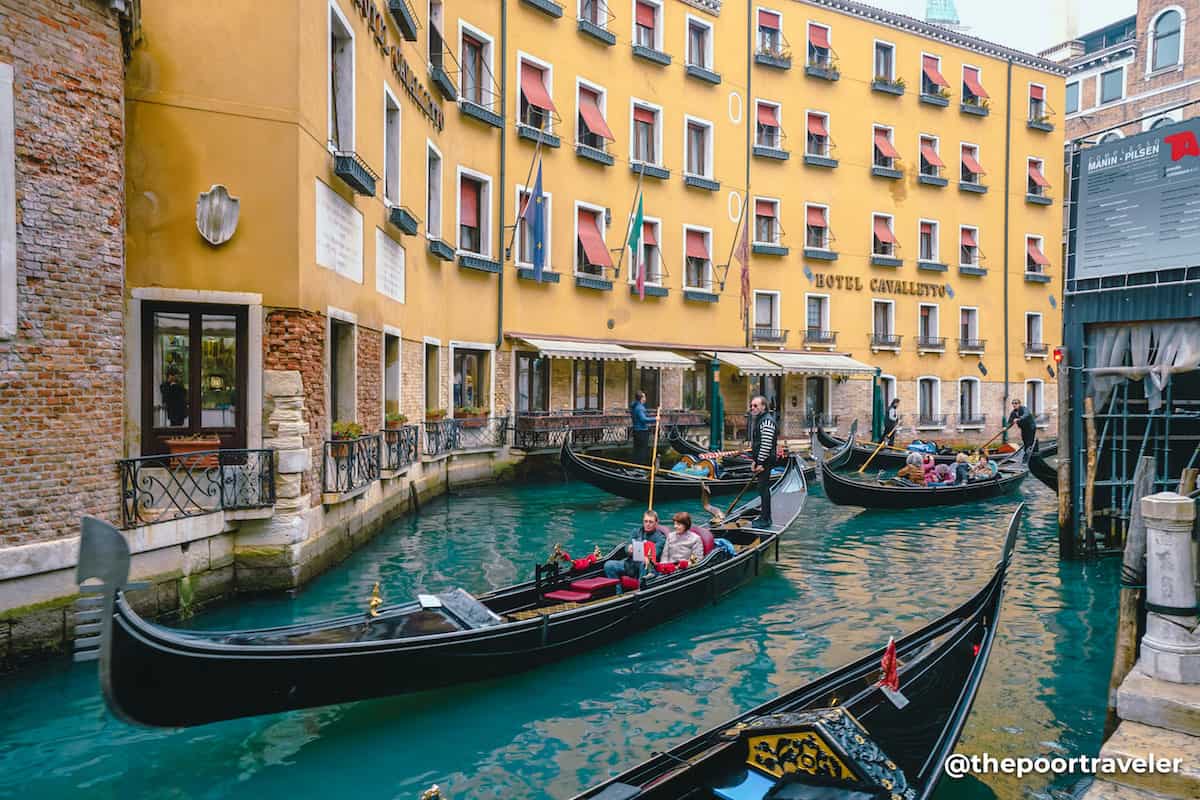 Several reasons are behind the staggering cost. The gondolas themselves are expensive to build and maintain. The city only allows 425 gondoliers, a very small club, and it takes years of apprenticeship and rigorous training to earn a license.
Every Venice travel guide we came across warned readers about riding the gondola. Aside from the price, negotiating with gondoliers can be a pain in the butt. Many gondoliers don't follow these rates in many ways. Our local friends said that some rides won't even last 40 minutes if you're not watching the time.
If you don't want to deal with all that, a good work around is to book with Klook. This way, you have already paid for the ride and you won't need to negotiate. Klook's rate as of this writing is €30.40 for 30 minutes, which is a significant deal. Note, however, that you'll most likely be sharing the ride with a few other tourists (up to 6 per ride). Number of gondolas is limited so book as early as you can.
✅ RESERVE A SLOT HERE
---
Rowing in Venice
We found a group that put a twist to this Venetian voga tradition. Row Venice is a non-profit organization aiming to preserve the traditional Venetian cultura acquea and the voga alla veneta, Venice's signature rowing style.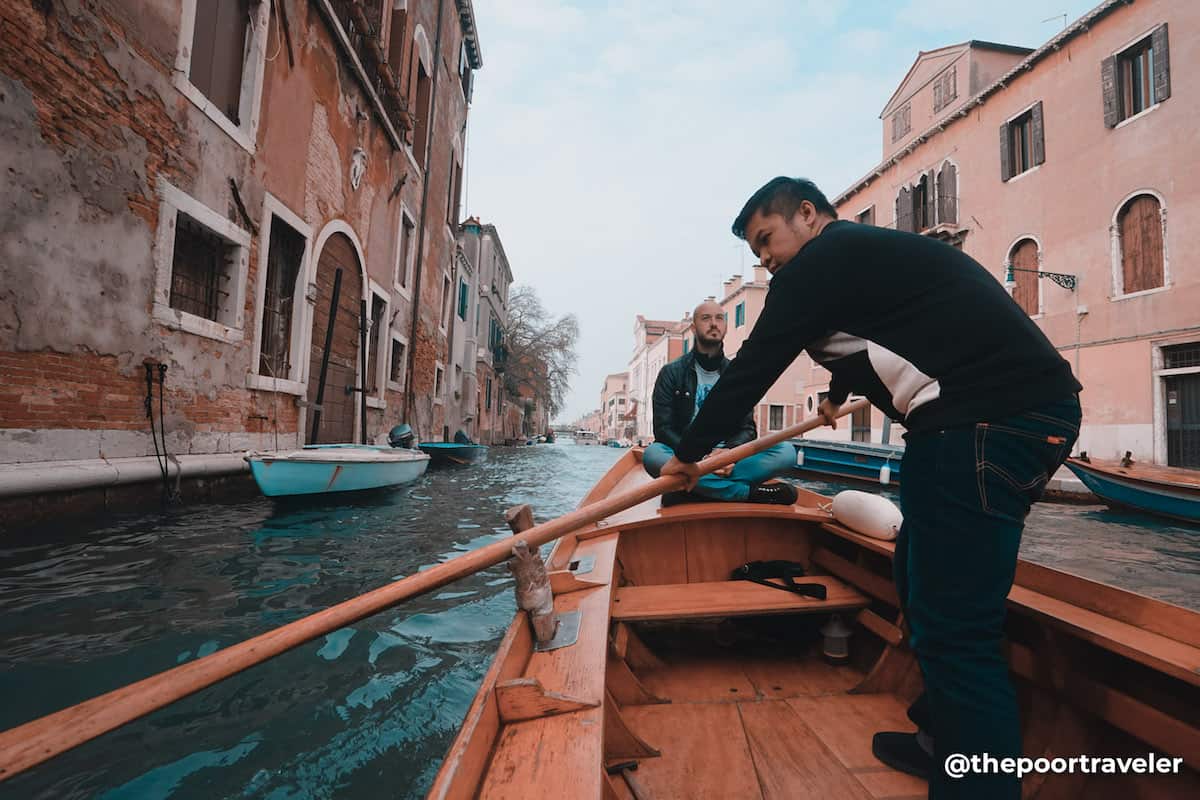 Instead of making guests just sit, they will be the one to paddle it for 90 minutes, under the supervision of a skilled rower, of course. Advance reservation is required, but I still tried my luck and emailed them if they could accommodate us the next morning. It turned out, someone had backed out, opening a slot! The next day, we were rowing in Venice! Thank you, universe!
It wasn't really a gondola you'll be riding but a rare "batellina coda di gambero." It's a traditional Venetian hand-crafted shrimp-tailed boat depicted in many old paintings by Italian masters. Back in the day, boats like this filled the canals of Venice. Today, only 8 of them are left in the city.
A rowing lesson costs €85 for 1 or 2 pax, €120 for 3 pax, and €140 for 4 pax. That's per boat, not per person. For groups of 8 people or more, cost is €40 per person.
It was the highlight of our time in Venice! We highly recommend it. Book or inquire here.
---
Venice Walking Tour
Another must-do in Venice. Walking around the city and seeing its most curious and iconic spots while learning about their history is something we recommend.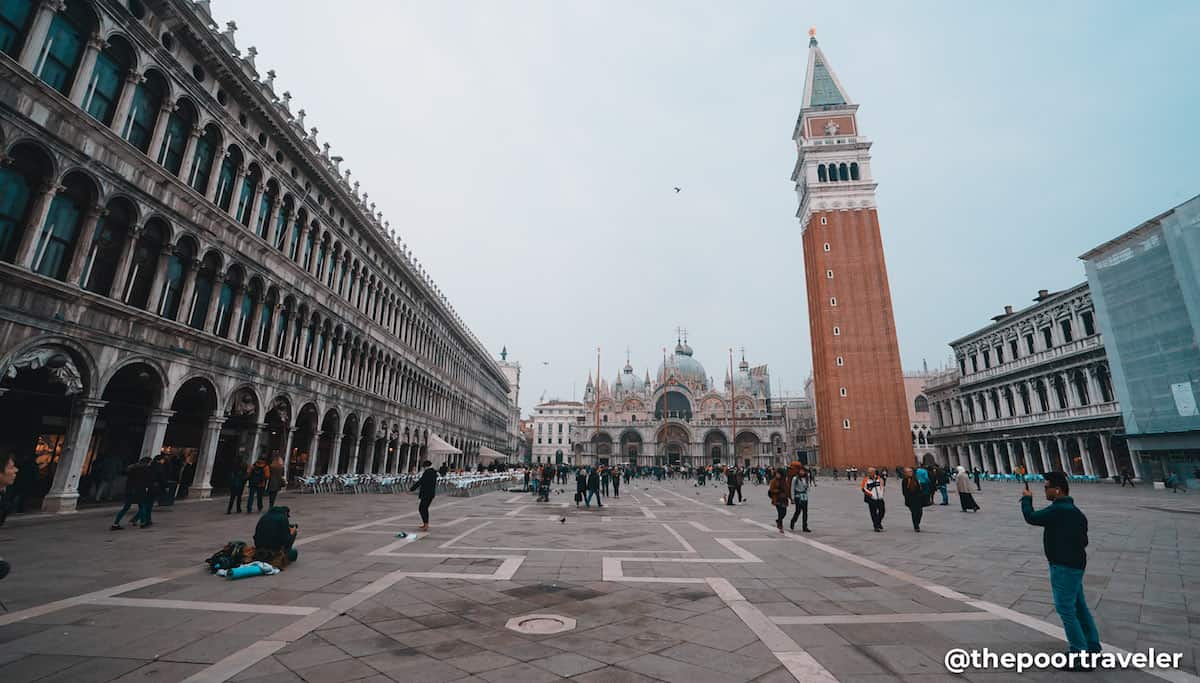 Most walking tours stop at the following:
Piazza San Marco
San Marco Basilica
Palazzo Ducale
Bell Tower
Procuratie
Giovanni e Paolo
Mercerie
Some walking tours have more stops including Palazzo Contarini del Bovolo, Libreria Acqua Alta, and some shops selling masks.
Free walking tours are available too. Of course, the guides rely on your tips.
But if you prefer to book with Klook, that's possible too. Klook offers daily walking tours starting at 9am.
✅ RESERVE A SLOT HERE
---
Doge's Palace Tour
Hours open: April 1-October 31, 8:30am-7pm (last admission 6pm), November 1-March 31, 8:30am-5:30pm (last admission 4:30pm)
Entrance Fee: €20

The Doge's Palace used to be the seat of the city-state's government and the official residence of the Doge. Its architecture, design, and the artifacts it houses give insights to how Venice was governed and how the ruler lived during their reign. You'll also get to cross the famous Bridge of Sighs and see Tintoretto's "Paradise", the world's longest canvas painting.
Regular tickets cost €20, which is also valid for Museo Correr, Museo Archeologico Nazionale and Monumental Rooms of the Biblioteca Nazionale Marciana. Inside, a guided tour called Secretary Itinerary (additional €20) will take you to deeper parts of the palace and Casanova's jail. An audioguide costs €5.
Lines are notoriously long here. Klook tours have fast-track access, which will allow you to skip the long lines. It's great for those who prefer to explore with a guide and don't want to waste time.
✅ CHECK RATES OR RESERVE HERE
---
St. Mark's Basilica Tour
Hours open: April 1-September 30, 9:45am-5pm; October 1-March 31, 9:45am-4:45pm.
Entrance Fee: FREE. But museum entrance costs €5, treasury €2.

The centerpiece of Piazza San Marco, St. Mark's Basilica is connected to the Doge's Palace and until 1807 was actually the Doge's chapel. It's a great example of Italo-Byzantine architecture. It's hard not to stare at its facade. The design is lavish, and for the longest time was a symbol of Venice's power, wealth, and influence. In fact, it was once called "Church of Gold."
If you're going in, take note of the following:
Photography is prohibited inside.
Backpacks are not allowed. Yes, all types and all sizes, even small rucksacks, are prohibited. Large bags are not allowed either. Purses are okay. There is a bag storage/deposit counter across the street to the left (when you're facing the basilica).
Short skirts, short shorts, and bare shoulders are not allowed. Remember, it's a church.
The church is also the most popular site in Venice. The line going inside can get so long that queuing can last for HOURS.
If you don't want to wait, you can pay for a group entrance reservation but it's not available year-round.
Another way to skip the lines is to join a guided tour. Klook's guided tour of the basilica uses a fast-track access.
✅ GET FAST ACCESS AND RESERVE HERE
---
Murano, Burano, and Torcello Islands Tour

Outside the city center, nearby islands are also worth exploring. Three of the most remarkable are Murano, Burano, and Torcello.
Klook's 4-hour tour will take you to the colorful houses of Burano Island, a glass art factory in Murano Island, and Santa Fosca Church in Torcello Island.
✅ CHECK RATES or RESERVE HERE
---
Venice Food and Wine Tour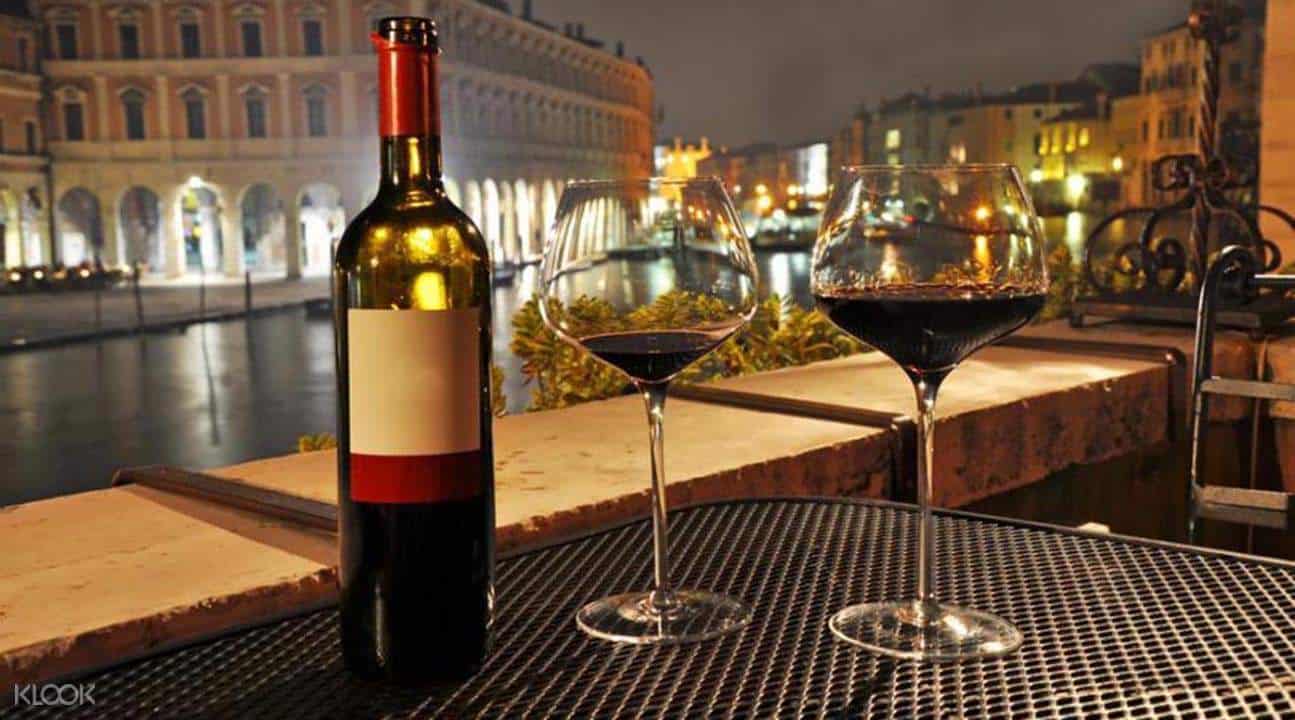 Experience almost 2 hours of sampling the best of Venice's cuisine. Start with a local wine with cicchetto, then have a taste of Venetian spit-cooked dishes, nibble on some croutons, and end the night with delicious pastries.
They say the best way to get to know the city is to eat your way around it, so don't miss it.
✅ RESERVE A SLOT HERE
---
Other Places to Visit in Venice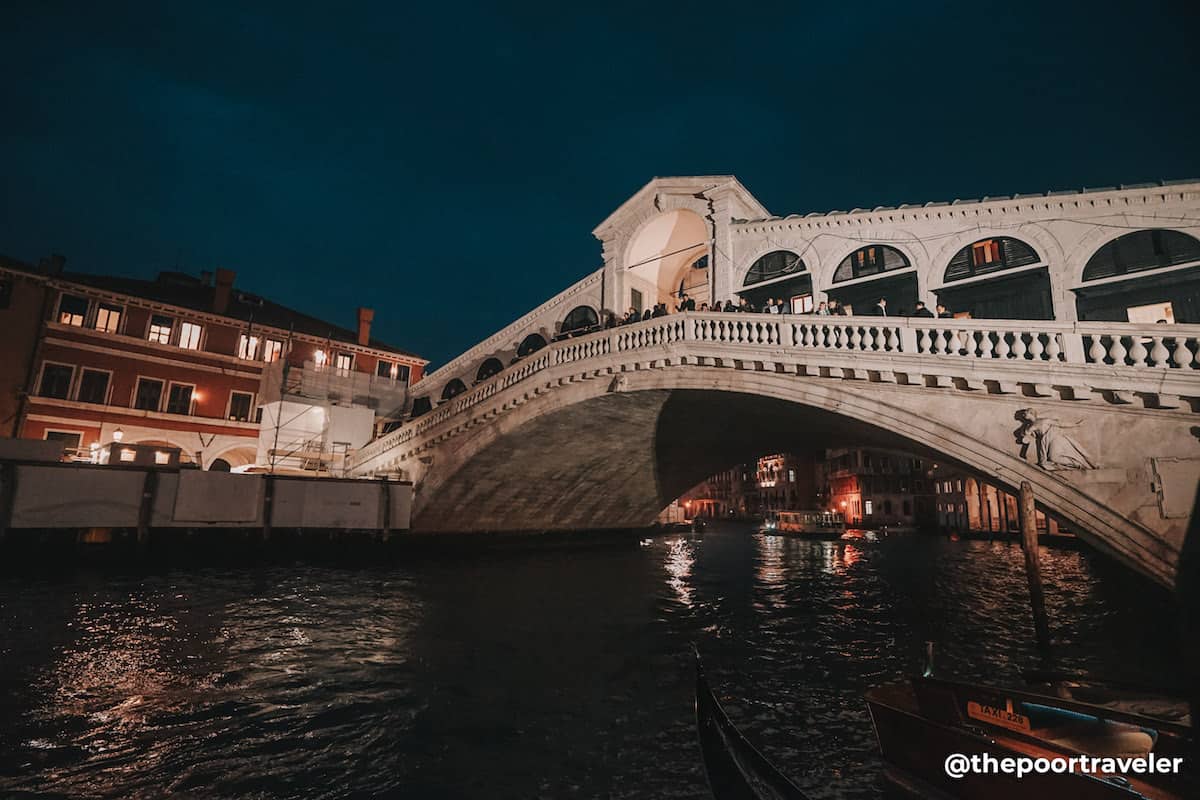 Rialto Bridge (Ponte di Rialto), the most picturesque and the oldest of the four bridges that straddle the Grand Canal. This arch bridge connects the sestieri of San Polo and San Marco, overlooking the Rialto Market (Mercati di Rialto), which is popular among locals and tourists alike.
Grand Canal (Canal Grande, Canal Grando), Venice's biggest channel that meanders across the city. Near its northern end lies the Santa Lucia Station, which makes it one of the first things you'll see upon arrival. On its banks rise some of the city's most captivating structures and landmarks.
Palazzo Contarini del Bovolo, a small grand residence that is famous for it spiral staircase called Scala Contarini del Bovolo. It's located near Campo Manin.
Libreria Acqua Alta (Bookstore of High Water), an iconic book shop in the middle of the city that has become a testament to the resilience of the Venetians. The city's constant flooding have drenched countless books, enough to form a staircase. Some books are also displayed on a gondola and on a tub.
---
Where to Stay in Venice
In a nutshell, Venice is composed of three main areas: the city center, the other islands, and the mainland. The city center is where you want to stay because the vast majority of the tourist spots are there.
If we haven't stressed it enough, allow us to emphasize it again. Navigating in Venice can be challenging, to say the least. If you're new, you will get lost. To avoid wasting time and energy wandering aimlessly with carrying heavy bags, ask the hotel staff prior to arrival about the best way to get there. Also take note of their booking and check-in policies, especially check-in and check-out times and minimum number of nights.
---
Top Budget Hotels in Venice
You can find a single room for as low as €45, often with shared bathroom. Double rooms can cost €70 and above. Here are the top-rated hotels below €70 per night in Venice city center.
Hotel alla Fava. Campo de la Fava Castello.
Hotel Vecellio. Cannaregio 5039/B.
Hotel Minerva & Nettuno. Lista D Spagna, 230 Cannaregio.
Ca' Spezier. Calle del Spezier Santa Croce 1741.
---
Top Venice Hostel Dorms
A dormitory bed in the city center can go as low as €33. Here are centrally located hostels that offer dorm beds with the best reviews.
We_Crociferi. Campo dei Gesuiti – Cannaregio 4878.
L'imbarcadero. Santa Croce, 1268, Calle Zen.
Silk Road Hostel. Dorsoduro 1420/E
Alle Botte. Calle de la Botta, San Polo.
---
Sample Venice Itinerary
Below is a sample Venice itinerary. It assumes you're coming from the airport, staying in a hotel in the city center, and will be exploring the city on foot.
As always, feel free to modify this to match your needs and preferences. If you're coming from other parts of Italy or Europe and taking the train to Venice, your arrival point is Santa Lucia Station.
Day 1: ARRIVAL, RIALTO
12:35pm – Arrival in Venice
01:30pm – ATVO Bus to city center, €15 round trip
02:00pm – Walk to hotel
02:30pm – Hotel check in, rest
05:00pm – Rialto Bridge and market
06:30pm – Dinner, €15
08:00pm – Hotel
Day 2: VENICE WALKING TOUR + DOGE'S PALACE
09:00am – Walking Tour, €23.75, Book Here

11:00am – Lunch, €10
02:15pm – Doge's Palace Tour, €34.20, Book here

07:00pm – Dinner, €15
08:30pm – Hotel
Day 3: GONDOLA RIDE
09:00am – Early check out
09:30m – Walk to Calle Larga dell'Ascensione
10:45am – Gondola Ride, €30.40, Book here

12:00pm – Quick Lunch, 10€
01:00pm – St. Mark's Basilica, FREE
05:00pm – Free Time, walk around
07:00pm – Dinner, €15
08:30pm – Hotel
Day 4: DEPARTURE
08:00am – Free time
11:00am – Check out
11:30pm – Lunch, 10€
01:00pm – ATVO to airport
04:00pm – Flight out
If you allocate only €35 per night on accommodations, the above itinerary will set you back around €300 (USD352, SGD480, PHP18700) excluding the airfare and travel taxes.
There are many ways to further reduce the cost. If you take a FREE walking tour and just enter the Doge's Palace on your own instead of taking Klook's guided tours, the total should be in the vicinity of €270 (USD316, SGD430, PHP16900).
You can also save more if you find a hostel that allows you to cook or heat your food so you don't have to eat out for each meal.
---
More Venice Tips for the Poor Traveler
Always allow extra lead time when walking. Venice is like a giant floating labyrinth. What should be a short stroll can easily become an escape room experience. You need to find the nearest bridge and there's not always one nearby.
When visiting St. Mark's Basilica, don't bring a backpack. If you have a backpack or large bag, head to the luggage storage counter first before falling in line. According to our guides, most people don't know that backpacks are prohibited and the storage counter exists, so a lot of visitors get sent in that direction first. After depositing their bags, they can return to the head of the line. Just show the proof that you deposited bags. A lot of people take advantage of it by going to the storage counter first and then going straight to the head of the line without falling in line ever. I'm not recommending that though. I'm just saying.
If the line to the Doge's Palace is too long, you can buy your ticket from Museo Correr instead. It's the same ticket. The ticket you buy from Museu Correr can grant you access to the Doge's Palace too.
If you don't want to join a group and have a private gondola to yourselves, scan or canvass first. Don't hire the first gondolier you meet. There are hundreds of them. Find one that speaks your language and negotiate with them.
Don't book a gondola near the San Marco or Rialto Bridge. The canals here are packed with gondolas and other boats. Remember you're charged by the minute. You don't want to waste your precious time getting stuck in traffic. There are many other parts of the city that will allow you a smooth-sailing ride.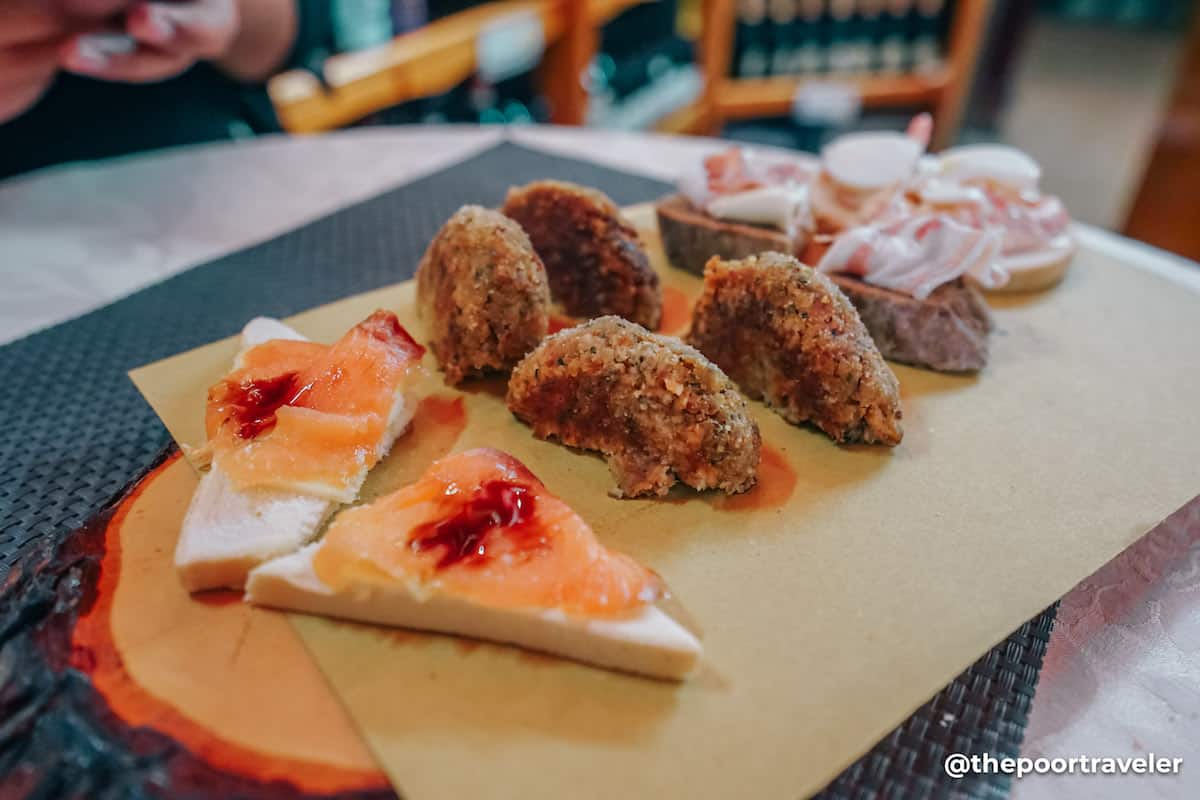 Don't dine anywhere near touristy spots, especially around Piazza San Marco. These overpriced restaurants cater primarily to unsuspecting tourists. There have been several incidents where diners are shocked by the prices at these restaurants. Walk for 10 minutes or so into the deeper alleys and you'll find small places where locals eat. You can find an enoteca that serves a half-liter of wine for only €1.75 and crostini for only €1 each.
Hungry but thrifty? Try crostini and cicchetti. A crostino (meaning "little toast") is a slice of bread topped with something savory like cheese, anchovies, shrimps, or pate. It is much like a bruschetta, but smaller and thinner. Cichetti are small side dishes served at "bàcari" or traditional Venetian wine bars. I know they're more like appetizers, but I find them to be very filling. LOL.
Venice is eerily quiet at night. No clubs and any other noisy establishments. Don't expect to party within the city center.
---
Frequently Asked Questions
Do we need a visa to visit Venice?
Italy is part of the Schengen agreement, which means you will need a Schengen Visa to visit Venice if you're a Philippine national. If Italy is the only country you are going to visit or if you're traveling to multiple countries but staying in Italy the longest, you will need to apply for a visa via the Italian Embassy.
For more information about how to get a visa, READ: ITALIAN SCHENGEN VISA!.
What is tipping policy in Venice?
Tipping is practiced in Venice. You can tip €1 per bag for porters, €1 per day for hotel chambermaids, and 5% of the bill for waiters if you truly enjoyed their service.
Is tap water safe to drink in Venice?
Yes, it's safe to drink. It's just a matter of taste.
Also, you might want to refill your water bottles. There are over 100 drinking fountains in Venice. No need to buy bottled water each time.
What is the best bag to use when traveling to Venice?
Use a backpack. The ground is not even, so if you have wheeled suitcases in tow, it can be noisy and disturbing for locals. There are also bridges and staircases that would require you to lift your bags instead of drag. Carrying a backpack is more convenient, unless you're entering St. Mark's Basilica.
Photos by Vins Carlos
2️⃣0️⃣1️⃣8️⃣ • 7️⃣ • 2️⃣6️⃣