Here's a DIY NASUGBU BUDGET TRAVEL GUIDE BLOG covering Tali Beach, Calayo Beach, Bituin Cove, Fortune Island, Mt. Batulao, and more! With sample DIY NASUGBU ITINERARIES and summary of expenses to help you prepare for your trip.
If Batangas were Westeros, Nasugbu would be the North.
It's vast, the largest municipality in Batangas. It's wild; much of its territory is still in its natural, undeveloped state, fringing Mt. Palay-Palay National Park and four marine protected areas. And it's located in, well, the north. In fact, it straddles the northernmost edges of the province.
But the similarities stop there. Nasugbu isn't a frozen land about to be invaded by wildlings or white walkers. Like much of the country, it is a tropical paradise that has so much to offer to beach-lovers and mountain climbers alike.
WHAT'S COVERED IN THIS GUIDE?
UNDERSTANDING NASUGBU
Nasugbu is no stranger to all things big. It is one of the largest municipalities in Batangas in terms of land area, population, and history. It is also home to Central Azucarera Don Pedro, one of biggest sugar producers in the Philippines. But there's one more thing that it can boast: it is also big on natural wonders.
Nasugbu's town center is set in an agricultural plain, but much of the municipality's terrain is crumpled with mountains, concealing dozens of pristine coves at their feet. Some of these coves are occupied by privately owned exclusive villages and clubs like the Hamilo Coast, Punta Fuego, and Tali Beach Subdivision. In order to get access to these beaches, you would need to know someone inside or book a house or villa. Fortunately, Nasugbu isn't only for the rich and powerful. Many public beaches harbor fishing settlements and mid-range resorts that are open to anyone.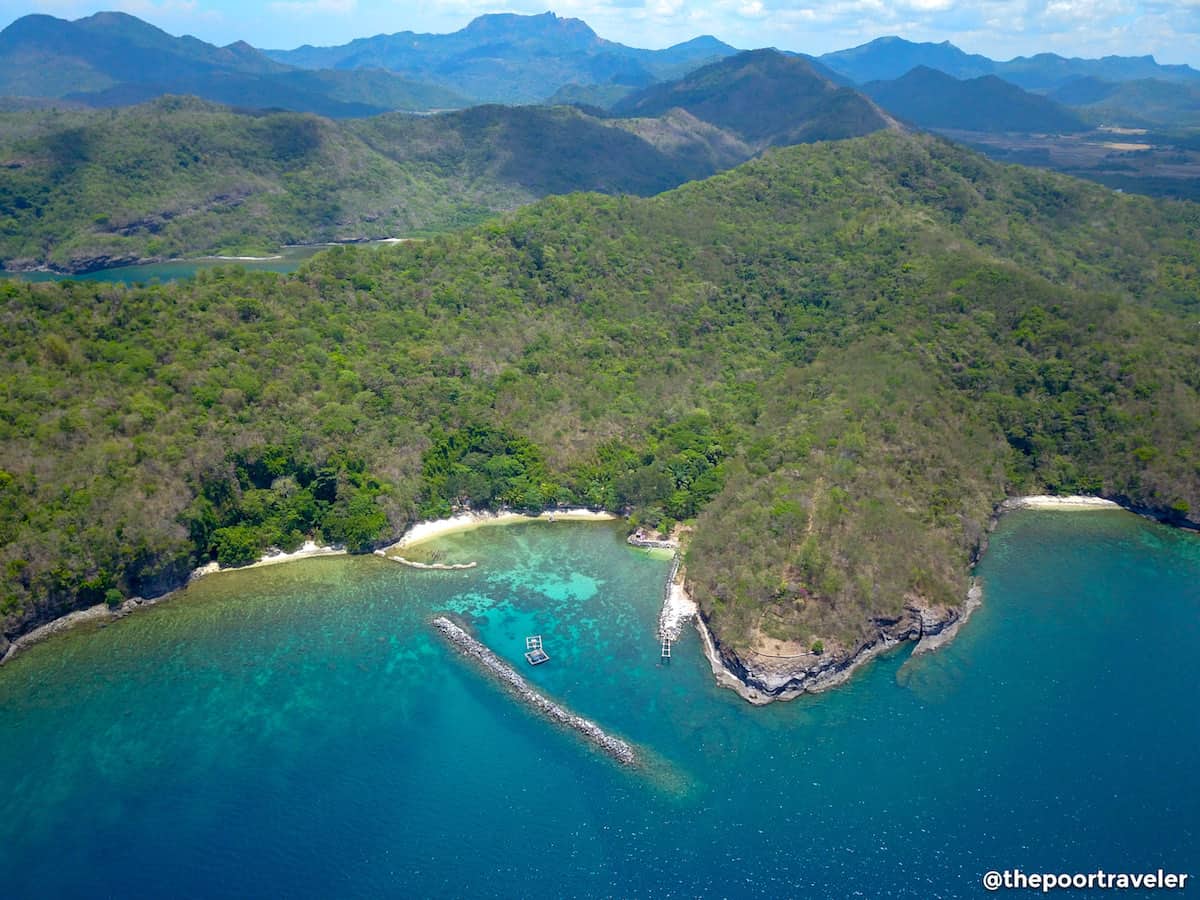 Here are more things you need to know about Verde Island:
Language: Tagalog. Dialect: Batangas Tagalog. Although Batanguenos can converse with people from Manila, they use certain words that Manilenos will probably not understand.
Currency: Philippine peso (PHP, ₱). PHP100 is around USD1.92, EUR 1.56, SGD2.52 (as of April 2018).
Modes of payment: CASH is preferred! Some establishments in the town center accept credit card payments. If you're beach-bound, withdraw cash while you're still in the poblacion area where banks and ATMs are aplenty.
Connectivity: Both Smart and Globe have strong LTE data signal in the town proper. But both get spotty at best in remote barangays like Calayo and Papaya.
Electricity Info: 220V, 60Hz. Socket Type A, mostly.

---
WHERE TO STAY IN NASUGBU
As mentioned earlier, Nasugbu is huge. Where you should stay depends on what attraction in particular you would like to see. For example, if you'd like to see Fortune Island, you can go camping on the island itself or stay in the town proper. If it's Loren Island, find a resort in Calayo Beach. For Layag-layag Beach, Brgy. Papaya is the most ideal.
There are four main types of accommodations in Nasugbu:
Resorts or hotels. These are the usual accommodations. You know this.
Rented houses. Because much of Nasubu's jagged coast is occupied by exclusive villages, access is restricted to residents and their guests. Most of these properties are just "rest houses," which means the owners don't really stay there. Some owners rent them out to tourists, who are then given access to the beaches and features. Some examples of this arrangement are Pico Sands Hotel and Tali Beach Subdivision.
Homestays. In public beaches like in Calayo and Papaya, there are locals renting out rooms in their homes to tourists for a small fee.
Camp sites. Beaches like Bituin Cove (Angara Cove), Layag Layag Beach, and Fortune Island all allow campers to pitch tents for a fee.
Anyway, here are some options you may consider.
---
Nasugbu Beach Resorts and Hotels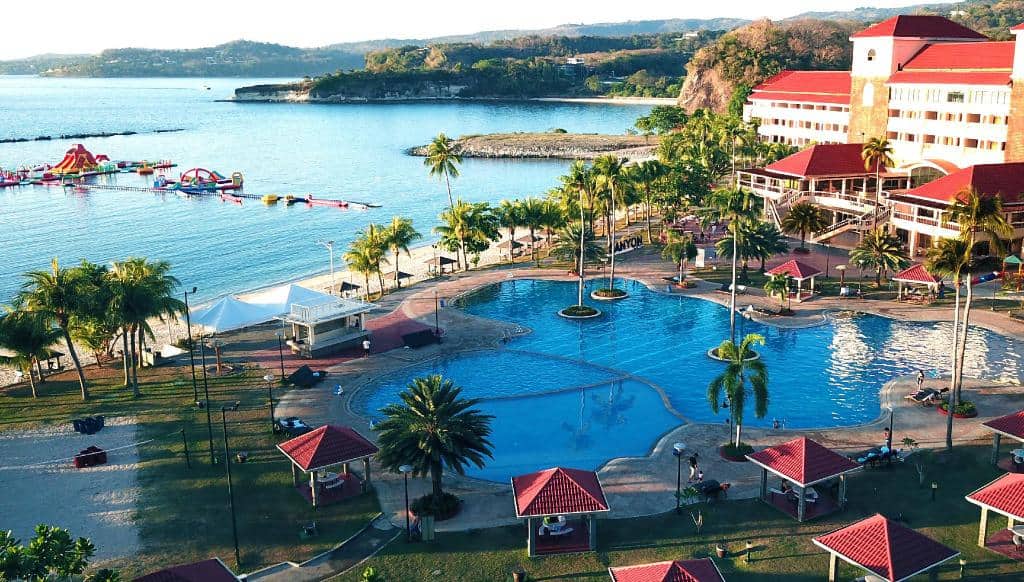 ---
Nasugbu Houses for Rent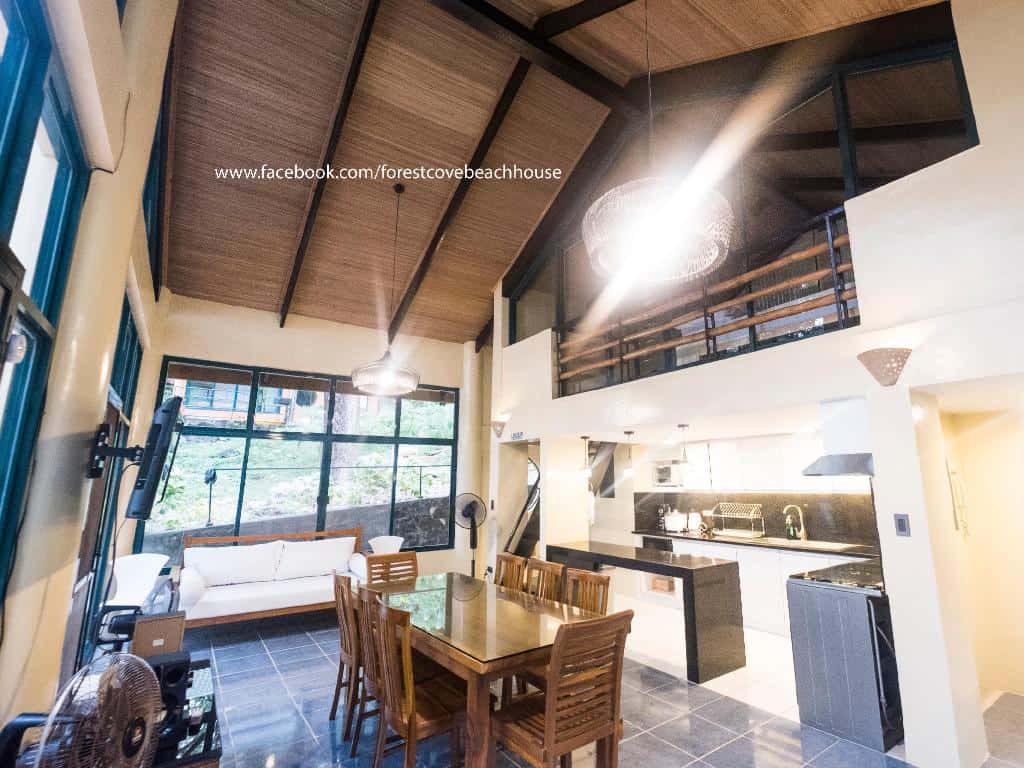 ---
HOW TO GET TO NASUGBU
Manila to Nasugbu by Public Transportation
If you're coming from Manila, you can take a bus bound for Nasugbu in two locations:
DLTBCo Bus Terminal in LRT-Buendia. The terminal is near Gil Puyat LRT Station at the corner of Taft Avenue and Buendia (Gil Puyat Avenue).
BSC Bus Terminal in EDSA-Taft Pasay. Situated next to the MRT Taft Station (along EDSA), just behind McDonalds. BSC stands for Batangas Starexpress Corporation.
Travel time: 3-4 hours.
Fare: around P160
If your destination is Caleruega Chapel or Mt. Batulao, you don't need to go all the way to the town proper. You can ask to be dropped off near the boundary. Just tell the driver you're going to Caleruega or Mt. Batulao and they'll let you know when it's time to alight.
---
Manila to Nasugbu by Private Car
If you're driving from Manila, you can take any of these routes.
via Cavitex. This is the road less traveled. This will lead you to Antero Soriano Highway across Kawit, Tanza, Naic and Ternate. Then, you'll be driving through Mt. Palay Palay National Park (near Pico de Loro) and through Kaibiang Tunnel, the longest subterranean road tunnel in the Philippines. You'll reach Brgy. Papaya in Nasugbu then Brgy. Calayo. If you stay on that road (Nasugbu-Ternate Highway), you'll eventually reach Nasugbu town proper.
via Emilio Aguinaldo Highway which passes through Imus, Dasmarinas and Silang.
via SLEX (South Luzon Expressway). Take Santa Rosa Exit and stay on Sta. Rosa-Tagaytay Road then on Tagaytay-Nasugbu Road. (You can also take Eton City or Greenfield City Exits to avoid traffic jams in Sta. Rosa.)
For the last two options, you'll be cutting across Tagaytay and Alfonso until you hit the Batangas-Cavite boundary. You'll know it's the border when you hit a fork. The left road will lead to Lemery, the right to Nasugbu. The right road has an arc with a big-ass "Welcome to Nasugbu" sign. You won't miss it.
---
Nasugbu Bus Terminal to the Beaches
If you're taking the bus and your destination is the beach, you can take tricycle. For anywhere near the town center, the fare should not exceed P50. But if you're going to Brgy. Calayo or Brgy. Papaya, prepare to bleed at least P300. That's totally justified because they're very far and can take over 45 minutes.
---
PLACES TO VISIT IN NASUGBU
Fortune Island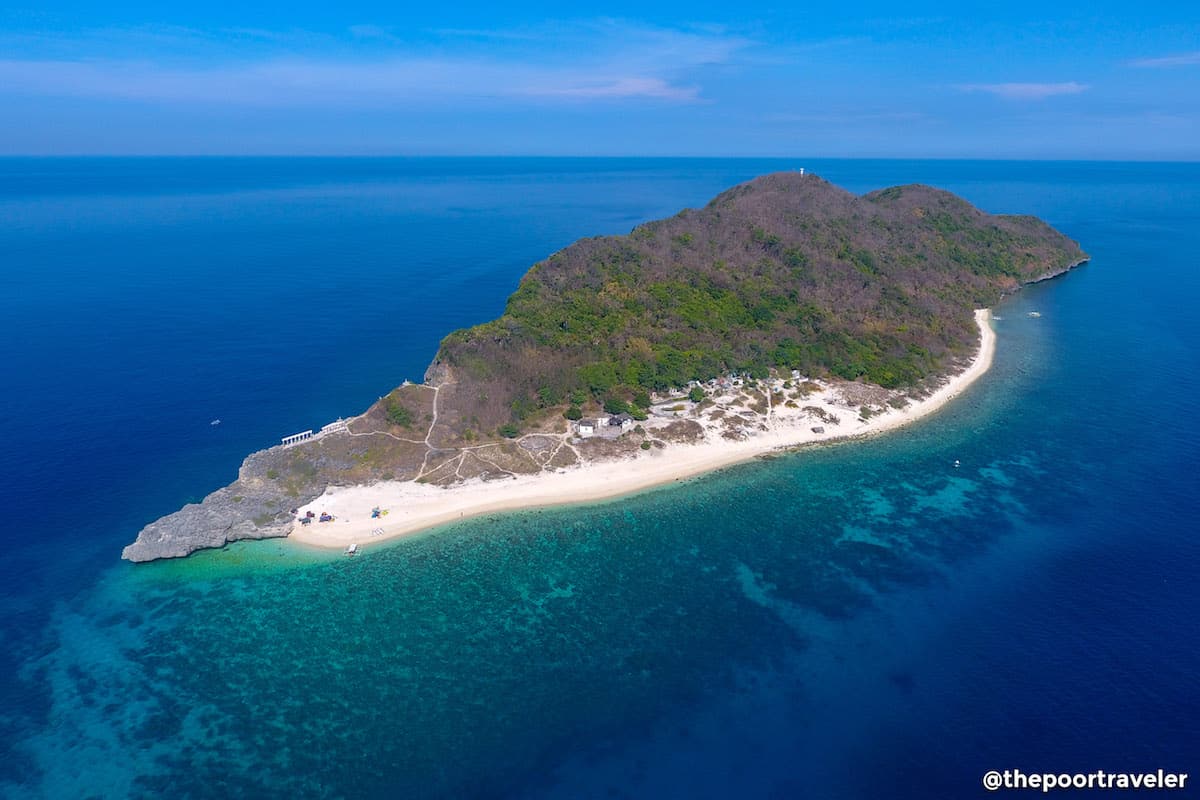 Fortune Island used to be a private island harboring an exclusive luxury resort. But it is difficult and costly to maintain a luxury resort without a ready source of fresh water. One cannot drink luxury. Consequently, it ceased its operations in 2006. One remarkable reminder of its grandeur stands atop the island's limestone cliff overlooking the sea – Grecian pillars and statues.
Fortune Island is generally rocky with a short stretch of sand. It is now popular among campers and sun worshippers, but it was, for the longest time, a best kept secret among divers. The island is surrounded by shipwreck diving sites including the Dutch warship Mauritius, which sank on December 14, 1600.
READ MORE: FORTUNE ISLAND
---
Calayo Beach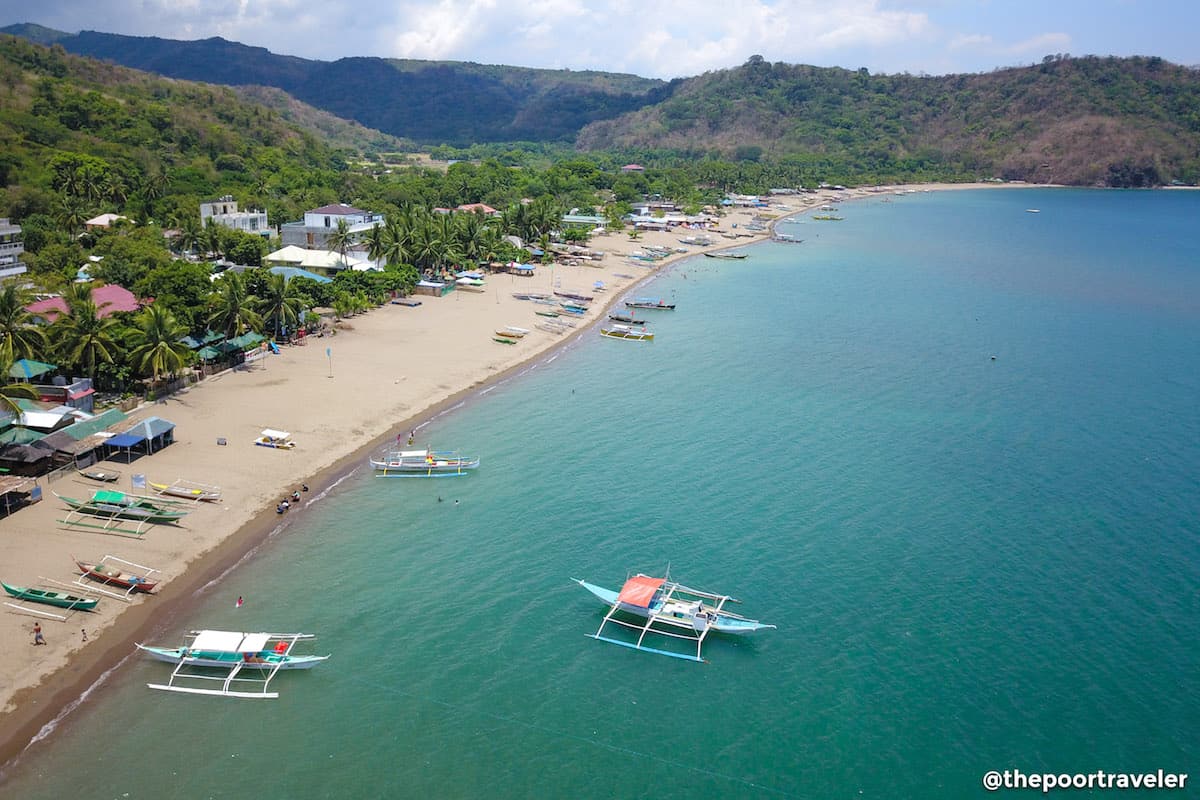 Calayo Beach is a public beach lined with several houses and budget to mid-range resorts. The sand here isn't spectacular. It's fine but it's closer to light brown than white. But it is the jump off point to better beaches like Pulo Island, Kayraang Cove, and Bituin Cove (see the next 3 items in this list), which are the main reasons why we're in Calayo in the first place.
Environmental Fee: P20
Parking Fee: P50 day, P100 overnight
For island hopping, you may contact the boatman that toured us around. He was very friendly. He also accommodated all our requests.
Kuya Marvin
Contact Number: 09482543131
Capacity: up to 12pax
Rates: P1500 for Pulo Island, additional P500 for Bituin Cove and Kayraang Cove
If you need to use facilities like restrooms and tables (or even swimming pools), you can stay at a resort as a day tripper. For example, Calayo Green Terraces allows day tours for a fee. Here are the rates:
Entrance Fee: P250 adult, P150 kid 10 years old or below
Tent with table: P1000
Cottage: P1500-P2500
---
Pulo Island (Loren Island)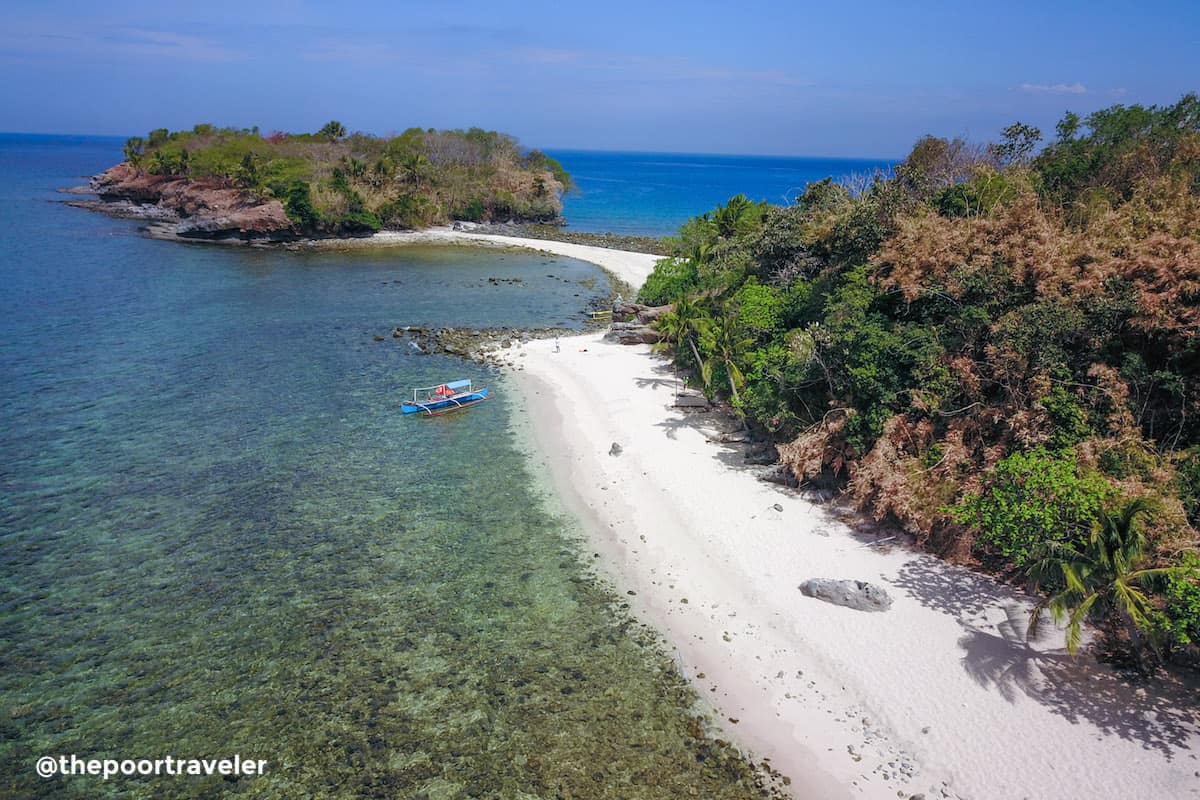 Redundant, I know. Locals call it Pulo-pulo, but tourists know this as Pulo Island or Loren Island. Yep, Loren as in Loren Legarda, who, according to our boatmen, owns this piece of paradise. It's located just 20 minutes from Calayo Beach. The sand here isn't white or fine, it's beige and pebbly at best, but it still offers a fantastic island escape. The island has two beaches and what looks like a sandbar that links to another rocky islet.
Entrance Fee: P25
---
Bituin Cove (Angara Cove)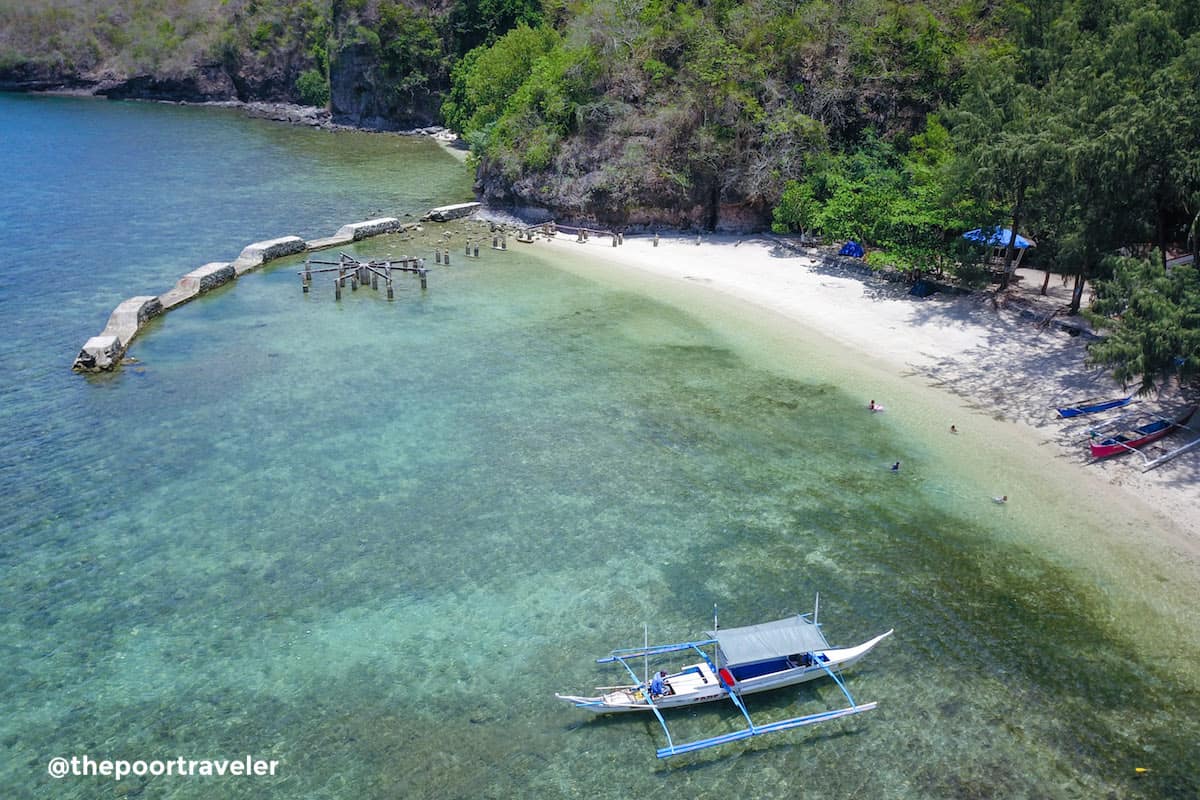 Said to be owned by Sen. Edgardo Angara, this short strip of sand and shingles is a rising camping destination just 20 minutes away from Calayo Beach. You can stay overnight or visit as part of an island hopping tour.
Entrance Fee: P25
Kubo Rental: P300
Tent Rental: P300
Camping Fee: P100
---
Kayraang Cove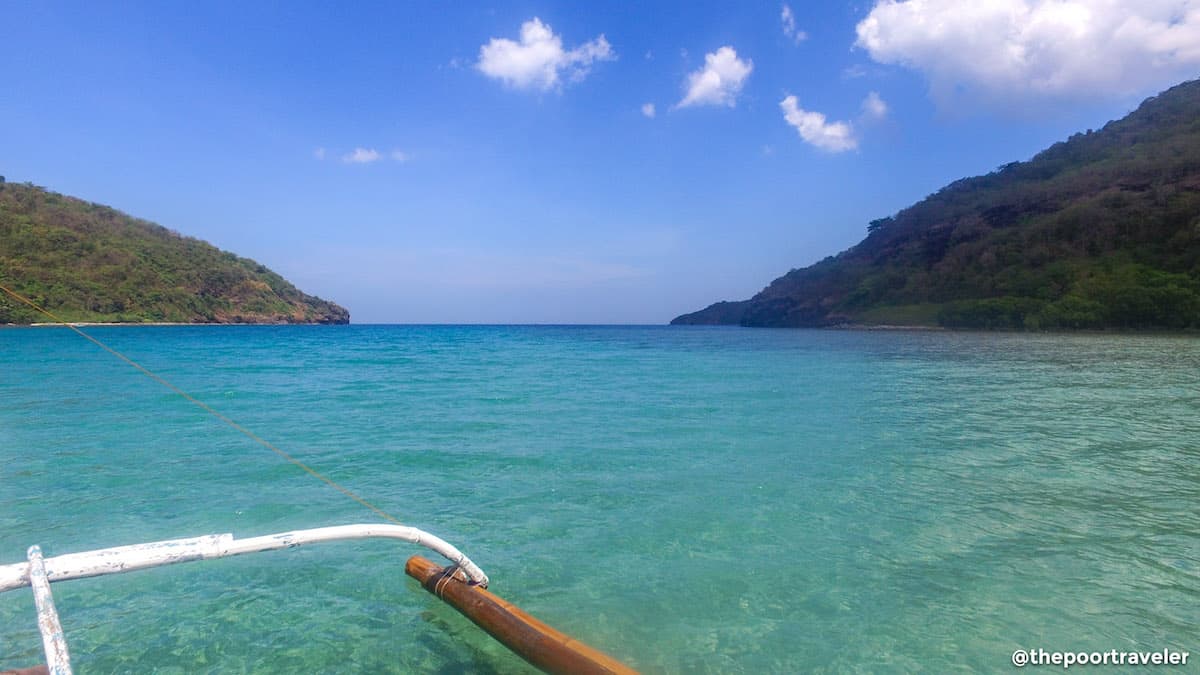 Also in Brgy. Calayo, this pristine stretch is testament to the natural resources that Nasugbu possesses. According to our boatmen, it is now owned by Henry Sy. Boatmen are no longer allowed to dock or moor their boats on the beach but they can still take passengers to the cove provided that they stay in the water. It's no problem because the water here is so shallow.
This is one of our favorite spots in Nasugbu. Not many people know about this, and it's not usually part of island hopping tours, so we had the place to ourselves during our visit. Although we didn't get to set foot on the beach, we were still treated to a quiet, relaxing, alone time in the water.
---
Tali Beach
One of the most well-known attractions in Nasugbu, Tali Beach has long been a summer favorite in Batangas. Aside from the beach, one can also enjoy its cliff-jumping spot. However, because it's part of a private subdivision, access to it is restricted only to residents, homeowners and their guests. You must know someone inside to get in.
It's easy to find a way though. You can simply rent a house for a night. I also found an agency that takes visitors on a day tour to the beach.
---
Layag-layag Beach
Located in Brgy. Papaya, Layag-layag Beach is also starting to get the attention of weekend warriors from Manila. You can go camping and snorkeling here.
Environmental Fee: P20
---
Caleruega Chapel
More casually called Caleruega, the Transfiguration Chapel isn't really historic, but it is one of the most picturesque, making it one of the most popular wedding venues and retreat destinations in the region. Perched on top of a garden-adorned hill, it offers a spectacular view of the Batangan countryside, with Mt. Batulao dominating the landscape.
---
Mt. Batulao
I haven't tried climbing this (and given my current figure, I won't be trying anytime soon, haha). But it's a favorite among first-time climbers. According to my friend and teammate Asta though, it can be challenging for beginners. One thing is for sure though, this is one heck of a picturesque peak. "Her beauty makes the exhausting climb worth it," she said.
---
WHERE TO EAT IN NASUGBU
The streets of Nasugbu Town Proper is flanked with carinderias (low-cost eateries) and fast food options, so it's not hard at all to find a cheap but filling meal. We even had Angel's Burger for dinner once, haha. I ordered their Hungarian sausage sandwich, P44. Nag-crave lang bigla.
But if you want to try a place that you can only experience in Nasugbu, I recommend these:
Kainan sa Dalampasigan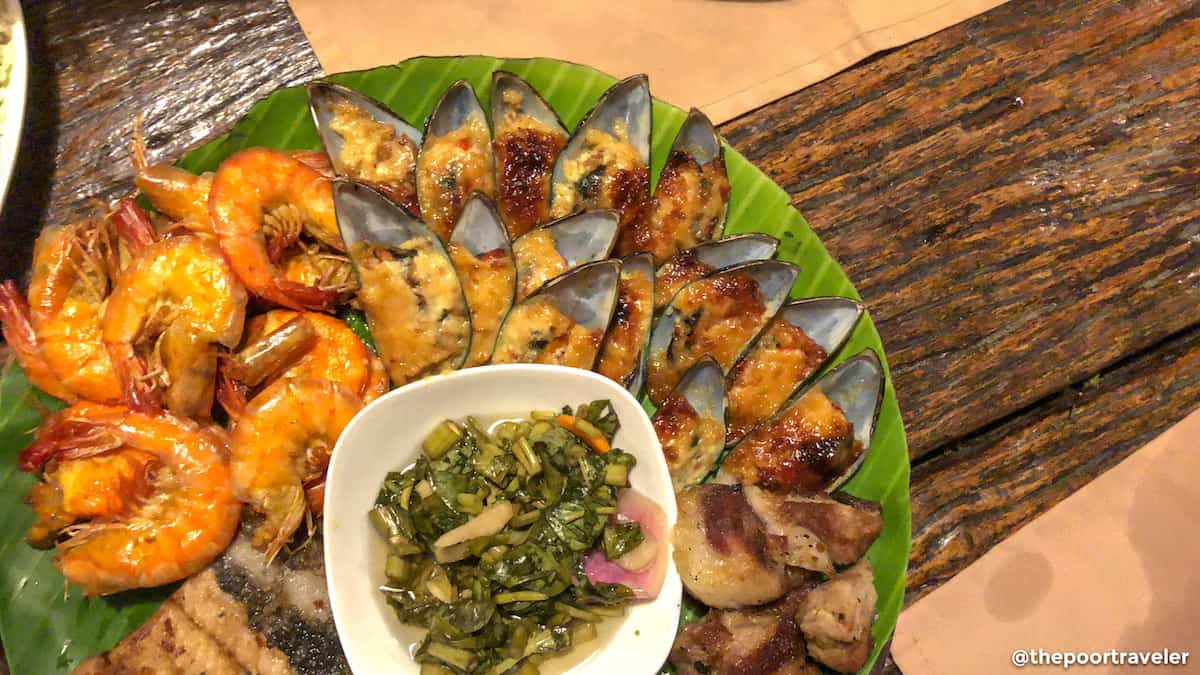 First of all, there is no view of the sea. Just getting it out there this early because the name of the place sort of implies that. But despite that, Kainan sa Dalampasigan is still a delightful seafood restaurant. This authentic Batangueno gastronomic paradise lies in a lush garden that allows visitors a quick but memorable moment with nature. It's an oasis in the middle of a rapidly developing town.
It's best known for their Bilao sa Dalampasigan, which is a platter of four of their bestsellers: baked tahong (mussels), garlic shrimps, daing na bangus (milkfish), and grilled pork. The first time I was here, an order costs P550. Now, it's P990. If the serving size or the price is too steep for you, I recommend going for the baked mussels alone. It's definitely the best among the quartet.
El Cocinero by Chef Arnaldo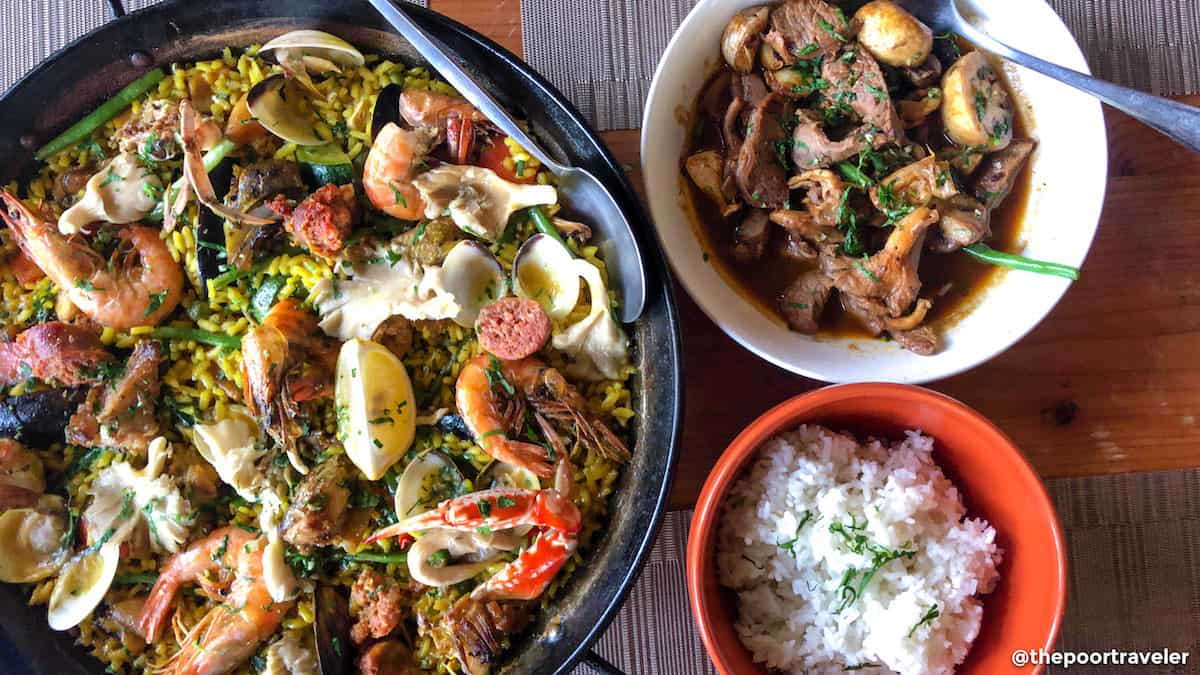 This wasn't part of our original itinerary. We were on the way home when we passed by this place and decided to give it a try. From the outside, it doesn't look much. But this unassuming restaurant has that proverbial inner beauty. It feels so homey inside. Every corner is IG-worthy.
The menu is predominantly Spanish. The bestseller? Its signature El Cocinero Paella, which is a panful of flavorful risotto topped with chicken, chorizo, mushrooms, fish, crabs, shrimps, squid, and mussels. It can feed up to four hungry travelers. It's a bit too pricey though. If budget is a concern, try their paella negra instead. At P720, it is the cheapest in their paella roster. Then wash it down with a glass of malunggay juice (moringa juice) mixed with calamansi.
---
SAMPLE NASUGBU ITINERARIES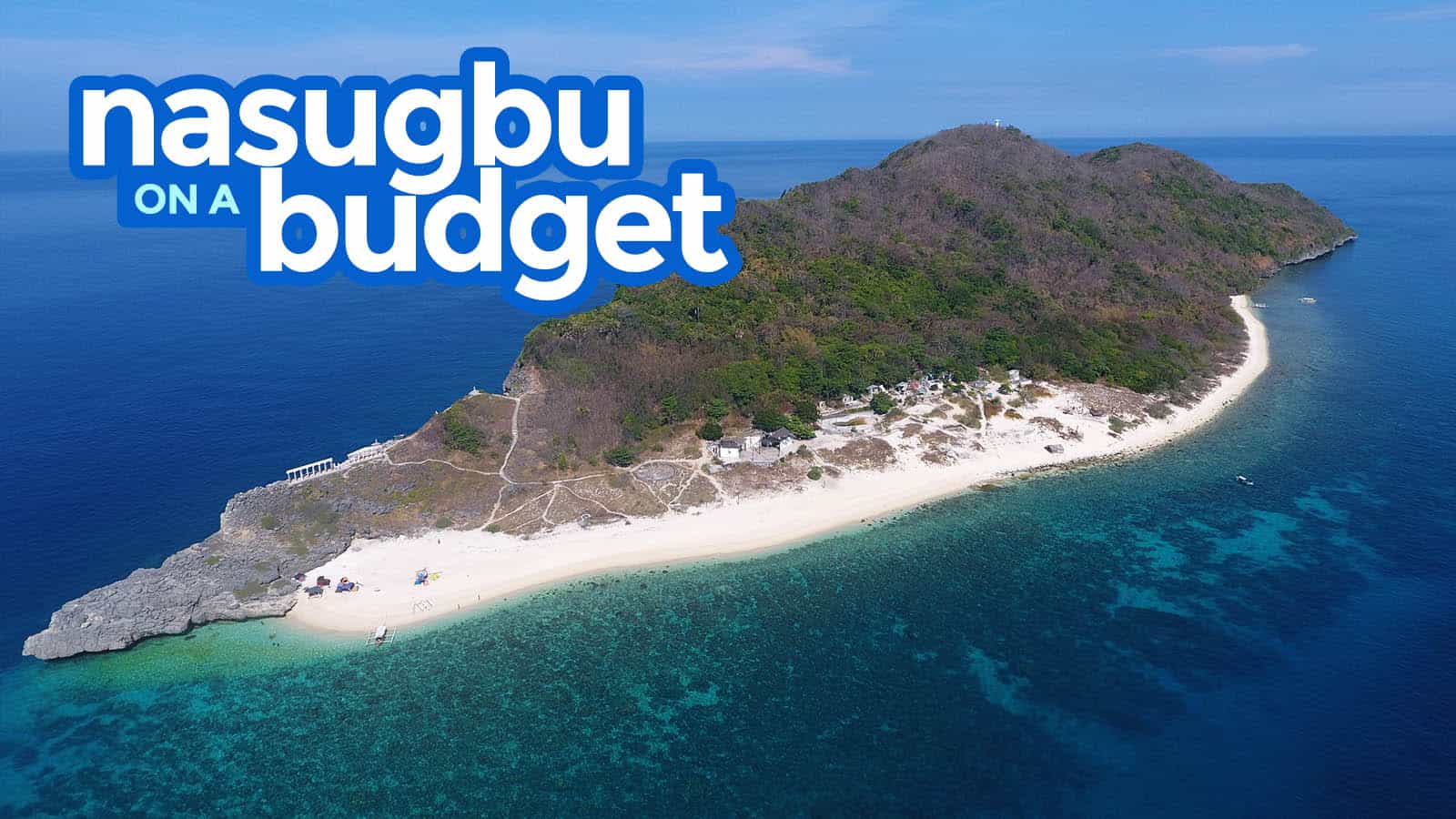 Below are two sample day tour itineraries with breakdown of expenses. The first is for Calayo (Pulo Island, Kayraang Cove and Bituin Cove), and the other for Fortune Island. Please note that both itineraries assume you're a group of 8 people, splitting the costs of some items and bringing your own food.
Calayo Itinerary
05:30 am – ETD Pasay/Buendia
08:30 am – ETA Nasugbu, P200
08:40 am – Tricycle to Calayo, P75 (P300/4pax)
09:10 am – Pay Calayo Environmental Fee, P20
09:20 am – Island hopping, P312.5 (P2500/8pax)
10:00 am – Loren Island, P25
10:30 am – Kayraang Cove, FREE
11:10 pm – Bituin Cove, P25
12:00 pm – Back to Calayo Beach
12:10 pm – Lunch
04:00 pm – Ride tricycle + bus for Manila, P75 + P200
This itinerary will set you back around P1000 (USD19, EUR17, SGD27), excluding lunch. You can bring your own food or buy in the town proper.
Fortune Island Day Tour Itinerary
04:00 am – ETD Pasay/Buendia
07:00 am – ETA Nasugbu, P200
07:10 am – Tricycle to Fortune Island Resort, P15
07:25 am – Pay entrance fee, P350
07:40 am – Boat to Fortune Island, P562 (P4500/8pax)
08:40 am – Arrival in Fortune Island, swim
11:00 am – Lunch
12:00 nn – Leave island
01:00 pm – Shower, P15
02:00 pm – Trike to town proper, P15
02:30 pm – Ride bus for Manila, P200
If you follow this itinerary, prepare to shell out around P1400 (USD27, EUR24, SGD37), excluding lunch.
---
MORE TIPS FOR THE POOR TRAVELER
Leave no trace. Don't leave trash on the beach.
Use reef-friendly sunscreen. Choose brands that contain no chemicals that can harm corals.
The bigger the group, the lower the cost. So invite your friends and form a bigger group.
Bring a hat, light scarf/wrap or anything that can protect you from the sun.
Both Calayo and Papaya collect a P20 environmental fee.
If you have more days, you can also check out the beaches in Calatagan. They're just an hour away.
If you're driving, you can make a stop in Tagaytay on your way back to Manila.
---
FREQUENTLY ASKED QUESTIONS
When is the best time to visit Nasugbu?
November to May. These months are generally dry, with little rainfall. November sometimes sees Batangas getting hit by typhoons but it's far from being a regular occurrence. The amihan prevails during this period. Amihan refers to the northeast monsoon.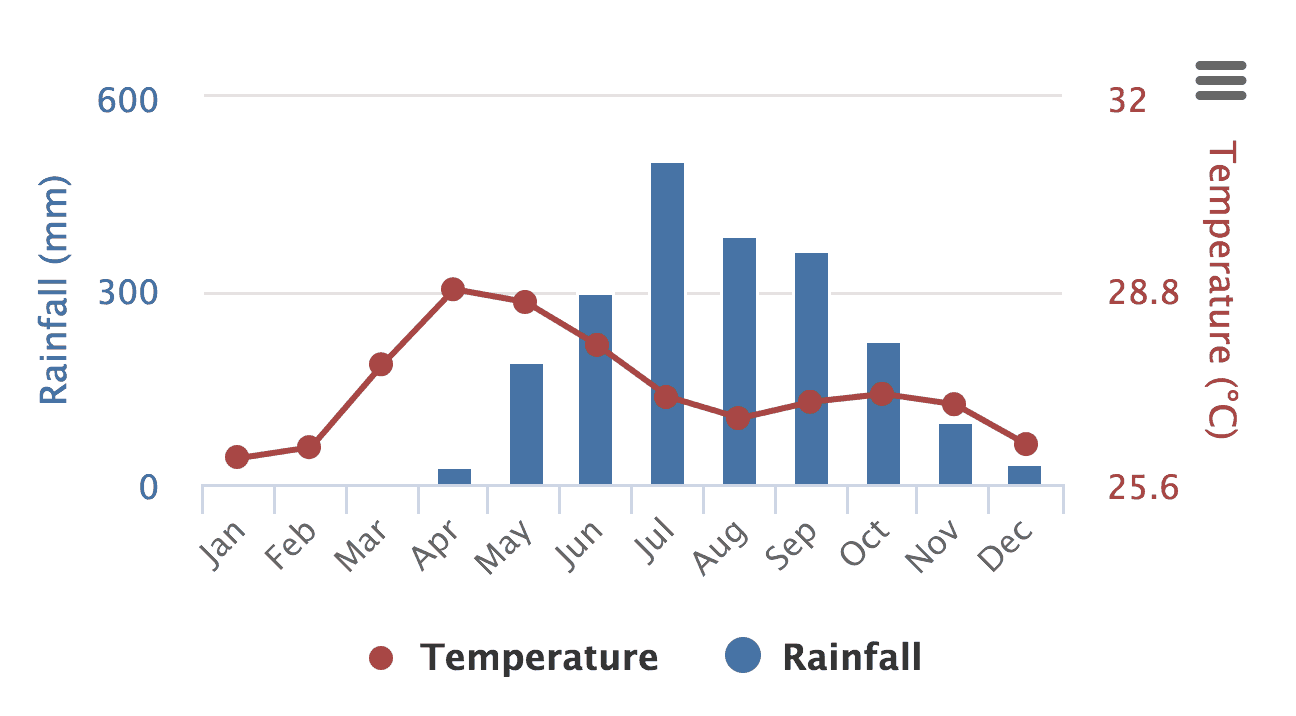 Note that March-May is widely considered the Philippine summer, which is the period when schools close for a break and the general population go on weekend vacations, so expect more tourists, the majority of which comes from other parts of Batangas.
Personally, I like going to Nasugbu between December and March to avoid both the rain and the crowd.
---
2️⃣0️⃣1️⃣9️⃣ • 5️⃣ • 4️⃣