Here's our SCHENGEN VISA GUIDE for applicants hoping to get one from the EMBASSY OF ITALY in the Philippines (through the PIASI VIA Center). It contains a complete LIST OF REQUIREMENTS and the STEP-BY-STEP APPLICATION PROCESS based on our personal experience. This is for Filipinos applying in Manila or Cebu for a short-term TOURIST VISA only, and NOT for long-term, work, reunion, study or business visa.
When we first toured Europe, we visited 16 different countries with a Germany-issued Schengen visa. But to our surprise, there was one destination that totally captivated us — ITALY. This boot-shaped Mediterranean state spoiled us with its delectable cuisine, jaw-dropping architecture, awe-inspiring sights, and enlightening history. We stayed in Italy for two weeks, but we knew from Day 1 that it would not be enough and that a return trip was bound to happen sooner or later.
Sooner, it turned out. Just a couple of years later, we found ourselves collecting all the documents needed to complete another Schengen Visa application. But this time, we were praying to the visa gods of Italy.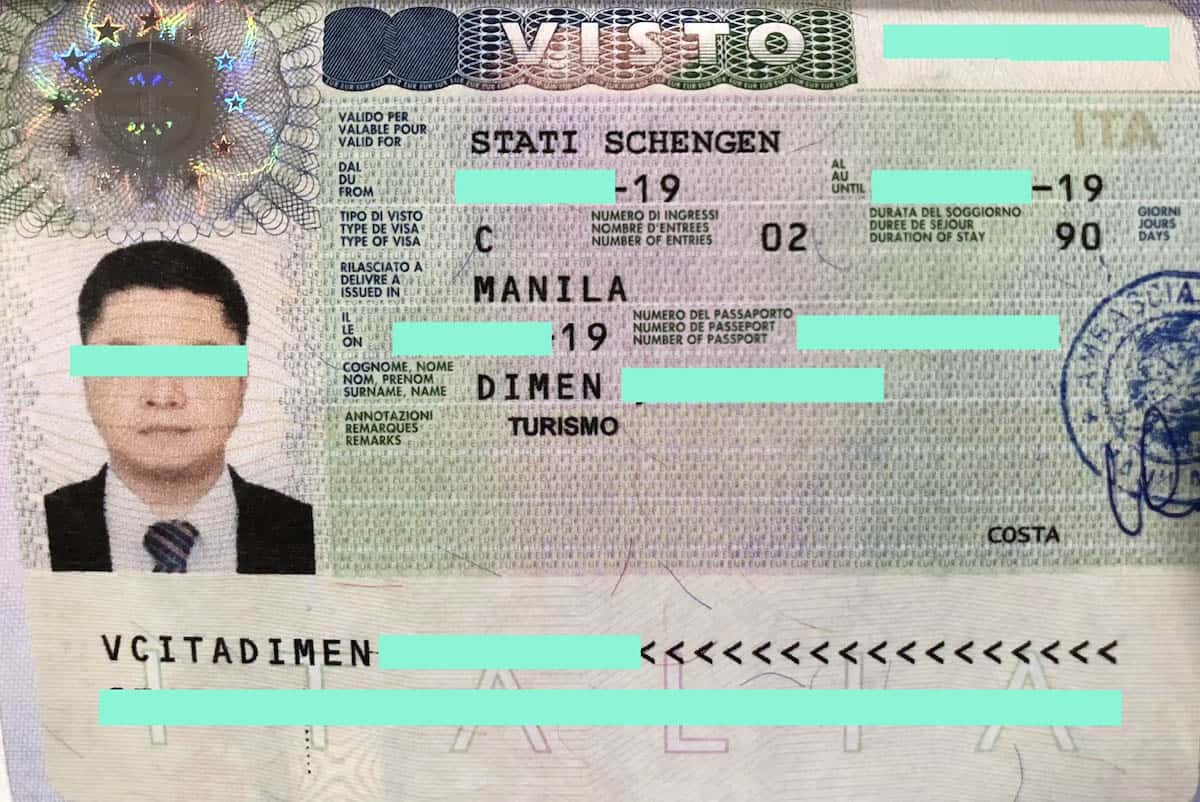 This wasn't the first time we applied for a Schengen visa, but of all our visa applications, this made us the most nervous. Italy is notorious within my travel circles as one of the strictest when it comes to evaluating applications. I can only assume that the main reason is the sheer number of Filipino workers in Italy, around 170,000 documented OFWs plus tens of thousands undocumented. If online sources are to be believed, Italy has one of the highest rejection rates, along with France and Spain. But our plan involved staying in Italy the longest so we had to try.
We're thankful that we did. As we began preparing, we realized that — yes, it is strict — but the process is also a lot easier and more straightforward. We applied via the PIASI VIA Center (Visa Information and Application Center). No prior appointment needed and no soul-crushing interviews. It was pretty fast too. I was granted a visa after only 4 days!
Anyway, here's how to apply for an Italian Schengen Visa.
WHAT'S COVERED IN THIS GUIDE?
WHO CAN APPLY FOR AN ITALY-ISSUED SCHENGEN VISA?
Apply for an Italian Schengen Visa only if one of these apply to you.
You're going to Italy or Vatican City ONLY and will not visit any other country.
You will visit two or more Schengen countries but you will stay the longest in Italy.
You will stay in multiple Schengen countries for exactly the same number of nights, but Italy is your point of entry (first in your itinerary) in the Schengen area.
I noticed that Schengen embassies count the number of nights when determining where the applicant would be staying the longest.
---
LIST OF ITALIAN SCHENGEN VISA REQUIREMENTS
1. Valid Passport
Current passport and previous passports
Must have at least 6 months validity (as required by Philippine Immigration)
Must have at least 3 months validity remaining from the target end of the trip or target visa expiry (as required by Italian Embassy)
---
2. Accomplished Application Form
You can do it online or by hand.
Make sure that you don't leave blanks. If the field does not apply to you, write NA or N/A.
For minors, the form must be signed by BOTH parents.
---
3. Recent Photo
Both passport-size and 2×2″ photos are accepted. I submitted 2×2; Vins submitted passport-size. They accepted both.
Colored ICAO standard photo with white background
Ears should be visible. Lips must be closed.
You must be wearing collared shirt or blouse.
---
4. Introduction Letter
This is highly encouraged. Because there is no interview with the consul or visa officer, you won't have a chance to explain your purpose of travel in detail or clarify things you think they might find confusing. Having a cover letter can help your case.
Here's a sample: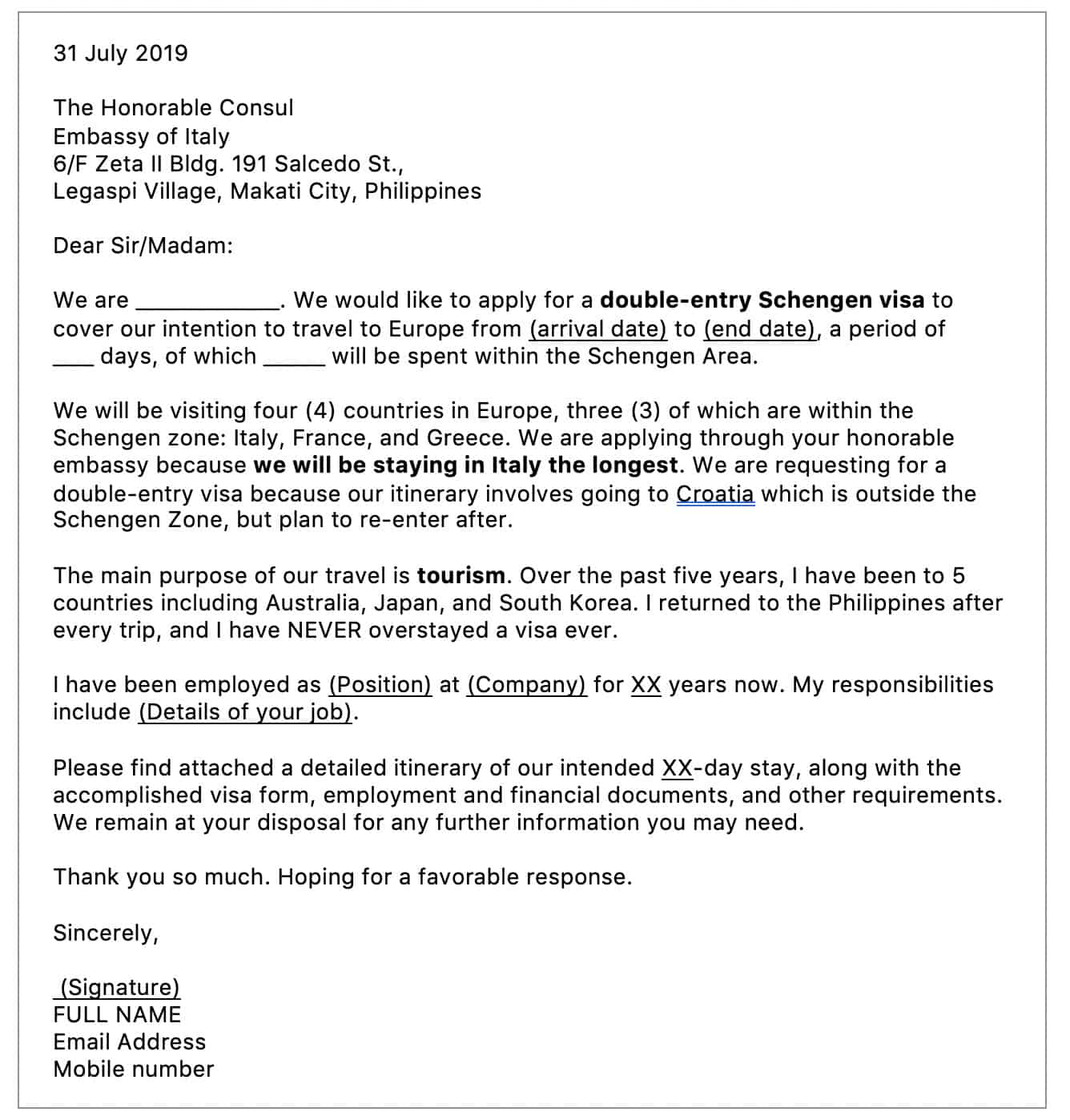 ---
5. Proof of Available Accommodations
IF TOURIST
Hotel booking under the name of the applicant. You may book from hotel booking websites and choose properties that allow FREE CANCELLATION so you can cancel easily in case the application is denied.
IF INVITED BY SOMEONE IN ITALY
Letter of invitation. I think the letter has a standard format, but we don't have a copy.
Proof of citizenship or permit of stay of the inviting party
PSA/NSO documents to prove relationship, if the inviting person is a relative. These may be birth certificates, a marriage certificates, or combination of them.
---
6. Photocopy of Passport Pages
Photocopy of the bio page (page 2) and last page (In case of Emergency page) of the valid passport
Photocopy of previous visas and immigration stamps on current and previous passports
---
7. Proof of Employment
IF EMPLOYED:
Certificate of Employment
Approved Leave of Absence
Latest Income Tax Return (ITR)
Approved Travel Authority (For government workers only. Ignore if not applicable.)
Professional License Card (PRC Card, only if applicable. Ignore otherwise.)
IF SELF-EMPLOYED:
Business license/permits
BIR Plate
BIR Registration
SEC Registration (corporation) / DTI Registration (sole proprietor)
Financial Statement with Company Income Tax Return
GIS (General Information Sheet of company, if corporation)
Articles of Incorporation (if corporation)
Professional License Card (PRC Card, only if applicable. Ignore otherwise.)
The copies of GIS, BIR Plate, and Articles of Incorporation are not in the official checklist, but we were told that they are also required. Thankfully, we had a soft copy of the docs they wanted so we just printed them out at a nearby computer shop and submitted the lacking docs that same afternoon.
IF STUDENT:
Certificate of Enrolment
Approved Leave of Absence (if traveling within school months)
---
8. Proof of Financial Means
Bank certificate supported by corresponding statement of account or passbook, showing 6 months of account history
International credit card statements
Land titles or copy of proof of real estate property
For minors, proof of financial means of parents or legal guardian
---
9. Travel insurance
Minimum coverage of €30,000 (with additional 15-day allowance beyond your travel dates).
Must be valid and accepted throughout the Schengen area.
Must be purchased from an accredited company.
Our travel insurance was from Standard Insurance, which we also purchased via Gazelle Travel and Tours. You can get travel insurance here: TRAVEL INSURANCE
---
10. Identity Documents
PSA/NSO-issued birth certificate
If married, PSA/NSO-issued marriage certificate
If minor or student, notarized Affidavit of Support signed by BOTH parents
If minor and not traveling with parents, DSWD Clearance
---
11. Complete Itinerary
Your itinerary must reflect the dates you indicated when you accomplished the application form. Below is a sample. This is the format I followed. You can also download an editable version here.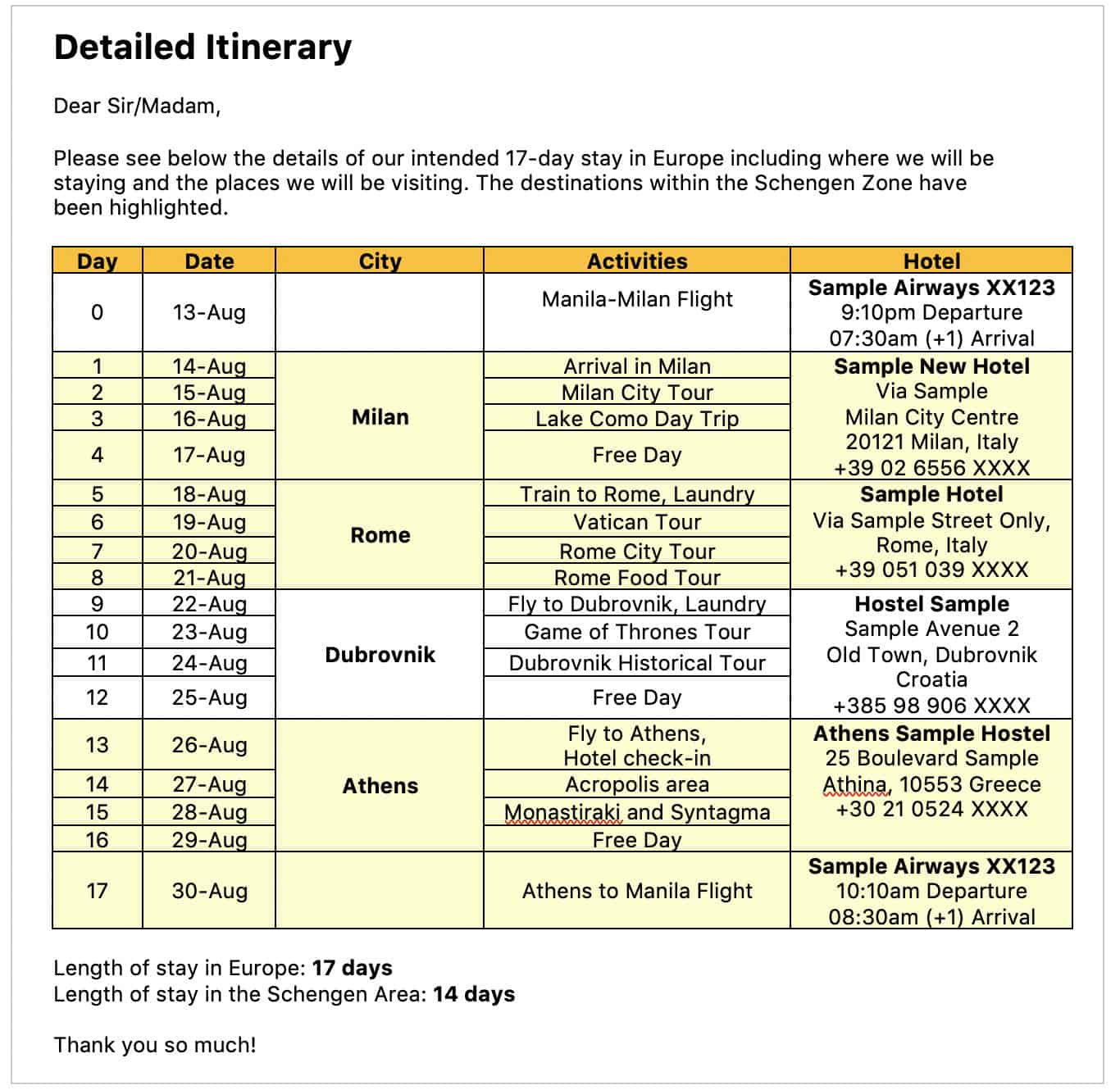 ---
12. Flight Reservations
Including outward and return flights. We also submitted all the flights we plan to take within the Schengen area. Make sure your document has a Passenger Registration Number (or reservation number).
To avoid wasting money, DO NOT PURCHASE TICKETS until your visa is approved. You just need to reserve.
Find a travel agency that can reserve flights for you. In our case, we got all our flight reservations from Gazelle Travel and Tours. You can reserve flights here: HOW TO GET FLIGHT RESERVATIONS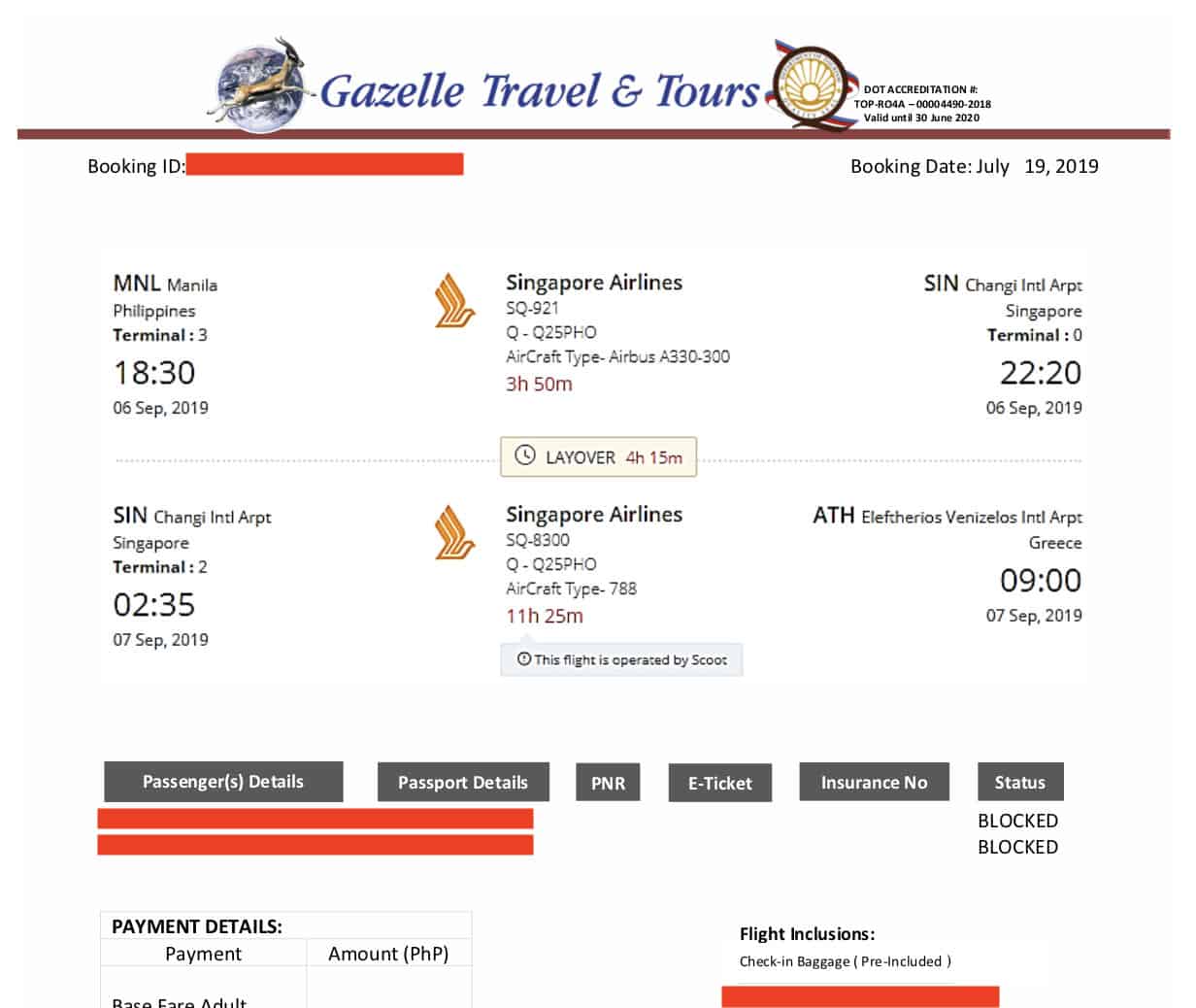 ---
13. Visa Fee
Here's the cost of Short Term Visa (Tourism/Visit) when I applied:
12yo or older = 60€ (P3519)
6-11yo = 35€ (P2053)
5yo or younger = FREE
However, there is a report that visa fees across all Schengen embassies have increased to EUR 80 per applicant.
In addition, you also need to pay the P1450 handling fee charged by VIA PIASI. According to their website and the matrices on site, the handling fee is only P1350, but we were charged P1450. I'm not sure if we were charged an additional P100 for something else.
Anyway, that's a total of P4969.
---
You can get FLIGHT RESERVATIONS, HOTEL RESERVATIONS, and TRAVEL INSURANCE online! We got in touch with Gazelle Travel and Tours, a DTI-registered DOT-accredited travel agency so they could easily offer these services to our readers.

For the rates and more info, read: FLIGHTS AND HOTEL RESERVATIONS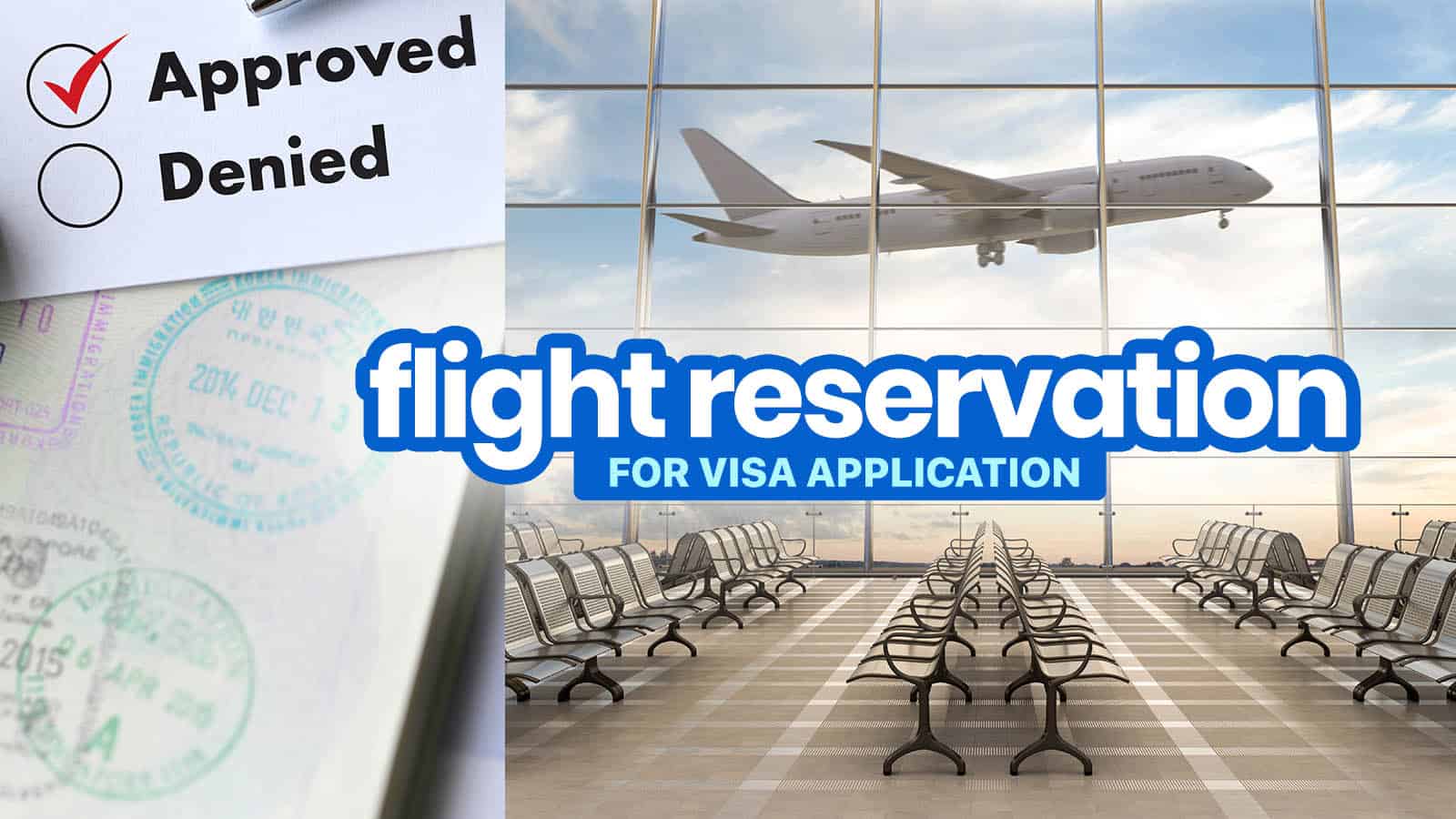 ---
HOW TO APPLY FOR AN ITALIAN SCHENGEN VISA
1. Complete the required documents.
Gather all the requirements as listed above. You might also want to download this checklist, so you have an easy reference.
For easier processing, arrange your documents according to the order above. We also arranged the photocopies of our stamps and past visas according to how they appear on our passports.
Although there is no specified paper size, we decided to print all our docs on A4-size paper because it is the European standard.
---
2. Submit the requirements to the VIA Center.
Here are the addresses and business hours of the PIASI VIA Center in Makati and Cebu.
VIA Center Makati
3F Allegro Center, Chino Roces Ave, Makati,
2284 Metro Manila, Philippines
Phone: +632-845-9200 / +632-845-9215
Email: ita_inquiry@via.ph
VIA Center Cebu
1004 Keppel Bldg, Cardinal Rosales Avenue Cor Samar Loop,
Cebu City, 6000 Cebu, Philippines
Phone: +63-32-412-7447
Email: ita_inquiry@via.ph
You can schedule an appointment or you can simply walk in.
If you wish to book an appointment, you may secure a slot by phone. Here are the details:
Appointment Hotline: (02) 845 9200
Call hours: Monday to Saturday, 8am-6pm
Closed: Sundays and public holidays
But an appointment is OPTIONAL. You can simply show up at VIA Center. That's what we did. We simply walked in! They accept visa applications in the following times:
VISA APPLICATION HOURS
Monday to Thursday, 8am to 2:30pm
Friday, 8am to 1:30pm
Closed: Saturdays, Sundays, Public Holidays
If you're applying in Makati, go to the second floor. Although the main office is on the third floor of Allegro Center, their receiving area for walk-in applicants is on the second floor. Here's our experience.
Approach the first counter right after the door. The staff will briefly check your application form and photo.
Register on their logbook.
Get a queue number and information form. This short form will ask you about your application and how you want your passport to be returned: by pickup or by delivery.
Take a comfortable seat and wait for your turn. Use this idle time to fill out the information sheet.
Once your number is called, approach the counter and submit your documents. They will check each document meticulously so it will take some time. If you choose to have your passport delivered, you will have to take care of it here too. You will be asked to go back to your seat and wait for the Biometrics collection.
Once called, approach the Biometrics counter where a staff will take your fingerprints.
Climb to the third floor and find the cashier.
Make payment! Cash only. Don't forget your acknowledgement receipt AND official receipt.
That's it! You're done! VIA Center will then forward your application to the Italian Embassy, which will be the one evaluating it.
In my experience, the whole processing took 3 hours. It should have been 2 hours, but they said we were lacking a couple business documents so we had to go out, print out those docs, and wait for our turn again.
---
3. Claim your passport and visa.
When the results are in, you will receive a call from VIA Center telling you that the passport is already with them and that it's ready for pick up or delivery.
We were told that we can only pick up our passports at these times.
PASSPORT RELEASING SCHEDULE:
Monday to Friday, 3pm-5pm ONLY.
We got a call from VIA only 4 days after we submitted our application. This was the fastest Schengen visa application I have experienced! But according to the VIA staff, the average wait is 15 days.
---
ITALIAN VISA FREQUENTLY ASKED QUESTIONS
1. How long does the entire Italian Visa Application process take?
According to the VIA staff we talked to, the average is 15 days.
Some take longer. In some cases, applicants have to wait over a month. Some get theirs much shorter — 10 days, 7 days, 5 days.
In our case, the whole thing took only 4 days! Here's my timeline:
July 23 (Monday) – Submitted our application at VIA Center Makati
July 26 (Friday) – VIA informed us that our passports were ready for pickup
July 29 (Monday) – We picked up our passport
I was super nervous at first because it was too quick, but according to a friend who used to work as a visa officer at a Schengen embassy, it does happen occasionally. It's probably because this was my fourth Schengen visa and I had been to Italy before.
---
2. How early should I apply for an Italian Schengen visa?
The earliest you can lodge your application is 3 months (90 days) before your intended travel date. If you apply earlier than that, they will refuse your application and tell you to return at a later date.
Update: There is a report that you may now apply as early as 6 months before the trip, but I haven't confirmed this yet.
---
3. How long is the validity of the Schengen Visa?
Depends on the itinerary you submit. The Embassy will decide based on your itinerary so take it seriously. Don't make dummy itineraries. Make sure it's really your plan.
---
4. Should I apply for a single-, double-, or multiple-entry visa?
Again, it depends on your itinerary and flight reservations. If your itinerary/flight reservations suggest you're going out of the Schengen zone and then returning after, then apply for a double-entry visa. If you plan to go in and out of the zone many times, then go for the multiple entry visa.
Don't apply for a multiple-entry visa if you intend to stay in Italy the entire time. There is no need for your visa to be multiple and will probably just raise more questions.
---
5. How much money should I have in the bank to get approved?
The embassy doesn't disclose the exact amount they need to see on your financial documents. It also depends on the length of your stay and what you plan to do.
I add the cost of all the flights and hotel reservations I submit and then add 60 euro per day of stay in Europe. Some embassies require USD50 per day, some USD 55 per day. But to be safe, I use EUR60 per day.
Once I have the sum of it all, that's what I consider the minimum amount that I should have in my bank account. MINIMUM. I make sure I have much more funds that that because the embassy will have a very hard time believing that you are willing to spend all your money on this trip.
Because of this, my personal rule is P10,000 per day of stay + cost of flights + cost of accommodations.
---
6. What are the reasons why my Schengen visa application would be denied?
This applies not just to the Italian Embassy but also other Schengen embassies:
You can't prove that you intend to return to the Philippines. You probably don't have a stable job at this point, newly employed, or newly resigned, and it's giving the impression that you plan on staying longer than your declared duration.
You can't prove that you can financially afford this trip. You or your sponsor may not be in a good financial standing.
Your documents are inconsistent. Your application form may be stating one thing, but your supporting documents may be suggesting another.
Your purpose in Italy or Europe is unclear or dubious. This is why it is best to be specific when you're detailing the reasons for your visit.
We have more detailed explanations in this post: COMMON REASONS WHY VISA APPLICATIONS ARE DENIED!
---
7. Do I really need flight tickets before applying?
No, you don't need to plane tickets. If anything, you are DISCOURAGED from purchasing plane tickets so you won't waste money in the event that your application is rejected.
Actual tickets are NOT a requirement. What you can submit is a so-called FLIGHT RESERVATION, which is different from actual tickets. "Reservations" are just proof that you have blocked these plane seats. Some airlines can hold the booking for you.
Travel agencies can also issue flight reservations. If you don't have time to go to a travel agency, you can have it reserved online.
Our go-to travel agency for flight reservations (and travel insurance) for visa application is Gazelle Travel and Tours, a DTI-registered and DOT-accredited agency. We created a form here so you can contact them completely ONLINE:
---
8. Do I need to submit the original copies of the documents?
VIA Center urges applicants to bring both the original and a photocopy of all documents. However, not all of the original copies will be kept by them.
Some requirements call for original copies like passports, bank certificates, birth certificate, and certificates of employment.
For others like land titles and business registration docs, they will only get the photocopy. But they will check the original copies for verification that the photocopies are indeed true copies of the original.
---
9. I'm applying with a group/family. Do I need to provide a copy of every document for each member?
YES. Schengen visa applications are assessed individually. According to the VIA Embassy website, each applicant must have their own set of requirements.
For example, if there are 4 members of the group/family and all of you will be using the same bank account as proof of funds, you can use that one bank account but provide 4 original copies of the bank certificate, one for each member.
---
10. Is personal appearance required?
Most of the time, YES.
Part of the process is Biometrics collection, in which they need your fingerprints, so the applicant must be there. However, according to the VIA staff that processed my bio, some applicants who have existing biometric records in the Schengen system may not need to show up. But because it's hard to tell whether the copies are reliable, they still strongly recommend to personally appear to submit biometrics.
I had my biometrics collected when I applied at the Greek Embassy just over a year ago, but I was still asked for fingerprints.
---
11. I am visiting European countries outside the Schengen Zone and then re-entering the zone after. What should I answer to the "Indicate number of days" field on the application form: the total number of days in Europe or just the number of days within the zone?
I had this same problem. Our plan was to spend 46 days in Europe but only 22 of those would be spent within the Schengen area: 18 days initially then we'll go out and re-enter the zone again and spend 4 more days inside.
Initially, I entered the total number of days in Europe, 46 days. But the VIA Center staff told us to write the number of days within the Schengen area, 22 days. But because I had already written 46 days, she instructed us to just add (22 DAYS IN SCHENGEN), enclosed in a parenthesis, by hand. So my final answer was 46 DAYS (22 DAYS IN SCHENGEN).
I'm not sure if that's right. I just followed their instructions. We were still granted a suitable visa, so I guess it was okay.
---
12. On the Schengen Information section (Page 5) of the VIA online application form, what if I have more than one visas?

On Page 5 of the VIA application form, one field asks: "Schengen issued during the past 3 years?" It's followed fields where you're supposed to enter the validity dates of the past visas.
The problem is, it seems to be impossible to enter more than one visas.
What I did is, I just entered the validity dates of the latest Schengen visa that I had.
---
13. On the Fingerprint Information section (Page 6) of the VIA online application form, what am I supposed to answer?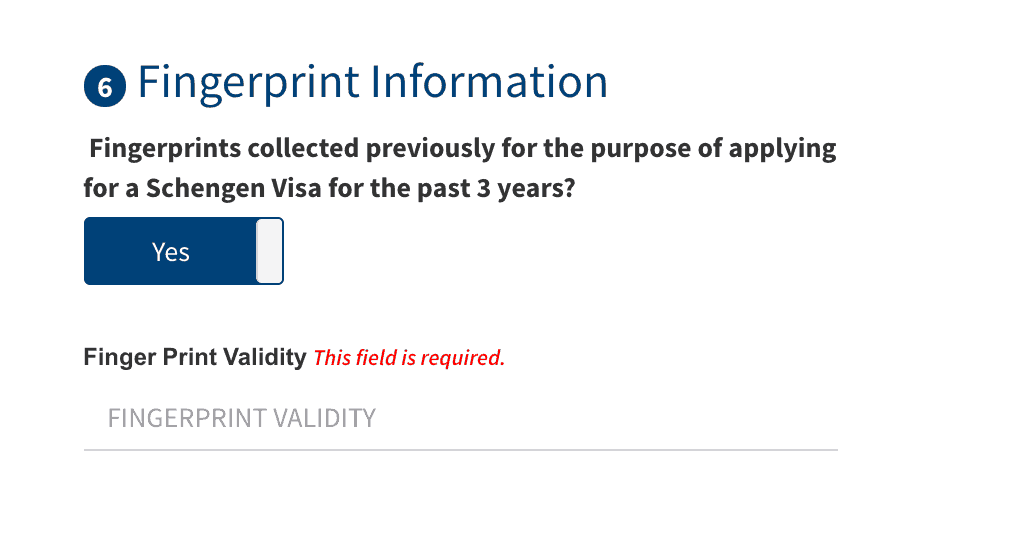 There are only two fields on that page. Here's what I answered:
Fingerprints collected previously for the purpose of applying for a Schengen visa for the past 3 years?
– If you have applied for a Schengen visa before and the embassy (any Schengen embassy) collected your fingerprints within the past 3 years, answer YES. I answered YES because I remember the Greek Embassy took my biometrics 2 years ago.
Finger Print Validity.
– I don't know what to answer here exactly, but I just entered the date my fingerprints were last collected by a Schengen Embassy.

---
14. What to answer to the PERMIT INFORMATION section (Page 7) of the VIA online application form?
I was perplexed by this too because there was no description. I didn't know what to answer.

Thankfully, I found a Schengen Visa Application Form guide on the website of the French Embassy! The French to the rescue!
According to it, it's specifically asking for: Entry permits for the final country of destination, where applicable.
"Fill this space only if you do not have the nationality of your country of residence and present your visa or your permit with a photocopy."
Because I am a Filipino residing in the Philippines, it means it doesn't apply to me. So I ticked NO.
---
15. On the Members Information section (Page 9) of the application form, there are tick boxes that read "by a applicant", "by a sponsor", and "means of support". What are these?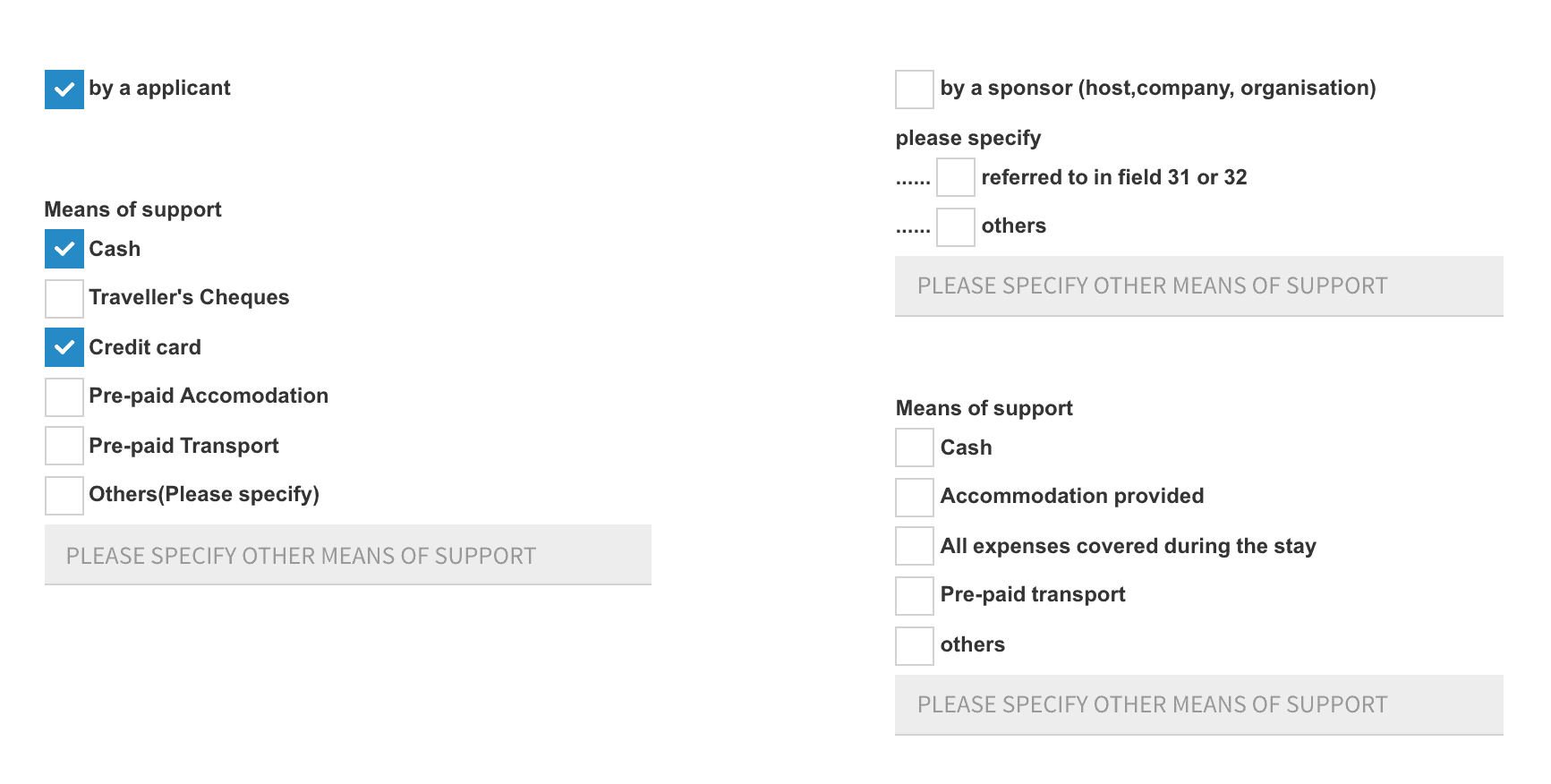 The header of that section is missing. You're supposed to fill in the blank. What it's actually asking is this: "Cost of travelling and living during the applicant's stay is covered ______."
If you will be shouldering your travel expenses, tick "BY APPLICANT." Then choose the means of support that you will be using. DO NOT tick the "BY A SPONSOR" box. That's only for sponsored applicants!
---
16. What does an Italian Schengen Visa look like?
Like this: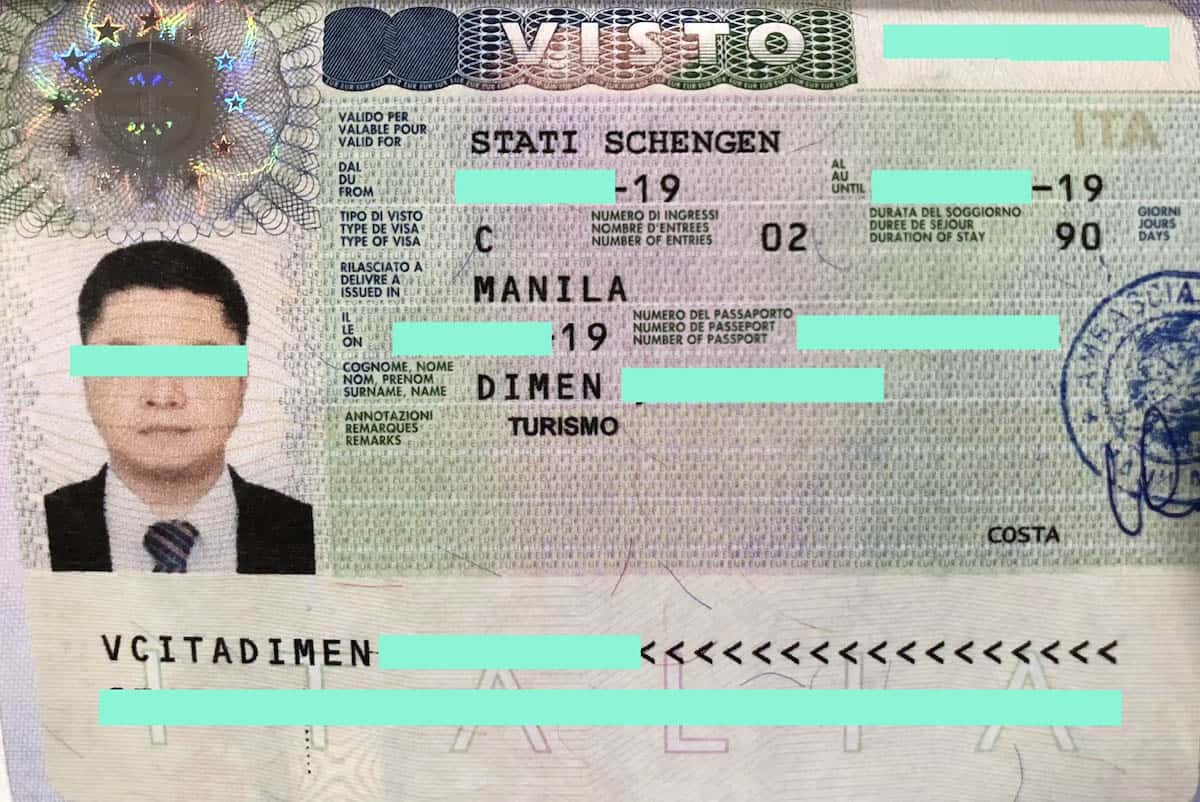 ---
17. I earn this much per month, have this much funds in my bank account, have visited these countries and have these supporting documents. Will my application be approved?
I have no idea. No one and nothing can guarantee visa approval beforehand. The only person who can answer this question is the visa officer evaluating your application.
You can be adequately prepared for it, but sometimes, we just don't know what the eff is going to happen.
Sometimes, no matter how qualified or how adequately prepared you are, you can still end up denied a visa. I have heard about cases wherein I just couldn't figure out what went wrong. I have a friend who has a great travel history, financial records, rootedness proof. Everything was great, in my opinion. And yet her application was denied. And it's not exclusive to Schengen visa. I know another who was applying for a Japanese visa for the third time. He meets all the items of someone who would surely be guaranteed approval, but was refused a visa, too.
---
18. What other countries can I visit using an Italian Schengen visa?
The Schengen Visa is a travel document that allows the holder to enter any of the 26 states that are part of the Schengen agreement. Think of it as an almost all-access pass to many countries in Europe, eliminating the immigration borders within the Schengen zone and the hassle of having to apply for a visa for each individual country. These are the countries who are part of the Schengen Zone:
Austria
Belgium
Czech Republic
Denmark
Estonia
Finland
France
Germany
Greece
Hungary
Iceland
Italy
Latvia
Liechtenstein
Lithuania
Luxembourg
Malta
Netherlands
Norway
Poland
Portugal
Slovakia
Slovenia
Spain
Sweden
Switzerland
Some non-Schengen countries like Croatia, Bulgaria, Romania, and Turkey also accept double- or multiple-entry Schengen visas (with certain conditions about the visa types and length of stay, among others).
---
For more Schengen Visa Frequently Asked Questions, check out this post: Schengen Visa for Filipinos
---
This article is based on my own Schengen Visa application (Tourist) via PIASI VIA Center, the official service provider of the Embassy of Italy. If you have inquiries about anything outside my personal experience, I'm afraid I won't be of help. However, feel free to post questions in the comments section below because some of our readers might know better.
2️⃣0️⃣1️⃣9️⃣ • 7️⃣ • 3️⃣1️⃣
---