This KYOTO TRAVEL GUIDE BLOG is your one-stop source of Kyoto travel tips. In this post, we put everything we know about Kyoto, Japan, including train passes, tour recommendations, and public transportation directions. We also included a sample DIY KYOTO ITINERARY with cost estimates and breakdown of expenses.
It was mid-summer when I set foot in Kyoto for the first time. The deciduous forest of the Arashiyama district was very lush and green, awfully green. Green is great; I love green. But as a guy who hailed from a tropical island carpeted in evergreen rainforests, it was not really the color I was excited to feast my eyes on. The longer I walked, the more I realized that it was a mistake booking June tickets to Japan. What was I thinking? Was I even thinking when I booked it? But kicking myself in the butt lasted for only a minute. Summer may not be the best time to be here, but the proverbial silver lining appeared amidst the greenery. There were fewer tourists, and the weather was pleasant, perfect for a long afternoon walk.
That or I was just mastering the art of sweet lemoning.
Before that trip ended, I did what every other typical travel blogger does when writing about a place they enjoyed tremendously: make a solemn pledge to return. And return I did. Multiple times. Because I'm typical like that. LOL.
WHAT'S COVERED IN THIS GUIDE?
Understanding Kyoto
Kyoto is the capital of Kyoto Prefecture, which is part of Japan's Kansai Region (along with Osaka, Nara, Hyogo and a few others).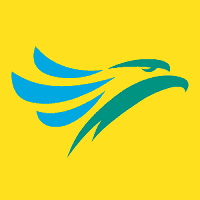 For over a thousand years, Kyoto was the Imperial capital of Japan, the main reason why it is teeming with structures and customs from the bygone times. This makes the city an attractive choice for foreigners who are interested to dig deeper into traditional Japanese culture.
Today, Japan's seat of power is Tokyo. Yet, Kyoto is still the cultural core of the archipelago. Kyoto remains home to impressively maintained and restored ancient temples and shrines. When most major cities in Japan have shifted to highlighting its modern and futuristic attractions, Kyoto remains steady in its dwelling in the past and flaunting its cultural heritage. Kyoto pulsates at its own pace, a bit slower but curiously mesmerizing.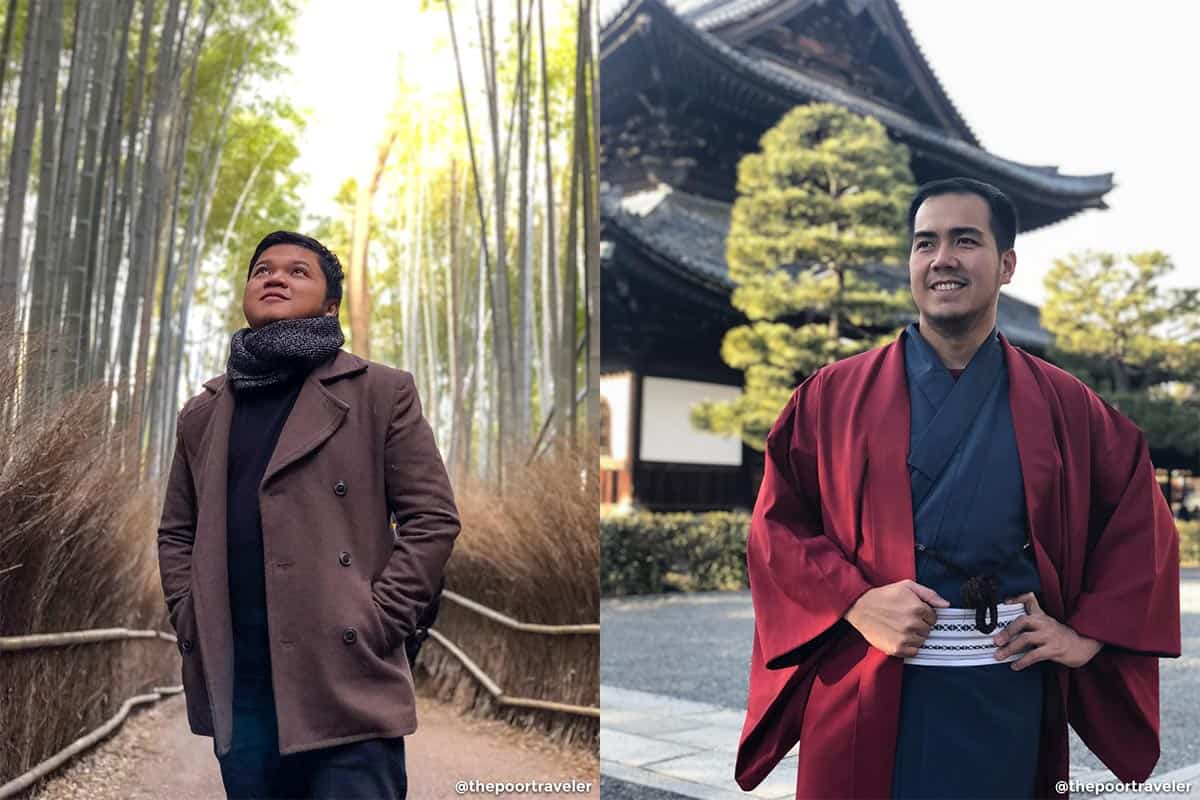 Other info you need to know:
Language: Japanese (Nihongo). The majority of the locals seldom speak English, but most of the signs and other tourist promotional materials have English translations.
Currency: Japanese Yen (JPY, ¥). JPY 1000 is around USD 9.36, EUR 7.60, PHP 484 (as of February 2018).
Money Exchange. There are a lot of money changers throughout Osaka and Kyoto, but save yourself the trouble and just exchange currencies before your trip. SANRY'S has good rates. You can also withdraw from ATMs when you're there, but they're pretty hard to find. Most of the ATMs we saw didn't accept international cards.
Modes of payment: Most establishments prefer cash payment, but many of them also accept credit card transactions.
Electricity Info: 100V, 50/60 Hz. Type A sockets. Plugs have two flat pins. Type B is sometimes used but not that common.

---
When is the Best Time to Visit Kyoto?
Every season highlights a different side of Kyoto: clad in the fiery colors of autumn, dressed in white snow in winter, adorned with the pink glow of cherry blossoms in spring, and, finally, drowned in a sea of verdancy in summer. Each has its own pros and cons, but if you're after visual spectacle, these two will be your best bets:
Late March to early April for the cherry blossoms
Mid- to late November for the colors of fall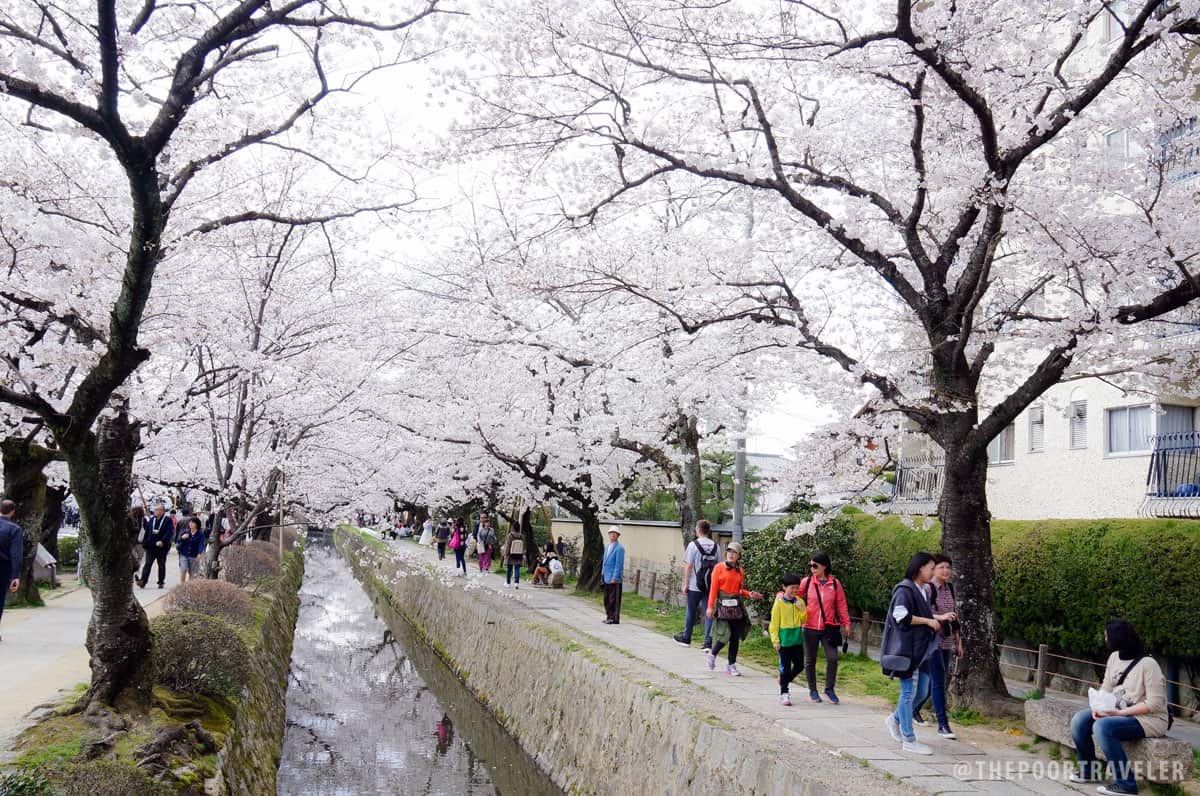 Spring is also the beginning of peak season, when cost of flights and hotel rooms begin to rise. Yes, the sakura experience is magical, but prepare to shell out more dough and share the place with a bigger crowd.
Summer is also part of the peak season. If you're from the tropics like me and you want to explore in an atmosphere different from what you're used to, stay away from the summer months. Not only are these months crowded, they can also be too hot. Longer days also mean you have more hours of daylight, more time to explore, and more opportunities to take wonderful photos.
Autumn is a great time to be in Kyoto because this is when the prices drop, crowds thin, and foliage turns fiery orange and red. Temperature is also pleasant and comfortable for sightseeing.
Winter is great for budget travelers because airfares are lowest at this time. However, establishments tend to open later and close earlier.
You might also want to avoid these dates:
Golden Week (April 29 – May 5)
Obon Festival (August 13–15)
Cherry Blossoms Season (Late March-Early April)
These dates bring the biggest crowds and steepest prices.
---
How to Get a Japan Visa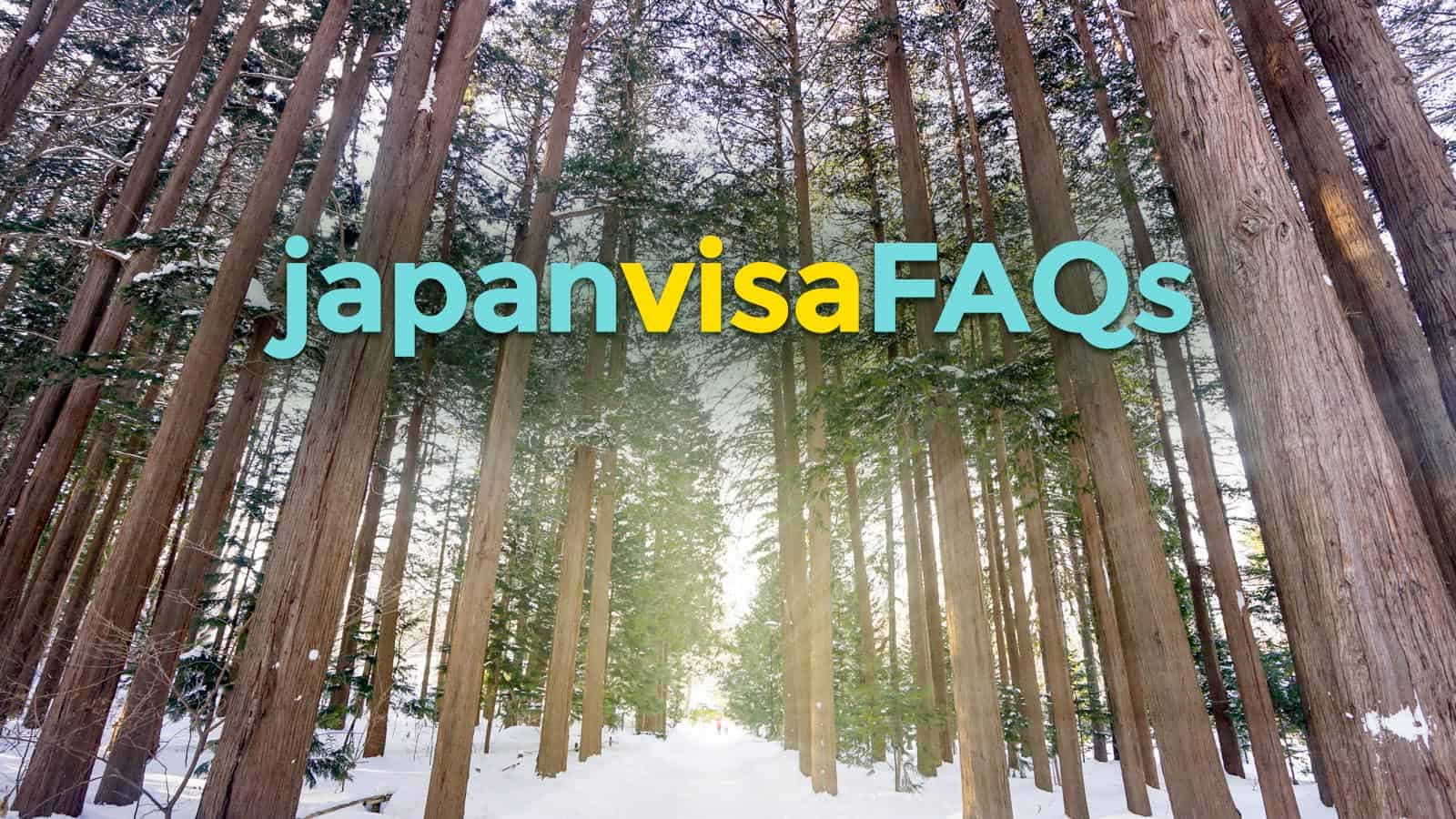 If you're from the Philippines, the posts below will help you get through the application process.
---
How to Get to Kyoto
Manila to Kyoto
Kyoto Prefecture doesn't have its own airport, but the regions's primary gateway, the Kansai International Airport (KIX), is just 1.5 hours away.
A lot of airlines fly from Manila to Kansai Airport. If you book way in advance, you'll get the best deals from Cebu Pacific Air. Cebu Pacific flies to Osaka five times a week. Their lowest year-round fare is at P6399, which is a great deal already.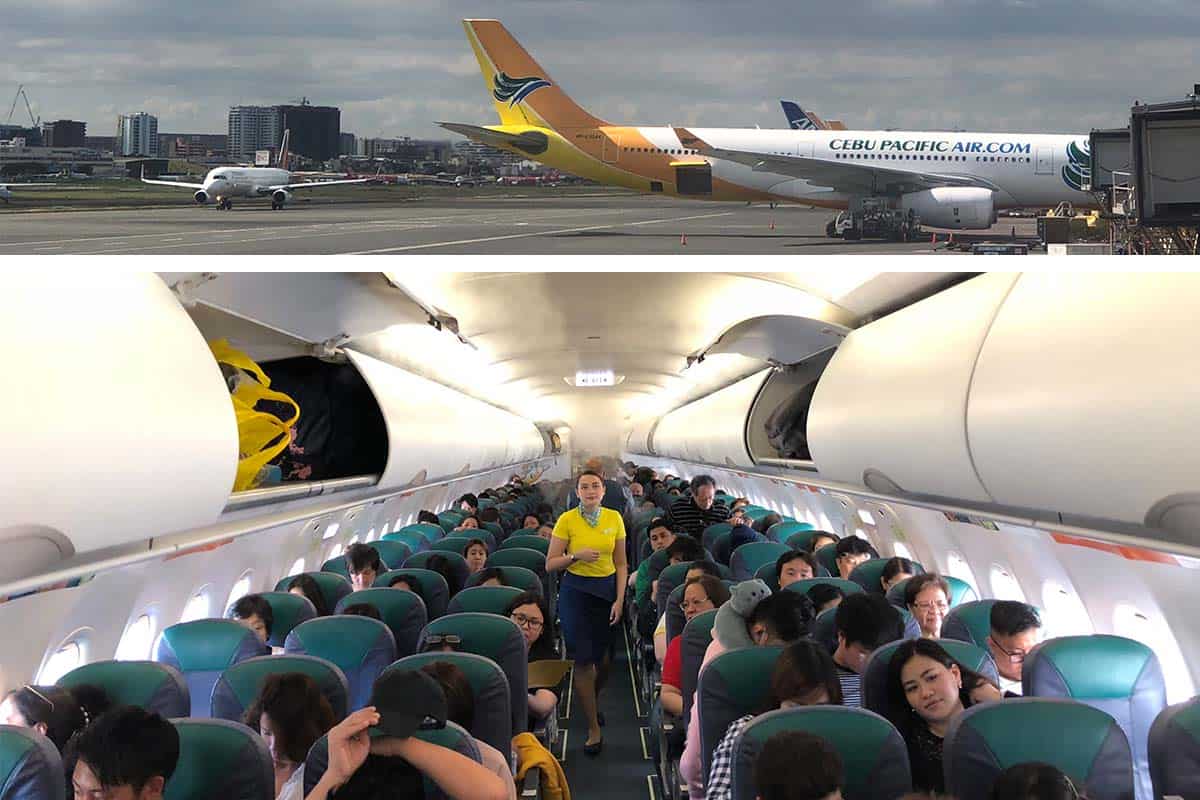 You can also wait for a SEAT SALE! For one of our trips, I was able to score a roundtrip Cebu Pacific ticket from their P20 SALE. The base fare per leg was only P20, but including all the taxes, I only paid PHP 5984 for the roundtrip ticket (PHP 2992 per way). That includes a prepaid baggage allowance of 20 Kg. Not bad. Not bad at all.
---
Kansai Airport to Kyoto
Kyoto is only 1.5 hours from Kansai Airport by train, longer by bus.
By Train
There are many routes you can take to get to Kyoto from Kansai airport, but many of them entail multiple transfers. What I recommend is taking the Limited Express Haruka Train that will take you straight to Kyoto from the airport.
Limited Express Haruka
Travel time: 80 minutes
Regular Fare: ¥1880 + ¥970 (seat fee)
You can save a lot of money in two ways:
JR West Kansai Pass. If you're planning on visiting multiple cities within Kansai Region in a few days, this is great for you because you can enjoy unlimited rides to most JR lines including the Haruka train to Kyoto. More info about the Kansai Pass here.
ICOCA + HARUKA. If your itinerary is restricted in Kyoto and/or Osaka only, the best option for you is getting an ICOCA card. ICOCA isn't really a pass; it's more like a stored value card. You still pay for every time you use the train, but you don't need to purchase a single journey each time. Moreover, JR West has an ongoing promo: If you present your ICOCA card upon purchase, you can grab a Haruka ticket for only ¥1600. That's a significant discount! RESERVE AN ICOCA CARD HERE
If you decide to purchase either the West Kansai or ICOCA via Klook, here's how to use them.
Book a ticket with Klook.
When the transaction is complete, you will be emailed a mobile voucher. Print it out or save it on your phone.
On the day of your trip, upon arrival at Kansai Airport, find the HIS Counter at the Arrival Hall. There is usually a small KLOOK logo displayed in front of the counter. Show your mobile voucher to the staff.
– If you booked an ICOCA Card, you will be given the actual ICOCA card.
– If you booked a JR Kansai Pass, you will be given a physical voucher.
Proceed to the Train Station on the second floor of the building opposite the Arrival Hall. Find the JR Ticket Counters.
– If you booked an ICOCA Card, tell the staff you're booking a Haruka Train and show your ICOCA card to avail of the discount. Prepare to pay ¥1600.
– If you booked the JR Kansai Pass, exchange the voucher given to you for the ACTUAL JR KANSAI PASS.
Enter through the JR Gates of the Station.

There are 2 gates; the other one is for Nankai Line.
– If you're using the JR Kansai Pass, just approach the staff at the counter and show your pass. They will stamp it with the last date you can use it. You don't have to use it immediately. The count will begin on the day of first use. For example, if you purchase a 2-day pass and you claim it on Monday, it doesn't mean that you have to use it on Monday and Tuesday. You may choose to use it any day before expiration. If you use it for the first time on Thursday, you can use it on that day and Friday. When you use it for the first time, approach the staff at the counter at any of the station and he will stamp the final date you may use the pass.
– If you're using your Haruka ticket, just feed the ticket to the machines and pick it up on the other side of the gate.

Check your platform on the screens around the station. Go to the designated platform and board the right train.
---
By Bus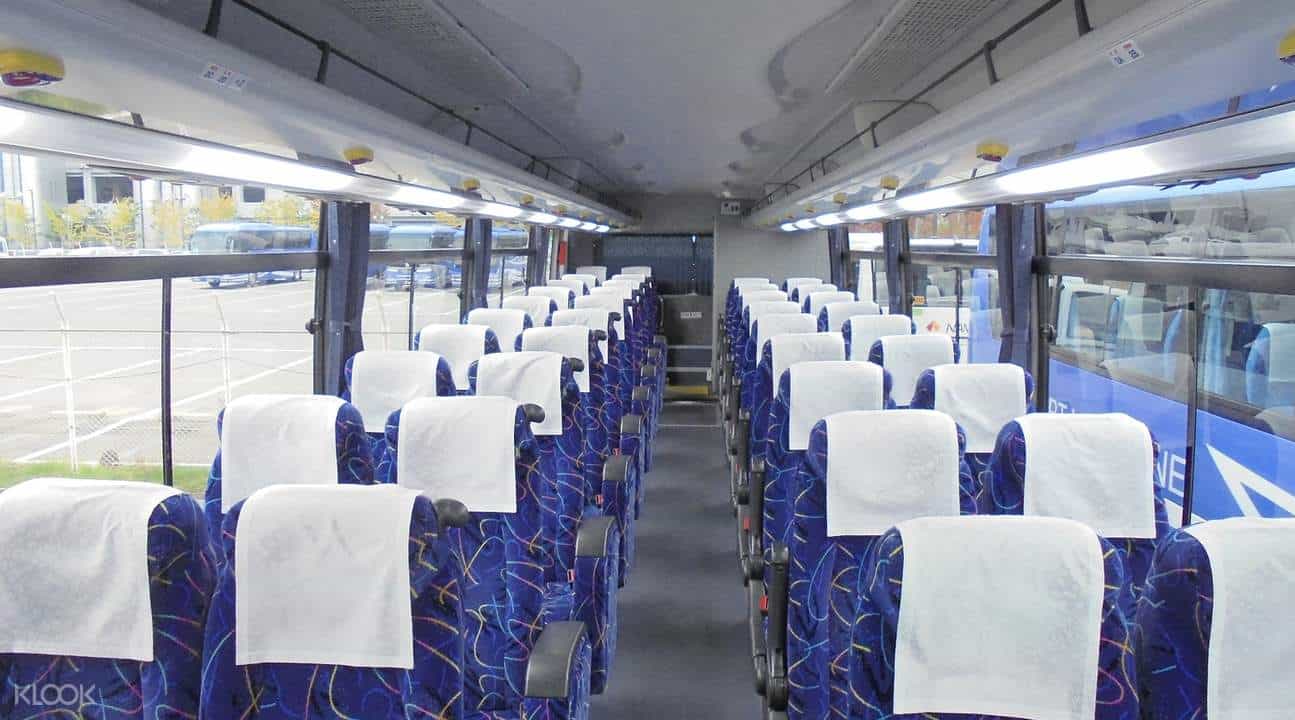 Klook also offers the cheapest bus tickets to Kyoto from Kansai Airport.
KIX Airport Limousine Bus
Operating hours: 6:05am-11:40pm
Travel time: 90 minutes
Fare: ¥1098
✅ RESERVE A SEAT HERE
Make sure you read the instructions after booking. But right now, this is how to claim this ticket:
Book a ticket with Klook.
When the transaction is complete, you will be emailed a mobile voucher. You can print it out or save it on your phone.
On the day of your trip, upon arrival at Kansai Airport, find the EASYGO or HIS Counter near the North Exit at the Arrival Hall of Terminal 1. There is usually a small KLOOK logo displayed in front of the counter. Show your mobile voucher to the staff. You will be asked for your passport. Then, you will be given the bus ticket.
The staff will tell you the platform where you can board the bus. Just follow them and board the bus to Kyoto.
That's it! Welcome to Kyoto!
---
Where to Stay in Kyoto
Which part of the city is best for travelers? Definitely, the area surrounding Kyoto Station.
Kyoto Station is the heart of the city. It is impossible to explore Kyoto without setting foot in its vicinity. One way or another, you'll find yourself here, whether you're catching a train or bus or looking for a place to eat. Hence, the closer you are to the central station, the more convenient and hassle-free your trip will be.
Here are some of the best hostels and guesthouses near Kyoto Station, as ranked by Agoda users (as of March 2018). I was able to try K's House myself, and it was a delightful experience.
---
Internet Connection in Kyoto
Pocket Wifi Rental
You will find wi-fi rental booths at the Arrival Area of Kansai Airport. Rates are usually between JPY 800-900 per day. However, they are very in demand so there might not be any more available if you arrive in the late afternoon or evening. Some establishments accept only credit card transactions.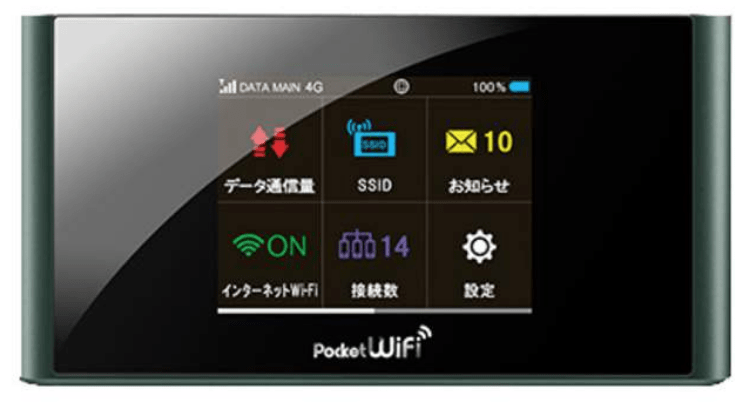 If you really want to make sure you get a mobile wifi, you can reserve one in advance via Klook for only PhP 389 per day for unlimited 4G access. That's a lot cheaper than those you will find at Kansai airport. The best part, if you're a group, you can connect multiple devices hassle-free. You can then split the cost with your friends. You can pick up the device at the airport. No deposit is required.
✅ RESERVE THIS NOW
---
Local SIM
If you opt with a 4G Data SIM, you can choose between two packages: unlimited 4G data for 8 days (around ¥3360) and 3GB data for 8 days (around ¥2160). If you're a heavy data user, best to go with the Unlimited Plan. You can pick up the SIM card at Kansai Airport.
✅ RESERVE A LOCAL SIM NOW
---
How to Get Around Kyoto
Almost every key tourist attraction in Kyoto is accessible by train. Hence, if you become familiar with the train system, you're good to go. But it's not that easy.
Kyoto Station alone is massive. It is a behemoth of a terminal. Train and subway lines operating to, from and around the city converge here. You have to make sure you're on the right platform and you're boarding the right car of the right train. A few trains split into two at one point and part ways. You don't want to be on the wrong car.
One thing that has proven helpful to me again and again is Hyperdia. It's a web-based search engine that would tell you train schedules and routes instantly. Just make sure you know the closest train station to your destination and let Hyperdia do the rest. Here's more info: HOW TO USE HYPERDIA.
There are also train passes that will make your journey more hassle-free.
Below is a quick overview of these passes. We have a more detailed post here: KANSAI PASSES: WHICH IS BEST FOR YOU?
---
JR Pass
JR Pass is a good option if you're on a multi-city journey across Japan. But here's the caveat: It only makes sense for multiple long-distance travels. If that's not clear enough, let me stress that even more. MULTIPLE LONG-DISTANCE travels. For example: Osaka-Tokyo-Sapporo or Tokyo-Osaka-Hiroshima-Fukuoka.
If that sounds like the trip you want to take, then go ahead. Get a JR Pass. Note, though, that you can't purchase a JR Pass in Japan because it's offered only to foreign tourists. Thankfully, you can book via Klook. If you live in the Philippines, the pass will be delivered to you in 7 days.
Klook offers the cheapest JR Passes available.
✅ CHECK JR PASS RATES HERE
---
JR West Kansai Rail Pass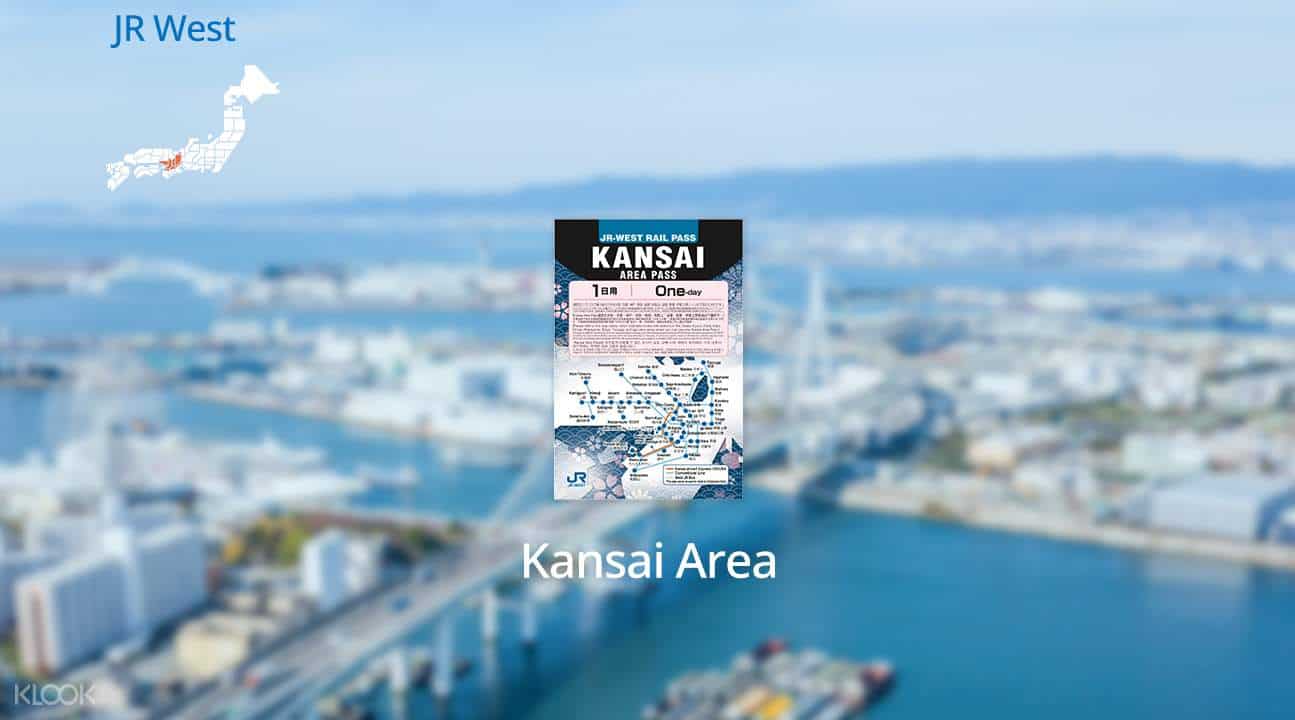 If you're planning to visit places that are relatively close to each other — like Osaka-Nara-Kyoto — this is what you need, not a (nationwide) JR PASS.
This pass offers unlimited rail and bus rides to and in many cities in Kansai Region including Osaka, Kyoto, Kobe, and Nara. You can also use this to travel from Kansai Airport to Osaka and back. Available in 1-, 2-, 3- and 4-day validity variants.
Note that this pass is only accepted on JR Trains.
Do you need this pass?
If you plan on staying within Kyoto and not visiting other cities, this is not for you. Just get an ICOCA Card or single-journey tickets at the station.
If you plan to visit Kyoto, Nara, Kobe or other cities in Kansai, this could be great for you.
IMPORTANT! You can't buy this pass in Japan. You have to purchase ONLINE. This pass is meant for foreign nationals traveling as a temporary visitor (tourist) in Japan. You can book online below:
---
Kansai Thru Pass
Offers unlimited rail and bus rides in many cities in Kansai Region including Osaka, Kyoto, Kobe, and Nara. You can also use this to travel from Kansai Airport to Osaka or Kyoto. JR Lines are not covered, though.
Available in 2- and 3-day validity variants.
✅ RESERVE HERE
---
ICOCA Card
The ICOCA Card isn't a pass. It's a prepaid IC card. It's sort of Kansai's version of Tokyo's SUICA or PASMO Card.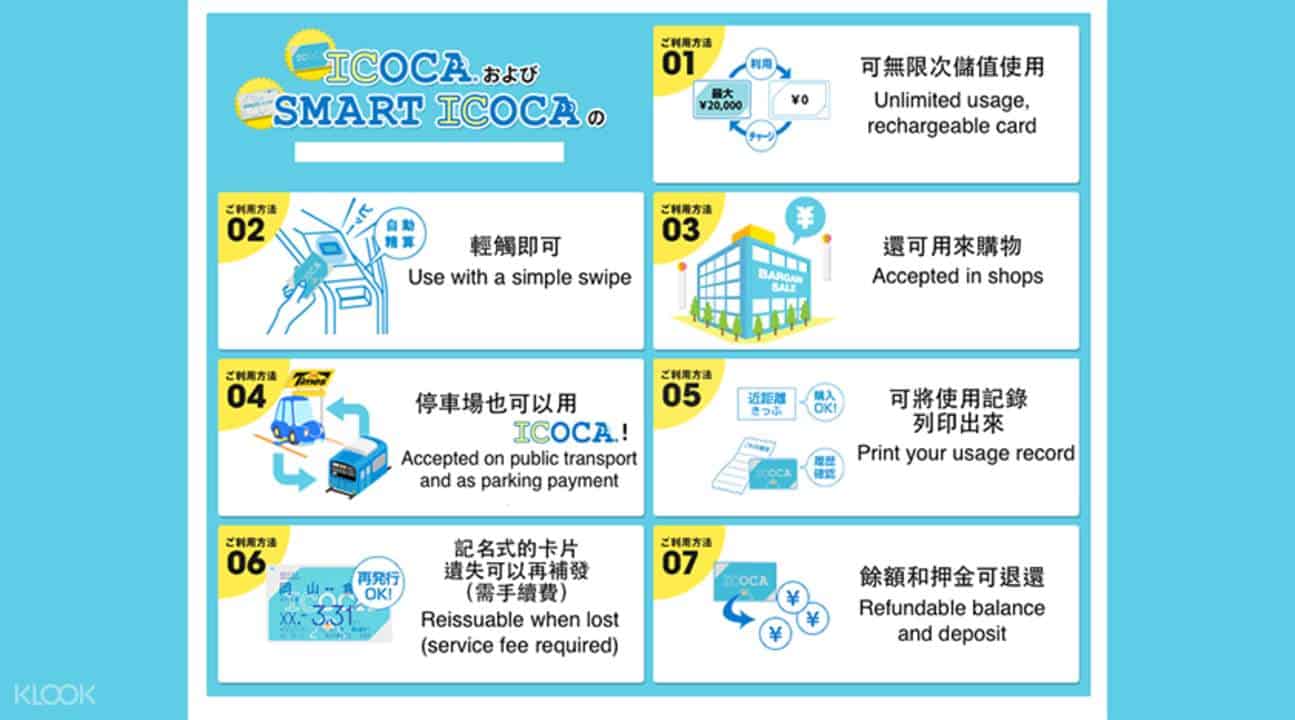 When you use an ICOCA card, you still pay for every trip. You just need to quickly hover the card over the reader at the station gates and you're through. You can also use it not just on trains but also on buses, lockers, vending machines, and even convenience stores. Yep, lockers. The ICOCA card works on lockers at train stations!
You can also use it to snag some discount on your train to or from Kansai Airport. The best direct journey from the airport to Kyoto (or vice versa) is the HARUKA Train. And if you have an ICOCA Card, it will slash a significant amount from the ticket price. We've used it on our recent trip. We simply had to go to JR Counter, show our ICOCA Card, and tell the staff we're booking a Haruka train. Normally, it costs around ¥4000 one-way, including the seat fee. But with ICOCA, it's only ¥1600.
You can get an ICOCA card from Klook, which is already preloaded with ¥1500 + the deposit of ¥500. You can get the deposit when you return the card.
✅ RESERVE AN ICOCA CARD HERE
---
Things to Do in Kyoto
Osaka may be too obsessed with its ever-growing skyline but Kyoto is quite the opposite. Development is noticeable but it shines in places where it dwells in the past. Historic districts and ancient structures are its biggest crowd-drawers — Fushimi Inari Shrine, Kinkakuji (Golden Pavilion), Gion District, and the Arashiyama District.
Before I enumerate the attractions I recommend, consider exploring in style by renting a kimono!
Kimono Rental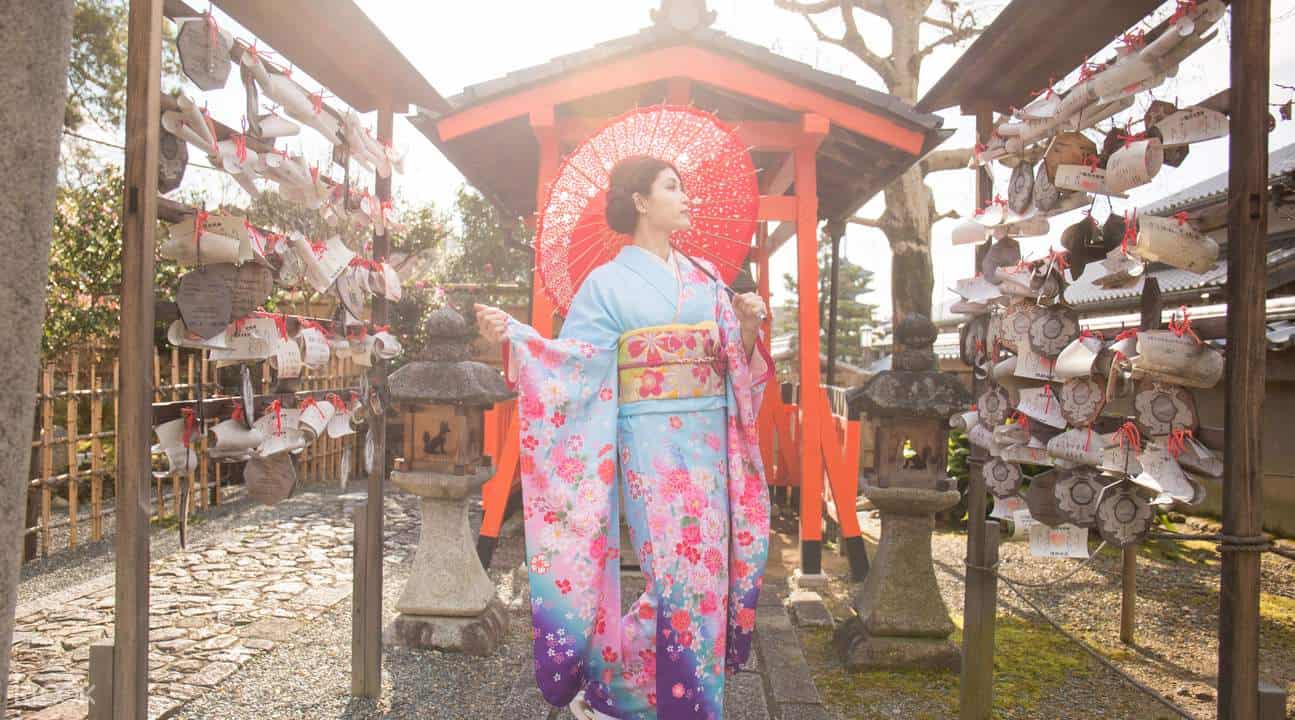 We've done this on our last trip, and it made our trip much more unforgettable. If you want to take awesome photos at the each tourist spot, try dressing up in a full traditional kimono set.
✅ RESERVE A KIMONO HERE
---
Fushimi Inari Shrine
Nearest Station: JR Inari Station
Admission Fee: FREE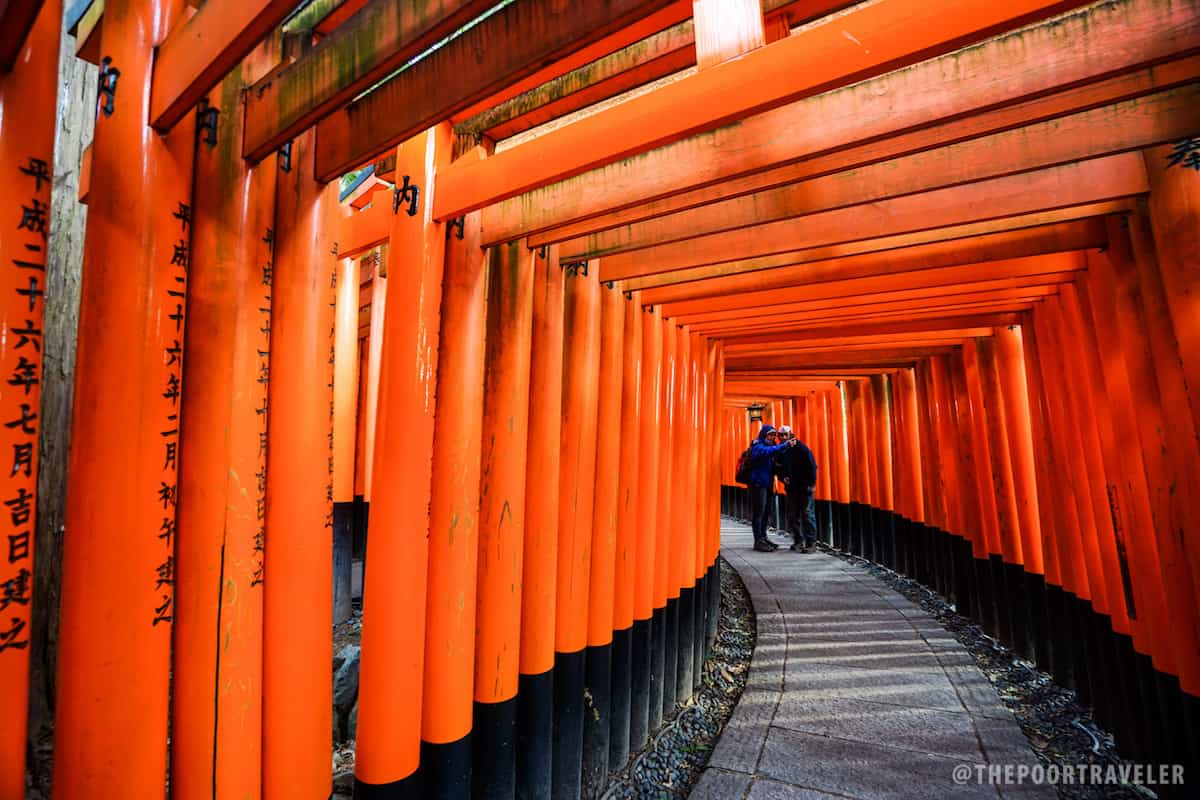 Fushimi Inari Shrine (伏見稲荷大社 or Fushimi Inari Taisha) is the most well-known and most important Shinto site that is dedicated to Inari in the city of Kyoto, Japan. While the thousand torii gates are the most picturesque parts of the site, they are but trails that connect the shrines and other places of worship. The shrine was built in 711 by one Hata-no-Irogu. According to legend, he was a powerful man, who one day shot an arrow at rice-cake target. To his surprise, the rice cake transformed into a swan and perched on a peak of the mountain. Rice began growing at the site, sustaining the community. A shrine was erected as a tribute to the god of rice, Inari. In 816, it was moved to its current location, at the base of the Inariyama hill.
More info here: Fushimu Inari Shrine
---
Arashiyama
Nearest Station: Saga-Arashiyama Station (JR Sagano/Sanin Line)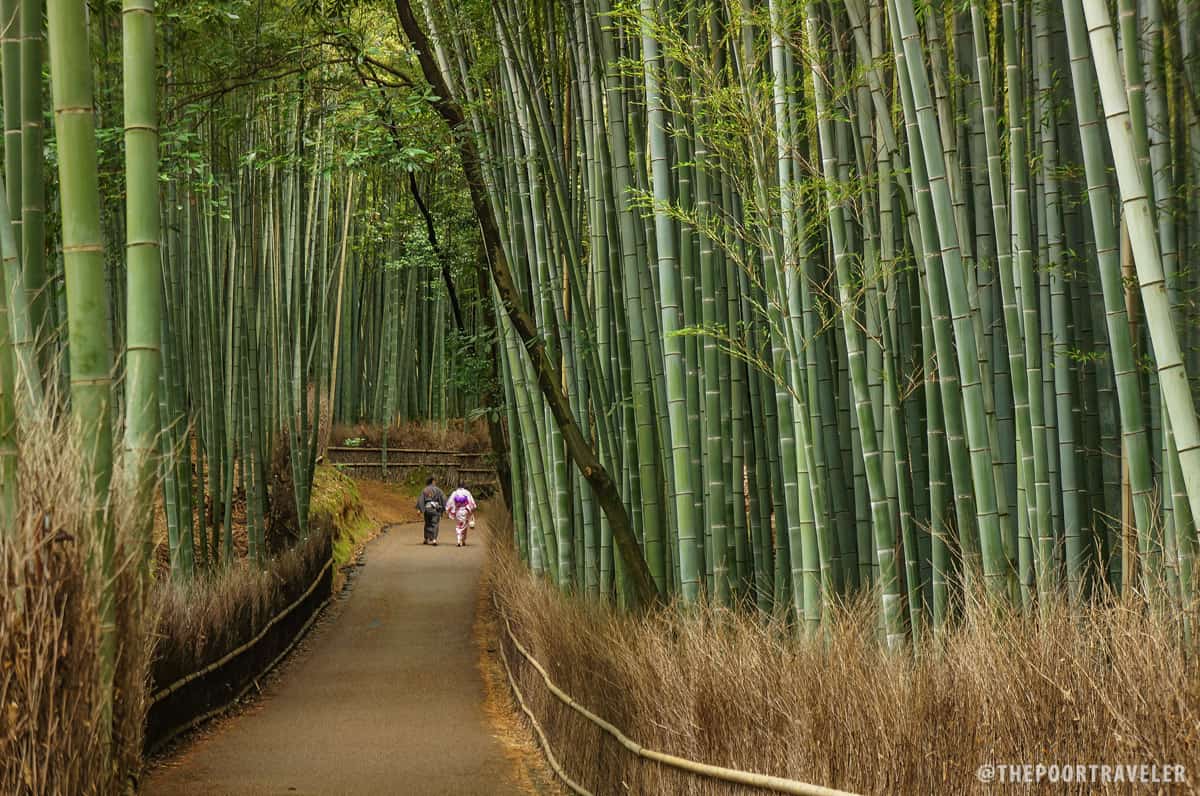 Kyoto's Arashiyama district is dotted with shrines, temples, and other important landmarks. Many of these can be accessed for FREE. Of these, the most popular are the Tenryuji Temple (which collects a entrance fee) and the adjacent Bamboo Forest.
Regarded as the best among the Five Great Zen Temples of Kyoto, Tenryuji Temple has been declared by the Japanese government as a Special Place of Scenic Beauty and in 1994 was inscribed as a UNESCO World Heritage Site. It was originally founded in 1339 by Shogun Ashikaga Takauji as a place to console the spirit of Emperor Go-Daigo. Zen master Muso Soseki was the founding priest. Today, it is a major tourist destination, alluring everyone with its Zen beauty and tradition.
An exquisite garden encloses this temple, which makes the walk getting here an event in itself. Next to an abbey hall is the Sogen Pond, which is frequented by many species of birds. The trail ends at the start of the bamboo groves.
If you have more time, drop by Togetsukyo Bridge, Horinji Temple, and Nanamiya Shrine.
You can easily do this tour on your own (DIY-style), but if you have the budget and you want to level up your experience, you can book a Rickshaw Tour and let a local do the footwork and show you around the area.
✅ BOOK THIS TOUR
---
Kinkaku-ji: Temple of the Golden Pavilion
How to get there: Kyoto City Bus number 101 or 205 (230 yen)
Opening Hours: 9am-5pm
Admission fee: 400 yen
---
Gion
Nearest Stations: Gion Shijo Station (Keihan Line), Kawaramachi Station (Hankyu Line)
Entrance Fee: FREE
Gion District is famous for two iconic forms of traditional Japanese entertainment — the kabuki and the geisha. They are what people from all over the world travel to Kyoto for. While they are very different from each other, their roots are intricately tangled. I was thankful that once in my life my soles touched the ground where these two art forms burgeoned and flourished.
More info: Gion District
---
Kyoto Tower
Nearest Station: Kyoto Station
Opening Hours: 9:00am to 08:40pm
Admission Fee: 770 yen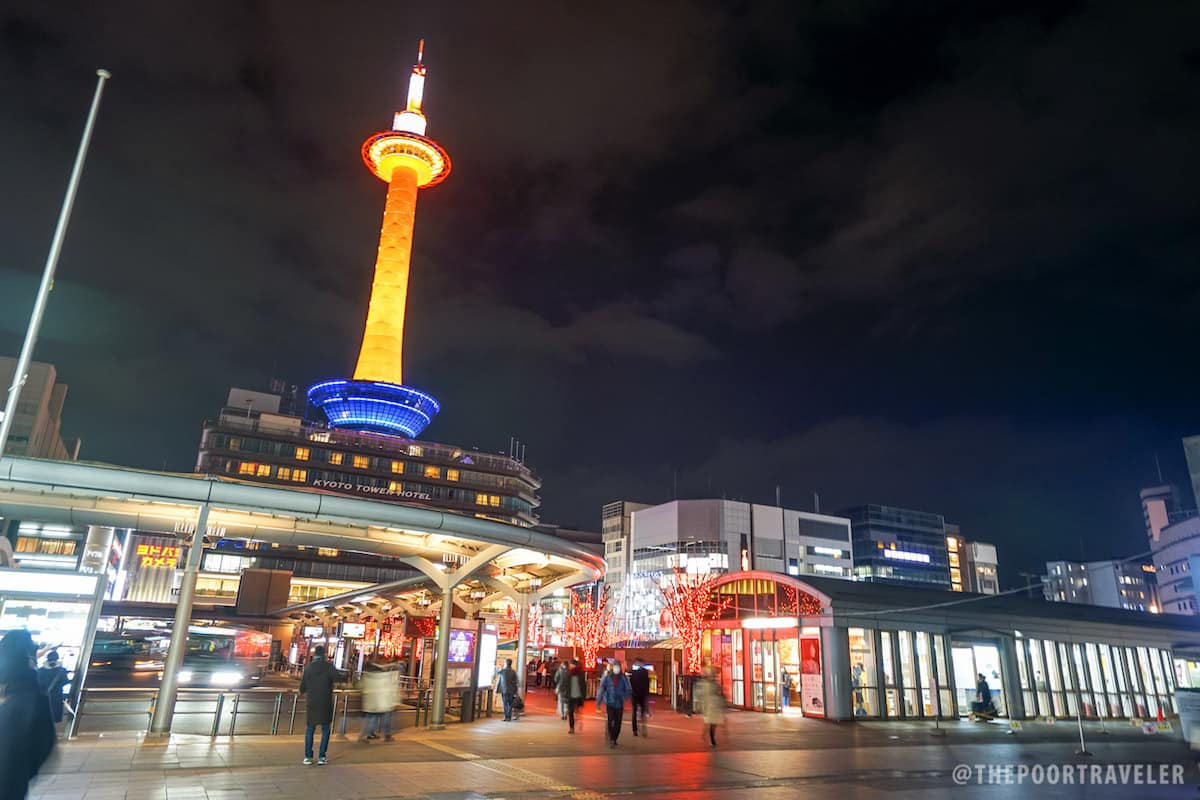 The tallest building in Kyoto, featuring an Observation Deck that provides a panoramic view of the city.
✅ GET YOUR TICKET HERE
---
Toei Studio Park
Nearest Stations: Uzumasa-Koryuji Station (Keifuku Arashiyama Line) or JR Hanazono Station
Opening Hours: 9:30am-4:30pm
Admission Fee: 2200 yen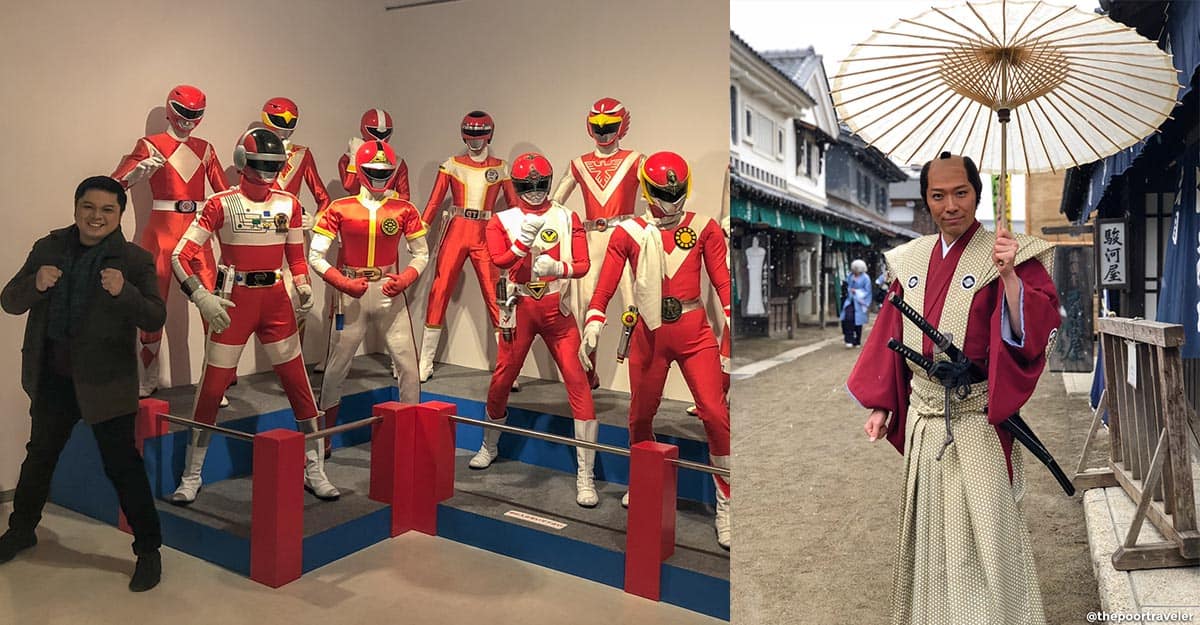 The Toei Kyoto Studio Park (東映太秦映画村, Tōei Uzumasa Eigamura, or more simply Movie Land) is actually a film set that has been made open to the public. It is the only theme park in Japan where visitors can watch and observe actual filming of period dramas (jidaigeki films). More than 200 movies are shot here every year! But it is more than a movie set.
It is a Japanese pop culture explosion contained in a theme park! It was that one attraction in Kyoto that I had a strong personal connection to because it reintroduced me to the heroes of my childhood! Ninja shows, anime artifacts, samurai fighting lessons, and super sentai reunion filled that visit, the most memorable for me. And because I'm shallow like that. Visitors may also choose to rent a full Edo period costume and dress up as a samurai or a geisha so they could explore the park in style!
More info: Toei Movie Park
---
Other Attractions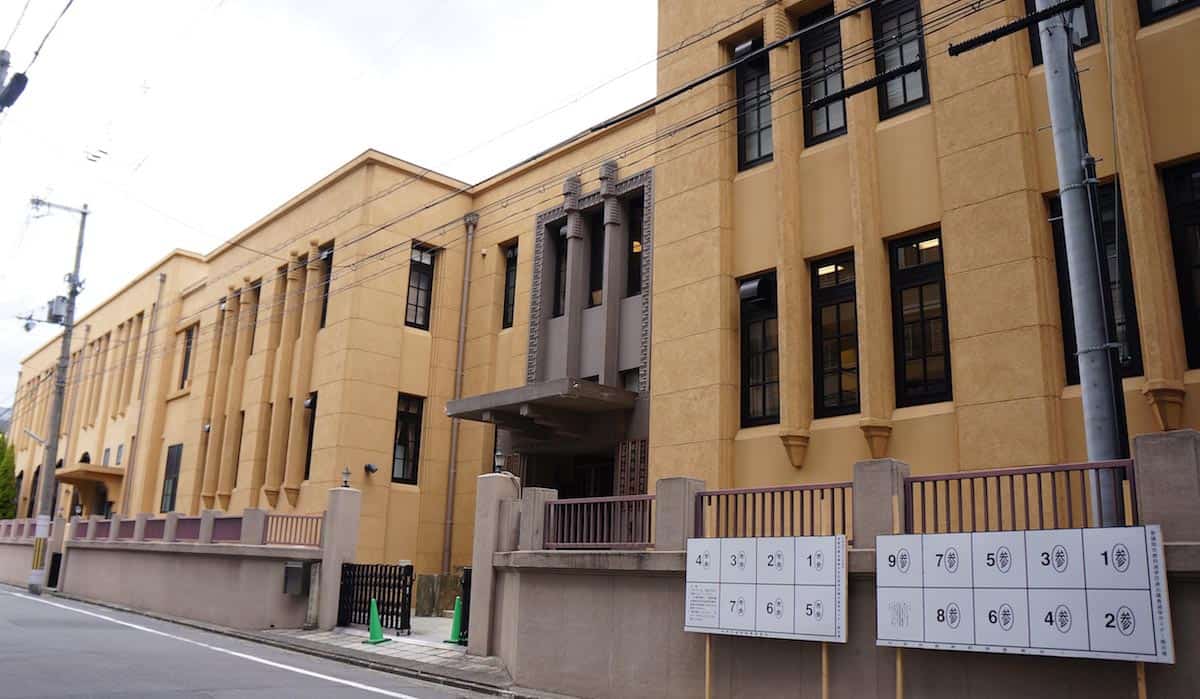 KYOTO INTERNATIONAL MANGA MUSEUM
Nearest Station: Karasuma-Oike Subway Station
Opening Hours: 10am-6pm every day except Wednesday and holidays
TOFUKUJI TEMPLE
Nearest station: Tofukuji Station (JR Nara Line)
Hours open: 9am-4pm (may change per season)
Entrance Fee: ¥400 (Hojo and gardens), ¥400 (Tsutenkyo Bridge and Kaisando Hall)
KIYOMIZUDERA TEMPLE
How to Get There: From Kyoto Station, take Bus 100 or 206 (15 minutes, ¥230 yen) and alight at Gojo-zaka or Kiyomizu-michi bus stop. Walk for 10 minutes.
Hours open: 6am-6pm
Entrance Fee: ¥400
---
Sample Kyoto Itinerary
Below is a sample 4-day 4-night itinerary which involves spending 2 nights in Osaka and another 2 nights in Kyoto.
For the Osaka leg, please read this first: OSAKA TRAVEL GUIDE WITH ITINERARY
This Kyoto itinerary assumes the following:
You're taking Cebu Pacific flight scheduled to arrive in Osaka at 8:10pm.
IMPORTANT! In this case, make sure that the first thing you do after going through Immigration and picking up your bags is to head straight to the HIS Office to collect the passes and/or mobile wifi that you booked with Klook because it closes at 10pm.
You have an Osaka Amazing Pass, from hereon shall be referred to as OA Pass (¥2397), to save some yen. Having the Osaka Amazing Pass will waive the entrance fees to some of the attractions and unlimited access to the subway. It costs ¥2397 if you book with Klook. RESERVE HERE
You have an ICOCA card to make it easier for you to go through train gates and use lockers. RESERVE HERE
You DON'T need a JR Pass or Kansai Pass for this Kyoto itinerary. The OA Pass for the Osaka leg and ICOCA Card for Kyoto are enough. Using the JR Pass will cost much more.
You're staying in a capsule hotel in Namba, like Capsule Hotel ASTIL Dotonbori or Y's Cabin Osaka Namba (¥3250 per night)for the Osaka leg, and at a dorm near Kyoto Station like K's House (¥2500 per night) for the Kyoto leg.
You're skipping breakfast. It's healthy (according to intermittent fasting advocates, hehe) and you're poor!
Make the necessary adjustments to match your schedule and preferences.
Day 0
08:10pm – Arrival at Kansai Airport
09:10pm – Collect Klook passes at Arrival Hall
09:54pm – Board Nankai Airport Express to Namba, ¥920
10:30pm – Check-in at the hotel
Day 1: OSAKA
07:00am – Wake up
08:30am – Subway to Tanimachiyonchome Station (Osaka Castle), FREE (OA Pass)
09:00am – Osaka Castle, FREE (OA Pass)
12:00nn – Subway to Nakatsu Station (Ramen Yashichi), FREE (OA Pass)
12:30nn – Lunch at Ramen Yashichi, ¥730
02:30pm – Subway to from Nakatsu to Umeda, FREE (OA Pass)
03:00pm – Umeda Sky Building Observatory, FREE (OA Pass)
04:30pm – Subway from Umeda to Namba, FREE (OA Pass)
05:00pm – Early dinner at Tokisushi, ¥1134
06:00pm – Dotonbori Tour, FREE (OA Pass)
09:00pm – Back to hotel, sleep
Day 2: ENDO SUSHI, TRANSFER TO KYOTO
05:00am – Wake up
06:00am – Subway to Tamagawa Station (Endo Sushi), FREE (OA Pass)
07:00am – Breakfast at Endo Sushi, ¥1242
08:30am – Subway Tamagawa to Namba Station, FREE (OA Pass)
09:00am – Start packing
10:30am – Hotel check out
11:10am – Subway to Shin-Osaka, FREE (OA Pass)
12:05nn – Transfer to a JR Local or Special Rapid train to Kyoto, ¥560
12:30pm – Arrival at Kyoto Station
12:40pm – Find lockers to store luggage, ¥700
01:00pm – Quick lunch (onigiri, etc), ¥500
01:27pm – Train to Saga-Arashiyama, ¥240
02:00pm – Explore Arashiyama, Tenryuji Fee: ¥500
05:32pm – Train to Kyoto Station, ¥240
05:45pm – Dinner at Kyoto Ramen Street, ¥900
07:00pm – Collect bag from locker
07:30pm – Walk to hotel
08:00pm – Hotel check-in
08:30pm – Sleep
Day 3: KYOTO
07:00am – Wake up
08:00am – Take Bus 101 or 205 to Kinakuji, ¥230
09:00am – Kinkakuji Temple, ¥400
11:00am – Bus to Kyoto Station, ¥230
12:00nn – Lunch, ¥1000
01:07pm – Train to Inari Station, ¥140
01:12pm – Fushimi Inari Shrine, FREE
03:20pm – Train to Gion-Shijo, ¥270
03:50pm – Explore Gion
06:30pm – Back to Kyoto Station
07:00pm – Dinner, ¥900
Day 4: UNIVERSAL STUDIOS
07:00am – Check out
08:06am – Train to Universal City, ¥800
08:55am – Store luggage in locker, ¥700
09:00am – Universal Studios Japan, ¥7900
12:30pm – Lunch, ¥1500
04:00pm – Train to Airport, ¥1190
05:30pm – Check in
08:30pm – Flight out
If you follow this Kyoto itinerary, prepare to shell out around ¥40,000 (USD 380, PHP19,750) including possible miscellaneous expenses like bottled water and some snacks but excluding airfare.
Universal Studios Japan eats up the biggest chunk of the budget. You can save a lot by skipping it, if it's not your priority anyway. Instead, I strongly recommend Toei Studio Movie Park in Kyoto. This is my most-loved theme park in Japan because it's uniquely Japanese. (More info about that here: Toei Kyoto Studio Park.) This way, the cost goes down to only ¥31,000 (USD 295, PHP15,300)
Another way to further reduce the cost is by limiting your food budget to only ¥500 per lunch/dinner. Convenience stores and supermarkets offer cheap meals for much lower. But you're in Japan! It would be such a shame to visit Osaka and not eat out!
You can also find an early morning flight so you can save one hotel night.
This itinerary may also be too dense for you. It was for me, haha. In fact, I skipped a few of these because my legs were this close to falling off. That's because I'm old and lazy. Again, that's me.
---
More Tips for the Poor Traveler
Here are more tips to help make your trip go smoothly.
Lockers. In major stations in Osaka and Kyoto, you'll find them in many corners. There are two types: electronic and coin lockers. Rental costs ¥300-¥700 depending on the size. In Kyoto, if your hotel is far from Kyoto Station (which is the focal point of everything touristy in the city) and your flight is scheduled at night, you may choose to store your baggage at one of the many lockers scattered at the lower levels of the station. This way, you save a hotel night and does not need to travel back to the hotel just to get your things.
Tipping is unusual in Japan. Most restaurants have the cashier stationed by the exit so you pay after your meal, on your way out.
When in doubt, ask. The people of Osaka and Kyoto are some of the friendliest I have ever met.
---
2️⃣0️⃣2️⃣0️⃣ • 1️⃣ • 1️⃣7️⃣