This Maldives Travel Guide was last updated in 2017.
The forecast was sunny, but it was raining when we landed in the Maldives. Naturally, I began to worry about the coming days. I didn't come all the way here to see grey clouds looming over gloomy seascapes. The thoughts of shallow waters gently swaying below iconic water bungalows that these islands have been known for started to drift away.
But sometimes, the universe has a way of surprising us.
The next morning, we were greeted by the sun, shining above the ivory beach. It would never rain again at any time during our stay.
The Maldives is one of those countries I never imagined I would be able to visit. If you asked me ten years ago if I would like to go to the Maldives, I would probably laugh in your face not because there's something wrong with the idea of being there but because I knew it would never ever happen. Even the me of five years ago, someone who was just starting to travel blog, would have never guessed. At the time, there were only three things that I knew about the Maldives:
It is an archipelagic nation in the middle of the Indian Ocean.
It has a lot of private luxury resorts that I could never afford.
It is expensive to go and stay there.
But like I said, the universe has a way of surprising us. Before I knew it, I was sitting on a wooden platform, trying to dip my toes on the most turquoise lagoon I had ever seen in my life. Maldives was never a dream for me, but when I was there, I felt like I was living in one.
WHAT'S COVERED IN THIS GUIDE?
Understanding the Maldives
Beaches are what tourists come to the Maldives for, but you need to ask yourself what type of beach holiday you want to enjoy here. As far as cost is concerned, there are two ways of doing this: budget and luxury.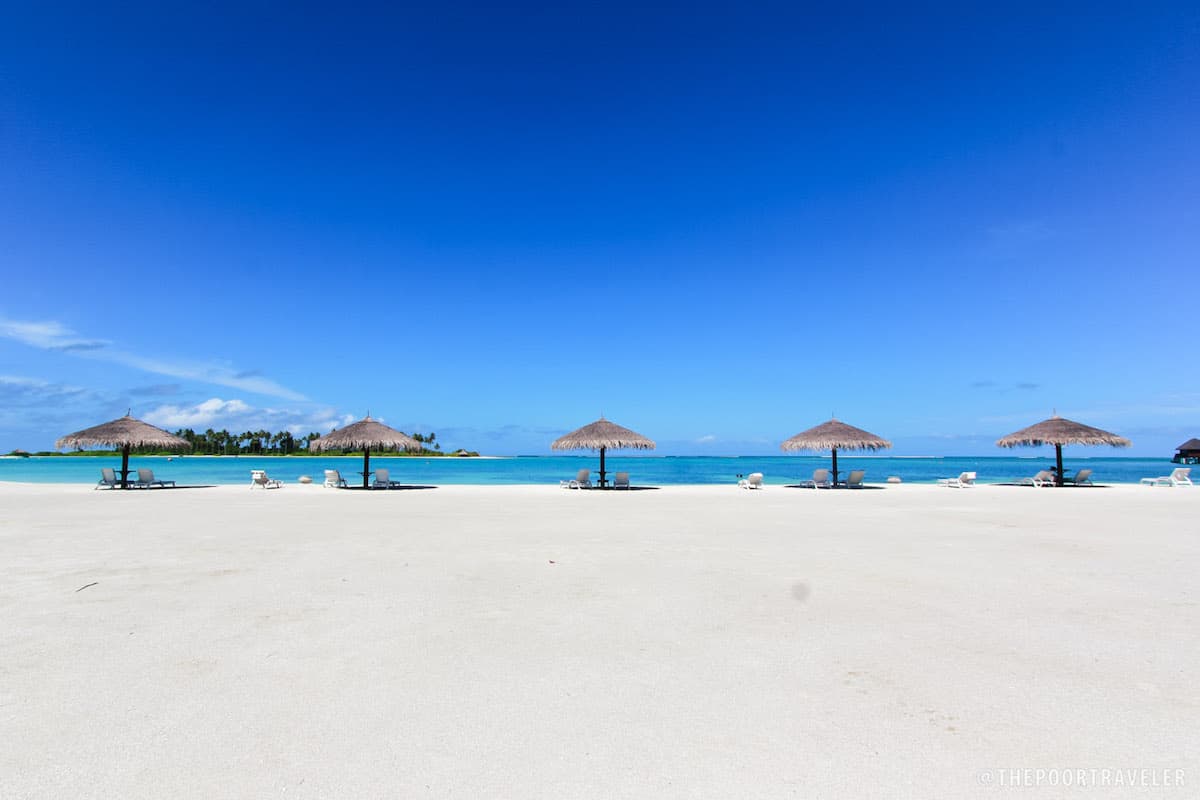 For me to explain that better, I need to tell you more about the islands. Located southwest of India and Sri Lanka, the Maldives is a tropical country, made up of 26 coral atolls that fragmented into 1,192 islands, only 200+ of which are inhabited. Tourism powers its economy. In fact, 80+ of the inhabited islands are exclusive luxury resorts, designed to attract tourists.
Where to Stay in the Maldives
So basically, there are two types of islands here: private and public. The public islands, also called "local islands", are those inhabited, meaning there are locals living there. This also means that there are establishments available to everyone such as grocery stores, tour agencies, shops, etc. The private islands are usually occupied by luxury resorts, most of which are open only to their guests and staff. Some of these private islands are open to non-guests who are staying elsewhere but on a day tour. (Will discuss this later.)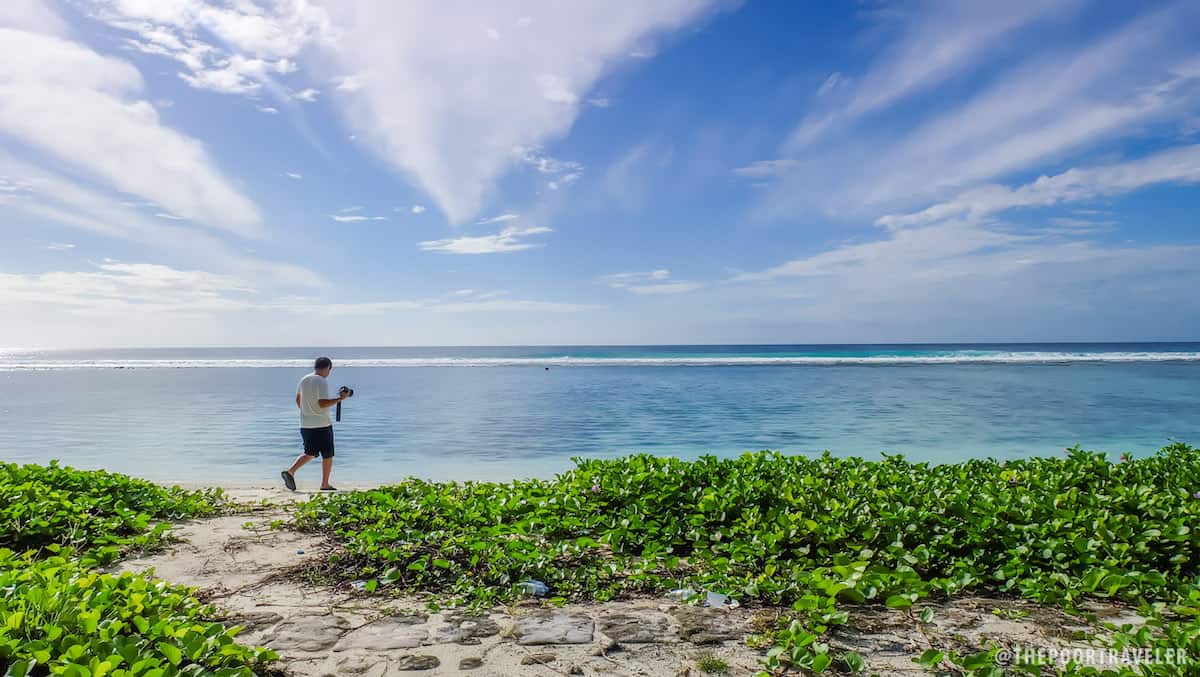 One of the key differences between the local and private islands other than the cost is that most restrictions do not apply to the latter.
Staying at a Private Island Resort
If you're after luxury and privacy and you don't mind spending much on this trip, you might want to consider staying at an exclusive resort. This is a good option for honeymooners and those on romantic getaways.
Exclusive resorts come in all forms, too. Some charge thousands of dollars per night (the likes of Four Seasons). But those in the lower end of the spectrum are slightly more affordable. For example, Fihalhohi Island Resort Island Resort and Olhuveli Beach and Spa Resort offer beach rooms for only 200 USD (low season) and 300 USD (peak season).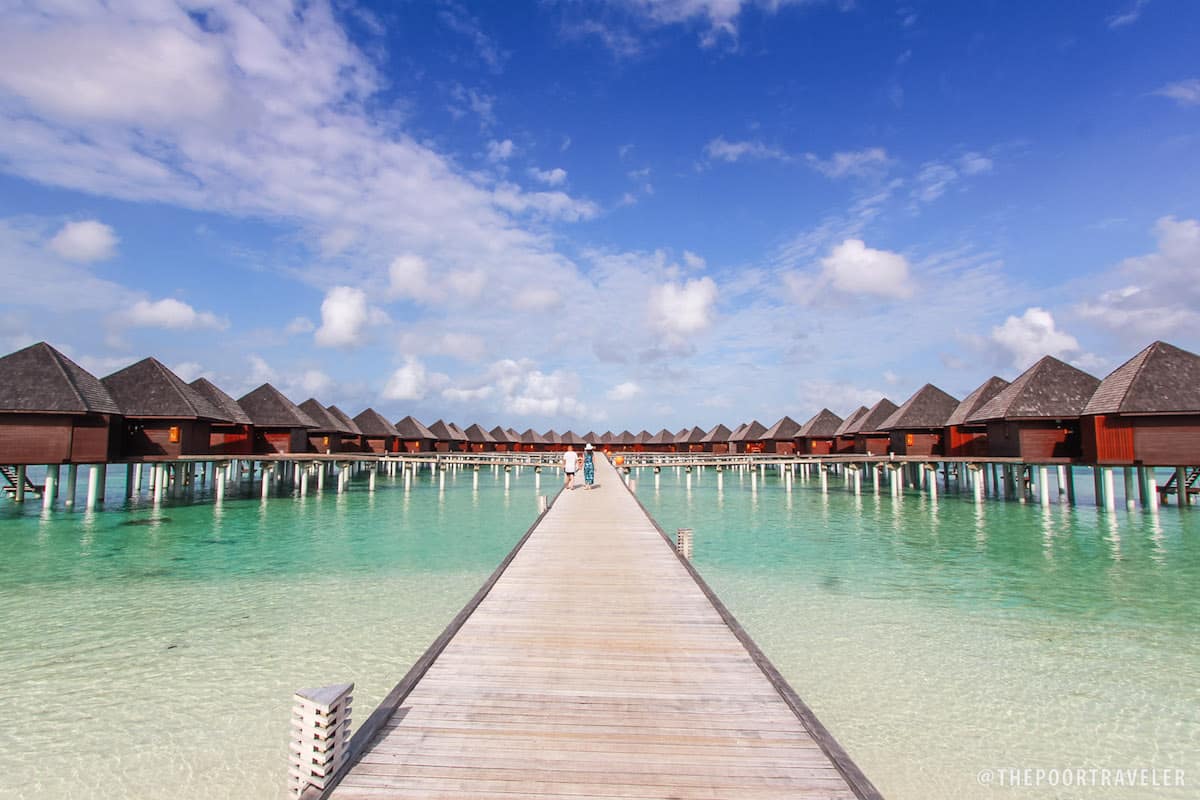 Most exclusive resorts have two major types of accommodations: beach/land rooms and overwater bungalows (water villas). Of course, staying at a water bungalow looks tempting, but they are usually the priciest rooms. Those on the beach are much cheaper.
If online users are to be believed, here are the 6 best resorts that are on the lower end of the budget spectrum.
| | |
| --- | --- |
| Rihiveli by Castaway Hotels & Escapes | Vilamendhoo Island Resort & Spa |
| Gangehi Island Resort | Filitheyo Island Resort |
| Olhuveli Beach & Spa Resort | Fihalhohi Island Resort |
I stayed at Olhuveli for two reasons: price and amenities. Olhuveli just looks a lot better in pictures and seems to offer a lot more. I was able to snag a limited discount via Agoda and paid only 177 USD per night (including all taxes) for our beach room, which is considerably lower than the cheapest room in Fihalhohi.
But before you book, here are a few notes to consider:
Don't take published rates at face value. Most do not include service charges, GST, and other taxes, a total of 23% of the published rates. AIRPORT TRANSFER isn't included either!
Check the airport transfers arrangement. For some resorts like Olhuveli, booking airport transfers with them is mandatory. At Olhuveli, transfers are via a speedboat, which costs 210 USD roundtrip per person. (That's still low compared to other resorts requiring seaplane transfers at 500 USD.) But not all resorts are like that. With Fihalhohi, transfers can be arranged elsewhere, which means cheaper options.
Consider your meal options. Being in a private island means your only food source is the resort's free breakfast, restaurants, and in-room dining service. Expect them to be overpriced, too. Rooms may be booked full-board, half-board, and bed-and-breakfast.
Consider your tour options, too. Being at an exclusive resort means you can only hire them for your touring needs, and their tour rates are much higher than those outside.
Staying in a Local Island
But if you're budget conscious, it's best to stay in one of the local beaches or in areas near Male, the capital, and just go island-hopping from there. The public beaches here are gorgeous, too! And staying here means you have access to more restaurants and accommodations. There are guesthouses and lodges that offer rooms for as low as 30 USD in these areas.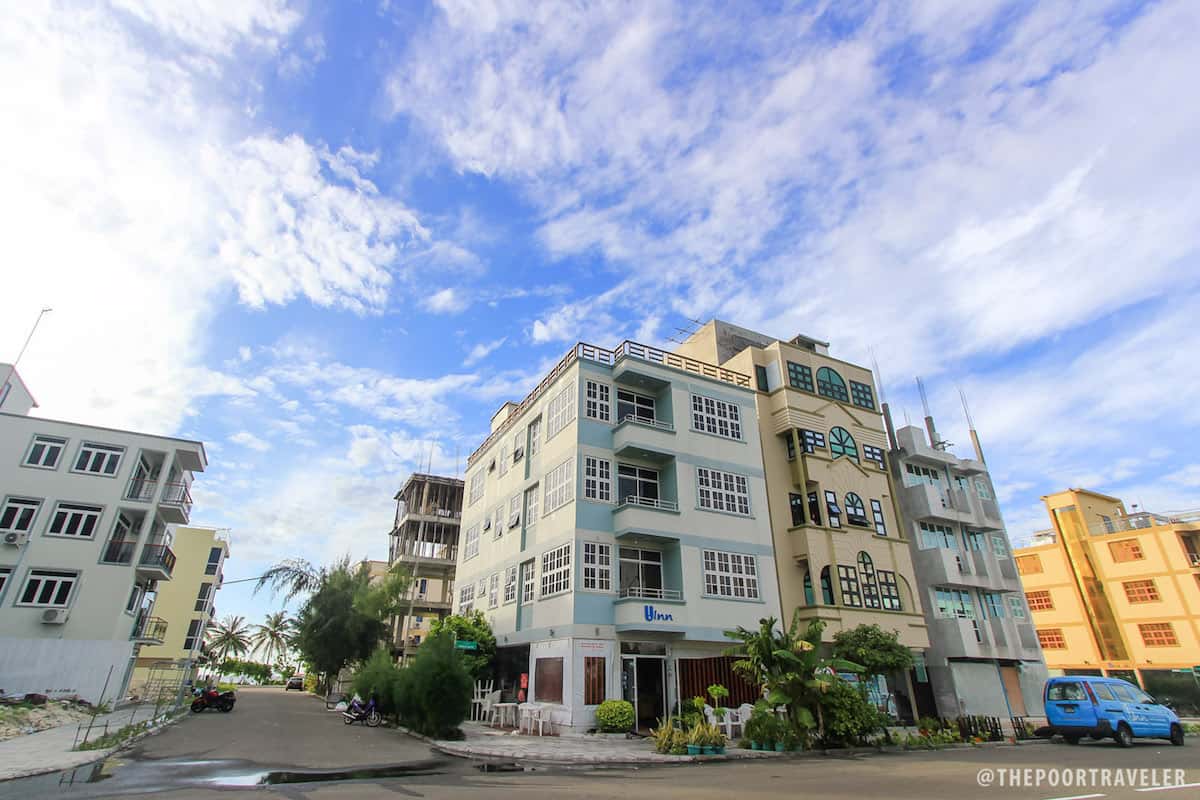 The best part is, from these beaches, you can hire a boat or a speedboat to visit other islands on a day tour, even some of those that are considered private and exclusive.
Here are some provincial inhabited islands that are popular among tourists:
Maafushi in South Male Atoll. This has become a tourism hub over the past years
Thulusdhoo in Kaafu Atoll
Fulidhoo in Vaavu Atoll
Guraidhoo in Thaa Atoll
Hulhumale. If you're looking for accommodations near the airport (just 10 minutes away). I stayed at UI Inn (UI Hotel) in Hulhumale on my first night (around 40 USD per night) because my flight arrived late in the evening. Some hotels offer island hopping and diving tours and watersport activities, but there's not much action here, to be honest.
If you choose to stay at a guesthouse or inn in a local island, prepare to shell out 50-100 USD per night. For lodges and inns, try booking with Agoda and HostelWorld. For guesthouses, try AirBnB.
Check out rates here: Maldives Hotels
Best Time to Visit the Maldives
December to April is considered "high season," with the December-February period being its peak. This period is when the most favorable weather happens. Expectedly, it is also during this time that most tourists flock the islands. The downside: higher prices of accommodations, transfers, and tours, especially during Christmas and New Year.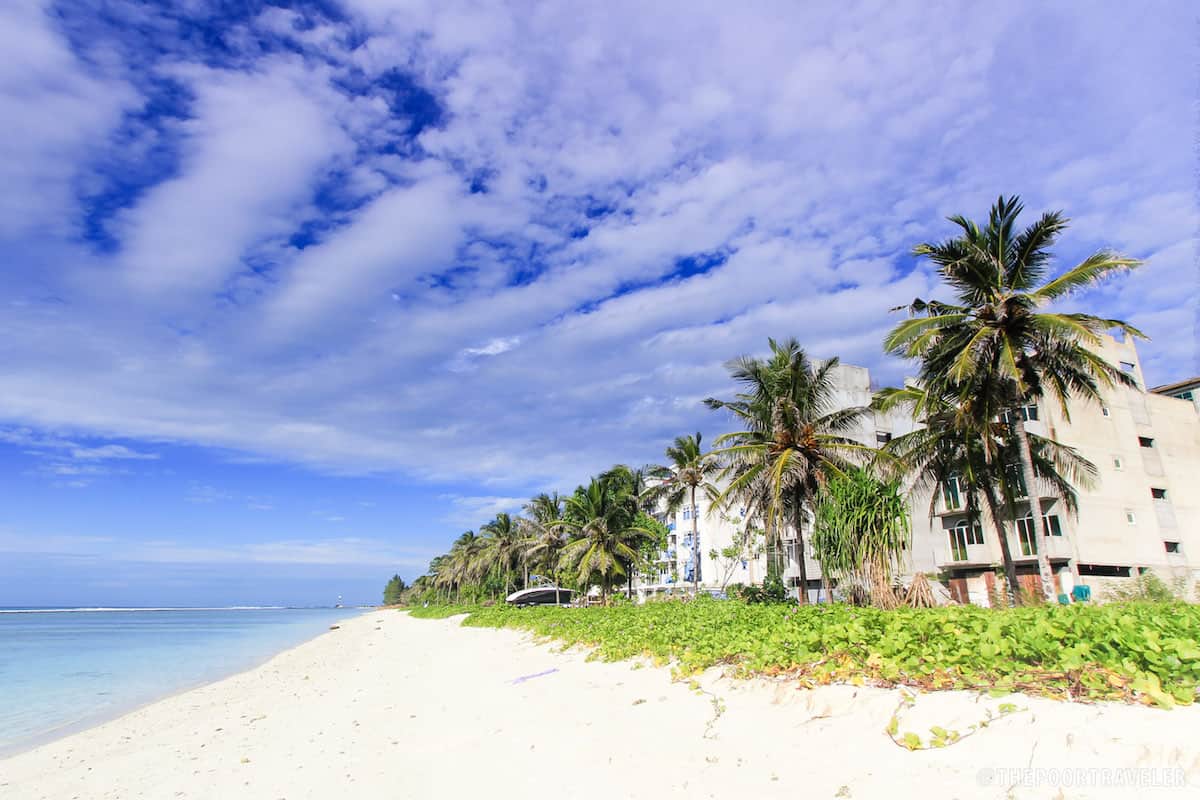 May to November is considered "low season" — rates are at their lowest — but storms are likely. For some reason, the prices rise again in August, most likely because of European summer break.
How to Get to the Maldives
Malé International Airport (formally known as Ibrahim Nasir International Airport) on Hulhulé Island is the primary gateway to the Maldives. It is connected to a number of airports by several commercial airlines. But if you're coming from Southeast Asia, you can connect in the following cities through these low-cost carriers:
Singapore – Scoot
Kuala Lumpur, Malaysia – AirAsia
You may also connect in Colombo, Sri Lanka, via Sri Lankan Air.
Here's a list of cities that you can fly to or from Male (as of July 2016):
Abu Dhabi, UAE – Etihad Airways
Bangalore, India – Air India
Bangkok, Thailand – Bangkok Airways, Maldivian, Mega Maldives
Beijing, China – Beijing Capital Airlines, Mega Maldives,
Changsha, China – Maldivian
Chengdu, China – Maldivian, Sichuan Airlines
Chennai, India – Air India, Maldivian
Chongqing, China – Maldivian
Colombo, Sri Lanka – China Eastern Airlines, Emirates, flydubai, Korean Air, Sri Lankan Airlines, Mihin Lanka
Dhaka, Bangladesh – Maldivian
Doha, Qatar – Qatar Airways
Dubai, UAE – Emirates, flydubai
Frankfurt, Germany – Condor
Fuzhou, China – Maldivian
Guangzhou, China – China Southern Airlines
Hong Kong – Cathay Pacific, Mega Maldives
Istanbul – Turkish Airlines
Jeddah, Saudi Arabia – Mega Maldives
Kochi, India – SpiceJet
Koror, Palau – Mega Maldives
Kuala Lumpur, Malaysia – AirAsia, Mega Maldives
Kunming, China – China Eastern Airlines
London, UK – British Airways
Macau – Mega Maldives
Moscow, Russia – Aeroflot
Nanjing, China – Maldivian
Riyadh, Saudi Arabia – Saudia1
Seoul-Incheon – Korean Air
Shanghai-Pudong – Mega Maldives, Shanghai Airlines
Singapore – SilkAir, Singapore Airlines, Scoot
Thiruvananthapuram, India – Air India, Maldivian
Tokyo, Japan – Mega Maldives
Wuhan, China – Maldivian
Xi'an – Maldivian
How to Get to your Resort or Hotel from Male Airport
Airport to Private Resort. If you're staying at a private island resort, check if you are required to book airport transfers with them. If not, good for you, you can find cheaper alternatives especially if you will be staying at a local beach first.
Airport to Hulhumale. You may travel by bus, which runs from 6am-2:30am except on Fridays (no bus all day) and Saturdays (no bus from 12:00-13:00). Fare is 20 MVR (1.3 USD). You can also take an airport shuttle to your hotel in Hulhumale, which costs USD7.5.
Airport to Male. Go to the dock near the domestic terminal. There's a ferry going to Male every 10-15 minutes. Fare is around 10 MVR.
Airport to Maafushi. Make your way to Male (see instructions above). From the Male Port you may choose to take another ferry (Fare 3.25 MVR) or take a taxi (25 MVR) to Vilingili Port. From Vilingili, board the ferry to Maafushi (22 MVR) which leaves at 3pm daily (except Friday). There's another ferry that operates on Sunday, Tuesday, and Thursday and leaves Male at 10am. (53 MVR, 3.5 USD)
Airport to Thulusdhoo. Go to Male (see instructions above) then take a taxi to MarryBrown Restaurant. Opposite the restaurant, you will find Tharika-2, a ferry that will take you straight to Thulusdhoo Island (32 MVR). The ferry leaves Male at 3:30pm on Saturday, Sunday, Monday, and Thursday; 2pm on Tuesday; and 10pm on Friday.
For more information about bus and ferry schedules, visit the MTCC site.
Things to Do in the Maldives
Beach activities mostly. And the rates vary widely depending on where you would book it with. Tours offered by private resorts are a gazillion times more expensive than those you can book in a public beach like Maafushi.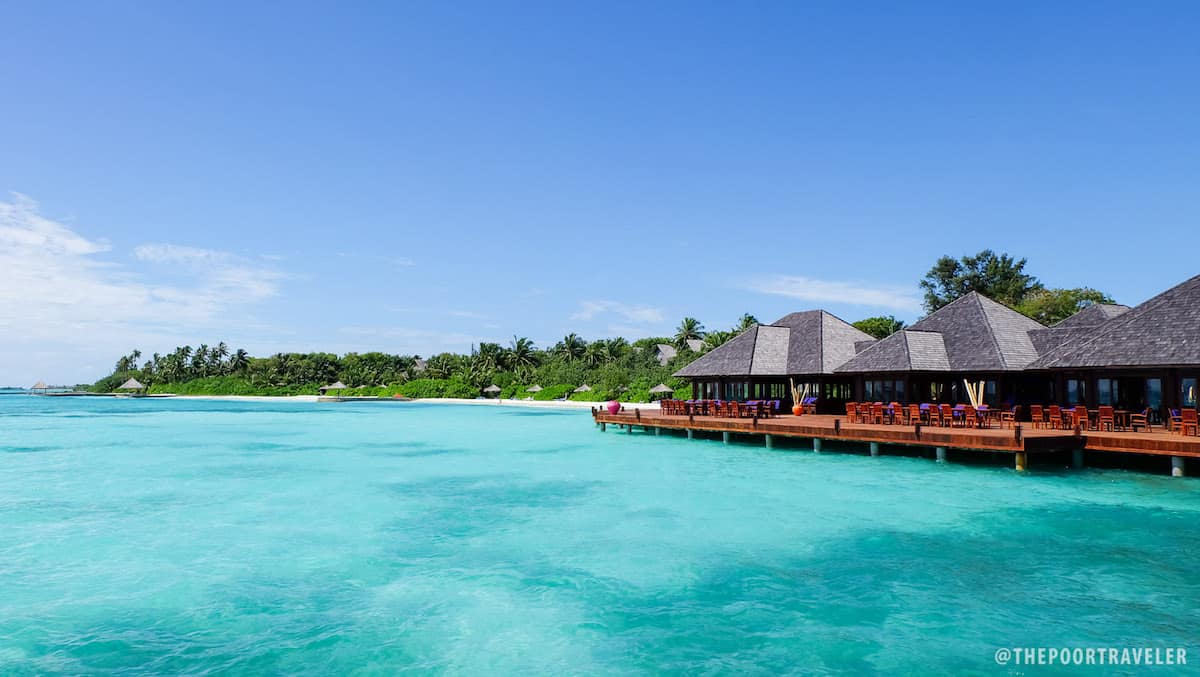 Go island-hopping. This is what they usually call a "full-day excursion", and this usually includes transportation and lunch. In Maafushi, you can find day tours for as low as 50 USD and if you're keen on checking out just one island, you can find tours for 30 USD. In Olhuveli, a private island, a similar tour costs 170 USD + taxes. But here's a trick: find other travelers and form a group. Rent a boat and divide the cost among yourselves. That would make it a lot cheaper.
Visit an exclusive resort. Some private resorts are open to day trippers, but they charge an entrance fee (+ taxes). Others bundle lunch with the entrance fees. The great thing about visiting these resorts is that there are only a few tourists and it gives you a closer look at the signature water bungalows. You may rent a speedboat to get here. Rates vary depending on which island you're visiting. But to give you an idea, in Maafushi, you can find speedboat services to Fihalhohi for 250 USD per boat, others charge 65-75 USD per head.
Go diving. In Maafushi, rates play within the 50 to 70 USD range. You can find some that go much lower. The Maldives is a diving paradise especially during manta ray and whale shark seasons.
Go snorkeling. If you don't know how to dive, you can still witness the vibrant marine life of the Maldives. Many of the islands, even the private ones, lie close to snorkeling-friendly reefs and you can see them for FREE. We were just swimming not very far from the shore when we saw a juvenile black-tip shark and a giant sea turtle. You can visit richer and farther sites, too. Most guesthouses and resorts offer half-day snorkeling tours for as low as 50 USD.
Go on a fishing trip. Fishing tours are becoming more popular. Usually at 50 USD in local islands (USD 65+++ in Olhuveli).
Whatever tour you're booking, make sure you come on time because you will be joining other tourists. You don't want to be the cause of delay.
You may also visit other local islands from Maafushi by ferry: Fulidhoo (4 USD), Guraidhoo (2 USD). Just be extra careful trying to figure out the schedules. They can be very confusing at times.
Sample Itineraries + Budget Breakdown
By now, I hope you have decided how you want to travel Maldives and where you want to stay. Whatever you choose, I have prepared simple sample 5D/4N itineraries below, one for a cheap stay at an exclusive resort and another for a stay in Maafushi. These are sample itineraries only, feel free to change whatever. (Airfare not included.)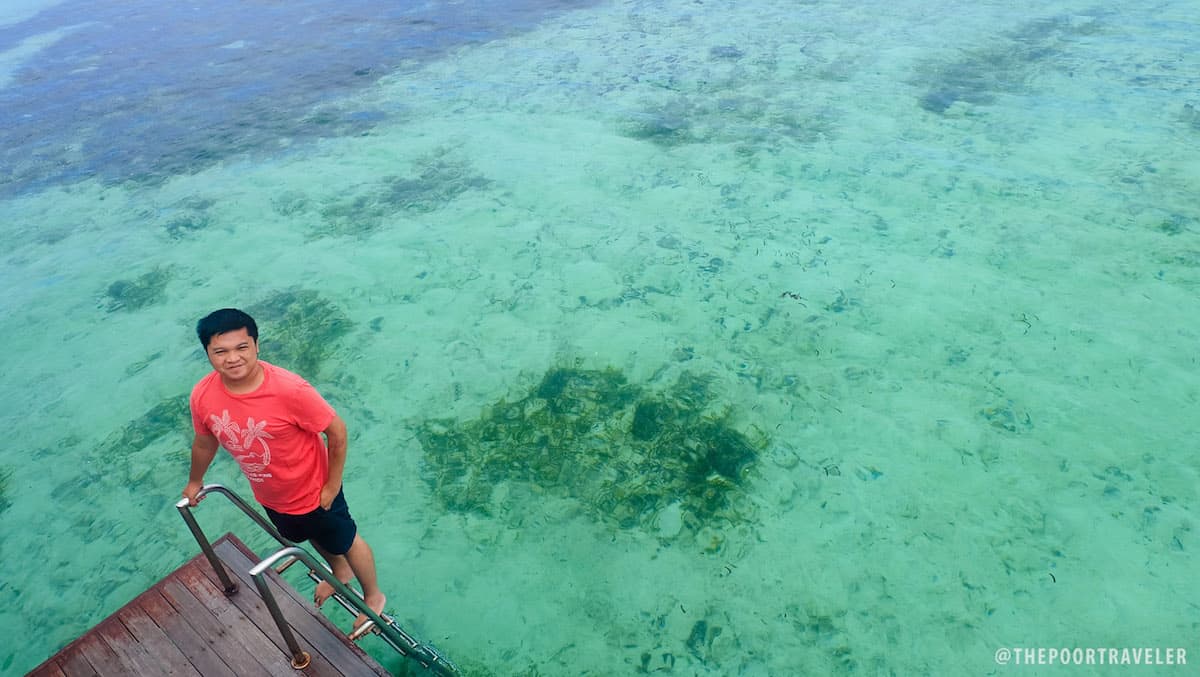 OPTION A: Stay at a Local Island
DAY 1 – ARRIVAL IN THE MALDIVES
Arrival at Male Airport
Transfer to Hotel UI Inn in Hulhumale (20 MVR, 1.5 USD)
Check in at UI Inn (42 USD per room)
Explore Hulhumale Beach
Sleep
DAY 2 – MALE CITY TO MAAFUSHI
Breakfast at UI Inn (FREE)
Transfer to Male City (10 MVR, 1 USD)
Board the 3pm ferry to Maafushi (22 MVR, 1.5 USD)
Check in at lodge/guesthouse (60 USD per room)
Explore Maafushi, watch sunset
DAY 3 – DAY TOUR
Breakfast (FREE)
Full Day Excursion (50 USD)
Dinner
DAY 4 – FIHALHOHI DAY TRIP
Breakfast
Travel to Fihalhohi by speedboat (65 USD)
Day tour at Fihalhohi Island Resort (24++ USD, 48 if lunch is included)
Back to Maafushi
DAY 5 – BACK TO MALE
Breakfast
Catch 7:30am ferry to Male (22 MVR, 1.5 USD)
Explore Male City
Transfer to Male Airport (1 USD)
Bye bye
If you're ALONE and you spend 10 USD per meal and USD 60 per night on a guesthouse in Maafushi, the total cost of this itinerary (excluding airfare) is somewhere around: 465 USD (21,855 PHP).
You can still bring down the cost drastically by skipping the Fihalhohi Day Tour and just do a snorkeling tour instead on Day 4. That would put the total cost at: 402 USD (18,894 PHP).
Another way to save is staying at a cheaper guesthouse or keeping your meals at only 5 USD.

If there are two of you traveling together, you will be dividing the cost of accommodations. That brings down the total to only 291 USD (13,677 PHP).
OPTION B: Stay at an Exclusive Resort
While many luxury resorts charge thousands of dollars, there are cheaper exclusive resorts. One of the cheapest we found is Olhuveli Beach and Spa Resort. We booked their cheapest room at 177 USD per night (531 USD for 3 nights). It is also important to contact the resort prior to your trip and arrange airport transfers.
One thing you can do to reduce cost is to take advantage of the free breakfast buffet, which was open until 10am. If you're not a breakfast person, have a heavy meal at around 9:30am and then have dinner at around 6:30pm. For lunch, you can have some biscuits to get you through the afternoon. Apparently they allow some food types to be brought in. (The other couple with us brought some drinks and food from the grocery store in Hulhumale and the staff did not call them out or stop them.) We should have done the same, to be honest. LOL.
DAY 1 – ARRIVAL IN THE MALDIVES
Arrival at Male Airport
Transfer to Hotel UI Inn in Hulhumale (20 MVR, 1.5 USD)
Check in at UI Inn (42 USD)
Explore Hulhumale Beach
Sleep
DAY 2 – OFF TO OLHUVELI ISLAND
Breakfast at UI Inn (FREE)
Transfer to Airport (20 MVR, 1.5 USD)
Find the Olhuveli counter (22) at the airport
Board the speedboat to Olhuveli (210 USD roundtrip)
Dinner (40 USD per meal)
DAY 3 – OLHUVELI ISLAND
Breakfast (FREE)
Swimming and lazing on the beach
Dinner (40 USD)
DAY 4 – SNORKELING TOUR
Breakfast (FREE)
Half-day Snorkeling Tour (65 USD)
Lunch, we had lunch this time, LOL (40 USD)
Dinner (40 USD)
DAY 5 – DEPARTURE
Breakfast (FREE)
Back to the airport
Meal at the airport (20 USD)
If you're a party of two, this itinerary would cost you 755 USD (35,485 PHP).
That still sounds too steep, but trust me, with other luxury resorts charging 1000 USD per night, that's actually pretty low already.
This is ideal if you're on a honeymoon or on a romantic getaway.
More Tips for the Poor Traveler
Some other things you need to consider when visiting the Maldives.
Visa-on-arrival is available for all nationalities. Free. There is no additional step if you're going through Immigration; it's practically visa-free.
There's wi-fi at the airport but it will be sending your mobile number a PIN that you have to enter. Make sure your roaming (call/text) is on.
Get a local SIM card for only 3 USD if you must be online every time. You can top it up with 1GB+ of data for a little less than 15 USD. But most guesthouses, lodges, and resorts have free wi-fi. Internet coverage and speed in the Maldives are actually pretty impressive.
The Maldives is an Islamic nation and they prohibit or restrict certain items. Here are things you cannot bring into the country: religious idols, materials offensive to Islam, pornographic materials, pigs and pork products, narcotics, and psychotropic substances. Alcohol and spirits are restricted. My companion who came from Japan had a bottle of sake in her luggage. She had to deposit the item at the airport for pickup at the departure area before the flight out.
US Dollar (USD) is widely accepted. If you're staying at a private resort, you wouldn't even feel the need for the Maldivian Rufiyaa (MVR). But if you're staying in a local island, it's best to have some local currency. I exchanged USD 50 at the airport and still had a lot left by the time I was leaving the country.
Do NOT lose the receipt when exchanging money or withdrawing from the ATMs. If you lose the receipt, you will not be able to convert them back. Receipts are a requirement when selling Rufiyaa.
Water bungalows are the most expensive accommodations in exclusive resorts. If you're not too keen on staying in one but would love to experience luxury holiday, just book a beach room.
FREE UPGRADE. Some resorts give guests staying in a beach room FREE UPGRADE to water villa when there are vacancies. We know because it happened to us. We were asked by the staff if we wanted an upgrade for free. OF COURSE, WE SAID YES RIGHT AWAY!
Things to Watch Out For
Time zone confusion. Male time is GMT+5. But some islands are one hour ahead of Male. I actually don't understand this, haha. Olhuveli Island, for example, isn't that far from Male, but it's an hour ahead. Maybe the adjustment is less about actual location in the world map but more for practical purposes? Or maybe a marketing thing?
Taxes and other charges. Published rates usually do not include service charge, GST, and other taxes.Add a total of 23% to the published rate when booking hotels or eating at restaurants.
Mandatory transfers. Ask about the transfer arrangement before booking a room at an exclusive island resort. I cannot stress this enough. With some resorts, booking transfers with them is MANDATORY and can cost you up to 300 USD per person if by speedboat and over 500 USD by seaplane. Research the resort policies first before booking.
This travel guide is a work in progress. If you have something to add, spot something that needs correcting, or want to ask a question, hit the comments section below. :)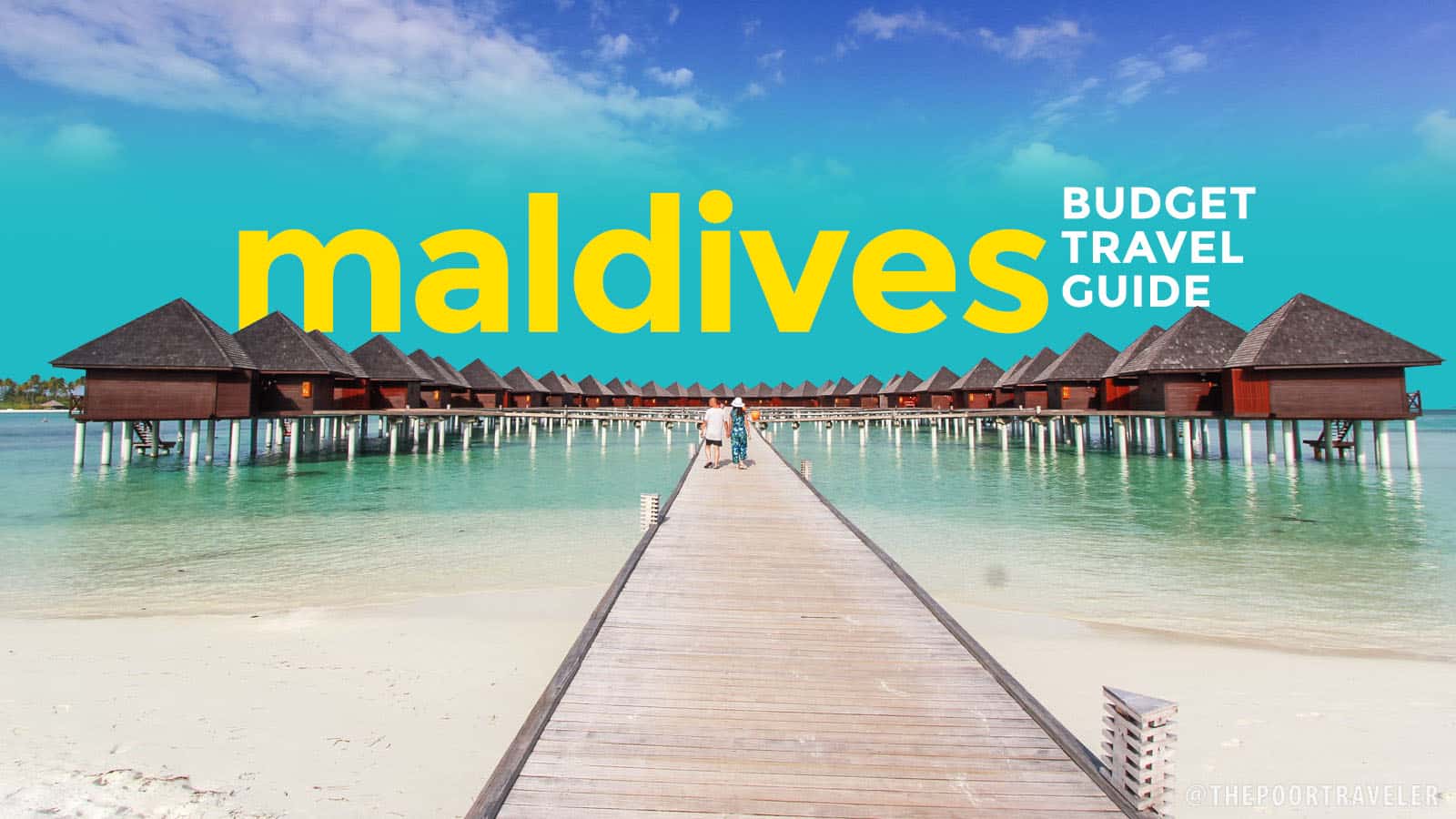 Last update: 2️⃣0️⃣1️⃣7️⃣•9️⃣•3️⃣0️⃣
First up: 2️⃣0️⃣1️⃣6️⃣•7️⃣•1️⃣3️⃣