It started with a drama series.
Like most of us, I learned about Nami Island when it was used as a setting for Winter Sonata, a Korean drama that became a phenomenal hit in many Asian countries, adding more fuel to the already unstoppable Korean wave that took the world by storm. But injecting another Korean dose to global pop culture wasn't the only thing this romantic flick has done. It has also sparked interest in Nami Island as a major tourist destination, with the number of tourists skyrocketing from 270,000 in 2001 to over 650,000 in 2002 to over 3 million in 2014.
But what is Nami Island really? Other than its lanes of metasequoia and ginkgo trees, what else awaits in this cinematic piece of paradise?
WHAT'S COVERED IN THIS GUIDE?
Understanding Nami Island
Although part of Chuncheon's territory, Nami Island or Namiseom is most easily accessible from a wharf in Gapyeong County, its main gateway and jump-off point.
Before it became most famous as a Winter Sonata filming location, it is best known as the final resting place of General Nami, a controversial historical figure in the Joseon Dynasty. He rose to fame in the mid-1400s when he led a victorious campaign to crush a massive rebellion. At age 25, he was honored by King Sejo, who gave him a top position in the government. But when King Sejo died, his successor falsely accused him of being a traitor, which led to his and his family's execution. It wasn't until almost 400 years later when he was exonerated.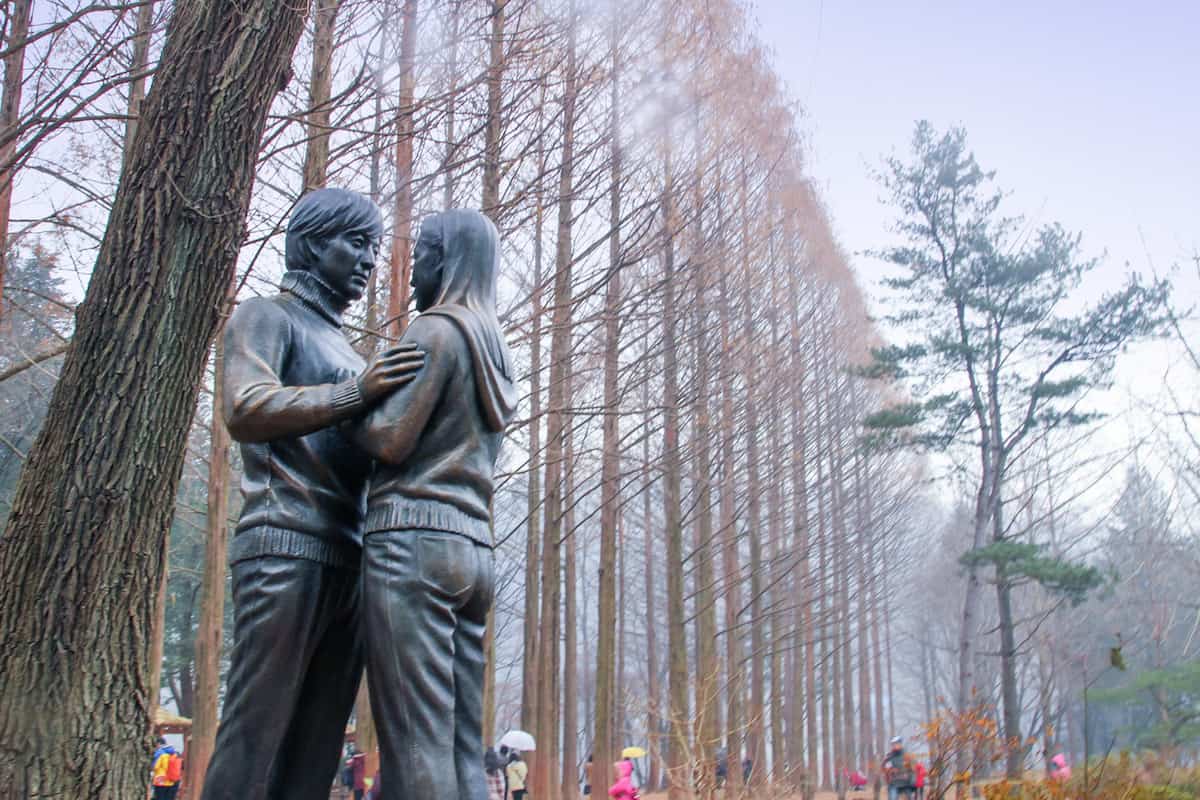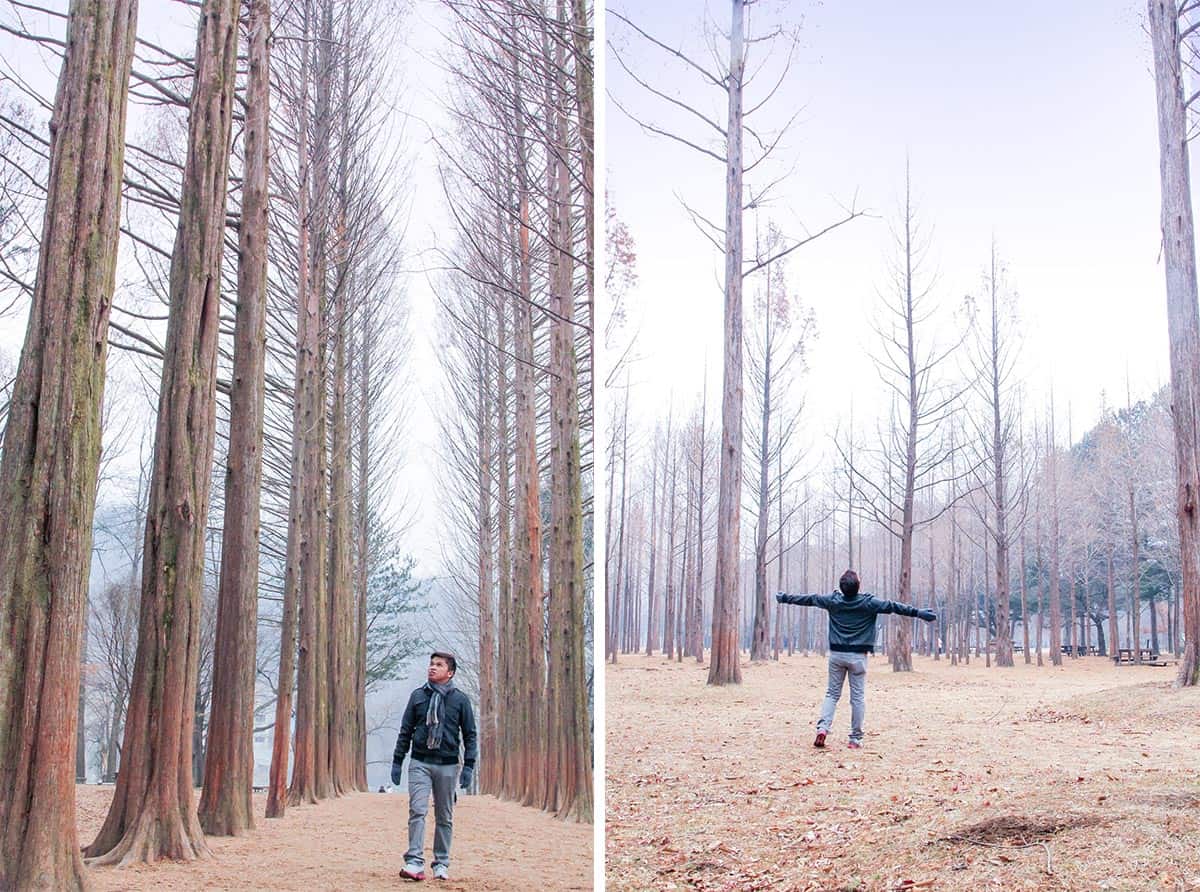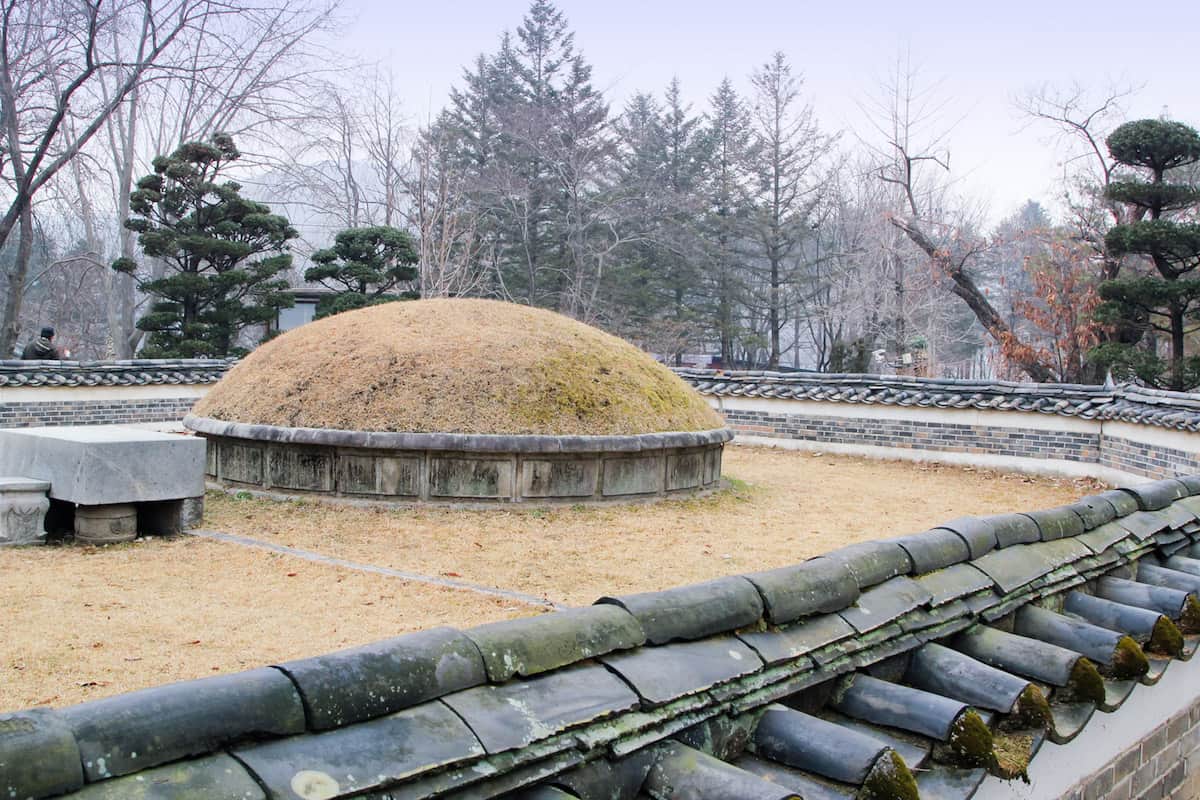 Nami Island covers an area of 430,000 square meters. This half-moon shaped island in the middle of the Han River was an almost barren patch of land with only a handful of chestnut trees. But when retired Bank of Korea governor Minn Byeong-do purchased the island in 1965, he reforested and transformed the island into the resort town that it is today. Over the past decades, it has hosted many events promoting art, culture, and environment-related causes.
Because of its proximity to Seoul, Nami Island easily became a popular day tour destination.
---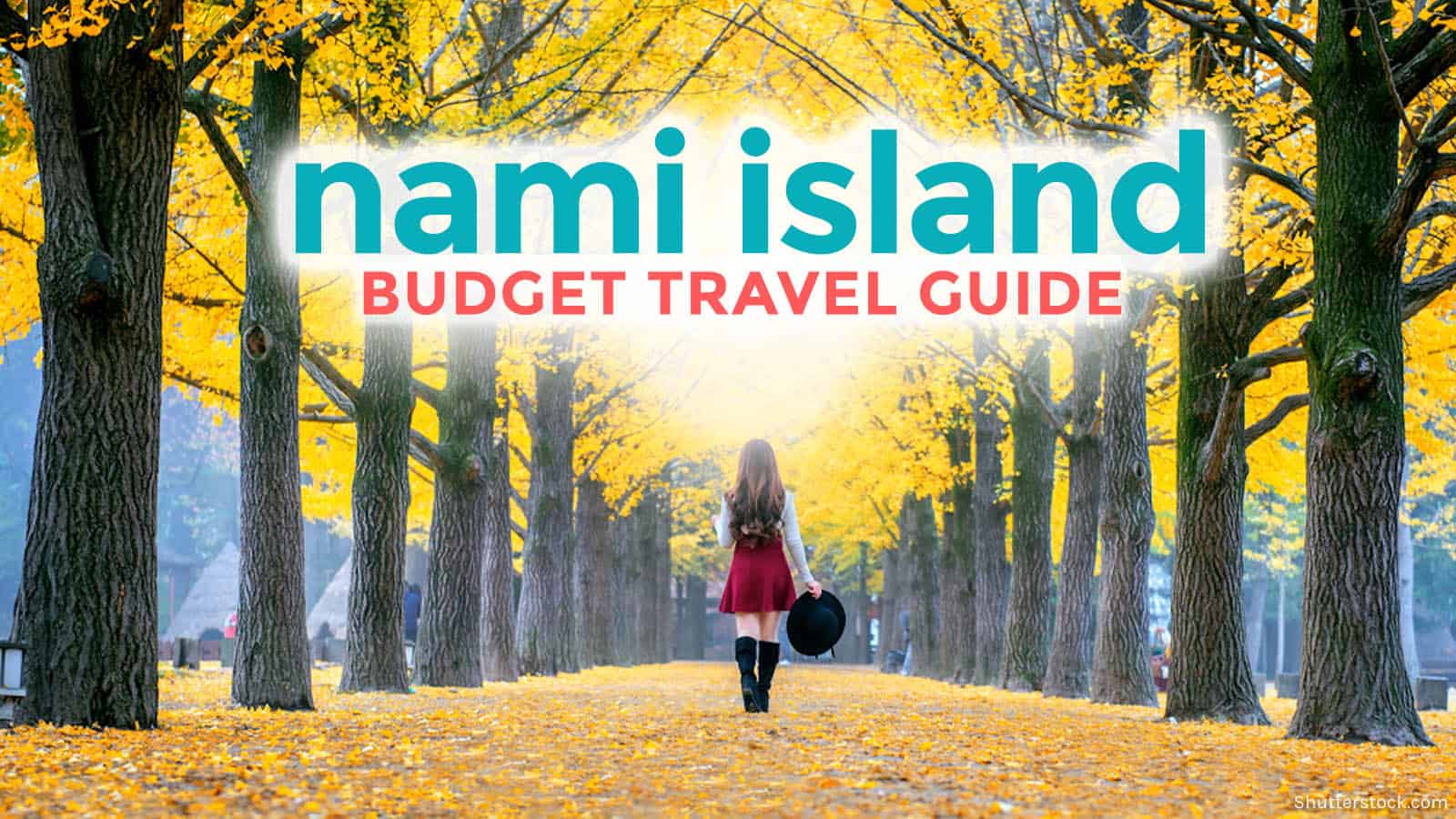 ---
How to Get to Nami Island from Seoul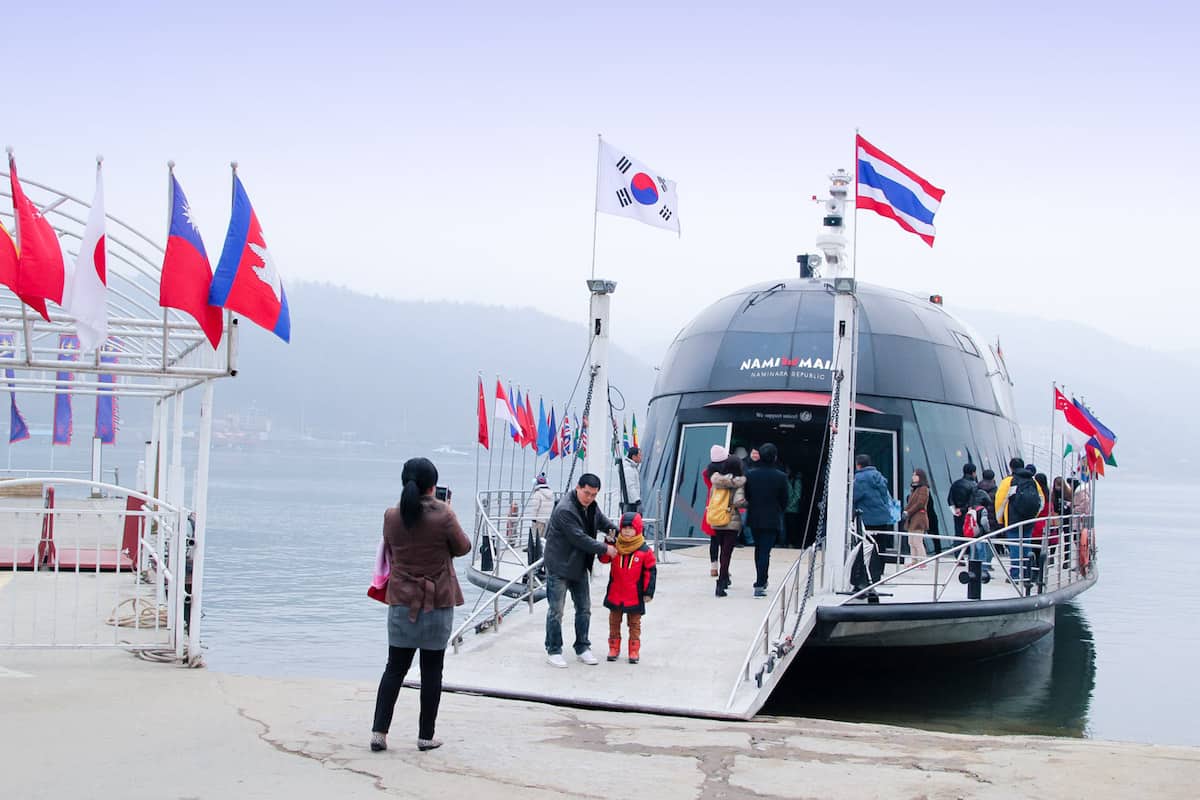 There are many ways to reach Nami Island, but these are the most popular options.
Seoul to Nami Island by Train
Travel by train to Gapyeong Station.
Walk or take a cab from the station to the ferry wharf.
At the wharf, buy tickets to the island, which costs ₩13,000.
The 13,000-won fee already covers both the entrance fee and roundtrip ferry fare.
There used to be a discounted rate for foreigners, ₩8000 per person. But the rate increased in January 2018 to ₩13,000.
Seoul to Nami Island by Bus
Reserve a bus seat by emailing bus@naminara.com or calling +82-2-753-1247. Roundtrip fare is ₩15,000.
Catch the shuttle bus in Insadong (near the West Gate of Tapgol Park) or Sungnyemun Square Bus Stop in front of Namdaemun Market. Bus leaves at 9:30am. This will take you to the wharf in Gapyeong.
Board the ferry to Nami Island. Entrance Fee: ₩13,000.
---
Where to Stay Near Nami Island
There are no hotels in the island itself. The closest is Gapyeong, where the Nami Island ferry picks up passengers. In my personal opinion, however, one day is enough to experience most of what Nami Island has to offer. Hence, if your main destination is Seoul, you might want to visit Namiseom on a day trip. Whatever your decision is, below are the top budget hotels in Seoul and Gapyeong.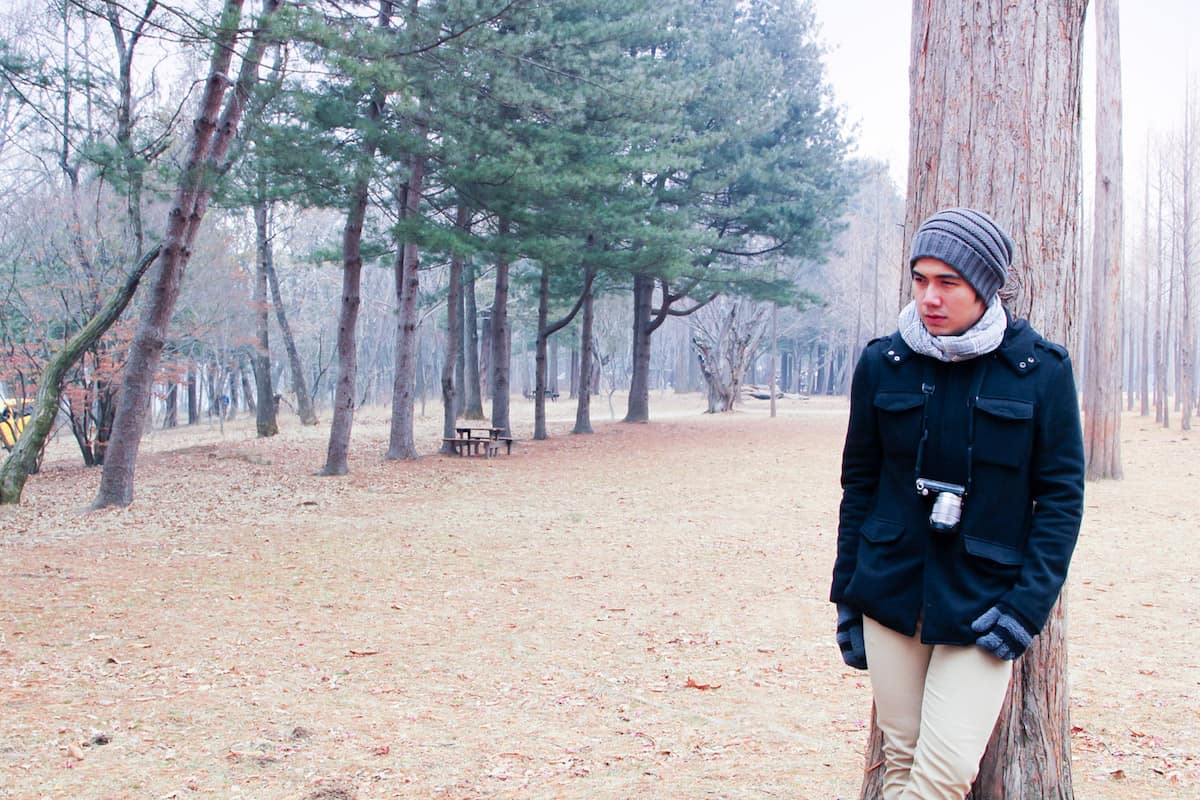 ---
Top Budget Hotels in Seoul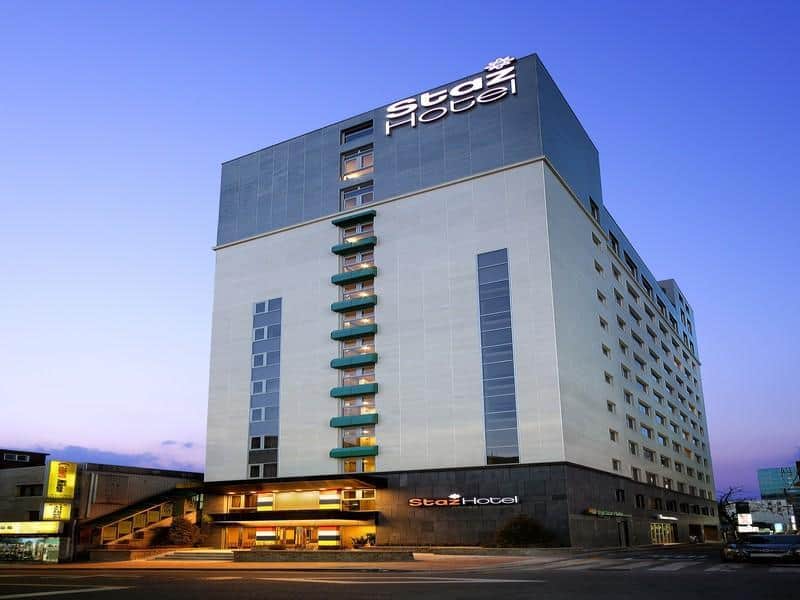 ---
Top Hostels in Seoul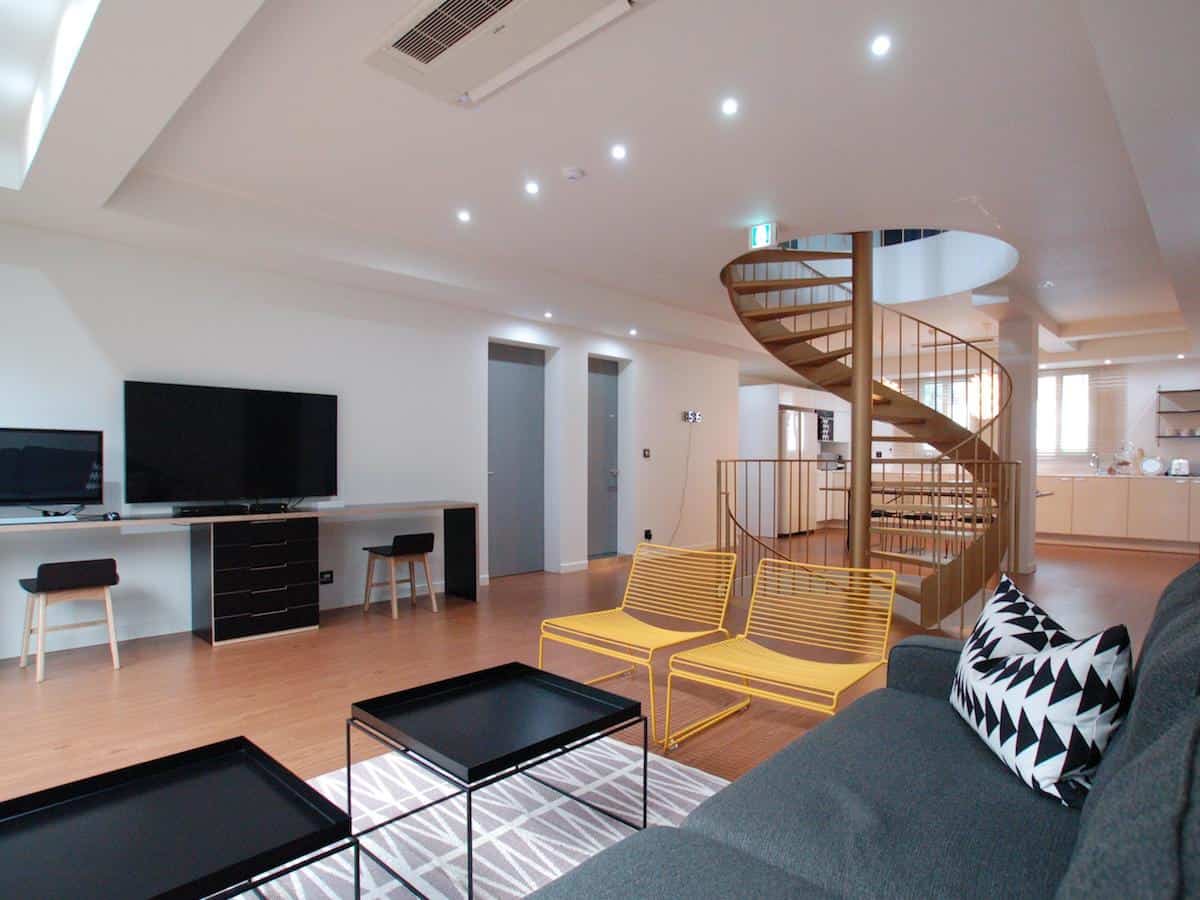 ---
Top Hotels in Gapyeong (near Nami Island)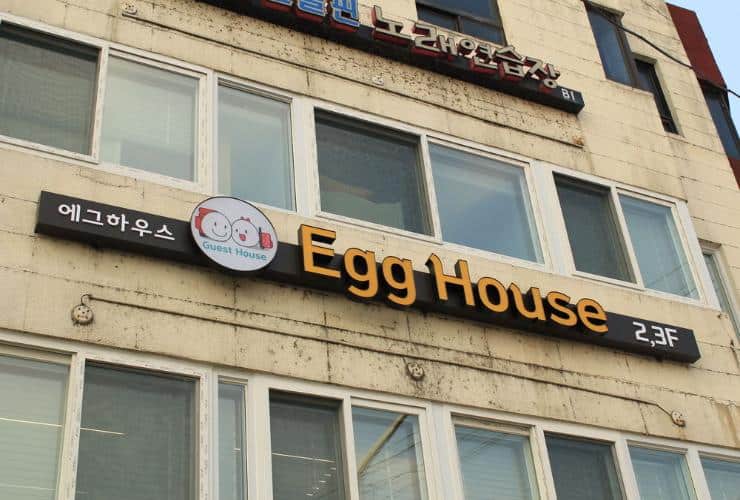 ---
Sample Nami Island Itinerary and Expenses
If you're visiting Nami Island on a day tour as part of a bigger trip to Seoul, below is a sample 5-day/4-night itinerary with breakdown of expenses. This assumes the following:
You are a group of two.
You will be staying in a twin room at a hostel.
You will be using a T-Money card (T-Card) in exploring Seoul.
Your meal allowance is limited to only ₩5000 for breakfast and ₩15000 for lunch and dinner. It's actually too much for me considering that you will find a bowl of delicious bibimbap for only ₩5000. But I think it's better to overestimate so let's leave it at ₩15,000. I'm not a breakfast person, either. But fine, let's still include breakfast for good measure.
Just make necessary adjustments to suit your needs.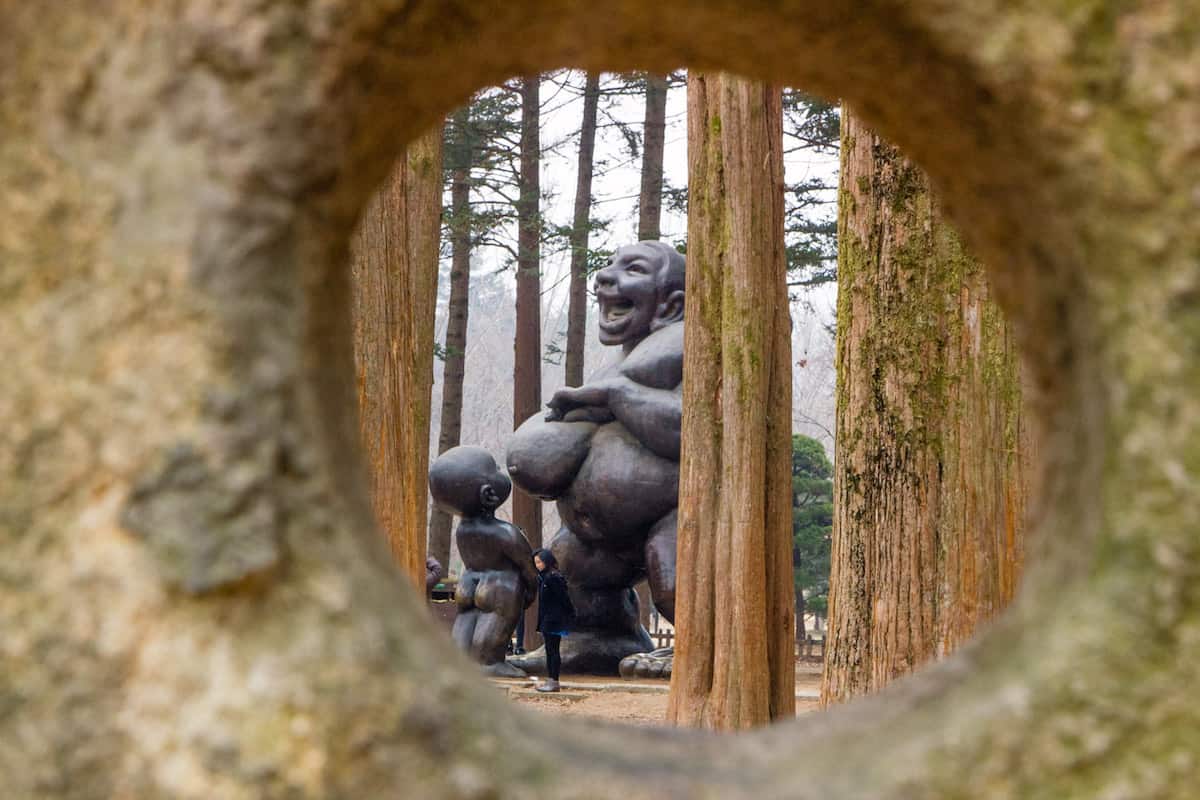 Pre-trip expenses
Hotel booking – ₩116,000 (₩58,000 x 4 nights divided by 2pax)
Day 1: ARRIVAL + GYEONGBOKGUNG
01:00pm – Airport to Jongno-3ga – ₩4150 + ₩1250
02:20pm – Check in at hostel
03:00pm – Gyeongbokgung Palace – ₩3000
06:30pm – Cheonggyecheon Stream
08:00pm – Gwangjang Market – ₩15,000 budget
10:30pm – Sleep!
Day 2: ANGUK AREA + MYEONGDONG
08:00am – Wake up
09:00am – Grab breakfast – ₩5000
09:30am – Bukchon Hanok Village
11:30am – Lunch – ₩15,000
01:00pm – Changdeokgung Palace – ₩3000
06:00pm – Subway to Myeongdong – ₩1250
06:20pm – Dinner – ₩15,000 budget
09:30pm – Back to Hotel
Day 3: NAMI ISLAND
07:00am – Wake up
08:00am – Grab breakfast – ₩5000
08:30am – Subway to Gapyeong Station – ₩2250
10:00am – Taxi to ferry wharf – ₩3000
10:20am – Buy Nami ticket – ₩13,000
10:50pm – Explore Nami Island
01:30pm – Lunch – ₩15,000 budget
02:30pm – Continue exploring Nami Island
04:00pm – Ferry back
04:30pm – Taxi back to Gapyeong Station – ₩3000
05:00pm – Subway back to city – ₩2250
06:30pm – Dinner – ₩15,000 budget
09:00pm – Sleep
Day 4: HONGDAE & SINCHON
09:00am – Wake up
10:00am – Brunch + Insadong – ₩15,000 budget
01:00pm – Subway to Ewha Women's University – ₩1250
01:30pm – Ewha Women's University
02:30pm – Subway to Hongik University – ₩1250
02:45pm – Seoul Trick Eye Museum – ¥15,000
05:00pm – Explore Hongdae
08:00pm – Dinner – ₩15,000 budget
10:30pm – Back to hotel – ₩1250
Day 5: PACK UP + DEPARTURE
Train back to Airport – ₩5400
This itinerary will cost you ₩292,000 (USD 256, EUR 226, SGD 355, PHP 13,700), excluding the airfare.
You can still bring down the cost by staying in a dorm (and there are great options in the city), skipping the Trick Eye Museum (it's not really unique to Seoul), or cutting down on your food budget (Please don't. Korean food is awesome!)
If you're coming from Manila and you're able to snag PHP7700 fare, the total cost of this trip is PHP 21,400.
For my first trip, I got my plane tickets from a SEAT SALE and paid only PHP 6000, hehe. Add the travel tax (which was being collected separately at the time) and the total is pretty much the same.

2️⃣0️⃣1️⃣9️⃣ • 3️⃣ • 1️⃣8️⃣ – last update
2️⃣0️⃣1️⃣7️⃣ • 2️⃣ • 1️⃣8️⃣ – first up