When I think of Bali, the first word that comes to mind is "honeymoon".
After all, in the book and movie "Eat Pray Love," Bali represents love. And in many other films and TV shows, it is depicted as a romantic setting. Growing up, I always imagined it as a destination mainly for special celebrations. Back then, there were no direct flights from where I'm from to this Indonesian paradise. At least, no low-cost flights. A trip to Bali was a trip that you prepare for, you save a lot for. Of course, a lot has changed since.
Today, most of us know that Bali is not just a lover's paradise. The island has something for travelers seeking nature, culture, and adventure. It is also an ideal choice for family trips, solo travels, group holidays, and even company incentive tours.
WHAT'S COVERED IN THIS GUIDE?
UNDERSTANDING BALI
Bali is Indonesia's most famous tourist destination. The tourism industry is the province's main source of income, fueled by tourism-related businesses like hotels and resorts, tour agencies and operators, etc.
Aside from making up the majority of the province's economy, tourism also led to the development of more sophisticated arts and crafts. It also revived some of the traditional dances and customs that are otherwise left buried and forgotten. Natural attractions also abound in Bali — both on land and underwater. Rice terraces, mountains, islands, beaches, jungles, caves, waves, and marine life are the draw for the adventurous. All these and more propelled Bali to rise as one of the world's top destinations.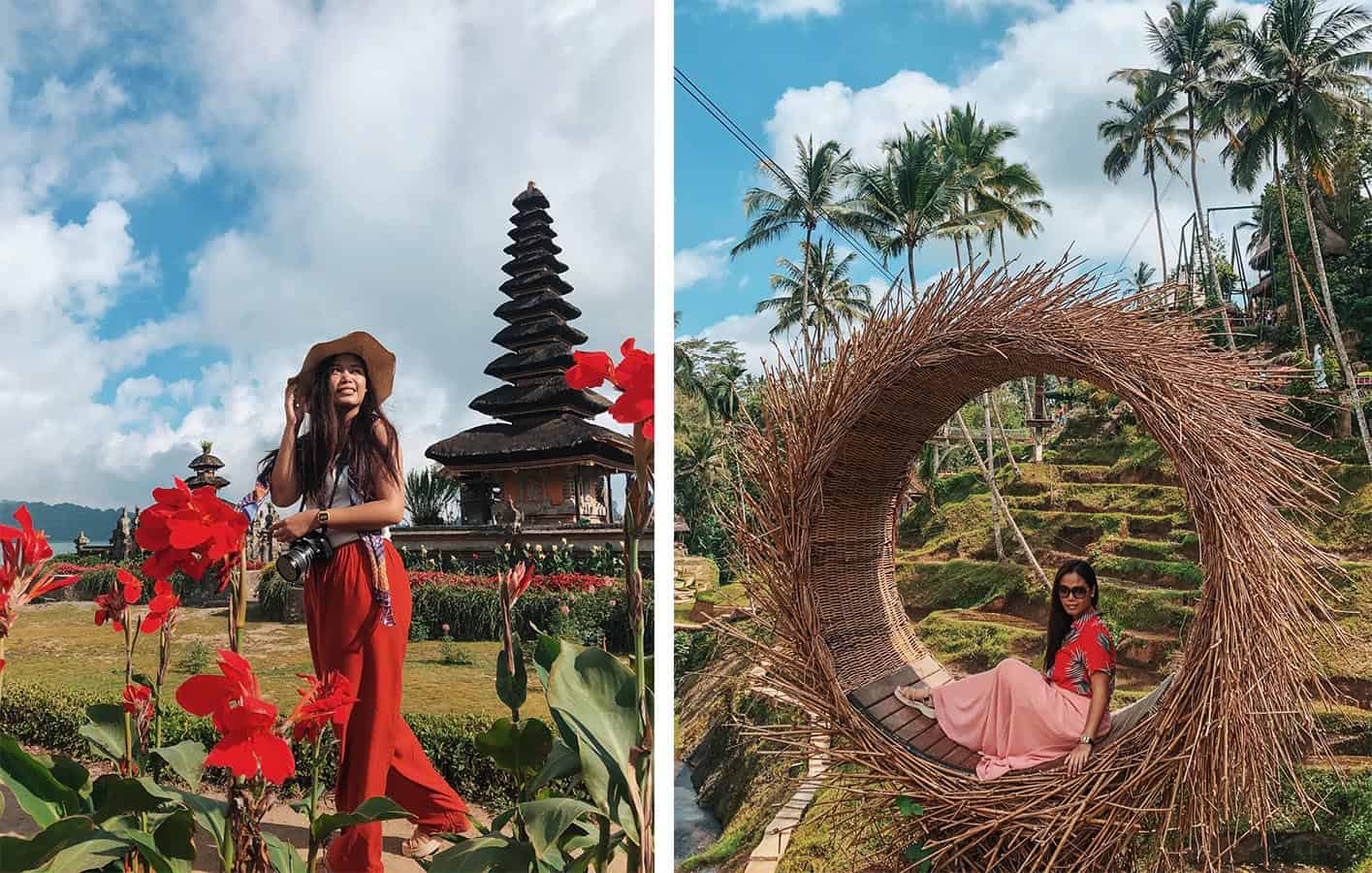 Essential Information:
Language: The most widely spoken languages are Indonesian/Bahasa Indonesia and Balinese. Most people understand and speak English too.
Religion: Over 80% of the residents practice Balinese Hinduism, which is unique in Indonesia, a predominantly Muslim country. It is important to be respectful of their way of life, especially when visiting spiritual sites like temples. The island also observes Nyepi Day (Day of Silence), which we will discuss below.
Time Zone: GMT+8 (Central Indonesia Time). Bali is in the same time zone as Manila, Singapore, and Kuala Lumpur; and an hour ahead of Jakarta.
Currency: Indonesian Rupiah (IDR, Rp). USD 1 is around IDR 14,000; PHP 1 is around IDR 278; EUR 1 is around IDR 15,500 (as of November 2019)
Modes of Payment: Most of the stores and restaurants transact in Rupiah, but major credit cards are accepted by most hotels, fine-dining restaurants, and souvenir shops. I noticed that quite a number of establishments have large signs that say they prefer Mastercard. Others like Visa and American Express are accepted too.
---
WHERE TO STAY IN BALI
Bali Province is composed of Bali Island and other smaller islands clustered on the southeast portion, namely Nusa Penida, Nusa Ceningan, and Nusa Lembongan. The city of Denpasar is the provincial capital.
Bali has the most diverse options in Indonesia when it comes to accommodations. There are guesthouses, inns (losmens), hostels, budget hotels, high-end hotels, resorts, and villas.
The island can be split into four regions: South, North, Central/East, and West Bali. Although it is possible to stay in other regions, the southern portion is the most popular tourist hub. The majority of the accommodations, restaurants, cafes, bars, shopping areas, and attractions are located here.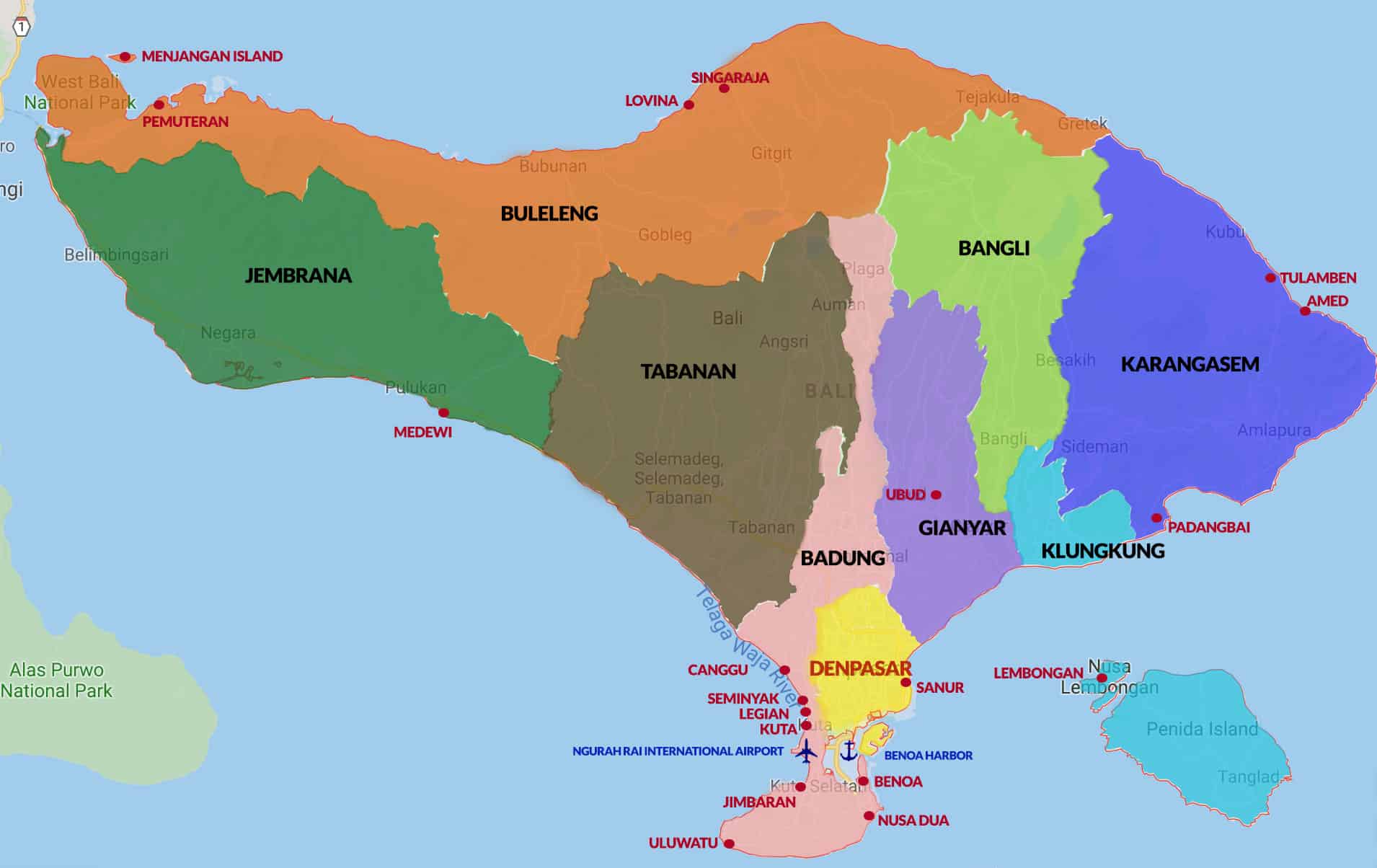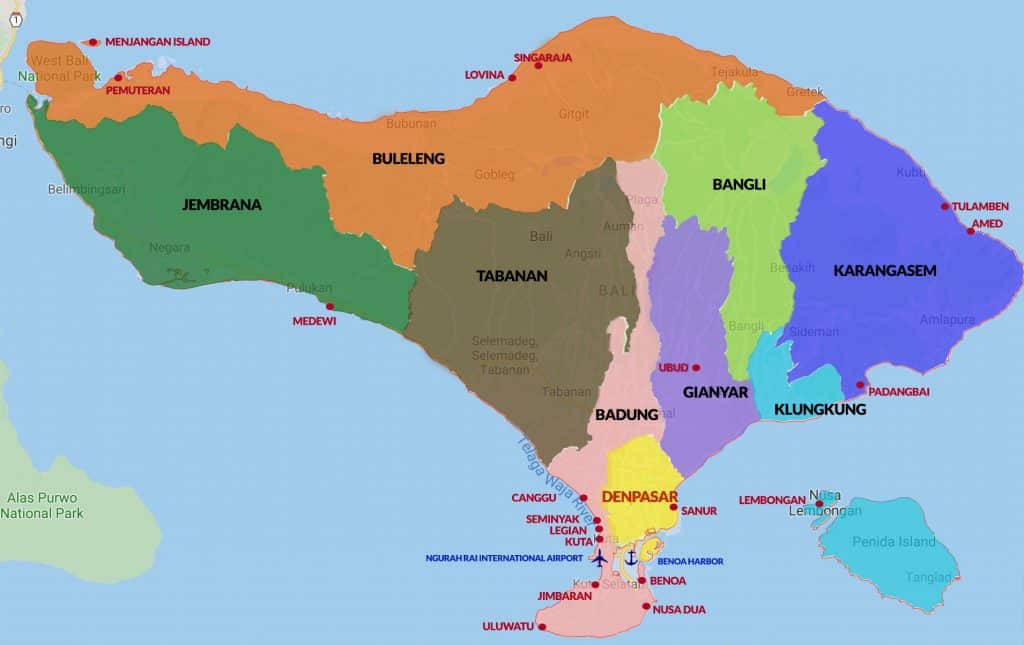 As you can see on the map, most of the island's tourist attractions can be found in the South. Most visitors choose to stay in the south because of the tourist-friendly services and amenities. Furthermore, it's accessibility makes it a good base and jump-off point to other tourist destinations in Bali. For me, the most ideal places to stay in the south are the following:
Seminyak. Seminyak is located further north of Kuta. It is like the high-end version of Kuta. Seminyak has plenty of luxury hotels, villas, and spa resorts.
Legian. Legian is a suburb located between Kuta and Seminyak. It offers the best of both worlds — budget and luxury. This area is tamer compared to both Kuta and Seminyak.
Kuta. Kuta District in Badung Regency has the highest concentration of accommodations in Bali. Although there are high-end hotels here, the town is known for its budget- and backpacker-friendly accommodations.
But if you're after peace of mind or a more cultural experience, Ubud in Central/East region is also a great choice. It's not as accessible as the beach towns, but it offers a relaxing Balinese getaway.
We've discussed these areas in detail in a separate article: BEST AREAS TO STAY IN BALI!
---
Top Budget Hotels in Kuta
---
Top Budget Hotels in Seminyak
---
HOW TO GET TO BALI
The primary gateway to Bali is Ngurah Rai International Airport, also known as Denpasar Airport or Bali Airport. It is situated in the southern part of the island near the capital, Denpasar, and located between Kuta and Jimbaran. The airport is one of the busiest in Indonesia and connects to major cities and airports, both domestic and international.
Manila is directly connected to Bali. The travel duration between Manila and Bali is approximately four (4) hours. Compare flights below:
Travelers arriving in Bali are requested to fill out two forms: Custom Declaration Form and the yellow Health Declaration Form. No need for Arrival Card. If you are arriving as a family, you need to fill out only one Custom Declaration Form. Our forms were given to us onboard.
---
Bali Airport to Kuta, Legian, Seminyak or Canggu
A majority of tourists choose these four areas as their bases: Kuta, Legian, Seminyak, and Canggu. All of them are located north of the airport on the southwest coast of Bali. Estimated travel duration:
To Kuta – 30 minutes
To Legian – 1 hour
To Seminyak – 1 hour
To Canggu – 1.5 hours
Here are your options for the mode of transportation from the airport to any of these tourist areas:
Arranged Transport Services (Example: hotel service and tour operators)
Airport Taxi
Metered Taxi
Ride-sharing Apps
Public Transportation (Example: Angkot/Bemo and Trans Sarbagita)
Tourist Shuttle (Example: Kura Kura Bus and Perama Bus)
Online Booking
For the detailed post on how to get to Bali and its tourist centers, we created a separate article for that. You may read it here: Bali Airport to the Tourist Centers.
If you're a group, a convenient option to consider is a private transfer. An indication that it's one of the most trusted airport transfer options is the significant number of Klook-affiliated drivers waiting at the Arrival Lobby. All of them, wearing the orange Klook uniform, are clustered in one area. Some transfer packages on Klook also include data SIM cards.
✅ BOOK BALI AIRPORT TRANSFER HERE!
---
HOW TO GET AROUND BALI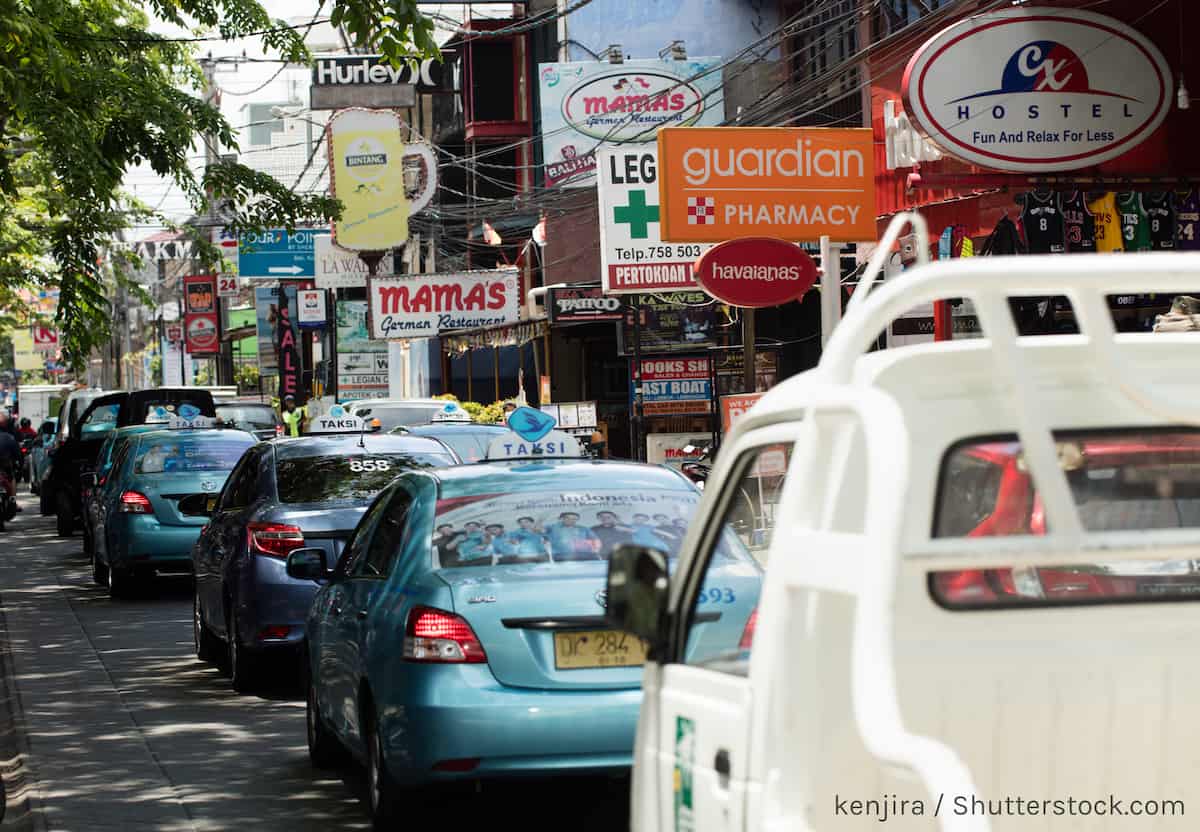 There are choices aplenty for the modes of transportation to get around Bali. Here are your options:
Joining a group tour. Most tourists prefer to join group tours to get to famous attractions. These tours are offered by hotels, travel agencies and tour operators. You can also book the tour ahead online through Klook. We will tackle more of this later on the Things to Do in Bali section of this guide.
Private Charter with Driver. This is our recommended option if you're part of a group (with friends or family). This way, you have total control of your time and itinerary for 10 hours. This usually includes an English-speaking driver, gasoline, and driver meal. You just need to discuss it with your driver if your itinerary is feasible. Klook offers several private car charter services. Reserve a car with driver service here! ✅
Tourist Shuttle. Well, from the name itself, this option is more tourist-friendly than the regular public buses in Bali. These shuttles cover the main tourist destinations in Bali. Kura Kura Bus and Perama Bus are popular among tourists. To contact them, you may check their official websites and social media accounts. Kura Kura Bus has a mobile app too!
Regular Bus. Trans Sarbagita is Bali's bus rapid system that serves mainly Denpasar and the southern Bali area. It has fixed routes but no fixed schedule. Other regular buses normally cover long-distance routes. The fare depends on your destination. However, this is not recommended to take if you are pressed for time.
Bemo or Angkot. These are local minivans. They are normally open and non-airconditioned. They look like vans but they work like Philippine's jeepneys.
Taxi. For short-distance travel, tourists hop on a taxi. Taxis are relatively cheap in Bali compared to other countries. The meter starts at IDR 7,000 (PHP25/USD.50/EUR.45) and IDR 6,500 (PHP24/USD.46/EUR.42) per succeeding kilometer. As a rule of thumb, always insist on using the meter.
Ride-Sharing App. Or a ride-hailing app. This should be the most convenient option BUT it's a bit tricky to use ride-sharing apps like GoJek and Grab in Bali. There are certain streets that don't allow these vehicles to pass and certain hotels that discourage their guests from hailing a ride using the app.
Motorcycle or Car Rental. Some travelers who like to be in total control of their time and itinerary opt to rent a car or a motorcycle. A motorcycle is the main mode of transportation used by both locals and tourists. The tourist hubs are bombarded by lots of motorcycle-for-rent ads/signboards. The rental rates range from IDR 70,000 (PHP250/USD5/EUR4.5) to IDR 150,000 (PHP540/USD11/EUR10) per day, depending on the type of motorcycle.
Learn more about the rules when driving a car or motorcycle in Bali and other important details here: HOW TO GET AROUND BALI!
---
POCKET WIFI RENTAL & LOCAL SIM IN BALI

There are many available local SIM and pocket WiFi rentals in Bali. You can also get your SIM card or pocket WiFi from Klook!
Pocket Wifi. The better choice if you want to connect more than one device or if your handset is locked to your service provider at home. This is also good for those traveling with friends or family members. For those traveling from Manila, you can have it delivered to your home or office before your departure (within Manila only). Choose the data package that you need — unlimited, 1GB, 500MB, 350MB or 150MB. Reserve here! ✅
Local Data SIM. You can pick it up at Bali Airport. Choose your data package. SIM card validity options are 14 days, 25 days, and 30 days. Select the service type that you need — data only or data with free calls and texts. Get your SIM card here! ✅
Having a reliable internet connection while traveling is beneficial. It will help you save time and money as you explore. You can access Google Maps, a language translation app, and the currency conversion app. And should you decide to book tours or private car with a driver, you can communicate with the local drivers, tour operators, and tour guides via online messaging apps.
---
THINGS TO DO IN BALI
The good news is, Bali has a lot to offer. A LOT. You'll never run out of things to do and places to discover even if you stay for weeks. I have friends who are now based in Bali and they still haven't explored many parts of the island.
The bad news is, well, Bali has a lot to offer. With so many options, it can be quite challenging to pick attractions and activities, especially if you have limited time. If you're building a Bali itinerary, it will help to look at them as tour packages. Many tours bundle tourist sites according to proximity (attractions closer to each other) or according to your interests. You're in Bali to see the temples? There are tours for that. Food? There are tours for that. Beaches and waterfalls? There are tours for that. Instagrammable spots? You bet there are tours for that, too!
In this section, we'll do a short rundown of the tours available on Klook to make it less overwhelming. You can also do these tours on your own. If you're a group, you can do the long-distance tours by renting a private car with driver, which is often more affordable. This way, you have total control of your time and itinerary for 10 hours. This usually includes an English-speaking driver, gasoline, and driver meal. You just need to discuss it with your driver if your itinerary is feasible. Klook offers several private car charter services. Reserve a car with driver service here!
✅
Important! If you're booking multiple pre-arranged tours, compare itineraries first and check if there are repetitive items. You probably don't want to visit the same attraction twice.
Bali Instagram Tour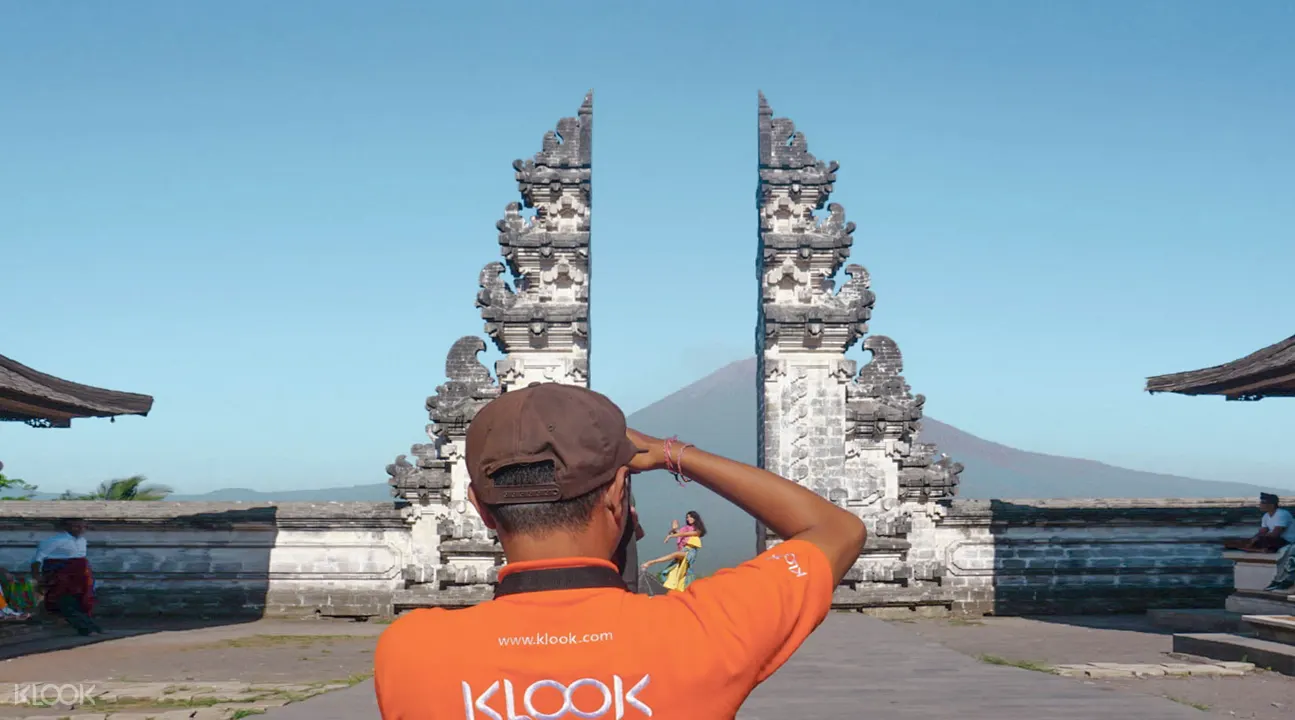 For Instagrammers, Bali is the promised land. Its every nook and cranny has an Insta-worthy spot. No wonder a lot of Instagram tours have sprouted over the past few years. If you're the type who always wants the most memorable photos from your trips, this may be for you.
Klook offers a tour that will take you to the island's most Instagrammable spots with a professional photographer to ensure you have pictures worth sharing. The tour package includes hotel pickup and drop-off, English-speaking driver, entrance fees, parking fees, and service fee for the photographer. My only request is, take some time to appreciate each of the spots you will visit and experience them fully, not just as a backdrop.
Anyway, you can choose between BALI IG TOUR, NORTH BALI IG TOUR, and UBUD IG TOUR.
✅ CHECK ITINERARY or RESERVE A SLOT HERE!
---
Lempuyang Temple and East Bali Tour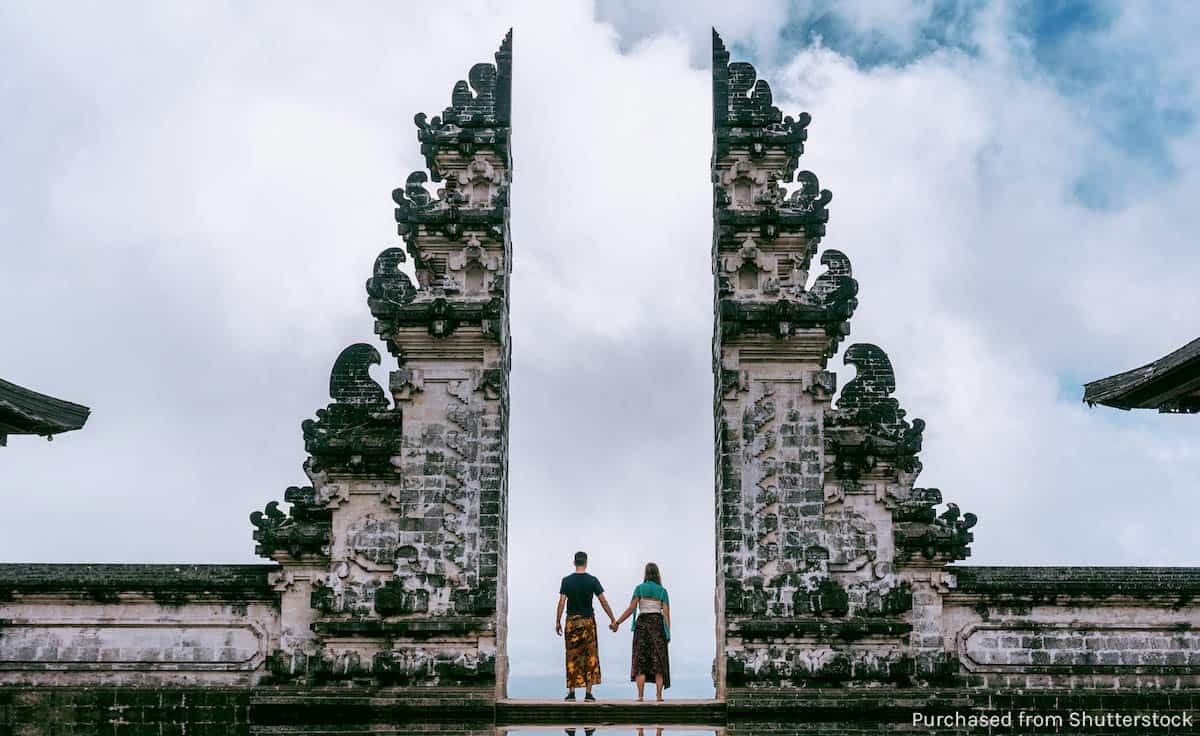 You might recognize Lempuyang Temple by its iconic, Instagram-worthy Gate of Heaven, which frames the majestic Mt. Agung in the background. But this temple, more formally called Pura Penataran Agung Lempuyang, is definitely more than just a selfie spot. Standing on the slope of Mount Lempuyang, it is one of the six holiest places in Bali, which are believed to maintain the spiritual balance in the island.
If you want to take the photo at the Gate of Heaven, prepare to wait for a long time, unless you're visiting early. You can book a private SUNRISE TOUR on Klook, which also includes a stop at Virgin Beach and Asah Hill. Sunset tour is also available.
If you're not the early morning type, you can also book a regular DAY TOUR with stops at Tirta Gangga and Taman Ujung water palaces. Join-in and private options are available for this.
Important! If you're also going to book the BALI INSTAGRAM TOUR (see above), these tours might feel repetitive because they both make a stop at Lempuyang Temple. It's best to choose just one.
✅ BOOK A SUNRISE/SUNSET TOUR!
✅ BOOK REGULAR DAY TOUR!
---
Ubud and Central Bali Tour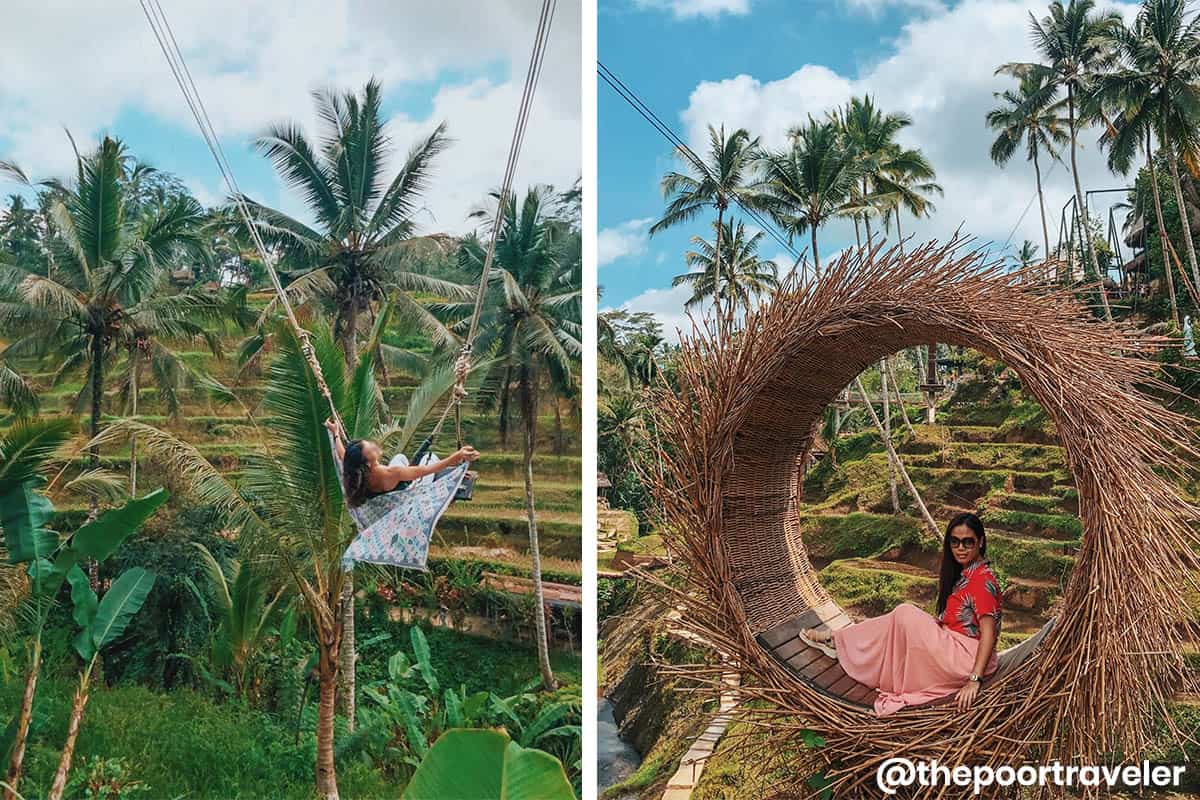 Ubud is the heart and soul of Bali. Although it has become busier as more tourists flood in over the years, it remains the island's cultural core. It has a lot to offer: breathtaking scenery, nature, temples, and the traditional Balinese way of life. Although it is possible to stay in Ubud, most tourists visit only on a day tour. Klook has a lot of Ubud offers, but the two with the best itineraries are the following: a join-in shuttle service and a private tour package.
JOIN-IN SHUTTLE SERVICE
The shuttle service includes only the transfers for the full day, driver fee, and insurance, but NOT the entrance fees. It does not include hotel pickup or drop-off. You will need to meet up with the driver. There are meetup locations in Kuta, Seminyak, Nusa Dua, Ubud, and Sanur. This is a join-in tour, so you will be sharing the vehicle with other tourists.
Here are the stops and the corresponding entrance fees (which you will need to pay for at the site).
Tegenungan Waterfall – IDR 15,000
Sacred Monkey Forest – IDR 80,000
Ubud Art Market or Ubud Royal Palace
Tegalalang Rice Terrace – IDR 20,000
Swing at Alas Harum – IDR 150,000 to 300,000
PRIVATE TOUR PACKAGE
This is a private tour that includes hotel pick-up and drop off, transfers and driver fee, all entrance fees, and a bottled water. What's not included is the optional swing fee. The places to be visited are the same as the shuttle service but with additional stops at Tirta Empul Holy Springs and Elephant Cave (Goa Gajah). Here are the usual stops:
Tegenungan Waterfall
Elephant Cave
Tirta Empul Holy Springs
Tegalalang Rice Terrace (optional jungle swing experience)
Ubud Monkey Forest
Ubud Art Market
Because it's a private tour, the price per person depends on how many you are in the group.
✅ BOOK THE JOIN-IN SHUTTLE SERVICE HERE!
✅ BOOK THE PRIVATE TOUR HERE!
---
Nusa Penida Tour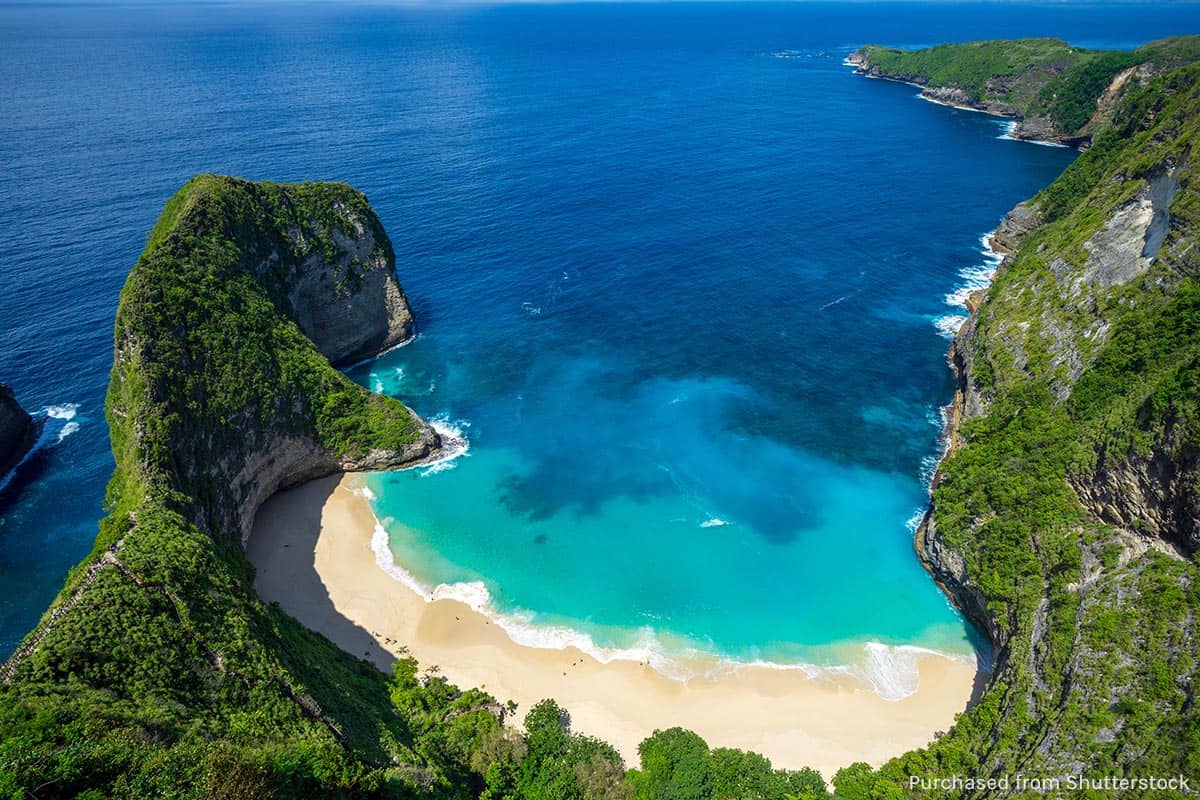 Nusa Penida is a breathtaking island off the southeastern coast of Bali. It is best known for the dinosaur-shaped Kilingking Beach, which is just one of its many spectacular sights. Nusa Penida tours are categorized into three: West, East, and South. Here are the main stops per tour:
West Tour: Kilingking Beach, Angel's Billabong, Broken Beach, Crystal Bay
East Tour: Teletubbies Hills, Thousand Island viewpoint, Tree House, Diamond Beach, Atuh Beach
South Tour: Tembeling Beach, Banah Cliff
If you don't know how to drive, you have two options. You can travel on your own to Sanur Harbor, where you'll catch the boat to Nusa Penida. Once on the island, you can charter a private car with driver. You can book with Klook. See link below.
The second option is to join a group tour from your hotel in Kuta, Denpasar or Seminyak. They will pick you up at your hotel, transfer you to Sanur Harbor, get you on the boat to Nusa Penida, tour you around the island, and take you back to the hotel at the end of the day. It's more expensive but hassle-free because you don't need to worry about anything.
If you do know how to drive and you have a license, you can also rent a motorcycle or car on the island.
✅ BOOK A CAR WITH DRIVER HERE!
✅ BOOK A TOUR HERE!
---
Uluwatu Temple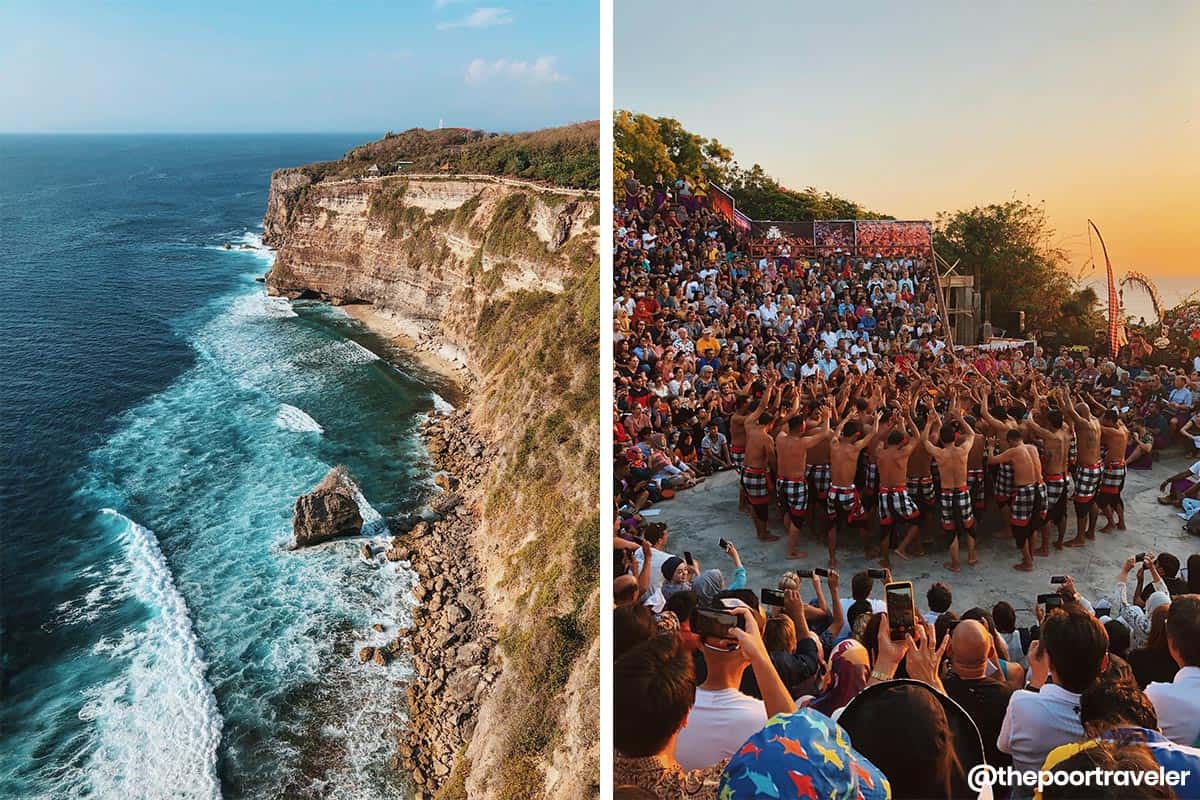 Pura Luhur Uluwatu is a Hindu sea temple that sits atop a cliff. It is one of the six key temples that make Bali's spiritual pillars. The main temple is open only to worshipers. However, visitors are treated to a spectacular view of the sea from outside the temple.
The temple ground is visited by monkeys dwelling in the forest that surrounds it. These monkeys are known to snatch things from visitors so take care of your belongings, especially your accessories like sunglasses. There's a cliffside pathway also that gives visitors different viewing points of the Indian Ocean, the tides, and the sunset. You need to wear sarong and sash to enter the temple ground. These are provided at the temple for free. The best time to go is early afternoon, just before the crowd thickens, as it is one of the best places to see the sunset on the island. In fact, the famous Kecak Dance, a Balinese art form, is performed daily starting at dusk, affording the audience to watch two beautiful masterpieces — the dance and the sunset.
At around 6 PM, Kecak (pronounced "ke-chak") Dance is performed daily on a cliffside open-air venue within the temple grounds of Uluwatu Temple. It is based on the epic Ramayana, focusing on how Rama and his brother rescued his abducted wife, Sita, with the help of the monkey king and his troops.
Kecak Dance is characterized by the chanting and dancing of 75 men while the performers re-enact some of the scenes from the epic tale. It is recommended to go there early at least an hour ahead to secure a good spot. You can purchase your ticket in advance too.
Admission Fee: IDR 30,000
Kecak Dance Fee: IDR 100,000
Opening Hours: 9:00 AM – 7:00 PM; 24/7 for worshipers
Kecak Dance Schedule: Starts at 6:00 PM daily
Lines can be too long. But you can book your ticket in advance through Klook. You can also join a tour which includes a Kecak Dance ticket via Klook. The tour package includes roundtrip transfers (hotel pick up and drop off). If you're a private group, the itinerary also includes a stop at Padang-Padang Beach.
✅ RESERVE A SLOT HERE!
---
Ulun Danu Beratan, Jatiluwih Rice Terraces, and Tanah Lot Tour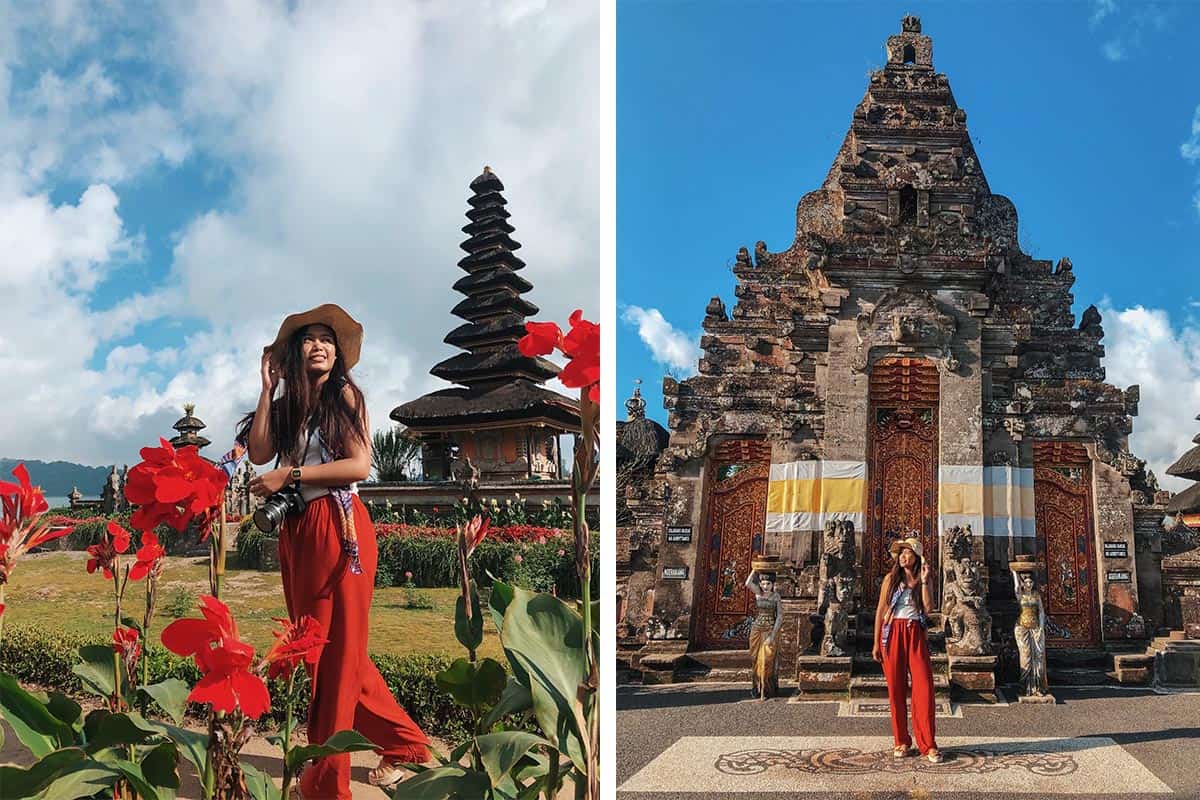 This tour features three of Bali's most iconic sites:
Ulundanu Beratan Temple. Located on the shores of Lake Bratan in Tabanan, this is a major Hindu Shaivite water temple. Just like the other water temples Uluwatu and Tanah Lot, Ulun Danu Beratan offers a dreamy tableau when the tide is high and the lake water borders the temple on all sides.
Jatiluwih Rice Terraces. Bali's map is striped by a lot of terraced hills, but this is one of the best representations of Bali's Cultural Landscape, which was inscribed as a UNESCO World Heritage Site.
Tanah Lot. One of the icons of Bali, Tanah Lot is a temple perched on an islet, 300 meters off the coast of Beraban, Kederi in Tabanan. The actual temple is open to worshipers only, but visitors can enjoy the scenic setting. Best enjoyed at sunset!
✅ BOOK YOUR SLOT HERE
---
Bali Food Tour
One of the ways to immerse yourself in the culture of the place is through the local cuisine. Indonesian food is generally spicy; Bali is not an exception. Here are some dishes to dig into when in Bali.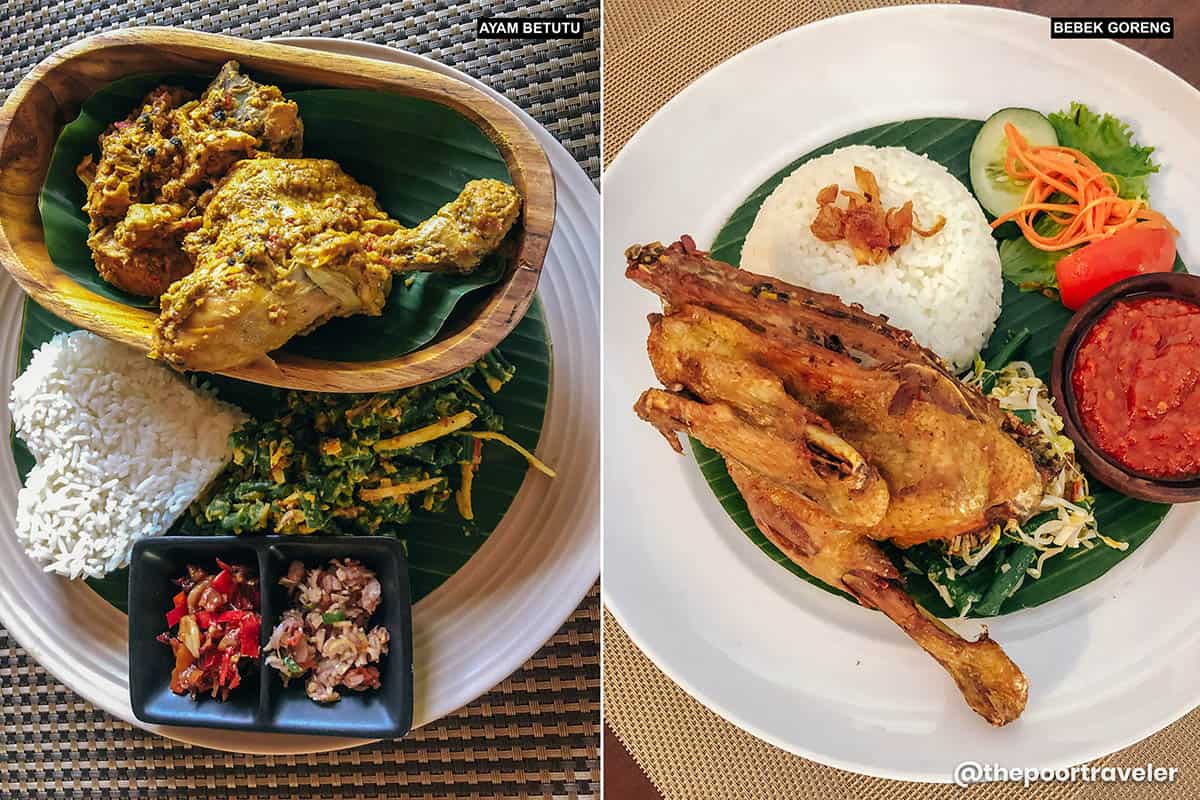 Ayam/Bebek Betutu. This is a spicy smoked chicken or duck seasoned with bumbu betutu (spicy paste) served with mixed veggies, rice, and sambal.
Bebek Bengil/Goreng. This is a crispy duck marinated in Indonesian spices, then steamed, and finally fried.
Sate. Pork satay or chicken satay are common, but lamb satay is also available.
Babi Guling. This is like Philippine's lechon. Also called Balinese suckling pig, Babi Guling is usually served with stewed vegetables, rice, crispy pork skin, and pork sausages. The pig is seasoned with local spices so it's spicy.
You can join organized food tours not just to have a taste of Balinese food but also learn about them. There are 2 foodie tours available on Klook: a more general food tour and a street food tour.
✅ BOOK LOCAL FOOD TOUR HERE!
✅ BOOK STREET FOOD TOUR HERE!
---
Other Places to Visit in Bali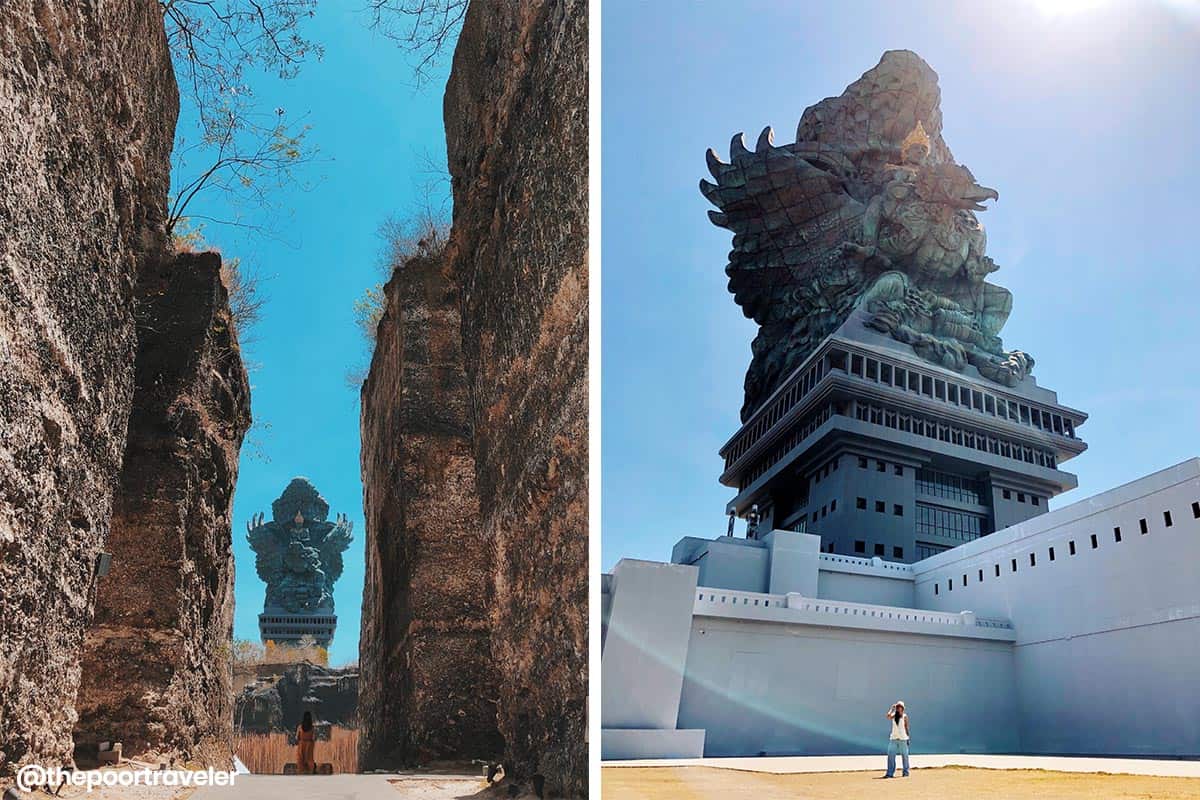 Here are other tourist attractions in Bali.
Seminyak. Seminyak is Kuta's less popular but cleaner, calmer and classier seatmate. It is lined with high-end shops, chic bars, and trendy spots. Like Kuta, it is a surfer's paradise. It's also located along the same coast, so they share the same view of the sunset.
Kuta Beach. Also called Sunset Beach, it has fine cream-colored sand where tourists laze around or watch the sun go down. It's also a popular surfing place and the epicenter of the island's vibrant nightlife.
Garuda Wisnu Kencana. A cultural park dedicated to the Hindu god, Vishnu, and his mythical mount Garuda.
Admission Fee: IDR 110,000-125,000
Going Up GWK Statue: IDR 150,000
Opening Hours: 8:00 AM – 9:00 PM
✅ Get your ticket here!
Taman Ayun Temple. Taman Ayun means "Garden Temple in the Water". The living legacy of the Mengwi Empire, this family temple is also one of the six royal temples in Bali.
Admission Fee: IDR 20,000
Opening Hours: 9:00 AM – 5:00 PM (Daily)
Saraswati Temple. Located in Ubud, Pura Taman Saraswati is another Hindu water temple. The most prominent feature is the foyer with lotus ponds. During the evening, a traditional dance performance is held at the open stage.
Admission Fee: FREE
Dance Performance: 7:30 PM, IDR 80,000/pax
Opening Hours: 8:00 AM – 6:00 PM
Di Kubu Strawberry. A fruit farm in Tabanan Regency, where you can pick your own strawberries. The place also has a relaxing ambiance and presents a view of the lake too.
Opening Hours: 10:00 AM – 9:00 PM
Sukawati Art Market. Locally called Pasar Seni Sukawati, it is said to be the most established art market in the island. It is where both locals and tourists shop; locals for their everyday needs, tourists for souvenirs.
Opening Hours: 6:00 AM – 6:00 PM
If you want to see more places to visit or learn more about each item above, we created a separate, more detailed post for it. READ: PLACES TO VISIT IN BALI!
---
SAMPLE BALI ITINERARY
This is a sample 4-day 3-night Bali itinerary with budget breakdown.
As always, feel free to make necessary adjustments to match your flight schedules, hotel location, and preferences.
Easy Itinerary for 2 Pax
This is a comfortable itinerary that entails booking organized tours with Klook. It assumes you're a group of 2 pax, splitting the cost of transportation and some tours. The costs indicated below are per person.
For this itinerary, we set the food budget to Rp 100,000 per meal per person. In reality, you can easily find dishes at a much lower price. A meal from a warung (local food stall) can go as low as Rp25,000. But we want it to be more flexible. You can use the leftover money as your budget for your snacks that day or breakfast the next day.
DAY 1 – ULUWATU TOUR
07:50 am – Arrival in Bali
09:00 am – Taxi/Grab to hotel, Rp35,000/pax
09:30 am – Baggage drop or check-in (if possible)
10:00 am – Explore Kuta Beach
12:00 pm – Lunch, Rp100,000
01:00 pm – Walk back to hotel
02:00 pm – Uluwatu Tour, Rp390,000
08:30 pm – Dinner, Rp100,000
10:00 pm – Back to hotel
DAY 2 – INSTAGRAM TOUR
04:00 am – Wake up call
05:00 am – Bali Instagram Tour, Rp605,000
+ Lunch, Rp100,000
+ Swing, Rp150,000
06:30 pm – Back to hotel, freshen up
07:30 pm – Dinner, Rp100,000
09:00 pm – Back to hotel
DAY 3 – NUSA PENIDA TOUR
06:00 am – Wake up call
07:00 am – Nusa Penida Tour, Rp610,000
+ Lunch, Rp100,000
06:00 pm – Back to hotel, freshen up
07:00 pm – Dinner, Rp100,000
09:00 pm – Back to hotel, pack
DAY 4 – DEPARTURE
03:30 am – Wake up call
04:30 am – Hotel check out
05:00 am – Airport transfer, Rp35,000/pax
05:35 am – Flight check in
08:35 am – Fly out
If you're able to book a twin/double room at a hotel for Rp360,000 per night, the itinerary above will cost you Rp3,300,000 (USD236, EUR213, SGD320, PHP12,000) per person, excluding airfare, travel tax and tips, but including some allowance to cover incidental expenses, future price movements, and other possible expenses we might have missed.
Note that you can significantly reduce this further if you're part of a bigger group or if you're willing to rent a motorcycle instead of joining tours.
---
Budget Itinerary for 4 Pax
This itinerary is best for friends traveling together because it assumes you're a group of four.
If you're traveling solo, you can form a group with other backpackers and split the cost of transportation.
For this itinerary, we lowered the food budget to only Rp70,000 per meal, which can still afford you a full meal from a warung (local food stalls) and other cheaper establishments.
DAY 1 – SEMINYAK & KUTA
07:50 am – Arrival in Bali
09:00 am – Taxi/Grab to hotel, Rp20,000/pax
09:30 am – Baggage drop or check-in (if possible)
10:00 am – Taxi to Seminyak, Rp15,000/pax
12:00 pm – Lunch, Rp70,000
02:00 pm – Continue exploring Seminyak
03:00 pm – Taxi to hotel, Rp20,000/pax
03:15 pm – Hotel check in, freshen up
04:30 pm – Explore Kuta
05:40 pm – Watch sunset from beach bar
+ Food & drinks budget, Rp200,000
08:30 pm – Back to hotel
DAY 2 – UBUD TOUR
07:00 am – Wake up call
08:00 am – Walk or taxi to meet up point, Rp15,000/pax
08:30 am – Ubud Sightseeing Shuttle, Rp105,000
+ Lunch, Rp70,000
+ Tegenungan Waterfall – Rp15,000
+ Sacred Monkey Forest – Rp80,000
+ Ubud Art Market or Ubud Royal Palace
+ Tegalalang Rice Terrace – Rp20,000
+ Swing at Alas Harum – Rp150,000
06:00 pm – Back to Kuta
06:30 pm – Dinner, Rp70,000
07:30 pm – Walk back to hotel
08:00 pm – Rest
DAY 3 – EAST BALI
05:00 am – Wake up call
06:00 am – Start Private Car Tour, Rp125,000/pax
08:10 am – Lempuyang Temple, Free entrance
+ Sarong rental: Rp10,000/pax
+ Donation, Rp10,000/pax
10:30 am – Drive to Tirta Gangga
11:00 am – Tirta Gangga, Rp30,000
11:45 am – Lunch, Rp70,000
12:30 pm – Drive to Tukad Cepung Falls
02:00 pm – Tukad Cepung Waterfall, Rp10,000
04:00 pm – Drive to hotel
05:30 pm – Back to hotel
+ Tip driver, Rp20,000/pax
05:45 pm – Rest, freshen up
07:30 pm – Dinner, Rp70,000/pax
09:30 pm – Back to hotel, pack
DAY 4 – DEPARTURE
03:30 am – Wake up call
04:30 am – Hotel check out
05:00 am – Airport transfer, Rp20,000/pax
05:35 am – Flight check in
08:35 am – Fly out
If you are able to book a dorm bed for Rp140,000 a night, the itinerary above will set you back Rp1,900,000 (USD138, EUR125, SGD187, PHP6,900) per person, excluding airfare and travel tax, but including some allowance to cover incidental expenses, future price movements, and other possible expenses we might have missed.
---
MORE TIPS FOR THE POOR TRAVELER
Try a warung in your area for authentic and delicious but budget-friendly meals. A warung is a local food stall, usually serving traditional Indonesian cuisine. You can have a tasty dish for only Rp15,000. Some dishes are more expensive, some are cheaper.
When paying using credit cards, note that most have 3-5% surcharge. Always check with the restaurant or the business establishment you are transacting with.
Indonesians are friendly and hospitable. Most can speak and understand English, so don't hesitate to ask if you get lost.
Have enough cash on hand, especially if you are traveling to remote areas or the southeastern islands. You might have a hard time finding ATMs or even transact using your credit card when you go to these far-flung places.
Purchase travel insurance. As we always recommend our readers, this is something you won't need to use but you'll be grateful you did in case something happens.
If you are staying in Ubud, keep in mind that some taxis will charge big because, by certain regulations, they are not permitted to pick up passengers, only drop them off. Also, ride-sharing service is not allowed in Ubud. You might want to book your airport transfer to and from Ubud through Klook.
Always insist on using the meter when riding a taxi.
It's best to carry small bills with you should you decide to take the taxi so you can pay the exact fare and not fall for the rampant no-change excuse.
Wear sash and sarong inside the Hindu temples. These are normally provided by the temple management.
Strict observance of Nyepi Day. Nyepi Day or Day of Silence is an important public holiday in Bali, celebrated every Saka New Year. It is observed by fasting and meditating and doing less or nothing at all. The observance period is 6AM – 6AM (the next day). During this time frame, locals AND tourists are expected to follow the restrictions such as no working, no lighting of fires, no lights (or used rarely), no traveling, and no entertainment. For some, they can even go with no talking. Even Bali Airport is closed the entire day. No one is allowed outside the streets except the security people and when there's an emergency. Nyepi Day usually happens in March.
Galungan. It happens twice per year (every six months). It is characterized by bamboo poles with offerings attached at the end.
---
FREQUENTLY ASKED QUESTIONS ABOUT BALI
When is the best time to go to Bali?
April, May, June — just before the peak season.
The peak or high season is from July to early September. These are driest months. But it's also the busiest, most crowded. It coincides with Australian winter, and many of them escape the cold to Bali. Late September is also a good time to visit, when the crowds start to thin.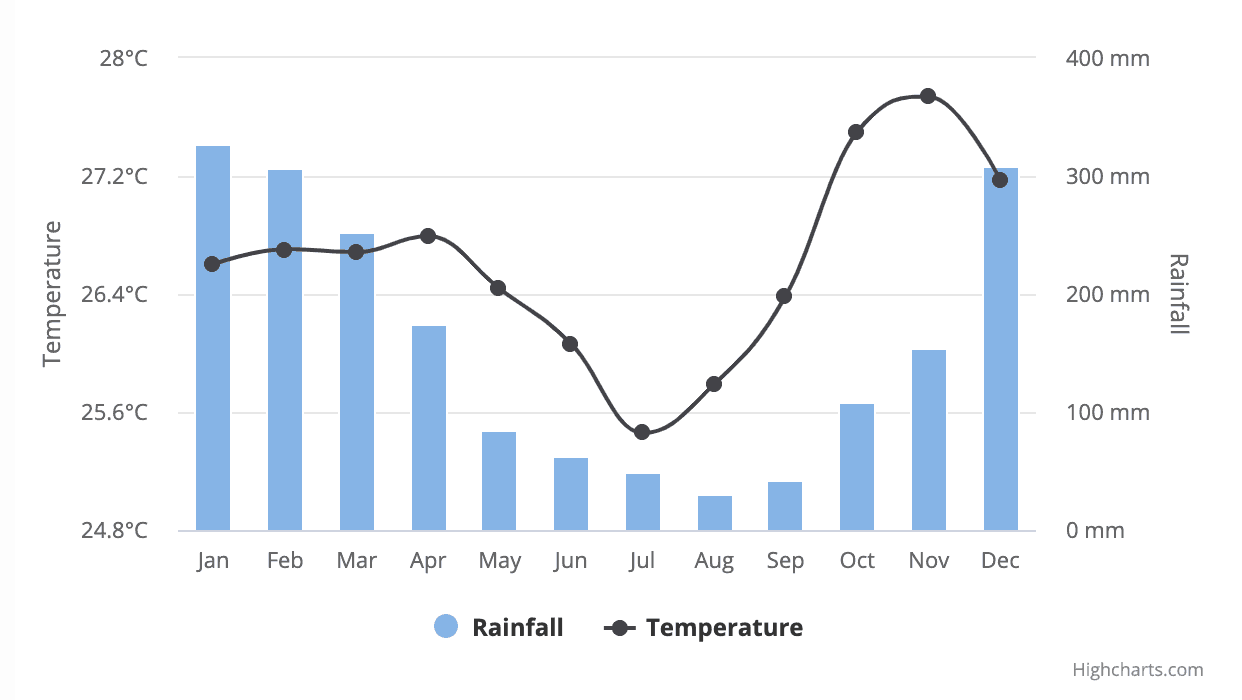 Christmas and New Year seasons (December-January) are also busy months for Bali. Expect airfare, hotel rates, restaurants, tours, and other services to skyrocket.
Lean months are February to June and October to November. Prices are cheaper and the tourist attractions are less crowded, but these months also record the highest rainfall.
Bali has a tropical climate; hot and humid all year round, especially in the coastal and low areas. Elevated and mountainous Central Bali area has a cooler temperature.
Do I need a visa to visit Bali?
Indonesia is one of the most open countries in terms of visa policies. Citizens of 170 countries and territories, the Philippines included, can visit Indonesia VISA-FREE for stays of up to 30 days.
To be sure that your country is included in the visa-exempt countries, check the website of the Indonesian Embassy where you are or contact them.
Do I need polio vaccine to visit Bali?
Recently, Indonesia has required a Polio Vaccination certificate from certain nationalities who wish to travel to Indonesia.
For travelers from the Philippines, you only need to secure a Polio Vaccination Certificate IF you are planning to stay for FOUR WEEKS or longer. If you fall under this category and you don't have said immunization requirement, Indonesia's Port Health Office at the port of entry will give you polio vaccination. A fee of Rp45,000 (PhP165) will be charged.
What plug type is used in Bali?
Types C and F. Most establishments have two-pin round plugs at 220 V and 50 Hz.

Where can I exchange my money in Bali?
Our preferred method of securing local currency is by withdrawing from the ATM. Most ATMs, however, have a withdrawal limit of Rp2 million to 2.5 million.
For tourist hotspots like Kuta, Seminyak, and Ubud, money exchange kiosks in Bali are plenty. You can also exchange at banks. Some hotel fronts also have money exchange stalls installed.
If you transact with money changers, check their online reviews first and check the rates carefully because some establishments have records of scamming tourists.
Where can I find ATMs in Bali?
ATMs abound in Bali, particularly the most visited areas. Choose the safest place to transact, usually well-lit areas like malls and commercial complexes or those attached to the bank establishments. Bank Central Asia (BCA), Bank Mandiri, and Bank Negara Indonesia (BNI) are some of the most trusted ATMs to withdraw money from. Other shopping malls provide international ATMs like HSBC.
ATMs in Bali dispense Rp50,000 and/or Rp100,000 notes. The withdrawal limit is usually Rp2 million or 2.5 million.
Is it safe in Bali?
It is generally safe in Bali. Just like in other foreign countries, there are scams so you need to be aware of the correct rates and prices. Be mindful of your surroundings and keep an eye on your belongings as always. Bali also has world-class yet relatively inexpensive hospitals and medical services. Know the local emergency services contacts such as the ambulance, the fire department, and the police.
---
Additional words by Yosh Dimen
Additional photos by Kara Santos, Glenn Ituriaga, and Klook
2019 • 12 • 22
---