How to get from Caticlan International Airport to Boracay? In this article, we'll take you through the transfer process one step at a time. We'll also discuss the travel requirements, transfer fees, and other important details you need to know before your trip to Boracay.
The first thing you need to understand about Boracay is that there is no airport within the island. Instead, it is served by two airports that are both located in mainland Aklan: Kalibo International Airport (KLO), situated roughly 2.5 hours away; and the much closer Caticlan International Airport (MPH), less than 10 minutes away.
Caticlan Airport is more formally known as Godofredo P. Ramos Airport but is now being marketed as Boracay Airport. Because of its proximity to the island, it is the preferred gateway by most Boracay-bound travelers. Thankfully, it underwent major renovations and the runway was extended to accommodate bigger aircraft and more passengers.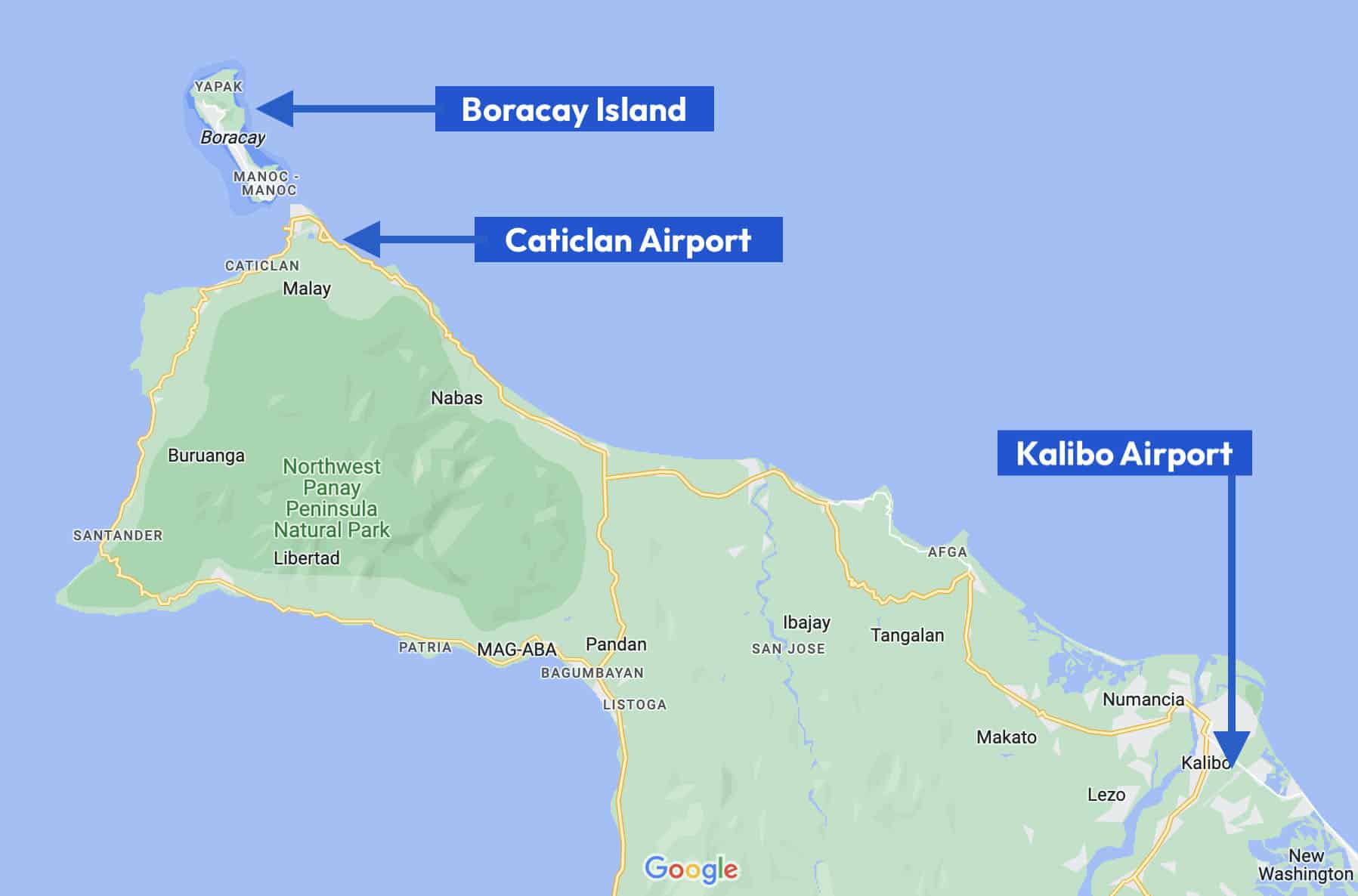 Over the years, the Boracay entry protocol has changed quite a lot, no thanks to the pandemic. But here's the latest, as of April 2023.
By the way, the DIY guide below is for budget travelers and it involves tricycle rides. If, for whatever reason, you want a more comfortable journey, a good option is to book Klook's packaged transfer service. Aside from the air-conditioned van transfer from Caticlan Airport to the jetty port, you will also be assisted through the port processes and the driver can help you with your luggage. The price already includes the van airport transfer, boat crossing, and multi-cab hotel transfer.
WHAT'S COVERED IN THIS GUIDE?
1. Make sure you have the Boracay travel requirements.
As of this writing, there are only three documents you need to present:
Valid ID. For Filipinos, any government ID is accepted. For foreigners, a valid passport.
Confirmed hotel booking or voucher from a DOT-authorized accommodation establishment. You'll find the list here: List of Accredited Resorts & Hotels!
Tourist Arrival Form. You can find this form at Caticlan Jetty Port and accomplish this on the spot. If you're a group, one person may submit this on behalf of the whole party.
---
2. Book a transfer to Caticlan Jetty Port.
Upon landing at Caticlan Airport, you'll be directed to the Arrivals Terminal, which is a separate building from the Departures Terminal and is located on the far end of the runway.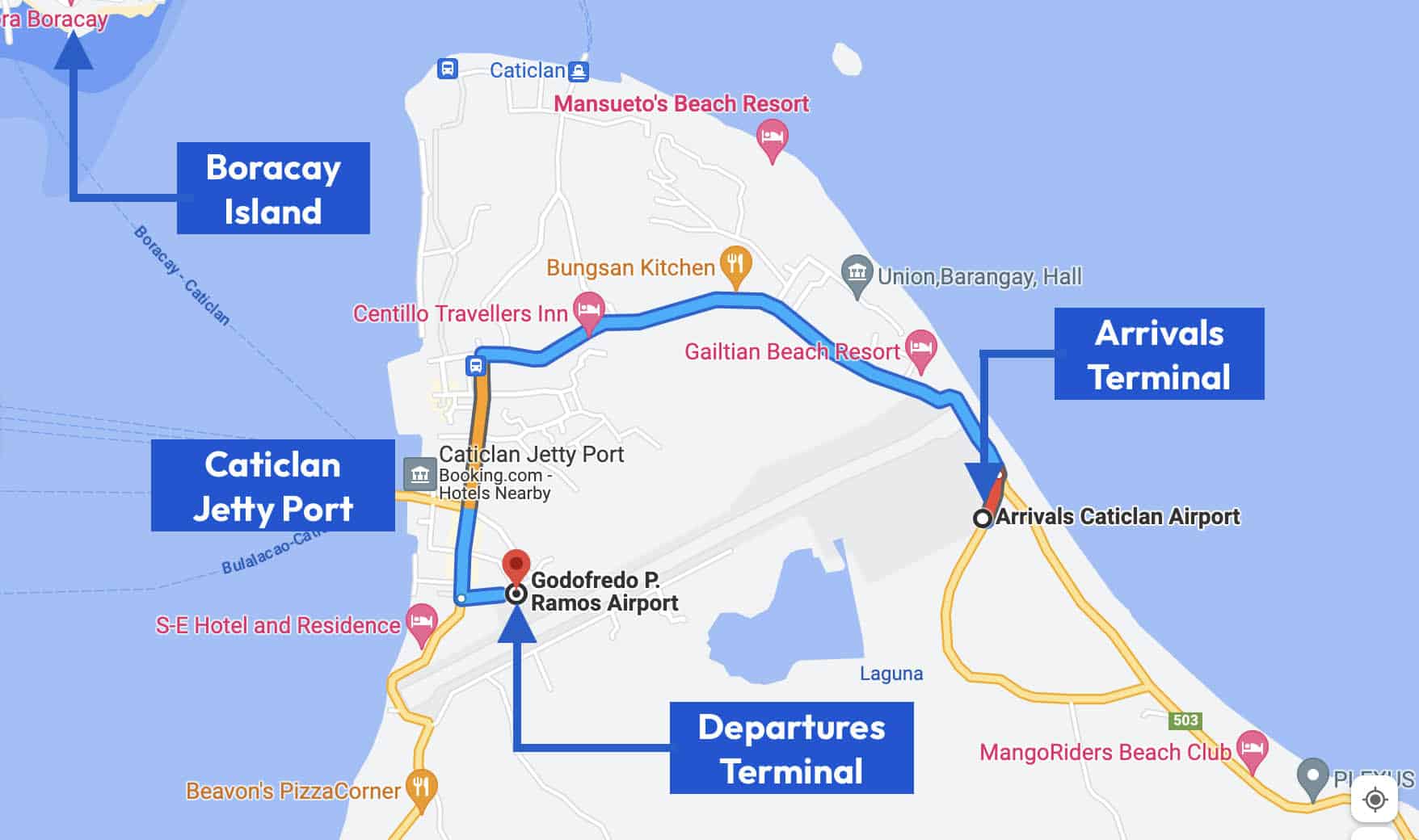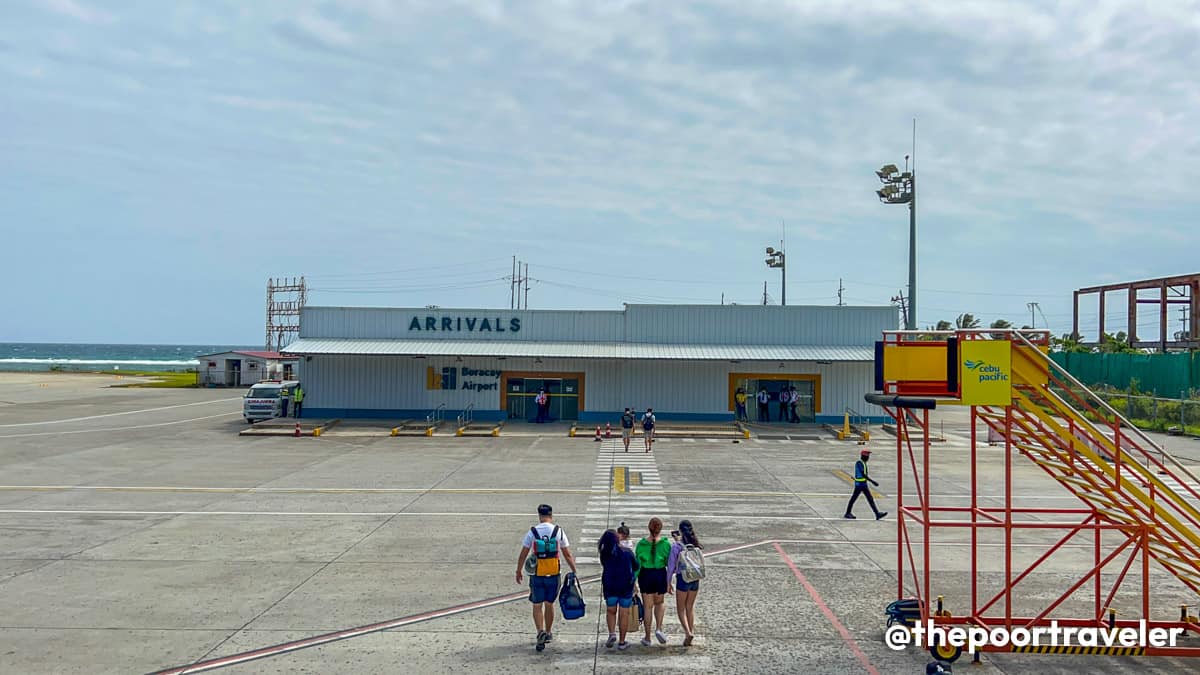 Inside, wait for your luggage to arrive. Once you have yours, follow the exit signs. But before you complete go out of the building, you'll find a lane of booths and staff members with placards. One of them offers tricycle rides. Approach them and get a sticker. The tricycle fare is PhP50. Travel time is 10 minutes.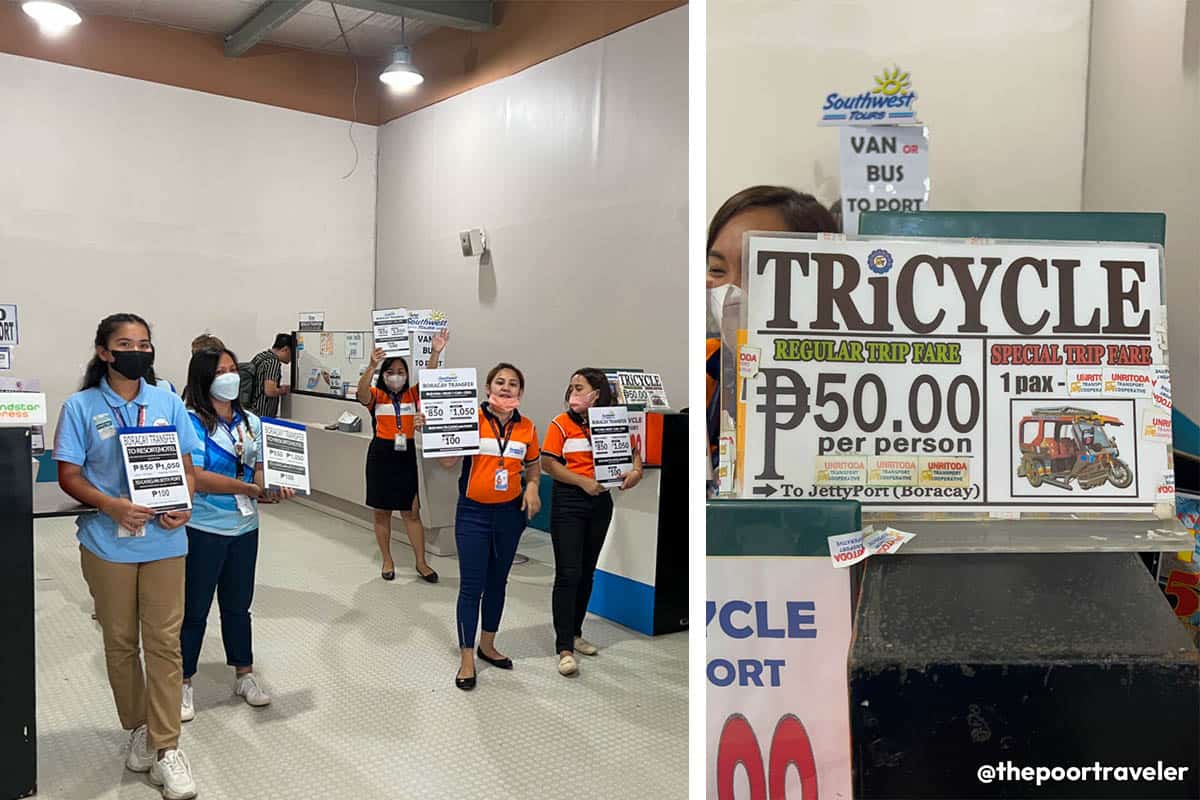 You don't have to pay at this point. Just get a sticker. Then exit the building and cross the street until you reach the tricycle terminal. Queue up to settle the fare, and you'll be given a tricycle number. Find the assigned trike.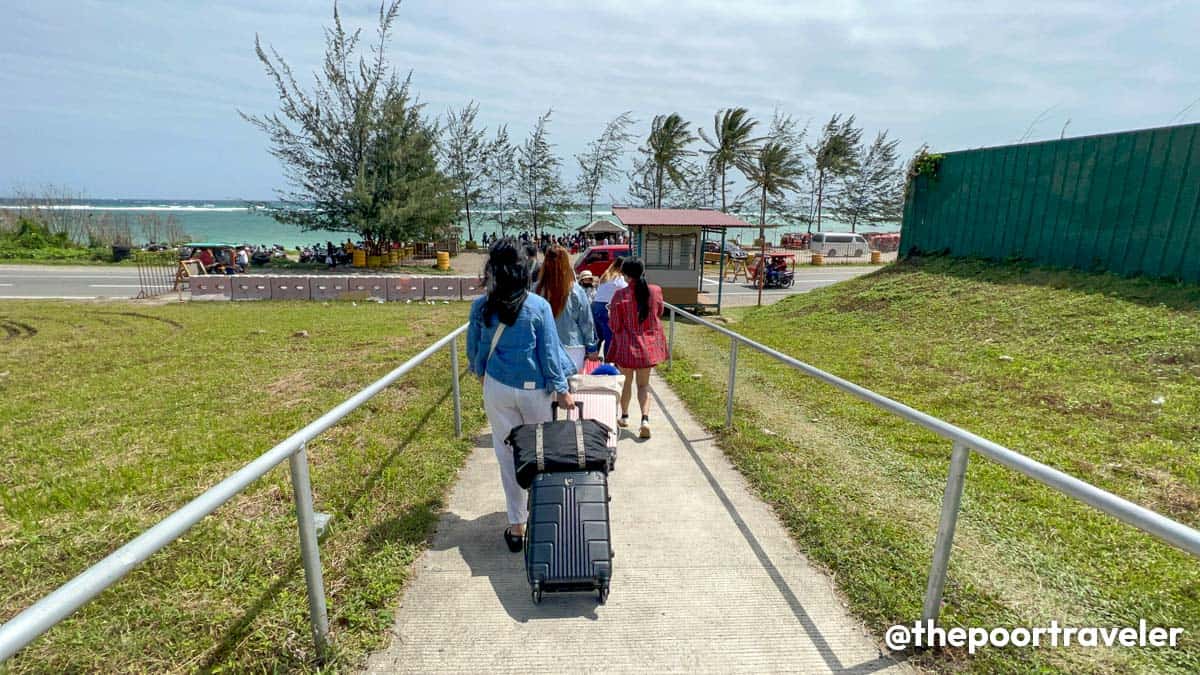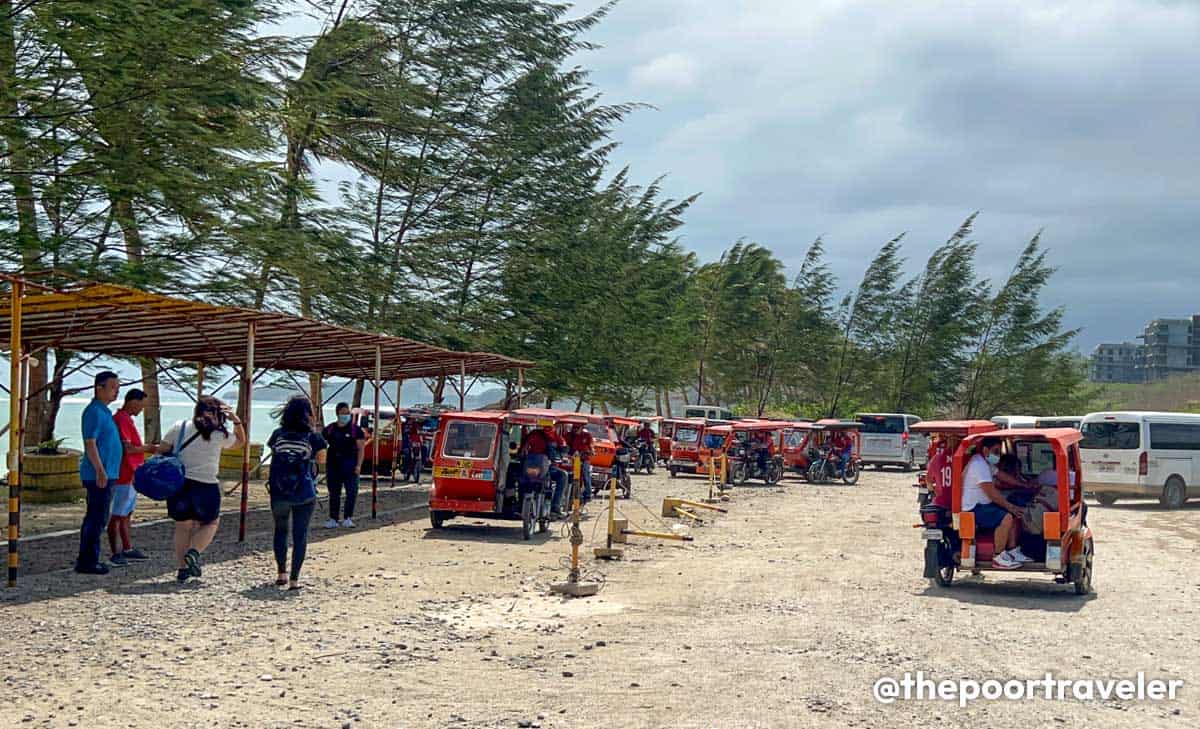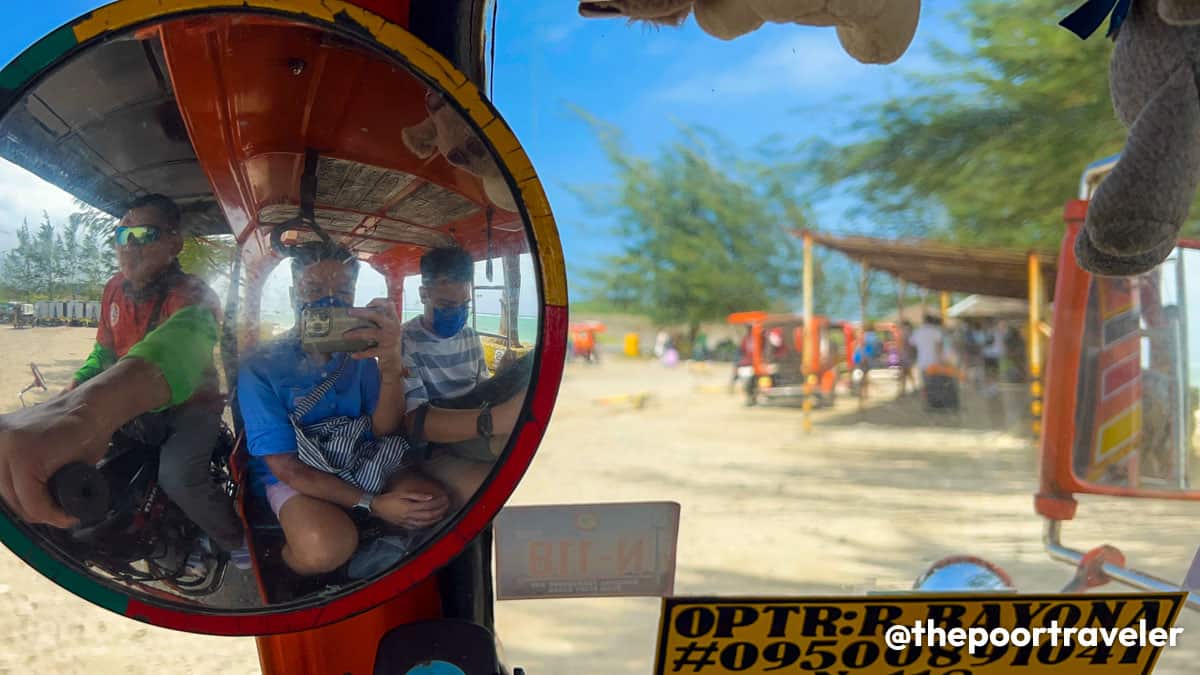 CATICLAN AIRPORT TO JETTY PORT
Tricycle Fare: PHP 50 (USD 0.91) per person
Travel time: 10 minutes
By the way, although the Caticlan Jetty Port is the main jump off point for the greater part of the year, there are months when the operations move to nearby Tabon Port due to the season and weather. But don't worry too much about it because it's not that far away, and drivers always know which port is operational.
---
3. Clear requirements check.
When you arrive at the Caticlan Jetty Port, enter the building and undergo a security check.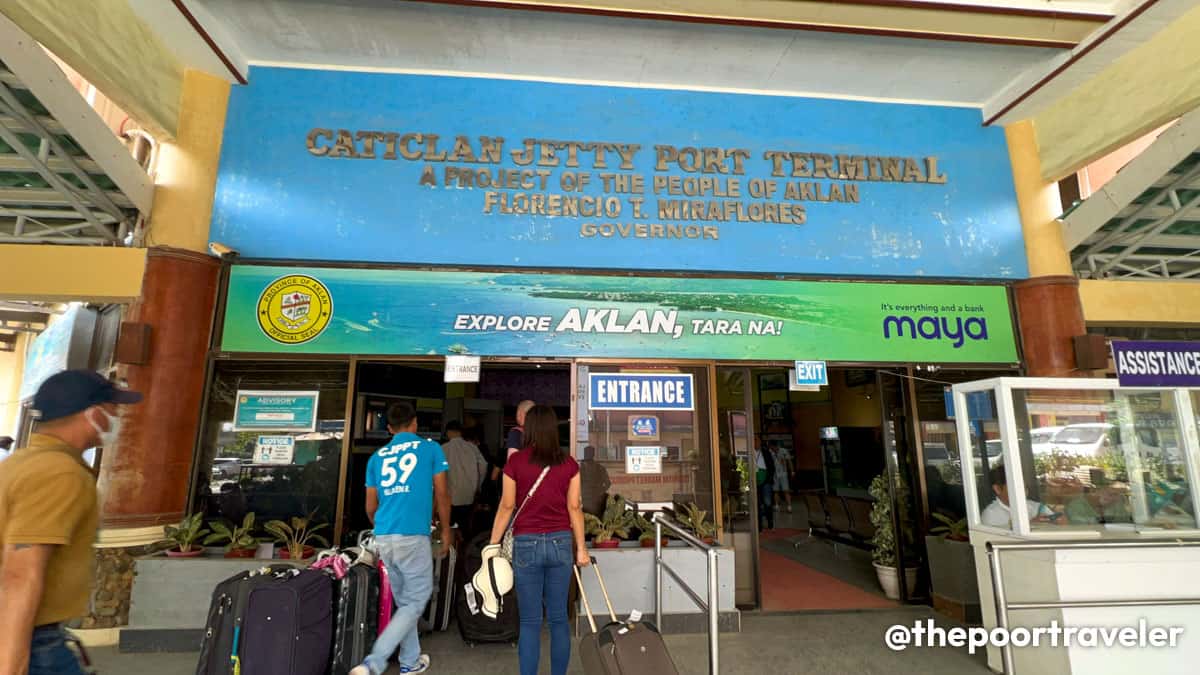 Inside, approach the booth closest to the door and get a Tourist Arrival Form. Provide your personal info and travel details. One person can accomplish the form for the whole group. But every one must present their IDs.
The confirmed booking or voucher from an accredited resort or hotel will also be checked. In our case, they checked the number of guests in the booking and the number of travelers on our group.
Previously, the form was required to be filled out online. But that policy has been scrapped. The process has reverted back to the pre-pandemic normal, with a few slight changes.
---
4. Pay tourist fees.
You need to settle the following fees separately:
TERMINAL FEE
Regular: PHP 150 (USD 2.75)
Seniors/PWDs/Students: PHP 120 (USD 2.20)
Children 5 years and below: EXEMPTED (FREE)
ENVIRONMENTAL FEE
Filipinos: PHP 150 (USD 2.75)
Foreigners: PHP 300 (USD 5.50)
BOAT FEE: PHP 50
Yes, these are three separate queues, so you need to fall in line three times. Once paid, you'll be handed a corresponding proof of payment: a receipt for the terminal fee, a stub for the environmental fee, and a ticket for the boat fee.
The boat ticket has a small form attached to it. Fill it out.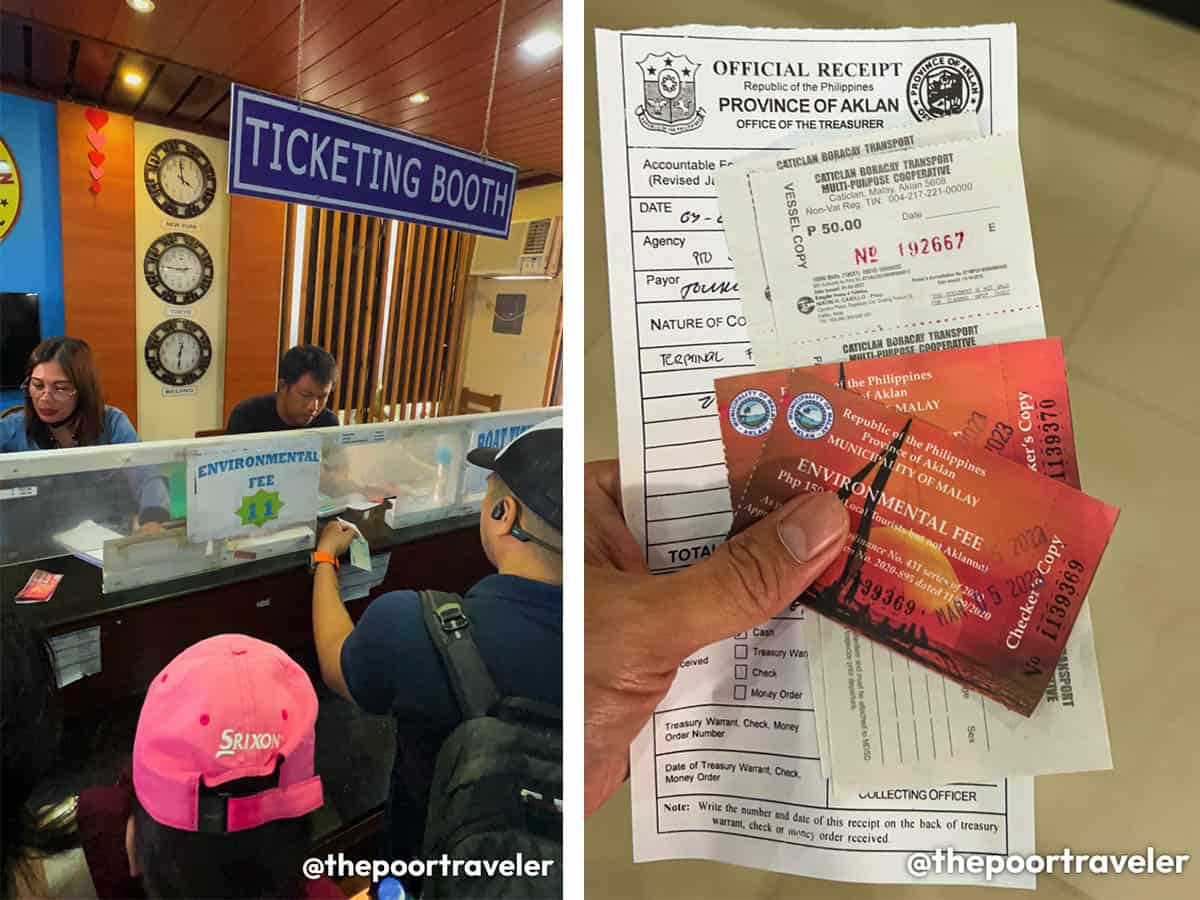 ---
5. Board the boat to Boracay.
Proceed to the Boarding Area. On the side, you'll find a small booth. Present your boat ticket and the staff will collect the form and give you a card bearing your boat name and seat number.
When it's time to board, go out and look for the boat assigned to you, hop on, and find your seat.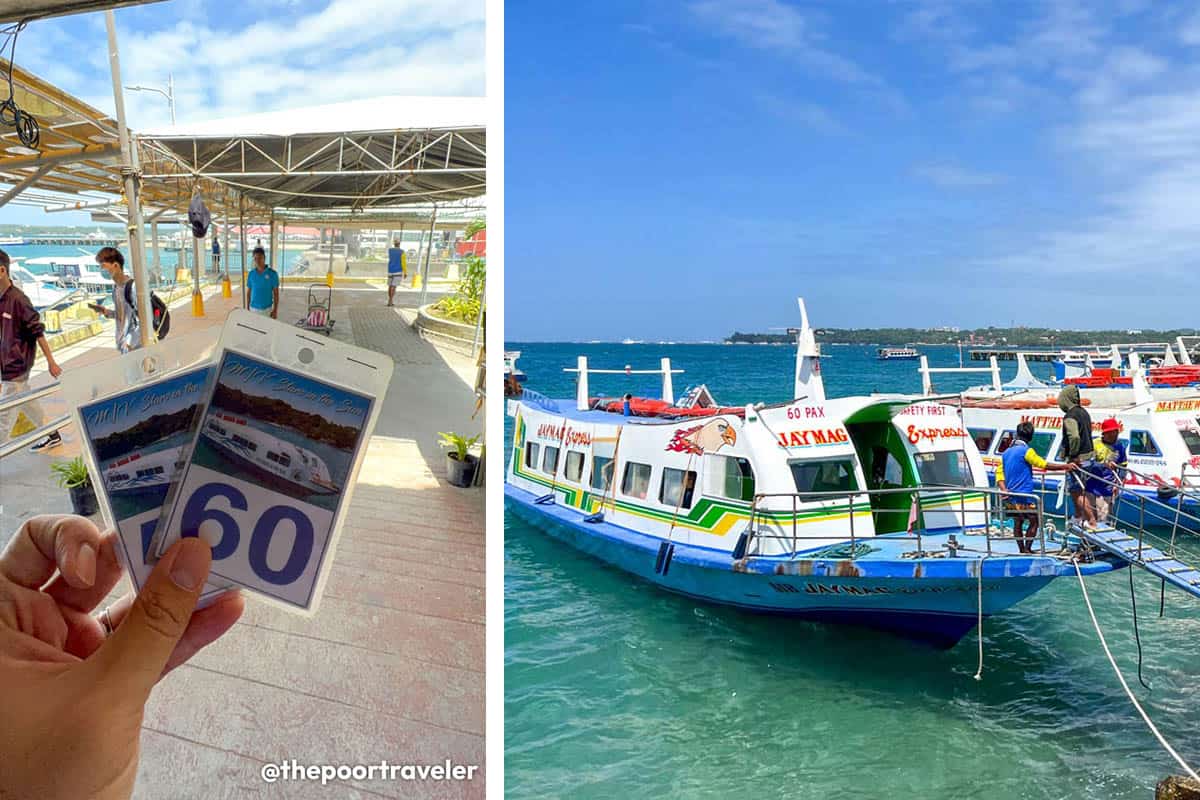 If you have a big bag or suitcase in tow, you can place it in the corner near the door, so you could easily pick it up on your way out.
The boat will leave when it's full, so it might take some minutes, depending on visitor traffic. But the journey, starting from the moment it leaves the jetty, should take only 15 minutes.
In our case, we spent a total of 30 minutes because we were the first to board and the last to disembark because our luggage was stuck at the bottom of the pile, so we had to wait for everyone to get theirs.
You'll be getting off at either of Boracay's two ports — Cagban Port and Tambisaan Port — depending on the season and weather.
---
6. Take E-Trike to Your Hotel
Outside the port area, you'll be greeted by drivers looking for passengers. The best way to get to your hotel is probably the e-trike, which is the main mode of transportation on the island.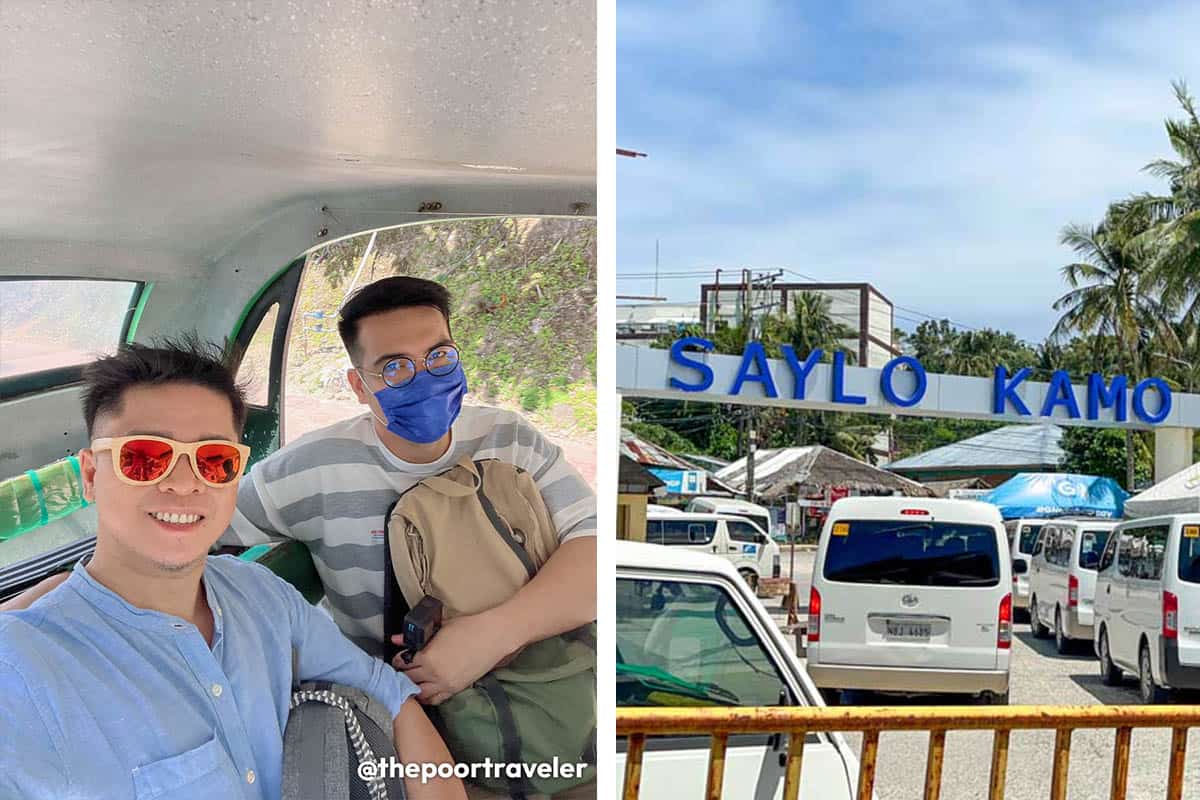 If regular ride, meaning you'll be sharing the e-trike with other passengers, these are the rates PER PERSON:
To Station 3: PHP 20
To Station 2: PHP 25
To Station 1: PHP 30
To Fairways/CityMall: PHP 35
To Diniwid/NewCoast Entrance: PHP 40
To Puka Beach/Yapak: P50
But if you're a group and you're carrying big luggage, it might be better to charter a special or private ride. There are the rates PER VEHICLE (NOT per person):
To Station 3: PHP 100
To Station 2: PHP 150
To Station 1: PHP 150
To CityMall: PHP 200
To Diniwid/Hagdan: PHP 250
To Yapak: PHP 350
To New Coast/Shangri-La/Crimson/Movenpick: PHP 400
That's it! Welcome to Boracay!
---
FREQUENTLY ASKED QUESTIONS (FAQs)
How to get from Boracay to Caticlan Airport? (Return Journey)
To go back to Caticlan Airport after your stay, you just need to trace your steps back.
Hail an e-trike for Cagban Port or Tambisaan Port. The driver knows which port is operational at any given time. Just let them know you're going back to Caticlan and they'll take you to the right port. The fare is the same as the rates I indicated above. If you're coming from Station 2, it should be P25 if regular ride or P150 if chartered trip.
Pay terminal and boat fees. At Cagban/Tambisaan Port, enter the building and queue up to settle the fees. Terminal fee is PHP 150 and boat fee is PHP 50. Again these are 2 separate lines. For the boat fee, you'll see various transfer package options. Just ignore them and say you'll be paying the boat fee only.
Board the boat to Caticlan. The staff will collect your ticket and exchange it with a boat card with your seat number. Find your boat and seat. Boat journey takes 15 minutes.
Make your way to Caticlan Airport. Because the airport's Departures Terminal is very close to the jetty, you may simply travel on foot. Walking should take 6-10 minutes. If you wish to ride a tricycle, turn right and you'll eventually reach the trike terminal. Travel time is 2 minutes. Fare is PHP 25.
When you reach the airport, prepare your flight booking because it will be checked upon entry.
Is a QR code still required?
No, not anymore. Previously, at the height of the pandemic, Boracay visitors must register online and get a QR code prior to the trip. But that's no longer implemented.
But to be honest, we prefer the pandemic version of the process. I'd rather complete a form online before the trip than on site, which adds a couple of extra steps. At the height of the pandemic, we only needed to fall in line once, to settle the fees, and then just show the QR code. Now that the process is back to normal, there are again a number of queuing to do and forms to accomplish, dragging the transfer process much, much longer.
We're looking forward to the day when the system would be automated and centralized.
Is the transfer journey PWD-friendly?
Not exactly. The staff ensures that PWDs are prioritized, especially those on wheelchairs. But the infrastructure still leaves a lot of room for improvement.
For example, on our most recent trips, we noticed that when boarding or disembarking, the boardwalk connecting the boat to the port were a bit narrow, impossible for wheelchairs to fit.
On some days, when the waves are strong, disembarking can be a challenge even for the physically fit.
That said, on our last trip, we noticed that the boatmen did their best to be attentive and considerate of PWDs. One passenger was on wheelchair and they made sure she was the first to alight. (I just didn't see how they assisted her when crossing.)
We've also tried the pre-arranged transfer packages offered by resorts and travel agencies before, and yes, they are more PWD-friendly. Not perfect, but I think it offers a much easier, faster and overall better experience for people with mobility issues.
---
Where can I find a list of DOT-accredited Boracay resorts and hotels?
We have a list of accredited accommodations here: LIST OF ACCREDITED BORACAY HOTELS & RESORTS!
We also added Agoda links so you could easily check their photos and latest rates.
But here are some of the hotels and resorts in Boracay that we were able to try over the years:
BUDGET OPTIONS
MID-RANGE OPTIONS
LUXURY OPTIONS
---
Updates Log
First uploaded: 2023 04 14
---