2022 March 1
The Bureau of Quarantine (BOQ) has recently launched a new website for applications for International Certificate of Vaccination or Prophylaxis (ICVP or simply ICV), replacing the old portal housed at the PisoPay site.
The ICV, sometimes called yellow card or yellow book, is for travelers who got fully-vaccinated in the Philippines and will be flying out to countries that require proof of vaccination. The term ICV is used for many illnesses like polio, MMR, typhoid, and yellow fever. But it has been thrown into the greater public consciousness because of the COVID-19 pandemic. It is issued by the BOQ and recognized by the World Health Organization (WHO).
An ICV is NOT a requirement when traveling abroad from the Philippines. Likewise, NOT ALL countries accept an ICV. But you may get one in case your country of destination does require it, so check the entry requirements of the specific country you're visiting.
In this post is a step-by-step guide on how you could get an ICV from BOQ if you will be traveling to countries that require them. If you'd rather watch than read, we also have a video guide below:
WHAT'S COVERED IN THIS GUIDE?
Who can get an ICV for COVID-19?
You can get an ICV from the BOQ if you meet any of the following:
You received a single-dose vaccine (e.g. Johnson & Johnson's Janssen) in the Philippines.
You received a two-dose vaccine (e.g. Astra Zeneca, Sinovac, Moderna, Pfizer). At least one of these two doses must be administered in the Philippines. It can be both doses or just one of the two.
You received a booster shot in the Philippines. If you have been vaccinated abroad but you had your booster shot in the Philippines, you may get an ICV too.
---
How to Get an ICV for COVID-19?
1. Gather the requirements.
Much of the ICV application process is done online. But before you start creating an account or setting an appointment, make sure you have a copy of the following.
You will be asked to submit these during the process.
---
2. Create an account with the BOQ Medical Services site.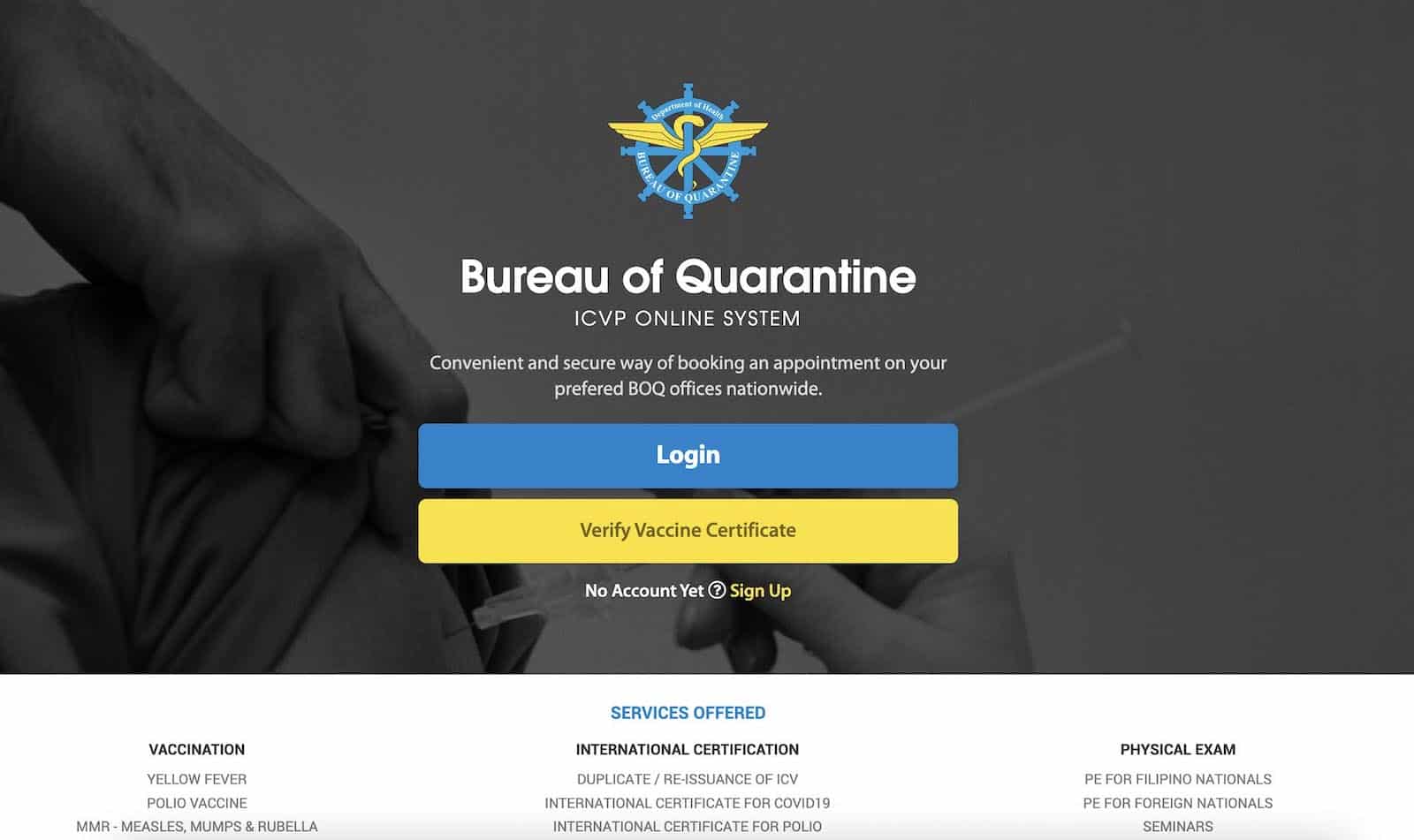 If you already have an account, skip this step.
If you don't have one yet, follow the following:
Visit the BOQ Medical Services Online Booking System (OBS) at https://icv.boq.ph. Click SIGN UP.
Read the Terms and Conditions. Click the "I Agree to the Terms and Privacy Policy of this Website" button if you agree. This will direct you to the sign up form.
Enter your valid email address for verification. Then, click the VERIFY button.
Enter the one-time PIN (OTP). It will be sent to the email address you entered. Click SUBMIT.
Fill out the sign-up form. First, enter your desired password and type it again to confirm. Then, fill in your personal information including your full name, mobile number, birthday, nationality, and civil status. Once you're done, click the SIGN UP button.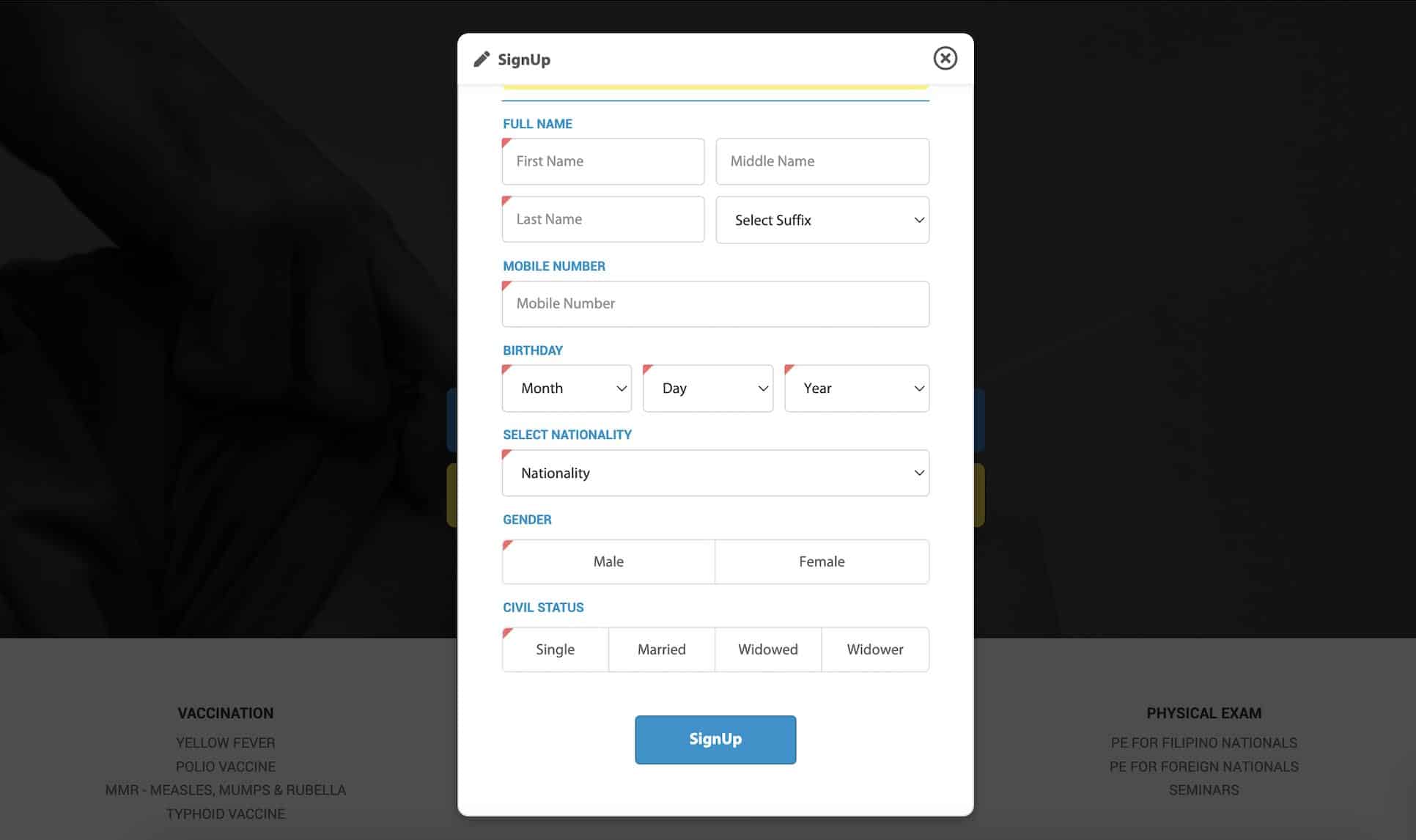 You will see a confirmation message that your sign up is complete.
---
3. Log in to your account.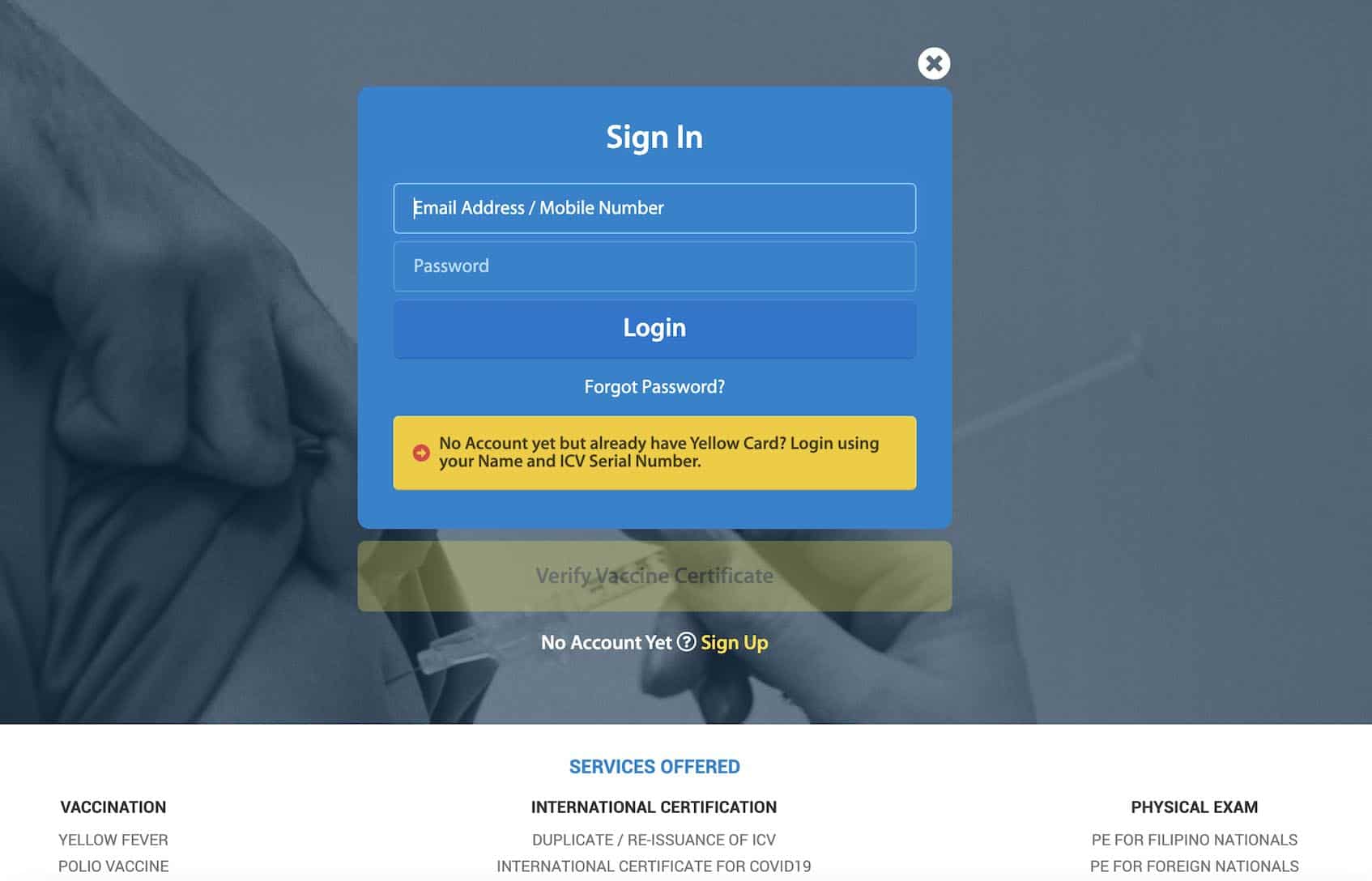 Go back to the home page and click on LOG IN.
Enter your email address and password.
---
4. Select the Certification Service you need.
After logging in to your account, do the following: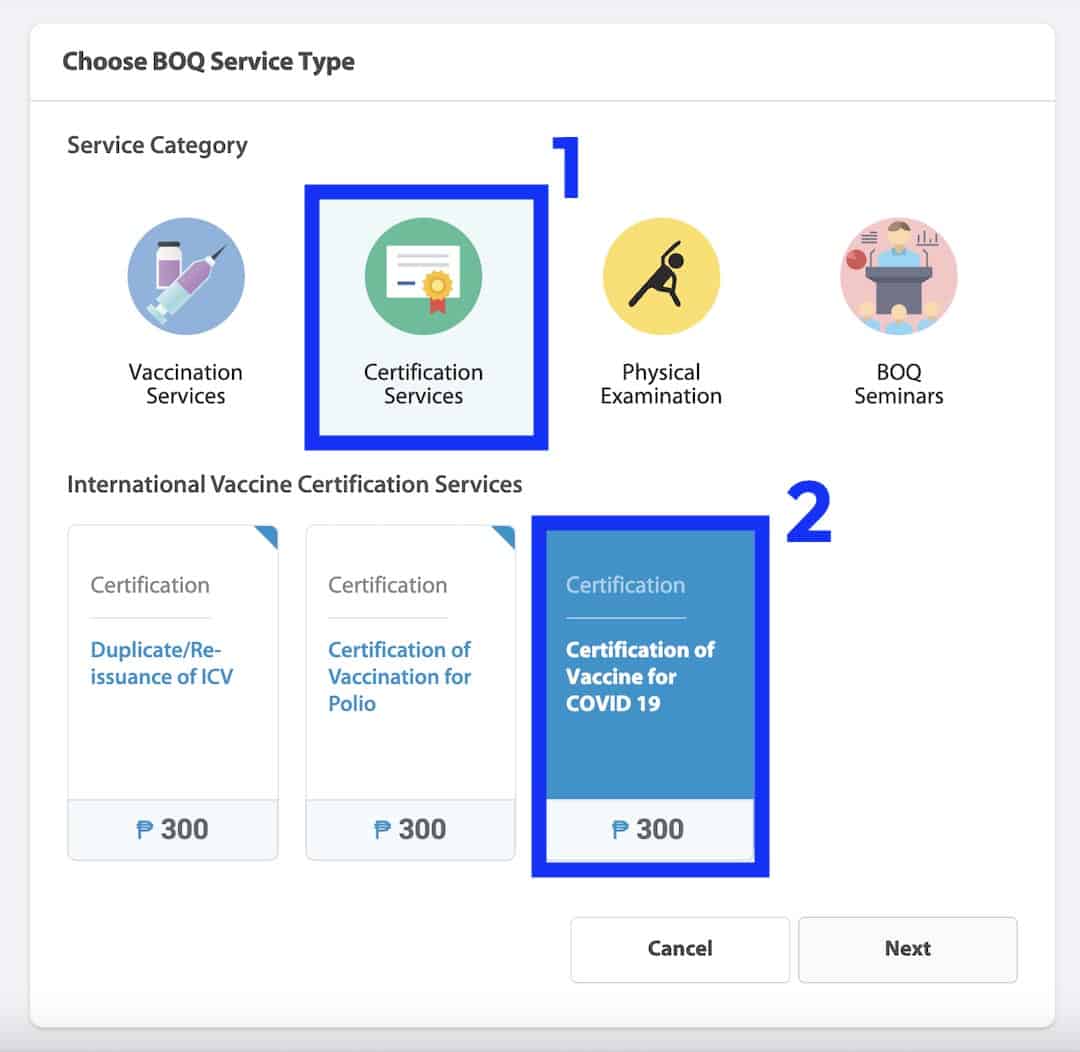 Click the SERVICES tab on the top of the page.
Choose CERTIFICATION SERVICES. The options for the certifications will appear.
Select CERTIFICATION OF VACCINE FOR COVID-19. Then, click NEXT.
---
5. Choose the method on how you want to receive your ICV.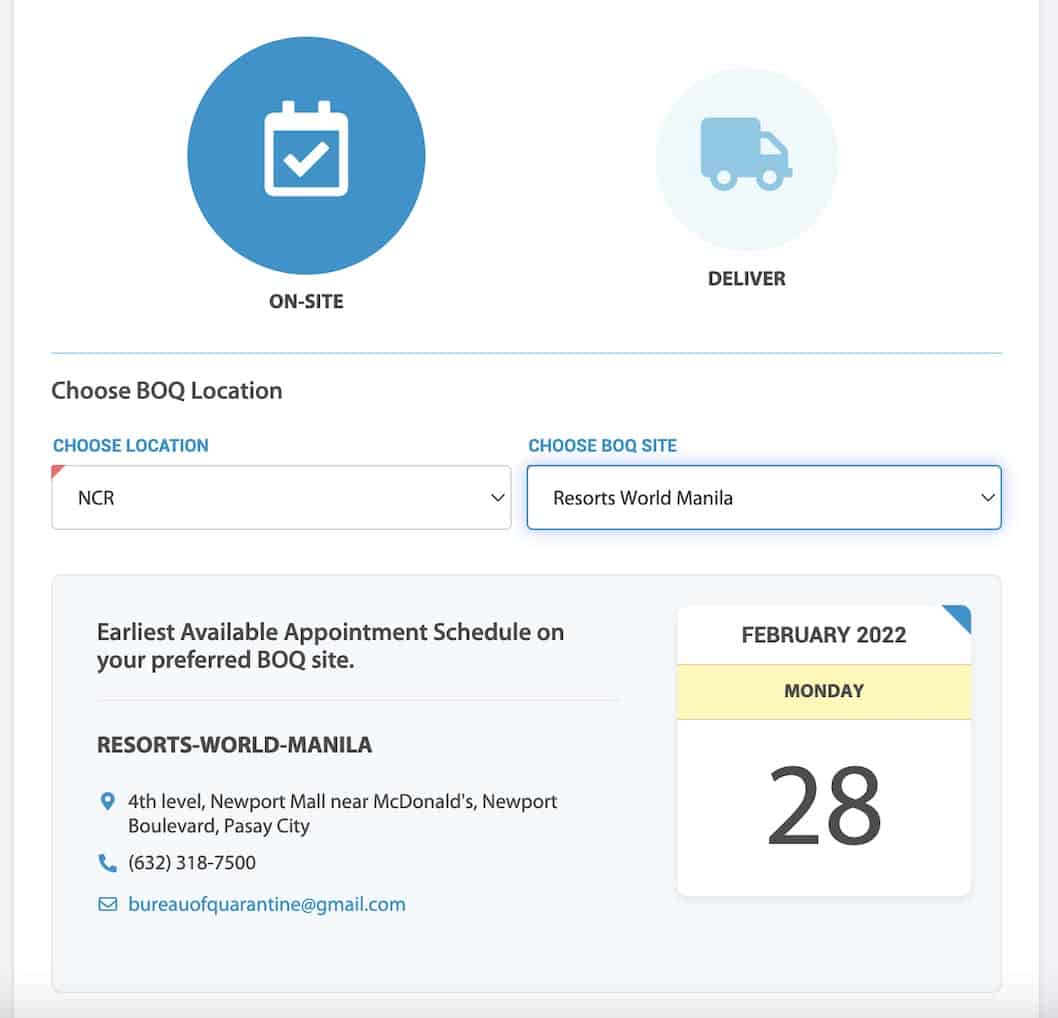 In theory, you have two options (in theory): pick up and delivery. However, in practice, when we tried to select the delivery option, this service seems to not be working properly yet. (The options won't load, and at the rare times that they did, they weren't clickable. Sort of a dead end.) This might get fixed in the future, so just check the site every now and then.
In the meantime, the on-site pickup option is available. For this, you will first select your location. Then, choose the BOQ site nearest you. When you select a BOQ site, you will see its address and contact details. We also have a list of BOQ sites towards the end of this article below.
There is also a calendar icon on the right side that shows the earliest available date for an appointment. It also shows you if there are no available slots at the moment. In case there are no available slots, you may choose another BOQ site or check at another time for available slots.
---
6. Select your preferred schedule.
Click CHECK APPOINTMENT CALENDAR to see the available dates. The dates highlighted in GREEN are available while the dates highlighted in RED are full.
Click on an available date that works for you. The available appointment times will be shown. You will also see how many slots are available for each appointment time.
Select the appointment time you prefer and click NEXT.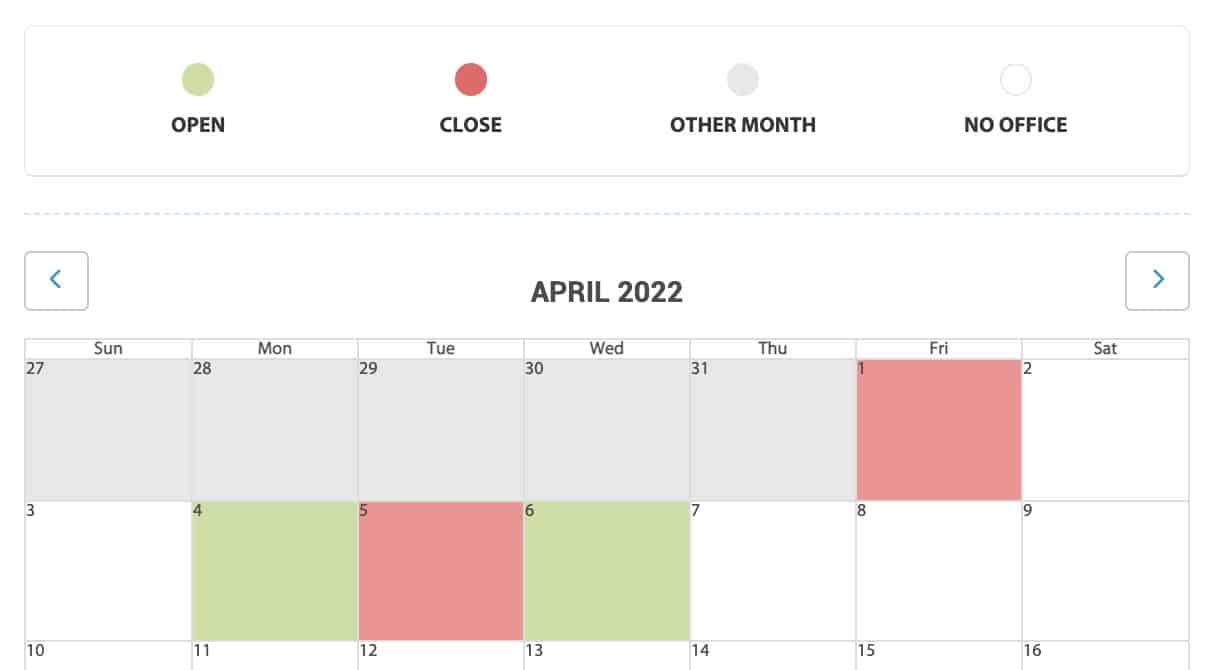 ---
7. Supply personal information.
Enter additional personal information. This includes the following:
complete address
purpose of your travel
occupation
---
8. Upload the required documents.
You have to submit a copy of your valid government ID, your COVID-19 vaccination card, and your passport.
TO SUBMIT YOUR ID:
Click UPDATE.
Select the type of ID you will submit.
Enter your ID number and date of issuance.
Attach the copy of your ID by clicking CHOOSE FILE.
Click SUBMIT.
TO SUBMIT YOUR VACCINE CARD:
Click UPDATE.
Choose your vaccine type.
– Select SINGLE DOSE if you received a single dose vaccine in the Philippines.
– Choose TWO DOSES if you're full vaccinated in the Philippines OR if you received one of the two doses in the Philippines and the other one abroad.
– Select BOOSTER DOSE if you were fully vaccinated abroad and received your booster dose in the Philippines.
Enter your vaccination details. Choose the vaccine brand and enter your vaccination date and the Lot/Batch number of your vaccine. Then, select the country where you got vaccinated. If you're vaccinated in the Philippines, you also have to enter where you were vaccinated. If you were vaccinated through your LGU, you need to put the specific LGU. Once you've entered your vaccine details, upload your vaccine card. You need to upload a copy of the front and back page of your vaccine card separately.

– If you have a two-dose vaccine, you need to enter the details of your first and second dose on the specified sections. You also have to upload your vaccine card twice.

– If you've already received your booster dose, click the ADD BOOSTER DOSE button and enter the details of your booster dose and upload your vaccine card.

Click SUBMIT.
TO SUBMIT YOUR PASSPORT:
Click UPDATE.
Enter your passport number, the date of issuance, and the issuing office.
Attach a copy of your passport.
Click SUBMIT.
TIP! I've encountered errors during this part of the process. Uploading files that are less than 2MB seemed to help, so when uploading files, make sure that the size is less than 2MB.
Once all your documents are uploaded, click NEXT.
---
9. Review all the details you entered.
You will be shown a preview of the certificate. Double check all the details on the certificate and make sure they are correct.
If there are incorrect details, click EDIT MY INFORMATION to change it.
If everything is correct, click NEXT.
A pop-up message will appear to confirm if all the information you submitted is true and correct. If they are, click CONFIRM.
---
10. Choose your method of payment.
As of writing, the available method of payment are cash and eMoney.
For cash payments, you can pay it at payment partners including 7Eleven, LBC, Family Mart, Cebuana Lhuiller, and a few others. Select a payment partner that is most convenient to you. You will be shown instructions on how to pay it at that payment partner. Take note of this and then, click GENERATE REFERENCE NO.
For eMoney payments, the available options are through GCash, PayMaya, and Cliqq. Choose your preferred eMoney option and check out the instructions on how to pay. Then, click GENERATE REFERENCE NO.
Either way, take note of your reference number or take a screenshot because you will need this when you pay for your ICV.
Note: The ICV costs P300, but there is a convenience fee when you pay. The convenience fee varies, but most of them is P70.
---
How to Expedite Processing of International Certificate of Vaccination (Rush ICV)
Last September 7, 2021, the Bureau of Quarantine posted an advisory regarding the "expedite ICV" issuance. We're not sure if this is still applicable today, though.
But as of their last post, this is available only for the following:
international travelers who are departing within the next 7 to 10 days, or
international travelers who are considered medical front liners, senior citizens, and persons with disability (PWDs)
Here are the requirements you need to secure and the steps you need to take if you need an ICV immediately. But note that the expedite process is for NCR offices ONLY.
Requirements for Expedite ICV Issuance
For international travelers who are departing in 7 to 10 days
Account with the BOQ Online Booking System. If you're not enrolled yet, see the steps outlined above.
Confirmed flight details.
VALID Overseas Employment Certificate (OEC) OR Contract
For international travelers who are Medical Frontliners, Senior Citizens, and PWDs
Requirements
Account with BOQ Online Booking System. You'll need your reference number to move forward. If you're not enrolled yet, follow the first steps in the previous section.
Confirmed flight details
Bring the following identification cards (whichever is applicable)
a. Senior Citizen
b. PWD
c. Company ID (for medical frontliners)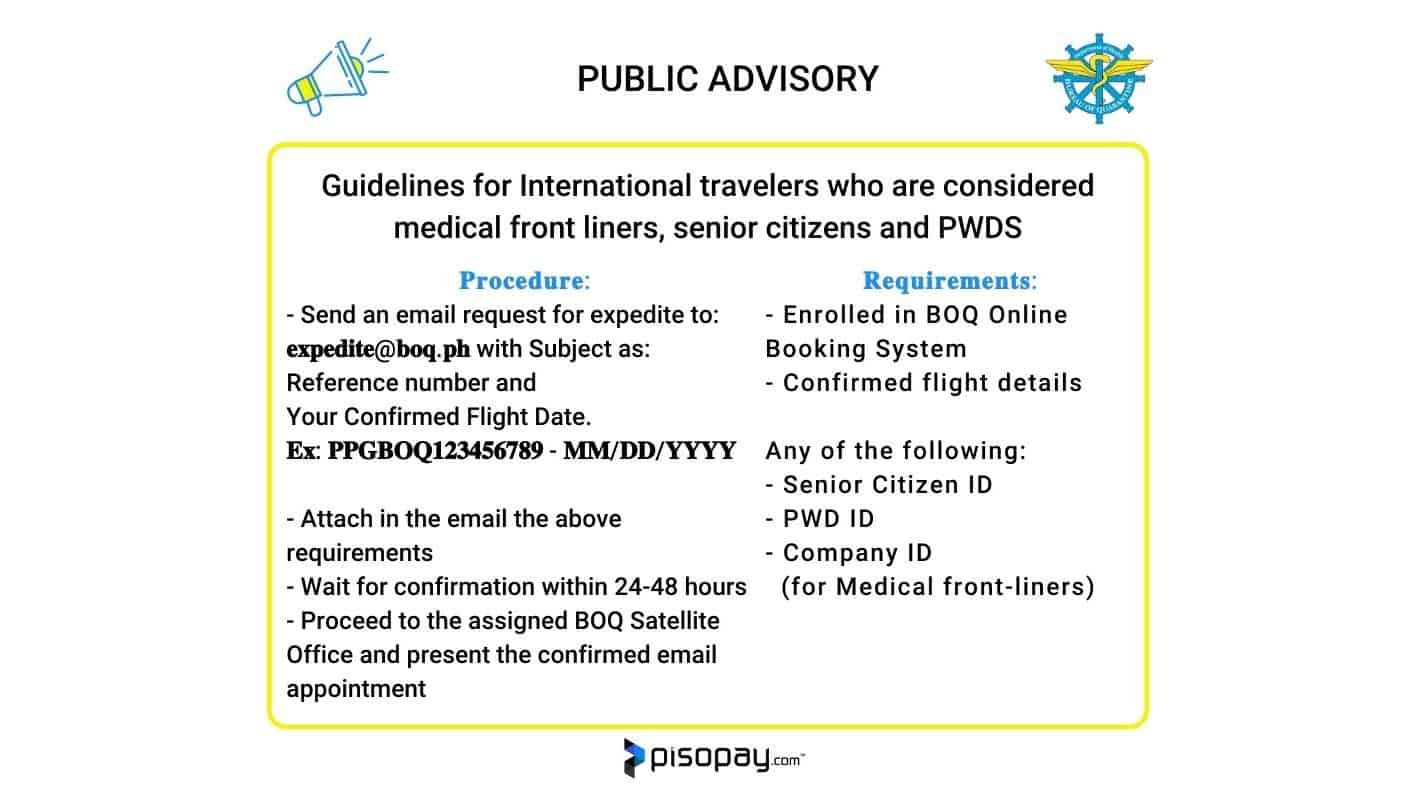 Steps to Expedite ICV Issuance
Send an email request for expedite to ofwicvapplication@gmail.com and put your reference number and your confirmed flight date on the SUBJECT. For example: PPGBOQ123456789 – mm/dd/yyyy
Attach the requirements listed above to your email.
Wait for confirmation within 24 to 48 hours.
Proceed to the assigned BOQ Satellite Office and present the confirmed email appointment.
---
List of BOQ-ICV Issuance Sites
There are multiple sites in NCR, Luzon, Visayas, and Mindanao where you can get your ICV. Here are the sites that you can choose from:
BOQ-ICV Application Sites in NCR
Manila Main Office
25th St, Port Area, Manila, 1000 Metro Manila
(632) 318-7500
Robinsons Manila
Pedro Gil St, Ermita, Manila, 1000 Metro Manila
(632) 318-7500
Mall of Asia
Level 2, North Parking Building, East Side, SM MOA, Pasay City
(632) 318-7500
SM North
UGF SM Annex, SM North, EDSA, Quezon City
(632) 318-7500
Eastwood
Eastwood – Unit B302, Third Floor Citywalk 2, Eastwood
(632) 318-7500
McKinley
McKinley – Unit C – 309e & 309i, 3F Venice Grand Canal Mall, McKinley Hill
(632) 318-7500
Resorts World Manila
4th level, Newport Mall near McDonald's, Newport Boulevard, Pasay City
(632) 318-7500
BOQ-ICV Application Sites in Luzon
Bataan
Unit 5 Peñafrancia Bldg., Kitang 1, National Road, Limay, Bataan
(047) 935 0594
boq_bataan@yahoo.com
Batangas
Carmel Compound, Purok 3, Rimas Ibaba, Bolbok Batangas City
(043) 702 3298
boq.batangasstation@gmail.com
Pampanga
San Isidro Resettlement, Magalang Pampanga 2011
09675006200
boqclarkpisopay@gmail.com
La Union
02 Francisco Ortega Highway, Brgy. Tanqui, San Fernando City
09172572391
Subic
2nd Floor Harbor Point Ayala Mall, SBFZ
(047)232-1298
boqsubicstation.immunization@gmail.com
Subic Harbor Point
Unit 1139 Ground Floor, Harbor Point Ayala Mall, Subic Bay Freeport Zone, 2222
09087866190
boqsubicstation.immunization@gmail.com
Laoag
G-Apts Apartment, Brgy. 50, Buttong, Airport Road, Laoag
(077) 774 0001
laoagstation@yahoo.com
Tabaco
P-7 Quinale, Tabaco City
0527422851
tabacoquarantine@yahoo.com
Palawan
PGS Building, Rizal Avenue Extension, Bgy. Bancao-Bancao, Puerto Princesa
(048) 434-1352
boqpalawan@gmail.com
BOQ-ICV Application Sites in Visayas
Cebu Main Office
Gen. Maxillom Ave., Cebu City
032 8232 2072
Cebu Robinsons Galleria
General Maxilom Avenue Ext, Cebu City
032 8232 2072
Bohol
Unit 5, Lamberto Estaca Drive, Peñaflor Street, Booy District Tagbilaran
09177061872, 09101244981
boqbohol@gmail.com
Iloilo
2/F Passenger Terminal Bldg., Iloilo Domestic Port, Fort San Pedro Drive, Iloilo City
(033) 3273792
boqiloilo@gmail.com
Bacolod
2nd floor Simplicio A. Palanca Sea Port Terminal BREDCO Port 2, Reclamation Area, Brgy. 10 Bacolod City 6100
(034) 466-1168
boqbacolod@gmail.com
Kalibo
Sitio Talisay, Brgy. Nalook, Kalibo, Aklan 5600
(036) 272-1163
boqkalibo@gmail.com
Tacloban
Robinsons Place 3rd Level near Food Gallery, Marasbaras, Tacloban, Leyte
09454836740 / 09350537216
boqtaclobanstation@gmail.com
BOQ-ICV Application Sites in Mindanao
Davao
R. Magsaysay Corner Chavez Street, Davao City, Philippines
(082) 300-2378, (082) 228-6701
boqdavaostation@gmail.com
Cagayan De Oro
Room 216, Waterside Living Complex, J. Pacana St. CDO
(088) 3273165
boqcdostation@yahoo.com
General Santos
Lower Acharon, Calumpang, General Santos City
(083) 552-8376
boqgensanstation@gmail.com
Zamboanga
2F Radja Bldg, Gov. Camins Ave., Canelar, Zamboanga City
(062) 991 5019
boq_zamboanga@yahoo.com
---
Frequently Asked Questions (FAQs)
Is there a delivery option for ICV?
Yes, there is a delivery option on the ICV website of the BOQ. However, we have been trying for almost a week now, and it doesn't seem to work properly yet. (The options won't load, and at the rare times that they did, they weren't clickable. Sort of a dead end.)
Hopefully this gets fixed soon so check the site every now and then.
For now, your best bet for now is still to pick it up at one of their sites.
Is ICV required for local travel?
No. Travel requirements vary throughout the country. For many cities, municipalities and provinces that do not require a test, a VaxCertPH (vaccination certificate) or vaccination card is often accepted. Getting an ICV is useful when visiting countries that DO require it.
Is there a fee for ICV?
Yes, there's a P300 charge plus a convenience fee, the cost of which depends on the payment method you choose but it's usually P70. You need to settle this payment after setting an appointment online.
Can I still change my schedule after setting an appointment?
No, it is not possible to change the schedule after setting the appointment online. Payment is also non-refundable and failing to show up on your confirmed appointment will forfeit your payment.
How can I contact the BOQ regarding ICV?
If you have system and payment concerns, you may email boqicv.paymentnsystem@gmail.com.
For other concerns, email helpdesk.clinic@quarantine.doh.gov.ph.
---