We got stranded in Ljubljana.
We were supposed to fly out of Slovenia, but the airline we booked filed for bankruptcy and cancelled all their flights — including ours. It definitely threw a wrench into our plans because we were backpacking around Europe with a limited budget. While we were trying to figure out our next steps, we decided to extend our stay in Ljubljana. It turned out to be a blessing in disguise.
Prior to this, we had seen only a little bit of Ljubljana because it was raining a lot during most of our stay and we focused more on the Slovenian countryside. But staying longer meant we had more time to explore the city and enjoy more of what it has to offer!
Yes, we got stranded in Ljubljana. But it turned out to be a good thing!
Here are 25 of the best things to do and places to visit in Ljubljana. We also added a sample Ljubljana itinerary in the end.
---
WHAT'S COVERED IN THIS GUIDE?
THINGS TO DO
Old Town Walking Tour
Ljubljana's old town cradles several centuries-old structures that mostly reflect Roman and Medieval design. The historic center fuels the tourism industry of the city. You may do this on your own or by joining a guided tour, giving you a deeper insight into the rich history of both Ljubljana and Slovenia as a whole while exploring with a group.
Here are the usual stops:
Ljubljana Cathedral
Town Hall (Mestna hiša)
Triple Bridge
Preseren Square
Dragon Bridge
Central Market
There are FREE walking tours to choose from. Although this is free, it's still recommended to give a tip at the end of the tour, especially if the guide did a great job. It depends on you how much you want to give, but it's usually around €5 each. Feel free to add more if you really enjoyed it. For more info, check Ljubljana Free Tour.
Schedule: 11AM (Daily; afternoon tours are added during peak months)
Meetup Point: Prešeren Square
However, some free walking tour groups can be so big that you'll get a difficult time hearing what the guide is saying. If you want to be in a smaller group and you have money to spare, you can just join a paid tour. Klook is offering a package that has Ljubljana Castle in the itinerary. It also includes roundtrip funicular (cable car) tickets.
✅ BOOK TOUR HERE!
---
River Cruise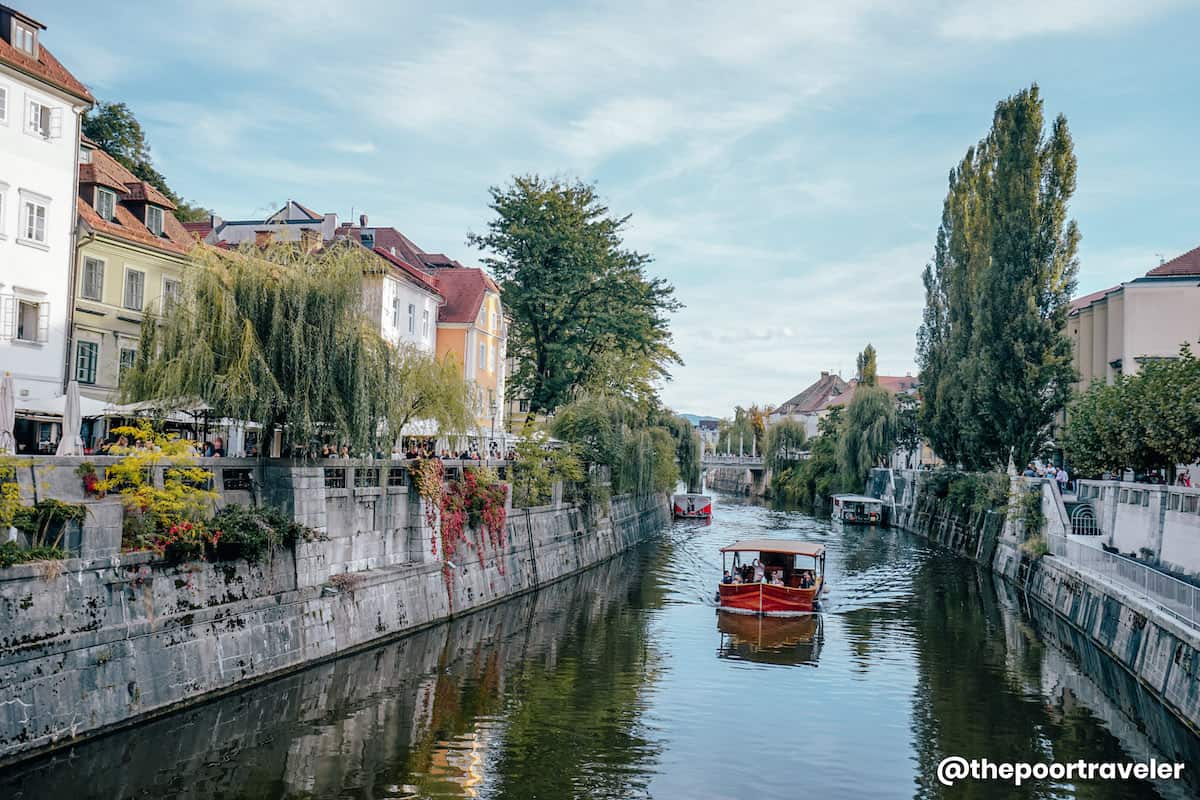 The Ljubljanica River is the most important body of water in this part of Slovenia. Historically, it aided trade and commerce in the city back in the Roman period. Today, boats shuttle tourists who choose to go sightseeing on a river cruise. The relaxing journey lasts for 45 minutes. This is perfect for those who are not fond of too much walking.
Schedule: 10AM, 11AM, 1PM, 2PM, 5PM, 6PM, 7PM, 8PM (Daily, April – November); 1PM, 2PM, 3PM (Daily, November – March)
Price: €10 (Adult); €5 (Children 4-12 y/o)
Boarding Spot: Ribji Trg Pier
---
Stand-up Paddling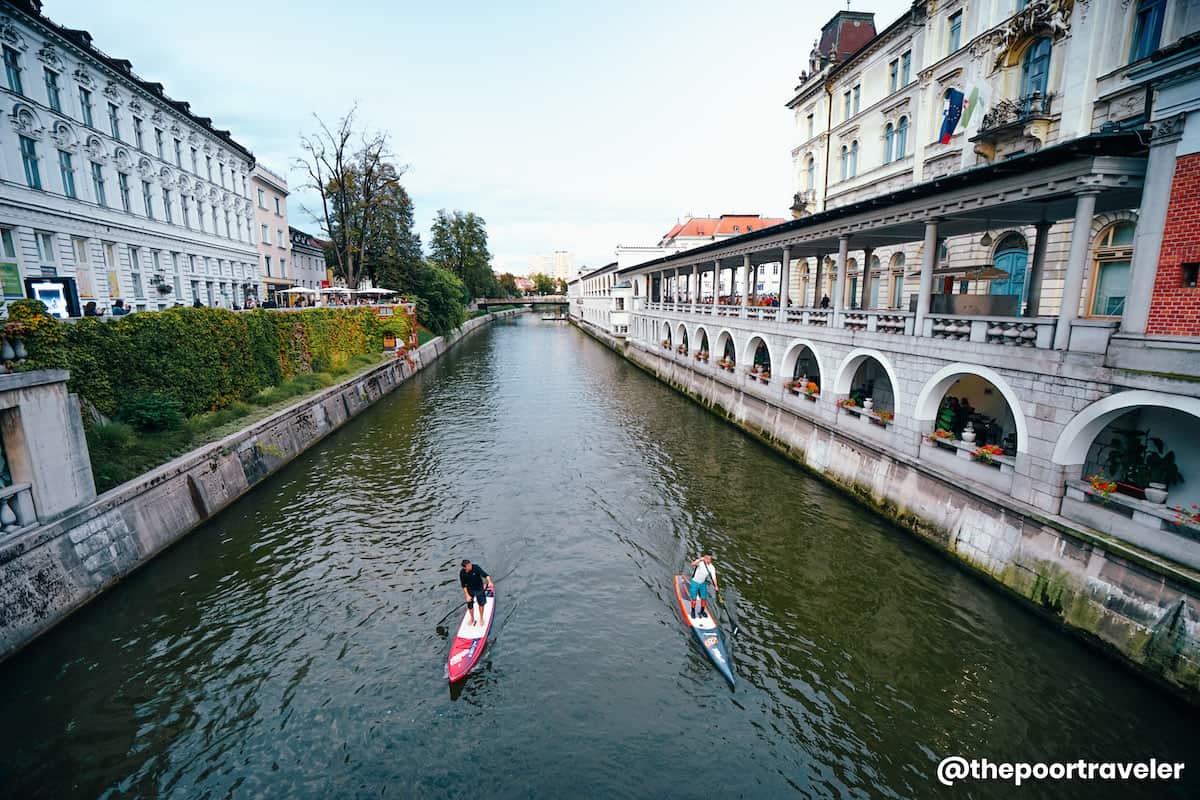 Aside from the cruise, another activity while in the vicinity is stand up paddling down the calm waters of Ljubljanica River. This is perfect for adventurous travelers, even beginners! Before you proceed, you will be briefed first on the basics of stand up paddling. You will be joined by your instructor as you explore the city center on a paddleboard. The package is inclusive of photos.
Schedule: Twice a day (Morning: 9AM or 10AM; Afternoon: 5PM or 6PM)
Price: €39 (inclusive of instructor fee, equipment rental, and photos)
Departure Point: Špica Cafe
---
Food Tour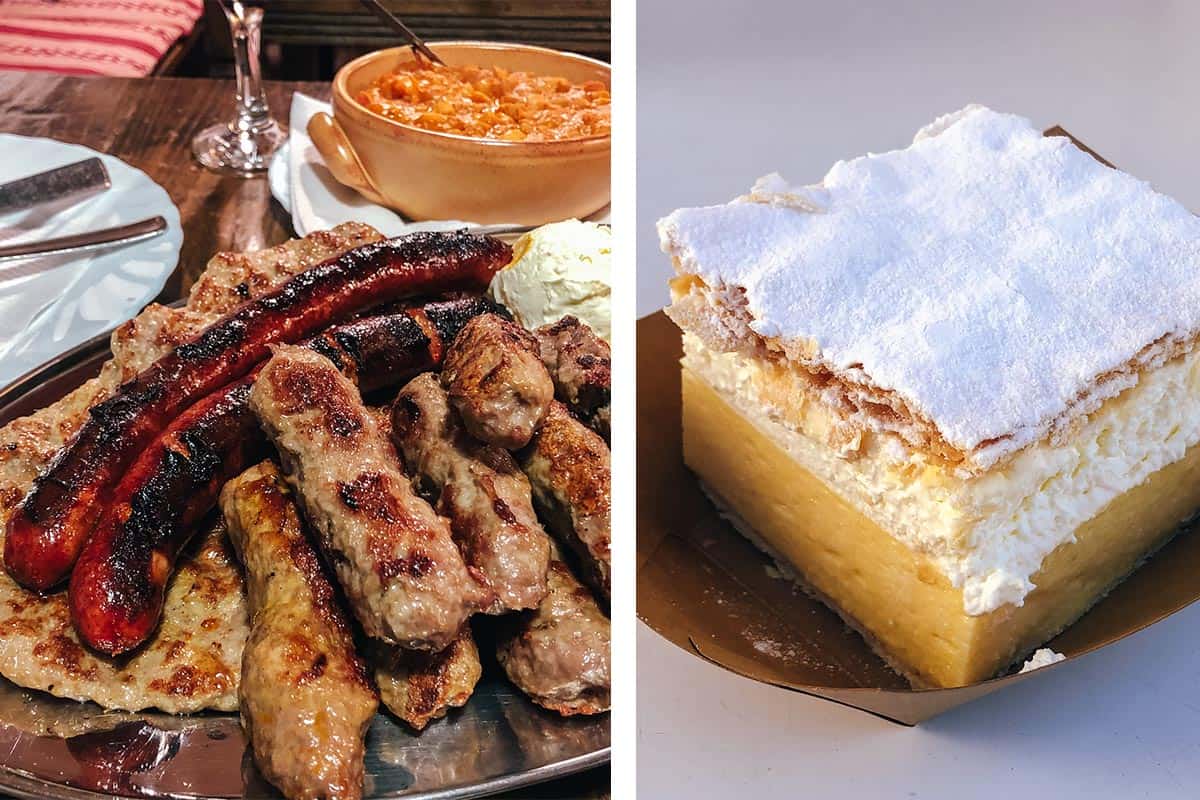 Being at the crossroads of Slavic, Germanic, and Roman cultures, Ljubljana's cuisine is a melting pot of flavors. Its food scene offers a wide array of international dishes — Pannonian, Mediterranean, Balkan, and Alpine among others. If you are seeking gastronomic adventure, the city is laden with restaurants and food places that will make your visit worthwhile.
If you want to learn more about the food scene of Slovenia, a guided tour will take you to places where you get to taste different dishes and sample some wines while listening to stories and information shared by your local guide.
---
Urban Train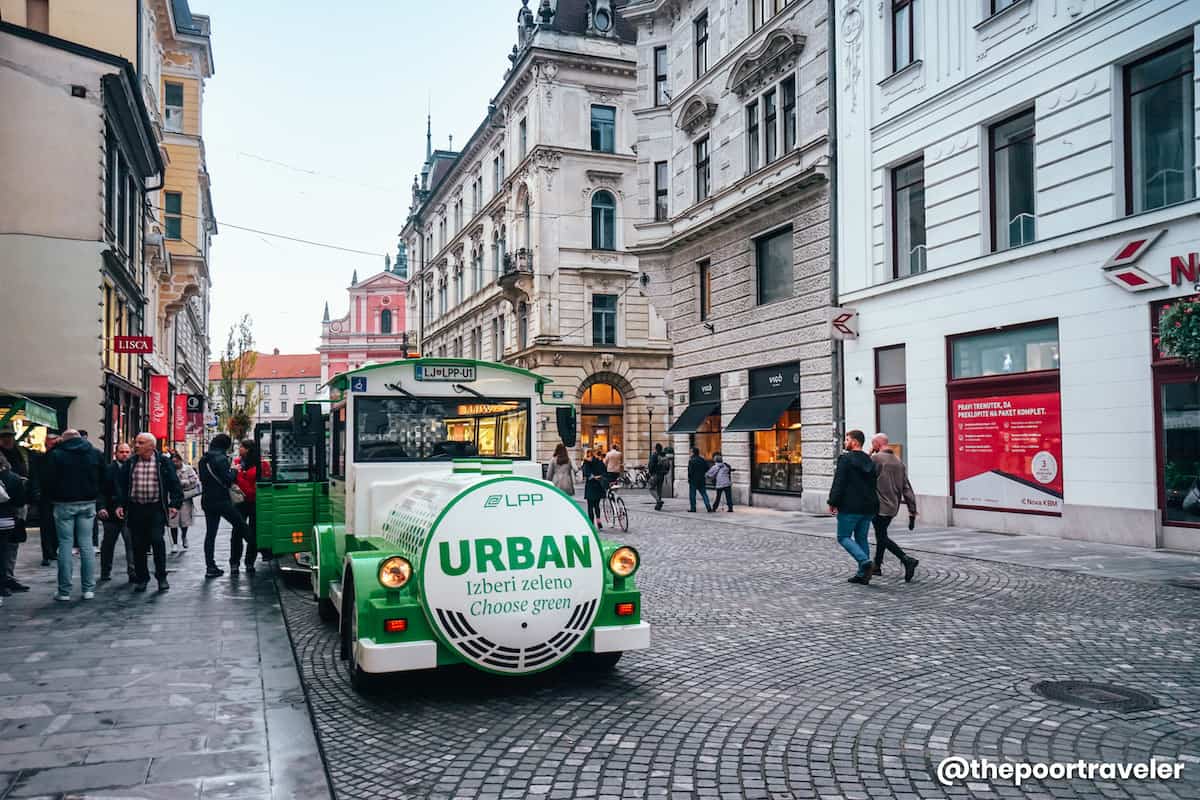 In Ljubljana, you'll find several electric-powered vehicles roaming the historical core. One of them is the Urban, a train that can take you to the key tourist spots in the city from the Town Hall and Ljubljana Castle to Krakovo and back to Old Town.
The ride also provides a pre-recorded narration of information and history per stop. A roundtrip takes 1 hour and 15 minutes. You can alight whenever you want and board again using the same ticket, just like how hop-on-hop-off bus functions. Keep your ticket and don't lose it. The ticket is only valid for that day.
Schedule: 11AM, 1PM, 3PM & 5PM (departs every two hours)
Fare: €8 (Regular)
Departure Point: Town Hall
---
Day Trips from Ljubljana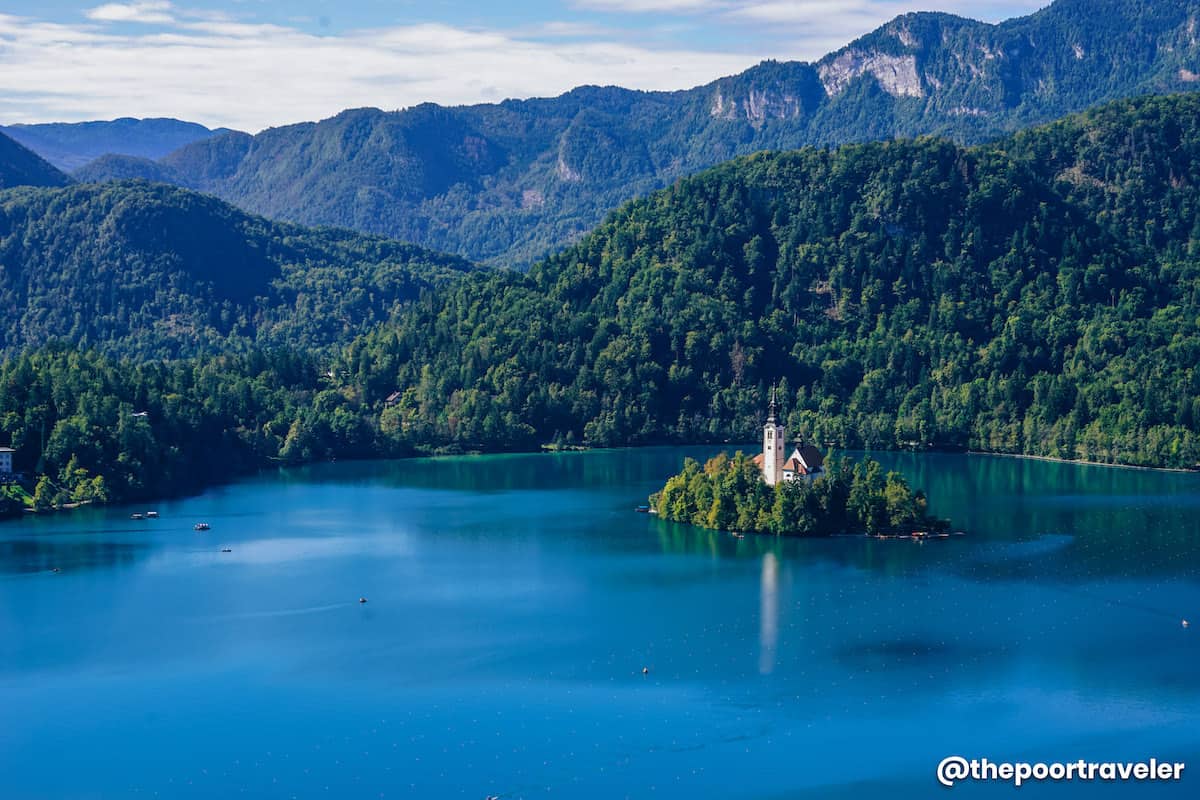 Slovenia is one of the smallest countries in Europe. In fact, you can actually explore it in a day — getting from one end to another. Located at the heart of the country, Ljubljana, the capital, is also the choice jump-off point of travelers to other destinations in Slovenia. Here are some of the attractions in Slovenia outside Ljubljana.
Lake Bled. Located northwest of Ljubljana, Lake Bled is a famous tourist destination boasting an island that nestles ancient buildings; the most prominent is the 17th-century Church of the Assumption. Bled Castle, located on the northern portion of the lake, is visible from the island.
Postojna Cave. Located southwest of Ljubljana, Postojna Cave is one of the longest cave systems in the country. This tourist-favorite karst cave features many interesting stalagmites, stalactites, cave "halls", and other rock formations. It even has its own cave train!
Predjama Castle. Also located southwest of Ljubljana, this Renaissance castle piques the interest of tourists for its unusual location — built within the opening of the cave. The original castle was destroyed and underwent reconstructions. The castle that we see today was built in 1570.
Skocjan Caves. Located further southwest of Ljubljana, Skocjan Caves system is one of the largest in the world. It was recognized as a UNESCO World Heritage Site in 1986 for its natural and cultural merits. And in 1991, it was listed in Ramsar's Wetlands of International Importance.
For more day trip options, we compiled some of the best destinations in Slovenia in another post. You can find it here: BEST SLOVENIA DESTINATIONS!
---
PLACES TO VISIT
Ljubljana Castle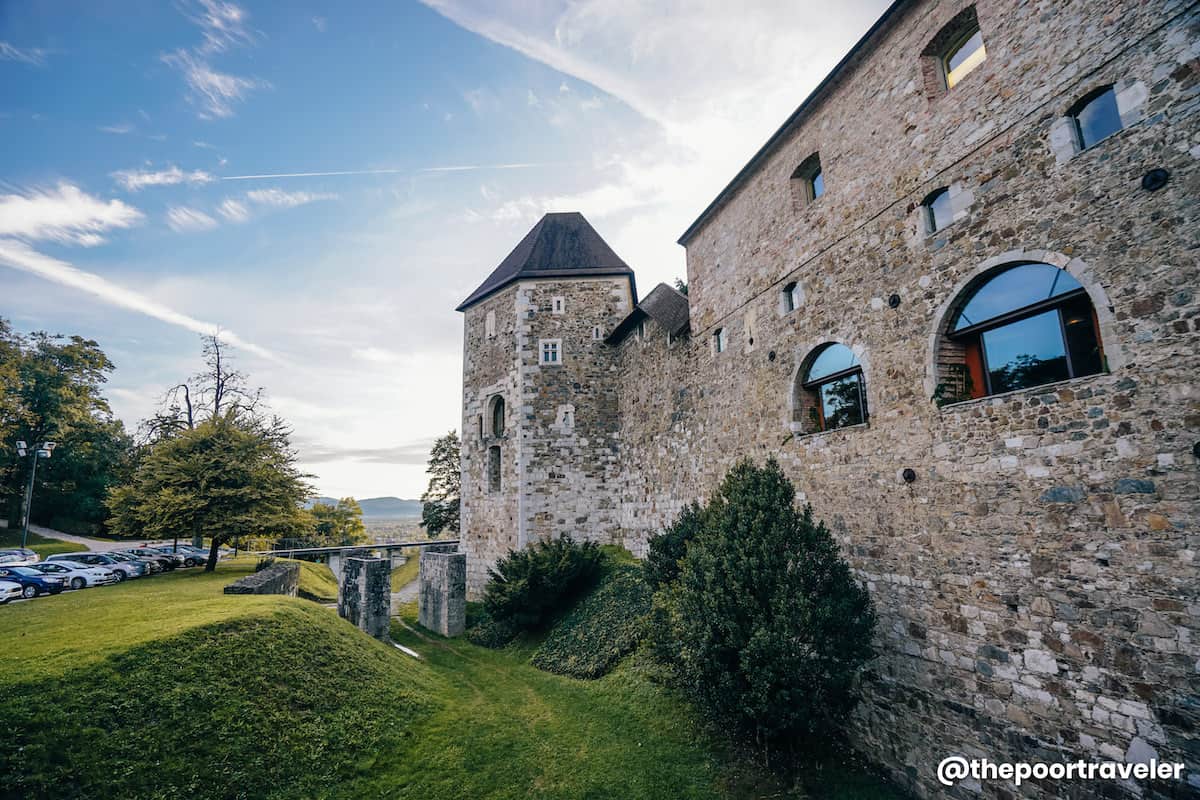 Ljubljana Castle dates back to the 11th-century. Constructed atop a hill, this imposing historic structure is not hard to spot, making it one of the city's most iconic landmarks. The castle grounds present a panoramic view of both the old town and the commercial city center.
Address: Grajska planota 1, 1000 Ljubljana, Slovenia
Opening Hours: 10:00 AM – 8:00 PM (Daily)
There are three ways to get to the castle:
By hiking. For those who are fit and love exploring on foot, you can take this option. You can either do it by yourself or join a group tour.
By Urban tourist train. We've explained how the Urban Train works. In summary, it's like a loop bus. Fare: €8.
By funicular. The funicular is a cable car. The lower station is located at the foot of the hill. It's close to the Central Market. Fare: €2.20 (one-way); €4 (roundtrip).
Exploring the castle grounds requires no fee. But if you want to enter other establishments such as the watchtower, Chapel of St. George, Museum of Puppets, and/or the Slovenian History Exhibition, you need to pay the entrance fee. The regular ticket is €13. This amount is inclusive of the admission fees for the castle's viewing tower, Virtual Castle, Museum Puppetry, Slovenian History, and the two-way funicular fare.
For other special attractions, you also need to pay additional fees to experience them — Escape Castle, Behind Bars Guided Tour, or the Time Machine Guided Tour. See the rates for other tickets here!
---
Ljubljana Cathedral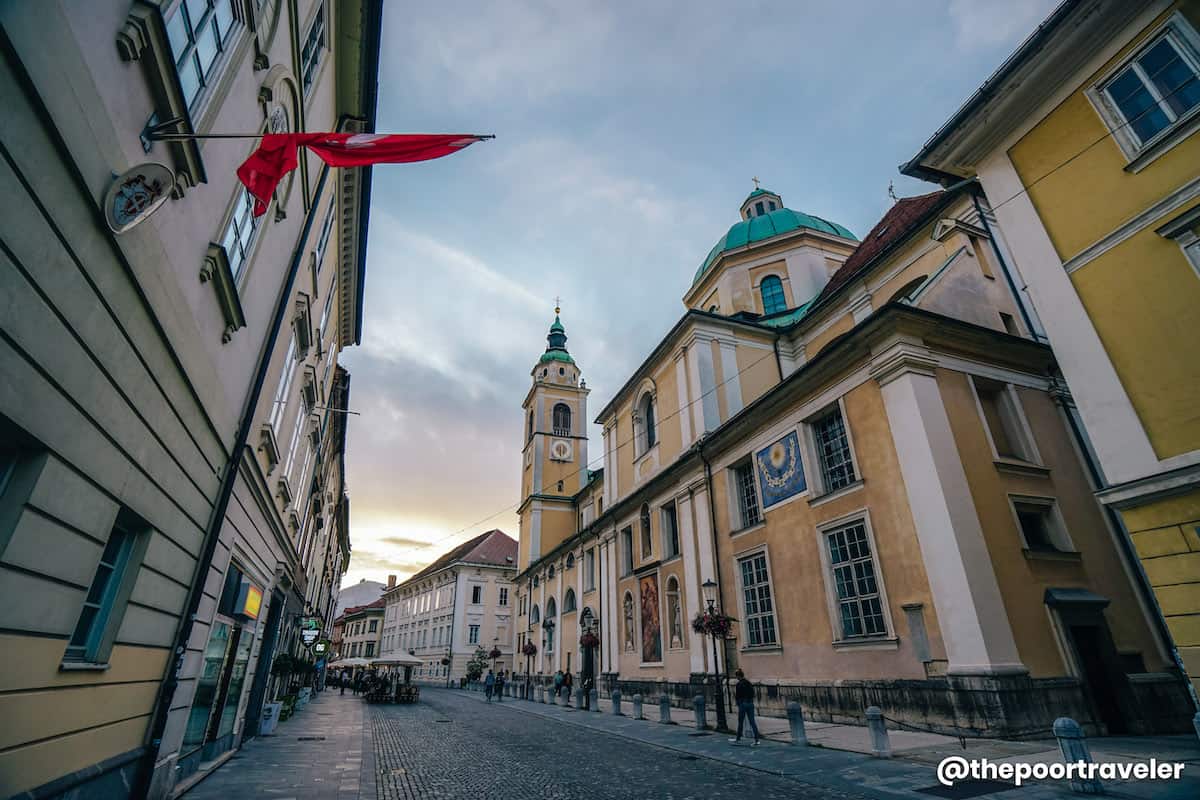 Ljubljana Cathedral graces the Cyril and Methodius Square, commanding attention with its green dome and twin belfries. It is visible from nearby Town Hall, Central Market, and Ljubljana Castle.
Its history dates back to the 12th-century when the original church follows the Romanesque design. It was reconstructed with Gothic design architecture after a fire destroyed the first one. The present-day Baroque design was constructed in the 18th century. The interior features painted frescoes by Italian Baroque painter, Giulio Quaglio. It's also notable for its sculpted bronze doors.
Address: Dolničarjeva ulica 1, 1000 Ljubljana, Slovenia
Opening Hours: CLOSED from 12:00 PM to 3:00 PM
Entrance Fee: €2 (church interior); FREE (taking photos outside)
---
Town Hall (Mestna Hiša)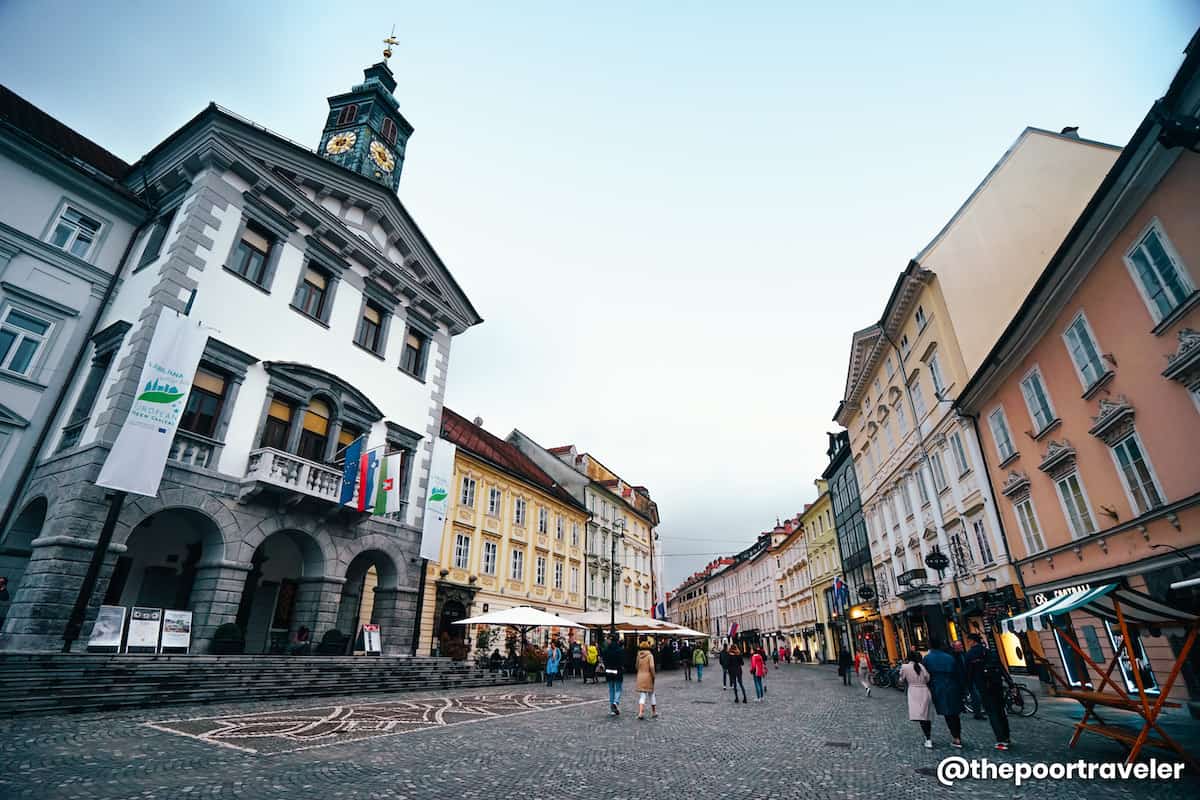 The Town Hall is the seat of the City Municipality of Ljubljana. It features Venetian facade, grand staircase, and four exhibition halls or galleries.
The Baroque structure is located at the Town Square, which also bears the replica of the Robba Fountain with an obelisk. If you want to see the original fountain, you can visit the National Gallery. The Town Hall's origin can be traced back to the 15th century.
Address: Stritarjeva ulica 2, 1000 Ljubljana, Slovenia
Opening Hours: 7:30 AM – 4:00 PM
Entrance Fee: FREE
---
Triple Bridge (Tromostovje)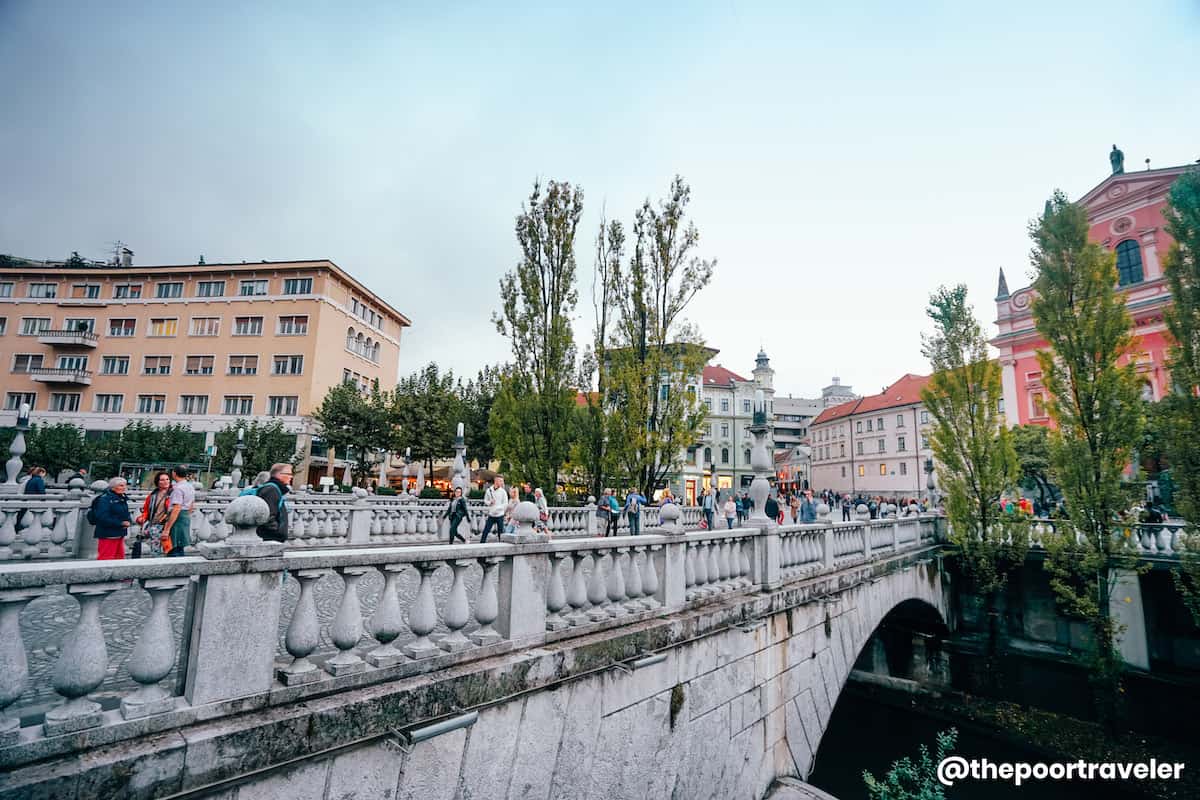 First constructed in 1842, the wider central bridge (main bridge) used to be a medieval wooden bridge. Today, two narrower bridges flank the main bridge — one on either side. These side bridges were meant for pedestrians; consequently, this addition to the original structure gave rise to one of Ljubljana's famous landmarks.
The Triple Bridge links the historic center to the modern business district separated by the Ljubljanica River. From the Central Market (old town side), the bridges lead to Prešeren Square (downtown side).
---
Prešeren Square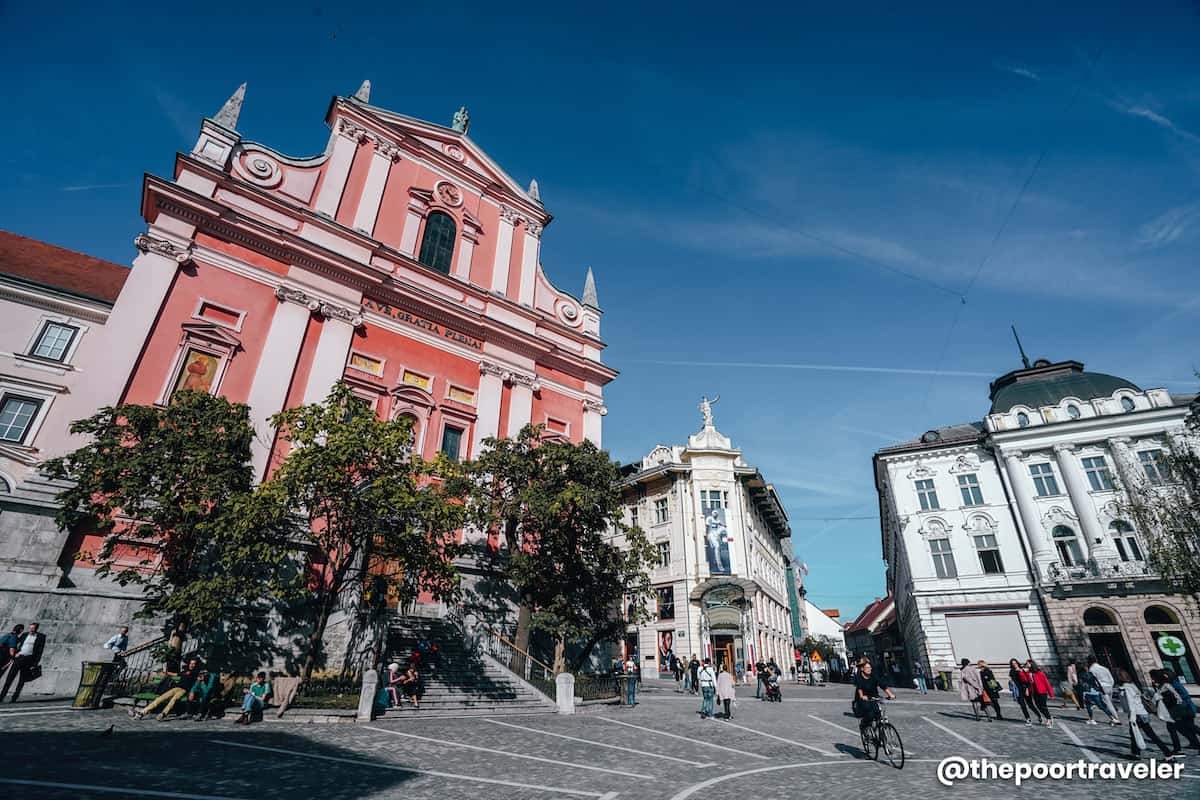 Prešeren Square is Ljubljana's central square. It used to be a busy crossroad until it was transformed into a square in the 19th century. This elliptical-shaped square is a car-free zone and a popular events venue. This is also the usual meeting point for free walking tours.
It greets tourists who pass through the Triple Bridge coming from and going to the old town. It features a monument dedicated to France Prešeren, the country's national poet. Surrounding the square grand buildings such as the old palaces and the red 17th-century Franciscan Church of the Annunciation.
---
Dragon Bridge (Zmajski Most)
Built in 1901, Dragon Bridge is regarded as the most beautiful Vienna Secession style bridge and protected as a technical monument. Following its construction style and material, this reinforced concrete arch bridge mainly serves vehicles.
The bridge got its name from the four imposing dragon statues that became one of the defining features of the city.
---
Central Market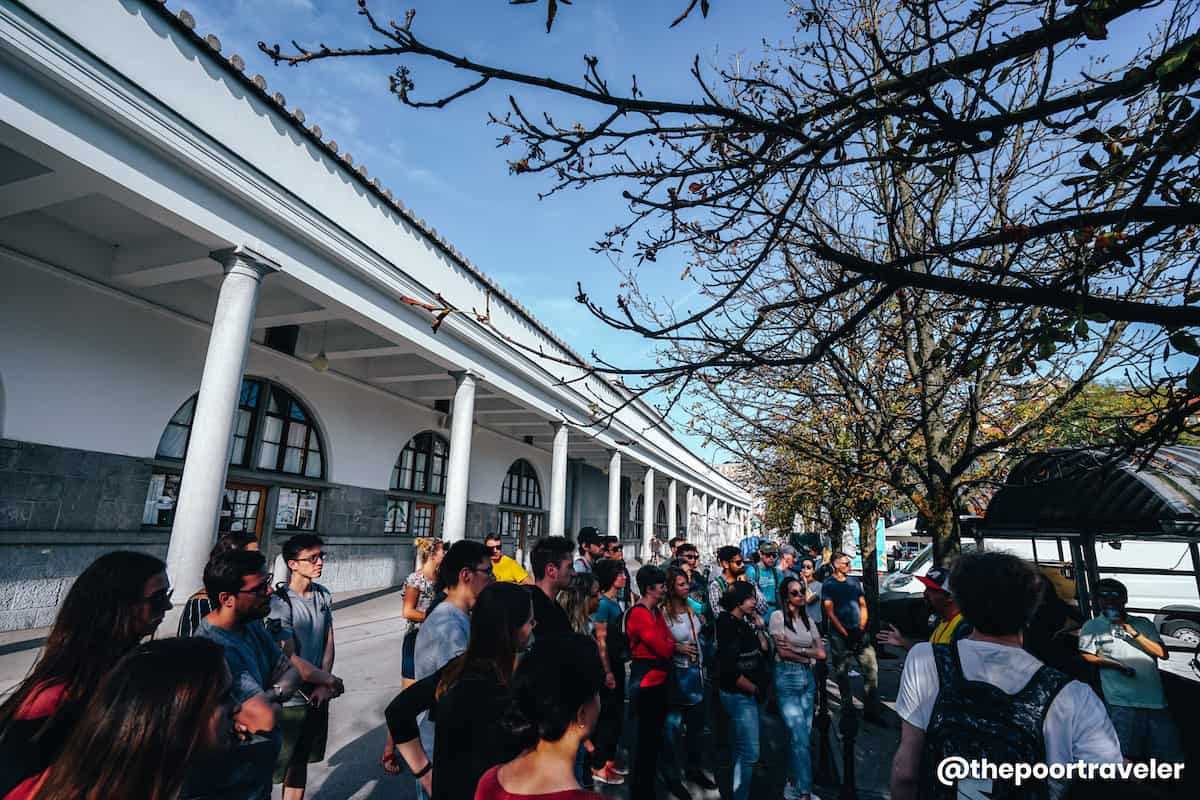 If you want to get a glimpse of Ljubljana's culture through its local products, the Central Market will give you more than what you are willing to bargain for. The market stretches between the Dragon Bridge and the Triple Bridge, consisting of an outdoor market, an indoor market, food stalls, and shops lining the old town side river banks of Ljubljanica.
From March to October, there's a weekly open-kitchen event where chefs prepare and serve different international cuisines. This happens every Friday at Central Market's Pogačarjev trg square area.
Address: Adamič-Lundrovo nabrežje 6, 1000 Ljubljana, Slovenia
Opening Hours: Outdoor Market 6AM – 6PM (Weekdays/Summer), 6AM – 4PM (Saturday/Summer), 6AM – 4PM (Monday – Saturday/Winter); Indoor Pogačarjev trg Square 7AM – 4PM (Weekdays), 7AM – 2PM (Saturdays); Indoor Plečnik's Colonnade 7AM – 4PM (Weekdays), 7AM – 2PM (Saturdays); CLOSED (Sundays)
---
House of Illusions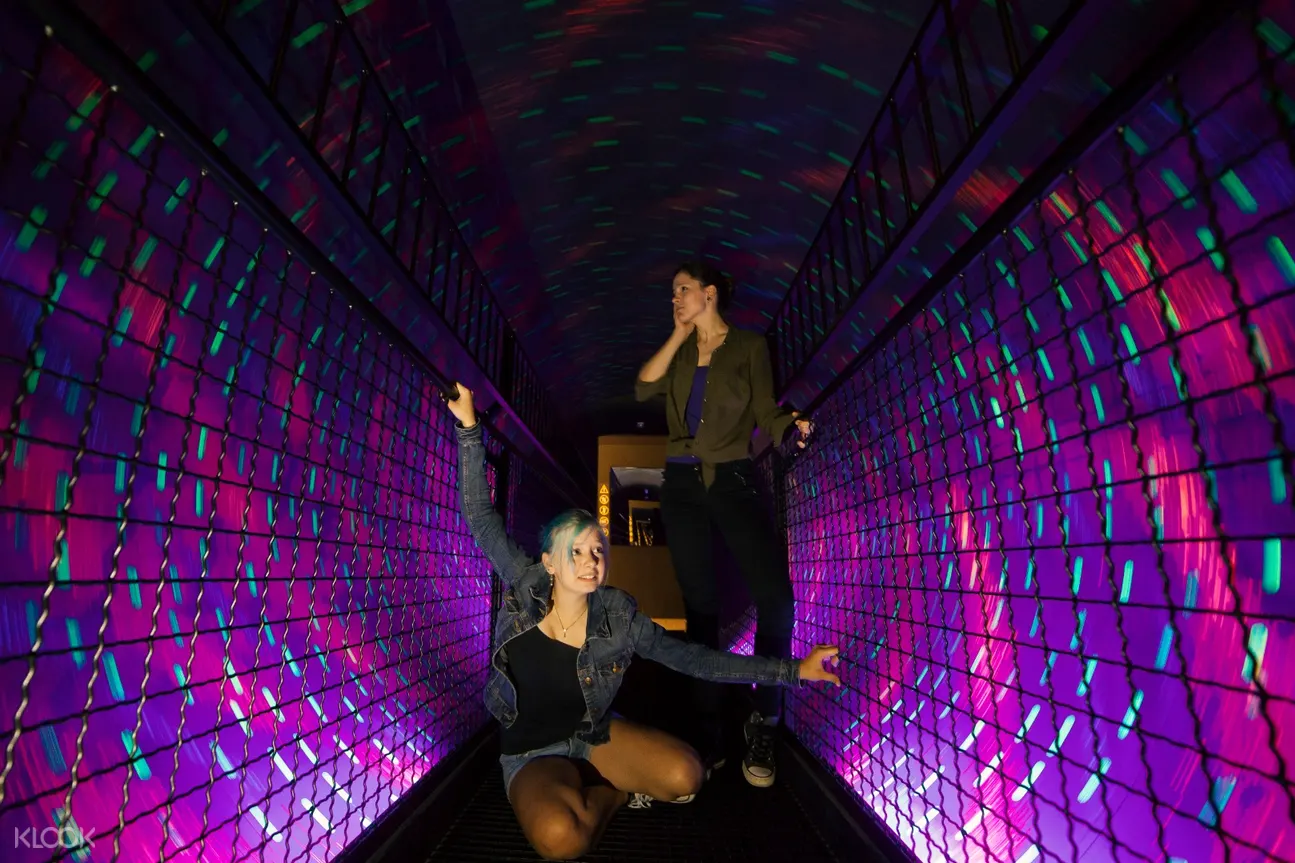 The museum sets up over 40 interactive exhibits that are meant to trick the guests through illusions. You'll encounter holograms, puzzles, and the Rotated Room. The Playroom will challenge your problem-solving skills with logical games. Some other highlights include the Mirror Room, Vortex Tunnel, and the Anti-Gravity Room. Book this tour through Klook for convenience. All you need to do is present the voucher emailed to you once at the museum.
---
Park Špica
Located south of Ljubljana Castle, Park Špica is actually a river embankment of Ljubljanica that was formerly a beach spot until it was transformed into a park.
There's a long footbridge nearby that is made for pedestrians and cyclists. The park's relaxing atmosphere and beautiful view attract locals and tourists alike.
---
Botanical Garden
Crossing the footbridge from Park Špica, you will reach the Botanical Garden (University of Ljubljana Botanical Garden). Established in 1810, it is said to be the oldest botanical garden in Southeastern Europe and the most important in Slovenia. It nurtures more than 4,500 species and subspecies of plants and trees, earning the title "The Green Soul of Ljubljana". It also has a glasshouse and tea house where you can rest after a refreshing stroll.
Address: Ižanska cesta 15, 1000 Ljubljana, Slovenia
Opening Hours: 7AM – 7PM (Daily, April – May & September – October); 7AM – 5PM (Daily, November – March); 7AM – 8PM (Daily, June – August)
Entrance Fee: €2.80 (Regular); €1.30 (Reduced)
---
Plečnik House
If Barcelona has Antoni Gaudi, Ljubljana has Jože Plečnik. A native of Slovene, he had a pivotal role in shaping the city's architectural landscape and leaving his marks in many historic structures that have major cultural significance in Slovenia. His influence went beyond his birthplace and extended to Vienna and Prague.
In Slovenia, he designed numerous buildings and sites — Triple Bridge, Central Market, Ljubljanica River embankments, Slovene National and University Library, squares, etc.
Plečnik House will let you take a peek into his personal and professional life. It houses many of his memorabilia and works, including sketches and plans. The house is also well-preserved and appears exactly as it was before he passed on. You can explore on your own or join a guided tour.
Address: 6, Karunova ulica 4, 1000 Ljubljana, Slovenia
Opening Hours: 10:00 AM – 6:00 PM (Tuesday – Sunday); CLOSED (Mondays and holidays)
Entrance Fee: €6 (Regular); €4 (Reduced)
---
Križanke Church and Monastery
The Križanke Church and Monastery has a long history of building and rebuilding from the 13th century to the 18th century.
In 1945, it ceased to function as a monastery and was transformed into a cultural venue, particularly for Ljubljana Festival. The remodeling project started in 1952 designed and completed by Jože Plečnik.
The complex contains an open-air theater within the deserted monastery, the Križanke Church, the Devil's Courtyard, and the Knight's Hall. The nearest landmark is the St. James Bridge.
Address: Trg francoske revolucije, 1000 Ljubljana, Slovenia
Opening Hours: No definite time. It's usually close unless there's an event or festival, usually in summer. You can still admire it from outside the complex.
---
Congress Square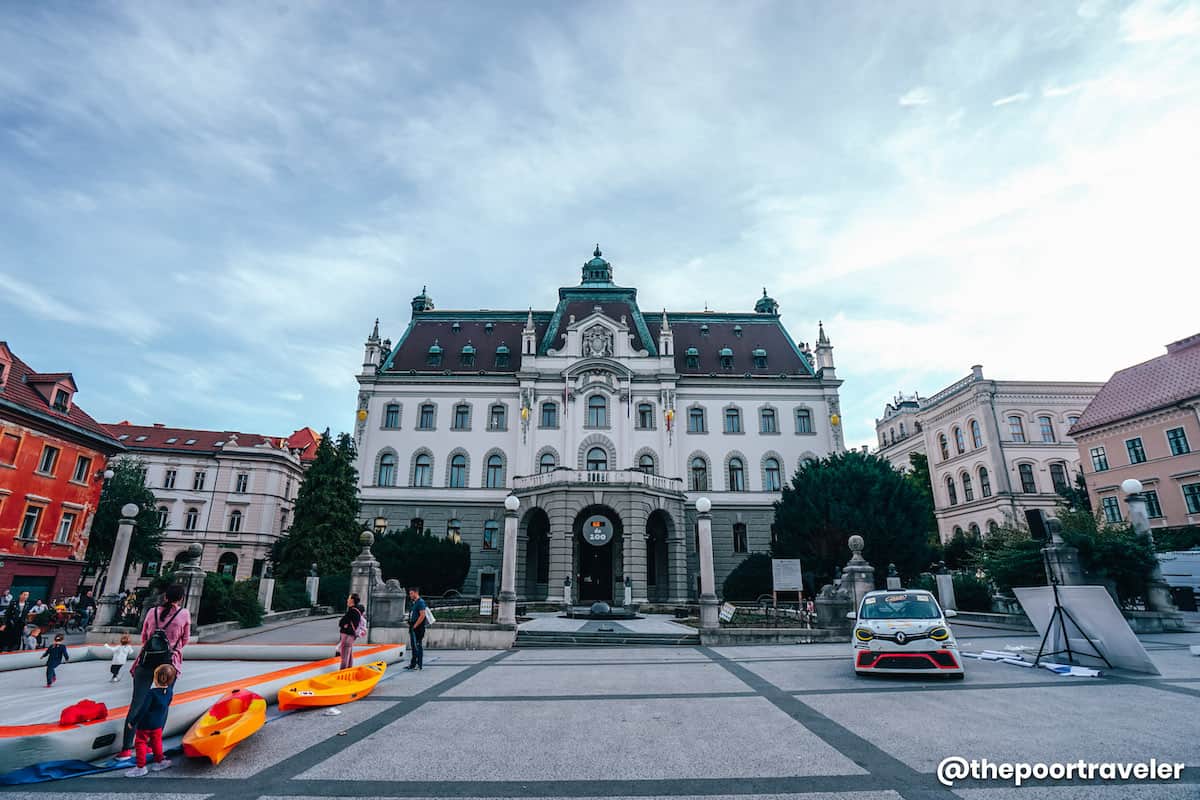 Located near the historical Cobblers Bridge, the Kongresni Trg (Congress Square) is one of the significant squares in Ljubljana.
It was built in the 19th century on the grounds where the Capuchin monastery once stood. The original square was smaller, but its purpose as a venue for important ceremonies and gathering still continues up to today. In fact, it got its name from the monumental Congress of Ljubljana. The square features Park Zvezda (Star Park).
Other major buildings in the vicinity are the University of Ljubljana Palace, Ursuline Church of the Holy Trinity, Philharmonic Hall, and the Slovene Society Building.
---
Republic Square
Located just a short walk west of Congress Square is the Trg Republike (Republic Square). The planning started in 1960 and designed by one of Plečnik's students, Edvard Ravnikar. The modernist-style square is the largest in the city and a symbol of modern Ljubljana.
It is where the nation's independence was declared in June 1991, making it the most notable square in Slovenia. From the square, you can spot the National Assembly Building and Cankar Hall.
---
Tivoli Park
Sprawling out over five square kilometers at the heart of Ljubljana, Tivoli City Park is the largest park in the city. It was conceptualized in the first quarter of the 19th century by Jean Blanchard, a French engineer. It is peppered with statues and fountains and path walks meander through the lush greenery.
Nestled inside the park are Tivoli Castle, Tivoli Sports Hall, National Museum of Contemporary History, and Jakopič Promenade — a scenic open-air gallery designed by well-respected Slovene architect, Jože Plečnik.
---
Krakovo
Krakovo is a historic district situated on the left side of the Ljubljanica River, near St. James Bridge and Križanke. Although stretched out on the downtown side of the river, it retains its medieval-period atmosphere where people thrive on gardening and fishing.
The district is the offspring of the marriage between the old and the new. The district still supplies the Central Market with fresh produce.
---
Metelkova Mesto
This former military base was saved from being demolished by a group of artists and intellectuals known as the Metelkova Network when they started transforming the complex into an alternative art and cultural hub.
The complex is the venue for various activities and events, attended by an interesting mix of crowd. This is one of the hippest places to be. Metelkova Mesto is just three blocks away from Ljubljana's main train station.
---
National Museum of Slovenia
Located near Tivoli Park, beside the Russian Embassy, the National Museum of Slovenia is the oldest in the country. It shares the same roof with the Slovenian Museum of Natural History inside a 19th-century neo-Renaissance palace. It displays a great collection of archaeological artifacts.
Permanent exhibits are Prehistoric Treasures of Slovenia, Roman Stories from the Crossroads, and The Roman Lapidarium.
Address: Muzejska ulica 1, 1000 Ljubljana, Slovenia
Opening Hours: 10:00 AM – 6:00 PM (Daily, Sunday – Wednesday & Fridays); 8:00 AM – 10:00 PM (Thursdays & Saturdays); CLOSED (January 1, May 1, November 1 & December 25)
Entrance Fee: €6 (Regular); €4 (Reduced)
---
National Gallery
Also located in the vicinity of Tivoli Park and National Museum of Slovenia is the National Gallery. Founded in 1918, the museum is relocated from Kresija Palace to its current 19th-century host building.
The museum houses almost 600 permanent art pieces from the Middle Ages to the 20th century, the largest in Slovenia. The original Robba Fountain, named Fountain of Three Carniolan Rivers, is preserved and maintained here. The National Gallery also has a library, a shop, and a cafe.
Address: Prešernova cesta 24, 1000 Ljubljana, Slovenia
Opening Hours: 10:00 AM – 6:00 PM (Tuesday – Sunday EXCEPT Thursdays); 10:00 AM – 8:00 PM (Thursdays); CLOSED (Mondays and holidays)
Entrance Fee: €10 (Regular); €5 (Reduced)
---
SAMPLE LJUBLJANA ITINERARY
DAY 1: ARRIVAL & TIVOLI PARK
01:30 pm – Arrival at Ljubljana Station
01:40 pm – Walk to hotel
02:00 pm – Hotel check-in
– Settle tourist tax, 9.39€
02:30 pm – Late lunch, 10€
03:20 pm – Walk to Tivoli Park
04:00 pm – Tivoli Park
07:30 pm – Grocery shopping, 20€
08:30 pm – Dinner at hotel
09:30 pm – Lights out
*Best if you could catch the sunset
DAY 2: LJUBLJANA TOUR
09:00 am – Wake up, breakfast
10:00 am – River cruise, 10€
11:00 am – Free walking tour, tip: 5€
02:30 pm – Lunch, 10€
04:30 pm – Ljubljana Castle* (via funicular), 13€
06:00 pm – Walk around Old Town
07:30 pm – Dinner, 10€
09:00 pm – Back to hotel
DAY 3: SLOVENIA TOUR
07:00 am – Walk to meetup point
08:00 am – Best of Slovenia Tour, 139€, Book here! (XXX Klook Link)
– Kremsnita, 5€
– Lunch, 15€
– Tip guide, 10€
07:00 pm – Dinner, 10€
09:30 pm – Back to hotel
DAY 4 – DEPARTURE
08:30 am – Pack up
10:30 am – Early check out, leave bags
11:00 am – Early lunch, 10€
12:00 pm – Leave for station for next city
---
TOP APARTMENTS & HOTELS IN LJUBLJANA
If you're staying in Ljubljana as your base, here are some of the top properties in the city, as scored by Agoda customers.
---
---
Edited by Asta Alvarez
2020 • 9 • 8
---